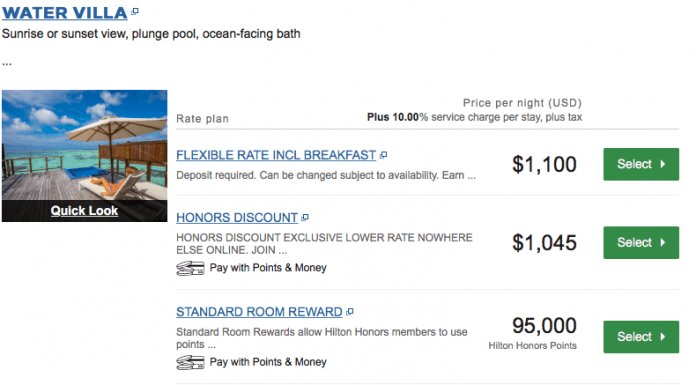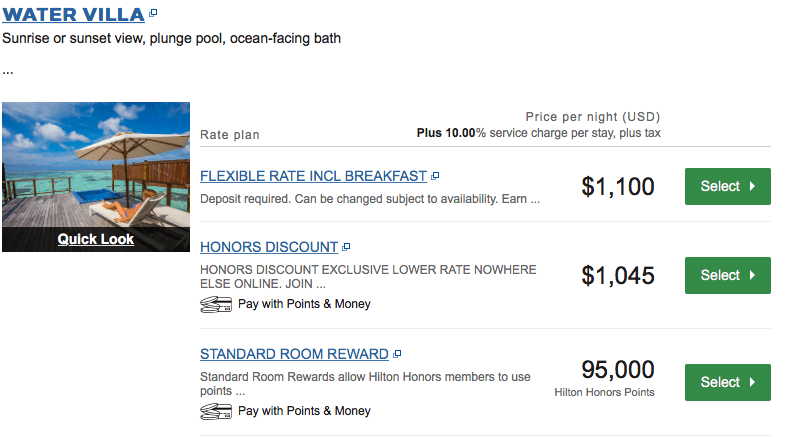 The following elevated (limited time) signup bonuses are on for the Hilton family credit cards issued by American Express.
Hilton Honors  (base card): 75,000 Points
Hilton Surpass: 125,000 Points
Hilton Aspire: 150,000 Points
Hilton Business: 125,000 Points
You can see different Hotel Rewards Credit Cards here.
I've written at length about what each card offers, so I'm going to link to that post here if you aren't already up to speed on the benefits.
The most important thing to know is the rules on new Amex cards. You are *generally* allowed to have 5 Amex personal & small business cards combined (though people have gotten 6 or more). Charge cards like the Amex Gold and Amex Platinum (also see: 100k Platinum offer via CardMatch) do not count towards that limit. As well, you can only get the bonus offers once per lifetime per card.
There are two exceptions to that rule.
One: If you get a mailer or email with an offer that doesn't contain the language about not being eligible if you've had the card.
Two: If you are given an offer on the Amex website to upgrade from the Hilton Honors card to the Ascend card. This usually requires $3,000 in spend and if you have upgraded and later downgraded and receive the offer again, you can participate again.
As well, if it's been 8 or more years, you *may* be eligible again. In this case contact Amex to confirm  eligibility.
With that out of the way, I want to talk about why you might want to participate two or more of these offers. For example, the Business card + one personal card.
Ever since Hilton adjusted redemption rules such that prices fluctuate based on the room rate, it's harder than ever to extract substantially more than half a cent per Hilton point.  The biggest exceptions are in the lowest category Hiltons (Category 1) where you may well get a $100 room for 10,000 points and extract a penny per point.
But just as I don't collect miles to fly coach, I don't collect hotel points to stay in a Category 1 Hilton.
To me, the best use of Hilton points are for 5 night stays (remember, the 5th night is free on a Hilton award) at their top end properties – usually Conrad.
Here are my top three:
I don't think you can extract more value from Hilton points than an Overwater Villa at the Conrad Maldives. Beware the cost of your seaplane transfers from Male to Rangali Island (around $1k for 2 people) and food/drink costs, but in terms of pure value per point, it's hard to beat. Availability is solid in advance, excepting the most peak times.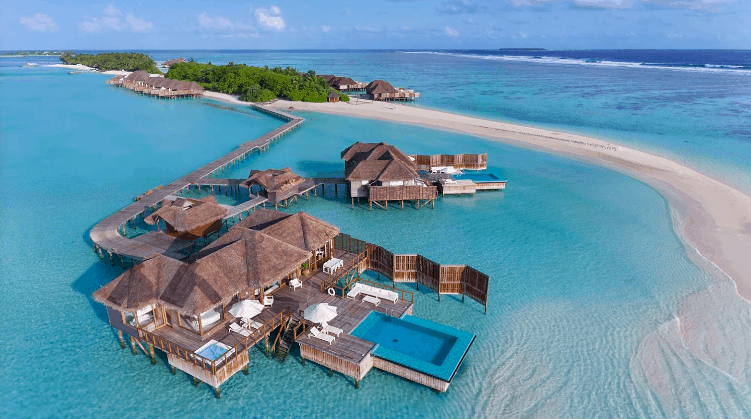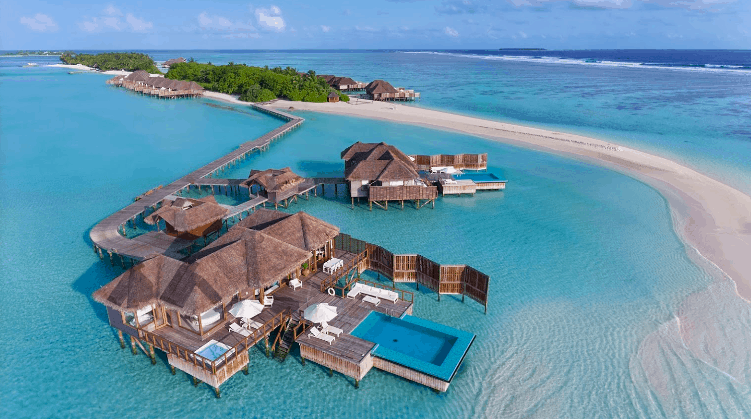 Let's look at a 5 night stay in November. 
A five night stay works out to $6,467 if paying cash. But that same room with points is just 380,000 points.   (Both exclude seaplane). You are getting close to 2 cents per Hilton point!!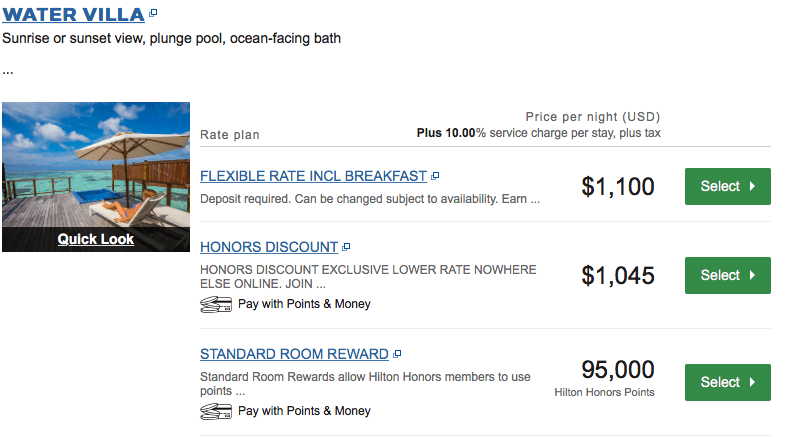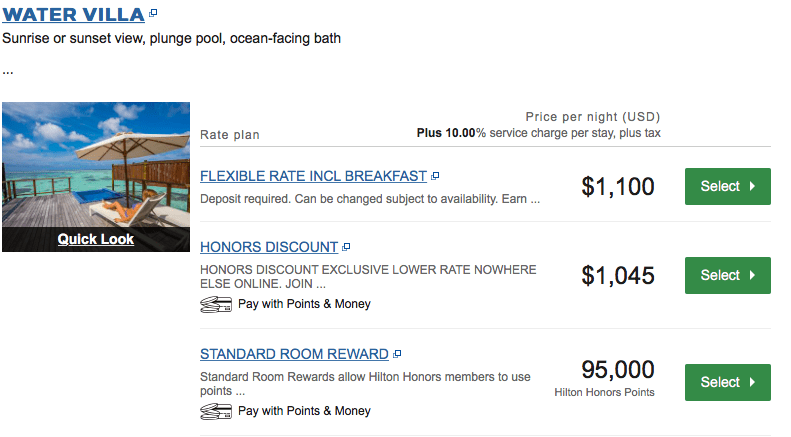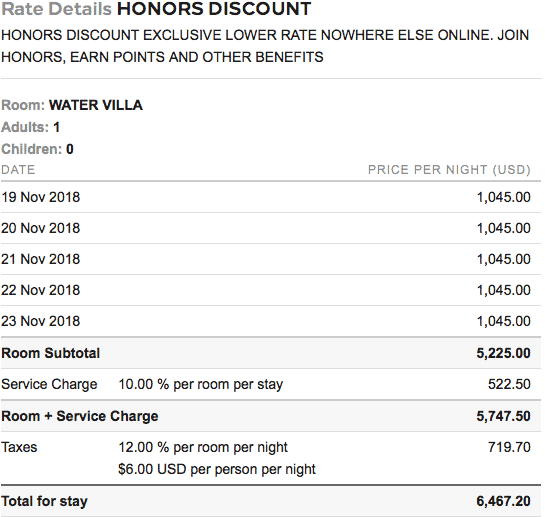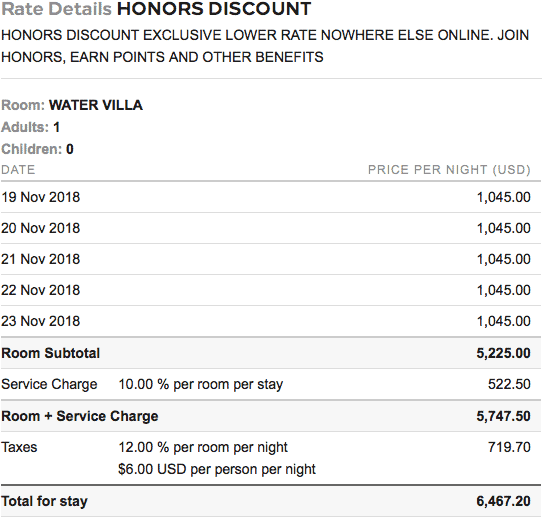 It's also a water villa. As in right on the water. You can jump out into the sea.
For these reasons, it's my absolute top pick for redeeming your Hilton points.
The Conrad in Bora Bora Nui is similarly luxurious to the Conrad Maldives, and slightly less expensive at 80,000 points a night or 320,000 for 5 nights. For the same nights in November as I used for the Maldives, we can pay $833 + taxes/fees or 320,000 points. It comes to $4,602 (converting the XPF on the website) if paying cash.  (I ignore the prepaid rates as points rates are cancelable and I would never book a non-refundable rate on a booking this size.).
It's a respectable 1.43 cents per Hilton point and a great option if heading to the Tahiti area. I do wish we could book a water villa here….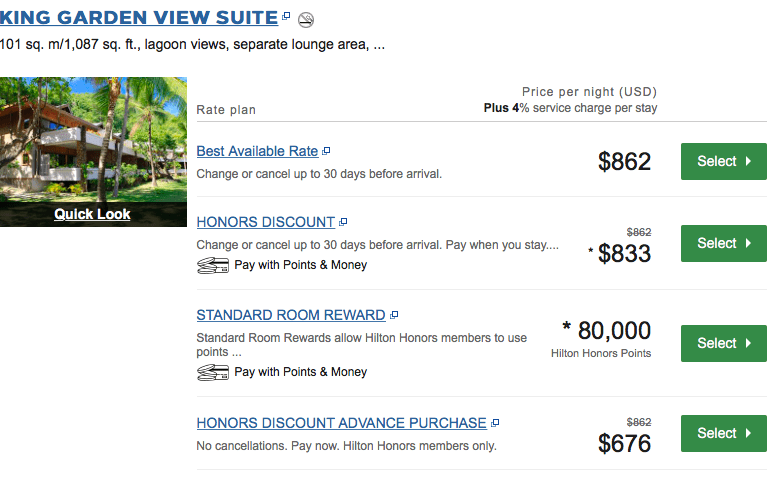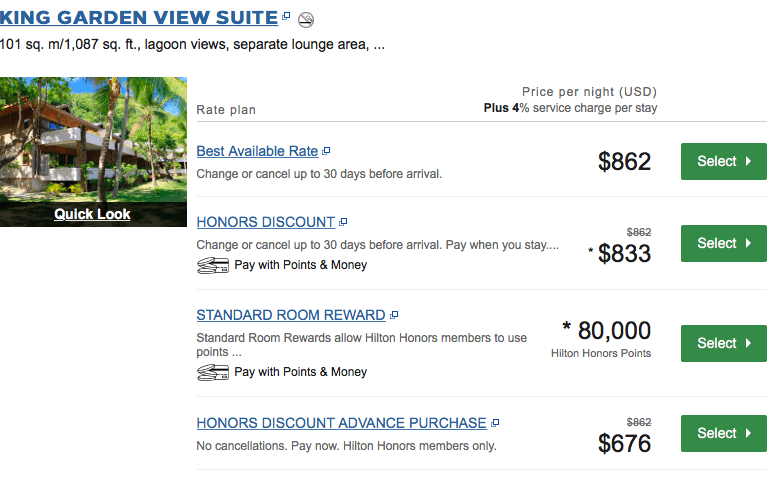 3) Conrad Koh Samui, Thailand
Not at all lacking in luxury, you'll get the following villa:
Freestanding villa with private pool and terrace, ocean views, soak tub, complimentary WiFi
Complete with a 10-meter infinity-edge pool, this luxurious freestanding villa is set close to the calming waters and romantic sounds of the Gulf of Thailand.
It ranks third, though, because you won't get nearly the cents-per-point as the Maldives, owing to the fact that the room prices are half the cash rates with the same redemption price.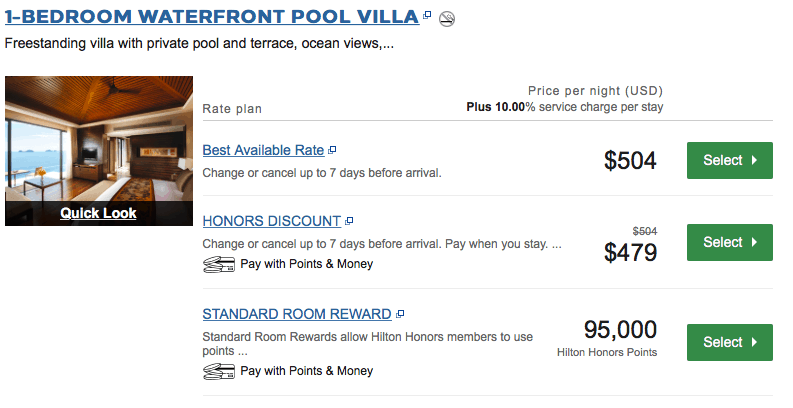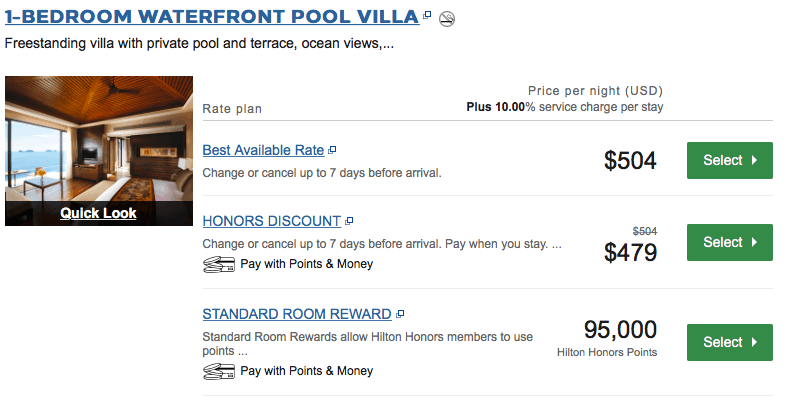 In this case, you'll be getting $2,836 in value for your 380,000 Hilton points, for a redemption of about .75 cents per point. Much better than the half a cent you'll get on average, but light years from the Maldives on value both because of the more affordable standard room rate and because of the plethora of cheap options in Thailand.
Honorable Mentions:
Conrad properties in any big city such as New York, Tokyo, Singapore *can* be good redemptions at peak times. But due to the fluctuating points prices, it needs to be at a time of peak demand and standard room availability to extract outsized value.
If you decide to apply for any credit cards because of the information provided here, it's very much appreciated if you use the MilesTalk links and apply for Hotel Rewards Credit Cards here.
Am I missing any great redemptions?  Let me know here, on Twitter, or in the private MilesTalk Facebook group.
New to all of this? My new "introduction to miles and points" book, MilesTalk: Live Your Wildest Travel Dreams Using Miles and Points is available now.