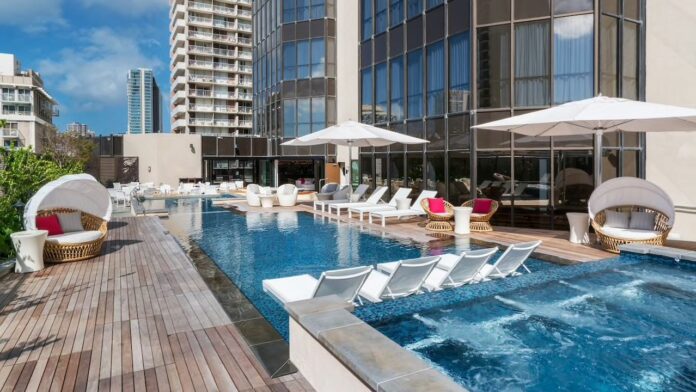 How a World of Hyatt Hotel Can Play Games with Points Availability
The week before last, we were in Hawaii and needed a one night stay in Honolulu before a nonstop back to New York. I was looking to use one of my Hyatt Category 1-4 award night certificates, which is good on award nights worth up to 15,000 points per night. There's a Hyatt Place for 12,000 points (not great looking) and a Hyatt Centric Waikiki Beach which is next to the Marriott Autograph Collection's Laylow (where I wound up staying).
The Hyatt Centric looks beautiful and my wife stayed there once before, confirming it would be a great choice.
I went to work trying to book it, only to find something quite unusual:
The Hyatt Centric won't let you book a night on points (or with certificates) unless the stay is 5 nights or more. There is no similar minimum stay on cash nights.
So how does the hotel manage to "seemingly" violate all the program rules without actually doing so?
They have two room types for nearly identical base rooms.
How They Do it…
First, a search for one night on April 28th. Rates from $189 for a King Bed room.
But switch to the Points view, and nothing….

Now, let's look at a 5 night stay (yes, I first tried 2, 3, and 4 night stays…) and look what we get…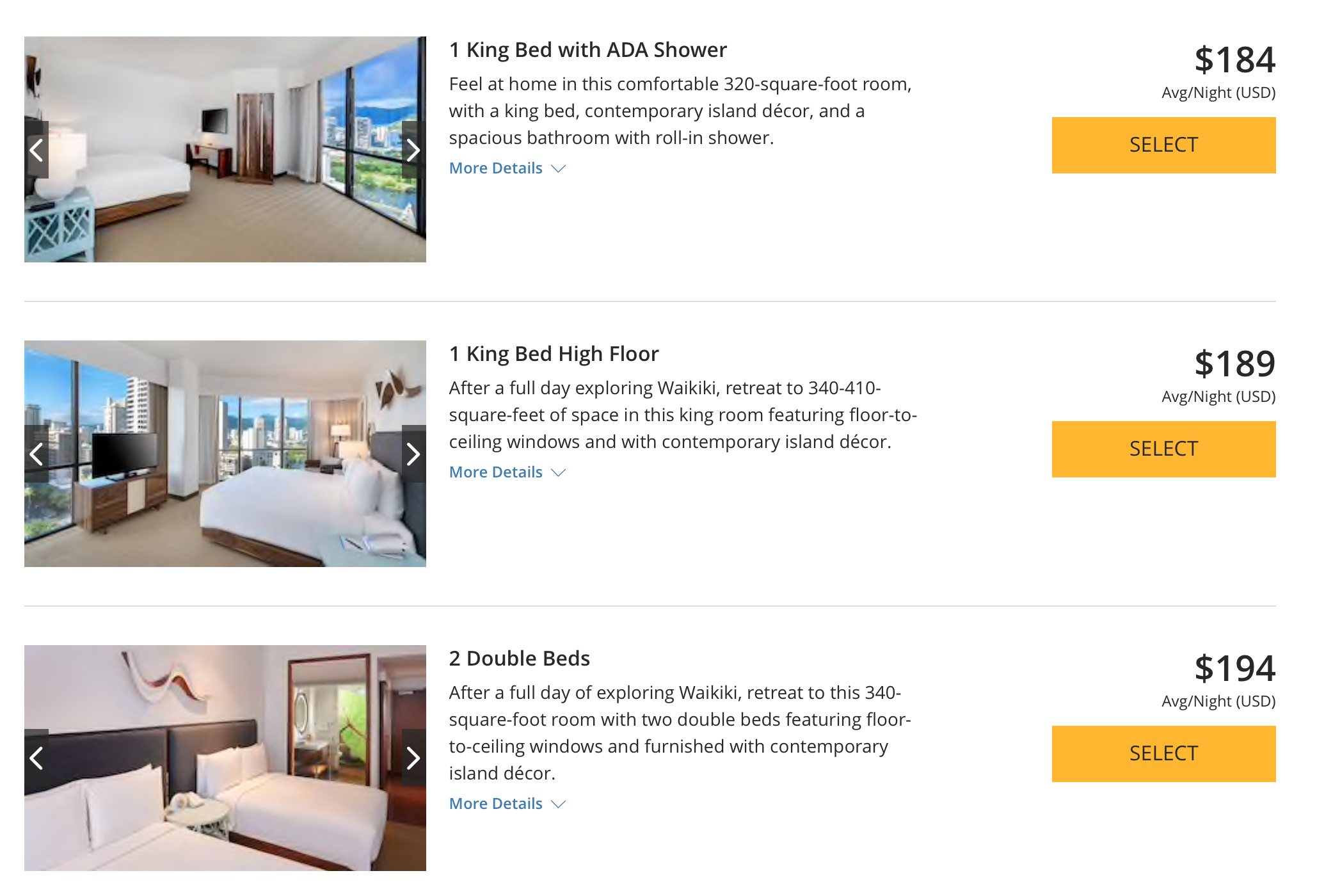 Suddenly there is a room $5 cheaper – a King Bed room with ADA shower. Yes, they knock $5 off to give you an ADA compliant room and make that room available for points.
Then they add a "two double beds" room that miraculously wasn't available for a one night stay for good measure.
Let's review how the Hyatt Centric Waikiki Beach violates the spirit of the World of Hyatt program, if not the legal agreement they have with Hyatt (apparently this is OK per my conversation with them over Twitter).
Create a room type (actually, two room types) that is only bookable on 5 night and longer stays.
Have that room type be almost the same (in room type and price) as your other regular rooms – but not exactly.
Make the version of room only bookable on 5 night+ stays the only kind that is considered your "Standard" room which is what you can book with points.
One thing that even I still don't quite understand is how they block the Suites (available in my 5 night example for 24,000 and 30,000 points) on one night stays as well. They are bookable for cash for one night. I'm not sure about their mechanism there.
And as it turns out, this hotel has been playing games for years! Check out this post from Gary at View from the Wing from October 2019. Except then it was a 3 night stay minimum and it appears to me to now have been increased to 5 nights. And I'll add to that, most people probably don't want to spend 5 nights in Waikiki at an inland hotel. I'm not saying nobody ever would, but if you are going to be there 5+ nights you'd probably rather be by the beach.
They aren't alone in Hawaii. A more commonly discussed offender is the Andaz in Maui which reportedly requires a 9 night stay to use points using a similar technique.
Is there a workaround?
I was booking for the very next night, so I couldn't try this.
But there are many reports that you can book the minimum required nights for the stay and then call Hyatt and they can actually modify your reservation to remove the nights you don't need. You'll need to have enough points in your account to make the booking in the first place (that would be 270,000 Hyatt points for the Andaz Maui) and you need to mind the cancellation period in case, for whatever reason, Hyatt can't shorten your stay. If you're Globalist (as Gary was kind enough to remind me in the comments), you don't need the points in your account making this even easier to get around
Thoughts?
Let me know below in the comments, on Twitter, or in the private MilesTalk Facebook group.
And if this post helped you, please consider sharing it!
You can find credit cards that best match your spending habits and bonus categories at Your Best Credit Cards. 
New to all of this? My "introduction to miles and points" book, MilesTalk: Live Your Wildest Travel Dreams Using Miles and Points is available on Amazon and at major booksellers.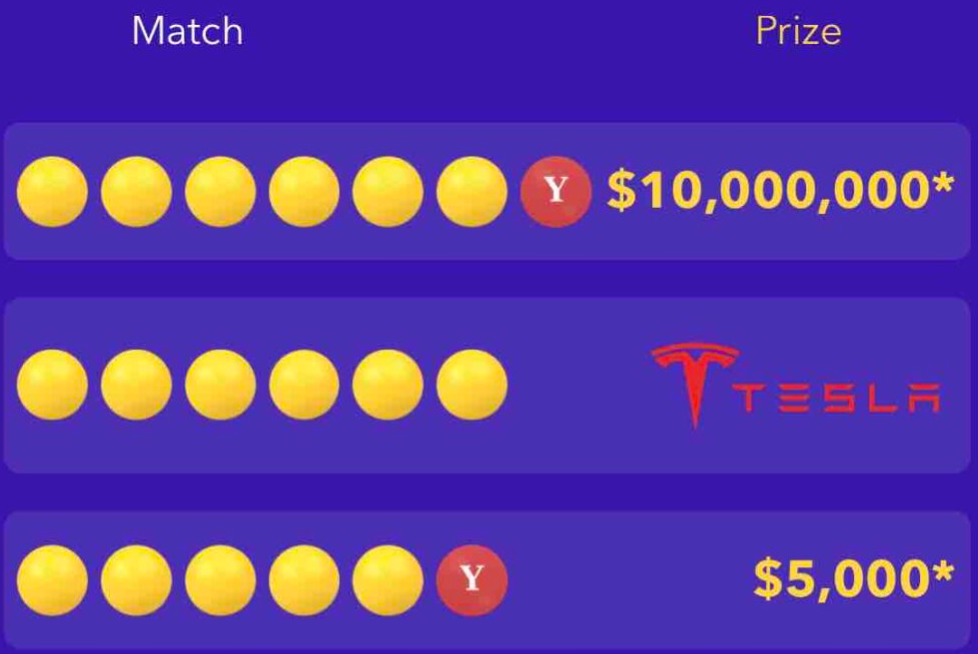 What is Yotta Savings?: The Yotta Savigs account is a really fun way to earn interest at a higher rate than Marcus while having some fun each night when the Yotta prize ball drops. Currently, the statistical odds imply a net savings rate of between around 1% and 3% - at a time when banks like Marcus are offering a paltry 0.5%. Plus, it's fun! | Read my review of Yotta.