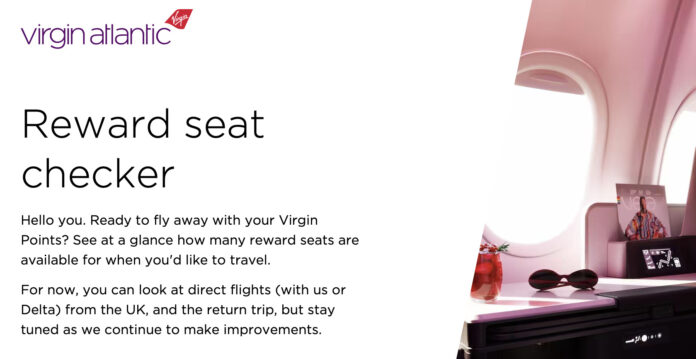 Delta is not known for transparency in its SkyMiles program. By removing award charts several years ago the price became the price – meaning, whatever they say it is. And it's usually a lot.
For instance, years ago, a ticket to Europe in Business Class one way was 50,000 miles. Now, it's almost always 375,000 miles. That inflation will make those eggs you're eying at the grocery seem downright inflation-free.
Booking Delta with Virgin Atlantic Points
But those of us "in the know" are aware that when Delta happens to make its award space available to SkyTeam partners, you can can get a steal of a deal. Most notably, routes to Europe in Business Class (excluding the UK) price at just 50,000 Virgin Atlantic points.
Even better, there are often transfer bonuses to Virgin (right now, there are 30% bonuses from both Amex and Chase, making that 39,000 points each way).
You can also use Virgin to book super cheap coach awards. 30,000 miles each way in coach to Europe (vs over 60,000 using Delta SkyMiles). But even better are flights in North America, since Virgin uses a distance based chart.
I recently flew Delta in coach from Mexico City to JFK for 15,000 Virgin points when Delta wanted 51,000 SkyMiles for the Exact.Same. Seat. My Delta Platinum benefits even applied, although of course i didn't earn MQMs since the flight wasn't booked via Delta.
JFK to LAX in economy would run 15,000 Virgin points while Delta One (this is a unicorn, I warn you) would be 52,500 Virgin points.
All of that said for context, it's been hard to use the Virgin website to find when there is availability because it's all sorts of wonky when you plug in a date and route that isn't available. Instead of defaulting to showing you available days nearby, it just errors out.
The New Virgin Atlantic Calendar Search Tool
Virgin has created a wonderful tool, in Beta, that will show you month by month available of seats available as reward seats on both Virgin Atlantic and on Delta metal. As noted by AwardWallet, it's improved greatly since initial rollout.
The short version is that you will think you can only search a handful of cities.
Here's what the search tool, located at https://travelplus.virginatlantic.com/reward-flight-finder looks like at first.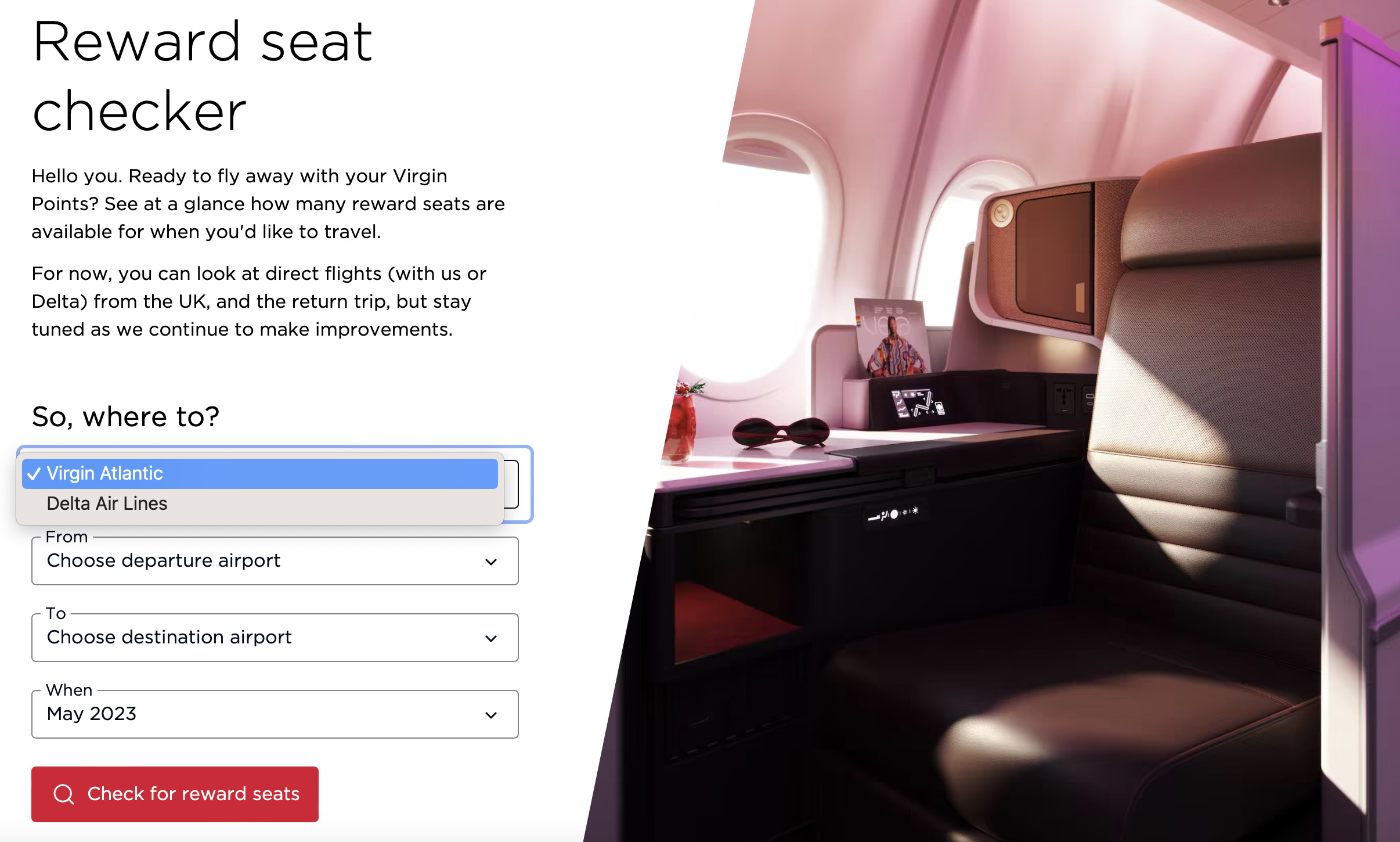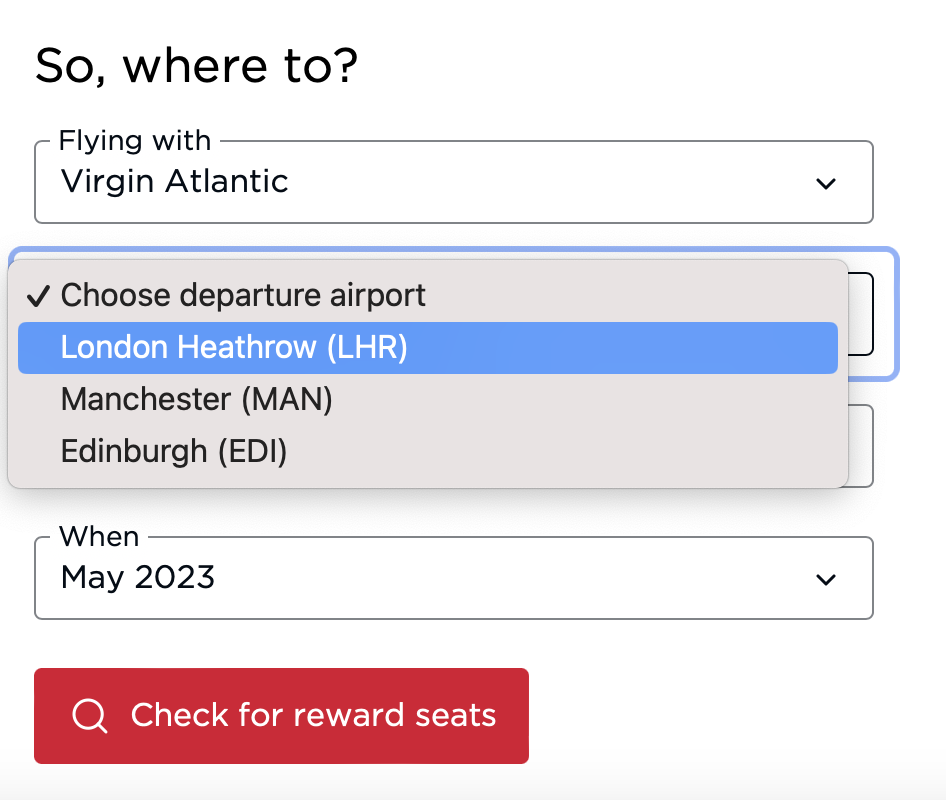 Switch over to Delta and you'll see these Delta cities: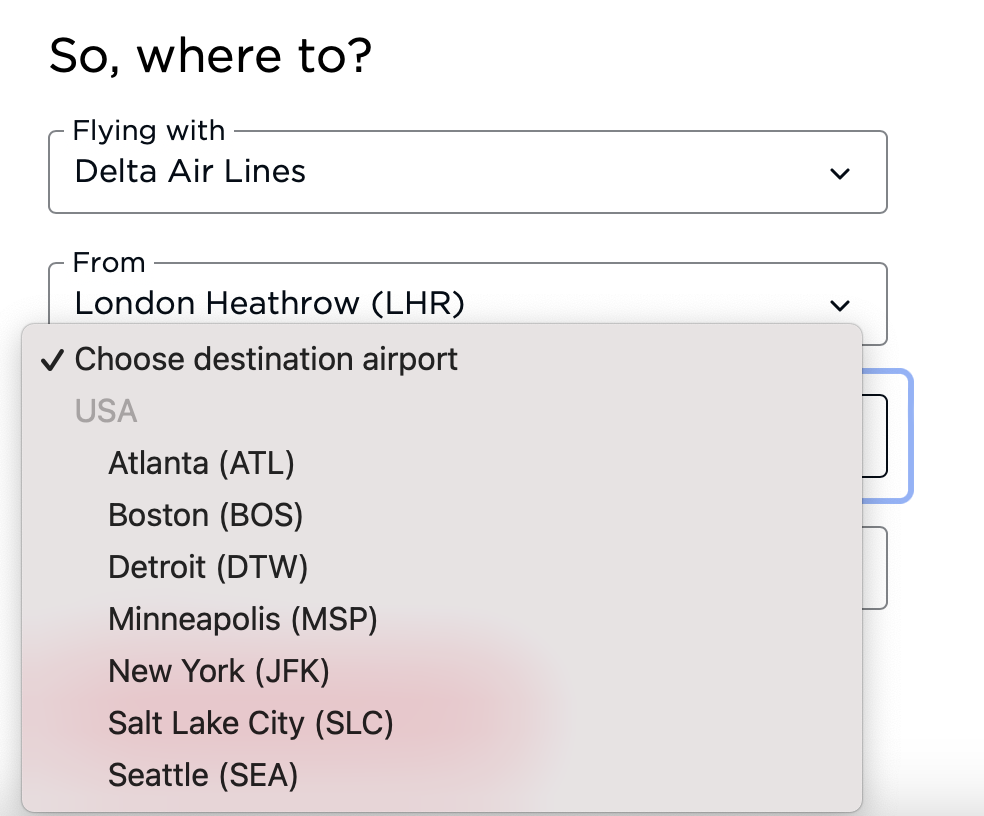 How to "Adjust" the Tool to Work Better For Us
Seems like pretty limited utility, right?
But it's not!
That's because while the user interface limits you to these cities, the easiest "hack" in the world let's you check any Delta route that Virgin can book.
You just need to edit the URL.
If I selected Delta / Heathrow / JFK in the drop-downs, the resulting URL would be:
https://travelplus.virginatlantic.com/reward-flight-finder/results/month?origin=LHR&destination=JFK&airline=DL&month=05&year=2023
(Obviously, I'm writing this in May 2023 – that last part will change to the month you are currently in.)
Notice how I bolded LHR and JFK? That's because you can replace those with any airport codes you want (that Delta flies) and it will show you a calendar.
Want to see availability for JFK to Mexico City? Replace LHR with JFK and JFK with MEX.
https://travelplus.virginatlantic.com/reward-flight-finder/results/month?origin=JFK&destination=MEX&airline=DL&month=05&year=2023
(NOTE: You must use all caps for the airport code or else it will produce an error. If you don't know an airport code, just Google it! i.e. "What is the airport code for Atlanta's airport?" It's always three letters.)
In the top right you can toggle months and the results load almost instantaneously, showing you available seats in all classes of service. As you would expect, Delta is VERY stingy with First Class or Delta One space, but they offer quite a bit more coach seats than you might have expected.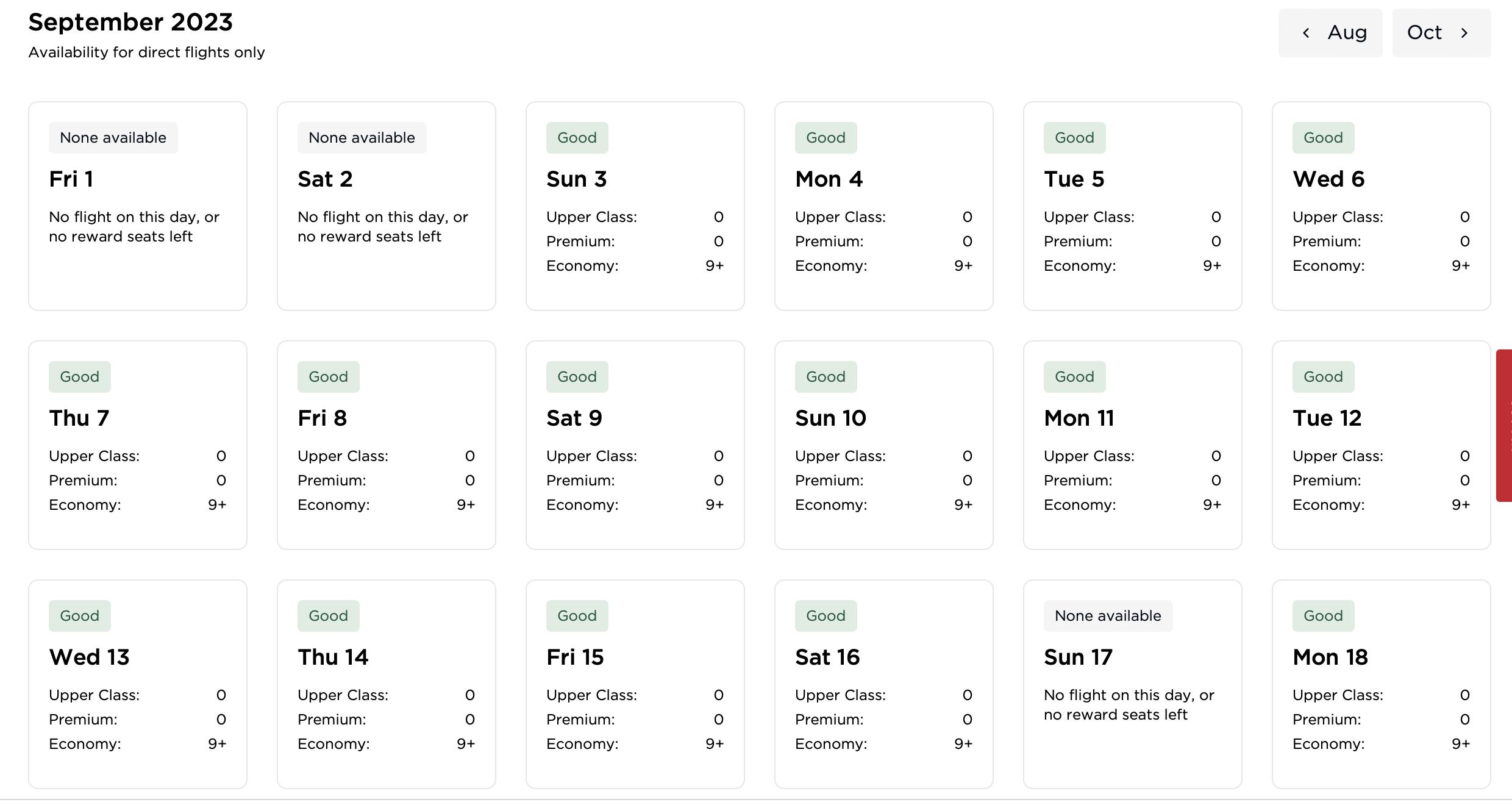 Once you find a day that works for you, just click "Book My Reward Flight" in the bottom right corner. You'll still have to fill it all out, so just note your route and date.
One tip: on some routes, it won't let you select "points" as how you want to pay on the search page. No worries. Select the cash option and then once you see the fares, toggle to Points.
In the video below, where I show you how this works in 90 seconds, you'll see that I did find a day with 7 Delta One seats from Geneva to New York. So, it happens!
View this post on Instagram
I would go as far as to say that with this tool functioning as well as it does, before you ever spend a single SkyMile on a Delta flight, you should see if it's available via Virgin and what the rate is. Just remember that while you earn MQMs on award flights booked on Delta and on Delta metal, you will not earn them when you book via Virgin.
PS: If it's available on Virgin, it should also be available on Air France Flying Blue – so that's another comparison you can make to be sure you have the best deal.
Multiple Virgin Transfer Partners
Best of all, Amex, Chase, Citi, and Bilt points all transfer to Virgin – often with up to 30% transfer bonuses – so it's not only cheaper than using Delta miles, it's easier to get as well! Just the one Amex Green bonus alone would cover a one way business class flight on Delta One to Europe using Virgin points – and close to a round trip using the current 30% transfer bonus.
Again, major hat tip to AwardWallet for catching that Virgin has greatly improved this tool. It's been in beta for a while and this hack did work th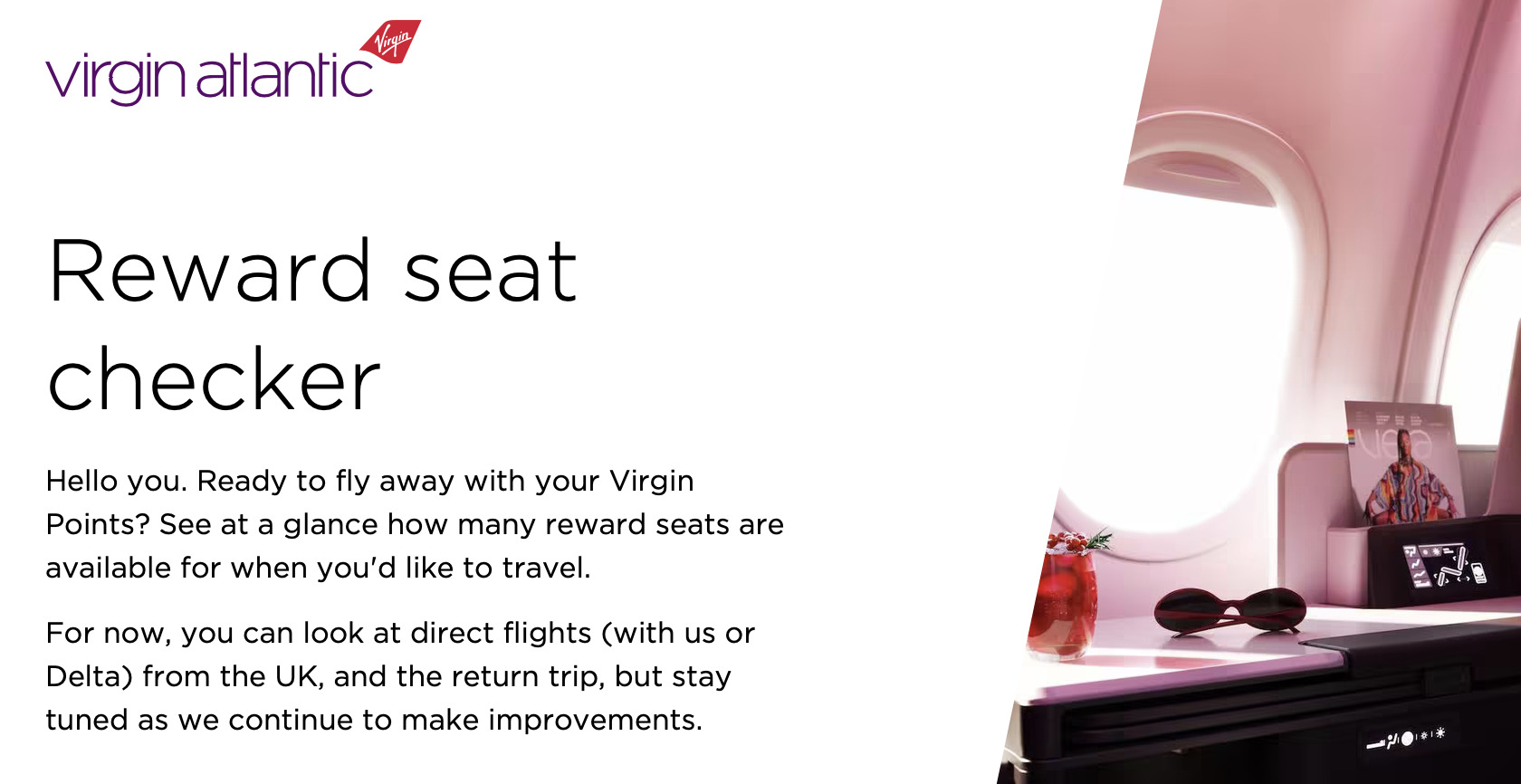 en – but it also broke a lot. It seems to be working quite well now.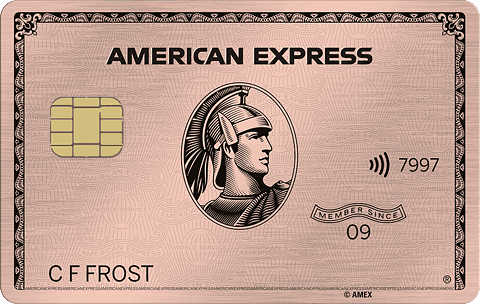 Get 60,000 Bonus Membership Rewards points after spending $4,000 on purchases within the first 6 months on an American Express® Gold Card or Rose Gold Card. Earn 4X points on dining and U.S. supermarkets (up to $25,000 annually, then 1X) plus get $10 monthly dining statement credits and $10 in monthly Uber Cash. Terms apply. | How to apply for this offer. | Read our Review of the American Express Rose Gold Card
Thoughts?
Let me know below in the comments, on Twitter, or in the private MilesTalk Facebook group. And don't forget to follow me on Instagram for all sorts of tips on miles, points, credit cards, and travel.
If this post helped you, please consider sharing it!
You can find credit cards that best match your spending habits and bonus categories at Your Best Credit Cards. 
New to all of this? My "introduction to miles and points" book, MilesTalk: Live Your Wildest Travel Dreams Using Miles and Points is available on Amazon and at major booksellers.