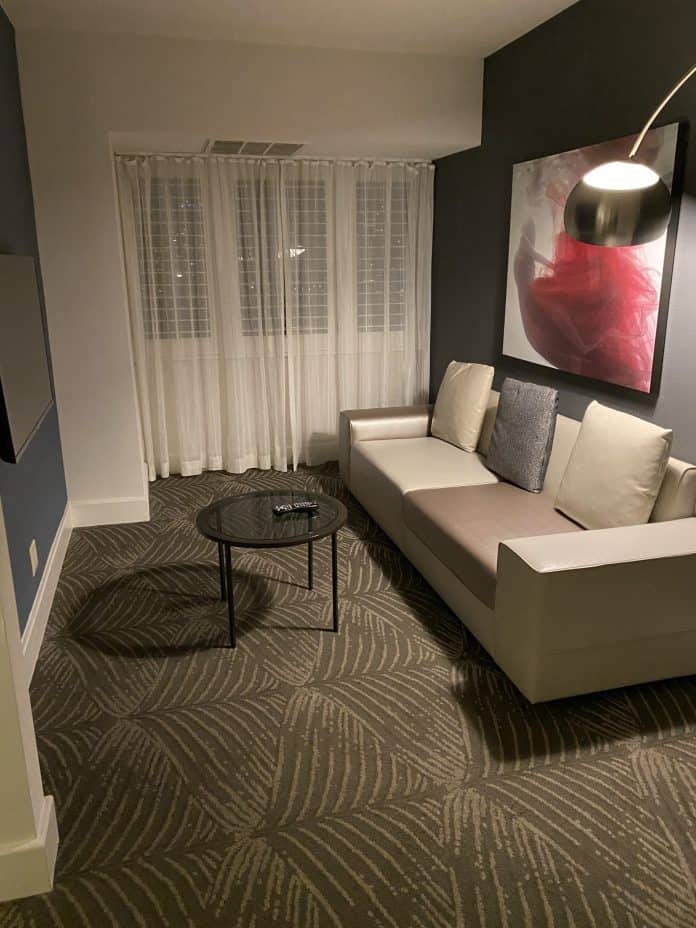 In the past week, I stayed four back to back nights at four different Marriott Bonvoy hotels on the Westside of LA so that I could compare not just the locations, lodgings, and service, but also specifically how they treated a Titanium member with regards to room upgrades and breakfast/other elite benefits.
I also went out of my way to source the best cheap or free parking for each, where valets can top $50.
The 4 Westside LA hotels I stayed at were, in order:
Le Meridien Delfina – Santa Monica
Proper Hotel Santa Monica (A Design Hotel)
W Los Angeles West Beverly Hills (which is really in Westwood)
Let's see how I fared at each of these hotels
High level, I enjoyed my stays in all of these hotels. For all of these hotels, I sent a message in advance simply reminding them that I held Titanium status and that I enjoy suite upgrades, but all very casual with zero demands nor expectations.
I also have to say that the hotel staff in each one of these hotels was absolutely delightful. Not one sour face in the bunch, which certainly always helps! Also keep in mind that short stays, like a one night stay, always have a higher upgrade possibility than longer stays.
Le Meridien Delfina – Santa Monica (Day 1)
The first stop on my trip, I pulled into the Le Meridien a bit after midnight, a bit tired from my long flight in from NY.  I used a 40,000 point free night certificate from requalifying for Titanium status.
Titanium Elite Upgrade:
They had pre-blocked me into a beautiful suite with a very nice wrap around balcony. I prodded to see if I could get one of the "whirlpool suites" that have a hot tub on the balcony, but those were sold out for the night. As it turns out, the hotel only has four of those suites and they tend to be sold.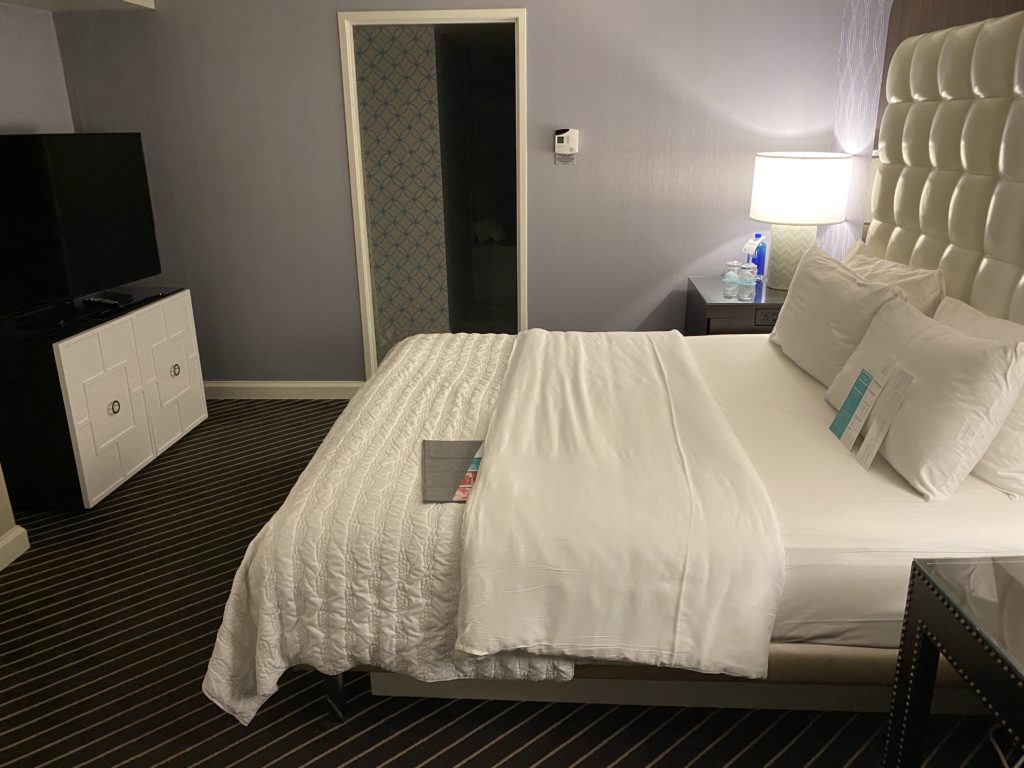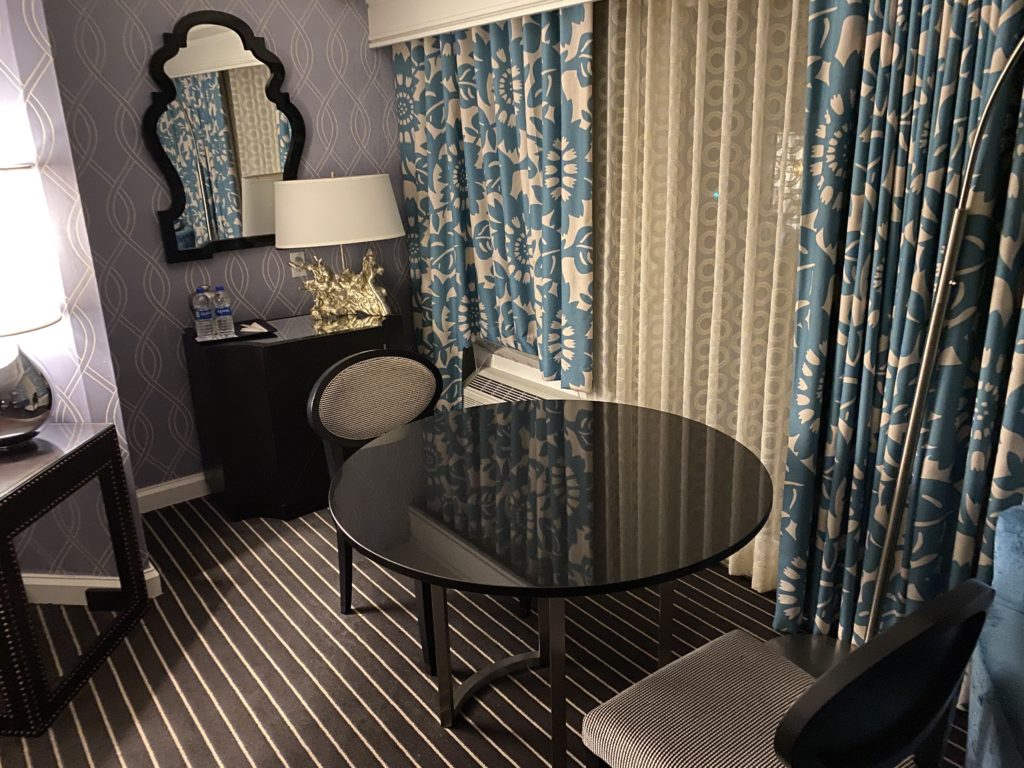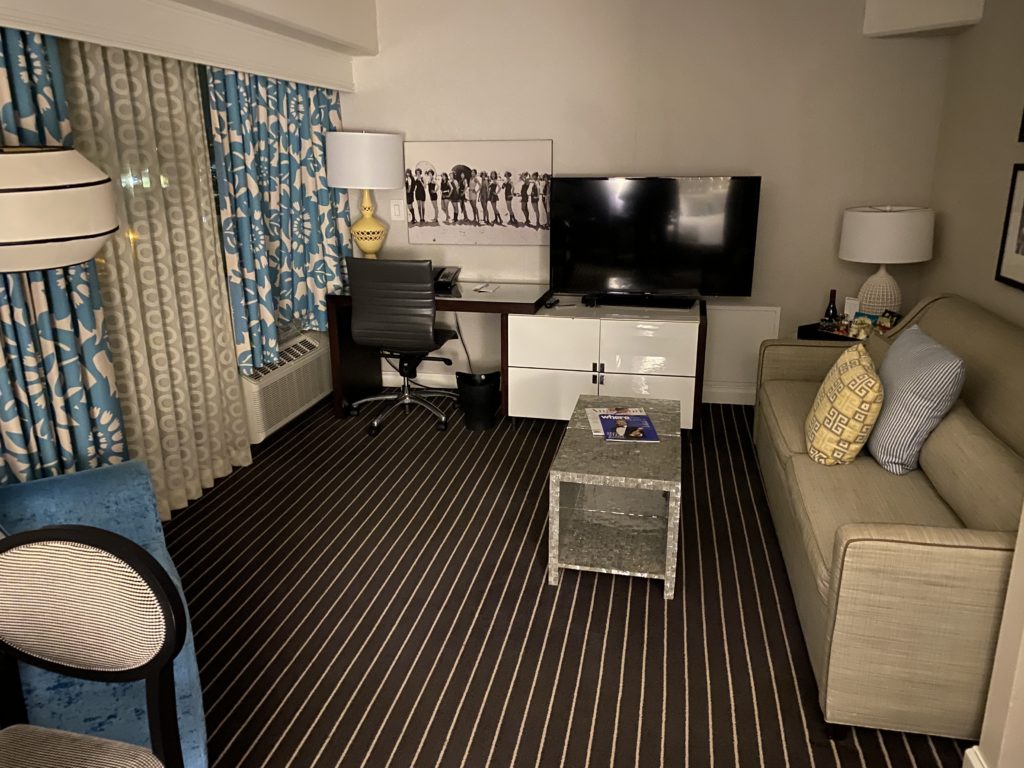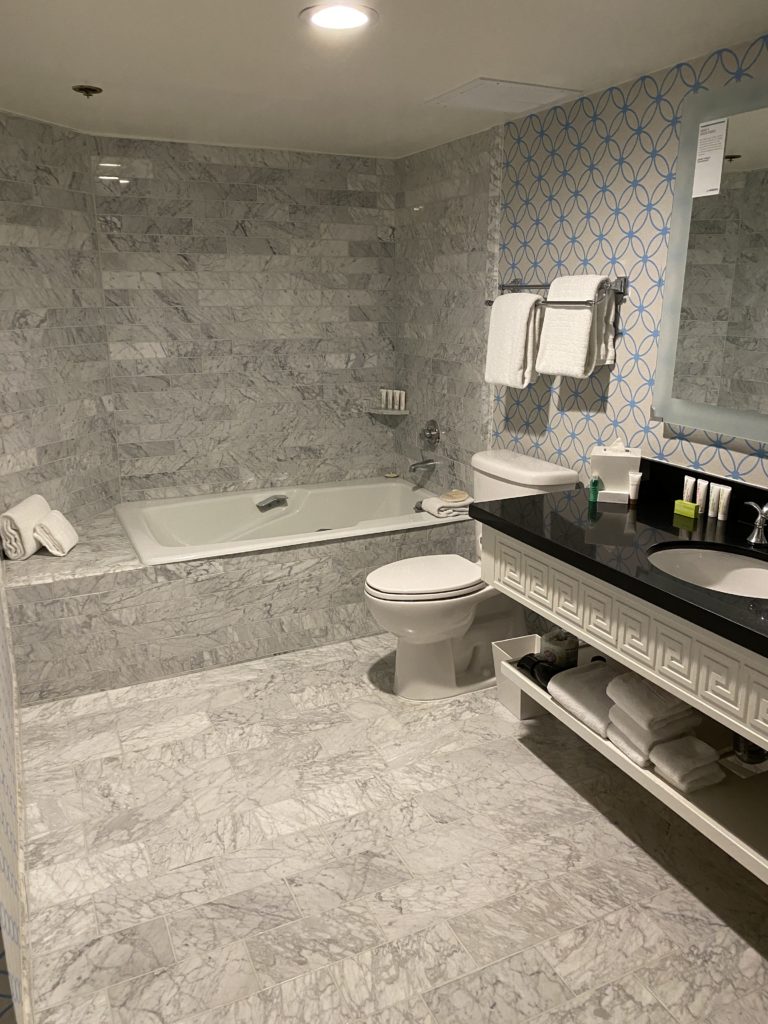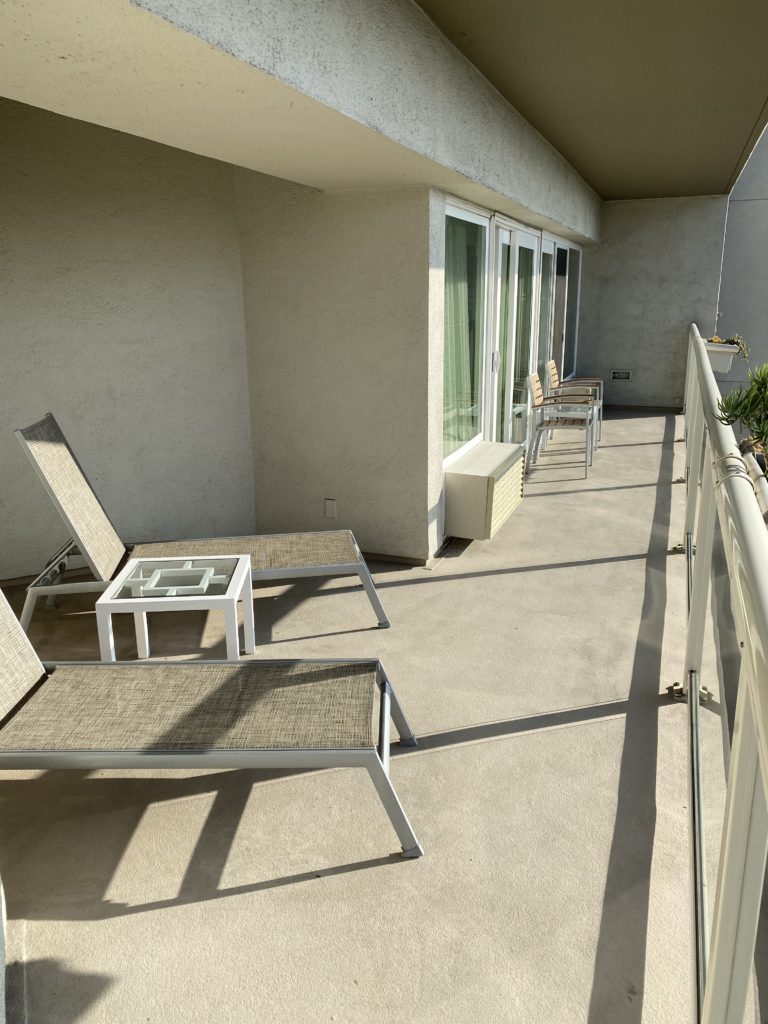 Titanium Elite Benefits:
Free breakfast was a continental offering, but the very nice agent checking me in offered to upgrade me to the hot breakfast at no charge. Even better, at breakfast, the server saw the full breakfast coupon and, noting that that was the most expensive item on the menu, invited me to simply "select anything on the menu" which I did, enjoying a delicious croque madame and an iced coffee. For what it's worth, the brand standard offers the choice of 1,000 points or free breakfast or a "local amenity" but the Delfina does not offer the local amenity option.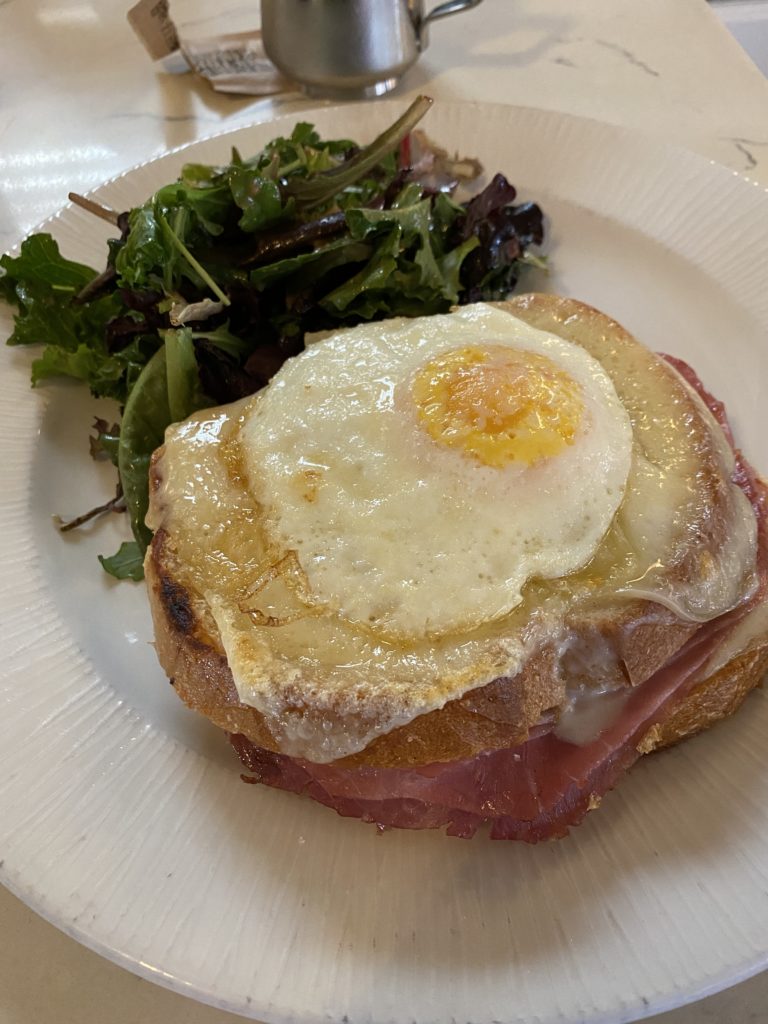 The location at this hotel is really its only negative (well, that and the pool sort of being stuck behind the building instead of on some sort of grand rooftop location). It's on Pico which means that if you are intending to see the main part of Santa Monica around the 3rd St Promenade, you'll need to cross the 10 freeway. There are sidewalks and all (though I wouldn't advise a scooter) but it's not pretty and it's just not ideal.
Le Meridien Delfina Parking
They also charge a $33 destination amenity (resort) fee, which feels inappropriate for this hotel, but then they also offer free parking. In my mind I just called that a wash and valeted my car, though otherwise I wouldn't have valeted.
I'd definitely stay there again, but it's just a better hotel when you are using it as a base to drive rather then when you want to be in the heart of the action.
Ritz Carlton – Marina Del Rey (Day 2)
Titanium Elite Benefits:
Bear in mind that at Ritz Carlton, only Titanium and Ambassador Elites are entitled to suite upgrades. Ritz also doesn't offer any other elite benefits aside from a 1,000 point welcome gift. I paid $190 plus 25,000 points on a cash and points rate.
Titanium Elite Upgrade:
When I checked in, I very politely mentioned I was hoping for a suite upgrade, especially in light of the lack of other benefits at the Ritz. He thanked me for spending 75+ nights in a Marriott Bonvoy hotel to earn Titanium and found me a gorgeous 1 bedroom, 1.5 bath suite with two terraces overlooking the marina. Absolutely stunning. It was selling for $1,000+ on the website.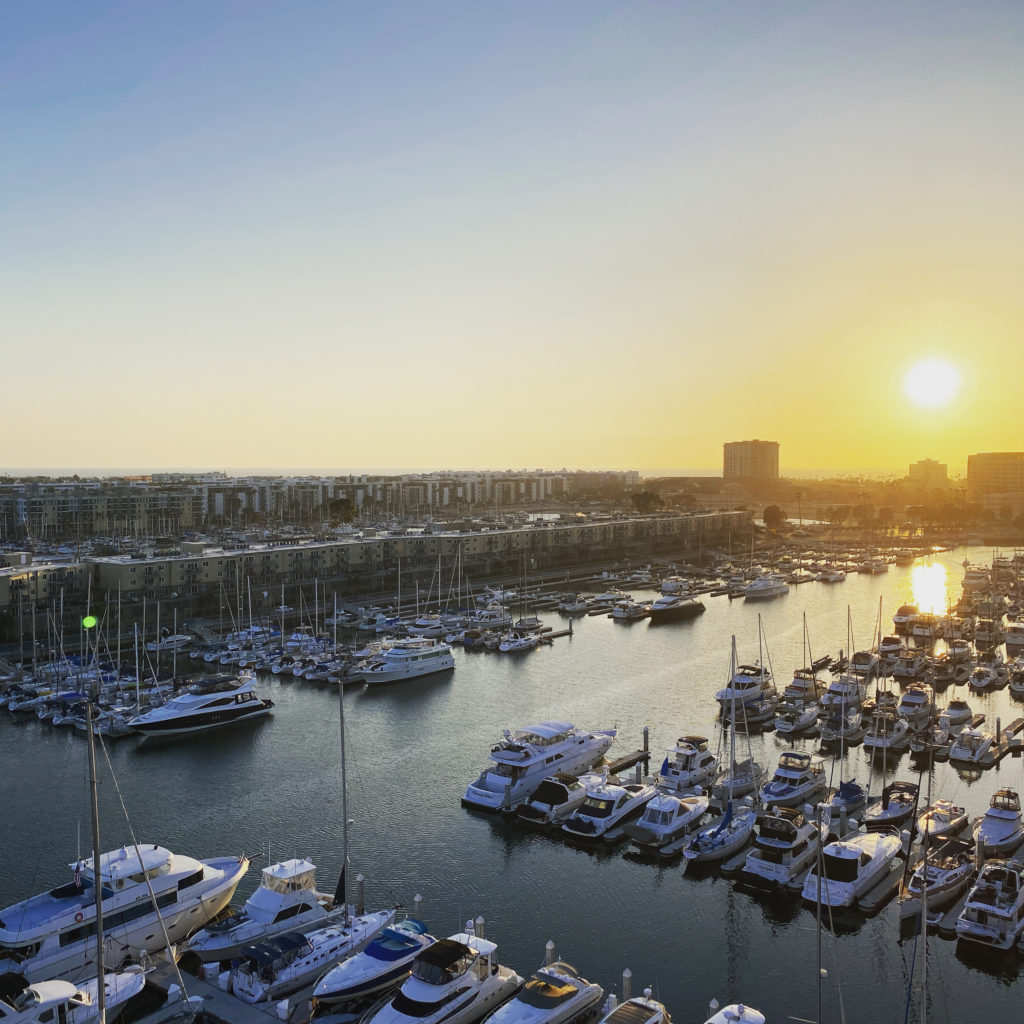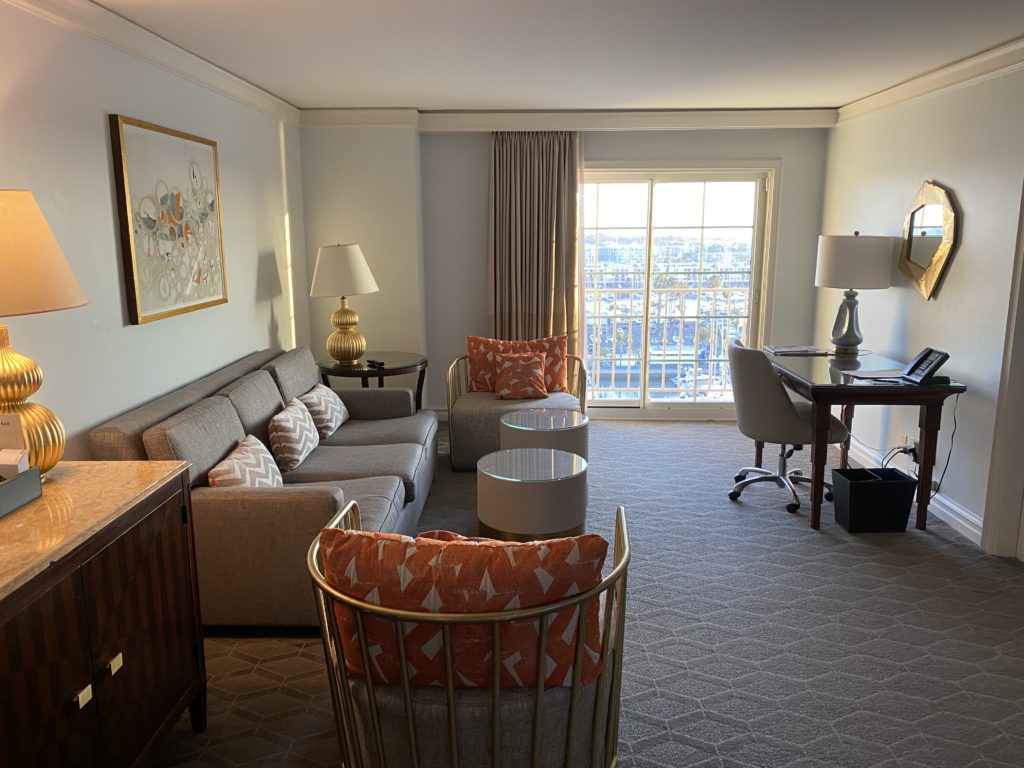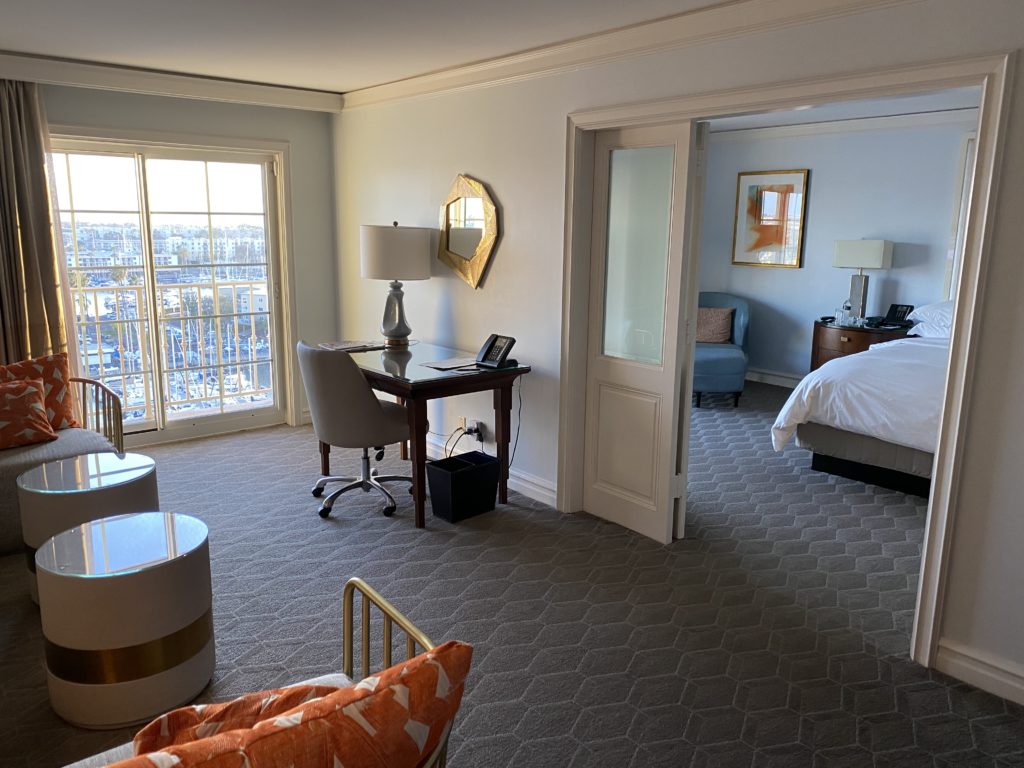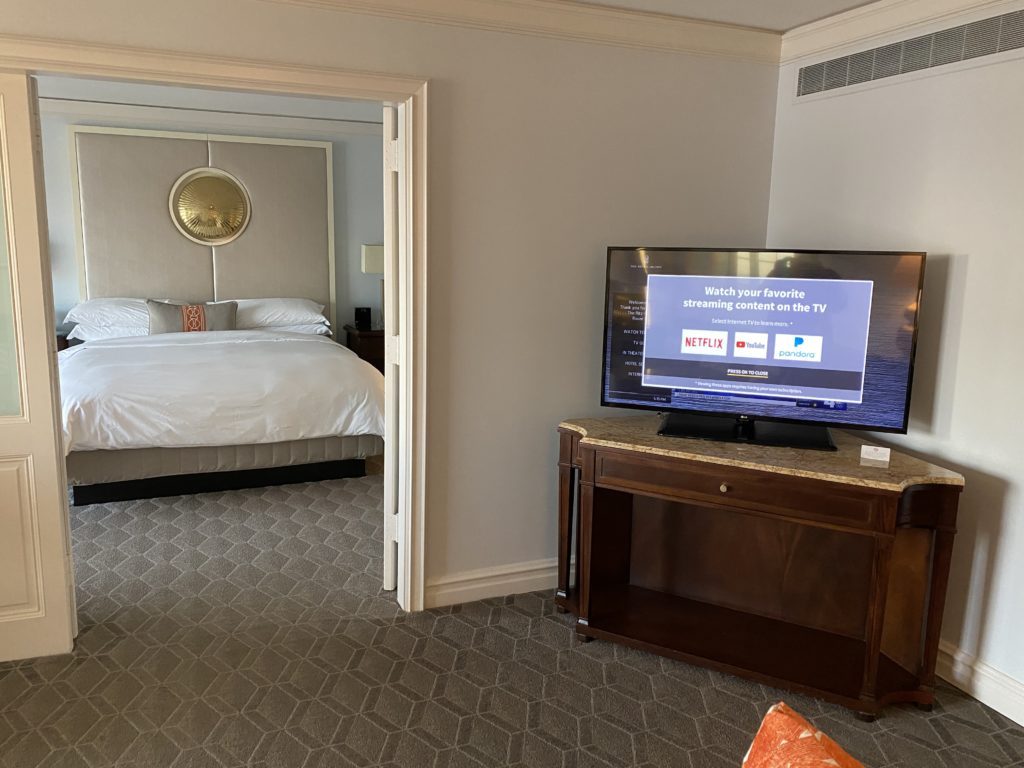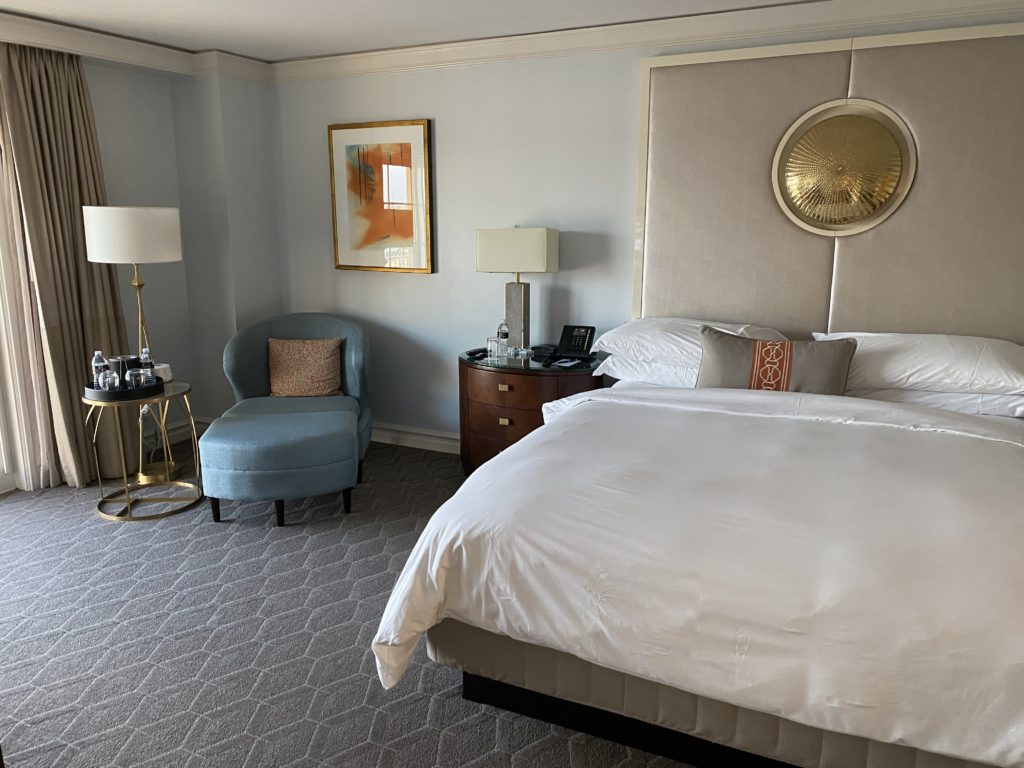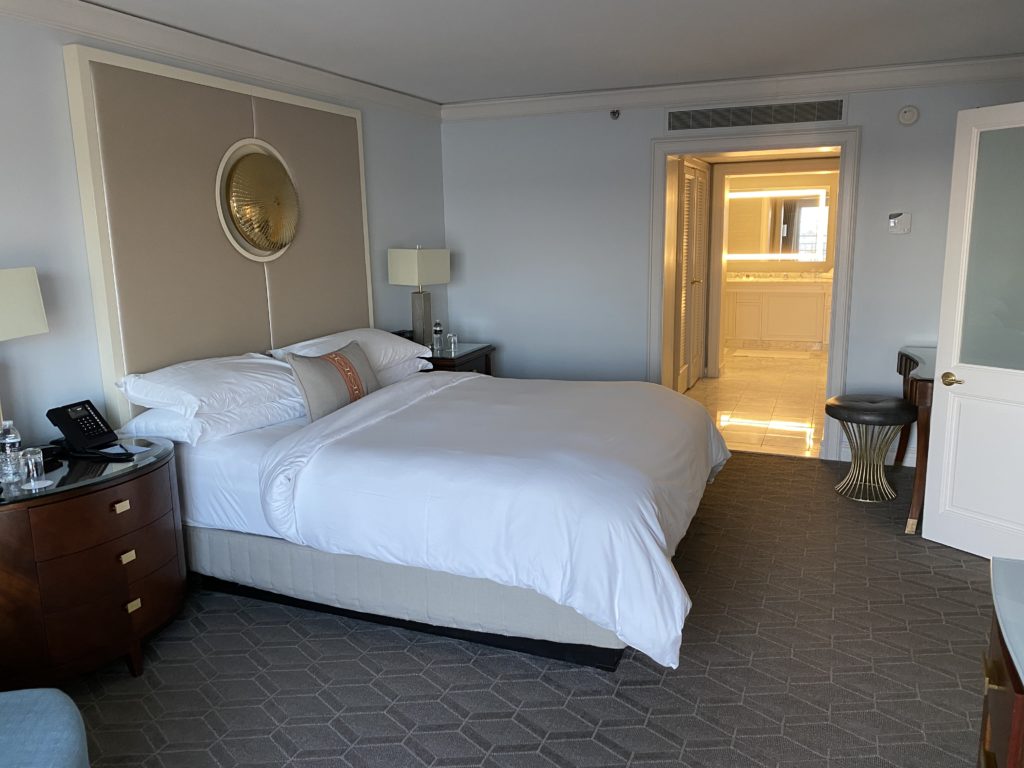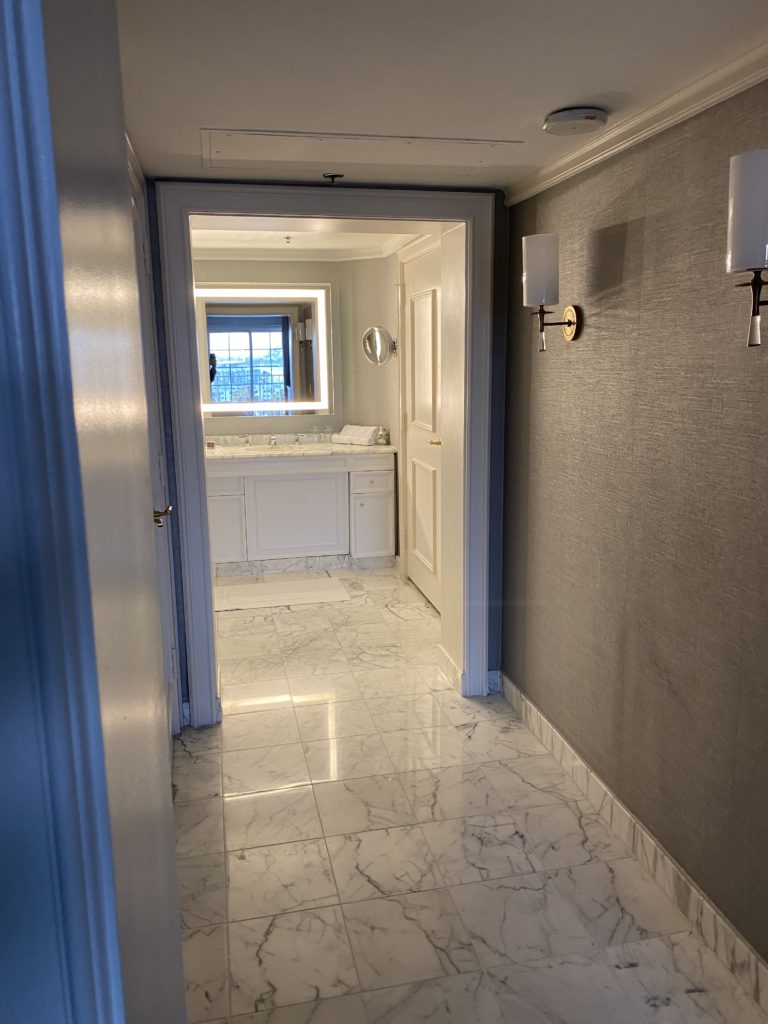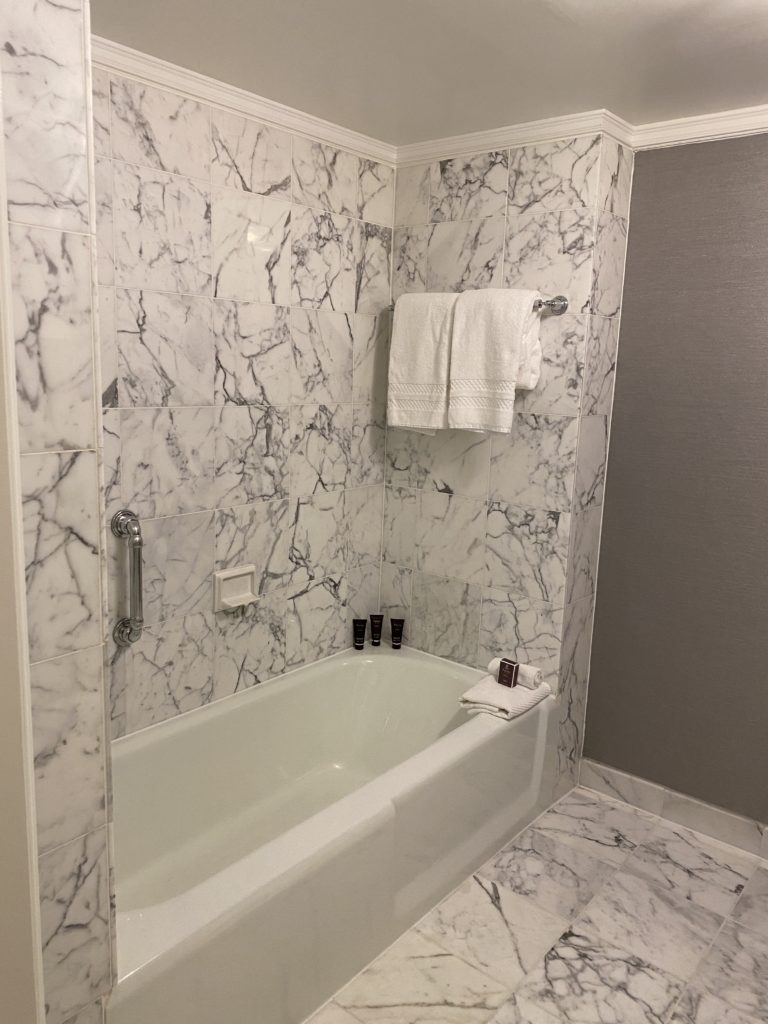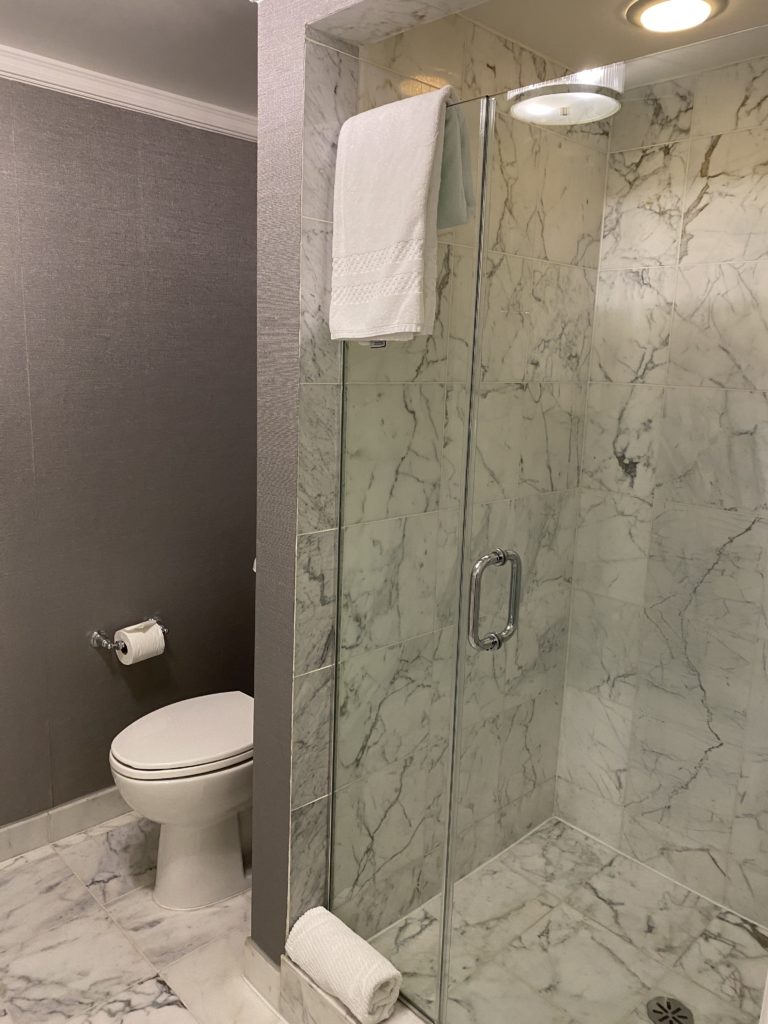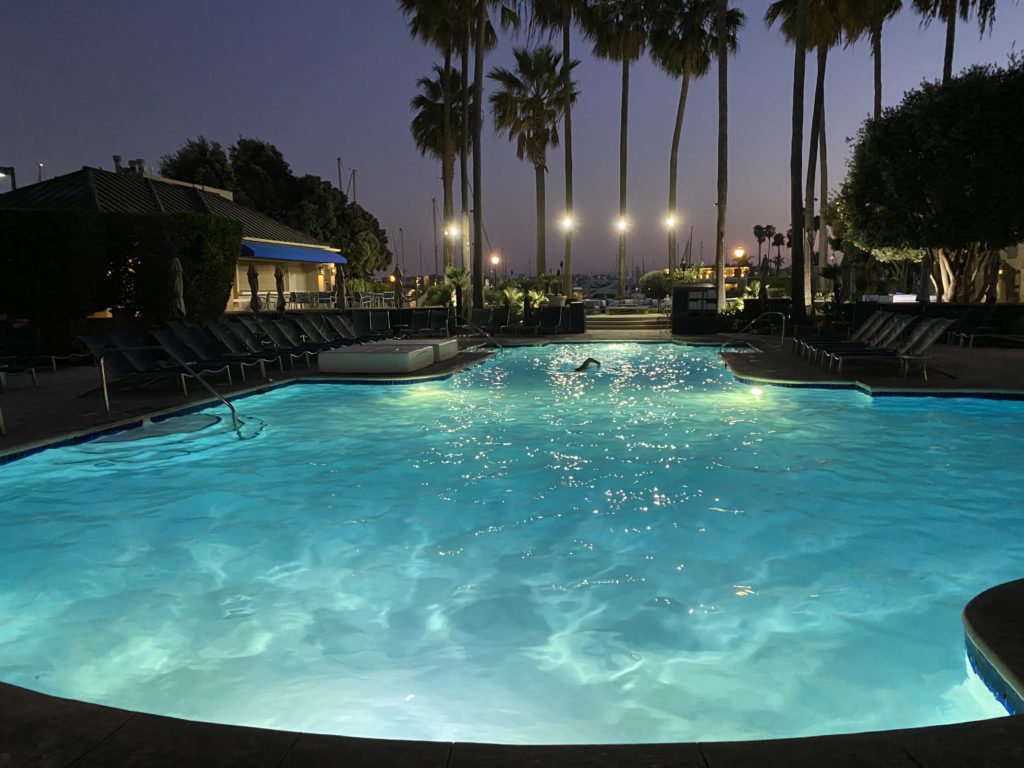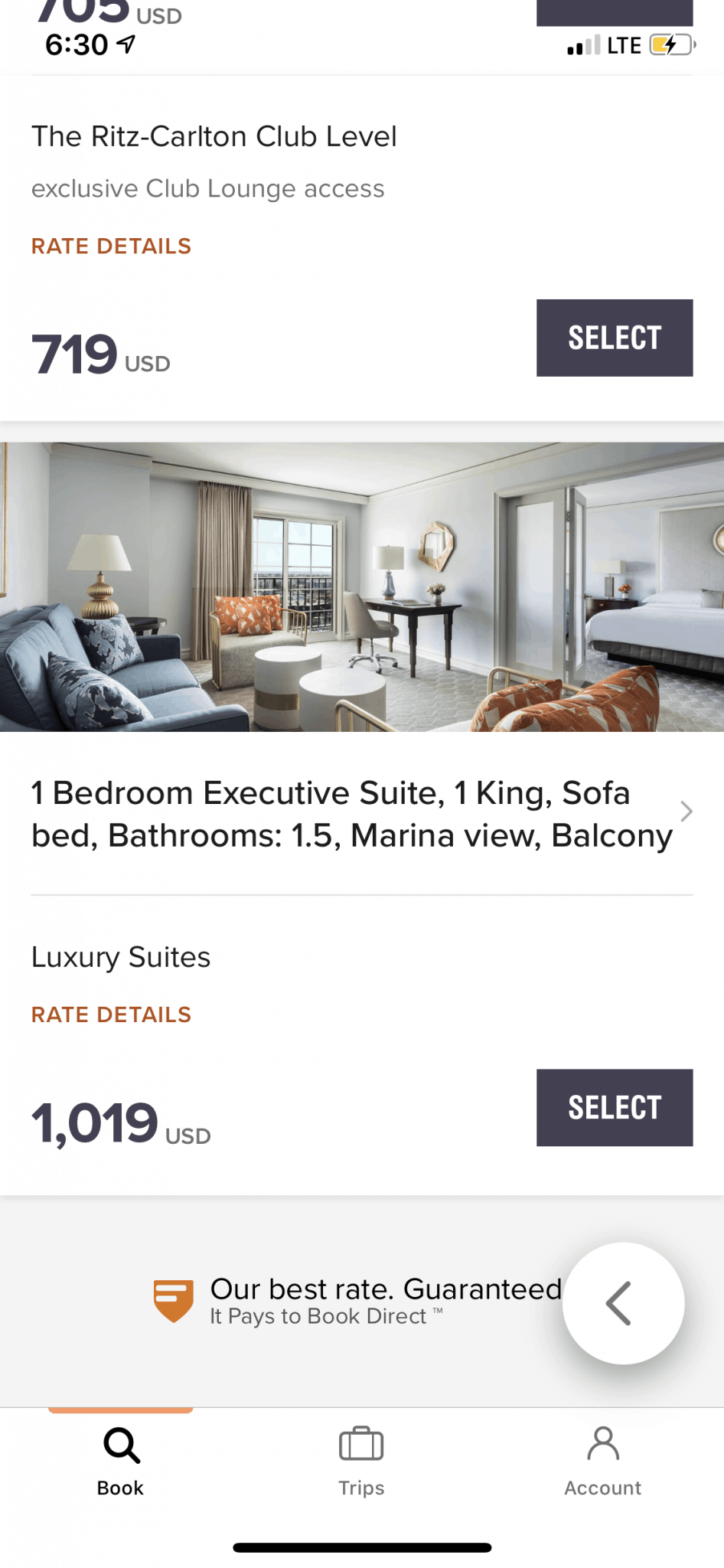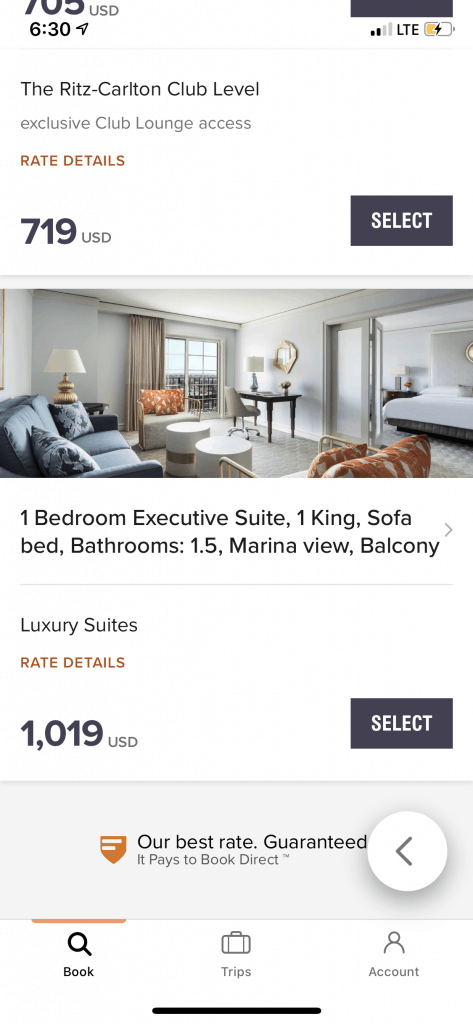 Side note: They free coffee in the room (Nespresso) and have samples of cold brew in the lobby in the morning. Other coffees have a fee and are from a coffee cart near the restaurant.
Also remember that while the Ritz Carlton has a lounge, it's not included with elite benefits. Out of curiosity I enquired as to what access costs and was told $250 a night. It apparently includes pretty constant high quality food and beverage, although I can't personally ever see spending that kind of cash on a lounge in a hotel.
Ritz Carlton – Marina Del Rey Parking
Valet is $44 plus tax. Directly across the street, though, is a city lot where you can park overnight for just $8. You'll want to drop your bags off first as you need to go over a small wall and across a four lane fairly busy road. It's also not entirely convenient if you'll be going in and out a lot. But if you are just parking for the night, it's worth the almost $50 in savings.
Overall, I really loved the Ritz Carlton, especially the outdoor saltwater pool and jacuzzi.  Dining options are very limited, however, with one main on-site restaurant. You could get to plenty of dining via Uber (or you can even order delivery).
Santa Monica Proper (Day 3)
What a gorgeous hotel the Proper is, and with room rates generally over $500 a night plus tax, it should be! I used a 50,000 point free night certificate from my American Express Bonvoy Brilliant credit card. Not included in that was a $43 destination amenity fee and a "wellness tax" that is an annoyingly common surcharge at LA area hotels and restaurants to cover healthcare. And I only say "annoyingly" in the context that I think that, like a resort fee, it should simply be included in the rate since you have to pay it. I'm certainly happy to chip in for everyone to have healthcare!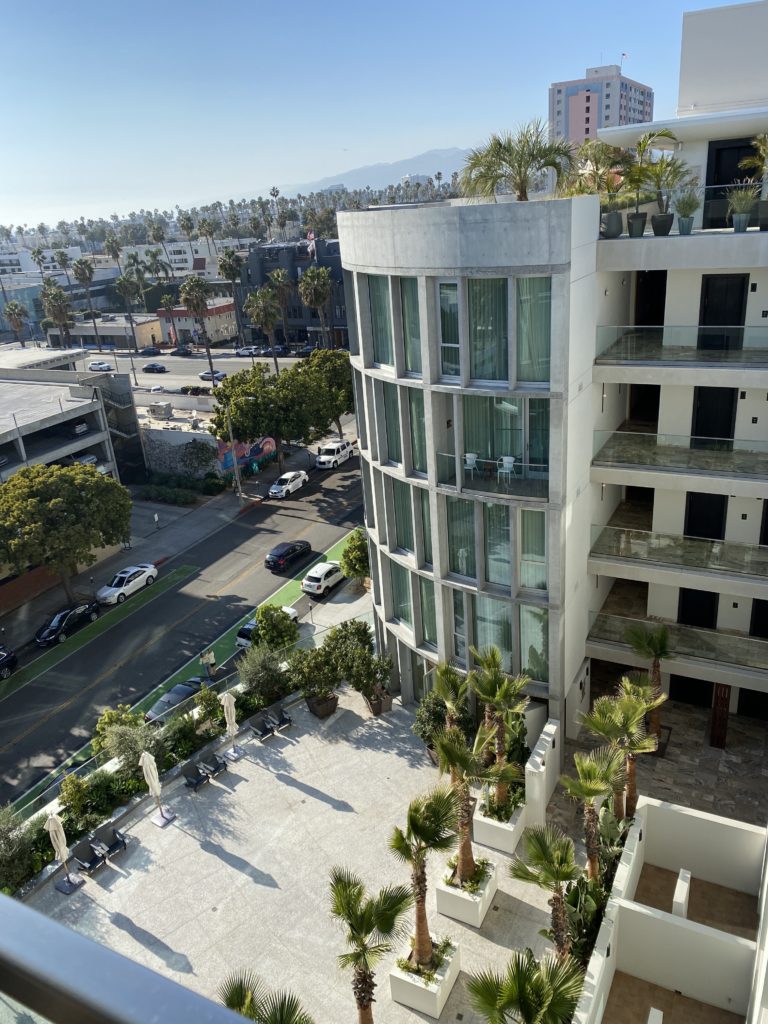 Titanium Elite Benefits and Upgrade:
At Design Hotels, Titanium benefits are *very* lean. Upgrades and late checkout are both upon availability and there's no welcome points nor breakfast nor lounge.
That said, they did upgrade me from my Queen room – the smallest room (which was what my points booked) – to a King room which was apparently a bit bigger. They also granted me early check in at 11am and also late checkout at 4pm the next day was granted as they weren't sold out. Overall I appreciated them trying their best to both acknowledge the status in whatever way they could, despite the brand standards not guaranteeing much at all.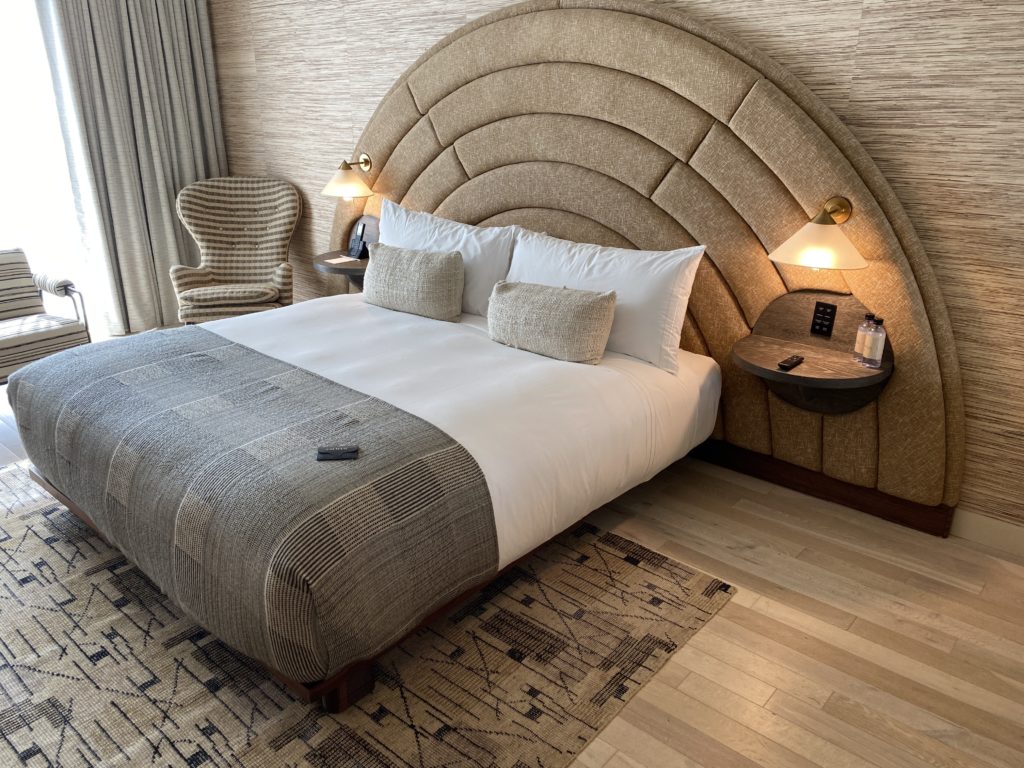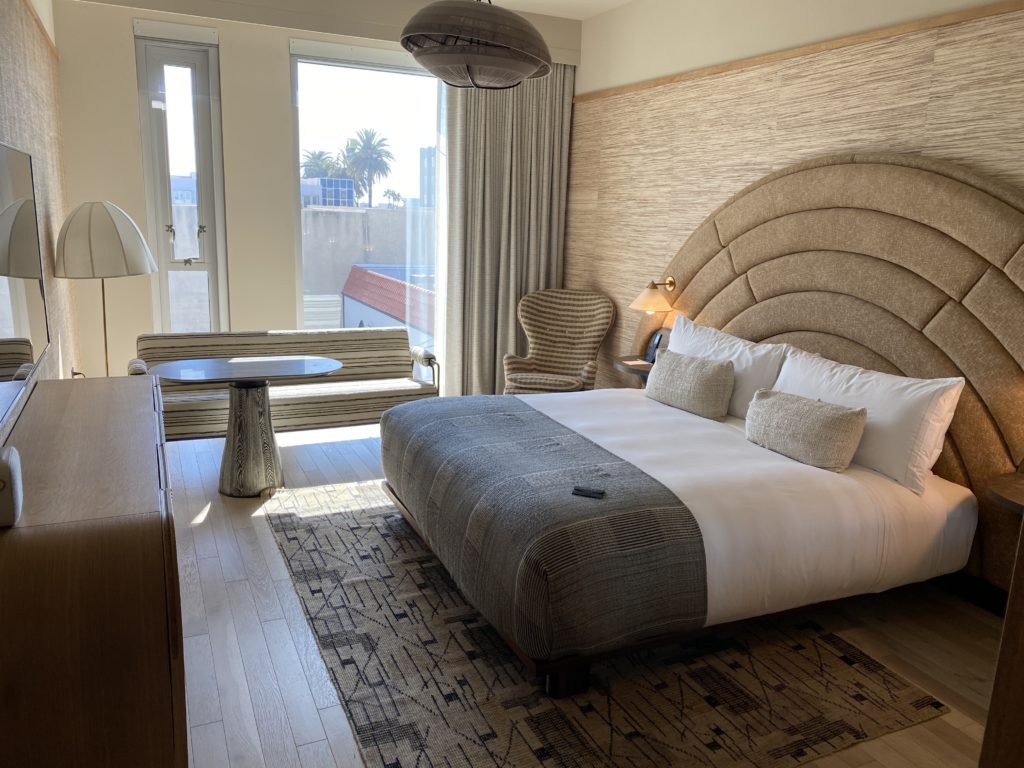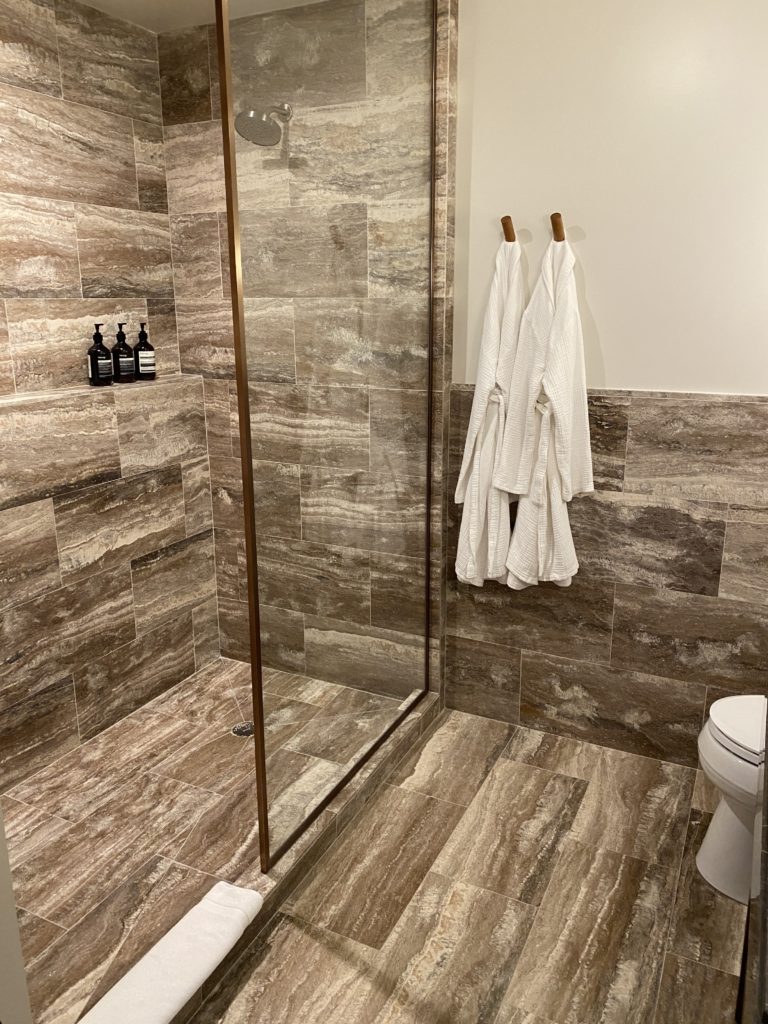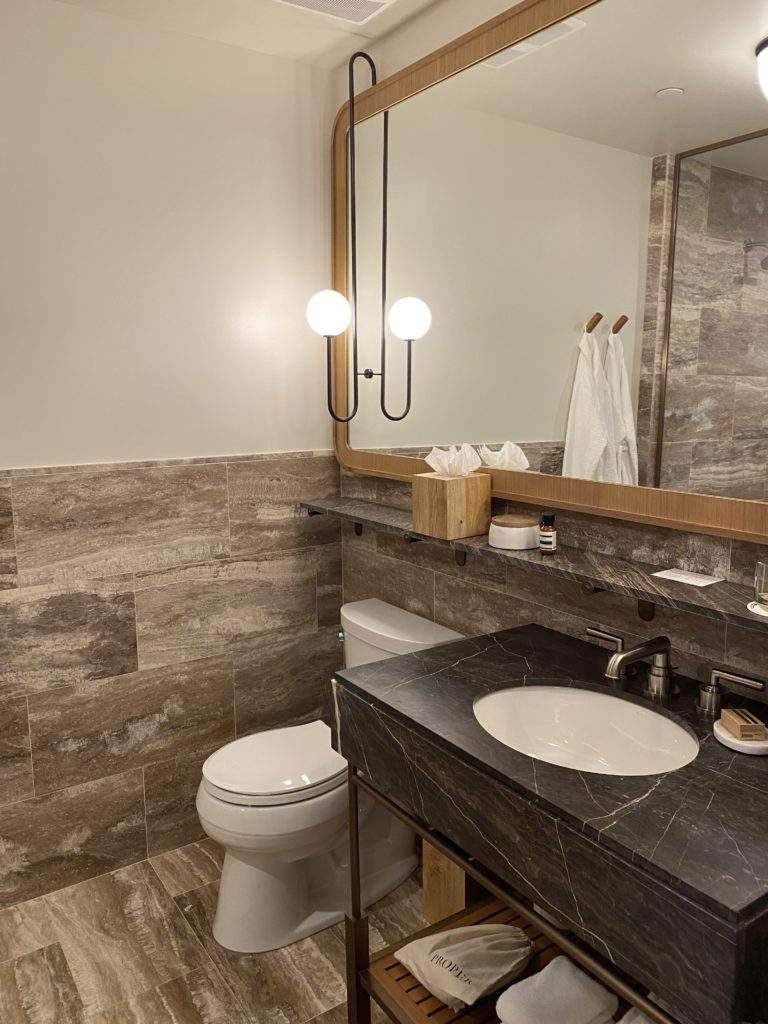 The hotel overall is just gorgeous, and I'd be super happy to stay again in the future. The roof deck pool feels like you are in Mexico or South Beach and everything is very tastefully and luxuriously appointed.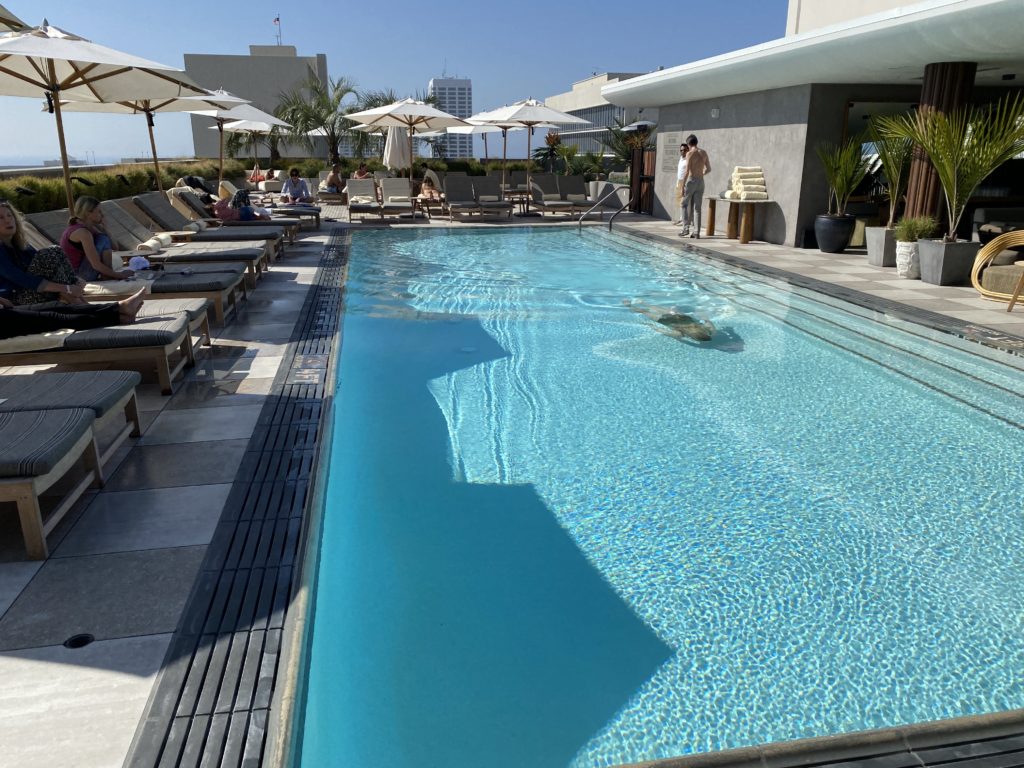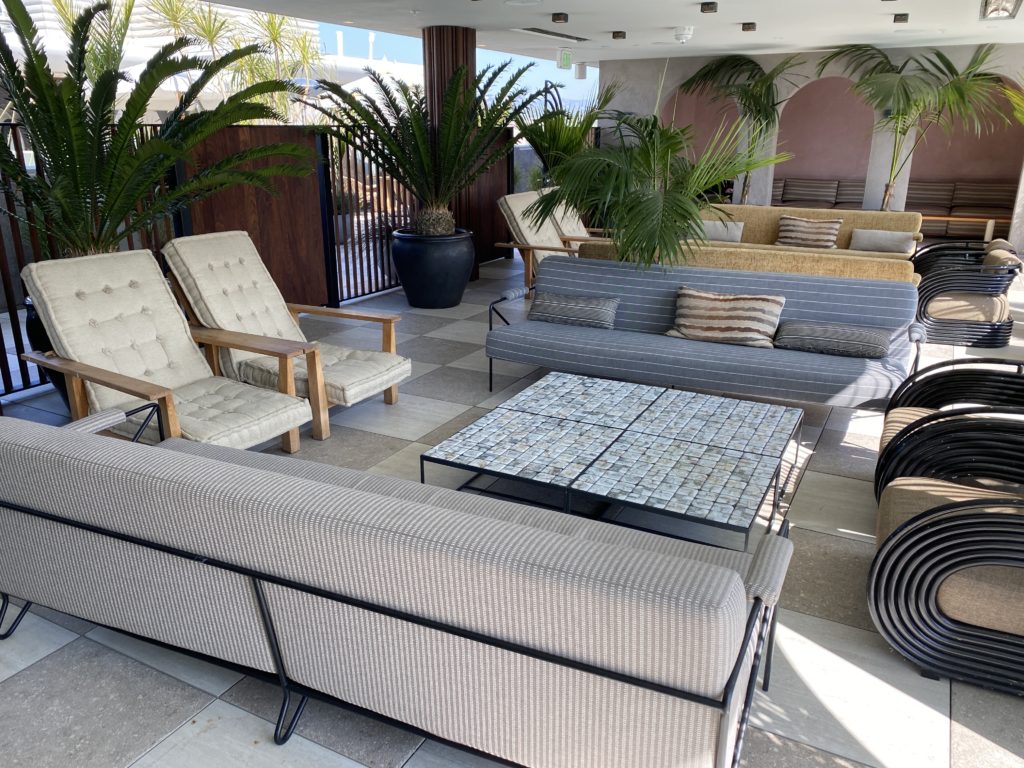 I did dine at the rooftop restaurant at the request of a MilesTalk reader, and the lamb burger and fries came out to $39. Not cheap by any stretch, but excellent taste and quality.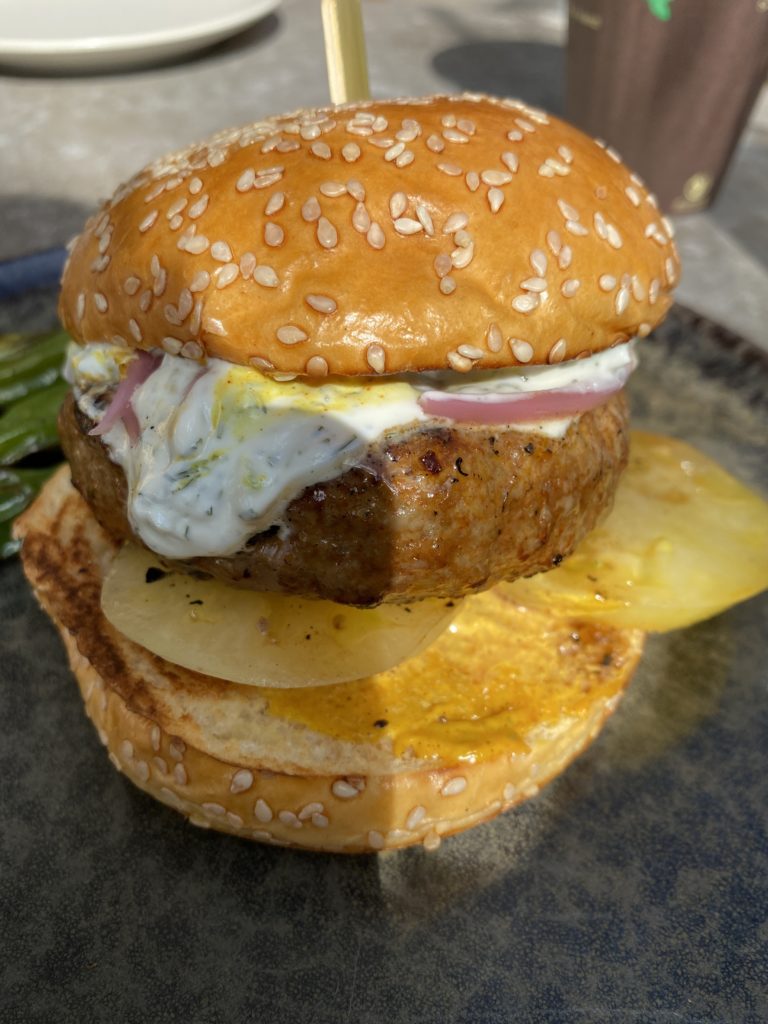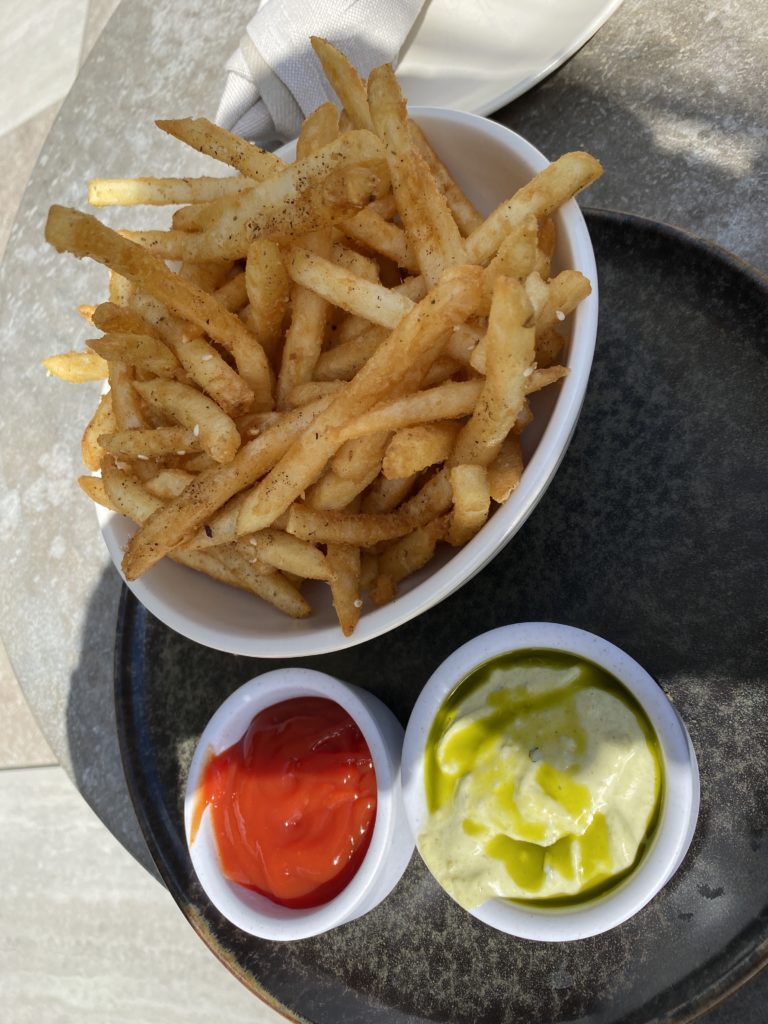 Santa Monica Proper Parking 
No self parking; Valet is $50 + tax so ~$55. I'm not sure if the 4% wellness fee is on top of that as well, but I assume so.
I happen to know this area very well and you can park on the street for free IF you know where to go and don't mind a walk. As you go north, Idaho is the first cross street that allows overnight non-permit parking. I parked on Idaho and 7th. The walk to the hotel is about 10 minutes, but it's LA! Enjoy a bit of sunshine…
W Los Angeles, West Beverly Hills (Days 4-7)
This hotel used to be called the W Westwood, which makes sense since it's squarely in Westwood, just steps from Westwood Village.  By comparison, it's most certainly not in Beverly Hills, although, yes, technically the hotel is west of Beverly Hills!
That out of the way, Westwood (best known for the UCLA campus which is right at the north end of Westwood Village) is one of my favorite areas in LA despite the entire area feeling like a college town. That's because Westwood is much more central to all of LA than Santa Monica, mostly because it's just east of the 405 freeway – one of the main traffic chokeholds to cross. From Westwood, getting to West Hollywood, Hollywood, downtown, and even Brentwood / Santa Monica / Venice is not hard. Westwood Village is also an incredibly walkable area which I appreciate as a New Yorker.
The W hotel is a bit on the dated side, as the building has a long history as a hotel predating the W, but I like it. It's also got a fun bar scene inside STK and a great heated pool (it just needs a jacuzzi!).
Titanium Elite Benefits and Upgrade:
The hotel sure did WOW me with the upgrade. That's a bit of a joke, since the WOW is their highest level suite and not what I got. I was given the Marvelous Suite which, as it turns out, is pretty much the best suite there is outside of their Extreme WOW Suite.
It's got a main living area, a second living area, a bedroom, and a bathroom with a giant soaking tub. Apparently the Fabulous Suite is essentially the same but with a second bedroom where my second living area is.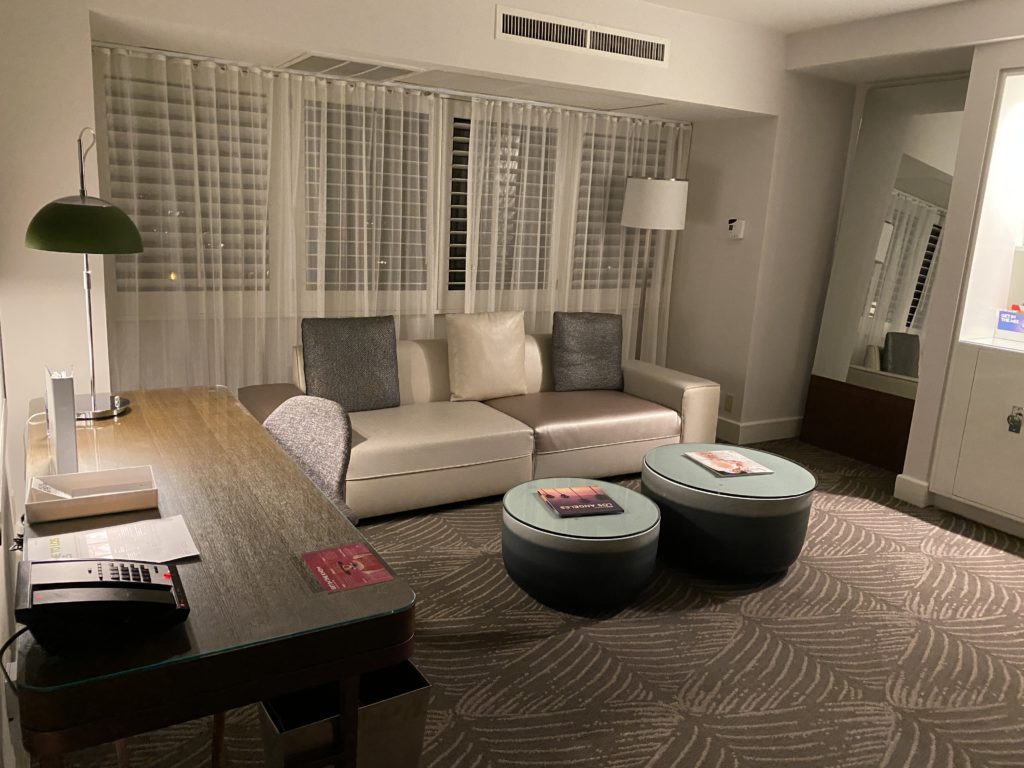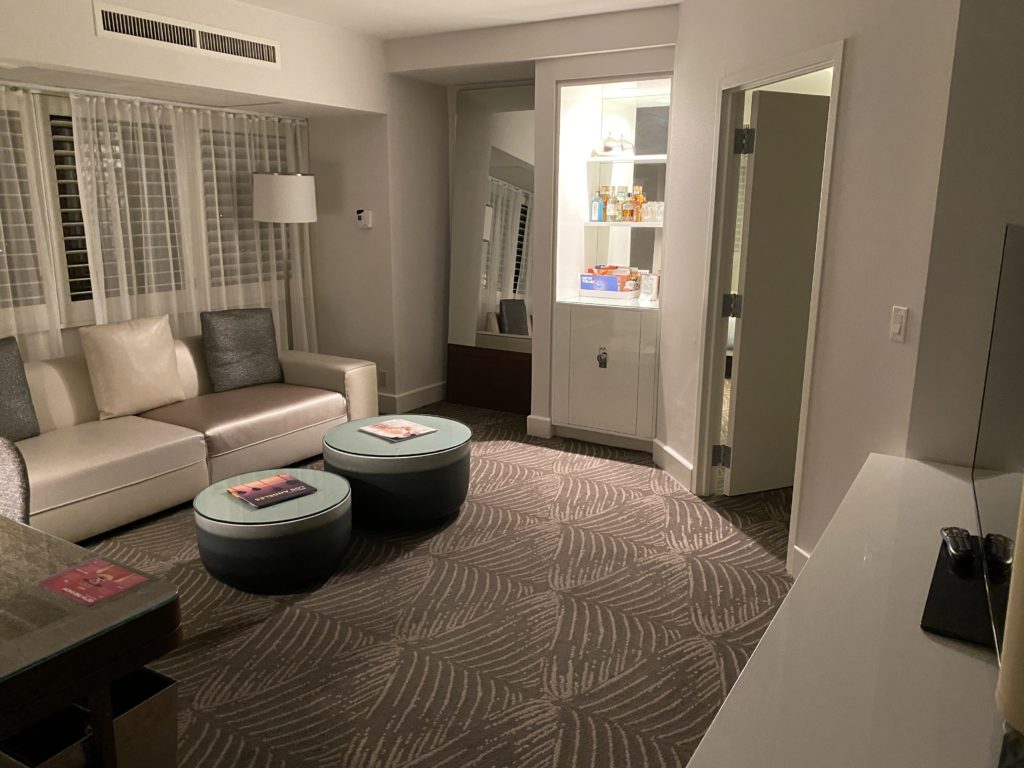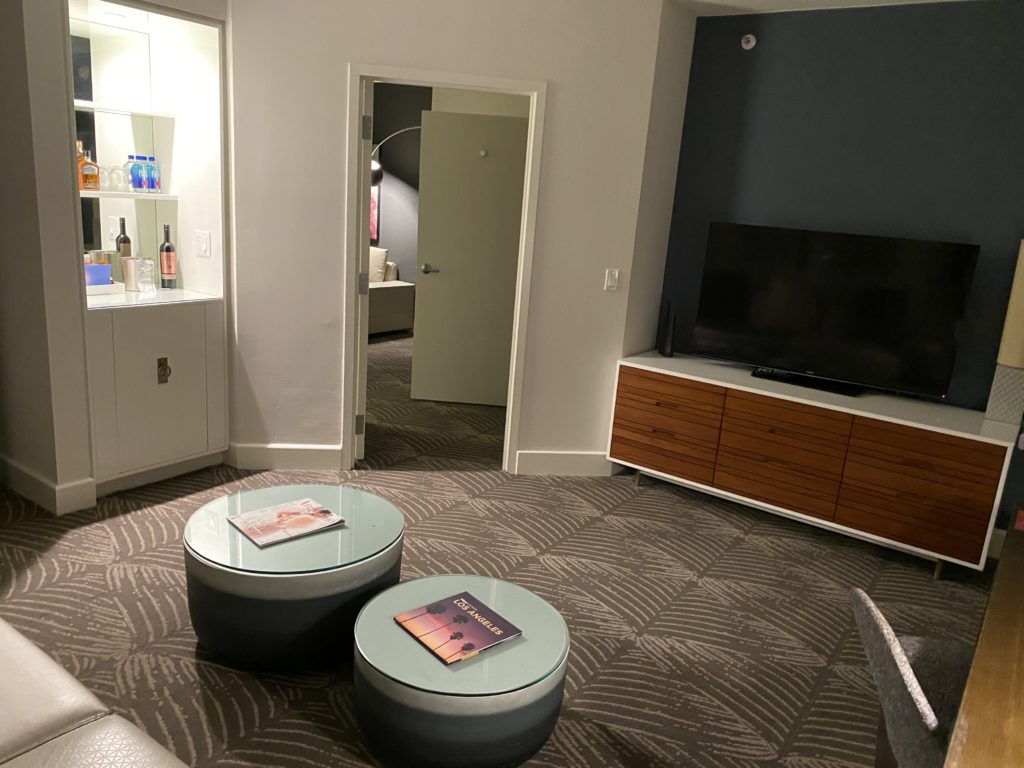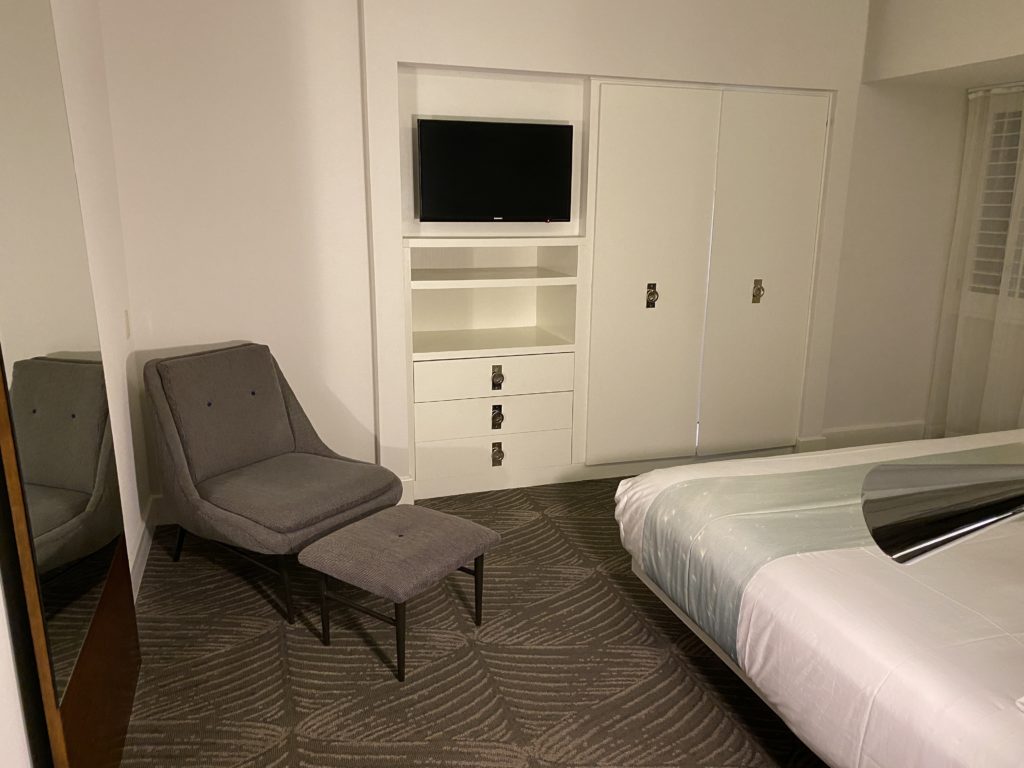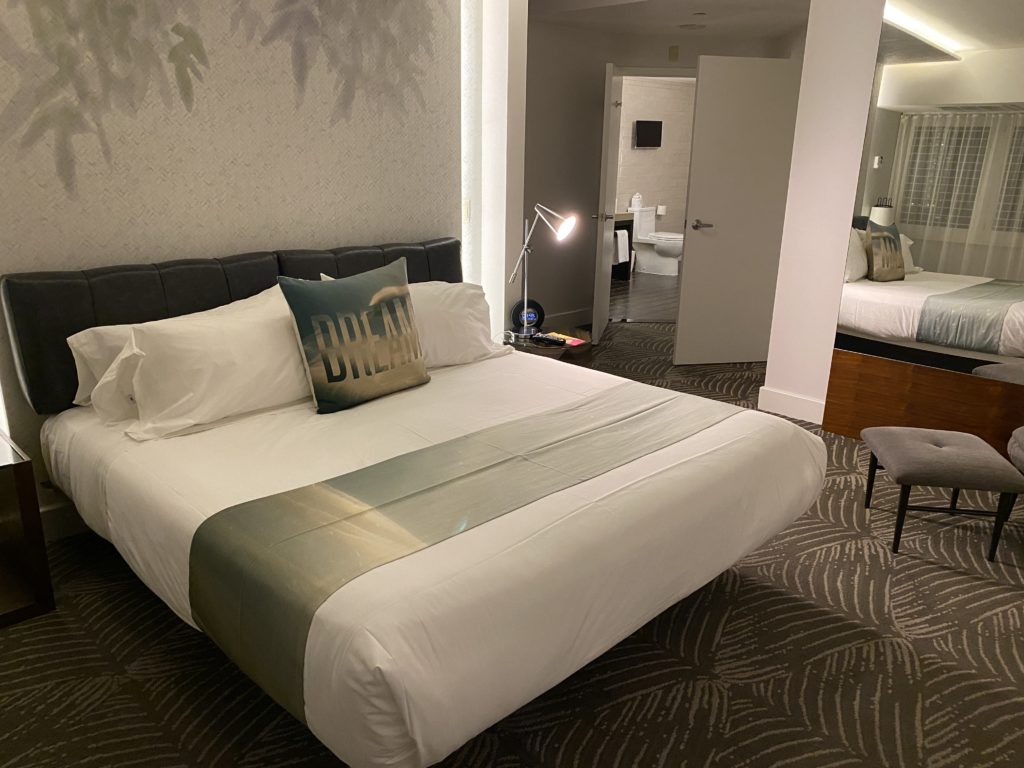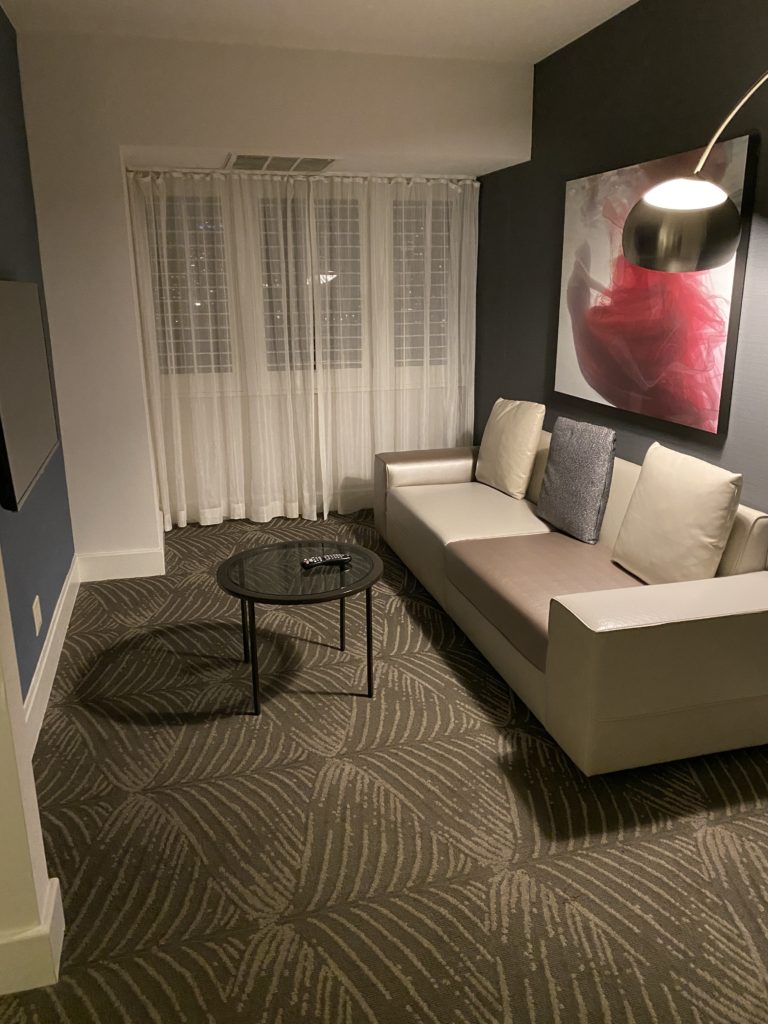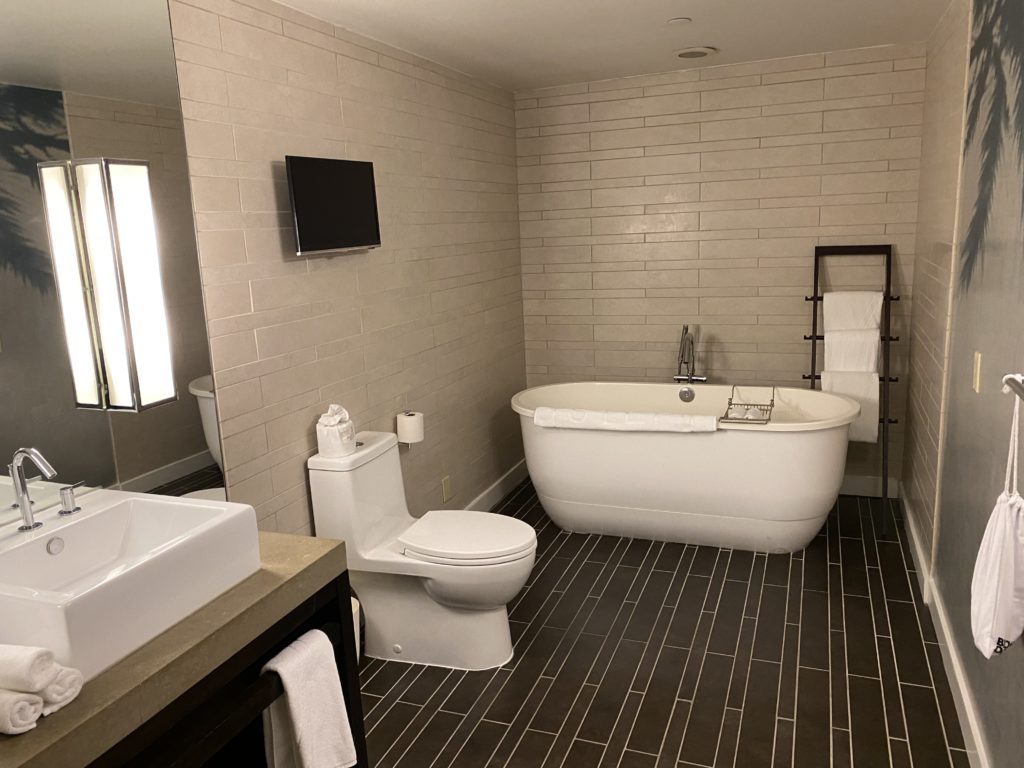 Breakfast comes in the form of a $20 per person breakfast credit to use at the Hideaway out by the pool, from 6-11am daily. Most items hover close to $20 so you'll probably wind up throwing in a few bucks plus a tip on top, but it still felt like a very nice breakfast benefit. I love taking breakfast outside in the morning sun.
W Los Angeles, West Beverly Hills – Parking
At $49 a night plus tax, I'd have paid over $240 for four nights to park a car that I paid substantially less for per day. Luckily, I know the area well so I'll tell you what I did and your primary options if you want to save the parking fees.
On Hilgard, which is the street the W is on, you'll find 2 hour parking spots across the street from the hotel and down Hilgard (in the direction where the hotel is on your left). These spots have no meters but you will get ticketed if you overstay. The hours are 8am-6pm, which means that you could technically park at 4pm one day and leave the car until 10am the next day. If you need some time for breakfast, you can move into another spot. While there's only around 20 of these free spots, I didn't have too hard of a time finding one each night. Further down Hilgard, you'll find metered spots. You can pay with a credit card and the one benefit overnight would be on a Saturday night to Sunday as the meter doesn't start until 11am on Sundays, buying you an extra hour.
If you need to park and don't plan to move the car, you'll need to go a bit further and park on Wilshire (the main corridor) which is the only spot in the area I know that you can park overnight without a resident's permit. This would wind up being about a 15 minute walk.
---
Also See: Marriott Bonvoy Credit Cards from American Express and Chase
---
Have you stayed at these 4 Westside Los Angeles Marriott hotels? Want to share any tips?
Tell me here, on Twitter, or in the private MilesTalk Facebook group.
You can find credit cards that best match your spending habits and bonus categories at Your Best Credit Cards. 
New to all of this? My introductory book MilesTalk: Live Your Wildest Travel Dreams Using Miles and Points is available on Amazon and at major booksellers.