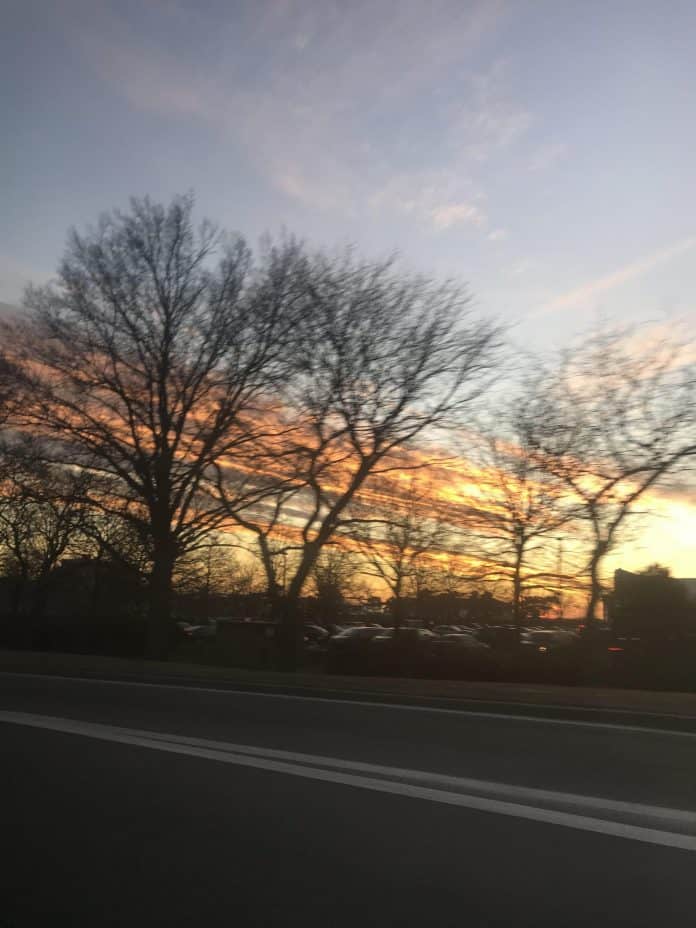 QF12 from New York to Sydney is an interesting experience.  The flight stops in LAX, as at present no commercial planes can fly from New York to Australia non-stop. But more interestingly, despite having one flight number on both legs of the flight (JFK-LAX and LAX-SYD), you actually change planes in Los Angeles.
My flight from New York to LA was on a 747, a grand double-decker plane showing its age somewhat In LA, though, I transferred onto a new and very modern A380.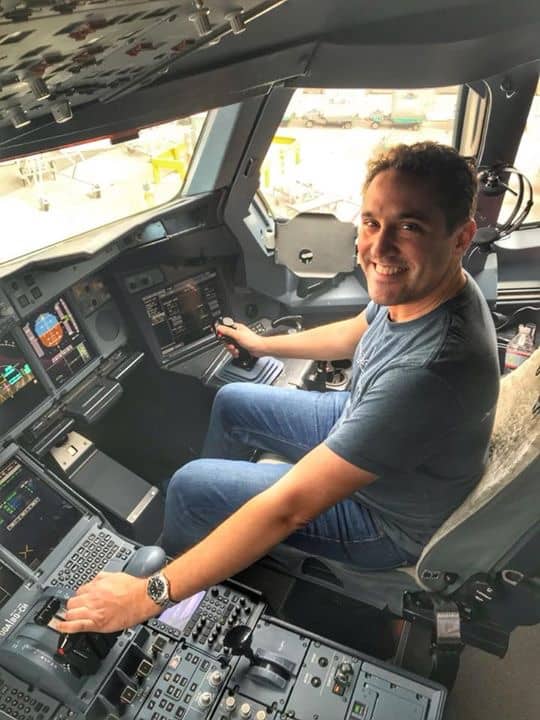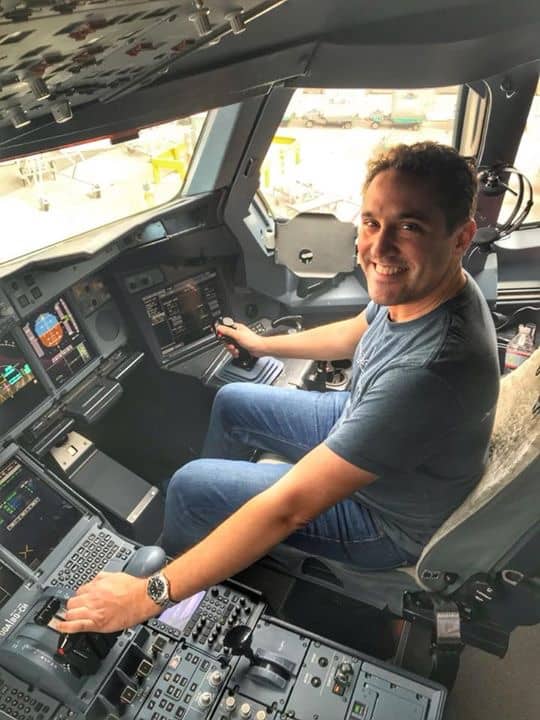 Using 110,000 American AAdvantage miles and $27.40 in tax, I was able to book this one way award as JFK-LAX in Business Class (the highest class of service on this 747) and onward to Sydney in First Class on the A380.  This is an extremely hard flight to redeem miles on if you want to go anywhere near the holidays. From around Dec 10th until about January 18th, it's nearly impossible to find premium award space from North America to Australia. One reason is that the AA routing rules mean that you have very few options if you want it to price as one award. You can't connect anywhere outside of Oceania. Even Hawaii is not a valid connection point. You can fly JFK-HNL-SYD using AA to HNL and Hawaiian Airlines onward to Sydney, but you will pay for two awards.
So, longer story short, back in May I saw a 1st class award pop up from LAX to SYD on Dec 20th and grabbed it. Technically, I put it on hold so that I could find a flight from NYC to LAX. Of course, there were no AA flights, given their stingy availability on their own metal, but knowing that Qantas had a flight that connected on from LAX to JFK, I used ExpertFlyer to search that flight. Something important to note is that since JFK-LAX only has coach and business, a search of First Class (Z) from JFK all the way to SYD would turn up no seats. You need to search the segments separately. The Business class leg from JFK-LAX would be in U inventory, or if that doesn't show any seats, then a seat in T inventory would work for coach.  It's ticketed with the JFK-LAX leg processed as a downgrade to a lower class of service.  This is good to know, because AA agents may not realize that they can book you on QF12 to LAX and simply search AA's (almost non-existent) award space.  It's still a First Class ticket end-to-end and you can use the First lounge at JFK.  If you took coach from NY to LA and a business class seat opened up later, American would upgrade that leg to business at no cost.
I arrived at JFK about an hour and a half before the flight to learn that it was delayed 1.5 hours. Not to worry, they said, the flight in LA would be holding for us. I'm told that the LAX-SYD flight often has to wait for the JFK flight to come in, though if the JFK flight is delayed over two hours, it may go without you. I'm told this flight is chronically delayed.
Once checked in at JFK using the Qantas Business Class check-in desk (no longer shared with BA), I was guided to a premium security line. I'm guessing that Qantas doesn't participate in pre-check yet as my boarding pass was noticeably pre-check free. The premium line wasn't too bad.
From there it was off to the First Class section of the British Airways Galleries lounge to wait.  Do not leave early just for this lounge, as it was possibly the worst First Class lounge I've been in. It felt much more like a mass market lounge than an exclusive First Class one. Seats were well worn, power outlets few and far between. There were a few finger sandwiches, hummus, cheese, etc. out as well as premium alcohol, but this was nothing like the Virgin Atlantic Clubhouse, that is for sure.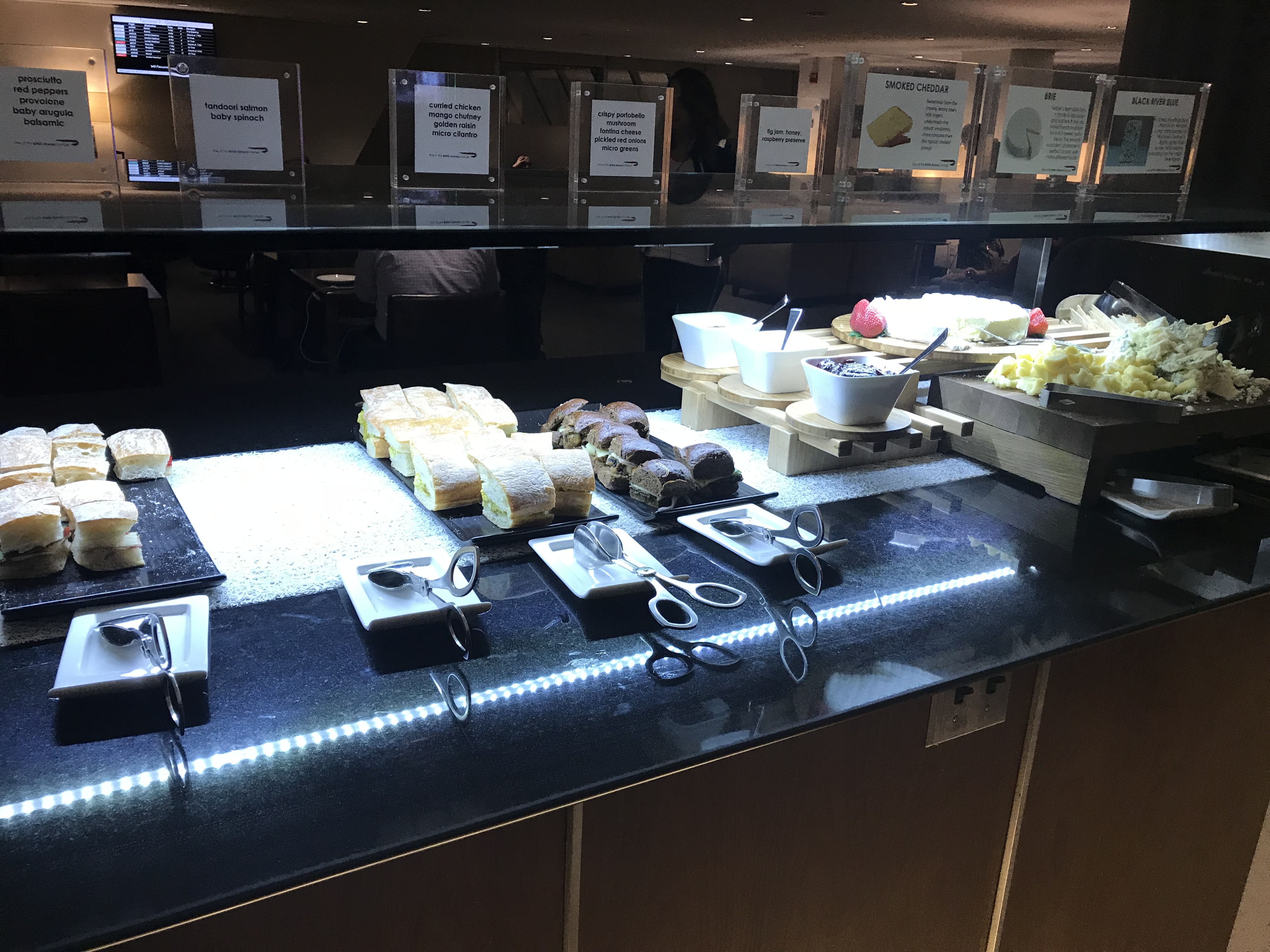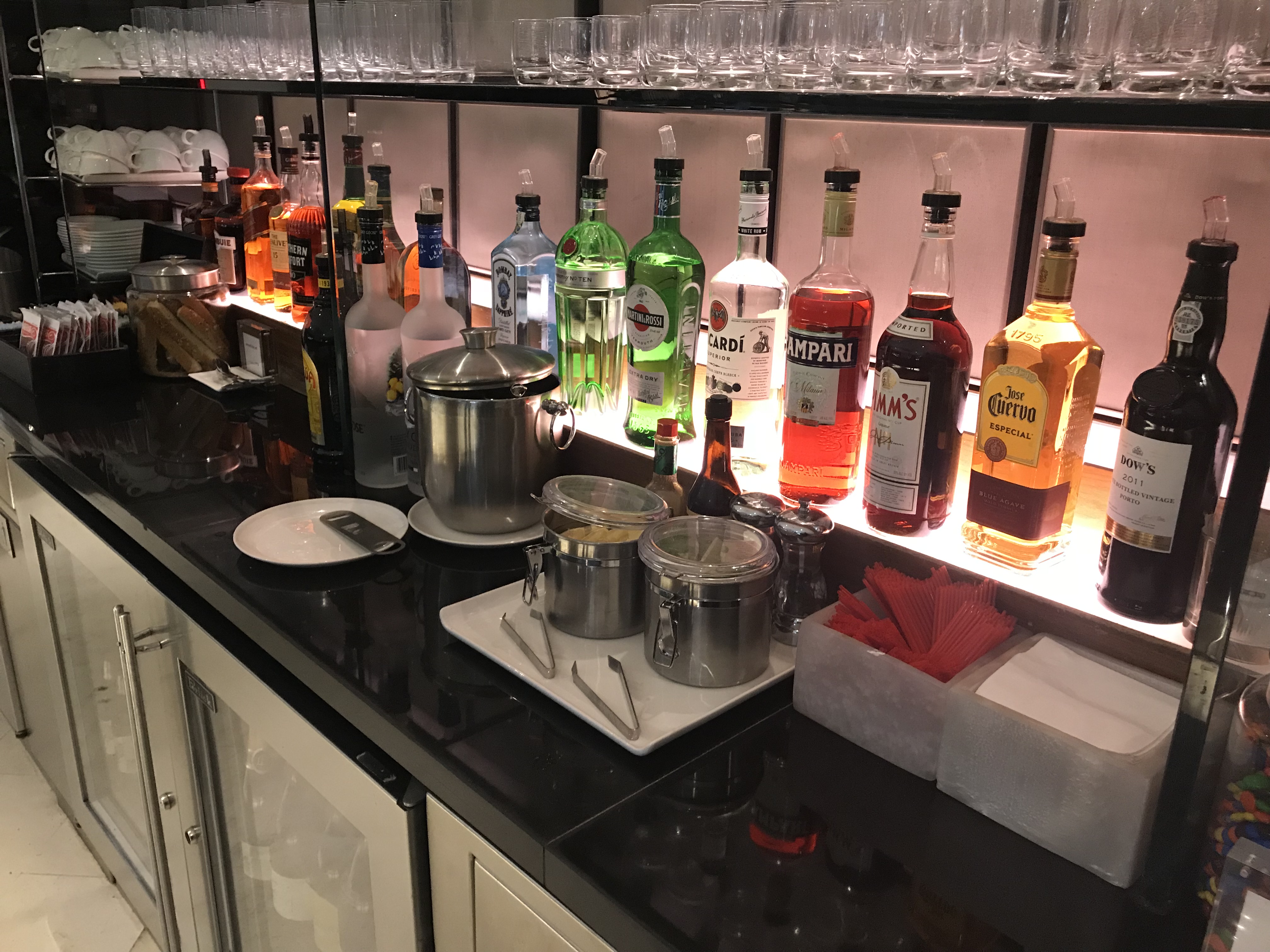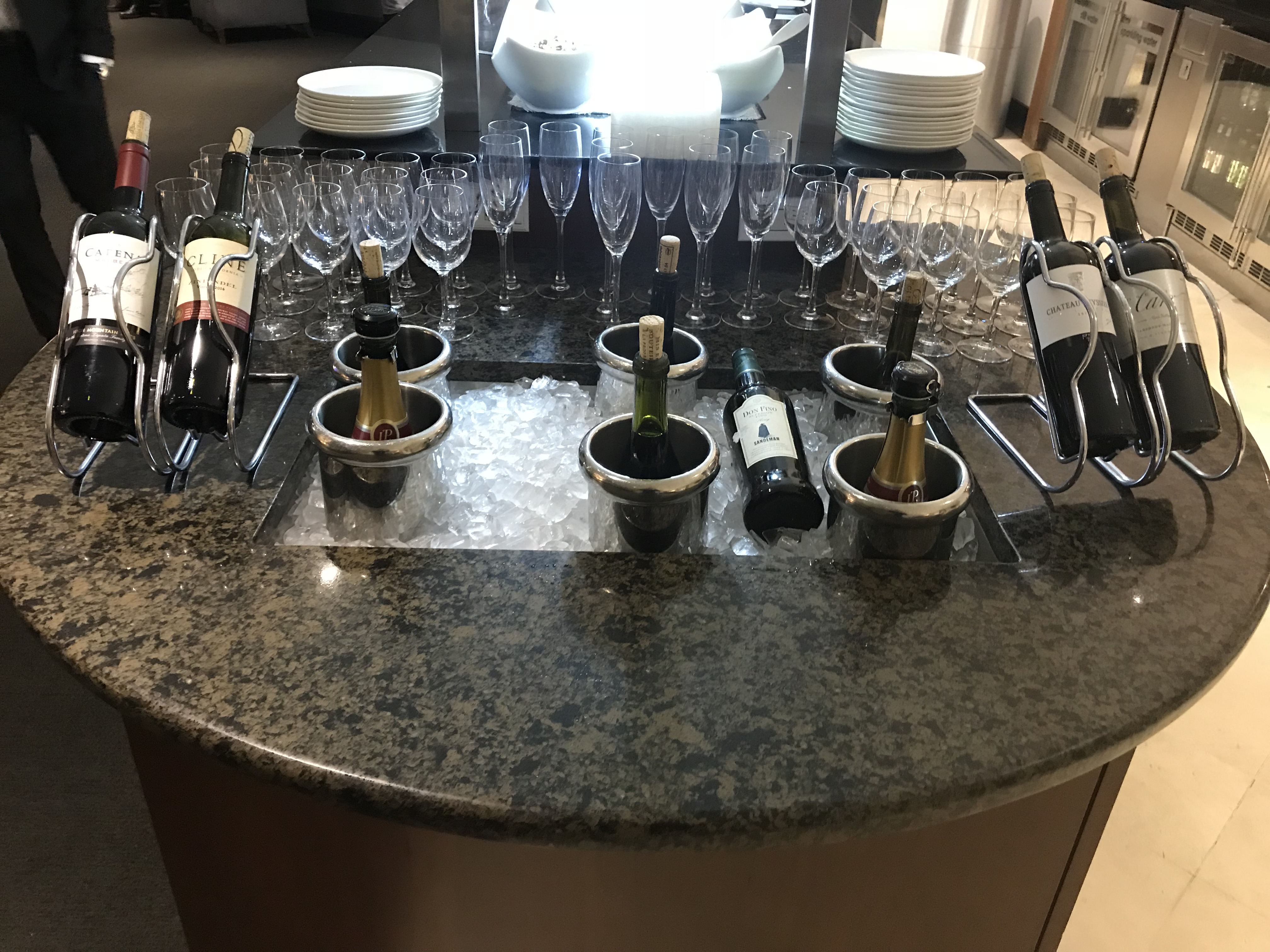 On to the first leg of the trip. The 747 used by Qantas is an interesting configuration. Business Class is split with 18 on the upper deck and the rest in the nose and the section behind that.  Row 5, on the lower deck, is where I sat. It's the only row with single seats in Business Class and you get a large storage compartment where the second seat would be. Up at the front, the seats start angling towards the middle. I like the look of it.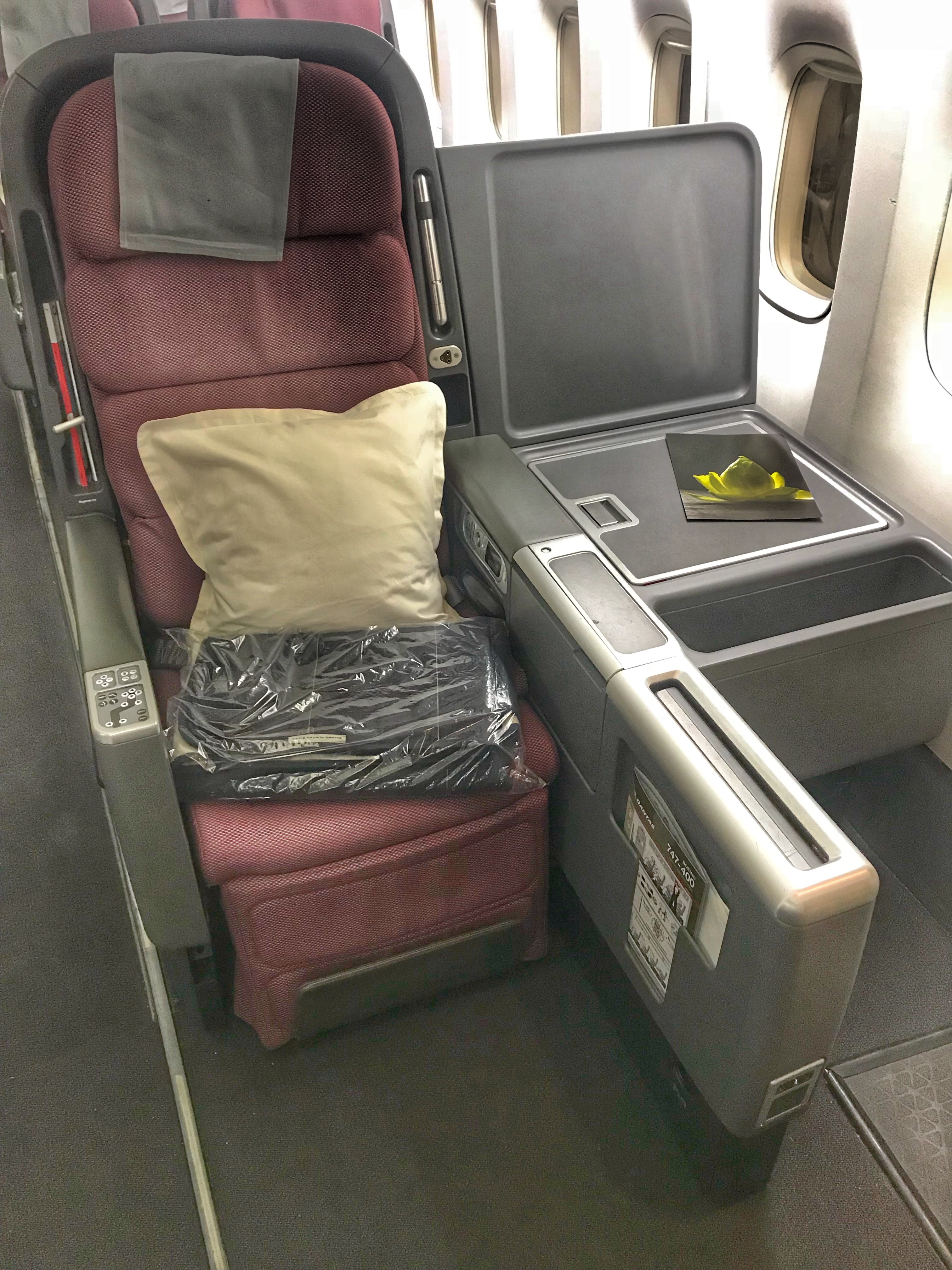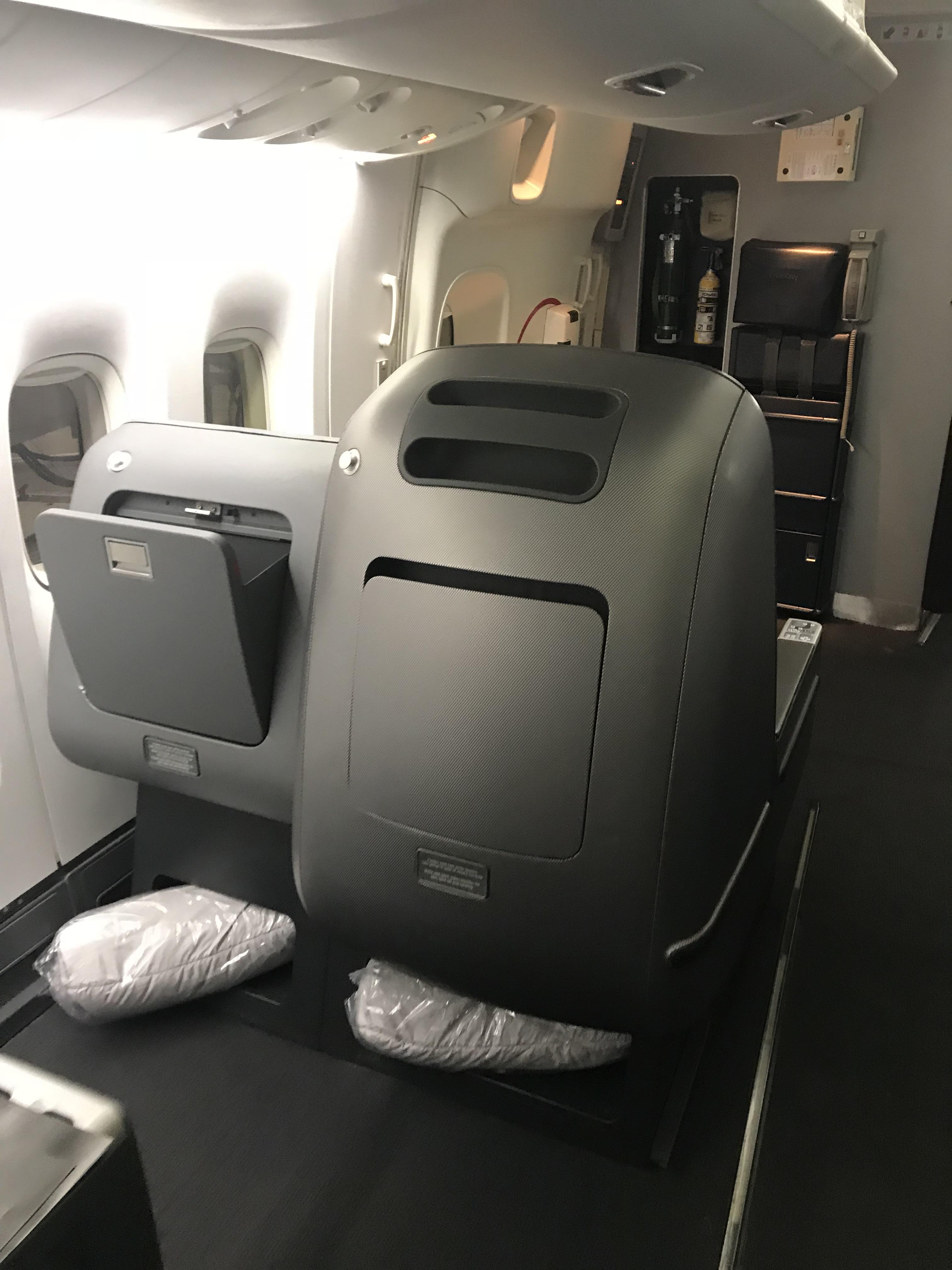 The seats on this plane show their age. While there is a power port and USB charger (though no in-flight Wi-Fi), the seat itself is on the smaller side and when in lie-flat mode, isn't quite flat nor super comfortable. It's perfectly fine for the 6-hour hop to LA, and it's very much a novelty to ride this bird because, by law, only passengers connecting on to another Australia-bound flight in LAX are allowed to buy a ticket.
There's a nice meal service similar to what you'd find on any transcon flight in a premium cabin.  I found the in-flight entertainment to be adequate, but they could do with a larger library.  By the end, I was watching my own movies on my iPad.
A small amenity kit was also provided.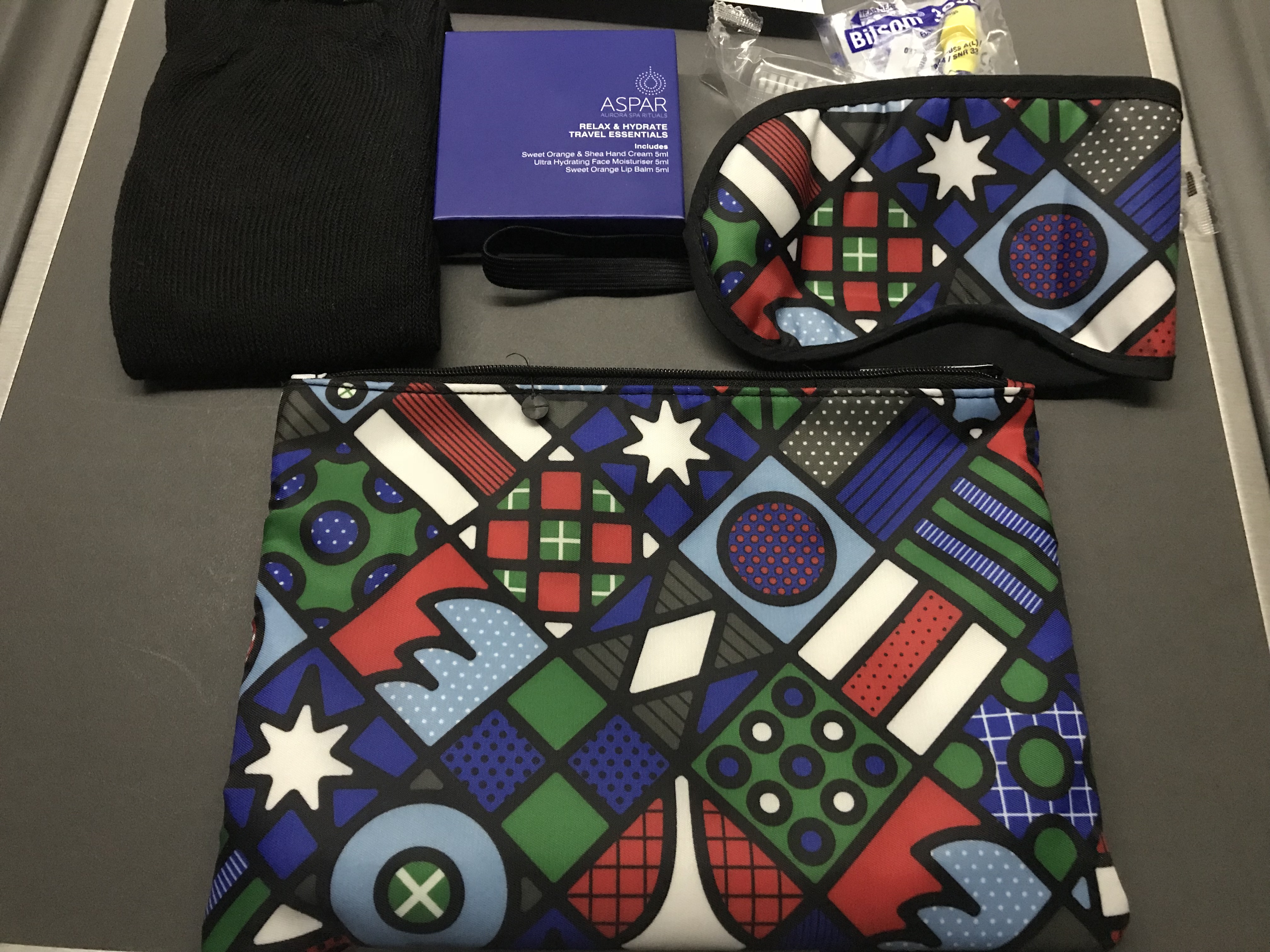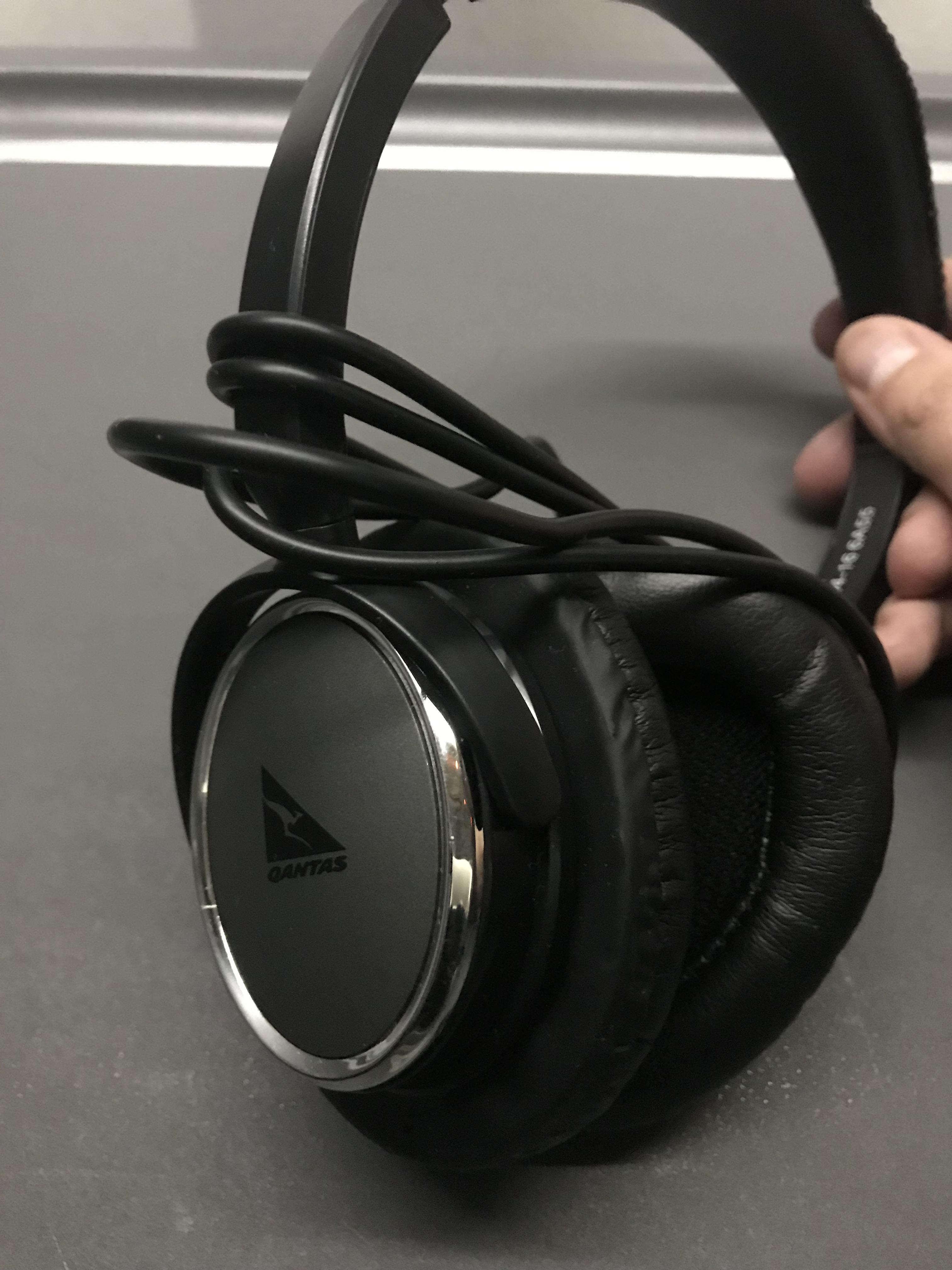 No pajamas…. You have to wait for the next flight for those.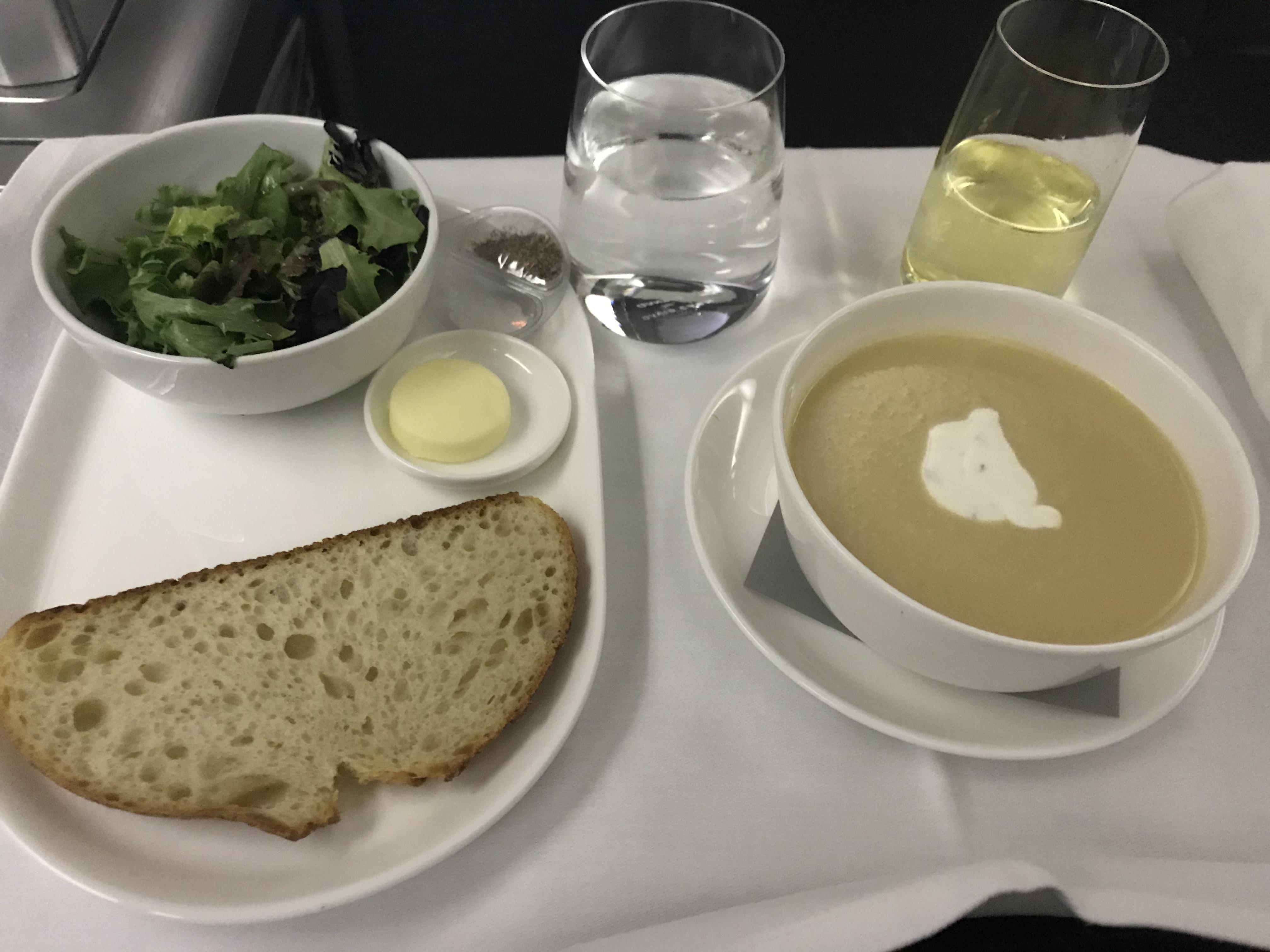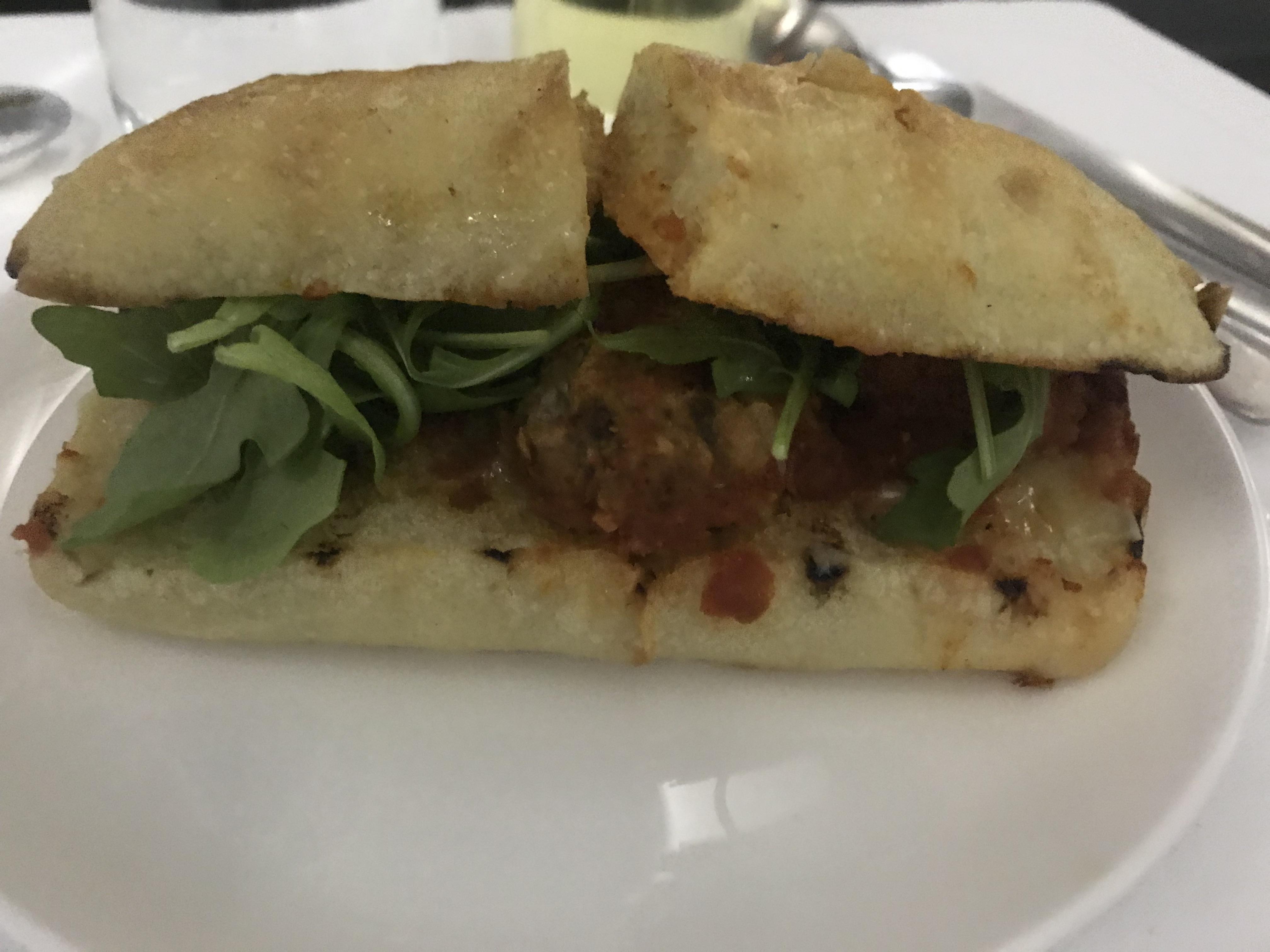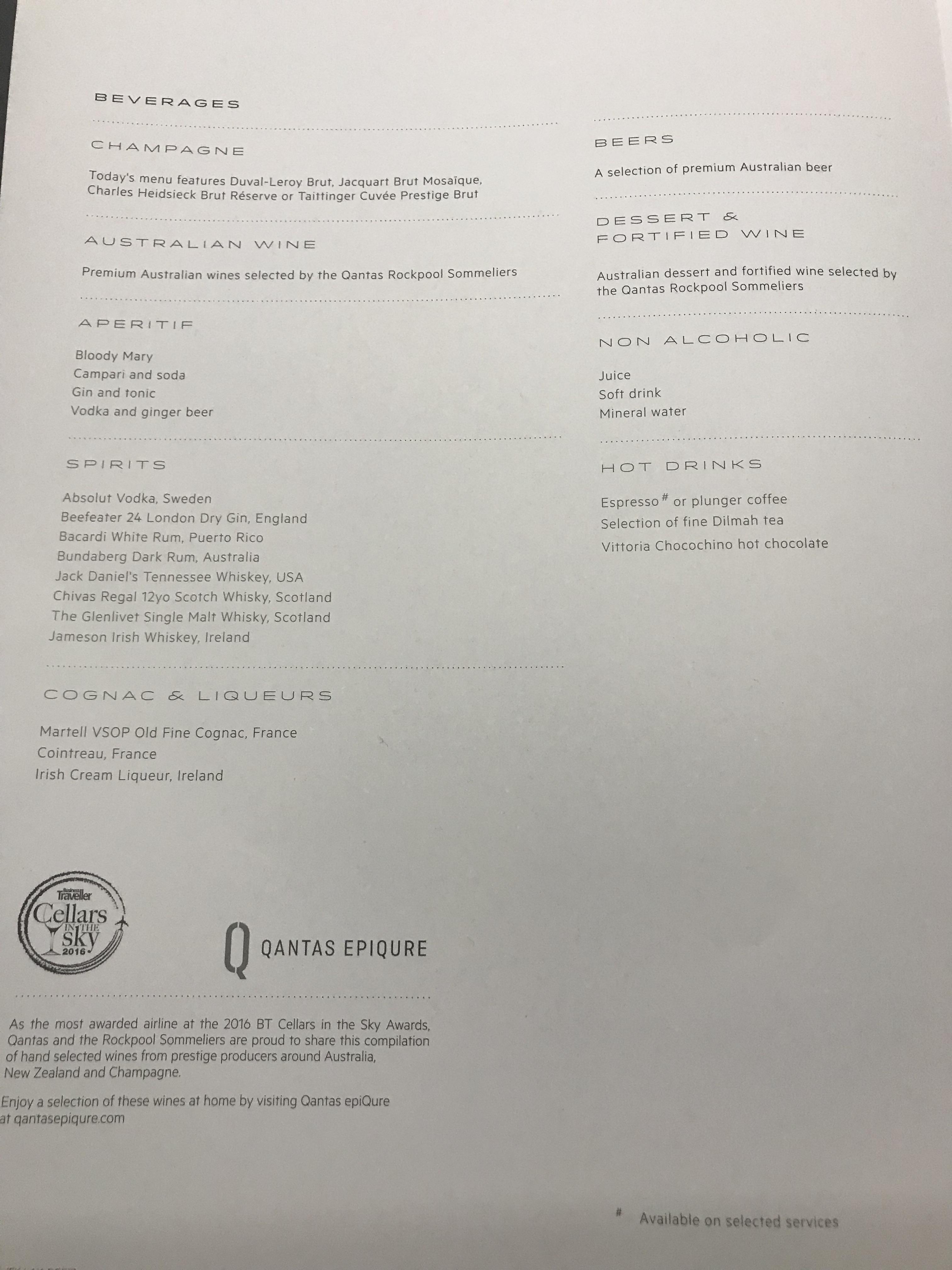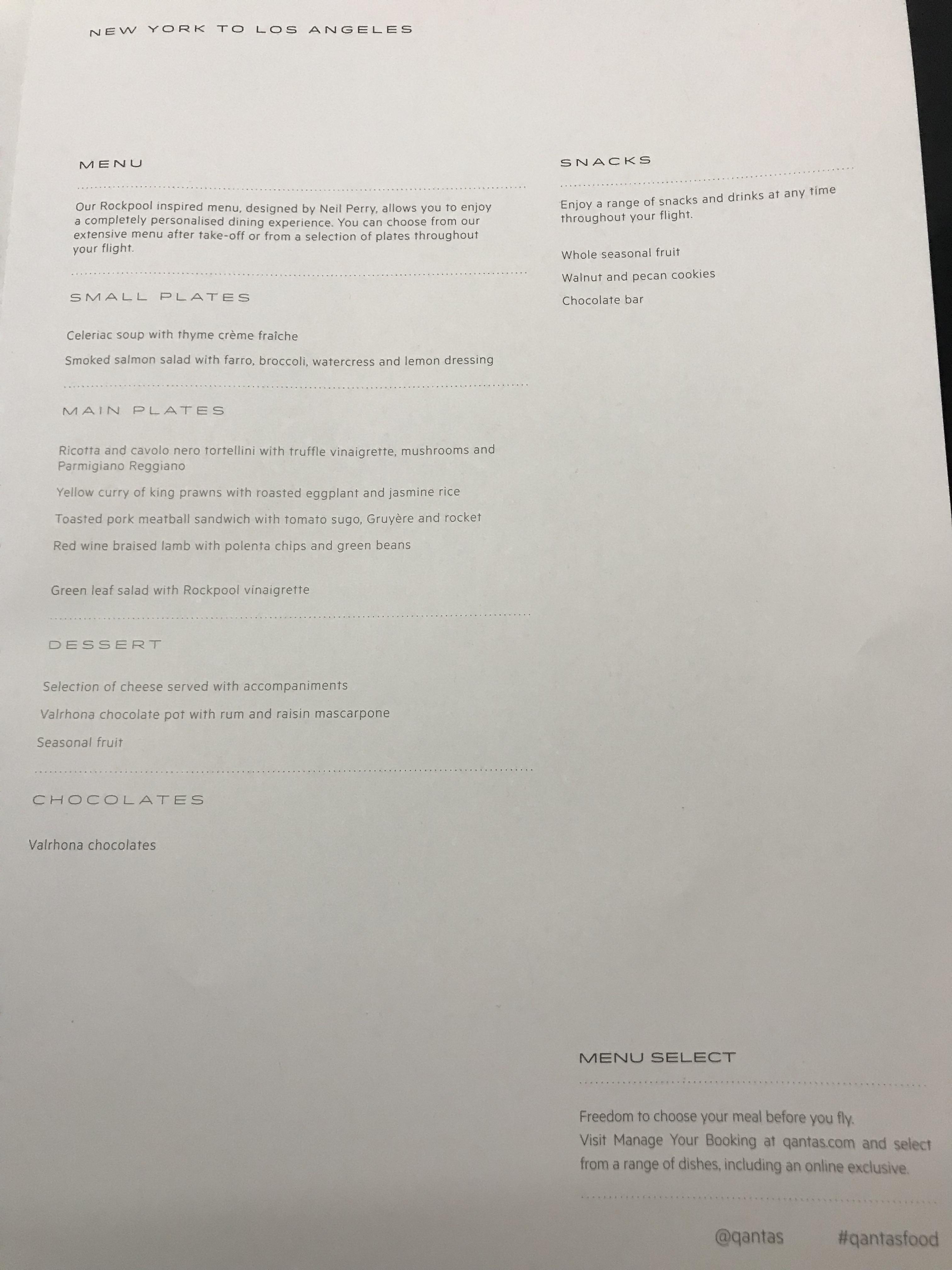 In LA, we landed in the International Terminal (the only flight that does this from a domestic outbound, I believe) and walked just two gates to the A380, which was ready to board.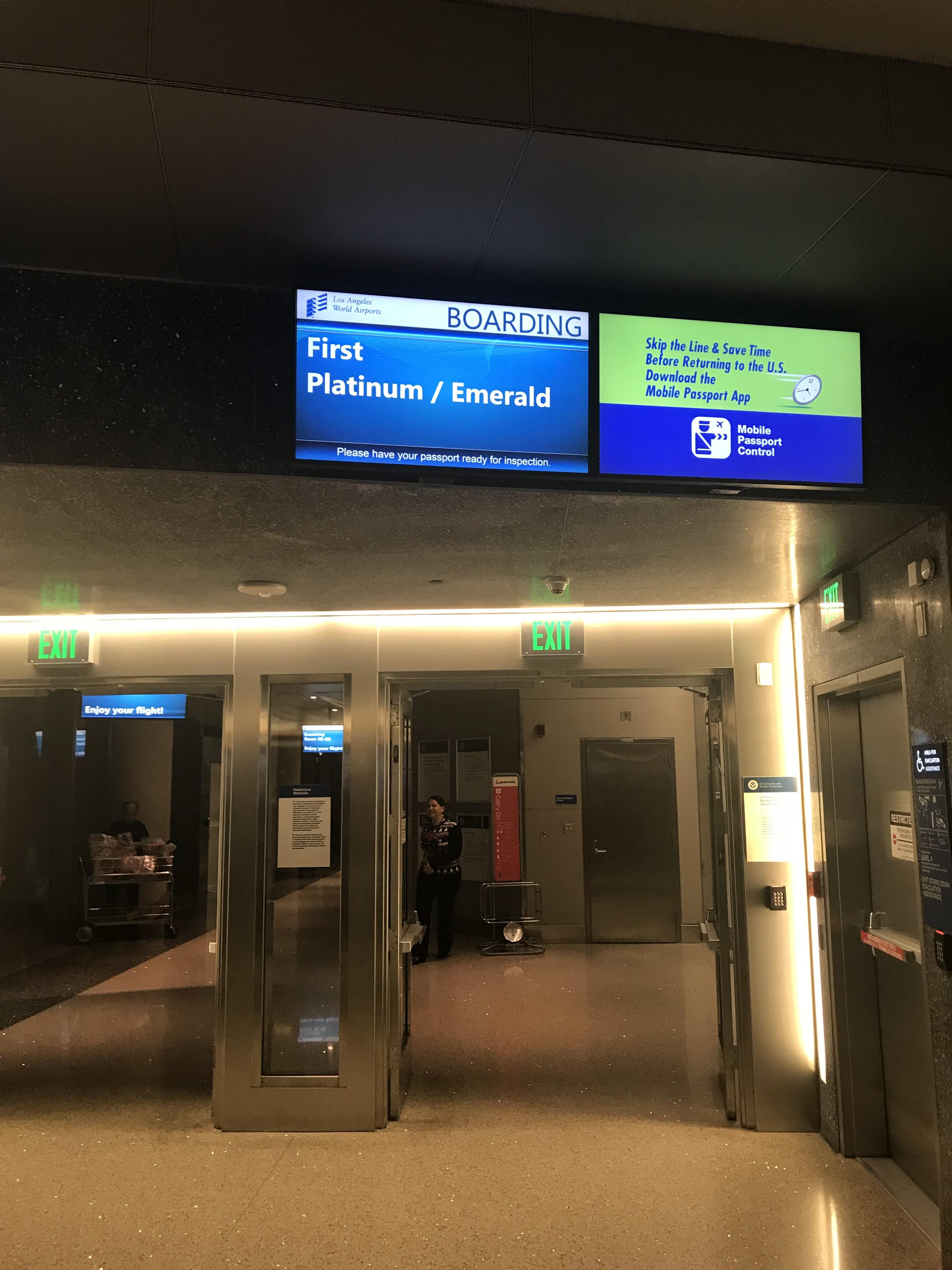 Once I got onboard the A380, in First Class seat 3A, I remembered why I was so excited for this flight. Right off the bat, the space looked amazing.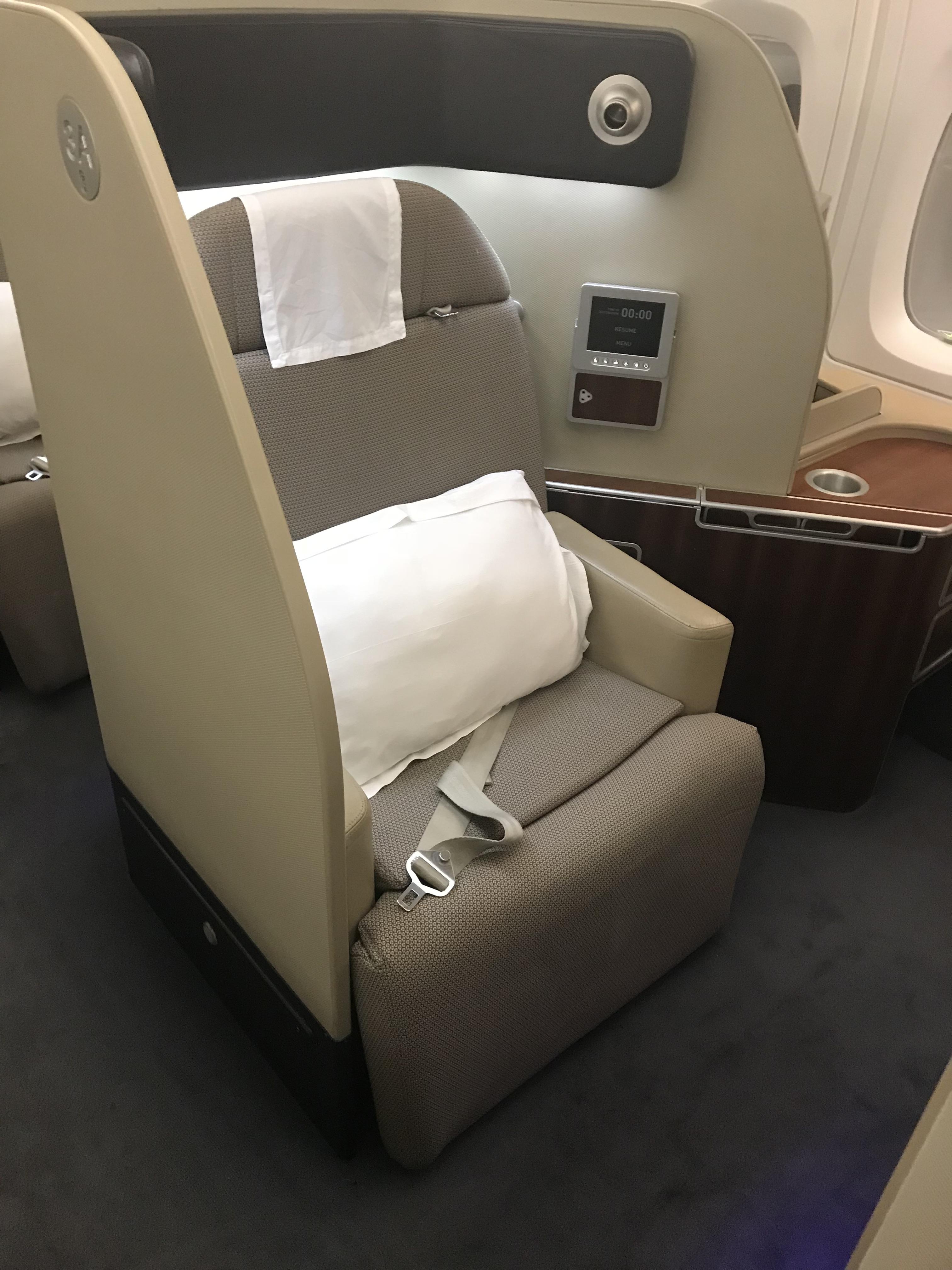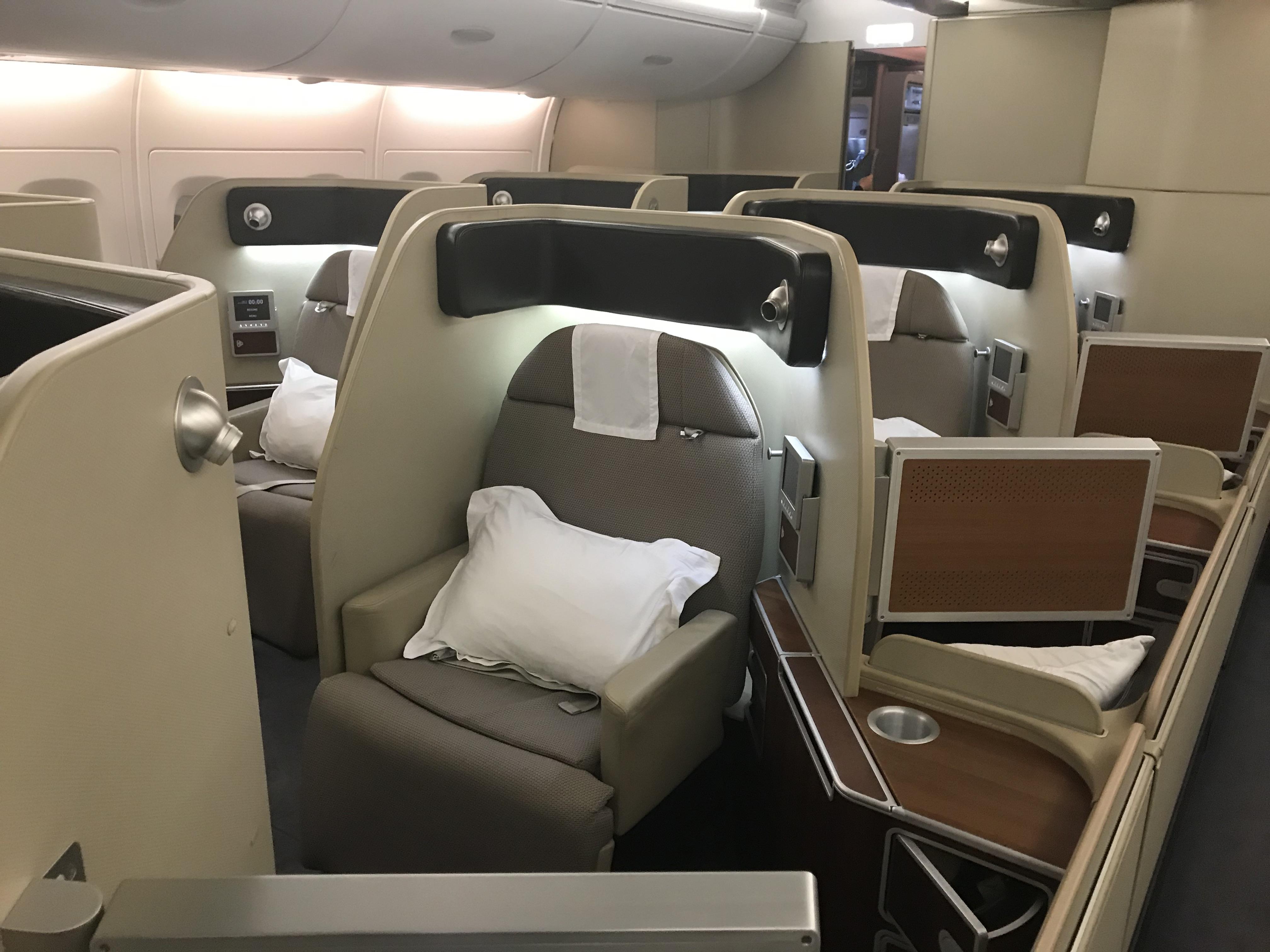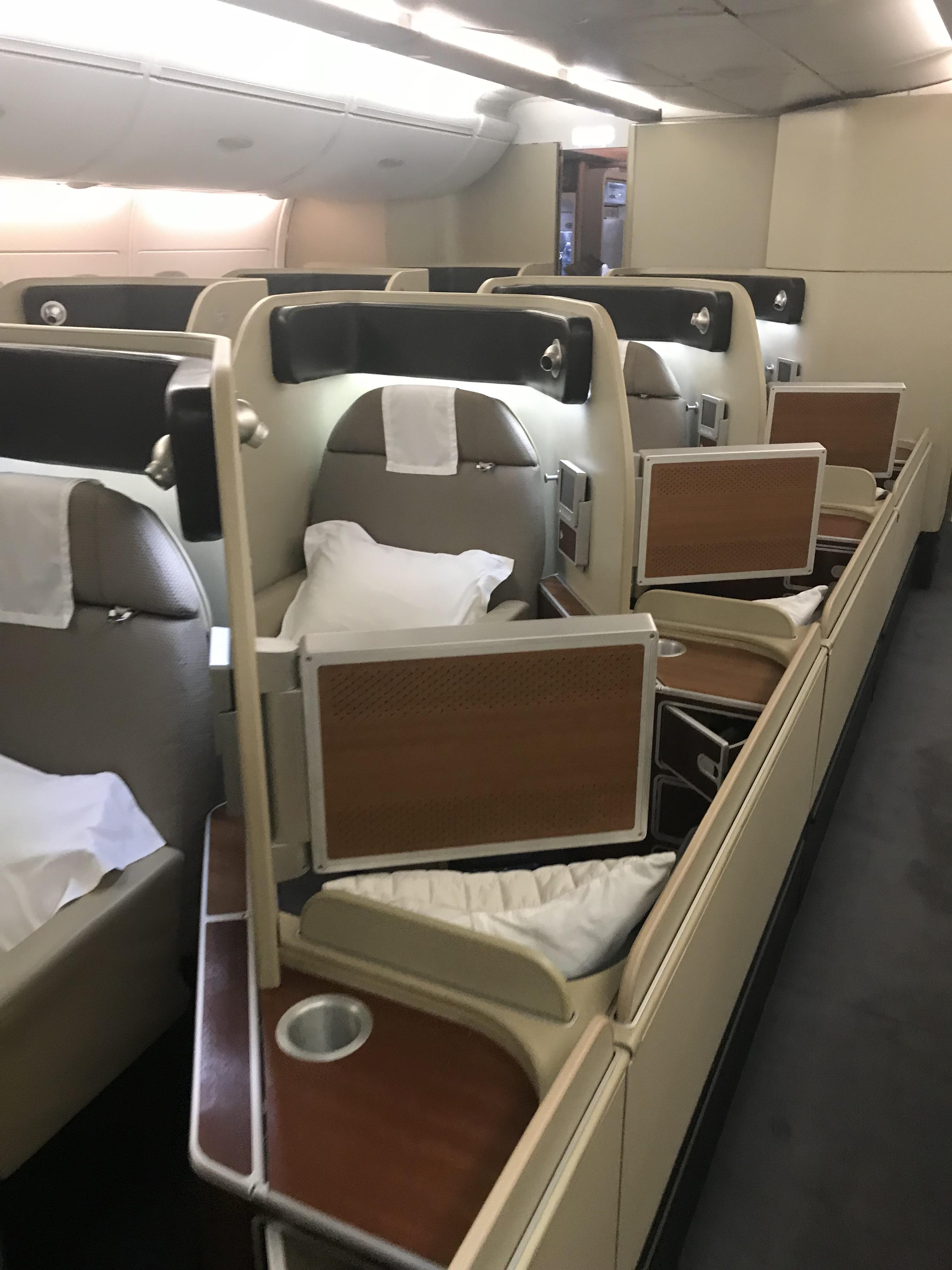 First, the welcome champagne….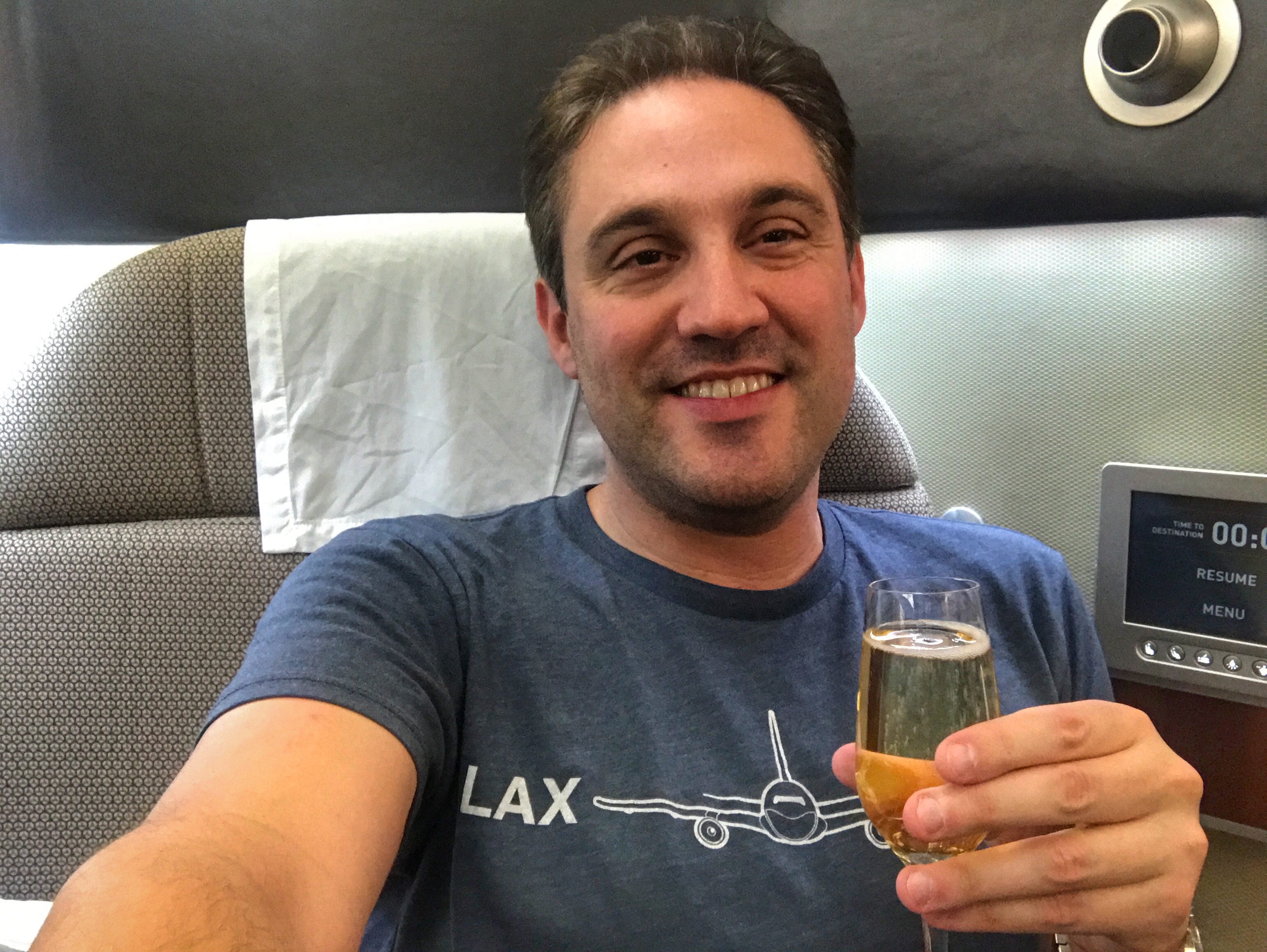 Then some canapes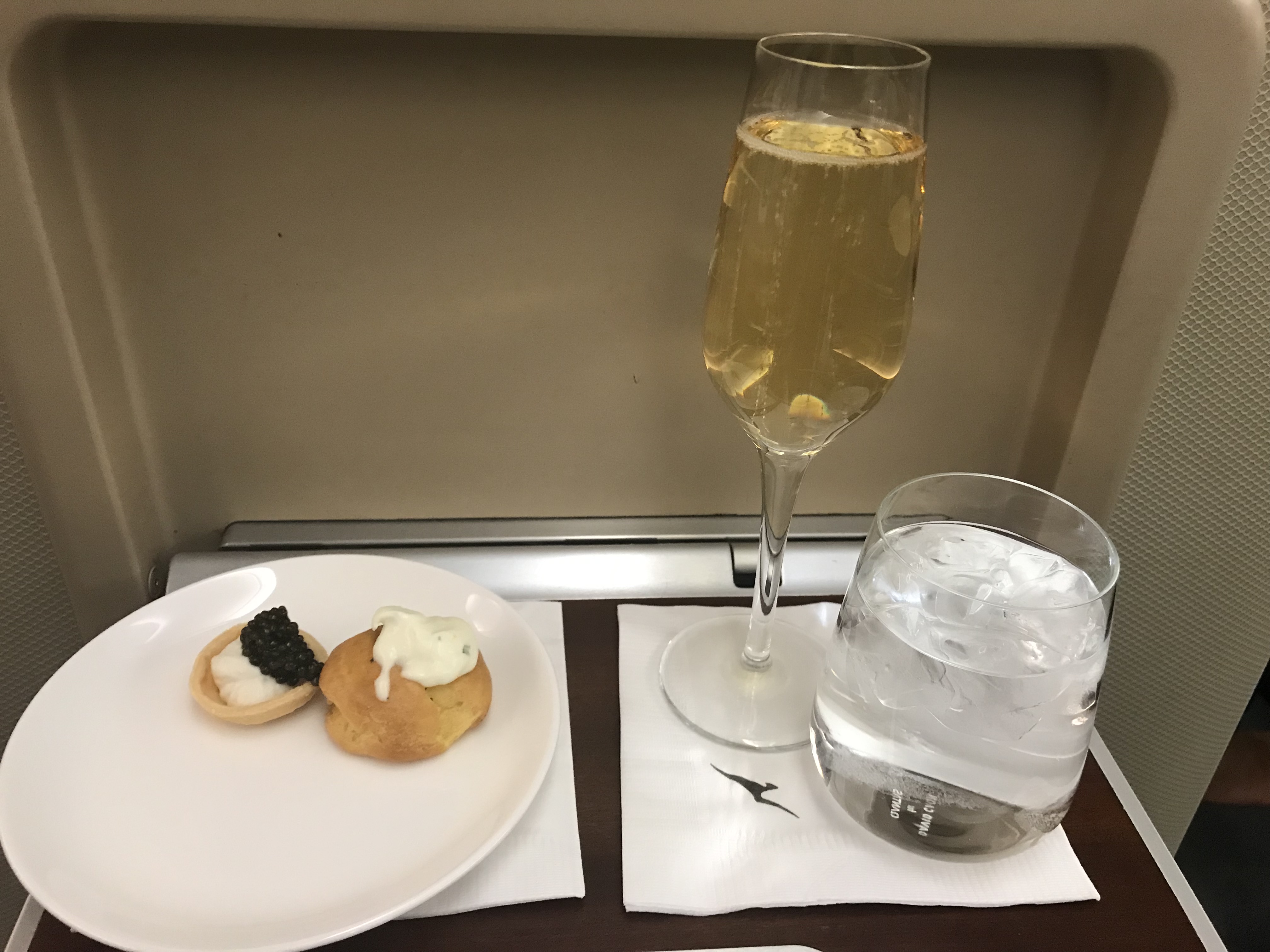 Hard product:
I made a video that's a bit of a tour, but maybe a bit too much motion – you've been warned!

The first thing I noticed was the seat and the controls. The seat, facing forward when you arrive, swivels electronically for when you want to dine, work, watch TV, or take a nap.  Perhaps it's from seeing the swivel seats on the new Singapore First Class, but I found this exciting. The controls next to the seat let you do anything you might need to do to control your in-seat experience. You can set the seat in any number of presets or custom configurations. You can control the seat tile, recline, even the lumbar support level. You can have it massage you in 4 different settings.  (Nitpick, heat in the seat to go with the massage feature would be a great next-gen improvement).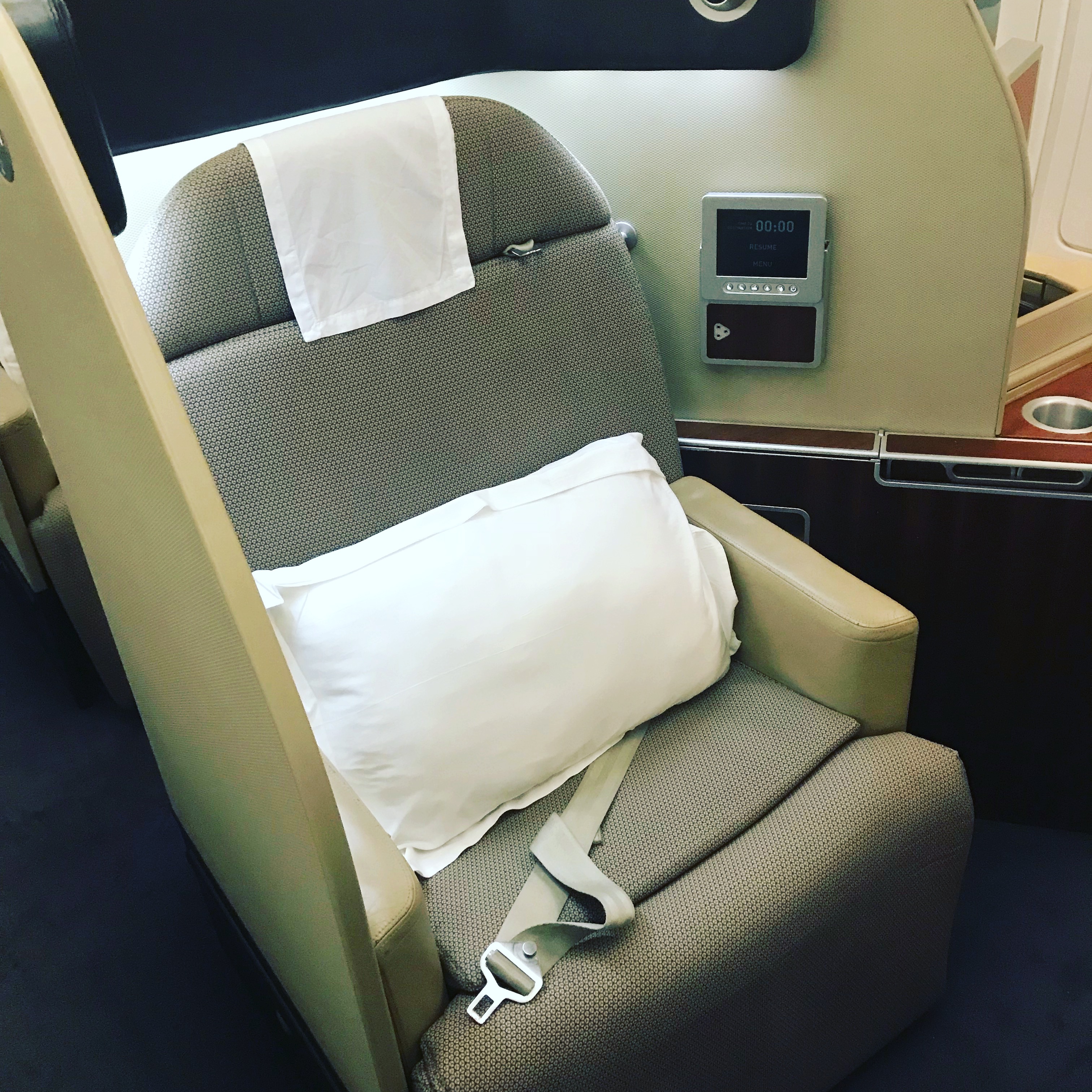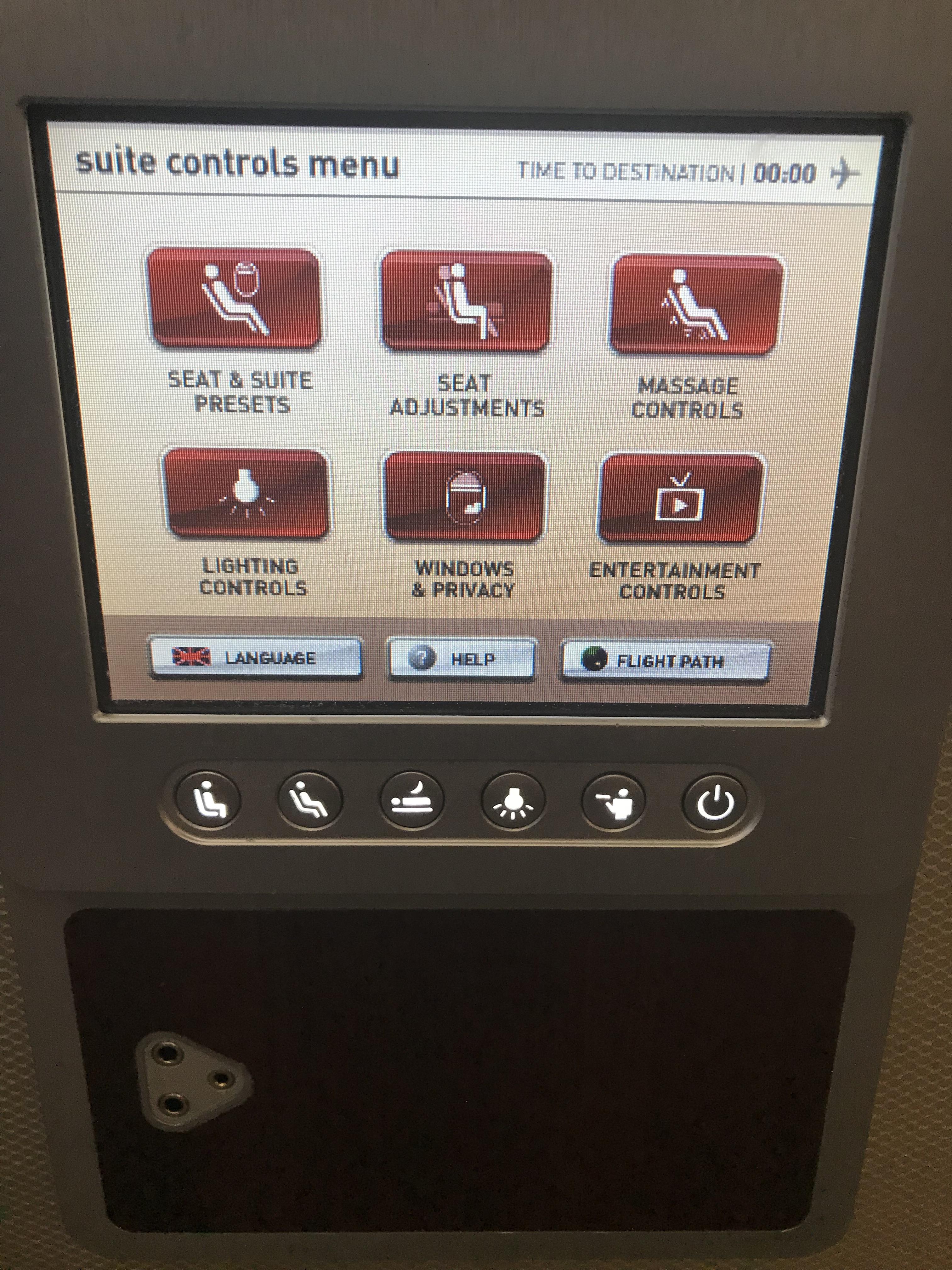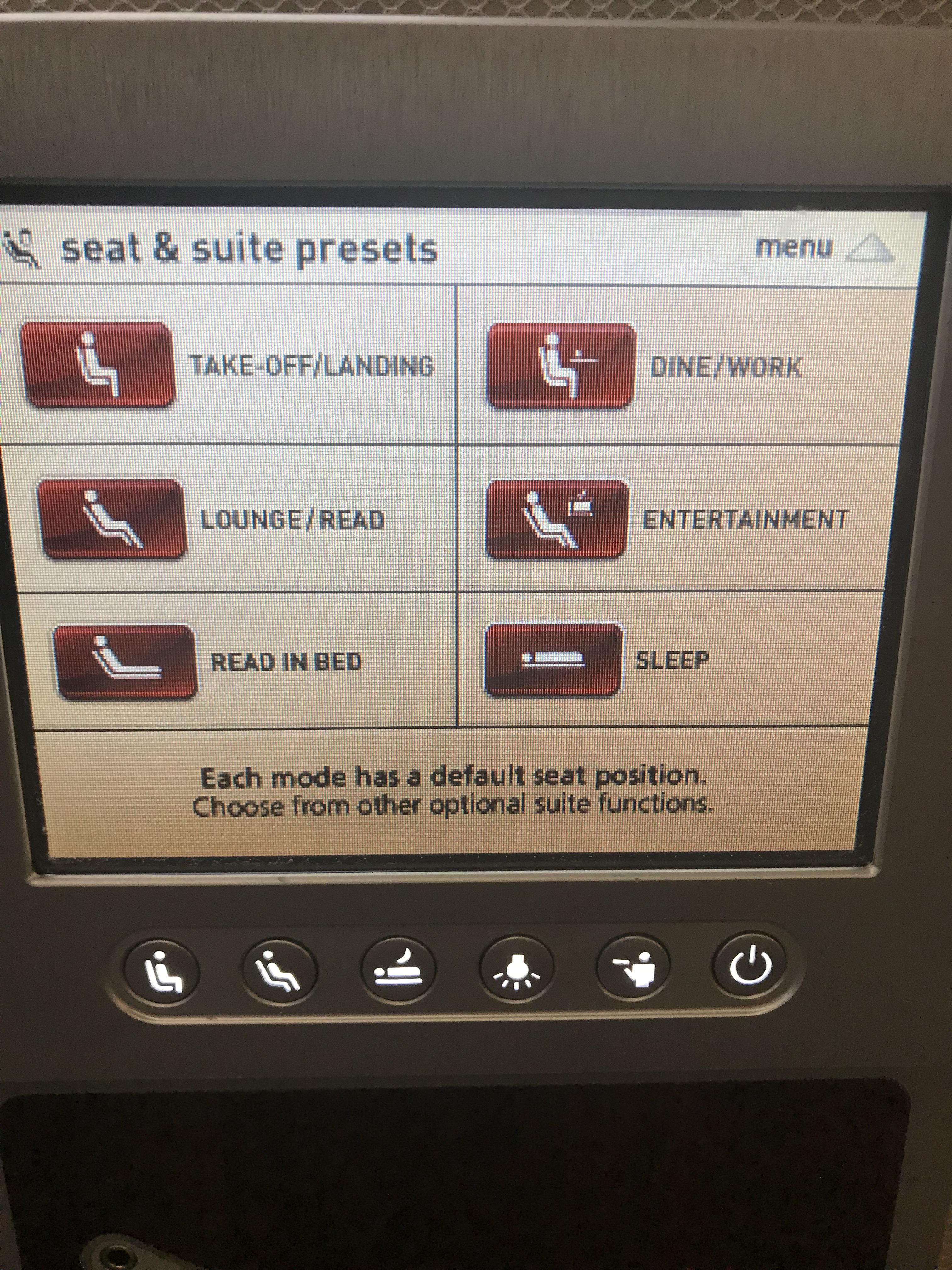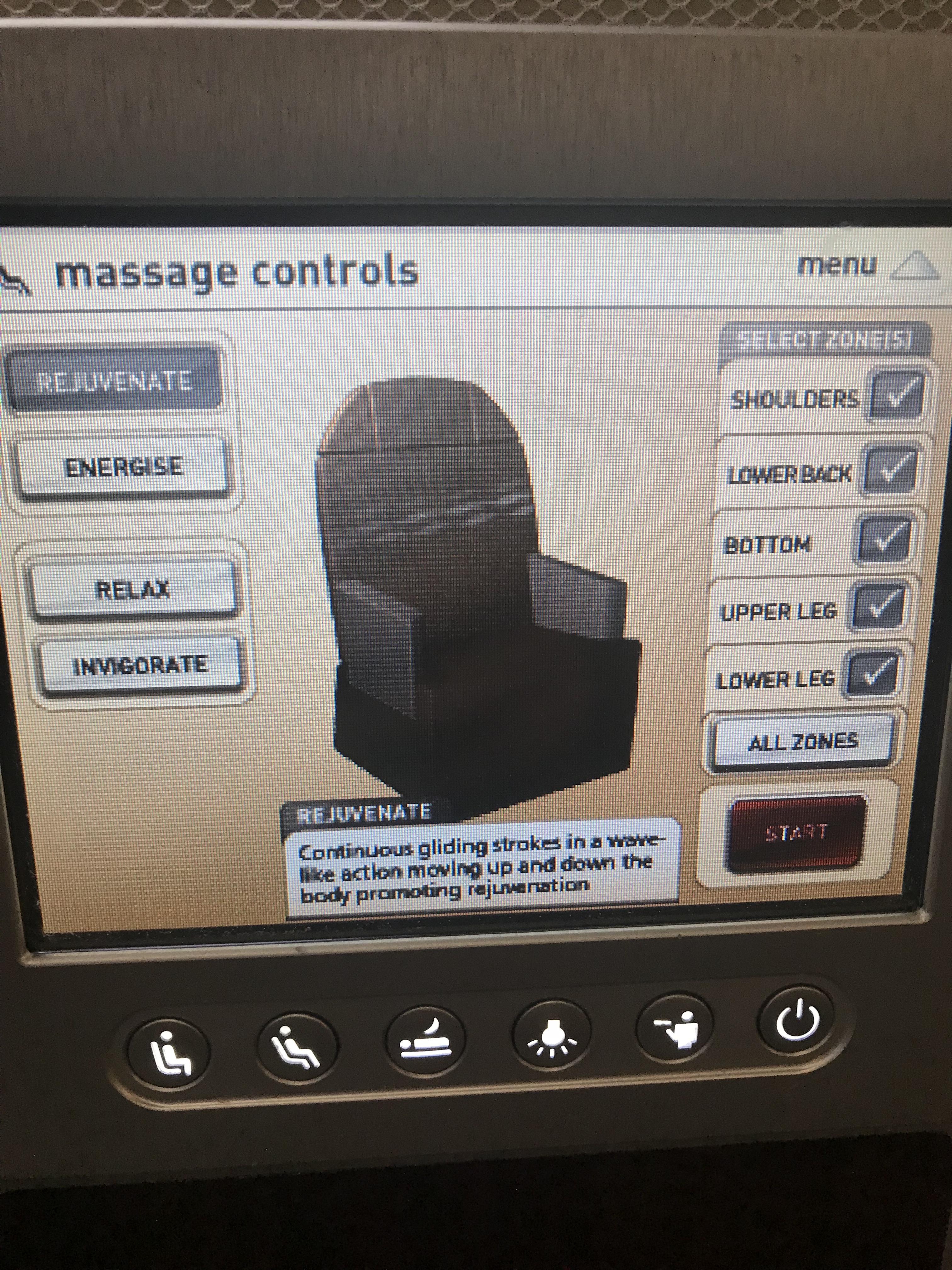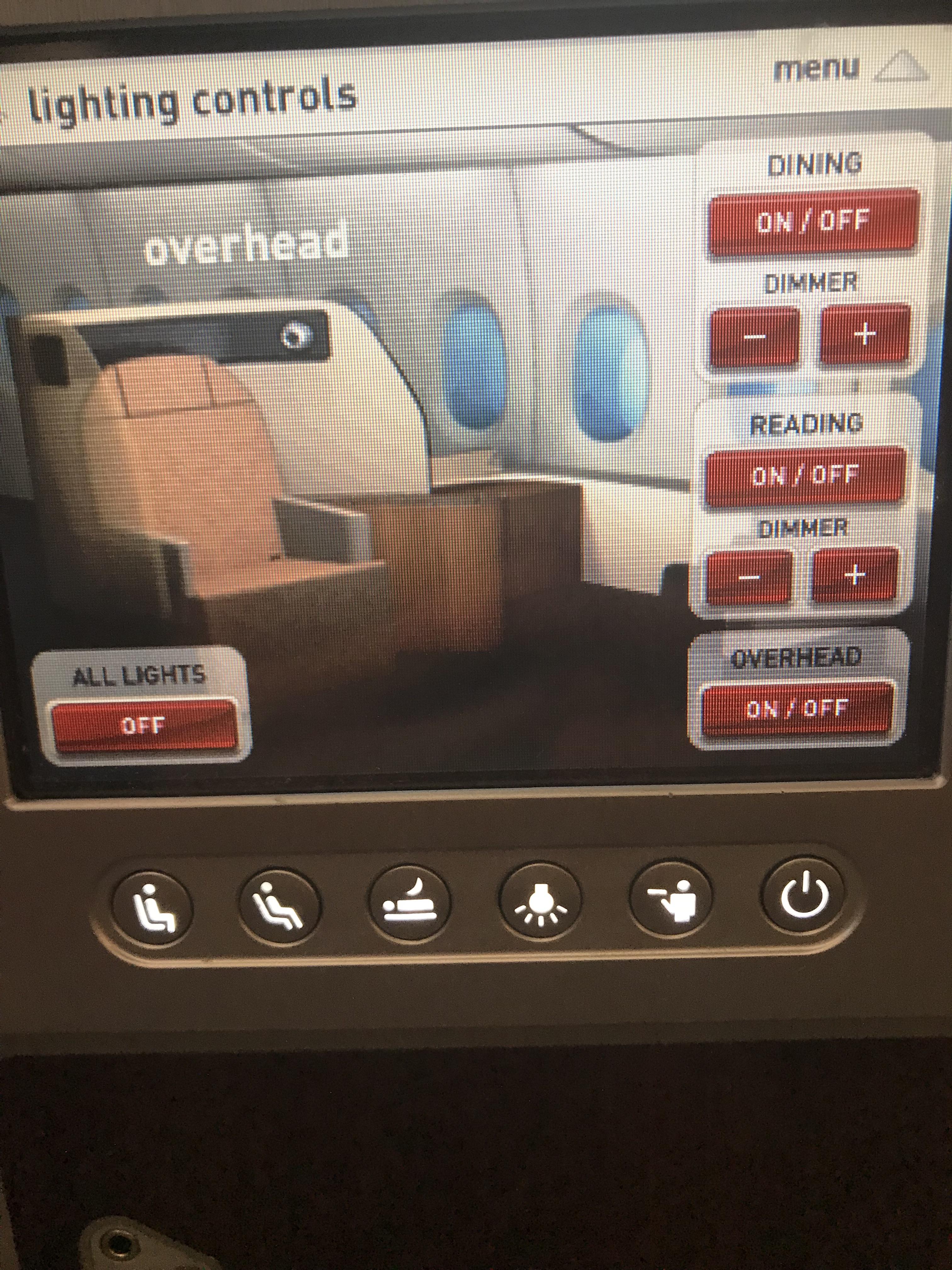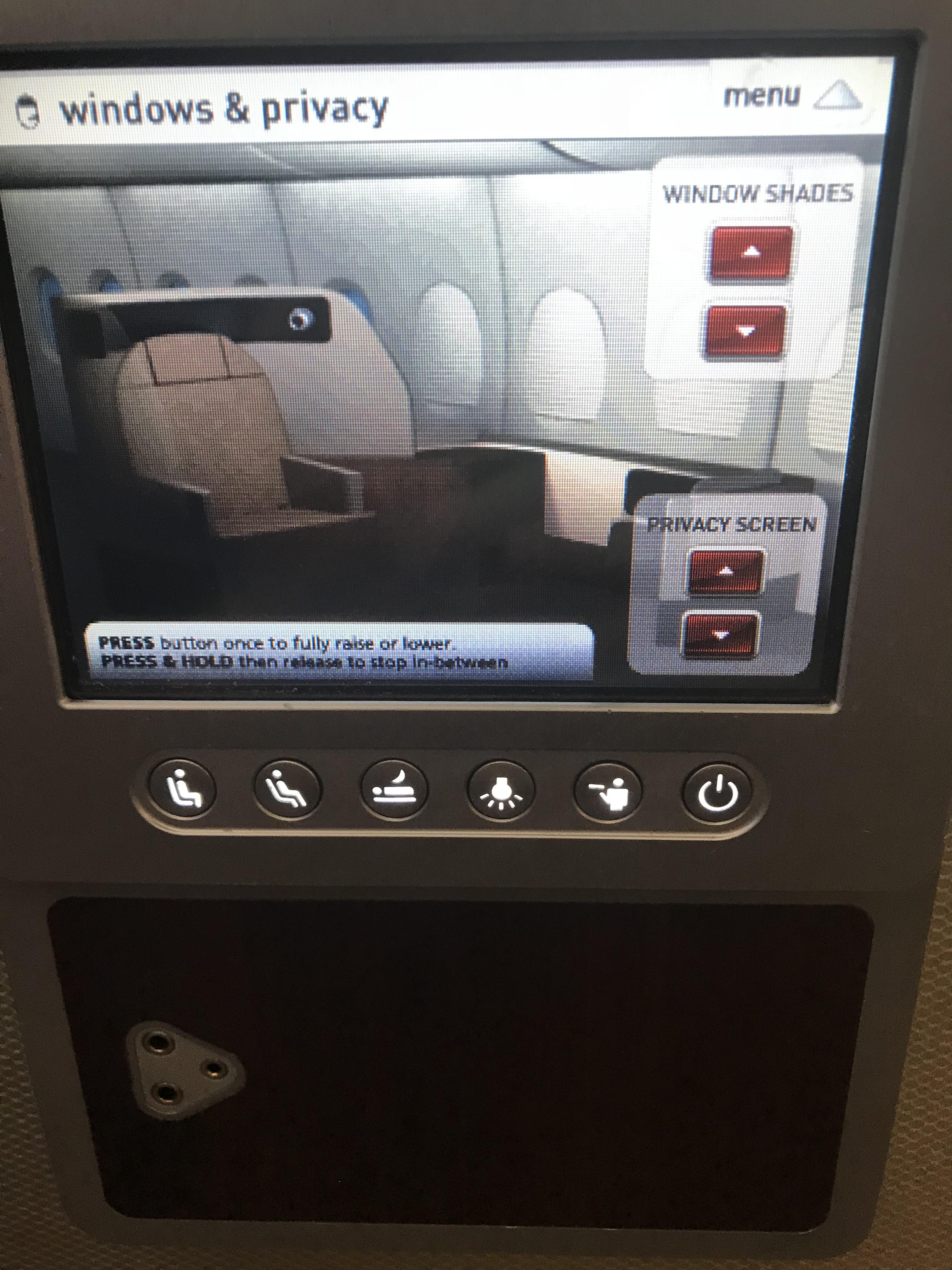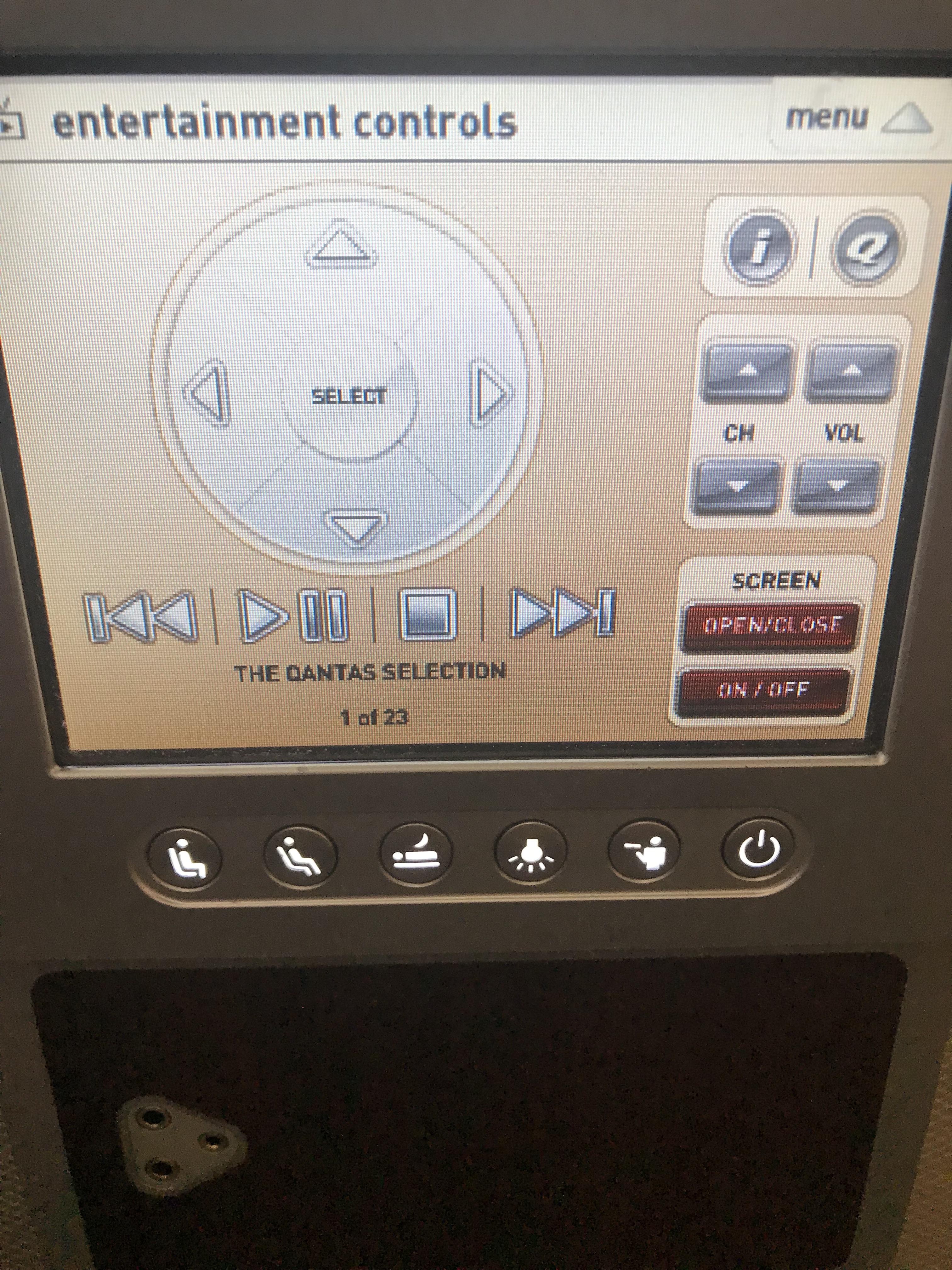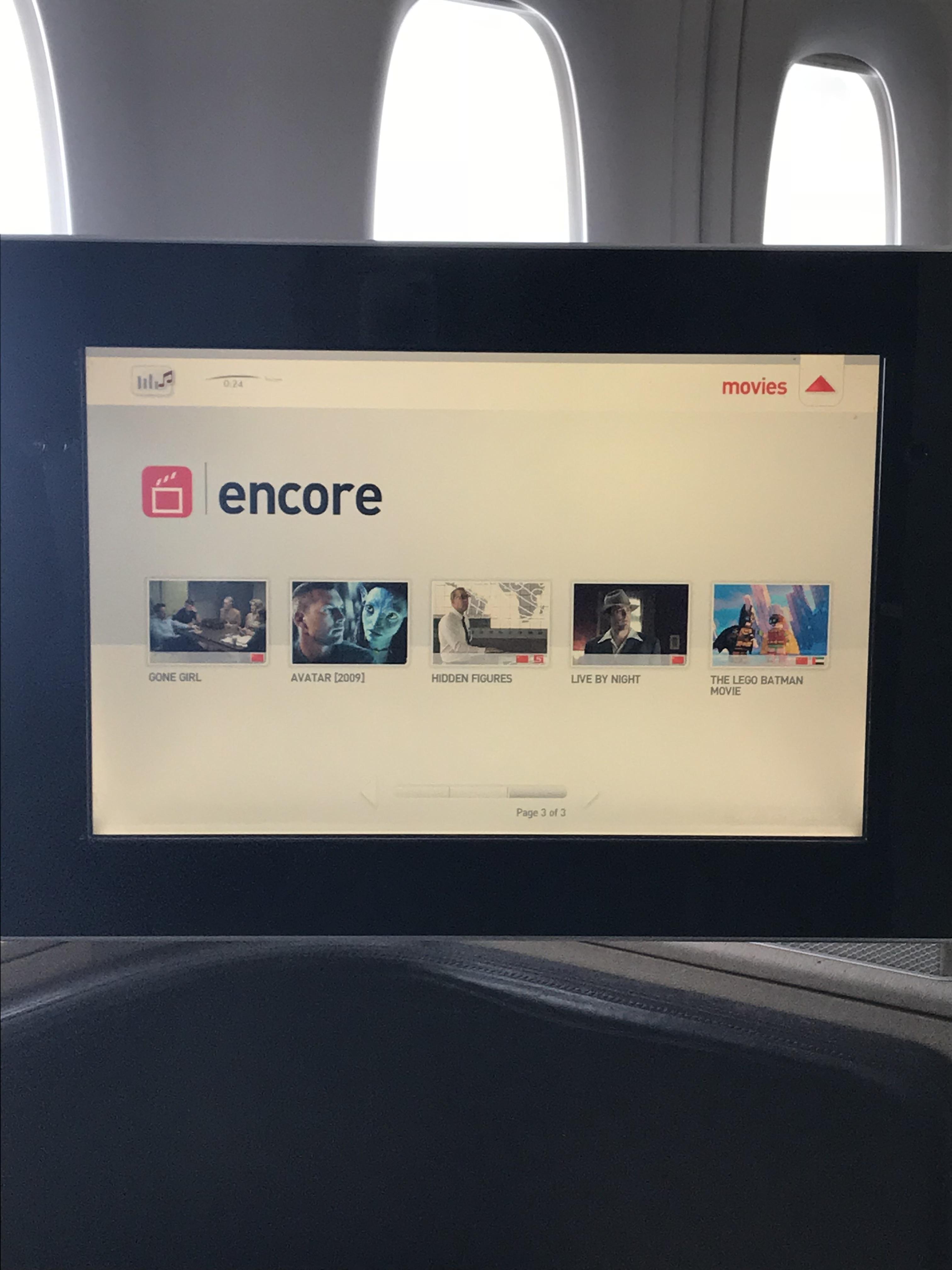 The seat was really comfortable and I appreciated all the things I could easily control from the "master control."
You can control a variety of in-seat lights and last, but certainly not least, control the window blinds.  That's right…. You can open or close the window blinds at the touch of a button. And I loved that feature so much, I made a video…
For power, you've got a standard 110-volt US plug and a USB charger. Standard large headsets are provided for the in-flight entertainment. While it offers quite a number of first-run and encore films, I would have appreciated a much larger selection given the flight length. The IFE was easy to navigate and control, though, and you could do so from either the wall-mounted but detachable master control or from an IFE=only remote mounted in the armrest.
I was quickly provided with a set of Martin Grant pajamas, amenity kit, amuse bouche (caviar and goat cheese puff) along with a glass of champagne and water.  Everyone came around and introduced themselves. This is a truly friendly crew all the way around.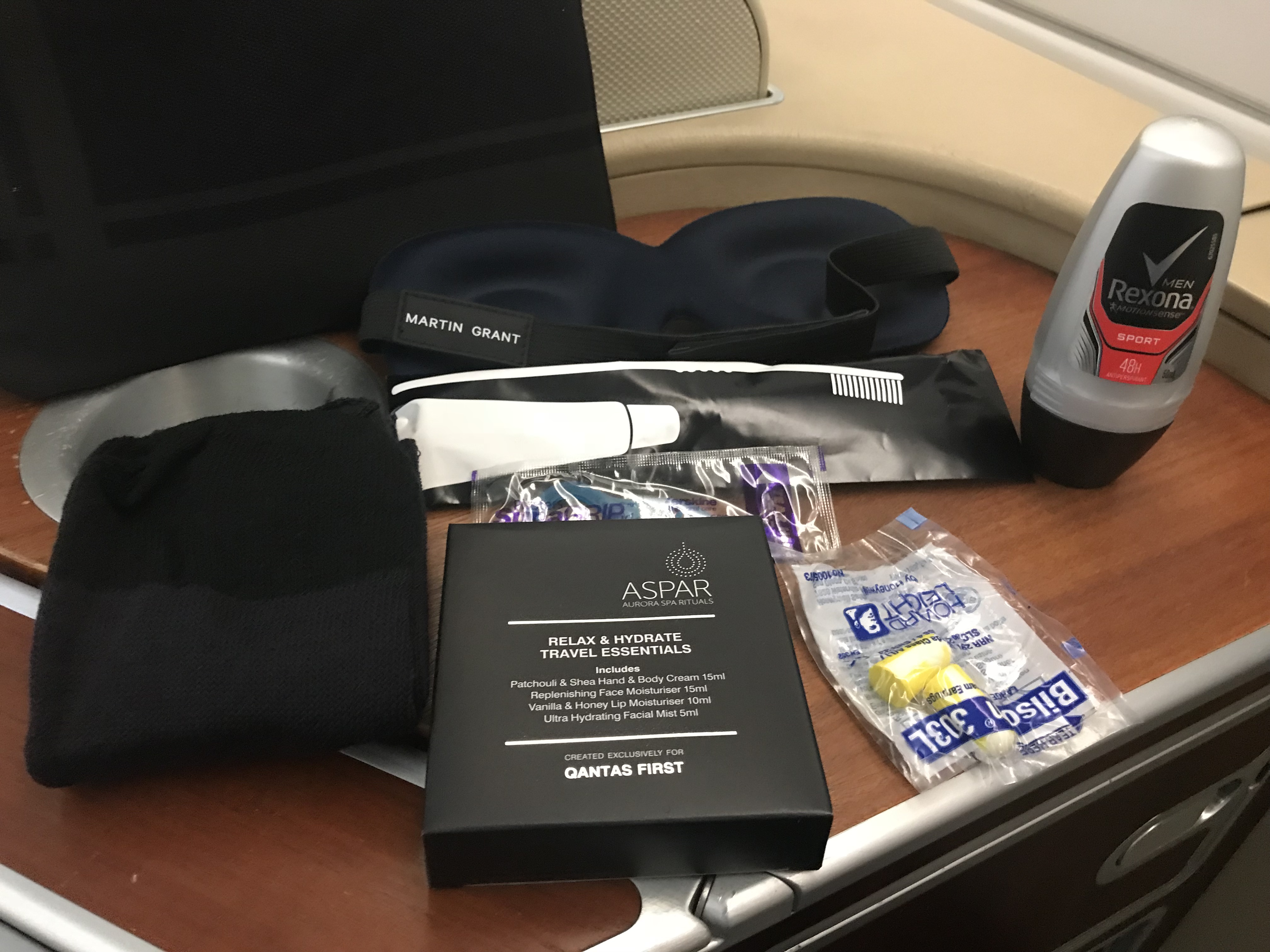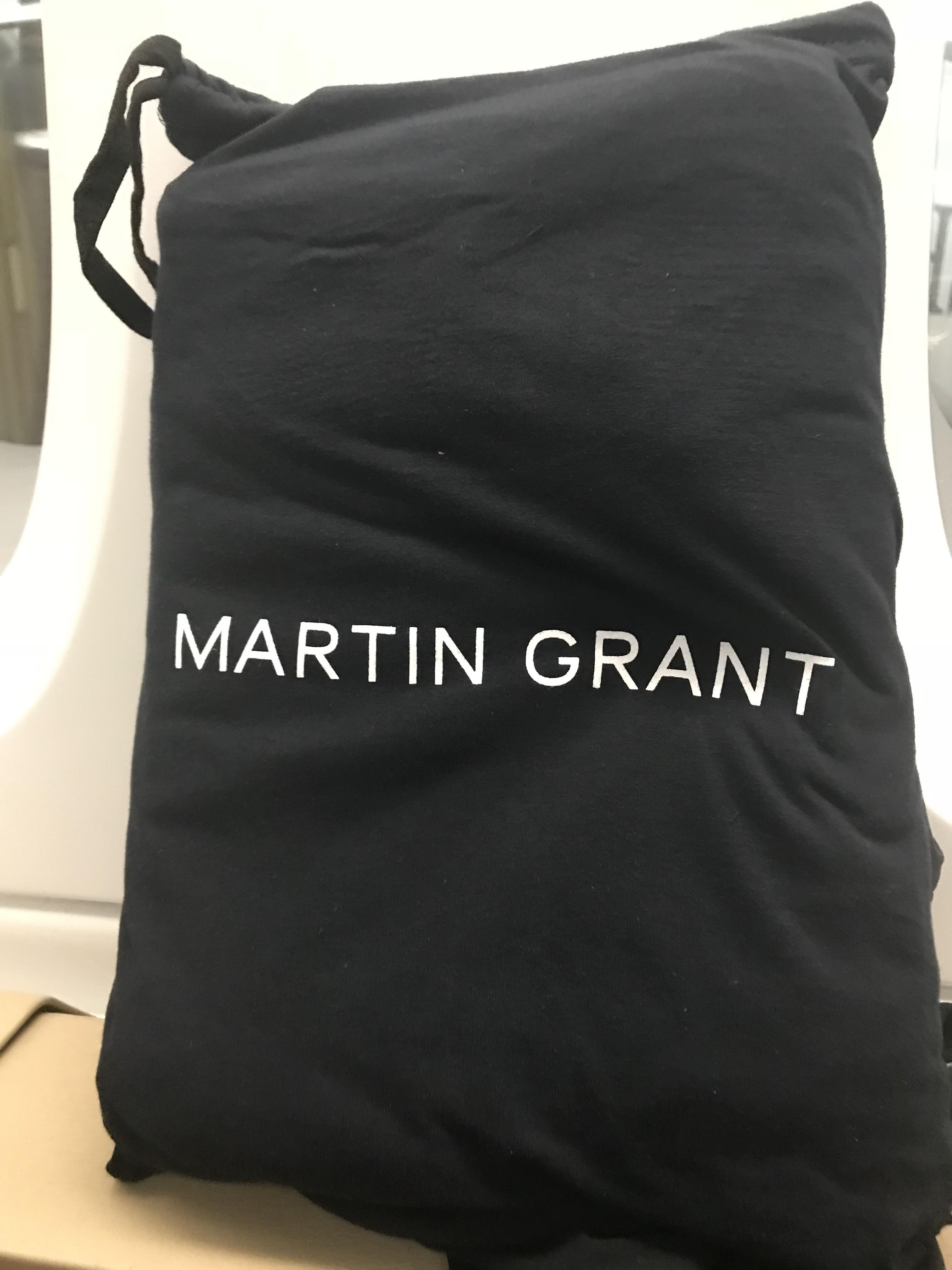 Regarding the hard product, I was very surprised to learn that it's an almost 10-year old product and is due for replacement in 2018. It feels to me like an extremely modern product and would have thought is less than a few years old if I hadn't been told otherwise. I can't wait to see what they have in-store. They don't seem to have plans for an onboard shower like Emirates or Etihad, but perhaps an expanded bar area will be in the works. As for the future of the First Class suites? Nobody could speculate, but I wonder if they may at least go the route of fully enclosed suites. For sure, everyone on board was well aware of what the competition offers.
The meals:
Once in the air, I made some menu choices watched some TV while meal service got underway.
Let's look at the oblgatory 9 screens of menus…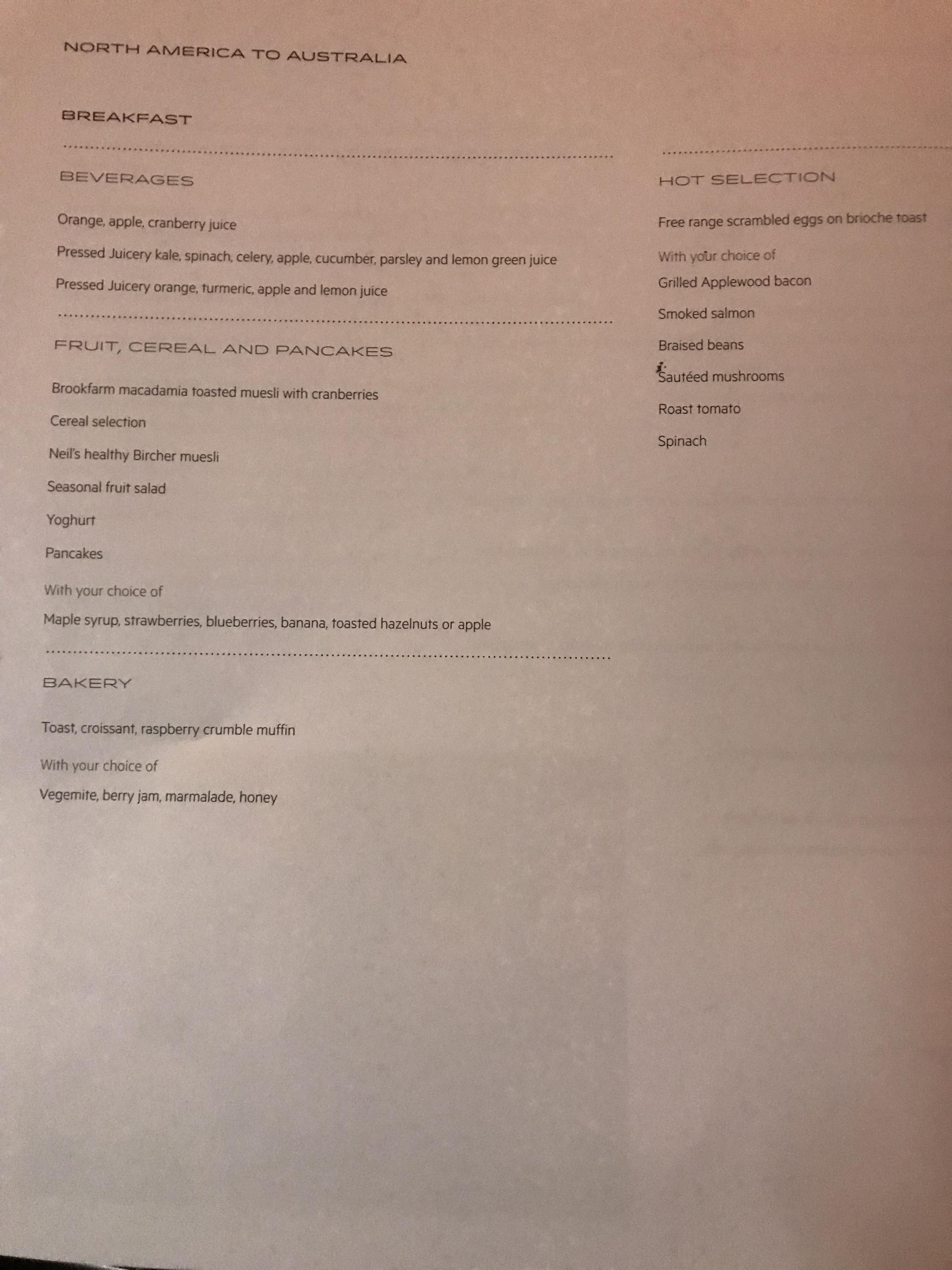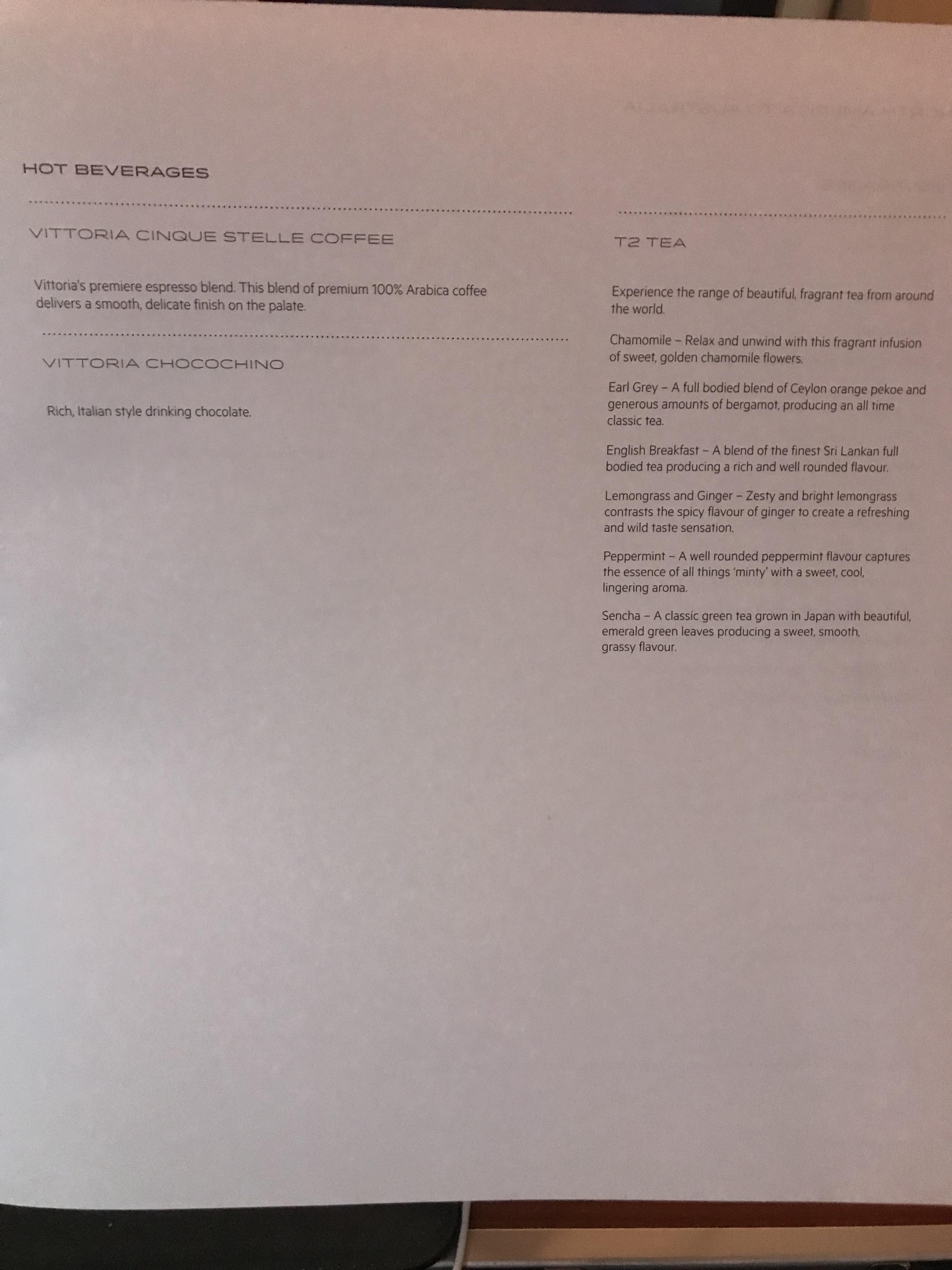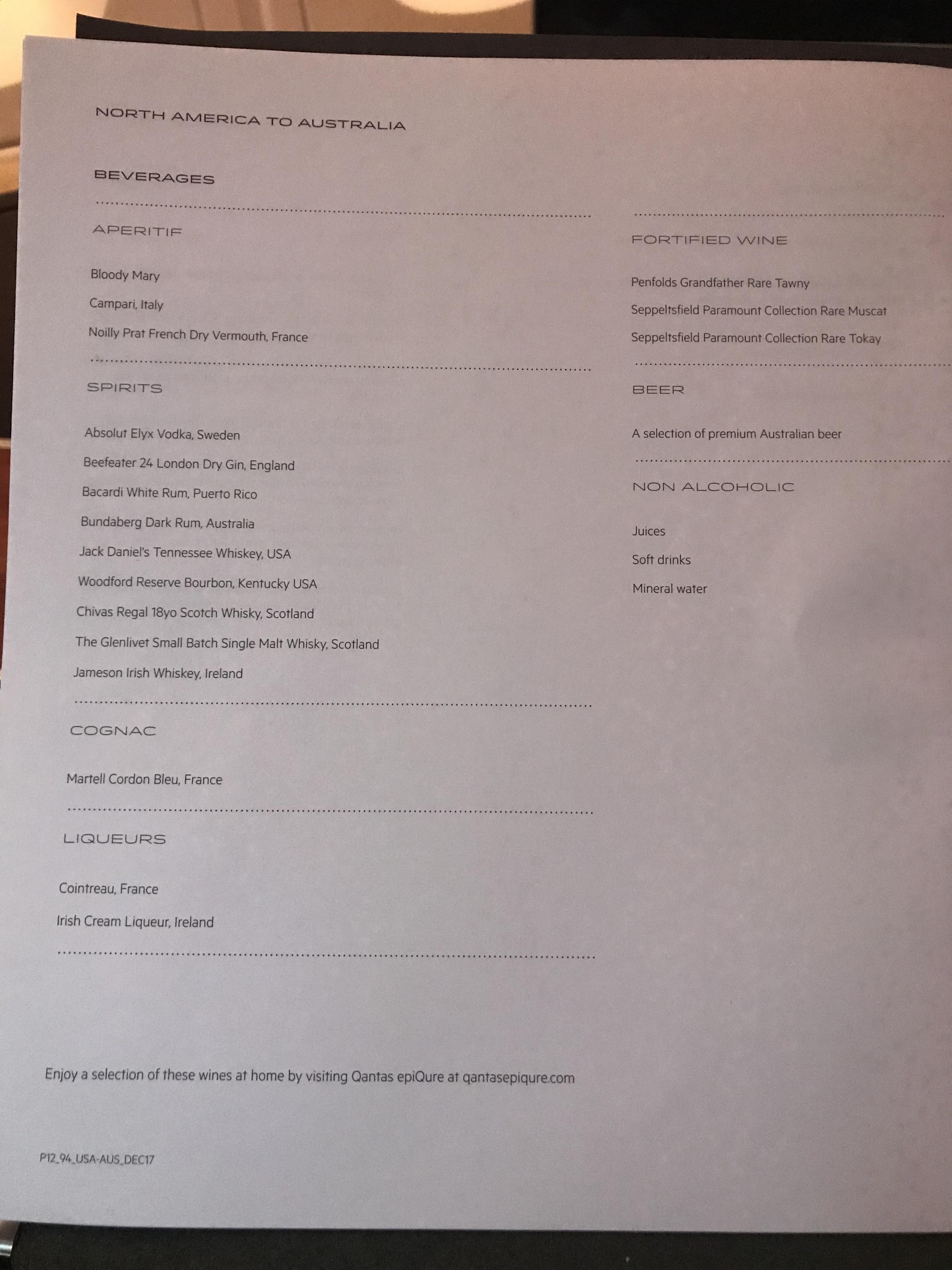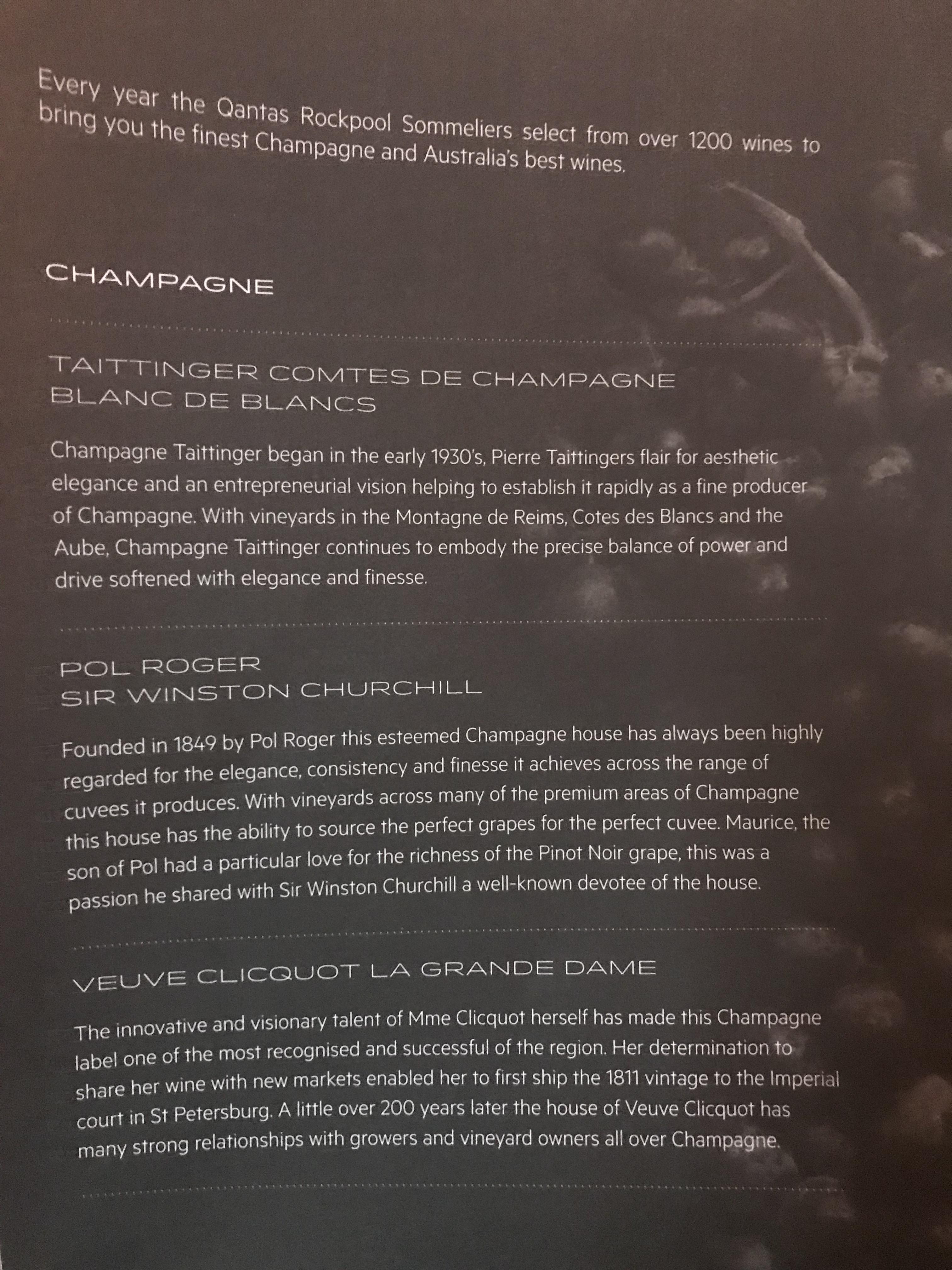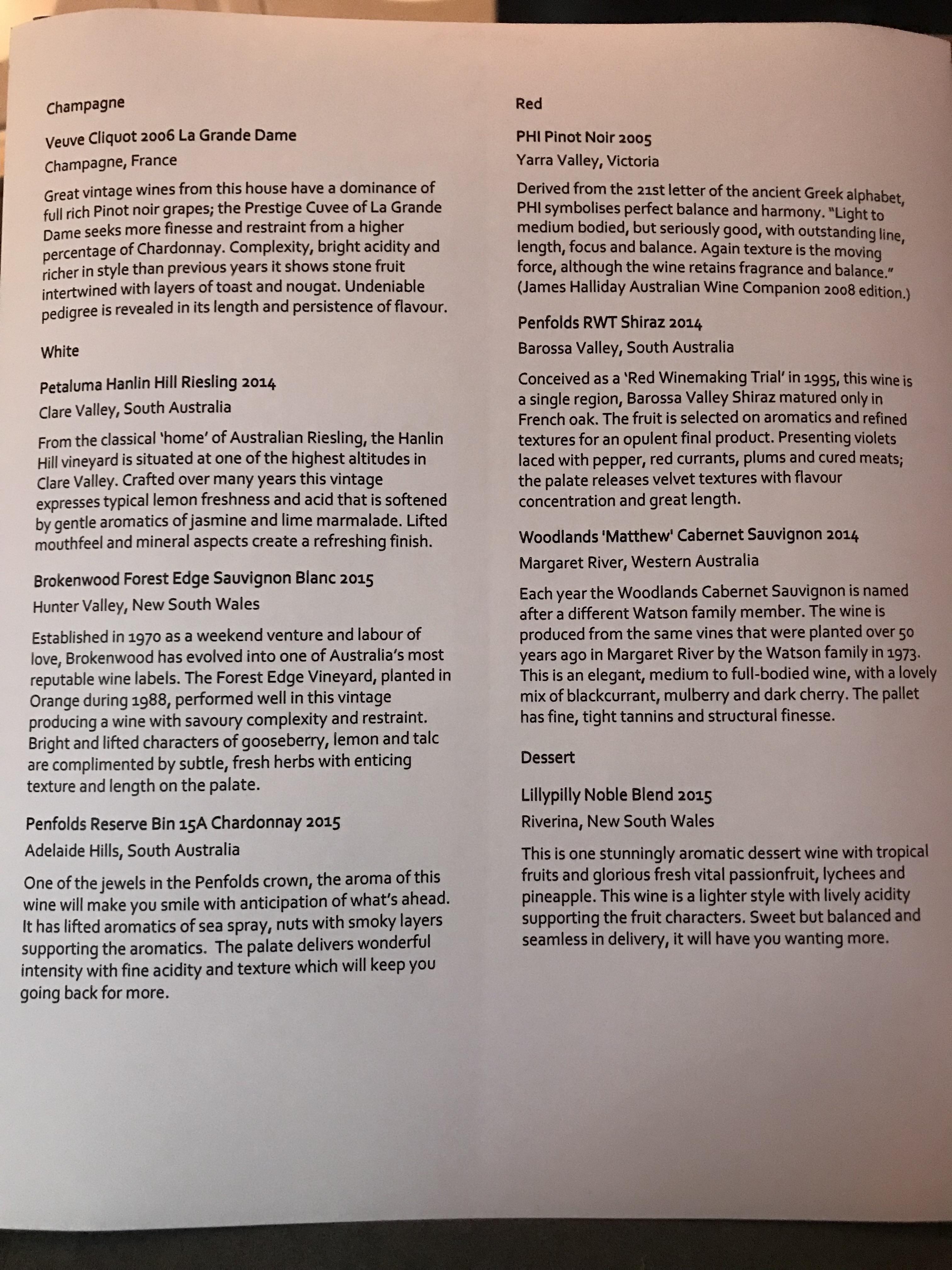 I chose a nice representative sample from the menu:
Carrot soup.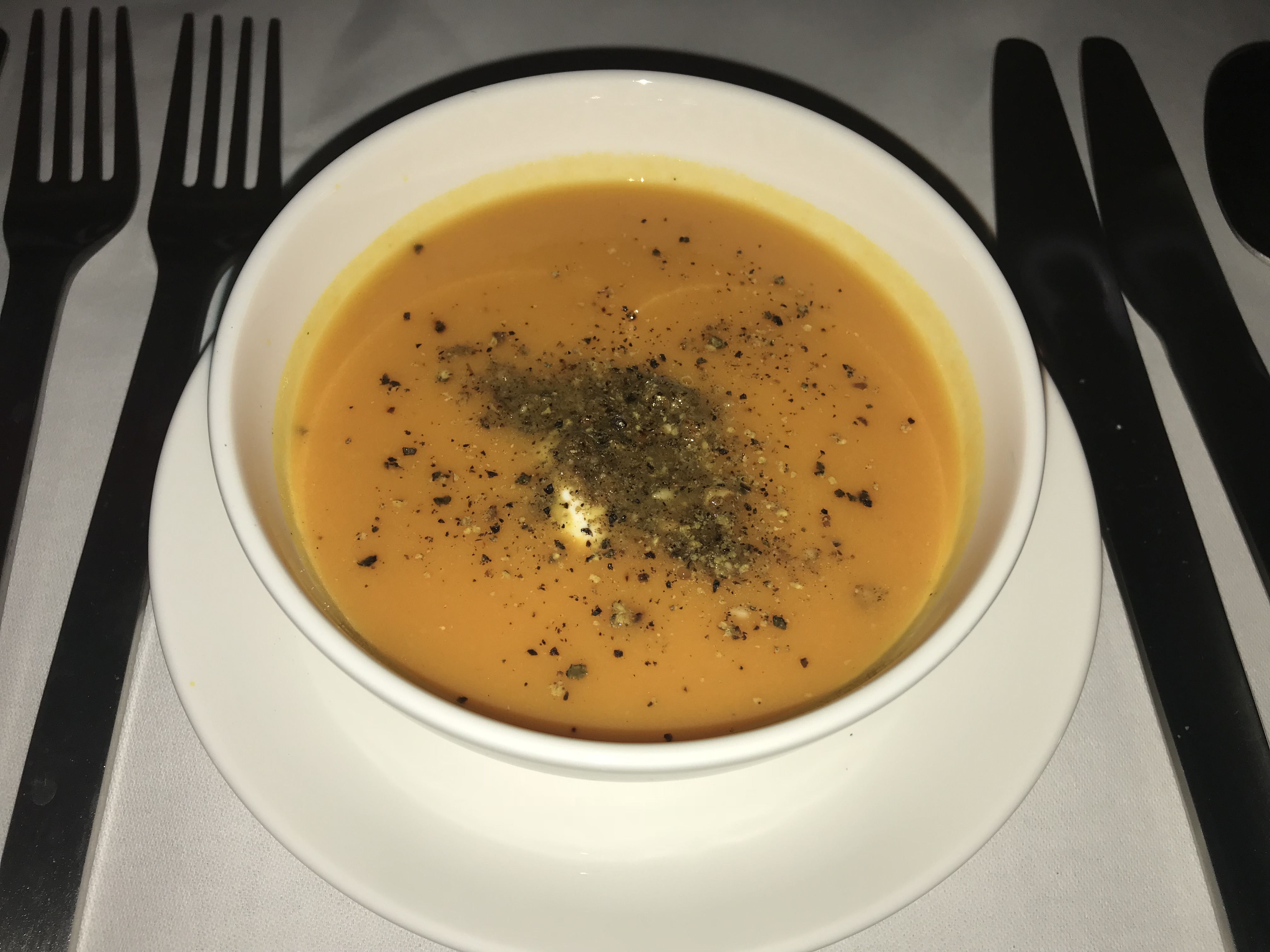 Their "signature" steak sandwich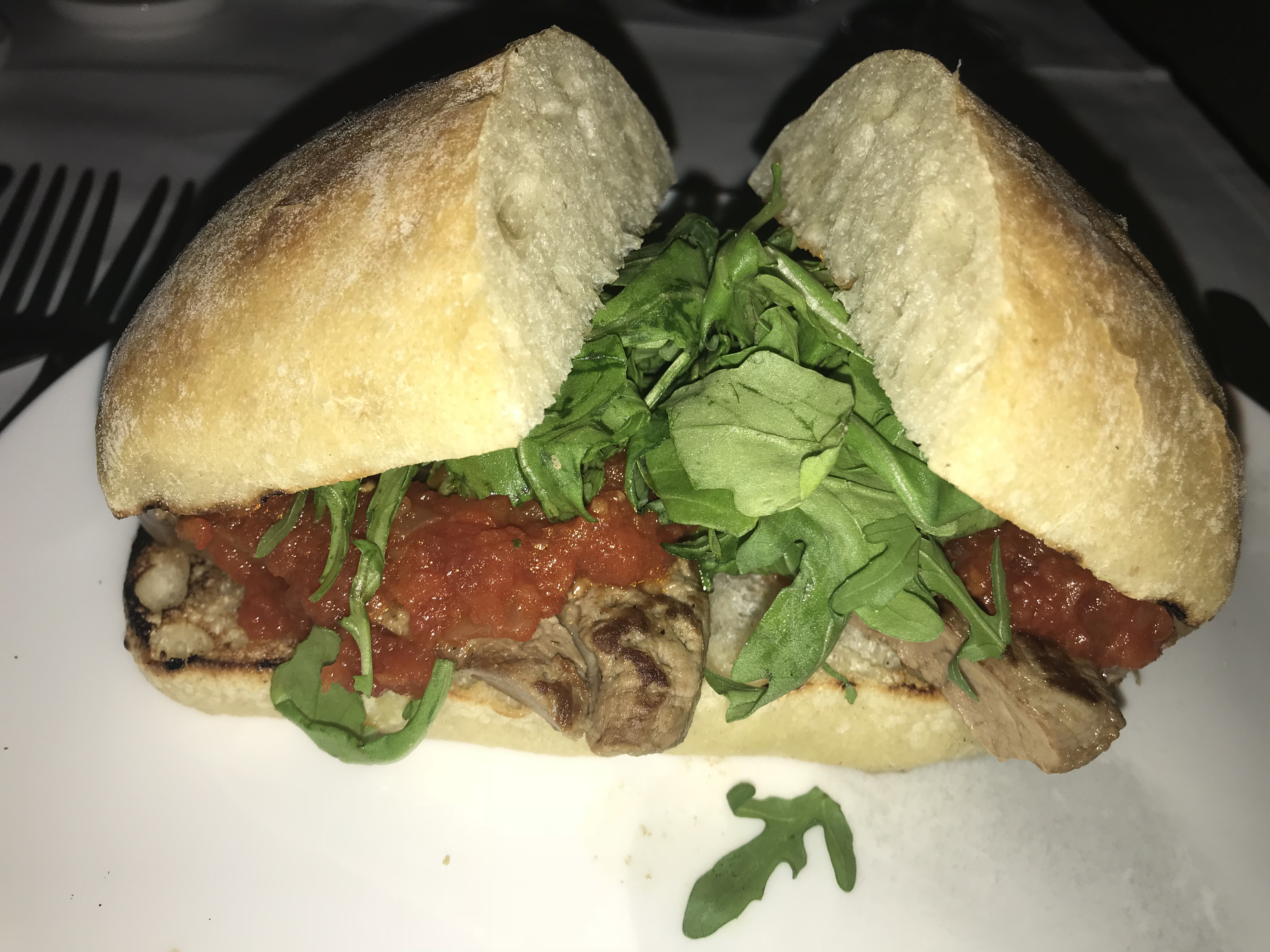 And the sea bass.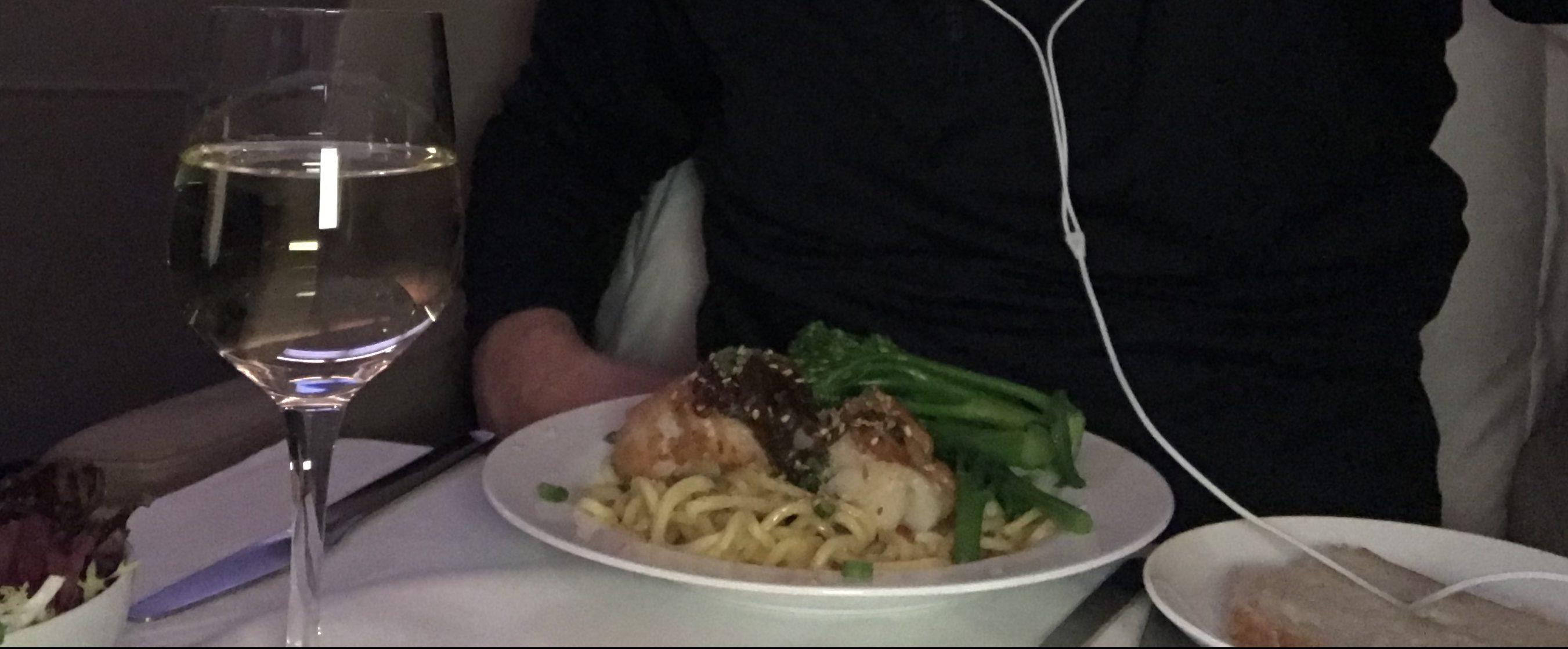 I paired it all with a wonderful 2015 Penfolds Reserve Chardonnay. All of the food was delicious.  The soup was smooth and tasty, the steak sandwich had some really tender steak in it, and the perfectly cooked sea bass would have $40 all on its own at any Manhattan restaurant.
By dessert, I was stuffed but did manage a few bites of their specialty cookies and a bit of ice cream.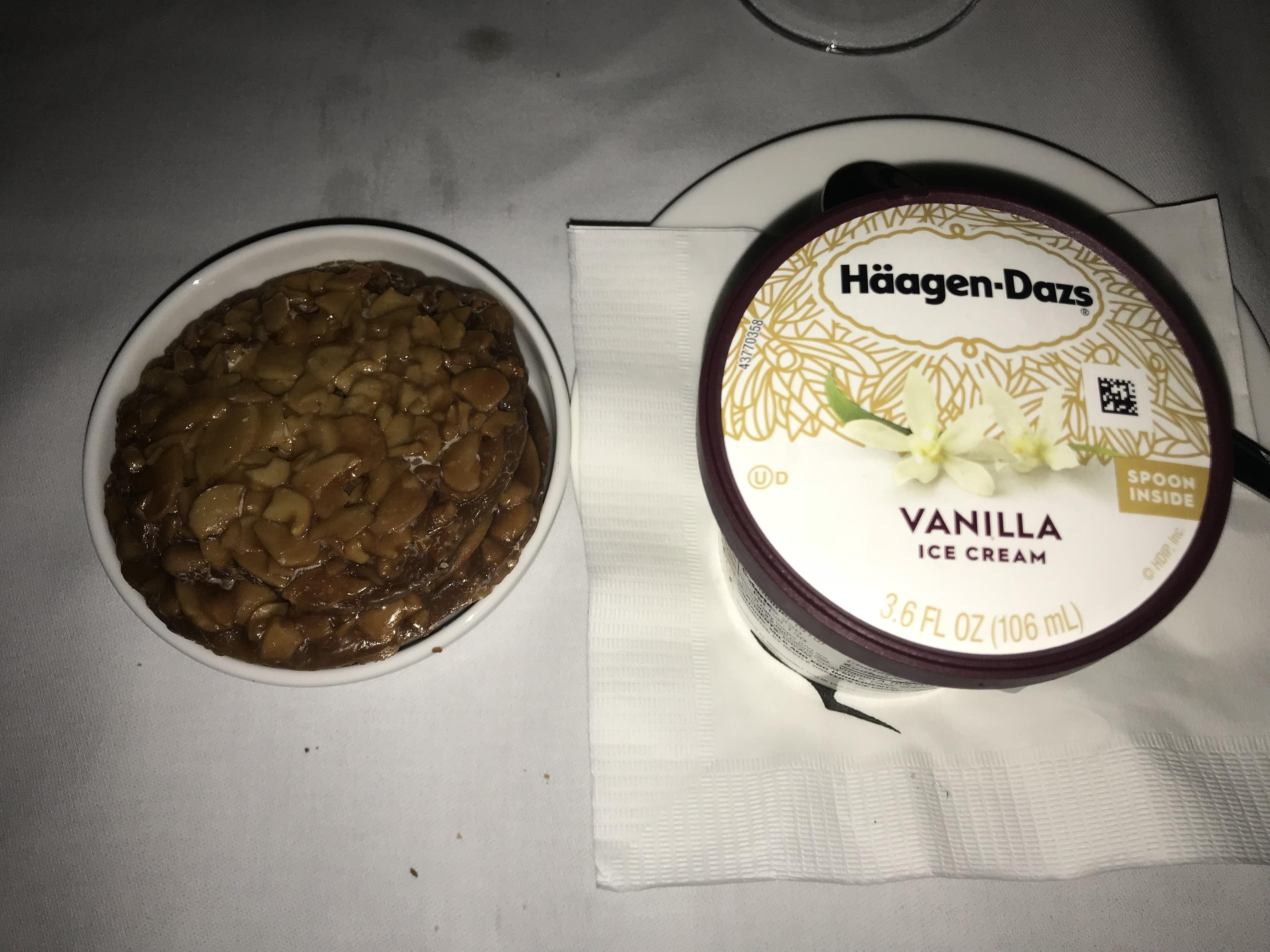 For breakfast, I had scrambled eggs with cheese (the cheese was a special request and was almost surprised how willing she was to add that in while she cooked it), along with bacon and a side of pancakes – and my 4th iced coffee of the flight. As with dinner, it was all well cooked and tasty.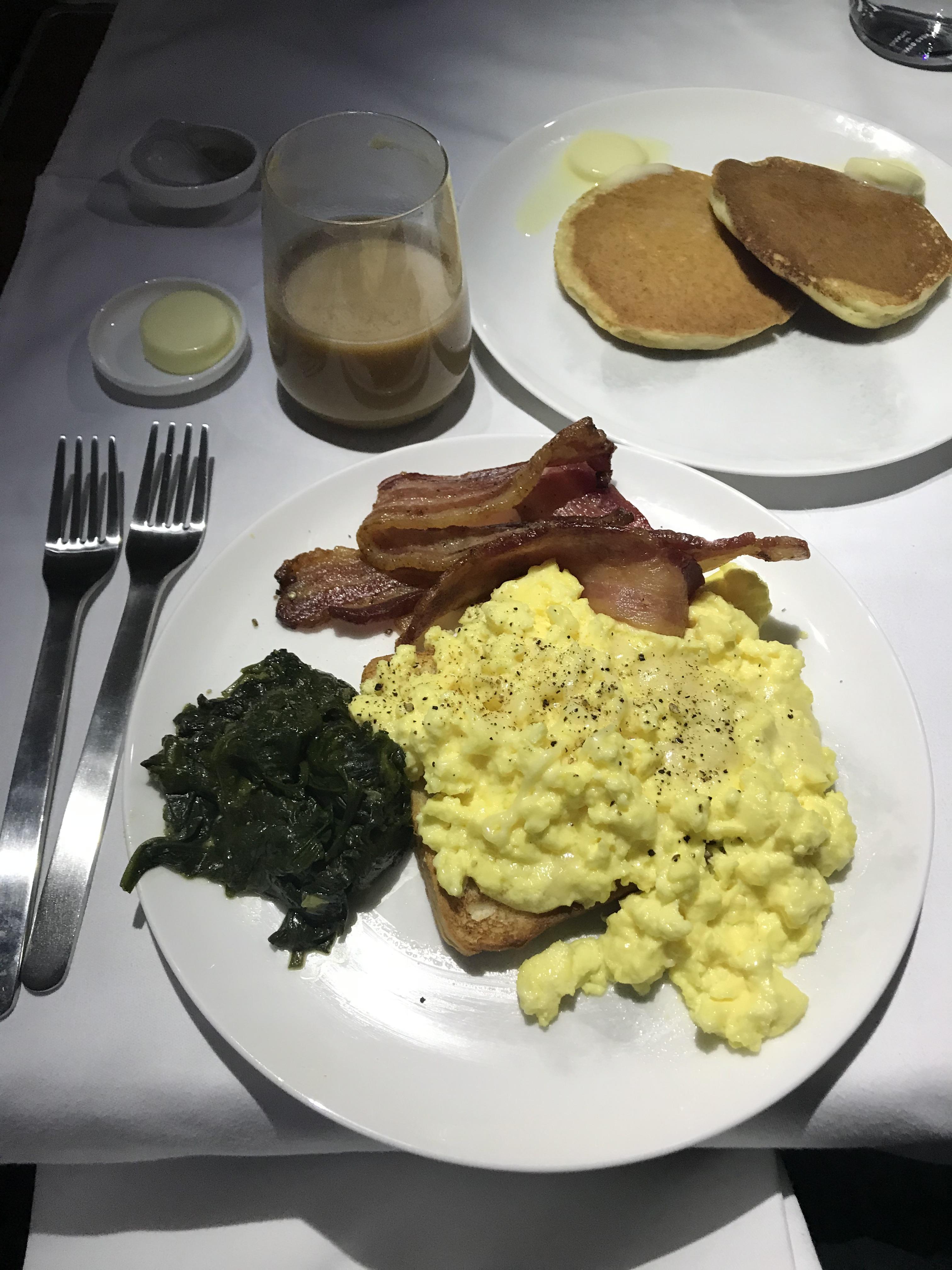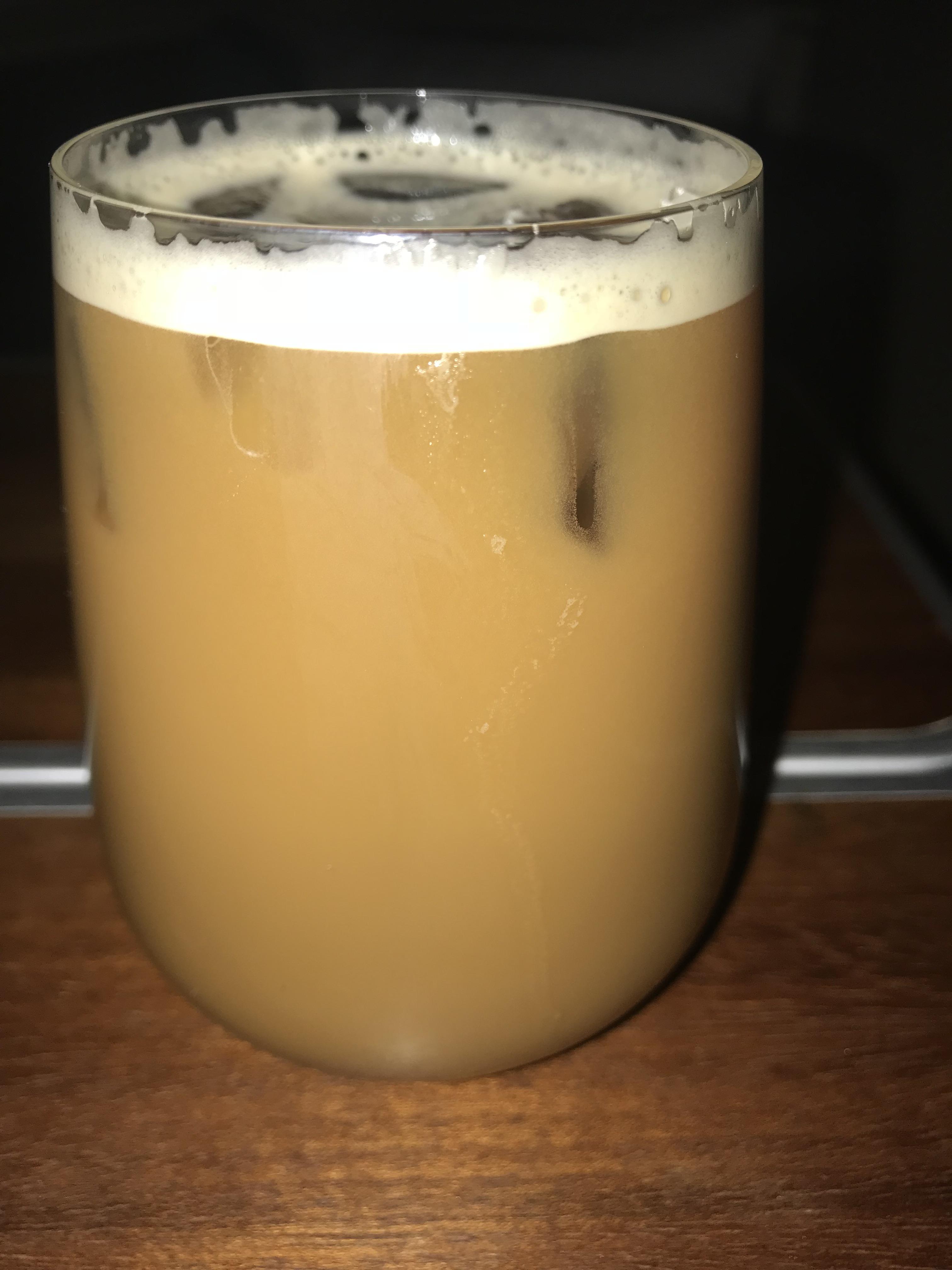 If you need to get out of your seat in either First or Business class, there is a very small "bar" at the front of the upper deck. It's really just a couple of couches together along with some snacks placed out for you to take at your leisure, but it's nice if you just want a change of scenery or if you are in first and your companion is in business.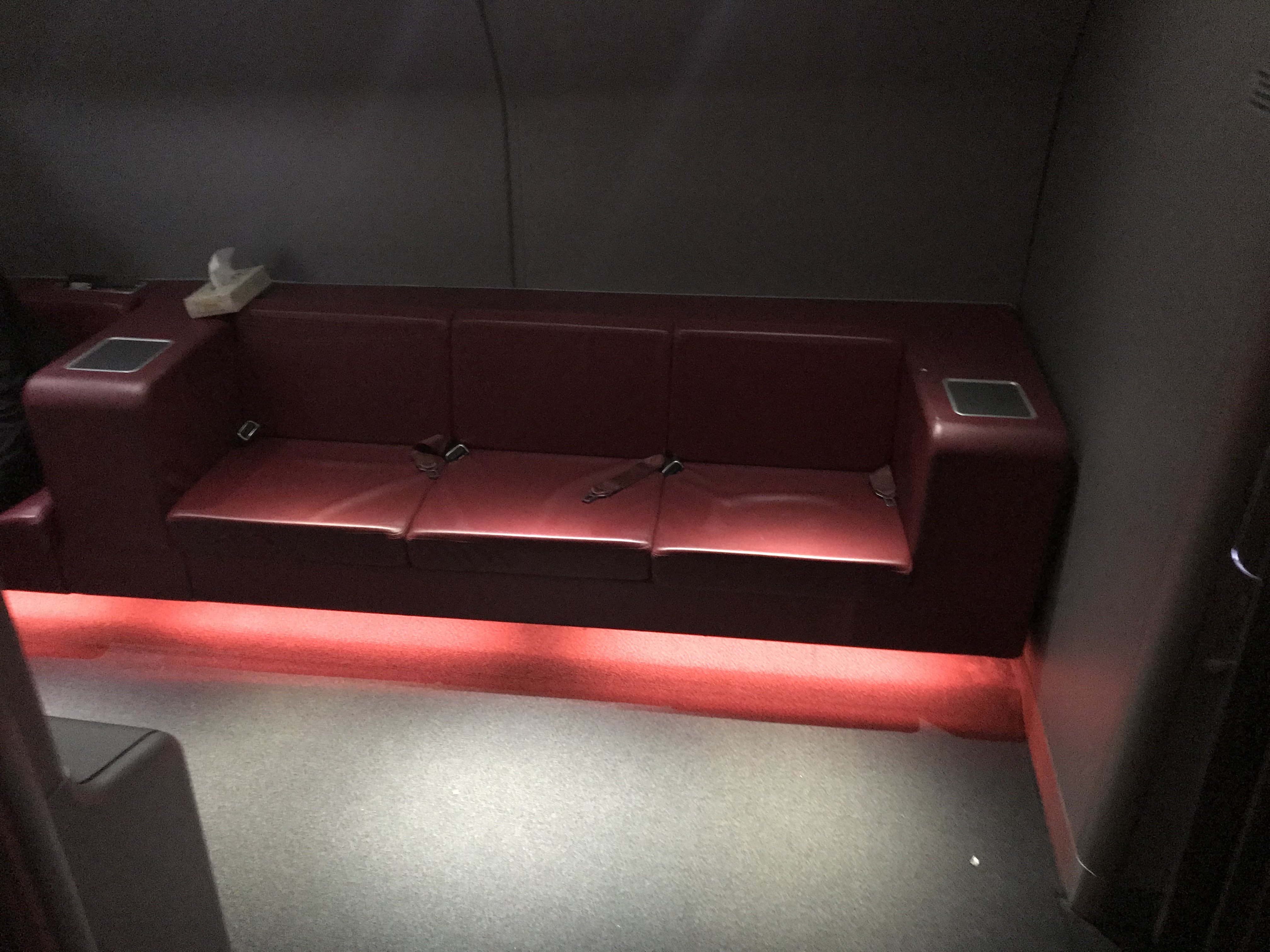 Bedtime:
When it was time to try and get a good night's sleep, an excellent mattress and Sheridan blanket was added to my now-flat seat. It was extremely comfortable and I slept wonderfully for about 6 hours until a child who was no longer interested in sleeping in the next row forced me awake.   No complaints at all about the bed situation, except that the openness of the suite does make you more susceptible to what is going on around you.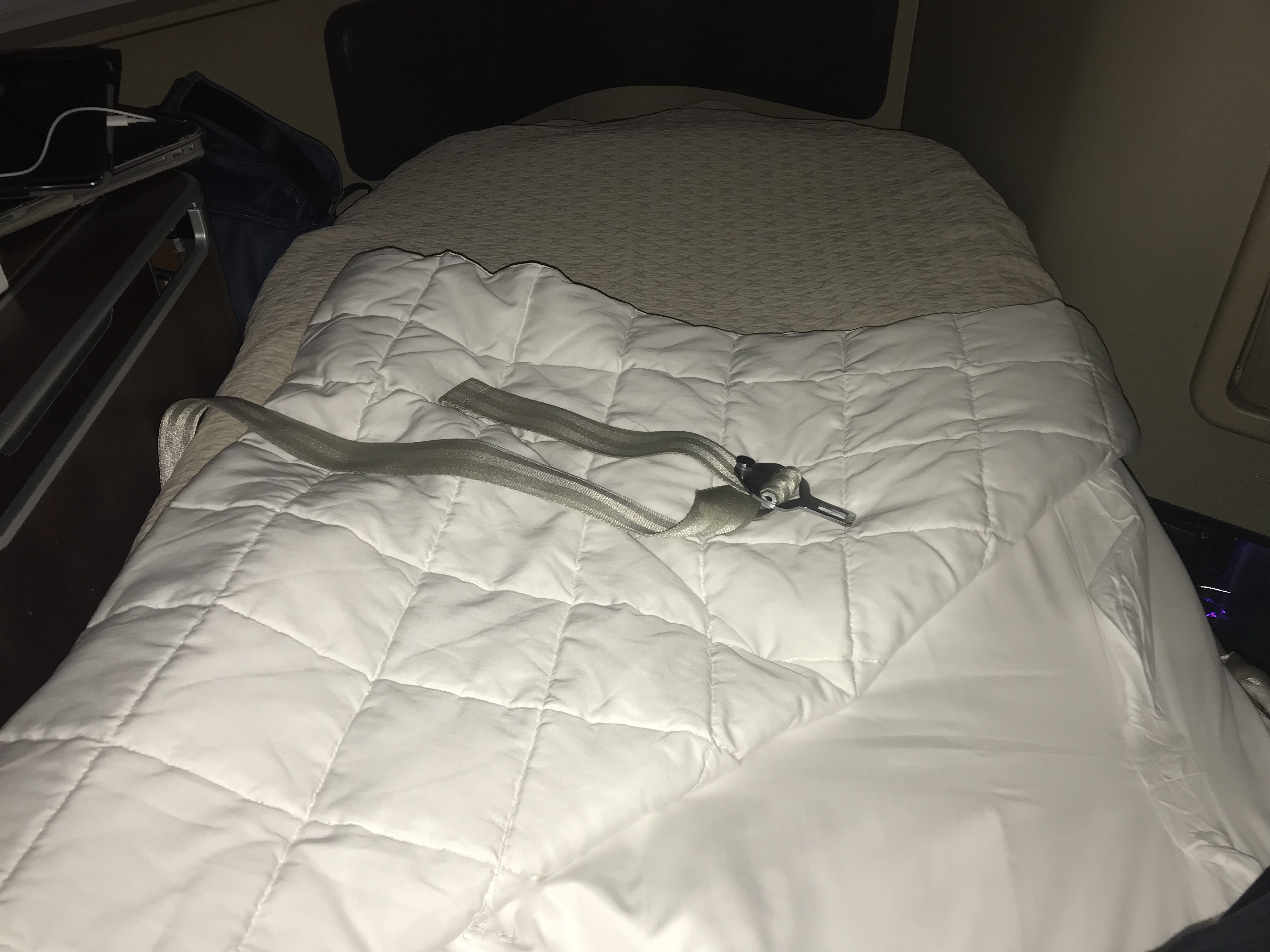 Service:
I could not have been more delighted with everyone onboard, from the flight attendant, Ally, that tended to me, to the manager, and all of the other crew that I interacted with. They had both a very customer-centric attitude and a genuine friendliness. I hadn't been sure what to expect ahead of time. I've flown 1st class products with US, European, and Asian carriers and they all have varying levels of service and friendliness (with the Asian carriers generally way in the lead on both) but I truly can't think of any way that this crew could have been more of a pleasure. I felt the same way when I flew Singapore Airlines First Class earlier this year and there is nothing I love more than praising a crew truly deserving of praise.
To book:
As mentioned at the start of this post, I booked this flight using 110,000 American Airlines AAdvantage miles. You could have booked it with your choice of Oneworld-affiliated frequent flyer miles such as JAL for 100,000 miles one-way or Cathay Pacific for 105,000 miles one-way or with Alaska Airlines miles for 70,000 miles one-way. Taxes were only USD$27.40.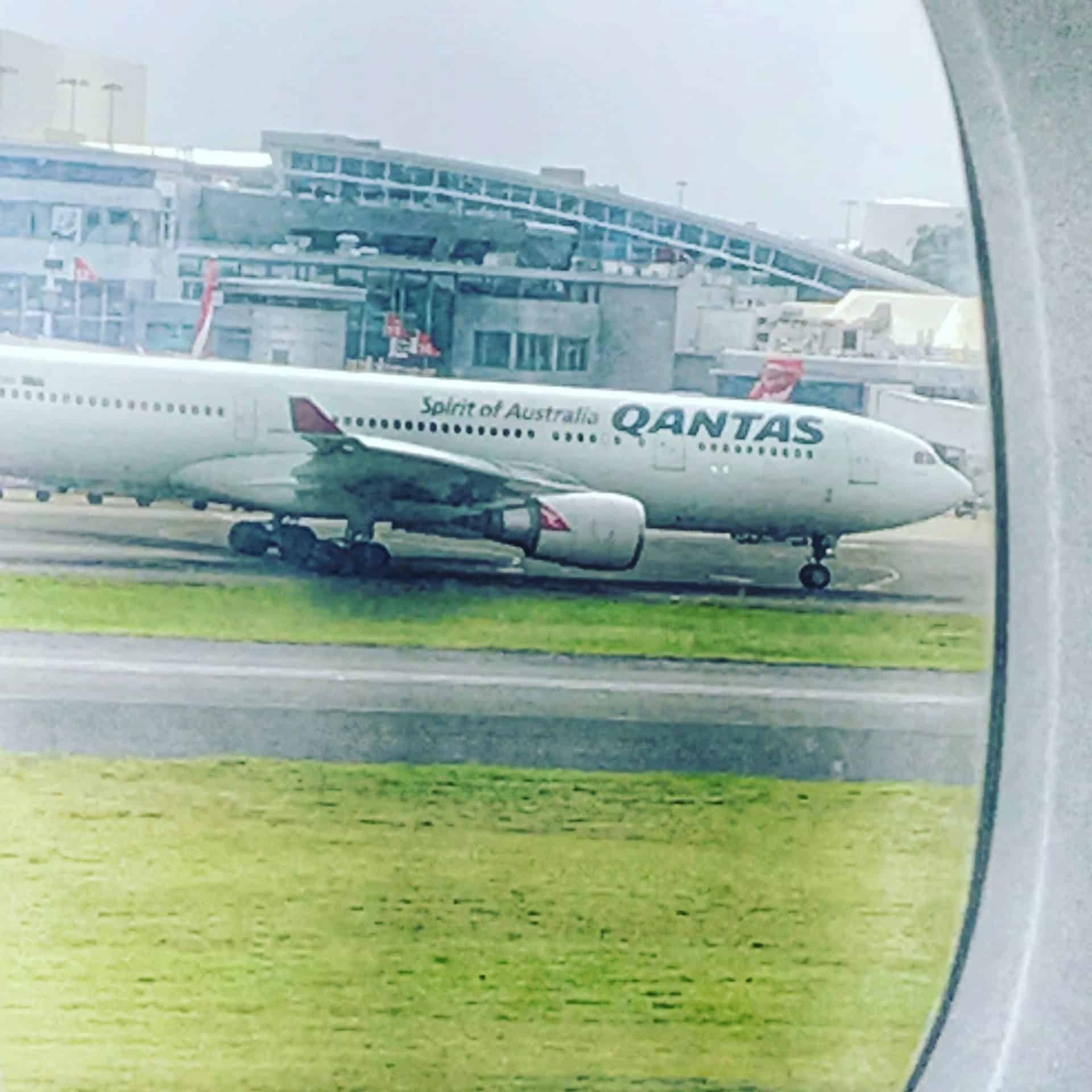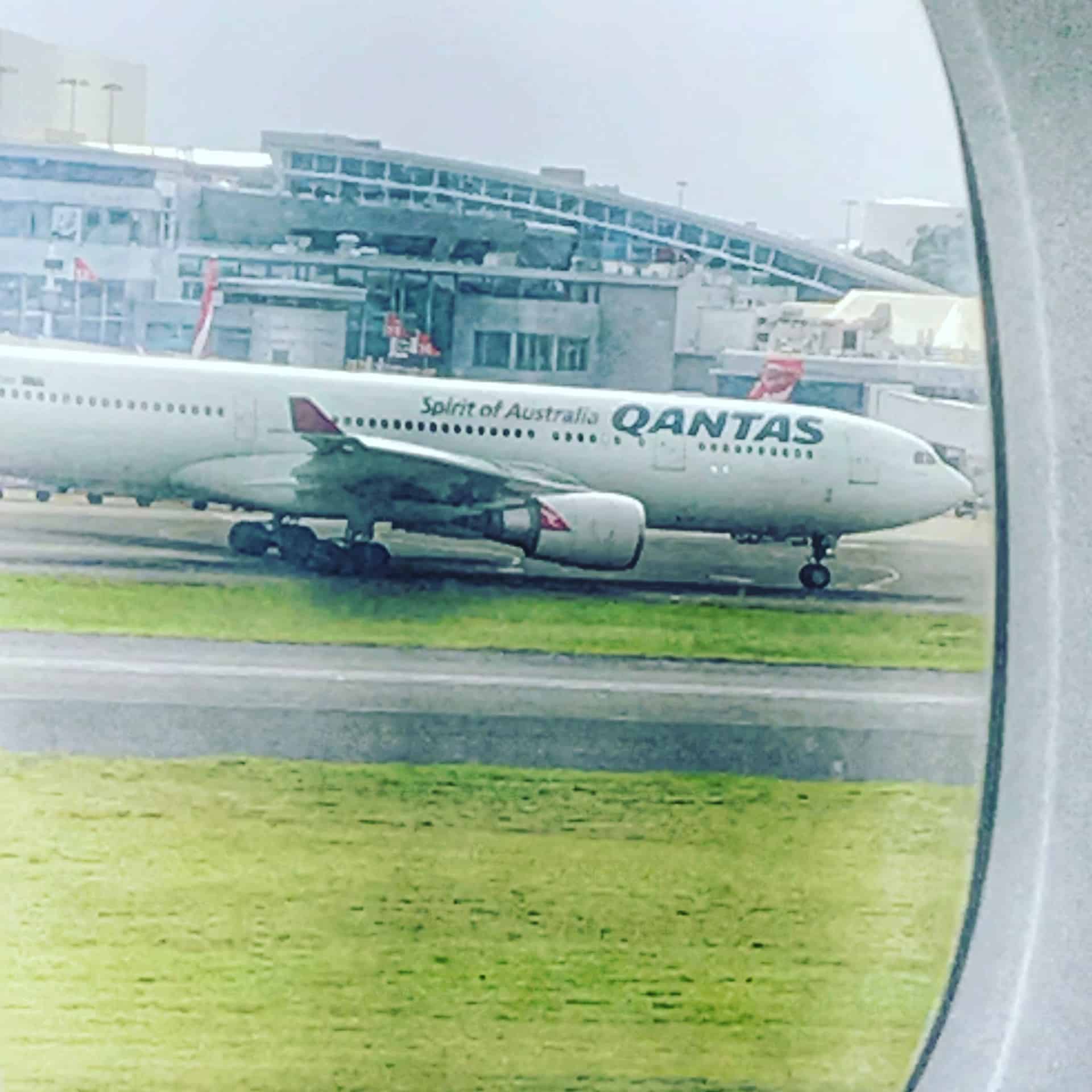 Summary:
I give the A380 flight in First Class on Qantas 4.5 stars out of 5.
Pros:
– Extremely comfortable seat, both for lounging and for sleeping. Both long and wide enough and the supplied mattress, blanket, and pillows are all perfect.
– Excellent food menu. While not quite as extensive as on flights I've had to/from Asia, it was a reasonably sized selection and all very tasty.
– Impeccable service. Those that know me know that I do not say that lightly.
Cons:
– No Wi-Fi. This is really quite unacceptable at the end of 2017.
– The First Class suites are not fully enclosed, so you don't have the kind of privacy that you have with Singapore Suites or Etihad Apartments.
– The in-flight entertainment was extensive and on a good size screen, though it could do with a bit bigger of a selection.  I quickly ran out of what I wanted to watch and wound up watching on my iPad.
– No showers a la Etihad or Emirates and the lounge/bar area would benefit from a redesign to be more like what Emirates offers.
As mentioned, I booked this with American Airlines AAdvantage miles. The AA credit cards often have 60,000 mile signup bonuses. Two cards (business and personal) would be enough to fly this bird (one-way) in First.