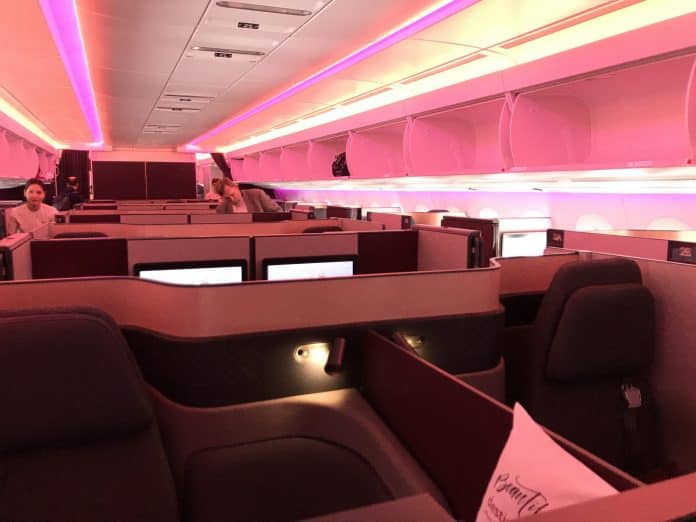 QSuites: Qatar Airways' Premium Business Class
I've long been excited to fly Qatar Airways "QSuites" – a Business Class product that the airline dubs "First in Business." In planes fitted with QSuites, there is no First Class cabin. The new and modern QSuites Business Class is meant to be so good, it replaces First Class.
One huge benefit to this concept is that an award booking is priced in Business Class miles. That means just 70,000 American Airlines miles would get you from the US to the Middle East or Indian Subcontinent. You can even fly from the US to South Africa via Qatar's hub in Doha on one award for 75,000 miles one way. Compared to 110,000 AA miles for a First Class award on Etihad, especially if redeeming for two people, this can be quite a savings.
The Airbus A350-1000 XWB is Qatar's newest aircraft and features their "Super Wifi" product, meant to be on par with Gogo 2Ku.  Compared to the A350-900, the aircraft has 12 more QSuites seats but does not have an onboard bar. None of the Qatar aircraft feature an onboard shower like the Etihad Apartments or Emirates First Class.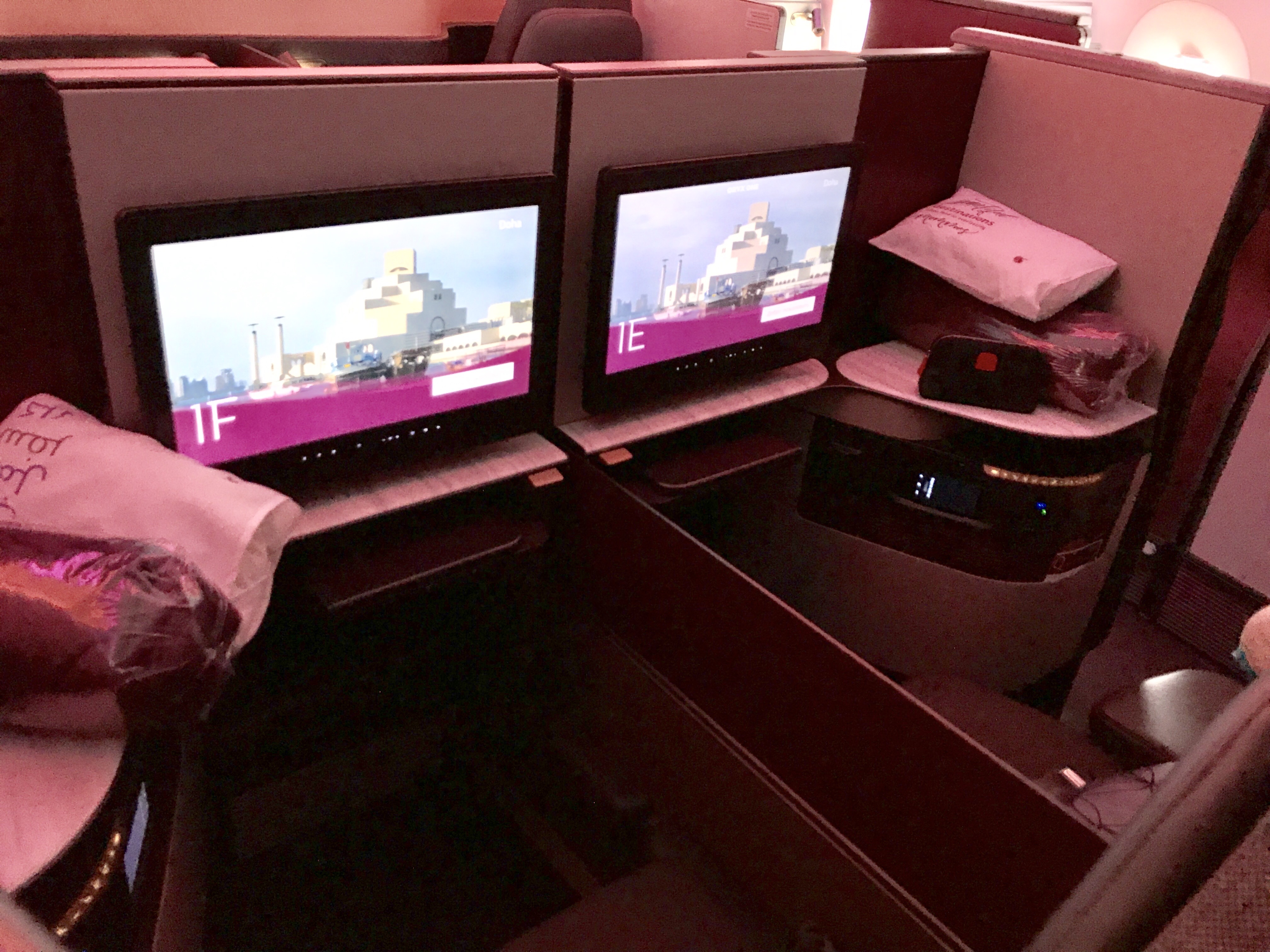 The Award Booking
Because AA does not permit transit between a third zone on their award chart (except where there are special exceptions like transiting the Middle East to go to Africa or the Indian Subcontinent), I had to book these as two awards. One award from Singapore (SIN) to Doha (DOH) at 40,000 miles for the 8 hour flight and then another award for 70,000 miles from Doha (DOH) to New York (JFK), a flight blocked at around 14 hours.
That meant my total cost was 110,000 miles per person, although I paid a total of 210,000 miles, getting my very last American Airlines 10% rebate.
Barclays Aviator credit cards
If you don't have AA miles, and can't get the above cards for whatever reason, you could also book using transferable points on Oneworld partners as Qatar is a Oneworld member. So you could book using Cathay Pacific AsiaMiles, for example, via Citi ThankYou points, Amex Membership Rewards points, or Capital One miles.  The rub, though, is that all of your Oneworld options outside of AA will incur large surcharges on top of the miles.
The QSuites "Hard Product"
The QSuites are gorgeous, well designed, and quite comfortable. They are laid out in such a manner as to have solid options for solo travelers, friends or colleagues, and couples alike. In the center, you can have up to four people sitting in one QSuite, for example four friends or four colleagues needing to discuss business. If four people aren't using them in that way, the center seats are more realistically grouped in twos, alternating two connected rear-facing "touching" seats with forward-facing two seats separated by the consoles. At the sides of the cabin are single seats, which alternate rear facing, with the seat flush to the window, and forward facing, with the seat at the aisle and the console flush to the window.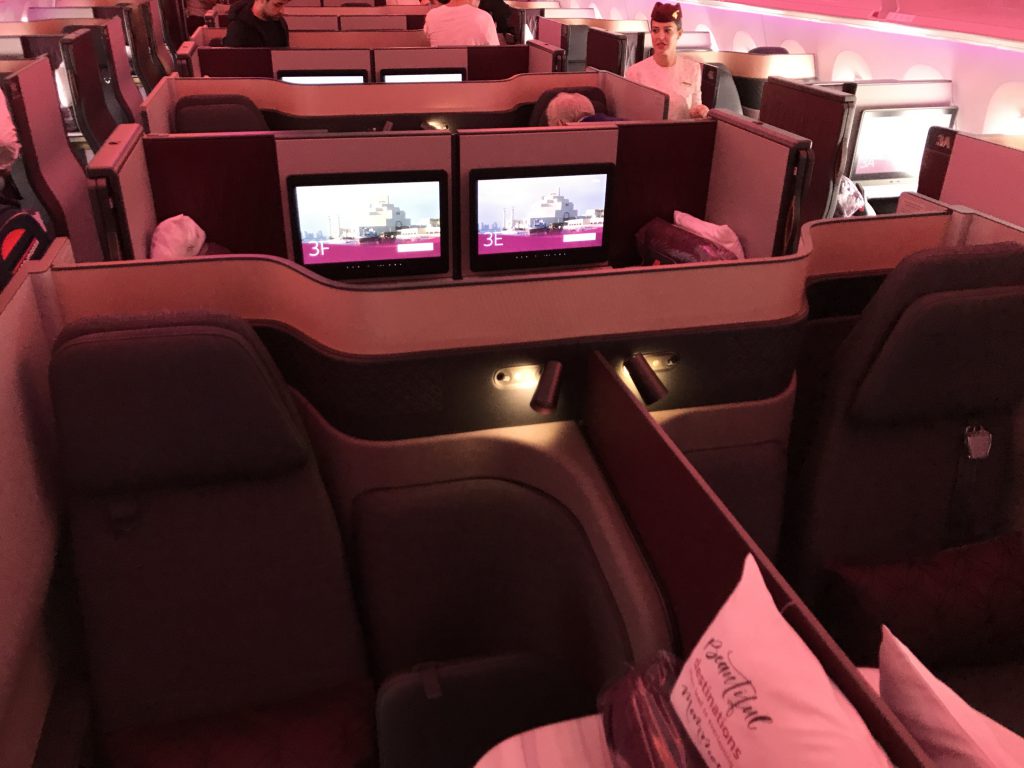 QSuites Seat
As a Business Class seat, I'd be hard pressed to think of one that I like more. It's got tons of personal space, charging ports, a huge screen you can easily touch (or a remote control that is equally simple to use), lies fully flat, and has a closing door for privacy. Note though that the suite walls are low and people walking by can look right in – so they aren't fully private. They are "mostly" private, however, and much better than being fully exposed to the cabin around you.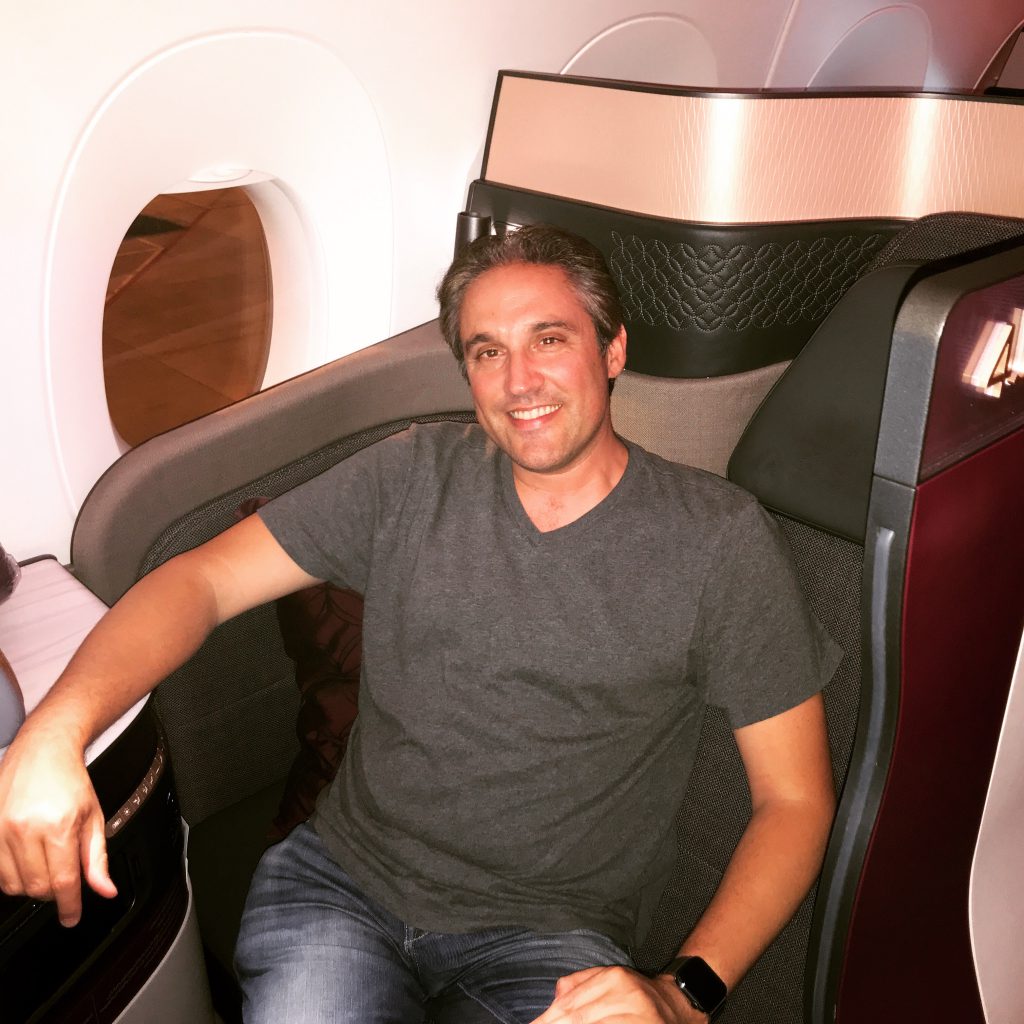 There's plenty of storage space, a massaging function in the seat back, clear and easy to use seat controls, and the In Flight Entertainment has a huge selection. I can't stress enough how easy to use and responsive the IFE is. It's very noticeable when you compare it to older IFEs that can be quite frustrating to use.
Flying two segments on the same aircraft allowed me to experience two different seat types. On the Singapore to Doha leg, I had a forward facing window seat while on the Doha to New York leg we had the rear facing adjoining "couples" seat.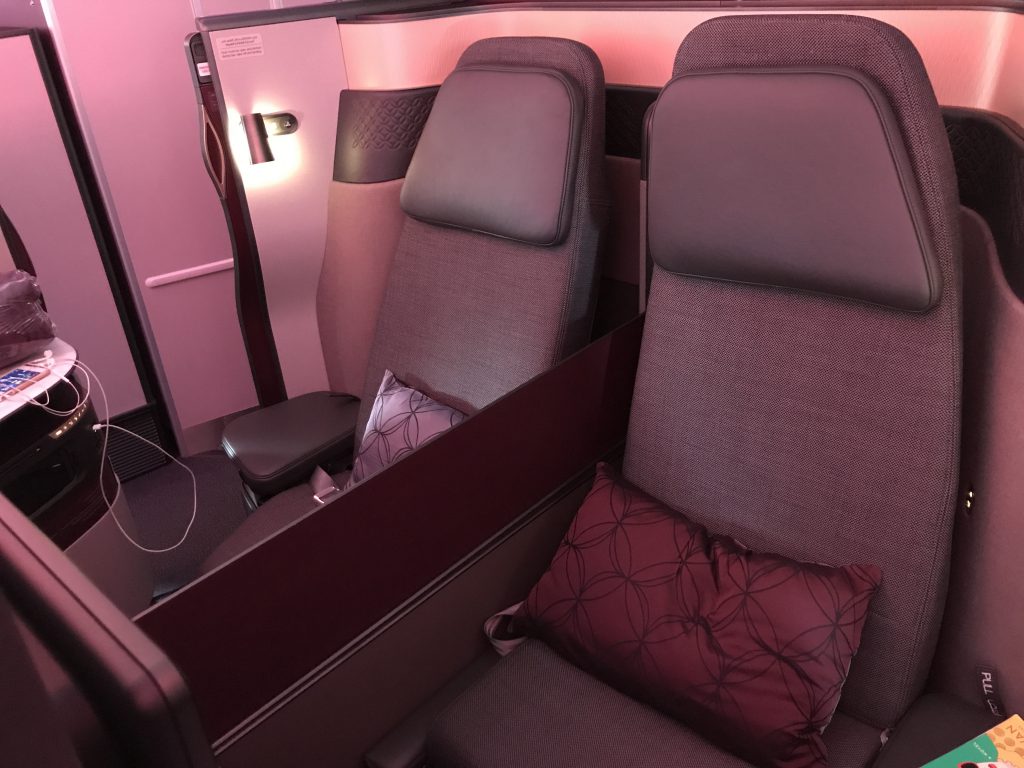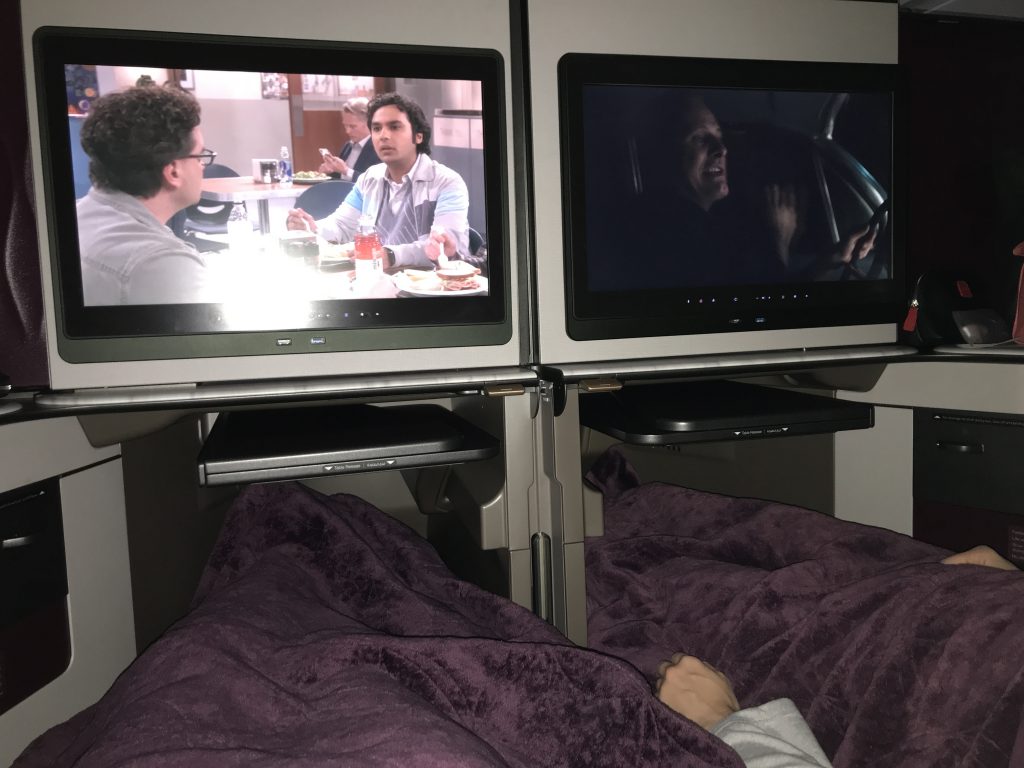 Couples reading this will want to know just how connected the beds really are. There's a partition that can be manually lowered to the floor, connecting you from about the waist up – but your legs in the footwell make it tough to really sleep as if it were one bed. If you are traveling with someone you'd like to be less cozy with, the divider between the seats can be raised halfway or all the way up, meaning as much privacy as you like. Therefore, it's not a concern if you wind up in the center seats with a stranger, though it's certainly less spacious than a window seat. On the flight where I had the single seat by the window, I definitely felt like I had much more personal space – although the actual suite space is probably substantially similar.
For this reason, couples will likely want the odd numbered rows in the middle (rear facing) while most others should go for the window seats. If the single window seats are all full and you aren't a couple, the forward facing even number rows would be your best bet in the center due to the consoles separating the seats.
In Flight "Super Wi-Fi" Speed and Pricing
I was very pleased that Qatar offers an unlimited data package on the A350-1000 XWB at just $10 per flight segment. That came to $20 for around 21 hours of total flight time over multiple oceans. That's fantastic compared to airlines that are crazy enough to charge in packages of megabytes. Metered plans always make the customer a loser as inevitable data connection issues can eat up your allowance in one check of your Facebook.
They also tout the service on this specific aircraft type as the latest and greatest in Wi-Fi, dubbed Super Wi-Fi. Speeds were blazing fast on the first flight from SIN-DOH, though noticeably less so on the longer flight from DOH-SIN.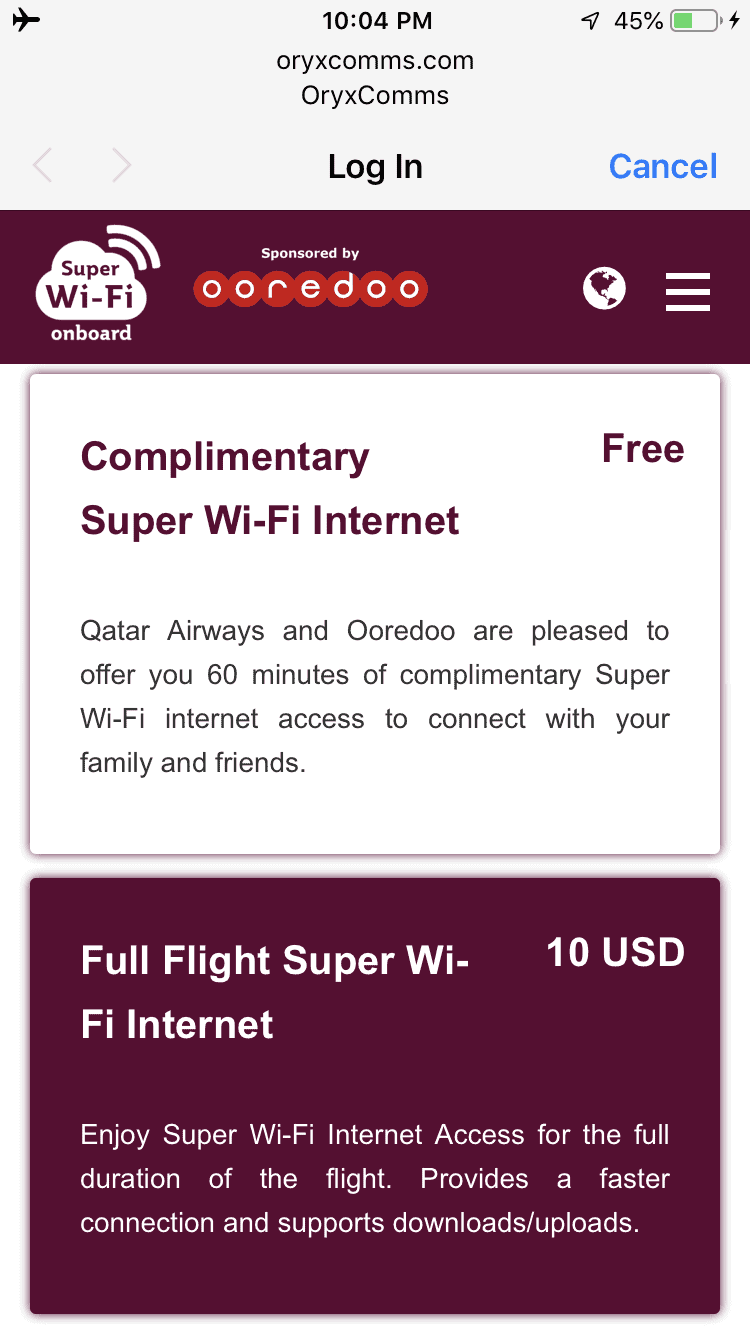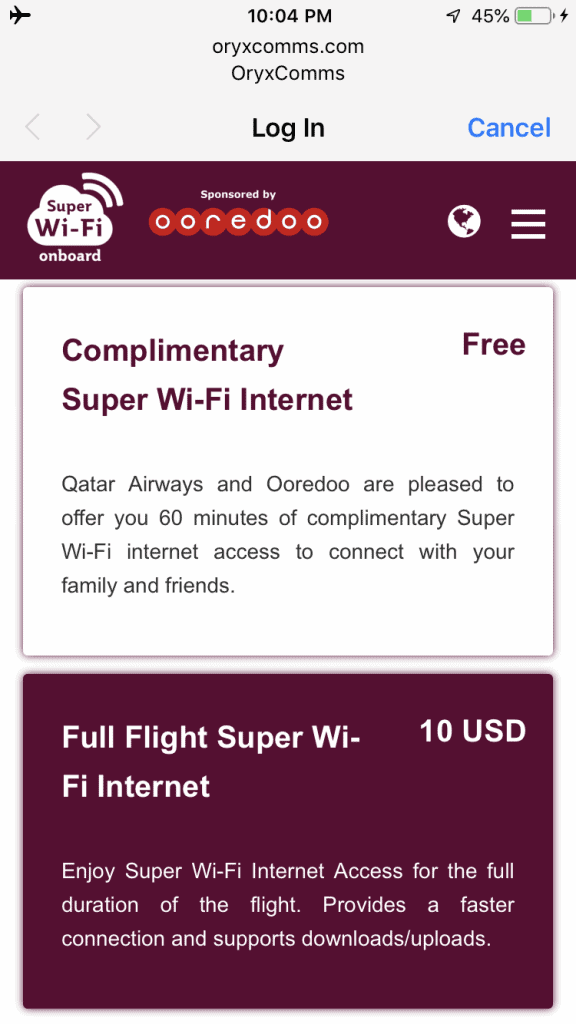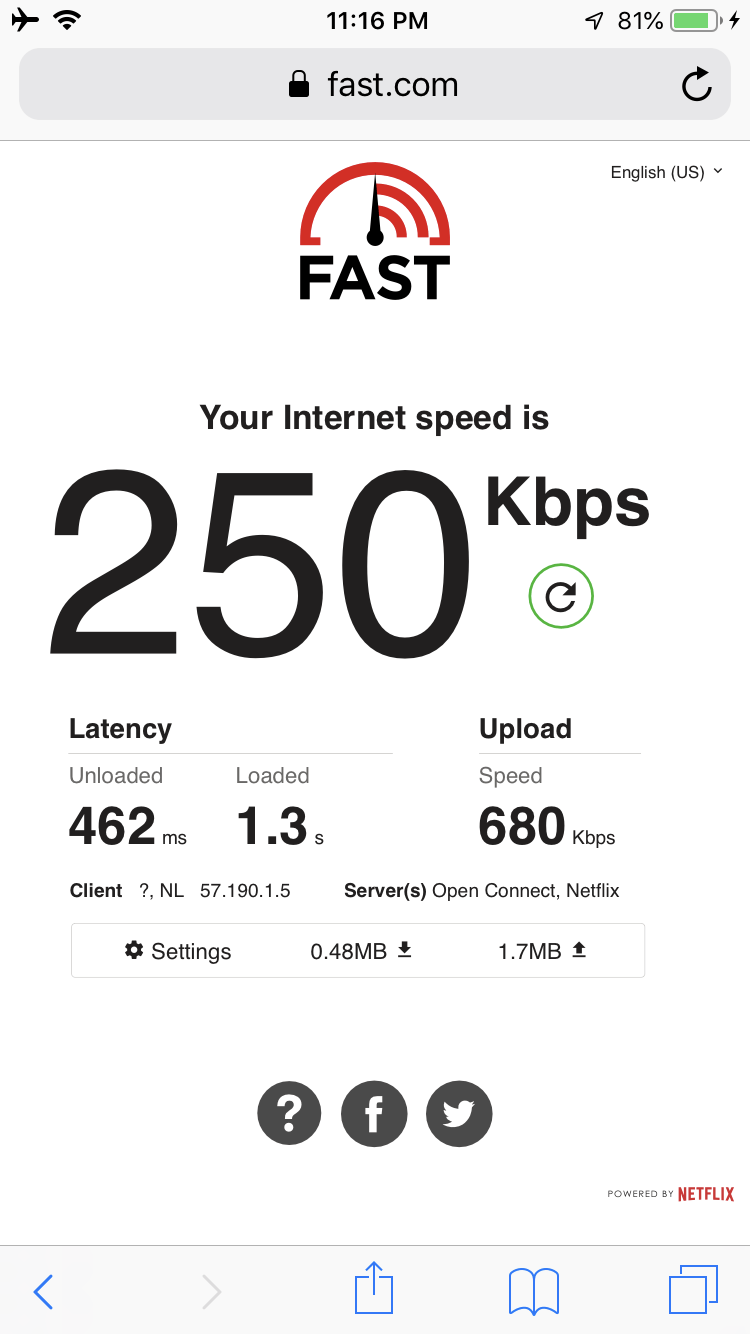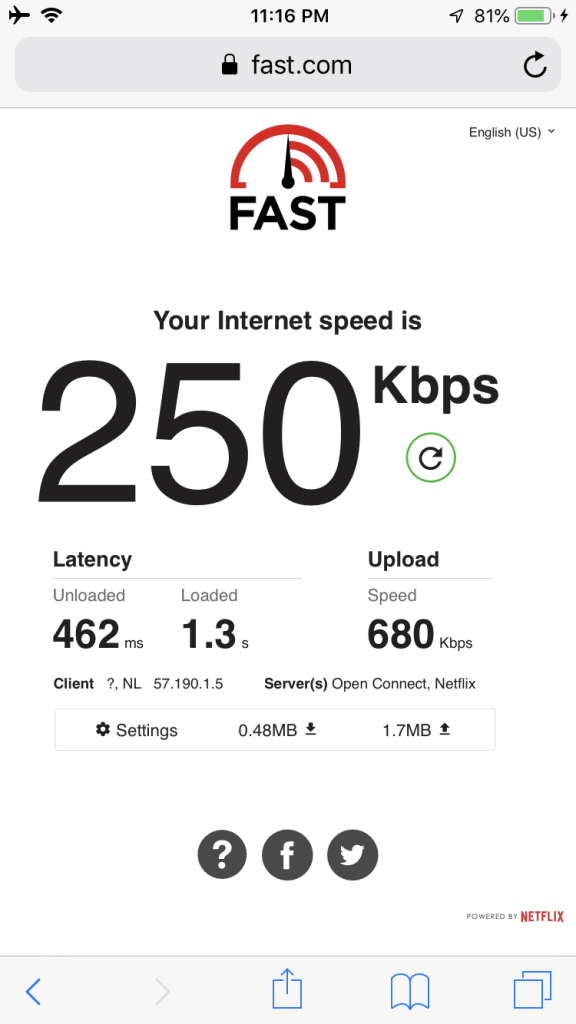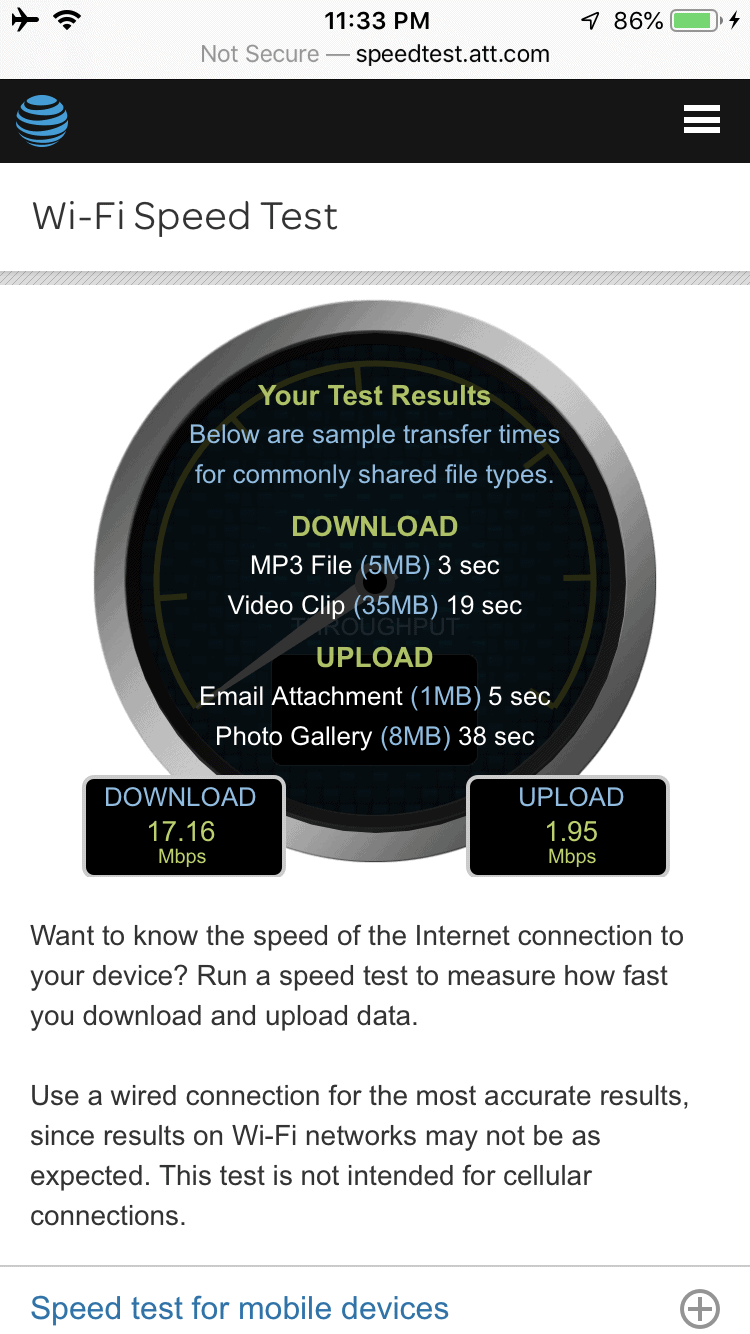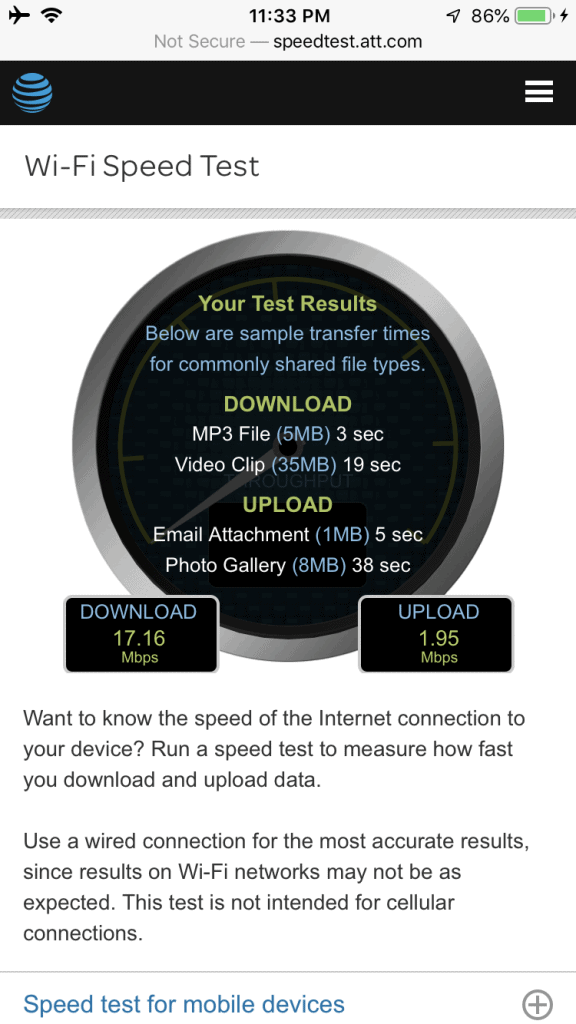 Despite the much slower speeds on the DOH-JFK leg, at $10 for the whole flight I was a very happy camper.
Keep in mind that these speeds are only available on their A350-1000 XWB planes right now, not all QSuites.
Hard Product Score: 9/10
The Service
The service and food is where things started to go downhill for me. Now, I understand that thanks to miles and points I've been fortunate to fly a larger number of true International First Class flights. Flying First Class on the likes of JAL First Class (review), Cathay Pacific First, Qantas First Class (review), Etihad First Class Apartment (review) and Emirates First Class (review), to name just a few, caused my expectations of "First in Business" to include First Class service and food – and, really, that's just not the case.
One reason is simply the number of passengers they are serving in QSuites. With no actual First cabin, the cabin crew is serving 46 passengers in business class on the A350-1000, compared to roughly 6-12 passengers in a normal First Class cabin.
Between both flights, the service was "good" on one and "really not so good" on the other. By "not so good" I mean that my fiancée got much better service than I did, making the lapse in my service even more noticeable.  When you are in the middle, you have one flight attendant working one of you and another working the other. I don't doubt that this makes sense for how they split the cabin, but when one of you gets the drink or snack or whatever it is you want quickly and the other one has to wait a good 30 minutes for the same, it's very noticeable.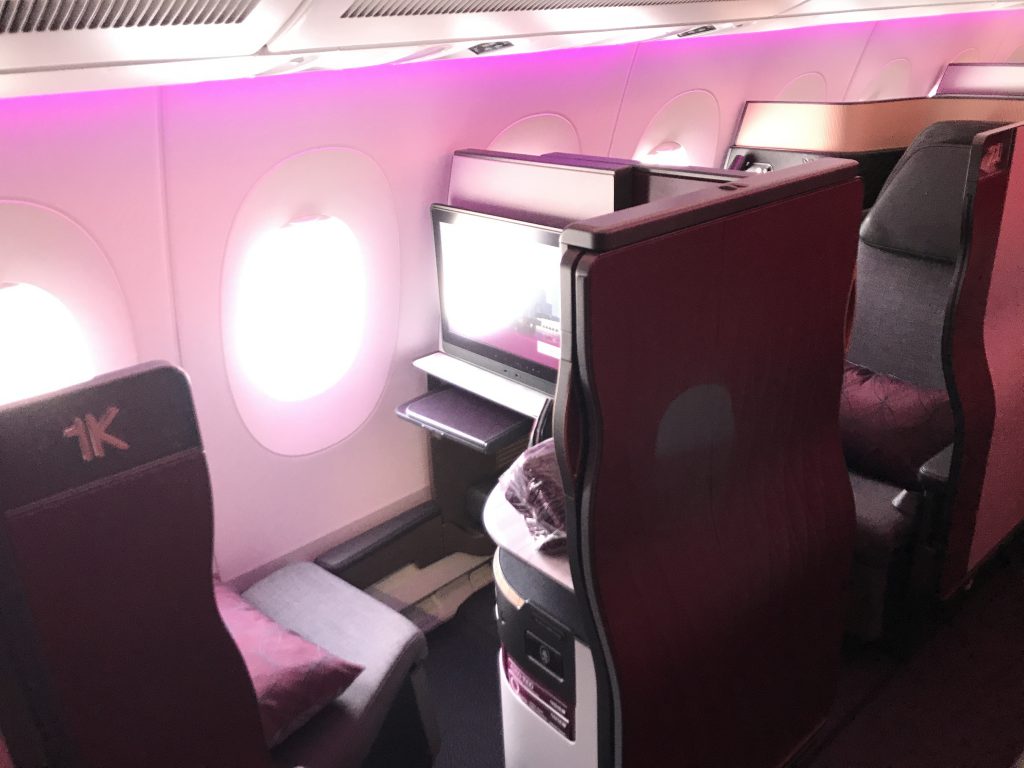 As well, we had a very interesting service lapse from Qatar Airways itself. Our flight left Singapore a bit late, but we landed with about an hour until the connecting flight. Except as we exited the aircraft we had a gentleman waiting for us and two other passengers to advise us that they'd given our seats away assuming we wouldn't have time to make the flight. We could not be put back on our scheduled flight unless we wanted a downgrade to coach. And it was after midnight.
While they offered us a "5 star hotel" the reality was that the next flight was leaving 6 hours later and so we were between a rock and a hard place. Leaving the secure terminal to get to a hotel where we could sleep maybe 3-3.5 hours was a losing proposition. So we would up napping (as best we could) in the Qatar lounge at Doha. (And no, they did not grant my polite request to be admitted to the F lounge since we weren't taking a hotel. Didn't expect it but never hurts to ask! 😉 )
The lounge was nice enough – but I suppose we weren't in the right frame of mind to enjoy it. More on the lounge in a bit.
The Onboard Food
I'm going to fully own that my expectations of onboard food in premium cabins has never been the same since flying JAL First Class (review) or the Etihad First Class Apartment (review). Just see those reviews to see why. Both had food cooked fresh to order. Etihad even has an official onboard chef for First Class.
Qatar's QSuites food was nothing but "heated up containers." You learn this when you ask if you can leave off a condiment or something to that effect as the answer is always something like "Sorry no, I just heat up the container."
The selections were fine. Not great, not bad…. fine. But I was expecting more than fine. I was expecting "First in Business." I got Business.
Here are the two sets of menus (SIN-DOH and DOH-JFK) and some of the food I had over the 22 hours onboard. I didn't snap the alcohol on both as they were the same. The menu varied between the two legs.
Soft Product Score: 6/10
The Al Mourjan Lounge at Doha
As I mentioned, we were forced to spend many hours overnight in Doha after our connecting flight was given away.
While we were exhausted, I did enjoy a meal here and took several pictures of the lounge. It's massive, on two floors, and would be an excellent lounge to spend some time in under normal circumstances.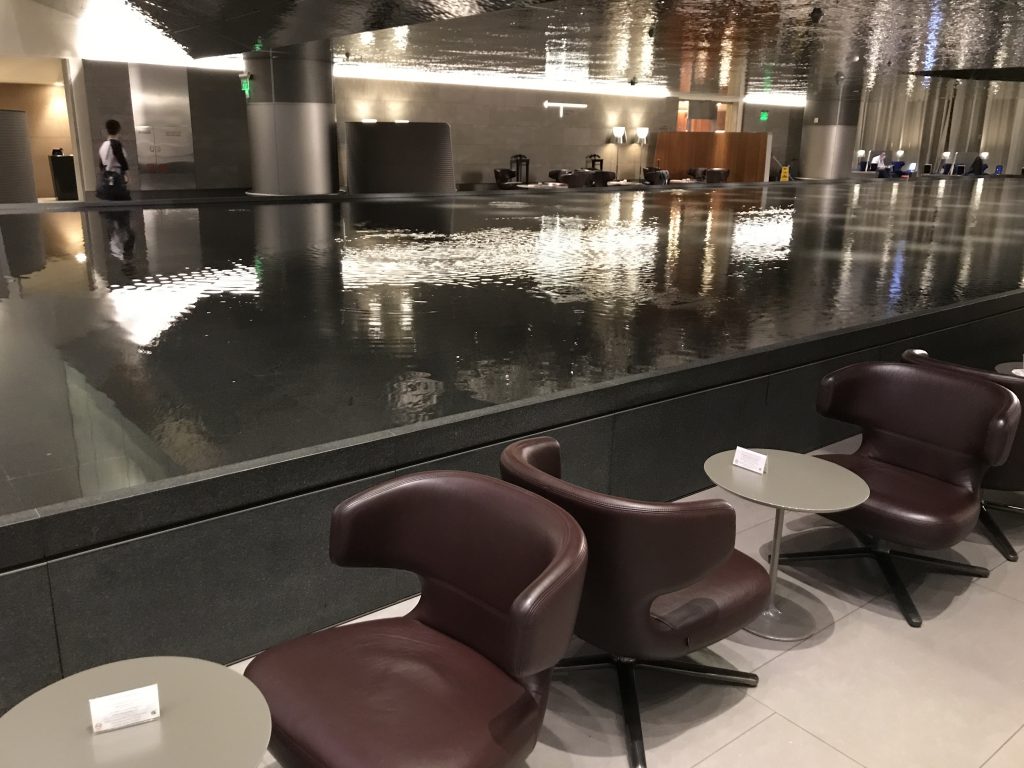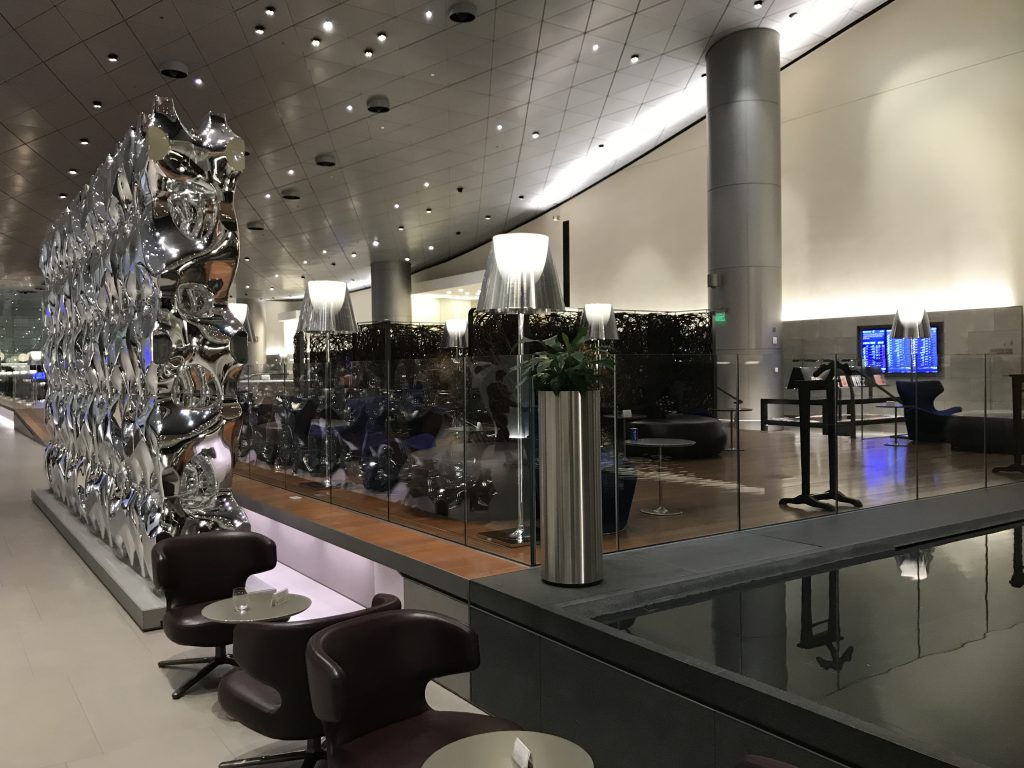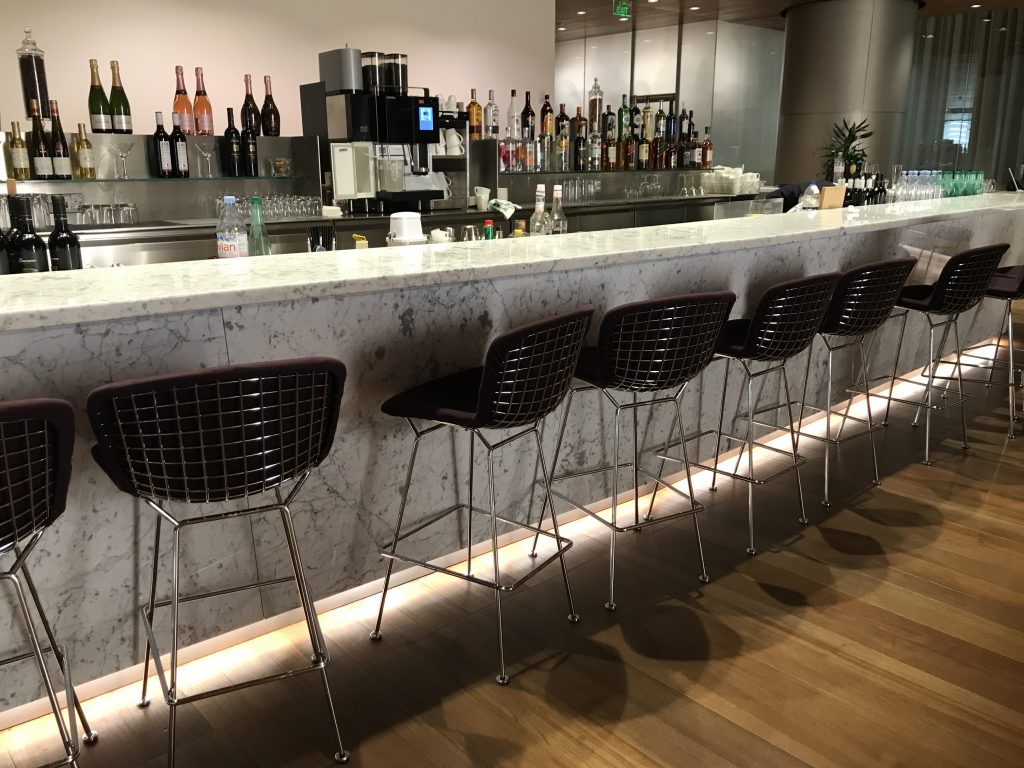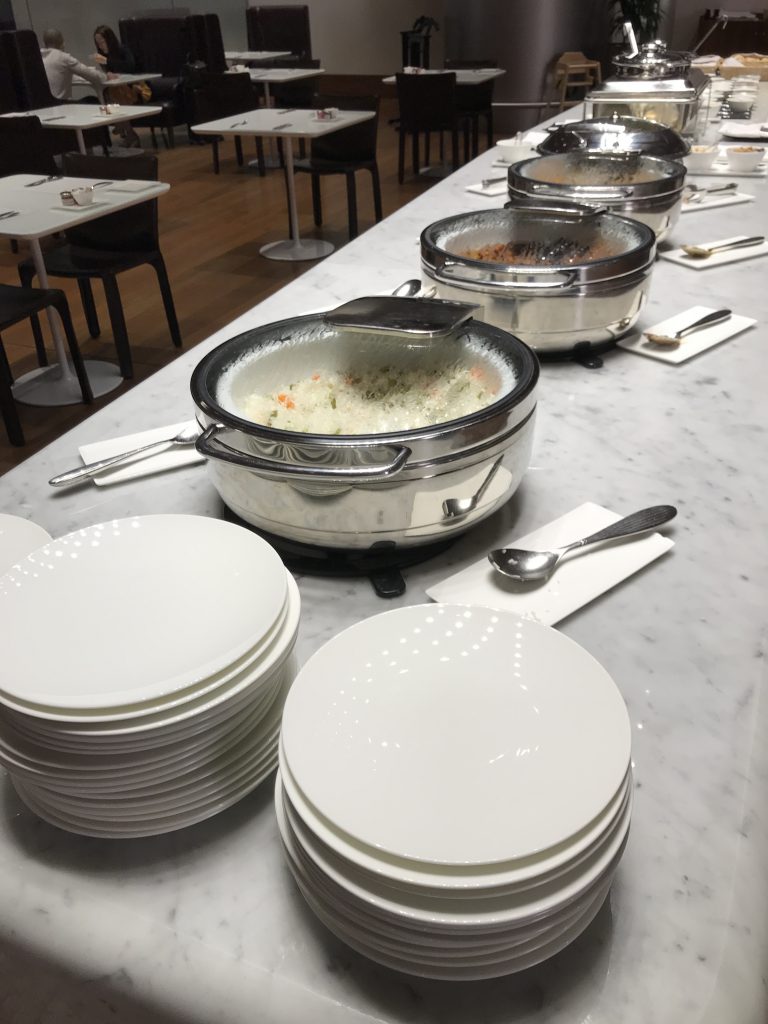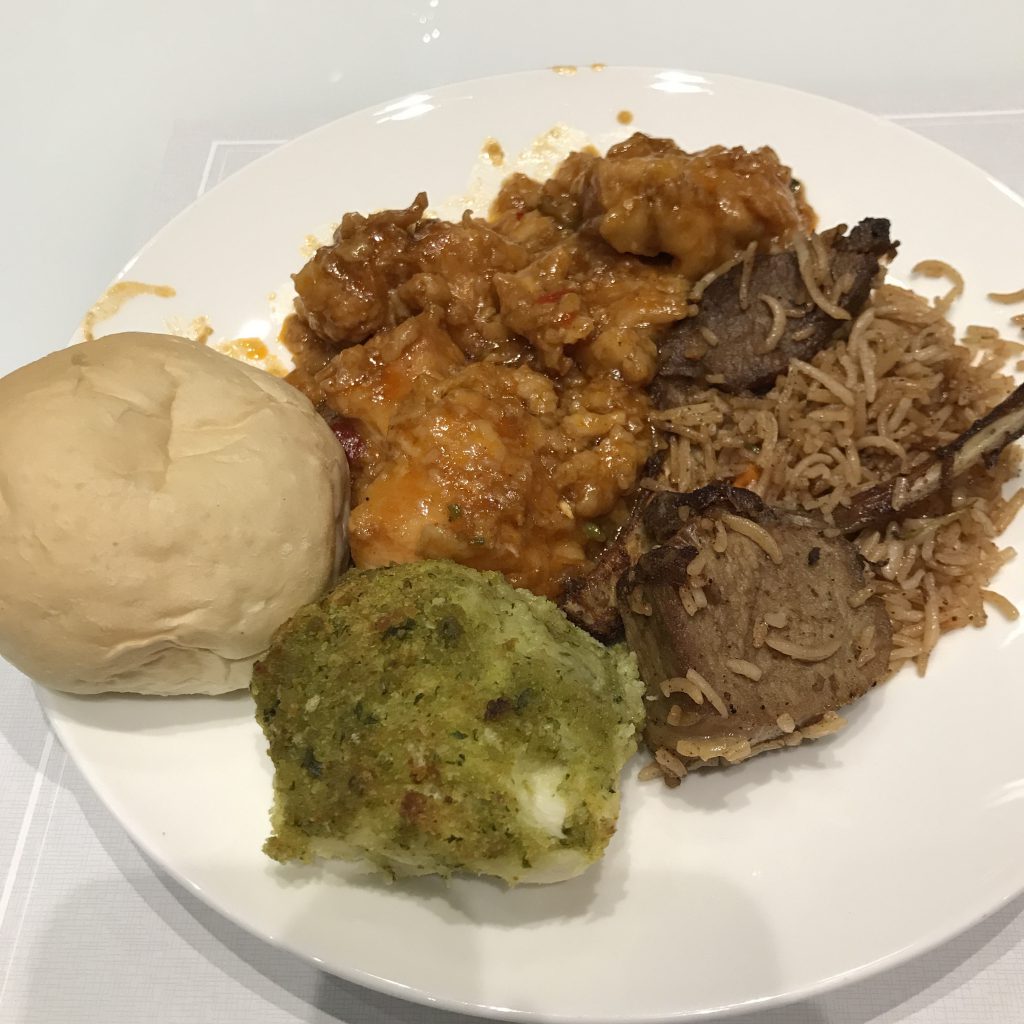 How Do I Rate Qatar Airways QSuites Overall?
I think that it's all about perspective. As Business Class flights go, it's fantastic. I'm in no way saying you shouldn't fly it because the service or food didn't meet my lofty expectations. And you cannot beat the value of 70,000 – 75,000 AA miles for so many hours in QSuites! In fact, I do plan to fly QSuites again to Doha and then Male early next year if I can find the award availability on the dates that I need.
But I also think it's important for you, if you are someone aspiring to trying QSuites for yourself, to have the appropriate expectations.
If you come in expecting a great Business Class, you'll be very happy. If you are taking their marketing catchphrase at its word, you may not be.
Overall rating (as Business Class without comparing to First): 8.5/10
Have you flown Qatar QSuites? Do you plan to?
Let me know here, on Twitter, or in the private MilesTalk Facebook group.
You can find credit cards that best match your spending habits and bonus categories at Your Best Credit Cards. 
New to all of this? My "introduction to miles and points" book, MilesTalk: Live Your Wildest Travel Dreams Using Miles and Points is available on Amazon and at major booksellers.