Review: Etihad A380 Business Studio – Sydney to Abu Dhabi
Did you miss a deal? Never again! Apply to join the members-only MilesTalk Facebook group
.
Advertiser Disclosure: MilesTalk has partnered with CardRatings for our coverage of credit card products. MilesTalk and CardRatings may receive a commission from card issuers and MilesTalk may also receive compensation for content. This site does not include all financial companies or all available financial offers. The editorial content on this page is not provided by any of the companies mentioned, and have not been reviewed, approved or otherwise endorsed by any of these entities. Opinions expressed here are the author's alone.
I needed a way home from Sydney to New York City for two people (and not in coach!) just after New Years. This is something of a unicorn redemption. Carriers are notoriously tight with premium award space from North American to/from Australia and New Zealand. Availability is tight year round, but especially around the Christmas and New Years holiday season.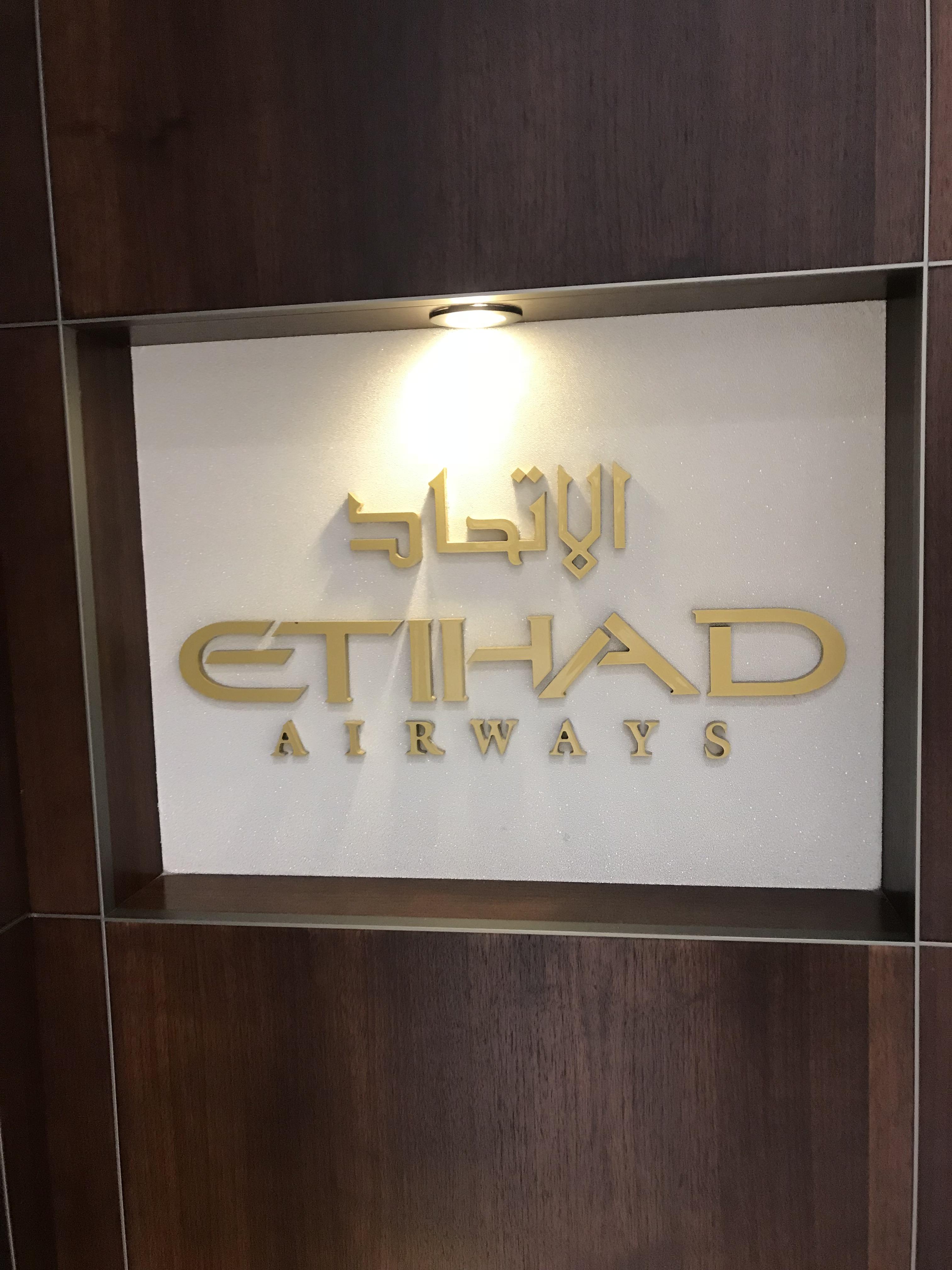 I'd already been lucky enough (with patience and perseverance) to find a First Class award on Qantas on the way to Sydney, routing JFK-LAX-SYD on QF12.
While I've flown many of the best First Class products using miles and points, one I hadn't yet flown was the Etihad First Class Apartment, which is bookable with American Airlines AAdvantage miles. I started looking at routings from Australia to NYC via Abu Dhabi and, after quite a bit of time and searches, there was a sudden release of availability in both First and Business on both the SYD-AUH and AUH-JFK sectors.
Maximizing the time at the end of our vacation, I decided to book an overnight flight from Sydney to Abu Dhabi in Business Class and then the onward flight from Abu Dhabi to New York in the fabled First Class Apartments.  This would allow us to get a good feel for the Business Class product as well as some sleep and then ride in the Apartment on a daytime flight when we could maximize our time awake enjoying it.  In between, we spent 29 hours in Abu Dhabi.
If you are familiar with routing rules, you may wonder why I didn't keep the layover to under 24 hours so it would price as one award and the answer is a sad one: American Airlines' AAdvantage program does not allow for routing from the South Pacific to North America via a third region. That's a shame since it's so hard to find any space on the valid routings served by American and Qantas (and to a small extent Fiji Airways). But it is what it is, so my award would be priced as two awards no matter the length of the stopover.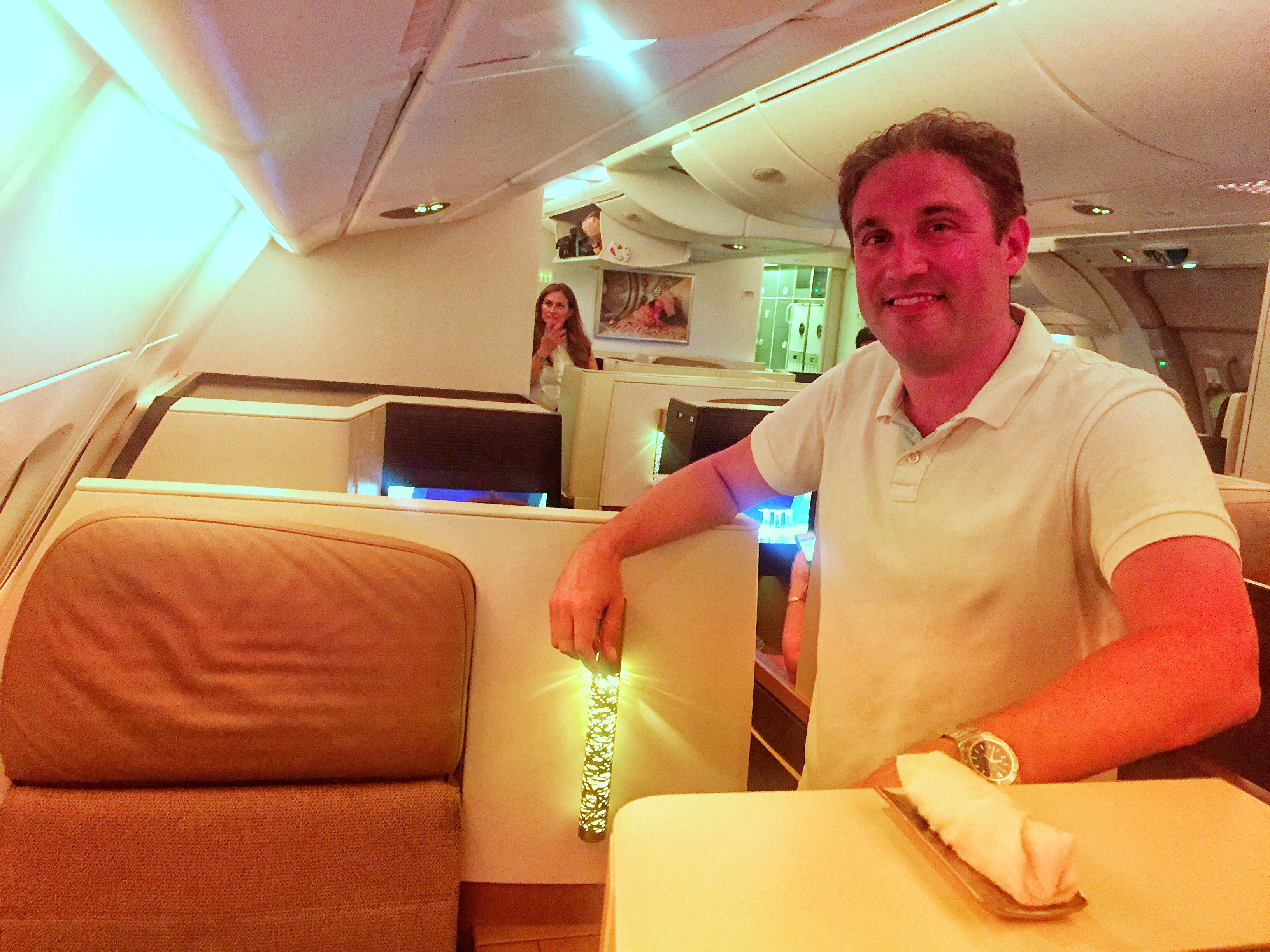 I booked SYD-AUH in J for 80,000 AAdvantage miles and then AUH-JFK in F for 115,000 AAdvantage miles.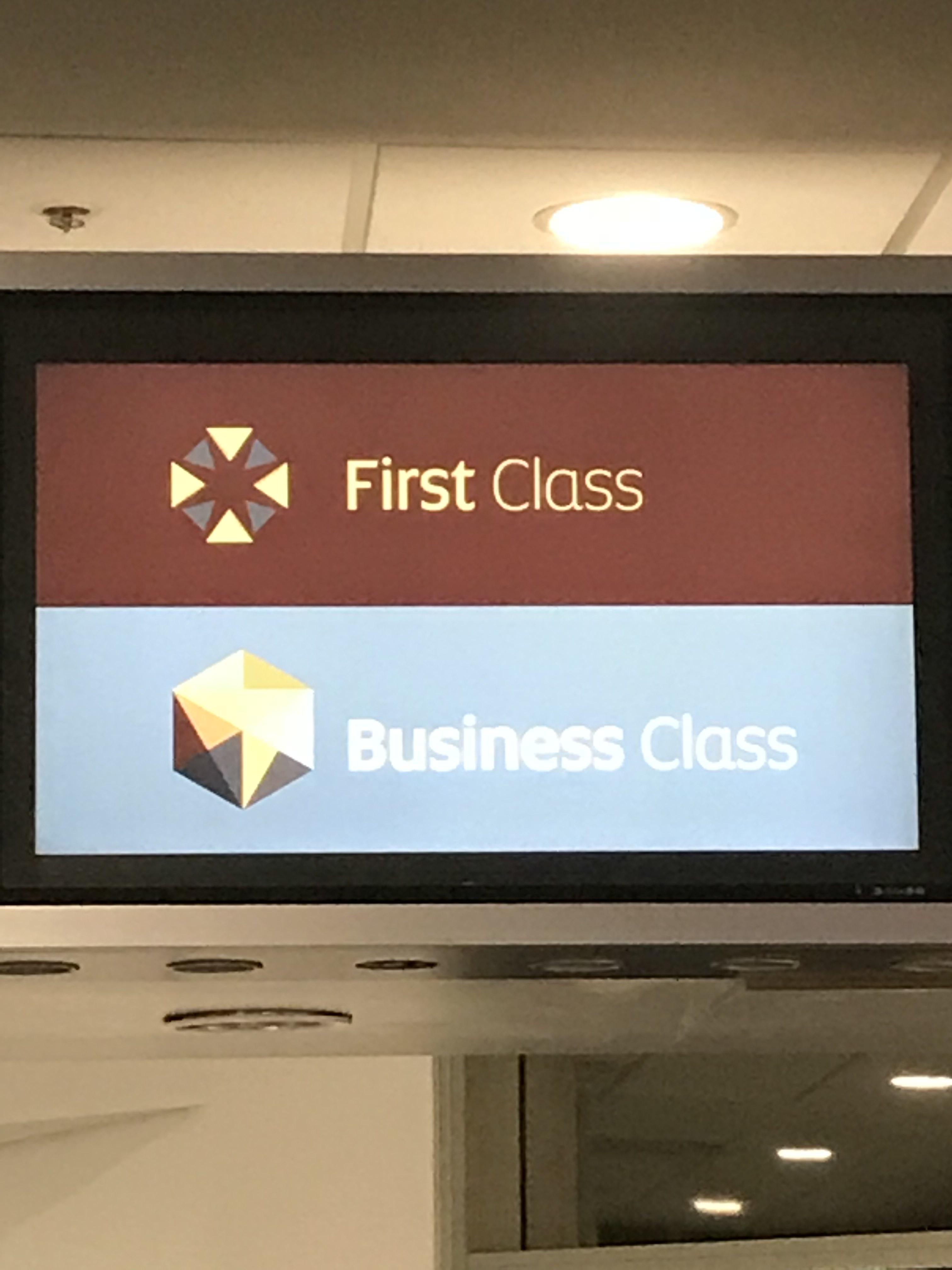 Somewhat oddly, if I booked the reverse routing and did SYD-AUH in F and AUH-JFK in J, it would have been 100,000 miles for F and 70,000 for J even though they are about the same flight times.  I could have saved 50,000 miles on the combined tickets had I done it that way, but decided it was worth the extra miles to set up this once-in-a-lifetime experience just the way I wanted. It's really not many more miles than your typical credit card Sign-Up Bonuses.
After flying both segments, I can say unequivocally, there is no reason to fly the Business Studio if you
can find availability in the Apartments.  For the difference in miles (though significantly more of a difference on the AUH-JFK segment), the product is so many leaps and bounds above the Business product that it's a total bargain compared to Business.
With Etihad's A380 configuration, the premium cabins are entirely on the upper deck of the aircraft. Economy occupies the whole main deck. Up the stairs, the 9 First Class Apartments are at the forward end of the plane (with the two-person Residence at the very front), followed by the small lounge area that both First and Business Class passengers can use, followed by Business Class all the way to the rear of the plane. There are 70 seats in Business Class and 415 economy seats on the lower deck.
The biggest issue I had with the Business Class experience was that it was just too many seats and not very personalized service. In fact, just a few days after my flight I have no memory of the cabin crew that served me in Business except for one person that gave me a tour of the bar/lounge area.  I can't fault any of the cabin crew. It's a very dense product.
That's not to say it wasn't enjoyable and far, far better than 14+ hours in coach (that's not even a question) but it was night and day compared to the Apartment.
Let's start from the beginning.
With a Business (or First) class ticket, you get access to the very nice lounge in Sydney. In addition to the bar with wines, champagnes, and liquor and the buffet with 3 hot dishes, mezzes, cheese, and the like, you can order off of a menu as well.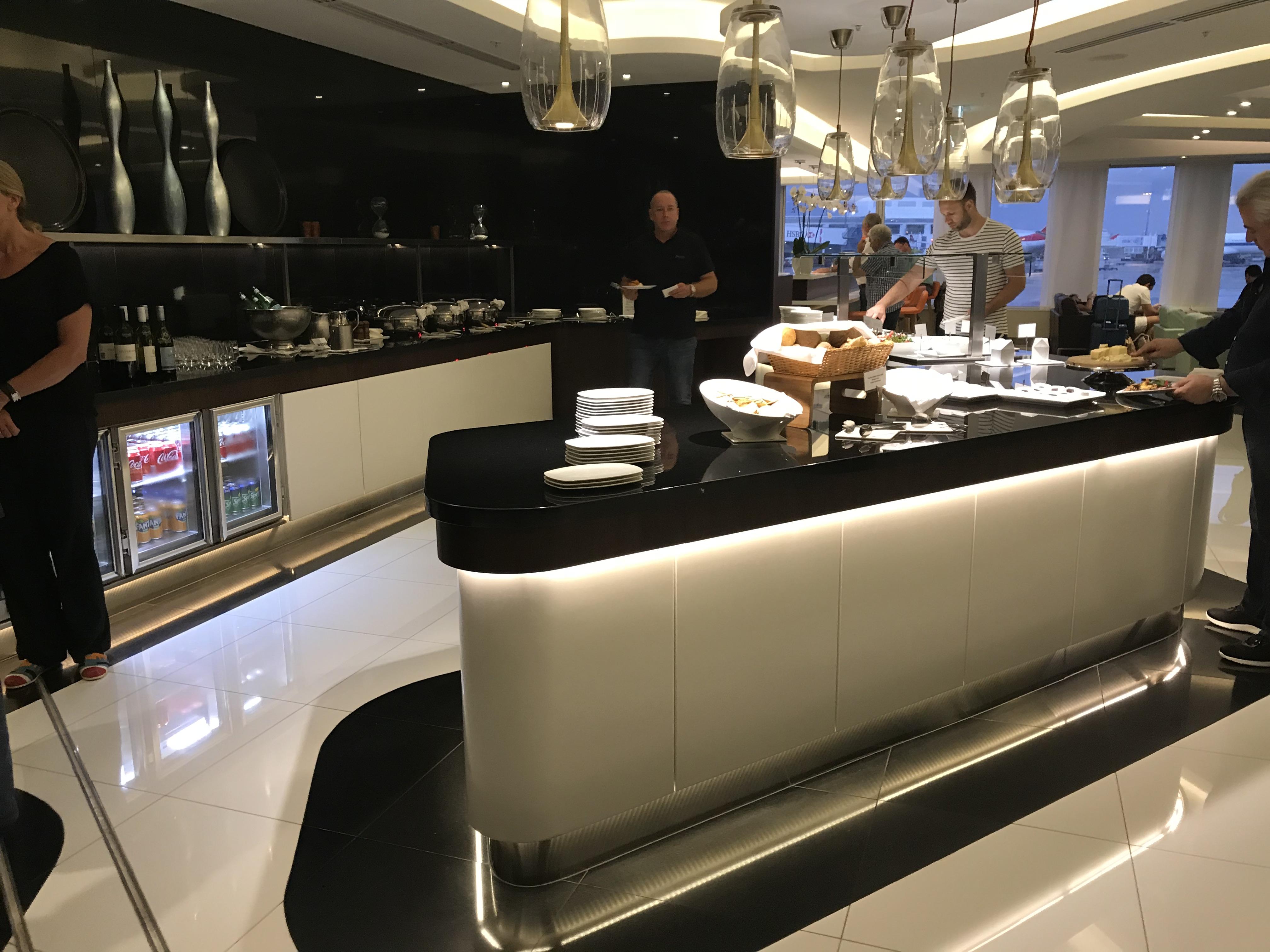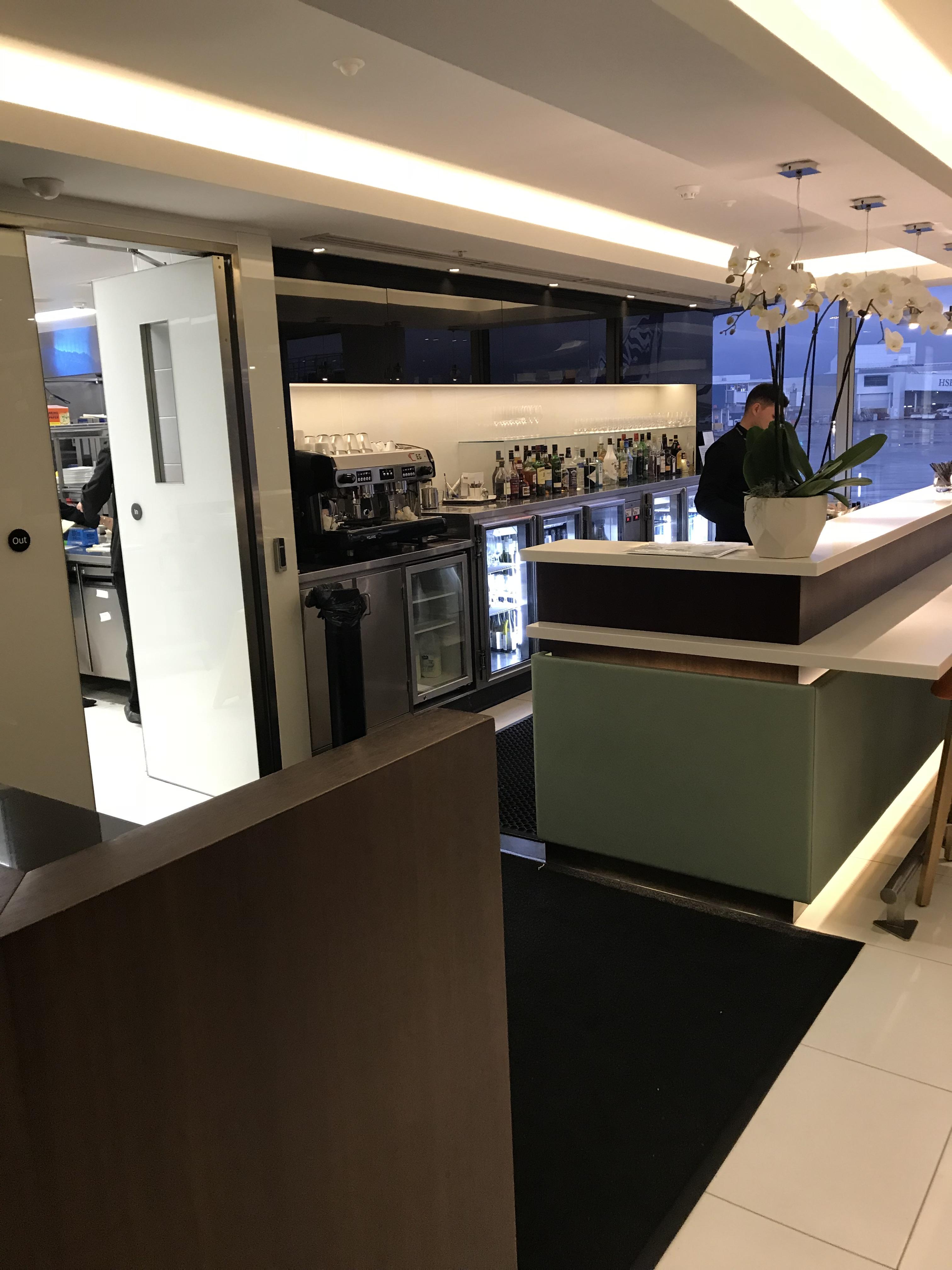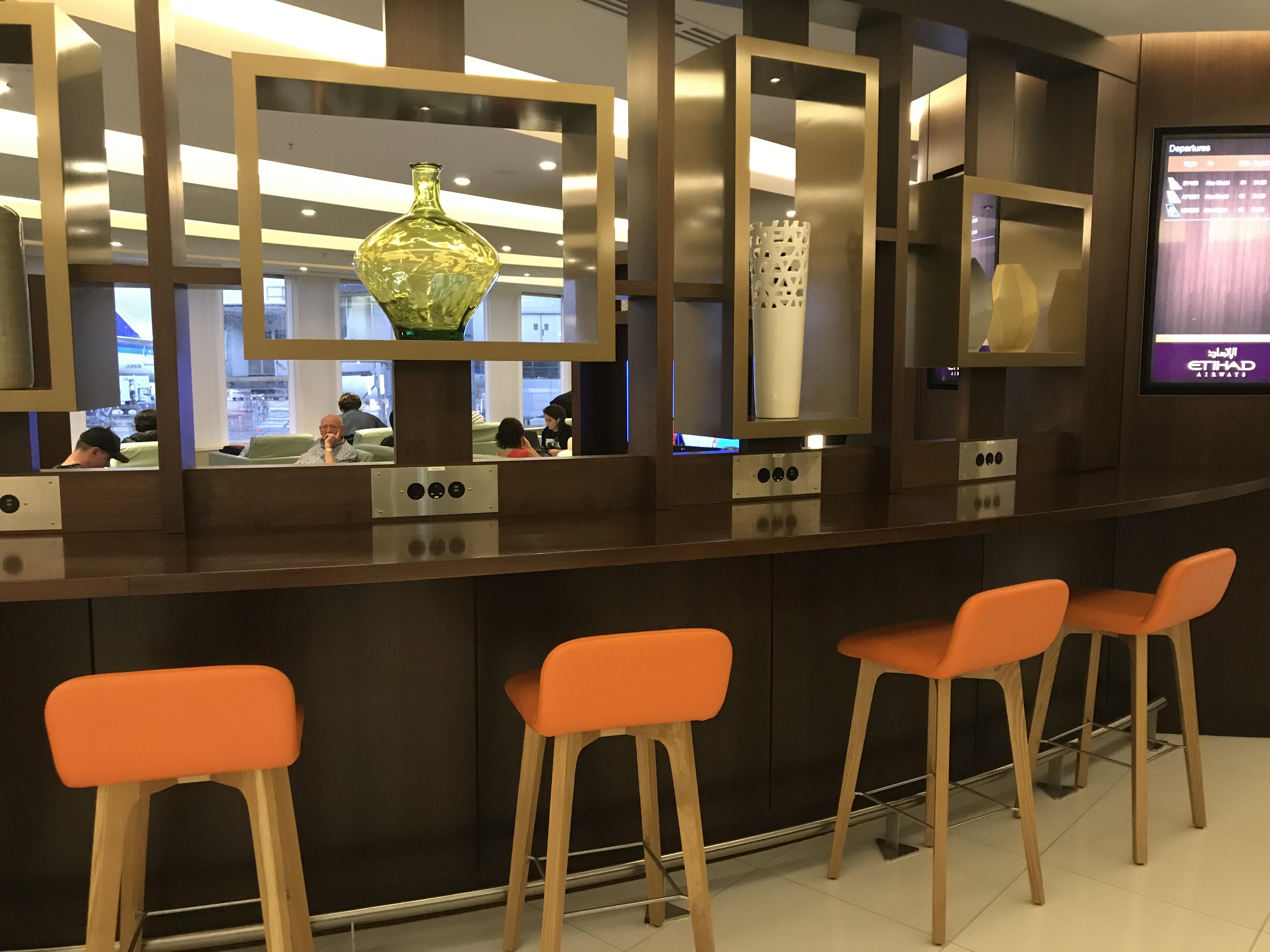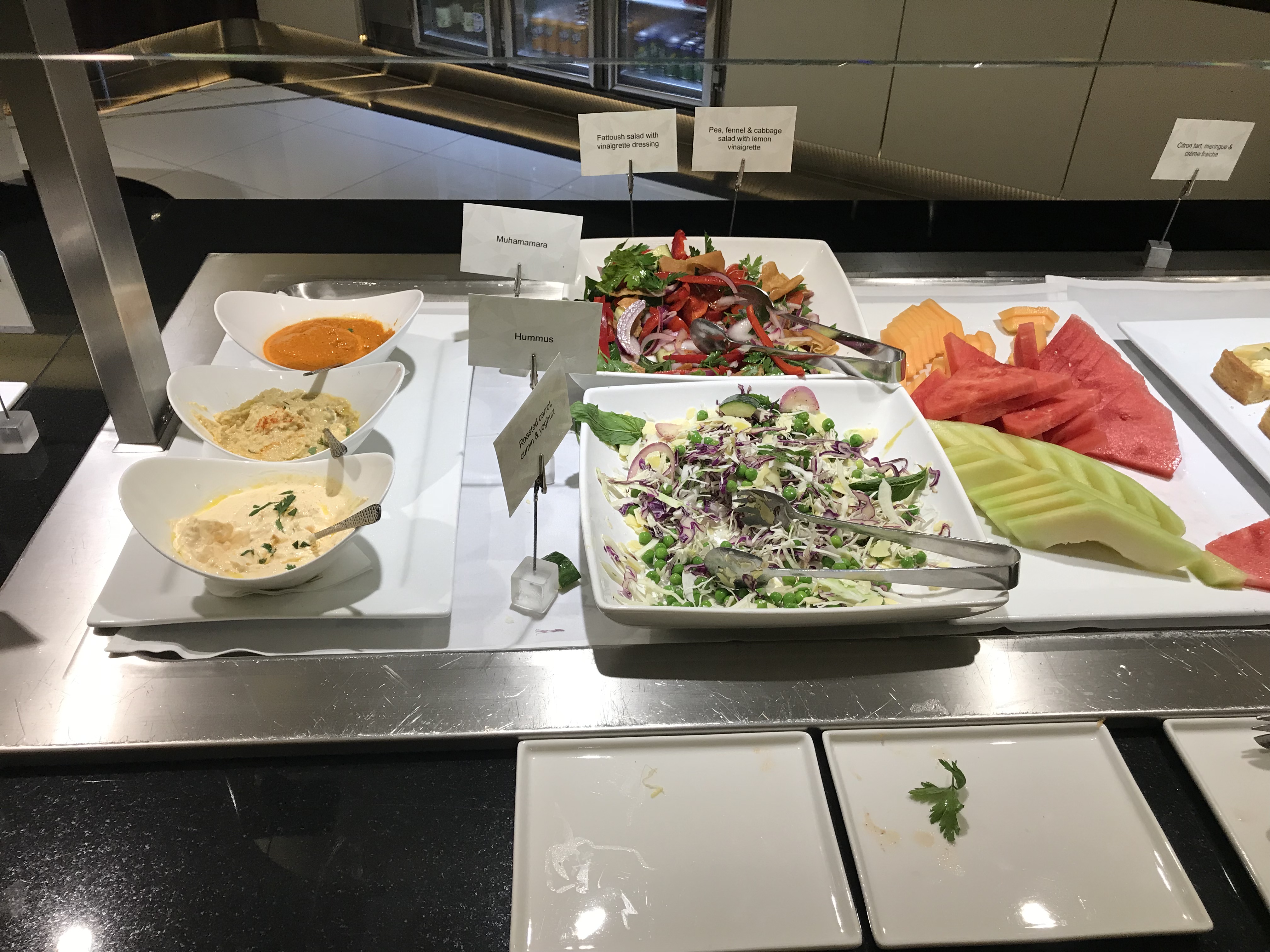 This really made the lounge stand out. There is plenty of seating both in the dining area and the more casual lounge area. Note that while they will bring you the made-to-order menu if you sit at a dining table, you can still request a menu if you sit in the lounge area.
We did so, and I had a selection from the buffet to start – some Moroccan chicken tagine along with some hummus and muhamamara along with a selection of cheeses. Then I ordered the Flinder's Island Lamb and the spiced cauliflower.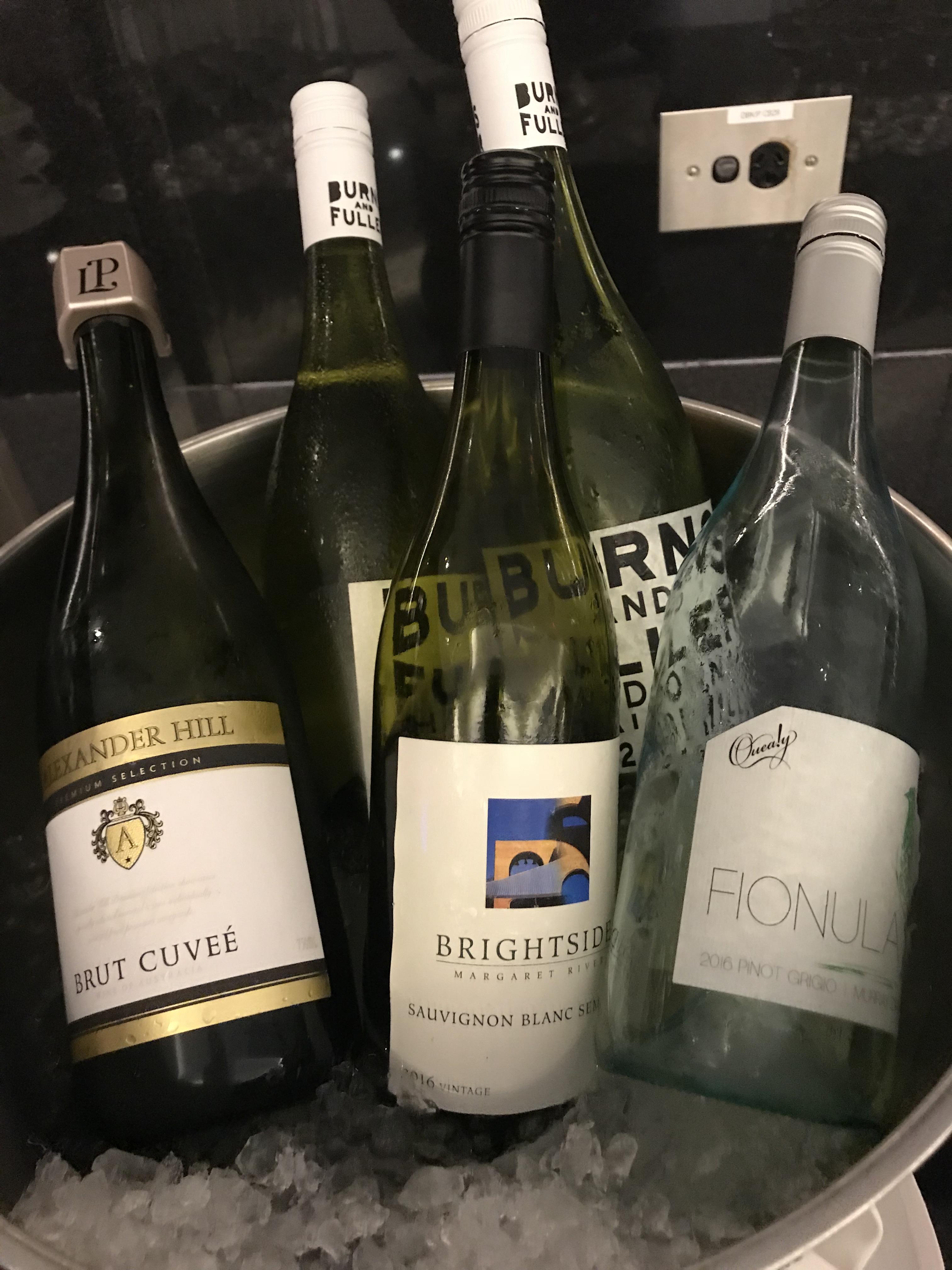 The food, both at the buffet and cooked to order, was not amazing, but it was good and perfectly fit the bill given that we'd be eating on board shortly.
Heading onboard, it's important to know how this cabin is configured so you know how to strategize with choosing a seat (which you will need to call Etihad to book after checking the seatmap on ExperFlyer).  You've got 11 rows of Business Class followed by a break for bathrooms and galleys, then another 7 behind.  They use a staggered 1-2-1 configuration and the way they lay it out, it's not an even 4 seats per row front to back.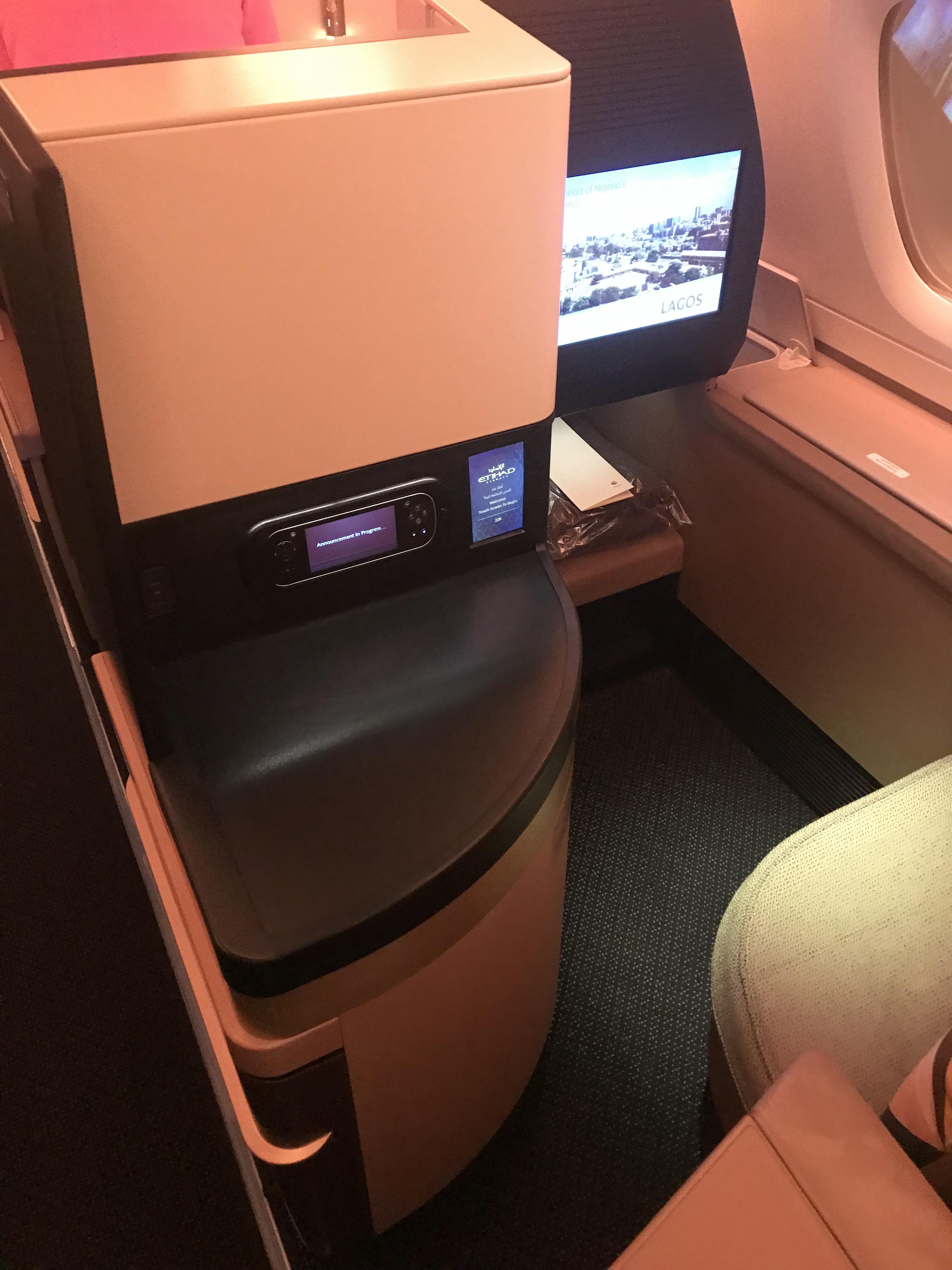 On the sides, you have the single seats facing each other. One faces backward next to the one facing forward. You can't see into the other seat though as they are fully partitioned.  I personally hate the backward facing seats and wish airlines didn't get into the habit of offering them at all.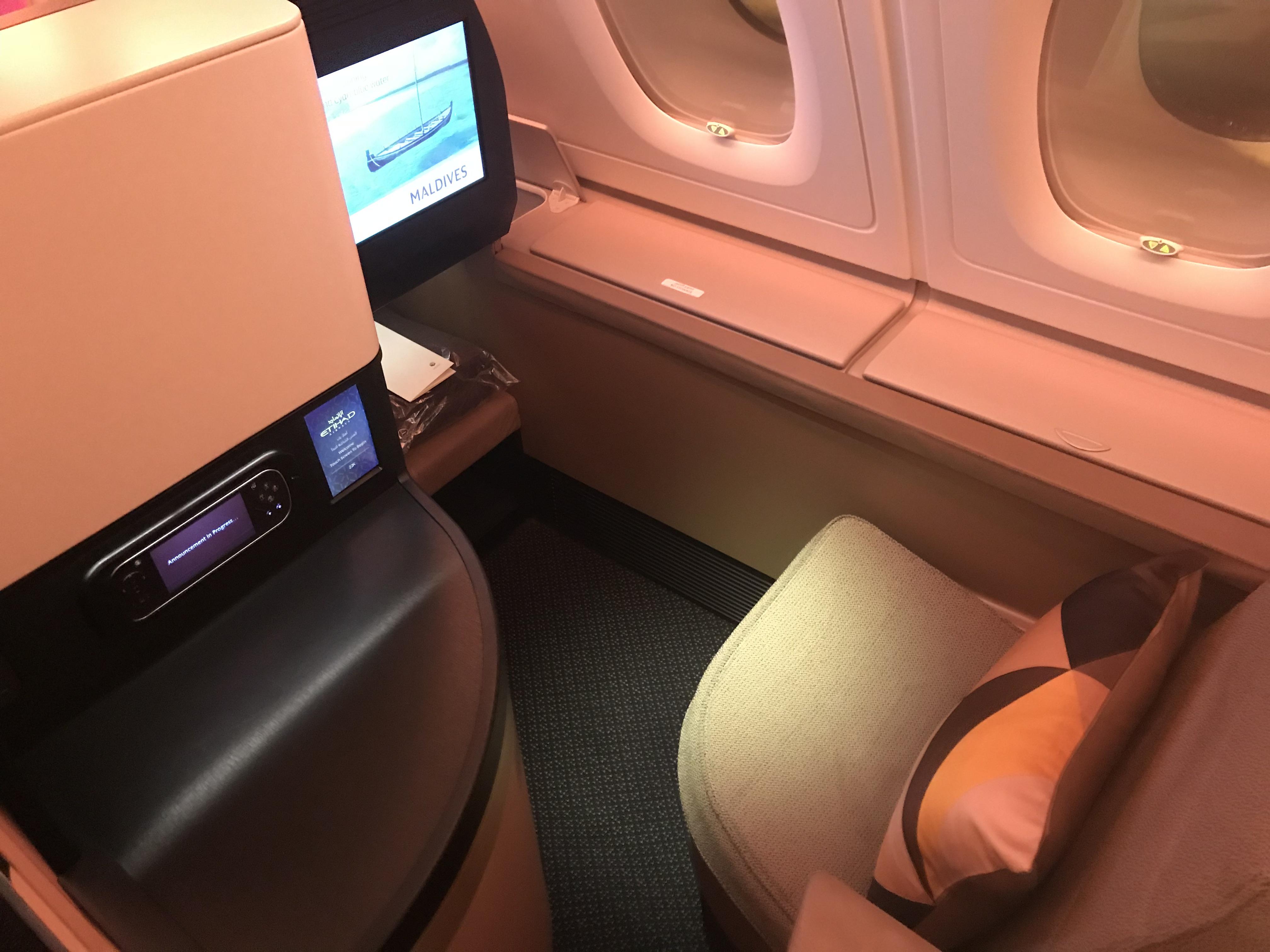 In the middle, you have pairs of two seats together – alternating forwards and backward and also alternating thick dividers (for strangers sitting together) and thin dividers (for people traveling together). Couples would want one of the E-F center seats which face forward with a thin divider.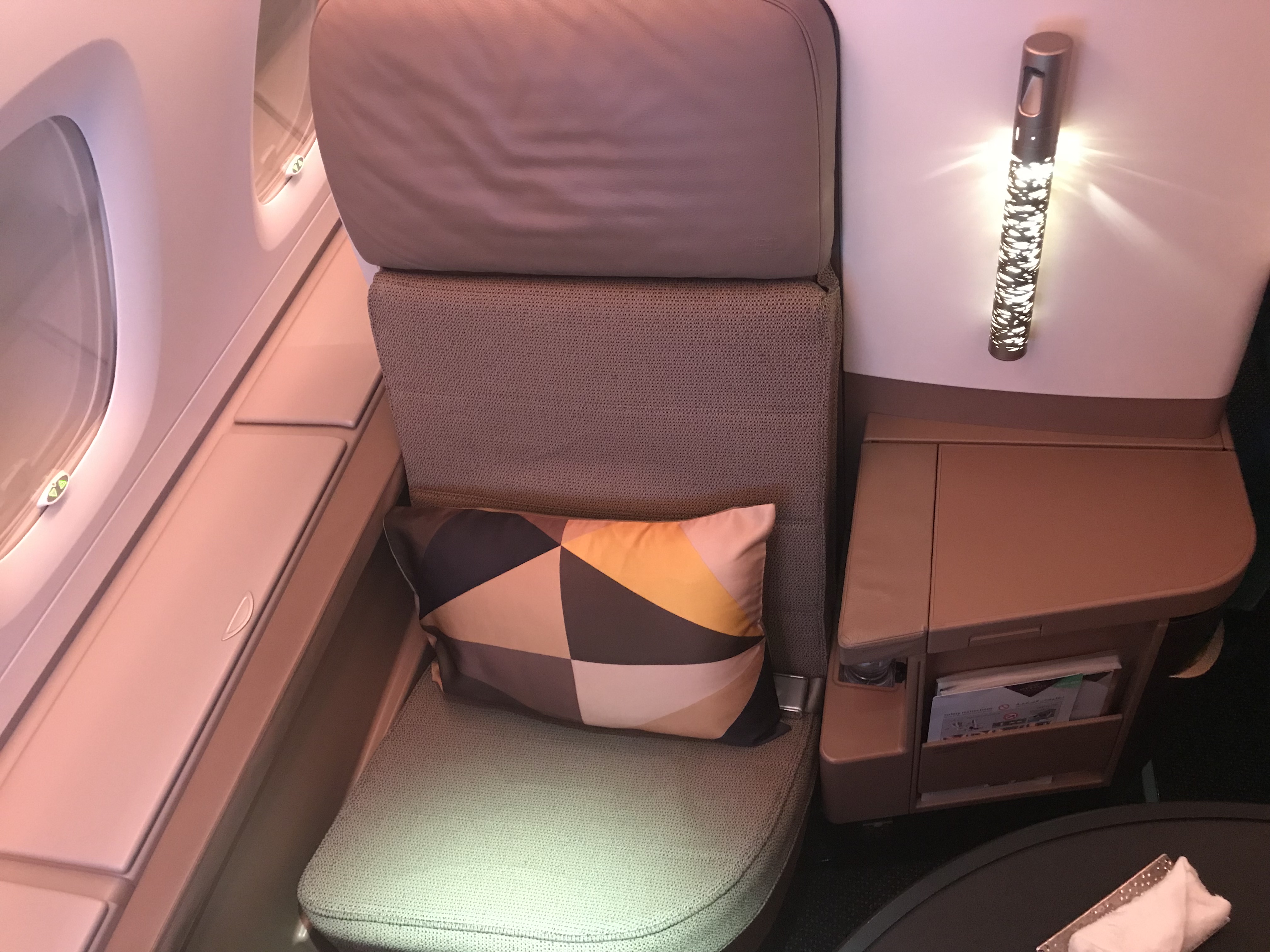 We were seated in 21H / 22K which face each other (though again, you need to stand to see over to your companion if sitting in this configuration) because all of the EF seats were taken.
A pre-departure beverage was served and I had a glass of the Piper-Heidsieck Cuvee Brut champagne.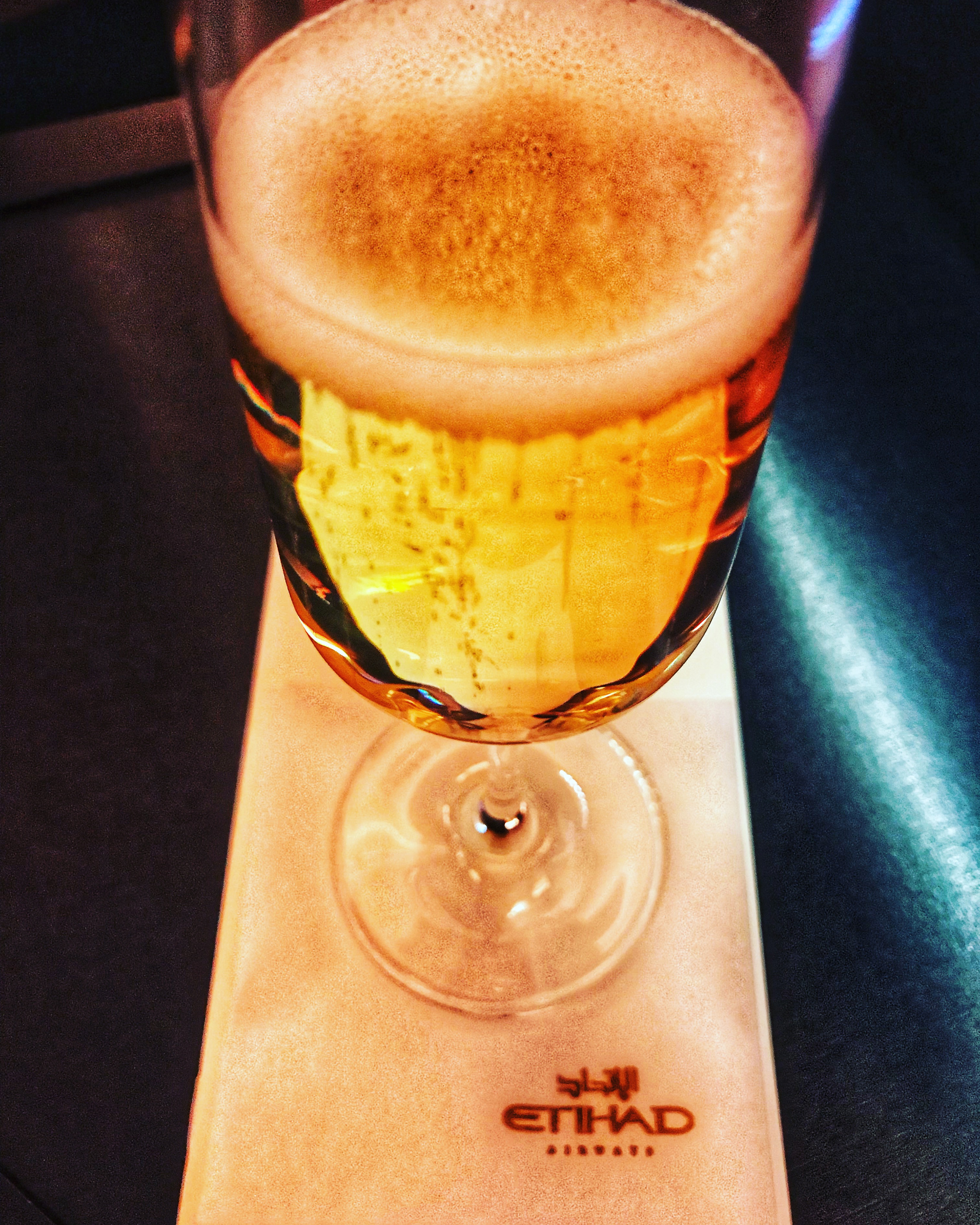 Each seat has a very comfortable amount of space and a nice large TV screen. Actually far more adjustable than the seat in the Apartment, you can configure not just the recline, but the softness or firmness of the seat cushion, the lumbar support, the lights, and the window shade from the main controller.  Even better, the seat has a built-in massage function. The seat was comfortable overall, though not amazingly so.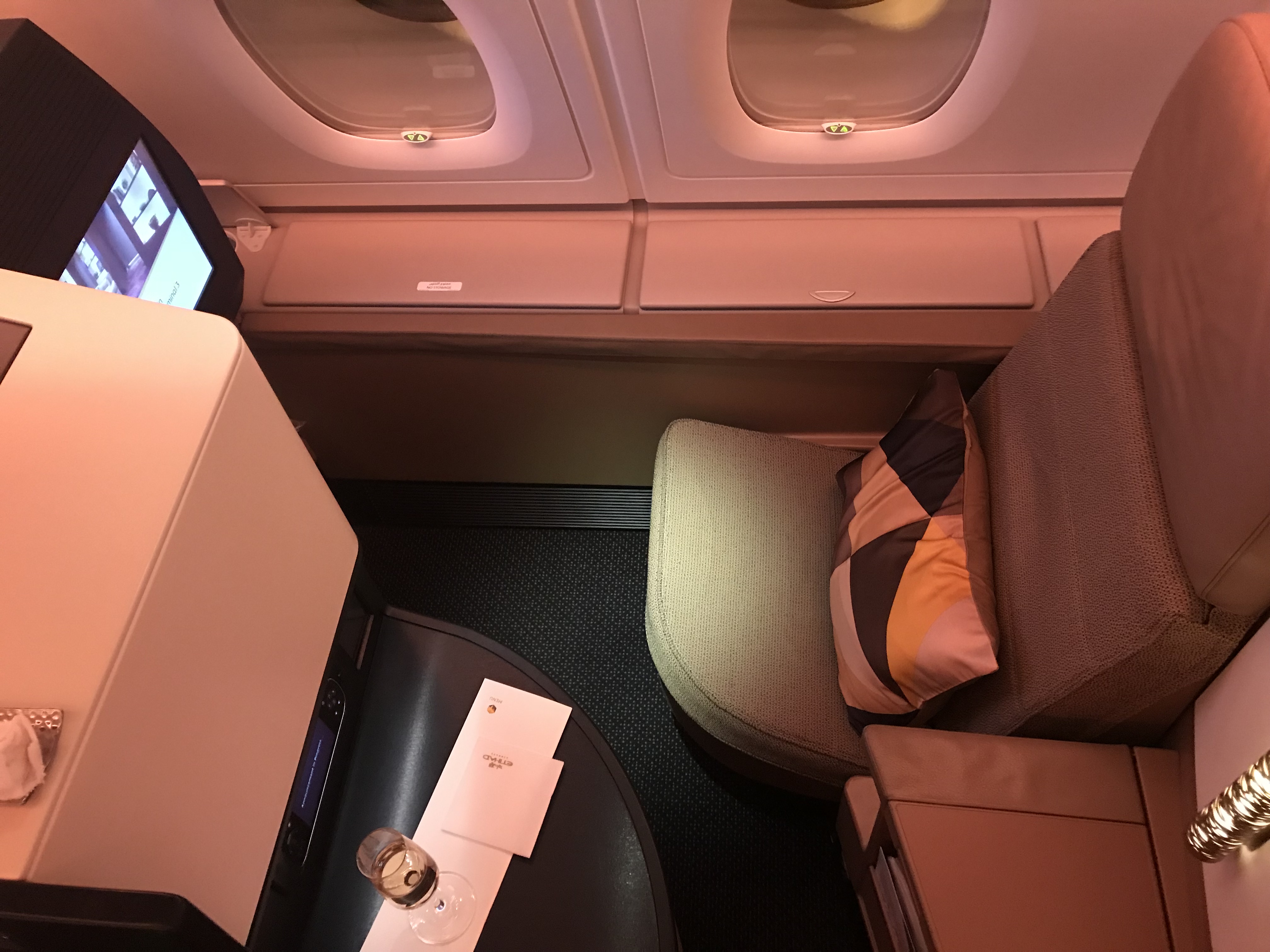 There was a smallish selection to choose from on the IFE, but I was busy watching The Blacklist on my iPad so I didn't really watch anything on the IFE.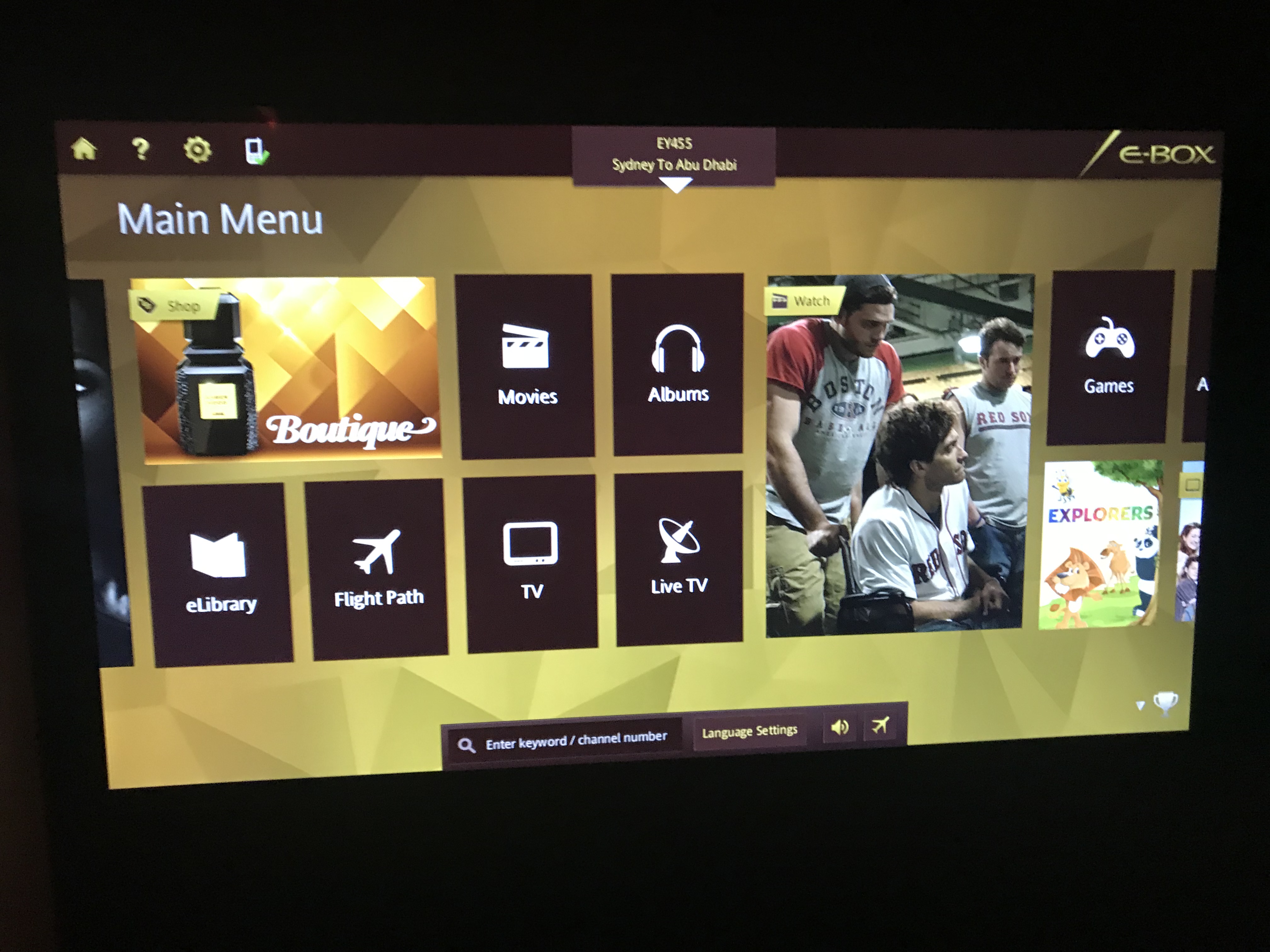 The amenity kit contained Scaramouche and Fandango products and was the standard assortment of lip balm, moisturizer, earplugs, toothbrush/toothpaste, socks and an eye mask.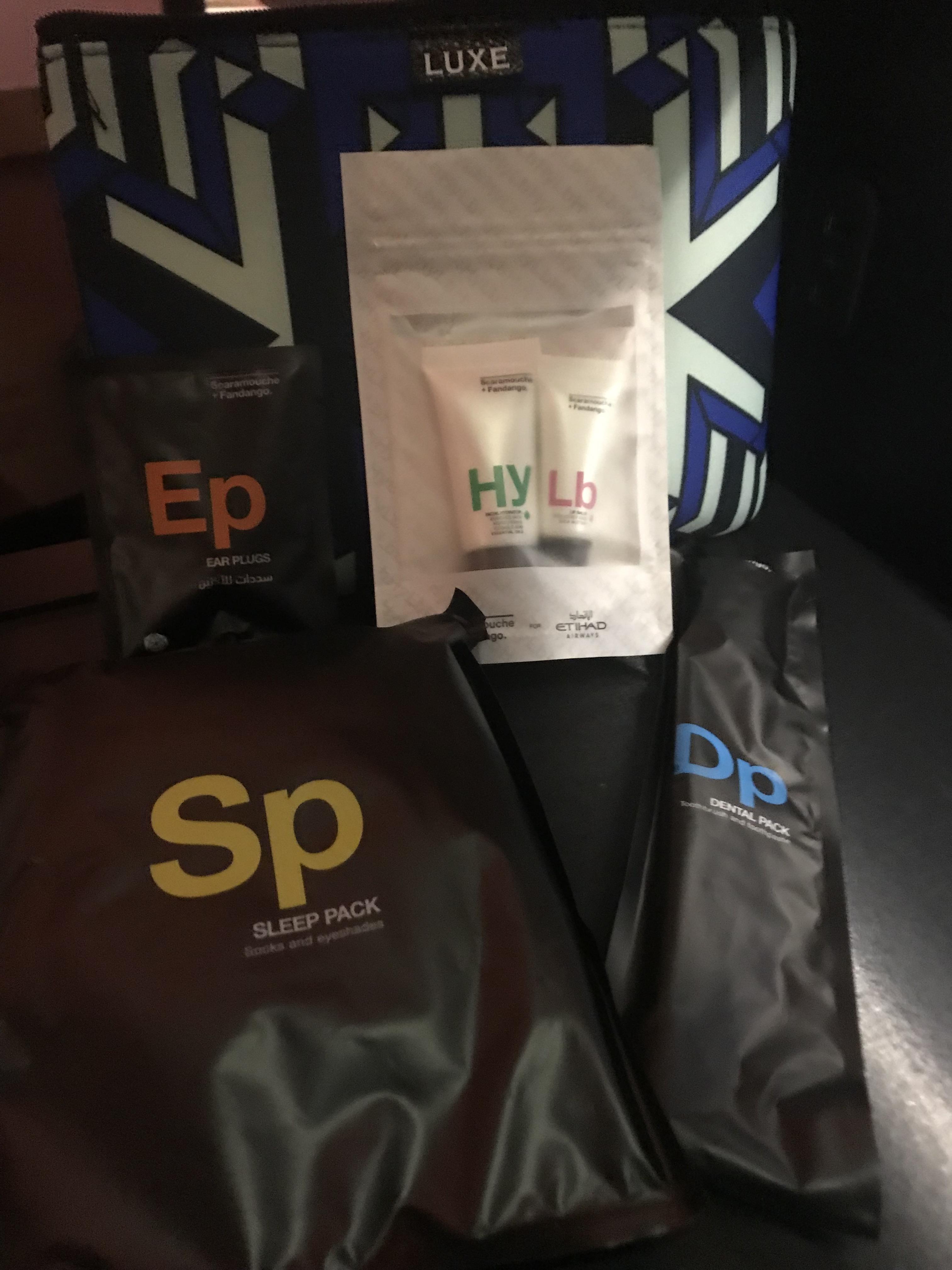 Time to order the in-flight meal. Order taking seemed a bit out of order, as the person across the aisle has his order taken before takeoff. Quite a bit after takeoff someone came around and asked if I'd ordered dinner yet.  I do expect the crew in Business class to be a bit more organized, but happily, this didn't mean they were out of anything I wanted.
The menus: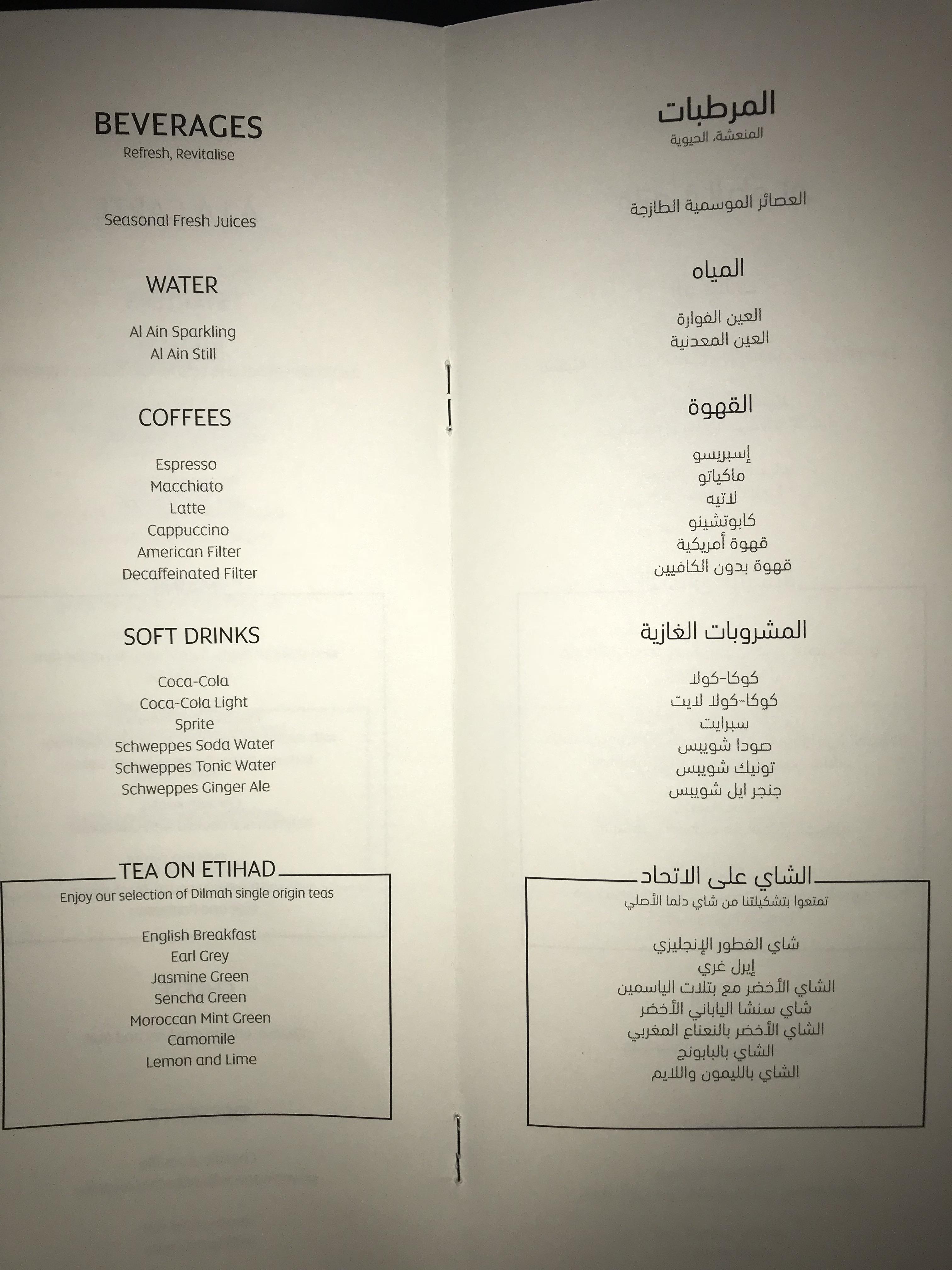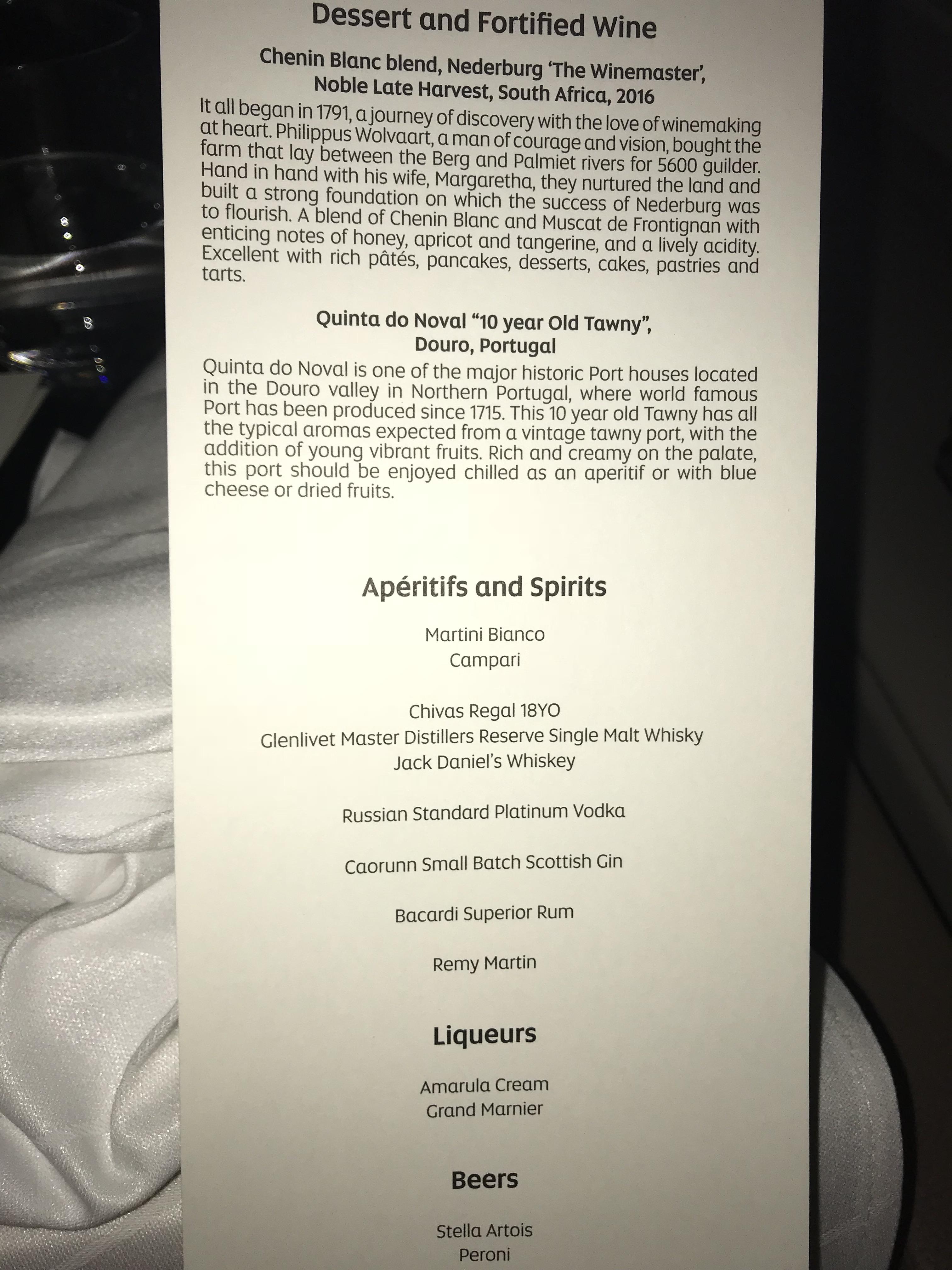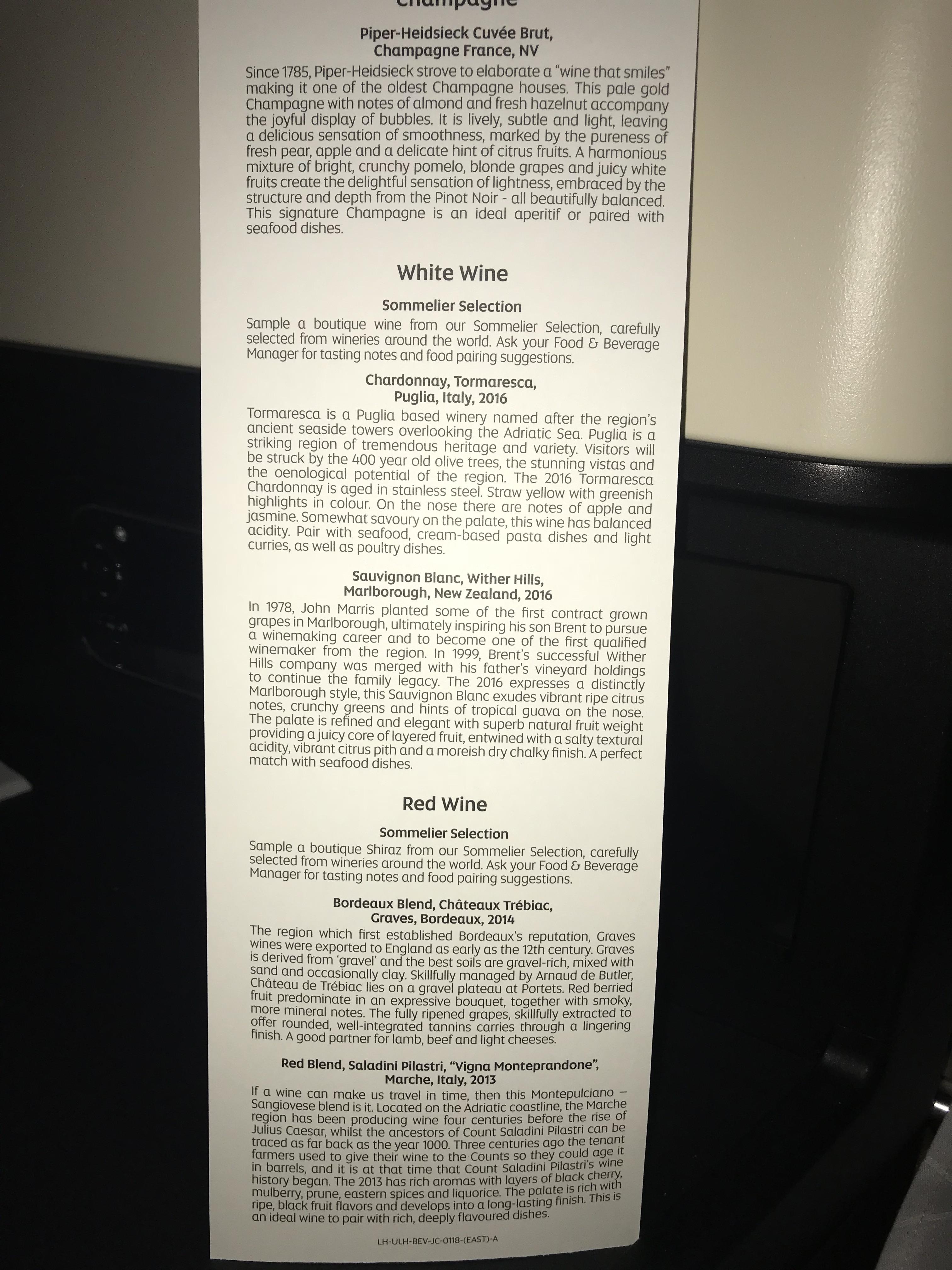 Planning on getting some good sleep, I ordered all I would want at once. I asked for the Arabic mezze along with the Chicken kabsa (similar to an Indian biryani) and a chocolate soufflé for dessert. The kabsa was very flavorful with a bit of a kick and I was happy with my decision there.
The soufflé was more of a goopy chocolate cake like thing that satisfied my sweet tooth but I wouldn't need again.
The First and Business Class onboard lounge
Next, it was time to check out the lounge area. The Etihad A380 has a lounge that sits in between First and Business Class. While there wouldn't be much reason for someone in a First Class Apartment to visit the lounge on their own, they might if they had a friend in Business Class. As well, someone in Business may want to relax in the lounge a bit just for a change of scenery or to hang out with friends.
The lounge isn't as big as you might think. Seating 6 people in a circle, there is also a full liquor area (which you may need some help from a flight attendant with if the bottles aren't open) and snacks which will either be out for the taking or you can request.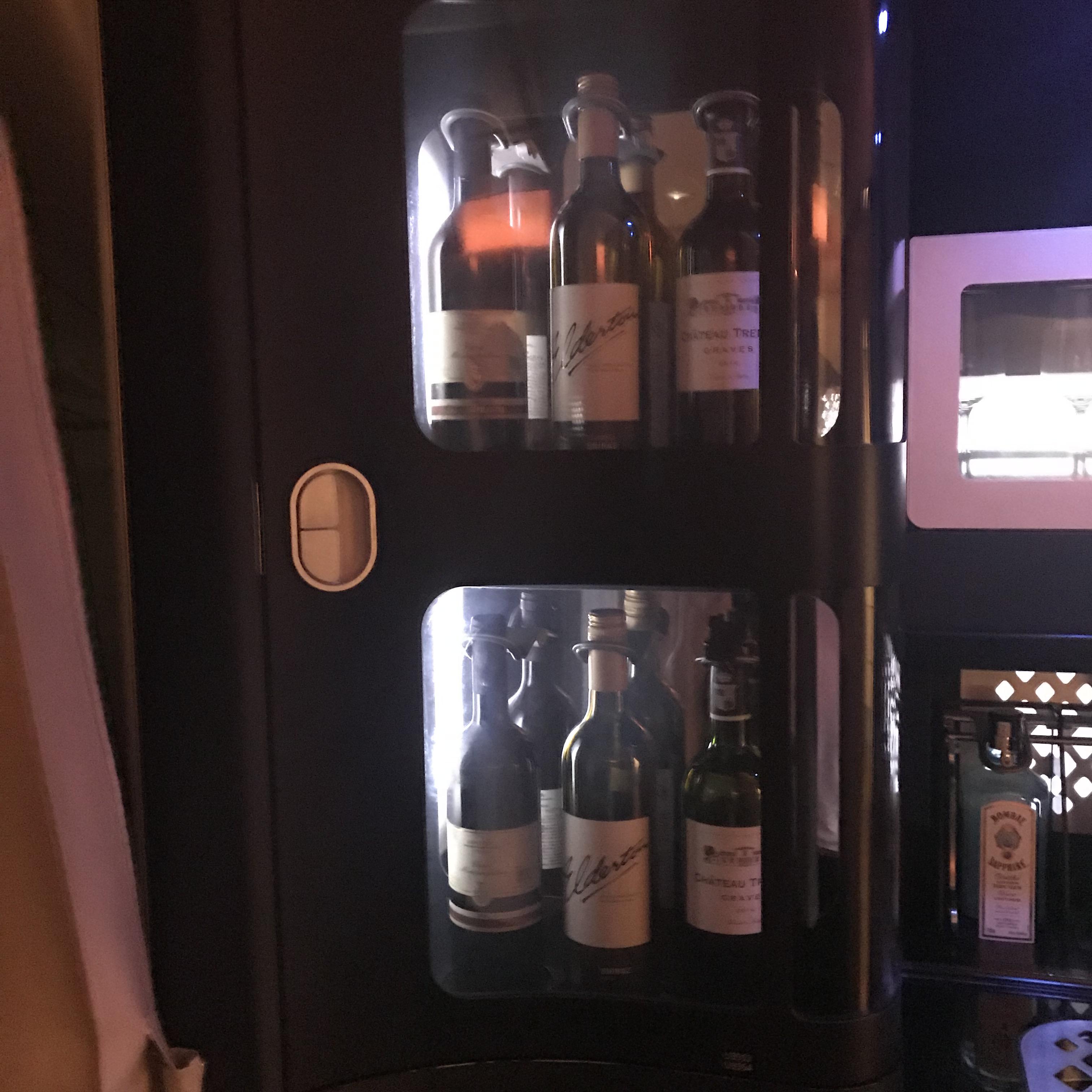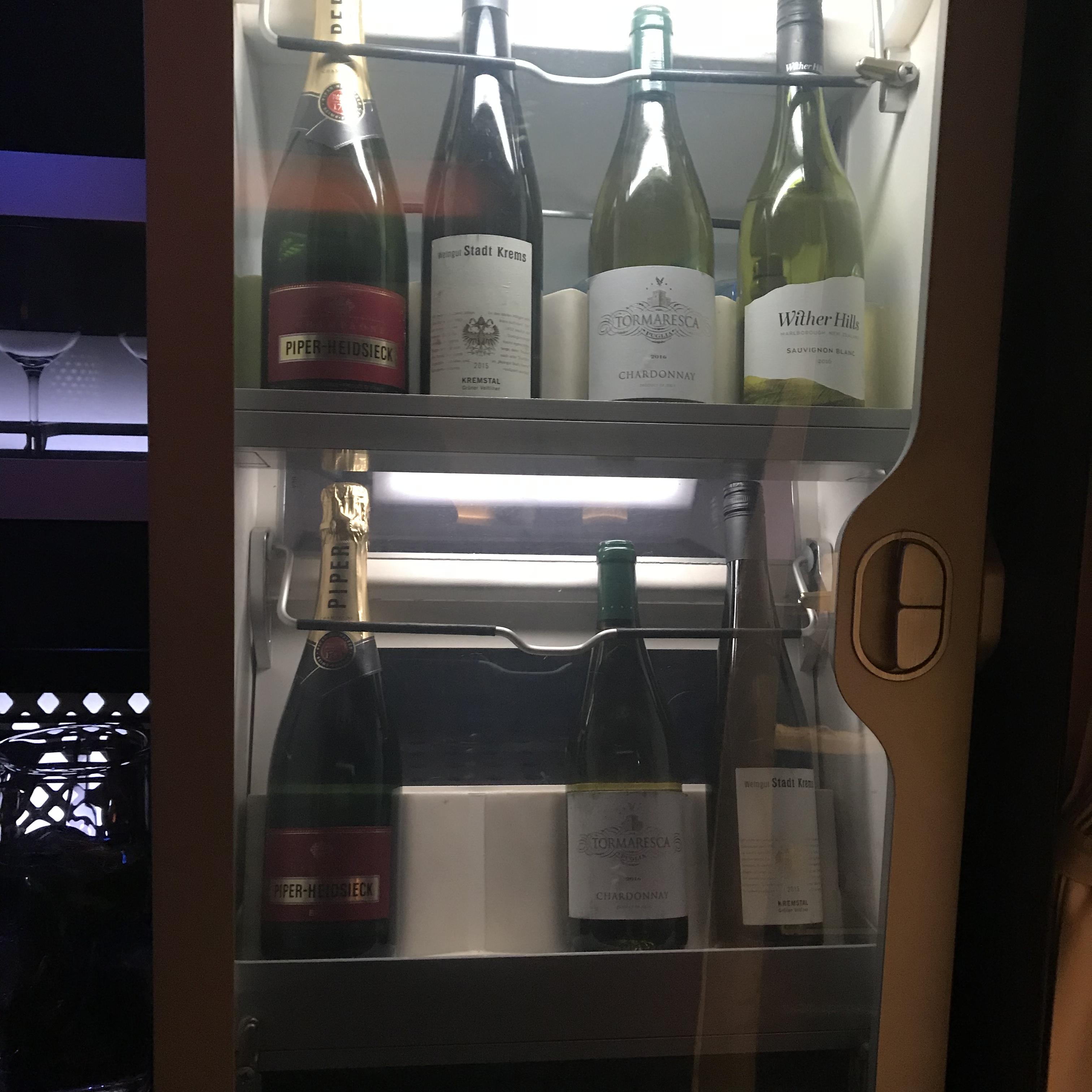 Check out this video I made of the lounge…
Wifi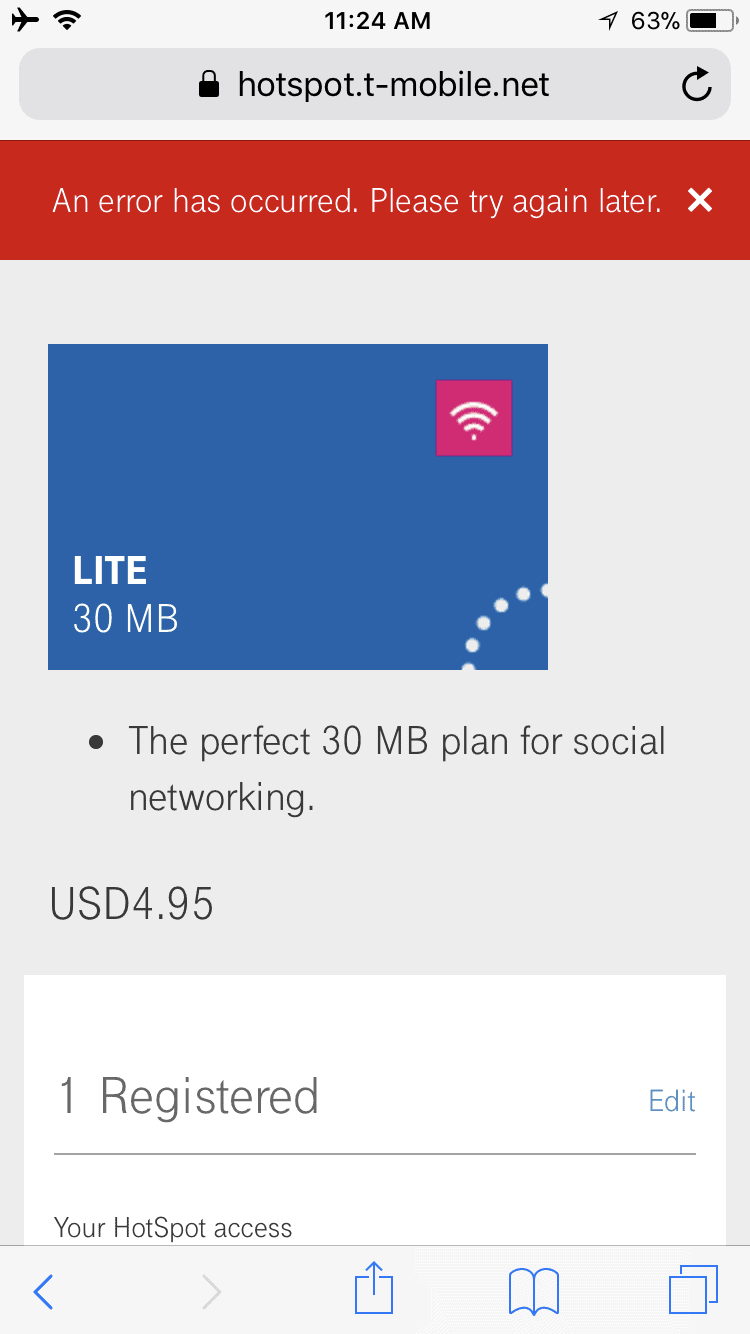 Wifi was an absolute disaster on this flight. It was $5 for 30 MB (that's basically one check of Facebook or one download of email), no option for unlimited data at any price, constant trouble connecting, and an option at login to use your Boingo account – except that it doesn't work and Boingo confirmed that is because they have no agreement with Etihad. Sooo, yeah. They really need to step this one up. Unlimited data simply needs to be an option. It's too frustrating to try and guess what any action you take will eat up and keep feeding the meter. Worse, they apparently used to have unlimited and went back in time to make it metered.
Beyond that, I'd get disconnected and get the error message show here when trying to logn back in.
Over and over and over….
Bedtime
Time for sleep. Etihad does not provide pajamas for Business class, though you'll have socks and an eye mask in the amenity kit.  With the seat in a full lie-flat position, there is plenty of room to sleep – though, despite the adjustable cushion firmness, I couldn't get it to feel like a supportive firm mattress in any setting. I slept OK with the provided pillow and blanket, but if you are used to a 1st class bed (when you have more of a real mattress cushion, etc.) it feels a bit hard.  We both woke a bit sore from the slumber but did get plenty of sleep. Good thing, since it was a 14+ hour overnight flight!
Below are all the various seat settings: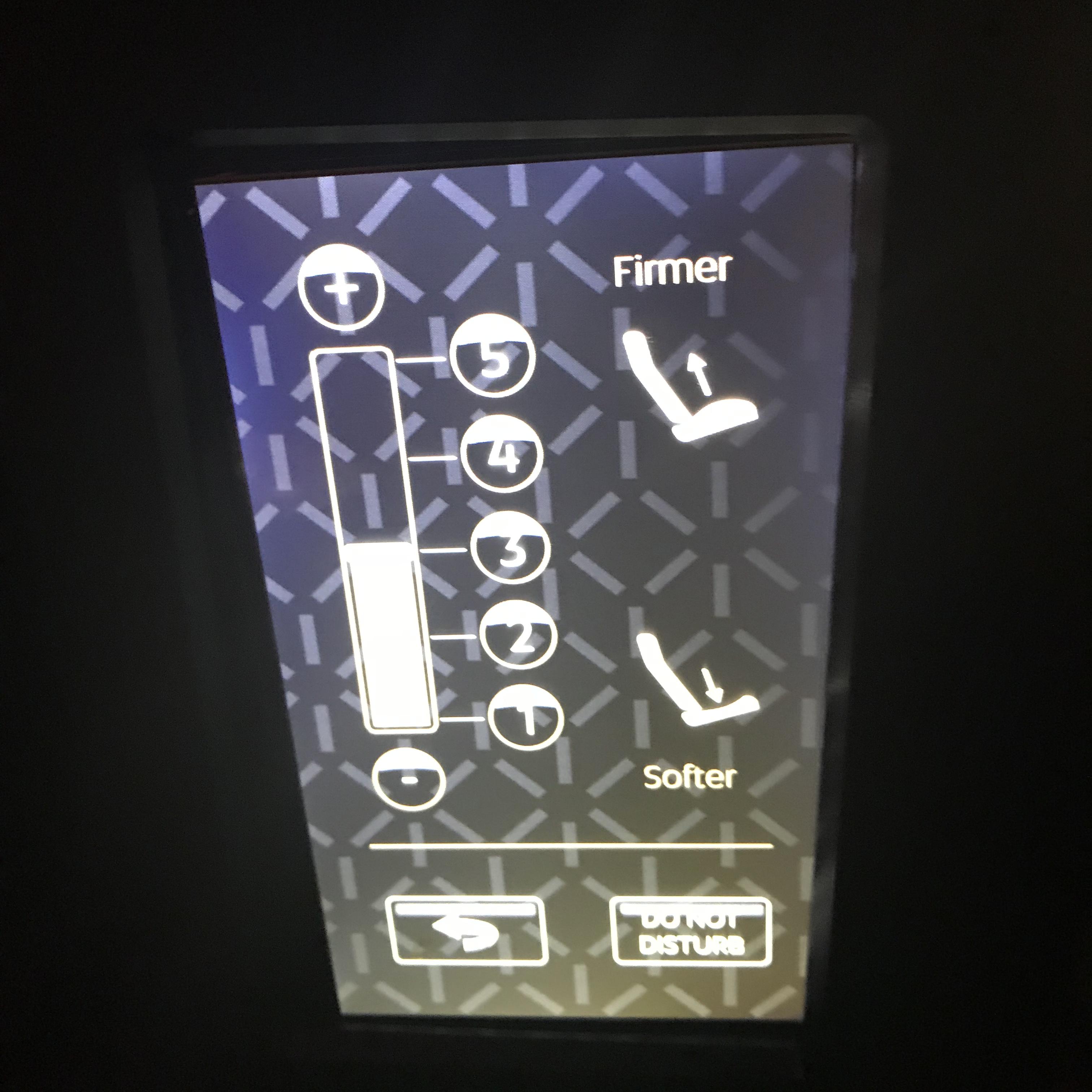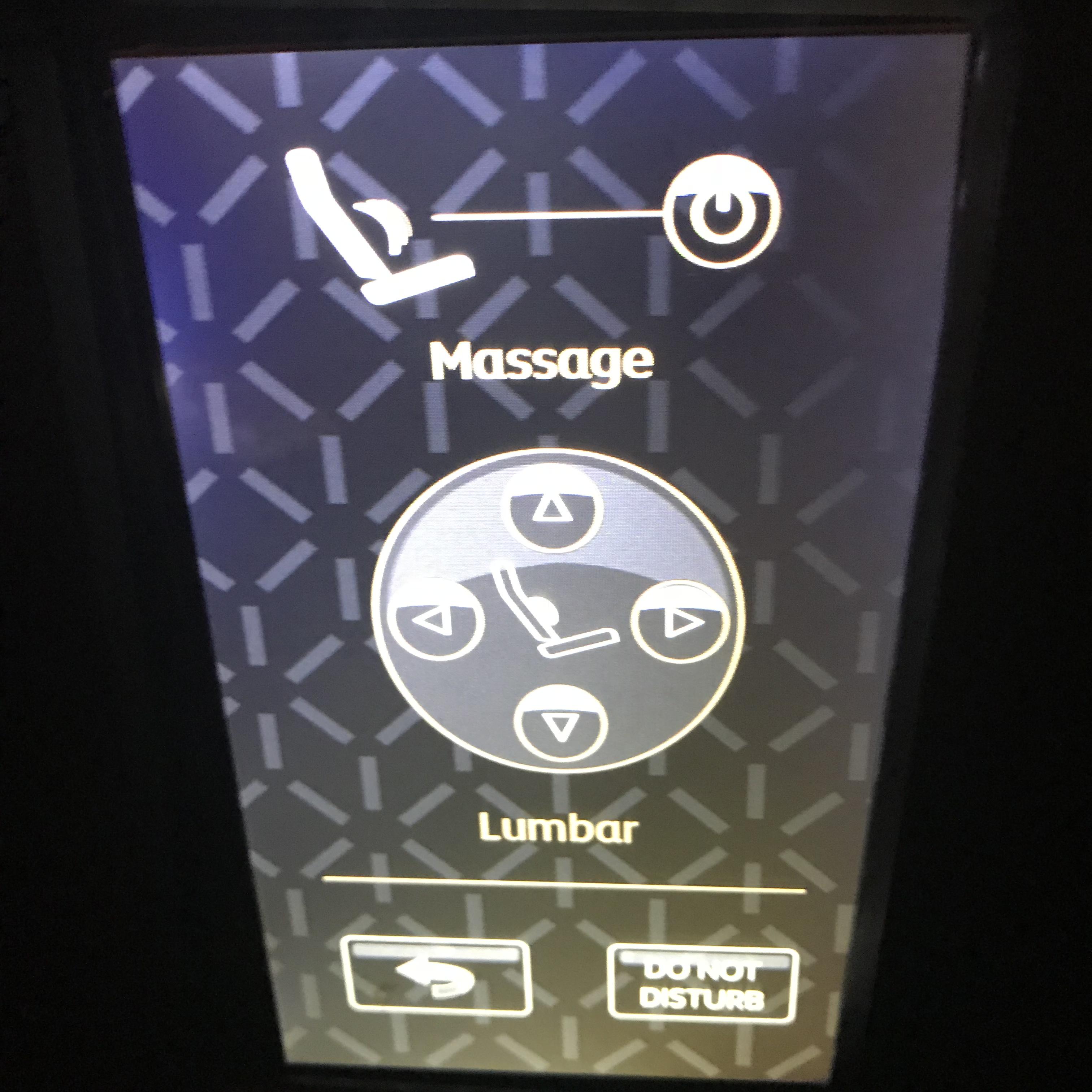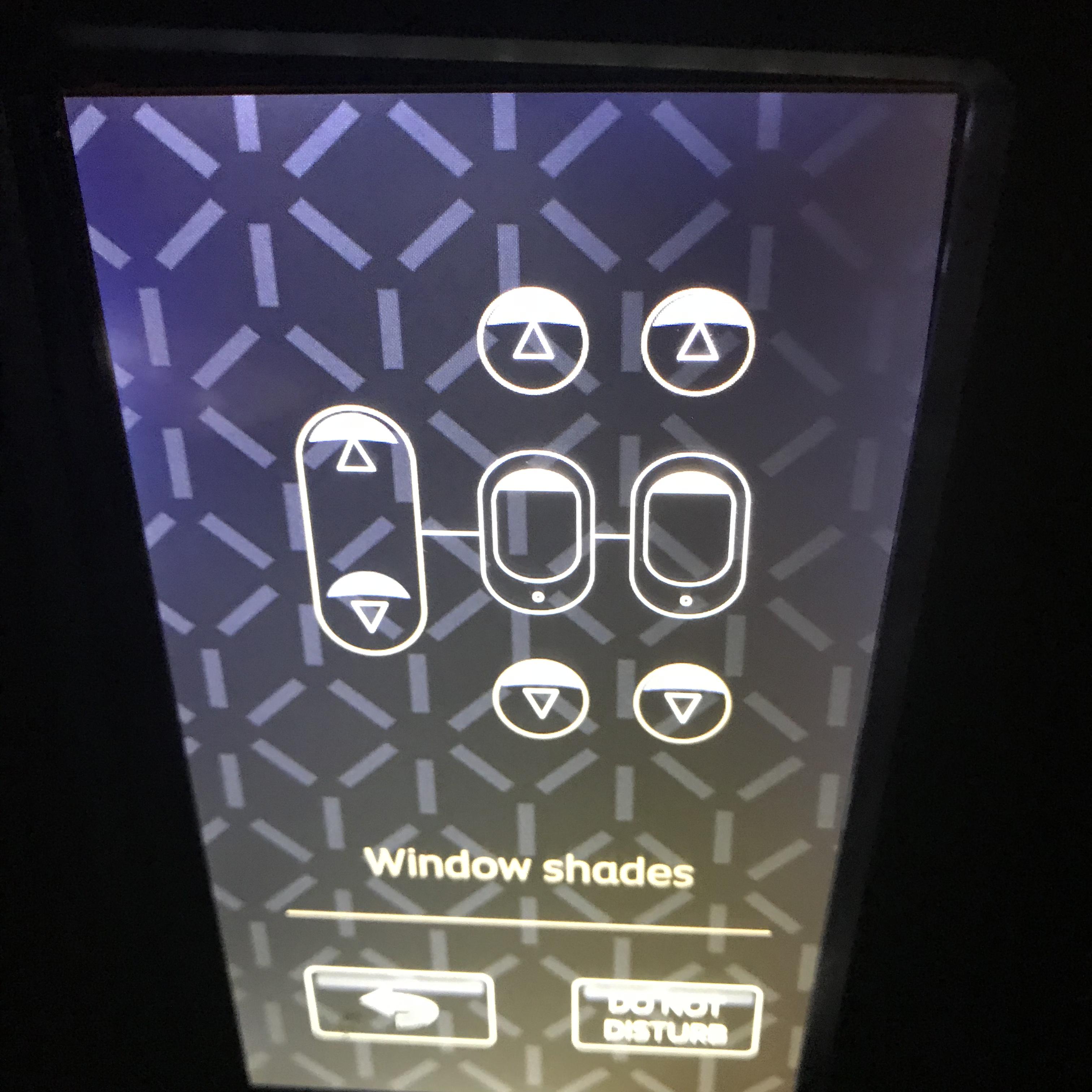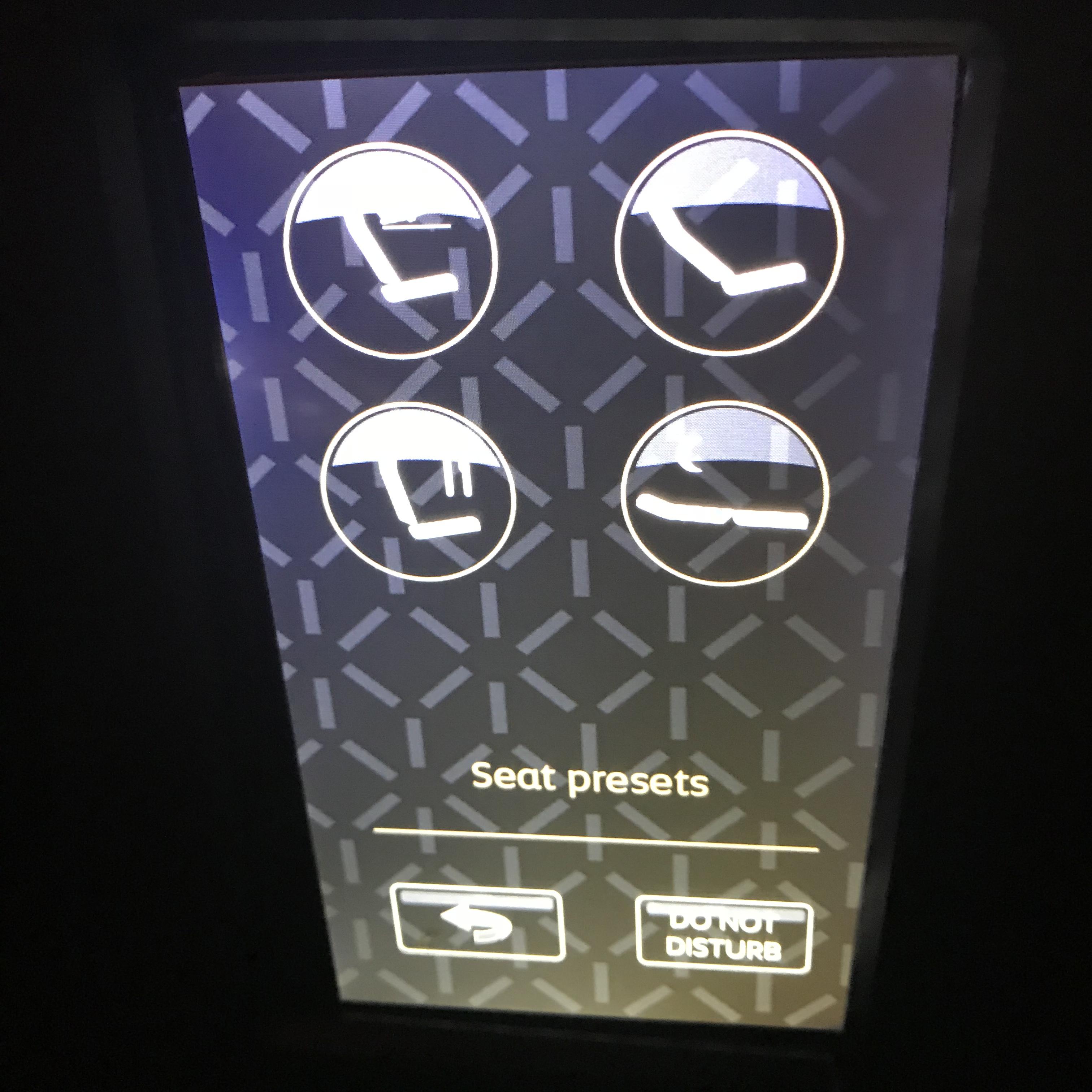 Breakfast
This was pretty tasty. A frittata with veal sausages, asparagus, and spinach.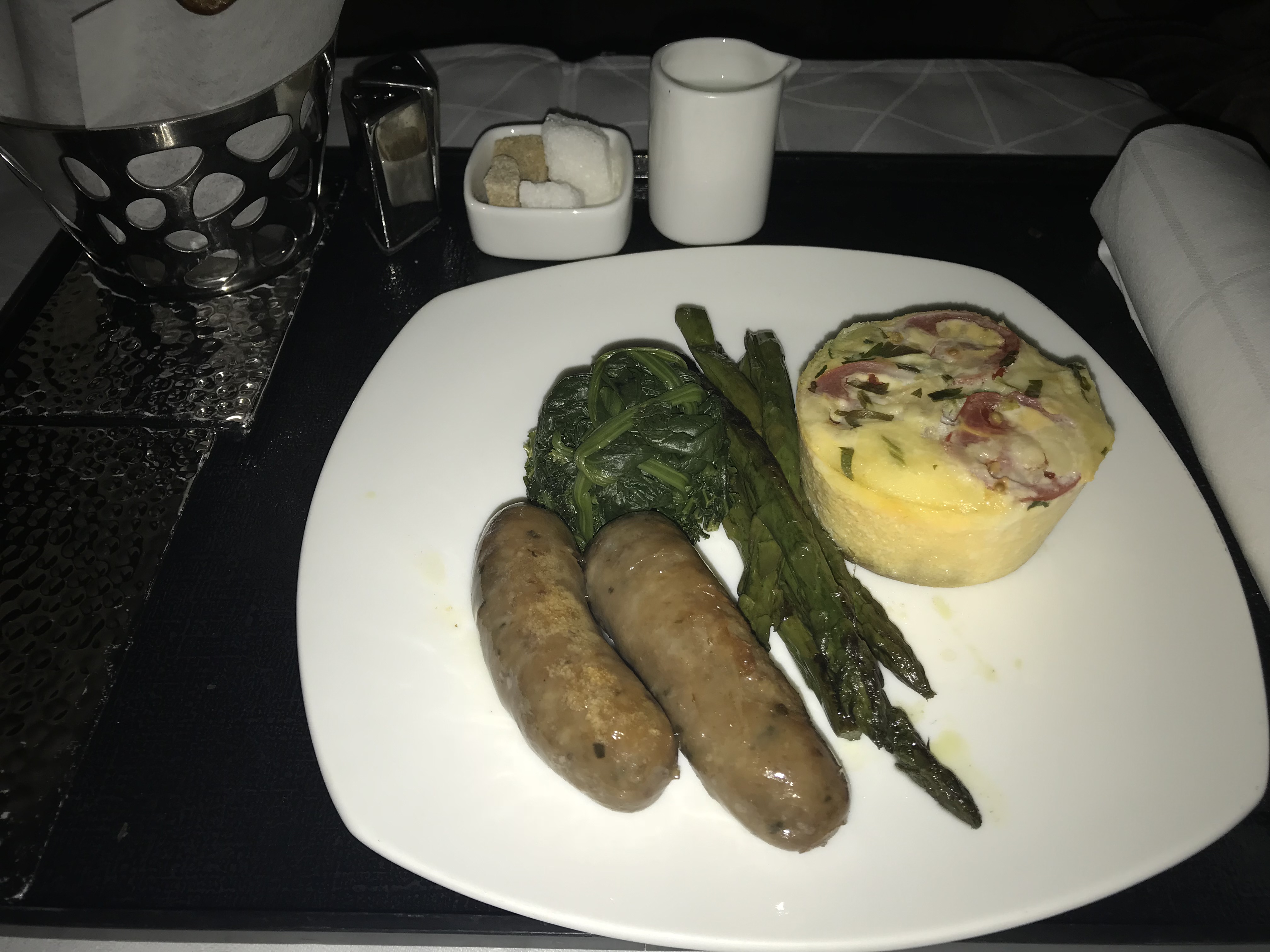 Deplaning
We were given cards that supposedly would allow us to use a priority customs line, only to find out that none existed. Not a big deal as it went quickly anyway.
Summary
This flight was really just a connecting flight for us. That is why I picked Business Class over First and the overnight flight. I knew that the next day we'd have 15 hours (though it turned out to be much more!) in the fabled First Class Apartment.
Still, I'd had hopes that Etihad Business Class would be "amazing" and it wasn't. It was a nice flight, but the lack of attentive service (again probably due to the sheer number of Business Class seats or perhaps just not enough flight attendants to properly serve 70 seats), the hard bed, and a somewhat limited menu really left it with something to be desired. Put another way, I'd absolutely fly Etihad in Business again but I wouldn't go out of my way to fly it. And if both J and F were available, I'd 100% spend the extra miles for First.
Rating: 3.5 Stars
---
Does this make you want to try Etihad's Business Class? Or are you more of a First Class kind of guy/gal?  Let me know here, on Twitter, or in the private MilesTalk Facebook group.
New to all of this? My new "introduction to miles and points" book, MilesTalk: Live Your Wildest Travel Dreams Using Miles and Points is available now.