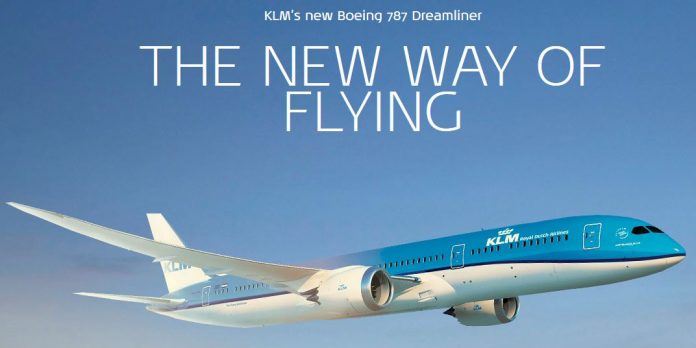 It's always fun riding up front in a new plane. You get the latest seat, the latest in-flight entertainment, and that feeling of "new plane".
The best part is that this is the return leg of a ticket I bought during the Air France business class sale this summer – totaling just $1,600 round trip, yet earning 12,919 MQMs and 14,596 miles).  My destination was Dusseldorf so I connected both ways from New York.  I was originally scheduled on a morning return flight on Air France, but a major schedule change left me free to pick any available Air France / KLM / Delta / Alitalia flight.
Since I'm crediting my miles to Delta, a Delta flight was out of the question as that would earn according to my low fare rather than my distance flown – in this case that would have cost me only about 3,000 miles but on a low coach fare the difference can be much, much more. Because I flew Air France's new 777-300 on the way here, I decided the brand new KLM 787-900 Dreamliner would be the perfect ride back.
Always know that when the airlines change the schedule on you in a significant way on a paid ticket (usually a couple of hours or more but it never hurts to ask), you can generally change your flight to any other flight (in this case, Air France, Delta, Alitalia, KLM) or get a full refund.  With Air France, you can wait until the day of your flight to do whatever you want and there need only be one seat for sale in your cabin to get the change done. Note that if you booked Z, and only C is available, they may initially say no – but you can politely say "but there is a seat for sale" and they can have it overridden.
If the fare sale had not been on, this same flight would have been bookable (if there was award availability) for 70,000 Delta SkyMiles or the equivalent USA-Europe award on any other SkyTeam carrier.
At the airport:
Since I was connecting from Dusseldorf and my connecting flight was an hour late, I wound up having to hot foot it through Amsterdam's Shiphol airport – meaning I didn't have a chance to check out the lounge beforehand.   For those that don't know, AMS is a massive airport and my connecting flight required a bus to the terminal, then passport control, then a nearly 20 minute walk to the plane. So leave yourself sufficient transit time!
I boarded through the SkyPriority lane and made my way to 1A in the front left corner of the plane.
On the plane:
Water or champagne was offered as a pre-departure beverage and I settled in.
The seat is very much like all the other business class seats I've been in internationally in the last couple of years, such as Air France and Alitalia, and similar to American Airlines domestic Fist class on the transcontinental routes (JFK-LAX/SFO).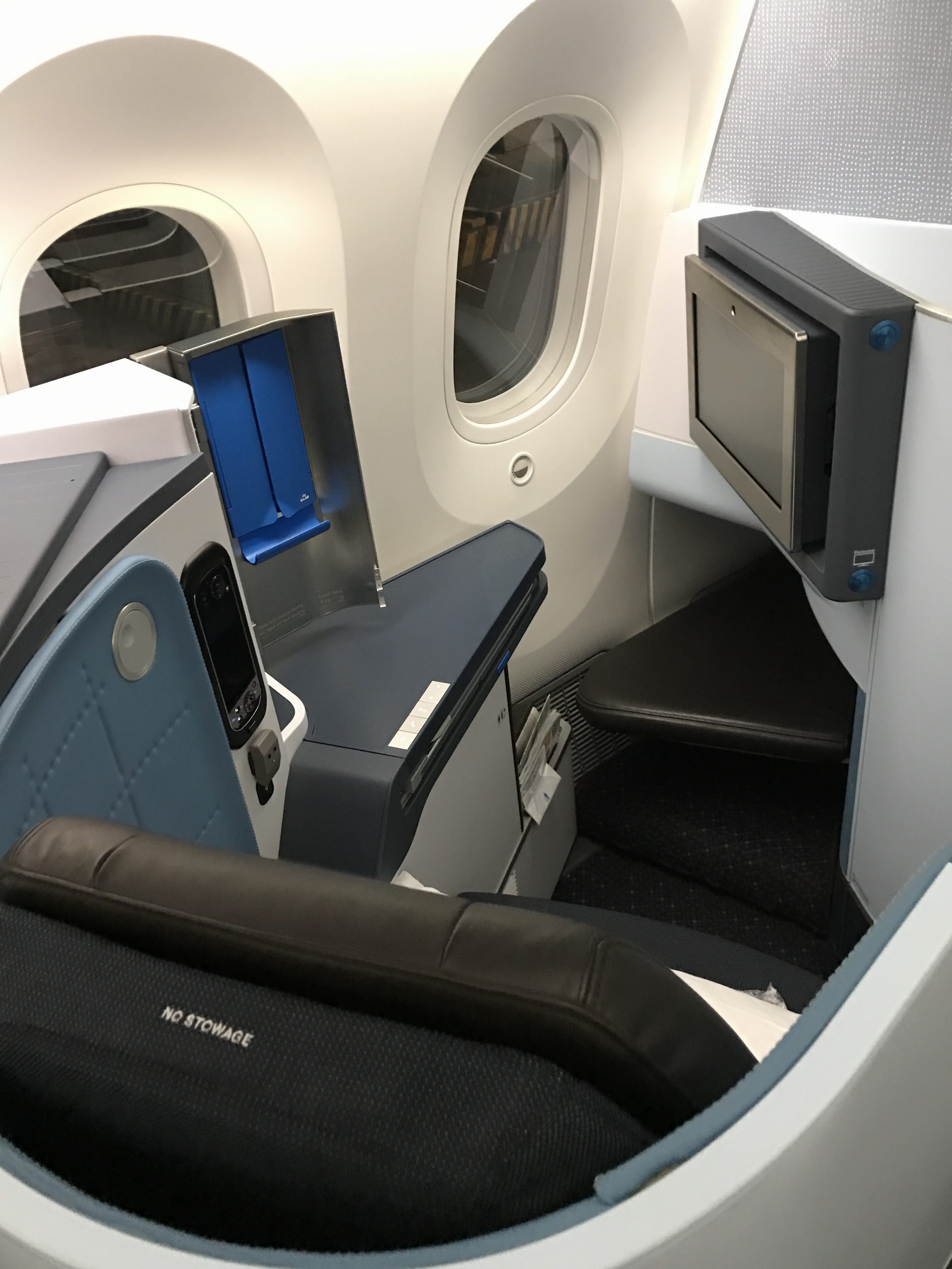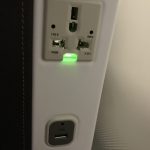 It features an 11" screen with a wide variety of entertainment, an easy to use remote (it's definitely a newer generation of IFE interface), a US / EU hybrid power port as well as a USB charging port, noise cancelling headphones (stowed for you and ready to use – unlike American which distributes and collects them, meaning you can't use them for a good portion of the flight), a novel style reading light, and, of course, the ability to lie fully flat. Overall, it was pretty comfortable for an 8 hour flight – both reclining and lying down.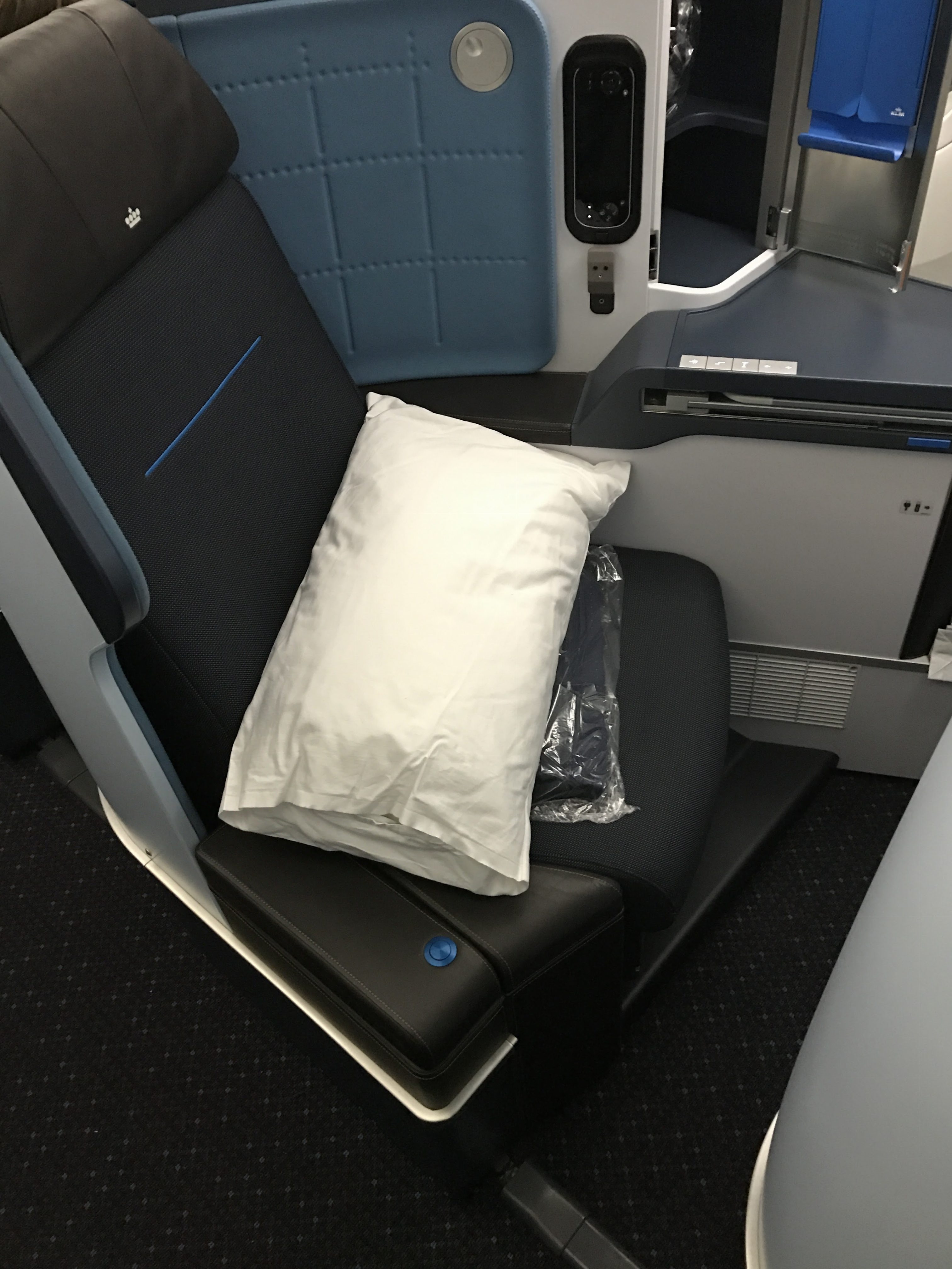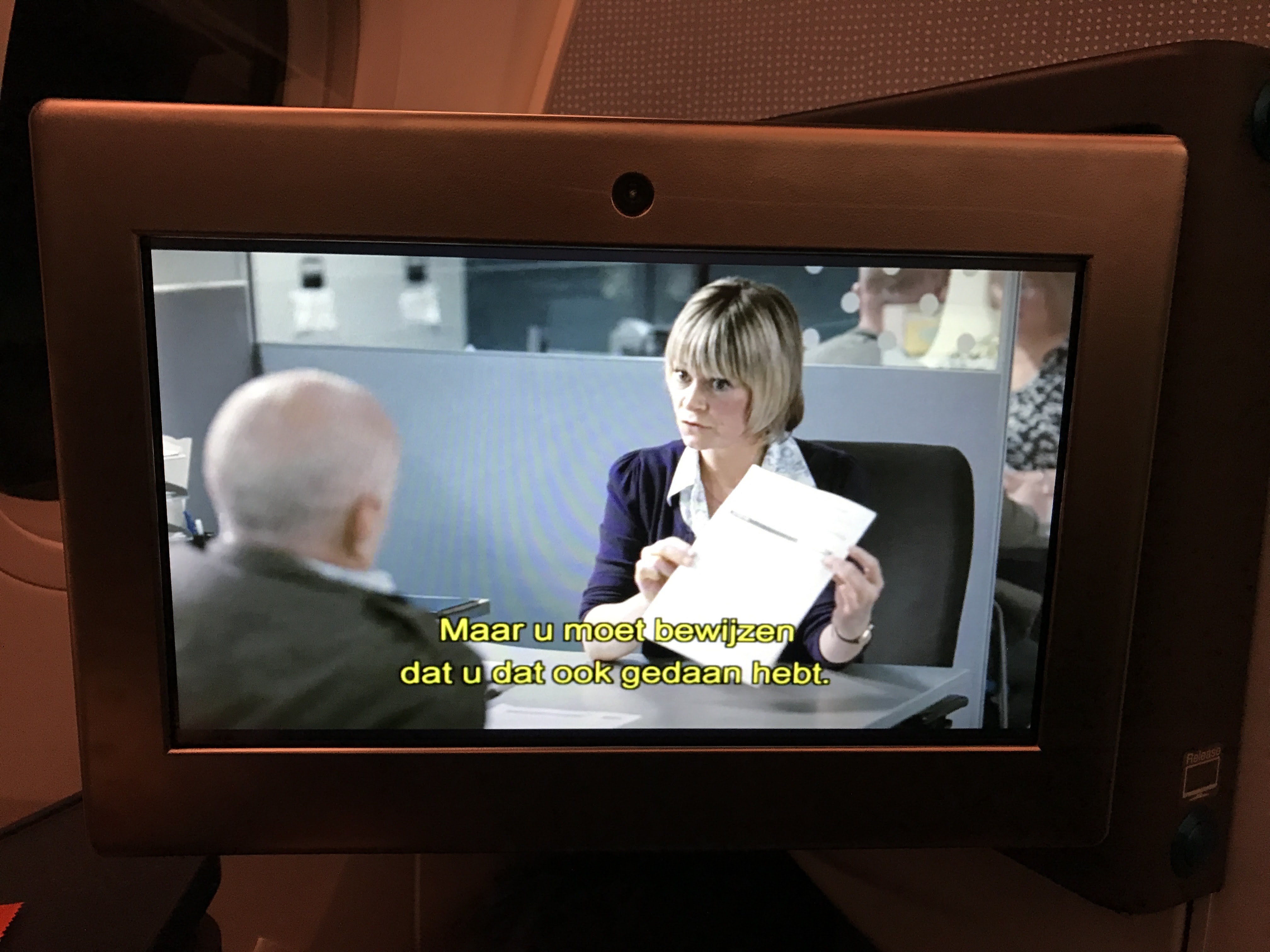 I don't know what it is about the headphones but they always start to squeeze my head and annoy me after a few hours. Anyone else?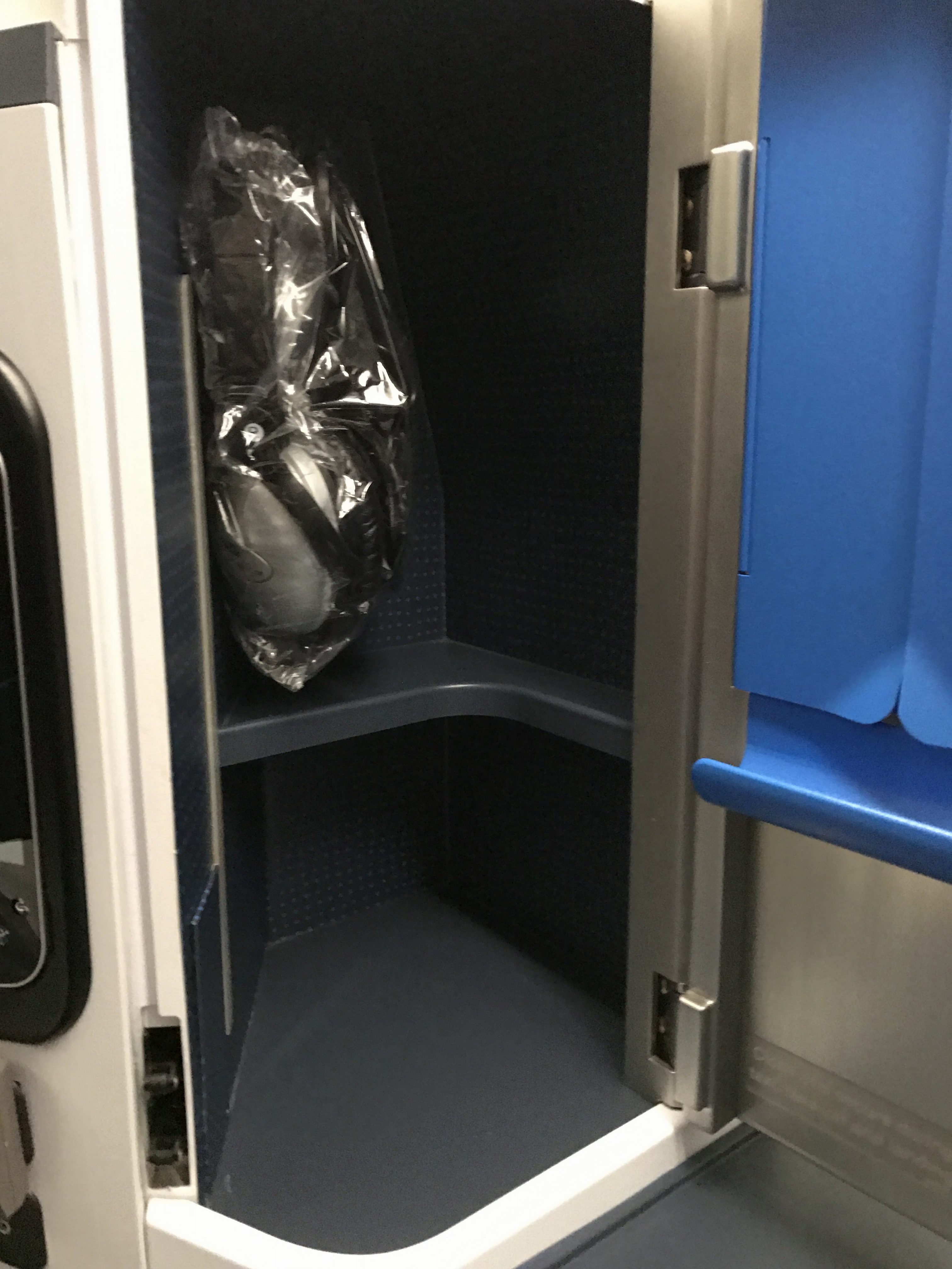 Here's the innovative personal lighting system: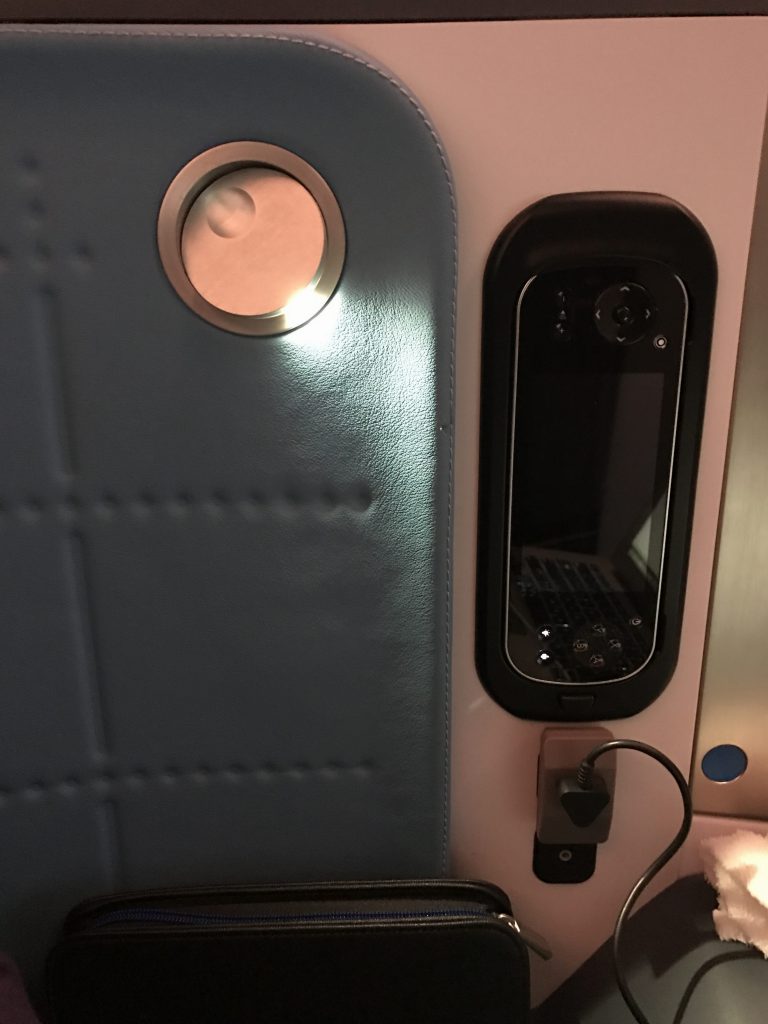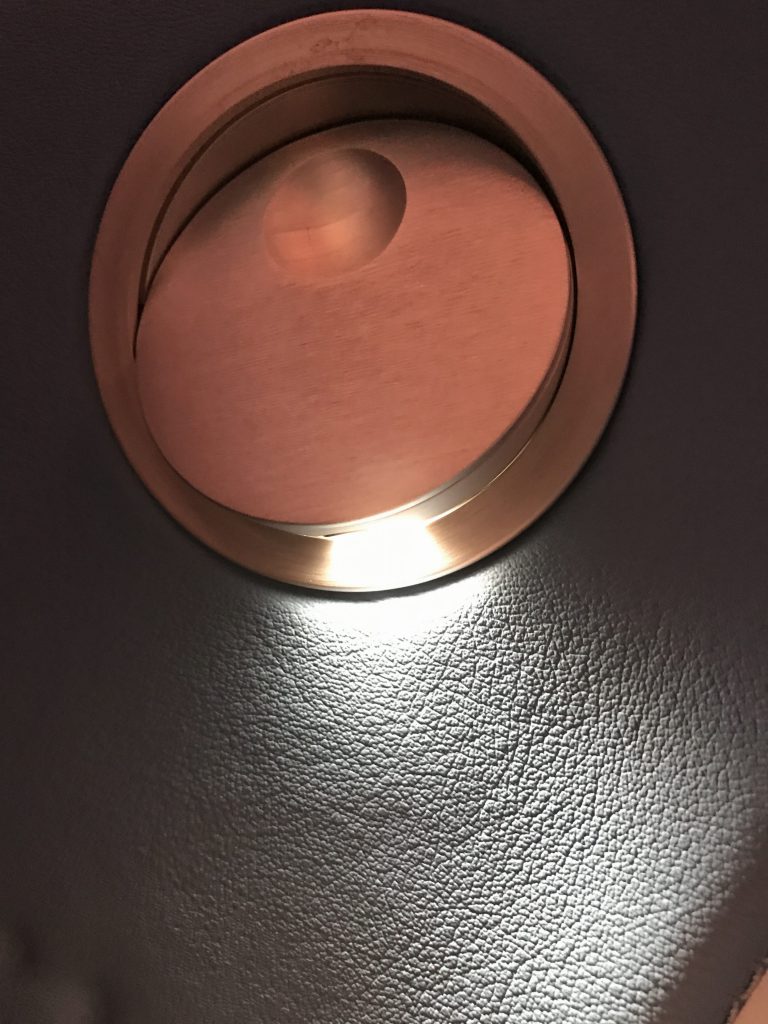 And the first time I've seen a mirror as part of the seat: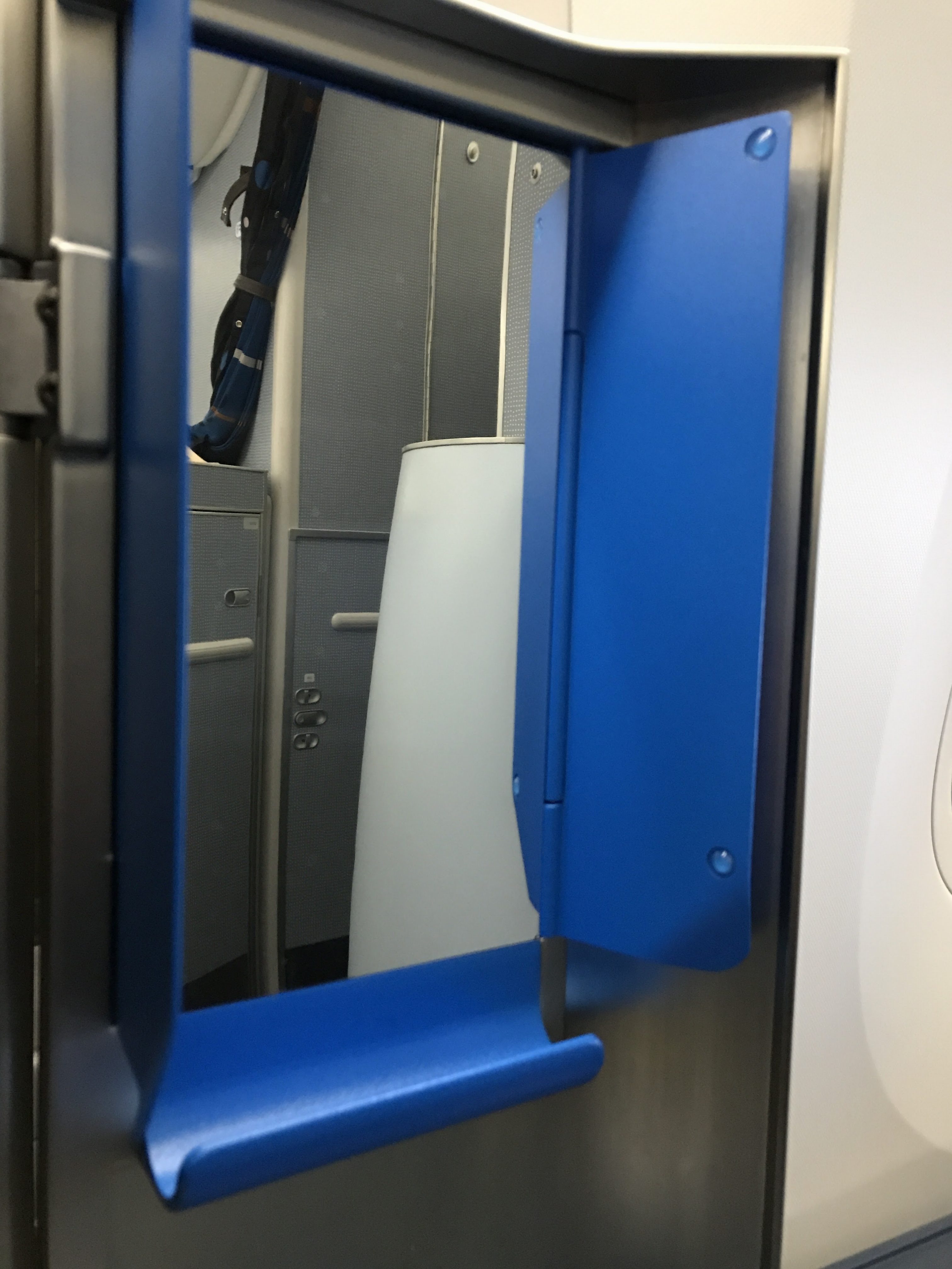 This aircraft is one of the first in the KLM fleet to offer Wifi – but don't get too excited about it. More on that below (it needs its own section).
The plane also has some nice mood lighting – to help with jetlag. Blues for softer sleepy time light and red and whites for daylight.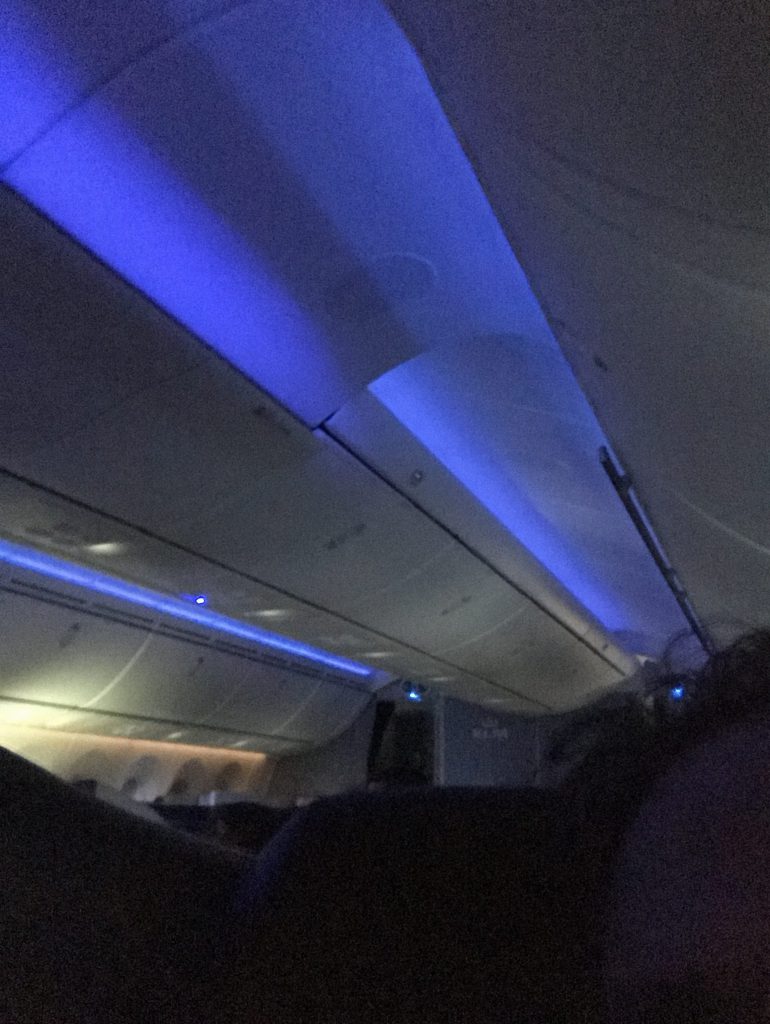 I also thought the KLM painted bathroom was a nice touch: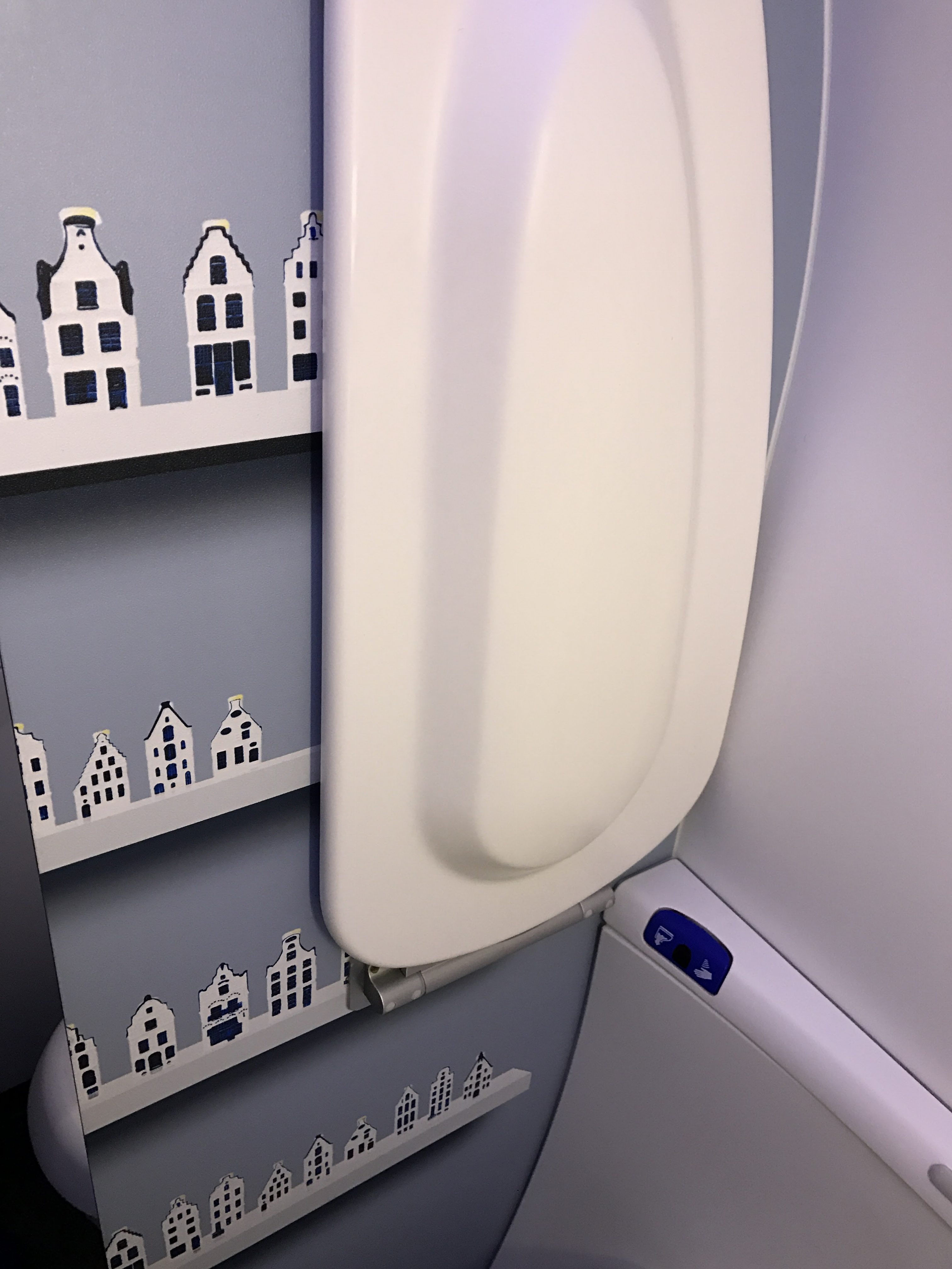 The amenity kit looked nice but the contents were super boring: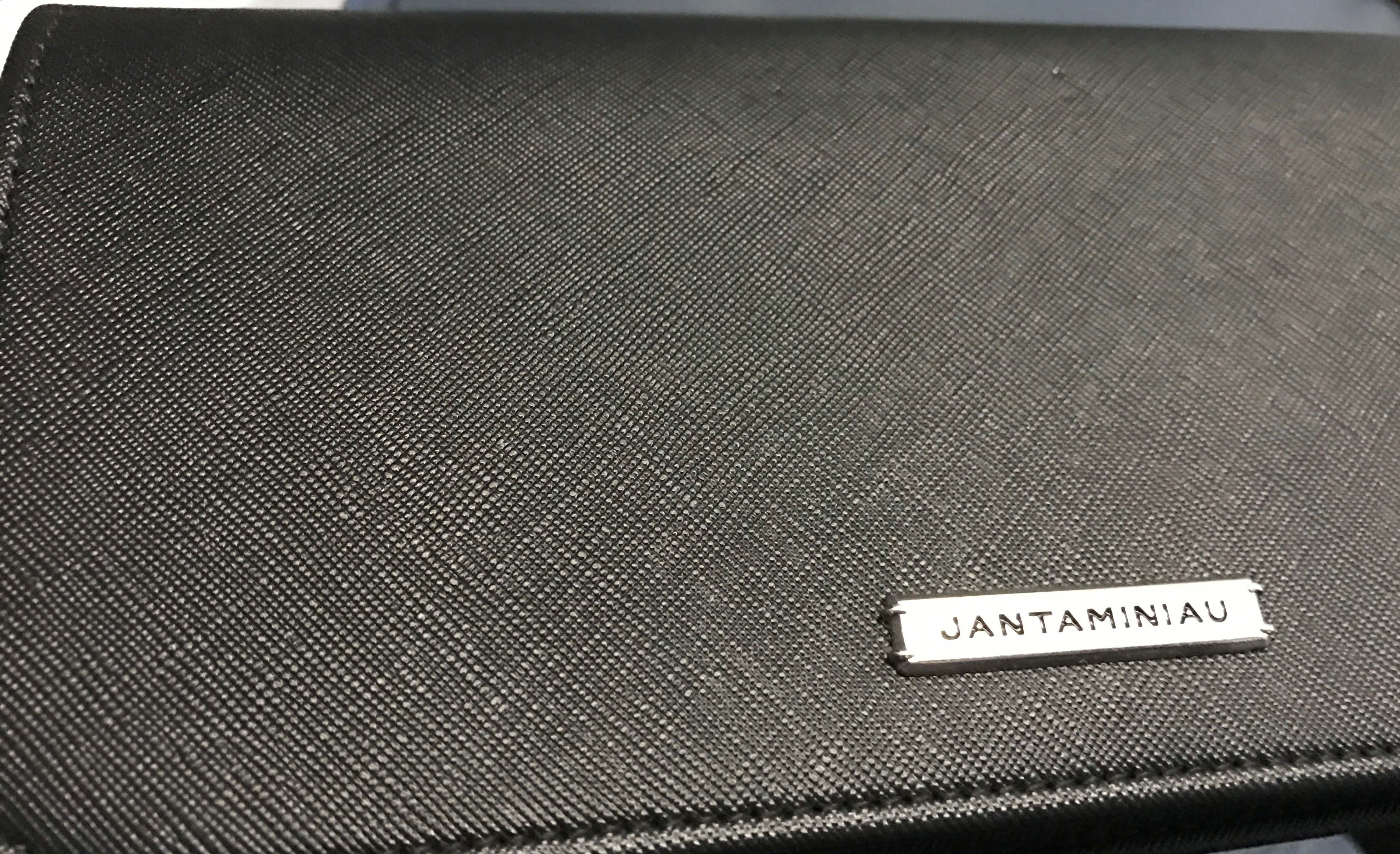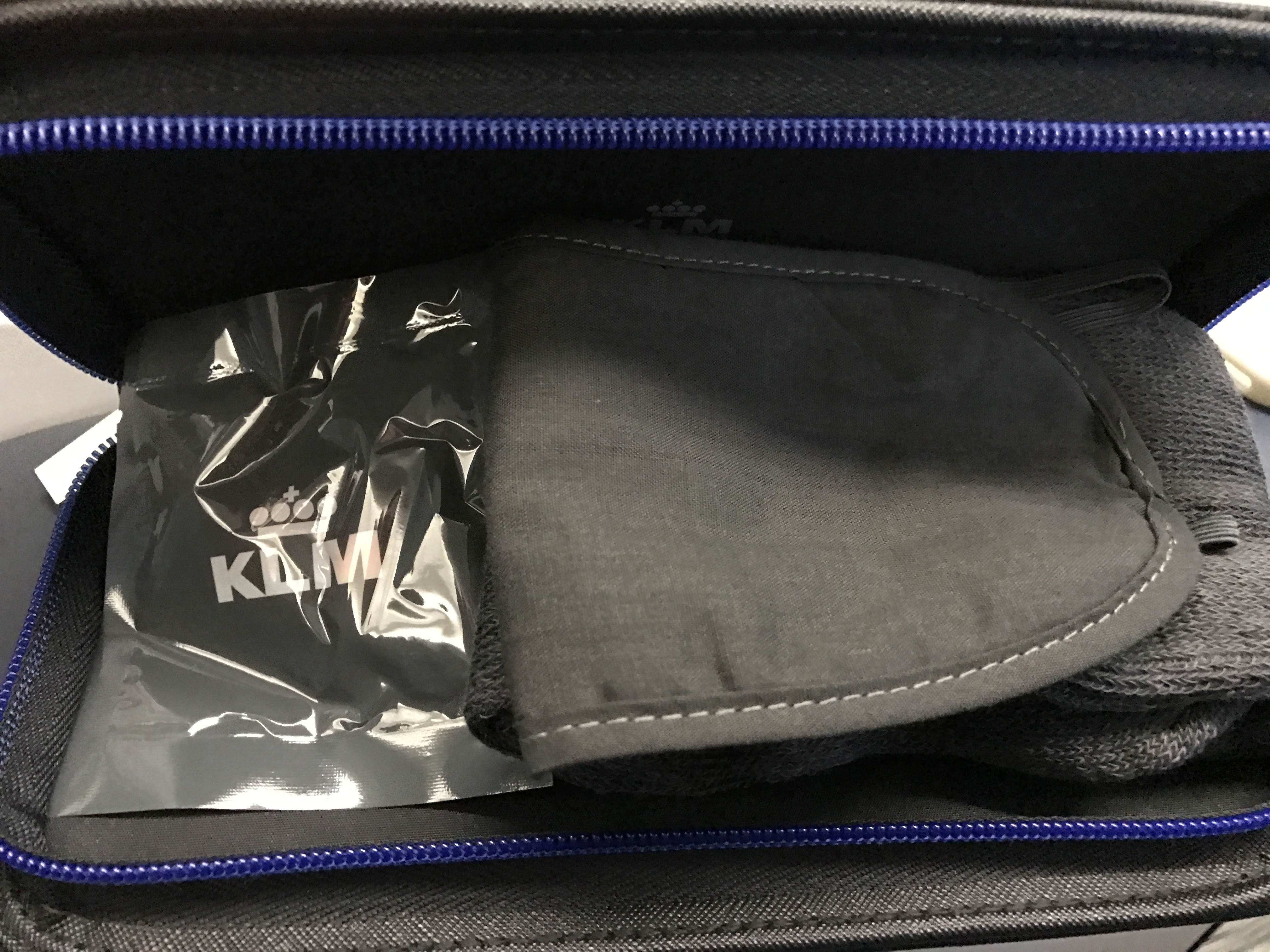 The onboard service:
 I found the KLM flight attendants and purser to be friendly and efficient – but not warm. Closer to a good flight attendant on an American carrier (for example on the premium NYC-LAX/SFO routes on American) than an Asian carrier (super attentive). I enjoyed the service and had no complaints.
I started with some coffee which came with a nice waffle cookie.
Then when we were up in the air, the flight attendant offered me a menu as well as cold nuts (warm would be a nice touch) and some cubed cheese. Loved the flag….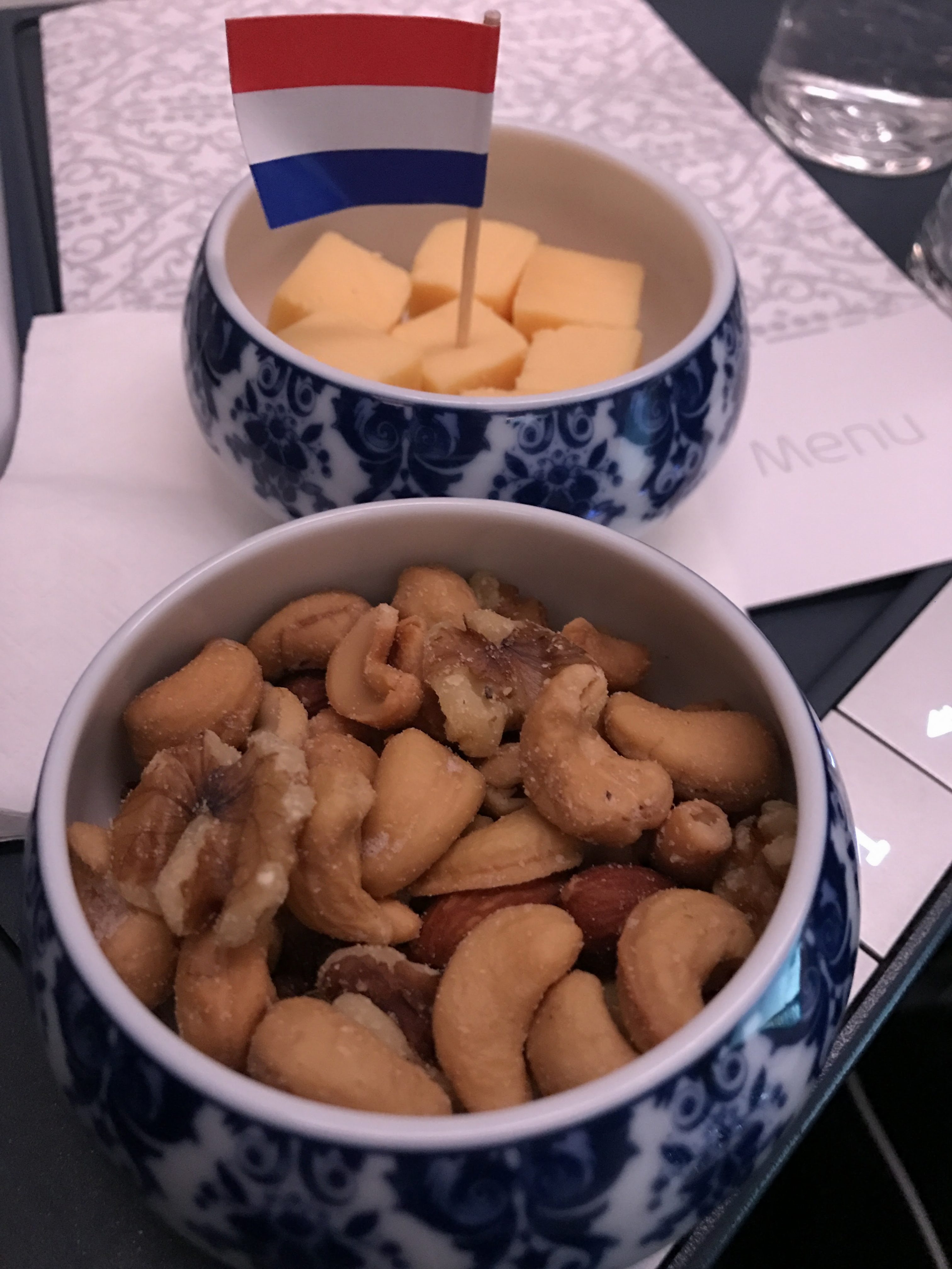 The meals:
Certainly part of the novelty of flying Business of First class is the meal service. You get the nice printed menu, a selection of wine, beer, and liquor, a nicely plated three-course meal, and often a second "snack" sized meal before landing.
Menus: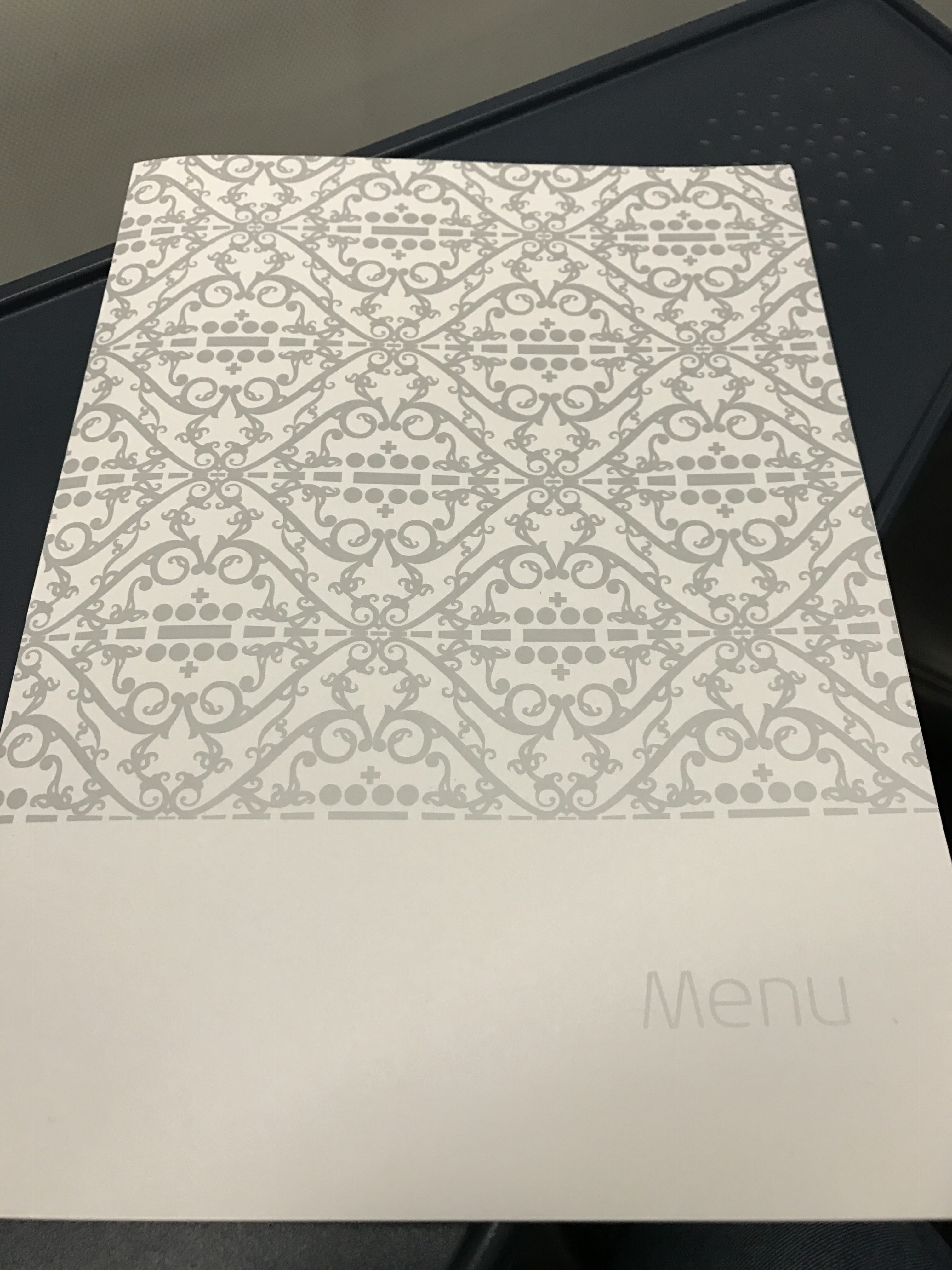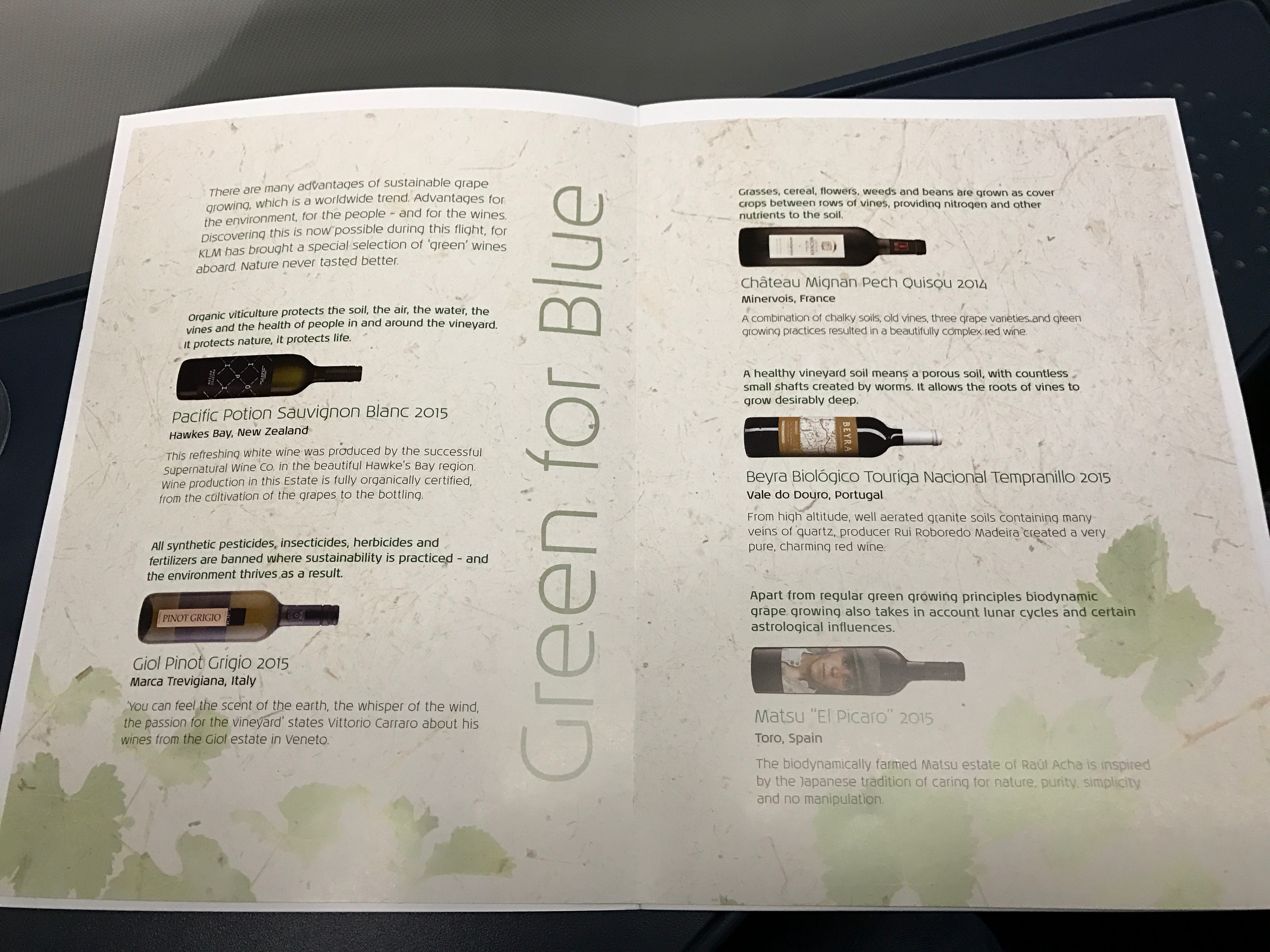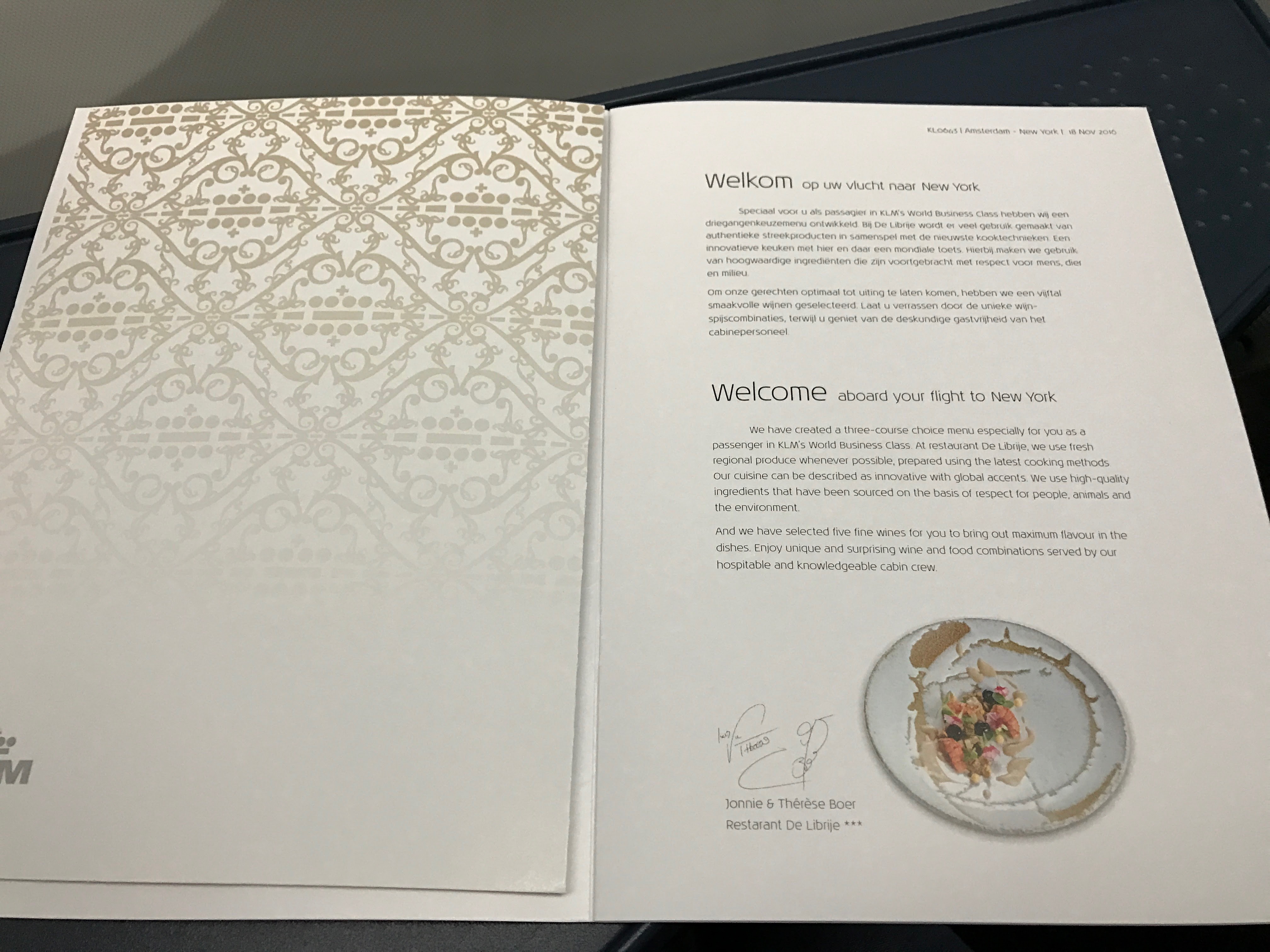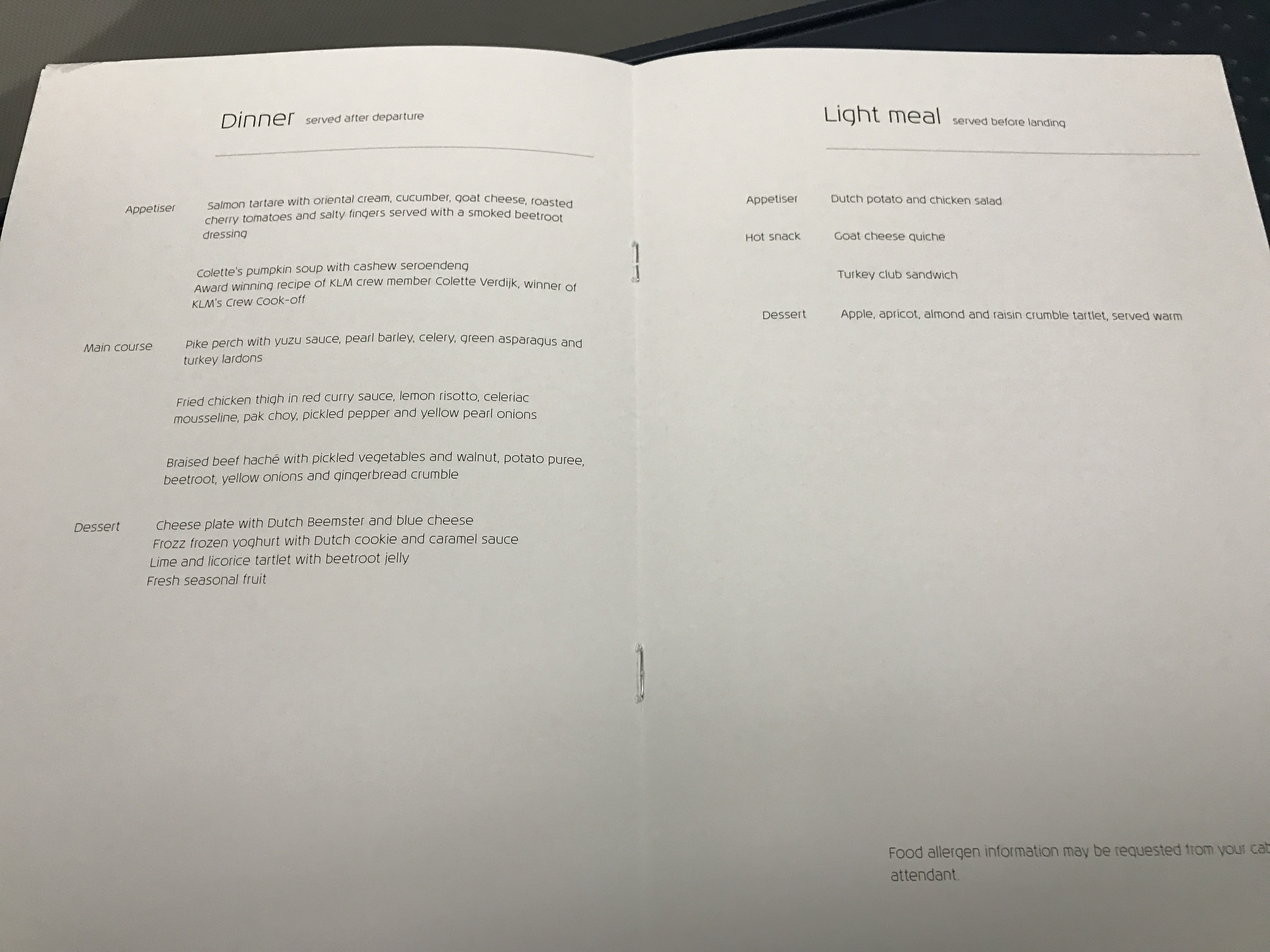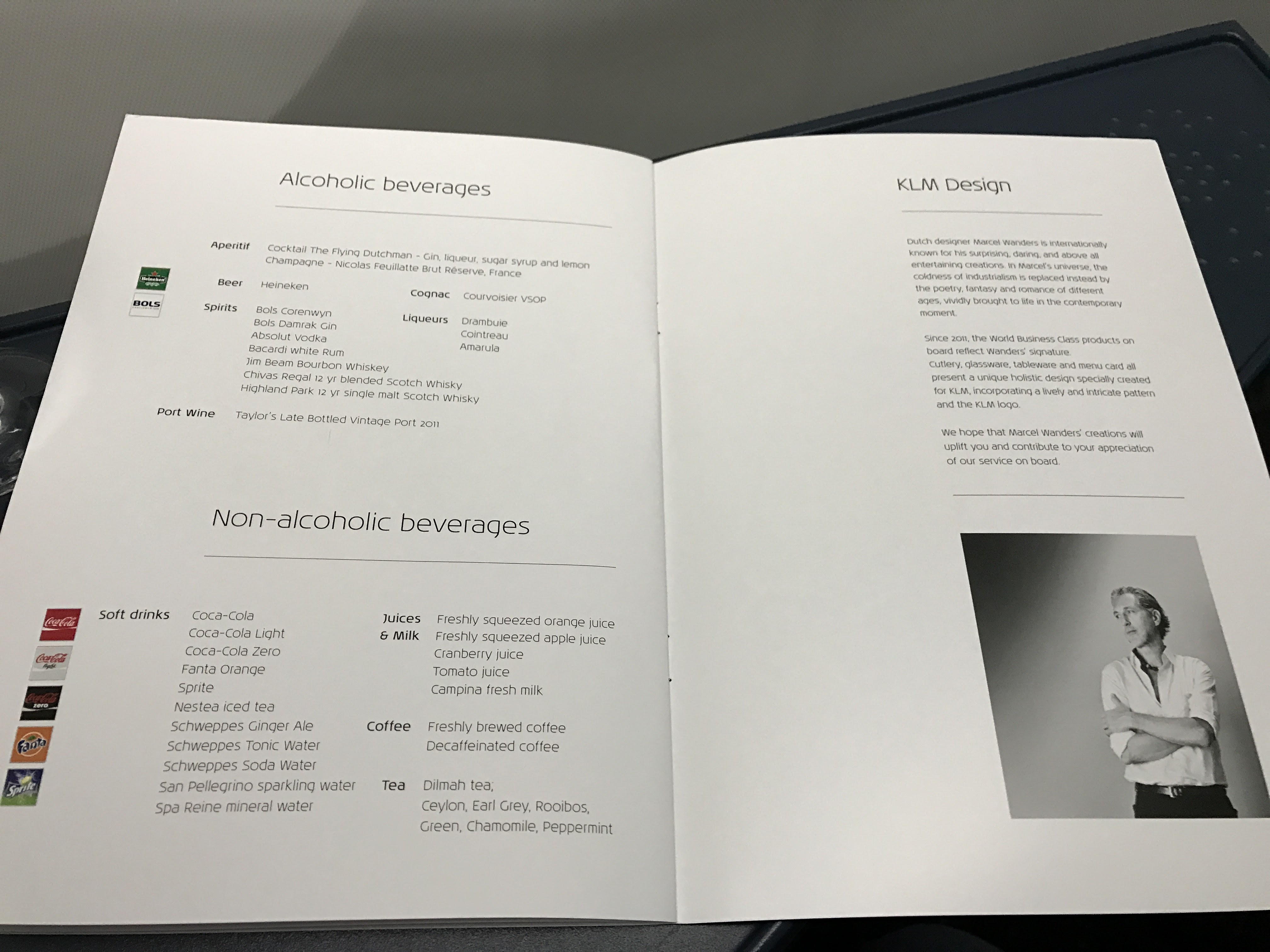 At the end of the day, it's generally upscale airline food and I think that blog reviews generally focus a bit too much on a meal of "OK" quality but of course I'll still show you the menu and the selections I ordered below:
The soup was delicious (and I am not even a pumpkin fan)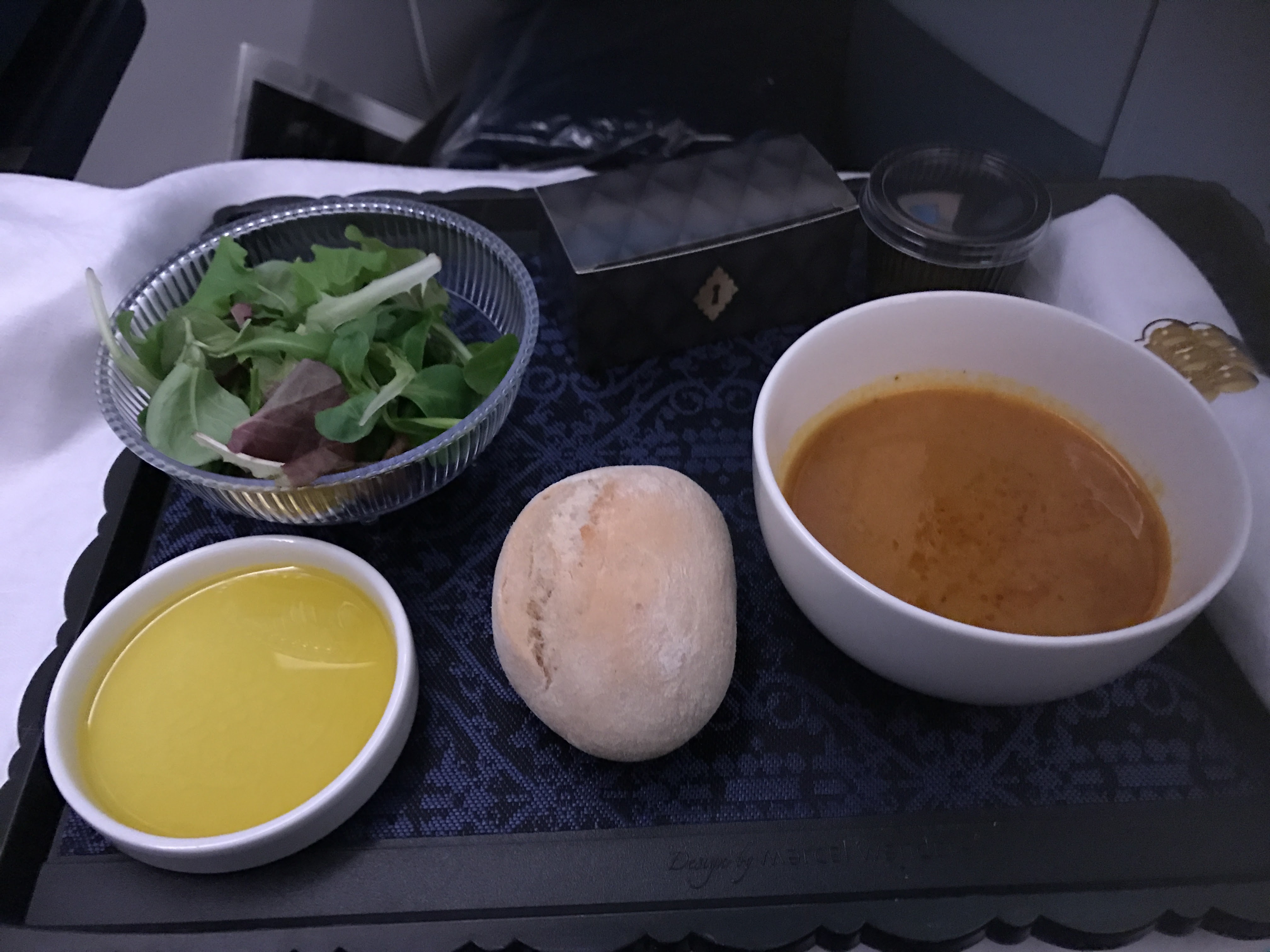 but the main left quite a bit to be desired.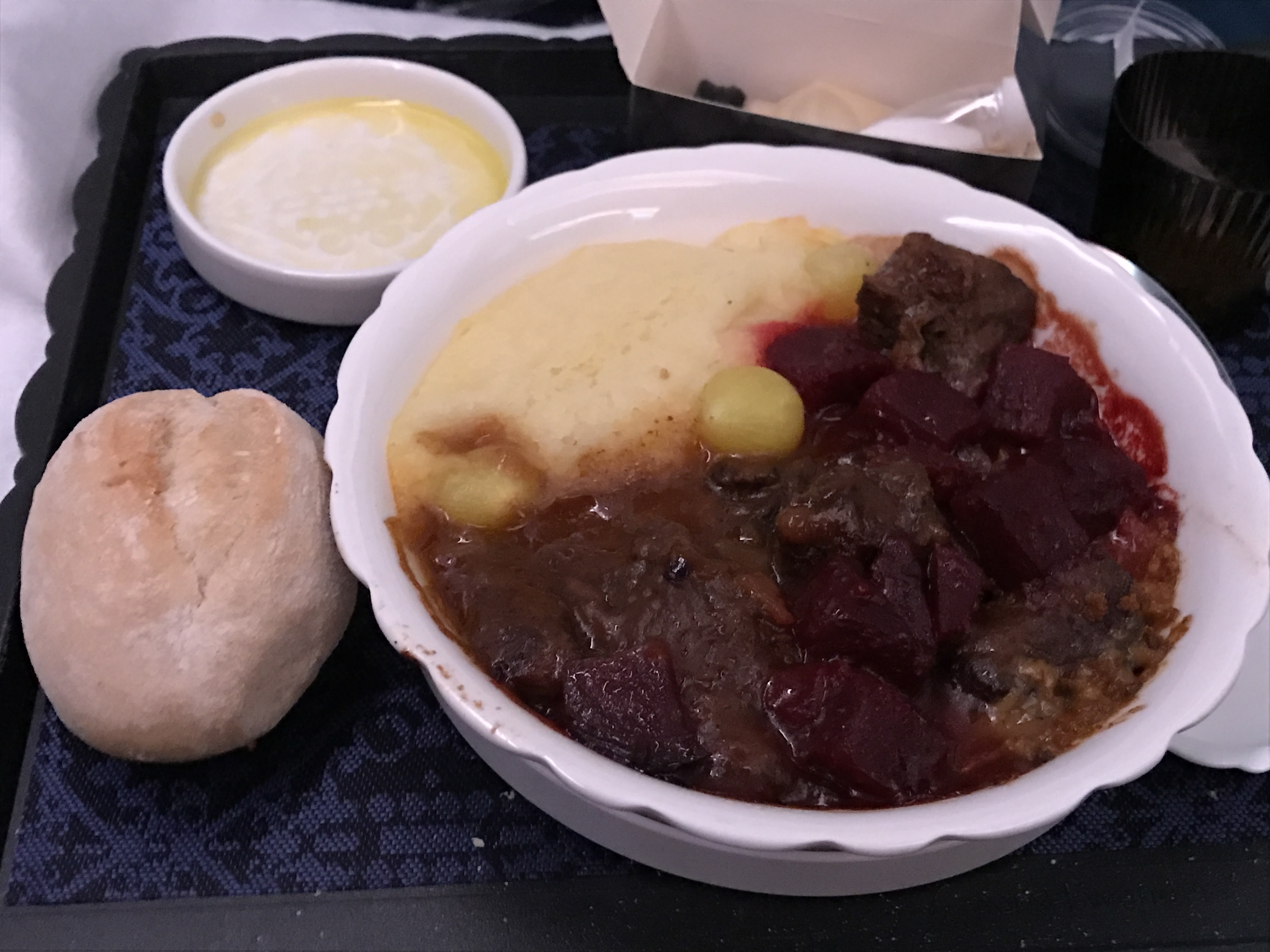 The beef was tough and fatty and the beet overpowered everything.
For desert I selected the frozen yogurt, not realizing it was of the bitter / tart yogurt variety you'd find at Pinkberry. Meh.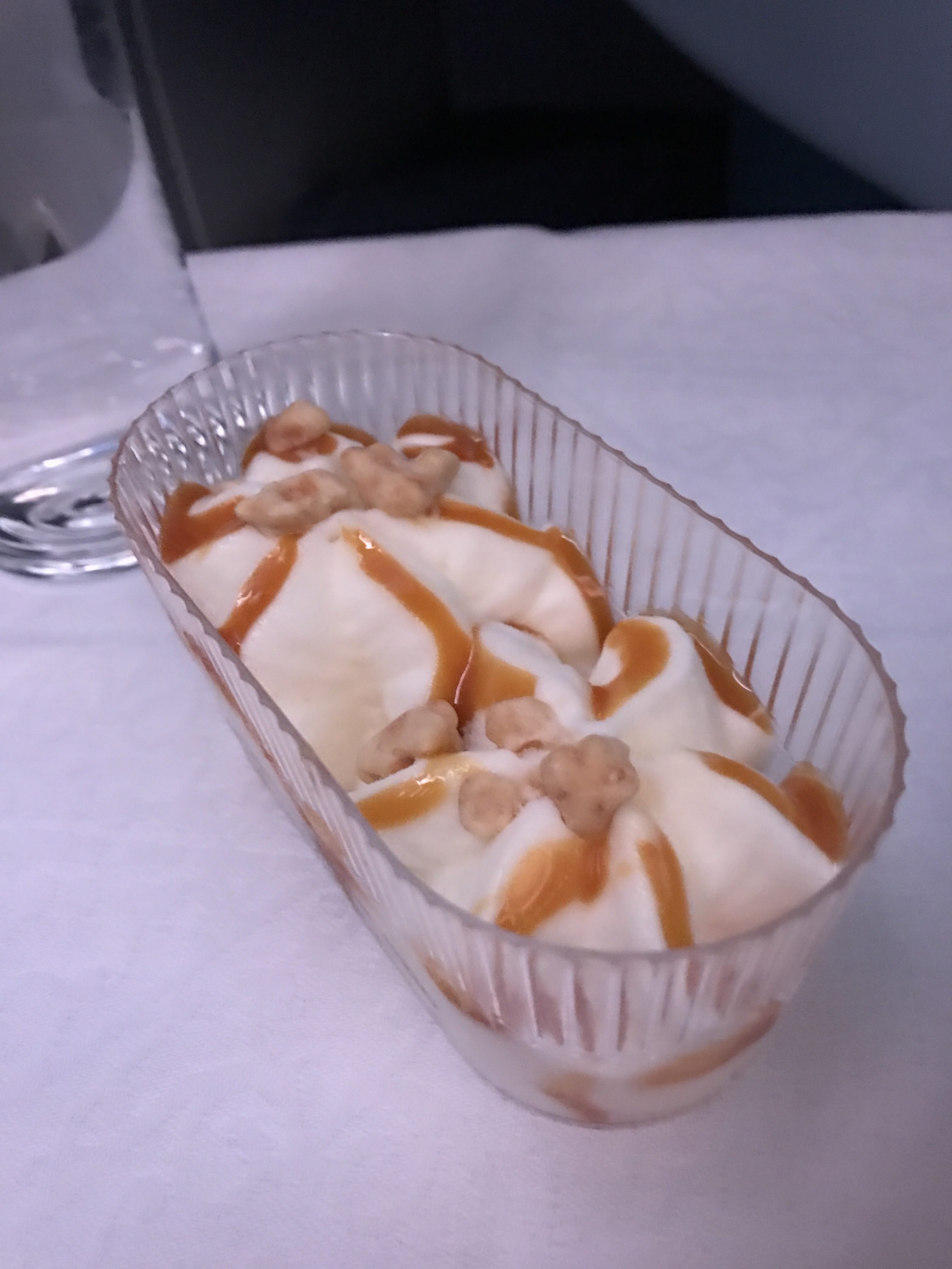 Prior to landing, I had the goat cheese tart -which hit the spot.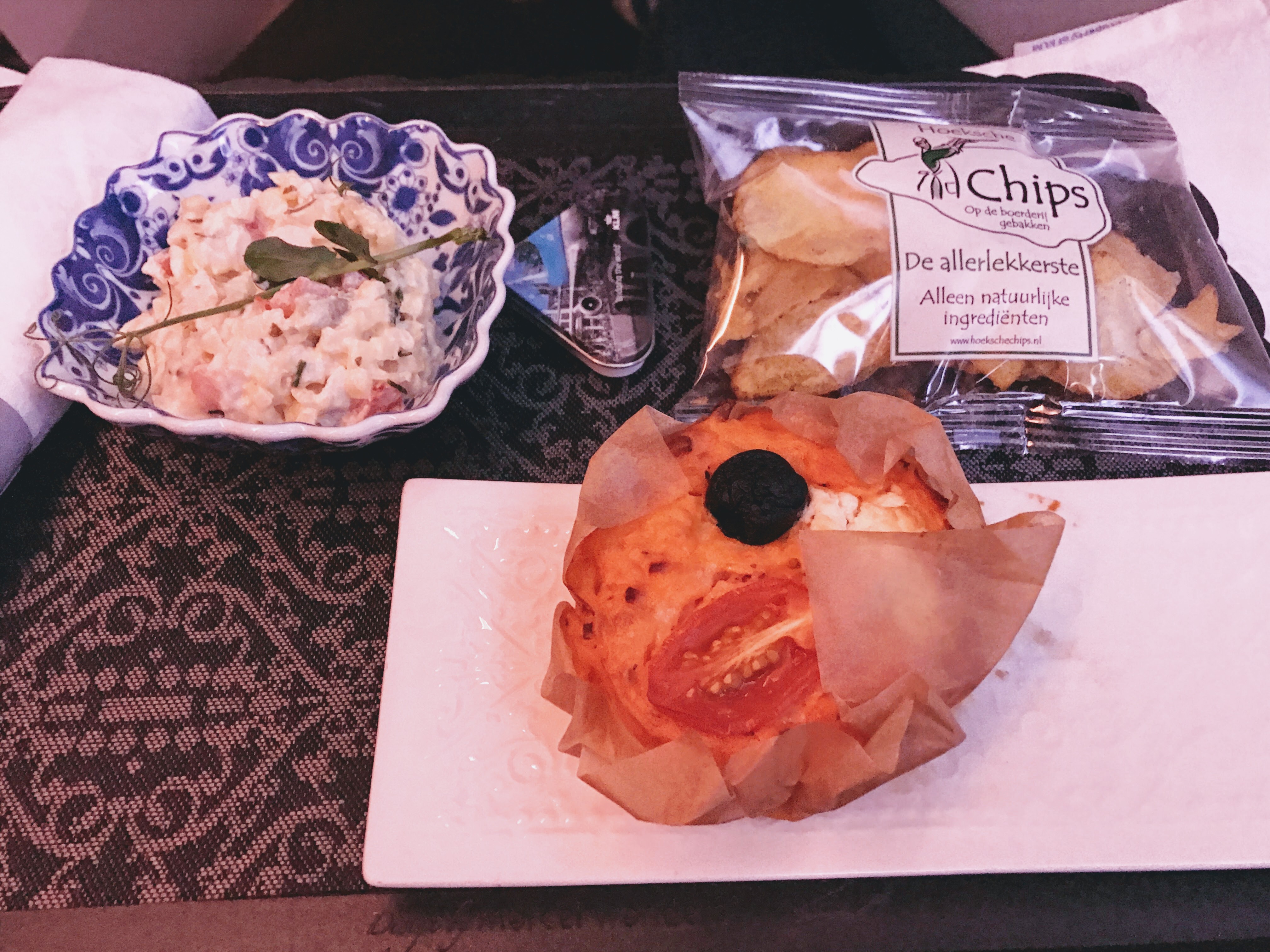 Notably, no snacks were passed around in between meals.
On board Wifi: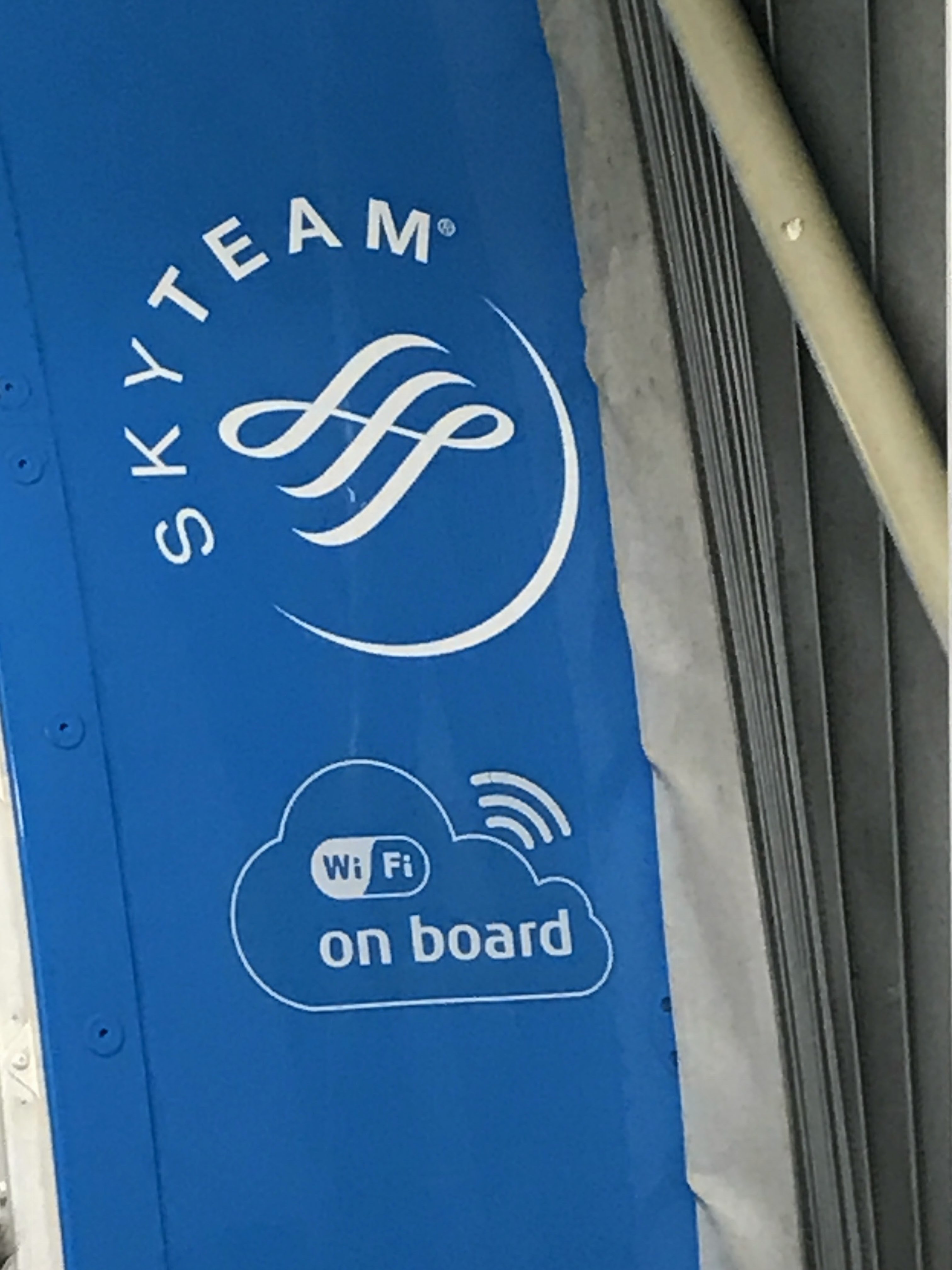 I was very excited for a trans-Atlantic flight with Wifi – a first for me.
But this Wifi system is very buggy and VERY expensive.
First, the bugs: It took me over two hours of trying to connect before I could even access the Internet to buy a pass. I kept getting a message that the connection attempt timed out. I tried on Mac, Windows, and an iPhone and the same thing kept happening. The purser came over and explained that some other people were having the same issue, but 78 people were currently connected. He said it had happened before on other flights and generally it "worked eventually."  That's not the reliability I want when flying for work and can really use the connection.
There's no way to live chat technical support (the system is Panasonic and proprietary) and the signup and sign-in process is beyond cumbersome – requiring you to create an account with Panasonic and then login each time, with a captcha, every time you want to conserve data…. Which brings me to the pricing structure:
You do not buy a pass good for the flight. Instead you buy one of three data packages  – Minuscule, Just more than minuscule, and Tiny, for 5, 10, and 30 Euro respectively.   The smallest plan gives you 20MB, the medium is 50MB, and the biggest is a whopping 150MB.  If you can't sense the dripping sarcasm in that "whopping," it is extremely sarcastic.
I bought the 10 Euro / 50MB plan which allowed me to check email 5 times, load Facebook twice, check stock quotes once, and read some notifications on my phone. One time I had logged into my phone with 25 MB remaining, had no apps open, and 5 minutes later (without loading a thing) I was down to 21MB.
So even on the 30 Euro plan, if I wanted to actually work, I'd have run out in 5 minutes of the way I normally work.
This really needs to be improved. I don't mind slow speeds, no streaming, etc – but I don't like spending my entire time online looking at each MB I consumed. If I get a work email with a 5MB attachment, I've just blown a tremendous portion of the package in one shot.
Long story short: It's nice to have the Wifi but don't count on it working nor on being able to do very much with it unless you want to keep re-upping at 30 Euros a pop.
All in all:
 It was a very nice flight and if you have to fly 8 hours, this is a great way to do it. I enjoyed the in-flight service from the crew, the food (overall if not each item), the seat, the entertainment, and at least a bit of Wifi.
For 70,000 miles I would not hesitate to choose the KLM 787 Dreamliner again for a trans-Atlantic flight in Business class.