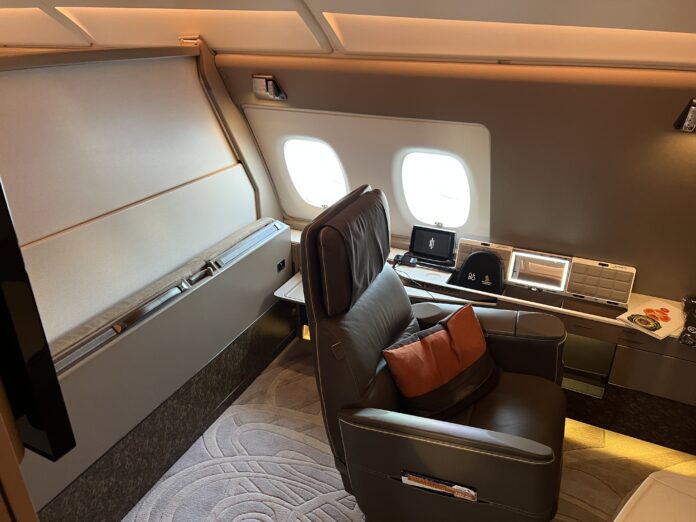 Review: "New" Singapore Airlines A380 Suites from Frankfurt to New York
This is going to be a very unique review that I'm pretty thrilled about.
Last December, there was a huge dump of award availability on the JFK-FRA-JFK Singapore Airlines flight in their First Class Suites. But this wasn't just the First Class Suites – it was going to be the new First Class Suites!
I booked September 26th, 2022 for my flight. I made a mini Euro adventure out of it, stopping for a few days in Poland to see some of my family roots before hitting up Oktoberfest in Munich for a day and then trying out the InterCity rail from Munich to Frankfurt where I had most of the day to explore. Previously, I've been to Frankfurt's airport 4 times, always staying at the Sheraton attached to the airport and never leaving the grounds.
MilesTalk Facebook group moderator A.R. booked the same flight the week before. And MilesTalk Facebook group moderator Tim booked the week after.
So I thought – why don't we all give our opinions on the flight?! Most of the pictures are mine, and the majority of the review is mine, but for each topic (Booking, Check In / Lounge, Suite / Lounger / Bed, Food, Service, and random thoughts in summary), there will be a section for each of their opinions as well!
It will be interesting to see where we agreed and disagreed – and in the process give you a much more balanced view of exactly what to expect.
Booking the Flight
Dave: I used 86,000 KrisFlyer miles and EUR €118 for this flight. Compare that with about $5,000 in cash!
You can transfer to Singapore KrisFlyer from every single transferable currency (except Bilt).
The price has increased since then and is now 97,000 KrisFlyer miles. Keep in mind that Singapore Airlines does not allow Star Alliance partners to book their longhaul First or Business Class.
A.R.: Mid December 2021, transferred 72k Amex MR transferred to SQ with a transfer bonus yielding 86k miles + €117.97 in taxes & fees.
Tim: Booked mid-December, 2021 with orphaned KrisFlyer miles from cancelled Covid-19 trip. Booked two Suites tickets for 86K miles + 117.97 Euro in taxes and fees per person (paid with Amex Platinum for 5X on direct airfare).
Check In
Dave: It's nice when you approach the Suites counter, because with only 6 suites, you are unlikely to wait in line – at all. I checked my bag and had my ticket within a few minutes and was advised of the lounges I could use – namely the Lufthansa Senator lounge or the Air Canada lounge. The people in front of me were just finishing up as I got there.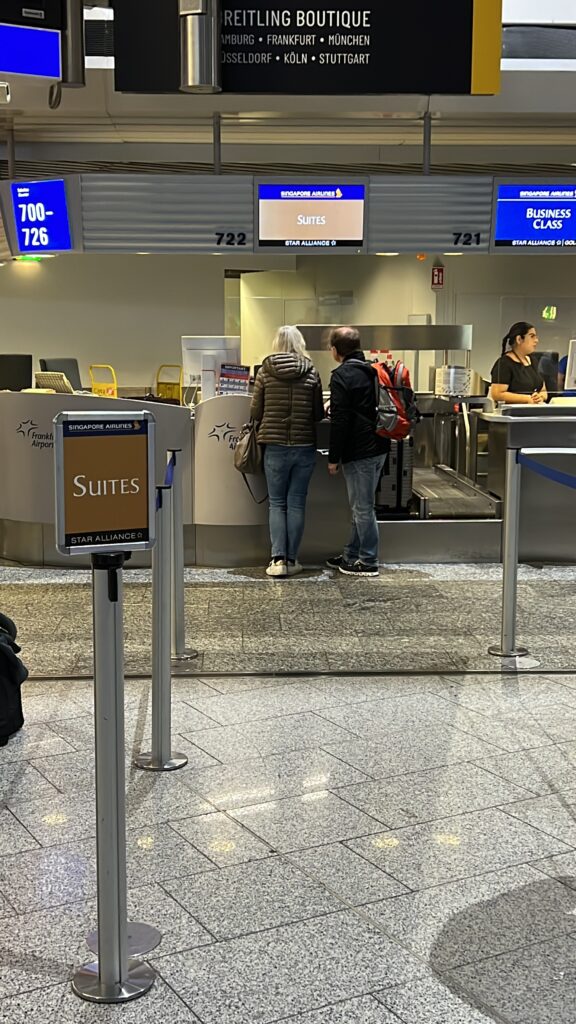 =
A.R.: The check-in experience was very smooth. Waited in line behind 1 other Suites passenger for a minute before being swiftly checked in and bag tagged as Priority & Suites.
Tim: Check-in was fast and efficient. Passing through both security and immigration took a bit of time (wish there was dedicated staff to escort you through both for faster times, but on a 5th freedom route it isn't expected).
Lounge
Dave: To be honest, neither lounge was amazing to me (we'll see what Tim and A.R. thought below!), but the Senator Lounge was quite nice, with spacious seats overlooking the tarmac and solid food. I enjoyed a pretzel, eggs, sausages and hash browns along with a nice iced coffee. I stayed at the Senator lounge the majority of the time but stopped by the Maple Leaf lounge for a moment after and it was pretty sparse, though clean.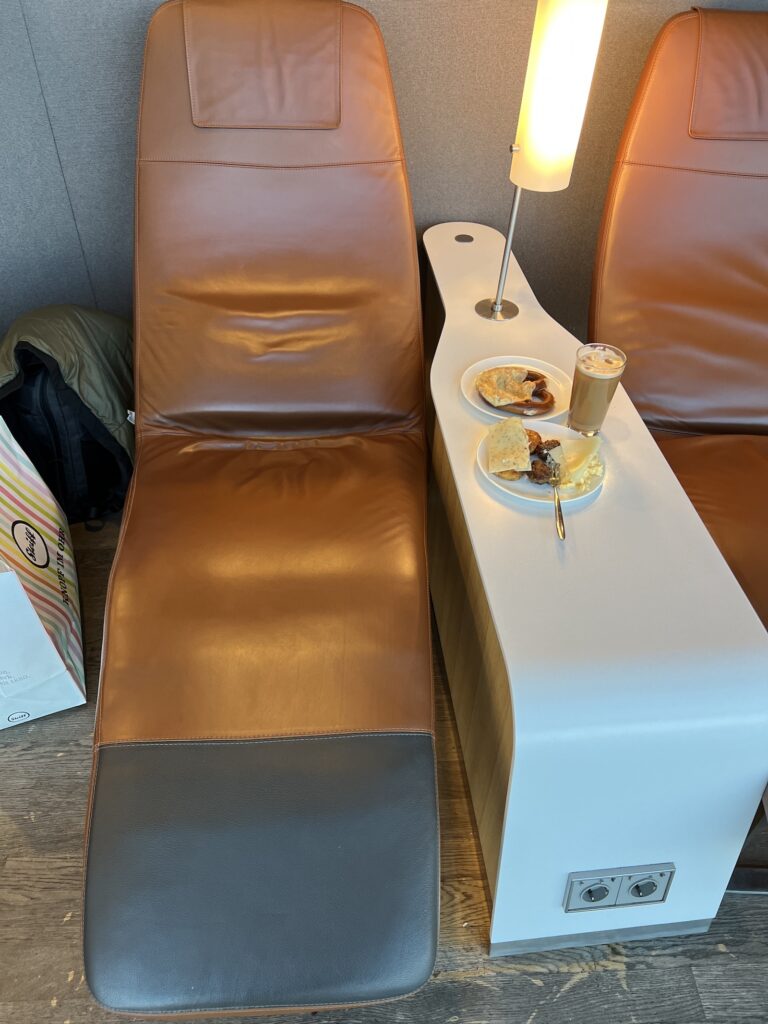 A.R.: Visited both the LH Senator Lounge & AC Maple Leaf Lounge. Preference for the LH Senator Lounge for having a fresher aesthetic while the Maple Leaf Lounge was showing more than wear & tear.
Maple Leaf Lounge had all the same food & drink as Senator Lounge and a few more options giving it a slight edge but wasn't eating to save room for the meals onboard… Or so I thought.
Staff at Senator lounge were standard German in efficiency and warmth while the AC club attendants were very nice and outwardly warm.
I went to the gate before boarding time to get the full experience but that was for waste. There was no separate call for Suites passengers to board and I ended up behind about 20 business class passengers. A first world issue but it does detract from the exclusivity of the Suite product.
Tim: One could visit both the LH Senator Lounge or AC Maple Leaf lounge (both are located within a couple gates of each other and near the departure gate). I opted to visit only the LH Senator lounge which was spacious and had decent breakfast options prior to the flight. It is an excellent lounge although maybe not quite First Class level at home airports for various airlines. I went to the gate after boarding had started. Suites ended up with 5 out of 6 filled the day I went out.
Boarding
First to board after special needs, etc and went right to the special jetway that leads t the Suites which are on the upper deck of the plane in the nose.
As I settled into my seat, I was forced to take some 2008 Dom Perignon… nothing like some premium champs at 8:00am 😉  A bottle of this would cost several hundred dollars.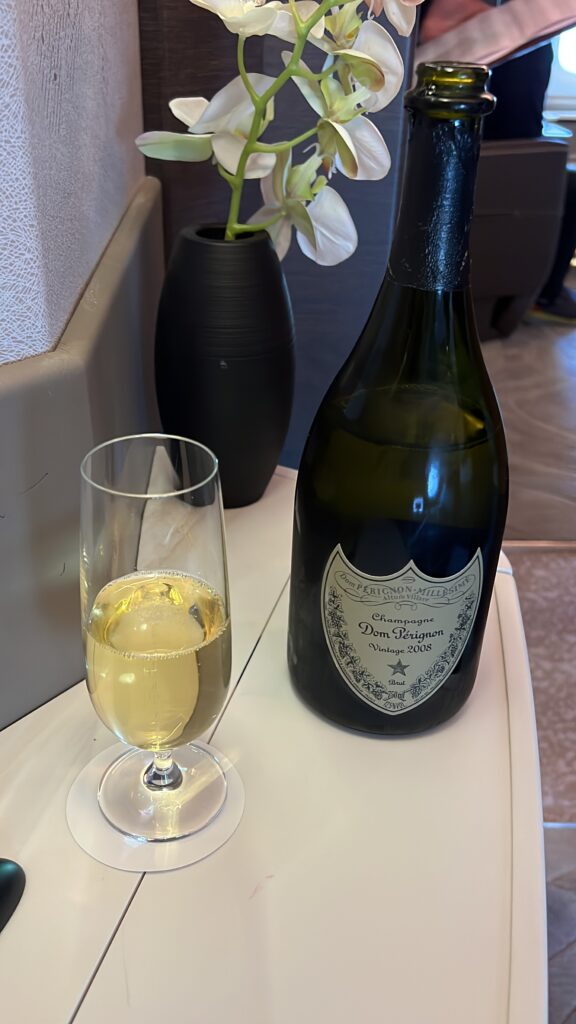 Suite / Lounger / Bed
Dave: When I booked, I chose Suite 1A in the front left corner of the Suites cabin. Suite 1A attached to Suite 1B with a divider and I was hoping that 2A would be empty and I could talk them into letting me have a double suite. However, that was not to be. In fact, the purser mentioned that he hadn't seen a single spare Suite in months. Fully booked!
Below are a zillion (seven) angles of the suite.
The layout really is stunning. You walk in to find the swivel chair, a small TV and a big TV (and a tablet), and the entirely separate bed that they turn down when you are ready for bed. They provide pajamas (as all reputable long-haul First Class cabins generally do!) and while I meant to change into them, I wound up only having 15 minutes to nap because of all the work I was doing for this review! In hindsight, though, I should have skipped that meal before landing in favor of more rest, because as I'll show you below, it wasn't worth it.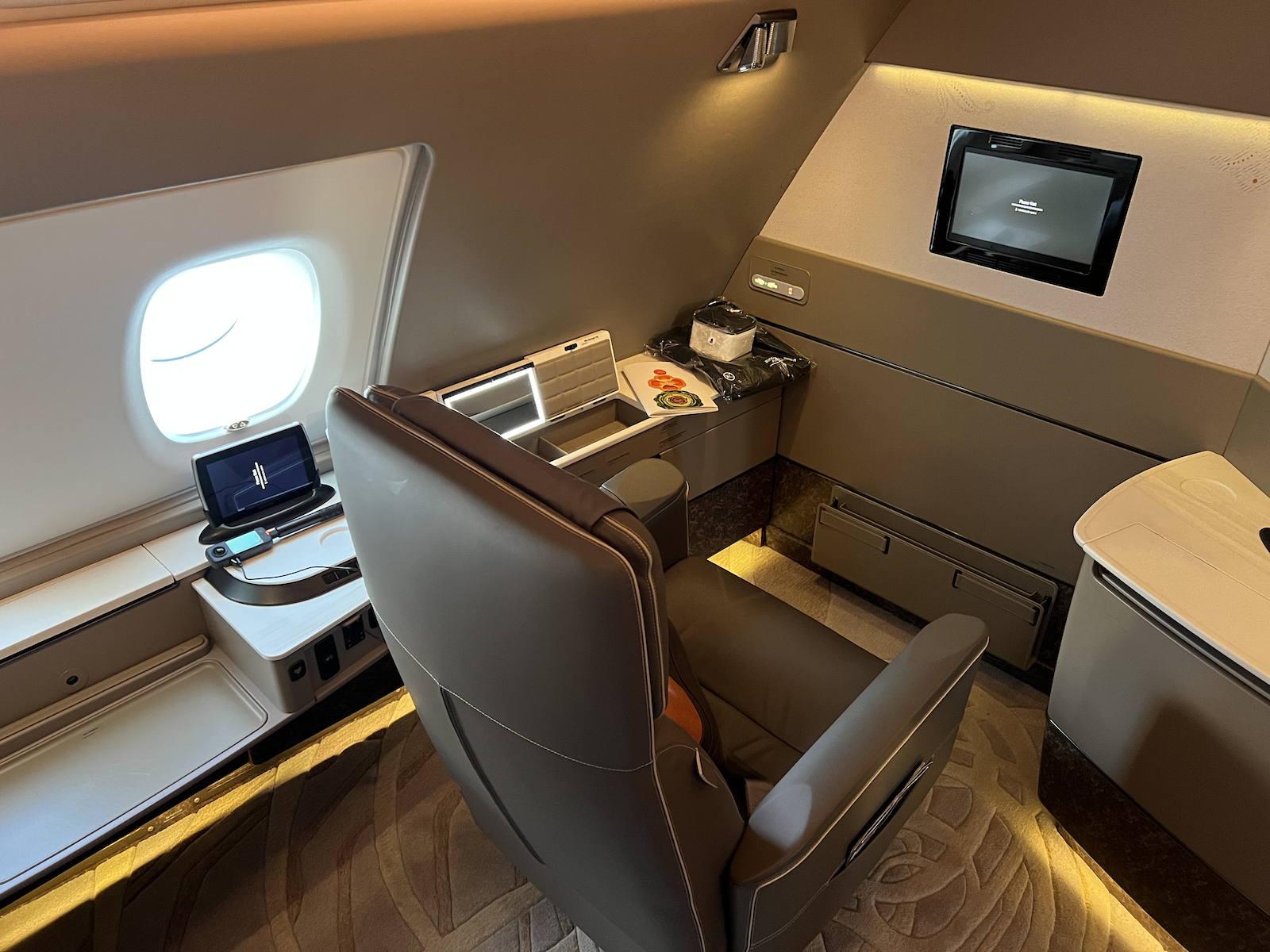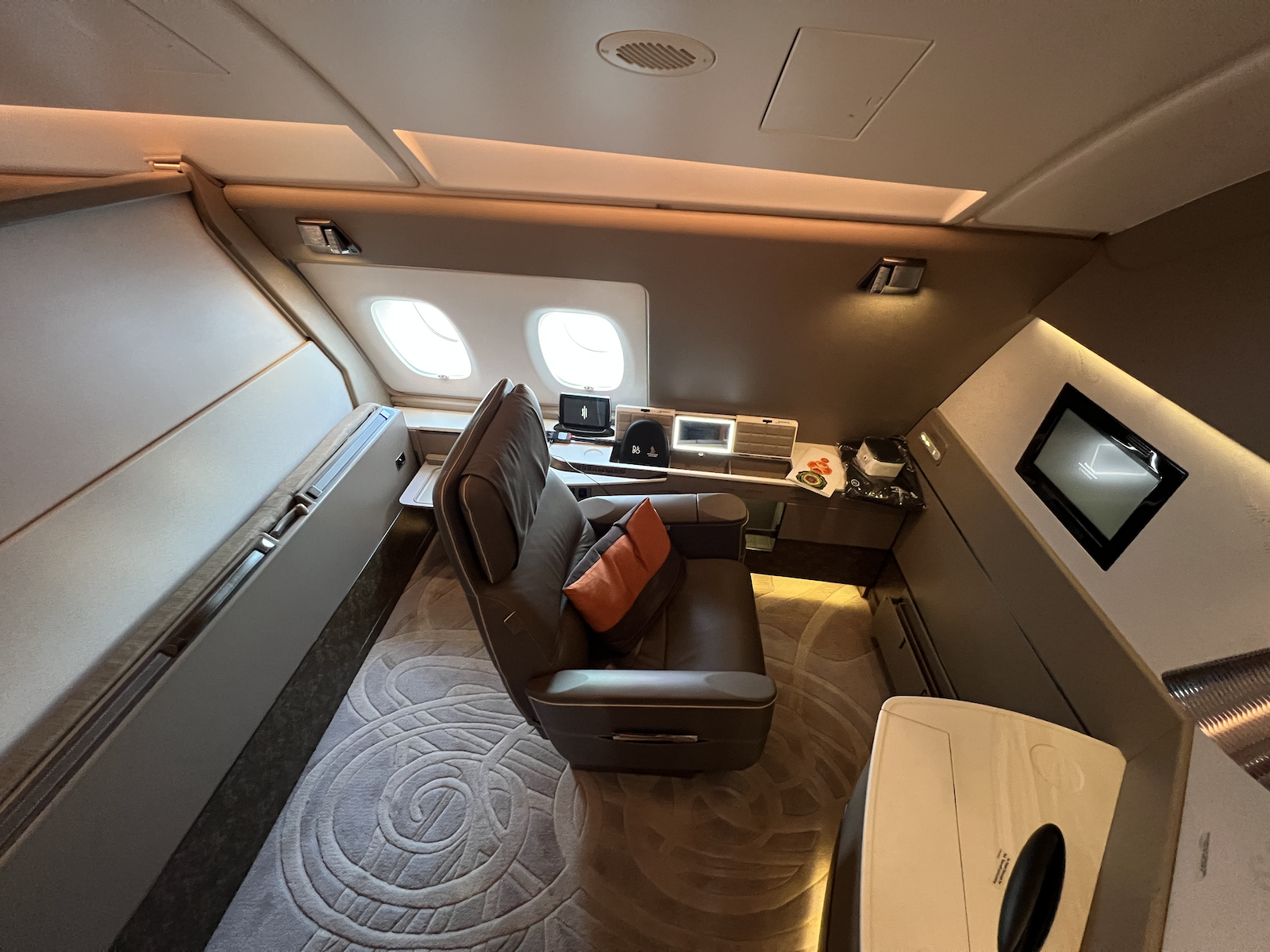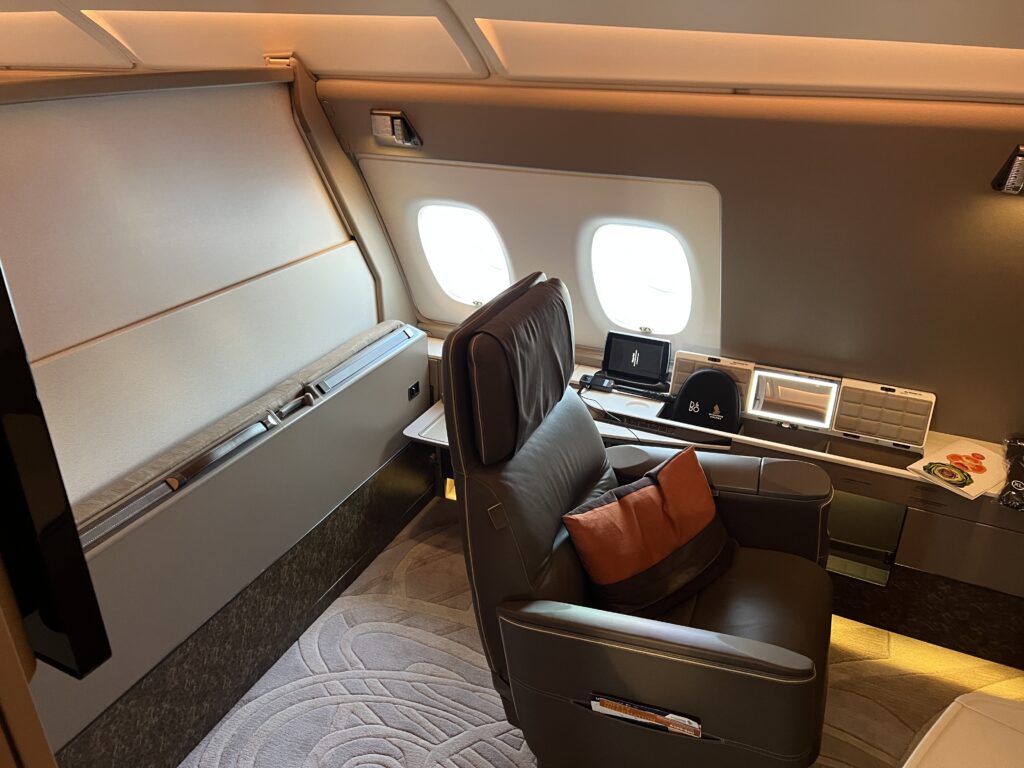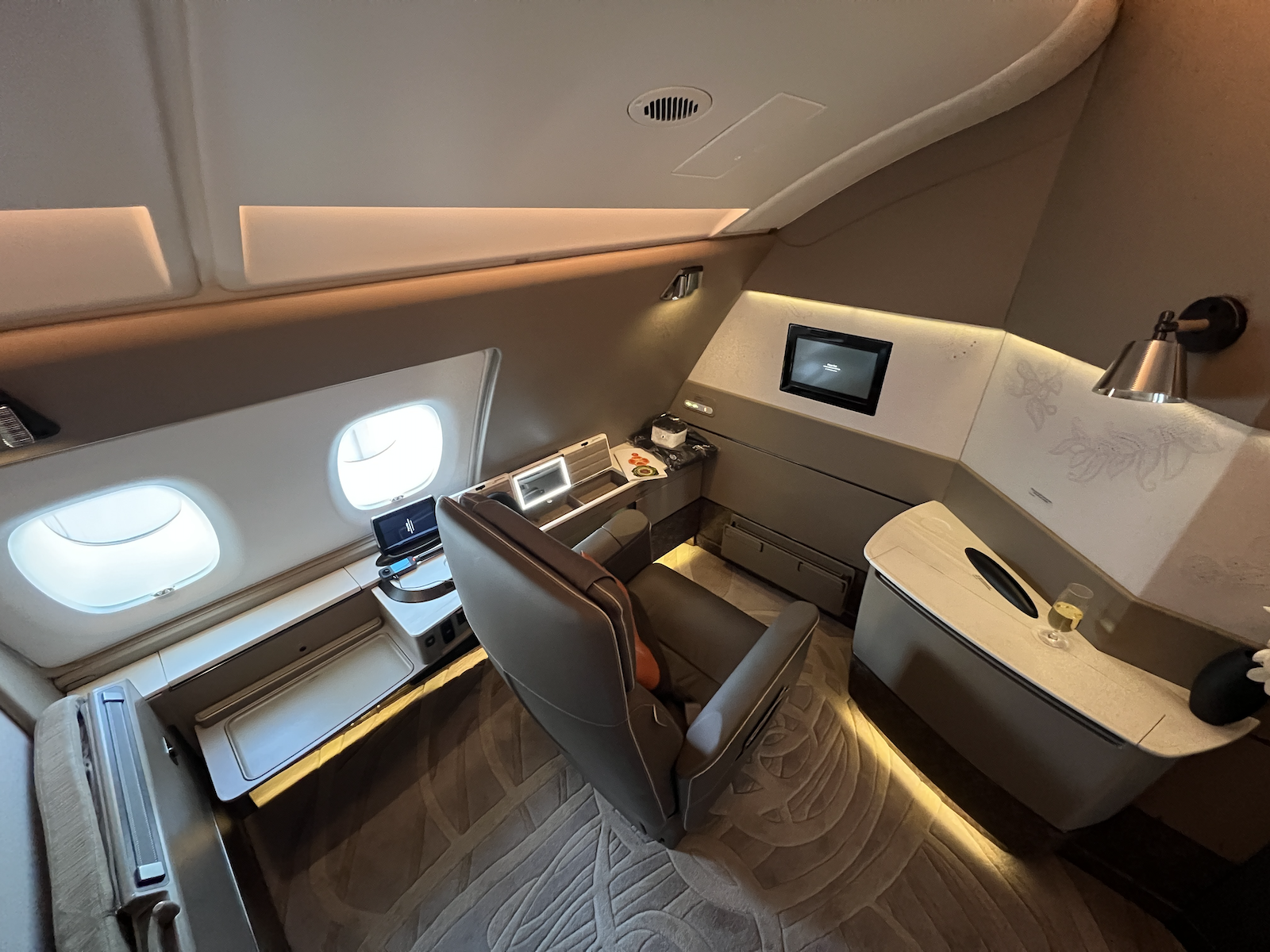 It really felt like they thought of (almost) anything. The TV would power swivel to meet the line of sight from your recliner. You could point your recliner for the dining table that came out of the side of the suite, or at the TV, or anywhere. The TV was gigantic.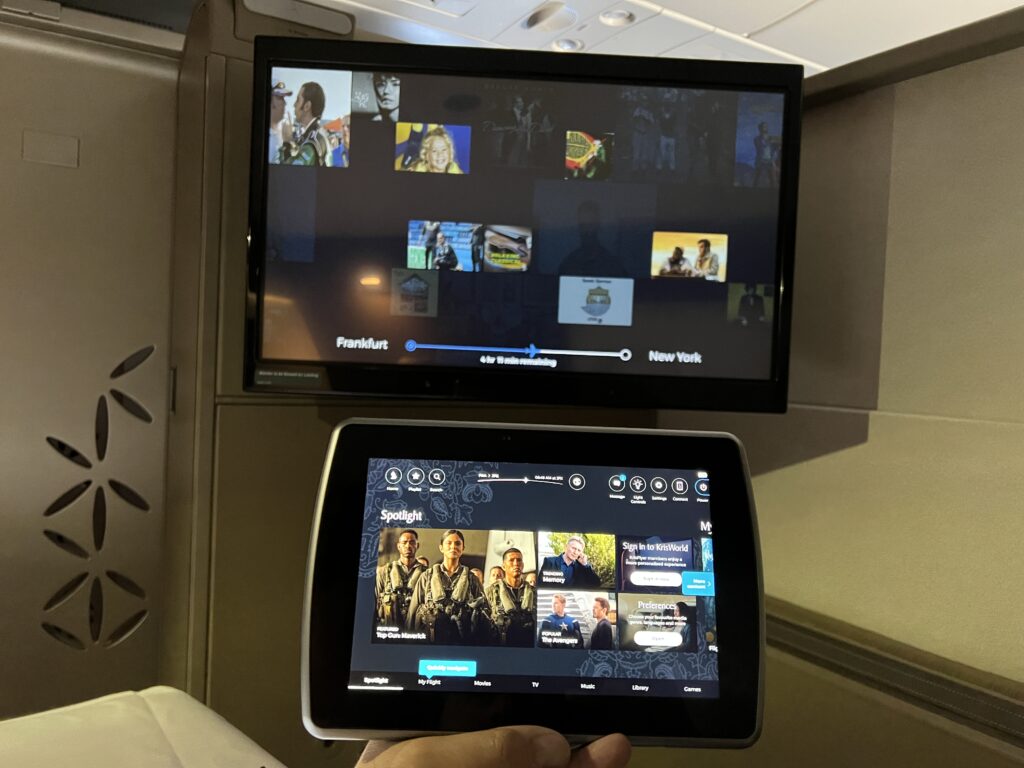 The bed, completely separate from the seat, was comfy and the only other product I have flown with this feature is the Etihad Apartment.
Here's the bed being made up and me getting ready for a nap:
View this post on Instagram

And as you'll see with Tim's review below, the ability to combine two adjacent suites (at the bed) is awesome for couples.
Just note that the closing door on the suite is completely see through 😉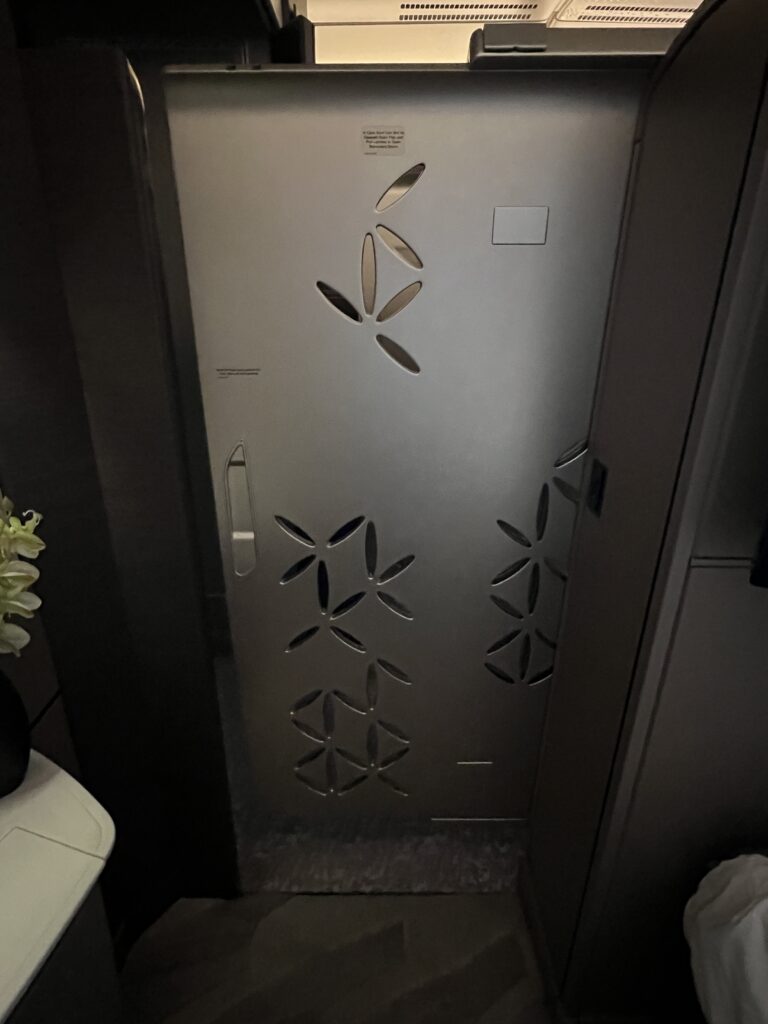 Everything was well considered, with plenty of power charging spots (plugs and USB) and storage. There was no overhead bin, but rather a closet at the entrance to the suite that could fit your carryon and coat.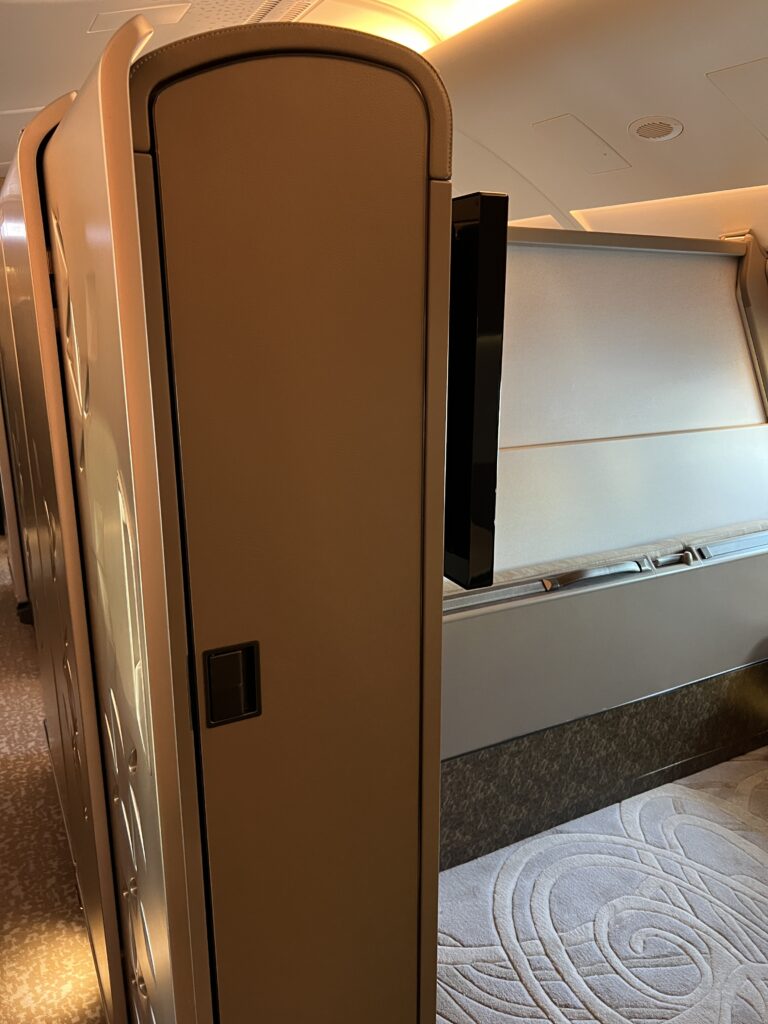 One minor complaint: the recliner is not perfectly bolted down. When we hit an extended period of turbulence, I was rattling for quite some time which made me quite nauseous. I've heard this complaint from others, so it wasn't just my seat. Otherwise, I found the recliner to be extremely comfortable for all purposes (lounging to watch TV, working, or dining).
The amenity kit was incredibly lackluster and not even worth discussing but Bang and Olufsen headphones were provided and worked great.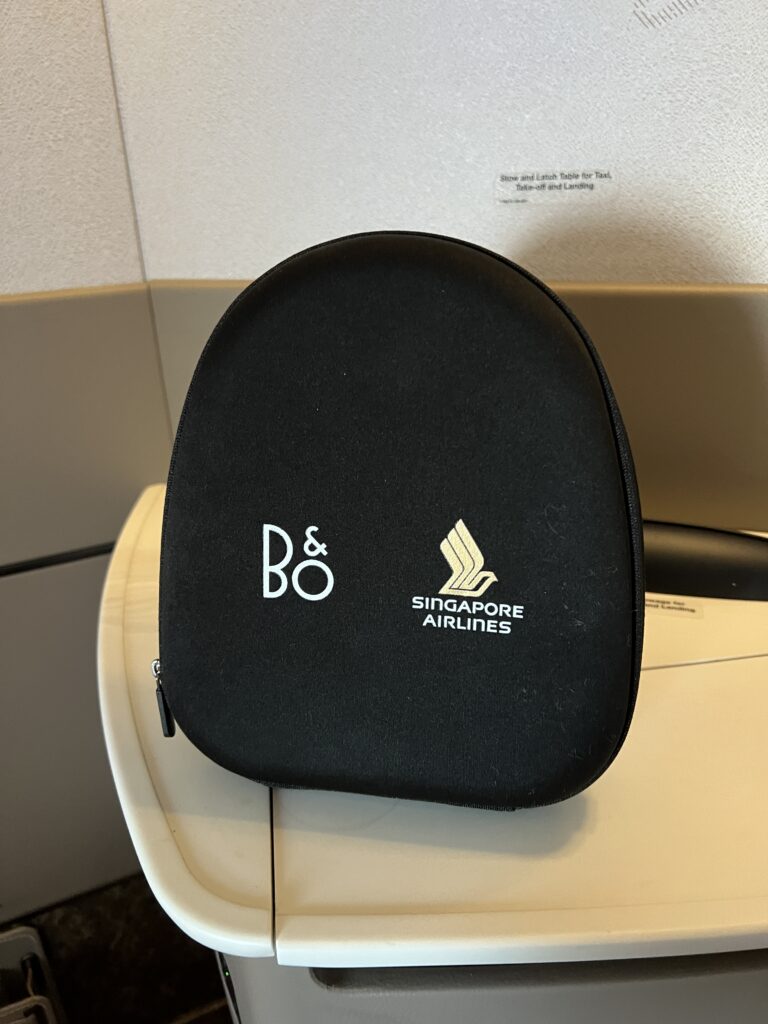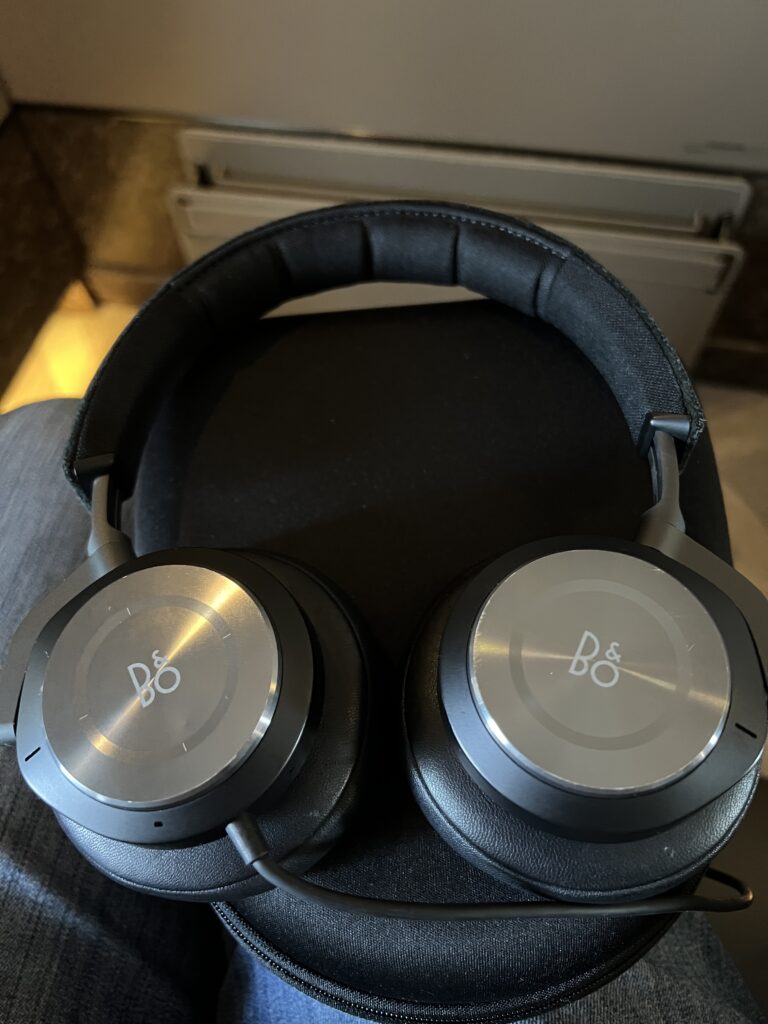 A.R.: I had Suite 2K which in the end I preferred over the design of rows 1 or 3.
The setup allows for viewing of the TV throughout the entire flight. The seat has a slight wobble left & right but I didn't notice it much.
The bed was comfortable for those that like a firm feel. I slept 2 hours in it which was aided by lots of Krug.
My tablet kept getting locked into its holder and a few times randomly but FA reset the system and it worked fine the rest of the flight.
Overall the whole suite setup is a massive amount of space and makes for a very different premium cabin experience. Lavs were huge & cleaned throughout the flight.
Tim:  I was in Suite 2K while P2 was booked in Suite 1K. Rows 1 and 2 can be combined into a double suite with the divider put down. The flight attendant asked if we would like the divider down upon arriving at our seats and happily obliged. The Suites is a unique F experience with ~50 square feet of real estate for each Suite. Rather than having a seat that turns into a bed, each Suite instead has a seat and then a separate bed that folds out from the wall. The seat itself is well padded and can swivel in any direction and can recline quite a bit.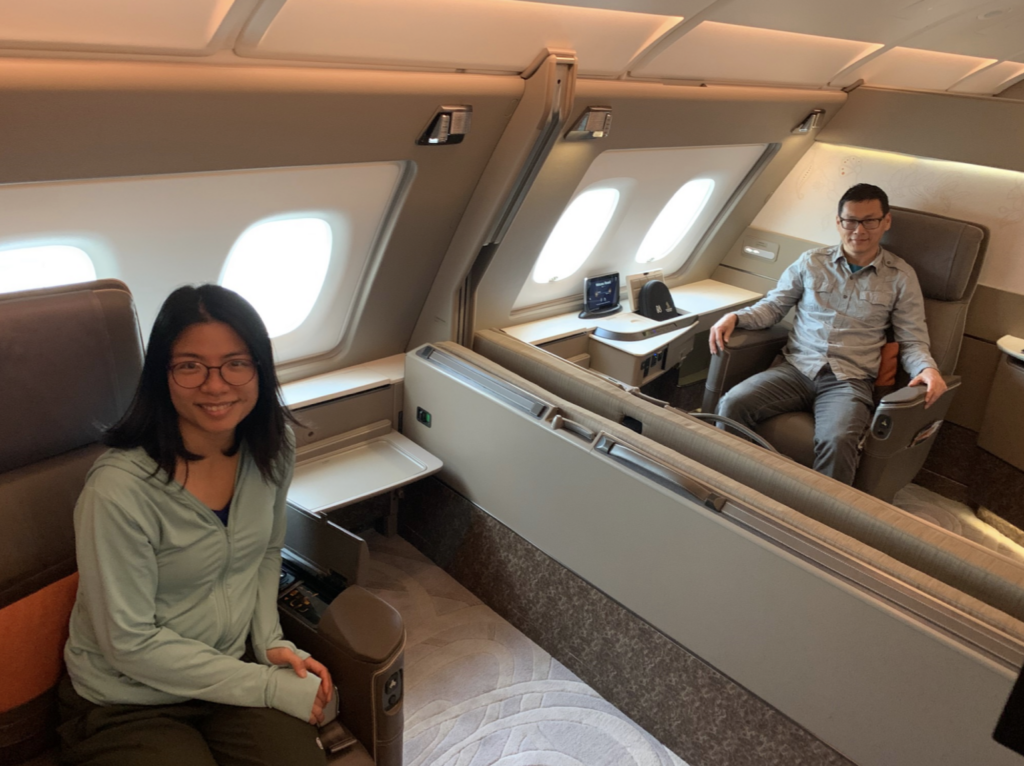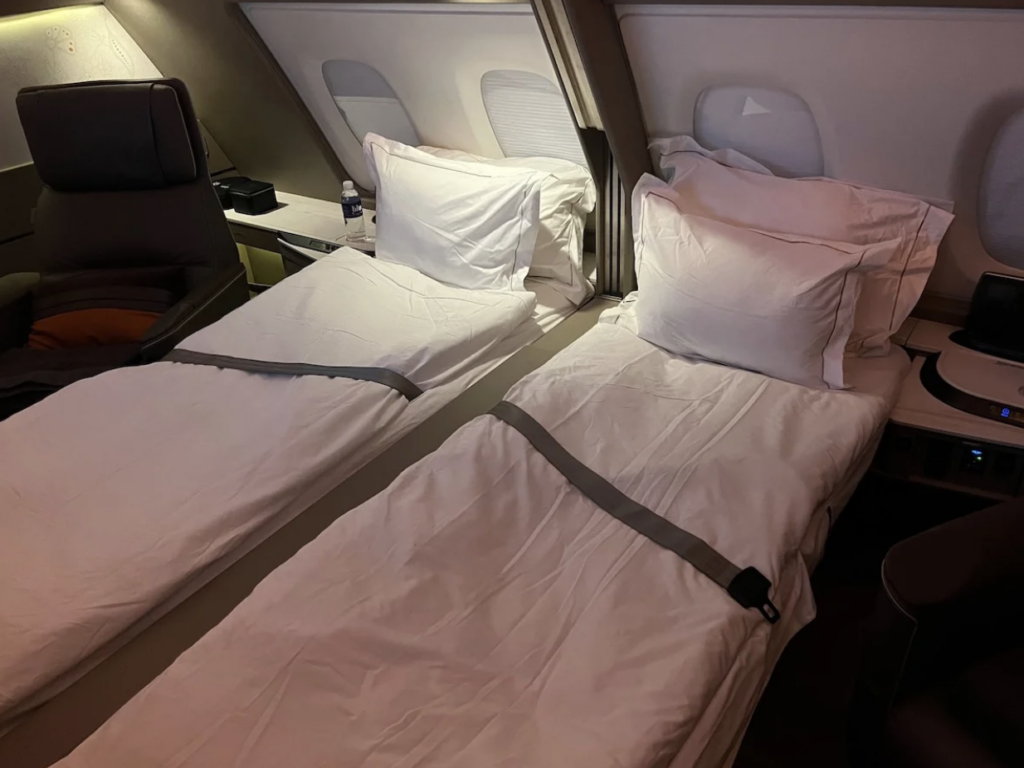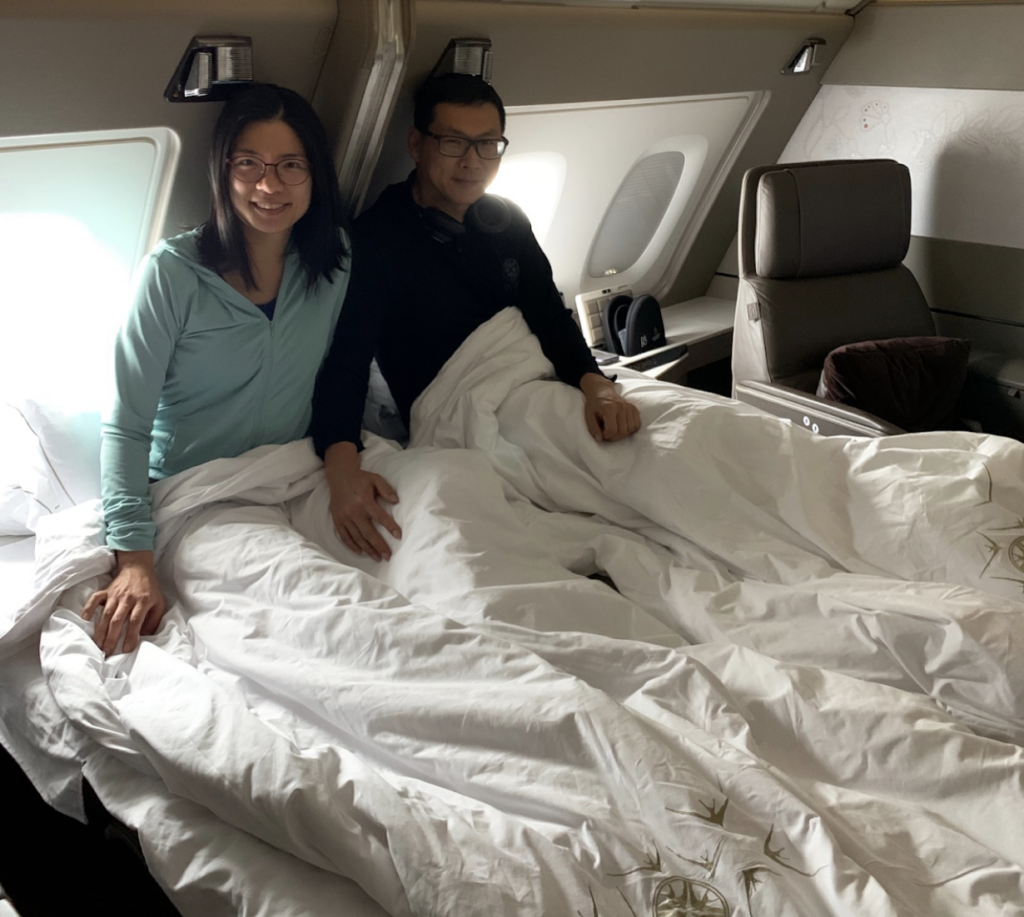 There is a large 32" TV mounted next to the door above the bed. The TV also swivels so that you can enjoy viewing from either the bed or seat. In the first row, there is also a smaller TV in the front for take-off and landing as the seat is required to face forward during that time.
Right near the door there is a small closet which is large enough to put in a small carry-on and/or backpack, and to hang your clothes should one wish to opt changing into PJ's. There are two bathrooms in the forward cabin area, the one on the right side (K aisle), is particularly massive.
Food
Dave:
First, I want to note that the menus are greatly abbreviated at this time as compared to pre-COVID. Normally, I would have taken advantage of the "Book the Cook" feature, where you pick from a custom menu of meals that is catered only for your individual order. When I flew this route in 2017, there were so many Book the Cook choices I liked, I had trouble picking one, while this time there were only around 5-6 options on the Book the Cook menu and none wowed me. Most people book the Lobster Thermidor and that was notably absent from the Book the Cook menu as well.
So, I decided to just go with whatever they catered on the regular menu this time.
Let's start with the menus: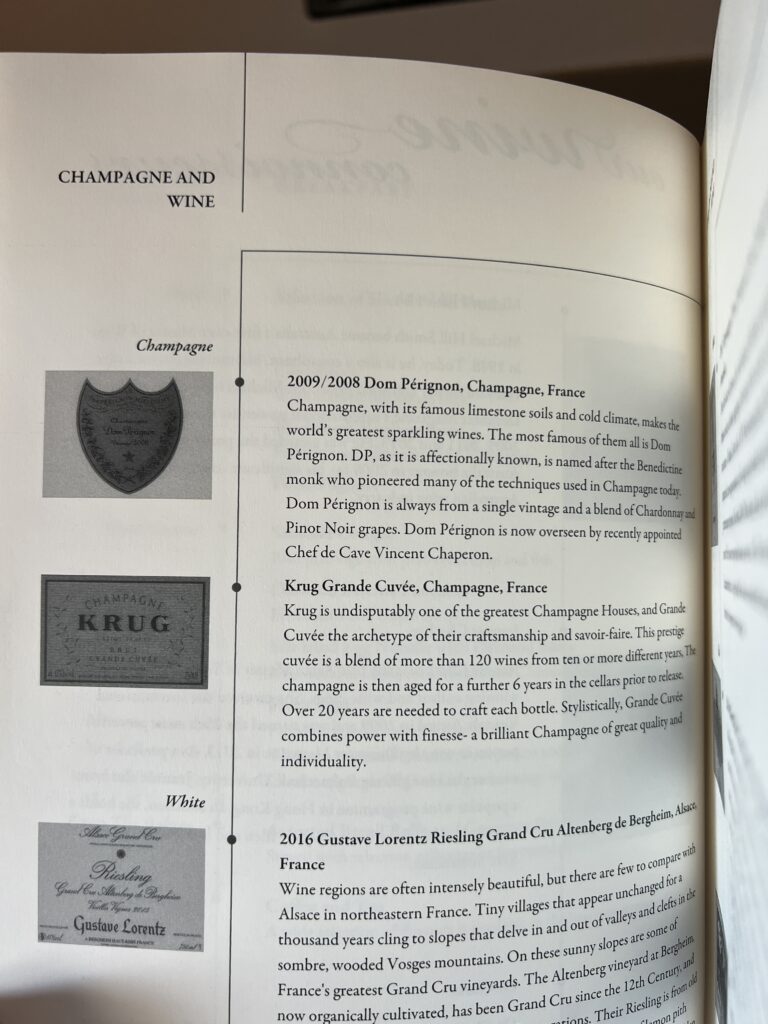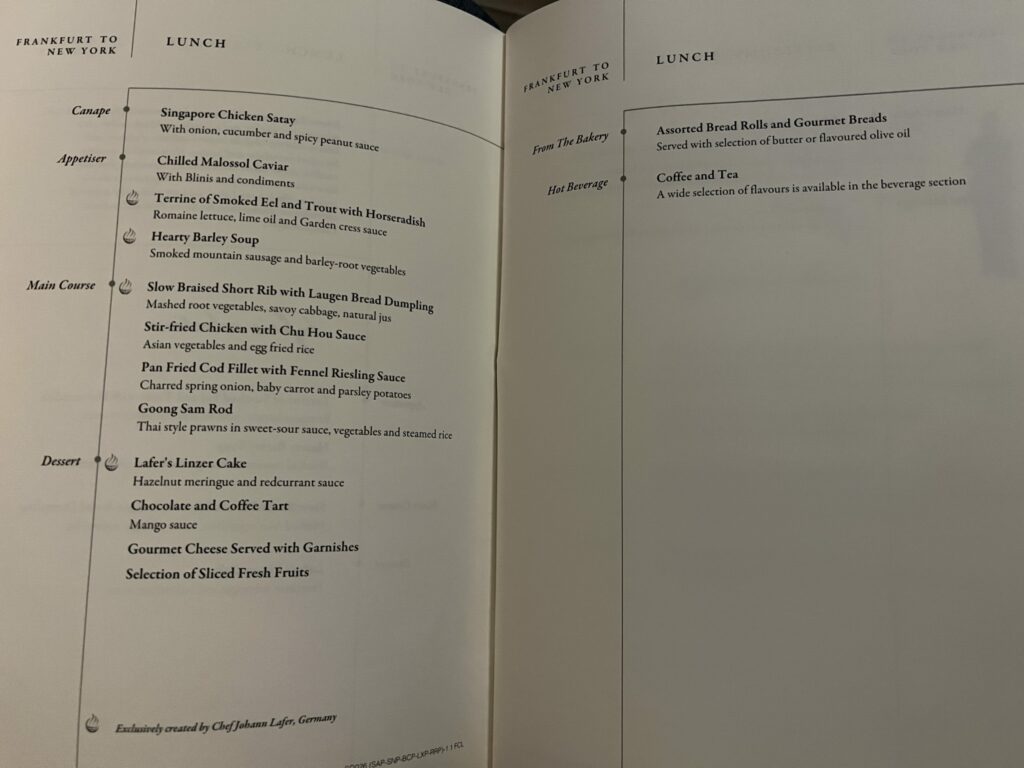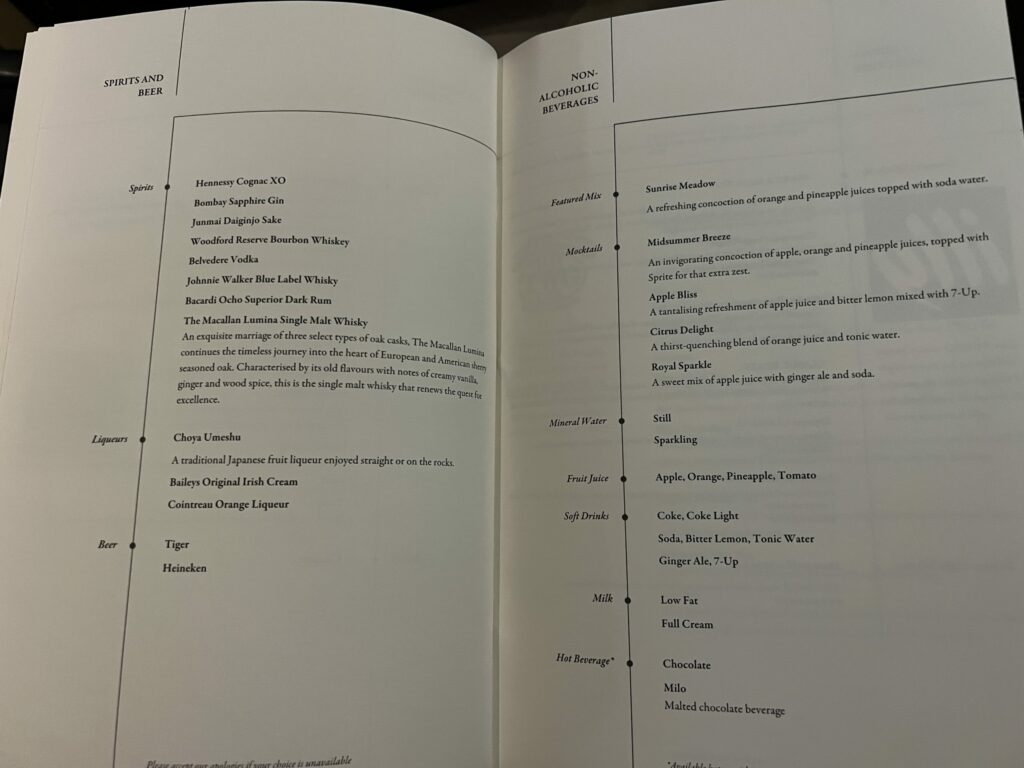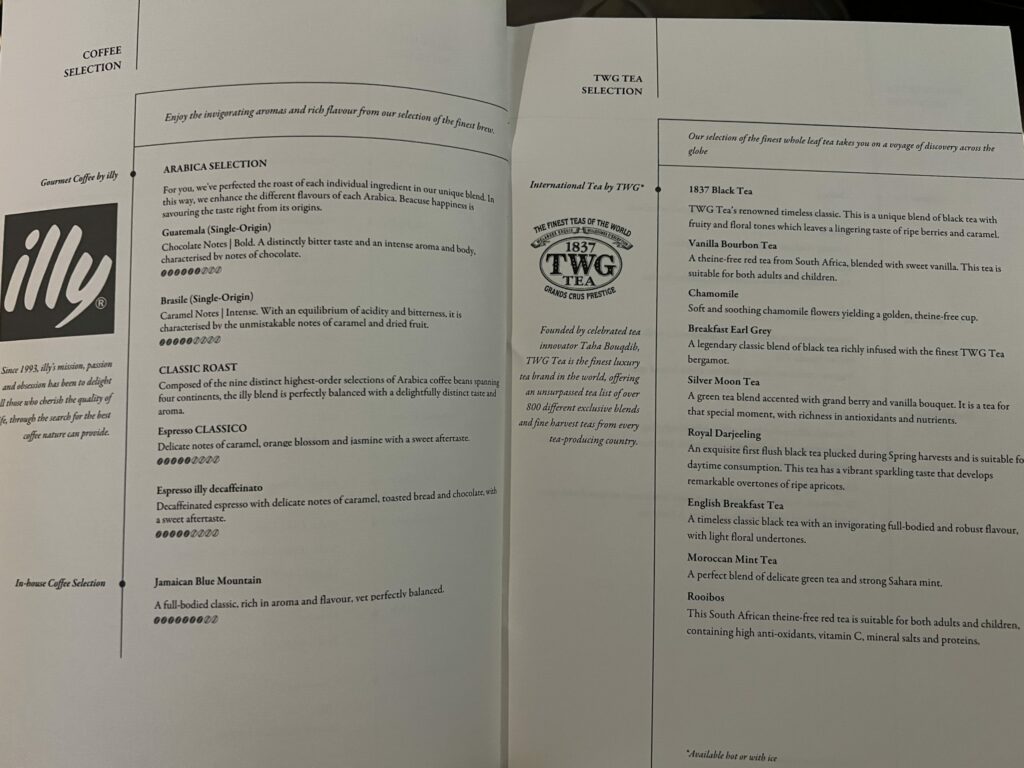 OK, I personally find it to be mind numbing to post the menu pics, but if I don't. people ask for it so there you go.
Now on to the FOOD.
The starter, the chicken satay, is fantastic. Probably the food highlight for me.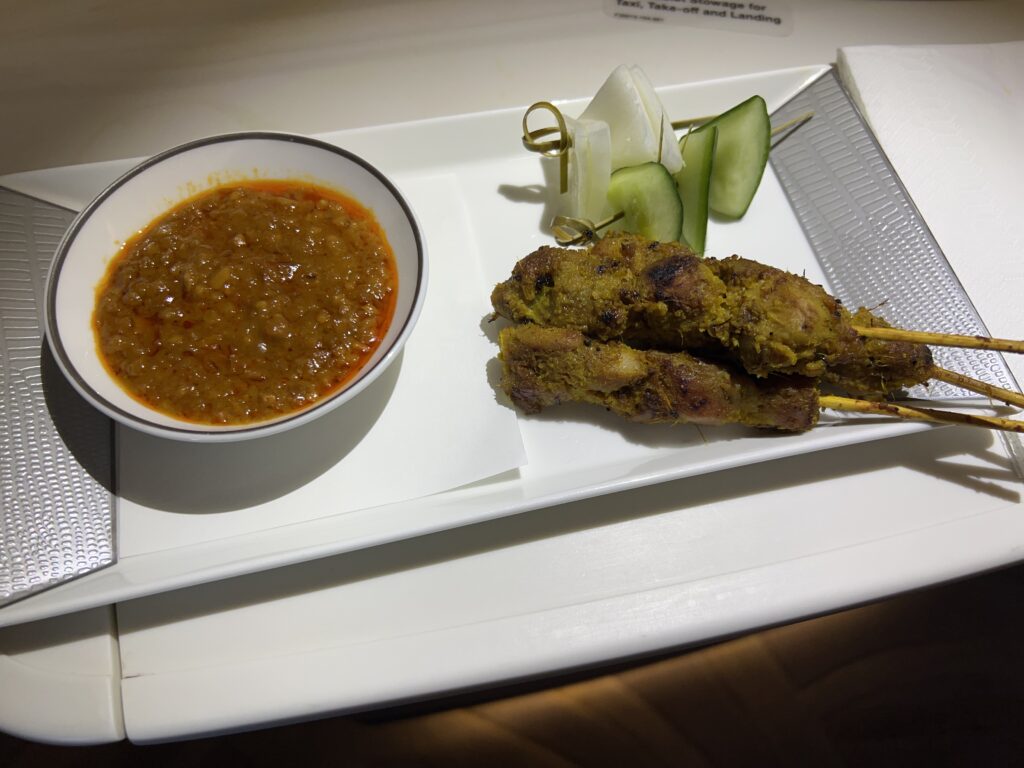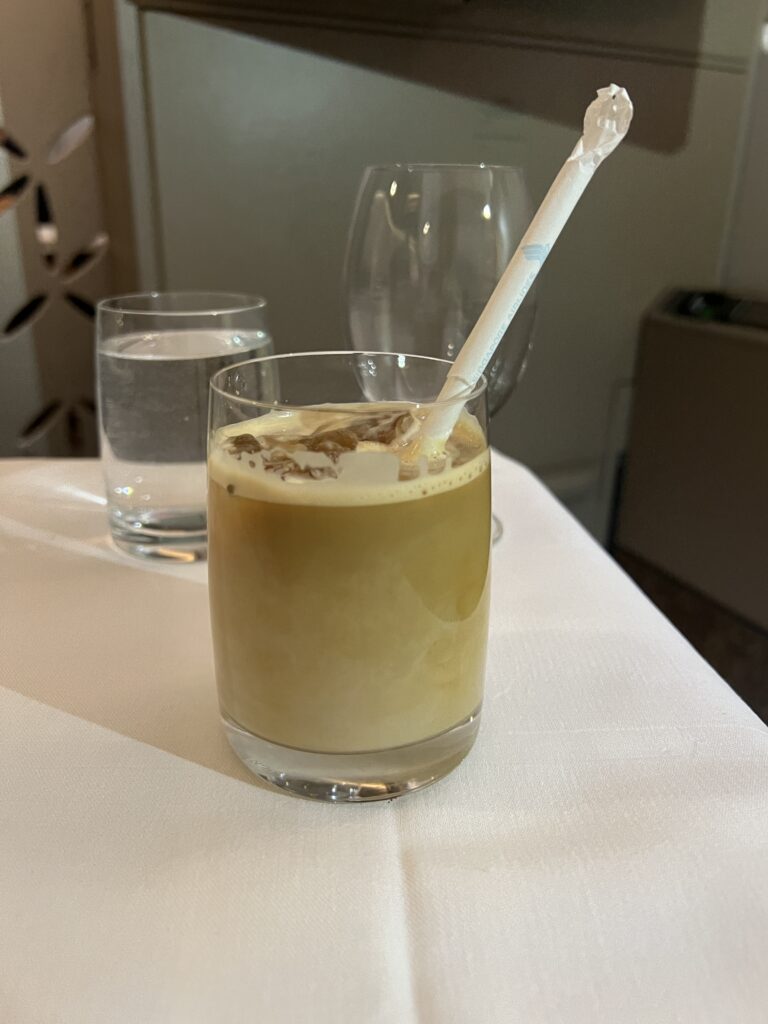 I also had like 5 iced coffees over the course of the flight. Since I only napped 15 minutes and wanted to be able to stay up until a normal hour back home, this was the way. Made perfectly every time.
Next, they brought out the obligatory caviar.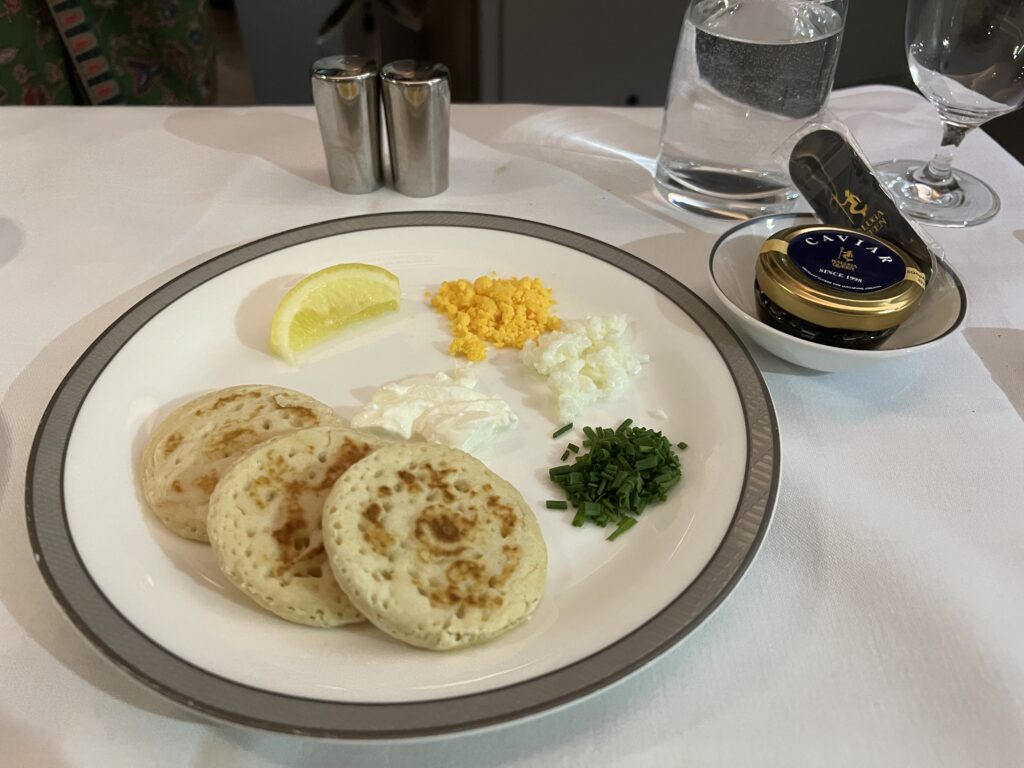 Next, some warm garlic bread and my chosen appetizer, the Hearty Barley Soup which I enjoyed even more than I expected.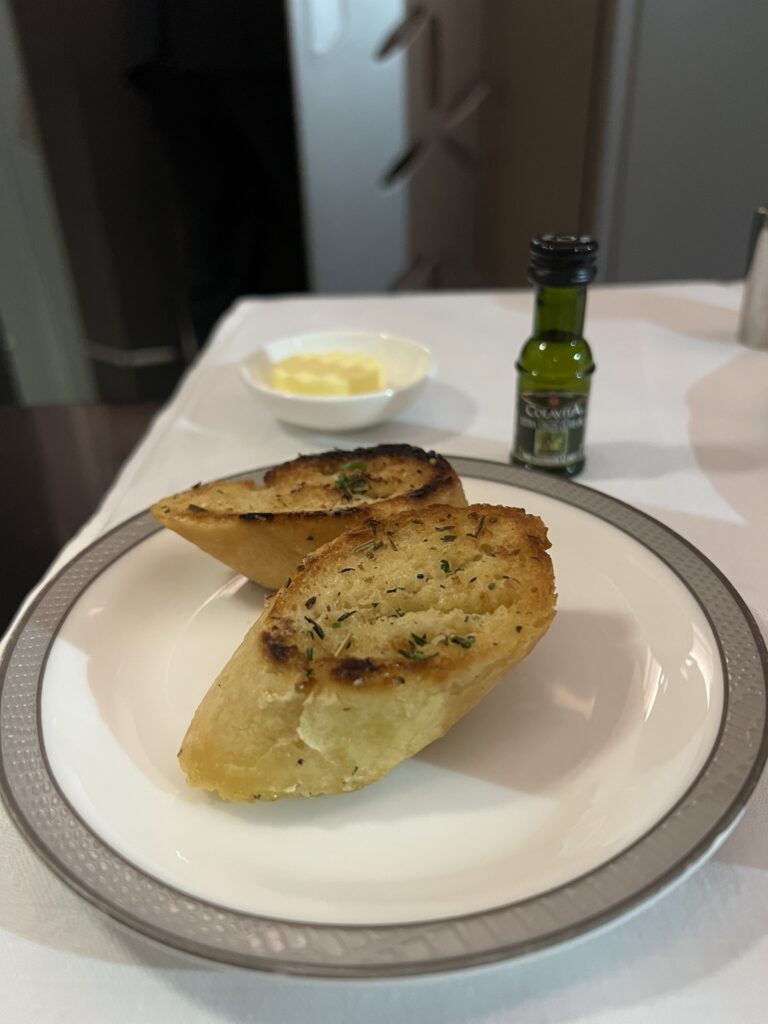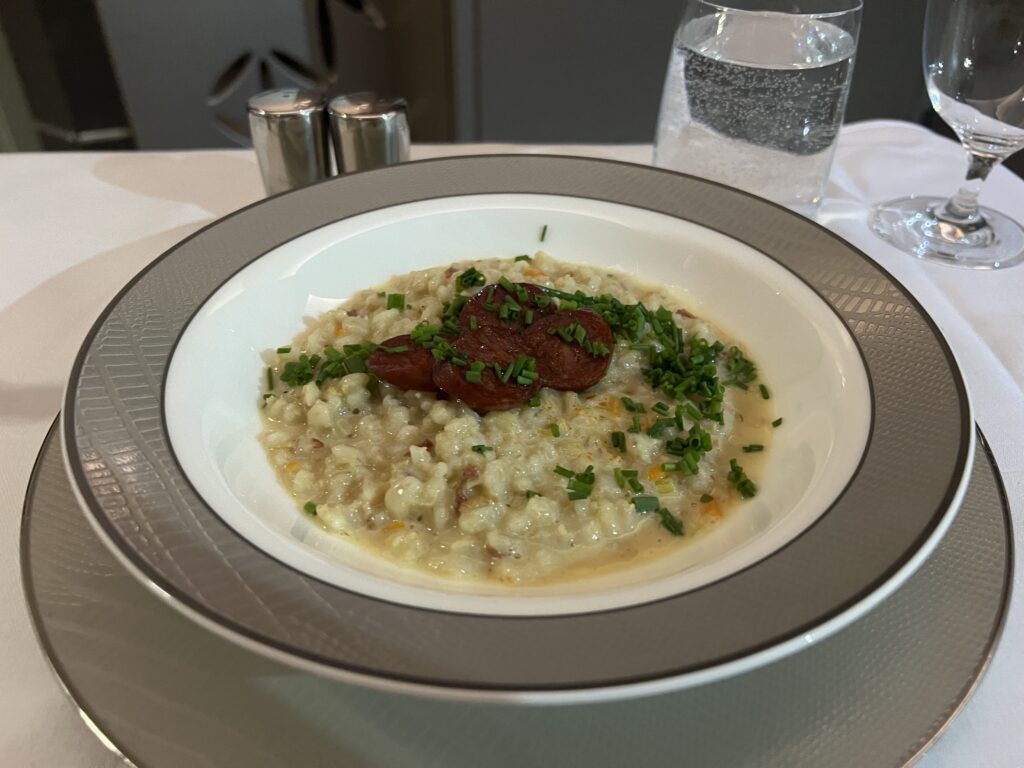 For the main course, I was *going to* have the short rib, but after days and days in Europe eating everything in sight, I decided to go lighter and chose the cod filet.
It was very good, but I confess I let most of it get cold when miles and points legend and occasional MilesTalk contributor JT Genter stopped by to chat. He'd randomly been on the same flight as he and his wife Katie were en route from Singapore to New York via Frankfurt in Premium Economy. The least I could do was invite him up for some champagne 😉
Dessert was absolutely delicious. I had the Chocolate and Coffee Tart.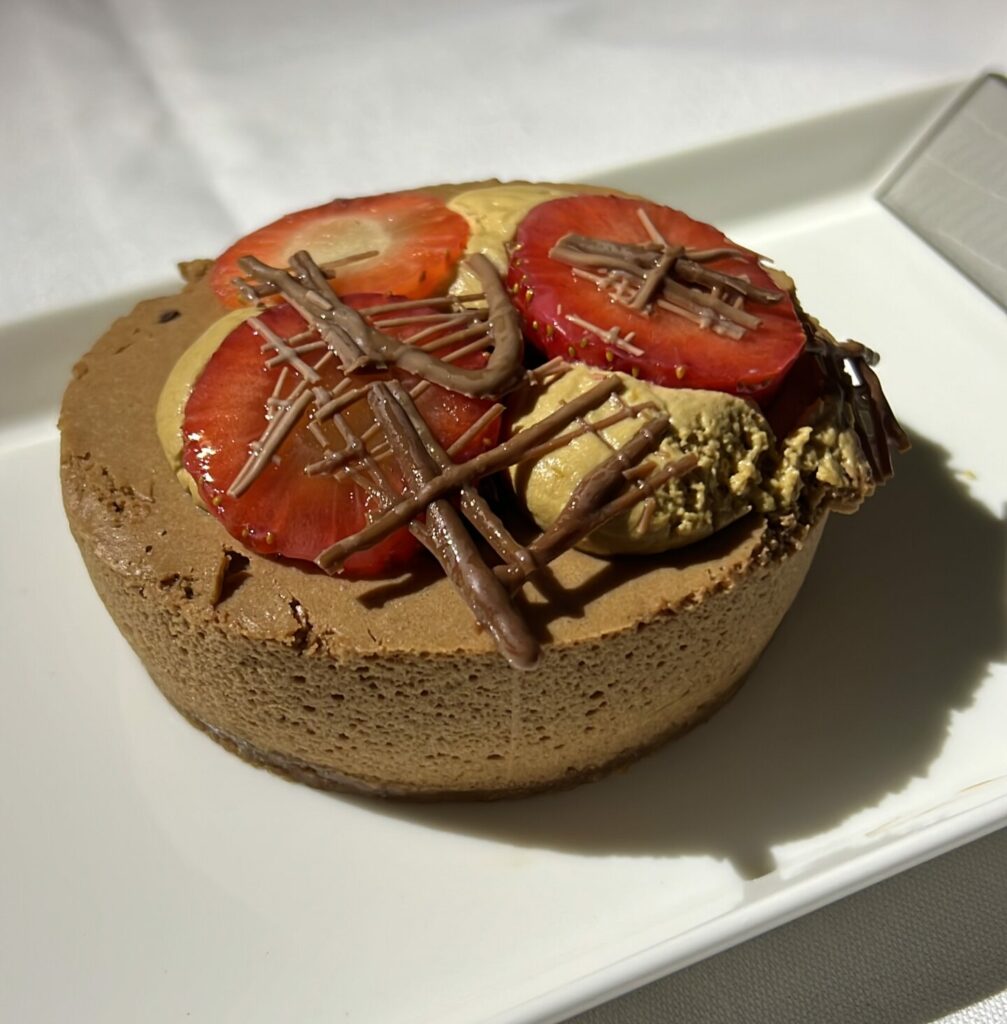 The last food service was 2 hours before landing at JFK. This was not my favorite. In fact, it was maybe the only disappointing part of the flight aside from the rattling seat.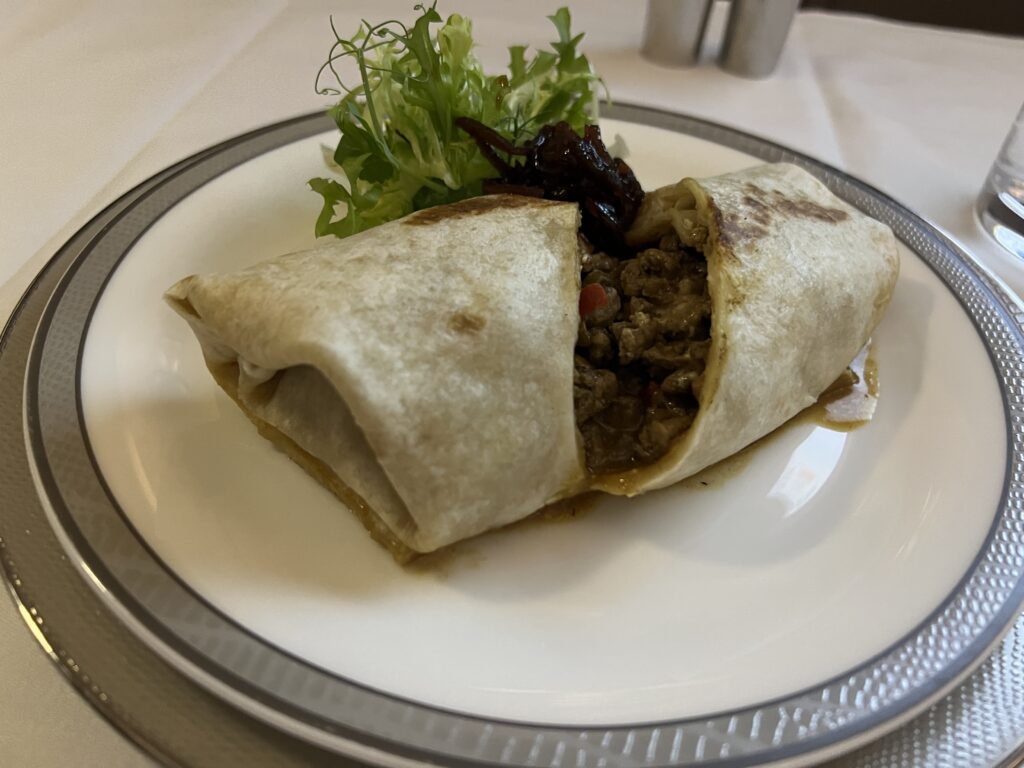 It wasn't a chimichanga at all, but rather some sort of burrito-ish (minus rice) ground beef concoction. I would not opt for this again.
In fact, I would have slept through the service if I knew what it would be…. but I did have to try it for the review (what I do for you guys! 😉 ).
A.R.: Almost from the moment I sat down in my suite the drinks started flowing. Krug was offered as a welcome drink and flowed throughout the flight including one last top-off during descent into JFK.
Unfortunately, on my flight there were 2 big shortcomings in the food & beverage service. In the weeks before travel, I was able to view my standard Suites menu and "Book the Cook" options. I mentally selected one of the main menu items as my meal as it fit what I can eat and what flavors appeal to me.
When ordering, I was informed it wasn't a loaded option which was disappointing but also since it was a main menu option it isn't something that should be missing. This was compounded when I asked for Dom Perignon to pair with the Caviar service and was told that too was not loaded on this flight. Frustrating but 100% a first world problem. Salt was rubbed in the wound when Dave flew just 2 days later and was able to enjoy it.
Tim: Overall, the food was good but not particularly memorable. We opted for lunch about 30 minutes after take-off. I started with Dom prior to take-off.  To start, there was chicken satay as the canapé. For the appetizer we were offered both the caviar and seared sea scallop. I switched to Krug for the caviar service.
For the main, I opted for the Book the Cook service and pre-selected the chicken in massaman curry. The number of options was disappointing, and the famed lobster thermidor wasn't available for this route.
Obviously, flights departing from SIN will have a lot more options. The flight did have a good wine list, and I opted for a Albert Bichot Corton Grand Cru burgundy to pair with my main course. Prior to landing, a refreshment course was offered of either thai style rice porridge or a mini-cheese burger. We both opted for the porridge which was good.
Service
Dave: I found the service to be absolutely spot on. If anything, they were a bit too eager to move me along from course to course during meal service as I was in no rush 🙂
You can tell they peer through that suite door to see where you are at, which I suppose is fine since how else would they know when you've finished a course?
But I got everything I needed (wanted) during the entire flight within moments. Iced coffee? It was there in 3 minutes. Champagne? The other champagne? Right away…. You get the idea. Excellent service.
A.R.: The whole staff were great in my experience. The FA that took care of me more than the others was very warm & always wanting to provide some sort of service. It bordered on too much but not in a bad way.
Tim: Singapore Airlines is known for some of the best service in the airline industry and they did not disappoint. Both the purser and primary attendant were warm and gracious and took care of every need. After lunch I went to the bathroom to change into PJ's while the crew made the bed. They were happy to refill both Dom/Krug during lunch service and coffee for the snack service before landing.
Bathroom
Bigger than a NYC apartment, but no shower.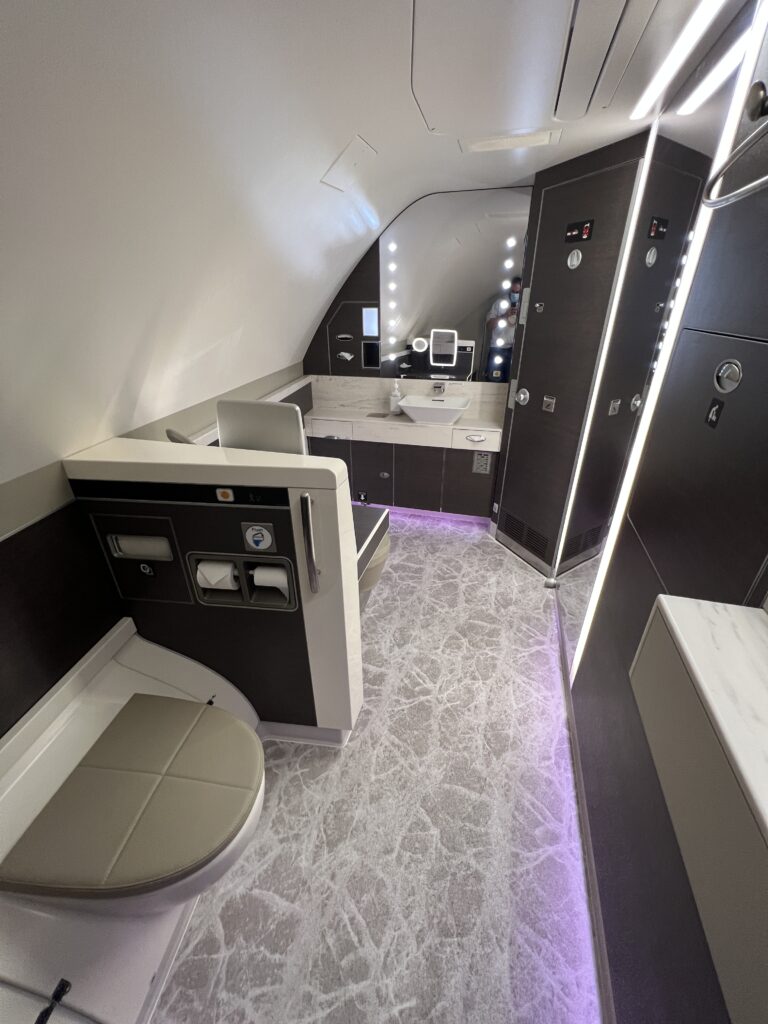 Wifi
Unlimited and free for Suites passengers, but overall pretty slow and spotty.
Final Ramblings
Dave: I'd been really excited to take this flight ever since I booked it in December. For one thing, I had a goal of trying both the new Singapore First Class Suites and the new Emirates First Class redesign that both rolled out not that long before COVID hit. It was also my first long haul international flight since COVID hit, so I certainly needed to scratch that flying itch!
Overall, I loved the flight. To be honest, when trying to take notes, pictures, and video on a relatively short flight (this clocked in just under 8 hours of flight time), there's not a ton of time left to just enjoy. That said, I really did enjoy all of the elements of the flight and would love to fly it again without the intention of a review because it really is a top notch product. I loved the space of the cabin, the amazing service that you generally only get with premium Asian carriers, and the food – although I was disappointed with both the minuscule Book the Cook offerings and the Snack course "chimichanga."
While I never had time to watch any movies, I did play around with the In Flight Entertainment system and loved being able to control it from the provided tablet instead of just the remote control. I also found the in-seat controls for the seat itself a bit clumsy as it was sometimes hard to get the right "mode" to light up to control what you wanted to control.
If I had the opportunity to fly this all the way through to Singapore and have enough time to fully enjoy all the meals, a few movies, and a full night's sleep on that bed, I'd be very happy to!
I'm curious how A.R. and Tim summed up their experiences, so let's see!
A.R. Wifi, free for Suites guests, operated decently well for me. The speed was fast enough in general and signal covered about 80% of the flight. There were a few blips when it would lose connectivity. 
Luggage: Despite being tagged as "priority" and also Suites, my bag took about 15 minutes to arrive after bags started to unload onto the belt. I would hope bags for Suites would be the first off and definitely not to take 15 minutes, about 25 minutes after getting through immigration with GE, for a premium guest.
Tim: I could not connect to Wifi on any device during the flight (the plane must have been one of the older A380's with OnAir Wifi system). It's a luck of the draw which A380 you get. Amenities were provided by Lalique. Both the PJ's and slippers were comfortable and the kit was well stocked with items you may wish to use at home. The headphones provided were high quality from Bang & Olufsen. The in-flight entertainment wasn't as extensive as what you would find on say Emirates, but for a shorter daytime flight there was enough to keep me occupied, particularly since I also took a short nap for a couple hours after lunch.
Personally, I view this as the best hard product available when traveling with someone. I would expect any shortcomings on food and beverage to be significantly better if flying out of SIN.
Dave: Well, there you have it. Three reviews in one!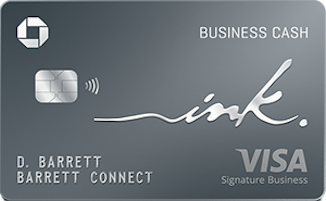 Thoughts?
Let me know below in the comments, on Twitter, or in the private MilesTalk Facebook group.
And if this post helped you, please consider sharing it!
You can find credit cards that best match your spending habits and bonus categories at Your Best Credit Cards. 
New to all of this? My "introduction to miles and points" book, MilesTalk: Live Your Wildest Travel Dreams Using Miles and Points is available on Amazon and at major booksellers.