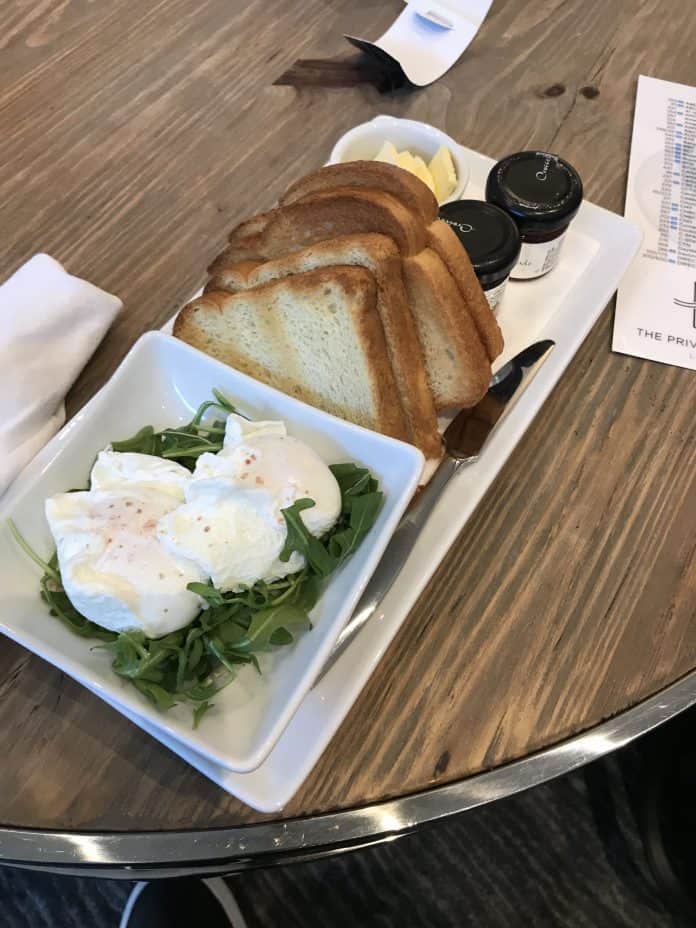 This is a guest post by British travel enthusiast Benjamin Black. He likes to splurge in ways many of us would not, so I appreciate his willingness to review travel experiences like this that cost [gasp] money rather than miles or points. -Dave
There is a special terminal at LAX
It's on the south of the airport complex, on the other side of the runways to the main airport terminal and from the outside it looks like an industrial zone. It is the Private Suite and it's where the celebs go when they're flying out of LA.
How Much?!
The pricing is extortionate, but at the moment United has a special offer for its passengers. For under a thousand bucks, mere mortals with confirmed bookings on United flights into or out of LAX can have an experience more or less the same as that of the superstar.
A single international trip is $500 inclusive of tax. It's $900 for an international return. (It's a bit cheaper for domestic at $375 one-way / $700 roundtrip.) That's the price per group which is up to 4 people (shared facilities) and only available through the United Private Suite.
Transportation to or from the facility from hotel isn't included and parking is extra as well.
Owned by a venture capitalist firm that is looking to expand the concepts to other airports, it's a members only club for VIPs, corporate execs and anyone else with enough money to shield themselves from interaction with, well … anyone, at least until they've boarded their flight.
I arrived at the suite at my allotted time of two hours before my flight. Although I was flying to San Francisco, I was connecting to Tahiti, so it counted as an international itinerary which means arriving slightly earlier. At the very intimidating entrance in what seemed to be a grimy industrial complex, my taxi driver gave my name and the barrier opened to reveal a somewhat different world.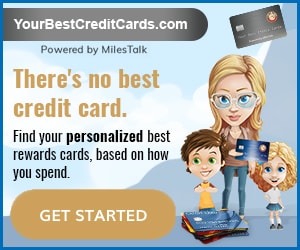 What's Inside at the Private Suite?
The Private Suite consists of two buildings and a parking lot. One building is for administration, the other is the actual private terminal which contains around ten suites, one of which has been converted into a video conferencing facility for executives who touch down in LA, have a meeting and then go back to wherever executives hide out the rest of the time.
Most of the suites are accessible directly from the parking area, like old fashioned motel rooms, increasing privacy levels and minimising walking time. For United passengers making use of the offer, it's a shared lounge rather than completely private, but it holds a maximum of eight people, so it's hardly crowded. When I arrived, there was a family of four in the room, who left shortly after I arrived. I then had the place exclusively to myself. My luggage was checked in as I arrived and they took my passport to organise check in whilst I enjoyed breakfast.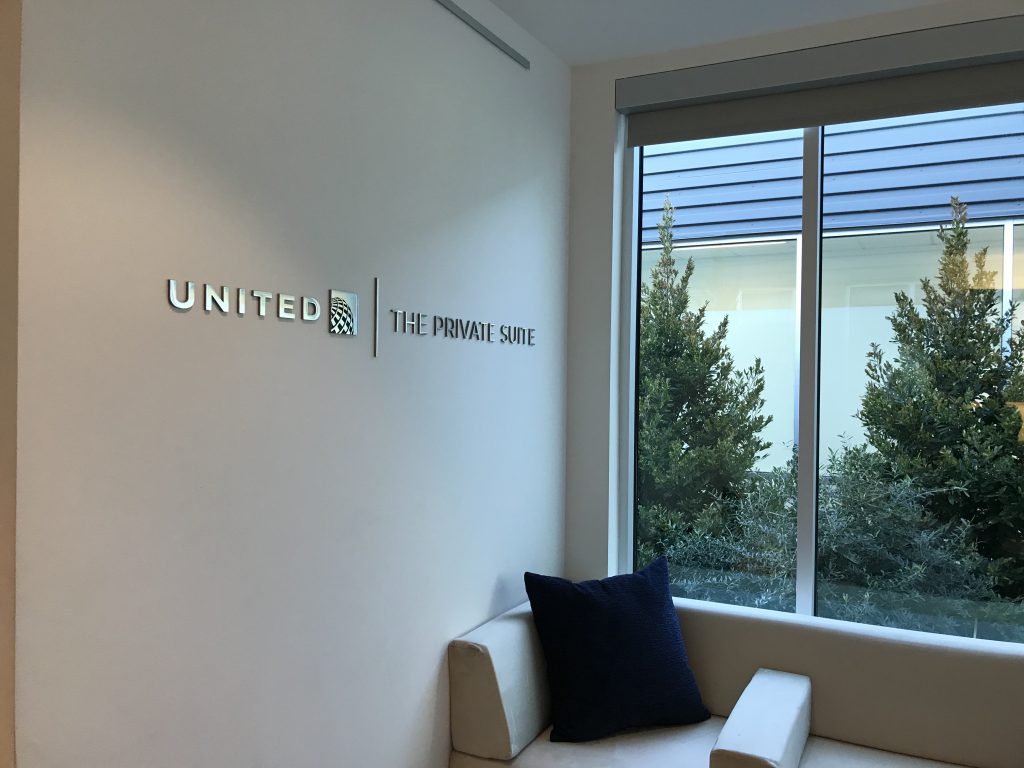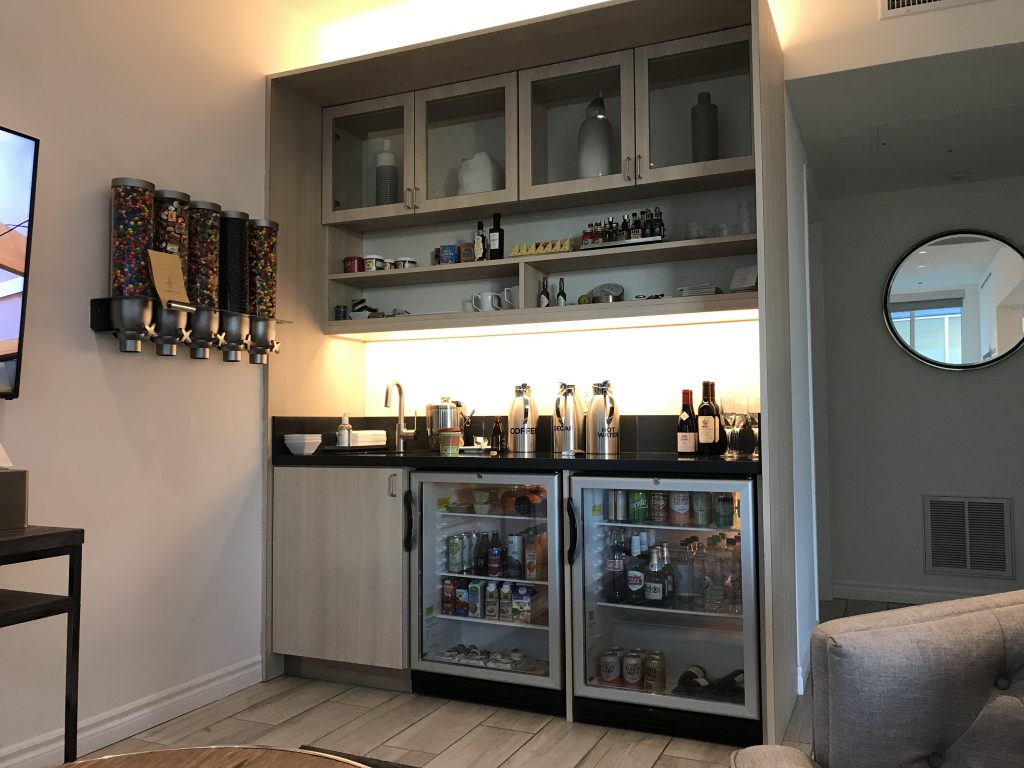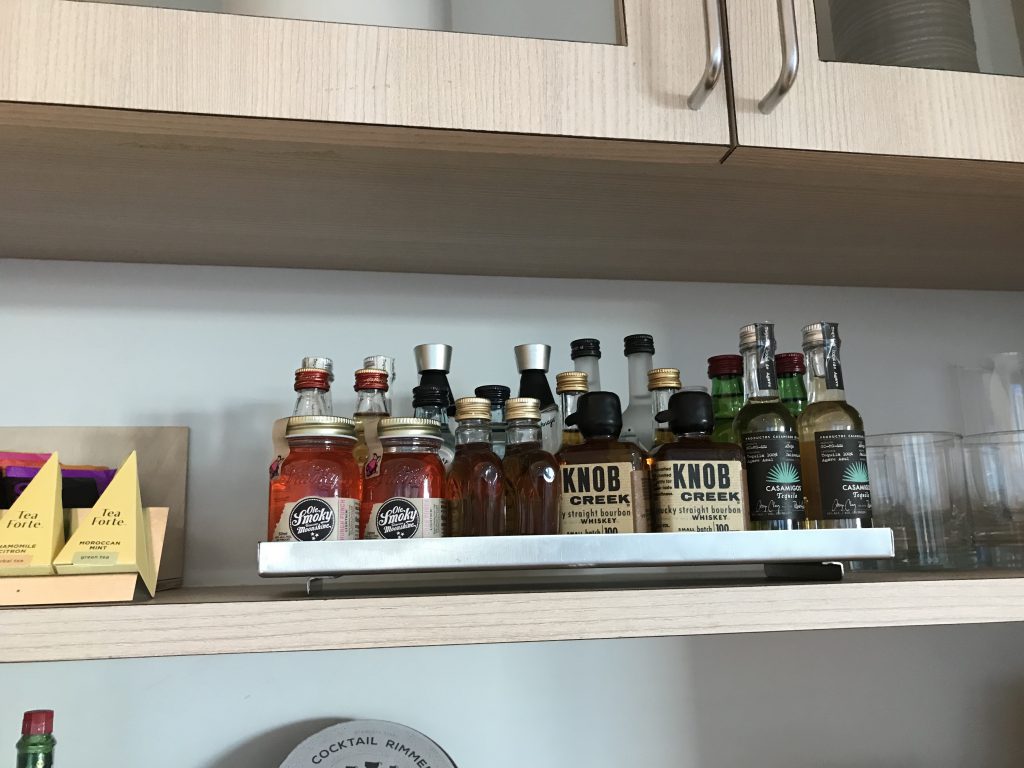 The suite itself is comfortable and very similar to a small but high standard airport lounge – the difference being you can choose what's on the TV! There is a selection of snacks and a kitchen area stocked with self serve alcoholic and soft drinks. You can also order fresh food and hot drinks from a menu, and there is a phone in the suite if you need to call for anything. As it was early morning, I was offered breakfast service and whilst the menu was mainly continental items like pastries, I asked for poached eggs which promptly arrived.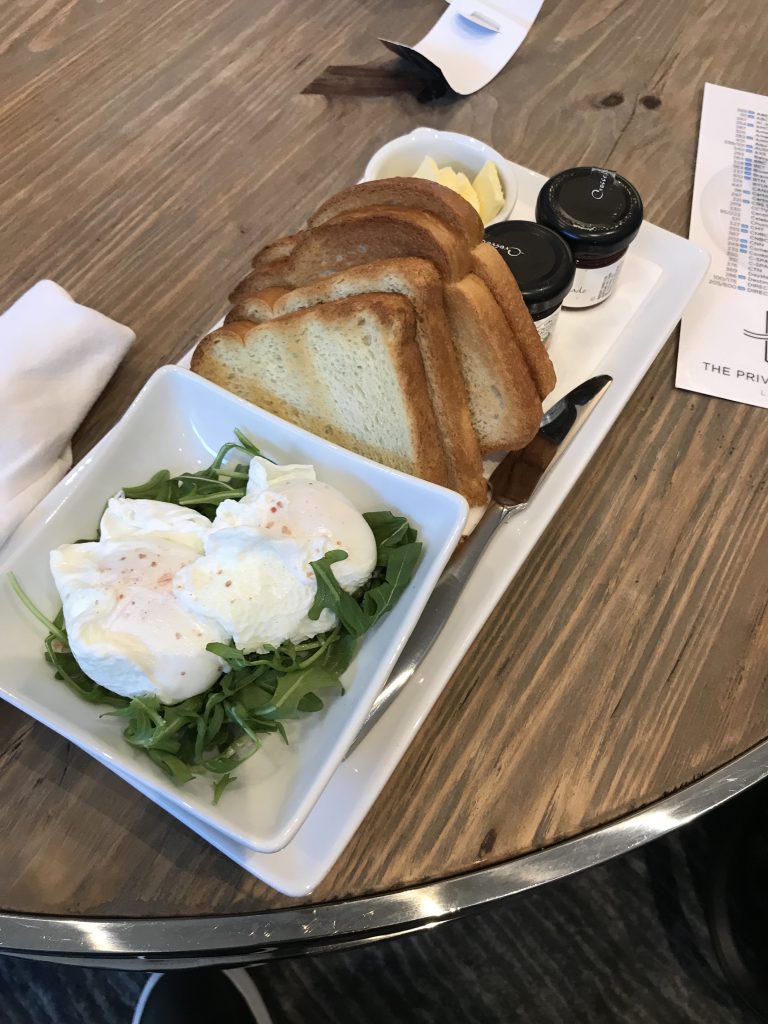 Huge candy disposal machines decorate the walls and there are baggies provided so that you can take it away. Each suite has a well stocked bathroom (no shower) with a 'help yourself pharmacy' of toiletries, cosmetics and over the counter medications. A separate shower suite is available and for members and a massage therapist is on call. They also have a suite designed for families with young kids, with as many toys and games as you can think of, and an outside area for kids to play in and adults to sunbathe.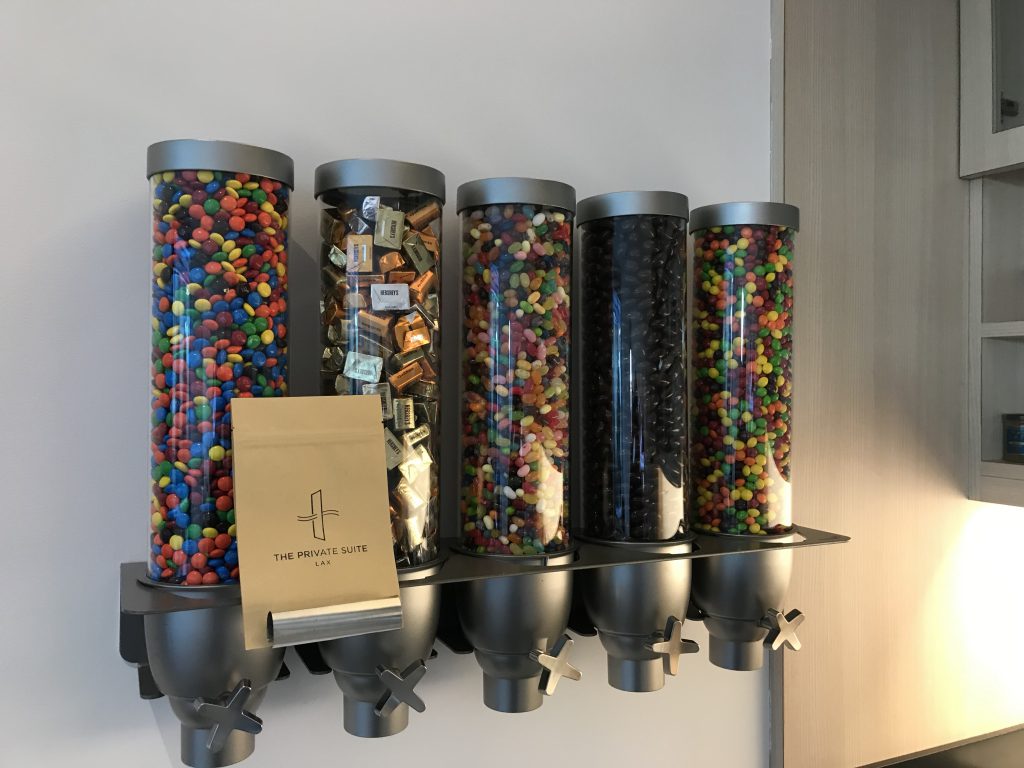 Off To The Plane: Private Suite LAX Style!
When it was time to board my flight I was escorted to the security channel. Only one passenger (and their travel companions) will ever be going through security at the same time to ensure privacy. It's exactly the same level of security as you'll get in the terminal, but as it's just you, it feels completely different and unhurried. If I'd been arriving from an international destination, it would have been exactly the same with immigration and customs – a private arrivals service with dedicated CBP officers and no waiting in line.
It was then time for the final and most exciting part of the experience – the private transfer in a BMW 7 series across the tarmac and to my flight.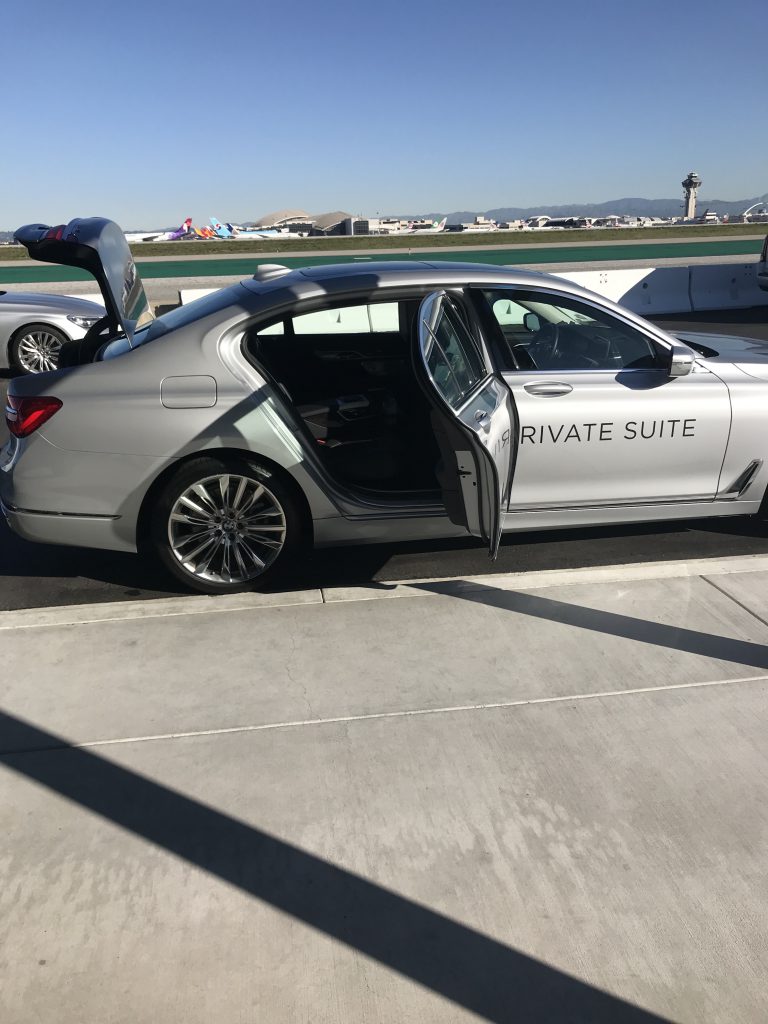 The only way to describe the interior of the car is 'royally pimped out', which was completely unnecessary for the 15 minute ride, but absolutely appropriate! On arrival at the stand I was guided up the steps of the airbridge and to the front door of the plane where I was the first passenger to board and a dedicated gate agent was waiting to double check my boarding pass. Once on board, I was clearly the star passenger, which was also pretty nice!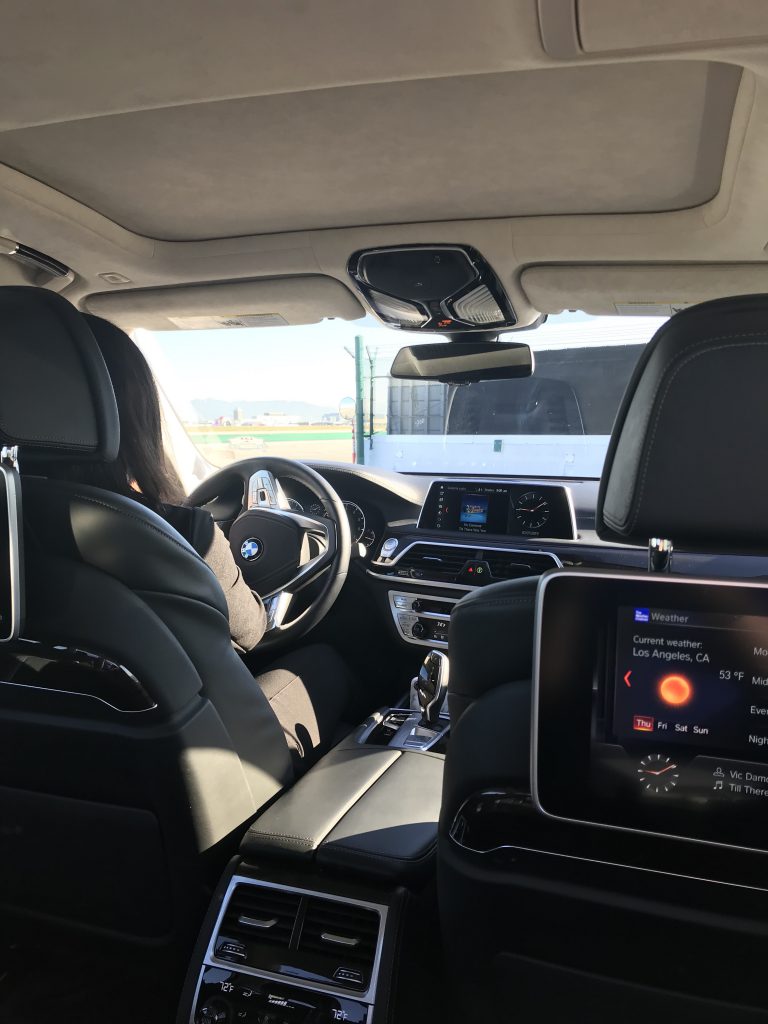 It was a great one off splurge and I'd highly recommend it. Although the special United offer is objectively pricey, it's a steal in comparison to the almost five figure sum needed for Private Suite membership and I wonder whether they are struggling to get sign ups given the cost. There are rumors that other airlines at LAX will be getting in on the action, so watch this space and if you're booking a flight to or from LA, check it out!