Sheraton Port Douglas, Australia (Great Barrier Reef) Hotel Review
Did you miss a deal? Never again! Apply to join the members-only MilesTalk Facebook group
.
Advertiser Disclosure: MilesTalk has partnered with CardRatings for our coverage of credit card products. MilesTalk and CardRatings may receive a commission from card issuers and MilesTalk may also receive compensation for content. This site does not include all financial companies or all available financial offers. The editorial content on this page is not provided by any of the companies mentioned, and have not been reviewed, approved or otherwise endorsed by any of these entities. Opinions expressed here are the author's alone.
This hotel review is part of a series of reviews related to my trip from New York to Australia.
See also:
If you are headed to Australia for the first time, you are no doubt wanting to see the Great Barrier Reef while you are there. You have some options for your jumping off point.  Most commonly, as we learned, you will base yourself in Cairns, Port Douglas, or the Whitsunday Islands.
The Whitsunday Islands don't currently offer a ton of accommodation aside from boats that you stay on for several days. There are hotels on a few of the islands, for instance on Hamilton Island, but there won't be much around besides your hotel and, in any event, they were booked solid when we went last December.
That left us deciding between Cairns and Port Douglas. Many stay in Cairns because that is where the regional airport is. But in talking with locals and expats, we discovered that Port Douglas would be a bit quieter and upscale than Cairns. It's about an hour from Cairns by taxi.
Better yet, as a loyal Starwood fan always wanting my nights and points, one of the main hotels in Port Douglas is the Sheraton. The Sheraton was credited with really putting the area on the map as a resort destination when it was built and remains one of the main hotels in town.
We were staying for 4 nights in high season with rates around $400 a night. I could have redeemed 10,000 Starpoints a night, which wouldn't have been a terrible deal at 4 cents a point, but I wanted better than a base room and no upgraded rooms were available. Besides that, a 4-night stay is a bit of a waste of points since the 5th night is free at all SPG and Marriott hotels when booking with points.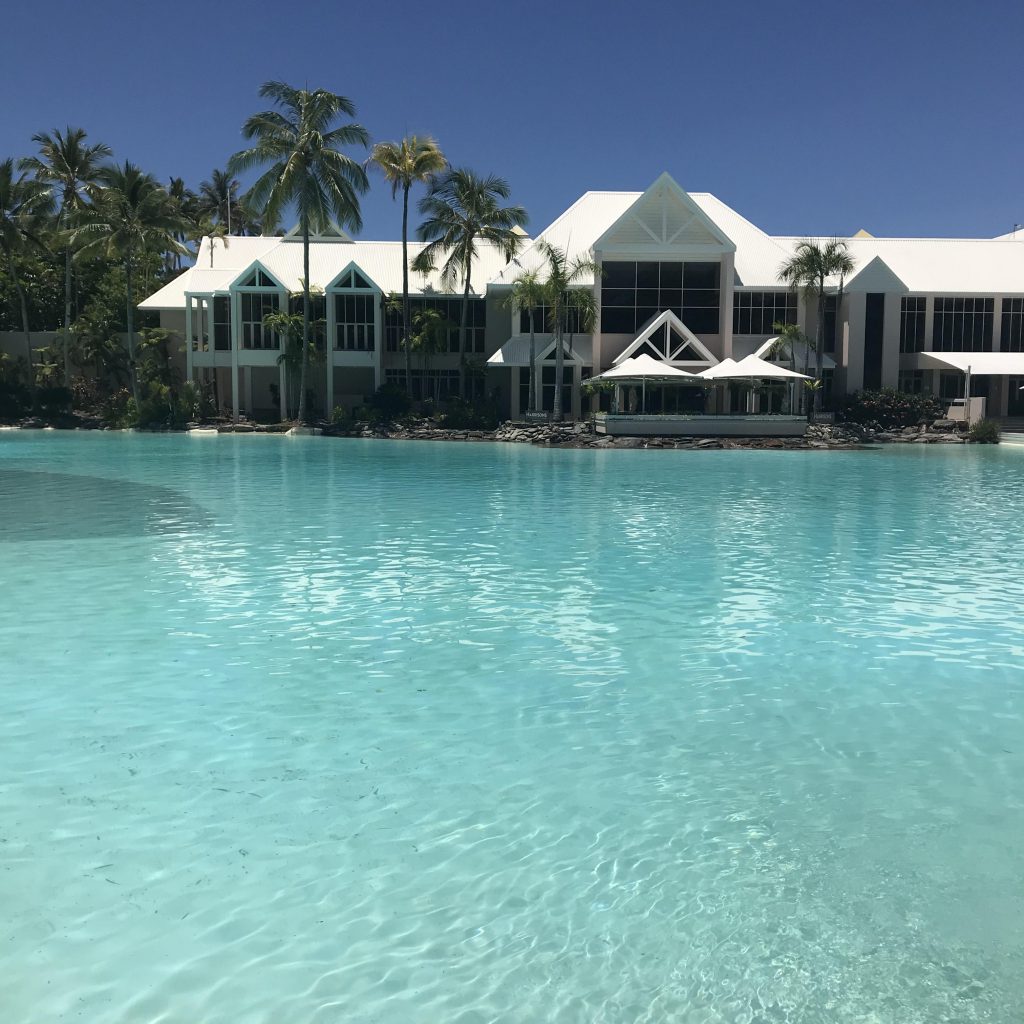 I also have the Citi Prestige card, which gives 25% off in the form of a statement credit when booking 4 nights, excluding tax – referred to as 4th night free, but since a product change last year it takes the average of all 4 nights and credits 1/4 of the stay. In Australia, the tax is rolled into the room rate, meaning I'd get that back as well.  That meant that the 4 nights would be $1,600 – $400 = $1,200 total. This rate was for a Mirage Studio Suite, a corner Junior Suite as it turned out. We really wanted a Lagoon Edge suite (which has direct access to the man-made lagoon) but that was around $450 additional per night so we hoped for an upgrade, which we didn't get as the hotel was booked solid. Still, the promotional rate for the suite included daily breakfast (worth more than a few bucks) and a bonus of 3,000 Starpoints at the end of the stay. Note that technically to book a package rate like the Suite Escapes deal I booked, that rate needs to be the lowest rate for that room type. But you can book ANY room type with the Citi Prestige and get that 4th night free.   So the total was about $300 a night at Christmas time plus earnings of about 6,000 Starpoints all-in, worth about $150.
The hotel sits about a 5-minute drive from the main drag in PD and you can take a local bus for $5 per person
each way. That's where you'll find restaurants and bars and also the dock where tour excursions run from.
The hotel itself was very nice, though clearly not the brand new hotel it once was. It's been recently renovated and, while not the Ritz, was a very nice resort to anchor ourselves for 4 days in the area.
Check-in was easy and friendly and the staff really tried to please. Our agent felt so bad she couldn't offer us an SPG upgrade of any kind that she was able to get us a poolside cabana for one day free of charge. To me, that was more than gracious and since we had one day that we planned to skip excursions and relax, that worked out perfectly.
The room was spacious, with a small patio with two chairs. The route to the room from the lobby was a bit of a maze, but no more so than a typical Carribean resort.  We had no complaints about the room whatsoever. Though we'd wanted that Lagoon-access room, we decided that it may have actually affected privacy and maybe this was even better. YMMV.
Breakfast was absolutely delicious and everyone was so friendly! Perhaps as a New Yorker, I'm just not used to overt friendliness, but everyone wanted us to be happy and that made me happy. The woman making the eggs was always such a delight and by day 3 she had my order down pat. Each day we were stuffed and satisfied. I can never stomach the cost of hotel buffet breakfasts but this is one that may have been worthwhile even if we'd been paying. FYI: There's no Starbucks or similar here. I think if you are skipping breakfast you'd need to have brought your own.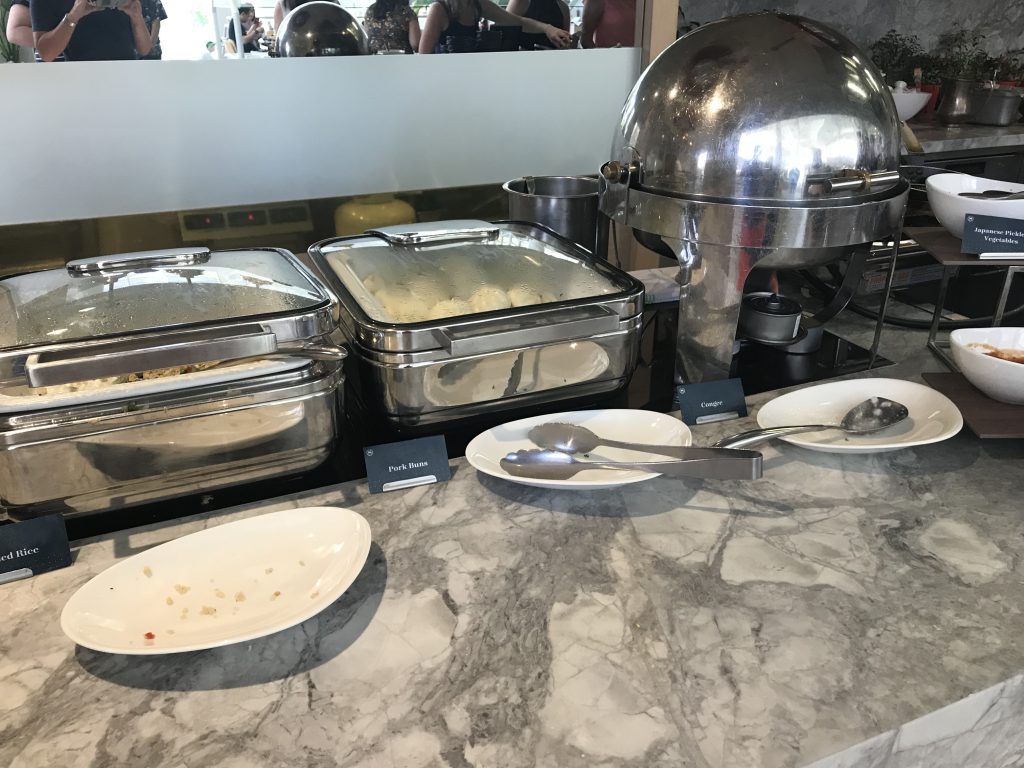 Beyond the buffet, there are just two dining options on property. Harrison's Restaurant, an upscale restaurant from chef Spencer Patrick and small bar/pub on the upper level near reception that had absolutely the most awful food. I was hoping it would be a hidden gem, but boy was it ever not.  I suspect Harrison's would have been a solid on-site dining choice, but it was closed for Christmas on the nights we were around at dinner time.
One of our best dinners was in town at a bar called Watergate. I'm not going to go overboard and call it a "must eat" but for what we were finding in Port Douglas, it was quite good.
Back to the Sheraton, let's talk about the Lagoon for a minute. It's super nice to have this virtually hotel-wide lagoon all around you. It's all man-made so there's nothing in there to bite or sting you. While we were there, temperatures were in the 90s, so it was a real nice-to-have. And again, while the rooms with direct access to the Lagoon would be a fun bonus, in hindsight I definitely wouldn't pay anywhere near the several hundred dollar a night price difference to have one of those rooms versus just walking a few minutes outside to the Lagoon. If you are in Port Douglas for the excursions, you won't be spending much time at the hotel during daylight hours.
A note about Koalas in Australia
If you have been dying to hold a Koala, it's important to know that Queensland (where Port Douglas is) is the part of Australia where you CAN actually still hold a Koala. If this trip is part of an itinerary that includes Sydney and Melbourne, know that you CANNOT hold a Koala in those areas.
The reason is that all the humans holding them messes up their sleep cycles (they sleep a ton) and the oils we humans have on our skin is also bad for them. So areas like New South Wales have banned the practice. And with that said, maybe you don't want to hold one up North now either, but if you do, don't make the mistake we did by planning to do that later on in your trip outside of Queensland.
All in all, the Sheraton Port Douglas turned out to be a very nice 4* resort in a great area that was perfect for exploring the Great Barrier Reef as well as the Daintree Rainforest.  If you are flush with SPG Starpoints, it can be a really good deal in high season, though less so now that it has moved from a Category 4 to Category 5 property as of 2018.
Planning a trip to Australia? Let me know here, on Twitter, or in the private MilesTalk Facebook group.
New to all of this? My new "introduction to miles and points" book, MilesTalk: Live Your Wildest Travel Dreams Using Miles and Points is available now.