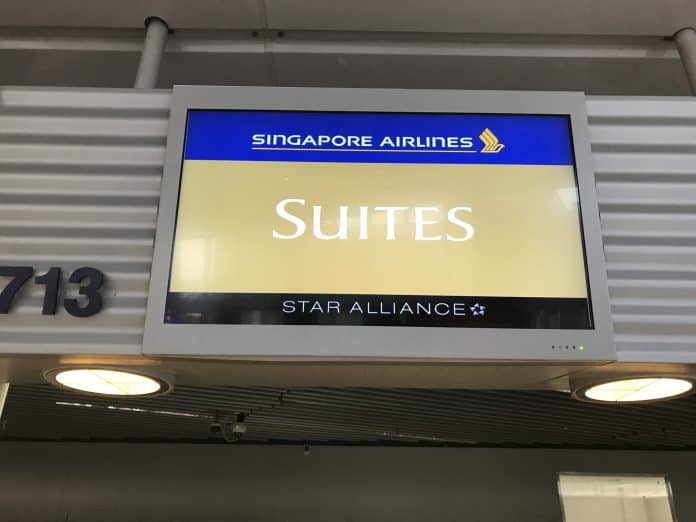 There are a handful of 1st Class flights considered truly aspirational. Truly premium First Class airline products. The top three talked about products are Emirates First Class (with on-board shower), The Etihad First Class Apartment, and Singapore Airlines First Class Suites. Some other amazing 1st Class products include Japan Airlines 1st Class (which I reviewed in January) and Lufthansa 1st Class, although sadly Lufthansa has removed the unique 1st class product that had a separate seat and bed side-by-side before I could try it.

Today was the day I experienced the fabled Singapore Suites. Note that Singapore will begin refreshing the Suites Class product at the end of 2017 / early 2018 so you'll want to look if your Suites Class has 12 Suites on the 1st floor of the plane or 6 on the Upper Deck. The 6 seats on the Upper Deck is the new 2018 onwards configuration. This review is on the original 12-seat configuration.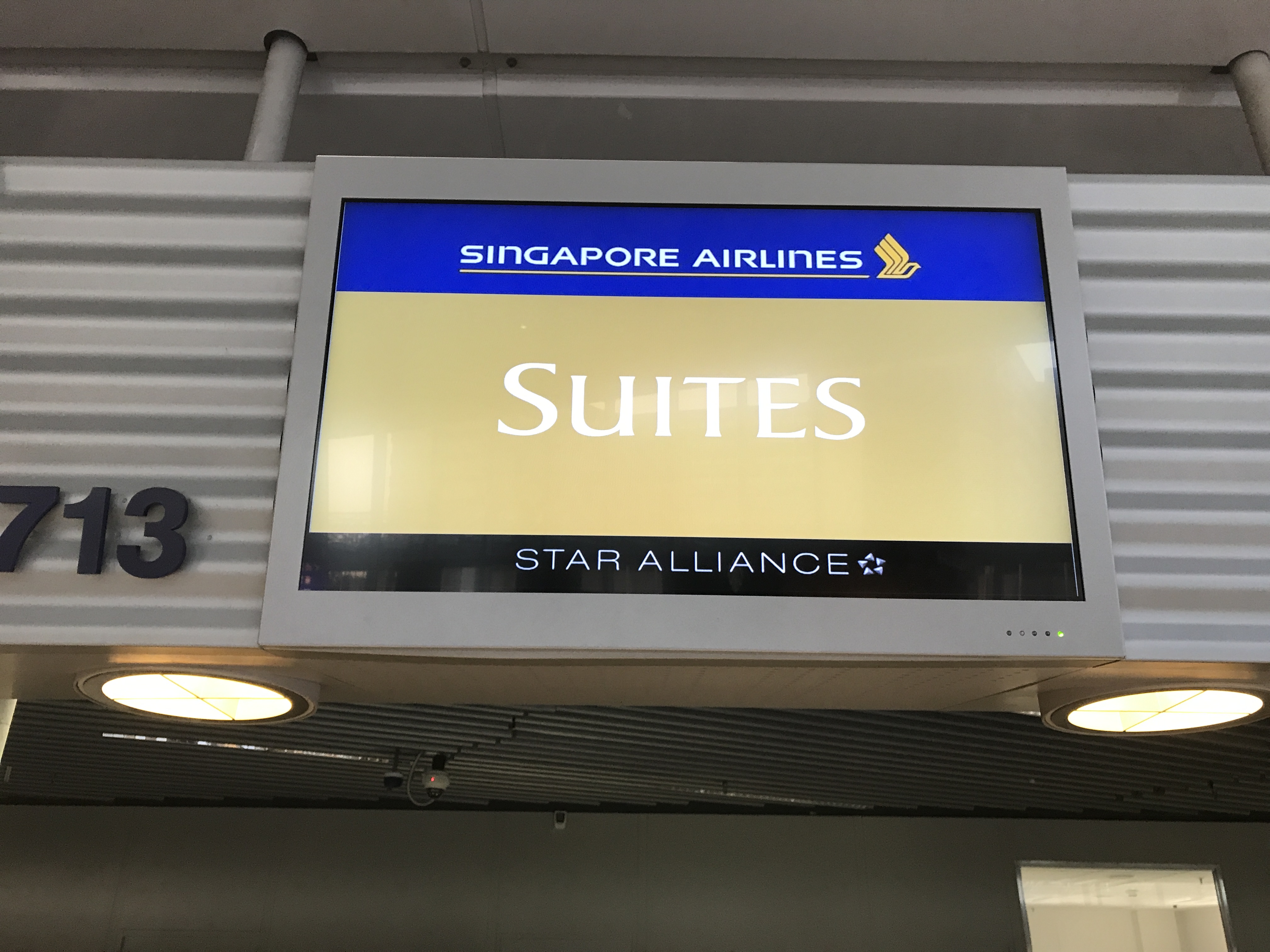 Booking this flight takes some effort, due to limited availability, but with 4 credit card transfer partners (American Express Membership Rewards, Chase Ultimate Rewards, Citi Thank You and Starwood Preferred Guest) it is definitely possible for you to do it. In fact, you could experience it just by signing up for one credit card. I've written another post about how to book Singapore First Class Suites so we can focus on the flight itself here.
I flew from Frankfurt to JFK and had a specific goal of trying this flight. I had been in Europe for a week, flying into London with Delta's "Delta One" business class (booked for 70,000 Skymiles – they have no First Class), then onto Geneva on a free private jet (thanks to the JetSmarter promotion earlier this year offering a free 3 month membership) and then on to Tallinn, Estonia where I spent the weekend.
At that point, I still had no flight back to New York. But my daily checking paid off as Singapore opened a Saver award seat. It was 76,000 miles and I called in to add a positioning flight from Tallinn to Frankfurt via Hamburg for 4,000 additional miles. Check my post on how I booked this award for the details on that.   This flight would sell for about $5,500 if I had paid cash.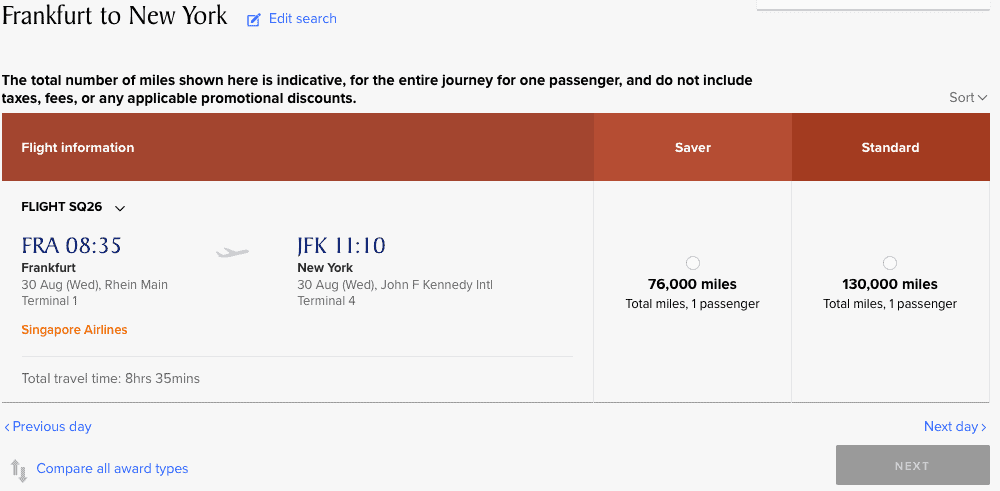 Checking in at Frankfurt Airport
I spent the night at the connected Sheraton Frankfurt Airport, meaning I had just a 5-10 minute walk into the terminal. I did this because the Frankfurt to New York flight, which is an onwards flight continuation from Singapore, leaves quite early at 8:30am, making a morning connection close to impossible. I used 3,500 SPG Starpoints and $55 to pay for the one night at the Sheraton. Cash rates are around 100-130 Euro.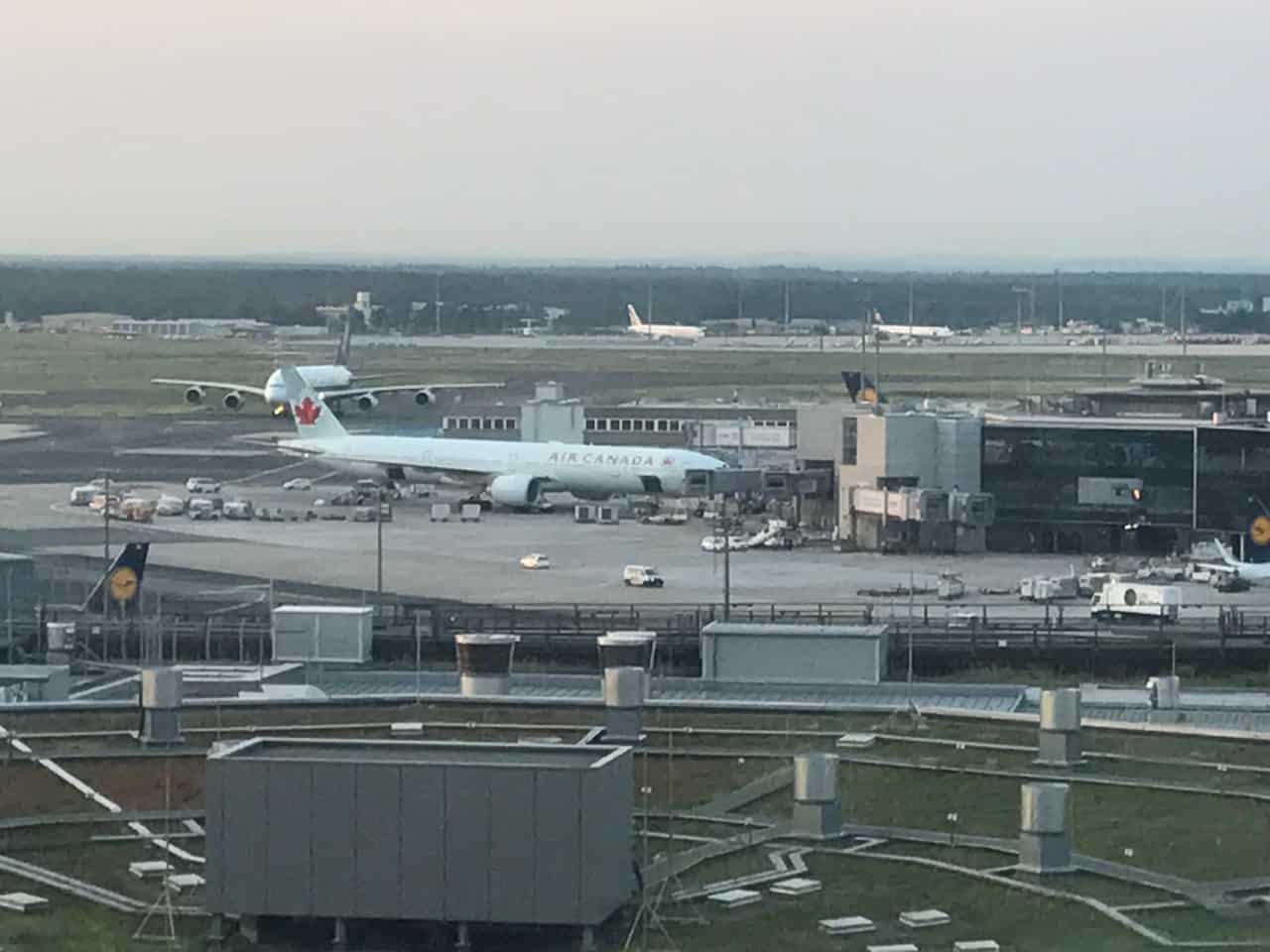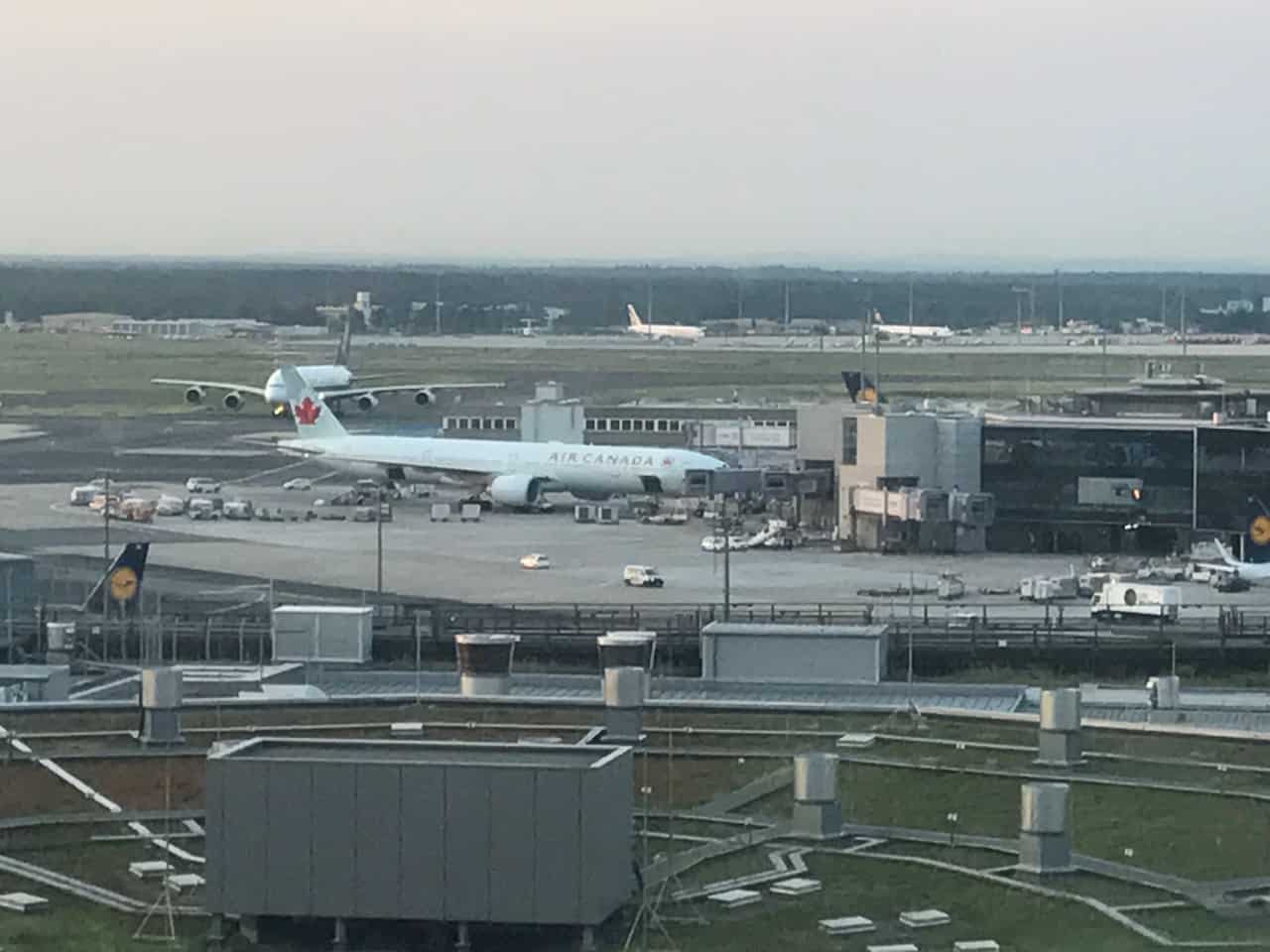 I checked in at the Singapore desk located in Terminal C which had no wait and took only minutes. I chugged my Starbucks to finish waking up. For some reason, many airports in Europe, Geneva, and Frankfurt on this trip alone, had Starbucks pre-security but none post-security. First world problems for sure…. But I love my Starbucks! Check out my photo with my Starbucks at the top of Mont Blanc – the highest point in Europe!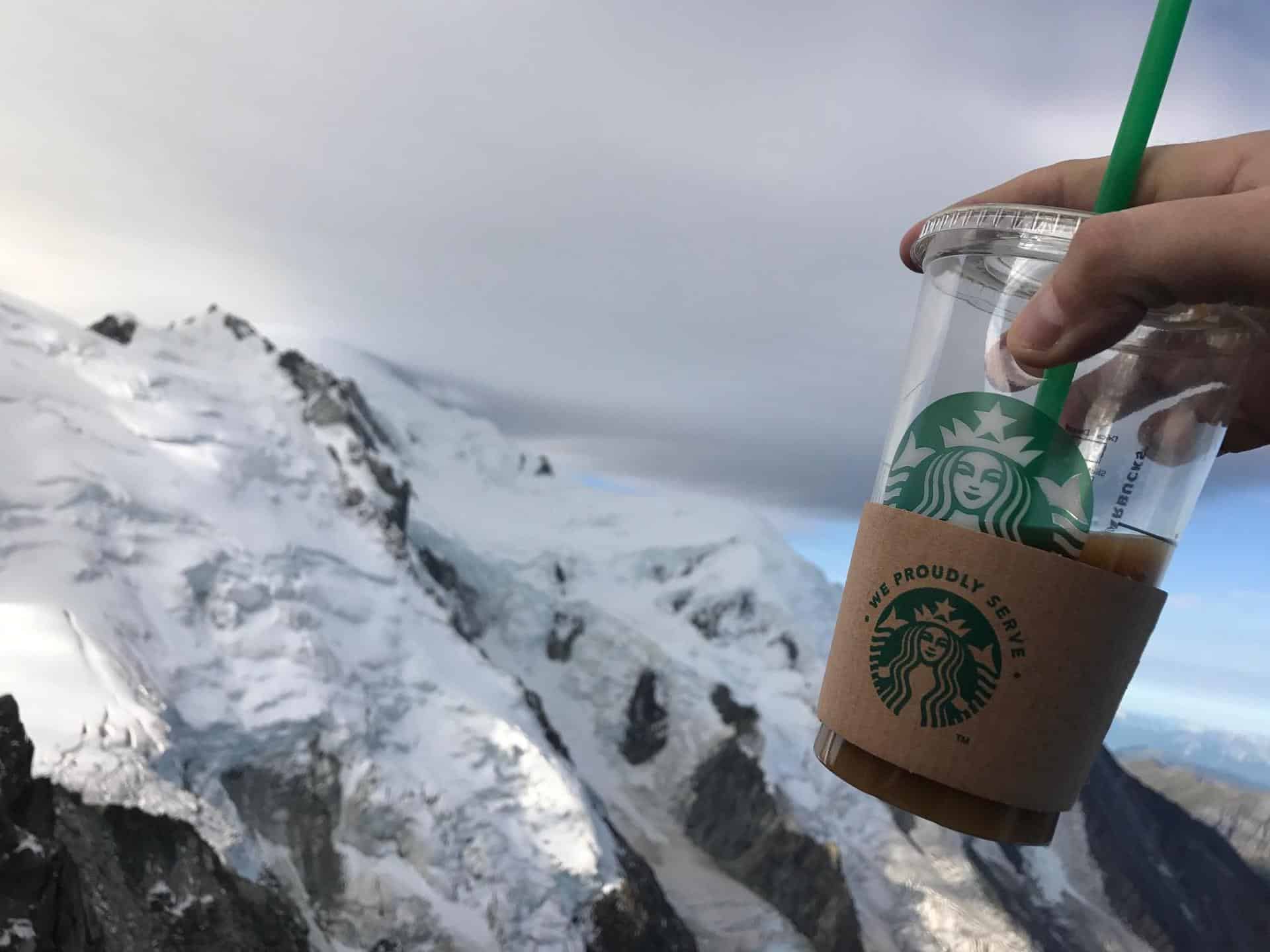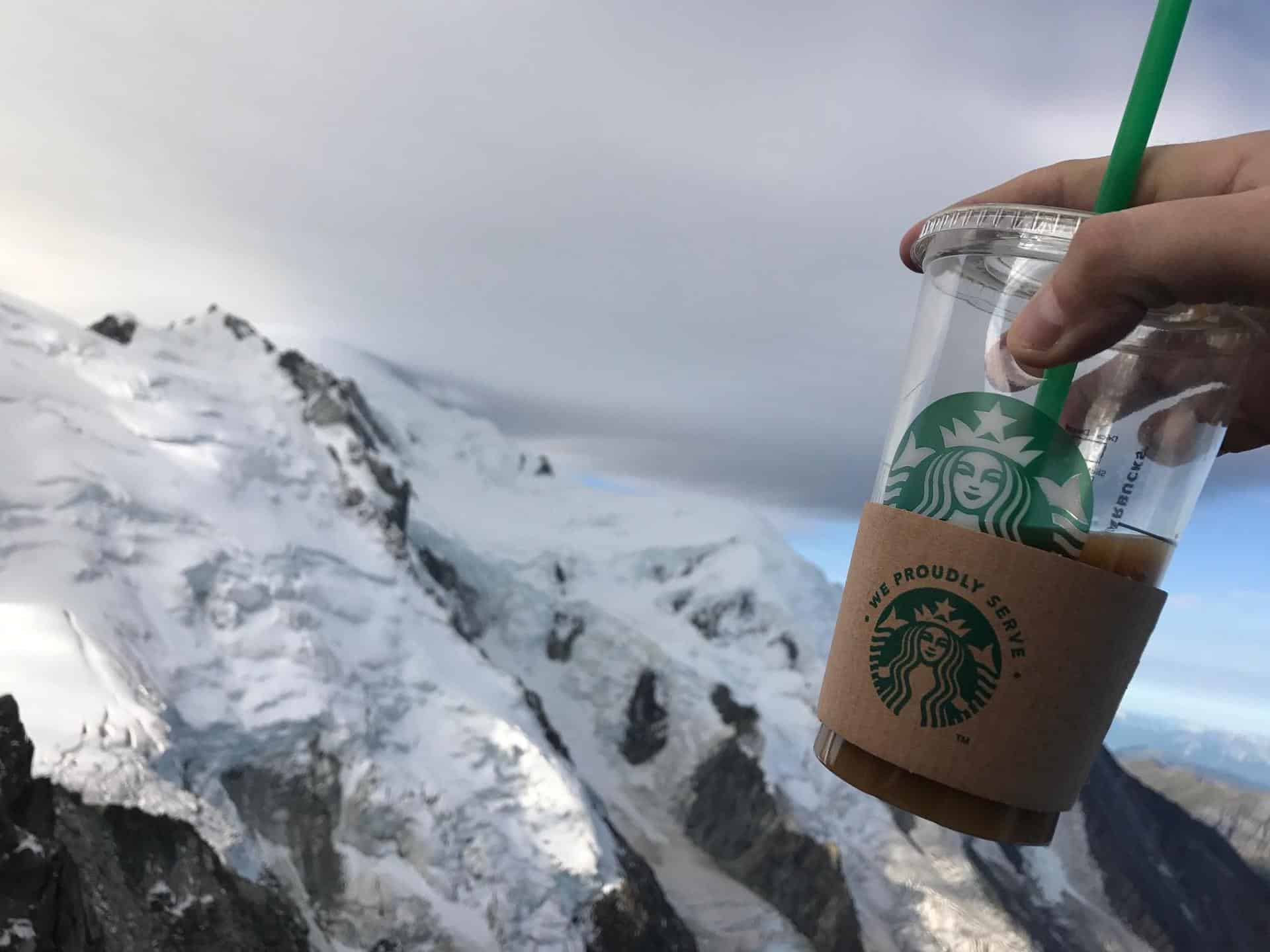 Back to the check-in. I walked down to security and there was actually a decent queue. All First and Business Class passengers share a priority security lane and, because this flight has quite a lot of Business Class seats, I waited approximately 20-30 minutes. No big deal at all, though it meant a very quick lounge visit.
The Lounge
Suites class passengers are invited to use the Lufthansa Senator lounge located just upstairs from the gate. It's a lounge that sits higher than the standard Lufthansa Business Class lounge but well below the fabled First Class Terminal that only Lufthansa 1st Class flyers are allowed to use. It's supposed to be quite the experience, so I'll save that for a future 1st Class flight on Lufthansa. Apparently, it should dwarf the wonderful Virgin Atlantic Clubhouse I got to experience on my way to London.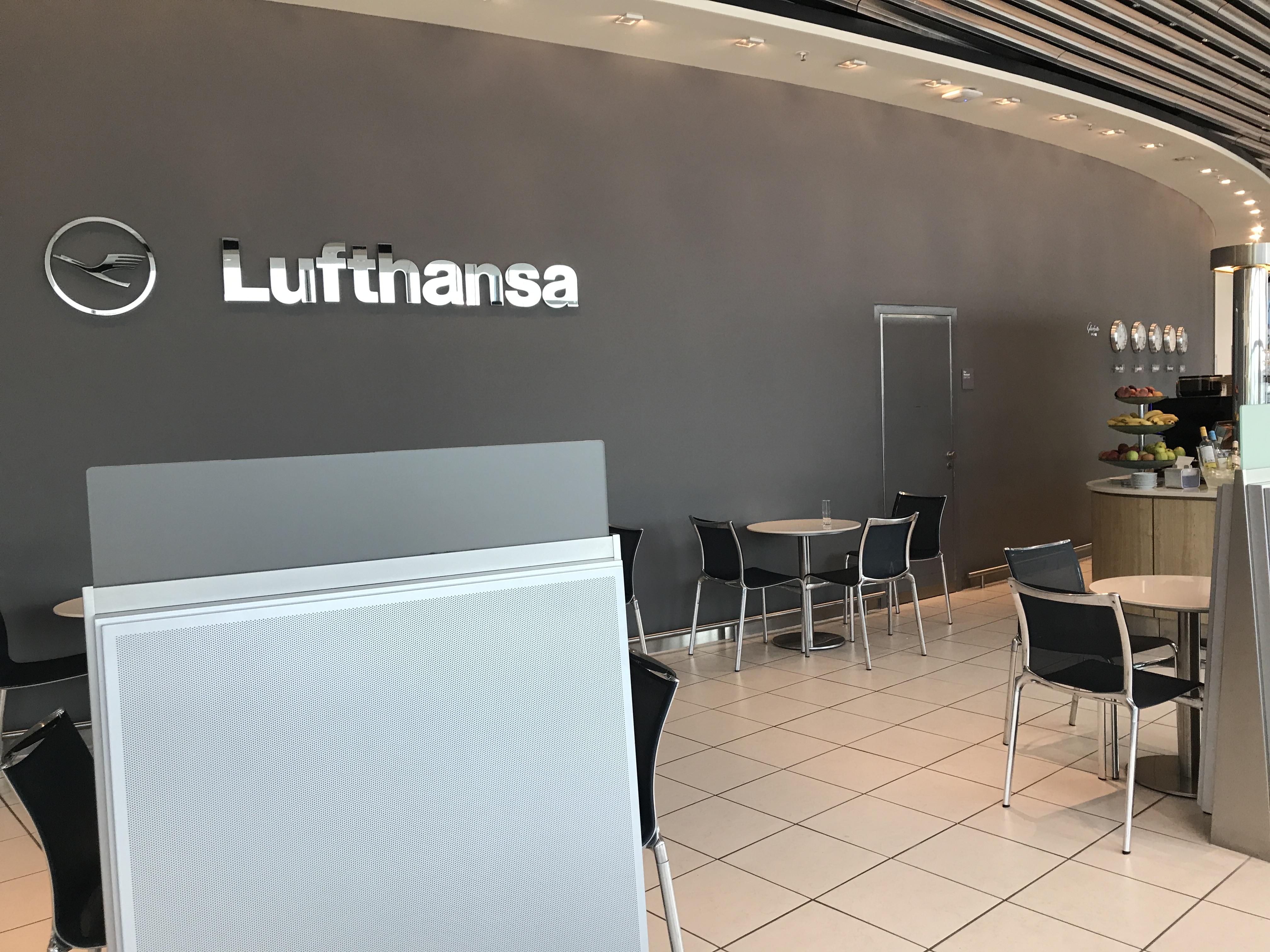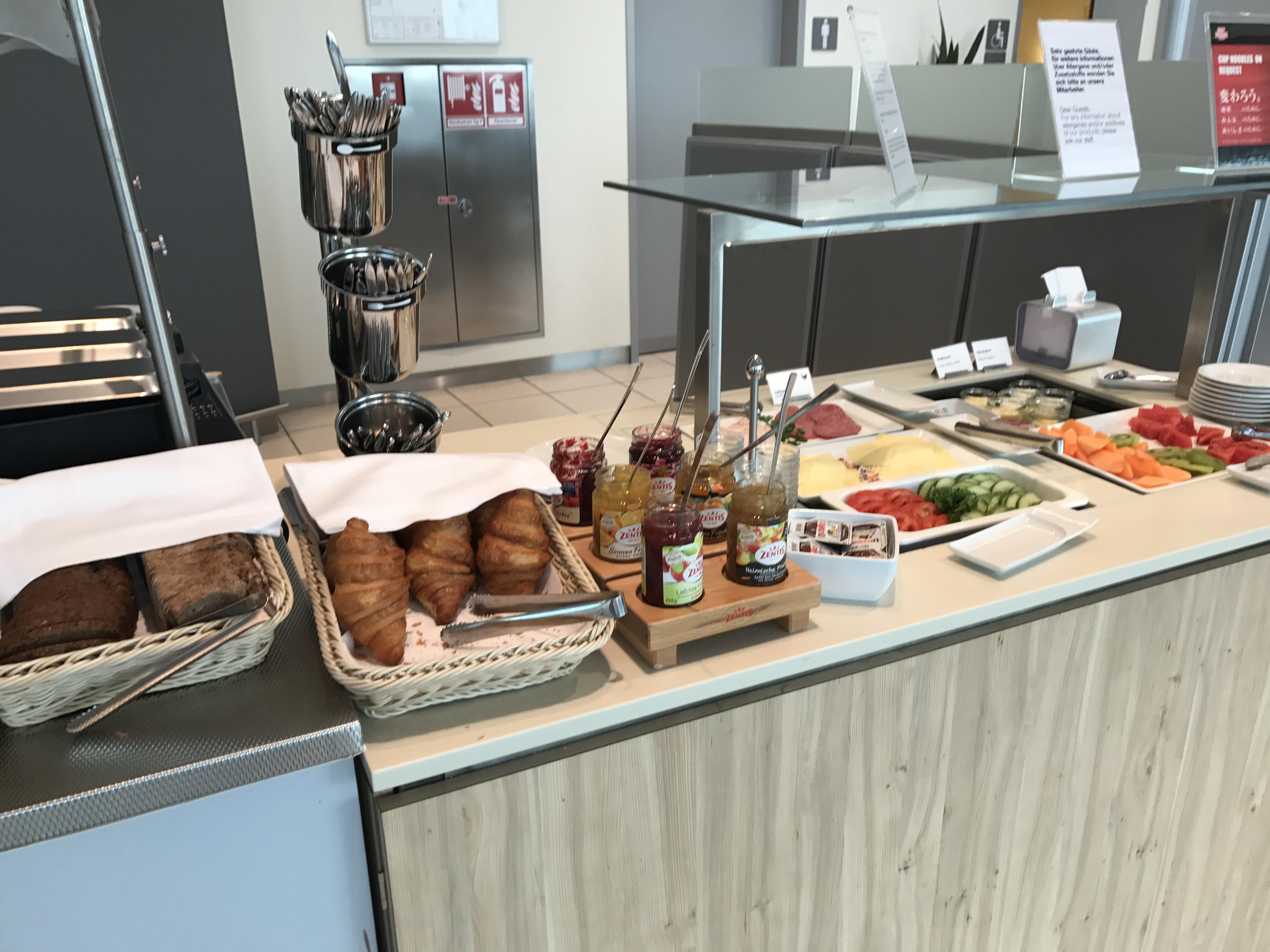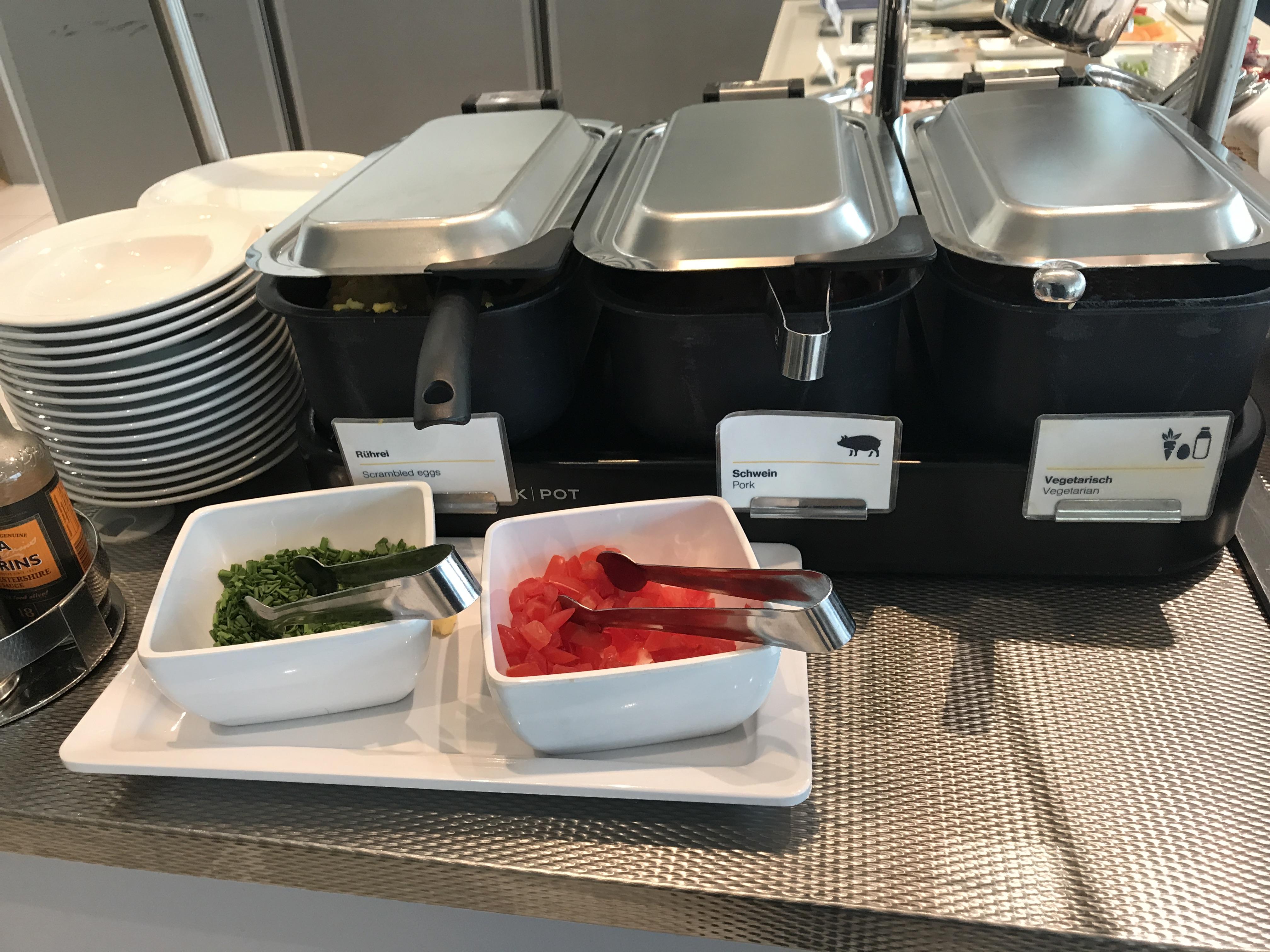 The Senator lounge is nothing too special. They did have some eggs, cheeses, meats, breads, and of course plenty of coffee. Clean and spacious. Perfectly fine for spending your pre-flight waiting time but nothing to wake up extra early for.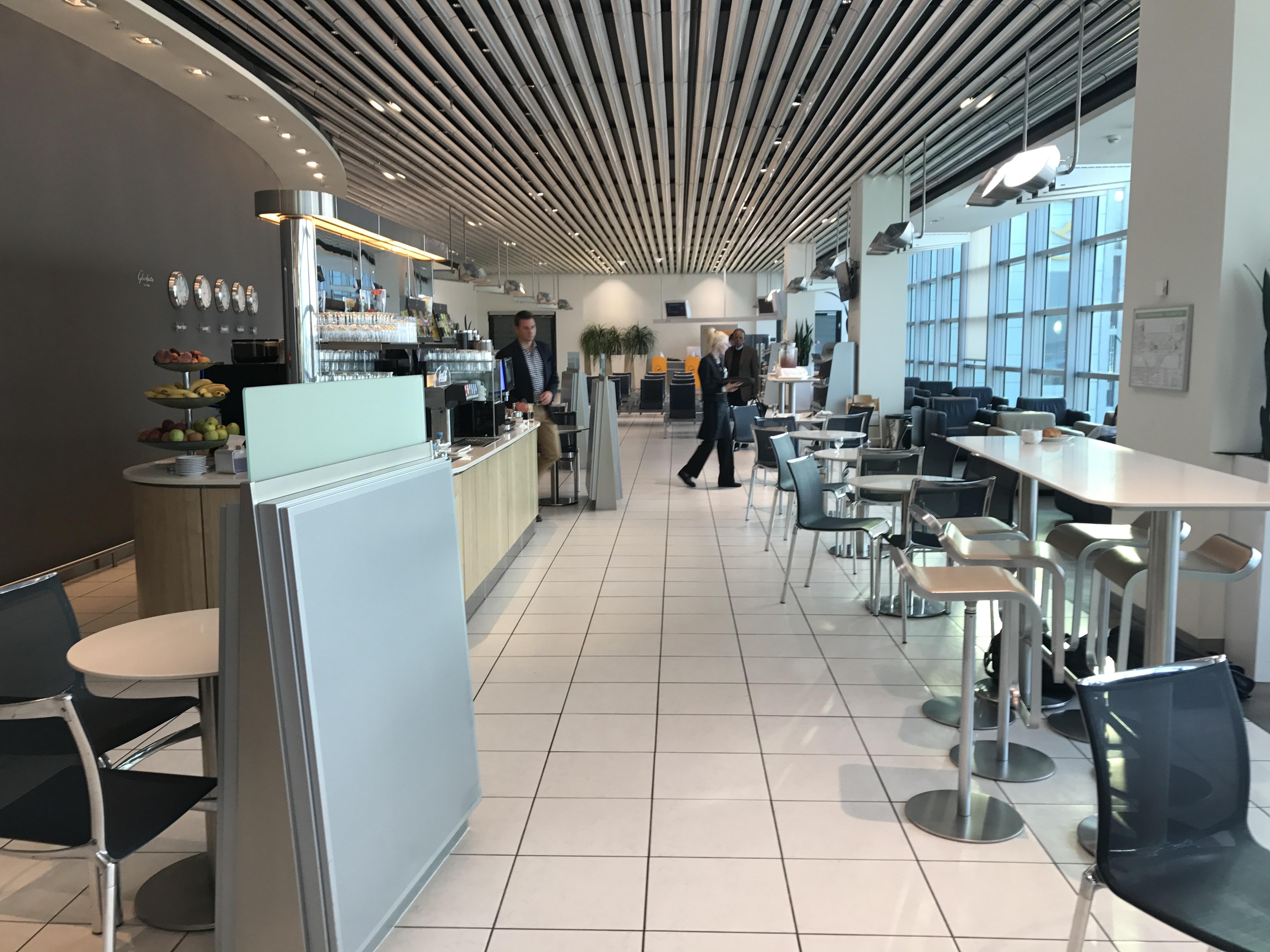 Boarding
At boarding, you not only have your own queue but your own entrance: 1 entire plane entrance for the 12 Suites Class passengers. It certainly makes you feel special!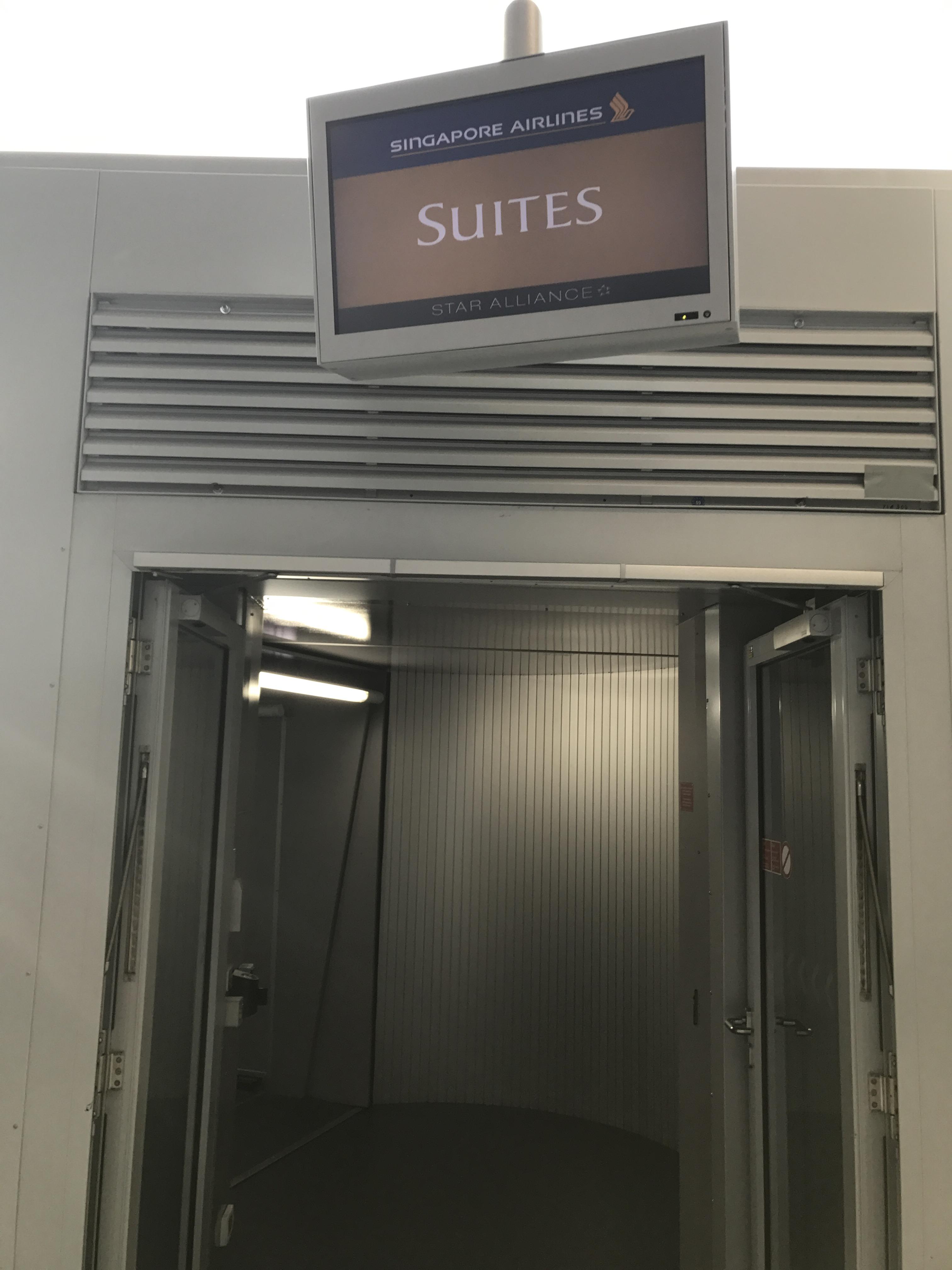 The crew meets you at the door and brings you to your seat. They then helped me take some photos as only one other Suites passenger had boarded.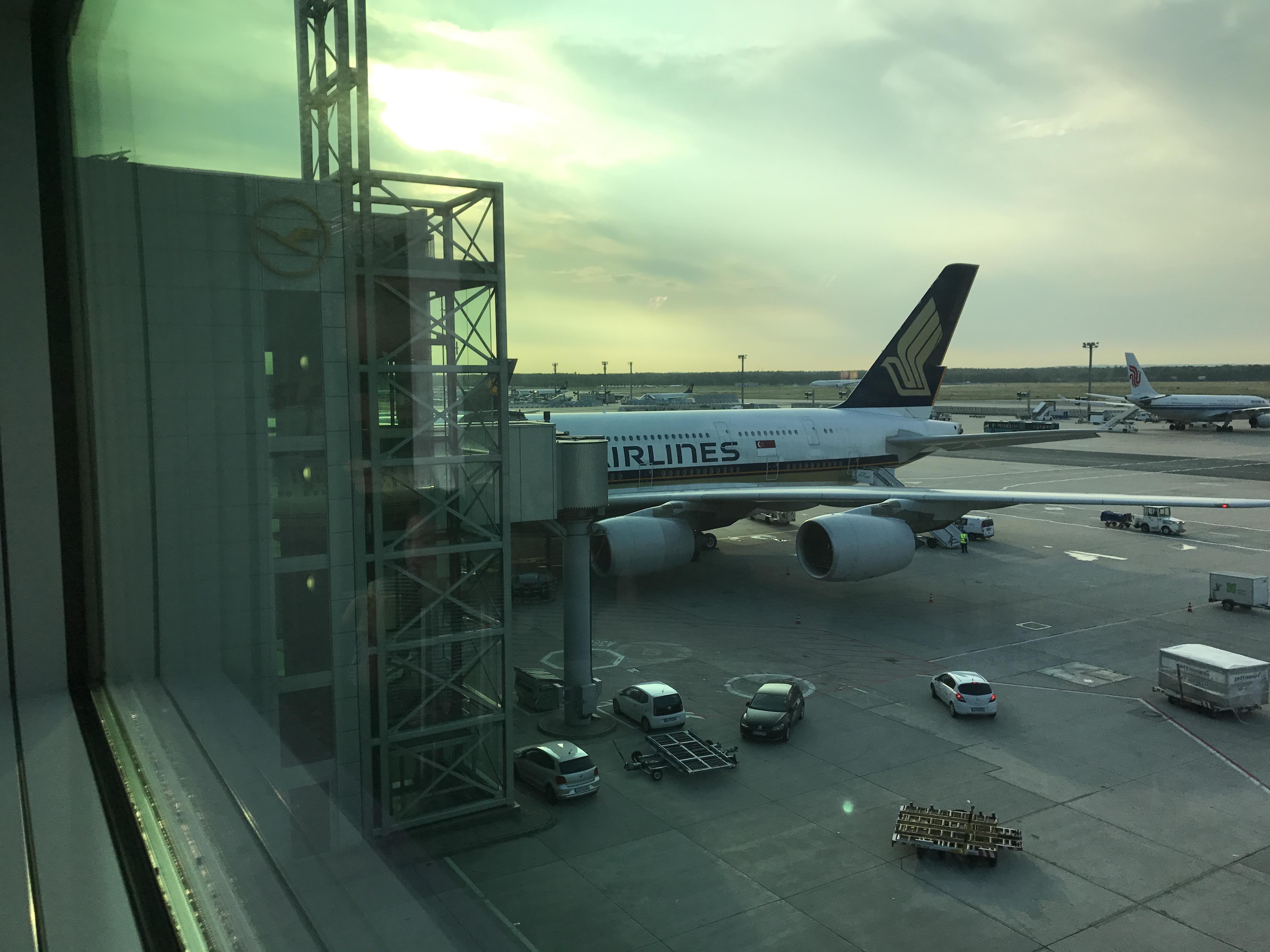 The Suite
The Singapore A380 Suite was the first airline First Class to feature an enclosed area. The ultimate privacy, you have two closing doors and two interior window shades, as well as a Do Not Disturb button. If you want some privacy, you've got it.
Here are two short video clips of the suites: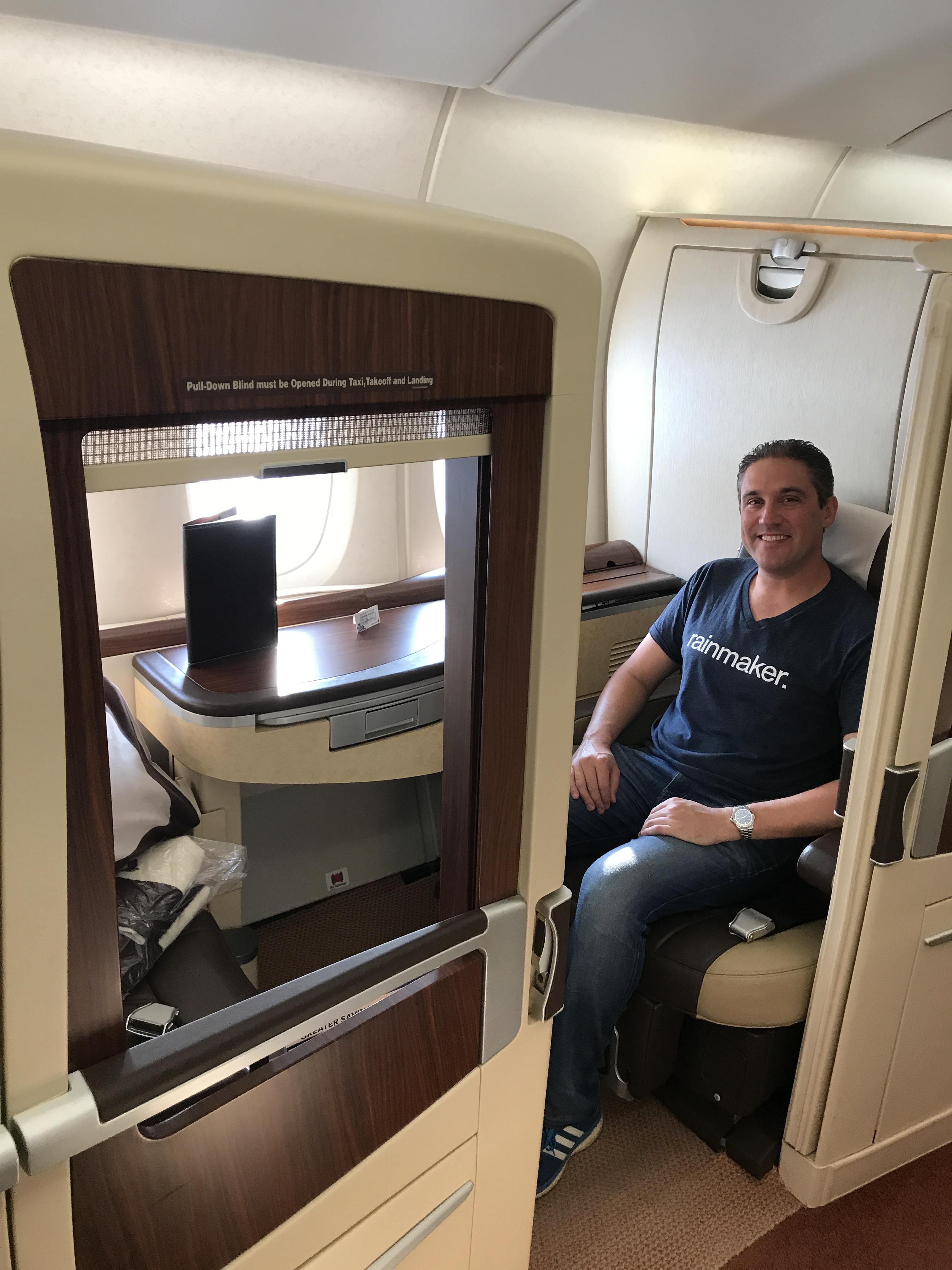 Row 3 window seats have 3 full windows (Rows 1,2, and 4 have 2) so of course I booked 3F. The interior seats are actually joined such that the beds are adjoined if you would like. You can't tell at boarding because a large divider separates the seats in the middle. But when the seat is converted into a bed, the middle walls can be lowered. If traveling as a couple, you definitely want the middle seats. Alone, you'll prefer the windows.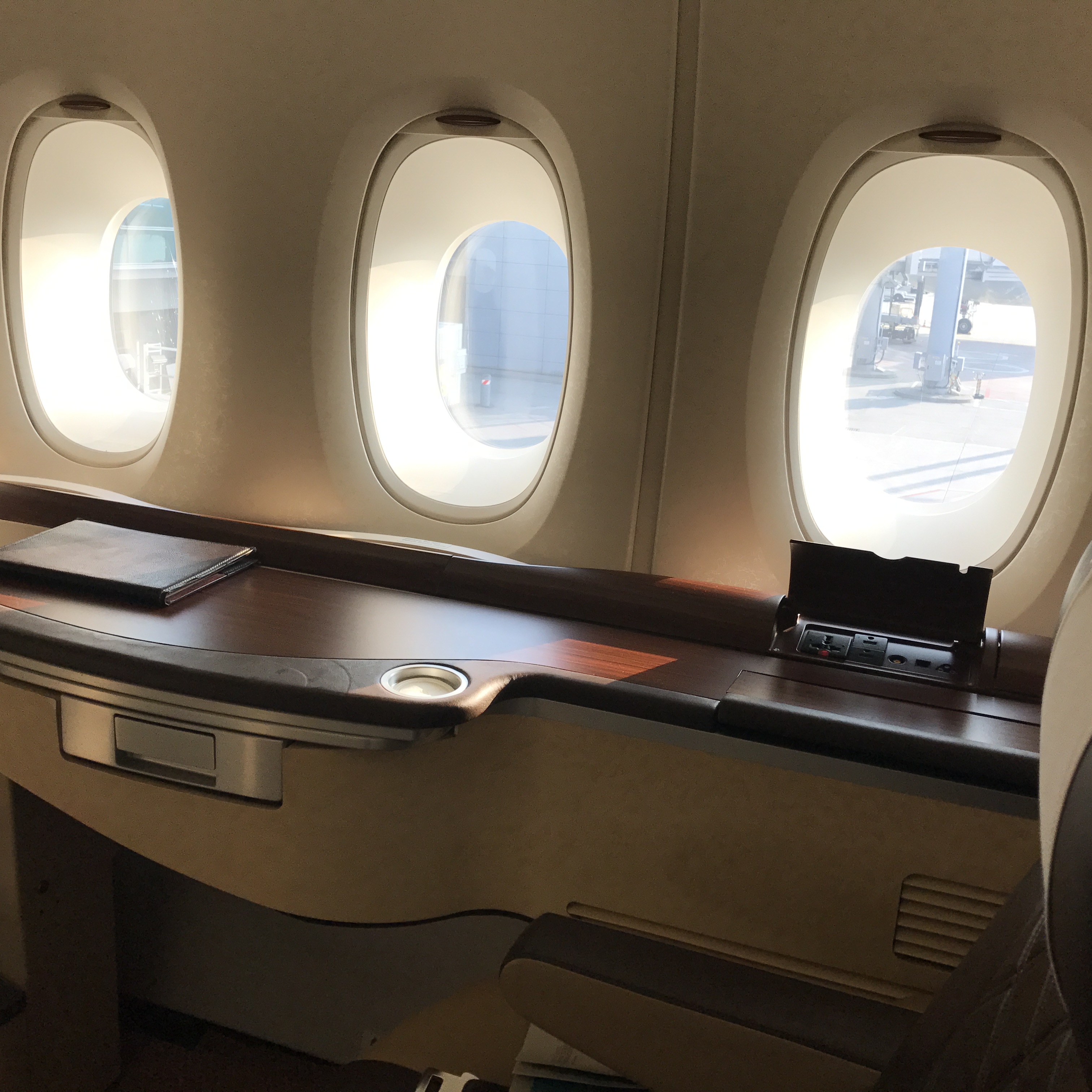 The seat itself is quite comfortable to sit in, yet ever so slightly shows its age with the lack of varying positions (you can basically get it to about a 40-degree recline). Beyond that you'll need to have the seat converted into a bed – a whole process the flight attendants must do for you. This means you sort of have to commit to your nap time and then have the bed converted back to a seat when you're done. If you are lucky, there may be a spare empty seat you can request to use as your bed. They are willing to accommodate that request when available. Someone else beat me to the spare seat on this flight but I did have that on my JAL flight in December.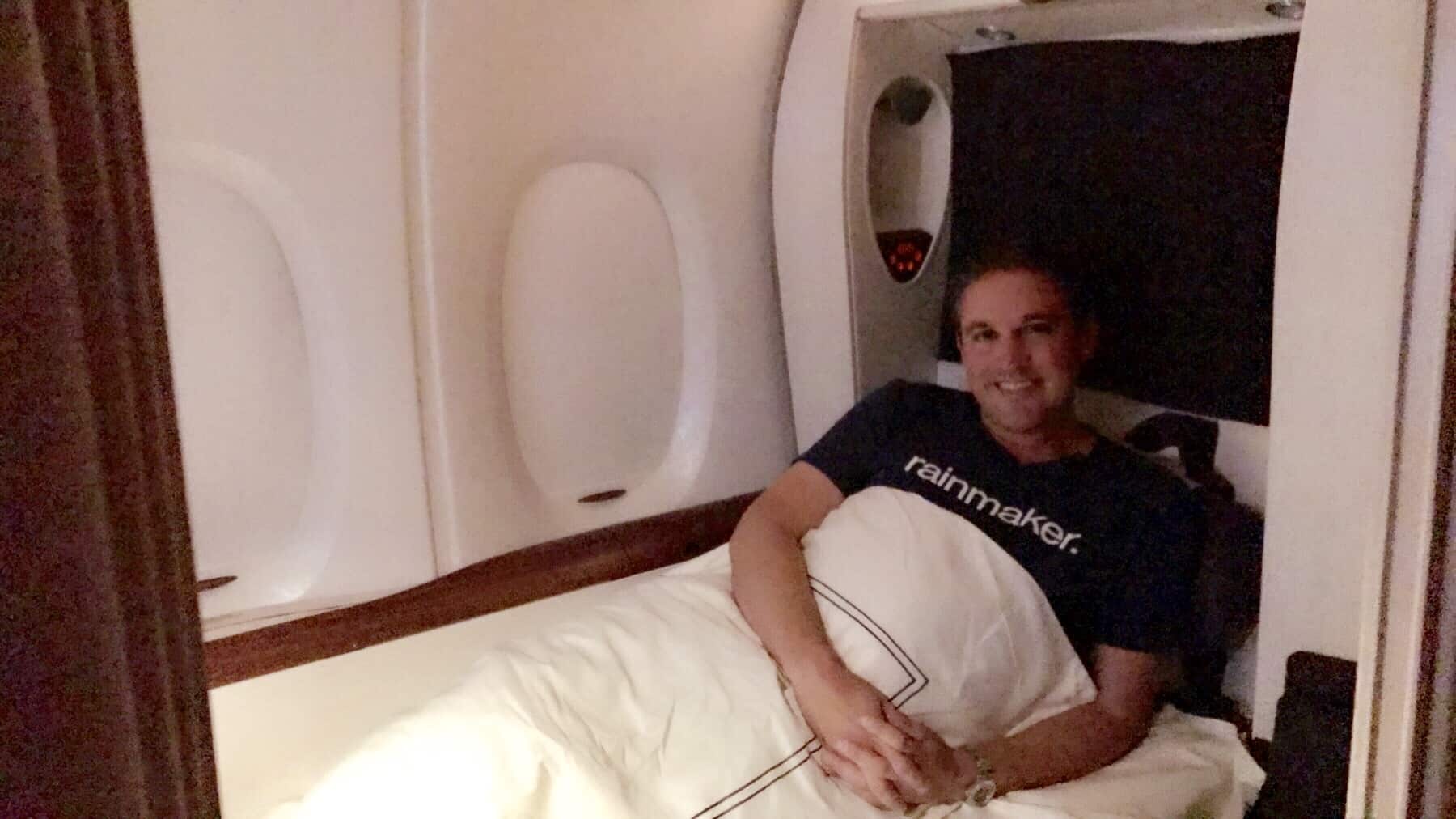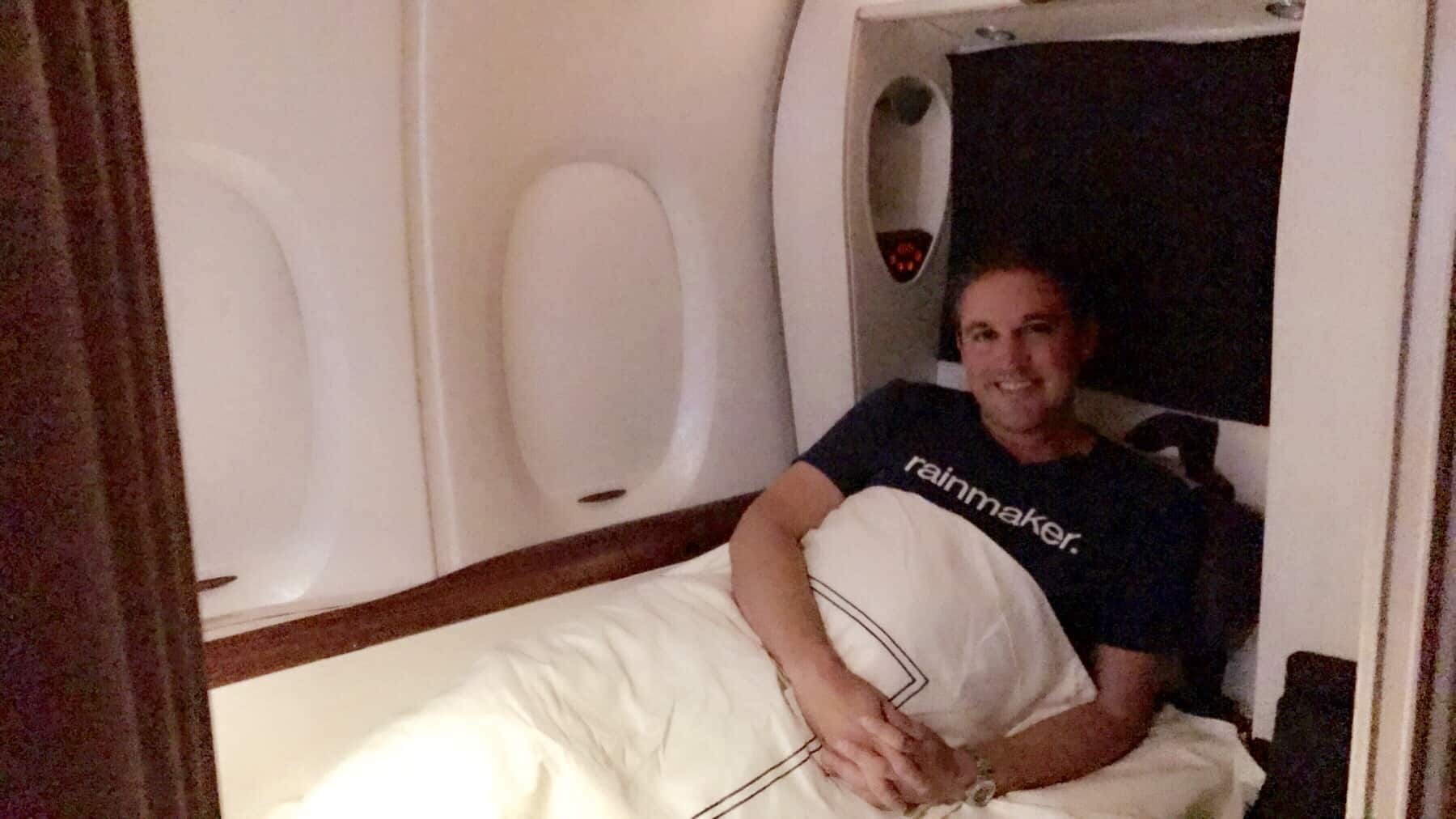 Here are a few more pictures of the Suite, because, well, it's a Suite on a plane!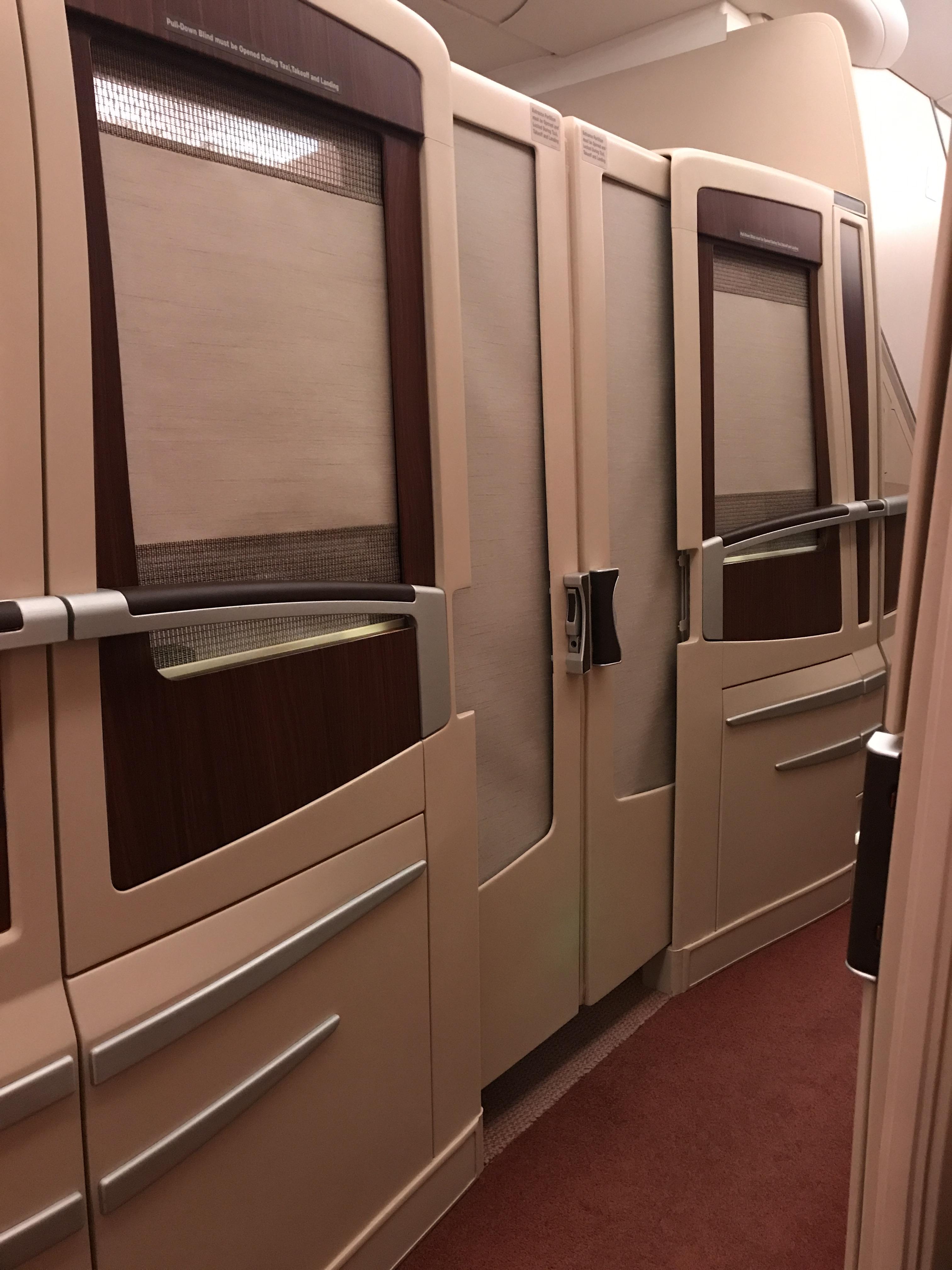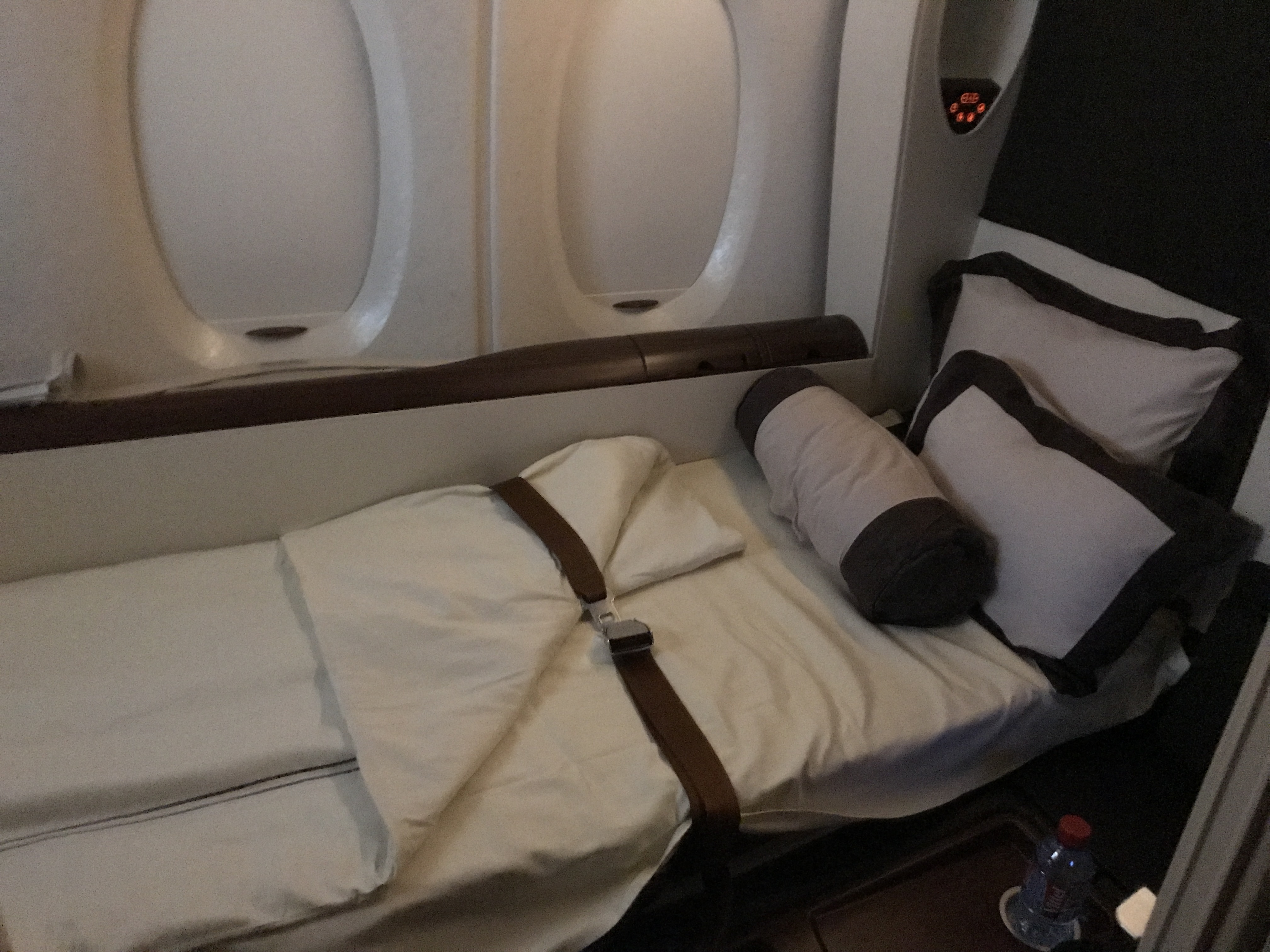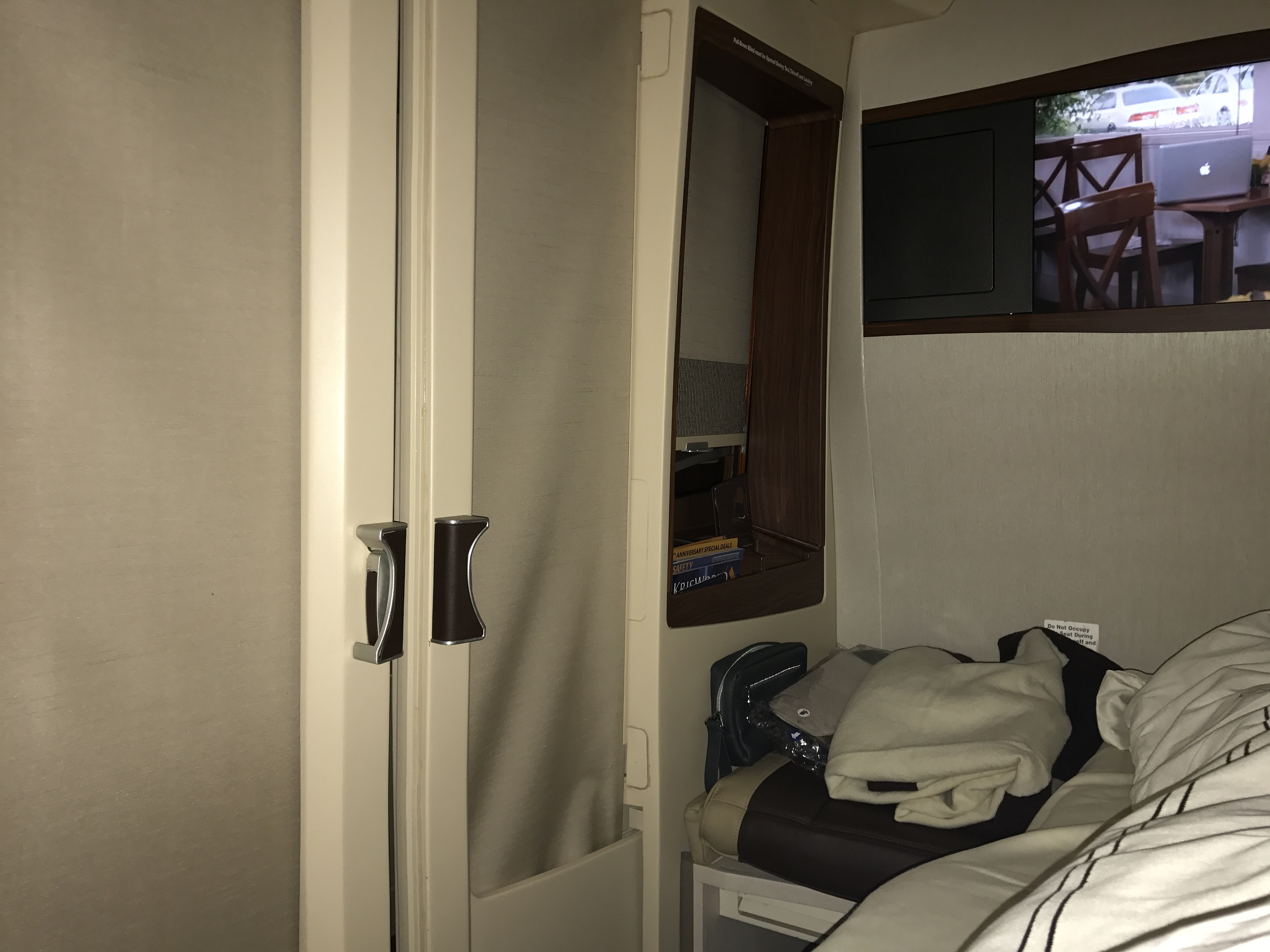 The Suite features plenty of under seat storage, two lights with multiple levels, a 110-volt plug (though mine was broken), two USB ports (which I used to charge instead), and a three-prong headphone jack for the provided Bose headset.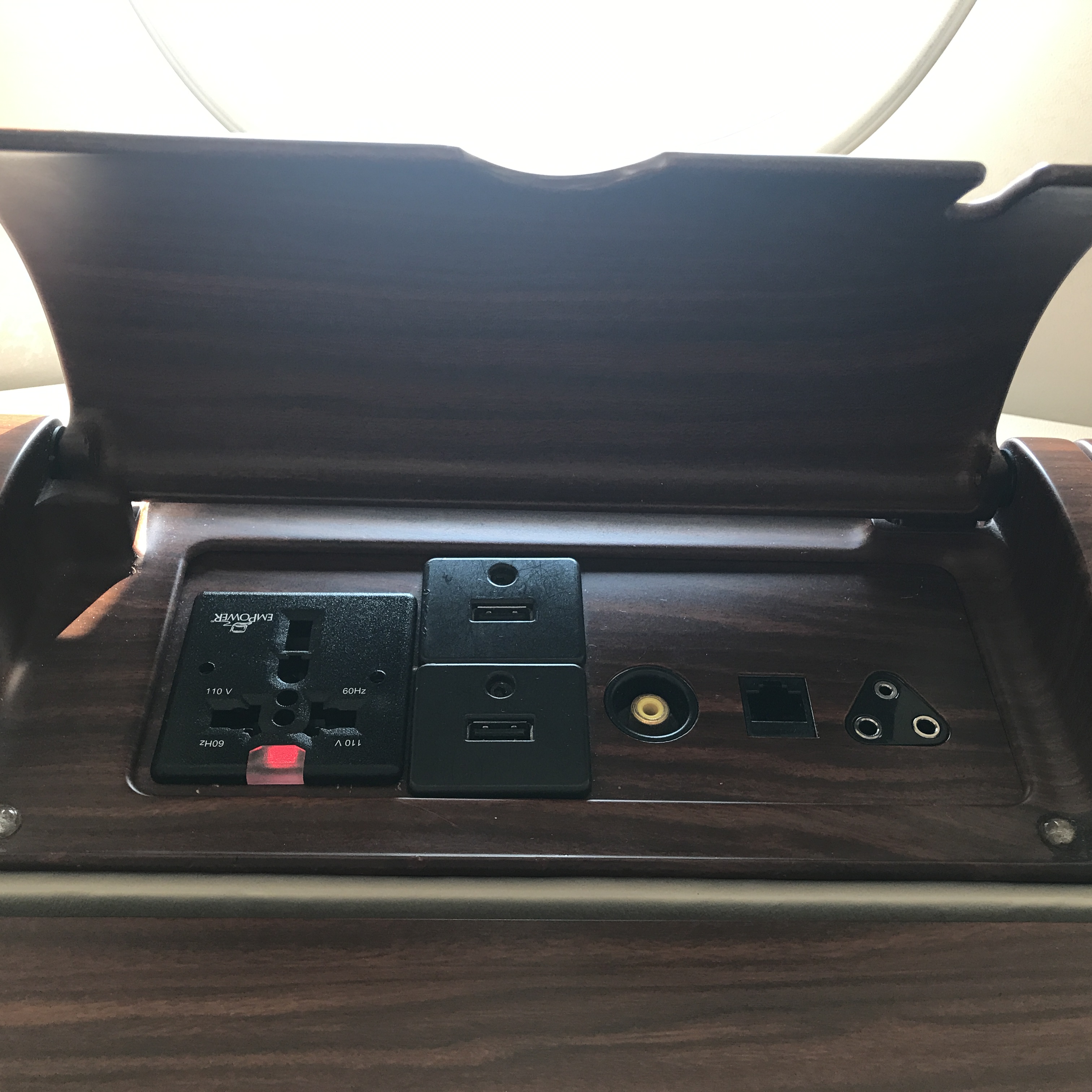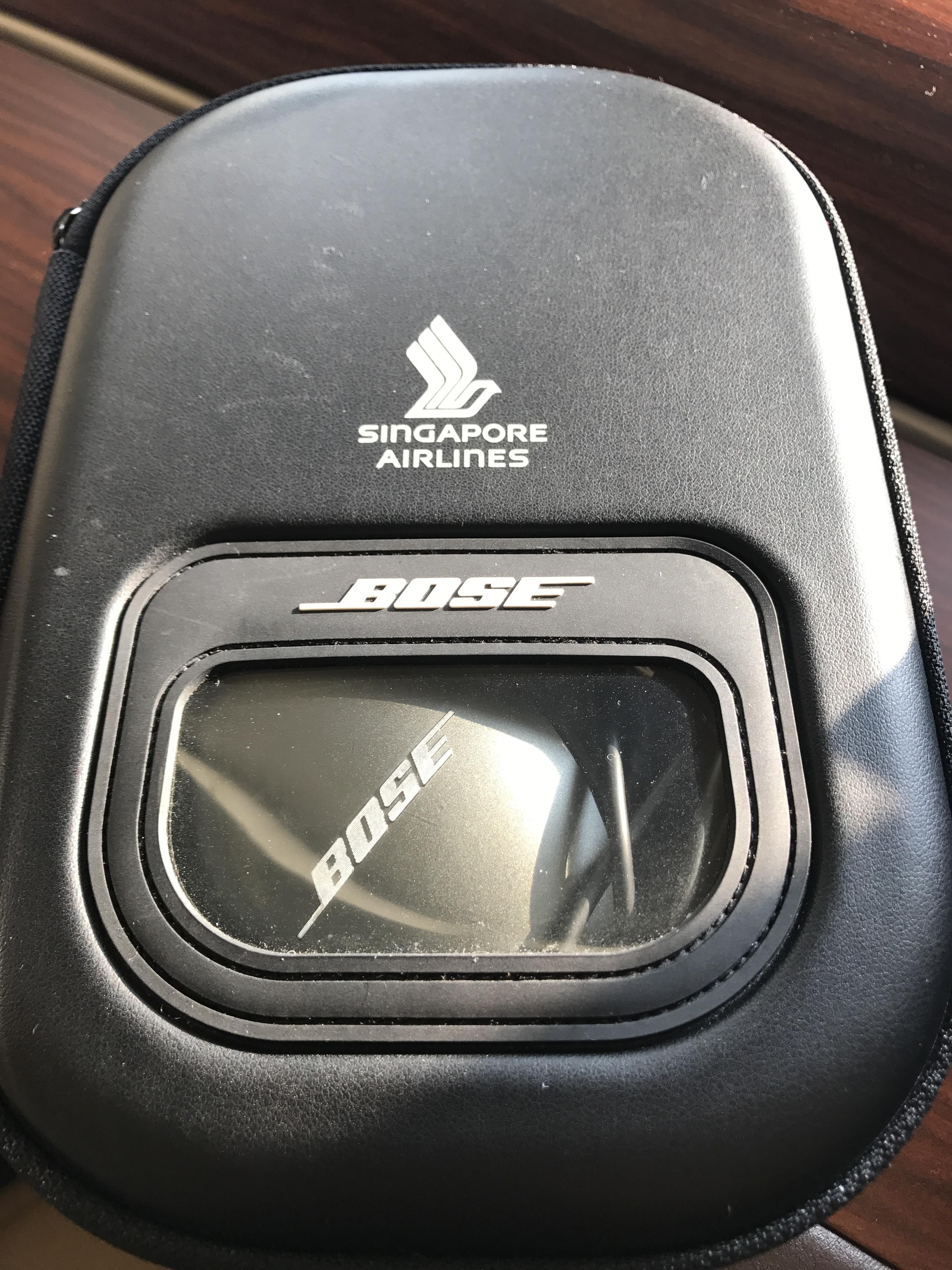 A large TV is also at the front of the suite with a very extensive In Flight Entertainment selection. Hundreds and hundreds of channels, with hundreds of both movies and TV shows, should keep you busy.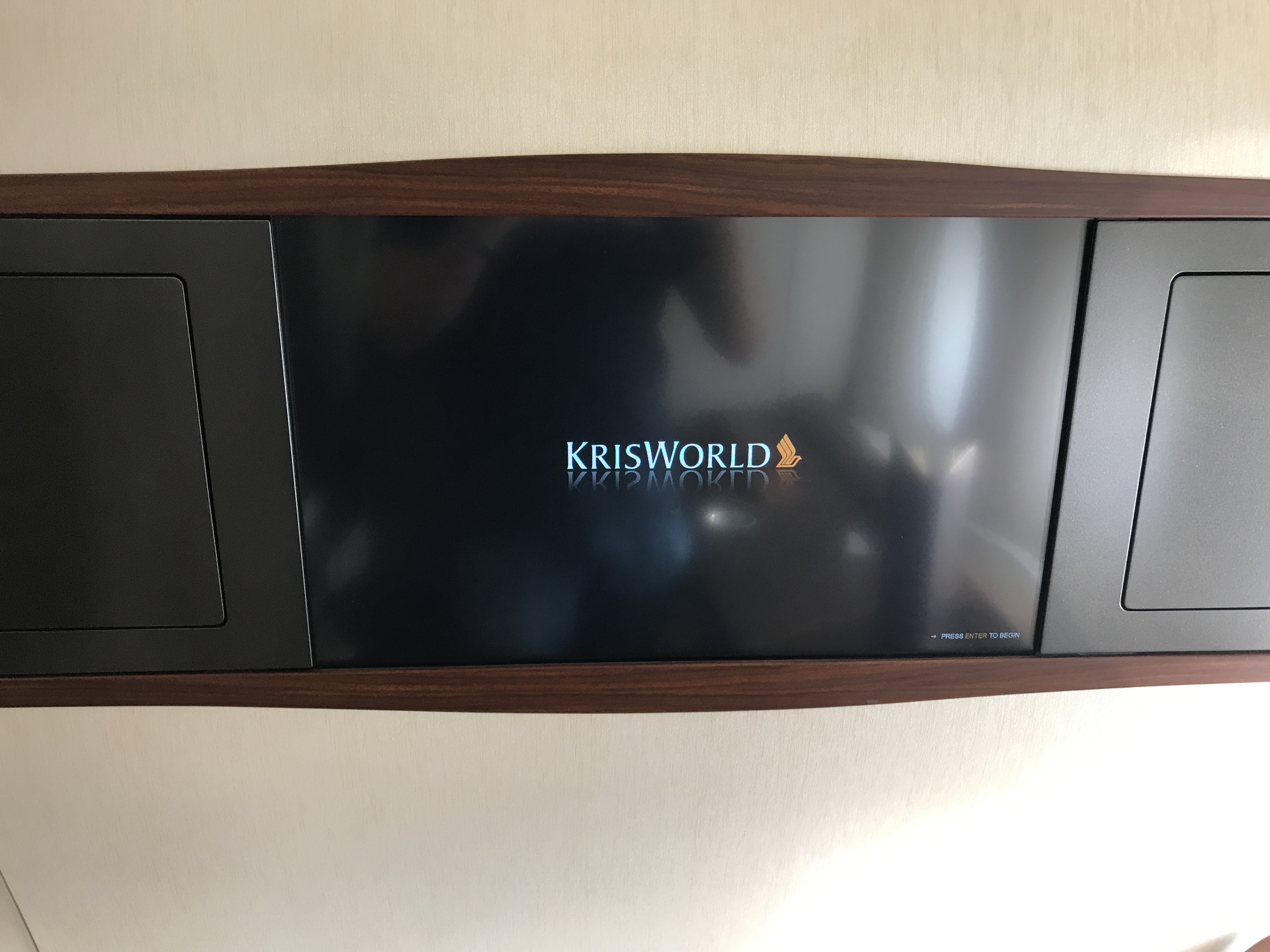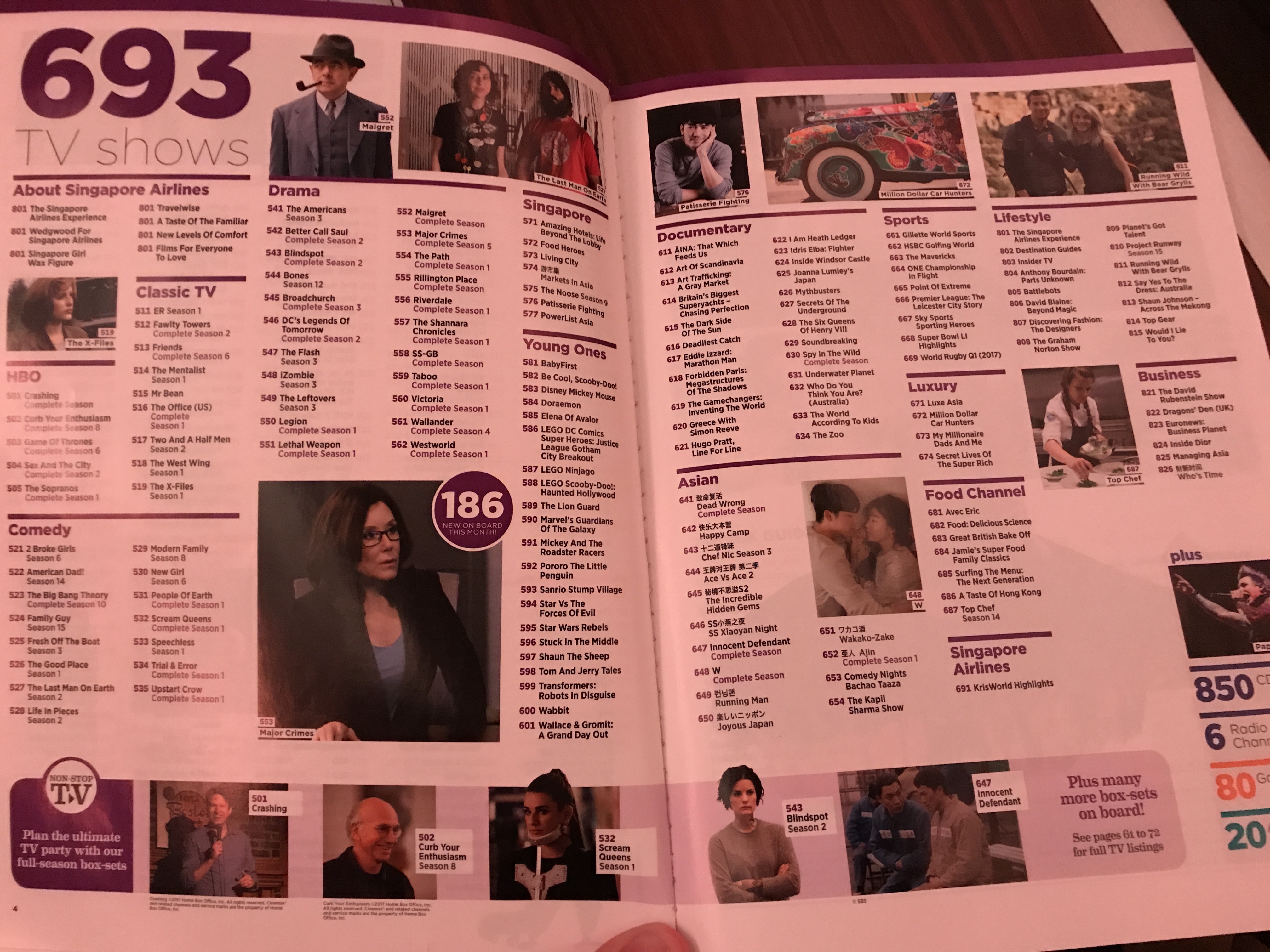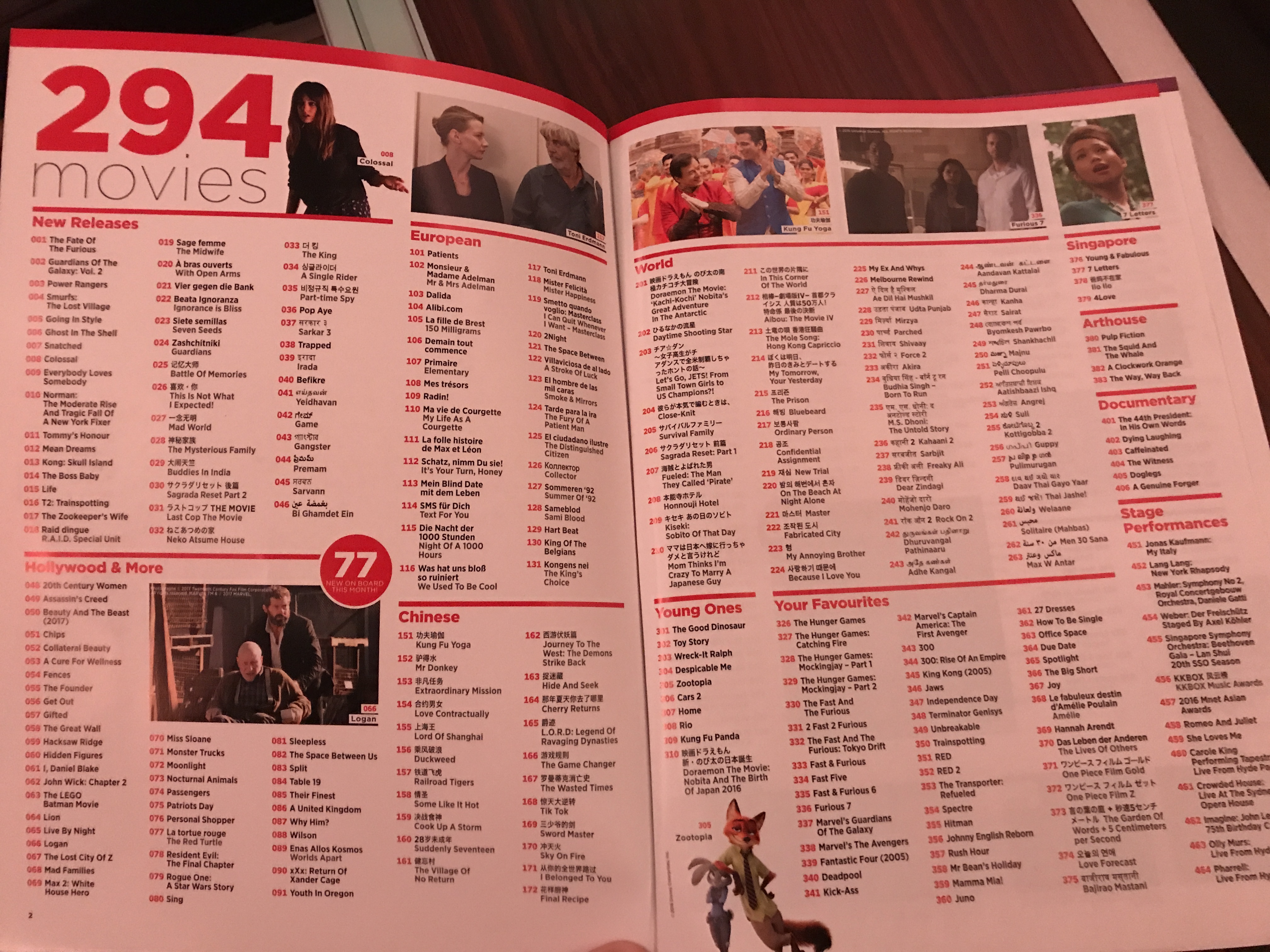 The Pajamas and Amenity Kit
Some people get really jazzed up about the pajamas and amenity kit. I didn't wind up changing into the pajamas (which, yes, you do get to keep), but here is the amenity kit: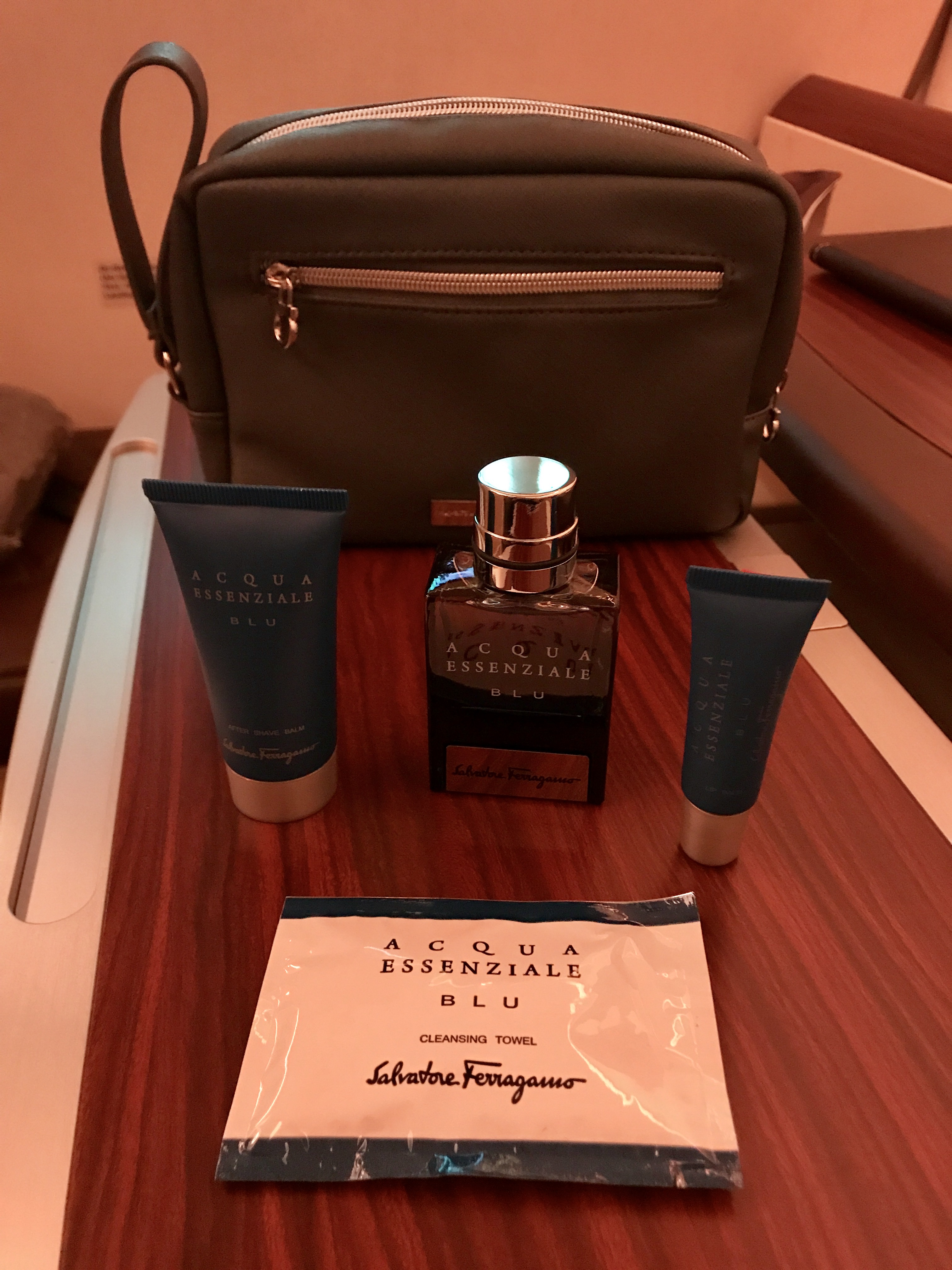 And the pajamas, still in their bag: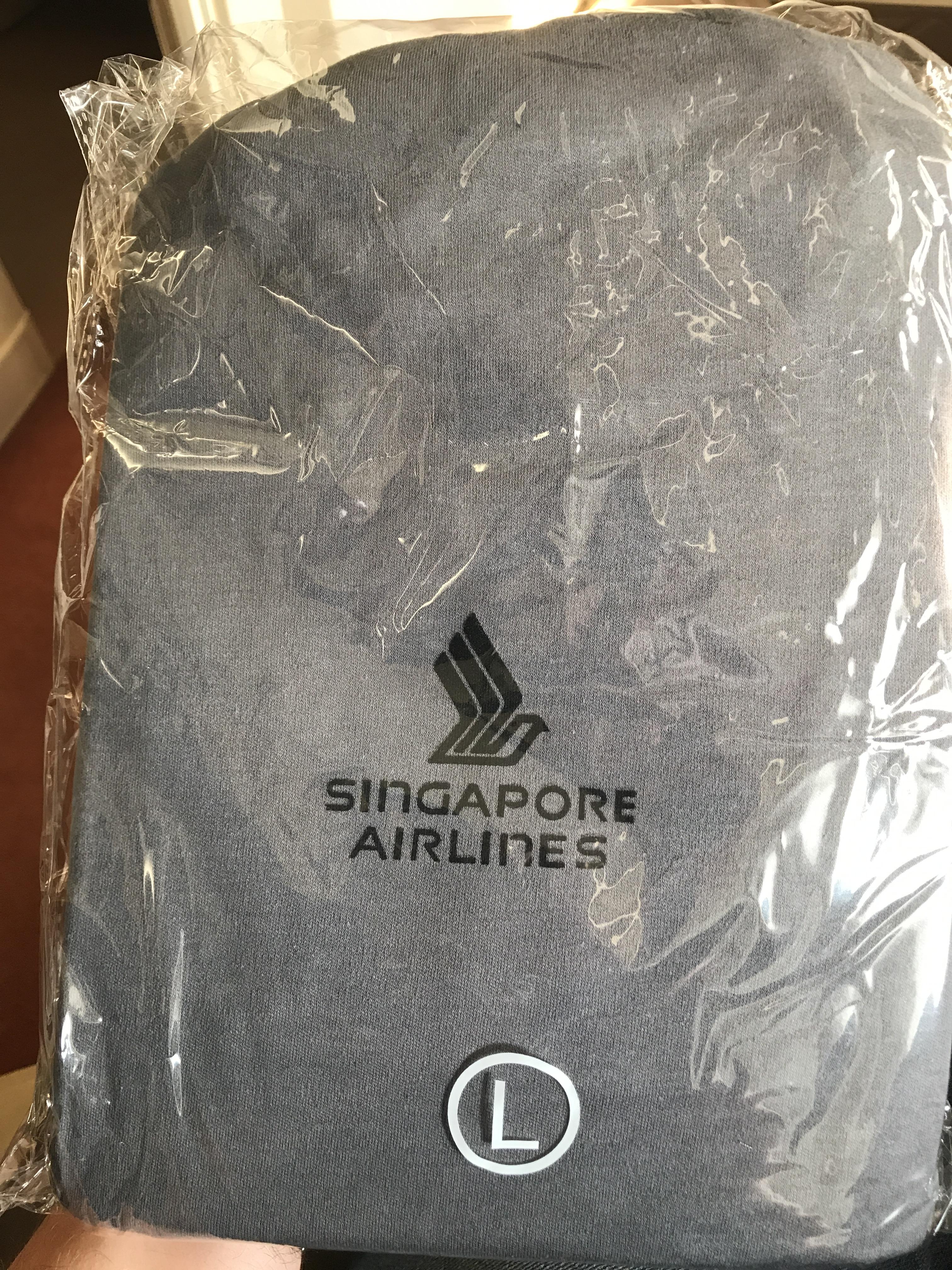 The Bathroom
Pretty darn roomy and full of things you may need, like spare toothbrushes, razors, shave cream and aftershave balm.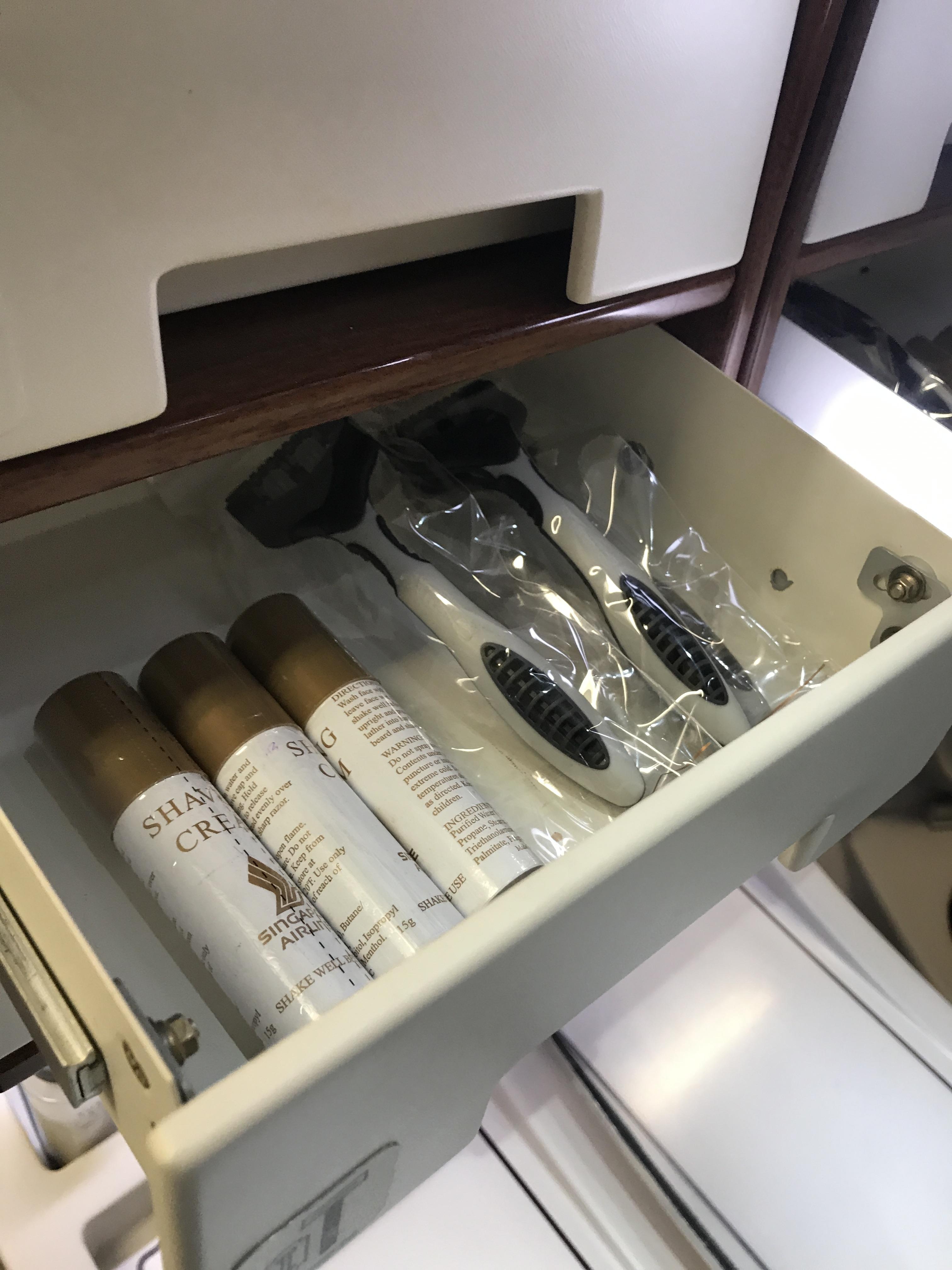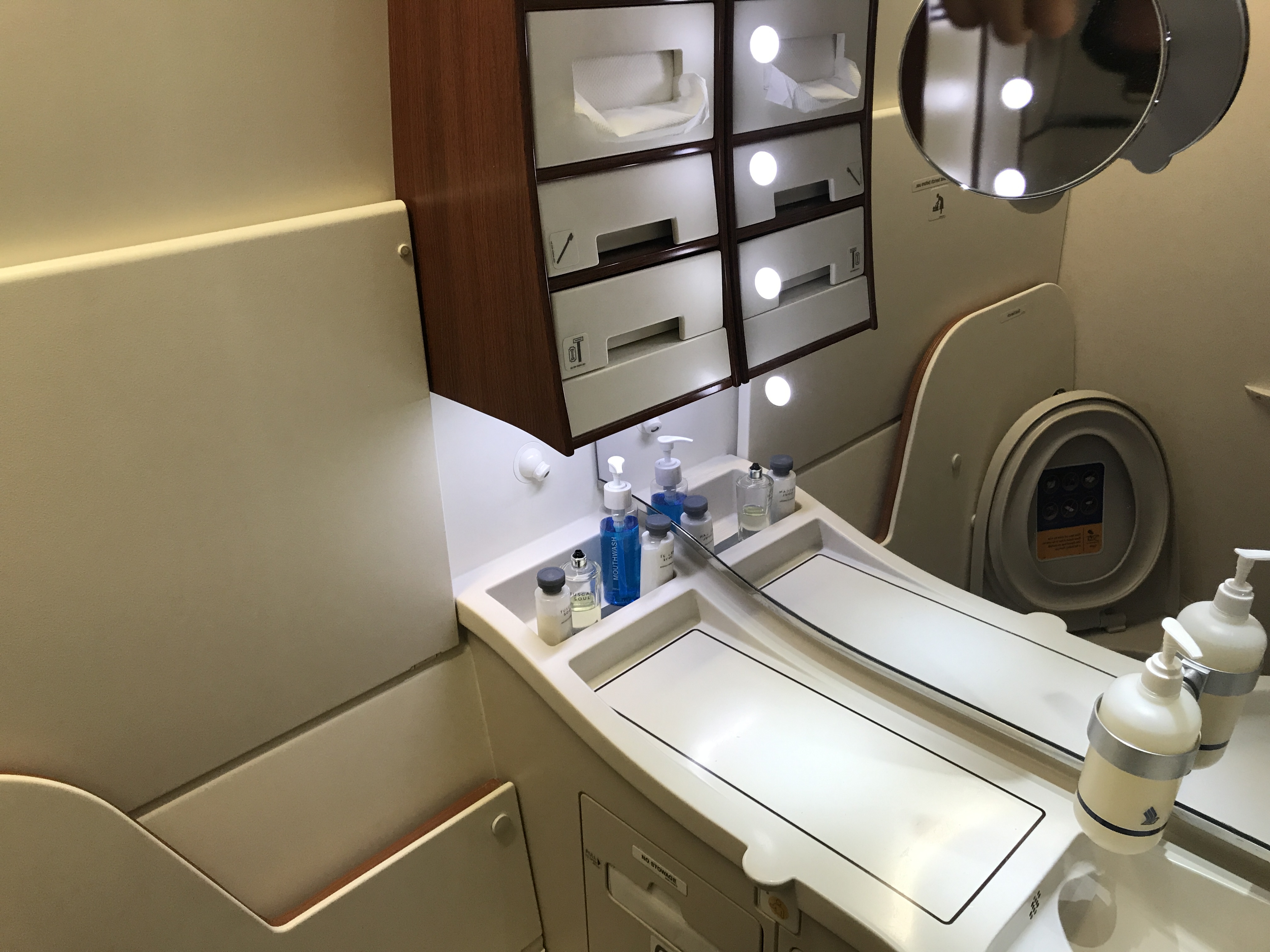 The Meals
On the Frankfurt to JFK flight, there are two meal services: a brunch and a light lunch. Keep in mind the passengers that started in Singapore have already had two full meals! As well, although a selection of on-demand snacks is offered on the SIN-FRA flight but not on the FRA-JFK flight. You can see the complete menu below.
One thing that I cannot stress enough is that if you book this flight you are not limited to the rather light menu offered. You can use the "Book the Cook" feature, which is not widely advertised to reserve two alternative meals in advance.
I used Book the Cook to reserve a steak for breakfast and a lamb rendang for lunch. With breakfast, I ALSO ordered off the menu the quiche with veal sausage and rosti potatoes because, well, I love rosti potatoes 🙂
Lunch also came with a bread assortment from which I had some garlic bread and pretzel bread and was offered some truffle oil with it. That was a nice touch!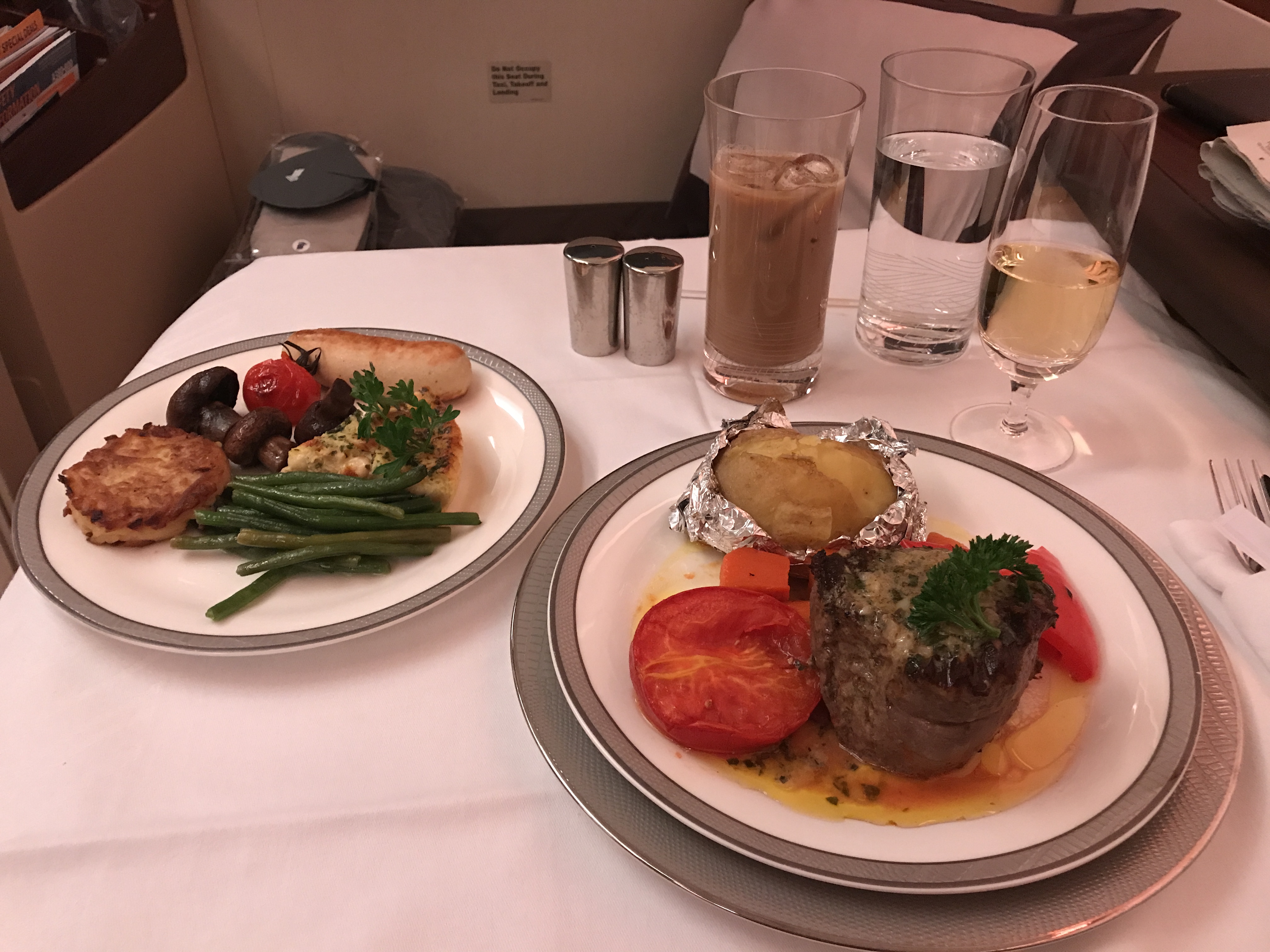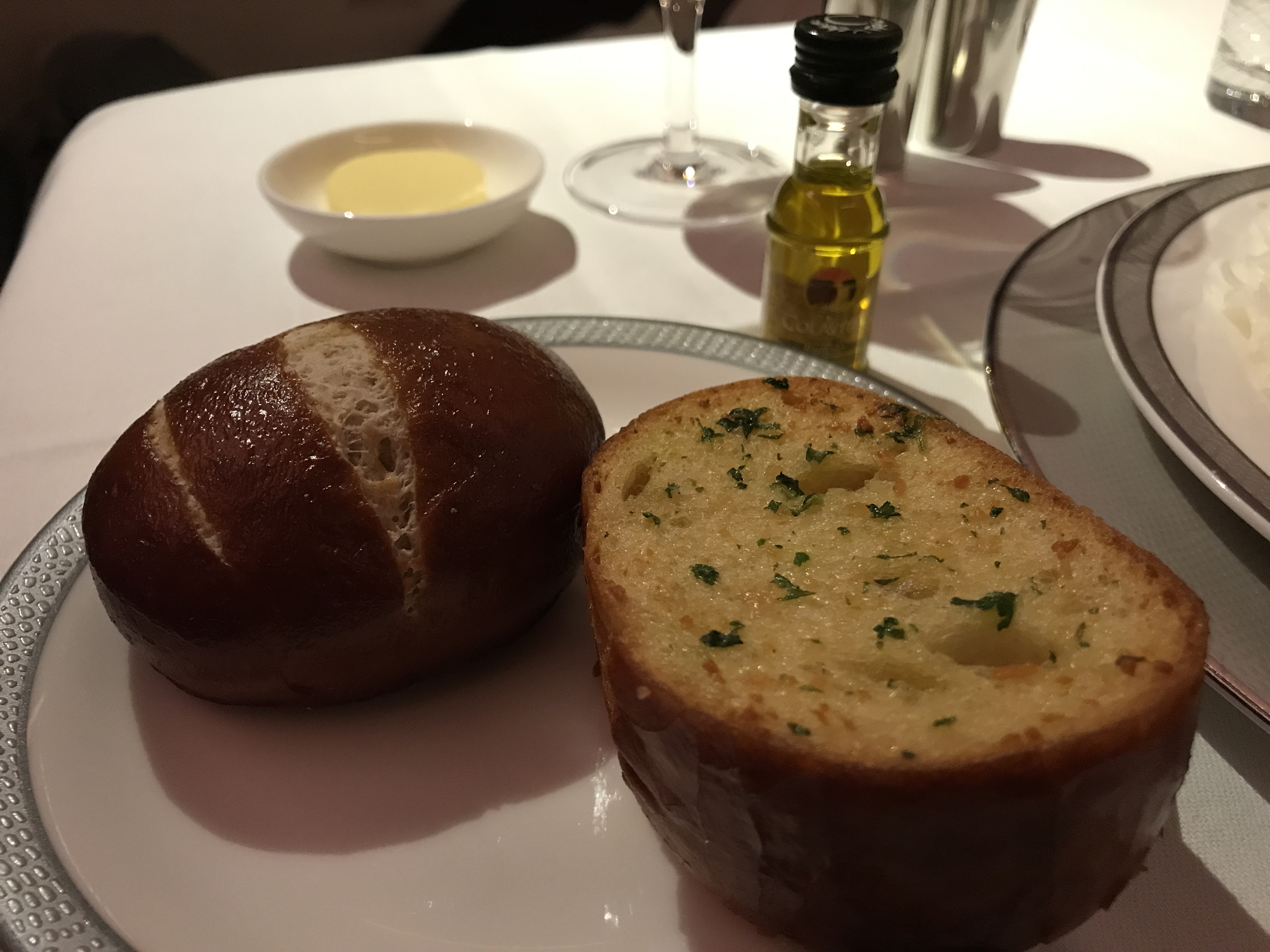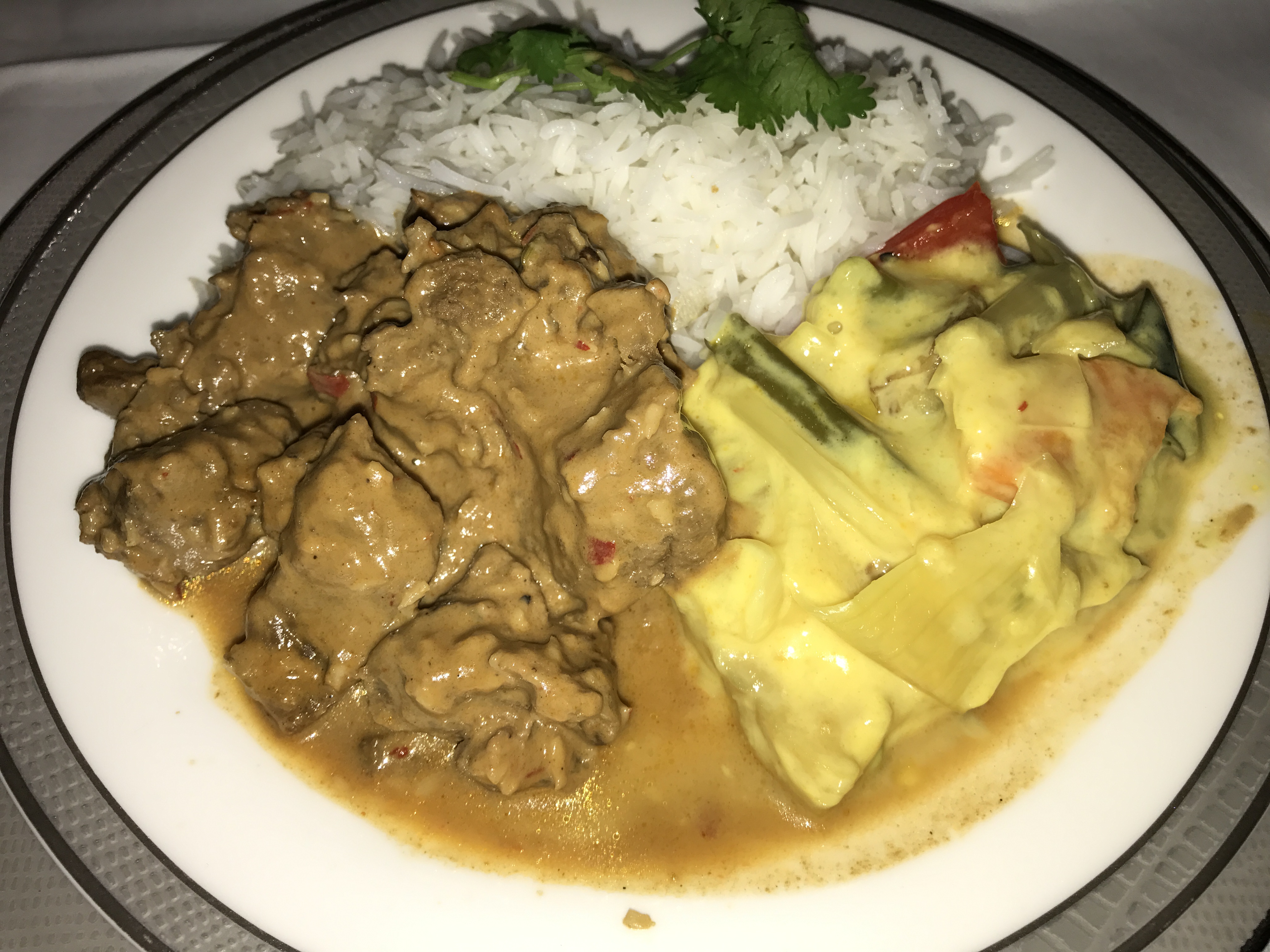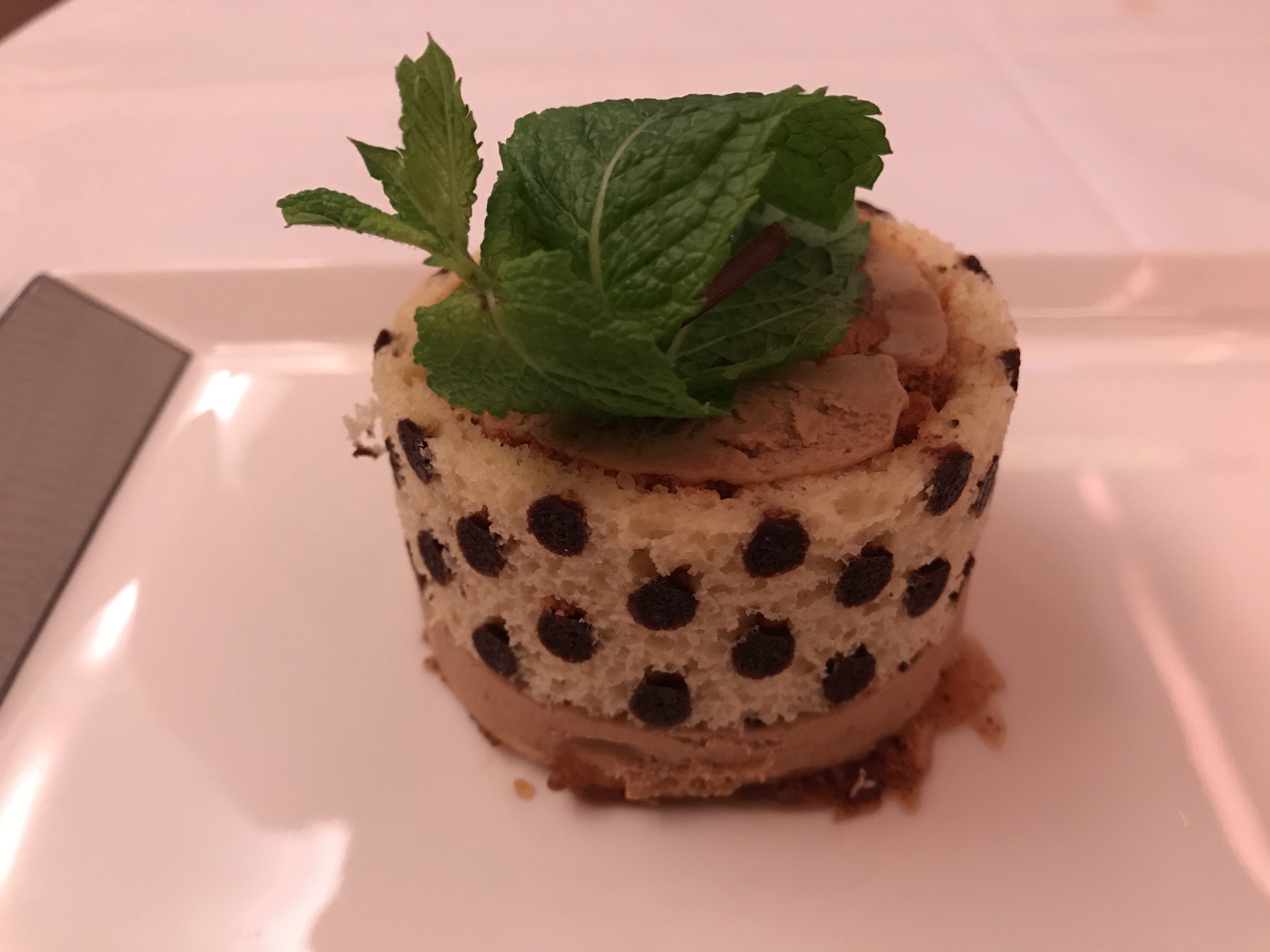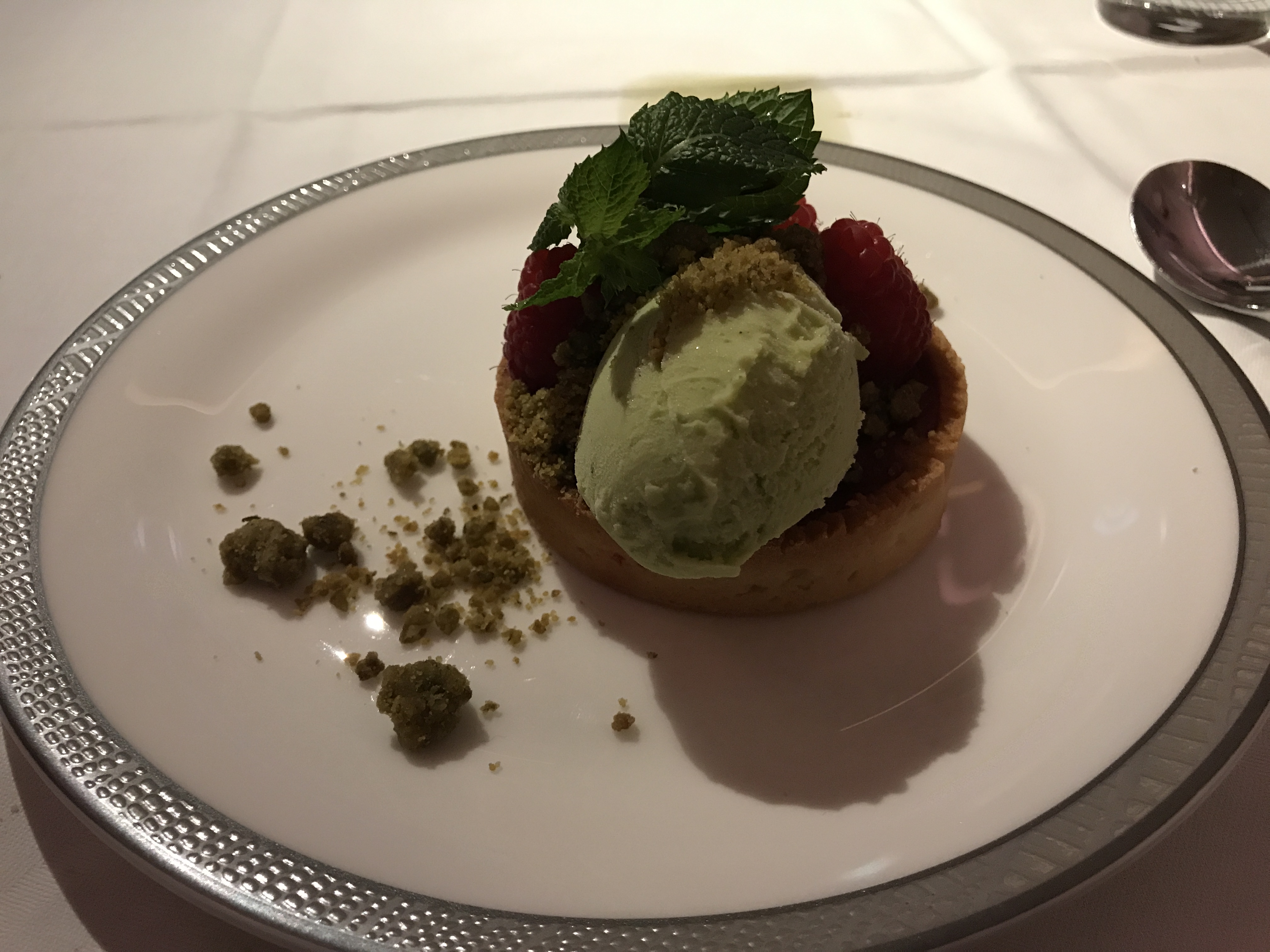 The food was very good, though I must confess that JAL's 1st Class, with the Grade A4/A5 Wagyu beef and the many on-demand snacks, was better. The Singapore Airlines steak was less tender and less juicy by comparison. Still, it was restaurant quality for sure! I'll be very curious to compare the food with Qantas' First Class, which I'm flying the end of this year to Australia as well as ANA (Japan's other long-haul airline), Emirates, Etihad, and Qatar in their new Q-Suites Business Class.
Here's a short video of me about to tuck into brunch…. come join me:
The champagne and wine selection were also superb. I had a nice glass of Krug at departure, though I'm not normally one to throw back champagne at 8:30 am. When in Rome… or I should say Frankfurt!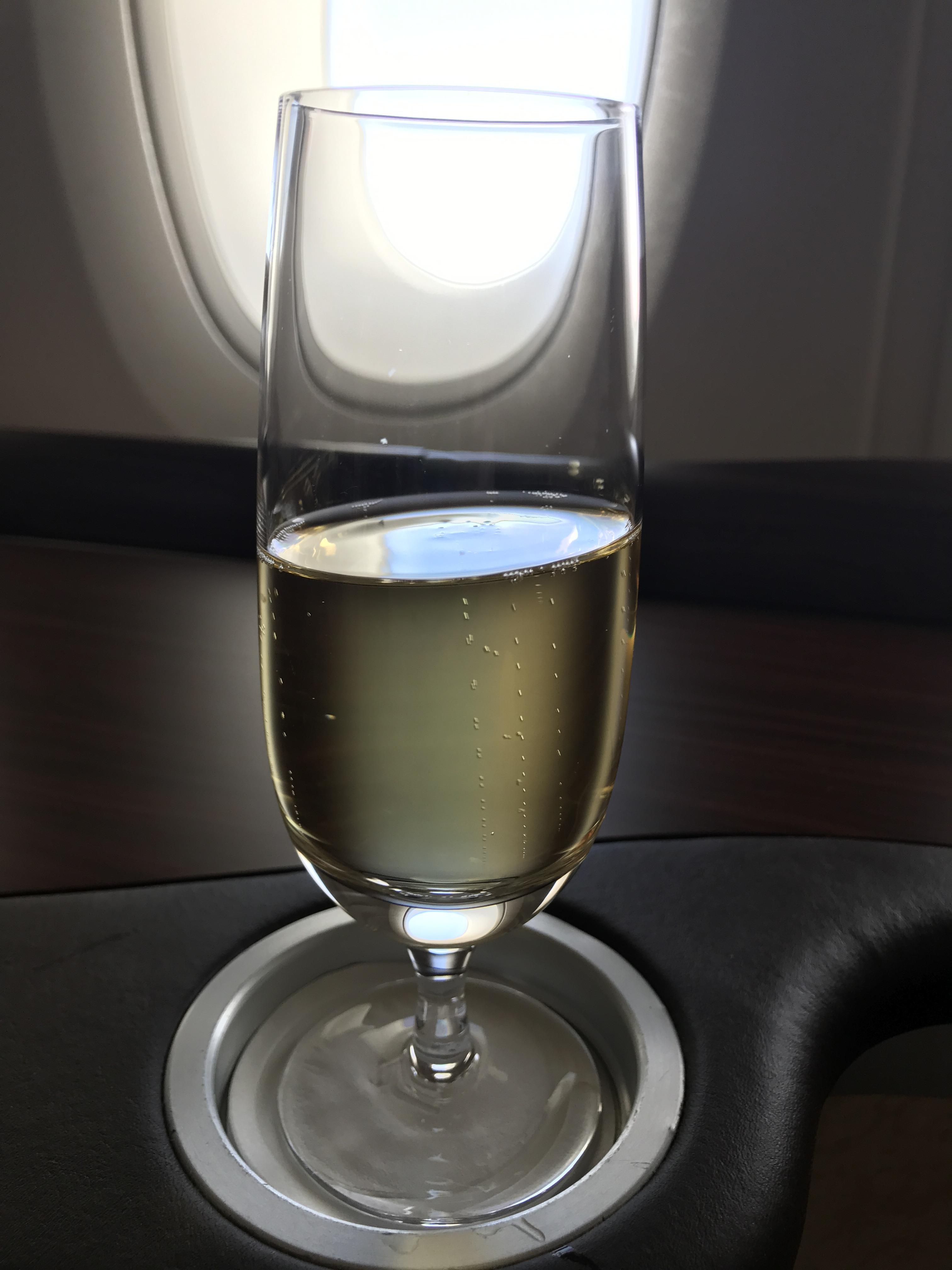 The Onboard Wi-Fi 
This was a weak spot for Singapore Airlines. The only option I had was to buy bandwidth at exorbitant rates topping out at 50 MB for $20. You may not realize how little that is in the modern Internet age, but check emails a few times and load Facebook a few times and you'll be done. As well, onboard Wi-Fi is almost always sluggish and you often find MBs drained while you were trying to load something – without even loading it. More frustrating is that Singapore Airlines offers a reasonable unlimited Wi-Fi plan – to Singapore residents only! They partnered with local Singapore cellular carriers for the plan and so if you are based in the USA or elsewhere, you don't have the option. If you caught my review of Business Class in the KLM 787 Dreamliner, they also had a metered plan and it was so frustrating that I just opted out on this flight altogether.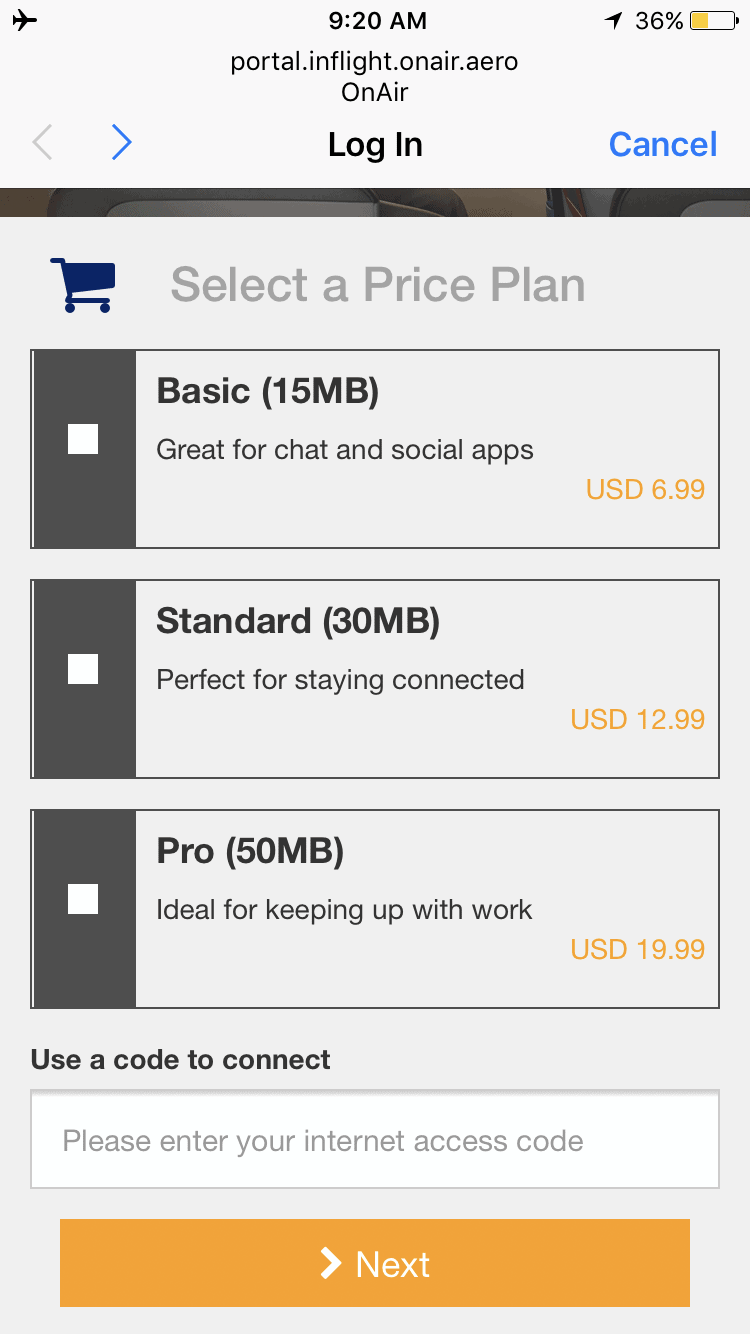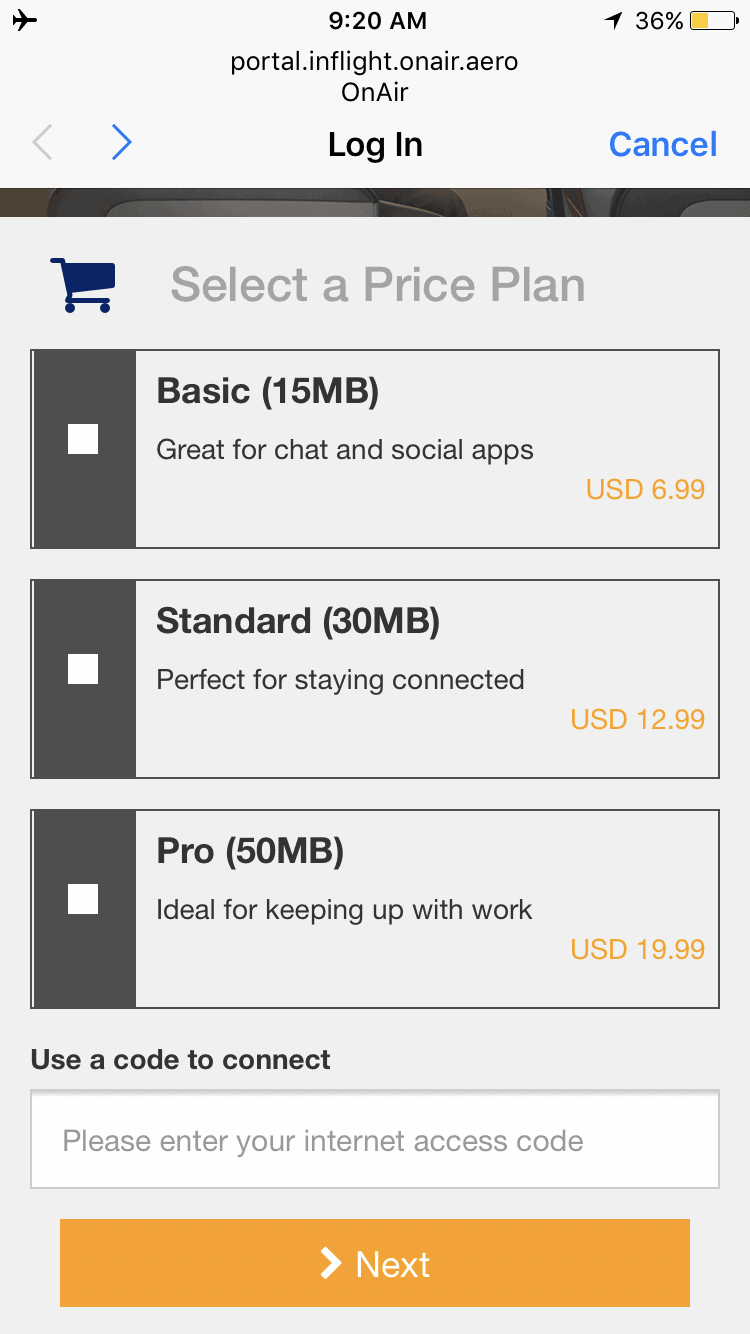 By comparison, JAL offered me a code for free unlimited Wi-Fi when I flew their First Class. Emirates does the same. ANA, however, also has a metered plan. Believe it or not, when I went to Japan last December, I chose Japan Airlines over ANA solely because I'd researched that and decided that if I need to pass 28 hours round trip on a plane, I certainly prefer to have Internet access!
The service
One of my very first Business Class flights ever was about 15 years ago on the top deck of a Singapore Airlines 747. I'd redeemed United MileagePlus miles (and since that was before I started in this hobby, I think it was all the miles I had!) for that flight and have never forgotten how amazing it felt. Sure there was a bed, angled, in the seat but the service and the food were what won me over and turned me on to the commitment to "bend over backwards" service that the Asian carriers generally provide in premium cabins.
I'd long wanted to fly Singapore Airlines again, never forgetting that flight, and the stars aligned for this one. The service was once again fantastic.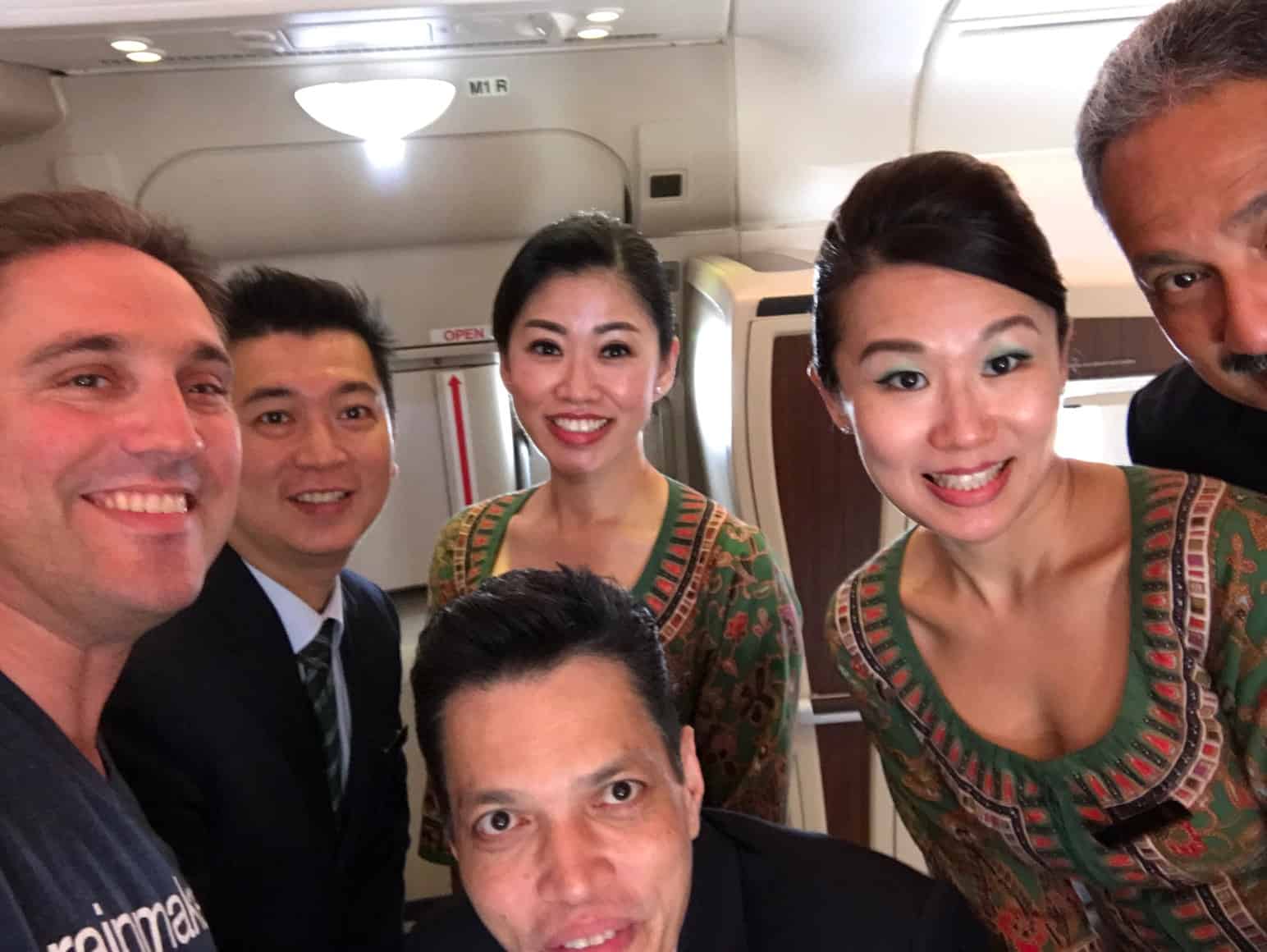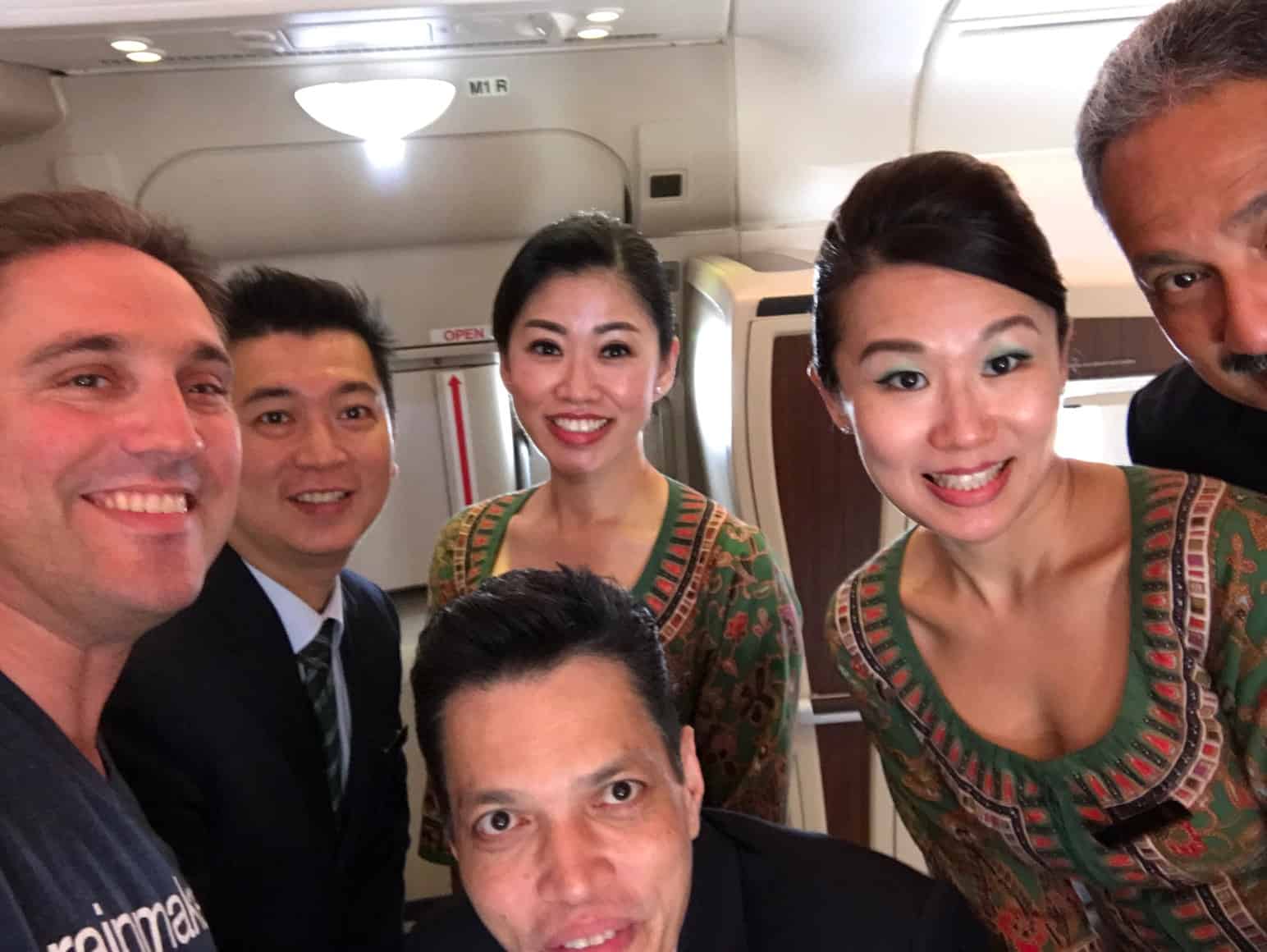 From start to finish, everyone in the Suites cabin was attentive, friendly, and had that "anything you would like" attitude. I never felt like I was bothering them for anything, whether it was a beverage, a bed turndown, or even a photo. They are all enthusiastic about their airline and even wanted to know how I felt their Suites compared with other First Class products I've flown. When I mentioned that I would have enjoyed an unlimited Wi-Fi option they urged me to leave a note on their comment card so management can see what passengers want, so they can improve.
In my own business, which makes 3D medical animations, I have a very customer-centric attitude. But as a customer in the US, especially on US-flagged airlines, I often feel like the flight attendants would rather be somewhere else (with exceptions, no doubt about that). Singapore Airlines staff has that sense of pride in their work that makes you feel valued as a customer, and that goes a long way in your experience
I thank everyone I met on the flight for their wonderful service and attention to detail and can't wait for my next Singapore Airlines flight. Hopefully on one of those new suites launching around the start of 2018!
Does this inspire you to get started in learning about miles and points?
I'm always happy to help here, on Twitter, or in the private MilesTalk Facebook group.