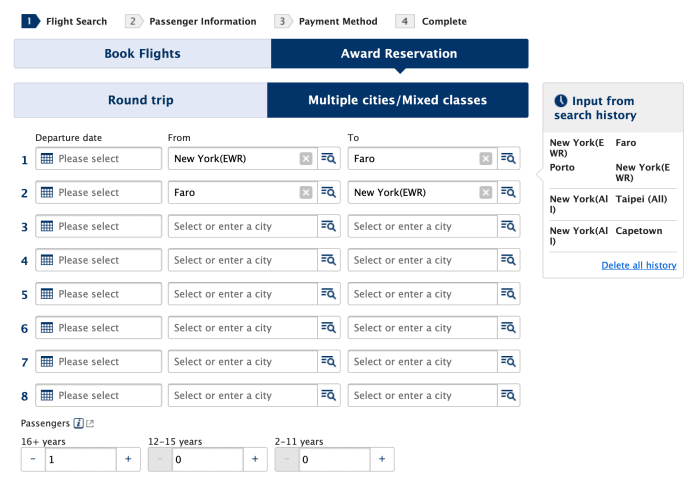 Note: During the COVID-19 pandemic, I've dialed way back on posts like this – the core of this website. In this case, it was the very existence of increased award inventory that made this worth posting now for planning travel well into the future. Right now, you should be home…
---
For a long time, I've had this sweet spot in the back of my head. Trouble is, it often requires United award availability to avoid big surcharges and until very recently (and for obvious reasons), there'd been close to zero United-metal award space to or from Europe. It's not your only option, and I'll go in to that below, but it's the sudden burst of United-metal award space that got me to price a potential upcoming itinerary out with stellar results.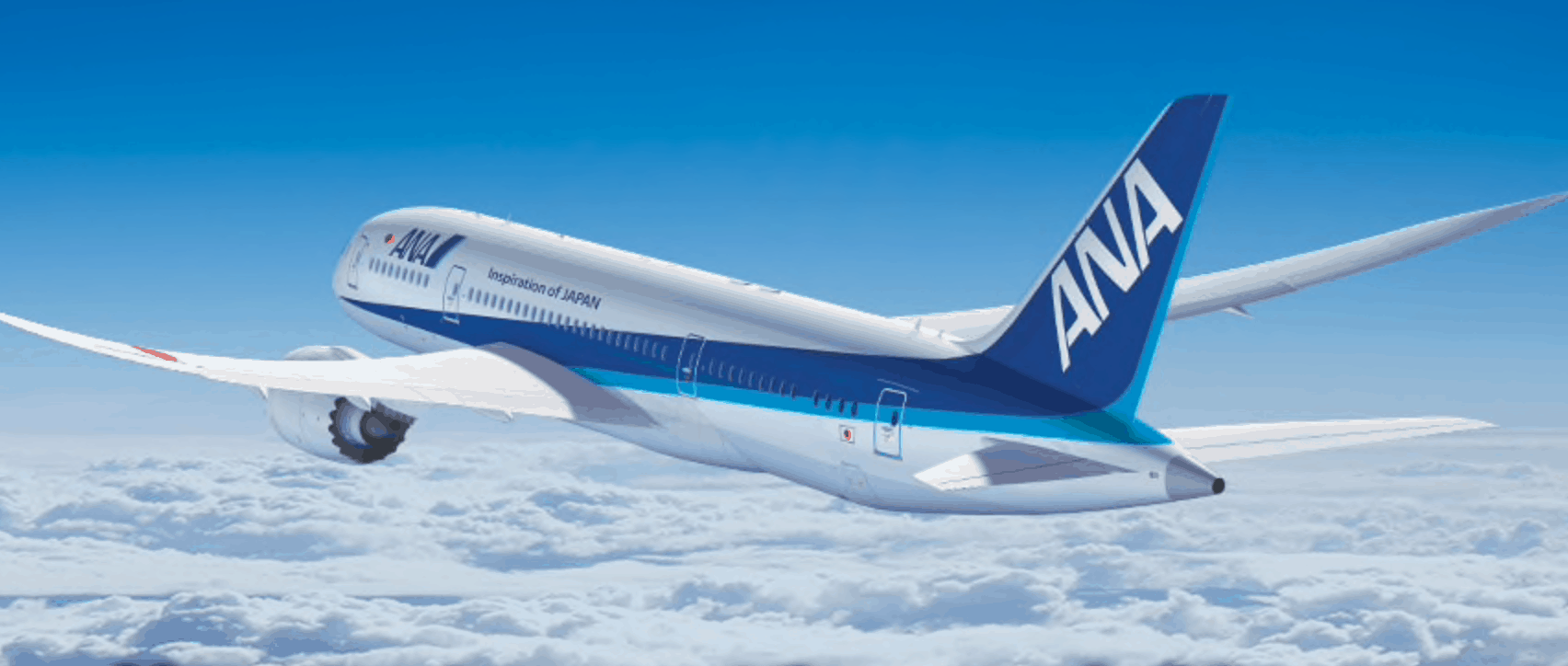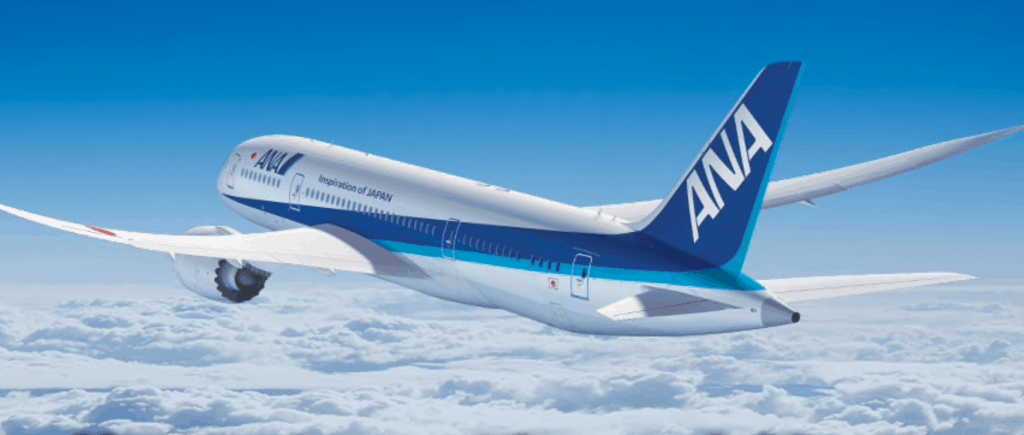 The Cheapest Business Class Award from the US to Europe
If you don't already know where I'm going with this, I'm talking about ANA Mileage Club.
You often hear about ANA in the context of how great it is to use Virgin Atlantic Flying Club miles (especially during transfer bonus times!) to book round trip First or Business class awards. They are just 110,000 – 120,000 Flying Club miles round trip and are fantastic.
But in this case we are talking about using ANA Mileage Club miles to book other airlines (in the Star Alliance) to/from Europe.
A round trip to Europe costs just 88,000 miles plus taxes and fees – in Business Class!
As long as you are avoiding departing from London, and as long as you choose airlines with no or low surcharges, you're golden – if you can find availability, that is.
The airlines you want to look for are United (no surcharges as all), Air Canada, TAP Portugal or LOT.
If you were to select airlines like Lufthansa or SWISS or Austrian, you would get hammered by fees. You should book awards on these carriers using Avianca Lifemiles (Also See: Best Uses of Avianca Lifemiles) to avoid fees, despite the downsides of Avianca Lifemiles.
You can't do better than this ANA award price. The next best is Turkish Airlines (via Citi ThankYou) at 45,000 miles each way, although with a much harder booking process unless you get lucky and the online search shows what you want, and then Aeroplan at 55,000 each way. This ANA deal is 44,000 each way.
If Turkish was showing the itinerary you wanted, then it would be a toss up of if you had Amex points to transfer to ANA or Citi ThankYou points to transfer to Turkish. But let's continue down this path…
GIANT NOTE: Once you transfer points into ANA, you have 3 years to use them. They cannot be extended (unless you have top tier ANA status). Even I am hesitant in completing the example booking I'm about to show you since a trip planned now may well be cancelled, but if you cross the pond often, that's probably less of a concern – although once things normalize, United award space may well dry up.
Booking an Award with ANA Mileage Club
Unless you already have miles with ANA, you have only two ways in. Marriott Bonvoy (not recommended) which would be 25,000 ANA miles for every 60,000 Bonvoy points, or American Express Membership Rewards Points which transfer 1 to 1.
I would strongly recommend using Amex points unless you don't have any. The only thing to note is that you can't hold flights and Amex points do take 2-3 days to transfer to ANA (Marriott would take even longer). So it's not zero risk.
Once the miles are in place, just login to your new ANA account and click Award Reservation.
You'll have a choice of Round Trip or Multi-City / Mixed Classes.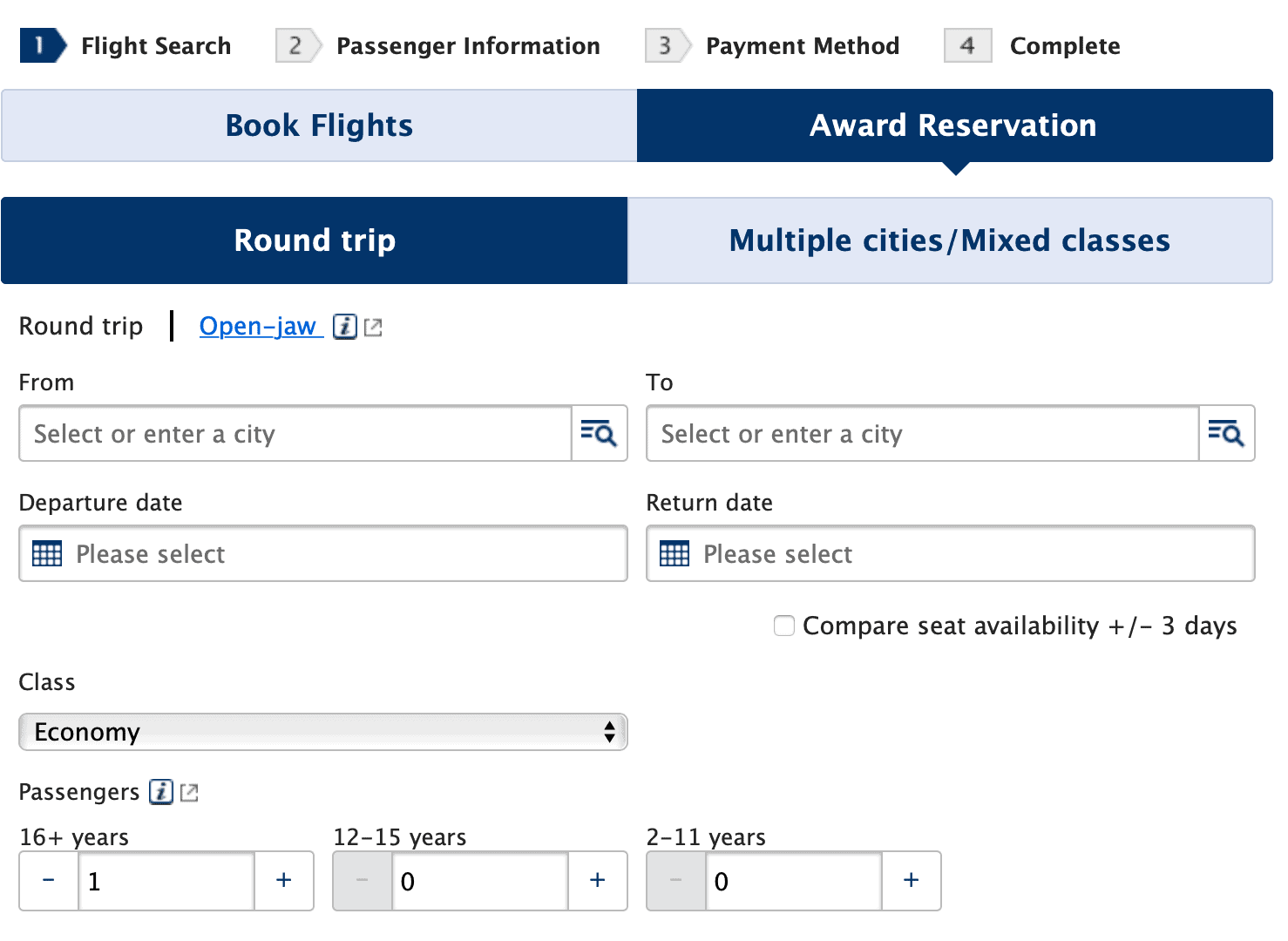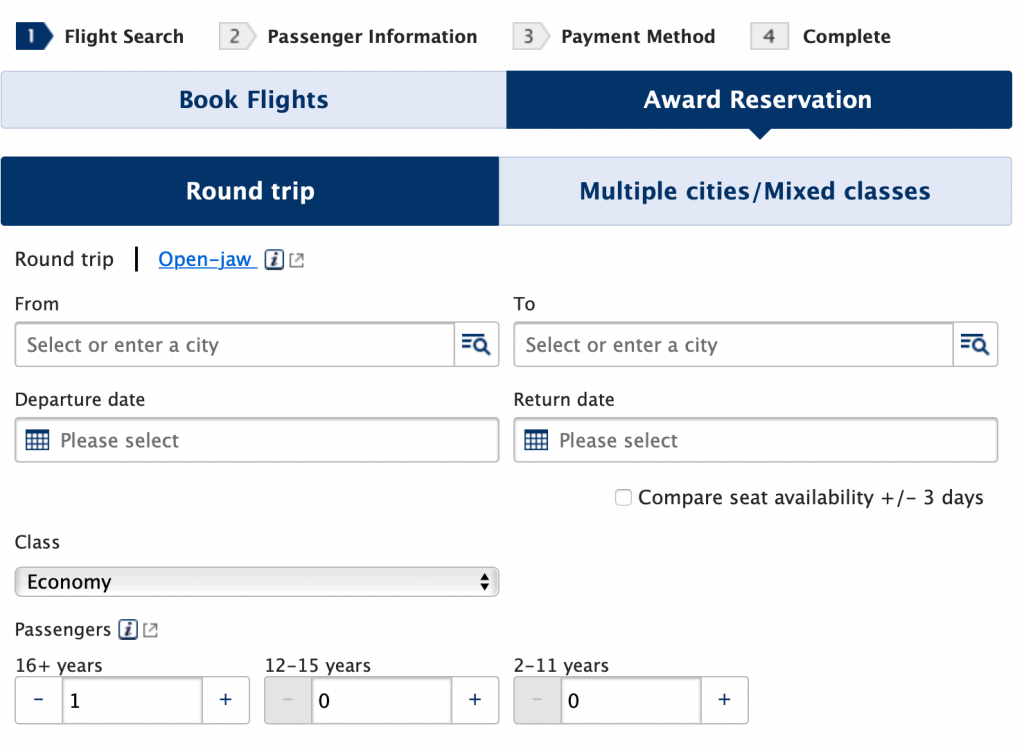 ANA Awards Require Round Trip (or Similar)
This is important because you can only do a round trip or a mutli-city that starts and ends in the same zone. JFK-LIS-MIA would be fine as an itinerary, for example, which would price the same as a round trip. If you wanted to do one leg in coach, you can do that. The savings wouldn't be significant, though. An itinerary like this with one leg in Business and one in Coach would be 71,500 miles, a savings of just 16,500 miles. Just splurge and do it all in Business for 88,000 miles!
You cannot book a one way award.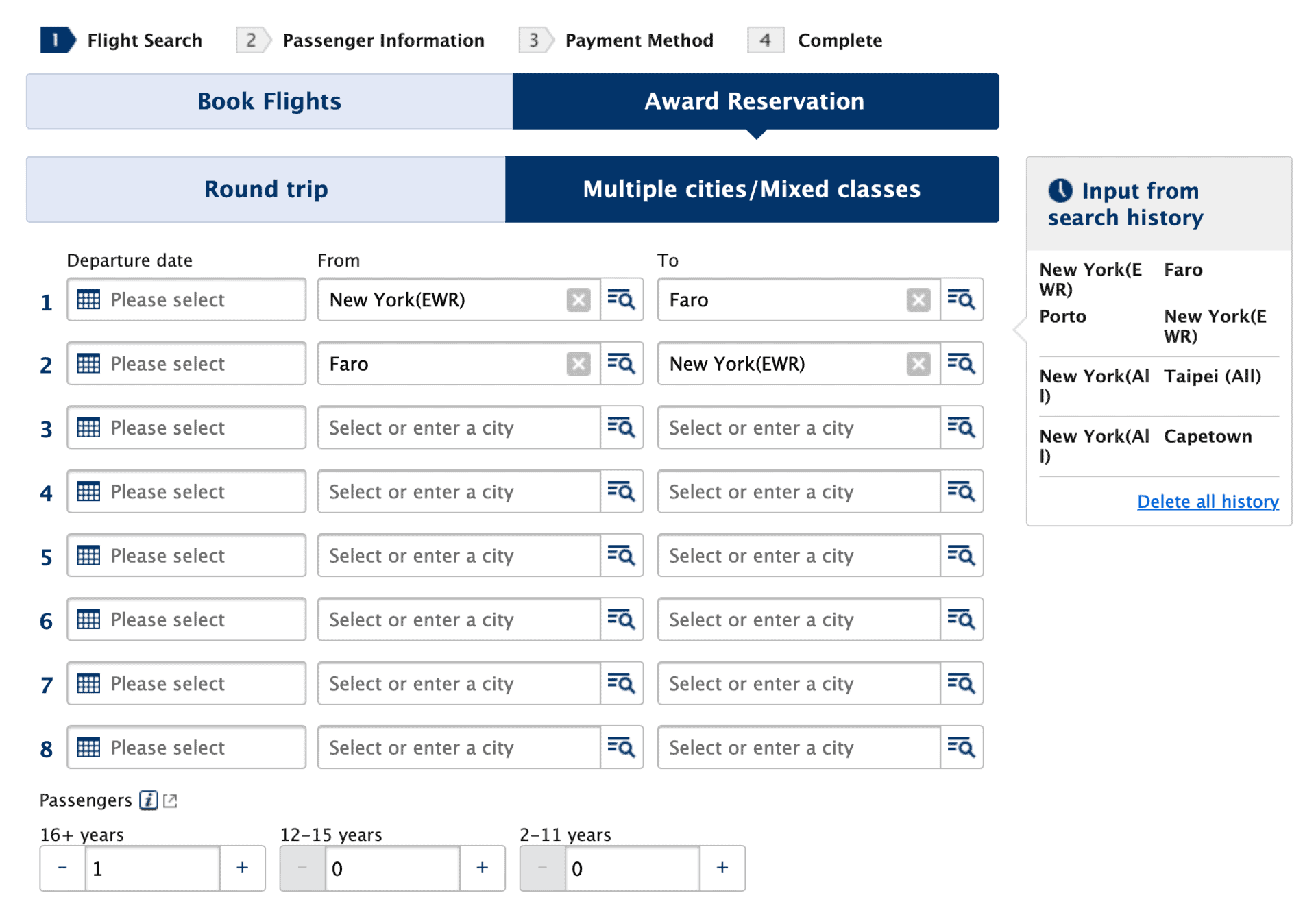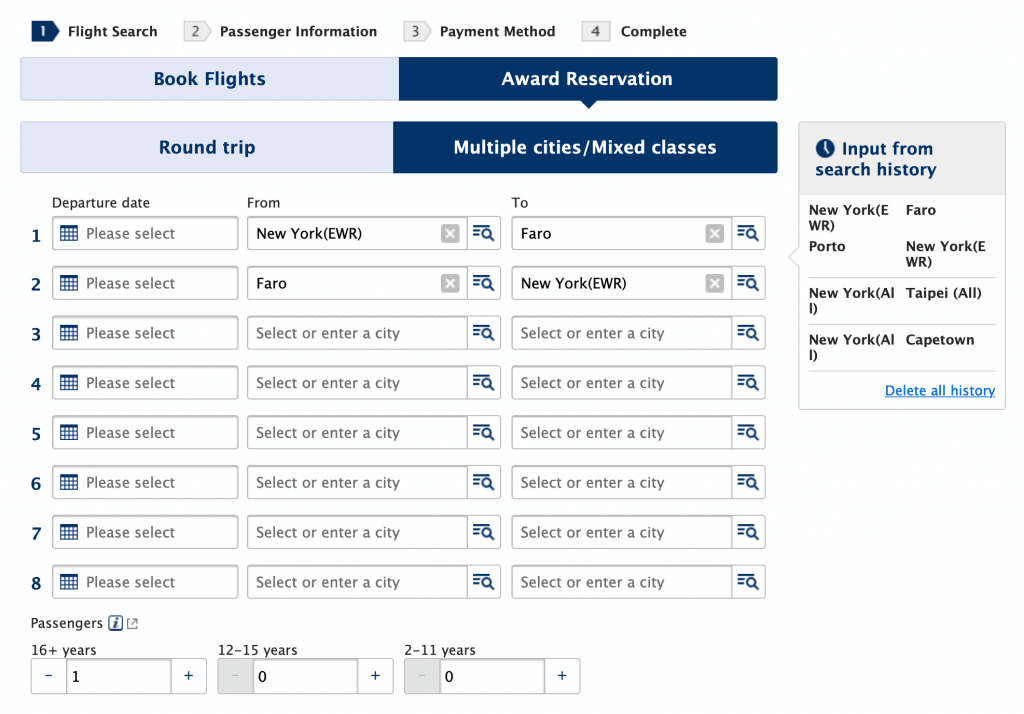 The above image shows how you would accomplish a mixed class itinerary, if you wanted, but I changed the second line to OPO-EWR, because we want to drive up the coast of Portugal from Faro to Porto. So we will fly into Faro (FAO) and back from Porto (OPO). That is the exact same price in miles as a New York to Porto (or Lisbon or Faro or anywhere else in all of Europe) round trip.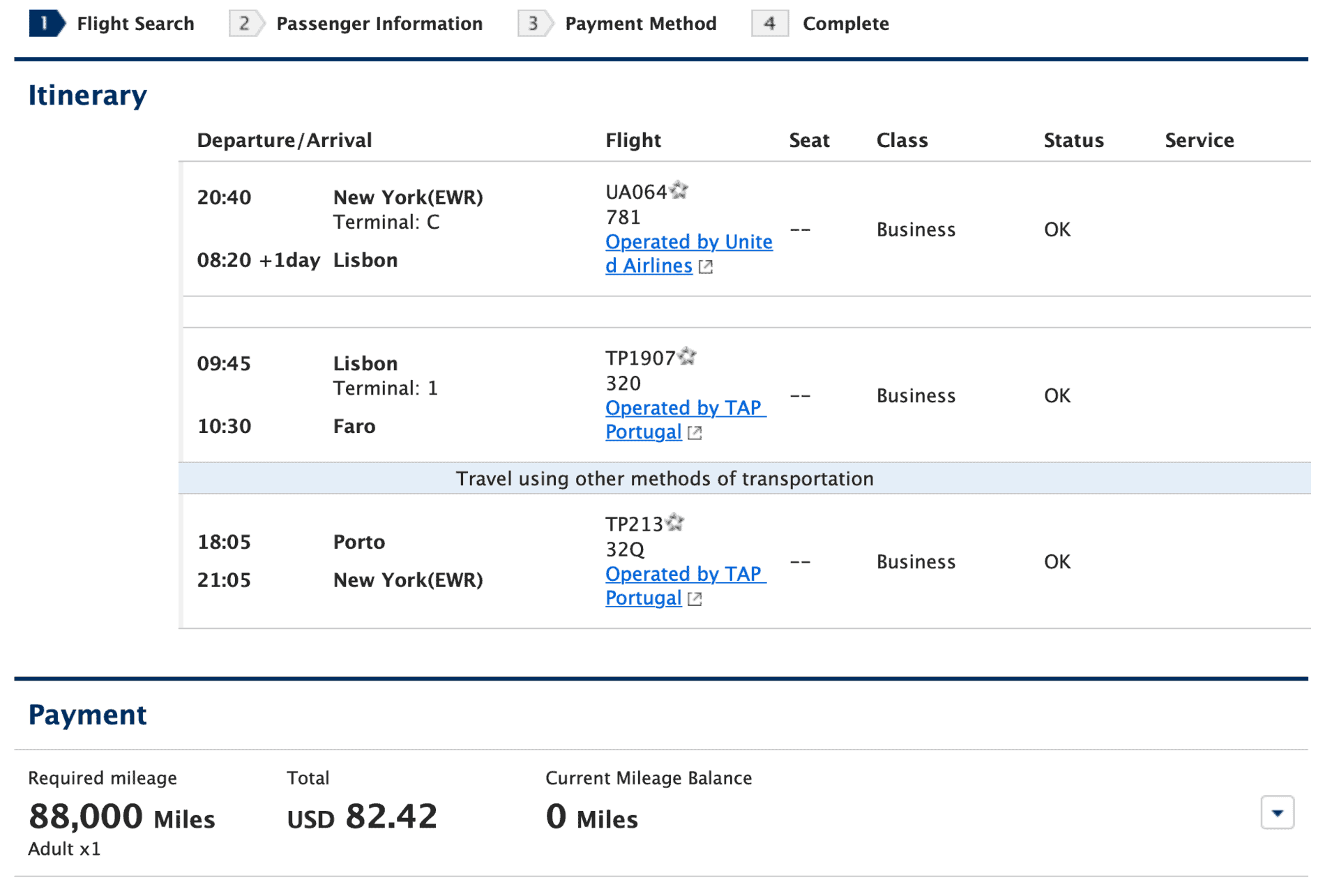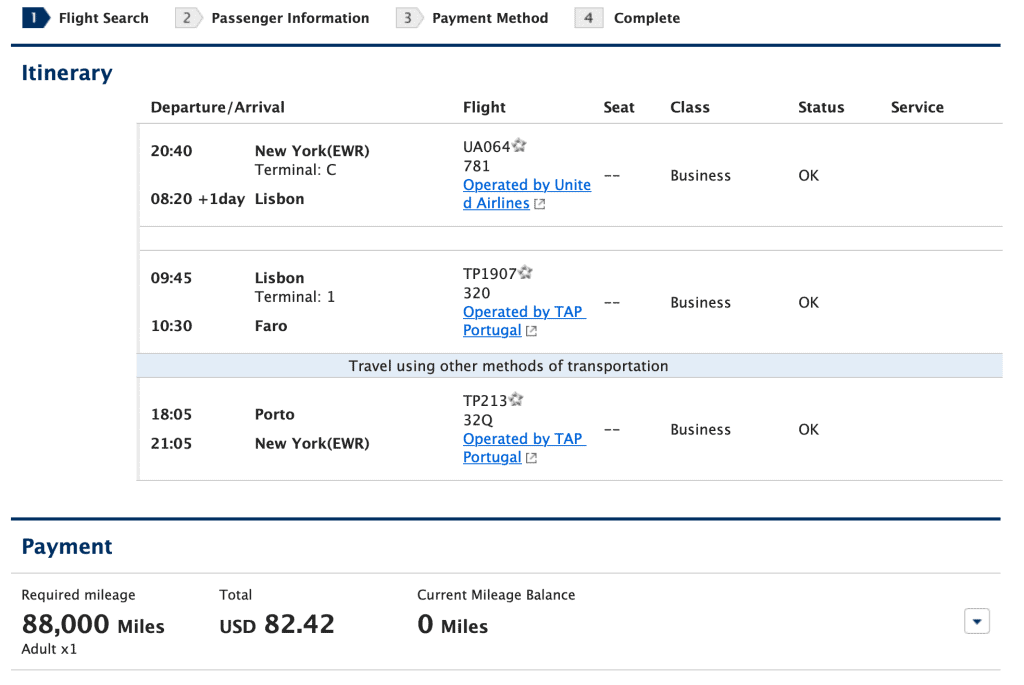 The above image shows a final itinerary of New York (Newark) to Faro and then (open jaw) Porto to Newark. The taxes and fees total just $82.42.
Simple!
By the way, ANA is also a fantastic program for going around the world in Business Class, with most routings totaling just 125,000 – 145,000 miles per person to make your way all the way around the world (up to 12 segments and 8 stopovers!!), but I'll save that for another day.
Thoughts or Questions? Have you booked using ANA before?
Let me know here, on Twitter, or in the private MilesTalk Facebook group.
You can find credit cards that best match your spending habits and bonus categories at Your Best Credit Cards. 
New to all of this? The MilesTalk "introduction to miles and points" book, MilesTalk: Live Your Wildest Travel Dreams Using Miles and Points is available on Amazon and at major booksellers.