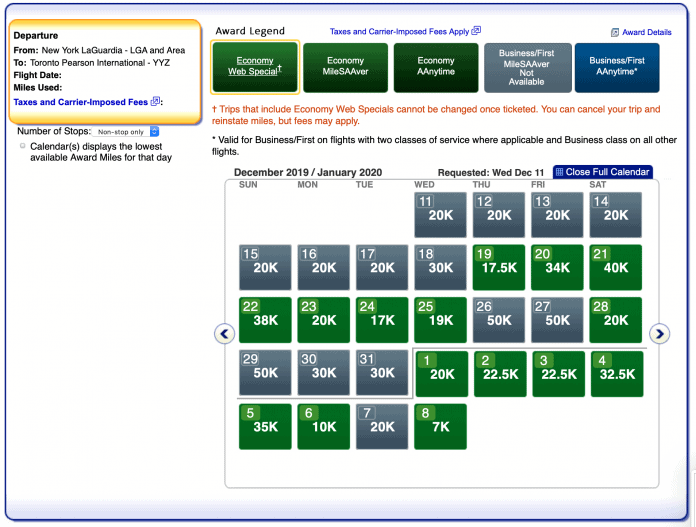 Lots has been written about the trend towards dynamic award pricing on, by now, all major US airlines (all except Alaska Airlines).
Dynamic Award Pricing – Backstory
Some hate it (*raises hand*) but others love it. Why? Because it simplifies things.
Under traditional "Saver award" pricing, you always had to hunt for availability. That could mean that there were flat out no awards available when you wanted to travel (I've felt that pain during even semi-peak travel times often). However, for the persistent few, like many MilesTalkers, this often meant outsized value for miles.
With dynamic award pricing, you can almost always get a seat using miles. You aren't likely to always get a great value for the miles, although both Delta and AA have forms of economy specials that can actually result in fantastic deals if you get lucky. The downside to that is, of course, you can't *plan* to get lucky.
So far, there's been much more dynamically priced economy awards than business/first class awards. However, as of Wednesday, AA has just started rolling out dynamically priced non-changeable saver awards in premium cabins on select routes. Also, as of now, all three major US airlines still allow you to book partner awards at fixed prices. It's clear what those are with United and AA while it is opaque, but still exists, with Delta.
That's all just backstory. What I want to discuss is the ramifications for all of us that have learned that the most important thing in miles and points is collecting a variety of points currencies and using those banks to transfer, opportunely, to the program with the best rate on the flight you want.
The Great Untethering
You see, dynamic pricing has begun the untethering of "the lowest award price is the saver price meaning that if you find that you can book with a partner." That's the mantra we've used for years now. Learn the lowest possible price and then figure out where to book it. For example, if you found a domestic saver award on United for 12,500 miles in coach, then Avianca Lifemiles or Air Canada's Aeroplan could also book it. And you would use whichever program was cheapest.  See a short flight on AA? Book it with British Airways Avios instead.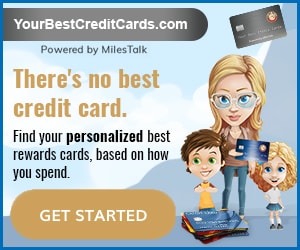 What's Happening Now? Partner Awards Are Vanishing
Dynamic pricing is starting to mean two things.
1) You can't tell purely from the price of an award if it is available to partners.
2) Less awards are being made available to partners.
Let's look at an example on American Airlines using the AAdvantage program (Economy)
On AA's "new" web interface, it's actually impossible to tell anything in this regard.
But I want to post a screen from it via mobile because you should compare it to the web based charts below and note that it's TOTALLY different.
On the LGA to YYZ route (New York to Toronto), the saver rate is 7,500 miles.
On Dec. 11th, I can see 15k non-stop seats on the mobile / new interface where the old interface shows nothing below 20k. (The 9,500 mile option shown is connecting).
I'm just going to leave that here for now, because it only confuses things more than they already are. But it is important to see.
Thankfully, they still allow you to use the old award booking platform for now. And I will use that to demonstrate my point.
With new dynAAmic pricing, here is what we see for the one month period (actually 29 days) starting Dec. 11th (note that I used the Non-Stop filter to narrow this down to be easily comparable).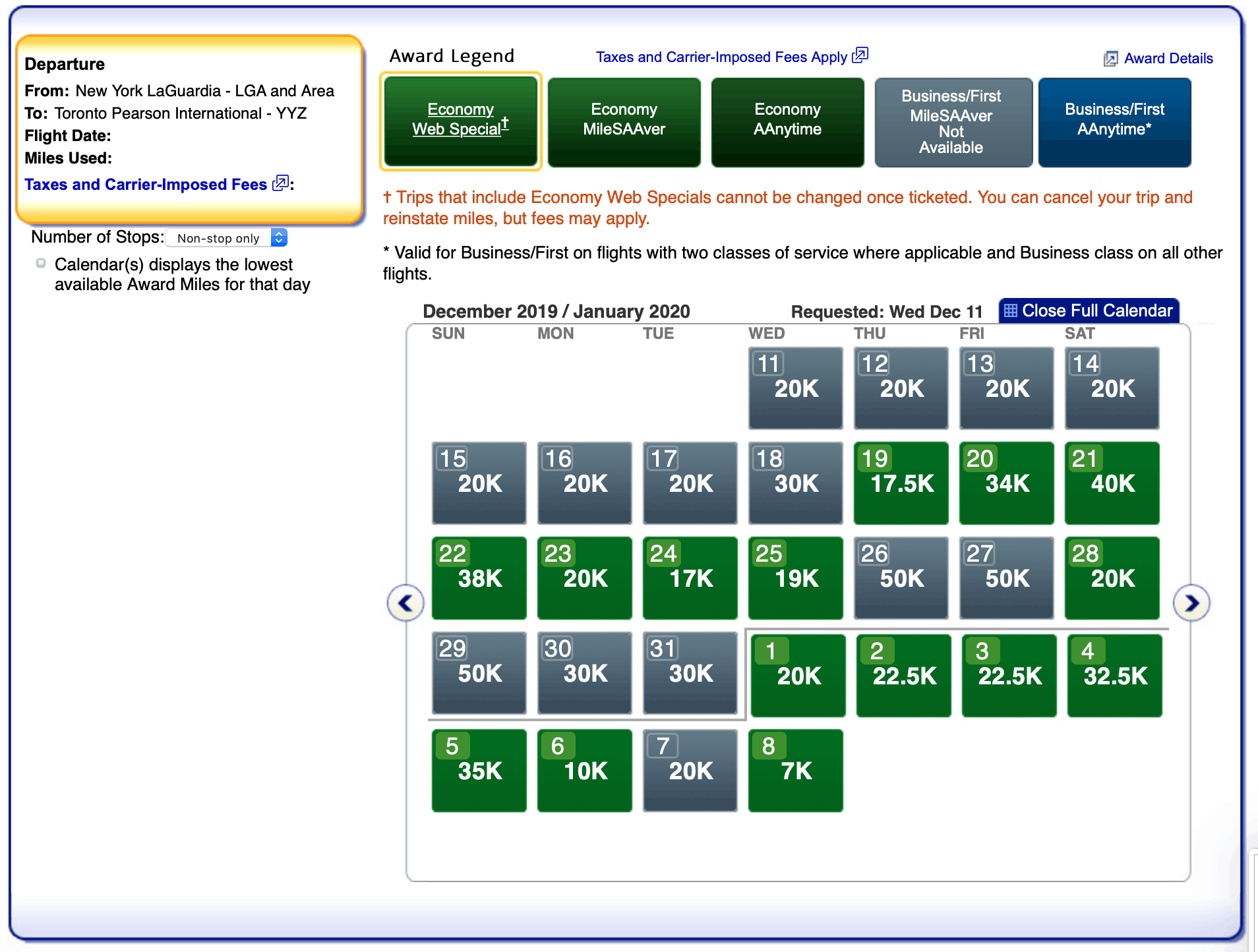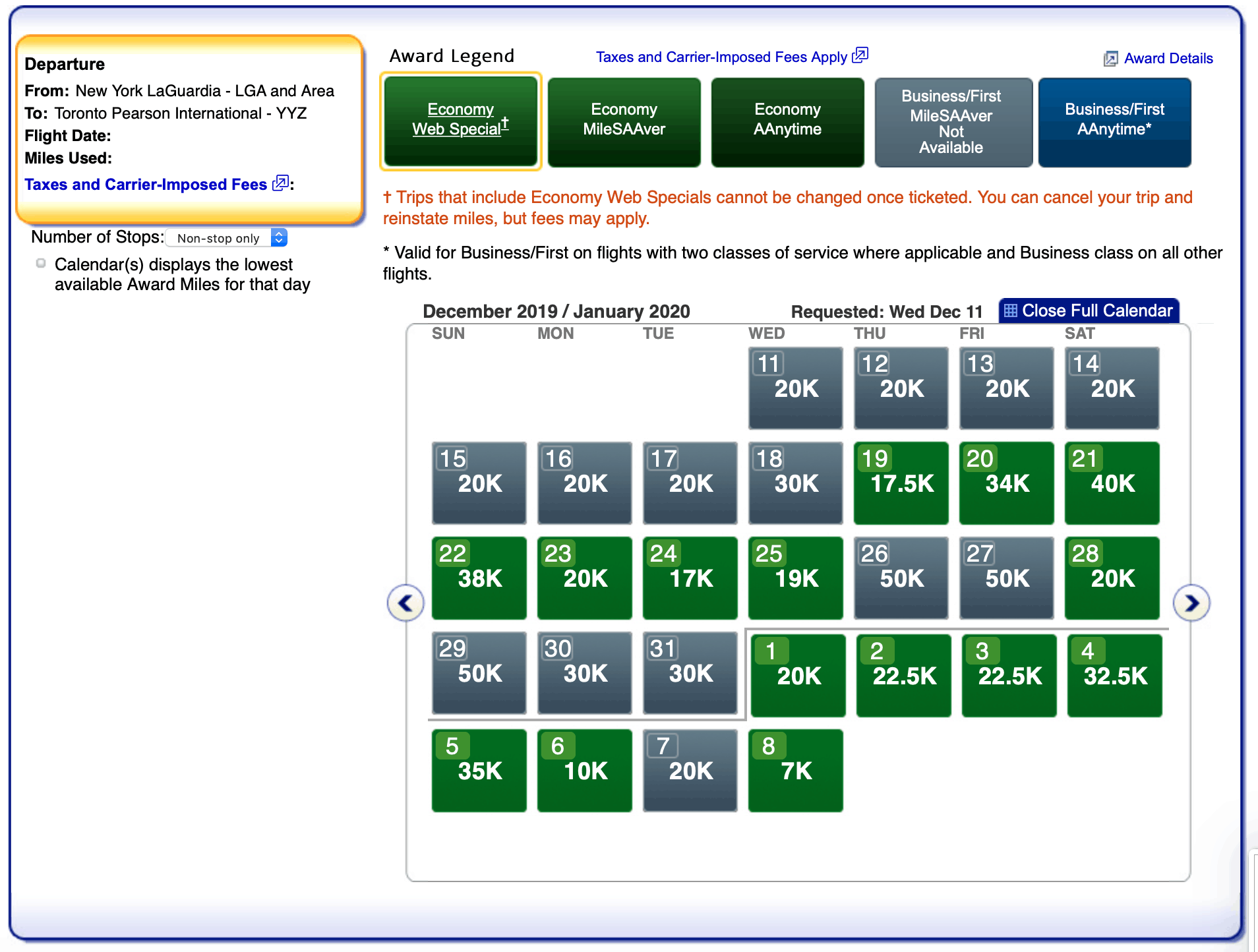 15 of the 29 days allow for dynamically priced awards ranging from 7,000 to as much as 40,000 miles for a one way flight.
On days in grey, you can book an "Anytime Award" for the stated price.
And this is what we see under traditional "MilesAAver" awards.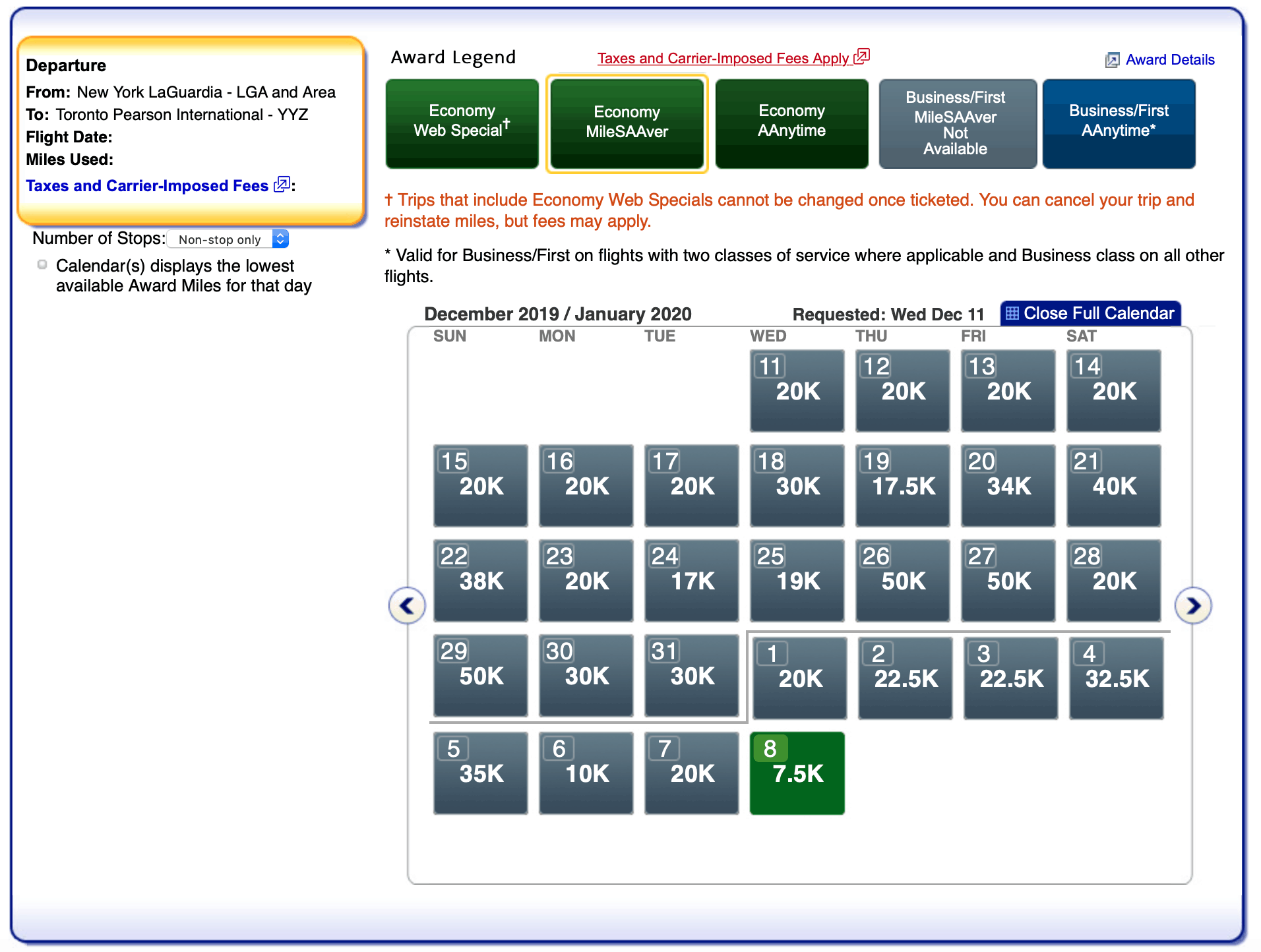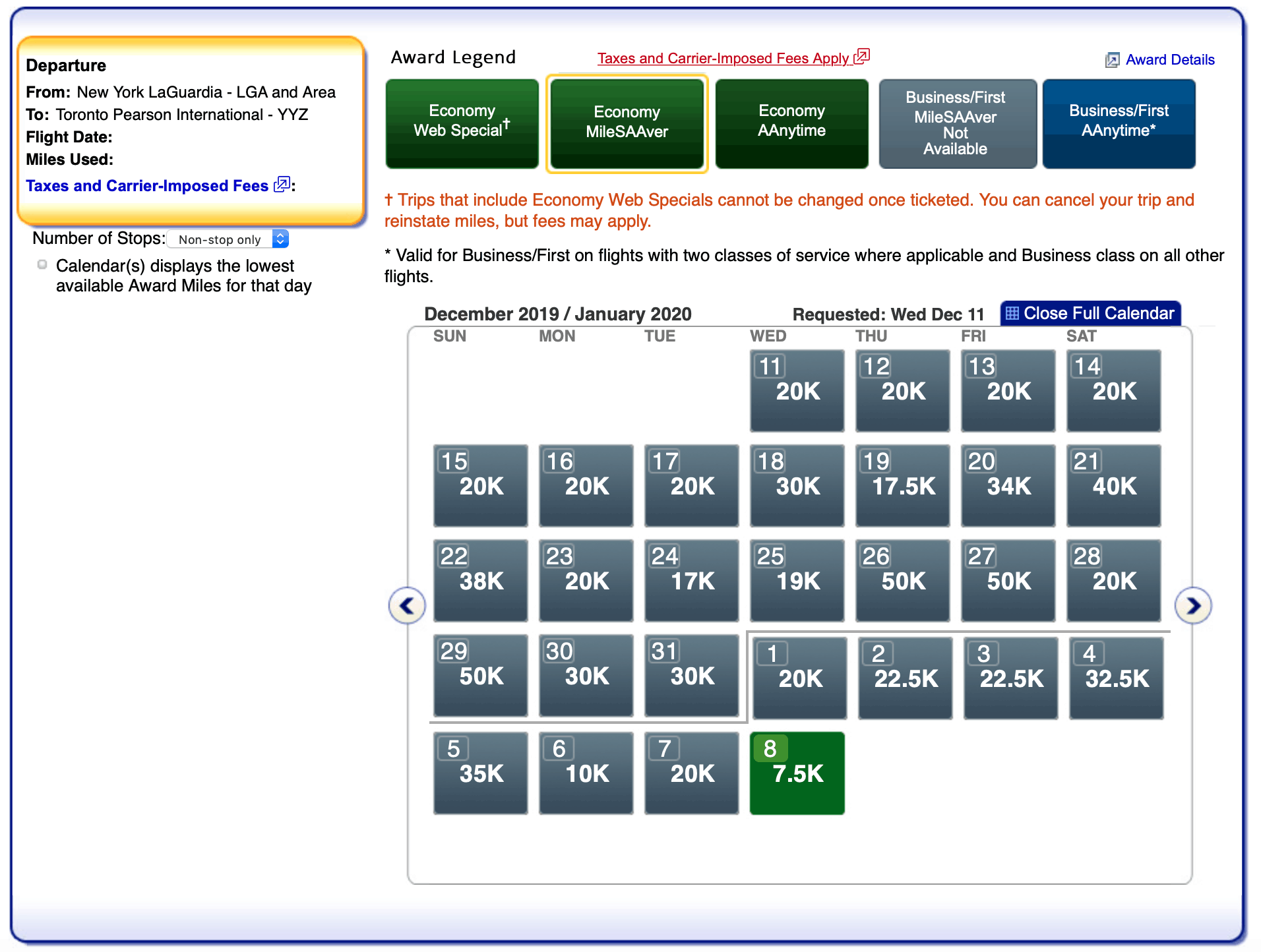 Note that this last chart is the one that matches up to inventory available to partners.
Yes, of the 29 days, there is exactly one non-stop flight with the ability for a partner like British Airways to book it. That's January 8th on the 7:57pm flight with 5 award seats available.  I can't toggle to the screen showing business class awards available to partners because it is greyed out, indicating zero seats.
I then cross-checked on ExpertFlyer to confirm. Indeed, going day by day, every day this route had zero seats, except for the 5 available on this flight.


The point? You can book lots of seats on this route if you have AA miles. Varying prices, but they are available.
If you only have Avios, you can book exactly one flight out of 29 days on this route.
AA Business Class
Currently, business inventory is still easily searchable using the same interface "Business sAAver" though premium cabin availability in the premium cabins have been awful for quite some time now.
But that AA is introducing Premium Cabin Websavers almost certainly means that there will soon be even less for partners, as they can choose to price at sAAver level or even lower all without releasing a partner seat into inventory.
Is United's dynamic pricing more favorable with partners?
For this test, I'll use LGA-ORD (NYC-Chicago), a route that you may want to book for 5,000 Avianca Lifemiles instead of 8,500 United miles. We'll start with coach.
I'm happy to report that on this route, United shows plenty of 8,500 mile awards over the month period I chose around April 1st, 2020. And they are all bookable on Avianca (except for the ones indicated as being "Exclusively available to you as a MileagePlus Premier® member." for 5,000 Lifemiles.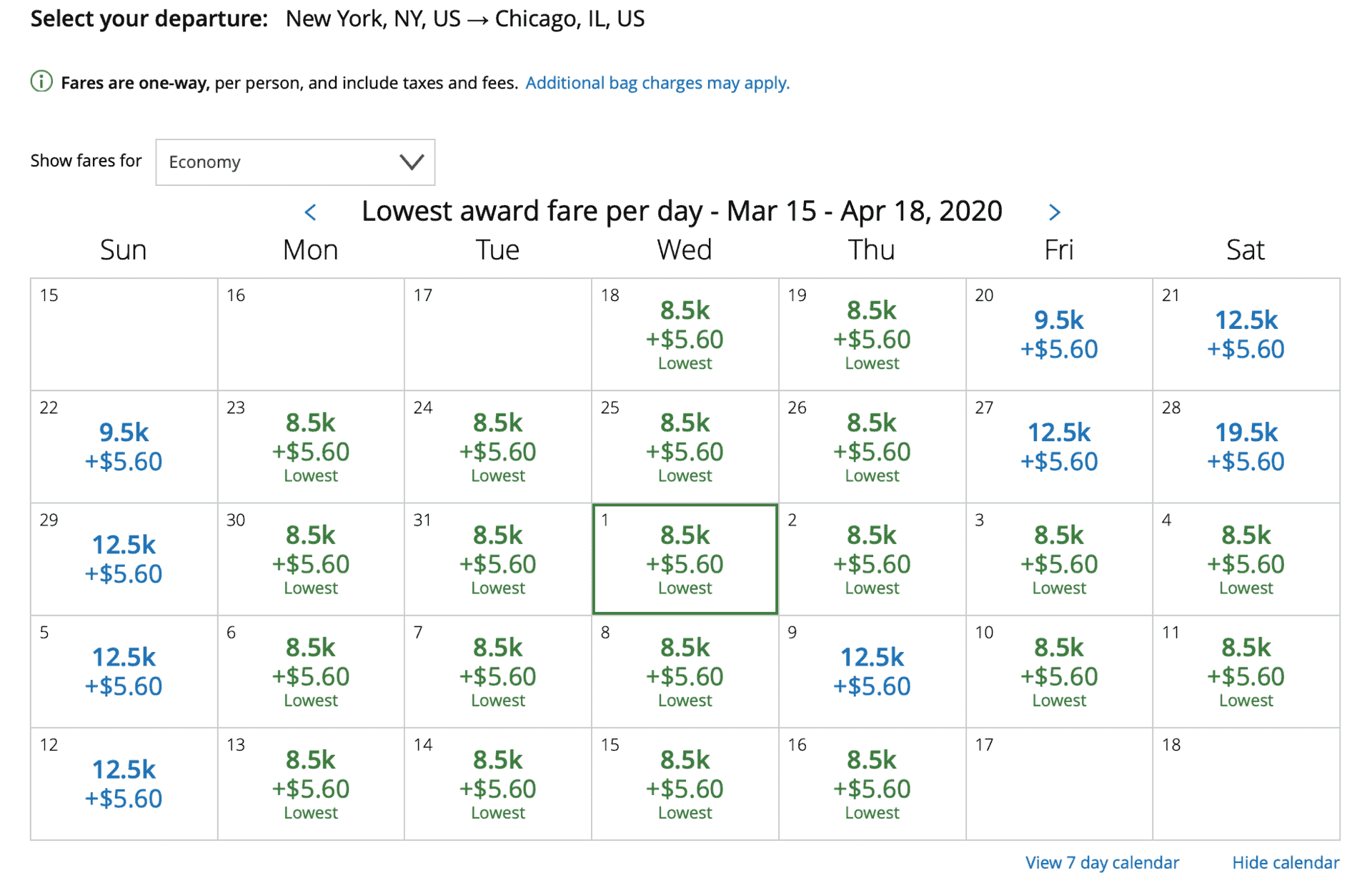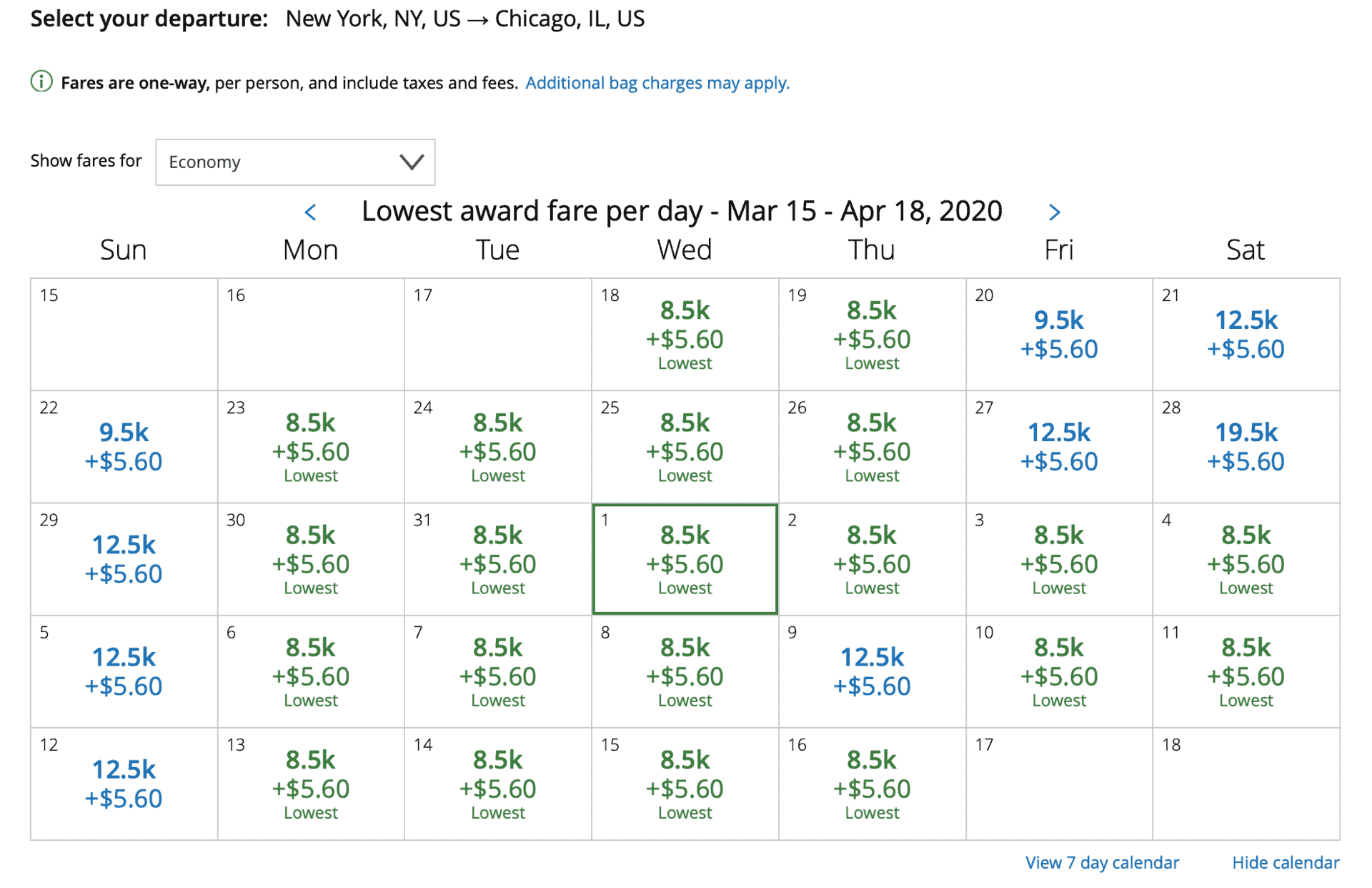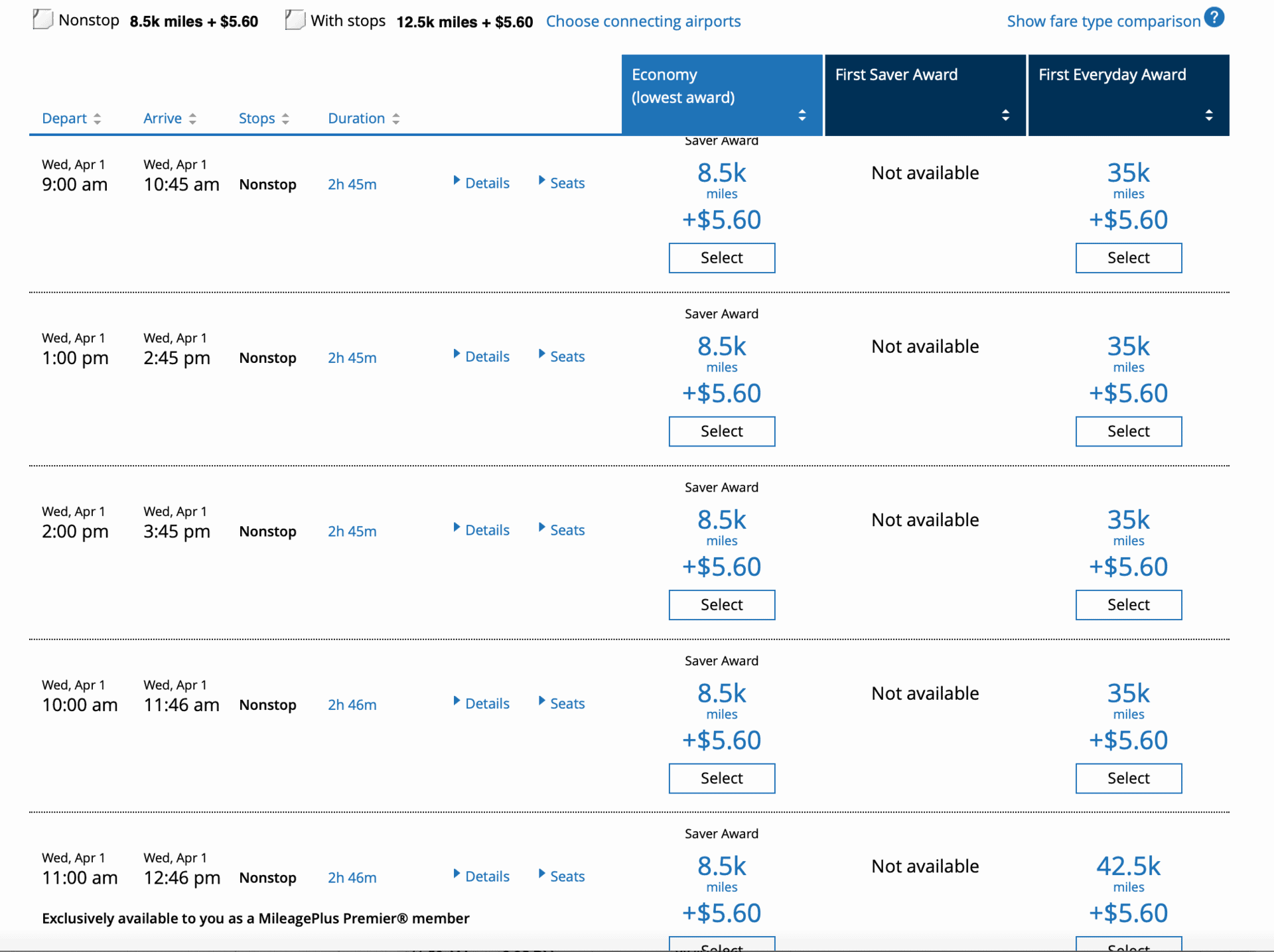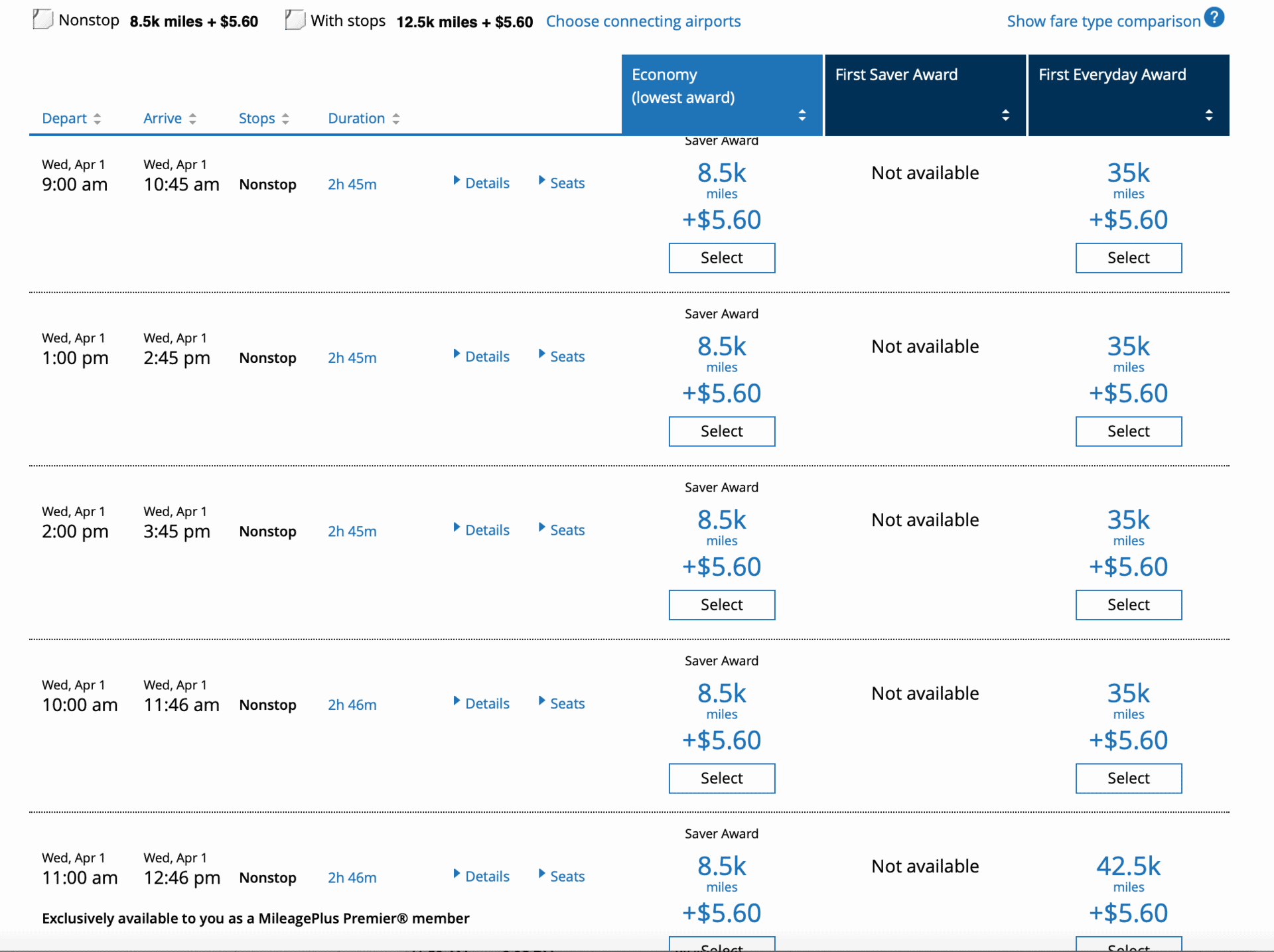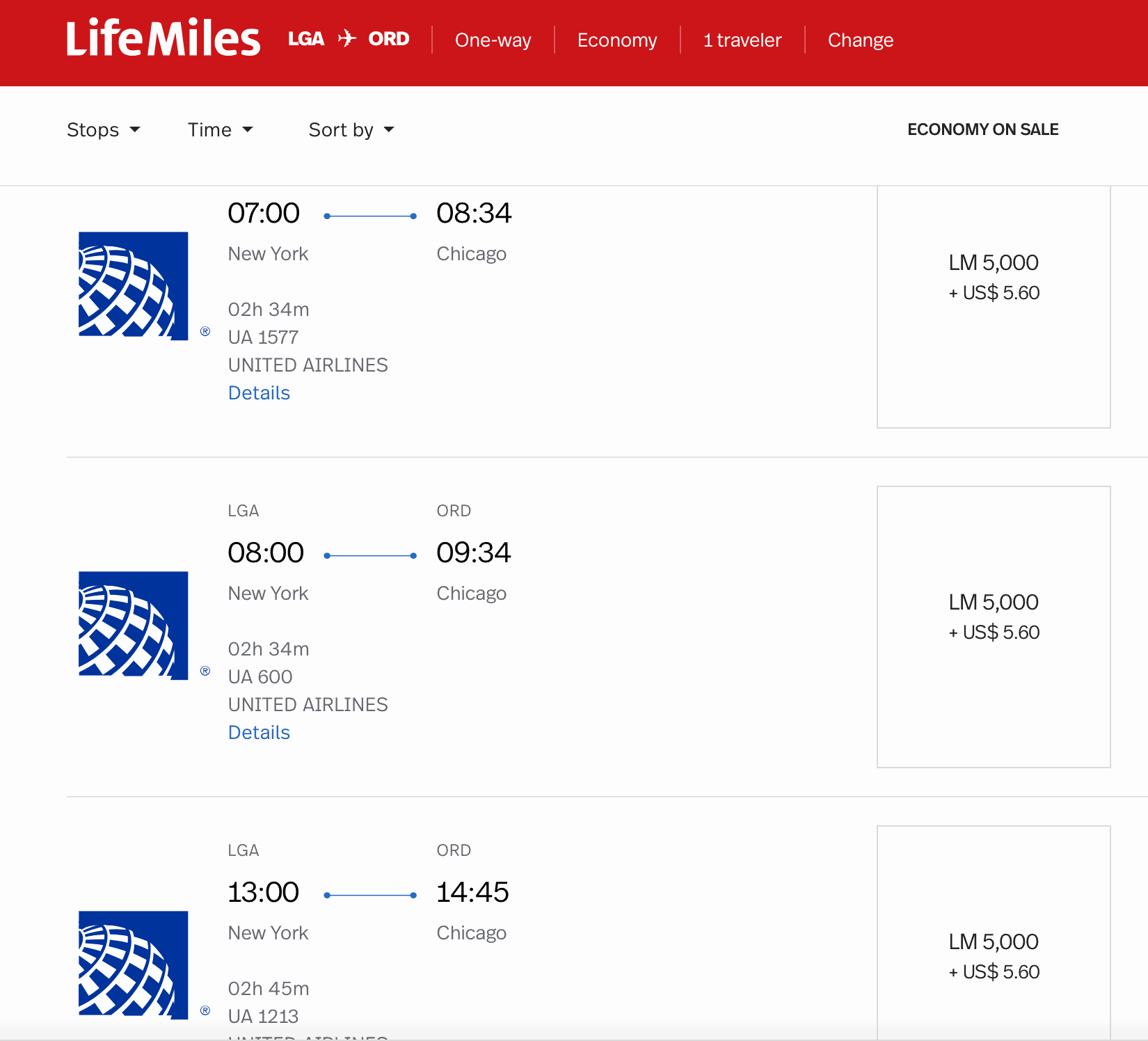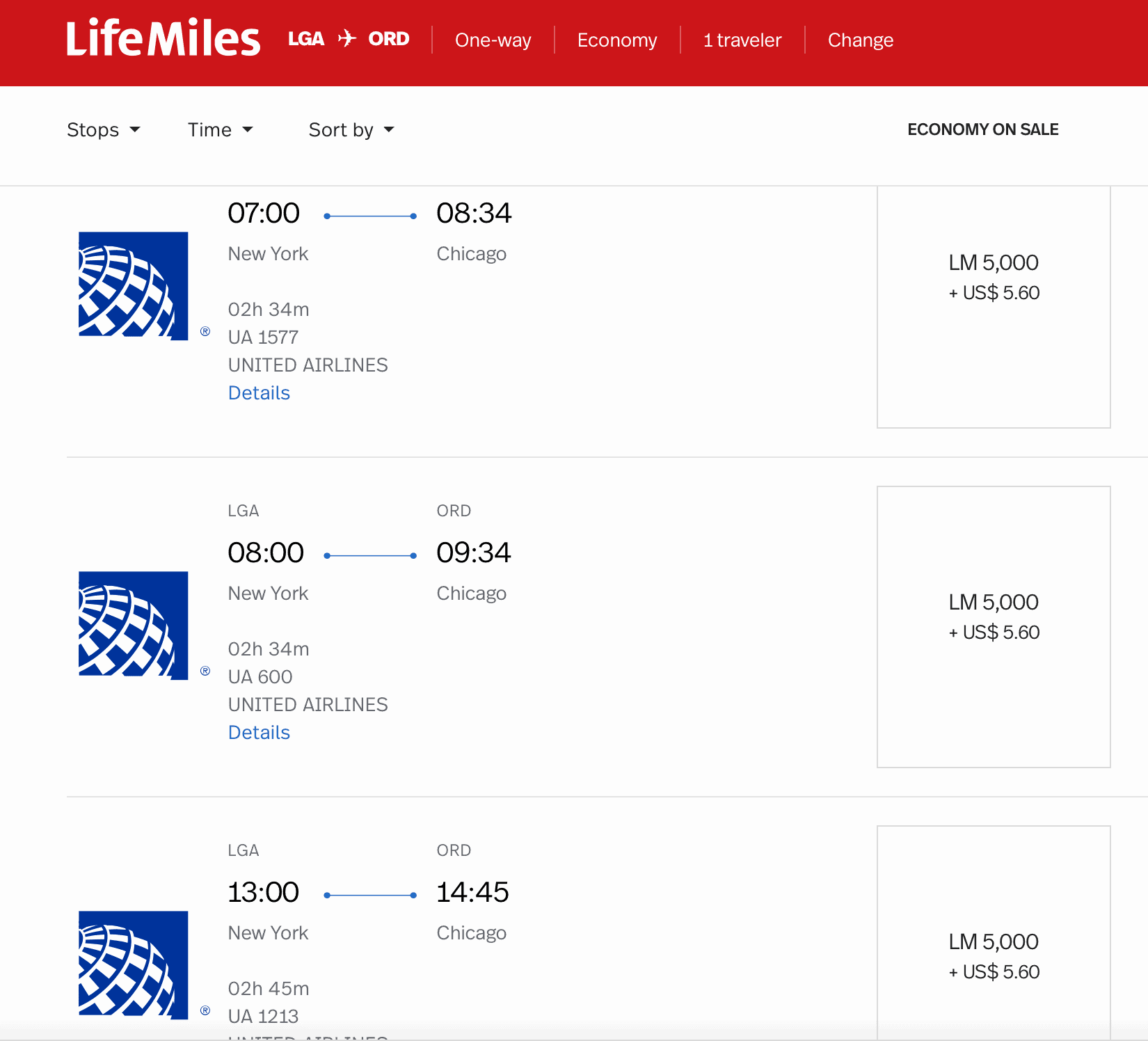 Looking at Newark to Orlando, it gets slightly confusing, but it still works pretty well (for now). While United is charging 8,500 miles on some flights and 12,500 on others, it indicates them all as "Saver Awards" and they indeed all appear on Lifemiles.  In this case you may do better booking with United for the 8,500 mile ones and with Avianca for the ones that United wants 12,500 miles for.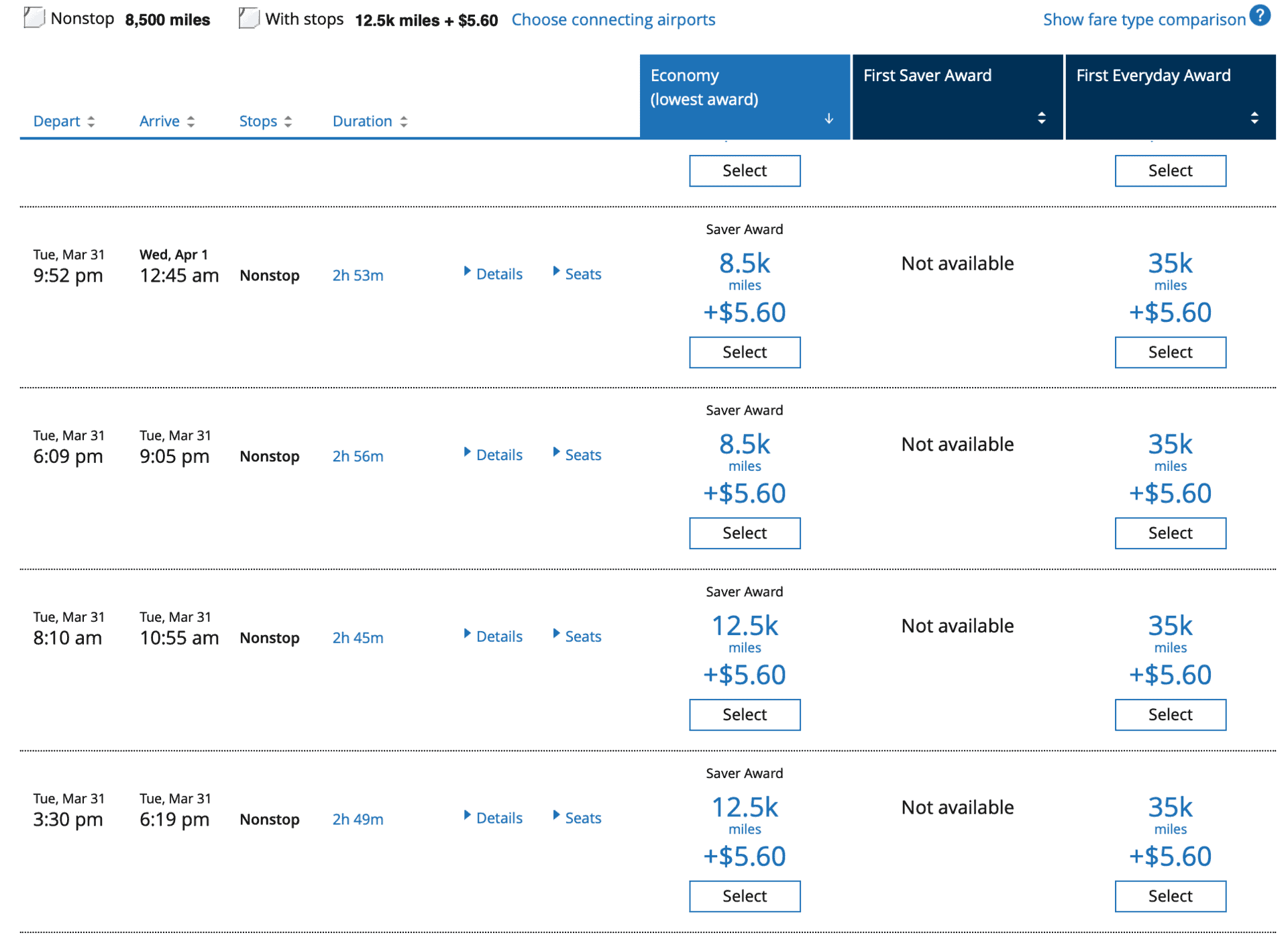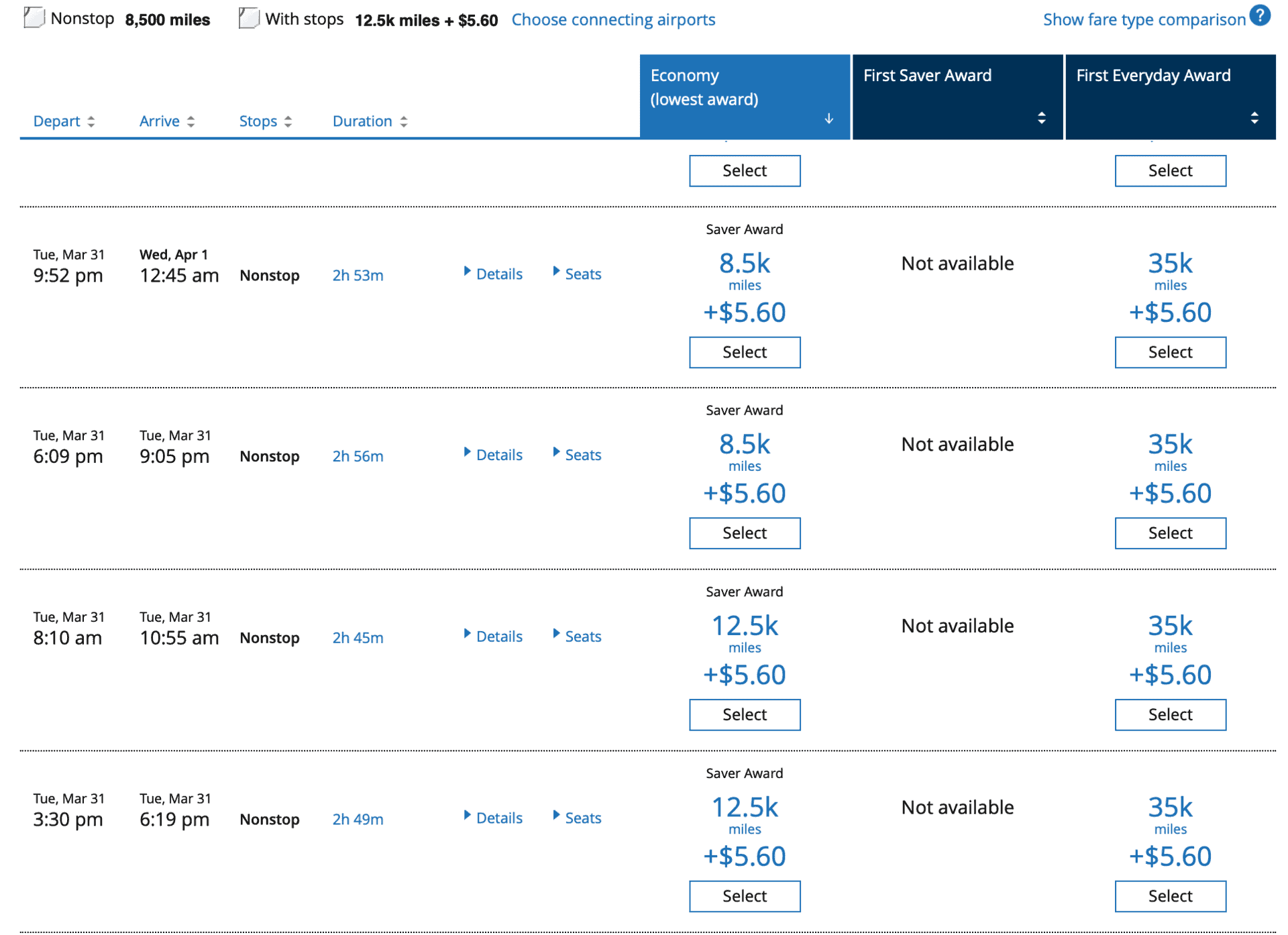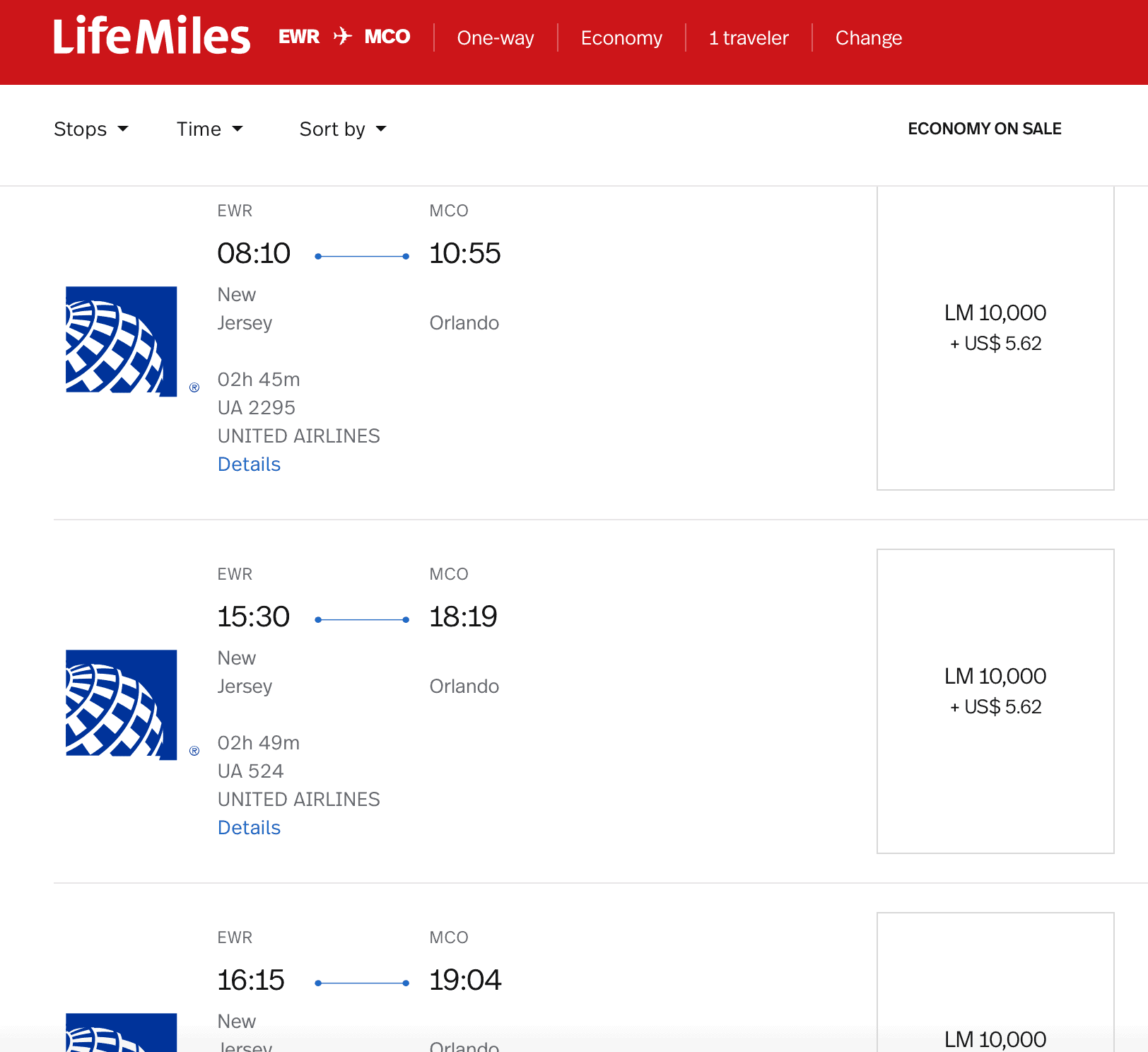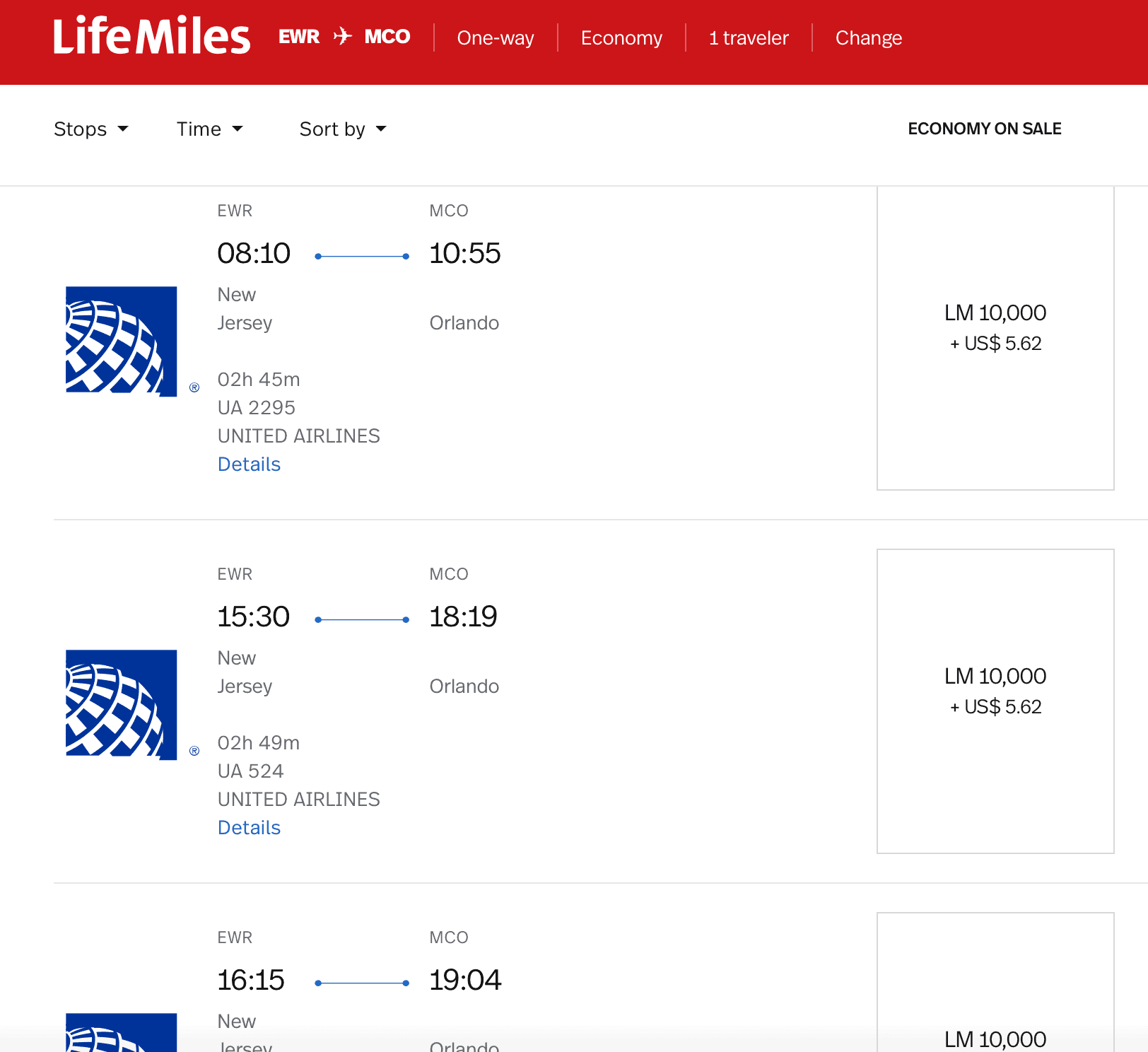 For now, it seems like United, despite dynamic pricing, is still both making it clear what is a Saver award and making that inventory available to partners – at least for coach seats.
That's a good thing, and I hope it lasts.
But what about United's Business Class inventory
Oh boy. This is *not good*. But I have good news before the bad news.
The good news is that United does still have definable Saver seats on their flights.  You can see it in the Saver column ("I" Class) and if it shows up there, you can book it with partners.
The bad news is how hard I had to hunt to find a fare in that First Saver column! After trying many common city pairs over several months (EWR-LON, LGA-ORD, LAX-ORD, EWR-LON, EWR-LAX) looking for a Business Saver award, I finally did. But it was Montrose, Colorado to San Francisco. No, I have no idea where Montrose, CO is within Colorado (yes, I realize I could look on a map!). The point is that to find it, I had to stumble on a flight with two connections to LAX from EWR via MTJ and SFO and then figure out that only the middle segment had "I" Class inventory – Business Saver. And, of course, I had to be careful to make sure I wasn't looking at any itineraries that included any space UA was making available to me as a Premier Silver member.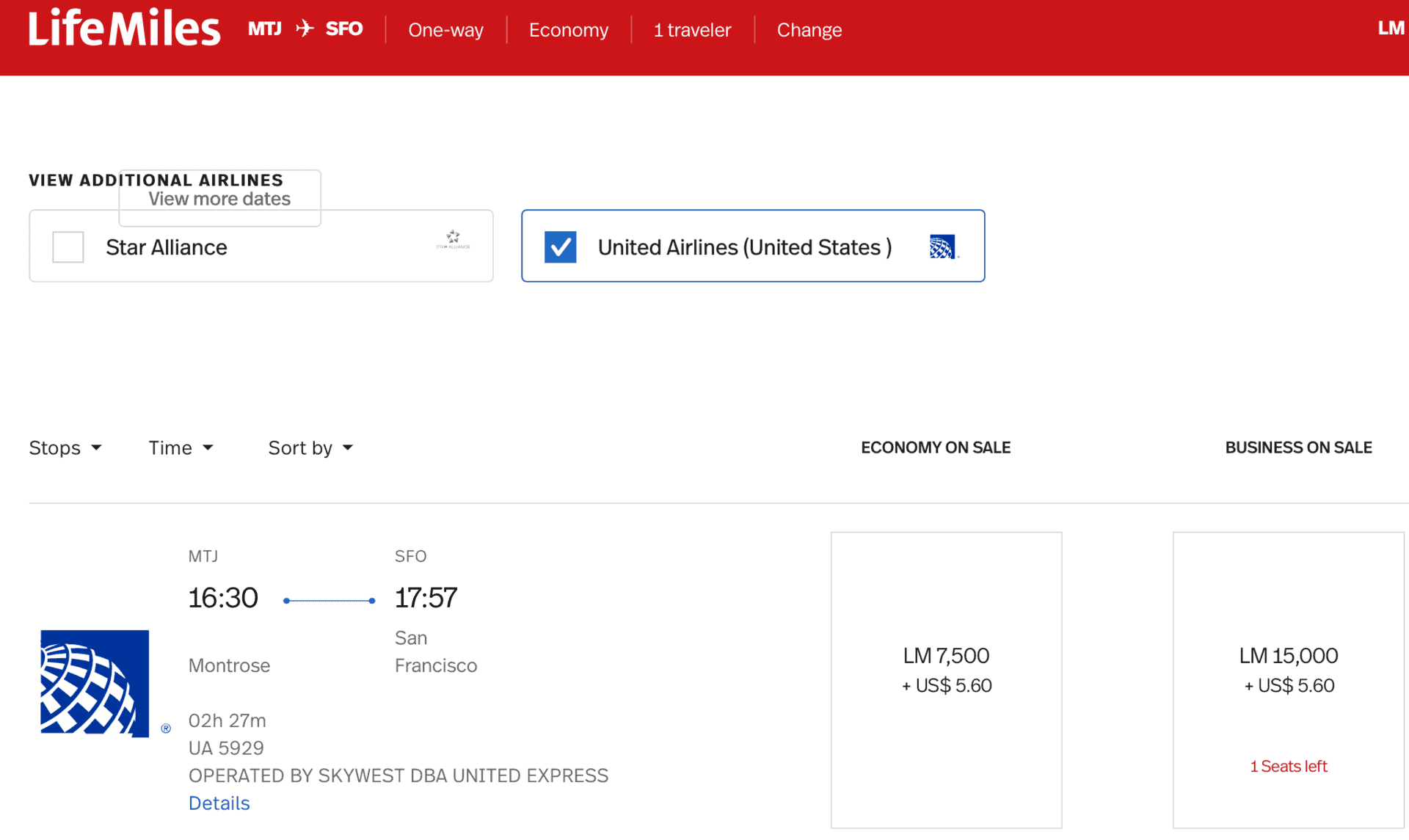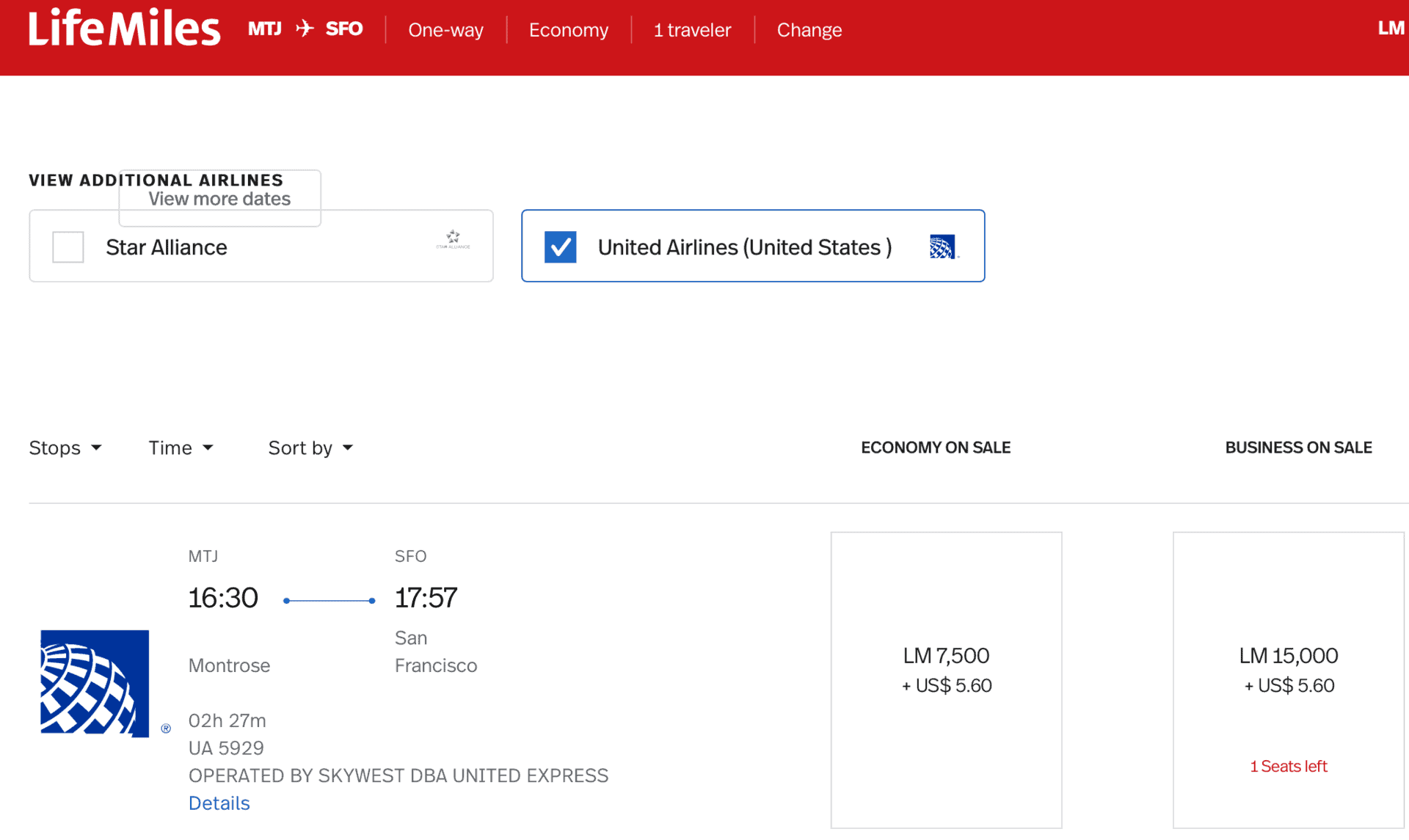 In summary, United still has plenty of coach seats for partners. But for business class, while they've not (yet?) obfuscated the way you can find saver space – and it remains clearly marked – there's almost none.
In fact, the calendar search has become close to useless.
It still allows you to see saver, in green, when there is truly saver inventory. But it also shows mixed cabin itineraries and, on some but not all routes, the dynamic standard pricing. This makes it very hard to search for saver.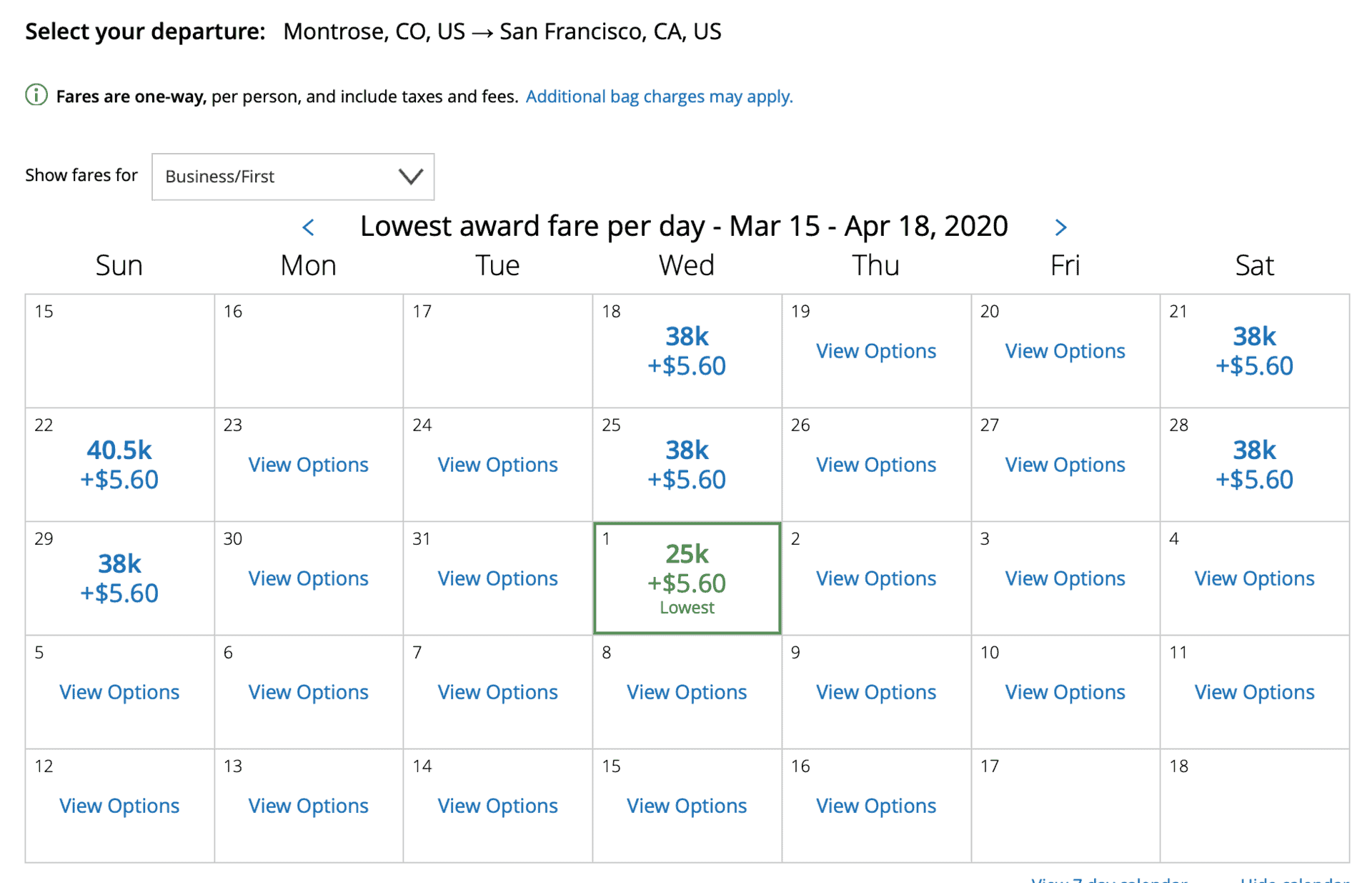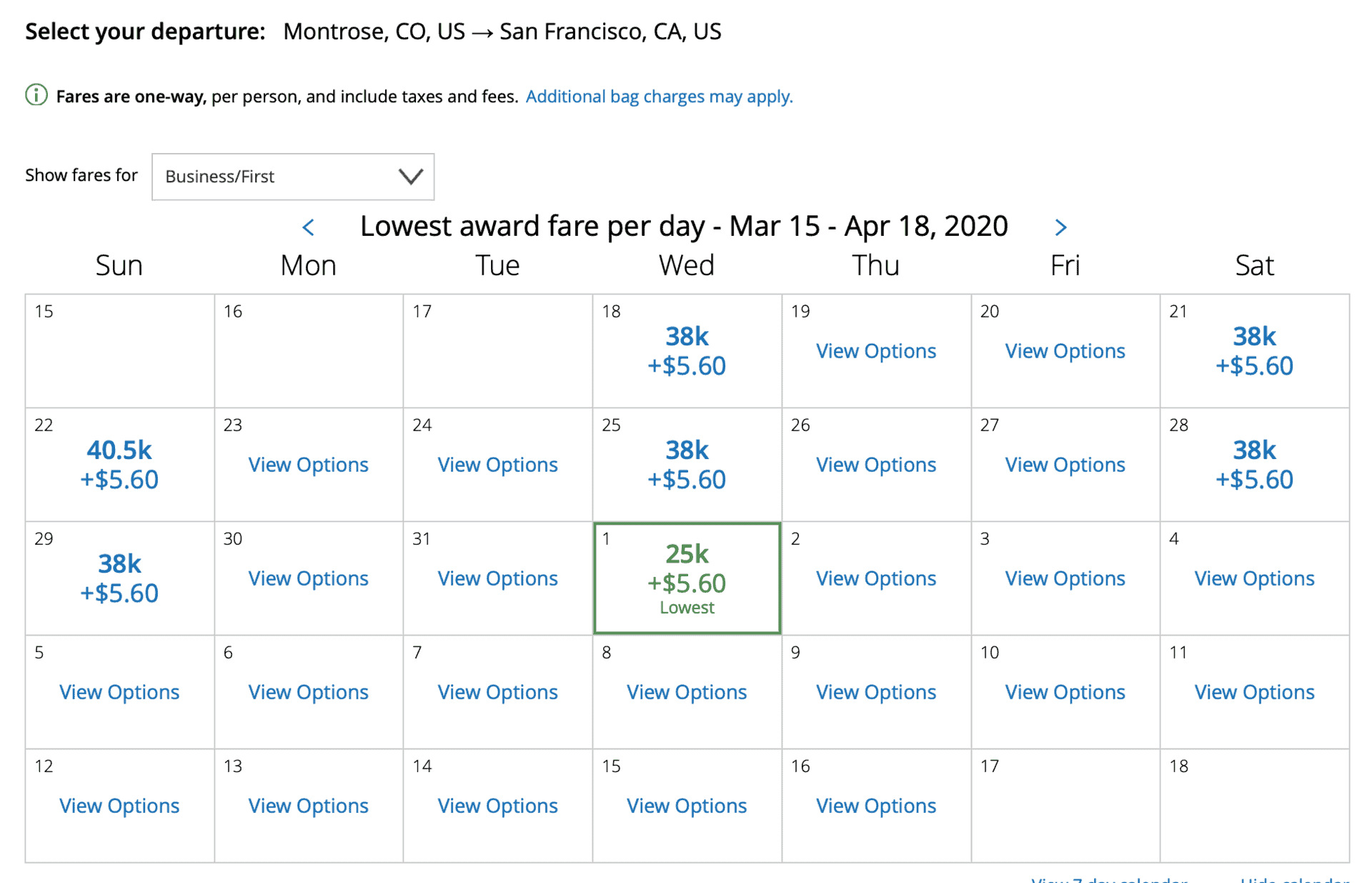 I can't prove it, but my feeling from searching over the months and years is that they've moved most of the inventory previously placed in the saver class and moved those seats to the Everyday column, which is now dynamic.
This means that while you can, in theory, book an award from Newark to London for 55,000 Air Canada Aeroplan miles (the arbitrage play with United flights), you can't, because Aeroplan won't see any space.
Consider, also, someone piecing together a round-the-world trip in Business Class (for example, using 115,000 ANA miles transferred from American Express. If they aren't starting from an international gateway city, they will almost certainly need to *buy* a positioning flight to a gateway for a foreign Star Alliance carrier with available inventory.
What about Delta Skymiles?
I saved my favorite for last.
In theory, in the old days, if Delta had a flight available at the lowest possible level, you could book with a partner like Virgin Atlantic or Air France Flying Blue.
We know they no longer have award charts (the price is the price) but if you knew the price that *should be* the lowest / saver level, then it was a safe bet you could book it with a partner.
First, I look at a month view. 6,000 would appear to anyone here to be the "saver level."
I'm starting with economy seats.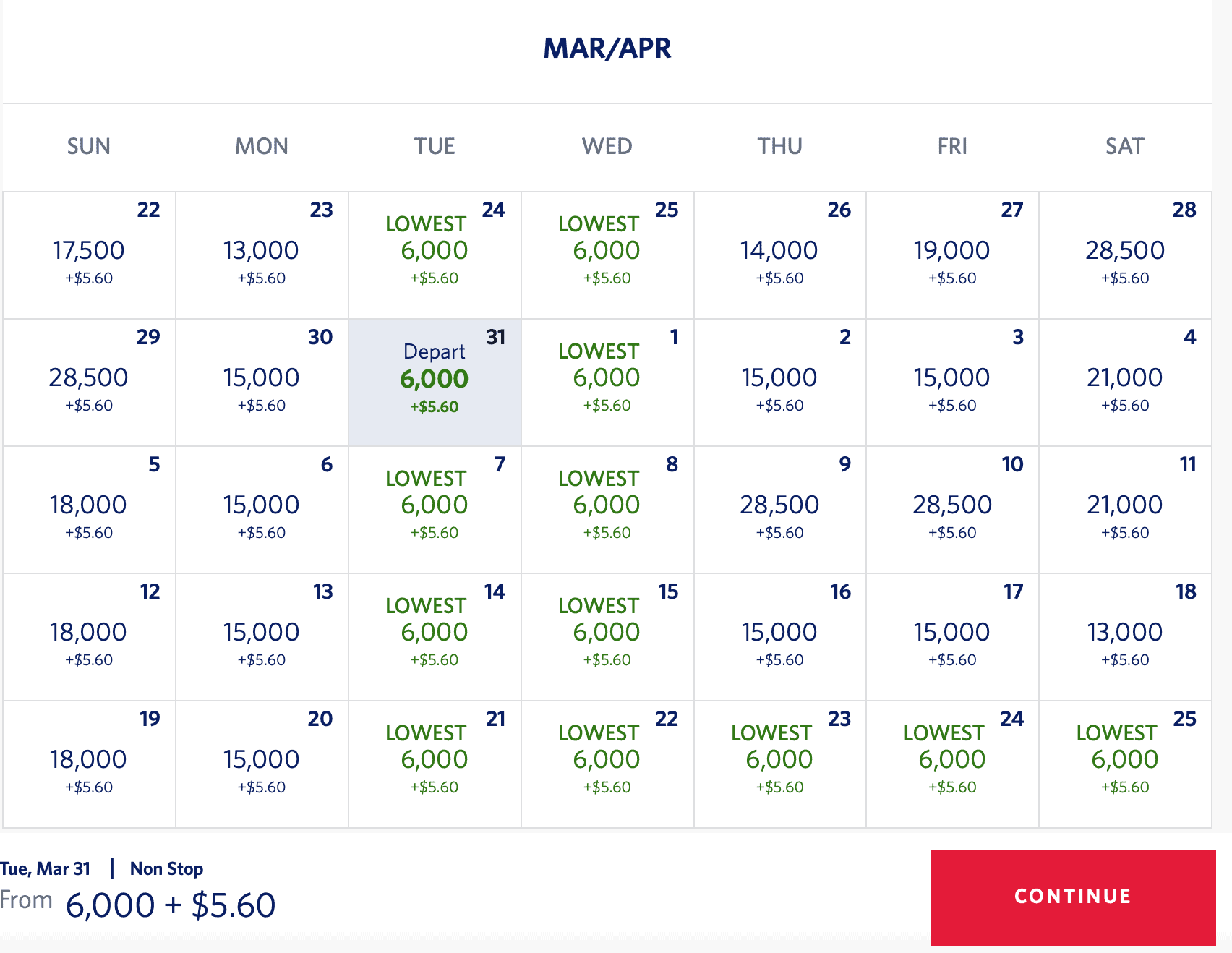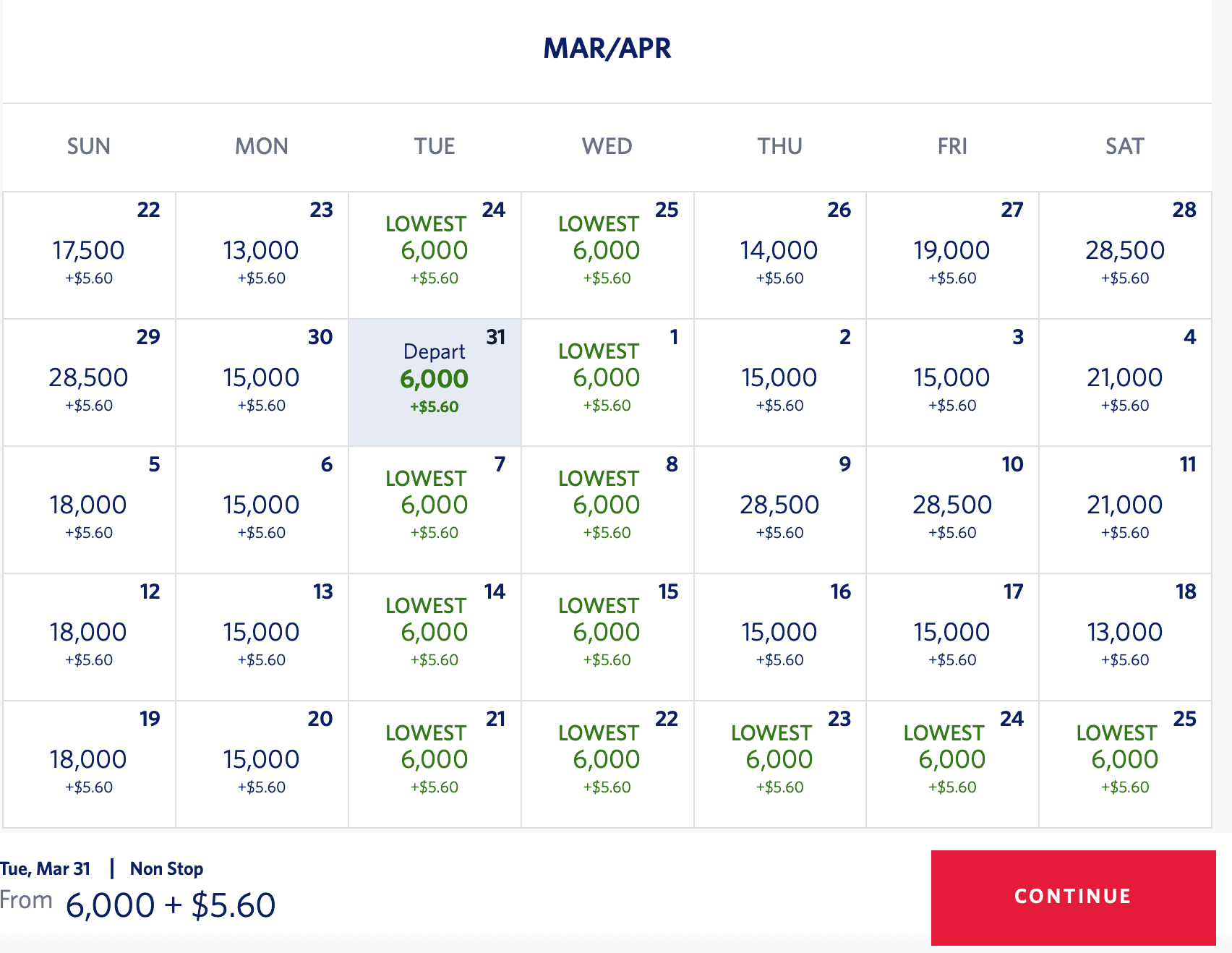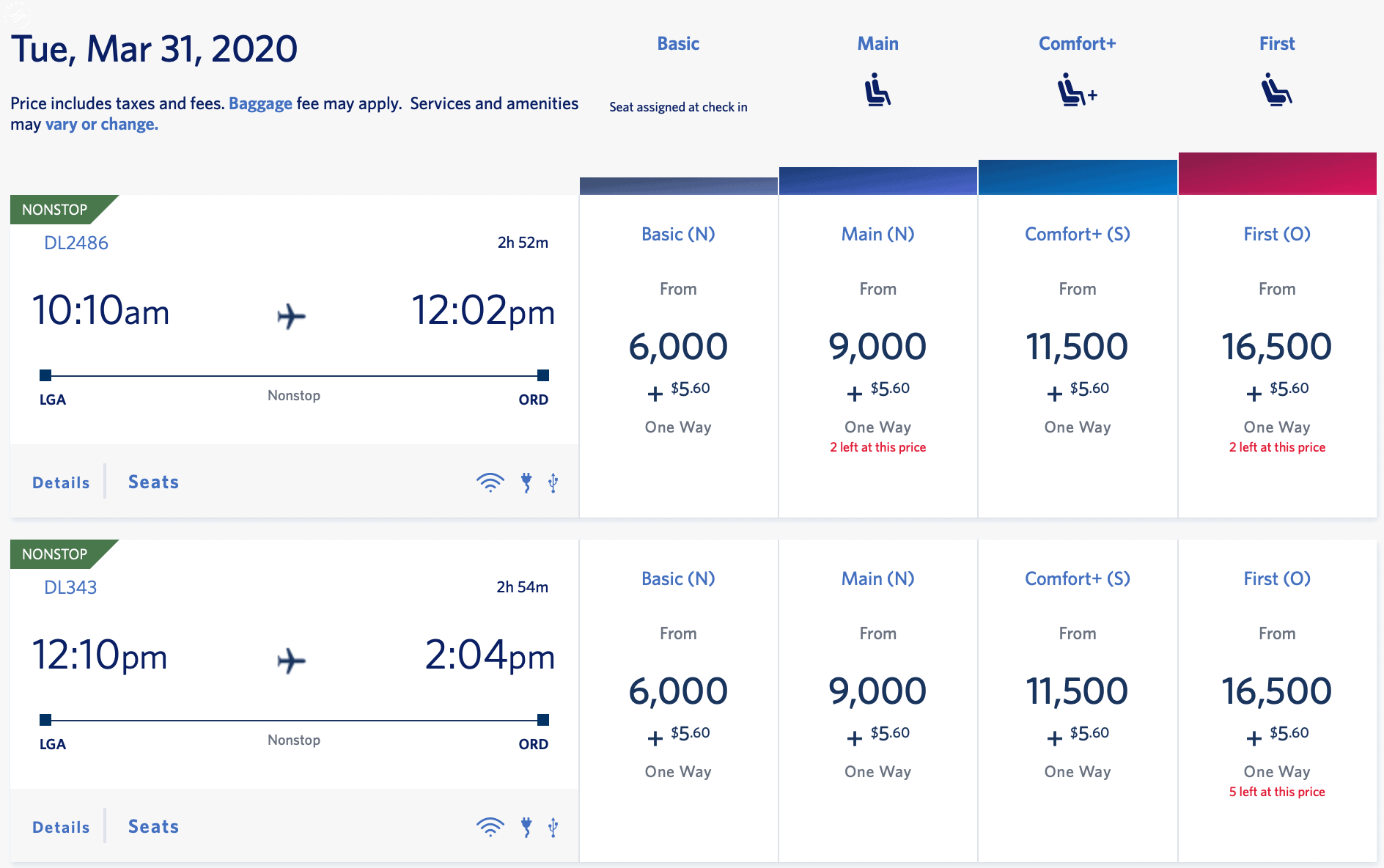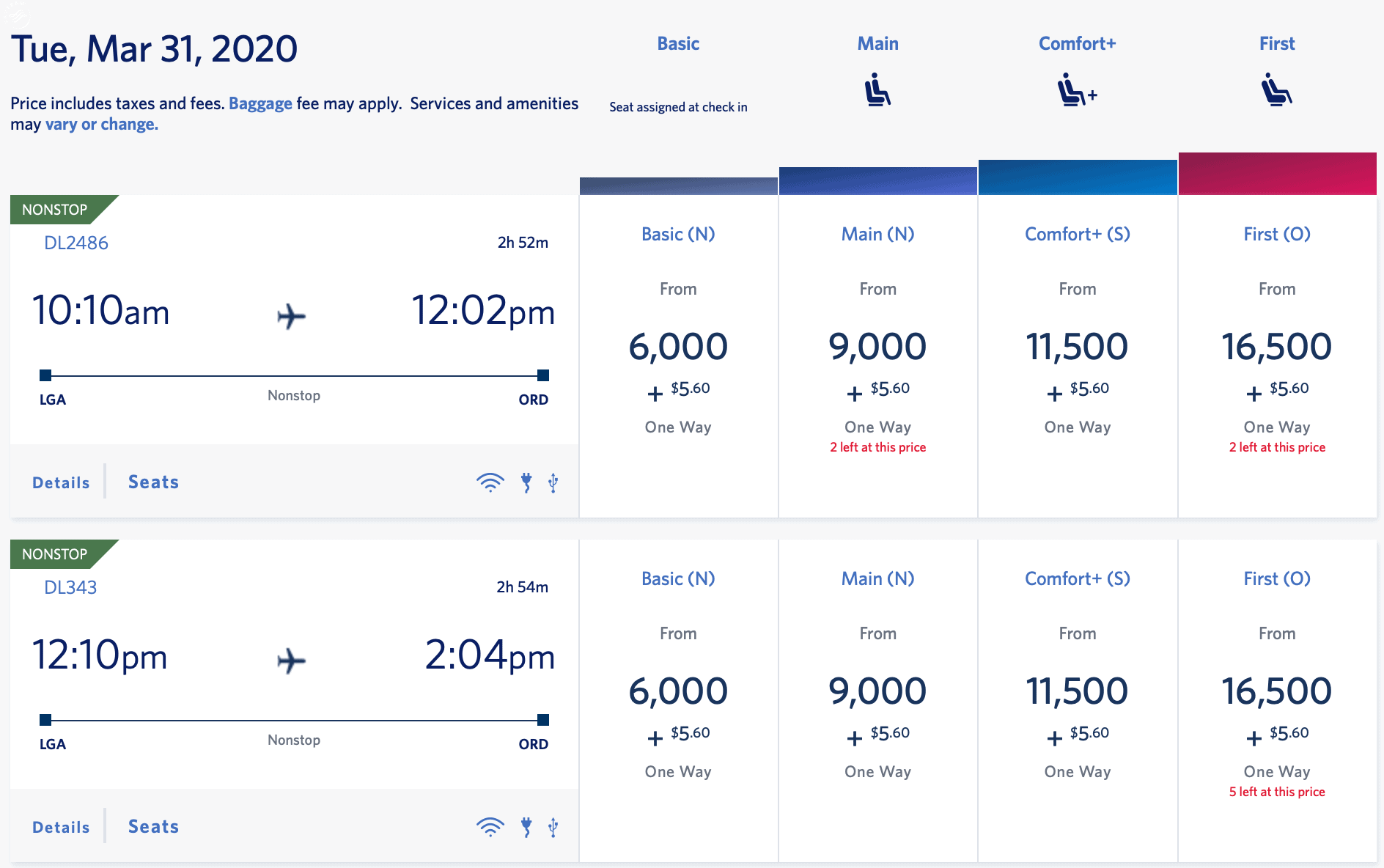 It's actually the "Basic" fare, but they still show plenty of standard economy seats for 9,000 on all these dates.
Now let's check Flying Blue.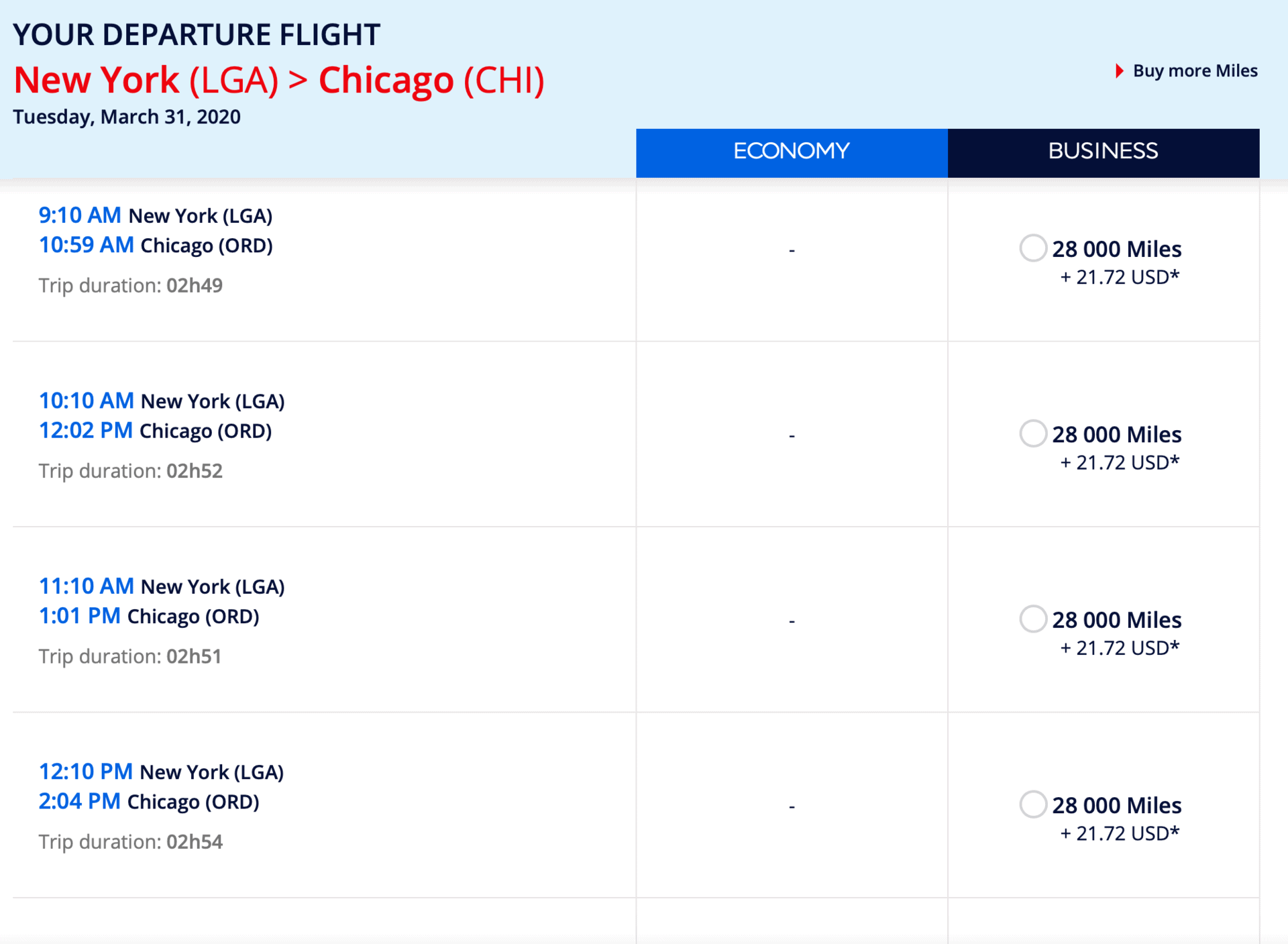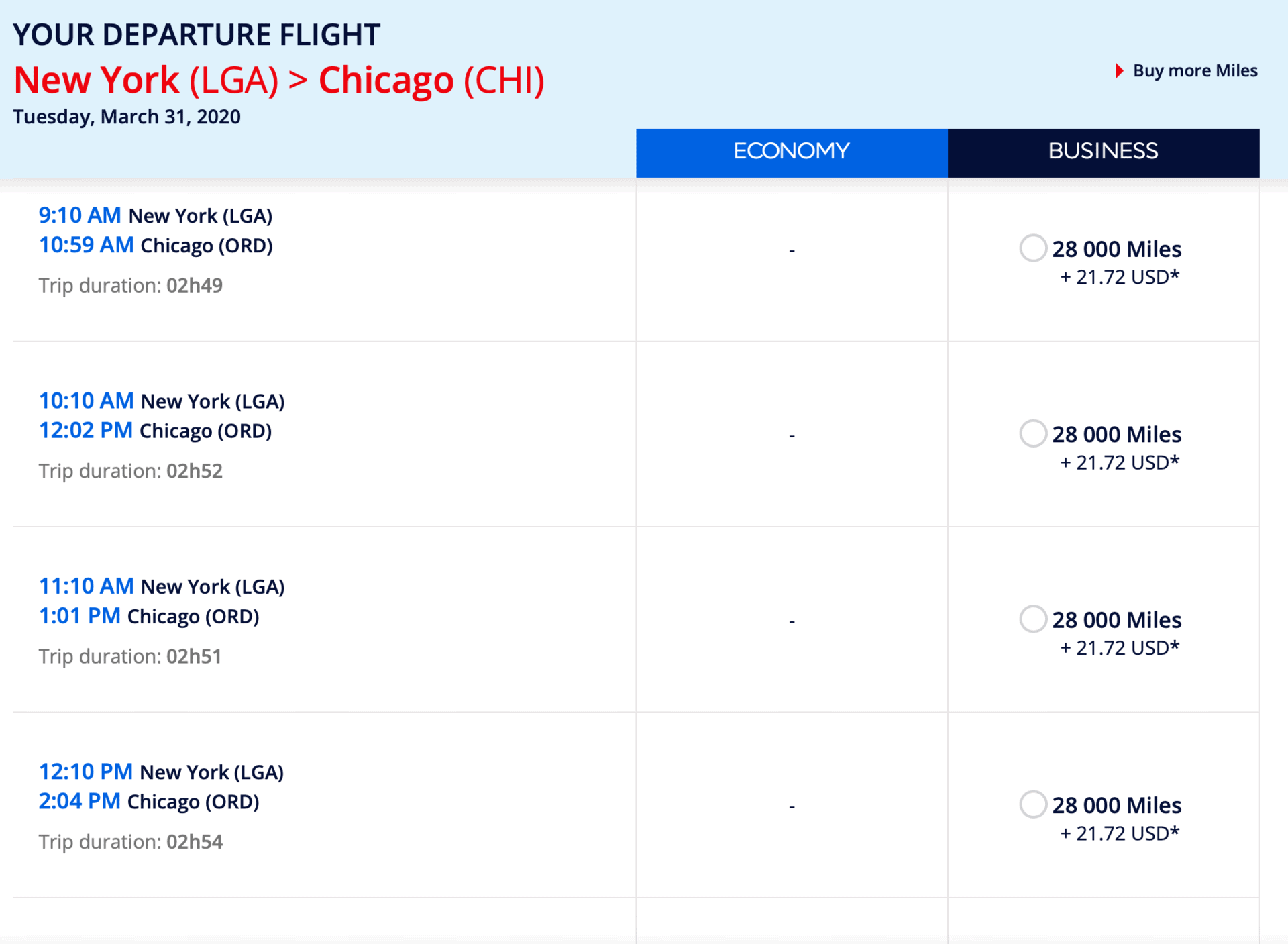 Not a single economy flight is available.  You can book Business Class for 28,000 Flying Blue miles, but that would be silly. As you can see below, it's just 16,500 miles – 17,000 miles with Delta. And that's another thing – despite all flights being available to Flying Blue, they vary in price on delta.com.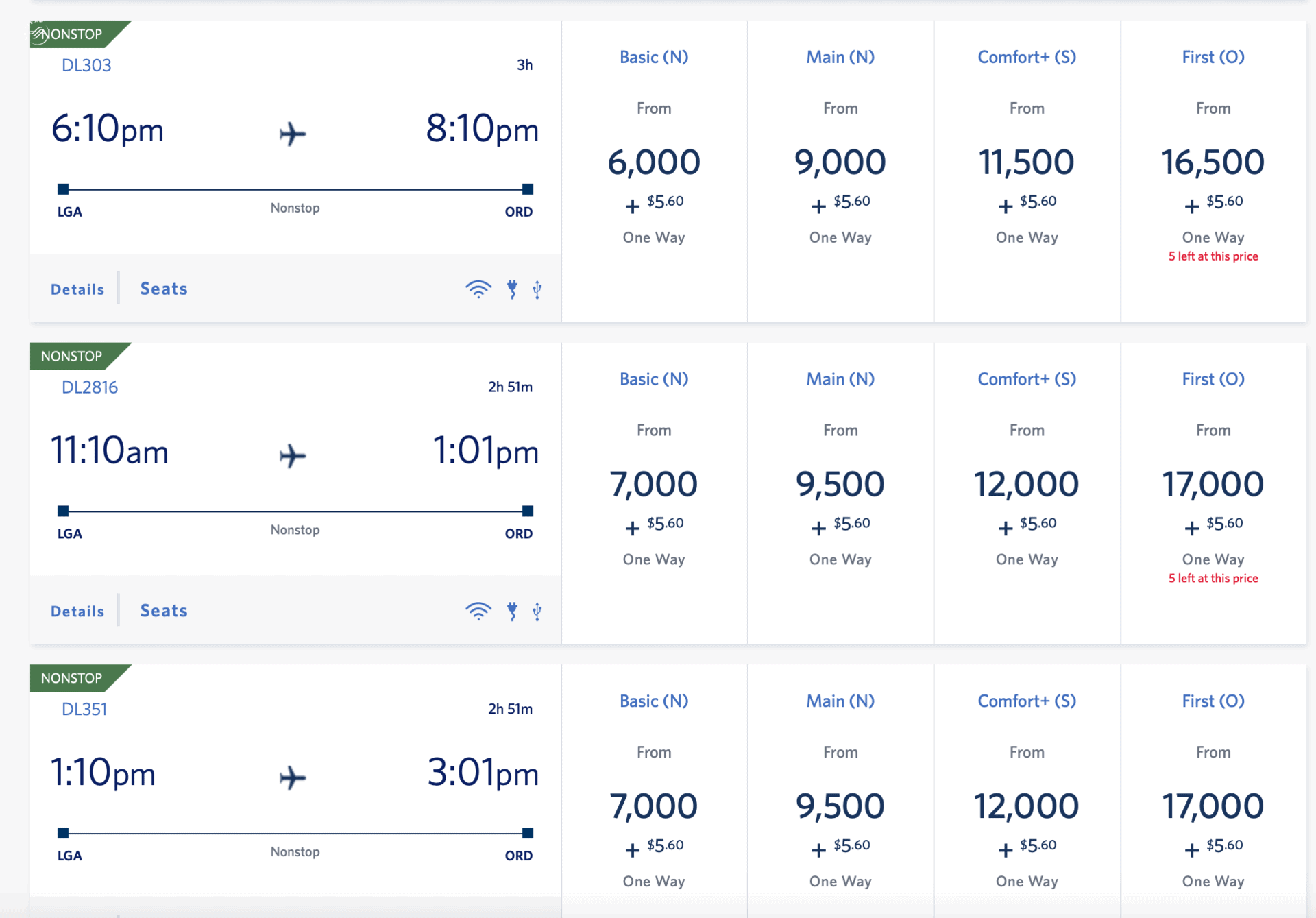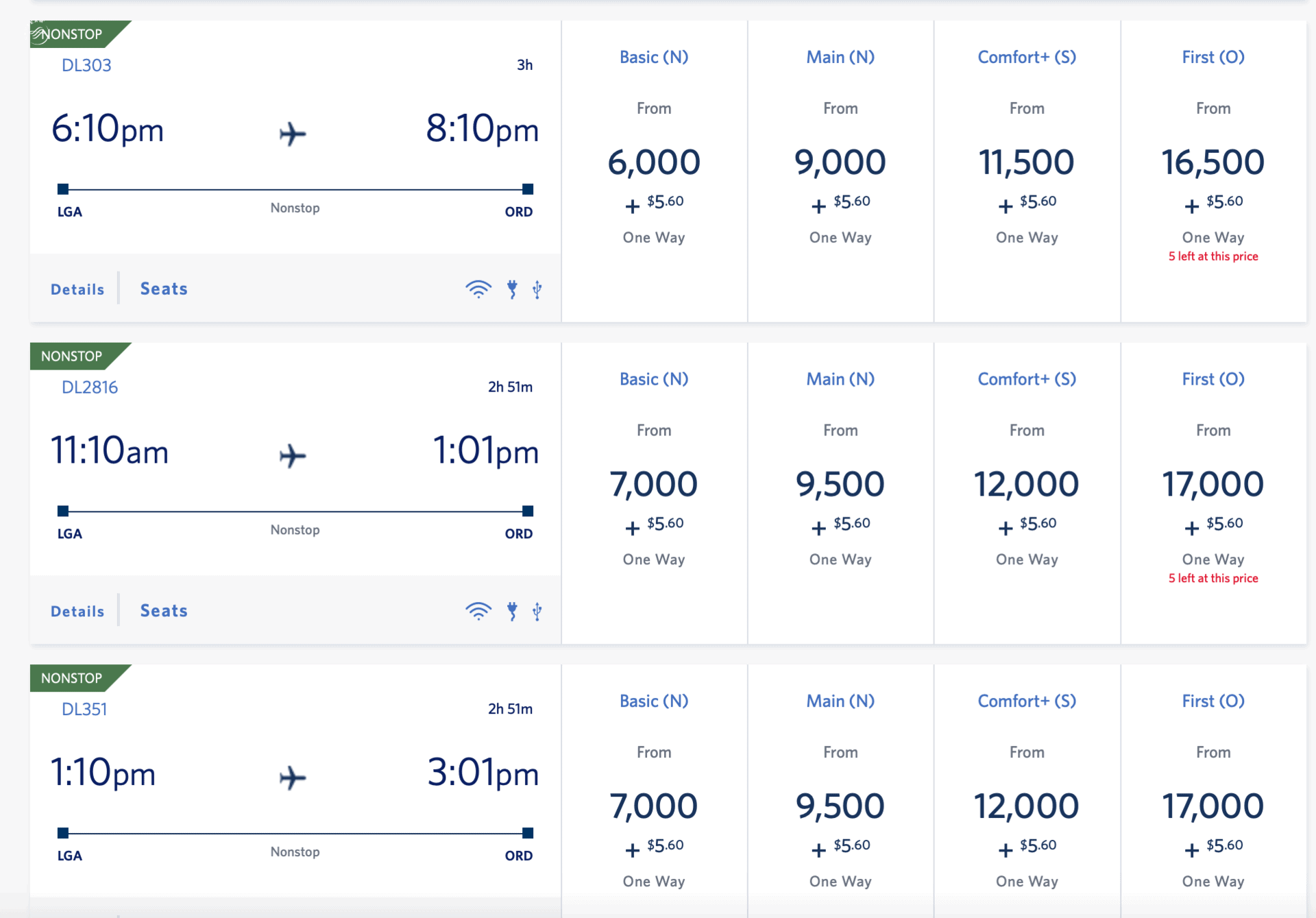 But stick to the economy seats for now, because the point is that they are not making these seats available to their Skyteam (and joint venture!) partner Air France. You can get them cheaply enough with Skymiles, but not with anything else. And only American Express Membership Rewards transfer to Delta while you can transfer almost anything to Air France Flying Blue.
So, this is a thing.
But next, what I *really* want to show you is something I discovered earlier this week doing real searches for an award I was looking at.
This brings us to Delta Business Class Partner Award Space
When looking at the Amsterdam to NY route in Business Class, the "low level" for a Delta flight sure seems to be 80,000. It's tough to tell, because a connecting flight on KLM and Virgin prices at 75,000 in Business Class.
So I pulled a calendar of all flights AMS-NYC and see 75,000 across the board.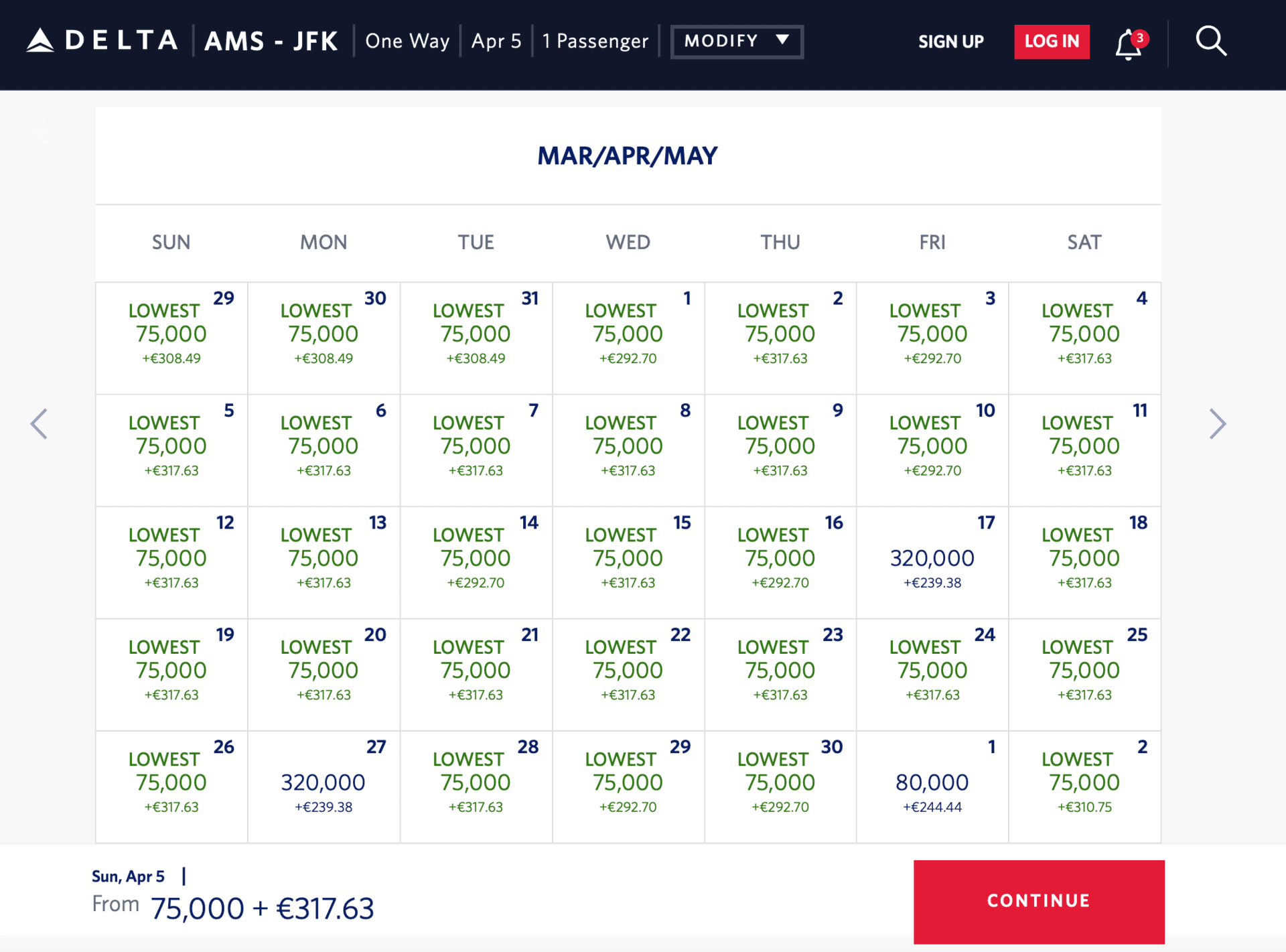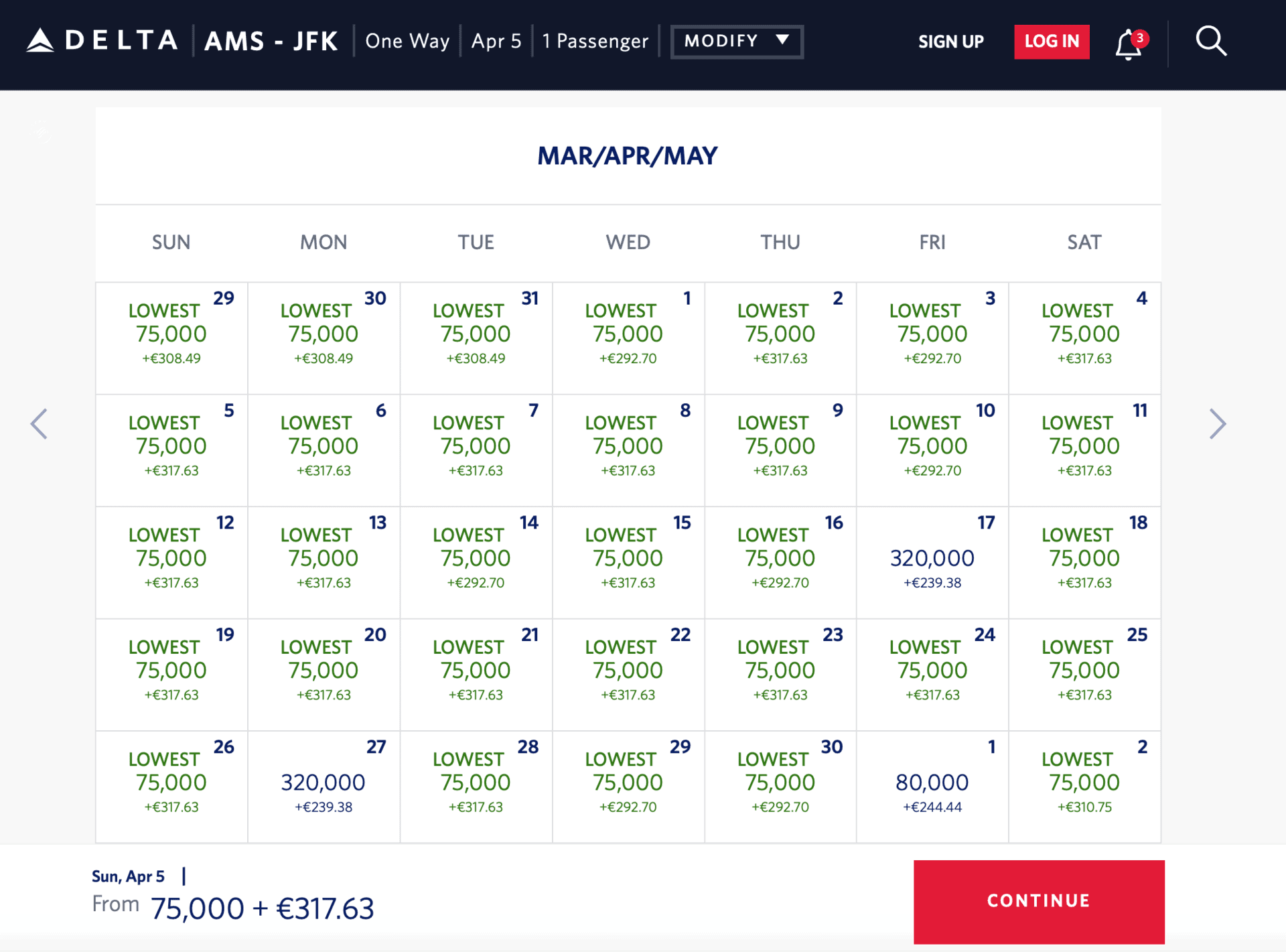 But then I narrowed to non-stop. The lowest is 80,000.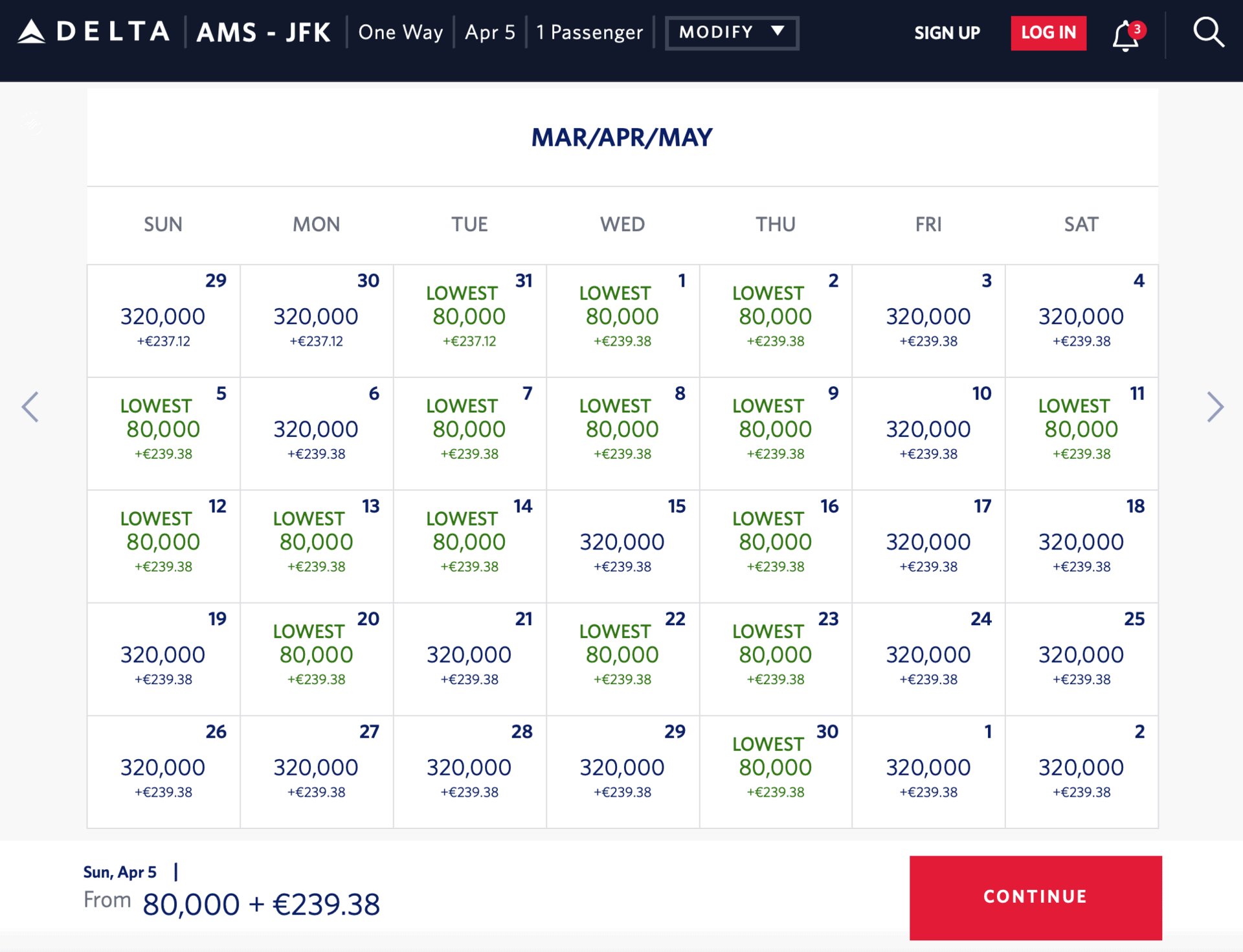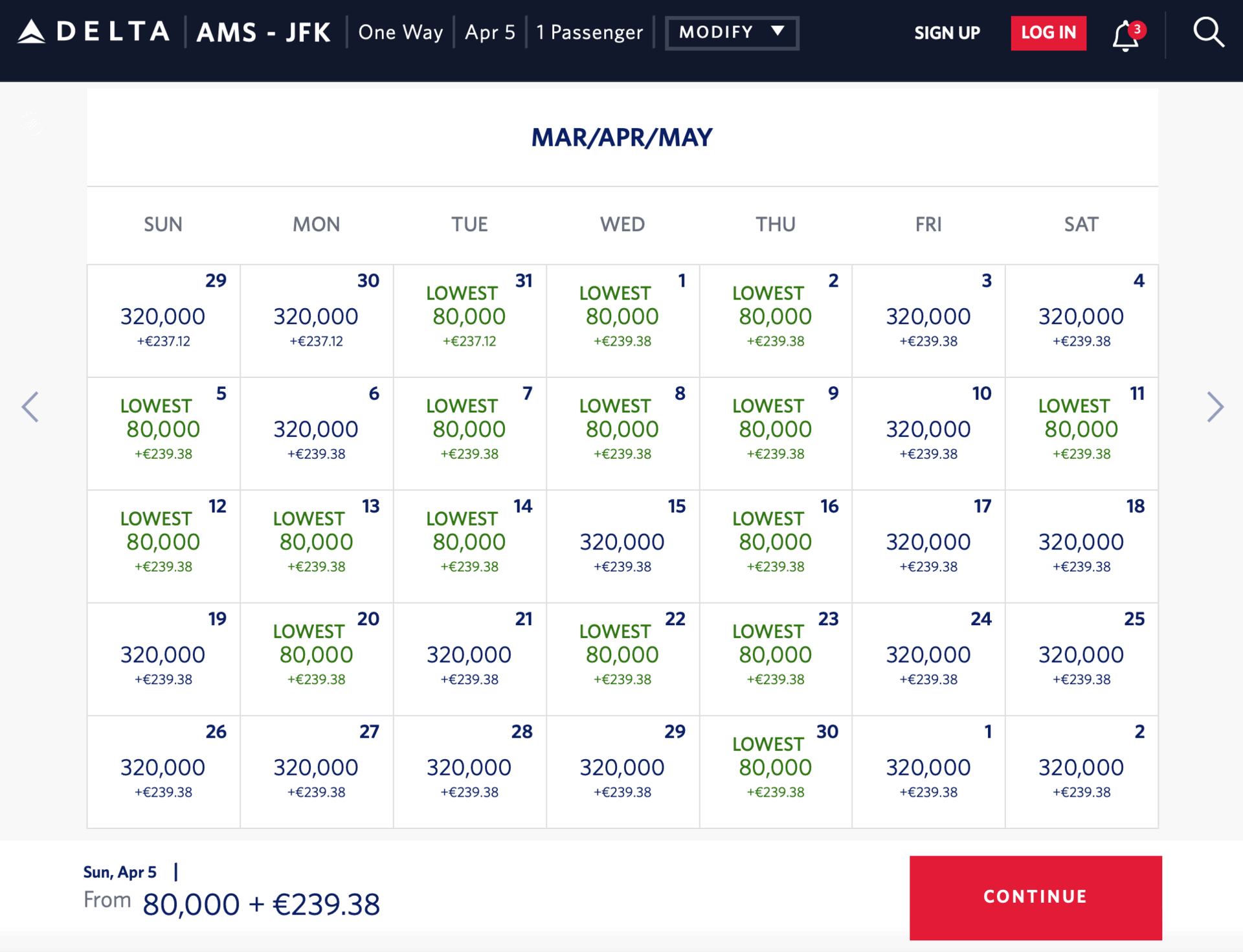 This doesn't get me too far, though. I am going to need to find actual flights at 80,000 and then look on Air France.
On Sunday April 5th, I see a 10am nonstop available at this 80,000 lowest level price.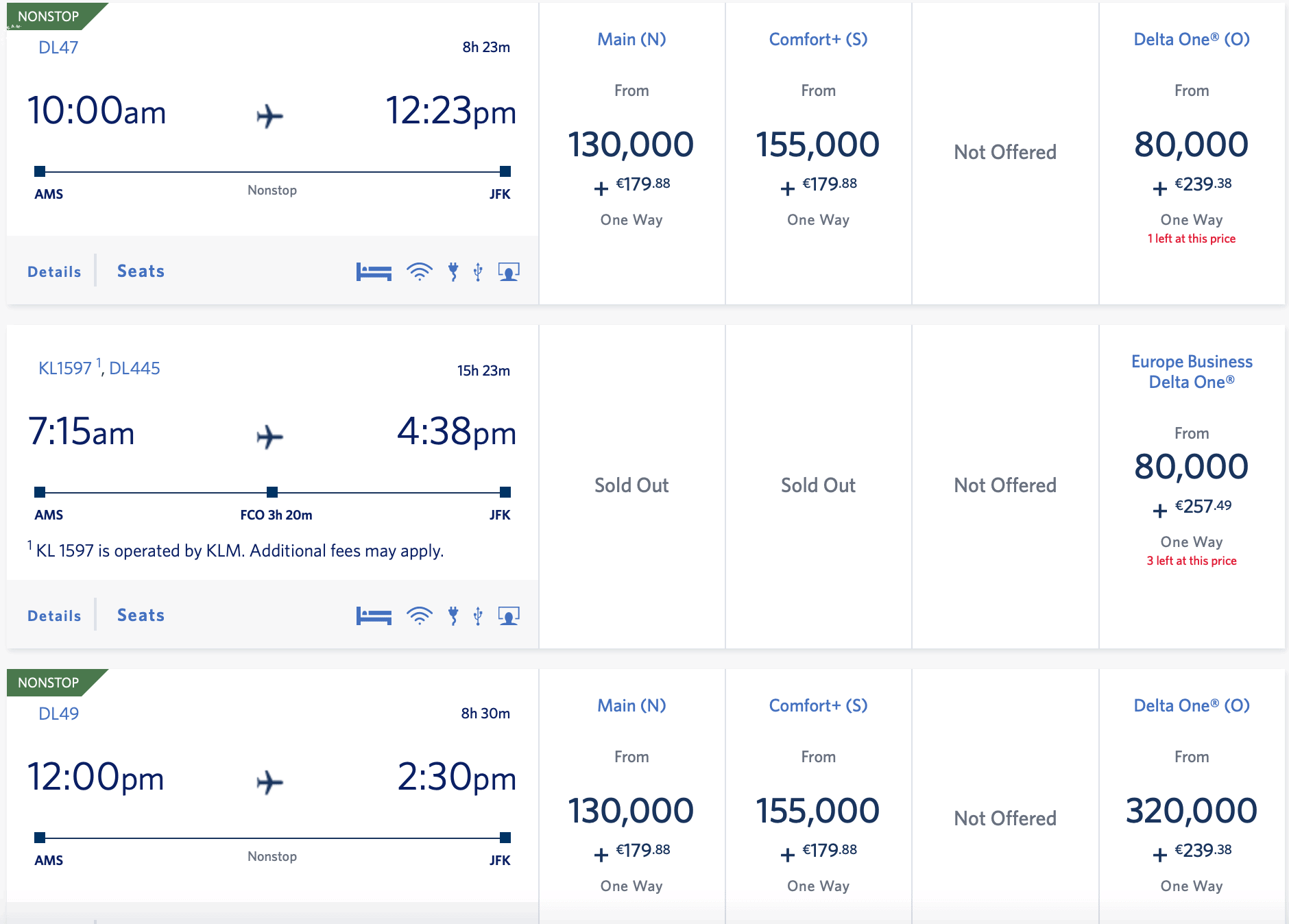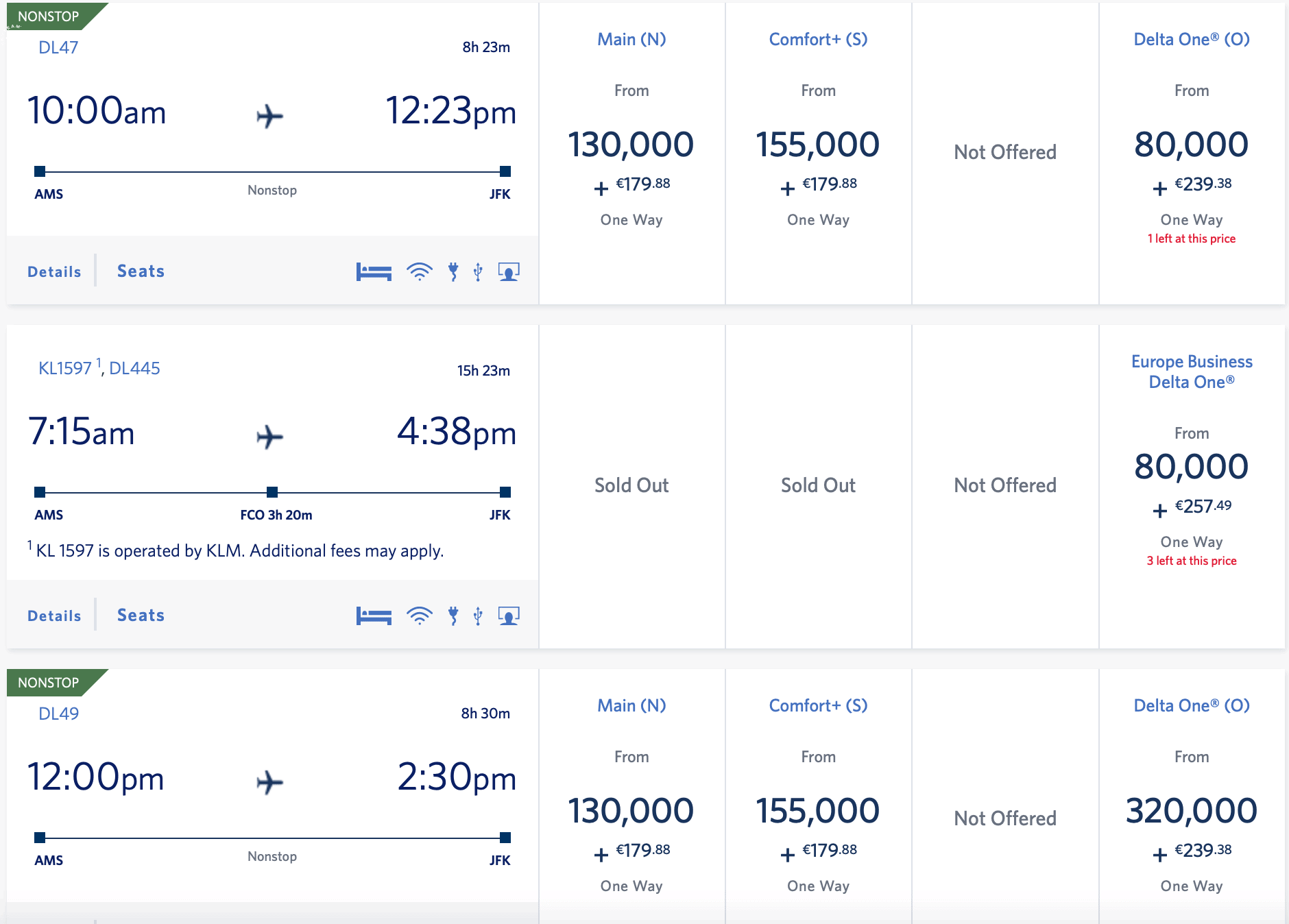 I checked Air France. Nothing.
Strike 1.
Then I check April 7th, which showed an 80,000 mile flight.


And again, the flight wasn't available on Air France.
What about April 8th? Success! (but not really) I can book via Flying Blue for 60,500 Air France Flying Blue miles.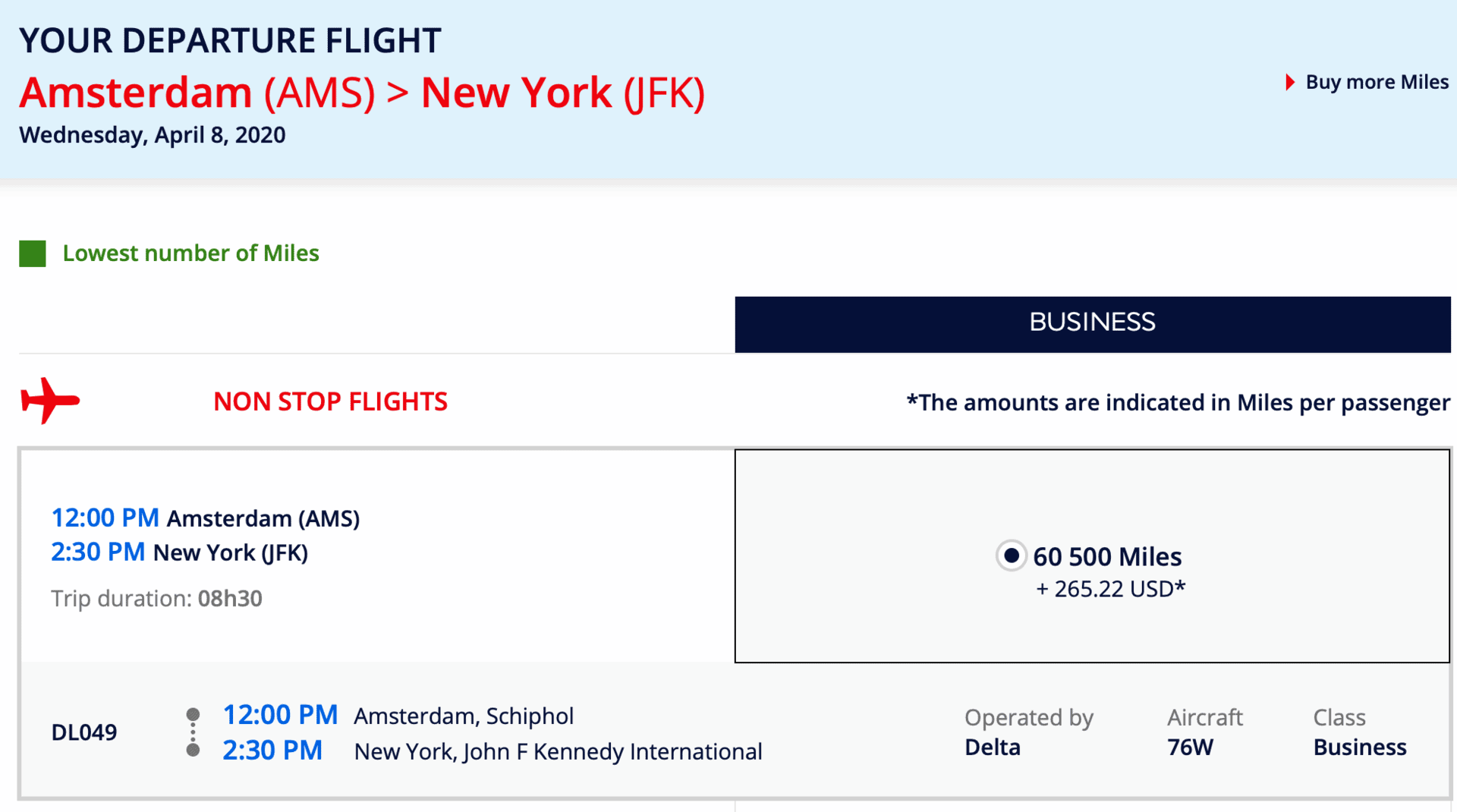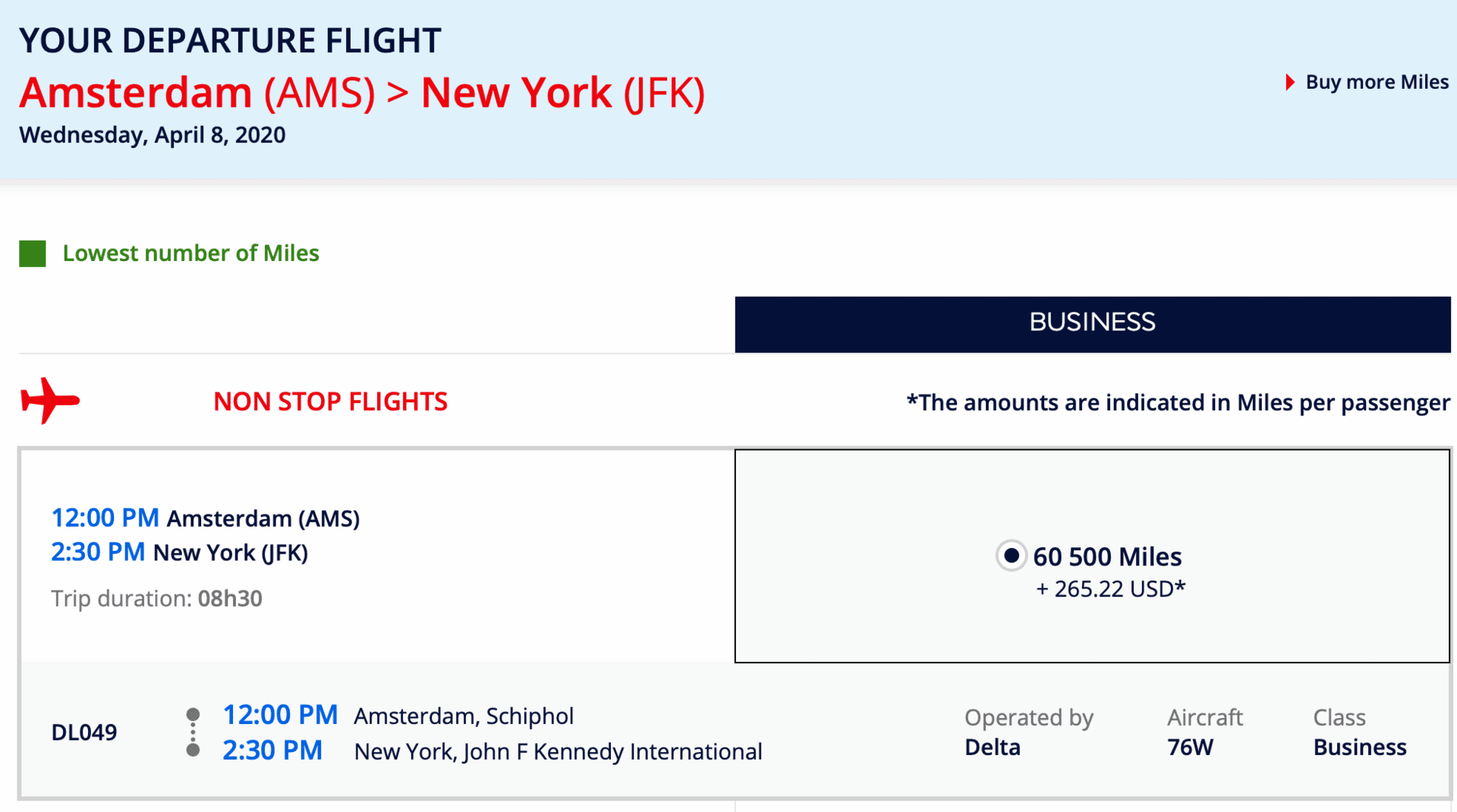 Why did I say "not really"?
Because check out the flight on Delta! 320,000 miles!!


This is not only bizarre, but it is repeatable!
I found the same on flights to London using Virgin Atlantic. When Delta wanted 320,000 miles, I could sometimes find a flight, but often the ones Delta was selling for 80,000 miles didn't show up on Virgin's site at all.
Now I, unlike the general public (although anyone can buy access!) can check Expert Flyer.
And clear as day, it shows that the flight Delta is pricing at 320,000 miles is indeed available to partners while the other day's 80,000 mile flights are not.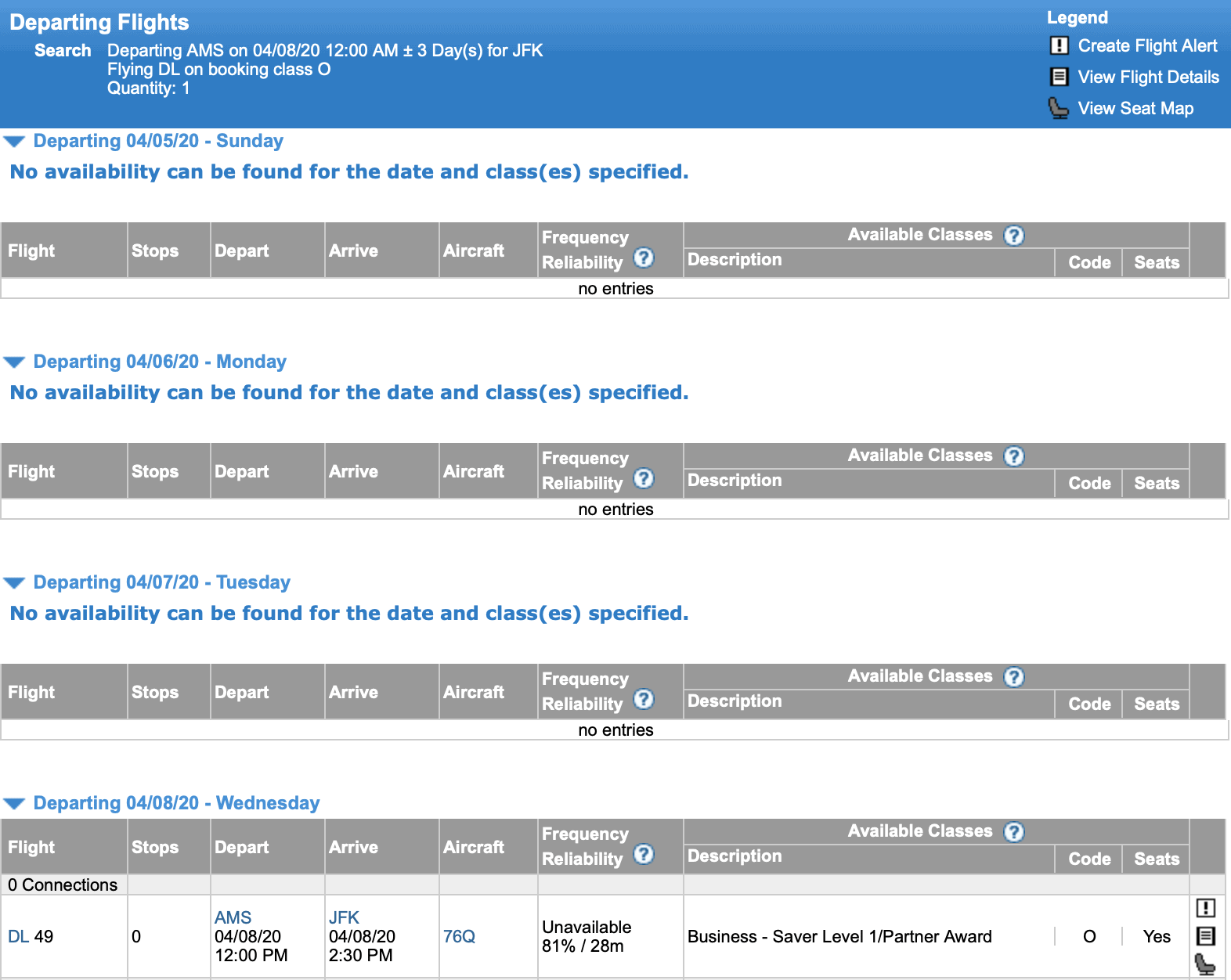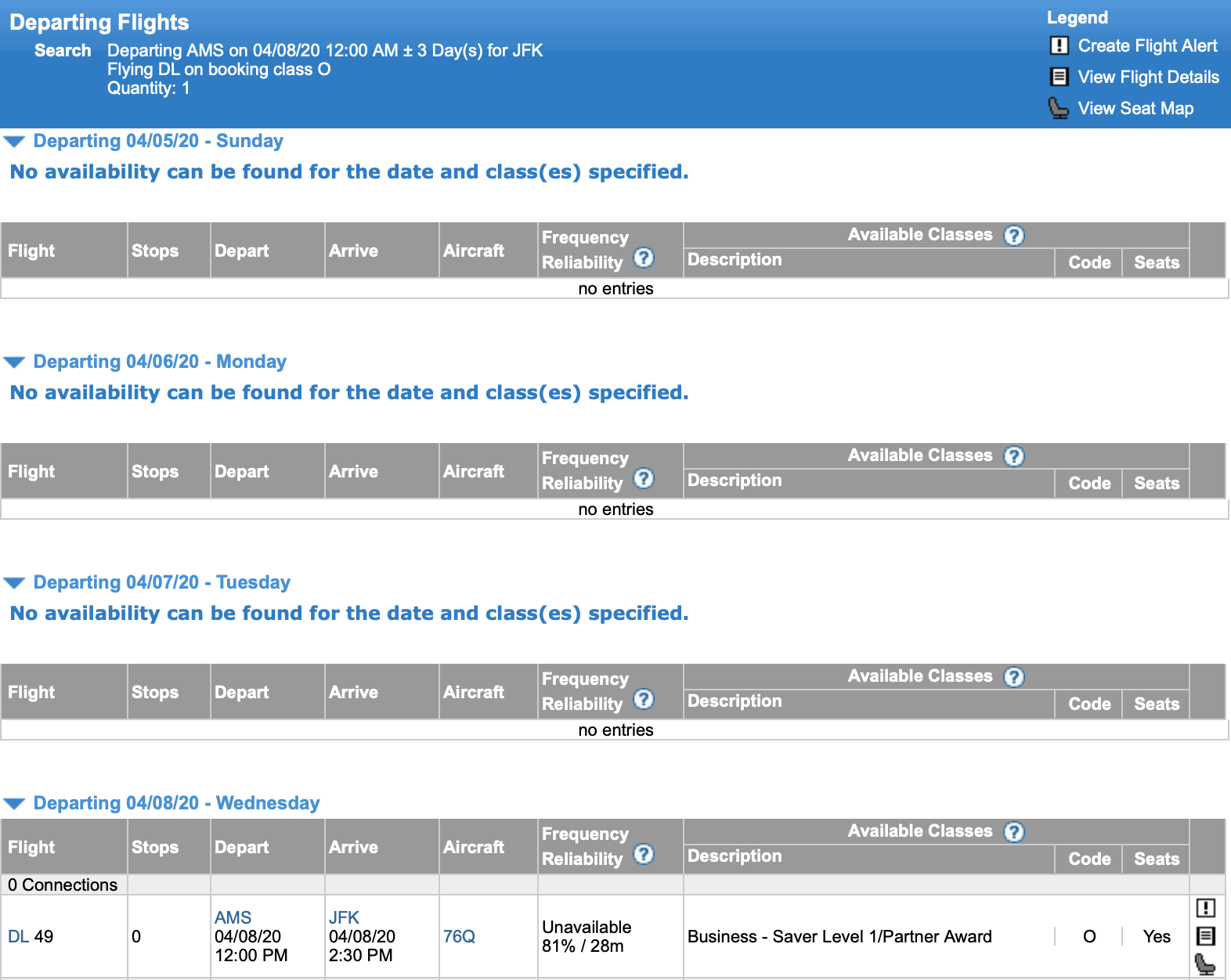 And to that I say…. What the holy hell is going on?
What is my point?
To some, this is a clear as day explanation of what is going on. And to others, I'm sure, I just dropped a bunch of code words and pretty pictures.
Allow me to summarize.
With Delta and AA, it's becoming hard as nails to know what of their inventory will be available to partners but, anecdotally, it's way less than before. With AA you can still check using the old web interface, for now, but clearly availability is getting less and less. If they ever remove the old web interface, good luck to us all.
With Delta, you can't check on Delta nor see any rhyme or reason for what is available to partners. You can search on the partner site day by day or use Expert Flyer. And United, for now, remains easy for coach and super hard for business – but I'm concerned even the situation in coach won't last.
One thing is for sure, though:
This trend in more and more dynamic inventory means that the airlines have found a new way to restrict partner availability. They have made it so that they can even price the awards at a saver level but not place any seats in the saver inventory bucket – i.e. they can "hide" them from partner access.
The Result?
This is, unquestionably to me, eroding the utility of airline alliances. You can be sure that as the non-US airlines' members complain they can't access the US airline's inventories, they will start to reciprocate.
And if we get to a point where all award space is dynamic and partners get little to none of that inventory, there will be nothing left to arbitrage and no deals to be had.
I'm not saying that is happening tomorrow. But the trend is clearly there.
It makes having access to transferable points more important than ever, but for different reasons. It used to be so you could arbitrage the best prices. But if this trend continues, it will be so you can access that airline's award space at all.
May the odds be ever in your favor…
What are your thoughts?
Tell me here, on Twitter, or in the private MilesTalk Facebook group.
You can find credit cards that best match your spending habits and bonus categories at Your Best Credit Cards. 
New to all of this? My "introduction to miles and points" book, MilesTalk: Live Your Wildest Travel Dreams Using Miles and Points is available on Amazon and at major booksellers.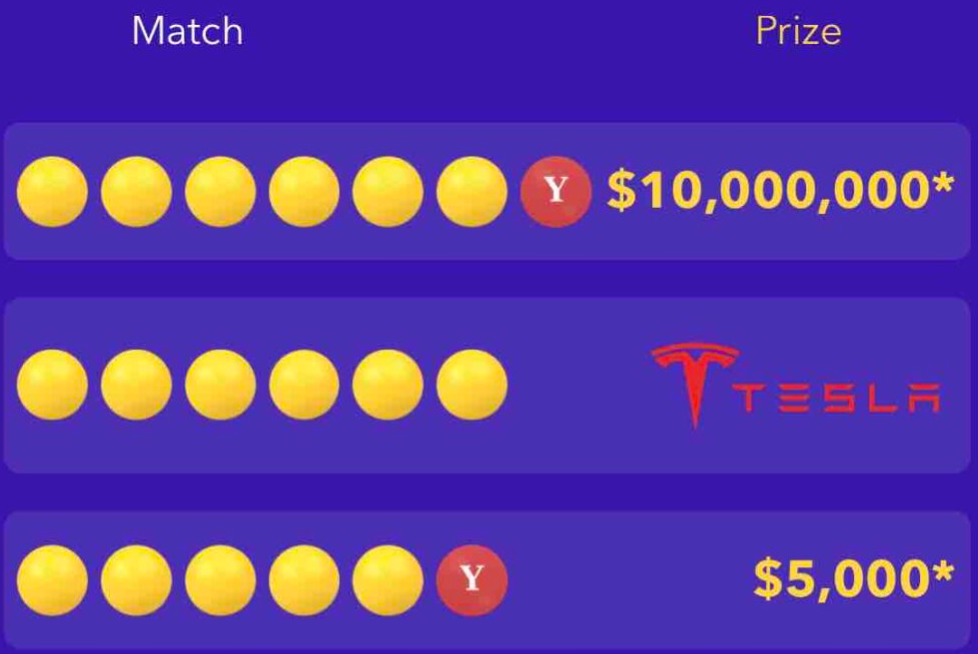 What is Yotta Savings?: The Yotta Savigs account is a really fun way to earn interest at a higher rate than Marcus while having some fun each night when the Yotta prize ball drops. Currently, the statistical odds imply a net savings rate of between around 1% and 3% - at a time when banks like Marcus are offering a paltry 0.5%. Plus, it's fun! | Read my review of Yotta.