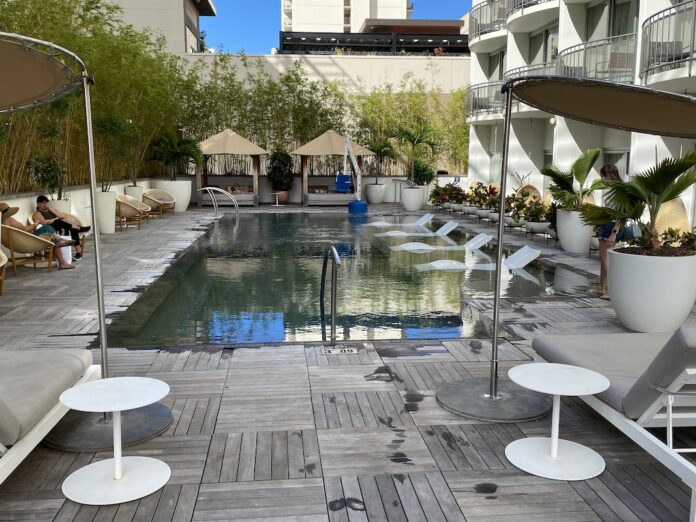 I'm trying to find a term for giving you the quick scoop on a hotel, when a full review is not warranted (or if I just don't feel the experience warranted).
For now, I'll call them Lightning Reviews.
Choosing a Waikiki Hotel
We needed just one night in Honolulu before our flight back to New York from Hawaii. After some extravagant hotels in Maui (the Waldorf Astoria Grand Wailea) and in Kaua'i (the Grand Hyatt), my criteria for the one night in HNL was that I could use a free night certificate, as I have many saved up.
My options were a Hyatt Category 1-4 certificate, a Marriott Bonvoy 35k certificate (from my Marriott Bonvoy credit cards or a Marriott Bonvoy 40k certificate from renewing Titanium status last year.
I ruled out the Hyatt Place as not nice enough and the Hyatt Centric Waikiki flouts the Hyatt program spirit by blocking 1 night award stays (yes, I'll write a separate post on that).
I had two options with Bonvoy: the Waikiki Beach Marriott Resort & Spa for 35,000 points (PointSaver) and the Laylow (40,000 points).
I really wanted to go for the Waikiki Beach Marriott Resort & Spa, but recent reviews bared out why they need to offer PointSavers – namely that on top of most hotel services being closed, the hotel actually sits on Kūhiō Beach (south of Waikiki Beach) and, more importantly, is in the middle of a huge beach construction project. Yeah, no thanks.
So, the Laylow it was. 
The Laylow sits a few short blocks inland from Waikiki Beach. If you are going purely for a beach vacation, it won't be your spot. They won't give you beach chairs and you won't feel like you are staying near a beach at all. If you walked directly to the beach from the Laylow, you'd walk through the Royal Hawaiian (the Marriott Luxury Collection resort).
As an aside, while I did consider both the Royal Hawaiian and the Westin Moana Surfrider on points, I noted that on top of resort fees, both actually have the nerve to charge for beach chairs ($55 I think) on top of that. I toured both resorts and am glad I did not pony up for that – especially not after departing Kaua'i! Waikiki is definitely a city beach and has none of the relaxing beach vibe of the other islands. It's much more akin to South Beach, Miami.
The Vibe of the Laylow
The Laylow is actually quite cool as a hotel, generally. The vibe is very much "W" but not quite as fancy. Maybe 85% W and 15% Aloft?
It does have a "scene" to it, both at the bar called the Hideout and at the pool.
The pool wasn't crowded and was relaxing, but you wouldn't enjoy it as a family. Between the pool and the bar, it's very clearly intended for a younger, hipper, childless crowd.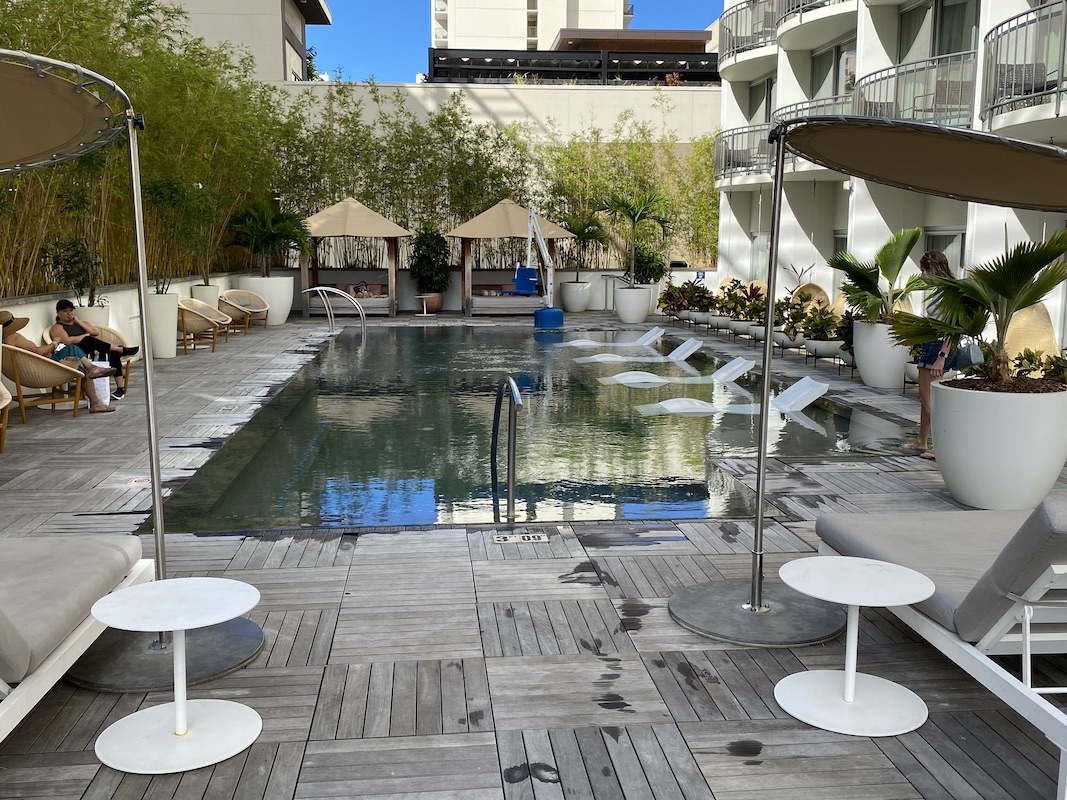 The Hideout is apparently one of the hottest nightlife spots in Waikiki right now. We tried to stop in for a pre-dinner drink, but no luck. The wait at 7pm was 2+ hours. But I had them text us when ready, and we wound up with an after dinner drink there instead. It's interesting during COVID, because you know it would normally be a bar people would mingle at, but instead everyone is sat in groups. They are not currently allowed to serve you unless seated.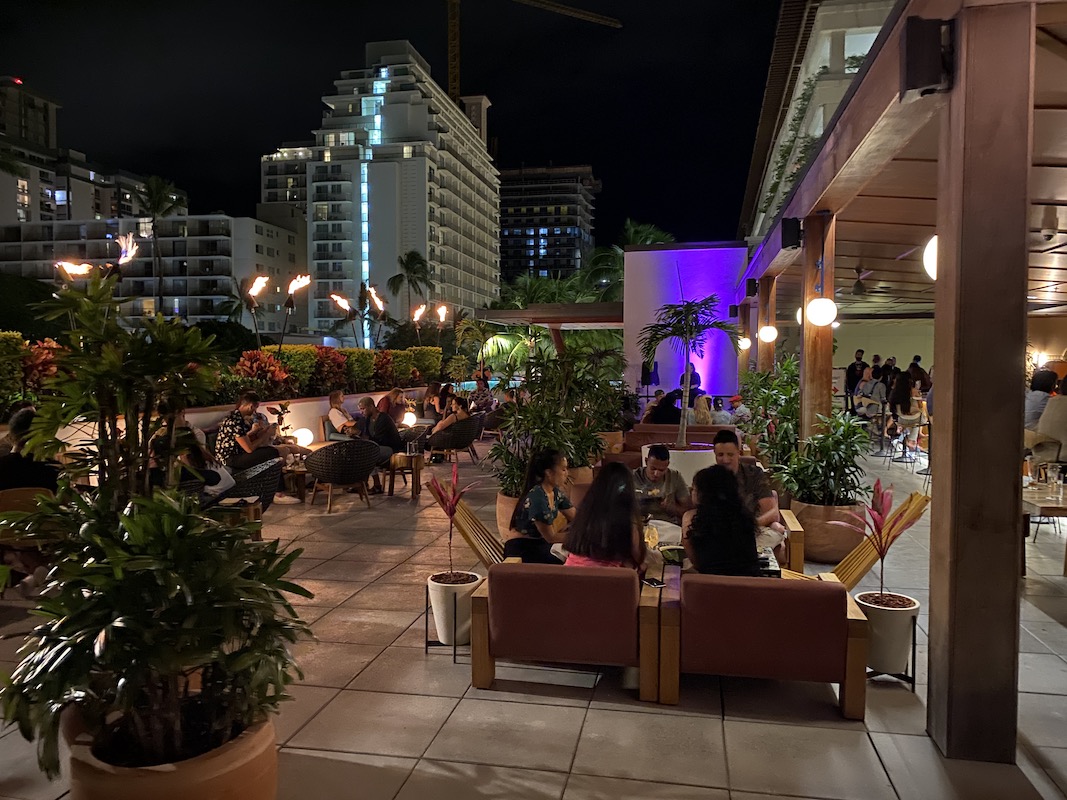 "Destination Fee"
You'll pay $29 + tax on top of the rate because the hotel is a hotel that has decided to charge an extra fee and can get away with it. They'll also allow you to borrow towels to use at the pool. That towel rental is all covered by the Destination Fee, so don't you worry about buying towels to use at the hotel pool!! (Just make sure that the attendant signs your towels back in or they'll charge you…)
Marriott Bonvoy Titanium Elite Treatment + Our Room
I do want to call out that not only was the staff friendly, but they did pre-upgrade me to a Junior Suite when I reached out with difficulties trying to apply a Suite Night Award. The Junior Suite was lovely and I thank them for that.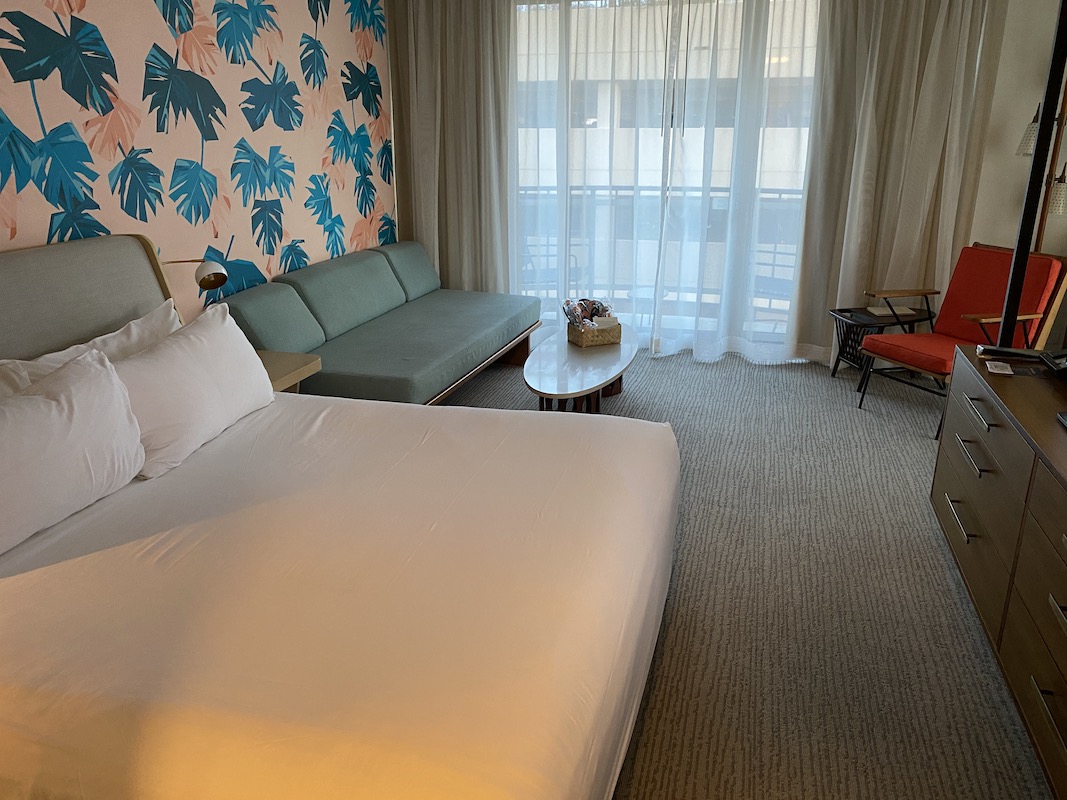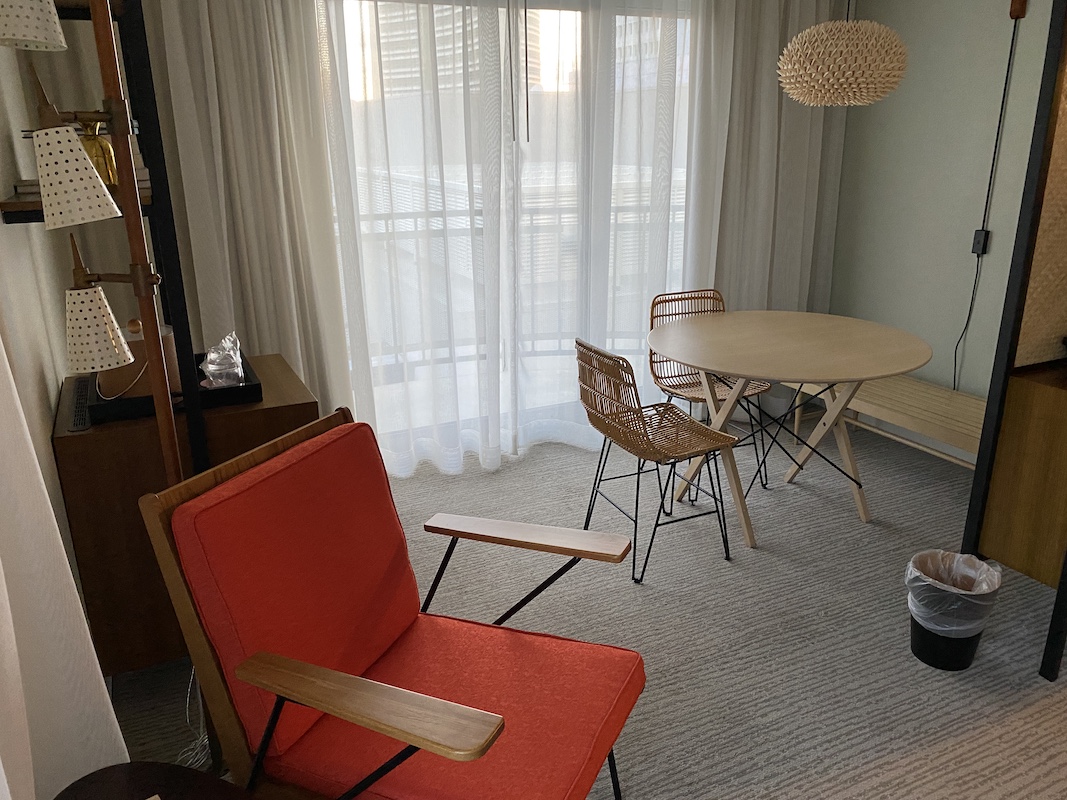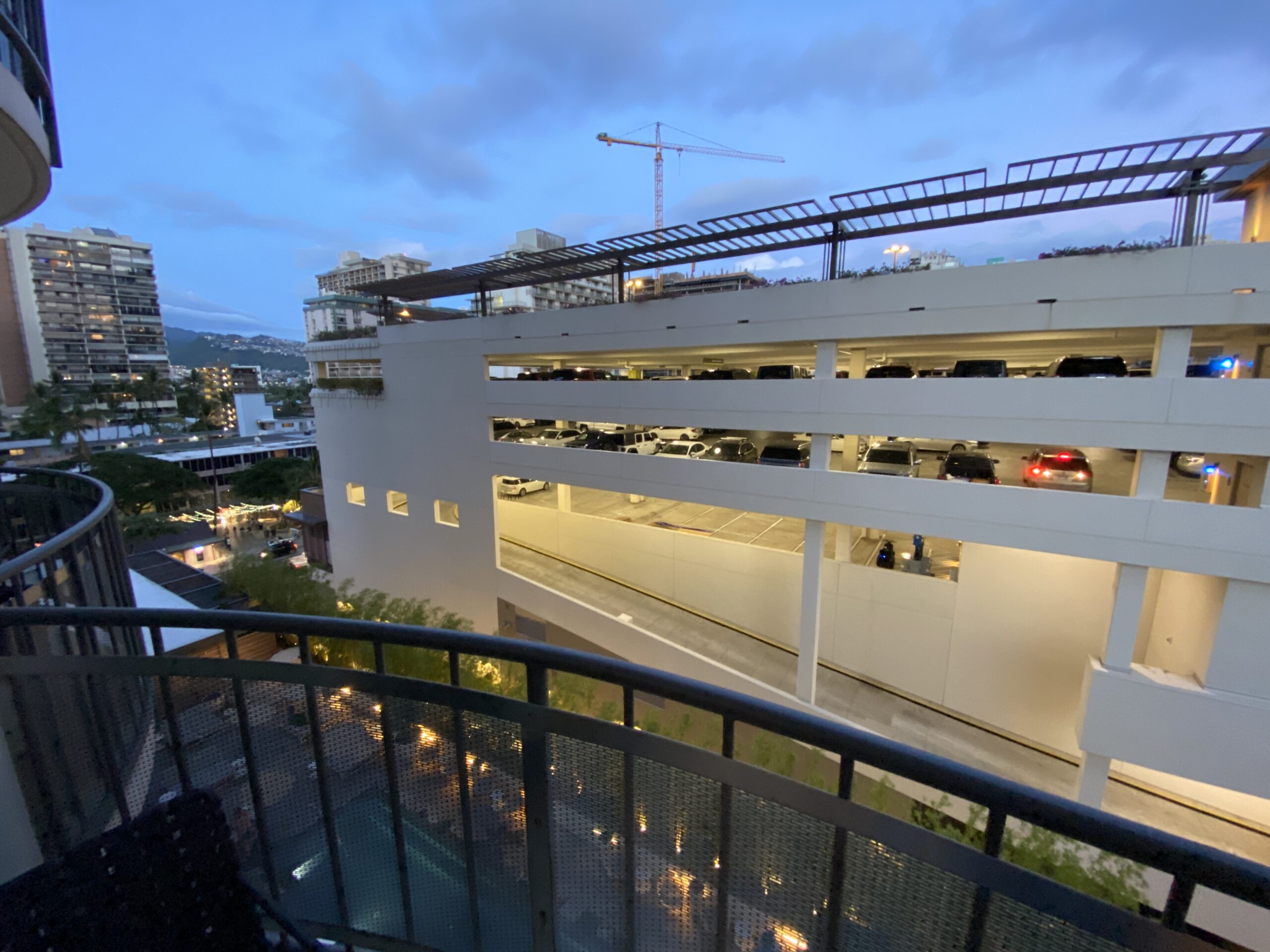 However, this hotel needs to be publicly shamed for offering a paid breakfast to all guests at their coffee shop, but not offering any sort of breakfast benefit to Platinum and higher elites that are entitled to a breakfast benefit if the hotel is serving breakfast.
You may or may not know that each hotel in the Marriott system has a What to Expect page. This is the page for the Laylow: Laylow "What to Expect". This is supposed to let you know upfront which benefits a hotel is using the COVID excuse to fail to deliver on.
It lists all the F&B outlets as open and then states:
Welcome Gift: Depending on member level, guests may receive bonus points, discounts or welcome gift on arrival.
However, I guess when they say "may receive" they mean "at the hotel's choosing" because I was not allowed a choice. I was told I'd receive 1,750 points (1,000 + 750 per night) worth about $9. And then I could pay cash for breakfast if desired. This is "due to COVID" which is obviously malarkey because they are serving breakfast during COVID!
I tried to call this out and stated I believed I was supposed to have a choice to a breakfast credit. Two different hotel clerks informed me that it wasn't possible and when I pressed the second one I was told "This is the decision management has made at this time."
In other words, "We know we can get away with this and Marriott won't do anything about it, so using the excuse of COVID will be a great way to get avoid the costs related to our elite members."
I'm writing a separate opinion piece on "The COVID Excuse" so I'll end this here, but you get the point. It's frustrating, stupid, and the hotel chains need to clamp down on this. If there is no breakfast at all "due to COVID" then that is health related. If you have the food and are serving it in exchange for cash, then you should be providing stated elite benefits. Recall that Marriott had suspended Elite benefit guarantees but ended that suspension early this year.
I could have kept escalating to the Duty Manager, but really, who wants to spend vacation begging for breakfast?
Summary
All told, the hotel was totally fine. I liked the vibe, and if I'm not trying to be right on the beach, I like the location. It felt completely safe and was an easy 5-10 min walk to anywhere you'd really need to go, including the beach (although they don't provide anything for the beach).
The pool and the bar were both very nice. The whole thing had a great vibe. And the breakfast thing really isn't a huge deal (despite all the words I use above to explain the situation) and I wouldn't have booked elsewhere even if I'd known the deal.
But it's stingy and, as you can see, leaves a bad taste regardless. Especially when they are charging a Destination Fee "despite COVID" but denying the elite benefit "because of COVID."
Thoughts?
Let me know below in the comments, on Twitter, or in the private MilesTalk Facebook group.
And if this post helped you, please consider sharing it!
You can find credit cards that best match your spending habits and bonus categories at Your Best Credit Cards. 
New to all of this? My "introduction to miles and points" book, MilesTalk: Live Your Wildest Travel Dreams Using Miles and Points is available on Amazon and at major booksellers.