Tips for Booking Hard to Book Marriott Awards including App vs Website Differences
Did you miss a deal? Never again! Apply to join the members-only MilesTalk Facebook group
.
Advertiser Disclosure: MilesTalk has partnered with CardRatings for our coverage of credit card products. MilesTalk and CardRatings may receive a commission from card issuers. This site does not include all financial companies or all available financial offers. The editorial content on this page is not provided by any of the companies mentioned, and have not been reviewed, approved or otherwise endorsed by any of these entities. Opinions expressed here are the author's alone.
First, I'm going to assume that you have a working Marriott app. If you are having trouble booking award nights on your Marriott app, read my post from last night: The Fix for Booking Marriott Awards on the App.
When I speak of hard to book hotel awards, I'm referring to hotels like the St. Regis Bora Bora or St. Regis Maldives, hotels that are a crazy good deal through next February at just 60,000 Marriott points per night.
These hotels are screaming good deals right now but availability is also very tight. The base rooms, those at 60,000 points, are very limited in number and therefore get sold out easily.
A few notes upfront:
1) New rooms go online a week at a time, on Saturday nights overnight. It generally starts at midnight Eastern Time, but the last few weeks have been all over the map. When I say new rooms, I mean a new week added to the end of the booking calendar. The last block to go up was for mid December 2019.
2) You should now be able to use the Marriott "Points Advance" feature to book rooms without points in hand. Watch out, though, as these hotels all have 30 day cancellation period which supersedes the Marriott engine canceling your stay if you don't have the points. You could be on the hook for hefty penalties so don't just book willy nilly or you could get burned badly. Also, please be considerate of others who would like to book the rooms. They may also take hefty deposits on your credit card at booking.
3) For some of these high end hotels, you can only book a "base level" room, perhaps a garden villa, with points. You can contact the hotel and ask about paid upgrade options. For others, you will have the option to (or, depending on availability of a base room, only have the option to) book an upgraded room for points + a cash upgrade fee. Recently when searching for St. Regis Bora Bora availability I've been unable to find a single "base room" and the next one up has a cash co-pay of over $600 a night. Look carefully at the room type you're booking to be sure you are happy with it before booking a long and expensive fight to get to your sweet hotel award booking!  Do not go to any of these high end properties expecting a Platinum Premier upgrade. You may get lucky but when the resorts are full, as they often are, there's nothing to upgrade you to and these types of resorts are not required to upgrade at all as all the rooms are specialty.
Back in August, I'd been able to book upgraded rooms with more points (i.e. 85,000 a night for the W Maldives Overwater Villa) but those seem to have gone away (let me know if you've had luck recently…)
Strategy:
It's generally going to be the best possible deal to book 5 nights when you do this, since the 5th night is always free on an award booking. 240,000 points will, until March, get you 5 nights anywhere in the world you can find availability for with Marriott points.
The issue is finding 5 consecutive nights!
It helps if you know a couple of key differences between how the search function works on Marriott.com vs the Marriott app.
The Marriott app is great for quick searches for any availability on points, especially short stays, including upgraded rooms. It will save your recent searches making it quick and easy to run repeated searches over time. As long as you are happy to pay co-pays on award rooms (for upgraded room types) it fits the bill most of the time.
However, if you want to find only base room (no co-pay) availability and/or want to find 5 consecutive nights at a hard to book property, you'll want to use Marriott.com (mobile browser or desktop).
The reason is that on Marriott.com you can use Flexible Dates and see entire months at a time of only the base rooms.  If you search March 21-26 in the app and March 21, 22, 23, 24 are available but March 25 isn't, you won't know that unless you keep changing your dates up. On the website, you can do "Flexible Dates" and select "One Night."
This will give you a calendar of all the days with availability so you can see if, somewhere, there are five nights that work for you.
If I use the app for the St Regis Bora Bora, it will tell me nights are available from 60,000, but it obscures the fact that all these rooms require a copay.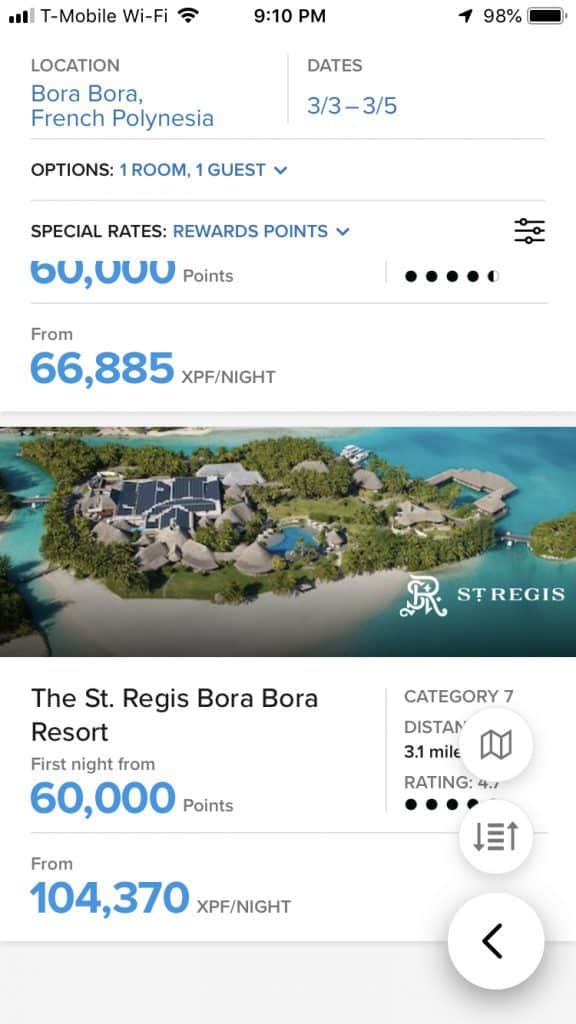 And it's a sizable co-pay!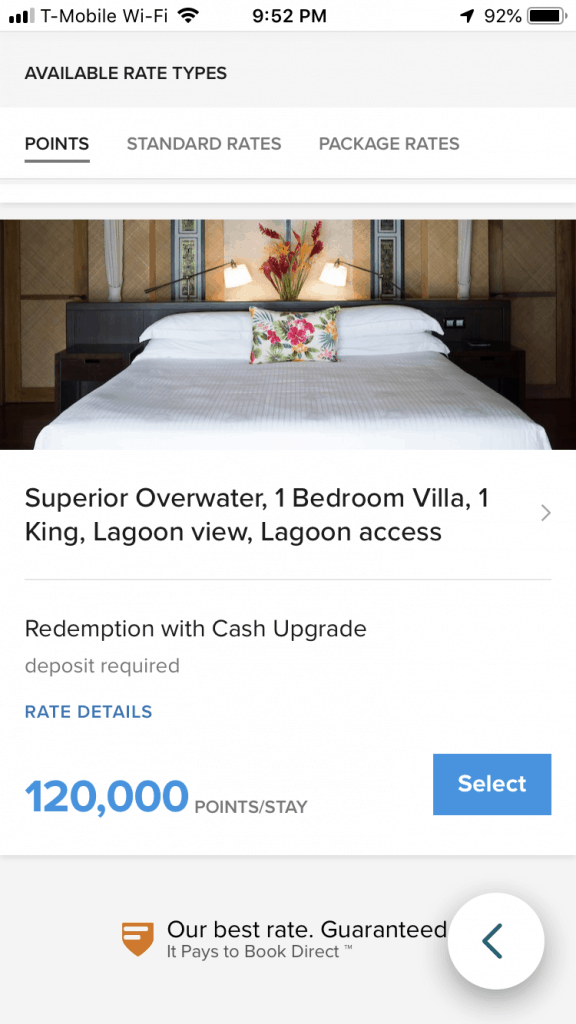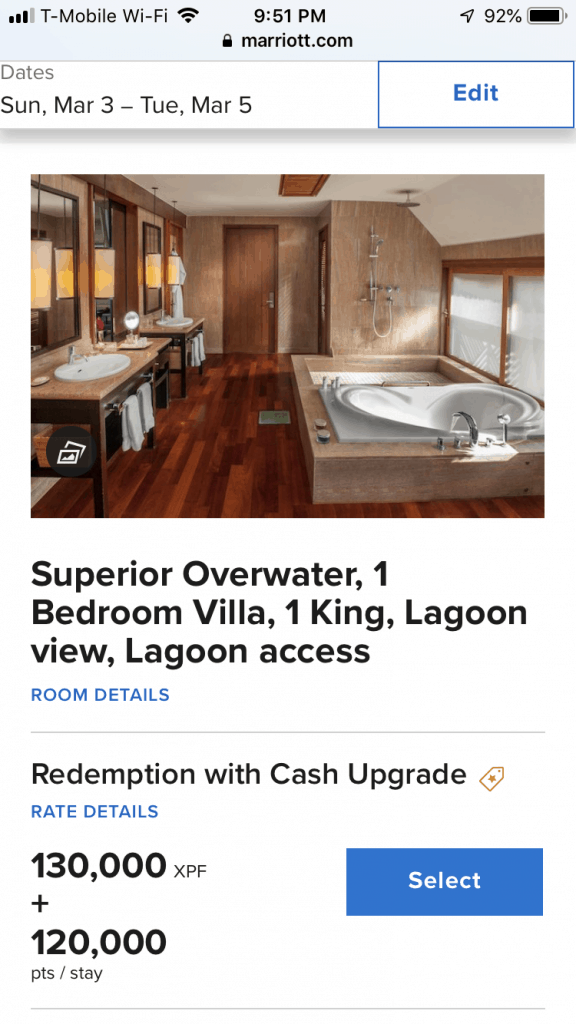 You have to actually click through to the booking to find out the co-pay.
However, if I'm on the website, I can see that the St Regis Bora Bora has zero nights at the base rate next March: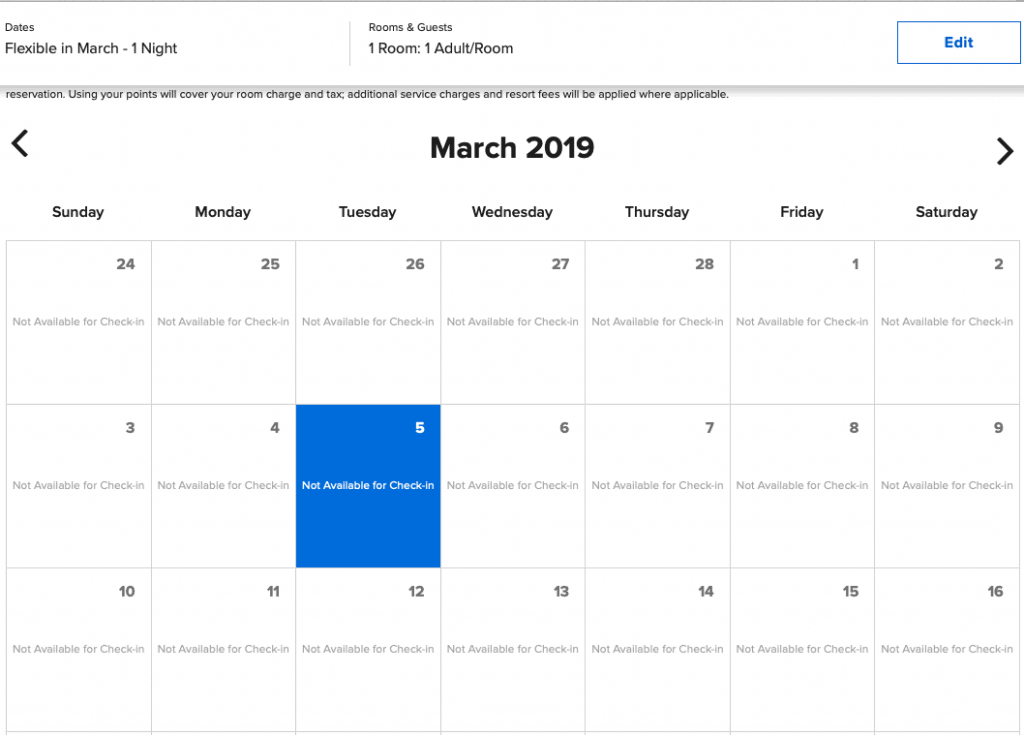 If I am not willing to pay a co-pay for the upgraded rom, then this just saved me a boatload of time!
Meanwhile, the St Regis Maldives has plenty of days in November (the most that month is 4 days together, though):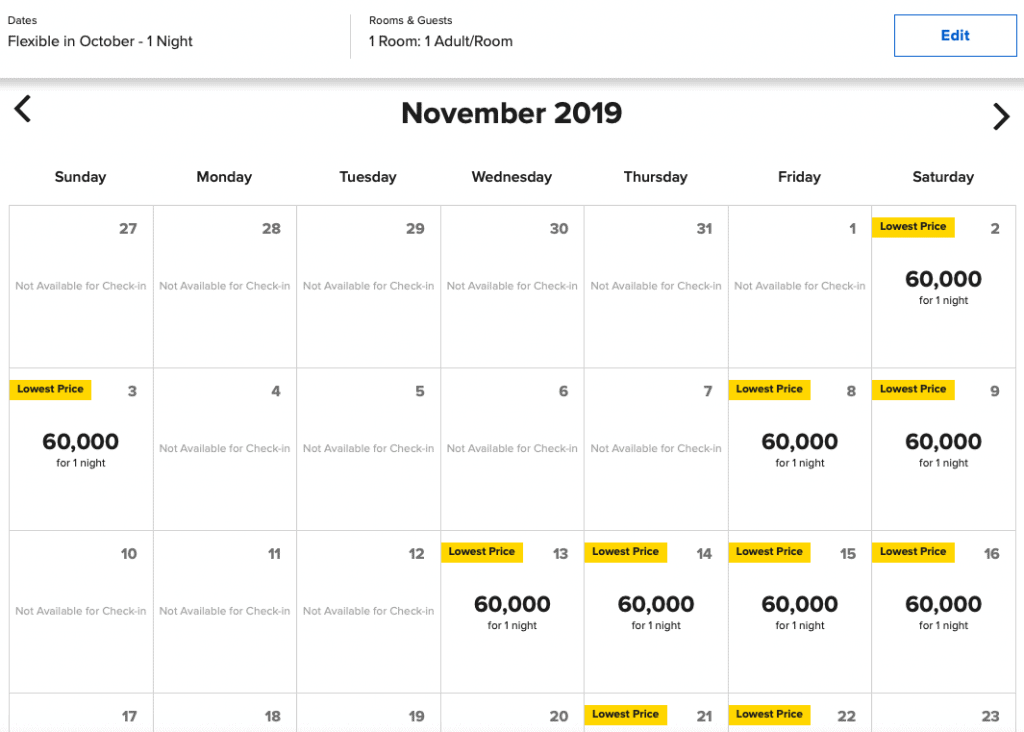 Summary
Hopefully, in future Marriott app iterations, they will begin to show the amounts of the co-pays up-front and allow you to see a day at a time on the calendar. I suspect that is not imminent, though, so you'll want to keep these tips handy for now.
How has your luck been booking these aspirational awards? Let me know here, in the comments, on Twitter, or in the private MilesTalk Facebook group.
New to all of this? My new "introduction to miles and points" book, MilesTalk: Live Your Wildest Travel Dreams Using Miles and Points is available now.
Small Business Credit Cards
Bonus Offer
Best Features
More info

Chase Ink Business Preferred Credit Card
80,000 Ultimate Rewards points when you spend $5,000 in your first 3 months
Earns 3x points on travel, advertising, and shipping.

This massive Welcome Bonus offer makes this card a great first business card. The bonus alone is worth $1,000 - $1,200 at a minimum.

These points can be transferred to a range of Ultimate Rewards partners like United and Hyatt at a 1:1 ratio or spent in the Ultimate Rewards portal on travel with a value of 1.25 cents per point. Also provides complimentary cell phone insurance if you pay your monthly bill with the card. $95 annual fee waived the first year.
Learn More

Chase Ink Business Unlimited
50,000 Ultimate Rewards points (or $500 cash) when you spend $3,000 in 3 months
Best for small businesses with a lot of every day spend. This card earns 1.5x everywhere.

If you don't spend a lot in the bonus categories of other cards, or want a second card to pair with one that you use in the bonus categories, this is a great card. No annual fee. Pair this with the Chase Ink Preferred for a killer 1-2 card combo.
Learn More

Chase Ink Business Cash Credit Card
50,000 Ultimate Rewards points (or $500 cash) when you spend $3,000 in 3 months
5x points on up to $25,000 in office supplies, internet, cable, and phone annually.

There are lots of ways to maximize this amazing 5x benefit. If you combine these points into a Chase Sapphire Reserve account to book travel, it's like 7.5% effective cash back. No annual fee.
Learn More

The Business Platinum Card(R) from American Express
75,000 possible bonus Membership Rewards points. 50,000 after you spend $10,000 within 3 months and 25,000 more if you spend a total of $20,000 in your first 3 months.
Access to Centurion Lounges, Priority Pass lounges, Delta SkyClub lounges (with Delta ticket) $200 annual airline credit
Learn More

Chase Southwest Airlines Rapid Rewards Premier Business Credit Card
60,000 Rapid Rewards points when you spend $3,000 in 3 months
Those trying to get a Southwest Companion pass (the bonus points count).

Read more about how to qualify for the Companion Pass here.
Learn More

The Business Gold Card
50,000 Membership Rewards points when you spend $5,000 in 3 months (this is a personal referral offer - click "View All Cards with a Referral Offer" on landing page to find this deal)
Earns 4x Membership Rewards points on two categories of your choice (options include US-based: advertising, computer services, gas stations, restaurants, or shipping - up to $150,000 a year in spend). Other purchases earn 1X. This card is a good choice IF you will spend heavily on at least one of the bonus categories, as this card has a $295 annual fee.
Learn More

The Blue Business Plus Credit Card
10,000 bonus Membership Rewards points when you spend $3,000 within 3 months (personal referral offer)
Earns 2x Membership Rewards points on all of your purchases, regardless of category, up to $50,000 a year. This is a great card to earn Membership Rewards from spend in categories with no bonuses on other cards and has no annual fee.

As well, it earns standard Membership Rewards points meaning that if you wanted to close a Green/Gold/Platinum card, you would keep your points alive if you have this card.
Learn More

Capital One Spark Miles for Business
You will earn a bonus of 50,000 miles when you spend $5,000 in the first 3 months of opening your account
This card earns 2 miles per dollar. As of December 2018, these miles are transferable to 11 frequent flyer programs (0.75 airline miles per one Capital One mile).
Learn More

Capital One Spark Cash
You will earn a bonus of $500 when you spend $5,000 in the first 3 months of opening your account
This card earns 2% cash back.
Learn More

Starwood Preferred Guest(R) Business Credit Card from American Express
75,000 bonus Marriott points when you spend $3,000 in the first 3 months
Earn 6 points per dollar at Marriott/SPG properties, 4 points per dollar for US restaurants, gas, wireless telephone services, and shipping, and 2 points per dollar on everything else.

It also comes with a free night at any Marriott/SPG hotel up to 35,000 points each year after you renew the card.

A great card if you stay often at Marriott/SPG branded hotels.

Learn More

Hilton Honors American Express Business Card
125,000 bonus Hilton points when you spend $3,000 in 3 months
Complimentary Gold Status in the Hilton Honors program (Diamond upgrade if you spend $40,000 in a calendar year). 10 free Priority Pass lounge visits. Free weekend night rewards (valid for any hotel) when you spend more than $15,000 in a calendar year and again if you spend more than $60,000.

Earns 12x points at Hilton, 6x points on US gas, wireless services, shipping, flights booked direct with the airline or Amex Travel, and car rentals. 3x on everything else
Learn More