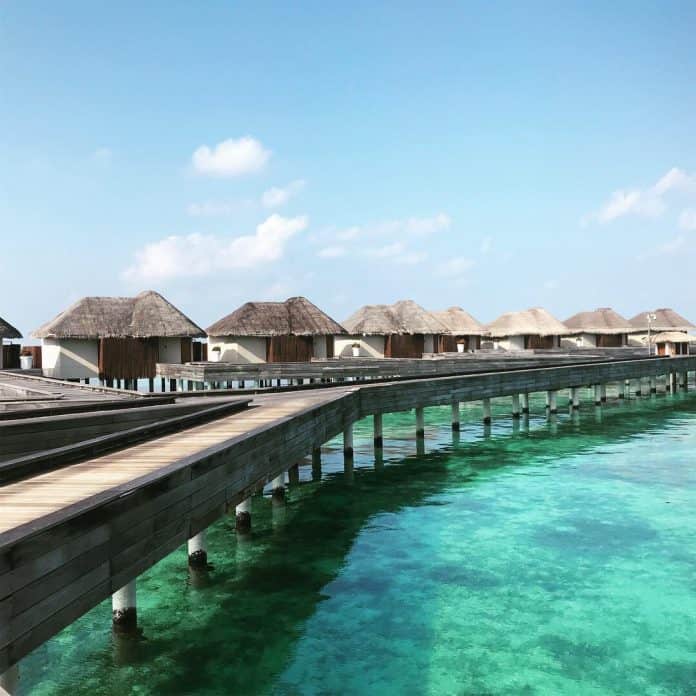 W Maldives Review: Beach Villa and Overwater Villa Comparison
Those that read this blog regularly know that I'm not the easiest to please. I call it like I see it and, whether it's my view of Delta's SkyMiles as a mileage currency to avoid, detailing a subpar flight experience or an overpriced hotel, I'll tell you what I think.

When I booked the W Maldives (hotel website), using 240,000 Marriott Bonvoy points for 5 nights in a Beach Villa (before the introduction of Category 8 which increased the price in points to 340,000 for 5 nights in a Beach Villa or 740,000 points in an Overwater Villa and will increase even more once peak season pricing goes into effect), I was excited, but cautiously so.
I'd read blogs that called the Maldives overrated and commenters that talked about how much you'd wind up spending even with the room booked on points. There was also a ton of hemming and hawing on my part about whether to choose the W Maldives, which seemed to have more of a vibe for younger couples, or the St Regis Maldives, which has a room rate of about twice as much as the W, meaning we'd technically get twice the return (on a cents per point basis) for my Marriott Bonvoy points.
We chose the W Maldives and I'll begin this review as follows:
The W Maldives is the best resort experience I've had in my life to date.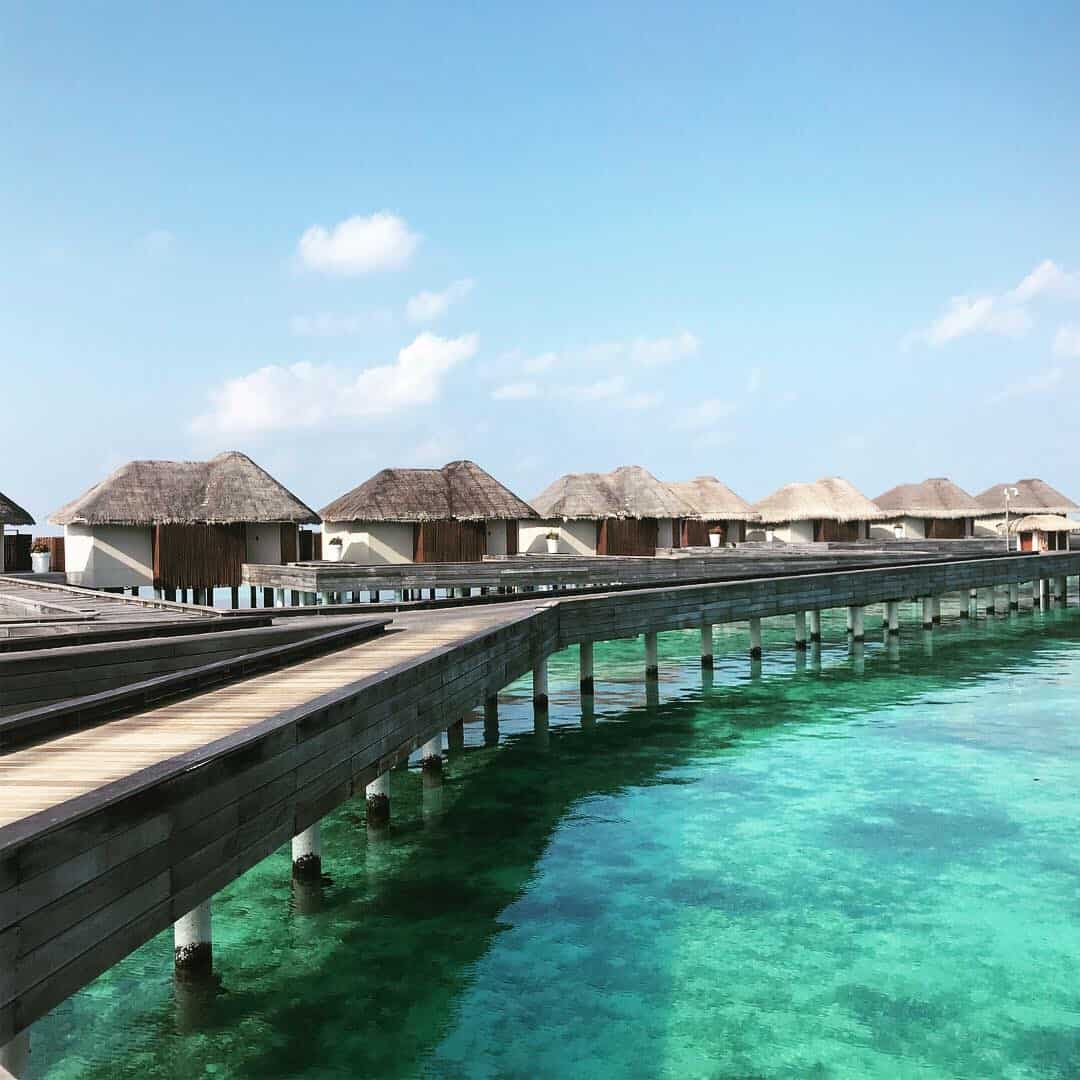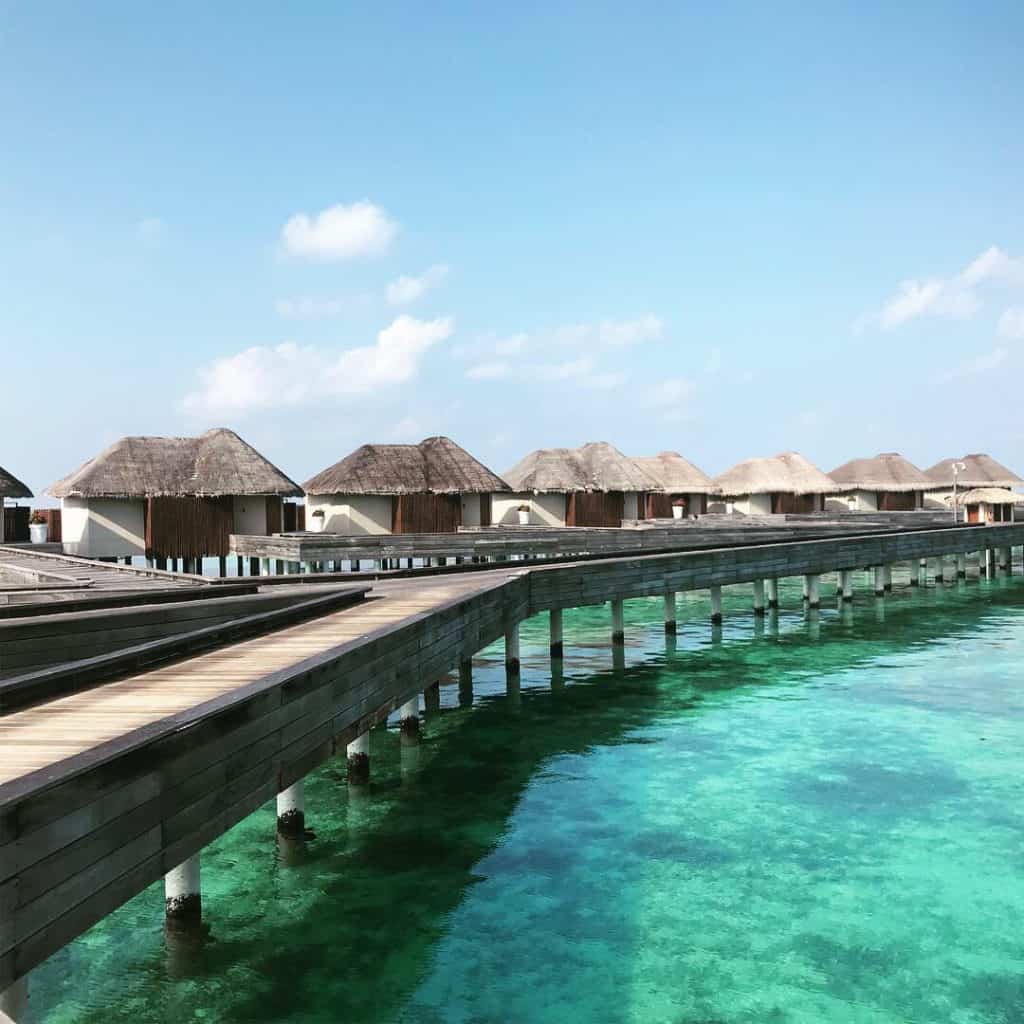 Let's start with opinion that "The Maldives is overrated." 
I don't know if anyone that says this has actually been to the Maldives. To be clear, the Maldives is not a short hop from the US. From the East Coast you are looking at a minimum of 18 hours in travel time. But as a reader of this blog, you can probably make the trip in a Business or First Class cabin, routing either via the Middle East on Emirates, Etihad, or Qatar, via an Asian carrier, or even via Europe. Compared to, for example, Bora Bora, the Maldives has a ton of ways to find premium cabin space. We flew over in Emirates in First Class using Emirates Skywards miles with a stop in Dubai to visit the Al Maha resort, another very expensive experience that was only 60,000 Marriott points per night.
Sure, you can get to the Caribbean in less than 1/4 the time. For your regular "escape winter" trips, the Caribbean is more than fine. But The Maldives is not just a more expensive Caribbean. It's a world unto itself where every resort is on its own island, thus the need for a boat or seaplane from Male airport to your hotel and the additional cost that incurs (in the case of the W Maldives, $475 per person round trip).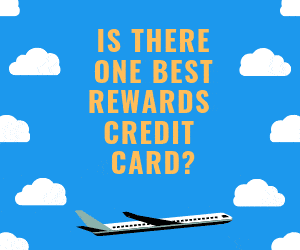 Maldivian Resorts: Beach Villas and Overwater Villas
Each resort is also full of Overwater Villas and Beach Villas – compared to the vast majority of Caribbean resorts where you get "a room."
And then there's the water. There's no comparison between a swim in the Caribbean, as nice and warm and clear as it is, and a swim in the Indian Ocean. Just outside your door is an array of colorful fish, including small sharks and sting rays, swimming all around you. Throw a snorkeling mask on and have a look around anytime, no boat ride required.
So while yes, the Maldives is *expensive* that doesn't make it overrated. It's a spectacular place that is very hard to get to and yes,it is also expensive.
That's the quick overview of the Maldives, but let's talk about the W.
W Maldives: Initial Impressions
From the moment we arrived until the moment we left, the W Maldives fully lived and executed the W brand mantra: "Whatever, Whenever."
When you are on vacation, especially at the W Maldives price point which often exceeds $1,000 per night for a base room, you should want for nothing and need for nothing, yet often times that's not the case.
In 5 days we never had a request that couldn't be accommodated and we were never nickel and dimed for those accommodations, either. More on that in a bit…
To start at the beginning, when we landed in Male we immediately found the W Maldives check in counter and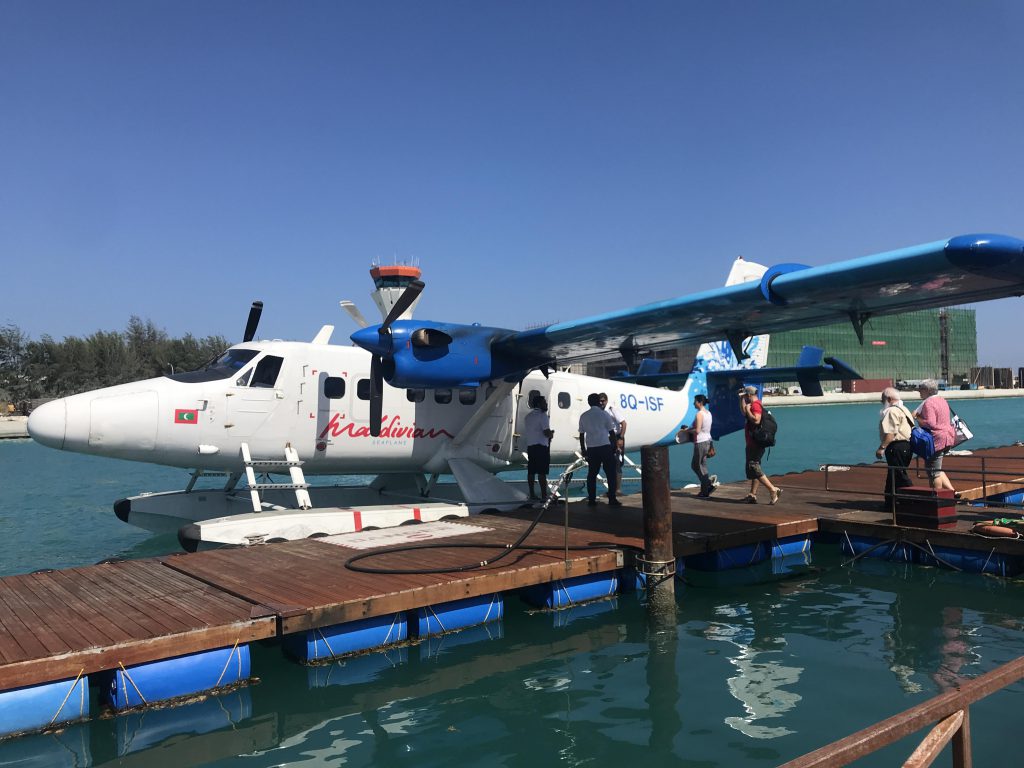 were whisked away to the W lounge where we awaited the seaplane. The W lounge is modern and hip and sets the tone for what's ahead beautifully.
A 25 minute seaplane ride later we arrived at the W Maldives and were greeted by several staff members that showed us to WET, the pool and bar area where we could wait for our room. While we arrived well before the stated check in time of 3pm, they were able to accommodate us in our booked Beach Villa at noon.  We met Haroon, the wonderful Rooms Manager who oversees the island accommodations.
Once we arrived to our villa, on the lagoon side which was my preference for warmer and more shallow water, we were blown away by what would be our home for the next three days.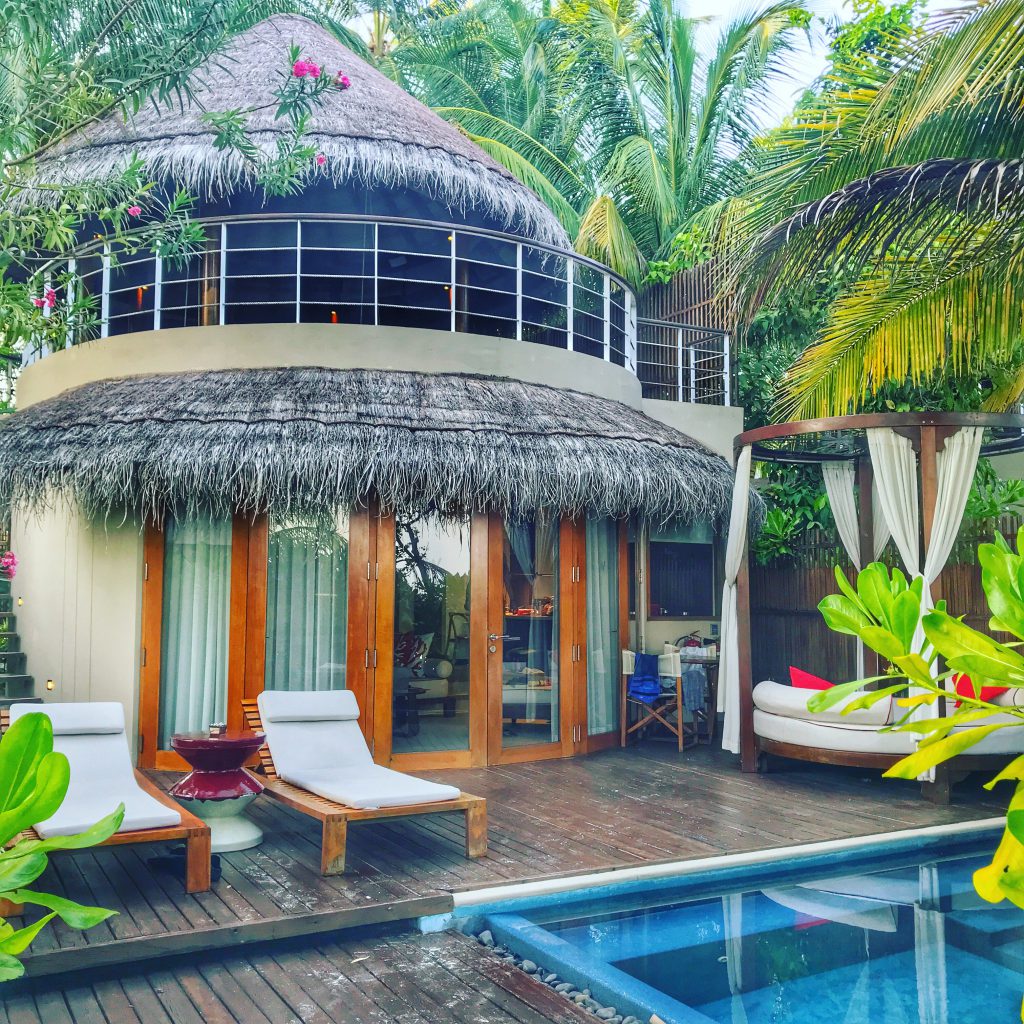 The villa is not only pristine (the W is approximately 13 years old but shows almost no signs of being anything but brand new)  but felt huge. The layout is what makes it feel so big, though in reality it's just one large room. The bed is of course the focus of the room and there's a playful swing just to the side of it. The doors swing open to a giant deck with private pool, a small table and chairs, a large round cushioned seating area, and an upper deck with a giant swing and overhead fan that became our favorite spot to relax when we weren't in the water.
Less than 20 feet from your pool is the pristine beach, with two included loungers, and picture perfect warm water.
Back inside, on the reverse side of the bedroom, is a large outdoor shower and soaking tub. It's a bit hard to imagine but you can only get there through sliding doors inside, yet it's technically outside – meaning that the indoor space is well conserved. At the far end of that hallway is the toilet.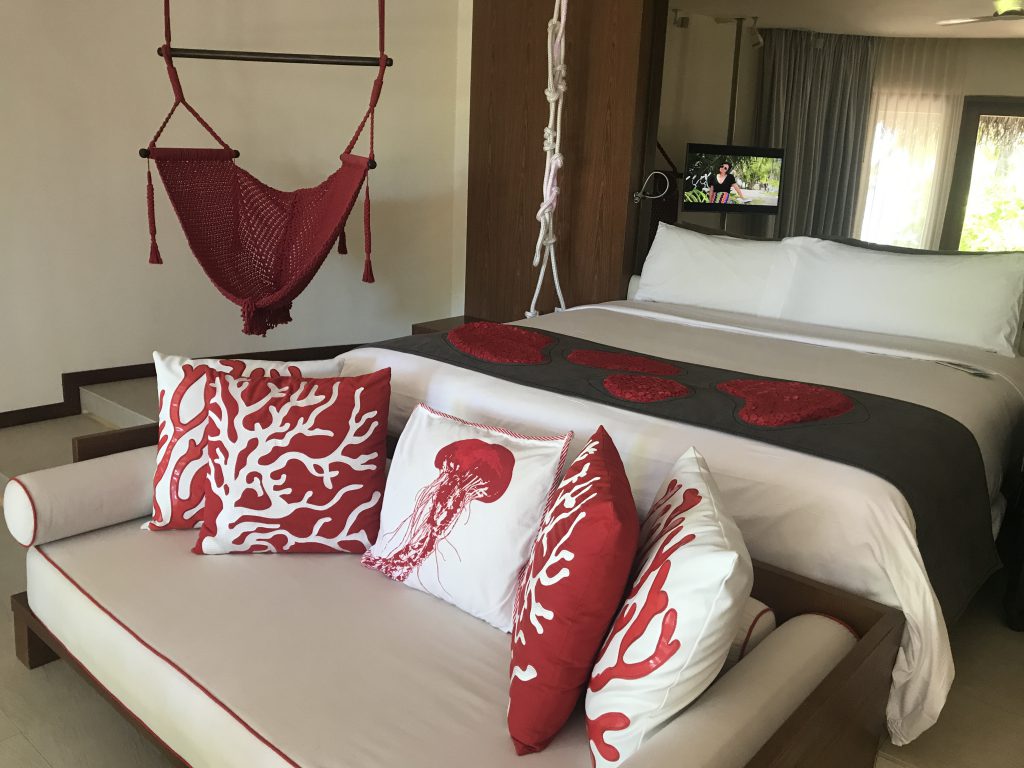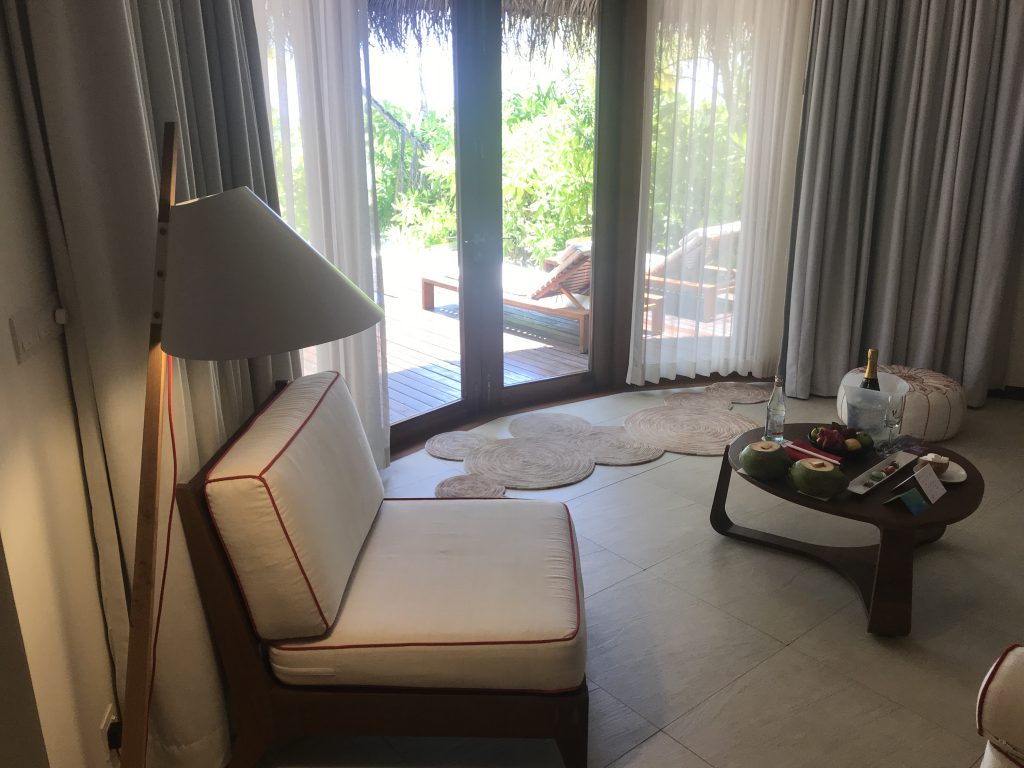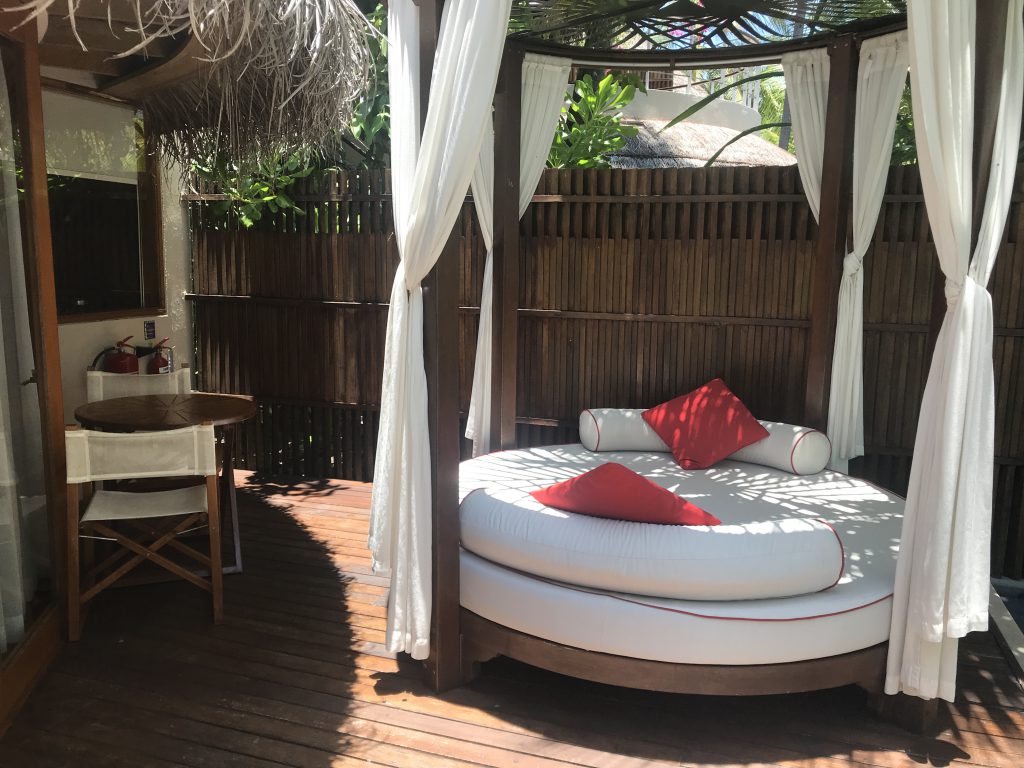 The next three pictures are of the bath and shower part of the room. It's inside of the room but actually outside! There's a separate small room with a toilet and sink. Note that this is only in the beach villa and not in the Overwater Villa as I'll show later.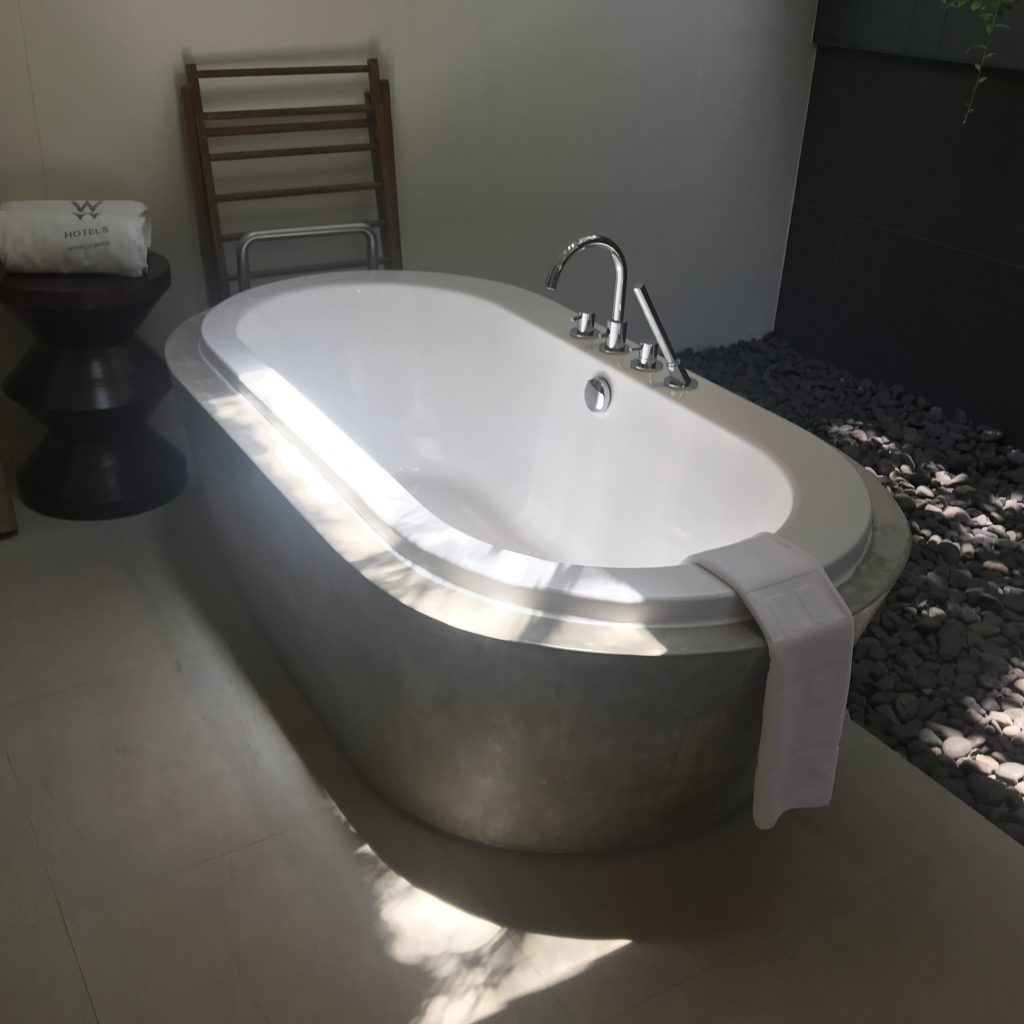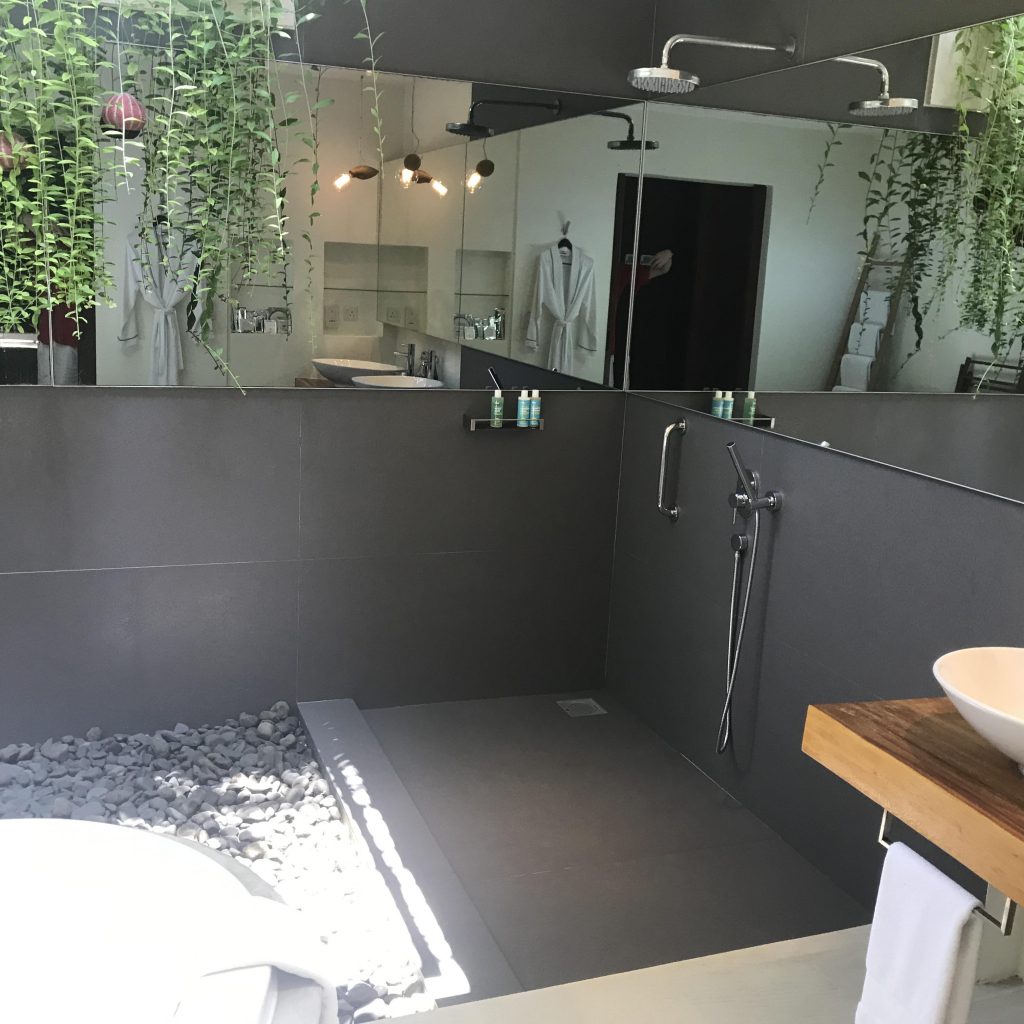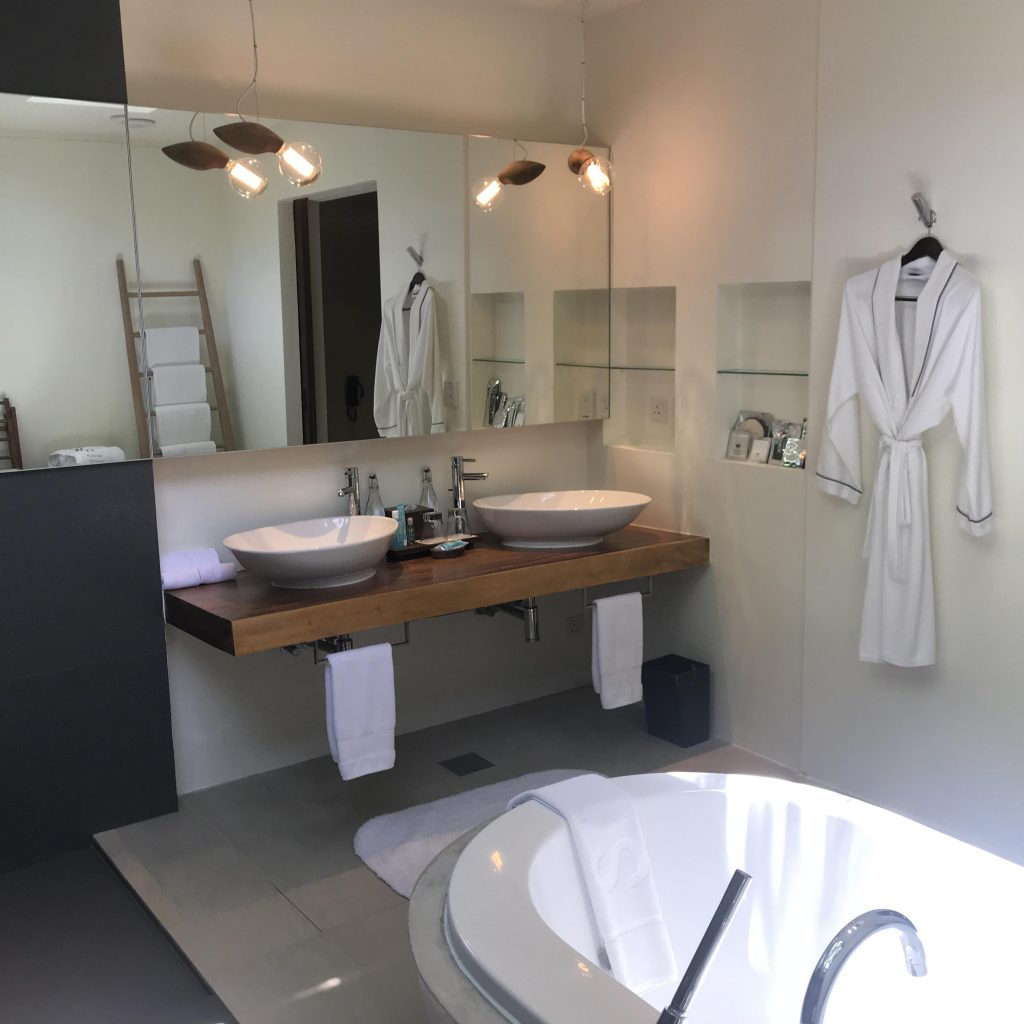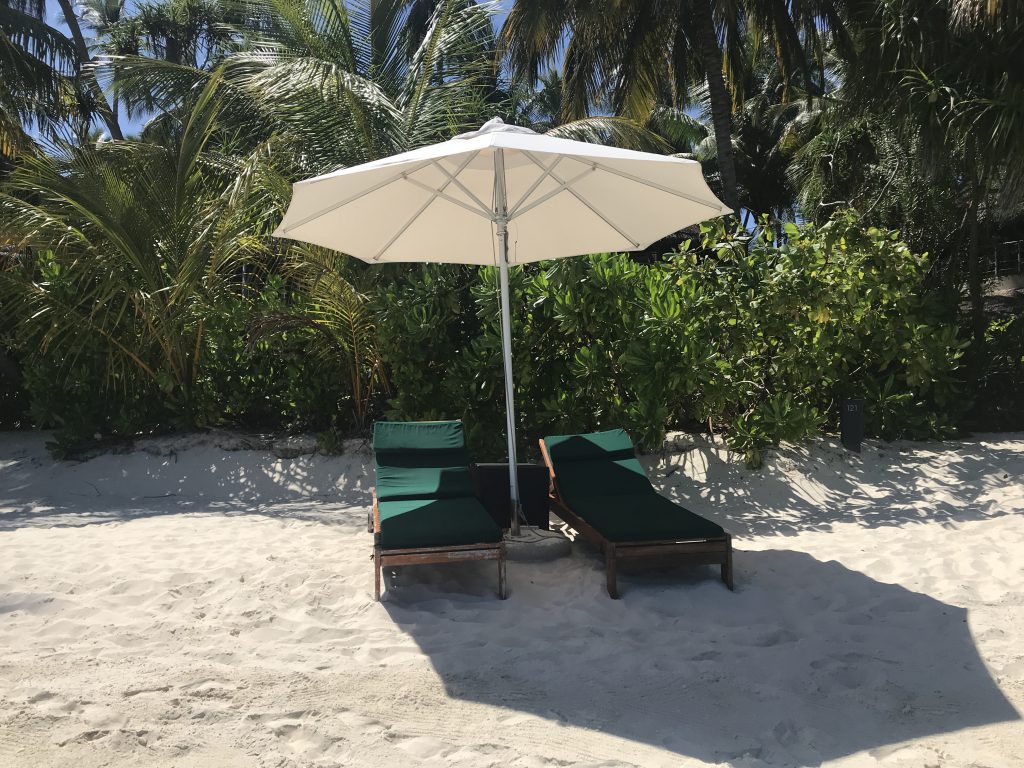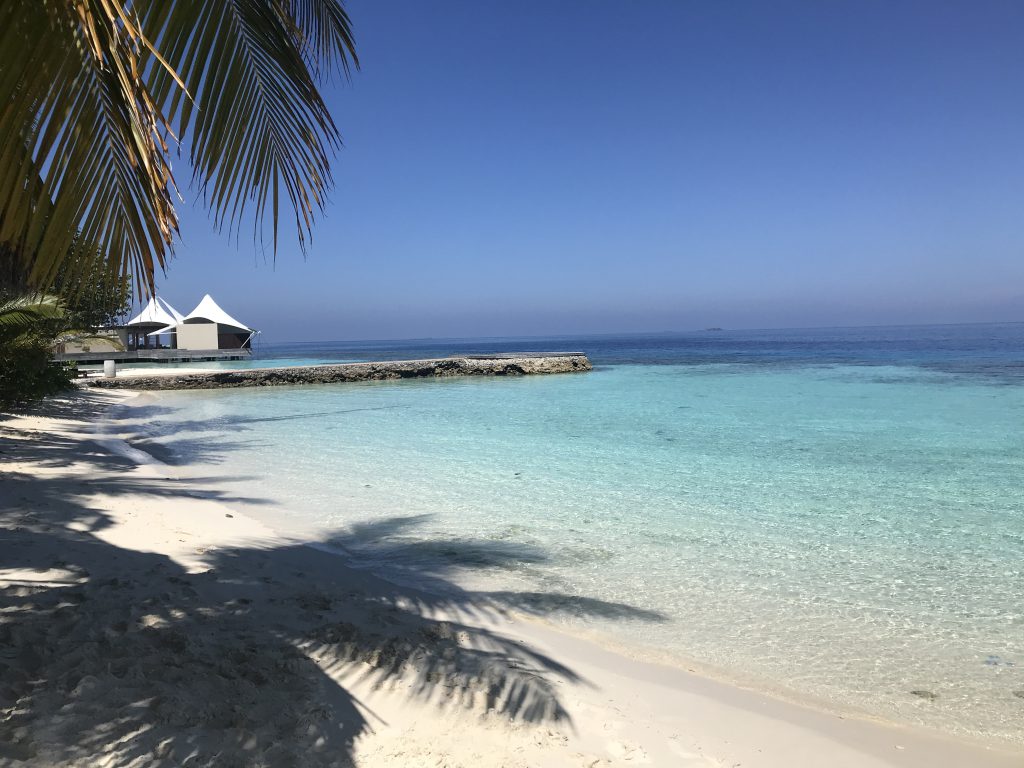 And there's a second story with a swinging bench and fan for relaxing (more)…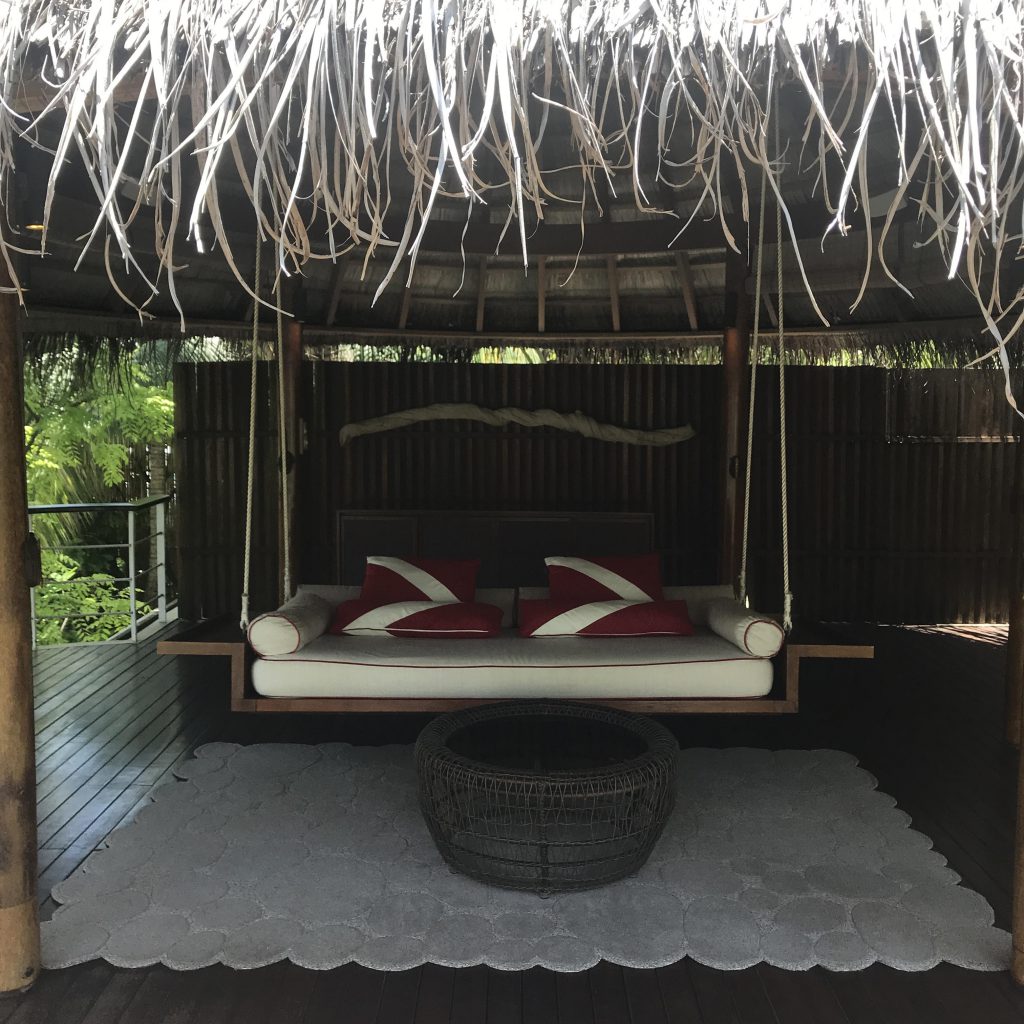 Complimentary filtered water is provided by the W Maldives in basically unlimited quantities and we were greeted with a nice plate of arrival snacks and champagne.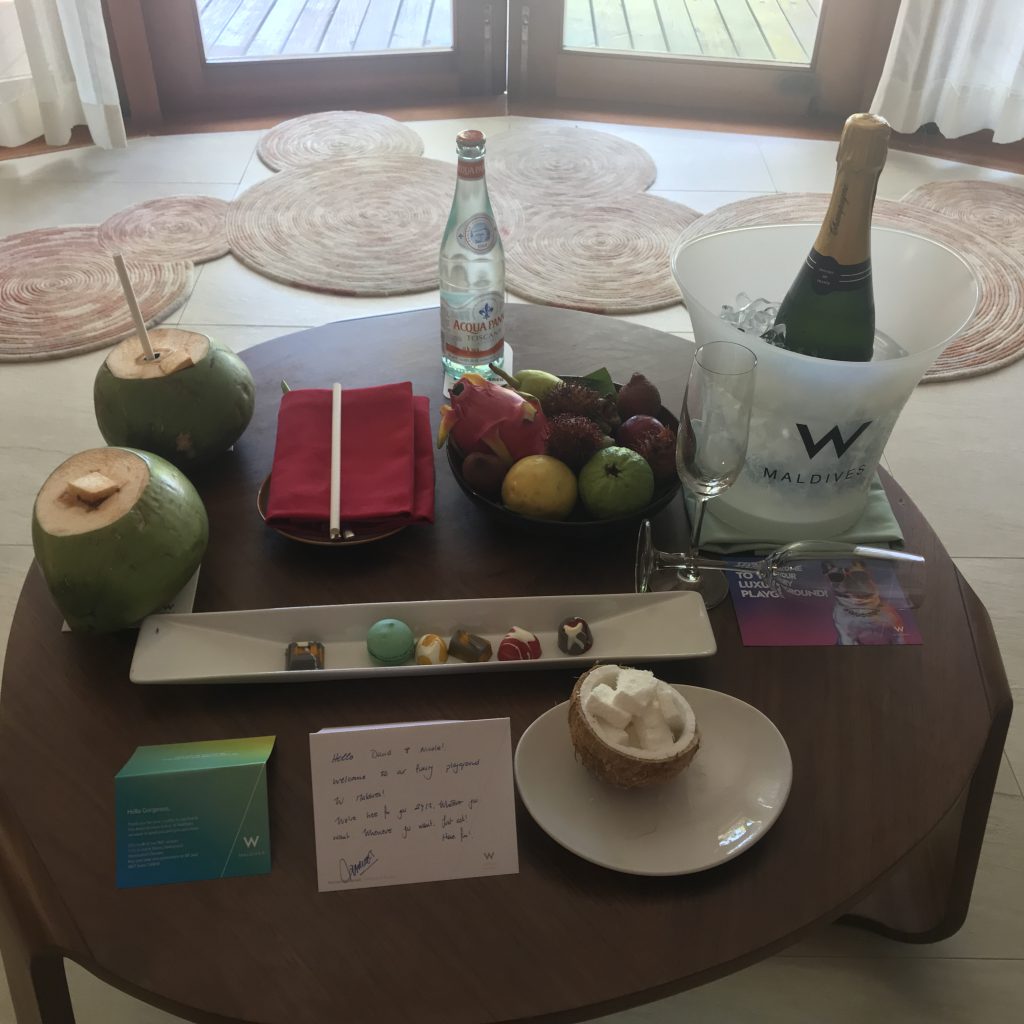 A quick walk to the beach activity center got us use of free snorkeling equipment to keep for the duration of the stay, and we snorkeled often. As I can't scuba but love to snorkel, this was just amazing – the ability to walk outside and right into a bathwater warm ocean with beautiful fish to see everywhere. Of course, further out by the coral was endlessly more fish than close to shore, but even for someone who isn't a good enough swimmer to venture out, there's plenty to see close to shore.
The island is small and intimate yet more than big enough. All you need to relax and decompress is there.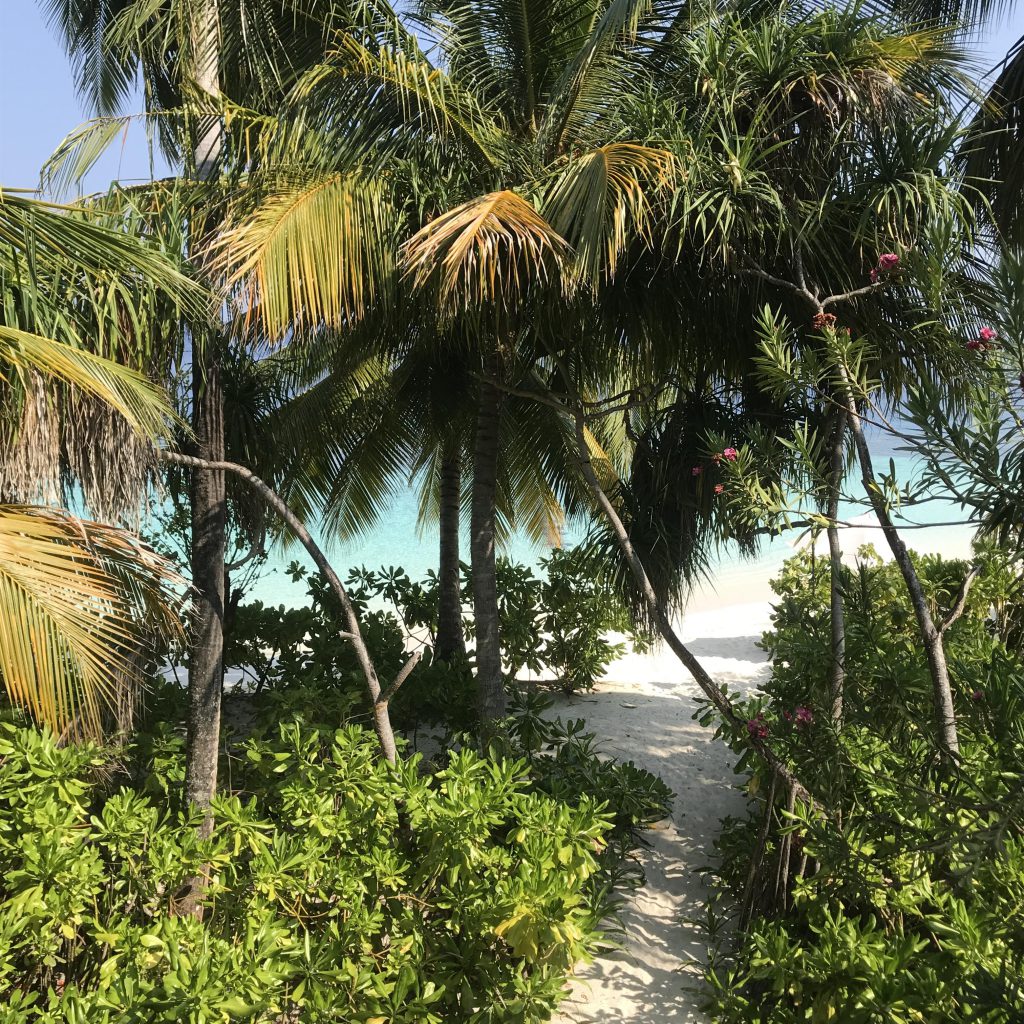 A Warning About the Current:
Lifejackets are provided in each room and should be warn at all times you plan to go out to the coral and beyond (basically where the light blue water becomes dark blue). The current can be quite surprisingly strong and if you are not a seasoned swimmer in good shape you could easily find yourself drifting out to sea. I'll admit, for the sake of safeguarding you, that on the first day there I threw on the flippers and snorkel gear, without the lifejacket, and found myself in trouble. I was able to find my way to an area I could stand and rest and make it back safely, but it was not smooth sailing and I didn't go out again without a life vest. The resort does not have any lifeguards… you are on your own and people have drowned in the Maldives (not at the W).
Play it safe.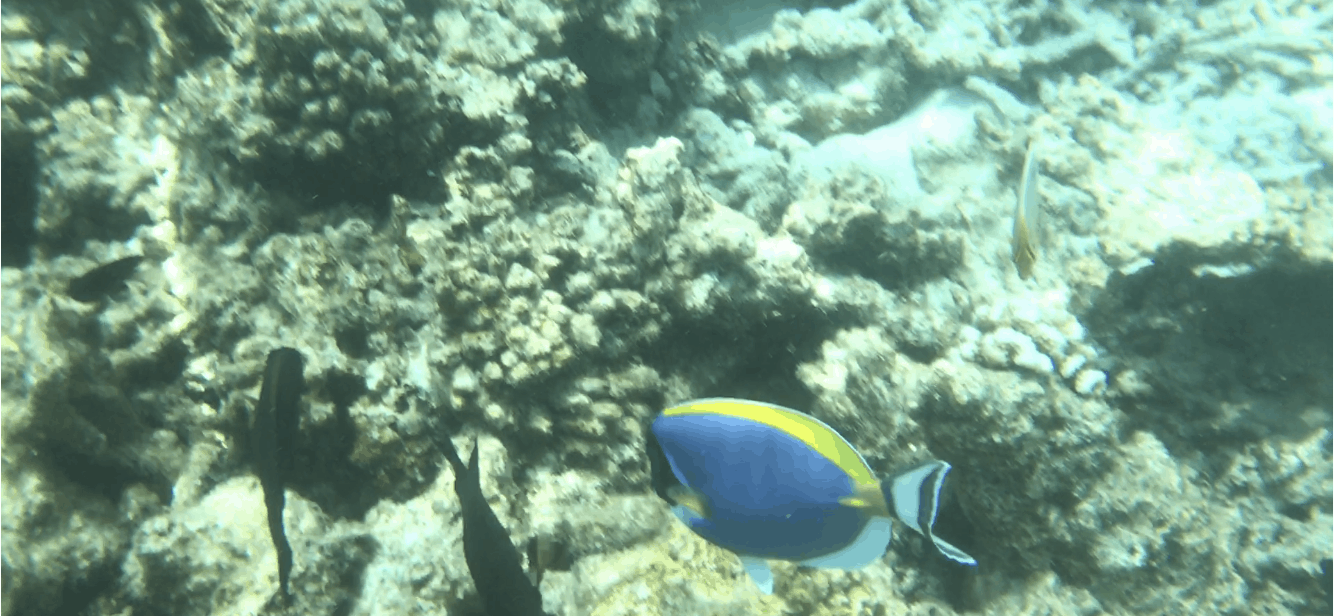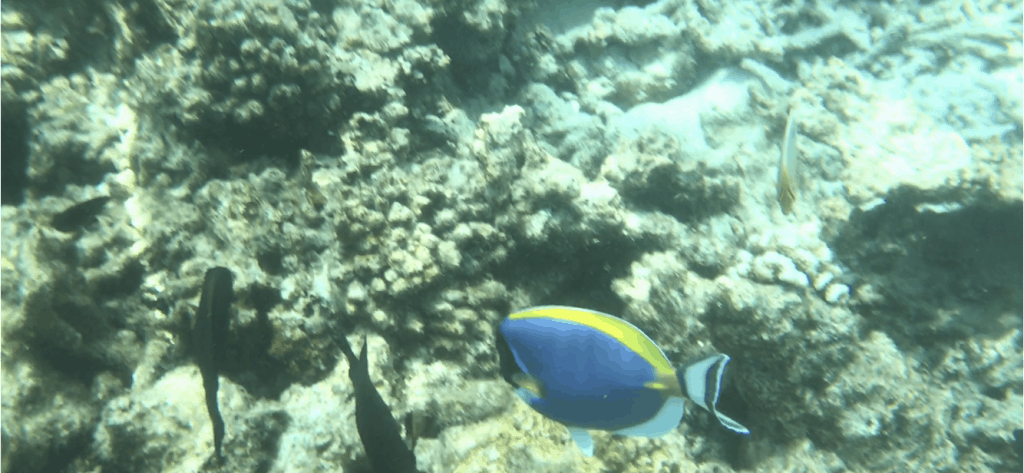 Food and Drink:
There are two main bars: WET, the pool and bar with a daytime happy hour (buy one, get one free) starting at 3:30pm and SIP, the night time watering hole with happy hour starting at 7. These happy hours made it difficult to buy drinks that weren't two for one and even though drinks averaged $15-$25 + tax and tip (note that resort-wide, everything is ++, meaning + 12% VAT and + 10% included service charge). The service charge is split amongst all the staff. And even with that 22% on top, you were rarely going to pay more than about $10-$13 for a drink.
There are three restaurants for dinner: Kitchen, which is the general always-open restaurant, plus two specialty restaurants, FISH and FIRE, which tended to be open on alternating nights.
Rather than photographing all of the menus, I'll refer you to the post on Flyertalk where I had originally found all of the menus as it was quite exhaustive. Look at the WIki at the top of the post for the links to the menus.
Generally, FISH is almost entirely seafood focused and sits at the end of a pier on the water, while FIRE is more meat-focused. There's a definite bent towards Maldivian / Indian /Sri Lankan cooking which was great. Try the Tandoori Reef Fish!!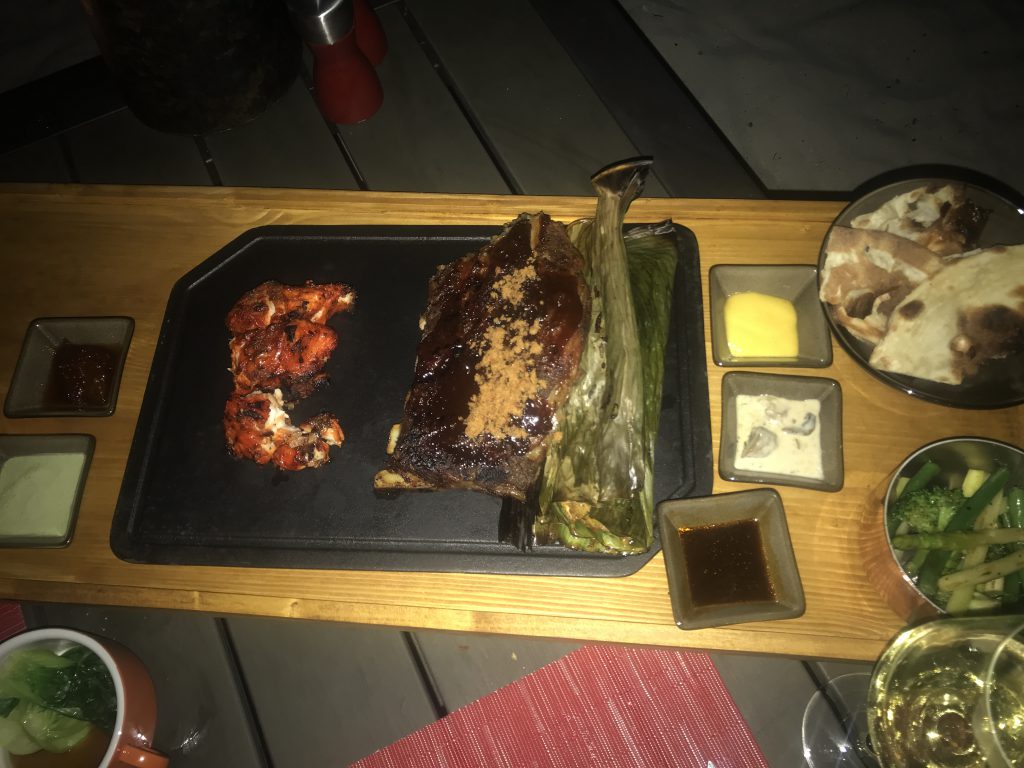 The best part, though, was getting to know the Food and Beverage Manager, Honda. As we got to know Honda, he explained his philosophy to guest service:
Treat guests as though they are your friends and guests at your own home.
And that's indeed how he made us feel. When I mentioned I'd love to have Sri Lankan Black Pork Curry which was on a specialty night menu (on certain nights a restaurant has a special theme dinner), Honda had the chef prepare me a Sri Lankan Black Pork Curry complete with fresh hoppers. The next night, we were ordering room service. I mentioned I'd really like to eat something local and they offered to whip up a Maldivian Fish Curry that was also not on the menu.  It was delicious.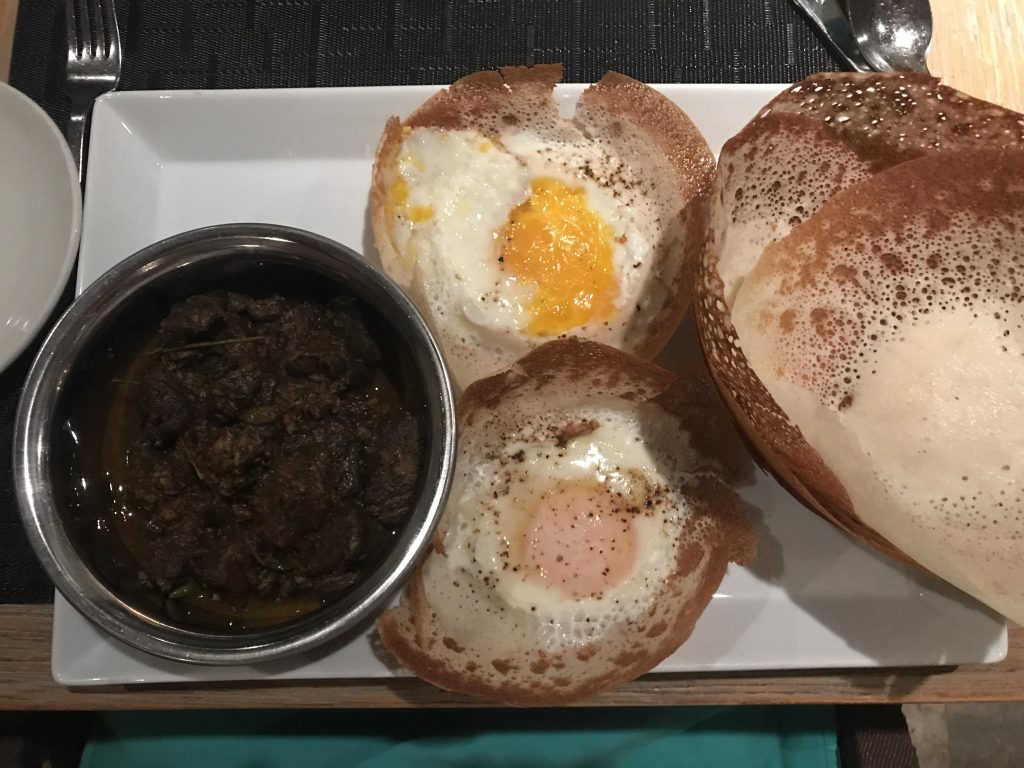 And on the last night, Chef Harpal whipped me up a Chicken Tikka Masala with fresh Paratha and a side of Saag Paneer.  He had to check he had the spinach to puree for the saag – that's the level of cooking we are talking about. Wonderful freshly prepared food.
One day at lunch we wanted two different pizzas but knew we couldn't each handle a whole one. They were happy to do a "half and half" kind of pizza – something you expect the local pizzeria back home to do, but not necessarily a resort as they often would be trying to extract your every last dollar.
Even the Buy One Get One drink special was done right. You could have two of the same drinks, two different drinks, have one while someone else had the second. It didn't matter. Simply buy one and get another one.
They were also doing a special that may or may not be continued to the time you read this, but as Marriott Bonvoy Titaniums we were given 35% off all food and drink. The only exceptions were that it didn't stack with the drink specials and the special theme dinners were excluded.  Room Service got 20% off. Even if they discontinue this, Bonvoy Platinum's and up should still be entitled to a 20% F&B discount.
Between the Buy One Get One drinks and the 35% off meals, we were floored that we found our food and drink costs to be entirely reasonable! There were no meals that felt any more exorbitant than a meal back home in NYC. In fact, for 5 days, we only rang up about $1,000 in food and drink costs – a figure that was about half of what we were prepared for going in. It helped to have breakfast included, which it is for Marriott Bonvoy Platinum, Titanium, and Ambassador members. If you are Silver, Gold or non-status and paying for the room with points, you'd be on the hook for the cost of breakfast, which is not insignificant.
The breakfast buffet was excellent, however, and given that many readers here have elite status and will be eligible for the free breakfast amenity, here are some pictures of that: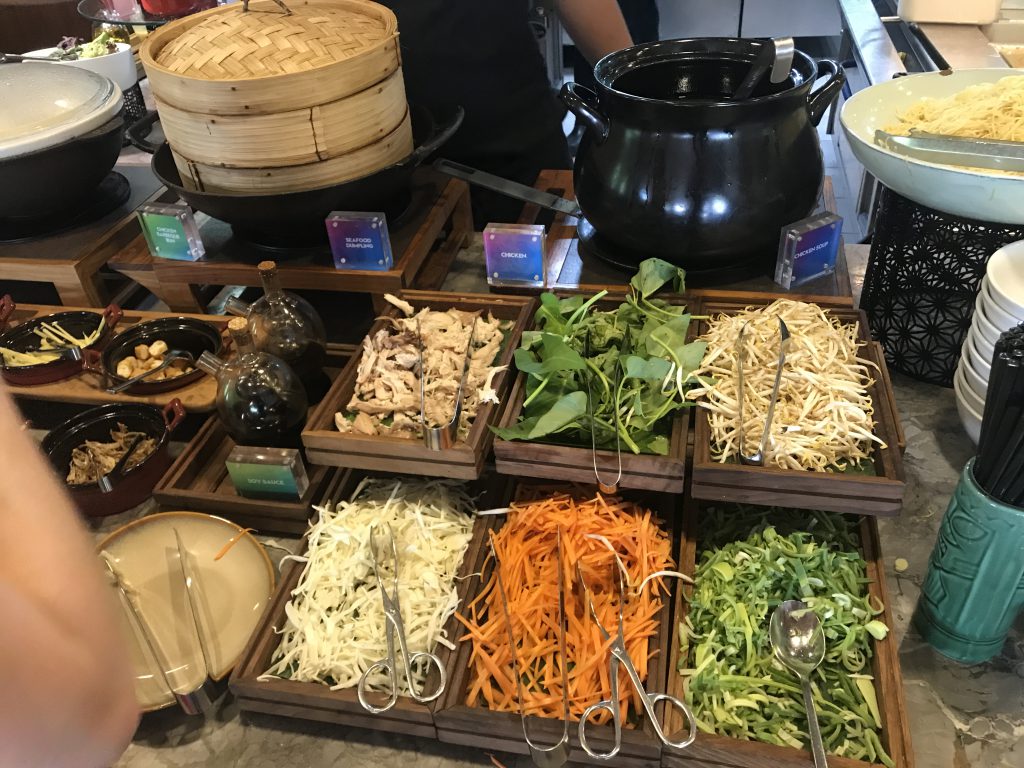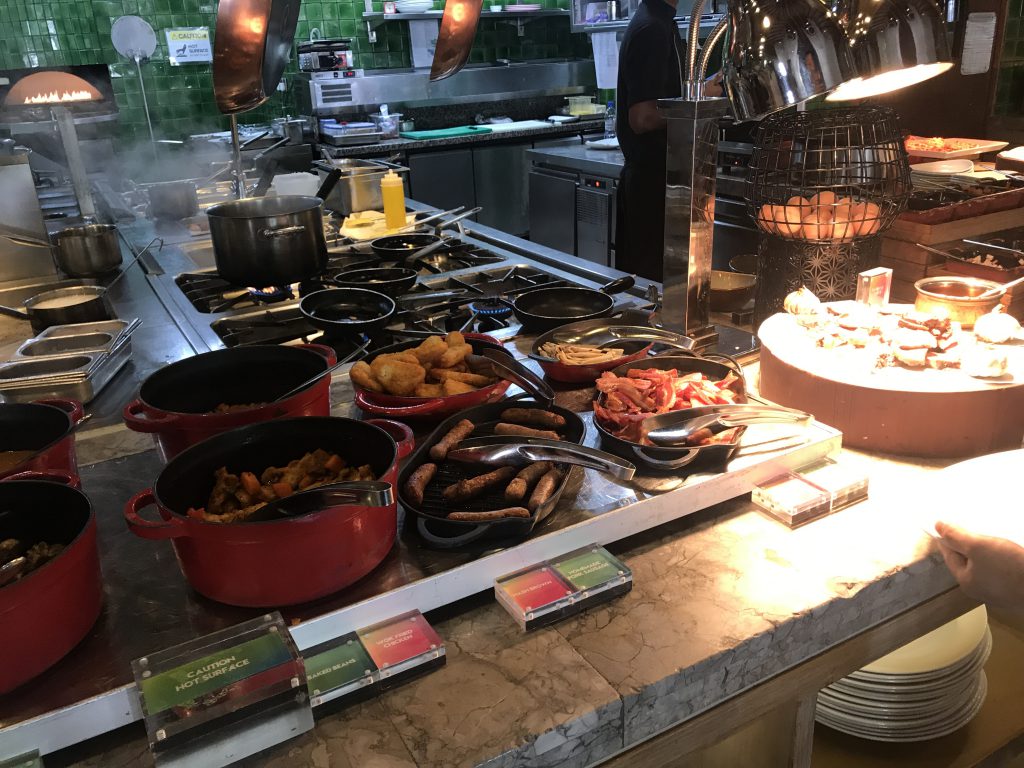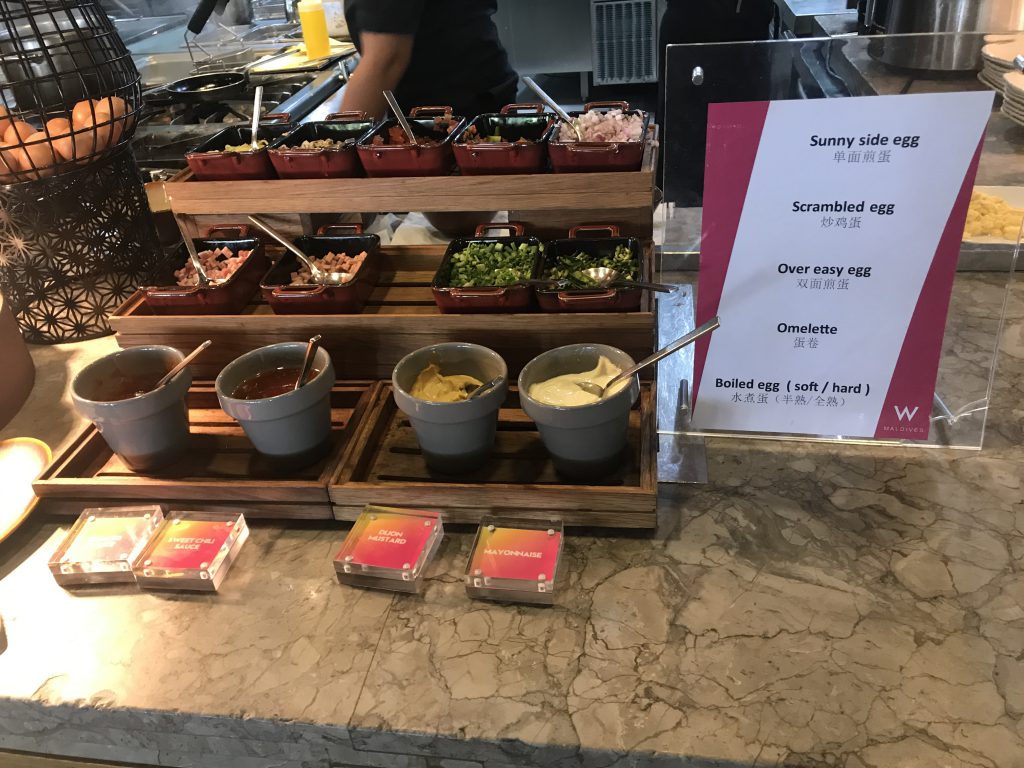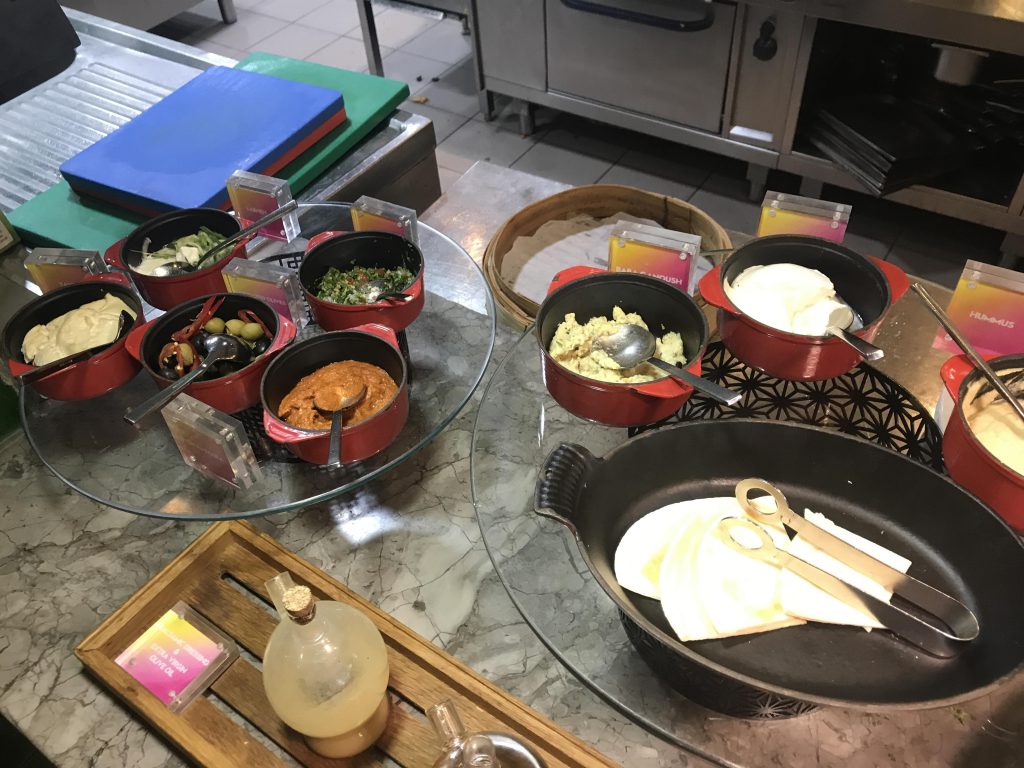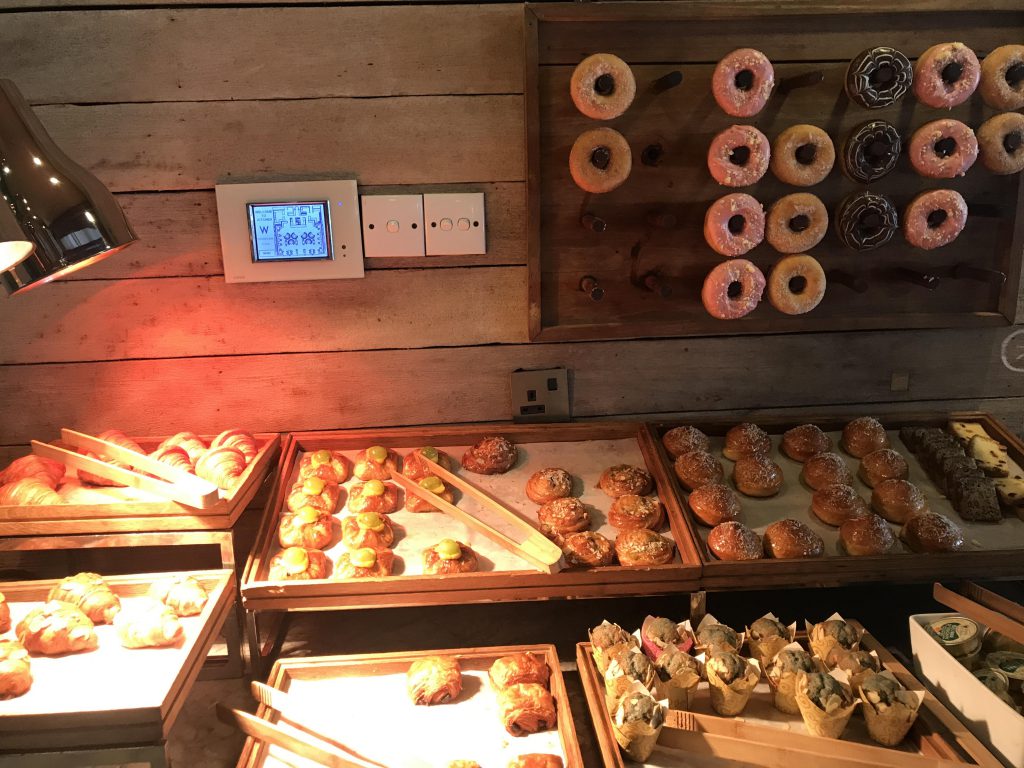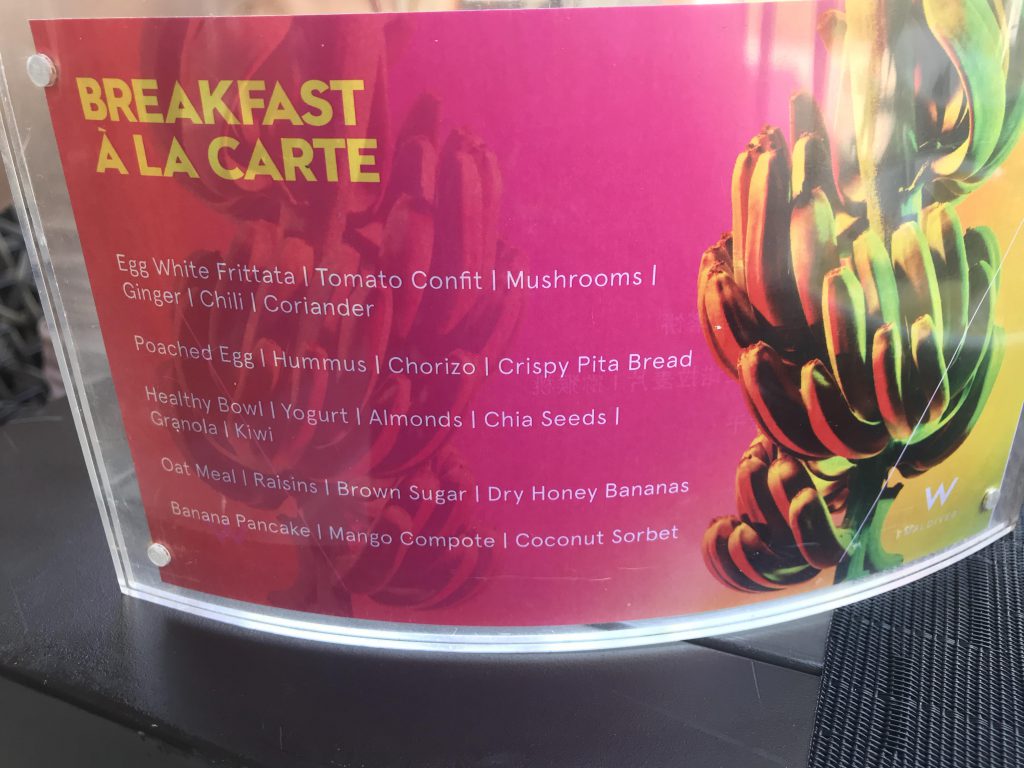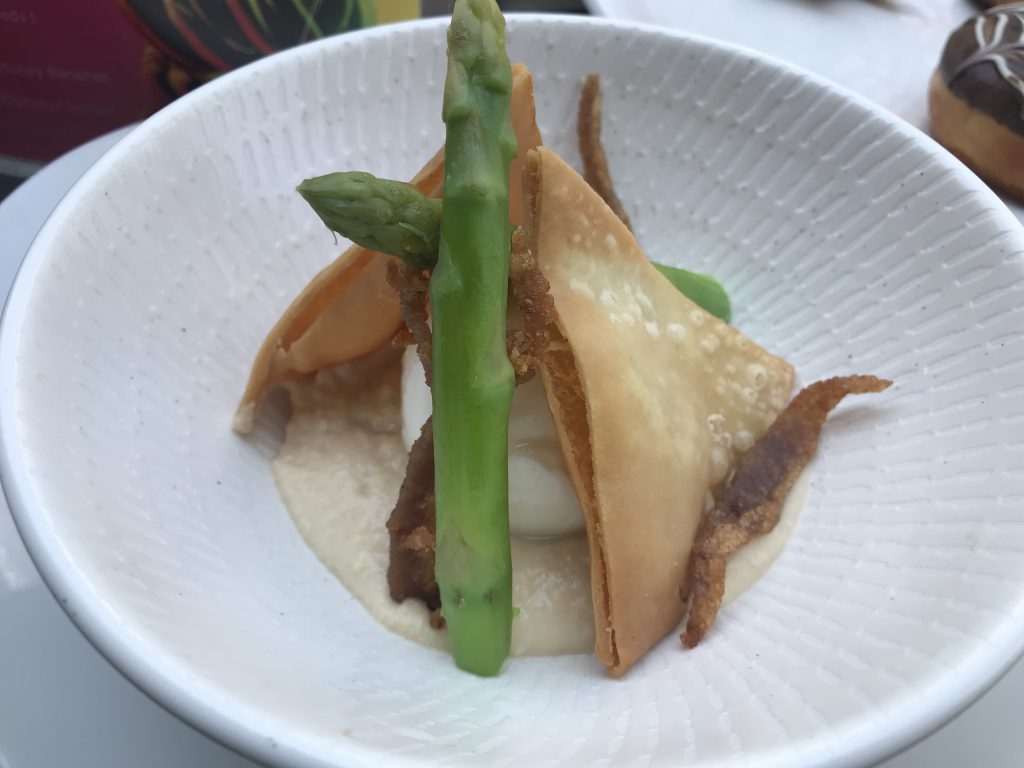 I'll also note that we did not take part in any of the special dinners at the W Maldives. The first night there was a wonderful looking Maldivian buffet with every possible fresh station you could imagine, but priced at $185++ (almost $250) pp and with an exclusion on the 35% discount, we decided the cost would be more than we were comfortable with. For others, I'm sure it's entirely reasonable but we decided this was not where we wanted to splurge. Our dinners averaged around $50-$70pp. If this has been included in the 35% offer, we may have been tempted…
During the day you could also stop by WET for a free ice pop at 1pm or a chocolate covered vanilla ice cream bar at 4pm. All homemade.
There were also a variety of activities, from guided snorkeling to a boat ride to a private island where you could fly your drone (because if you brought one, you aren't allowed to fly it at the W for privacy reasons). We did not participate in the excursions simply because we wanted this trip to be pure relaxation on "island time" and we got our wish.
One activity we did indulge in was a visit to the spa. And I'm so glad we did. We both got what they called the Jetlag massage which was a wonderful Balinese deep tissue massage. If you are Platinum level or up with Bonvoy, you will be entitled to a 15 minute add-on from a special menu. We both got the 15 minute head massages for our add-on. The setting is absolutely serene, with four treatment rooms (really, treatment villas), each with their own steam room and deck overlooking the ocean. This is a spot worth splurging.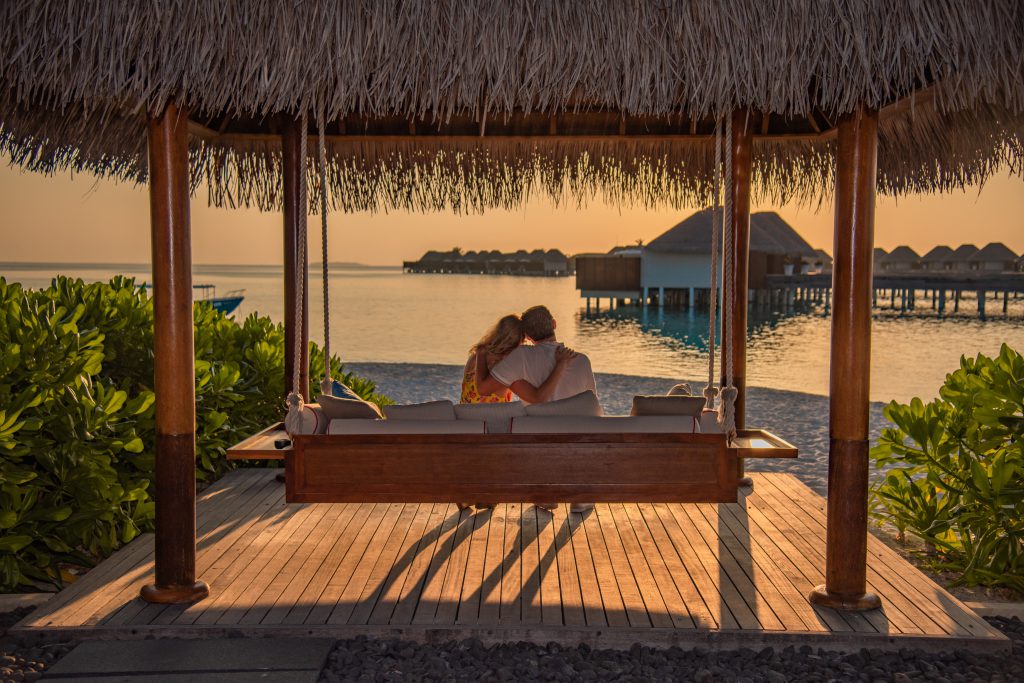 Fast forward to Day 4: We Moved to an Overwater Villa!
A Marriott Bonvoy Titanium (and Platinum and Ambassador, of course) has the possibility of (but no guarantee of, even space available) an upgrade from Beach Villa to an Overwater Villa. I'd requested in advance that we'd love an upgrade if available only for the last 2 of 5 nights as we suspected we'd prefer the larger feel of the Beach Villa but wanted to experience that Overwater Villa – which for all we knew could be a once in a lifetime opportunity. Happily, they were able to accommodate and on day 4 we were moved to Overwater Villa #210 in the center of the lagoon side.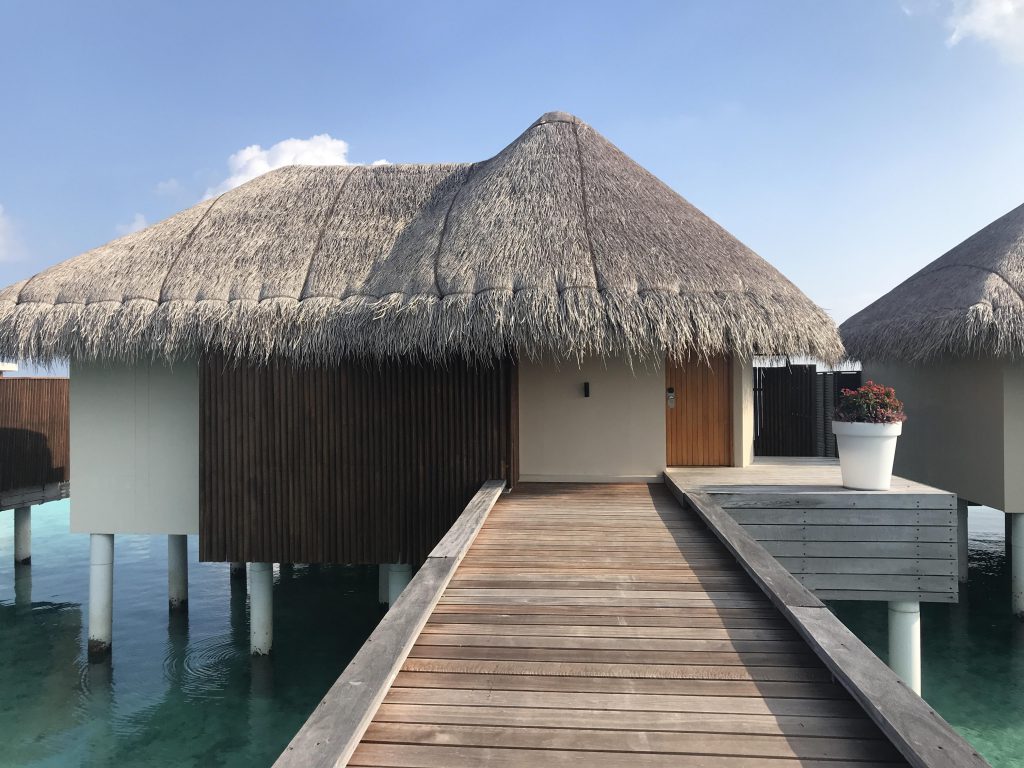 The feeling of standing on the deck, directly on top of the ocean with a ladder leading straight in, is pretty much incomparable. To wake up, open the door, and stare into the clearest and warmest aqua blue water is chicken soup for the soul, no doubt about it. One day we put on our snorkeling gear, swam around looking at the fish, and them swam to shore for lunch. Then we swam back to the room.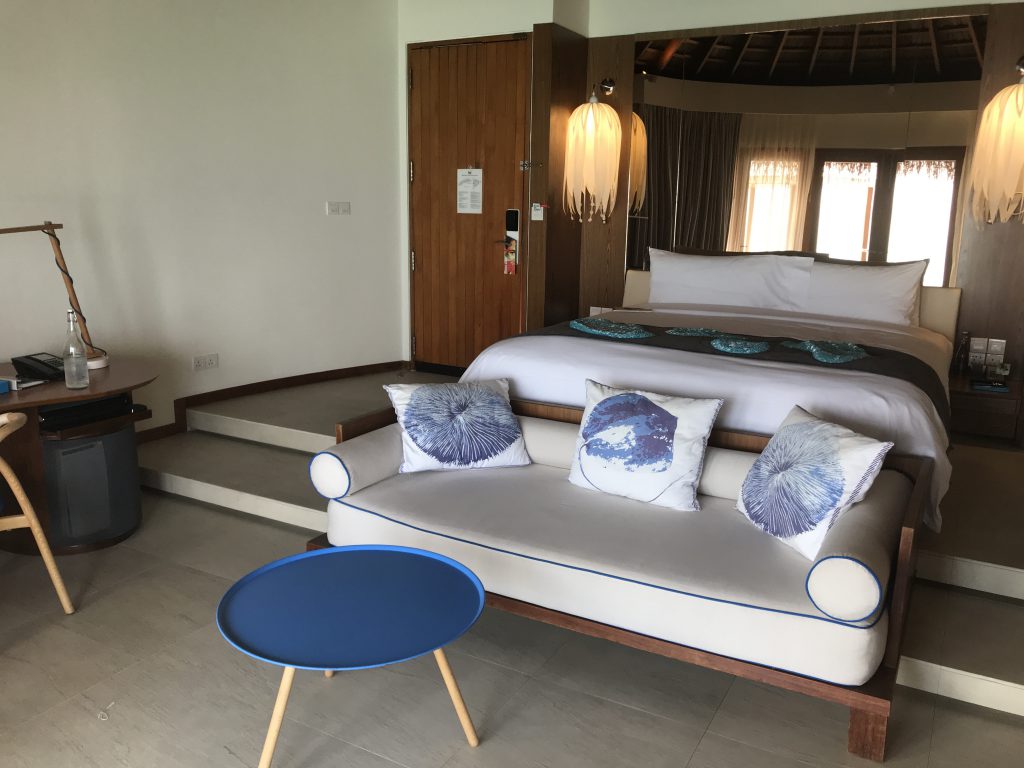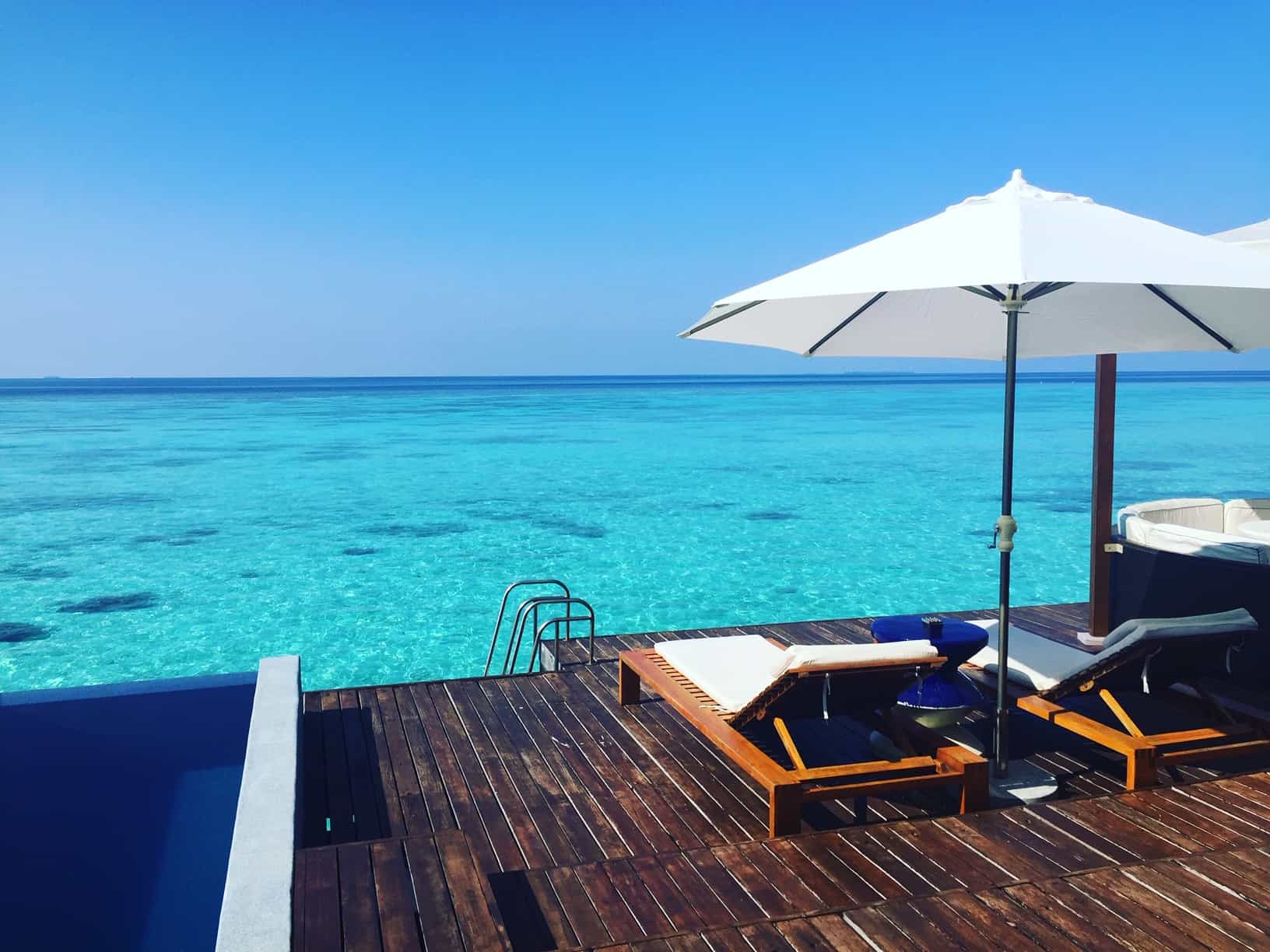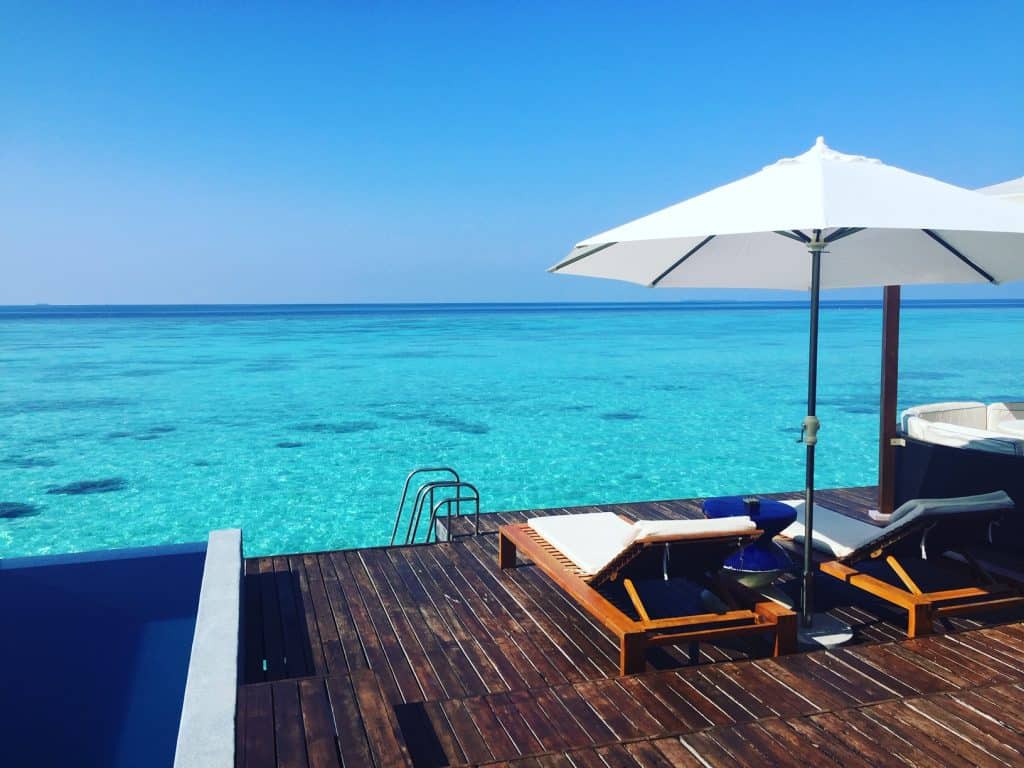 While the square footage inside the overwater villa may technically be more than the Beach Villa, it absolutely feels smaller. I believe this is because you don't have the extra land around you, you don't have your own private beach, and you don't have a second level outside.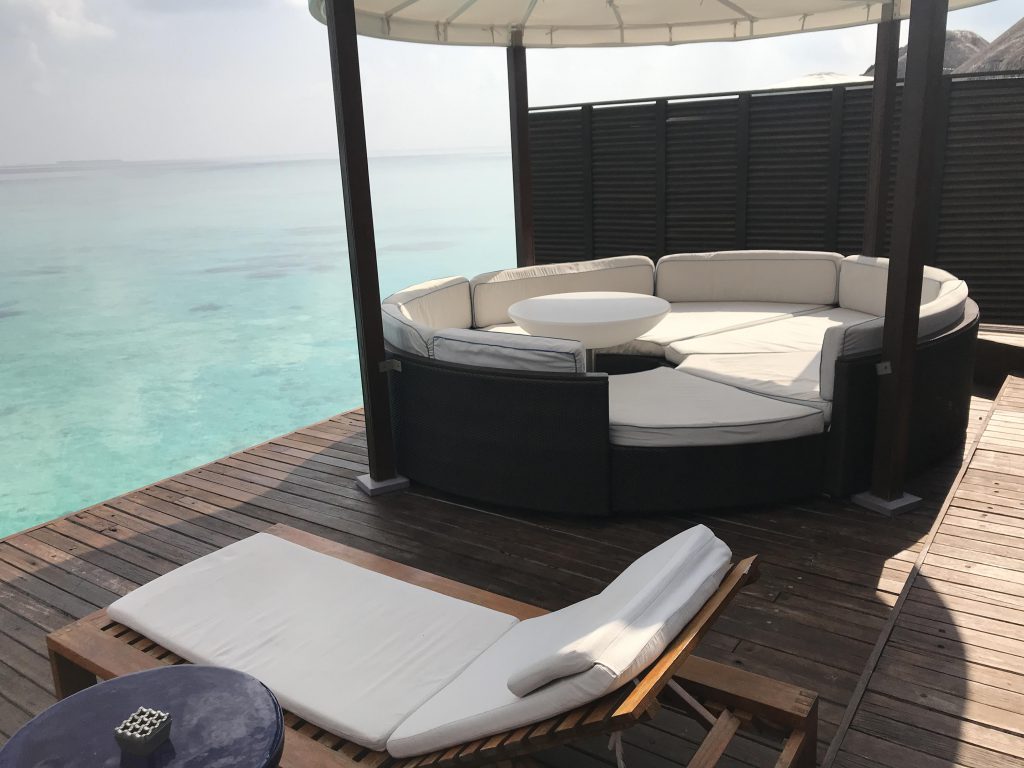 Additionally, the toilet, shower, and bath area are just off the main room rather than around the back of the room. And I'll have to point out something that I do think could be improved upon from a layout perspective and that's the bathroom in the Overwater Villa. Unlike the Beach Villa, where the toilet is in a normal enclosed room, in the Overwater Villa it's basically out in the open.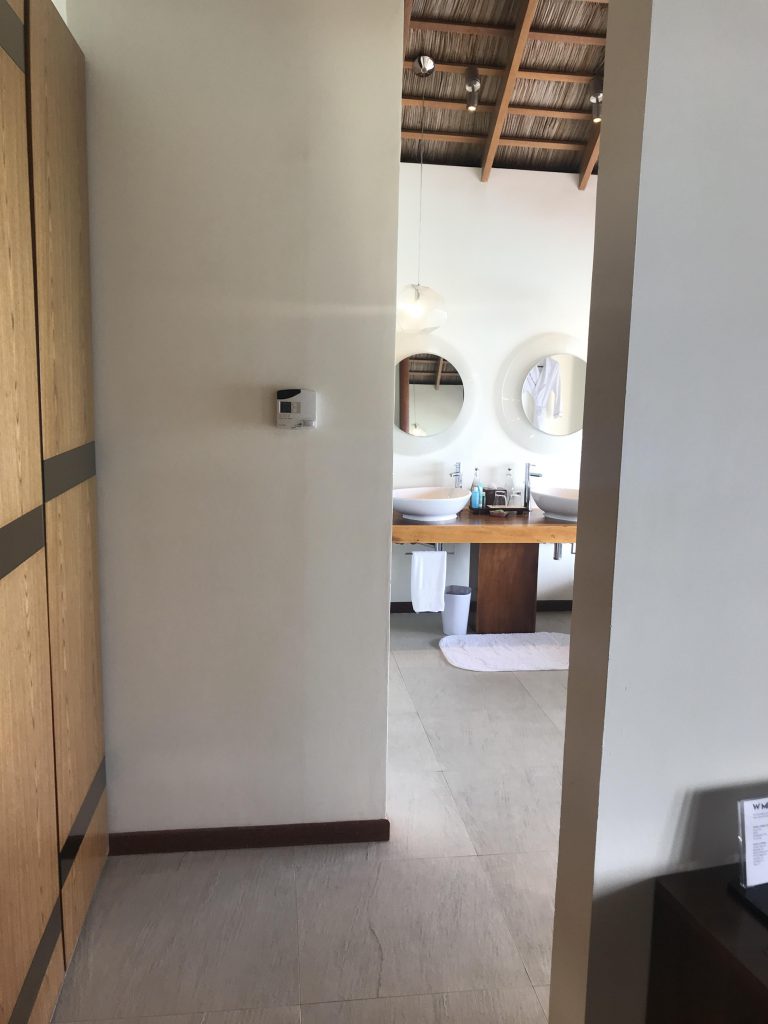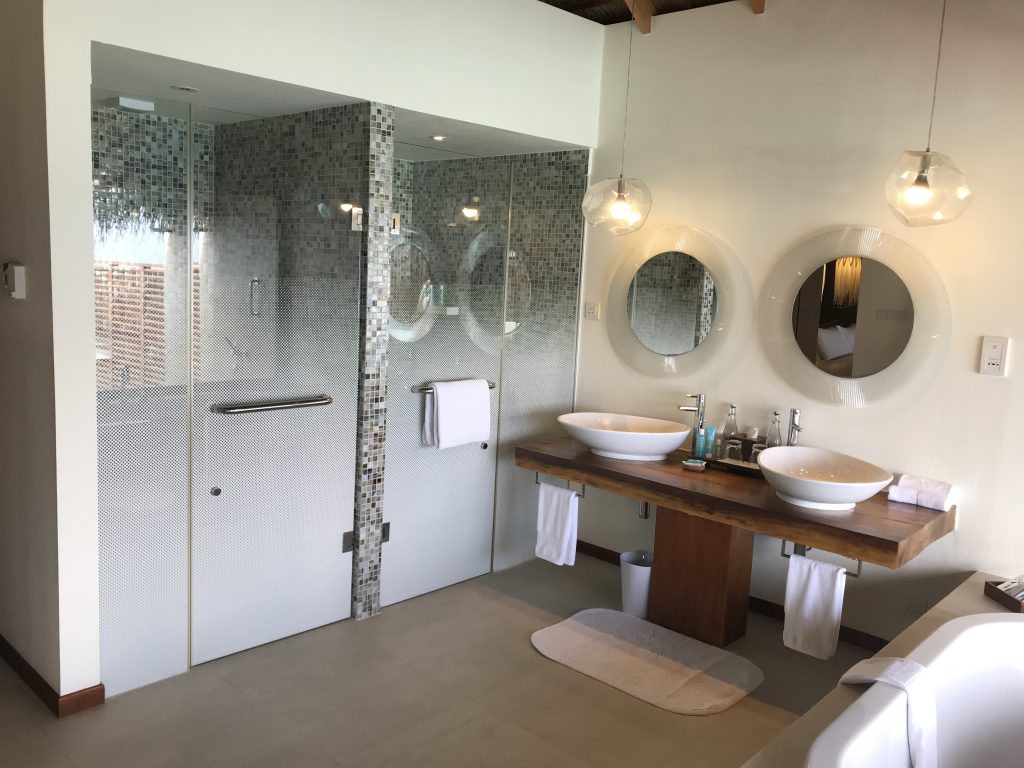 There's no door to the bathroom area, so it would be very easy to accidentally and unwittingly walk in on your indisposed partner. This could be solved with a sliding door to separate the bathroom area entirely or by having a non-clear door for the toilet area.
Because it's hard for pictures to do actual justice to an overwater villa, I shot the following short video on my phone to give you an idea…
Should you choose the Beach Vila or the Overwater Villa at the W Maldives?
If paying cash, the difference is around $300 a night. Based on the above you can make that call. If booked on points in a base-level beach villa, you can always enquire about a cash upgrade, which would be less than the 100,000 point per night difference being asked for an Overwater Villa. I value Marriott points at 0.7 cents, meaning that is $700 a night in points vs about $300 actual cost.
The preference between the two room types is, of course, your personal choice. For us, as much as we loved the novelty of jumping into the ocean from the room, we would stay in a Beach Villa next time because it simply felt more like our own private beach mansion. Another factor is that, and especially if you are farther out in the overwater villas, you can have quite a long walk to the restaurants as compared to from the Beach Villas. Of course, you can always request a buggy pick up or drop off because, "Whatever, Whenever."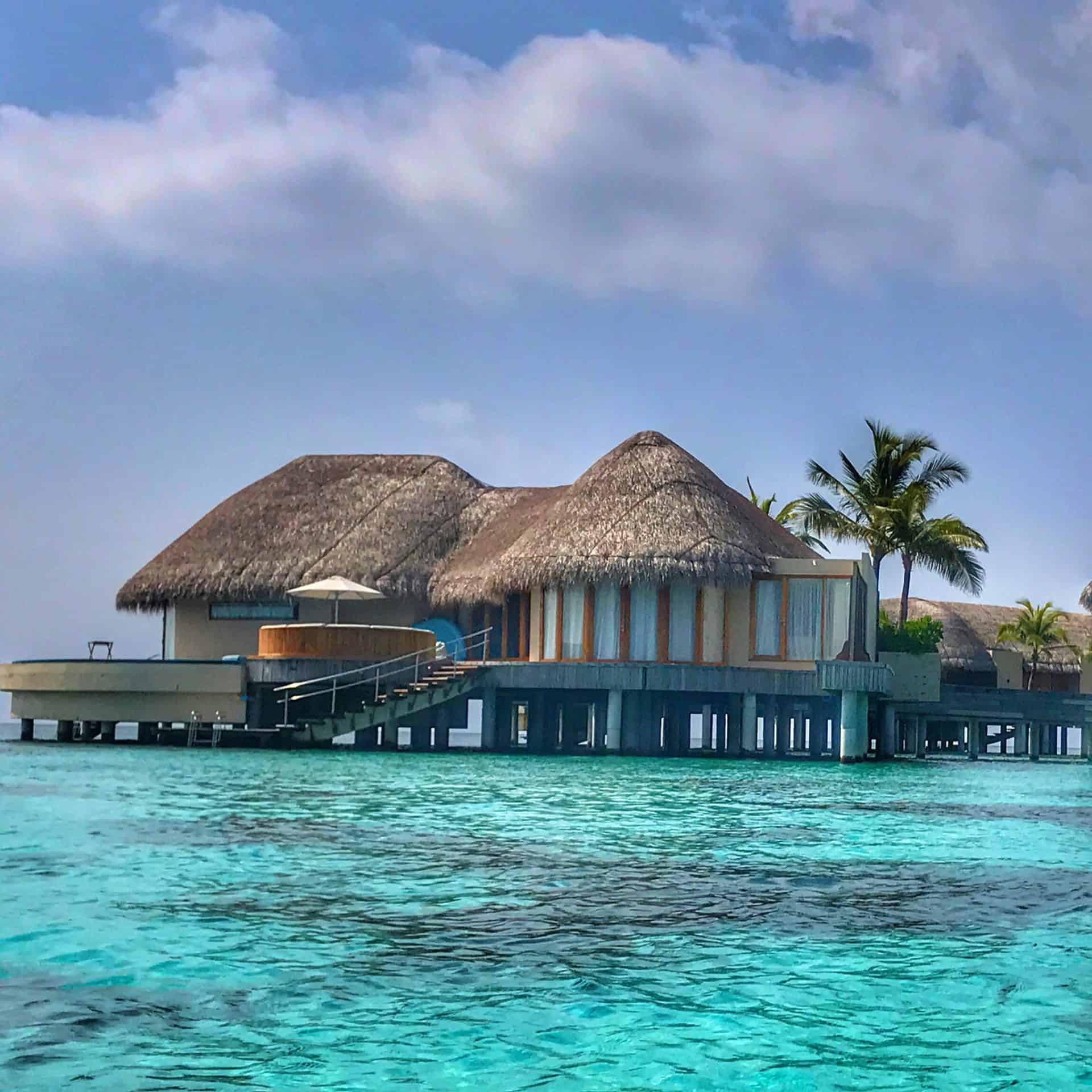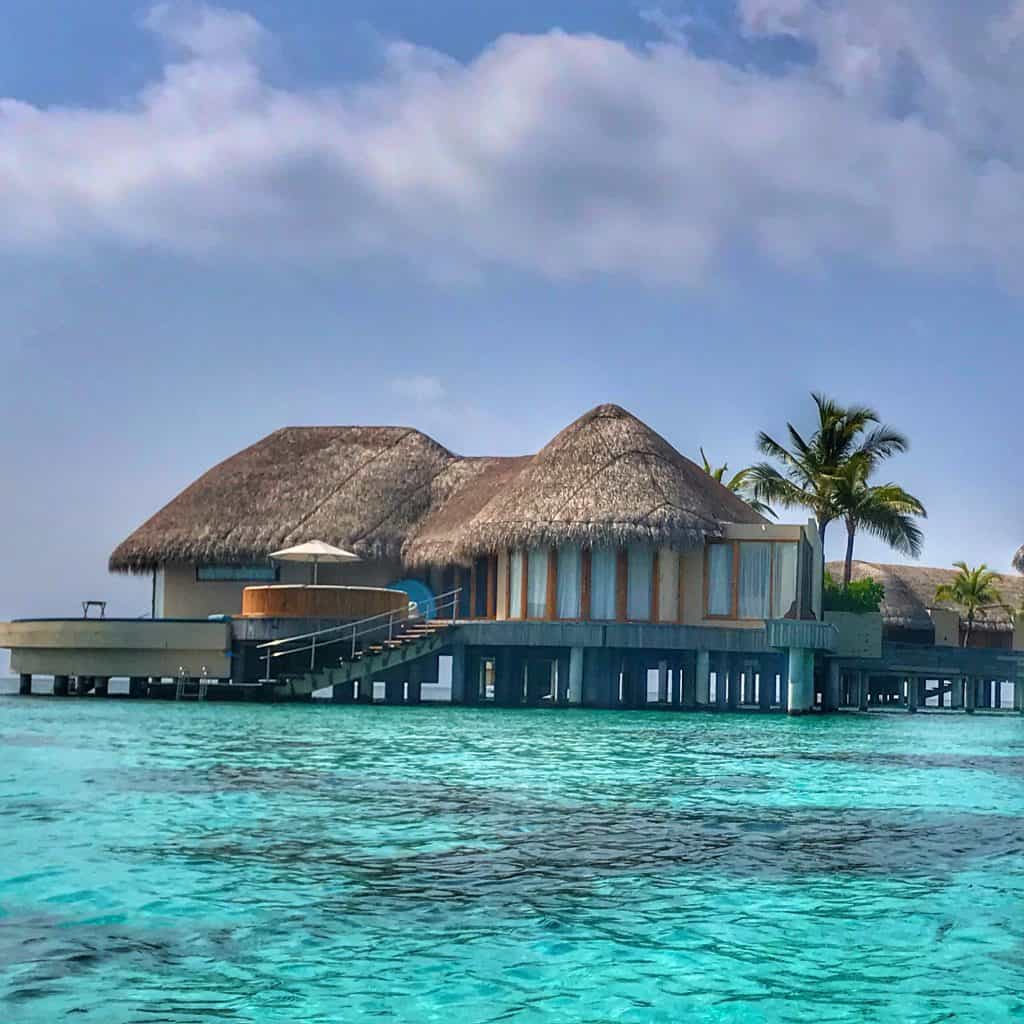 On our last morning, our bags were whisked away and we awaited our seaplane to leave. As the seaplane took off, we took this picture of the staff waving goodbye and I wanted to end with it because it really encapsulated a feeling that we had, which was that the staff got to know us as if we were family. We were genuinely sad to leave them and, you know what? I think some of them were sad to see us go, too.

One day, I know we'll return.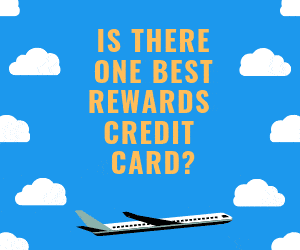 Ethics Disclaimer:  The W Maldives (hotel website) did not pay for or comp any part of our stay. We paid for the room using 240,000 Marriott Bonvoy Points and paid the remainder of our expenses on my Marriott Bonvoy Brilliant American Express card for 6x Marriott points on the charges.