Why Delta's "SkyMiles Select" Offering is Marketing Genius
October 18, 2019
*
by Dave Grossman
*
1 Comment
Did you miss a deal? Never again! Apply to join the members-only MilesTalk Facebook group
.
Advertiser Disclosure: MilesTalk has partnered with CardRatings for our coverage of credit card products. MilesTalk and CardRatings may receive a commission from card issuers and MilesTalk may also receive compensation for content. This site does not include all financial companies or all available financial offers. The editorial content on this page is not provided by any of the companies mentioned, and have not been reviewed, approved or otherwise endorsed by any of these entities. Opinions expressed here are the author's alone.
Delta's New  SkyMiles Select – Loyalty Marketing Genius
When I got the email from Delta offering a year of their new SkyMiles Select, my first thought was "LOL."
I mean, I surely would never pay a dollar for early boarding (which is just at the same time as credit card holders) or 8 free drinks (because even when I fly First, I often don't take a drink – well maybe if it's Salon on JAL First Class).
Here's what Delta is offering you for $59 with SkyMiles Select: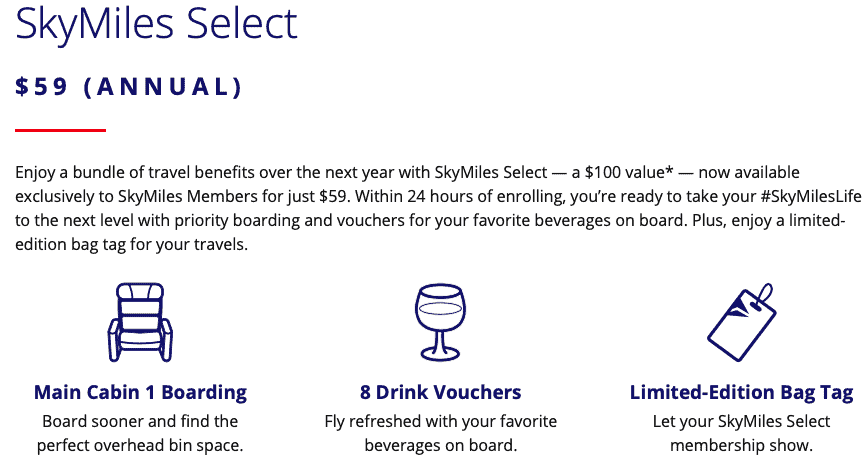 But then I thought about my Amazon Prime membership and the brilliance of Delta's marketing team.
You see, I'm not their target audience for this offer. The casual flyer is. The one that does fly Delta several times a year, that doesn't have a Delta credit card (maybe for reasons of credit worthiness, maybe because they are smart enough to have a credit card that earns transferable points), and that gets frustrated with access over overhead bin space because they board last. They certainly don't have Medallion status, but they may still fly Delta 5+ times a year.
What Does Amazon Prime Have to Do With This?
The brilliance of Amazon Prime is that it is anything BUT a payment to receive Free 2nd Day Shipping.
I mean, it *is* exactly that – but yet that's not really what it is.
Amazon Prime is something that you buy because it's a great value to get all your stuff shipped free all year long, and it comes with lots of extra benefits like Prime Video, but psychologically what it does is get you to buy more from Amazon.
There's not even a question about it. Amazon freely shares this is the effect and why they essentially take losses on shipping many Prime orders 2nd Day. Overall, you will feel it makes sense to One Click order just about anything you find on Amazon because you have already paid for that free 2 Day Shipping.
Amazon's prices are not always the lowest. They often are. They often are not. They are generally "reasonably" priced which is good enough when the shipping is free and quick.
How that Correlates to Delta Select
$59 for a year of Priority Boarding (which costs Delta nothing) probably sounds very reasonable to a semi-regular Delta flyer. The 8 drinks? Well, those drinks don't cost Delta much and you probably won't use all 8 (or at least, spread over all people that buy Delta Select, many won't) leading to what we call "breakage" – or unused benefits.
In return, you now know that if you fly Delta you won't board last, while if you fly United, AA, JetBlue, etc – you may. So now that you have the Delta Select, you tend to choose Delta more – especially if price is close.
It's sort of the impact of having the Delta Credit Cards from American Express, which confer the same early boarding or even, dare I say, Silver Medallion Status which has been watered down to the point of being good for better advance seat selection and a super occasional upgrade to a big front seat. You have it, you don't have it on AA/UA (maybe) and so you choose Delta.
And I do think that, at this point in time, Delta has the best on-board product on a consistent basis of the Big Three (and the worst frequent flyer program, but that's not the point for one).
So now you'll fly more, see it may be a better experience than the rest, and then become actually loyal to Delta all without them even having to use the SkyMiles program to do it.
Of course, United already sells a subscription to their Economy Plus product, but at $599 a year, it's really not related to what Delta is doing.
It's squarely aimed at the leisure traveler that will never qualify for elite status anyway, with almost no cost to Delta, to gain incremental spend from those customers.
It's brilliant.
Will You Buy Delta's SkyMiles Select?
Let me know here, on Twitter, or in the private MilesTalk Facebook group.
You can find credit cards that best match your spending habits and bonus categories at Your Best Credit Cards. 
New to all of this? My "introduction to miles and points" book, MilesTalk: Live Your Wildest Travel Dreams Using Miles and Points is available on Amazon and at major booksellers.