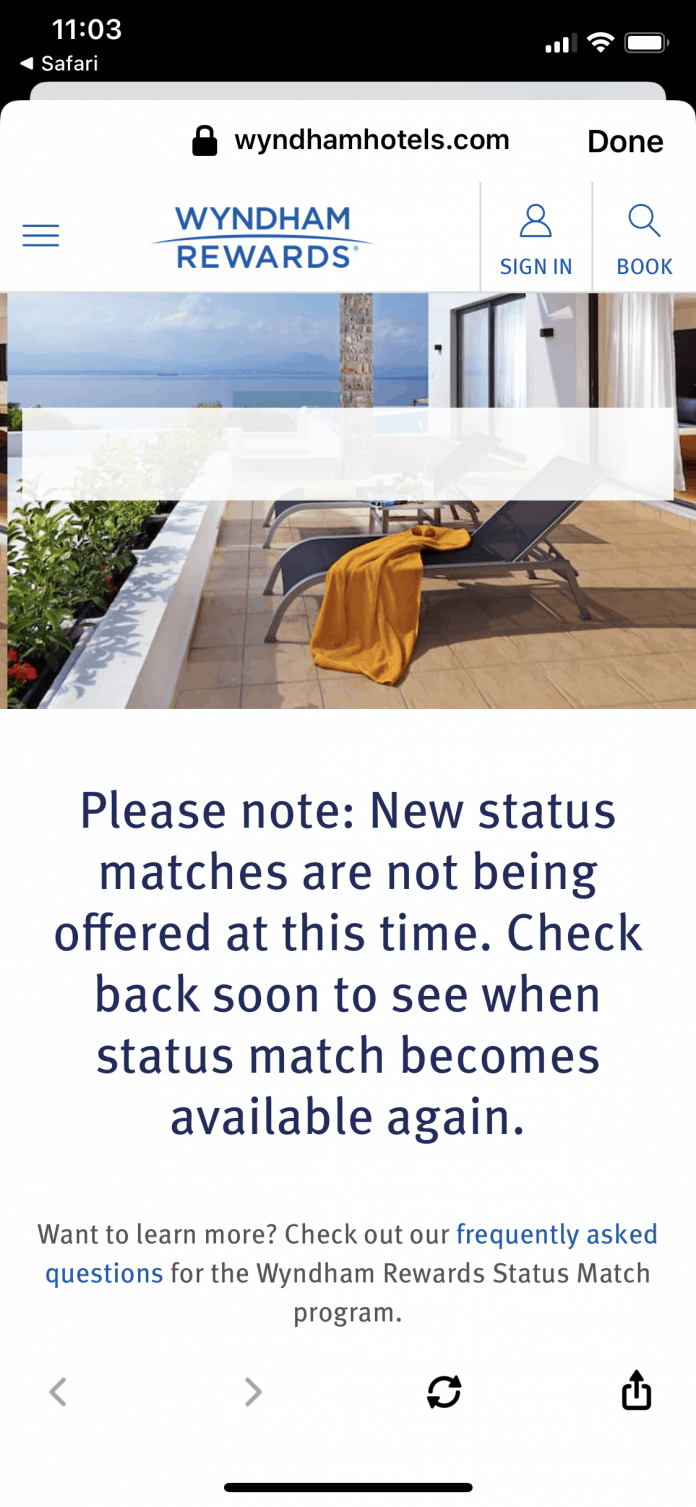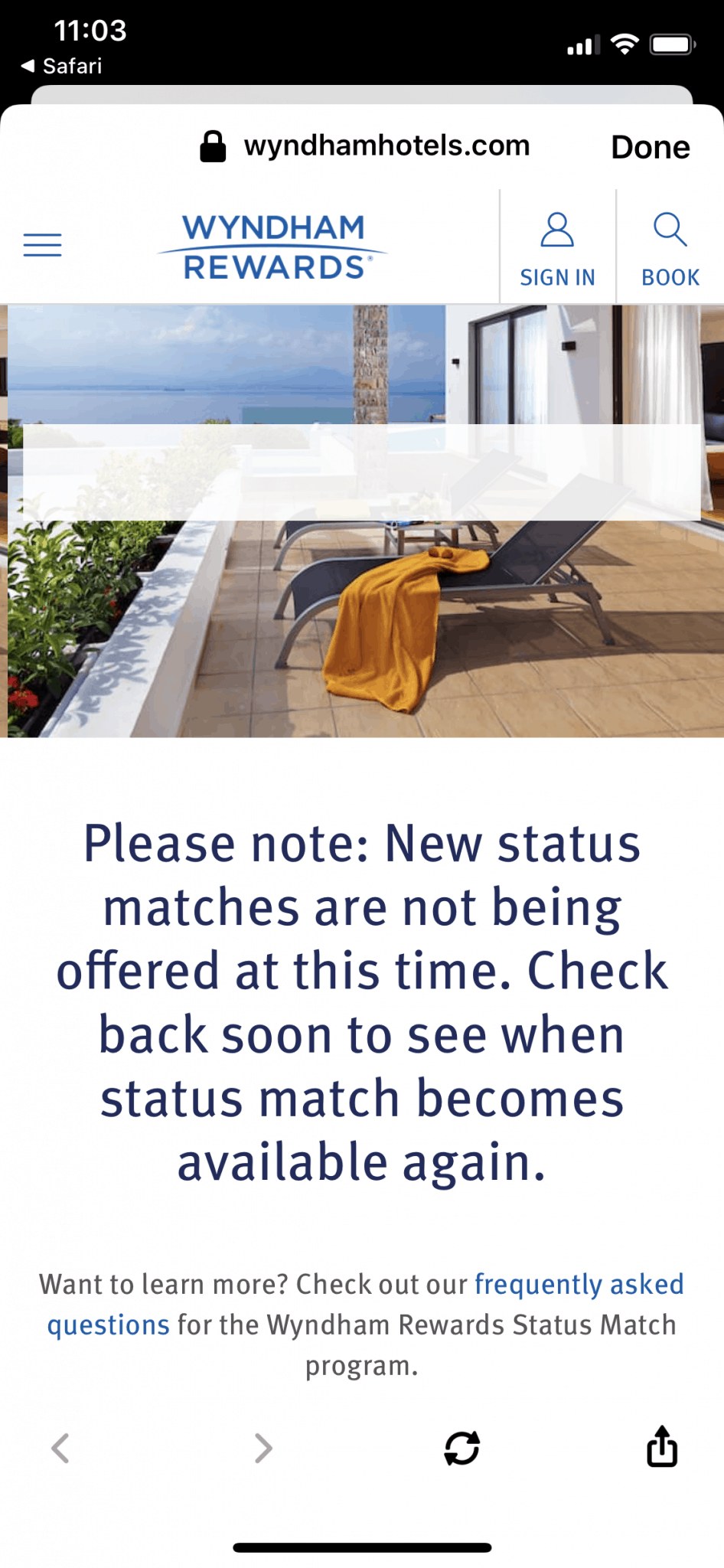 Many MilesTalk readers first discovered this blog via my Status Match Merry Go Round. If you aren't one of them, you've been missing out. And what I'm about to tell you may mean you will be missing out for a while longer.
The "On Ramp" to the Status Match Merry Go Round
It appears that the "on-ramp" that most people use to jump on the Merry Go Round is temporarily closed.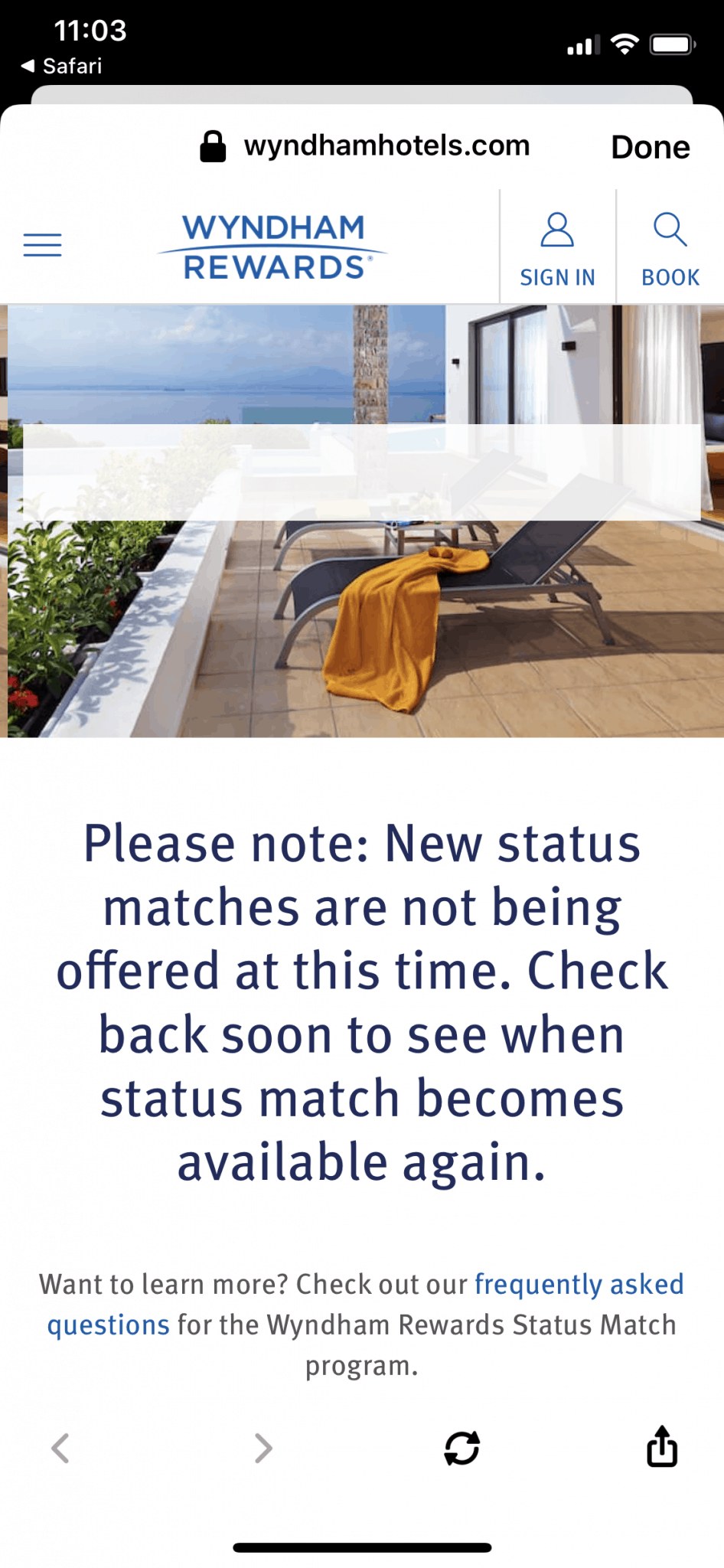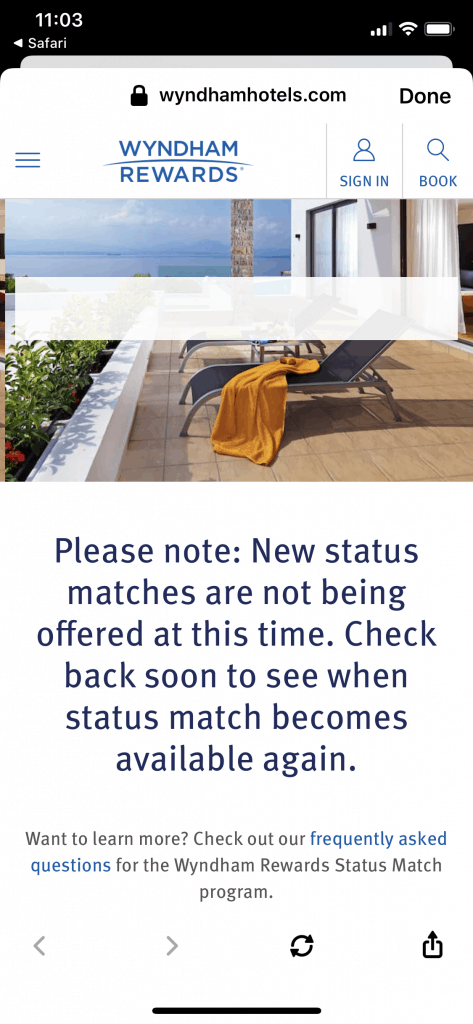 Wyndham has been offering, for over a year, status matches that include some extremely easy to attain.
In the Master Merry Go Round post, I detail all of the methods, but the easiest statuses to achieve are Hilton Gold and IHG Platinum, both of which require just one credit card (which confers the respective status) and those both match to Wyndham Diamond – securing your place on the Merry Go Round.
With the matches on hold, this method won't work for now. My hunch is that this pause is purely COVID-19 related, meaning that either they don't have the staff or simply realize it's not important to match people when there's almost zero global travel. Either way, one would think it will come back eventually – though there's no guarantee.
With no Wyndham match, can you still get on the Merry Go Round?
The easiest answer is that with casinos closed, this will all be on hold regardless. While the Merry Go Round method I outline allows most matches to be done online, you still have to go to a Caesars' casino to get your physical card (they won't mail it) and then, if you want the Hyatt/Mlife component of the matches, that requires an in person visit to the Borgata in Atlantic City or the MGM Springfield in Massachusetts.
That said, you could still get on the Merry Go Round if you have Hyatt Explorist or Globalist status. You'd match that online to Mlife Gold and then bring your Mlife Gold card to a Caesars property to match to Diamond – but only if Caesars is offering one of their common one-time match promos. That's not all the time and also isn't repeatable, however it should still work as once you have Caesars Diamond you could match that to Wyndham Diamond online (that is still active) and then match Wyndham Diamond back to Caesars when Caesars status expires Feb 1.  It's vital that you keep an eye on your Wyndham and Caesars statuses and don't let either lapse. The Wyndham year ends Dec 31 and the Caesars year ends Jan 31st, so you must rematch Caesars to Wyndham in January – or it's game over.
Mlife Adjusts Program year to Jan-Dec.
Due to COVID-19, Mlife has extended tier status through January 31, 2022.
They have also changed, going forward, the program year. It used to expire Sept 30th. It will now expire Dec 31st with status lasting one month past then, expiring Jan 31st.
My first thought was about how this impacts the Status Match Merry Go Round.
The last step on the handy reference chart I'd made (which I'll need to refresh when the dust settles) is to rematch your Hyatt to Mlife every October.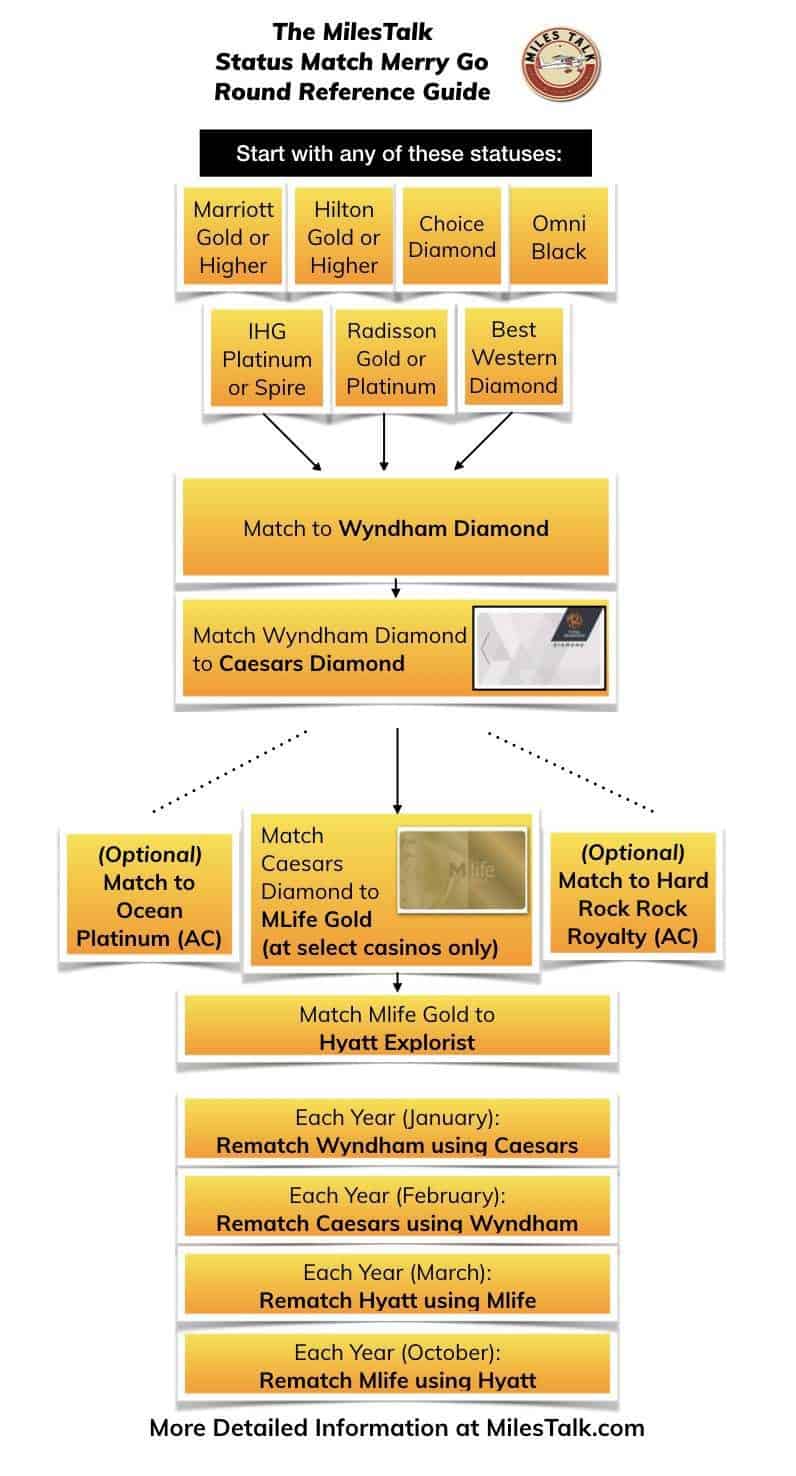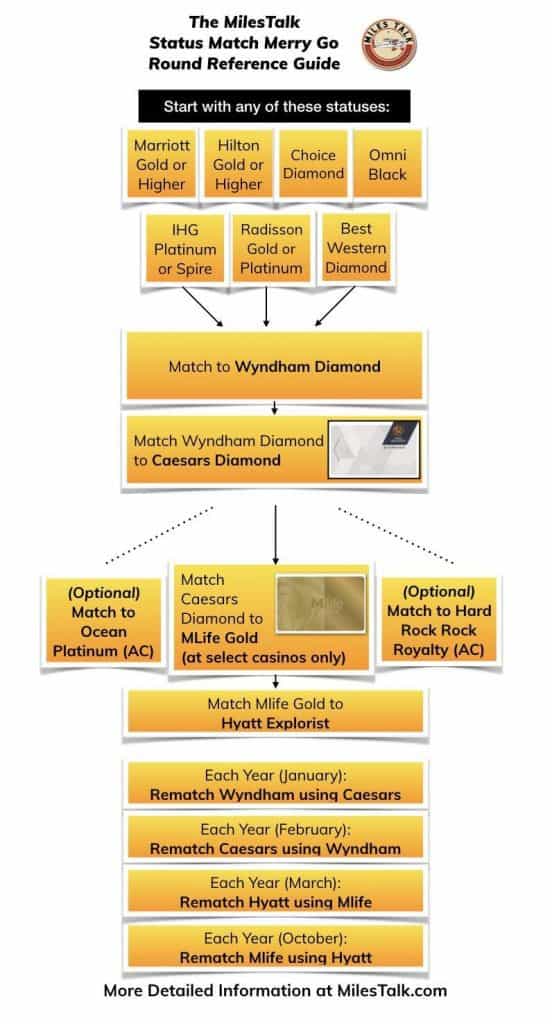 Luckily this realignment simply makes that a step you'll take in February, as while the Hyatt program year is Jan – Dec, the Hyatt status expiration is Feb 28th (or 29th) each year.
In the end…
If you aren't yet on the Merry Go Round, this will pause the easiest opportunities to jump on, but if you are already on it, it doesn't appear this will change anything in a major way – at least not for now.
HT to MilesTalk Group Moderator Giancarlo for looping me in on the Wyndham status match pause.
Are you on the Status Match Merry Go Round?
Let me know here, on Twitter, or in the private MilesTalk Facebook group.
You can find credit cards that best match your spending habits and bonus categories at Your Best Credit Cards. 
New to all of this? The MilesTalk "introduction to miles and points" book, MilesTalk: Live Your Wildest Travel Dreams Using Miles and Points is available on Amazon and at major booksellers.