I'll be the first to admit I haven't paid much attention to Wyndham's loyalty program – Wyndham Rewards. Their hotels just haven't been on my radar.
But this weekend I discovered a sweet spot in the program. It's called "Go Fast" and it is a Cash and Points program where hotels can opt to participate to increase occupancy.
The Go Fast rate is always 3,000 points "plus some cash" and that rate varies.

I was looking for one night in Atlantic City this past weekend where not even the worst possible hotel was under $250 (Saturday nights in the warm months in AC are very popular since there's a beach).
I stumbled upon a hotel in nearby Galloway, NJ (a 15 min drive from the boardwalk or casinos) that was actually perfect for a (semi) romantic night away. It's called the Stockton Seaview Hotel and Golf Club by Dolce. Dolce is, and this is news to me, a high end Wyndham brand.  They will even provide a free ride into Atlantic City if you ask and "take care of your driver."

The offer for Go Fast was 3,000 points plus $95 (plus tax and a $10 resort fee). You can buy up to 5,000 points a year so even if you have 0 points (as I did) you can buy 3,000 points for just $33 and then book the rate.  If you already have 3,000 points (which you'd have earned just by spending $300 at any Wyndham Rewards property), you're already good to go.
One MASSIVE disclaimer is that you cannot do the points purchase last minute as it takes up to 72 hours for the points purchase to post. It really can take a while (Mine took 24 hours) and there is no way to speed the apparently manual points.com process.
The cash rate for this night at the Stockton Seaview (which wound up being sold out) was $269 + tax or over $300.
I paid $33 + $95 – or just $128 plus taxes/fees for the same room.  There were other rooms in AC (but not at properties I would personally stay at) that had Go Fast rates from as low as $30.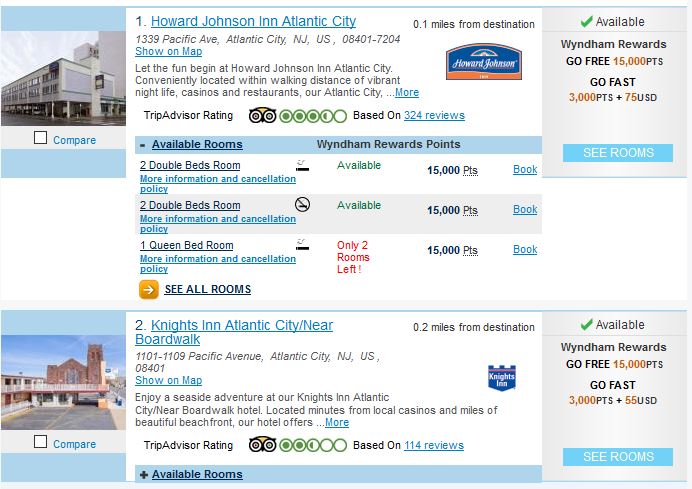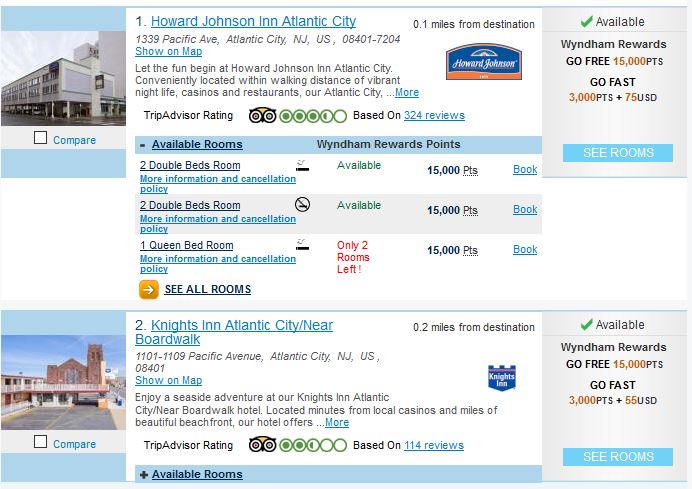 Note: the Tryp brand does not currently participate in Go Fast. Their website for some reason will say there is availability but if you call to book they will explain that is in error and Tryp isn't yet in this program.
I will definitely be keeping an eye on this Go Fast rate in the future – especially when I can't find a good redemption through one of my usual programs.