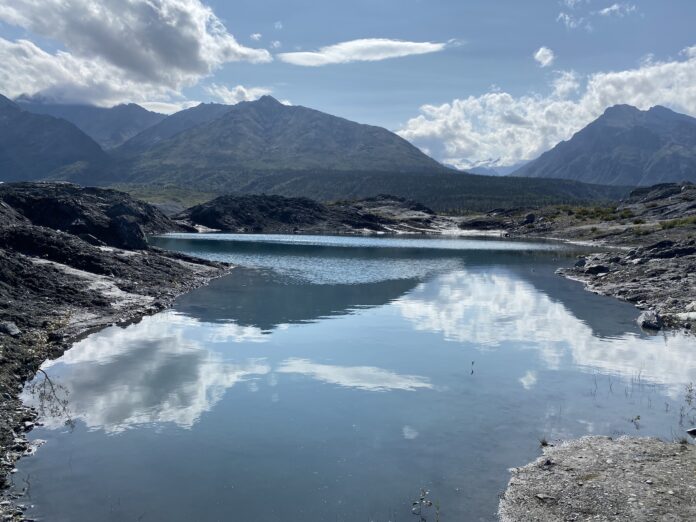 Overview: 3 Days in Alaska for Under $750 With Miles and Points
I know, I know – it was a BIT crazy. I flew to from New York to Anchorage, Alaska this past Tuesday for 3 full days, taking an overnight back to New York on Friday. It was actually slightly less than 72 hours on the ground in Alaska, but I had a fantastic time and I wanted to share how I traveled, how I paid, and what I did.
I'm not suggesting that most people would or should travel more than 7 hours each way for 3 days in a location, but I am suggesting that miles and points makes trips possible that seem foolish if I was paying cash.
Several months ago, I alerted MilesTalk Facebook group members about a Flash Sale using Delta SkyMiles to get to various cities in Alaska such as Anchorage and Fairbanks from most major US cities for crazy low amounts, like under 10,000 miles each way. They also had a sale on First Class seats. Not as economical at 30,000 miles each way, but if you know me at all, you know that's what I picked.
I didn't even know for sure I'd be able to take the trip, but with SkyMiles tickets fully refundable up until time of travel these days, it was worth booking and seeing if I could go later.
I went.
Total Costs for the Trip
Airfare: 60,000 Delta SkyMiles + $16.80 cash.
Hotel: I used 3 Free Night Marriott Bonvoy certificates (up to 35k each) from Marriott Bonvoy credit cards.
Car: This was where almost all of my costs were. I paid $388 for my rental car, the best I could do and I searched often. Then I had to put in $80 in gas when I returned it. I'd booked a Compact Car, but I received a Dodge Ram 1500 Hemi pickup truck. That thing uses a lot of gas! I booked via National.
Activities: I spent about $250 in total on activities which I'll detail as I go.
Flight Details
30,000 miles is the lowest possible award cost for a flight to Alaska using Delta's SkyMiles, even though the flights from the East Coast are on 767's with lie flat seats. I got this price both ways. On the way there I had to stop in Atlanta (JFK-ATL-ANC), making the total trip over 12 hours. On the way back, I had a nonstop from ANC to JFK.
The lie flat seats are (I think) the oldest in the Delta fleet and certainly show their age. On top of that, Delta is still not catering normally on flights to or from Alaska. So despite the ATL-ANC and ANC-JFK flights being over 7.5 hours, there were no pillows or blankets and no hot meals. They offered a choice of 3 cold sandwiches with potato chips and a cookie. The seats are a bit narrow so sleeping was not the easiest, but it was 1,000% better than a coach seat!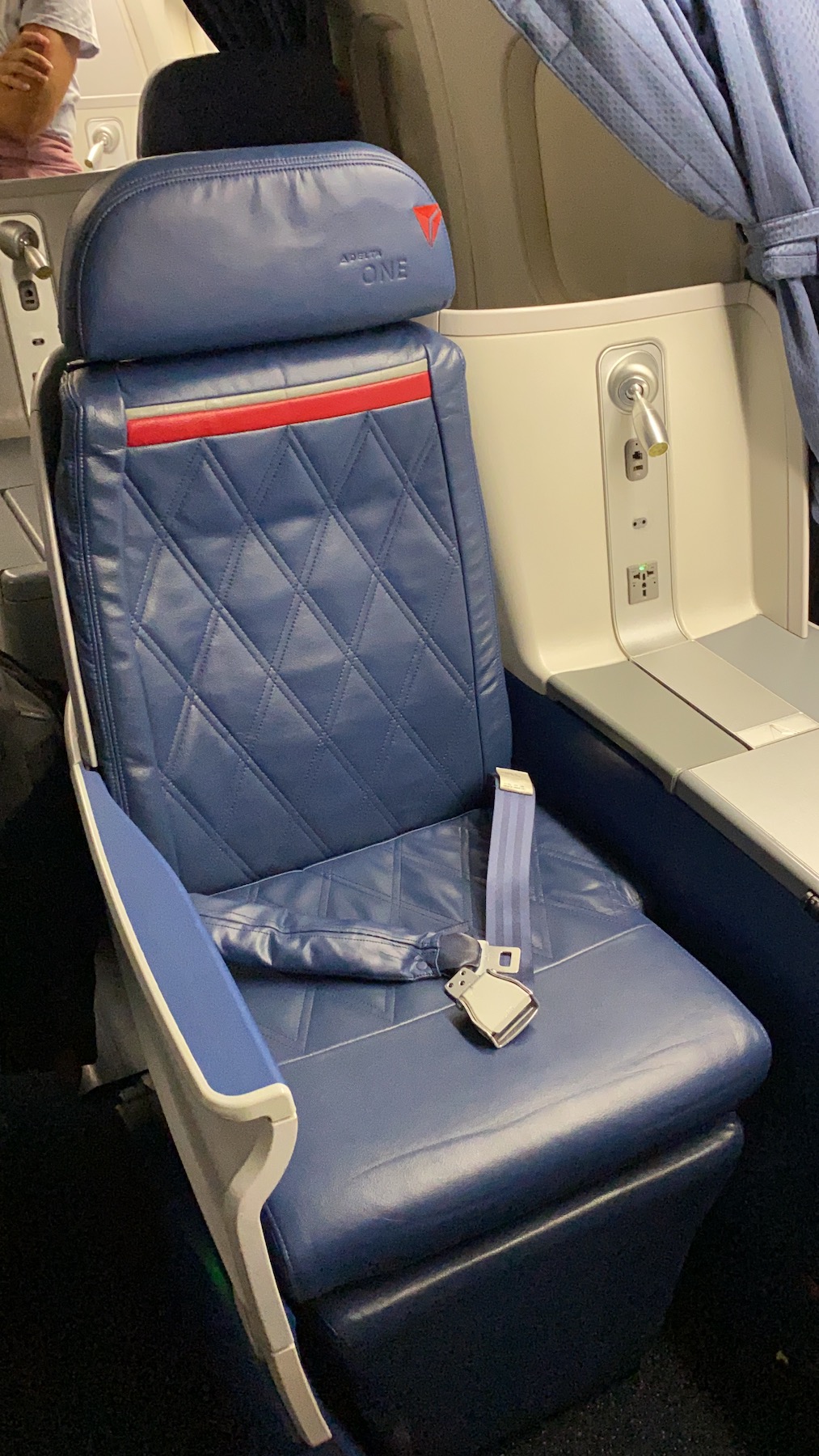 The Wifi is the older, slower wifi that kicks in over 10,000 feet and the IFE has no Live TV.
Still, plenty of personal space, the ability to lie flat, and pleasant service along with a total of 60,000 miles made this a great use of miles. The cash price would have been well over $1,000.
As well, let's recall that Delta is awarding MQMs on award flights through the end of 2021, with First/Business Class earning 1.75X the flown mileage as MQMs. It's also going to be rolled over into 2022 MQMs. This round trip (JFK-ATL-ANC-JFK) earned me 19,886 MQMs and $1,050 in MQDs.
Car Rental Details
I was getting quotes of $400 a day from Hertz and the majors. For some reason even the aggregators weren't showing rates from National. Booked directly, I paid $96 a day, all-in. Lesson? Always check exhaustively when things look crazy.
As it turned out, National in Anchorage shares a facility with Alamo and Enterprise. This meant a 30+ minute line to get a car despite having National Executive Elite because they had no Emerald Aisle.
They had almost no cars when I arrived, explaining that they were out of cars at the moment but that I could have the pickup truck if I wanted. Now, I have to say that living in NYC, a pickup truck sounded cool. And it was! Once I successfully navigated it out of the airport parking garage, that is. In the spiral exit ramp I had maybe one inch on both sides as I carefully winded down the circular exit structure. It was also not the easiest vehicle to park at the hotel which had a tight lot, but the staff, as I'll mention in a bit, helped find me places to park. Outside of the hotel, parking lots were always huge and I never had any issues parking. As well, should I have faced off with a moose on the highway, I'd have been well protected!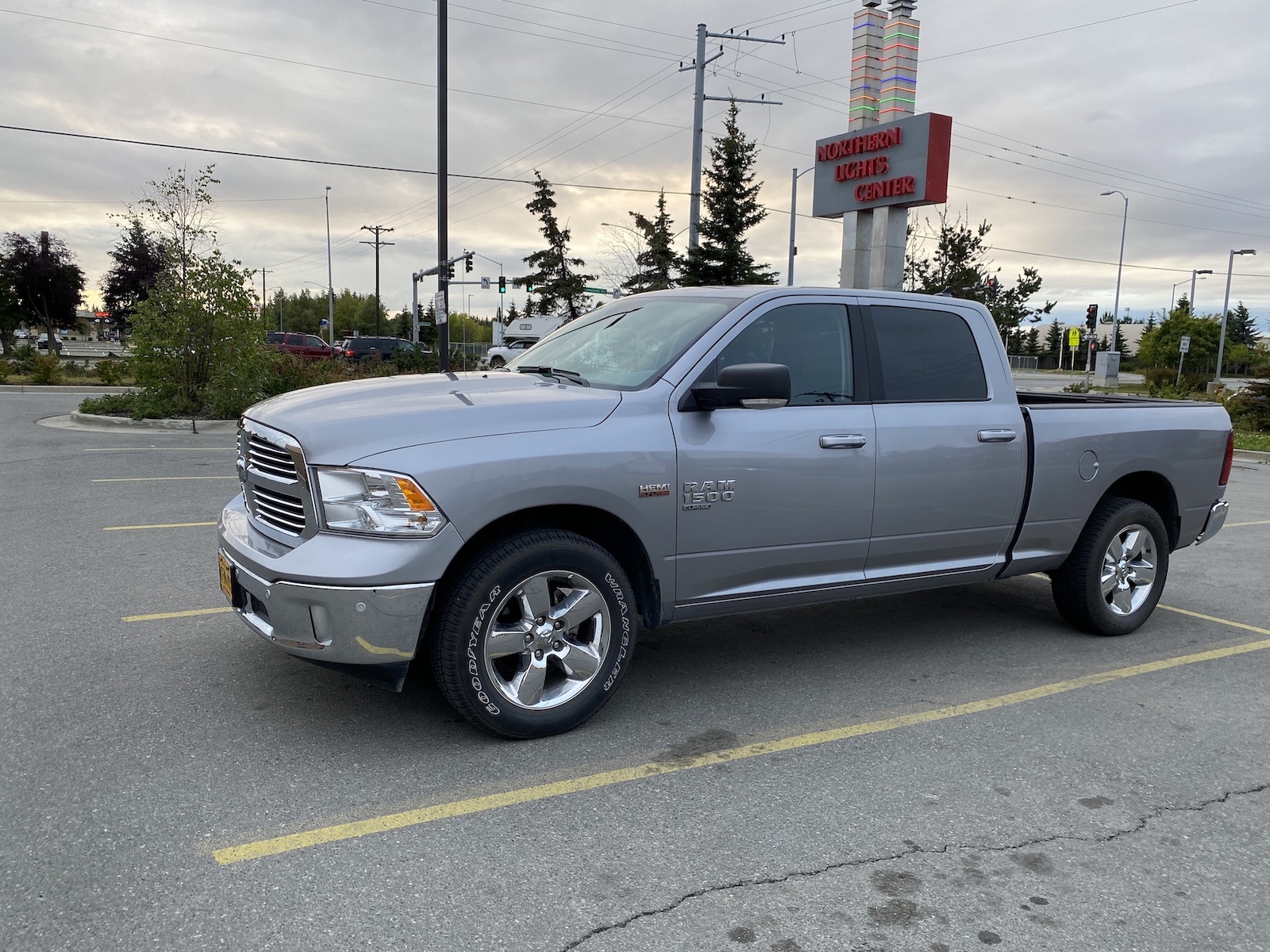 The Hotel: Four Points Anchorage Downtown
I got a bit lucky when I booked this. If I was going to be there for 3 days, I really wanted to be downtown so I'd at least have the option to walk around.
The Four Points on West 8th Street was the only Bonvoy property at 35k a night and that is the max that most credit card certificates allow, although the Bonvoy Brilliant and Ritz Carlton credit cards offer annual free nights valid for up to 50k. I had three 35k certs saved up (I have four Bonvoy credit cards) and I applied them for the 3 nights. My stay was completely free (no resort fee!) and breakfast was included.
The hotel was selling for $400 a night, which is bonkers for a Four Points in Anchorage but that is the state of travel in 2021!!

All hotels were in that price range. The Marriott would have bene preferable (close to the action and full service) and is the same Category 5, however their nights were all peak rates requiring 40k, meaning I couldn't use a certificate. If using points and not 35k certificates, I'd have gone that route.
In the two months leading up to the trip, not a single other Bonvoy property in Anchorage was 35k and the Four Points actually went up to 40k, effectively blocking all 35k certificates. In this game, you want to book now and cancel later if you need to. (Assuming what you are booking is cancelable.) Of course, sometimes you need some luck to align….
The location is just off the main downtown area, but not more than a 7 minute walk into the action, if you can call downtown Anchorage a spot with action….
As for the hotel? The staff were all wonderful. The rooms were modern enough. The free breakfast for Platinum and up was passable (pick one of a few items off the blackboard with a coffee – I had the skillet each morning). Housekeeping was not offered due to COVID. It was a Four Points…
3 Days of Alaska Sightseeing
Day One – Aerial Tram
The first day there, I felt really run down. I had just flown back to New York from Austin, Texas on a Spirit flight delayed 5 hours. And we were in California for 10 days before that. So, my body needed to recover a bit and I got a late start.
I hadn't cemented my trip plans yet and settled on a wonderfully scenic drive of about an hour to the Alyeska Tram in Girdwood, AK. This aerial tram went up 2,300 feet to the top of Mt. Alyeska for some nice views.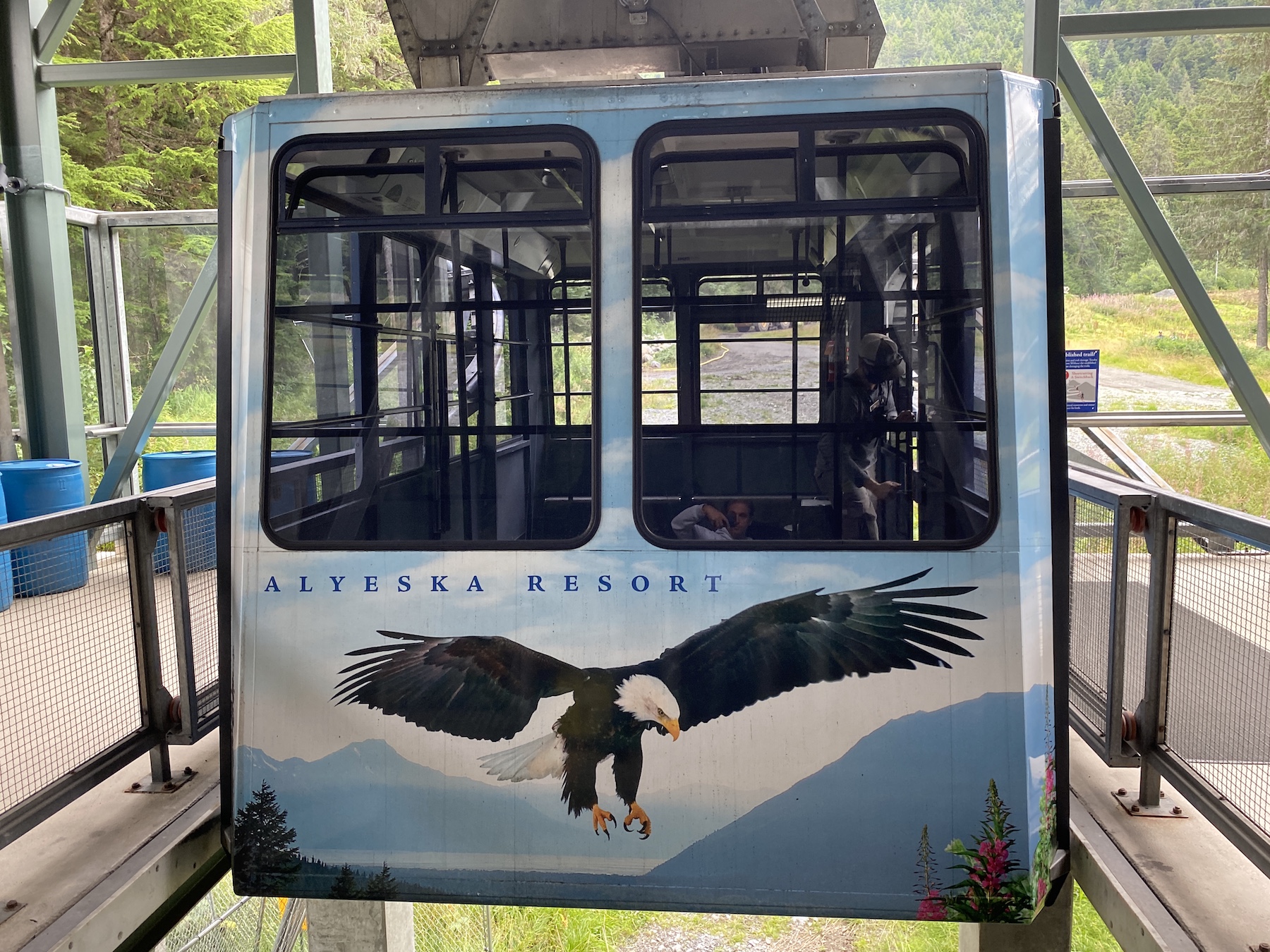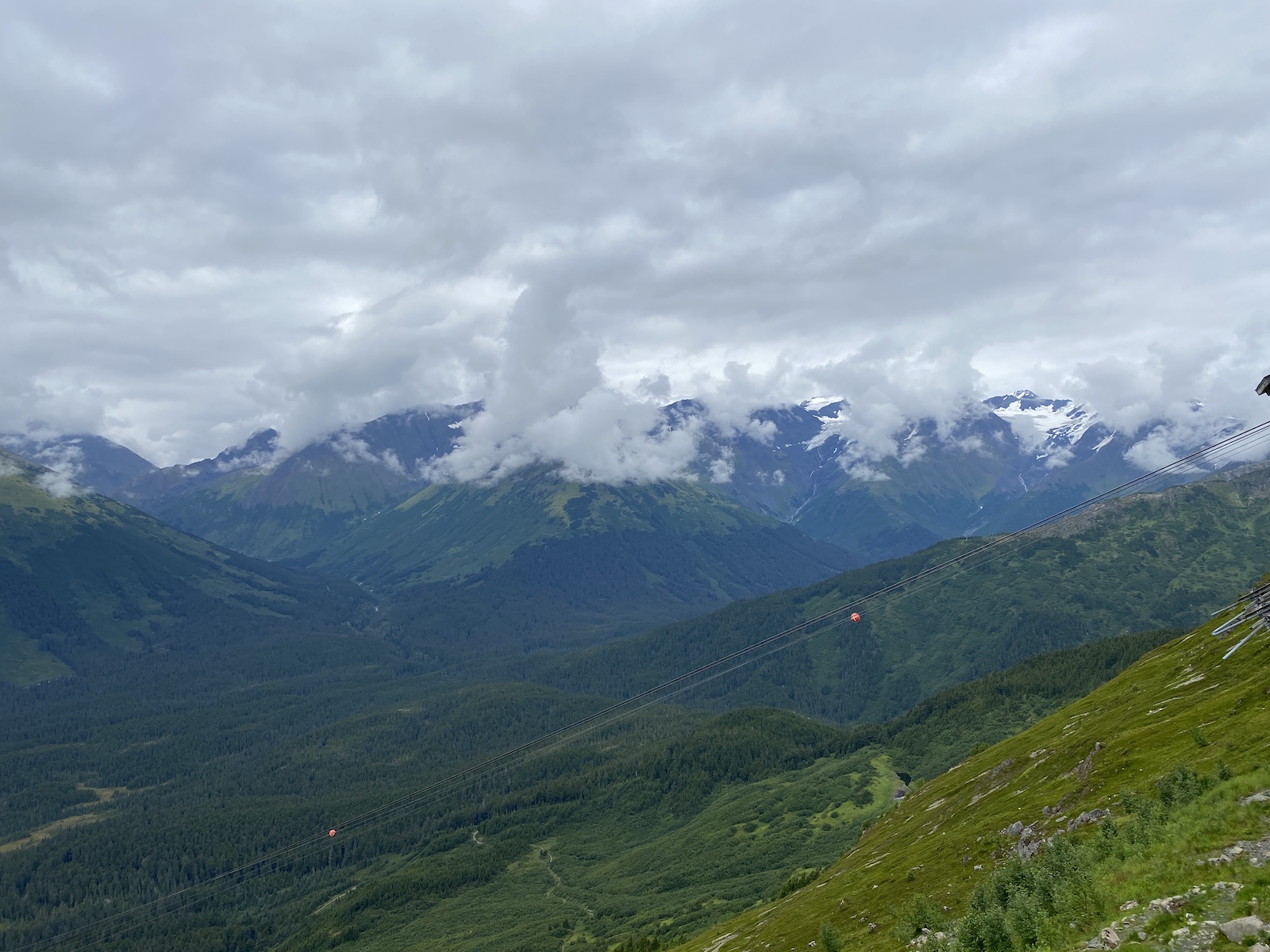 Now, what I actually did next was drive back to Anchorage, but what I should have done is head to the Alaska Wildlife Conservation Center. That would have let me see rescued moose, elk, bears, and more in their natural habitat. It's a haven for rescued and abandoned wildlife to have a safe home after they are fixed up.
Total cost: $20
Side Note: Girdwood, AK (where this tram is) had a Vacasa resort. This means you could book it using 15,000 Wyndham Rewards points per bedroom per night. I'm not sure there's a ton of reason to stay there, but you certainly could! Especially if you also did the wildlife sanctuary and/or planned to continue south towards Seward.
Day Two – Glacier Hike
Day Two was awesome. I went hiking on a glacier! I used this company to hike on the Matanuska Glacier, a 2 hour drive from Anchorage. The quoted price by phone was $100 but when I arrived they were discounting everyone to $65. I have no idea why! That plus a $20 tip meant $85 for Day Two.
The last 3 miles off the main road were on a very uneven dirt road, meaning that my pickup truck came in super handy!
The hike was about 2.5 hours and with mini-spikes on our shoes we really did hike up parts of the glacier, including one pretty steep ice hill. Thankfully there was an alternate route down! All in all it was pretty safe, but there were opportunities to fall.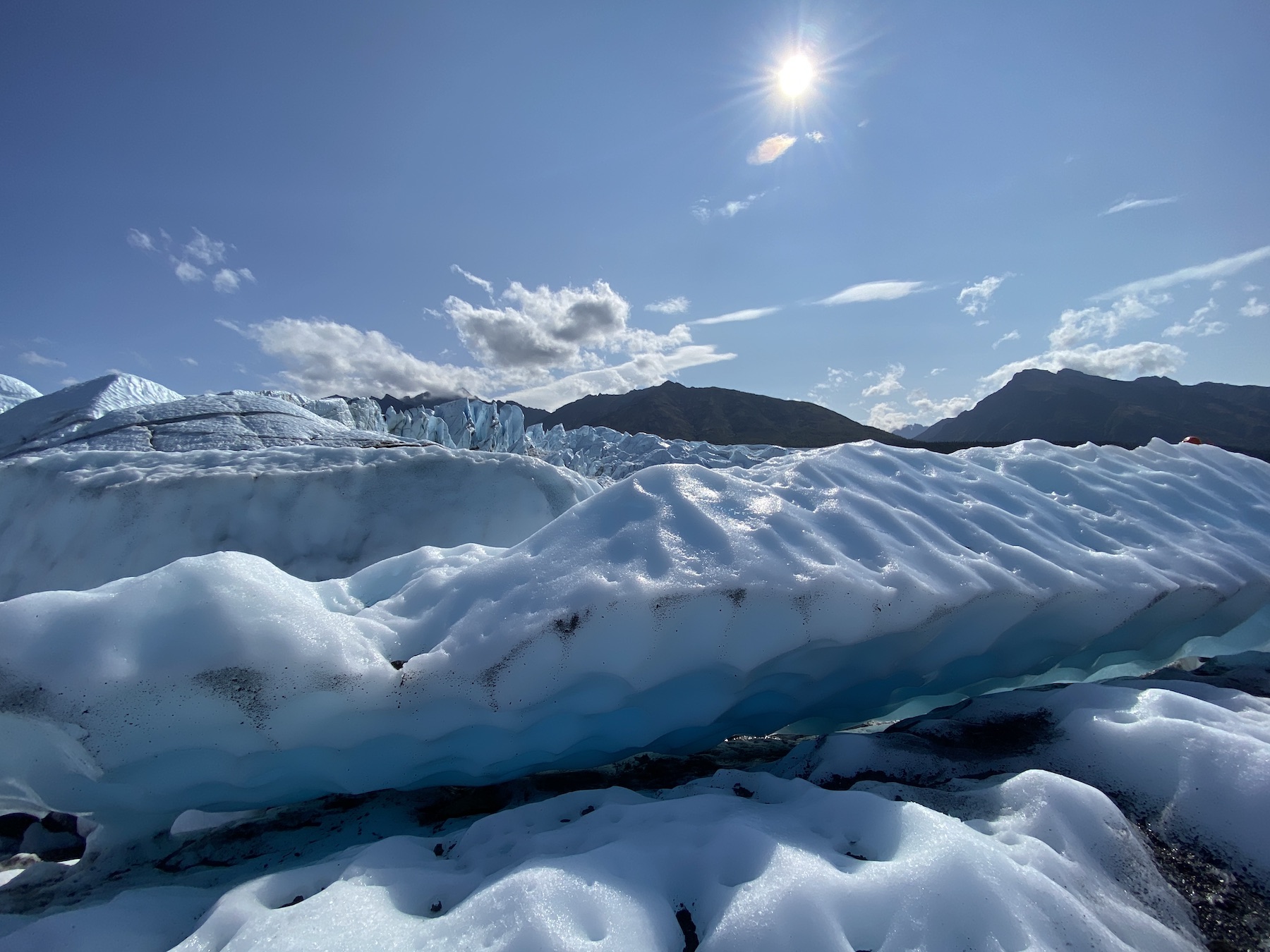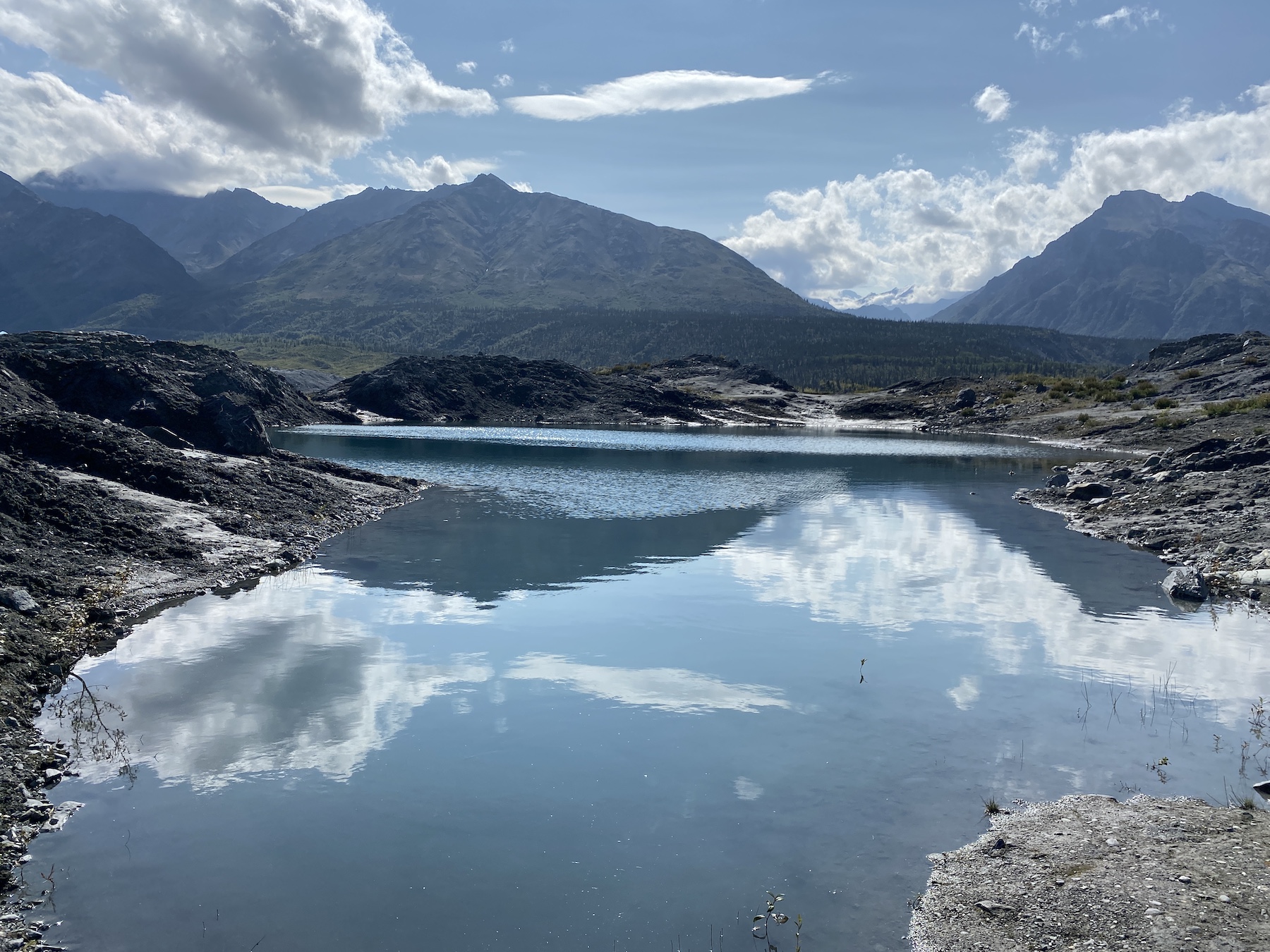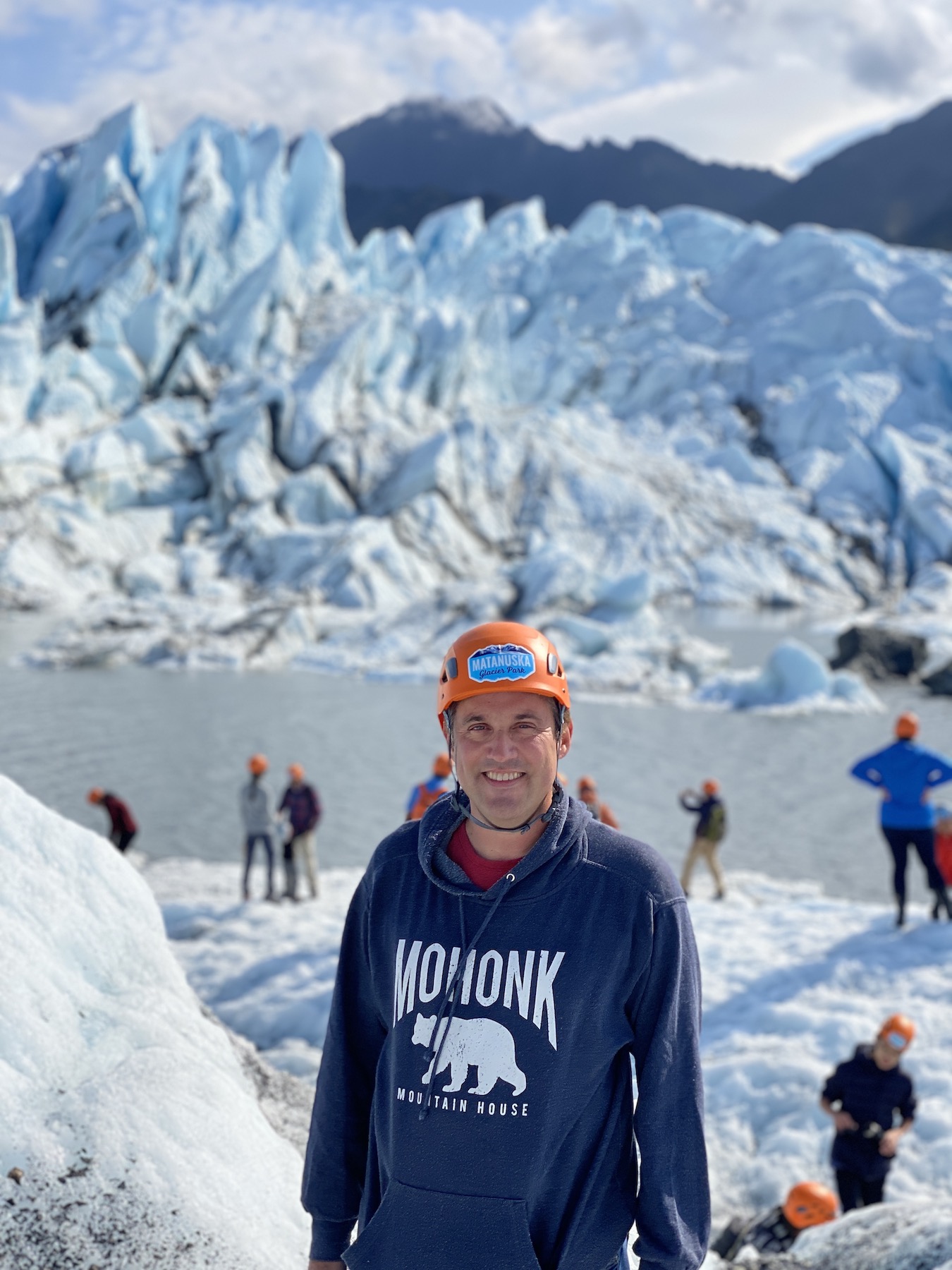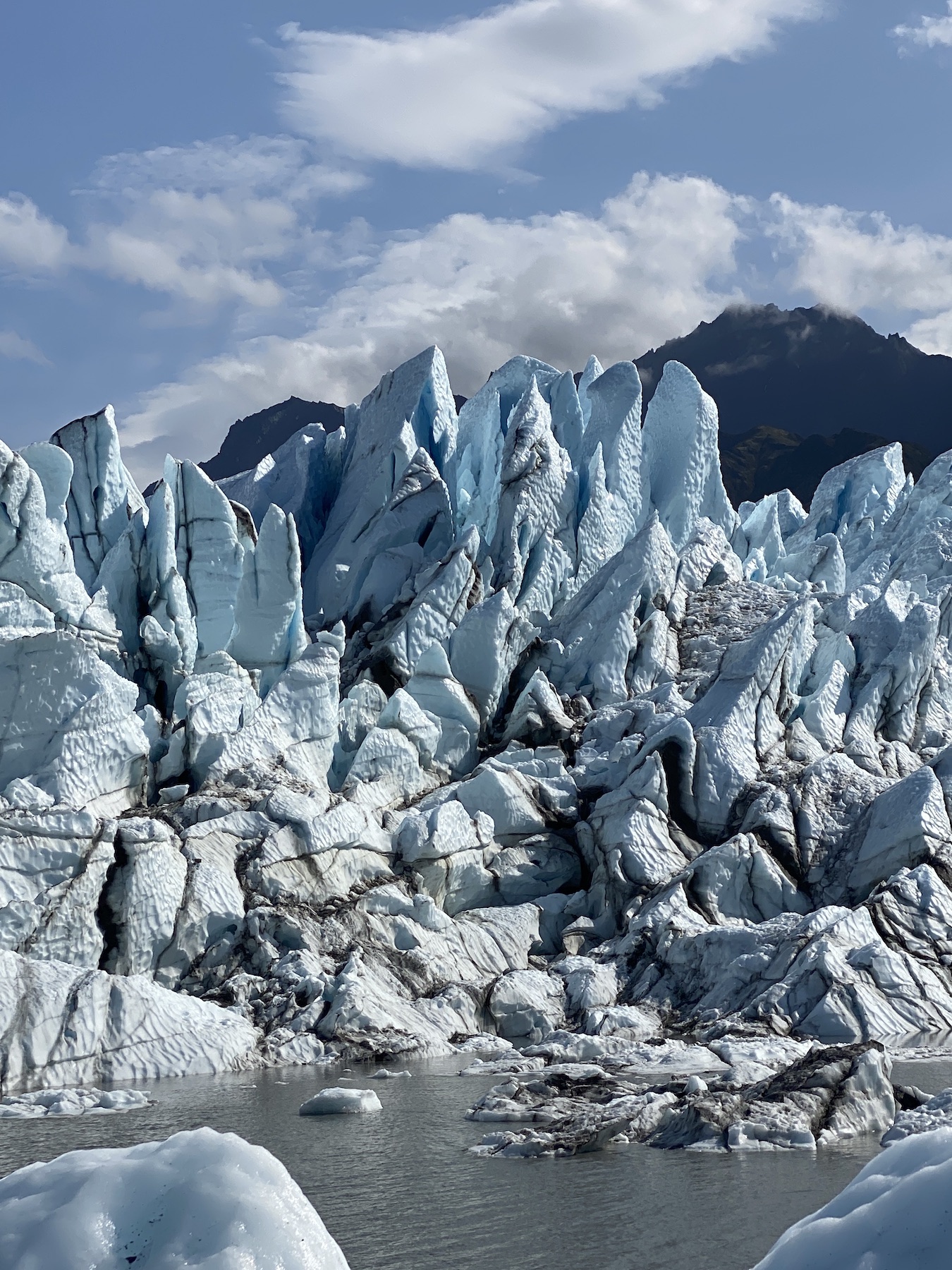 This was a highlight of the trip. In winter, they offer snowmobiling on the glacier which is something I did in Iceland and really loved, so keep that in mind.
Day Three: Wilderness Hike and State Fair
I booked this hike in advance via Viator. It was a 30 minute drive with the group to the starting point from the meeting place.
It was a nice 4 hour hike, but most of it really could have been anywhere. We saw one moose. That said, the guide was clear that sometimes a group sees many moose and bears and sometimes none. And of course, you can't control wildlife! When we finished the main trail, we drove to the other side of the river for a very short hike to this amazing waterfall.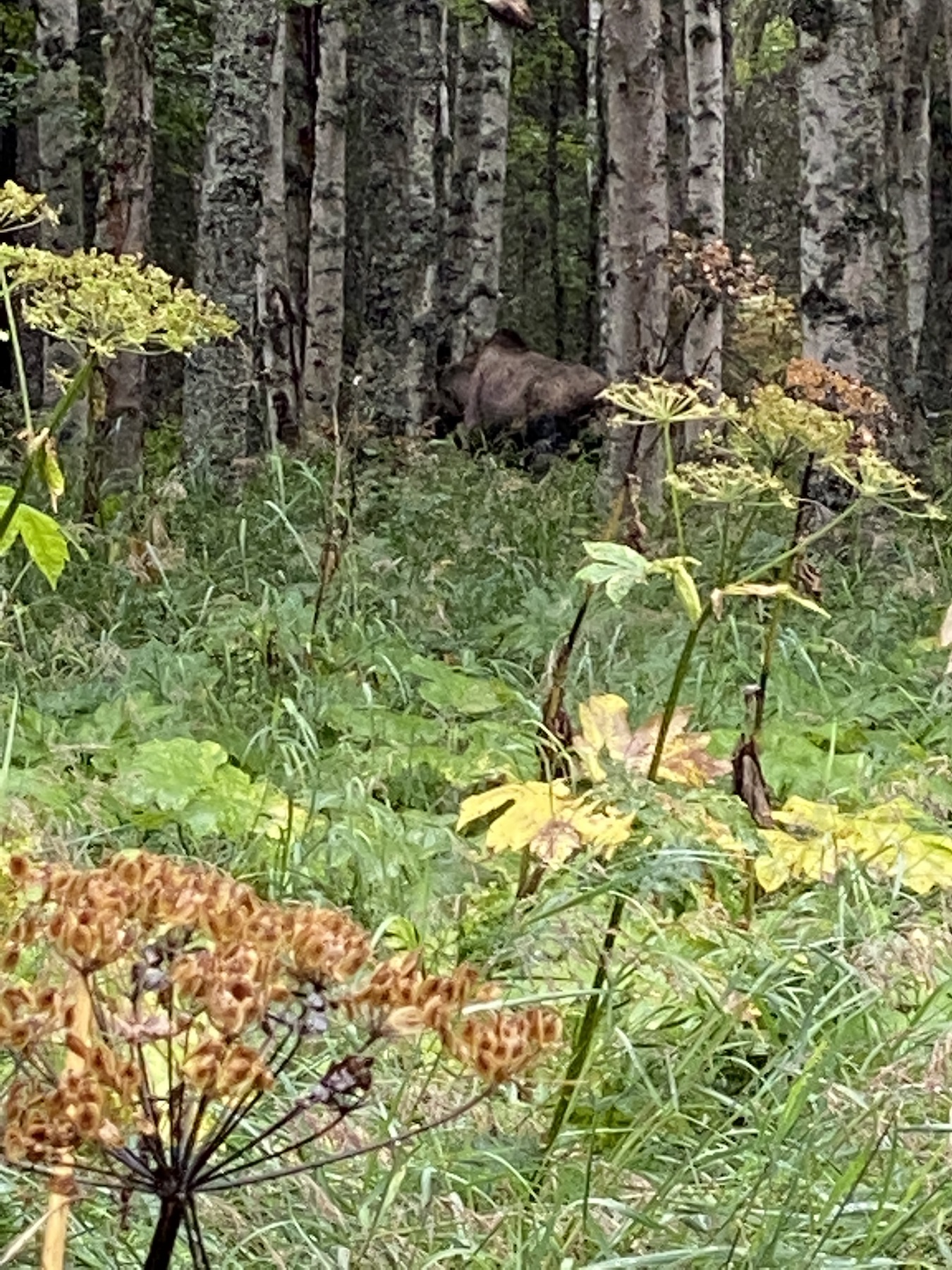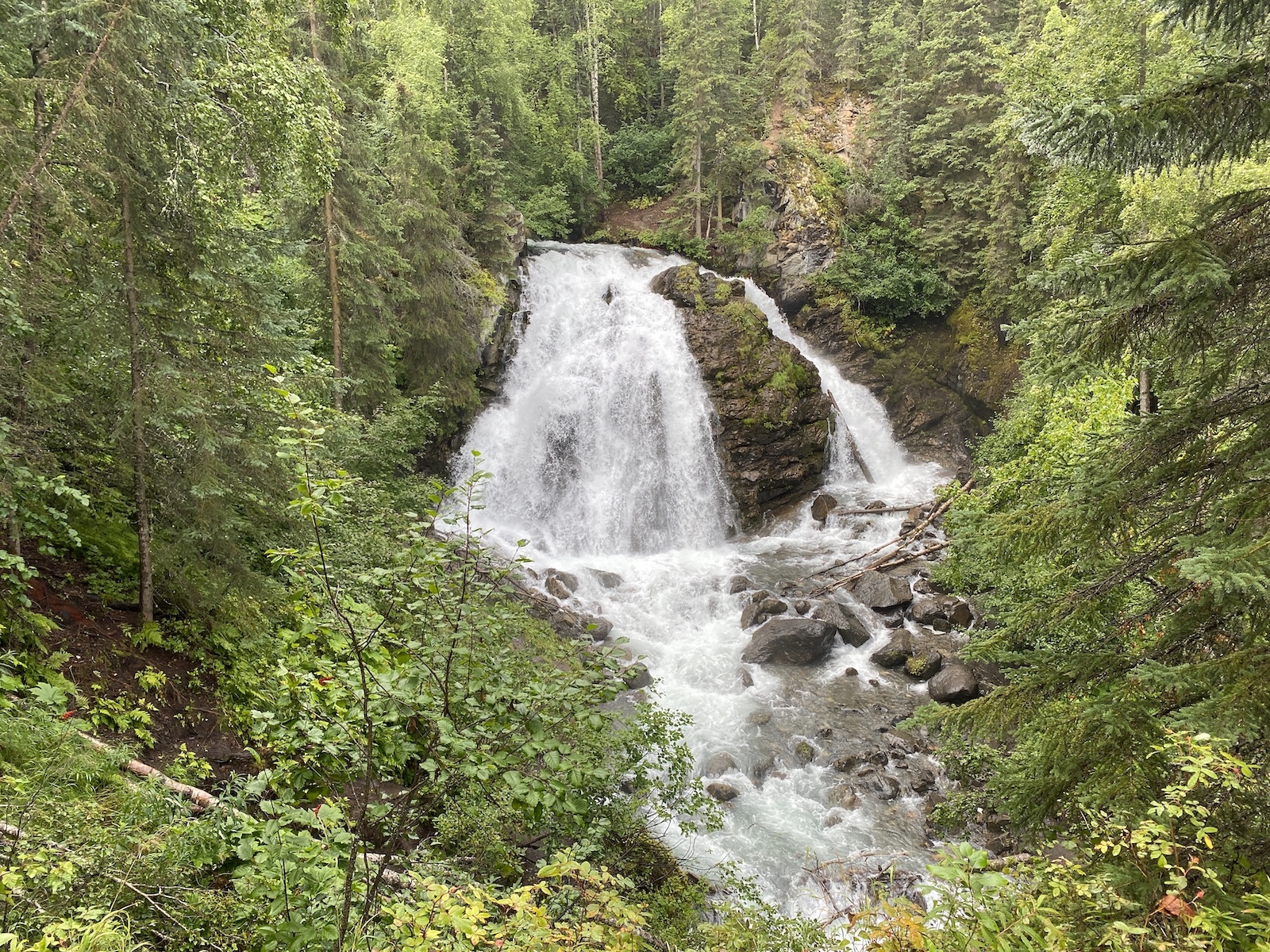 Cost: $129 – 10% discount – $114
The second half of Day 3 was unique and completely unplanned. In the drive back from the glacier hike, I passed where they were setting up for the Alaska State Fair.
I love state fairs! And the chance to see the Alaska State Fair was a novelty I couldn't pass up. So, that is how I spent the second half of Day 3.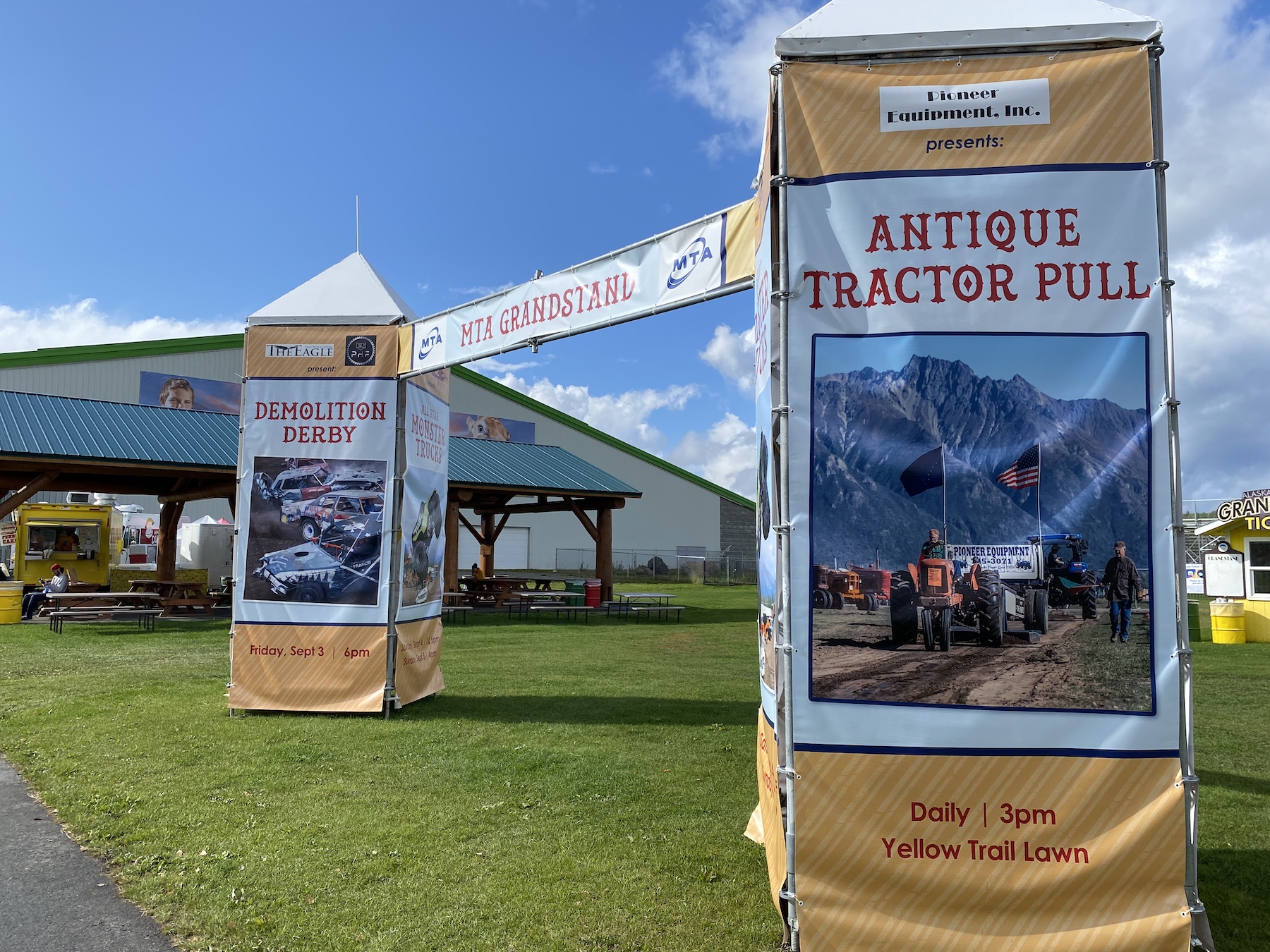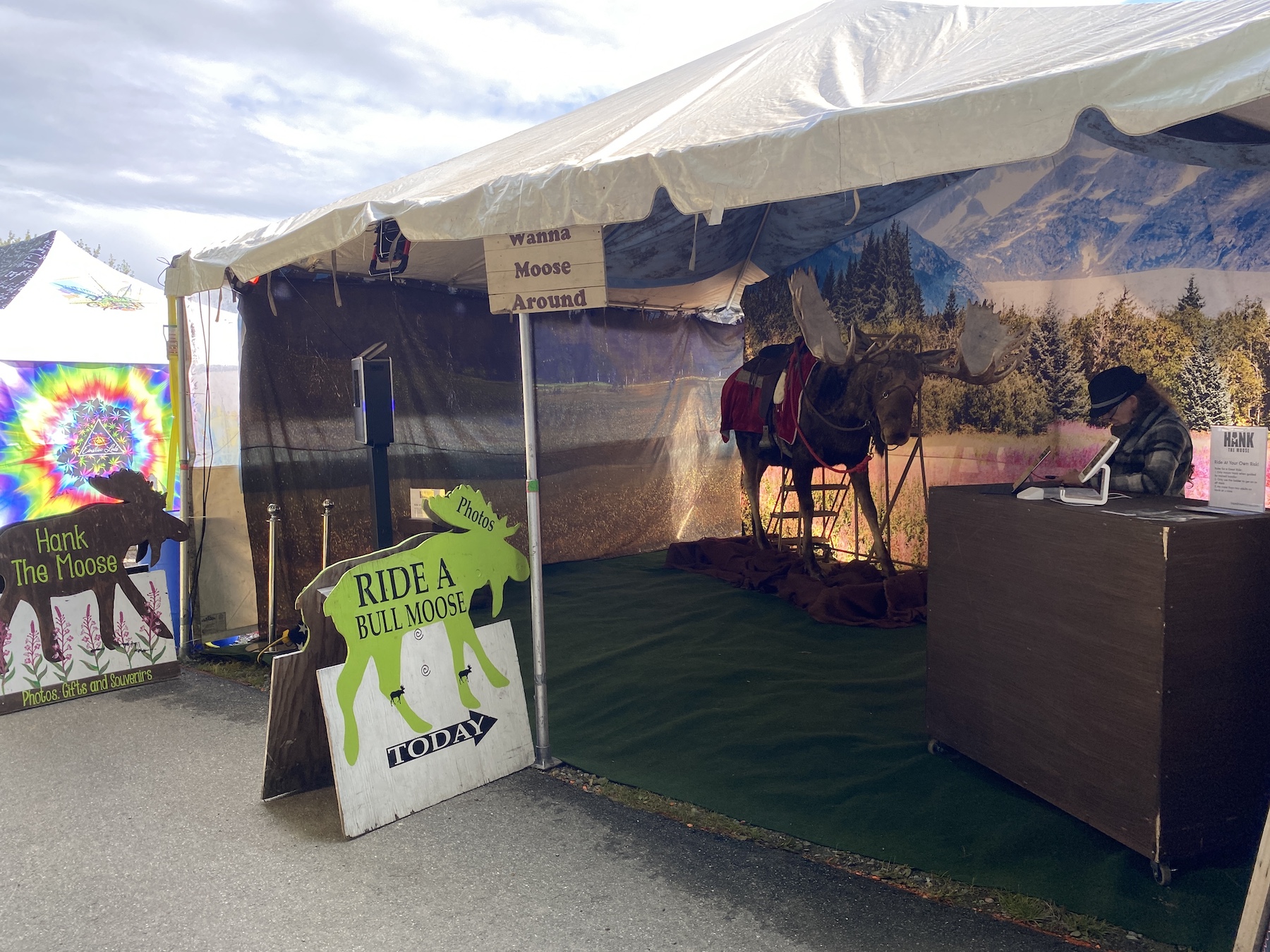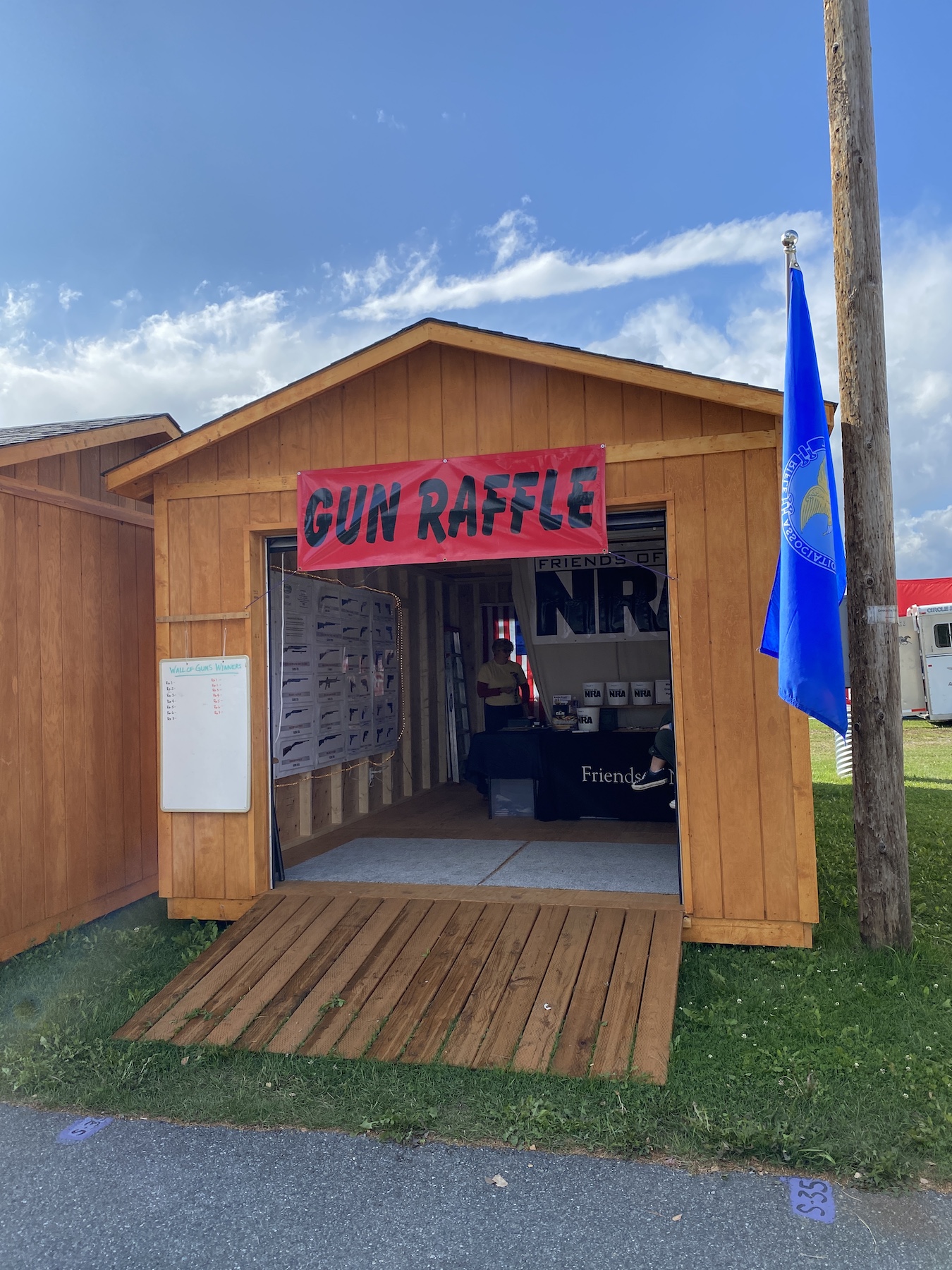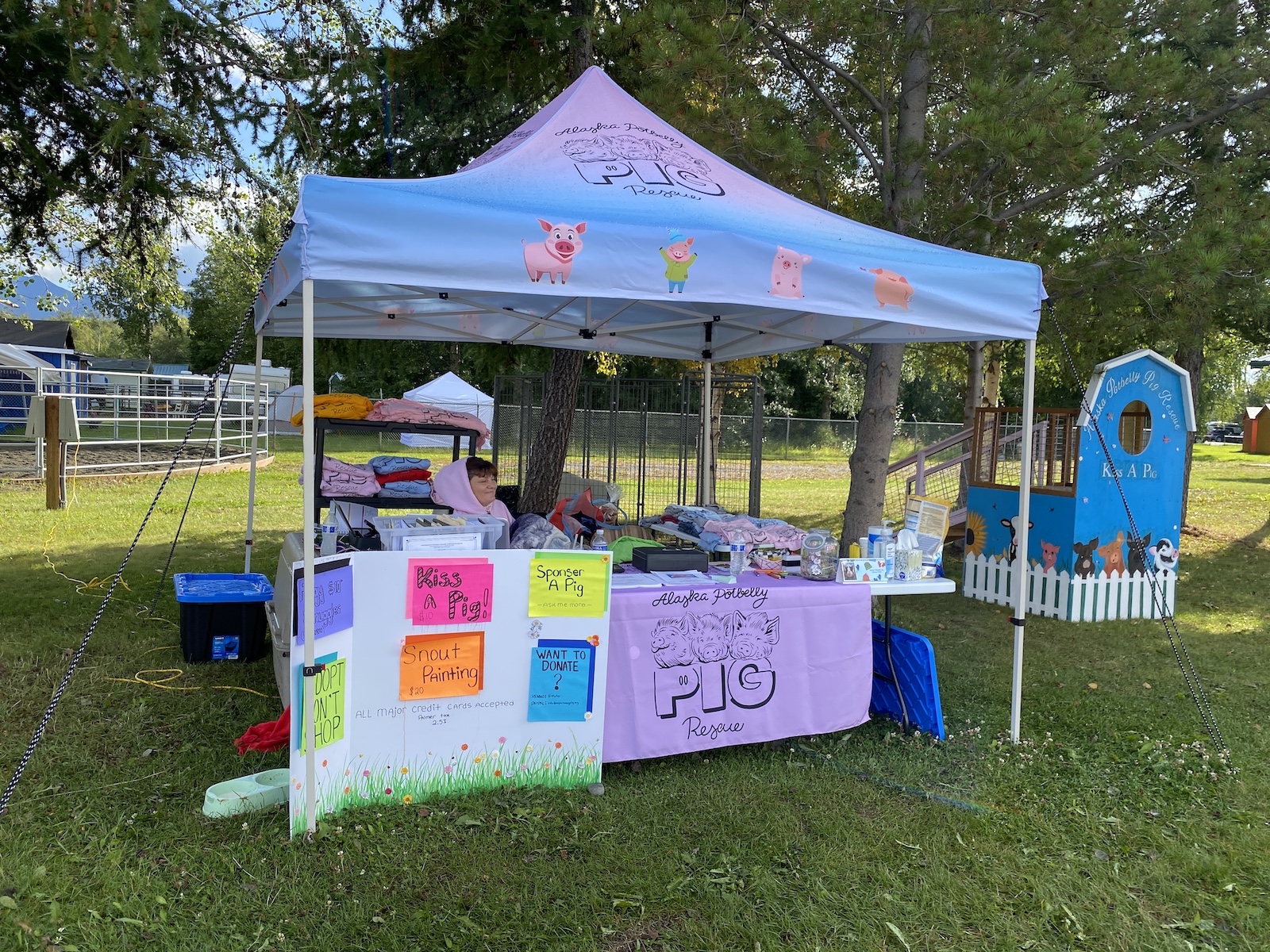 Cost: $18
Other Notes
I did a pretty poor job of planning. In fact, that last day hike was all I had firmly planned in advance! In the end, though, I had a very memorable adventure. I feel like seeing zero bears and one moose total was a bit sad, but I could have visited that Conservatory if I'd done more research. I did get a tip to checkout Kincaid Park near the airport where I had a great chance of a moose sighting. And I did stop by en route to the airport, but without enough time to get much past the parking lot. Still, if you are on limited time, I'm told the trail from there down to the water is moose central. Also be aware that moose can charge you, so keep a safe distance.
Those that have read past trip reports will wonder where all my food advice is. That's fair since I often base entire trips around food. But this trip came after 10 straight days of eating in California and Austin and, honestly, the cuisine of Alaska isn't something I got too excited about. I don't eat salmon which is clearly a major deal there, and I've tried things like reindeer before.
So, I ate mostly fast food and saved more time for adventuring. I do have to give a shoutout to the International House of Hotdogs which had really tasty dogs and fries prepared by a gentleman that emigrated to Alaska from…. Sonora, Mexico! He's super nice and works hard, so give his place a try if in town for a quick bite on the patio. I also want to recommend Dark Horse Coffee on 7th St and F, which was a nice local coffee joint with great cookies.
All in all, I spent under $750 out of pocket to travel from New York to Anchorage and back in First Class, stay in town for 3 nights, drive over 400 miles around the greater Anchorage area, and fill my days with activities.
To me, that's the power of miles and points. It's all about having experience that you remember for a lifetime.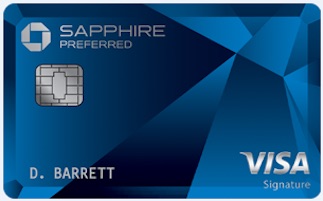 Chase Sapphire Preferred® Card Earn 60,000 bonus Ultimate Rewards points (worth up to $750 or more!) when you spend $4,000 in 3 months. How to apply for this offer.
Thoughts?
Let me know below in the comments, on Twitter, or in the private MilesTalk Facebook group.
And if this post helped you, please consider sharing it!
You can find credit cards that best match your spending habits and bonus categories at Your Best Credit Cards. 
New to all of this? My "introduction to miles and points" book, MilesTalk: Live Your Wildest Travel Dreams Using Miles and Points is available on Amazon and at major booksellers.