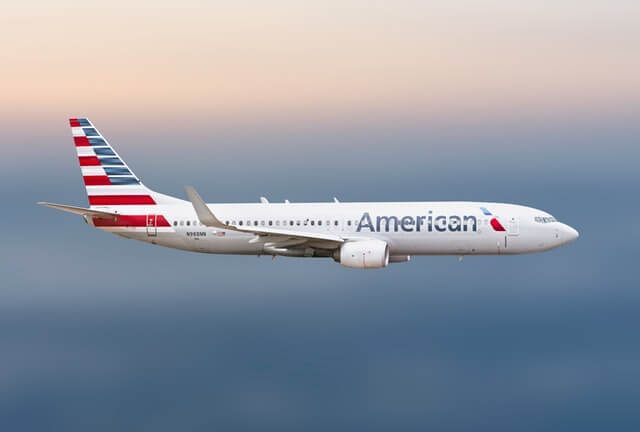 There are a lot of haters out there with regards to AAdvantage miles these days. But is it warranted?
I get it. While AA has a nice international First and Business product, it's hard to redeem AAdvantage miles on American Airlines' own flights and, for this reason, it doesn't even make my Top 5 reasons to have AAdvantage miles. I used to include it for their beautiful transcontinental flights in First and Business but, first, they jacked award prices from 25k to 32.5k and 32.5k to 50k, respectively – and then they killed availability anyway.
But that doesn't mean you can't get fantastic value with AAdvantage miles. At least for as long as AAdvantage keeps their award charts….
(Tip: Check out the current sign up bonuses for American Airlines credit cards.)
Now, onto my five best uses for American Airlines AAdvantage miles:
Use AAdvantage Miles for Etihad First Class
Etihad's First Class Apartments are rather legendary. Closing doors, a bed that is separate from the seat, an option to partially connect two adjoining apartments, and an onboard shower! My review is in progress, but here's a 1-minute video clip of the Etihad First Class Apartment that I made during my flight.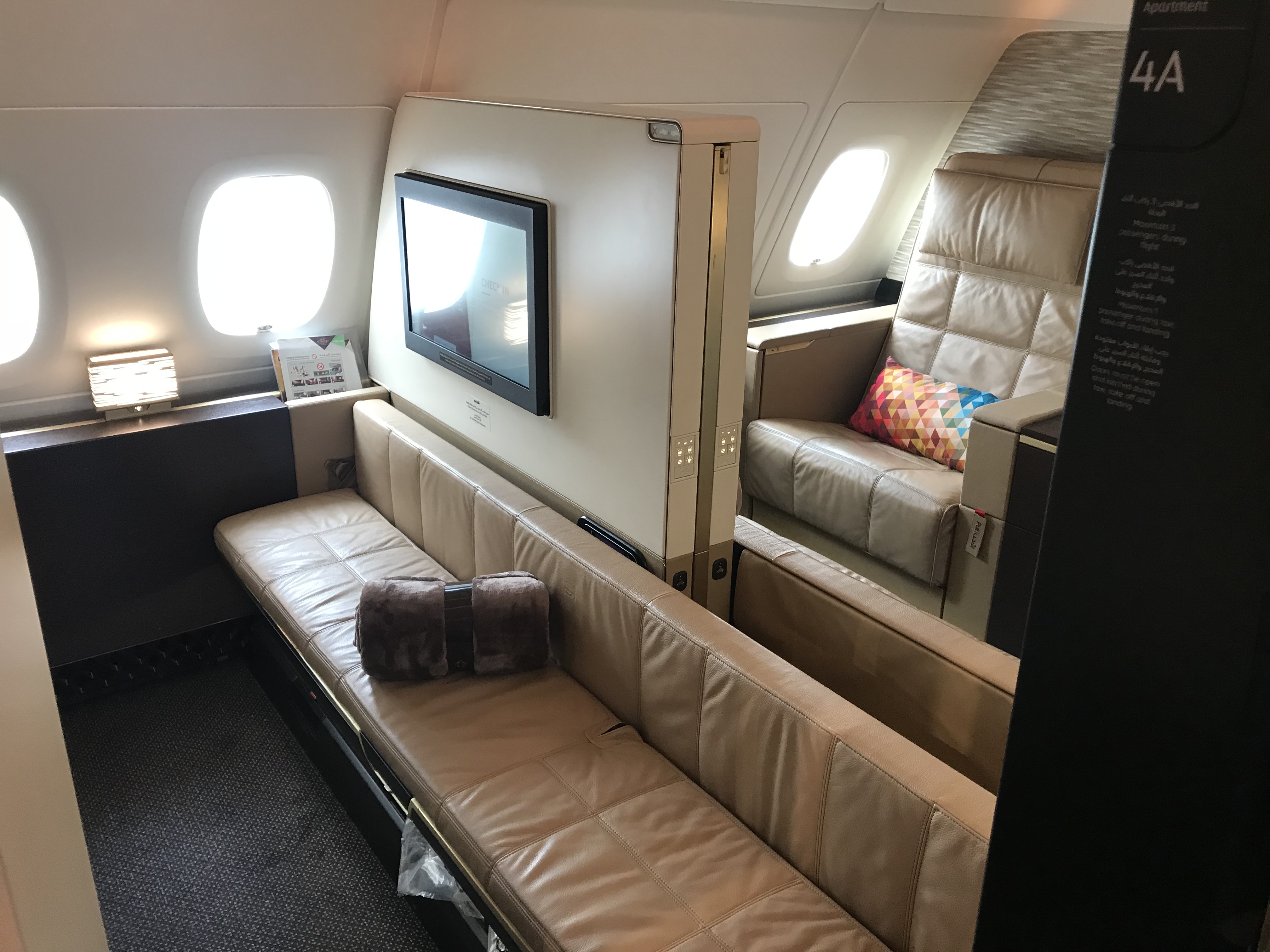 You can book Etihad First Class using American Airlines miles, though in recent months this has required phone calls to AA in the likes of Australia and Fiji to get the flights booked. You cannot generally book Etihad with AA miles online, only by phone. You can check availability using ExpertFlyer or the Etihad website (you are looking for Etihad Guest Seat availability).
You can fly from Etihad's US gateway cities (JFK, IAD, ORD, DFW, LAX, SFO) to Abu Dhabi or onwards connecting in Abu Dhabi (AUH) to the Middle East or Indian subcontinent on one AA award. You can also book awards from AUH to anywhere Etihad flies. If you are flying from the US to or from other zones besides the Middle East / Indian Subcontinent, you will have to book two awards as I did going from SYD-AUD-JFK. Since it wasn't a valid routing to connect, I had to pay full Australia to Middle East award price and then the full Middle East to USA award prices.
The relevant award chart to/from the Middle East below shows your options: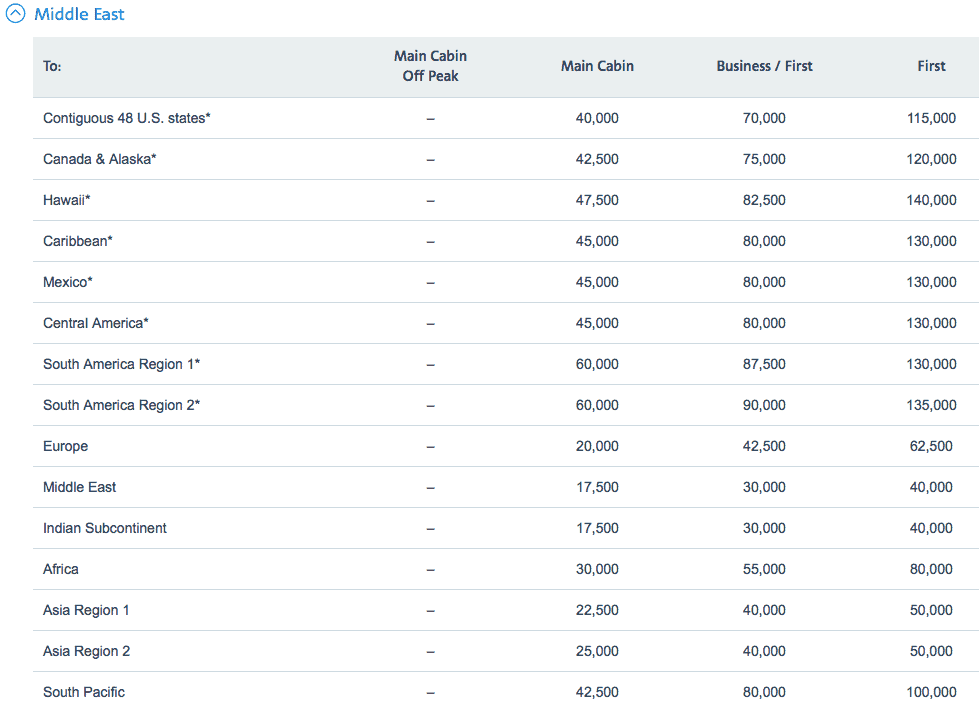 Note that some euqally long distances have wildly different amounts of miles needed. AUH-JFK is much more than AUH-SYD which is just as long.
2) Use AAdvantage Miles for Japan Airlines First Class
I flew Japan Airlines in First Class this last Christmas from JFK to Tokyo and back for a total of 160,000 AAdvantage miles and $46 in cash. That's just 80,000 miles each way for over 12 hours of true First Class!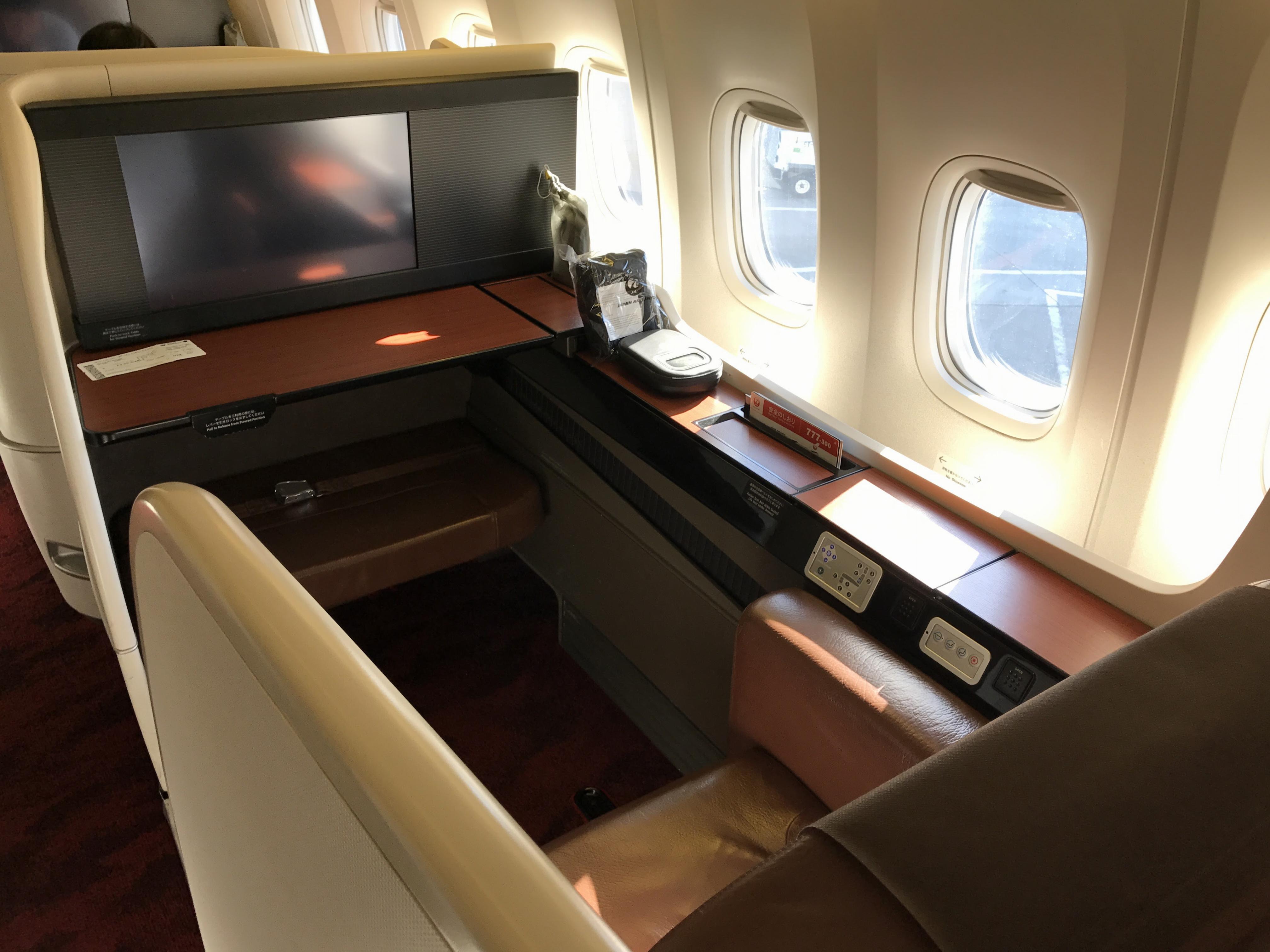 Availability on JAL in First can be a bit hard to come by, but it's far from impossible to get if you are flexible.
You can also fly JAL to other parts of Asia with a connection in Tokyo, though if you go outside of Japan and Korea, you will run into higher pricing for the Asia 2 region (110,000 for First Class). You can now search for JAL award space directly on the AA website.
3) Use AAdvantage Miles for Qantas First Class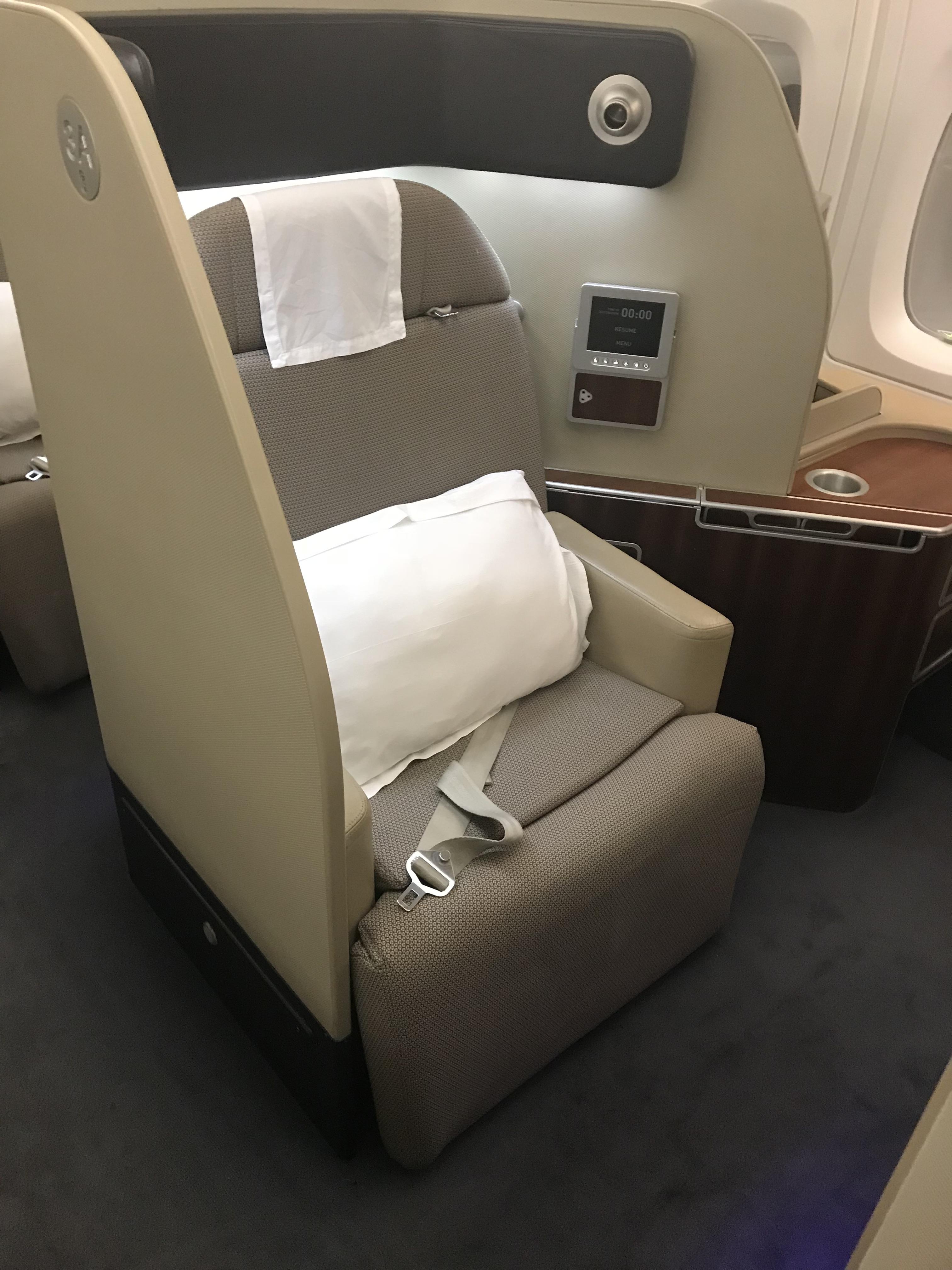 I absolutely LOVED my First Class flight from LA to Sydney on Qantas. Not to mention the free connecting leg on the Qantas route from JFK-LAX that is only bookable with a connecting Qantas flight to Oz.
A First Class flight from the US to Australia (or connecting on to New Zealand for the same price) will cost 110,000 AAdvantage miles each way in First Class. It's a notable premium to the cost to fly to Asia, but perhaps worth it for one of the longest flights you can take if you are flying from JFK.
You can also redeem your AAdvantage miles for short-haul intra-Australia flights starting at 10,000 miles. But a real sweet spot is going clear across the country, 5 hours from Sydney to Perth, in style for just 20,000 miles.
4) Use AAdvantage Miles for Cathay Pacific First Class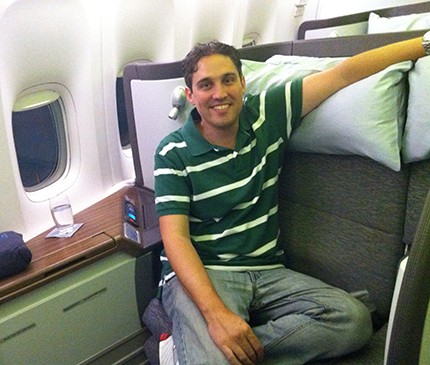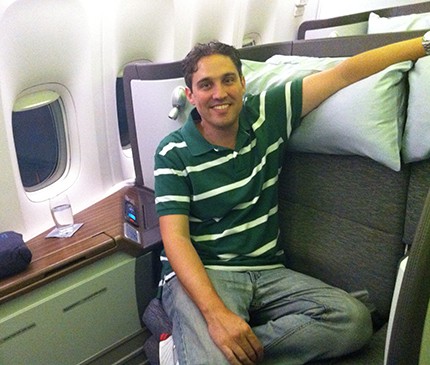 This picture is from about 5 years ago when I last had the good fortune of flying New York to Hong Kong in Cathay's fine 1st Class suites. Hopefully, there will be another one son.
It's gone up in price since I flew it, now with a cost of 110,000 miles for a one-way flight from the US to Hong Kong. But you can also connect to anywhere in Asia.
These suites are fantastic and roomy enough for your companion to join you at your seat for dinner and sports top notch service, food, and lie-flat beds.
Bonus: You can route via HKG from the US to India. That will run you 115,000 miles each way, but it's nice they allow that third region.
5) Use AAdvantage Miles for Qatar Business Class Q-Suites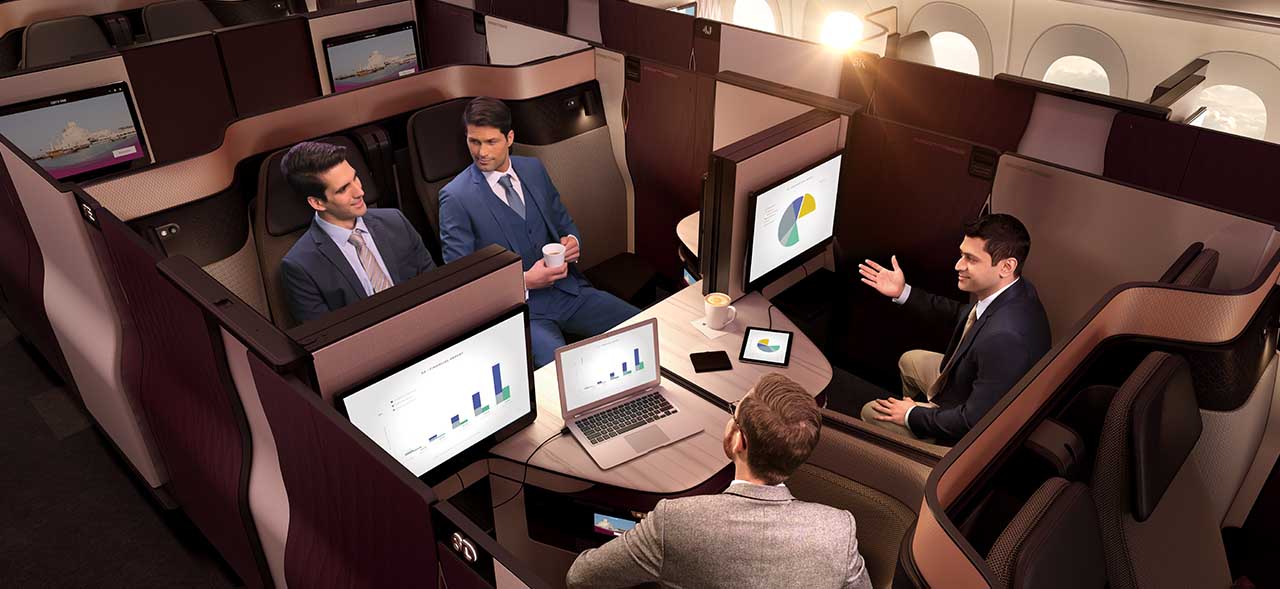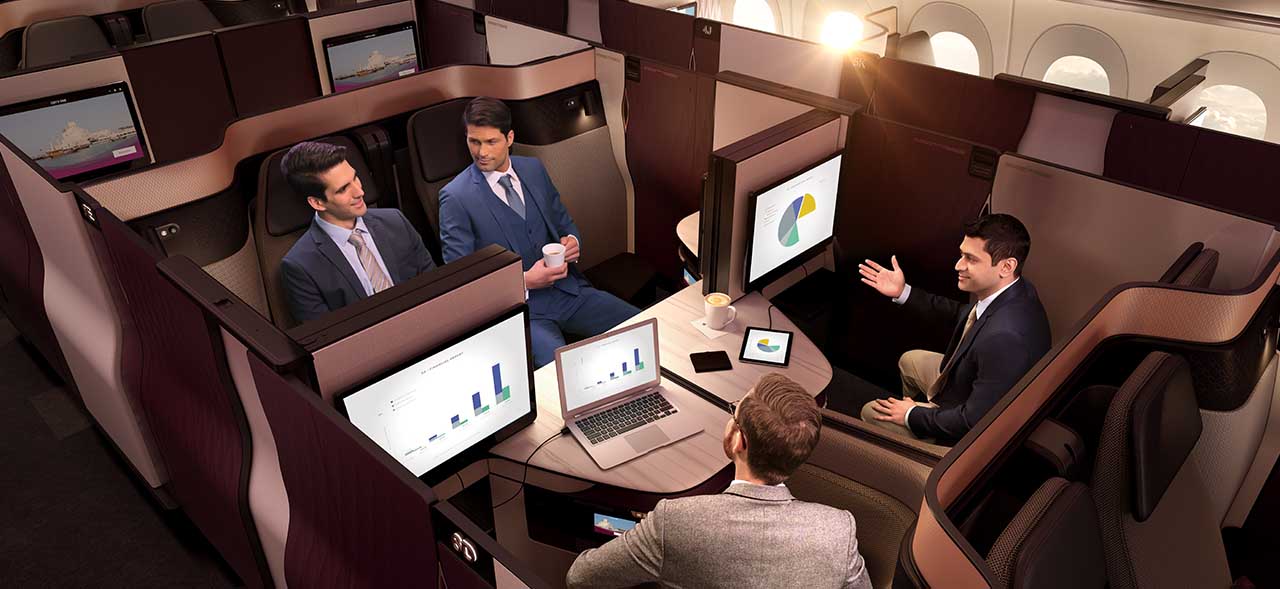 Here's my review of the QSuites on an A350-1000.
You can fly the QSuites from JFK to Doha and onward from there to anywhere in the Middle East (Bahrain, Egypt, Iran, Iraq, Israel, Jordan, Kuwait, Lebanon, Oman, Qatar, Saudi Arabia, United Arab Emirates) for just 70,000 miles – a steal since the QSuites are a Business Class product that is much like a First Class product (though certainly not as exclusive).
But in my opinion, the best use of these 75,000 miles (150,000 round trip) would be flying from the US to Africa. "What what?!?!" you ask… noting that AA forbids routing via third regions.
True! But this is one of those random exceptions you just kind of have to know about. Africa from the US in Business Class will cost you 75,000 miles, so you are getting Doha-Africa in Business Class for just 5,000 more miles than Doha alone!
Changes with American Airlines AAdvantage Program
One more thing. American is fantastic about letting you optimize your routing without a charge. You can make free changes to your award as long as the origin and destination remain the same. Date changes? No fee. Routing change? No fee. The only exception is if you are using a non-Oneworld partner and the ticket needs to be reissued. But even changing from JAL to Cathay Pacific, for example, would be fee free as long as your starting and ending points don't change.
Also see: Earn more miles with American Airlines AAdvantage credit cards.
Thoughts?
Let me know below in the comments, on Twitter, or in the private MilesTalk Facebook group. And don't forget to follow me on Instagram for all sorts of tips on miles, points, credit cards, and travel.
If this post helped you, please consider sharing it!
You can find credit cards that best match your spending habits and bonus categories at Your Best Credit Cards. 
New to all of this? My "introduction to miles and points" book, MilesTalk: Live Your Wildest Travel Dreams Using Miles and Points is available on Amazon and at major booksellers.