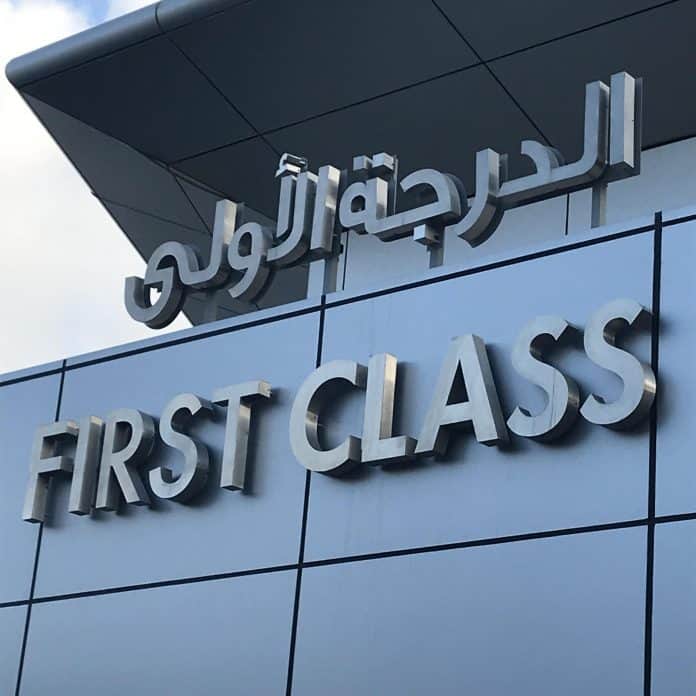 If you read my review of Etihad's A380 Business Class Studio, you know that I was not super impressed with it, but I was also just biding my time to step aboard the fabled First Class Apartments on my next flight.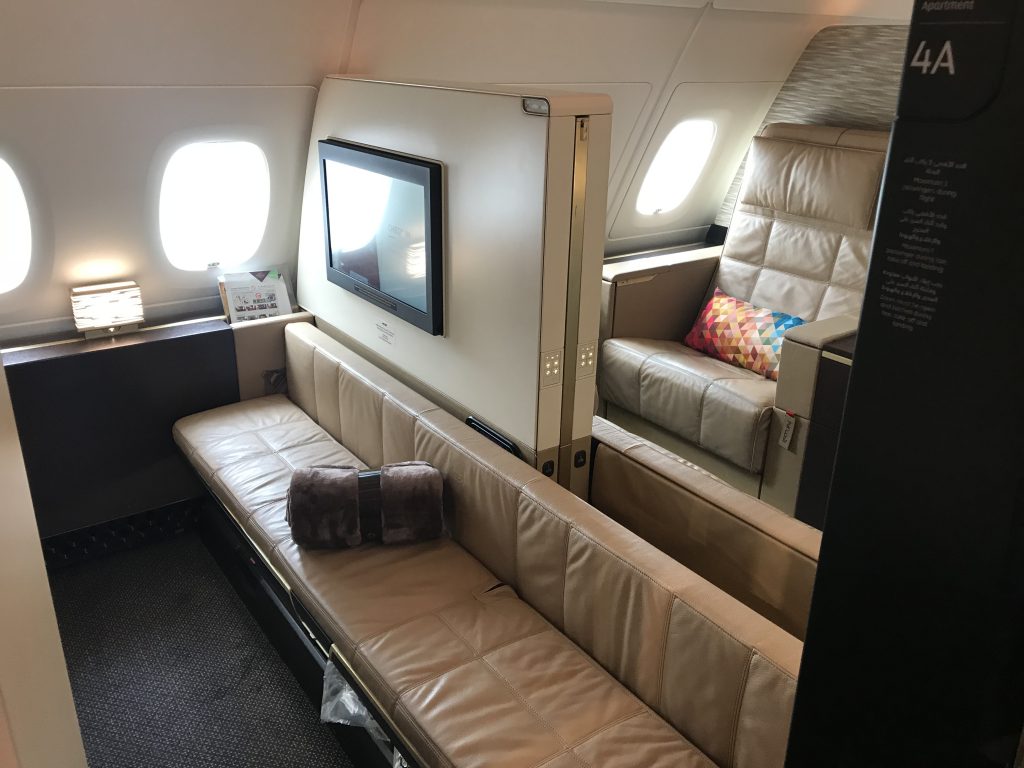 This was that next flight.
Etihad First Class Apartments – Cost in Miles
With a one-way sticker price from Abu Dhabi to JFK of about $8,800, the Etihad First Class Apartment, this isn't a flight most people can afford to pay for. Luckily, there are miles!
For a much more affordable 115,000 American Airlines AAdvantage miles (or about 7 cents a mile in redemption value) per passenger, I was able to book us two adjoining Apartments.  This was the second leg of a journey starting in Sydney. Since you can't connect in Abu Dhabi using American miles on one award, I had to buy two awards for the SYD-AUH-JFK journey. The SYD-AUH leg was in Business Class for 80,000 miles each.
Was it worth spending a total of 390,000 American Airlines AAdvantage miles on a one-way journey from Sydney to New York for two people?  For me, absolutely. This is one of the longest journeys one can take. And while a connection in Abu Dhabi is the long way around, we also got to spend a day exploring a new-to-us country and experience one of the most luxurious experiences in the sky paying only the taxes and fees of around $180 a ticket (for the complete SYD-AUH-JFK journey).  Not only that, but we flew straight into the Bomb Cyclone of January 2018, which meant our flight was one of the dozens of JFK-bound international flights diverted to Washington Dulles. Our 14.5 hour flight became a 16.5 hour flight to Dulles and another flight in the Apartment the next day to JFK, with another 5 hours onboard.
We got over 21 hours of time in that Apartment, albeit not in the way we'd expected. And while we wanted to be done with the flight ordeal during that storm as much as anyone, we were certainly the only ones lounging on our personal couches through the various delays.  I was a bit nervous heading to the airport in Abu Dhabi with the incoming storm, but figured that the worst case scenario was more time in that Apartment and boy was I right!  Seriously, though, I can only imagine being stuck in a middle seat in coach for all those hours. We really did luck out.
Etihad First Class Apartments – Booking Process
Booking these flights took some effort. American Airlines' US-based call center has been having issues seeing some Etihad flights, particularly those flying to the US. To book, you need to find the flights on the Etihad website (guest seat availability is what needs to be available) or ExpertFlyer and then call to the AA call center in Australia using Skype. For whatever reason, they can see it. I was rerouted to the Fiji call center but they also had no problem seeing and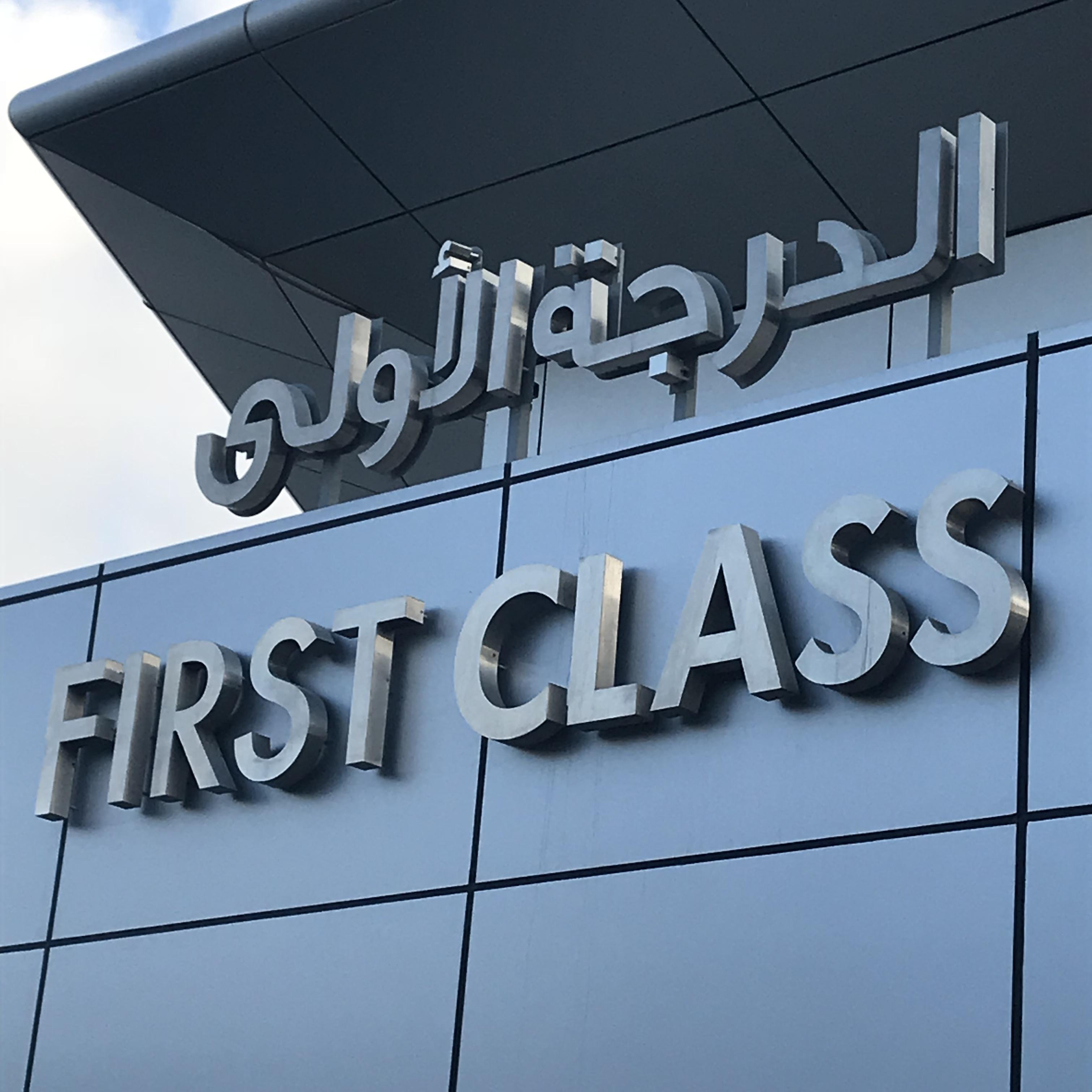 booking it for me.  At the time I found availability (for peak New Years season no less), they had just released a slew of awards all at once into the system. Once the ones released dried up, I didn't see any more released for that entire week at any time. For the very latest in how to book these awards, there is a thread on Flyertalk that addresses, specifically, booking Etihad (EY) flights with AA miles.
You may have read about the car service that Etihad provides to First Class passengers, but that no longer applies to award bookings made with any currency other than Etihad's own miles. So we arrived at the airport in Abu Dhabi via taxi.
Etihad First Class Apartments – First Class Check-In at Abu Dhabi Airport
Etihad has a private check-in area just for First Class passengers. Since AUH is their hub, there were more than a few First Class passengers checking in for various flights. It's a nice and stress-free way to check-in.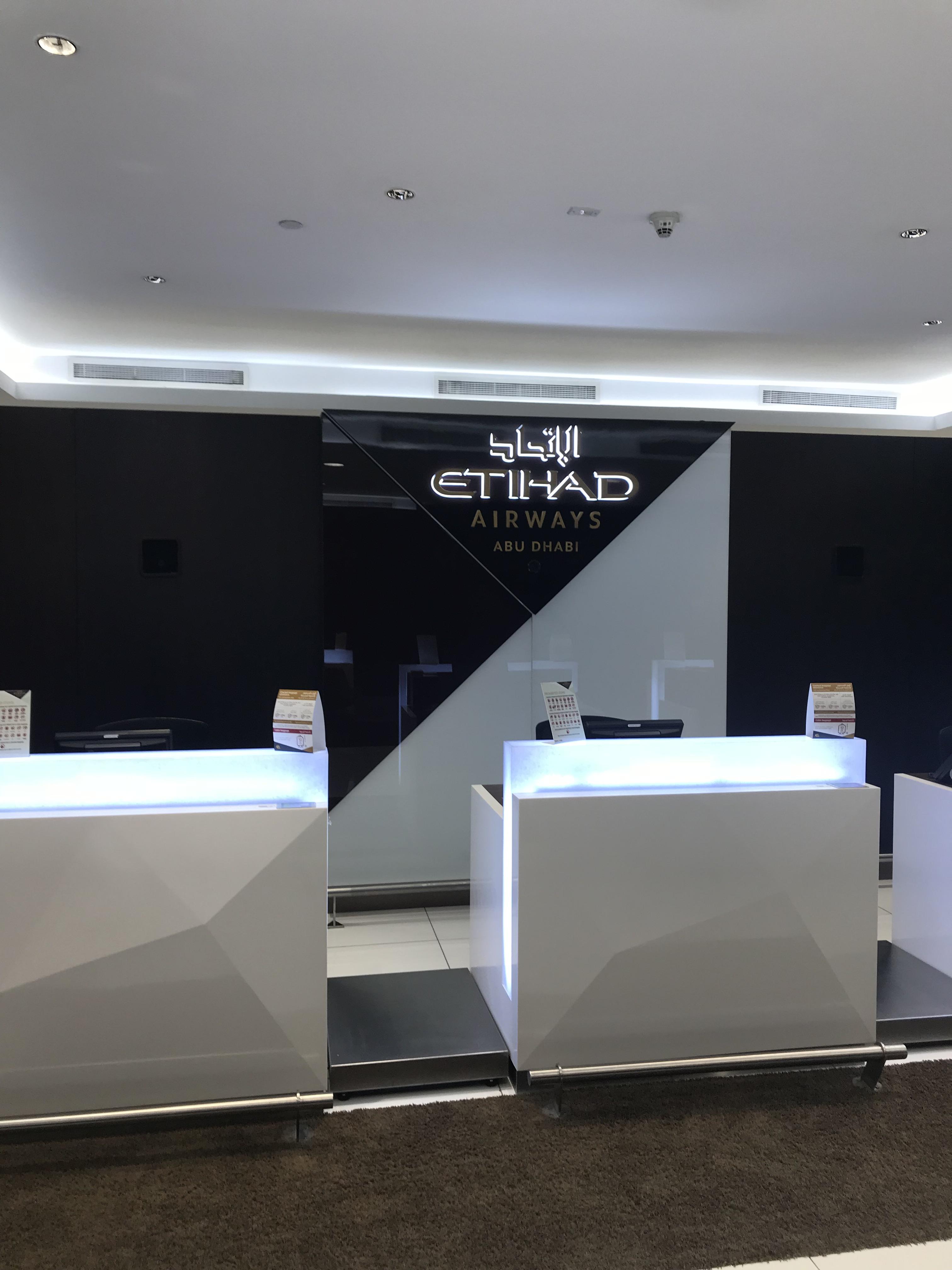 First Class Lounge – Abu Dhabi – AUH
Off to the lounge, where one is entitled to a spa treatment, such as a massage, or a Style or Shave appointment, offering shaves, haircuts and beard times. I chose the shave which was superb. Unfortunately, it's recently been reported that Etihad has just closed the Style and Shave offering in a cost-cutting measure.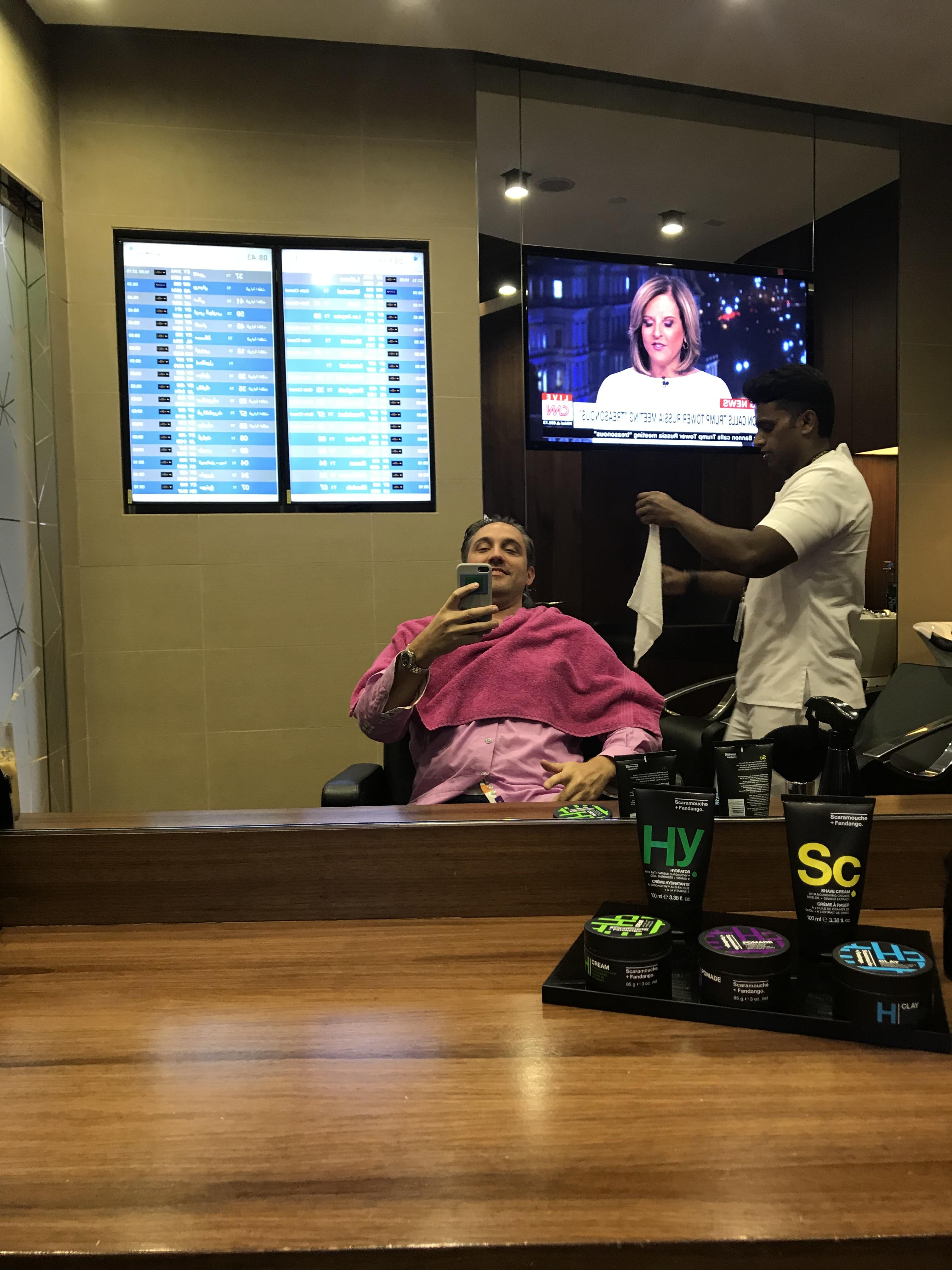 And it does seem that Etihad is making some pennywise and pound foolish decisions lately. They've also cut chauffeur service for First Class passengers outside of AUH and went from unlimited onboard Wifi to metered, but more on that later.
Here are some snaps of the First/Business Class lounge in AUH.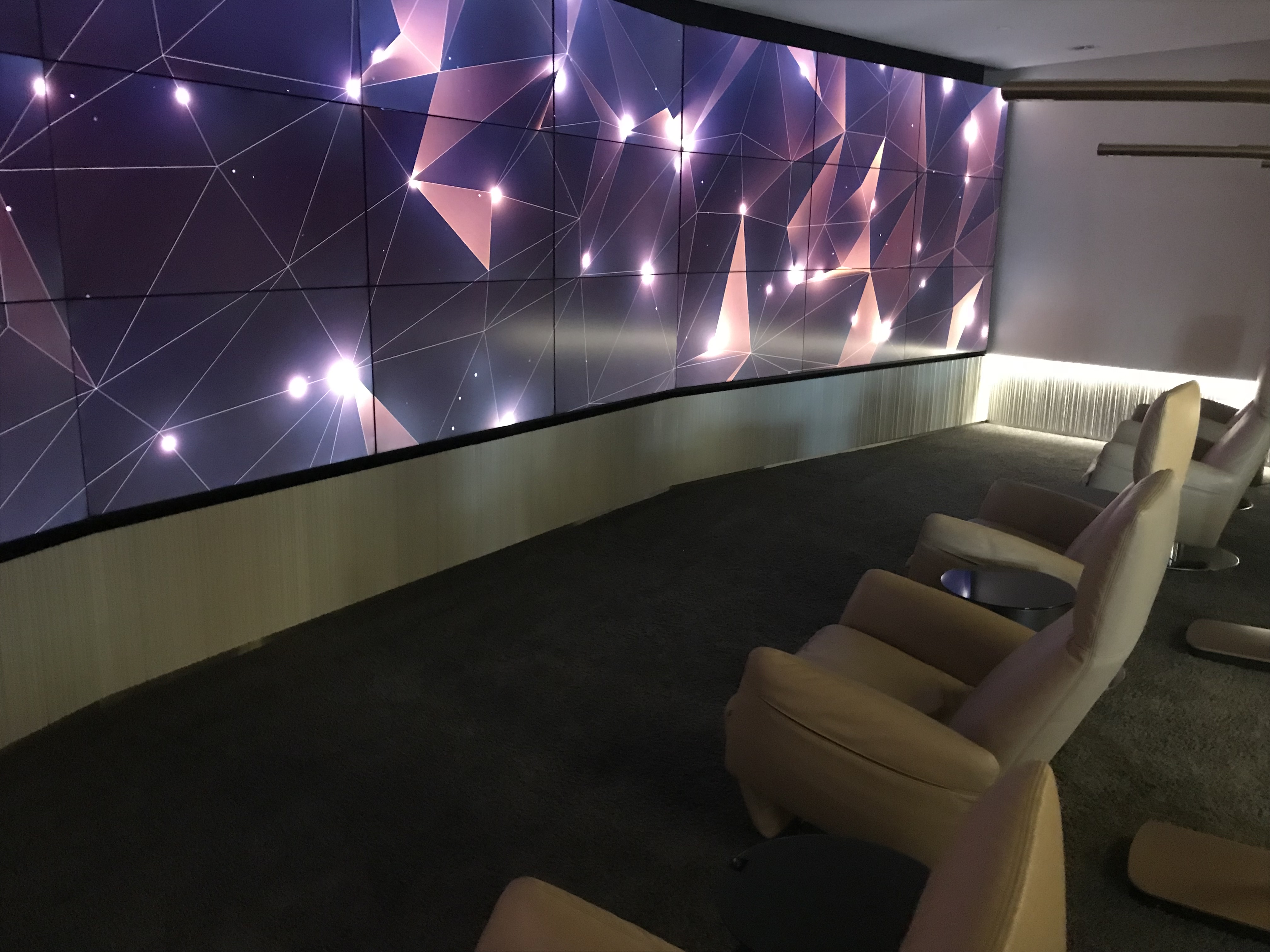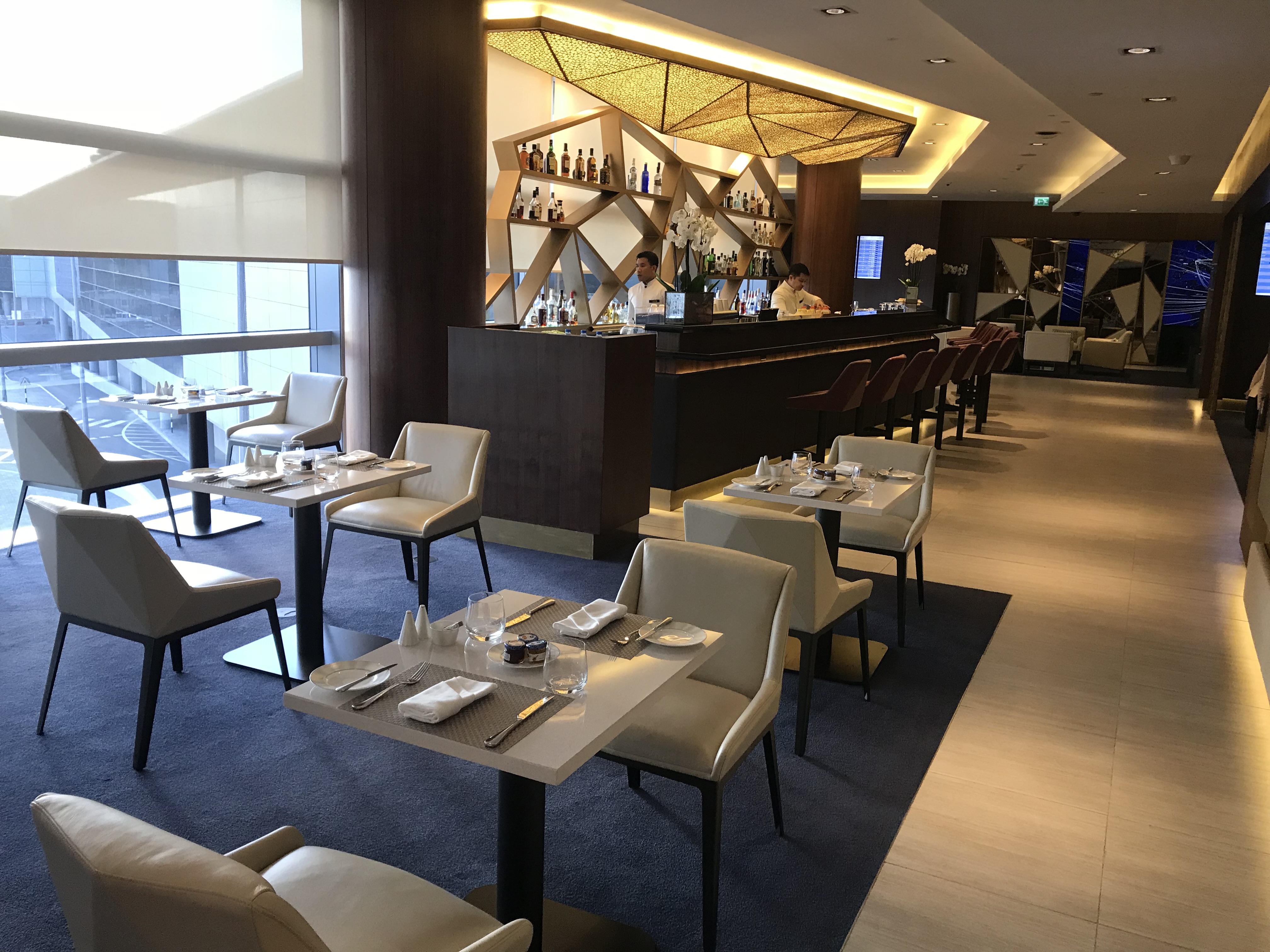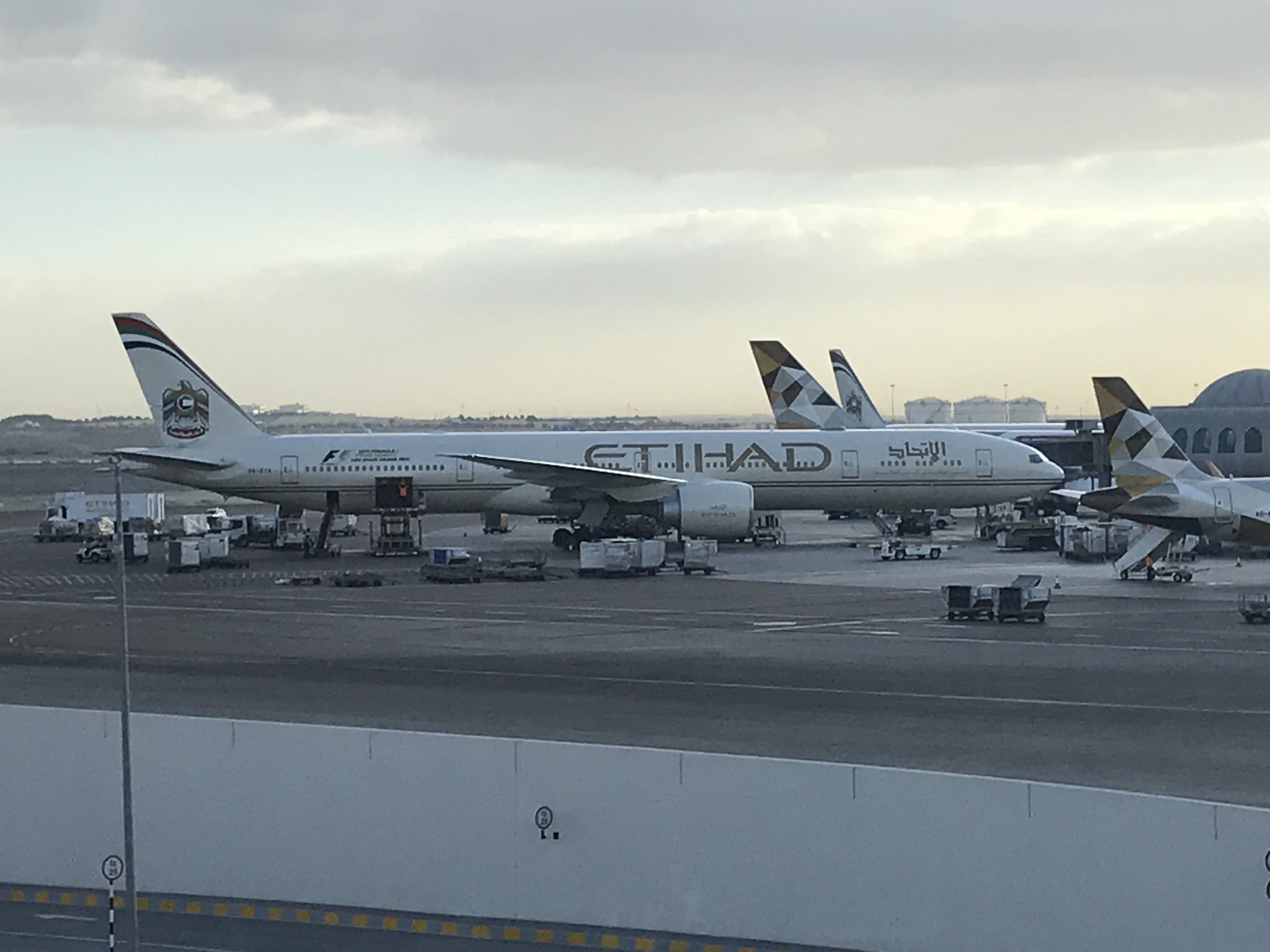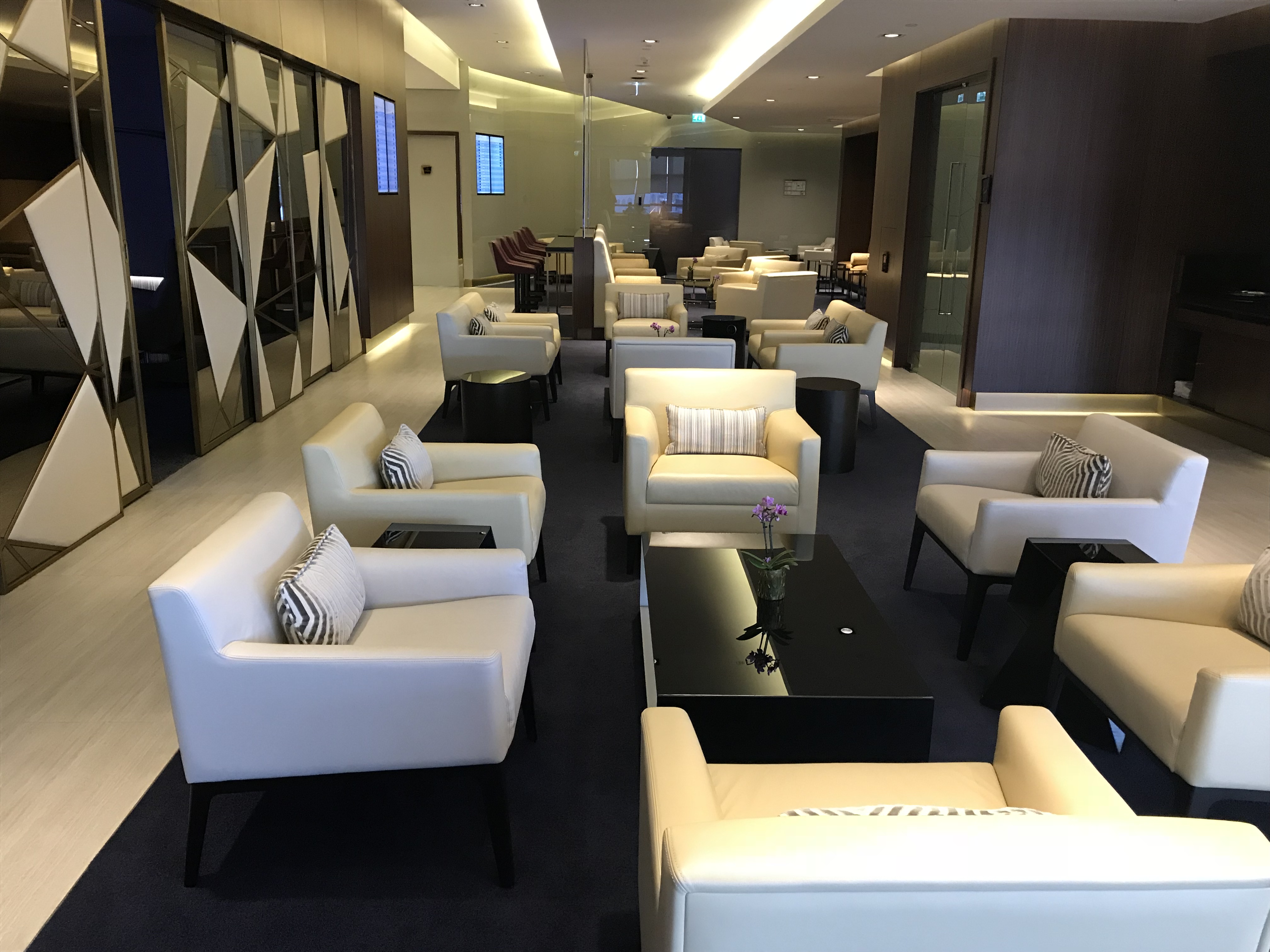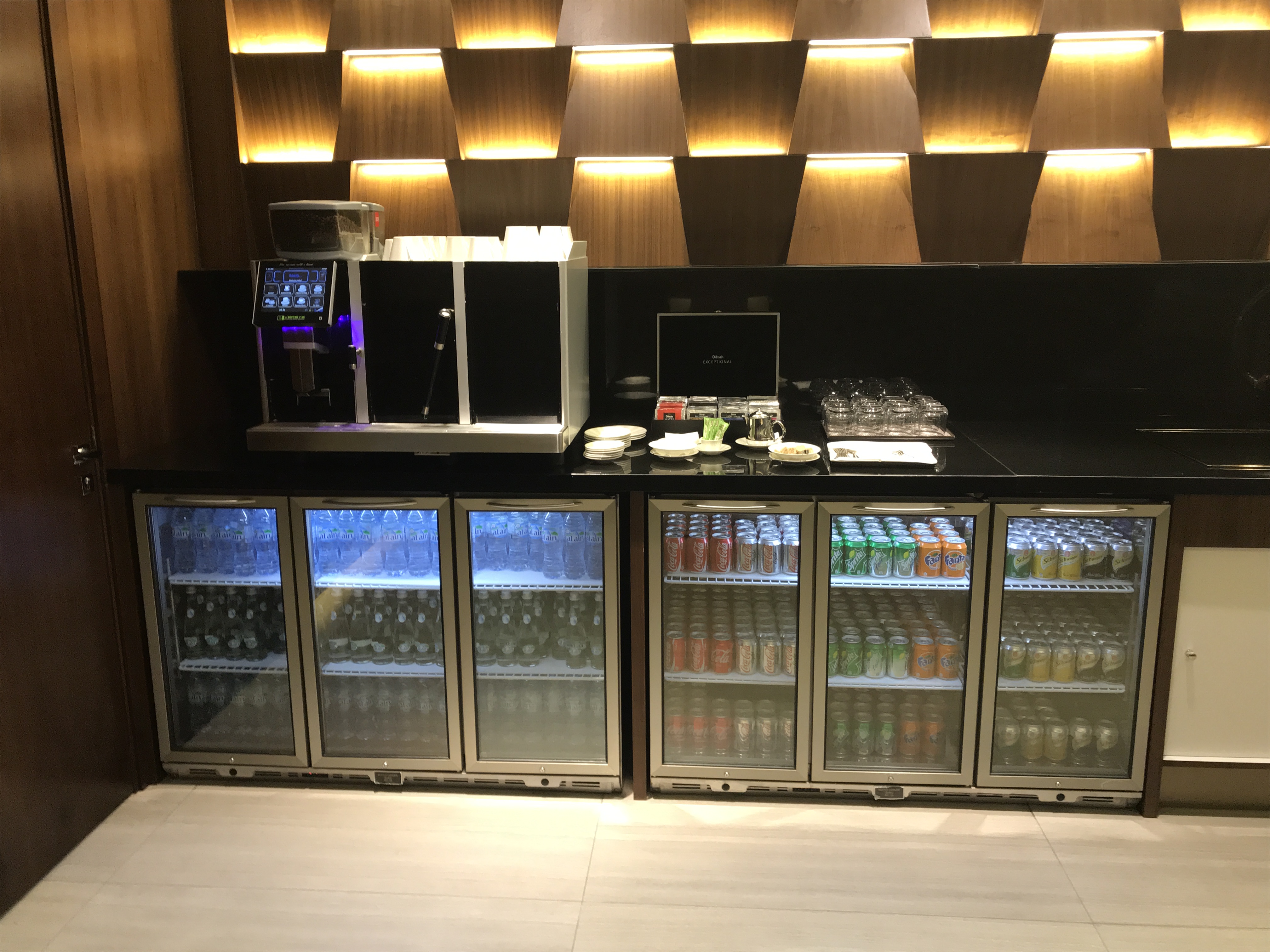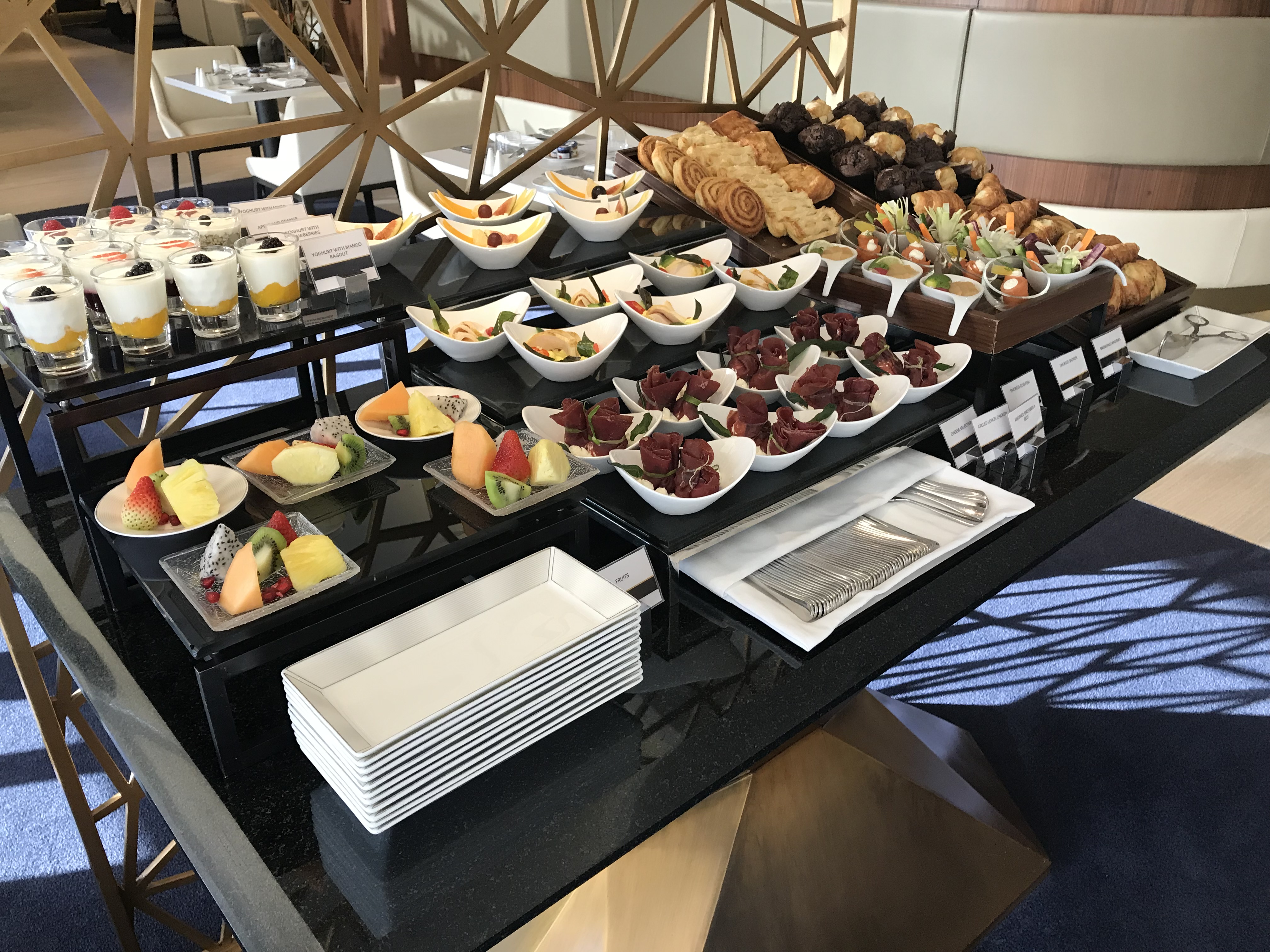 The rest of the lounge, which is for both First and Business Class passengers, was gorgeous. I wish we had more time there, but with a morning flight, I was happy to make it in time for a shave! If I'd had the time, I would have sampled the massages as well….
The food that was out was tasty and the bartender pulled a perfect iced Americano.
After "not enough time" in the lounge, we set off to the gate towards the waiting plane.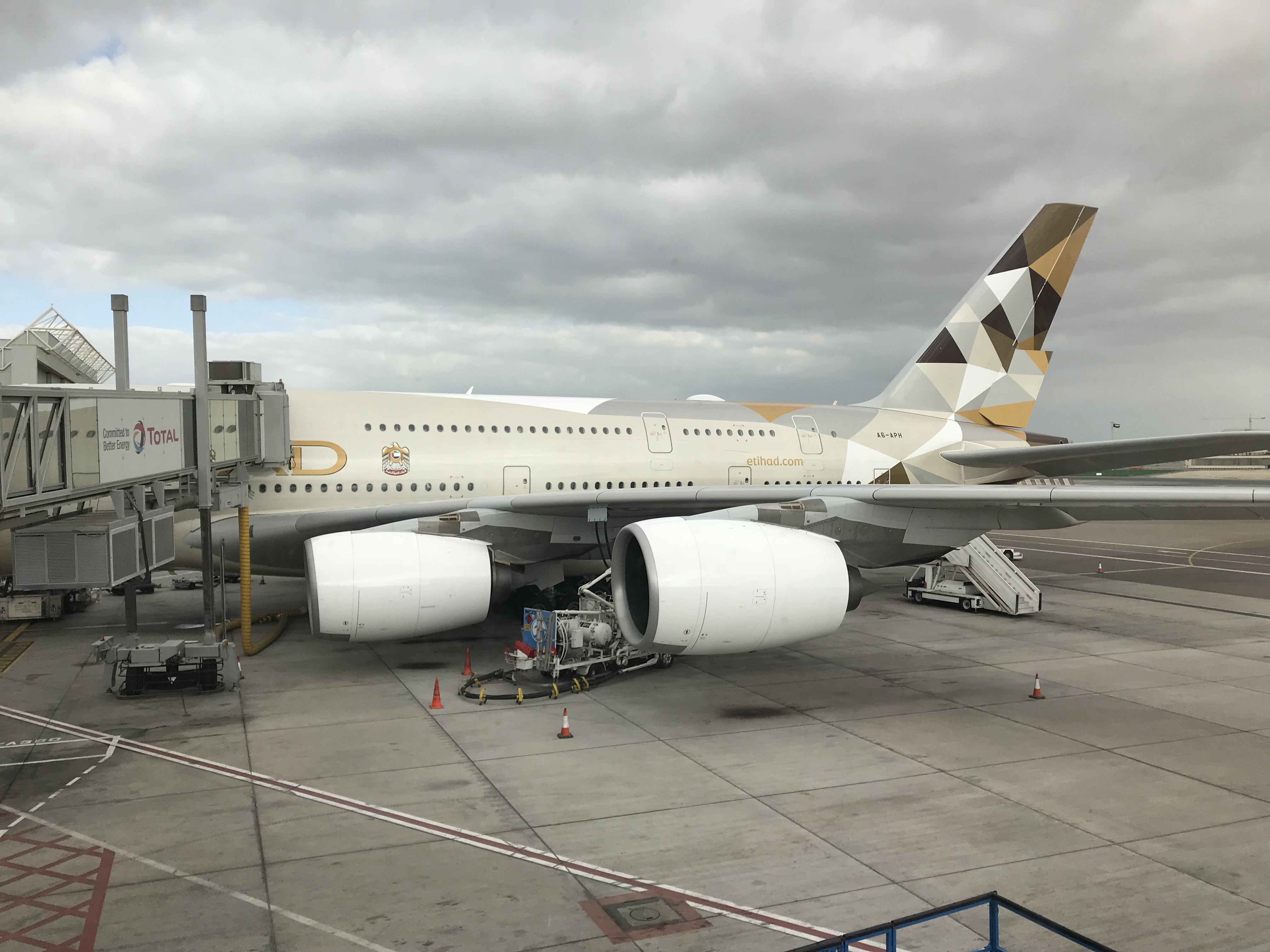 Two levels of beauty.
Getting Onboard the Etihad First Class Apartments
Once on board, I took about a million pictures and filmed some video, because, Etihad FIRST CLASS APARTMENT!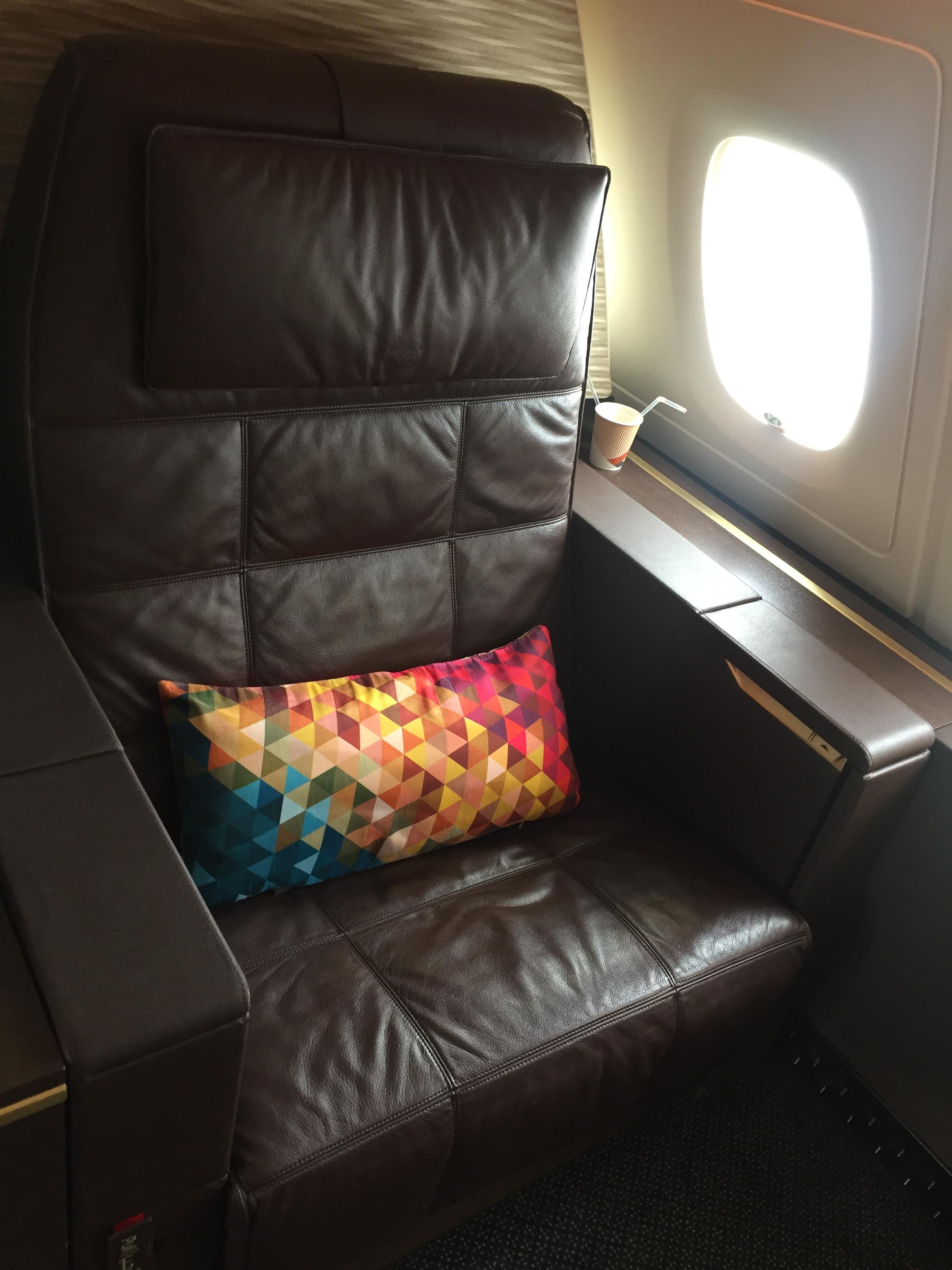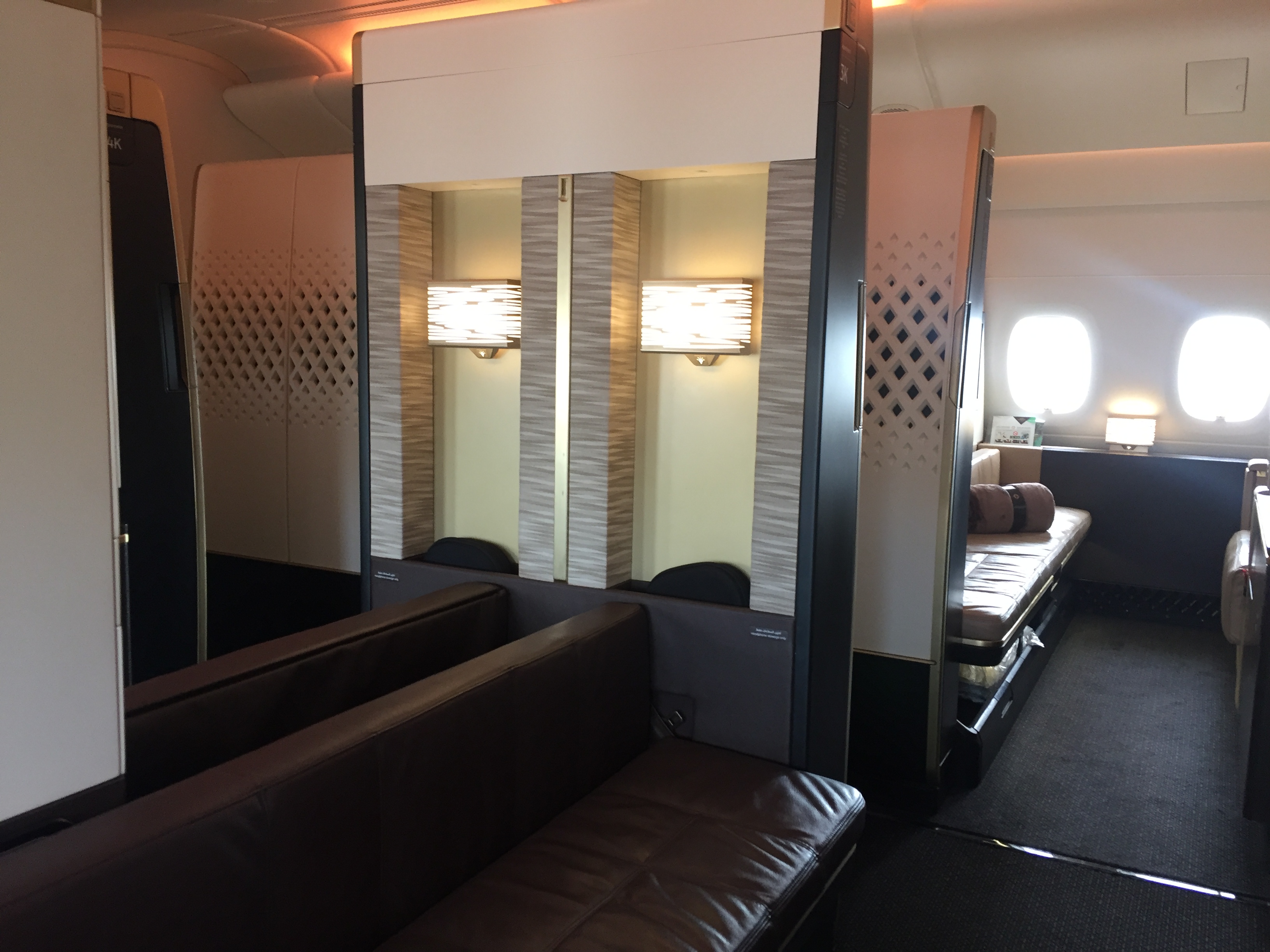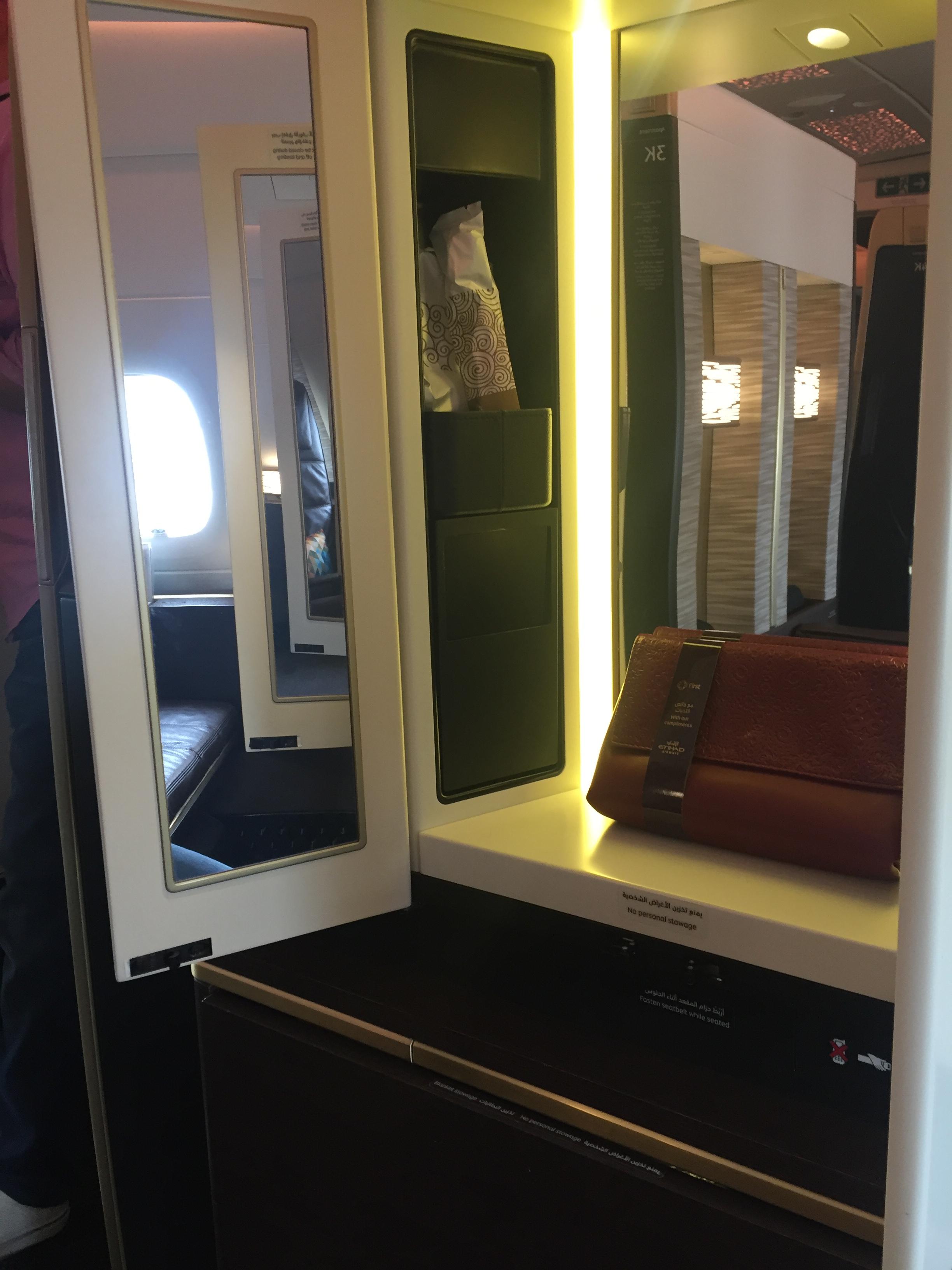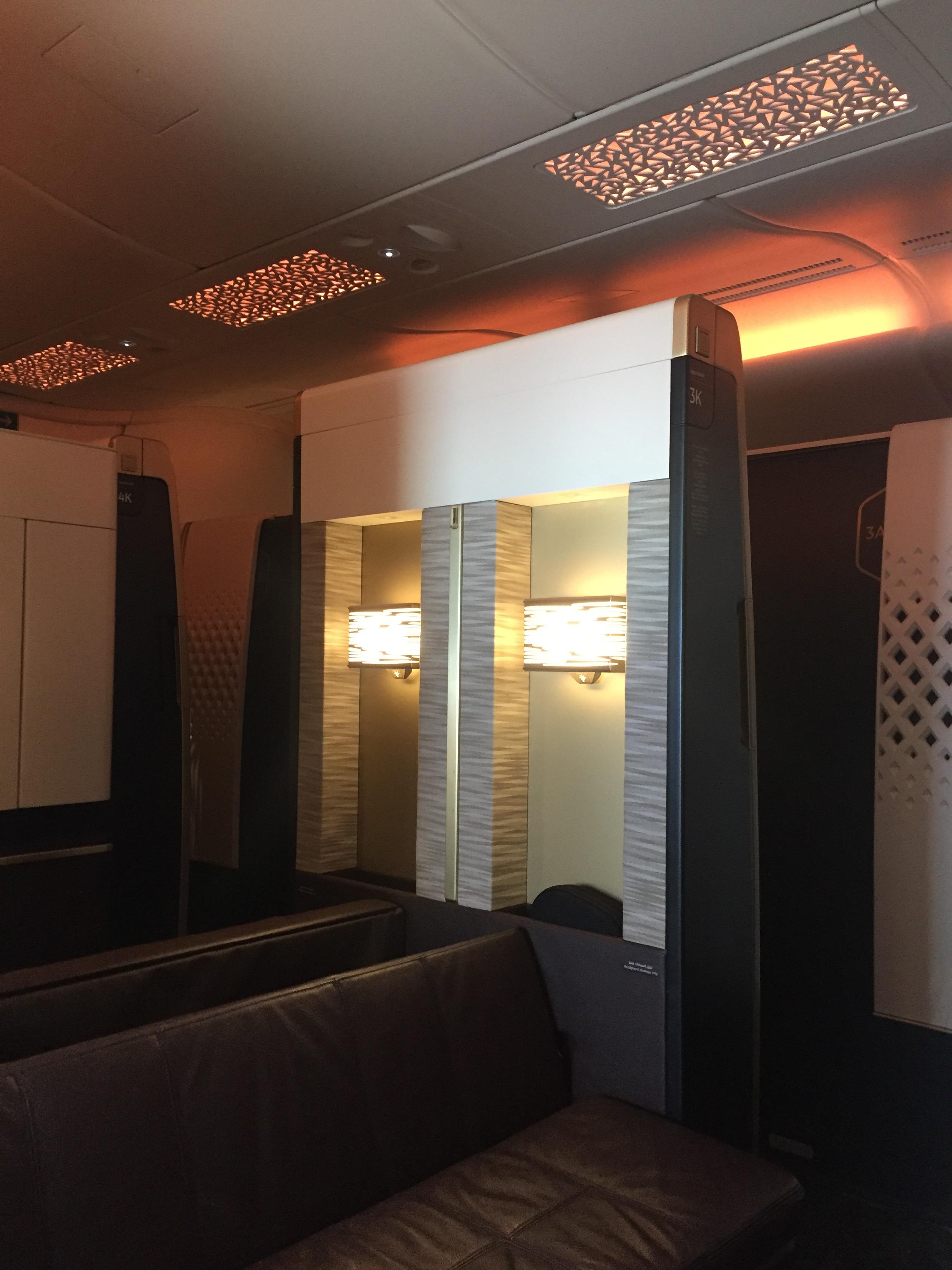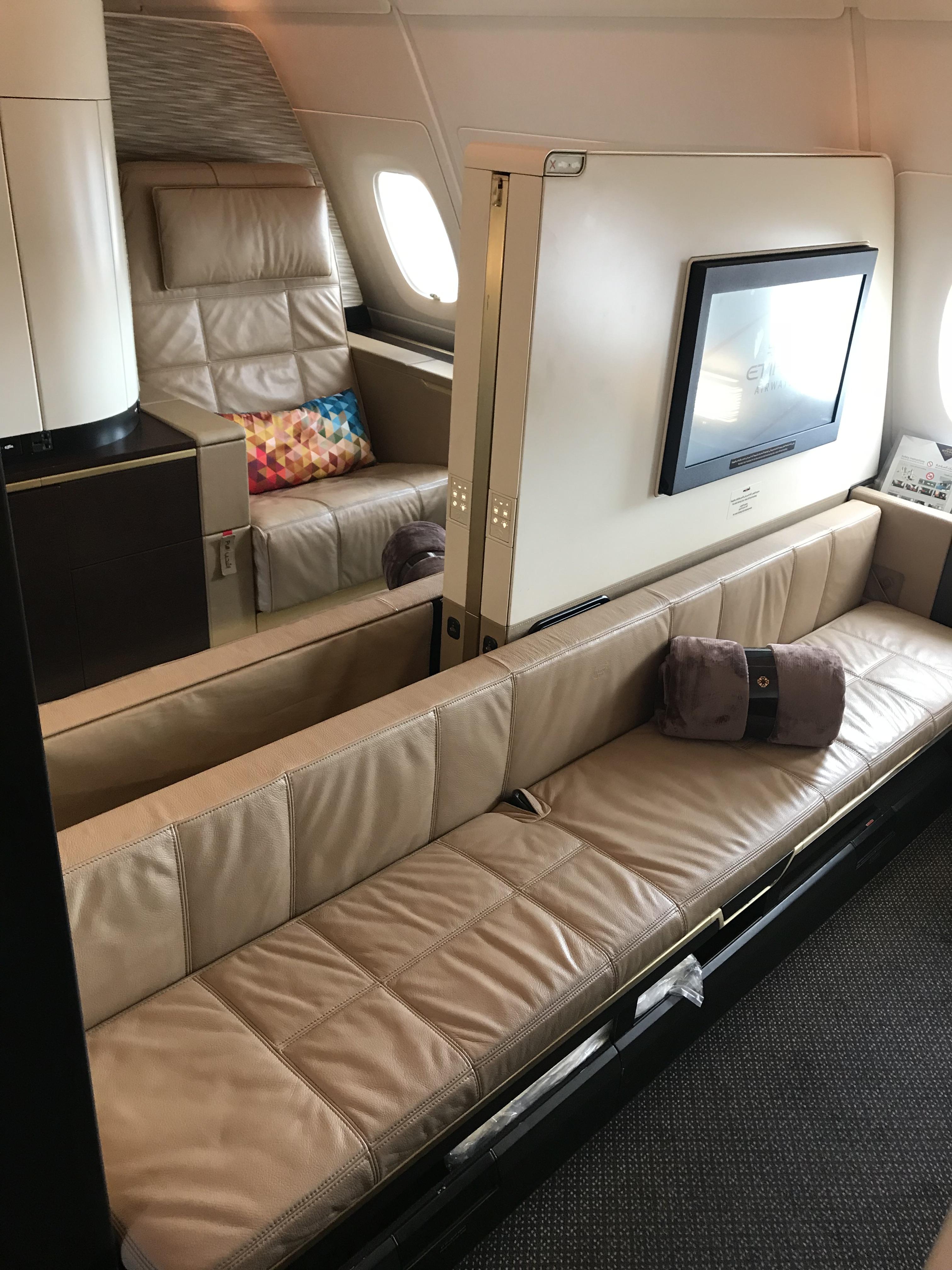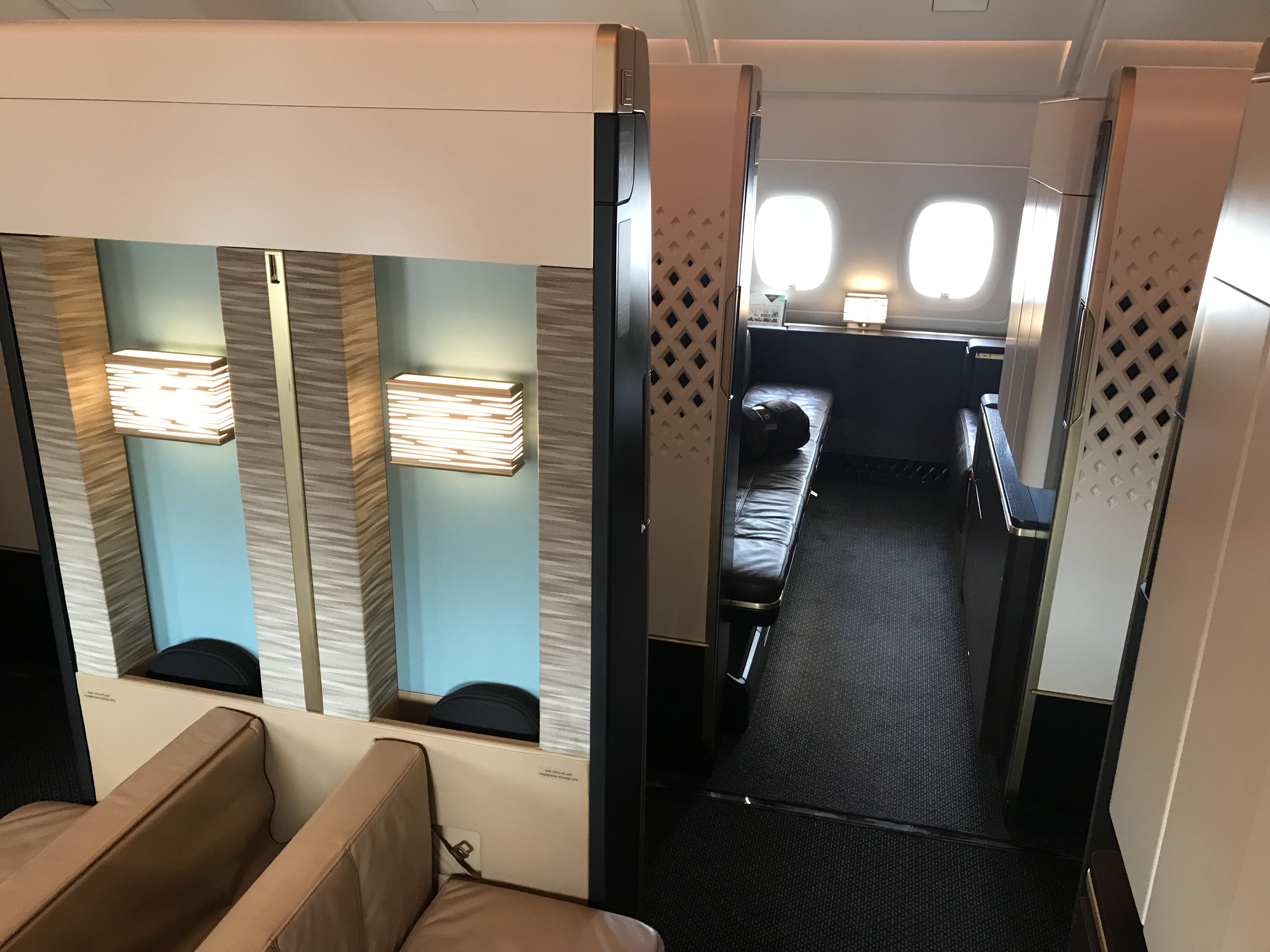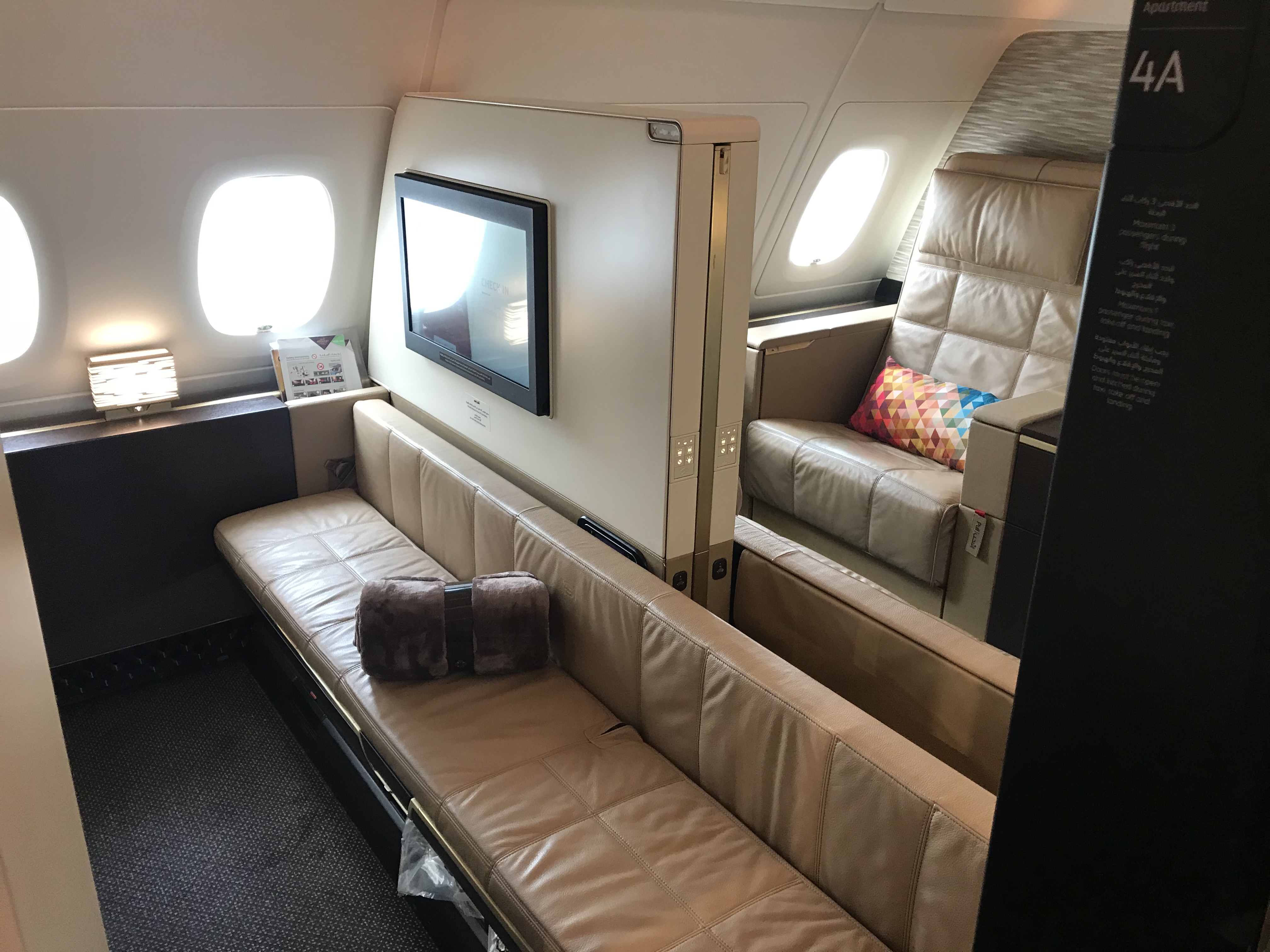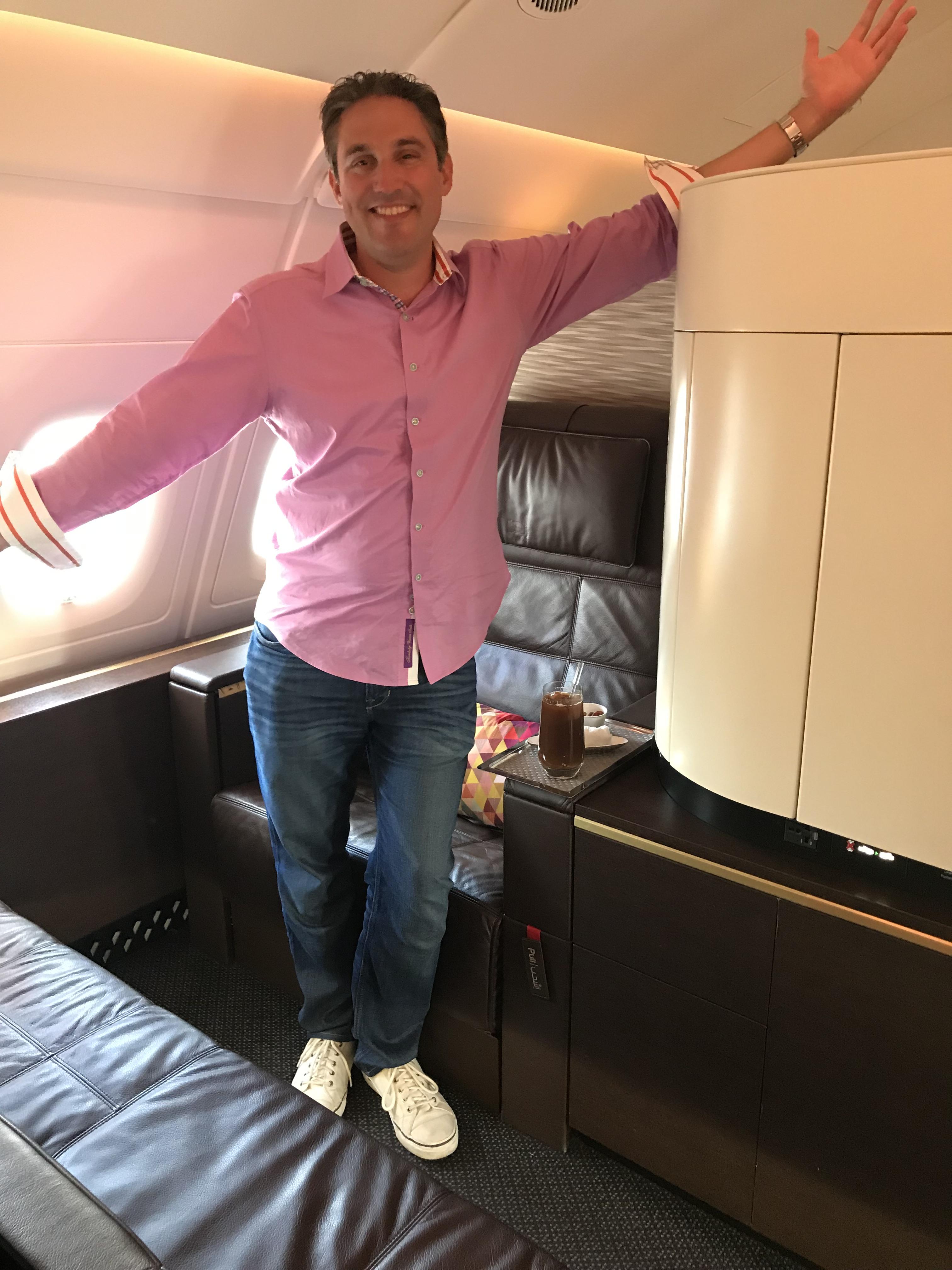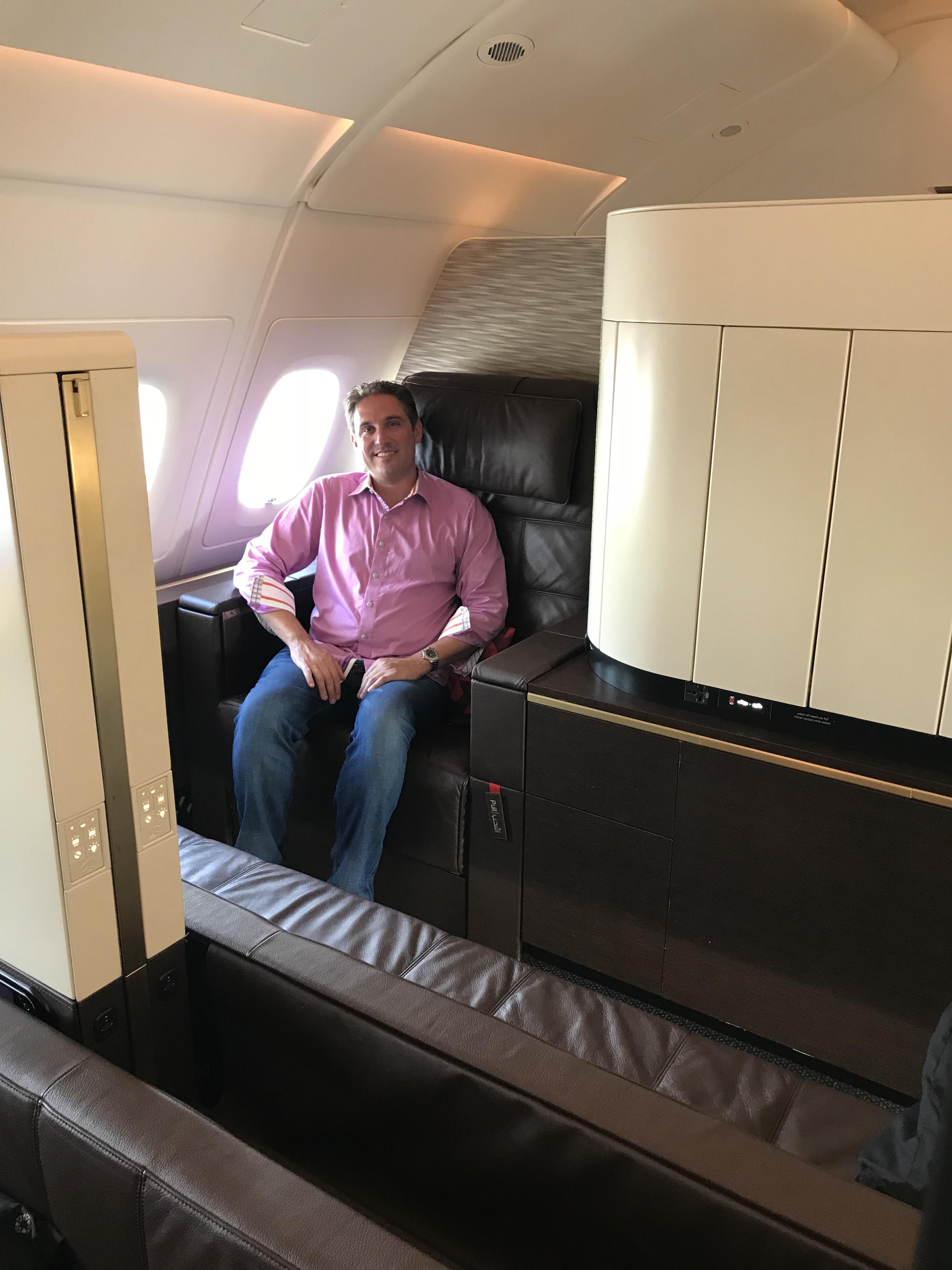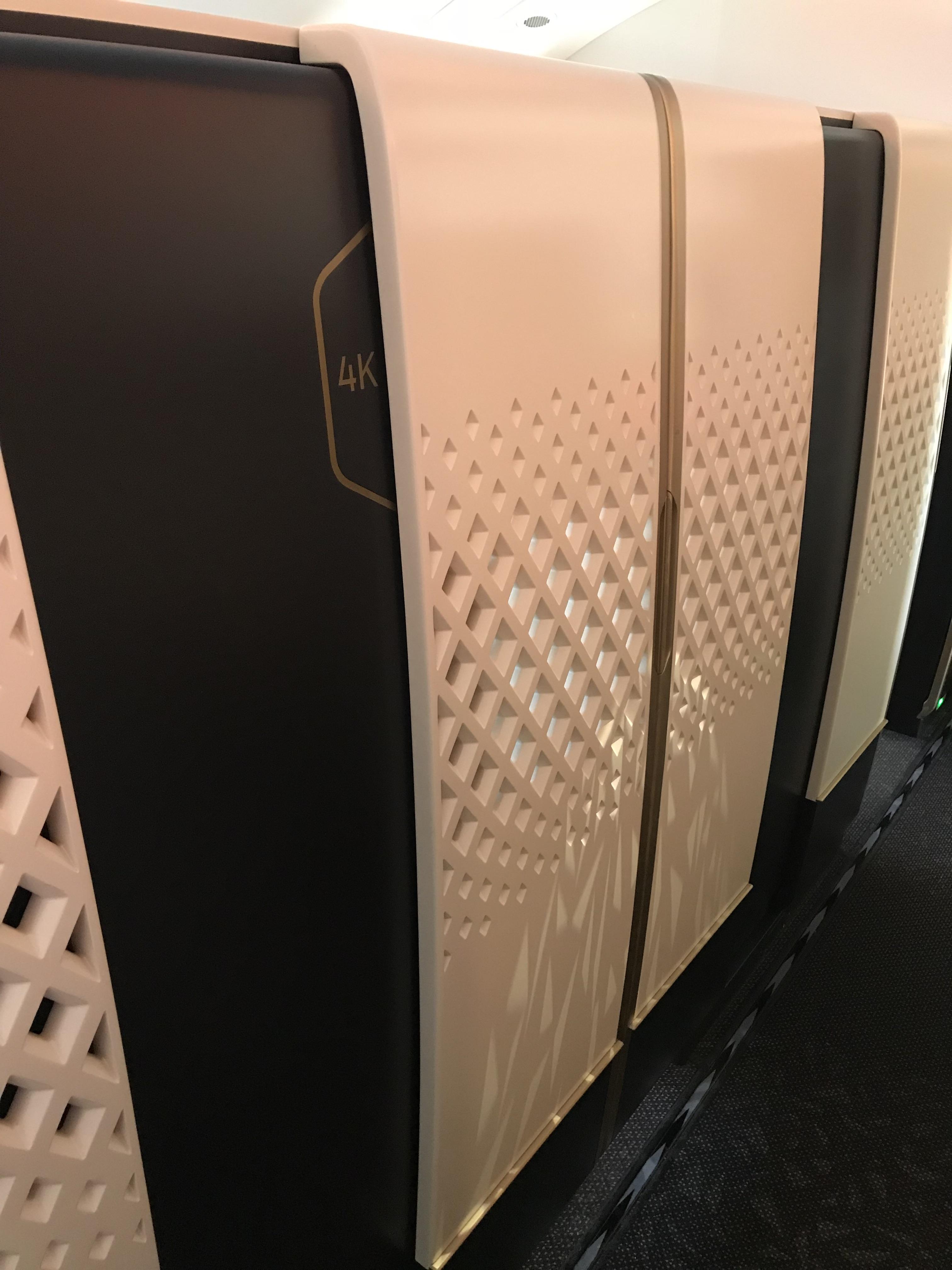 Now it's a bit tough to write about the experience all linearly like a "typical" flight review. When you are on board for over 14 hours, there is a ton of snacking and napping rather than a set "board, eat, sleep" or "board, eat, watch a few movies, eat again" schedule that you are likely to have on a 6-10 hour flight.
The experience comes down to a few key areas: The space (your apartment + the onboard lounge, lavs, and shower – including the IFE and Wifi), the food, and the service.
Etihad First Class Apartments – The Space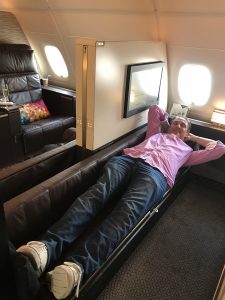 Having two adjoining Apartments definitely made an already spacious seat in the sky even more spacious.  When you are seated in the regular seat, you will not be able to see your companion, as that is where the large TV is located. But there is a divider, so only about 1/3 of the seats are truly adjoined. Still, at bedtime, you will definitely be able to sleep side-by-side, which I don't have to tell you is incredibly special for a flight! If you are traveling as a couple, you want connecting seats in rows 3 or 4 so that they are connected.
Everything about the Apartment screams "I really have all of this space to myself??!!"  The seat itself was very comfortable. The bench, though it looks like a couch you could really relax on, is a bit narrow and hard. Realistically that is meant to be folded out and made up with the bed, but during our hours of delays, I did stretch out on that bench some, just to stretch my back…
The TV was more than big enough and there was a good selection of IFE. But much like my flight from SYD to AUH, I was pretty addicted to watching old seasons of Blacklist, so I didn't explore the IFE as much as I would have liked.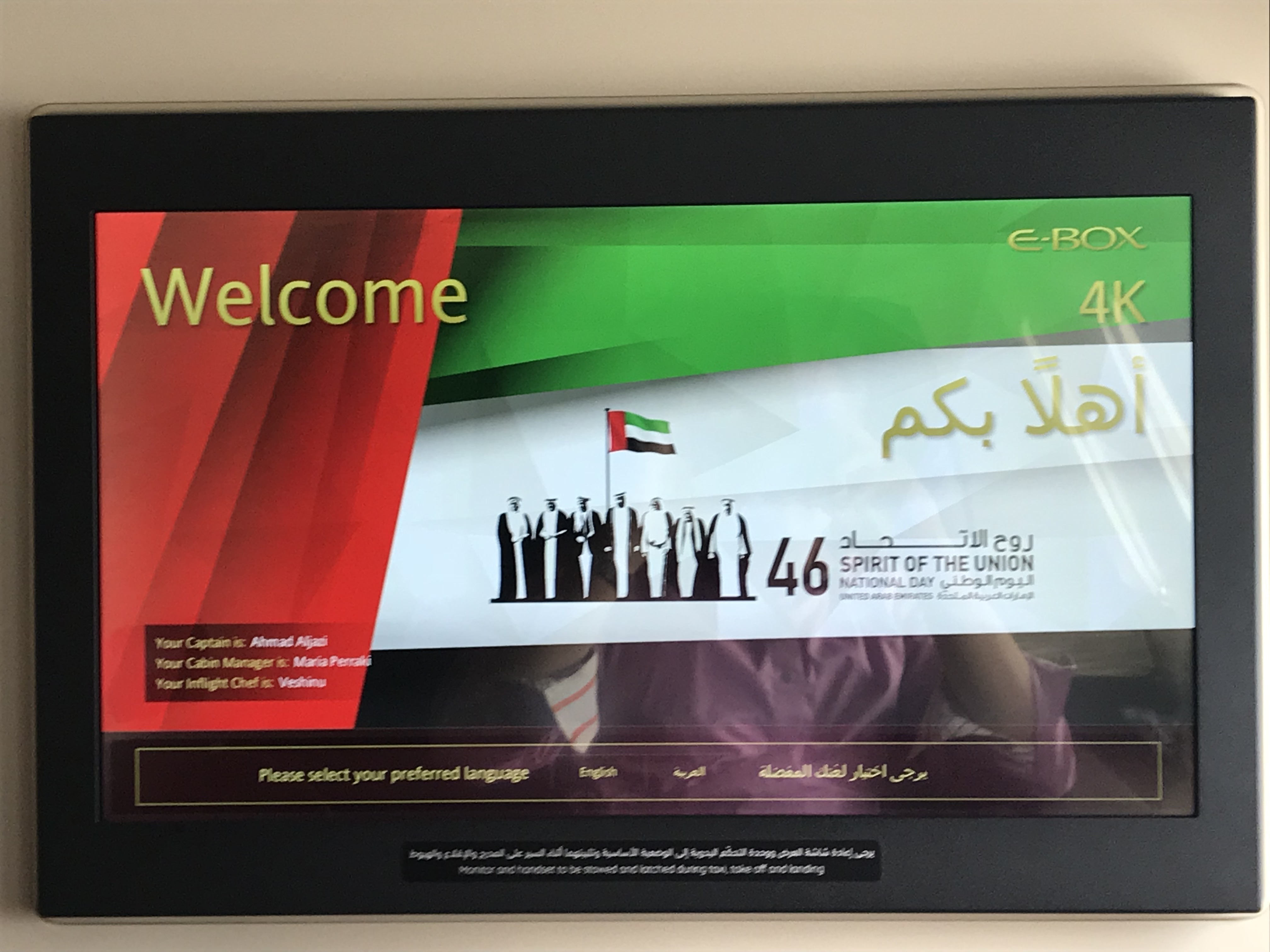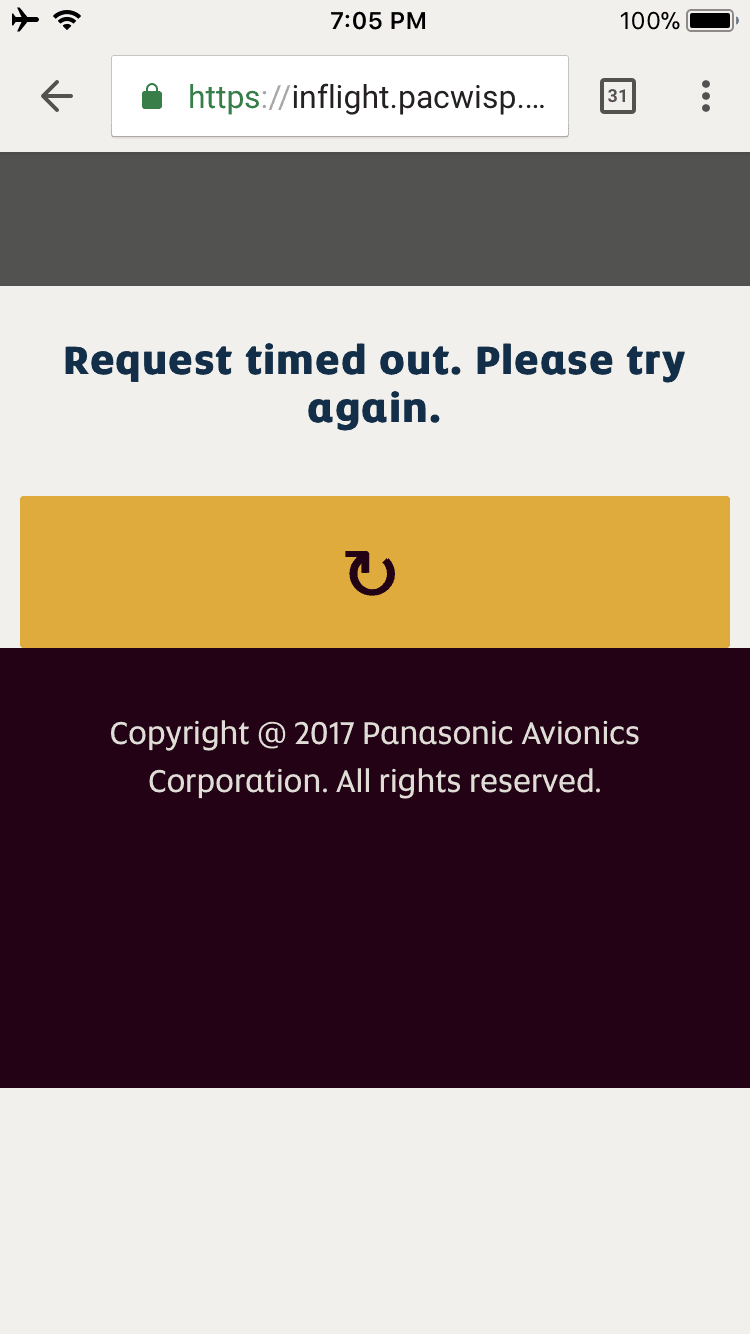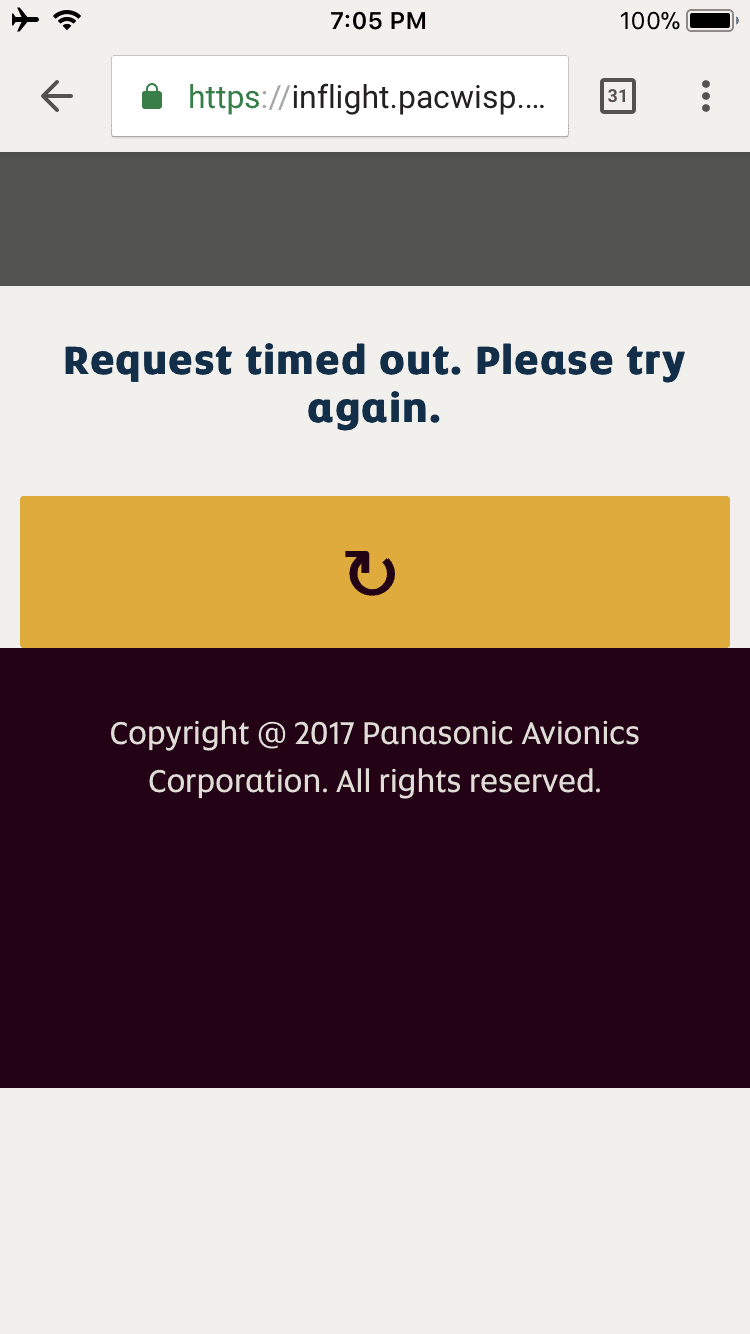 Etihad First Class Apartments – WiFi
The Wifi was, again, not good. This time, the provider was Panasonic rather than T-Mobile DE, and the interface was much better. Yet, I had trouble staying connected and reconnecting and, again, it was metered by the MB with no option to buy a flight pass. I'm not going to mince words here: It's unacceptable for passengers in a First Class cabin as premium as the Etihad Apartment is supposed to be to have to deal with such a messy Wifi situation. Frankly, no passenger at all should have to deal with metered Wifi on a 14+ hour flight, but when you are being pampered in 1st, it feels punitive and certainly not conducive to all the work I had wanted to get done on the plane but could not. And at the end of the flight, I had to buy a second pass only to fail to be able to connect to it at all. I'll note that since I took this flight, Etihad has announced you can now have 90MB free in First Class. It's a step in the right direction, but a small one.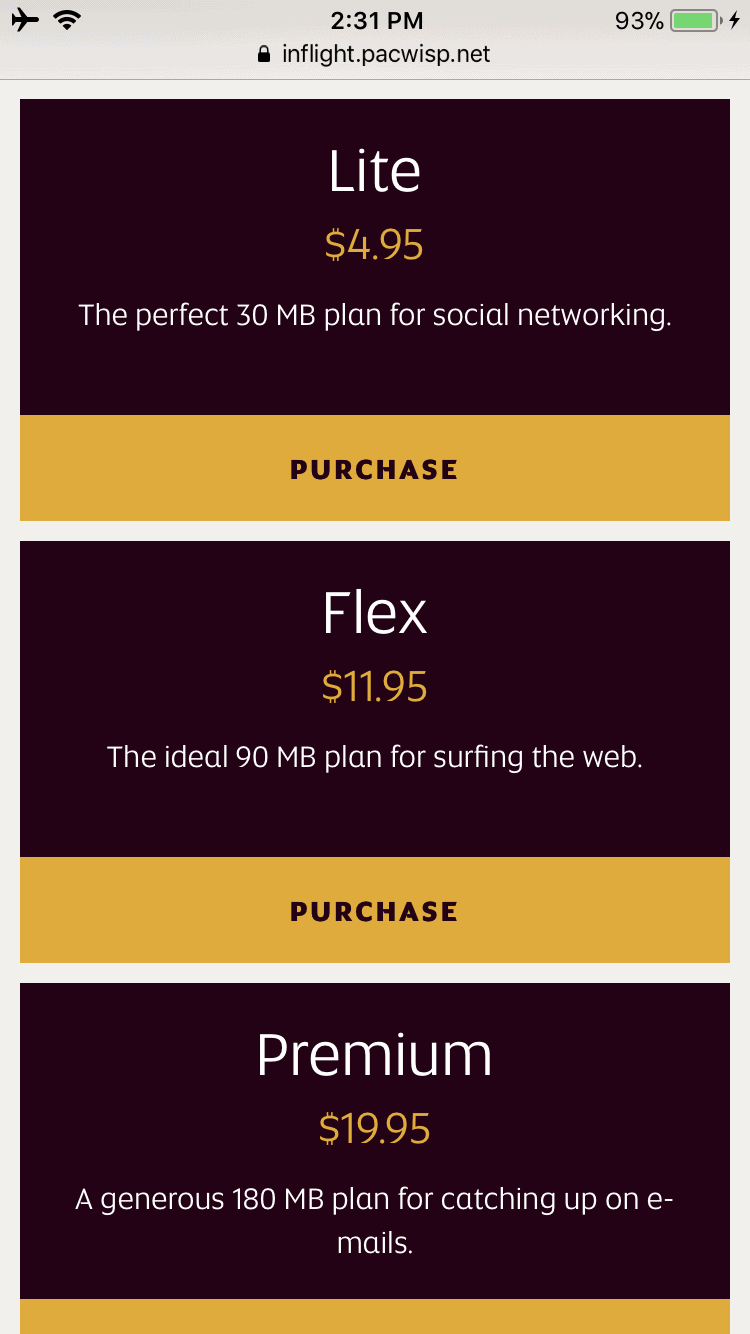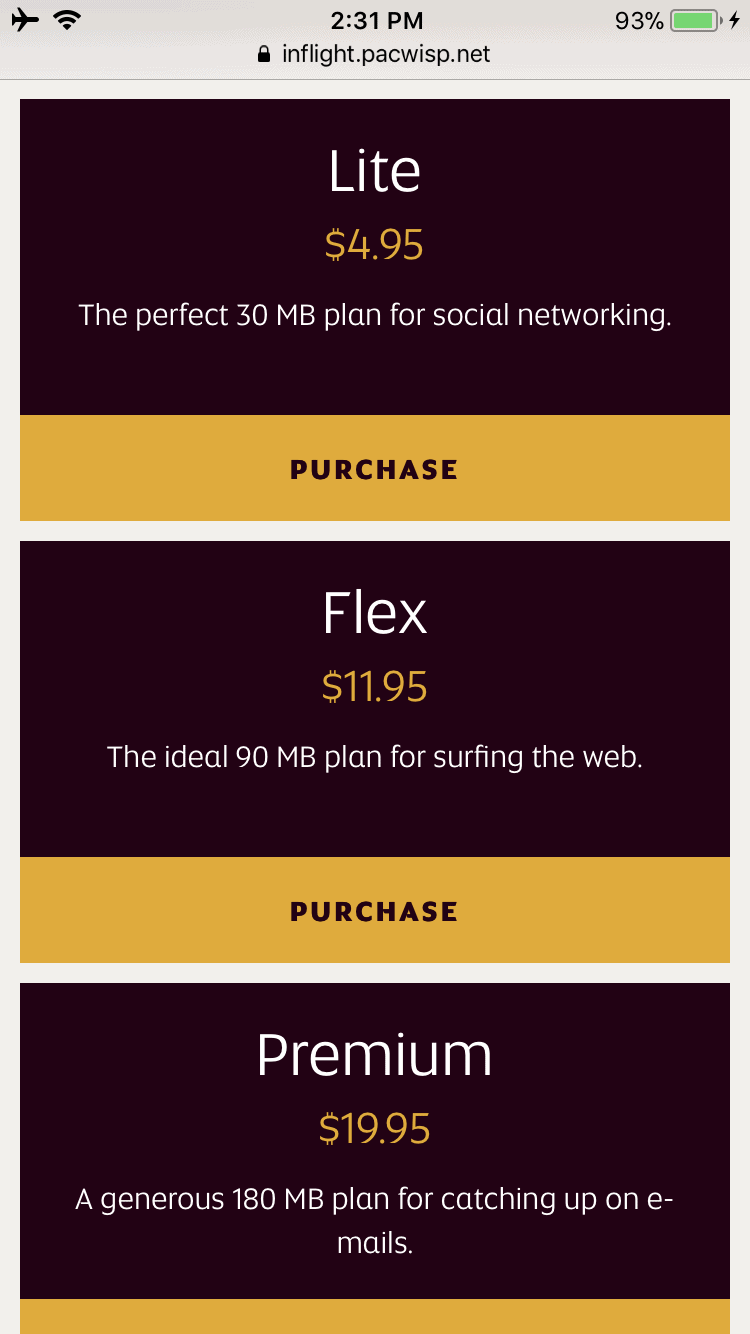 Etihad First Class Apartments – Seat to Seat Chatting
FIle this under "things you don't need." If you'd like to call your neighbor without walking 2 feet, you can do so with the in-seat handset.  I guess it could be fun if you had an extended period where you had to stay seated.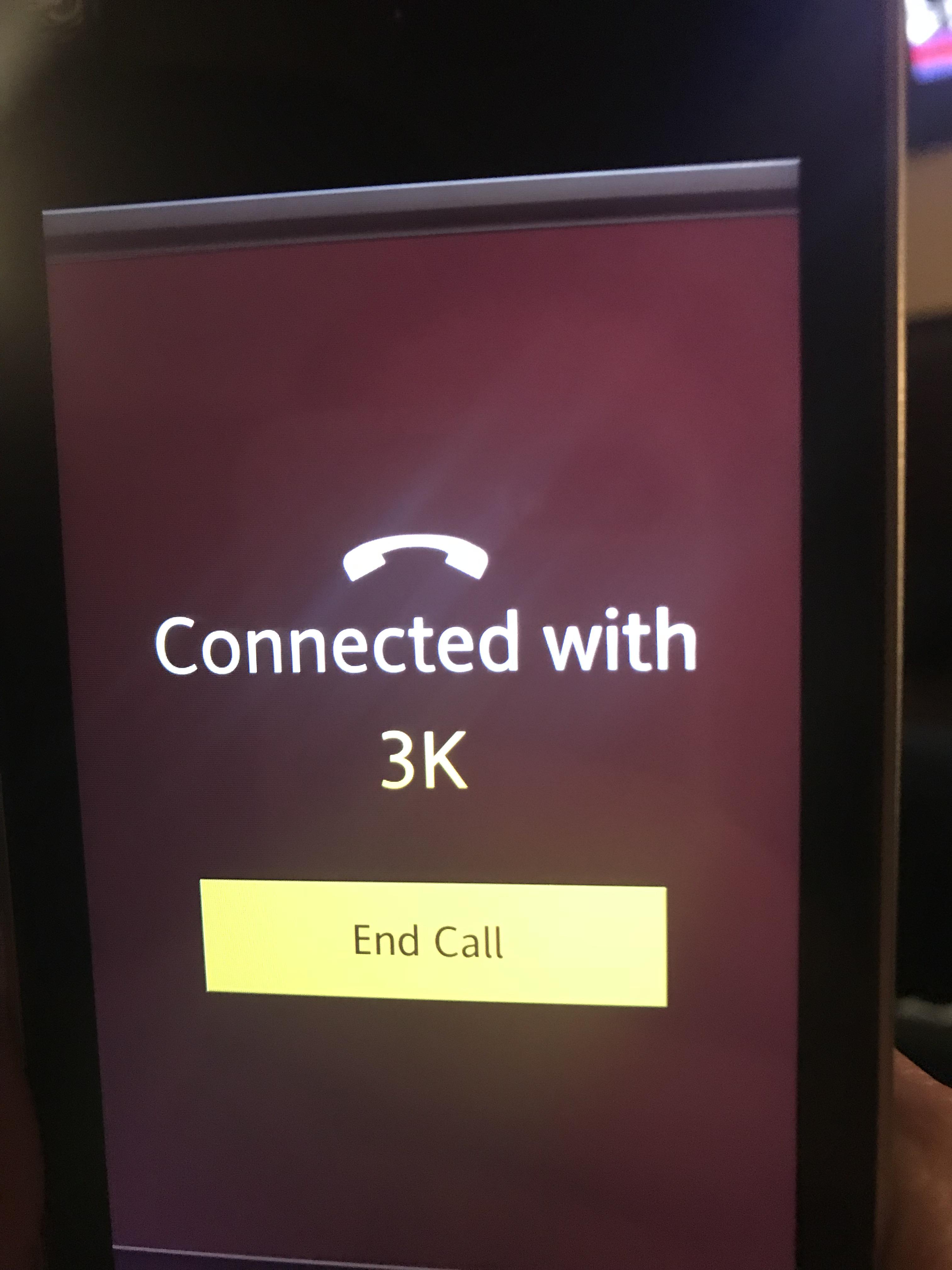 Etihad First Class Apartments – The Food!!
The food tasted excellent and the choices were what I'd expect. What I didn't expect was for them to run out of all of the food over the course of the flight. It became a running joke with the cabin crew as we would order stuff only for them to embarrassingly tell us they had no more.  I asked and apparently, they loaded two of everything – for 4 First Class passengers. I don't know how they thought that was acceptable catering. At least load one item per passenger!
But that out of the way, it was a great menu and, of the items I was actually able to get my hands on, quite tasty. Here's a look at the menu followed by all the food we tried: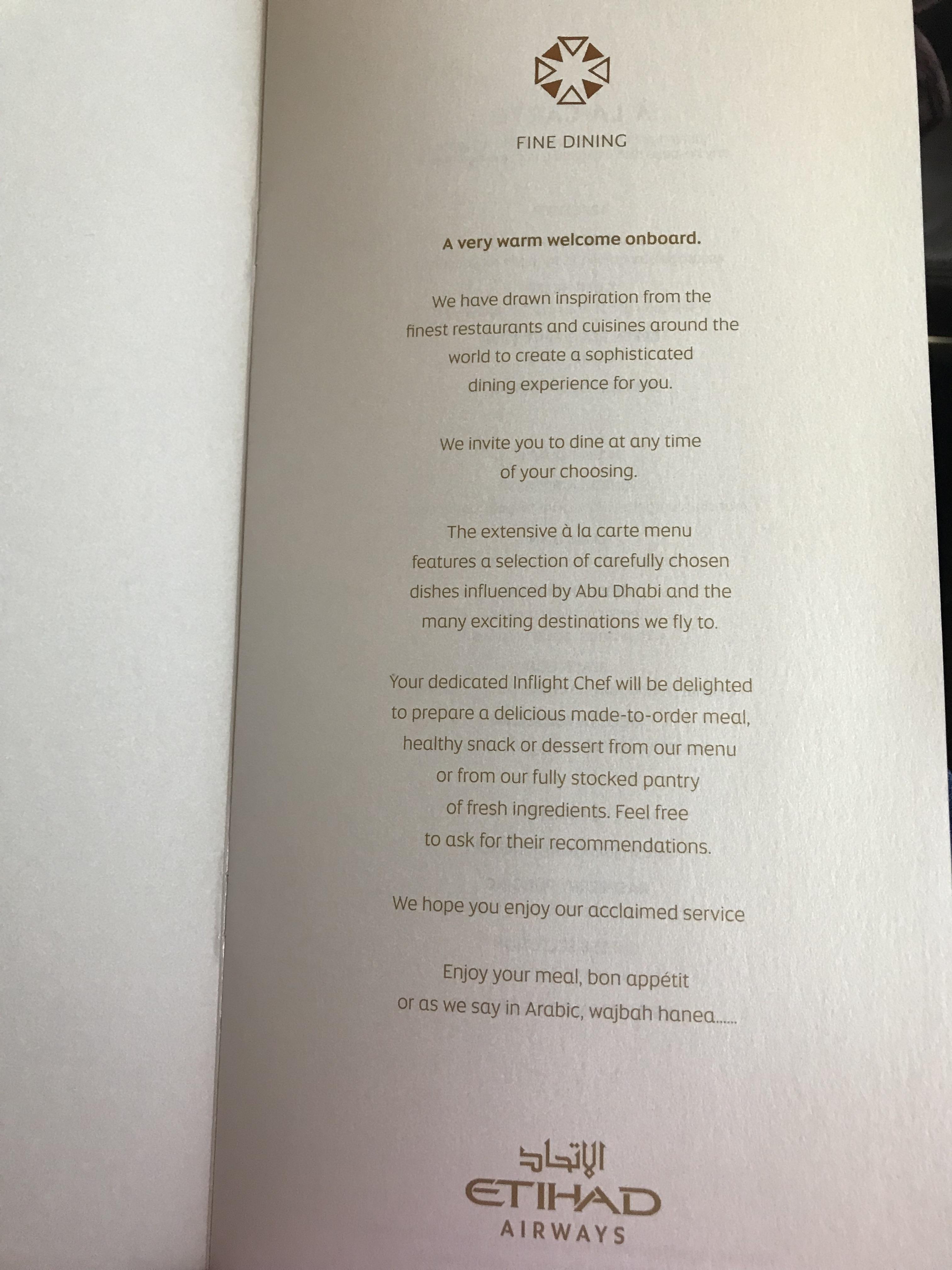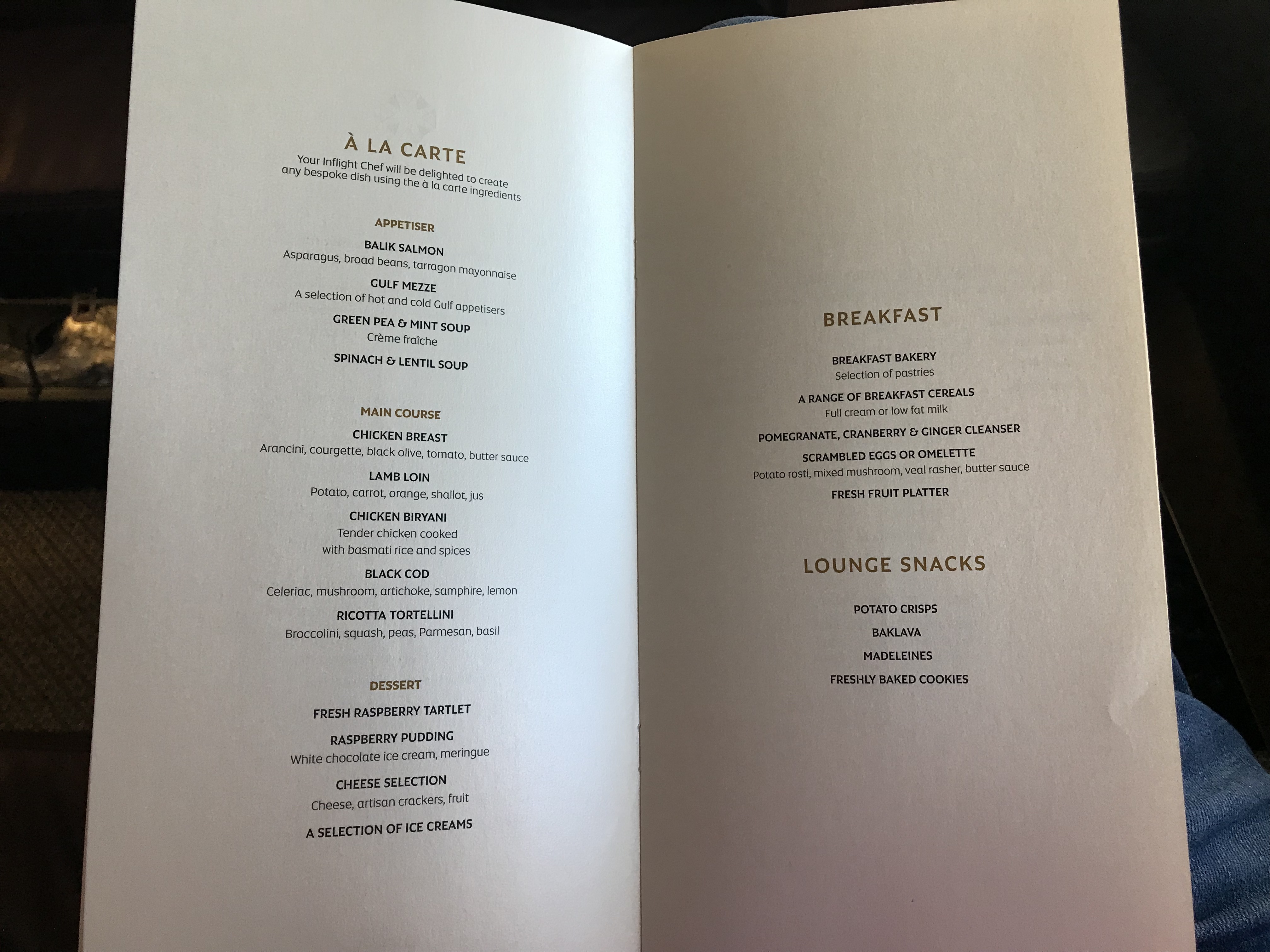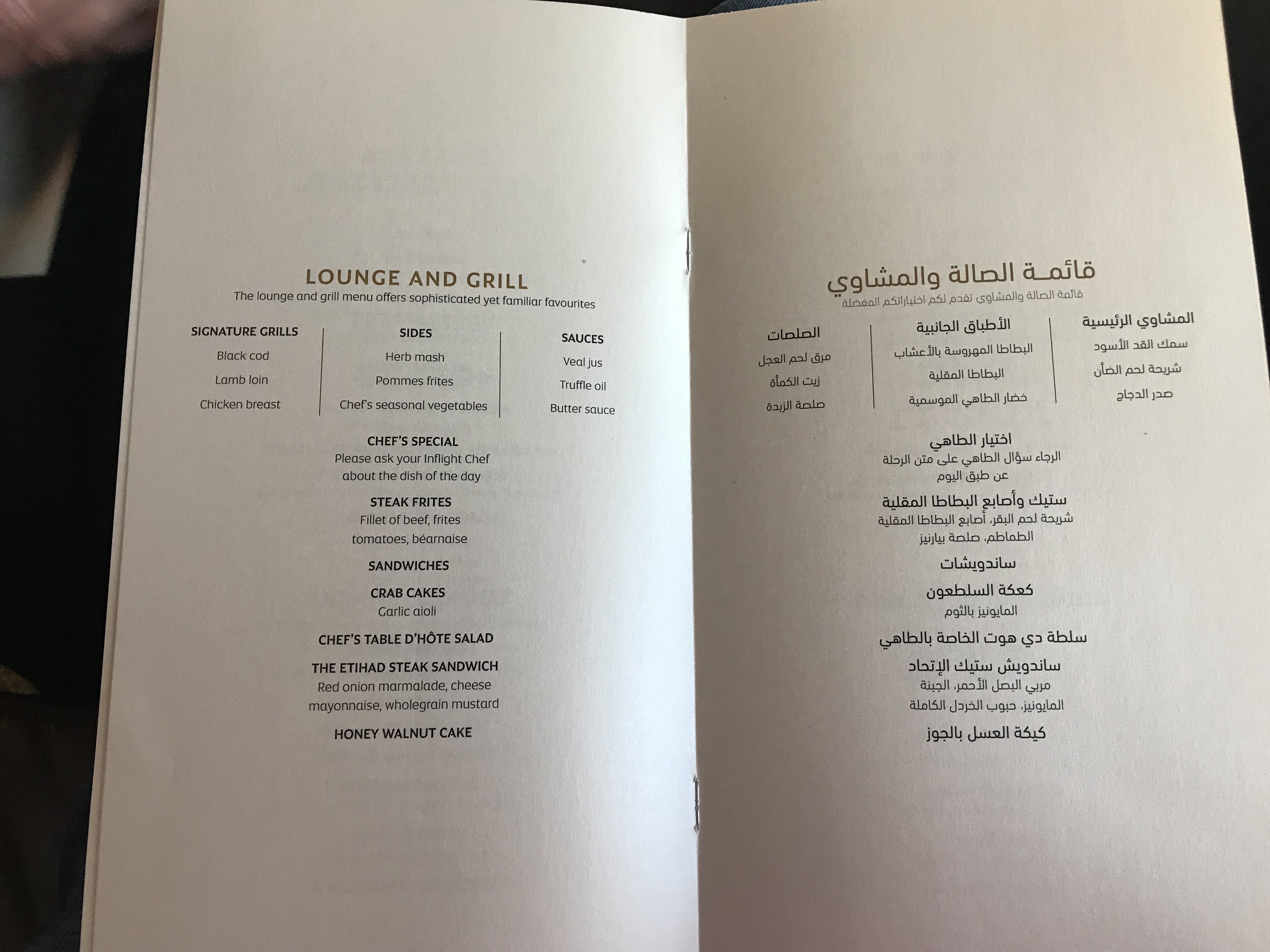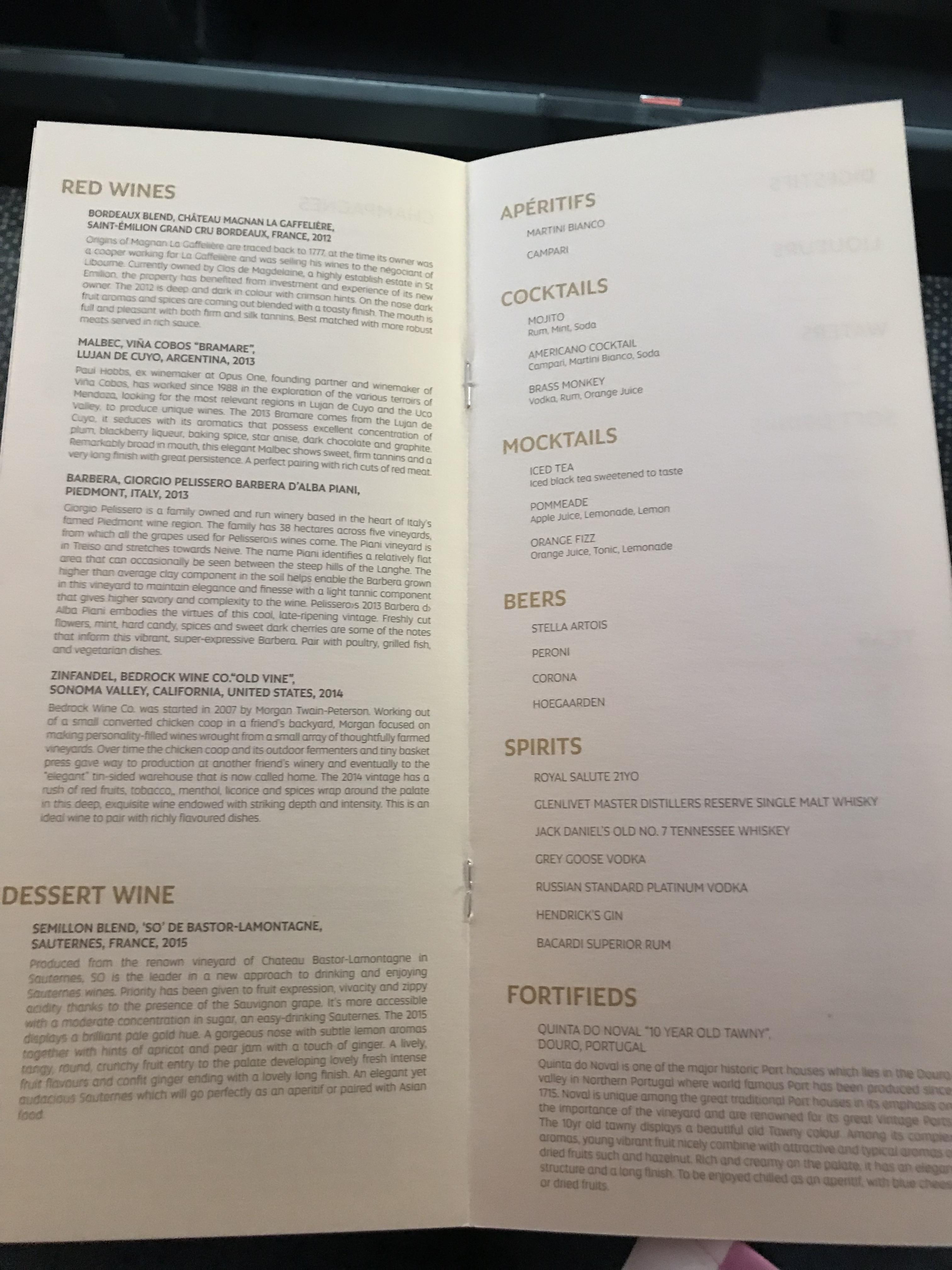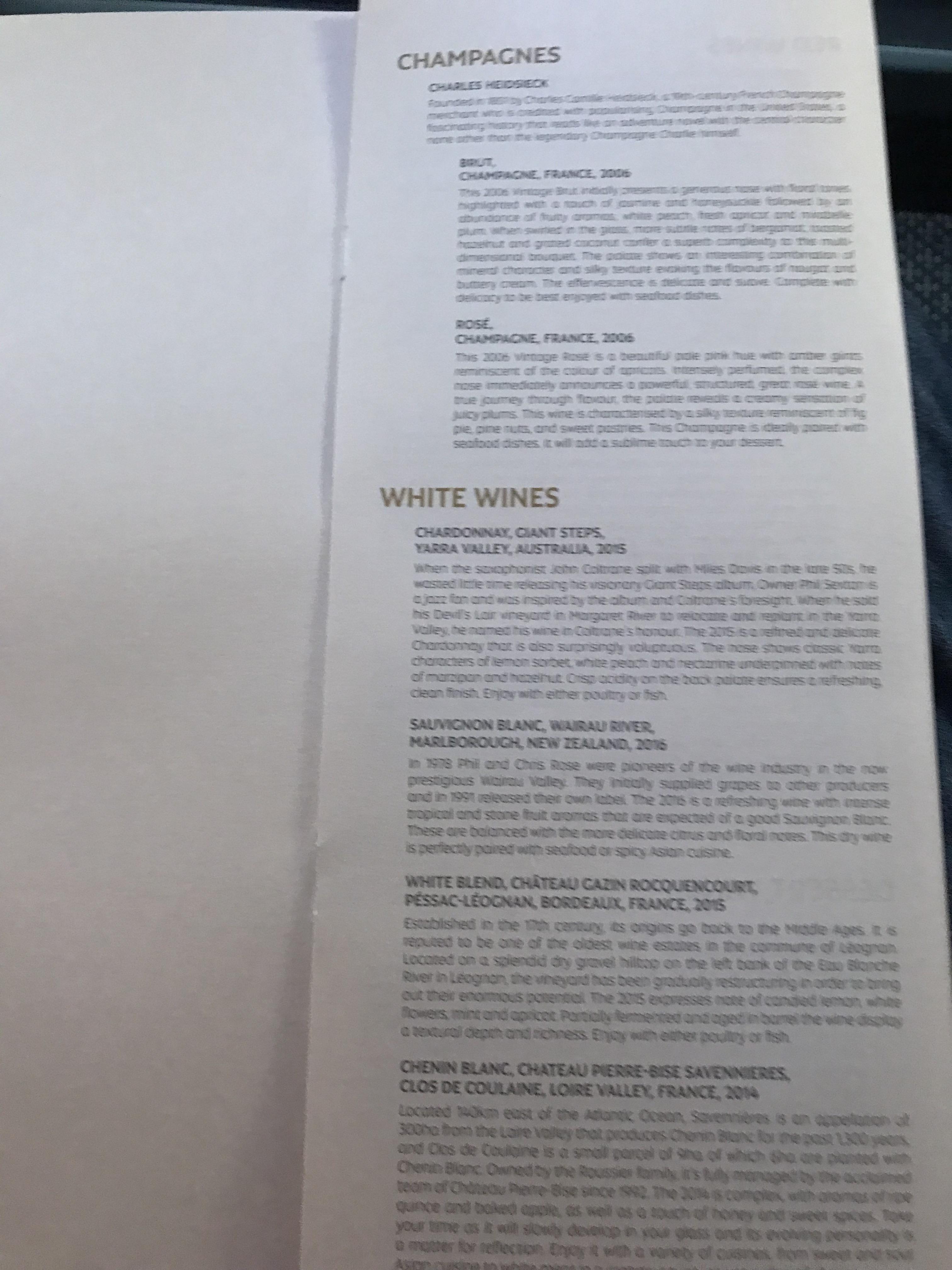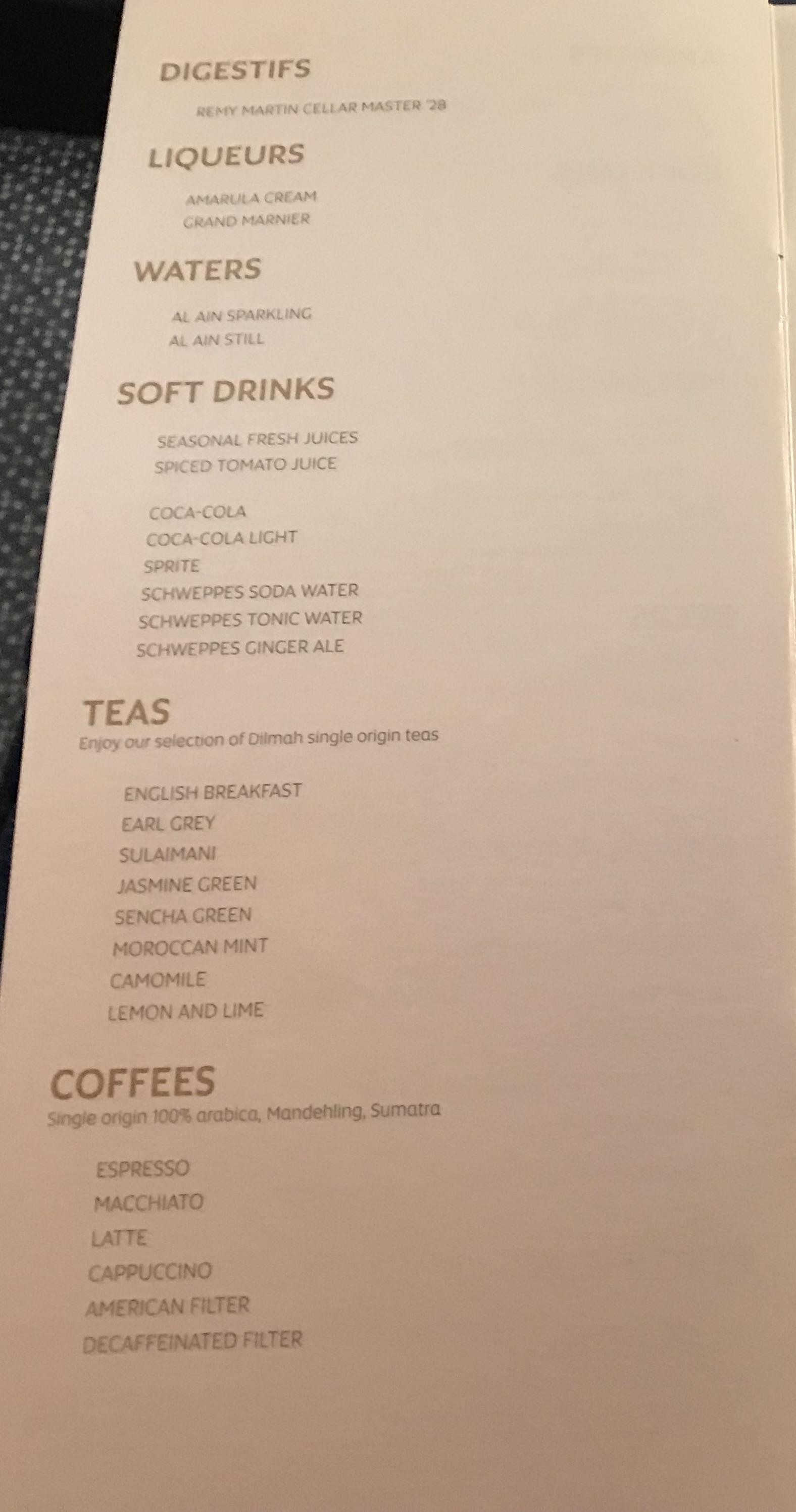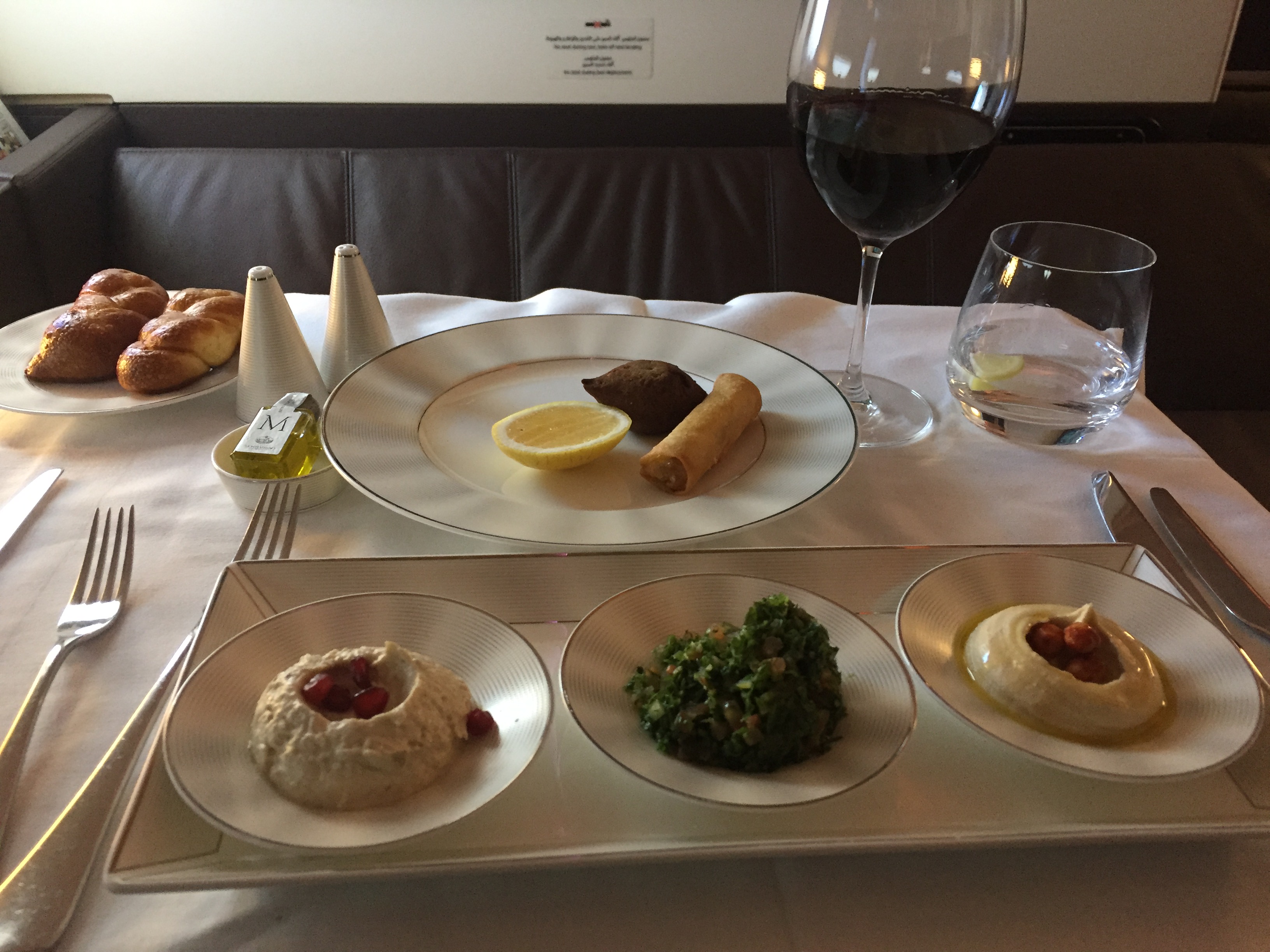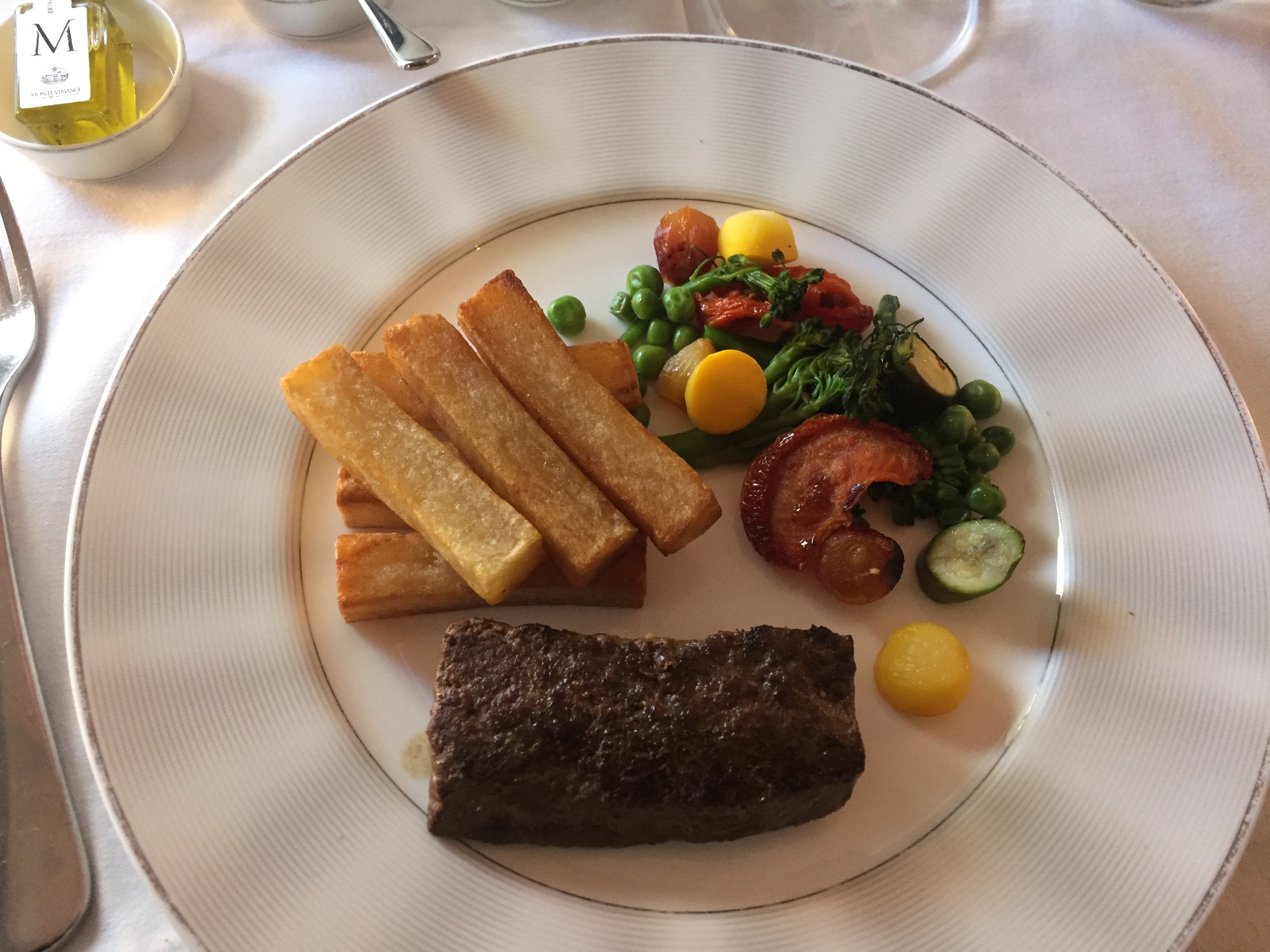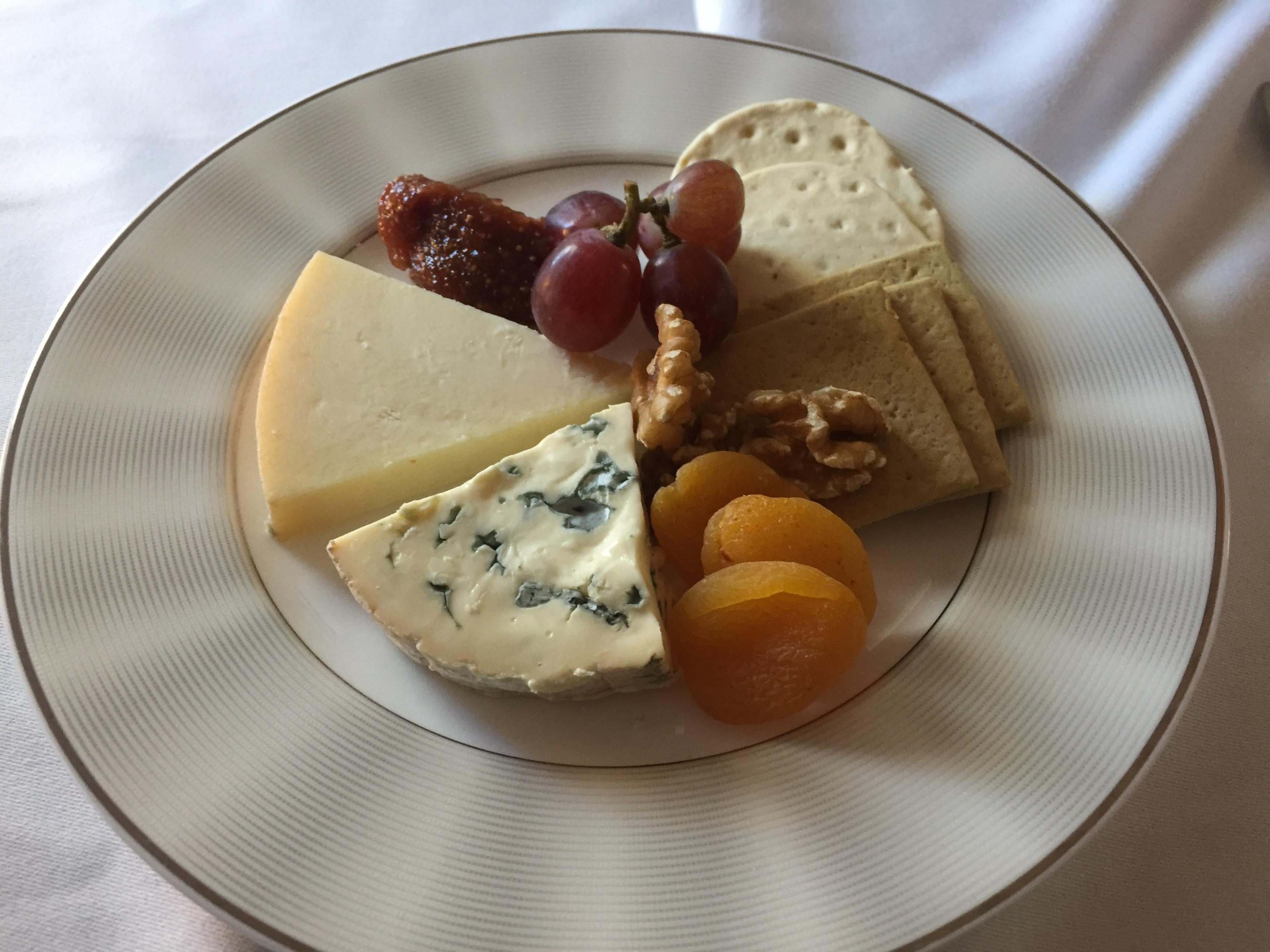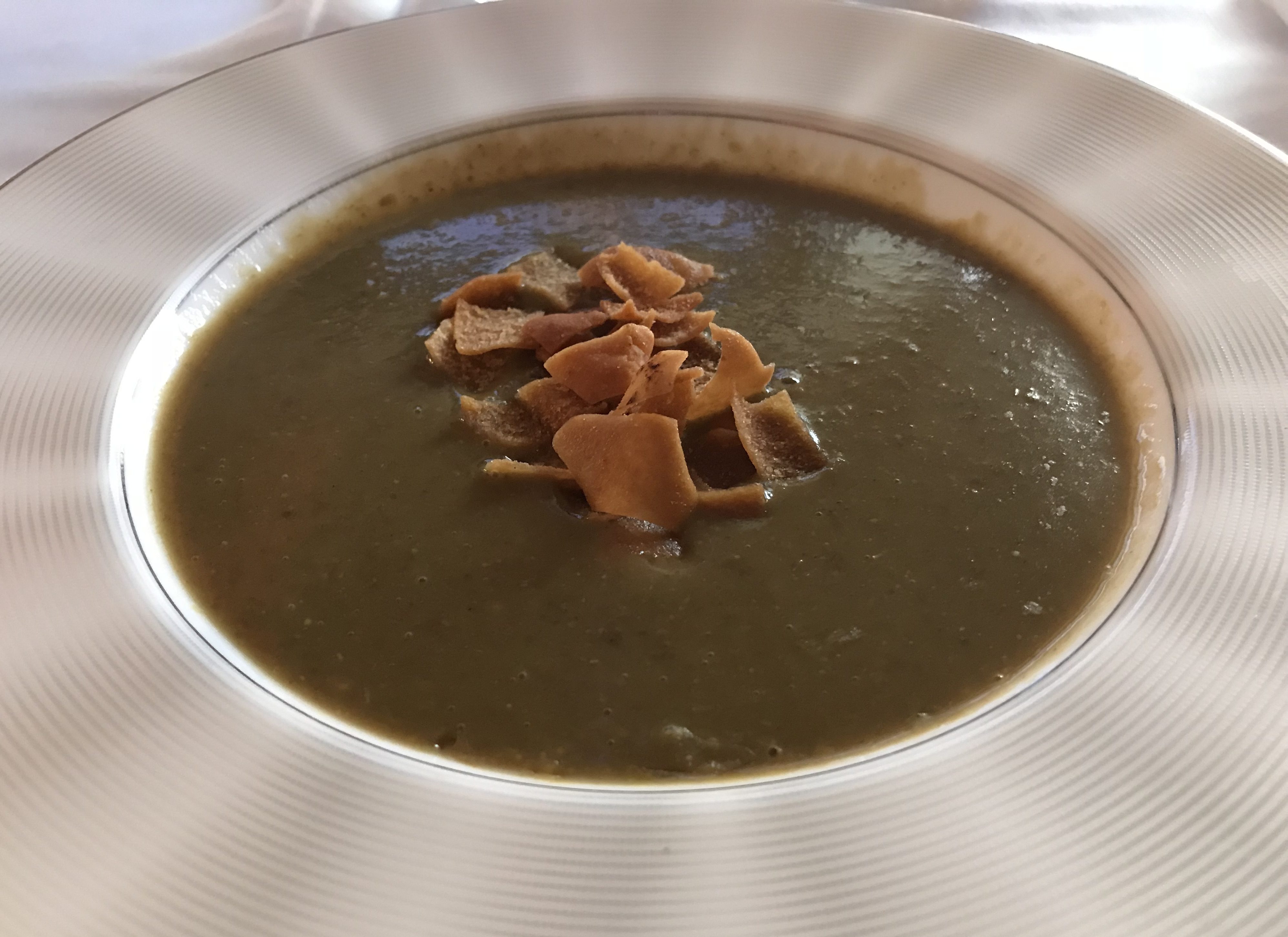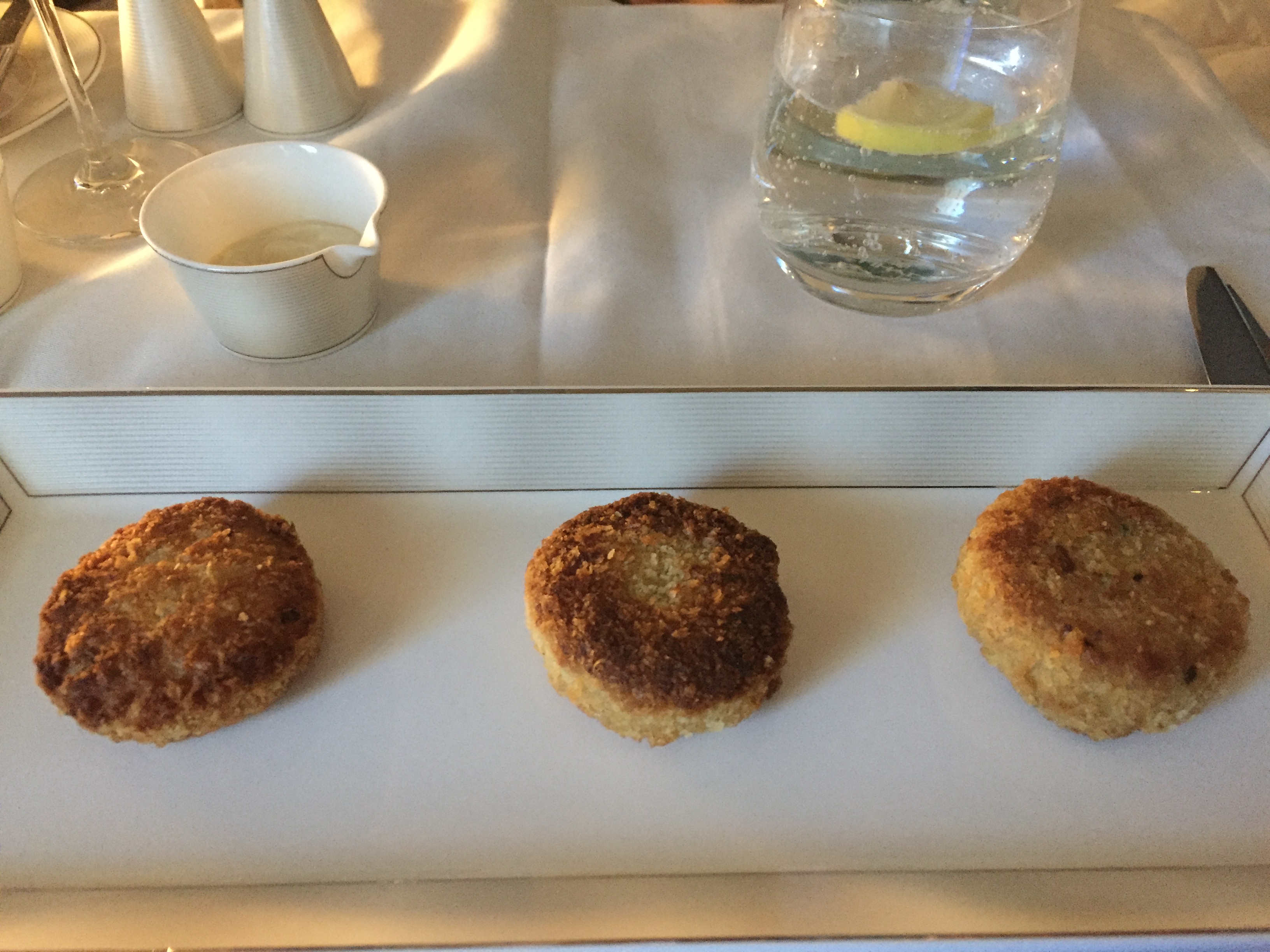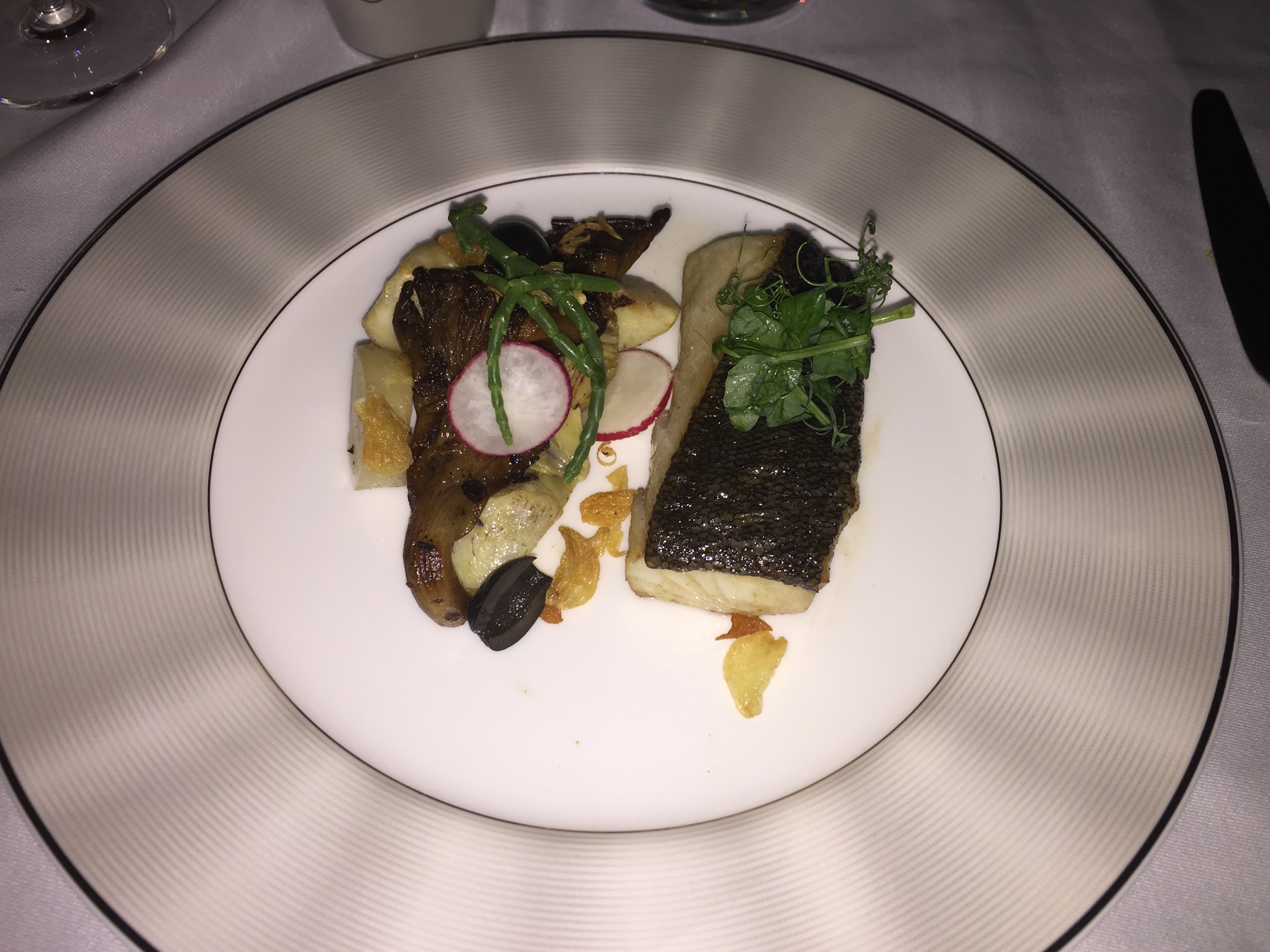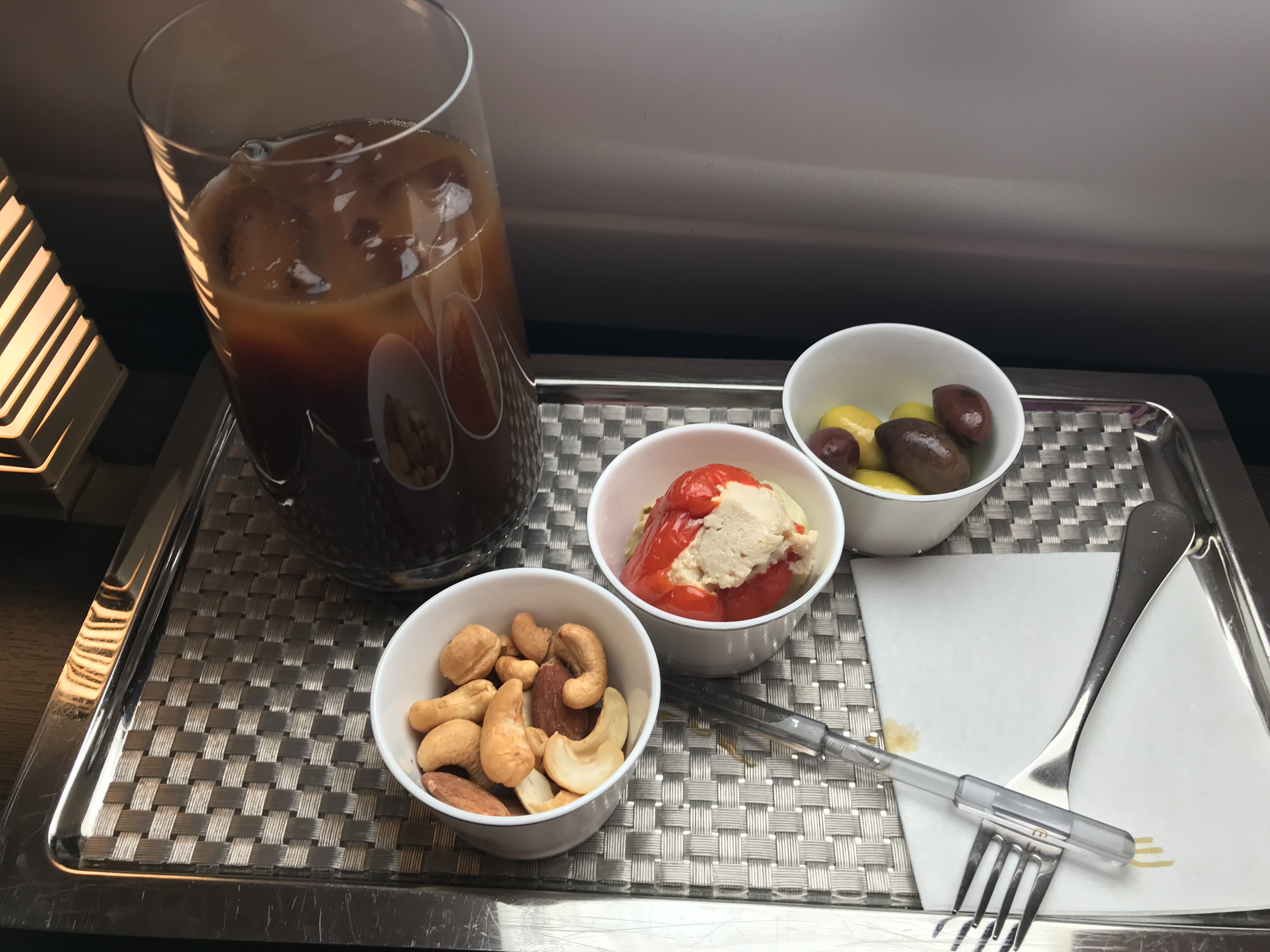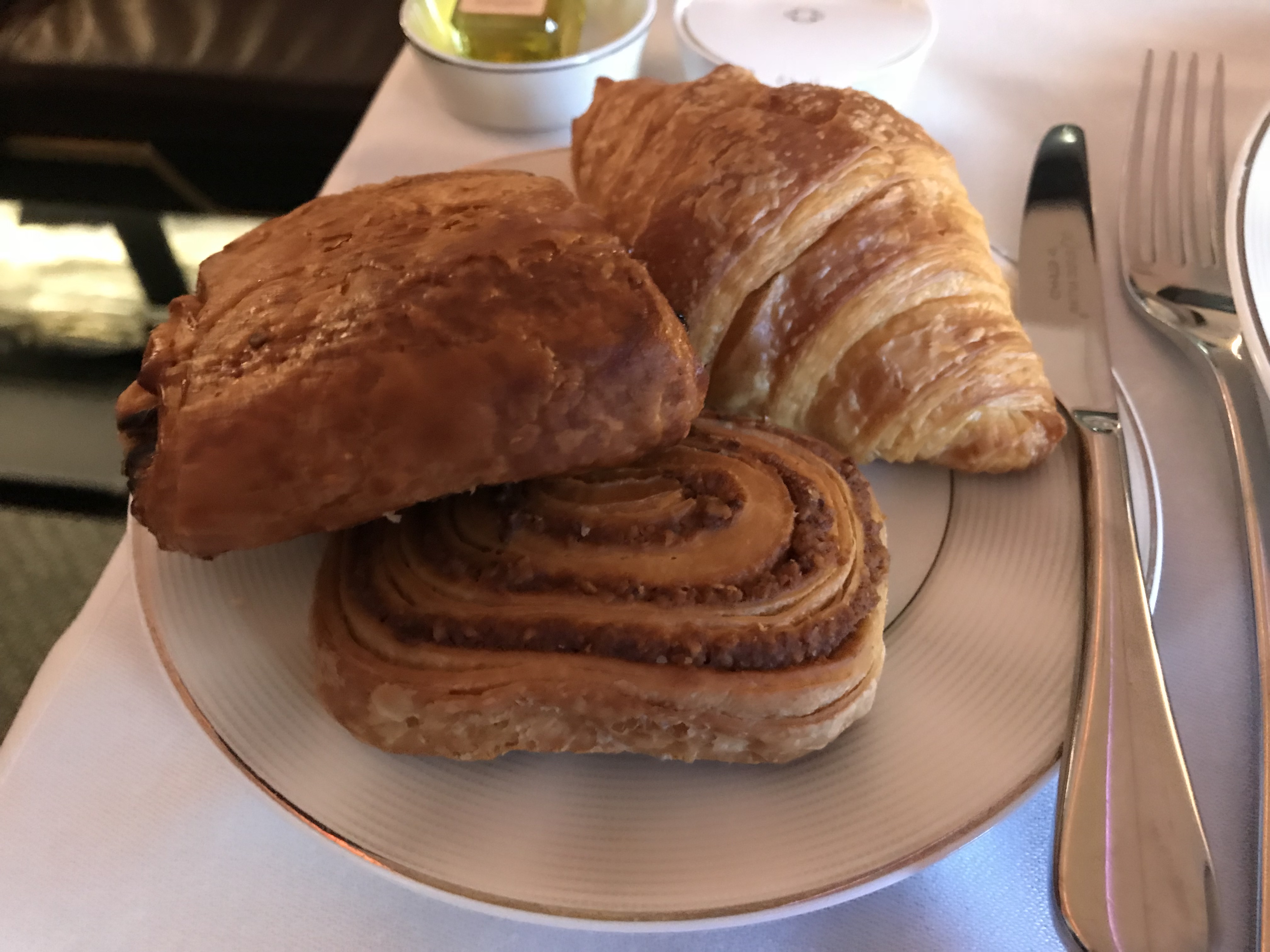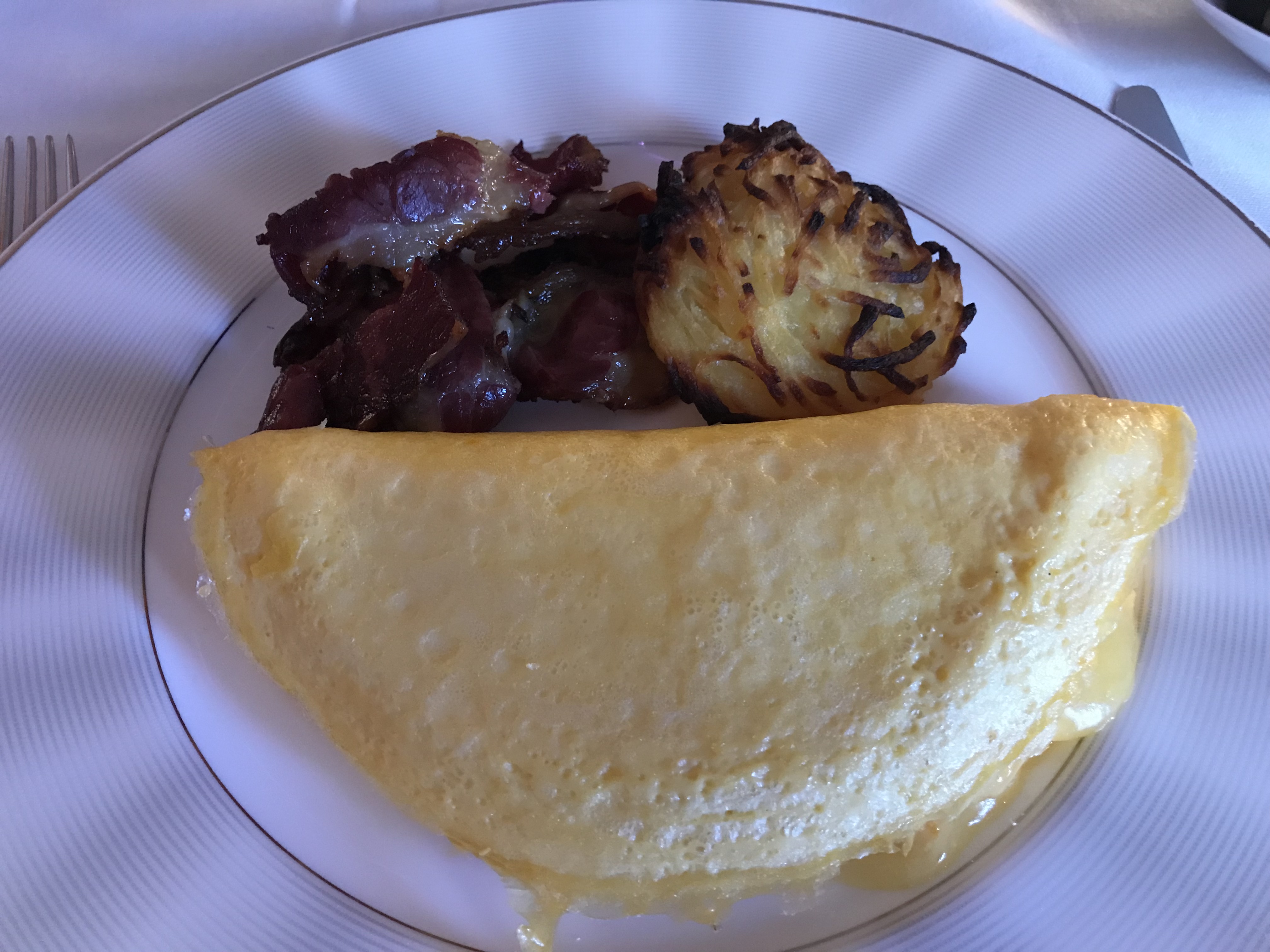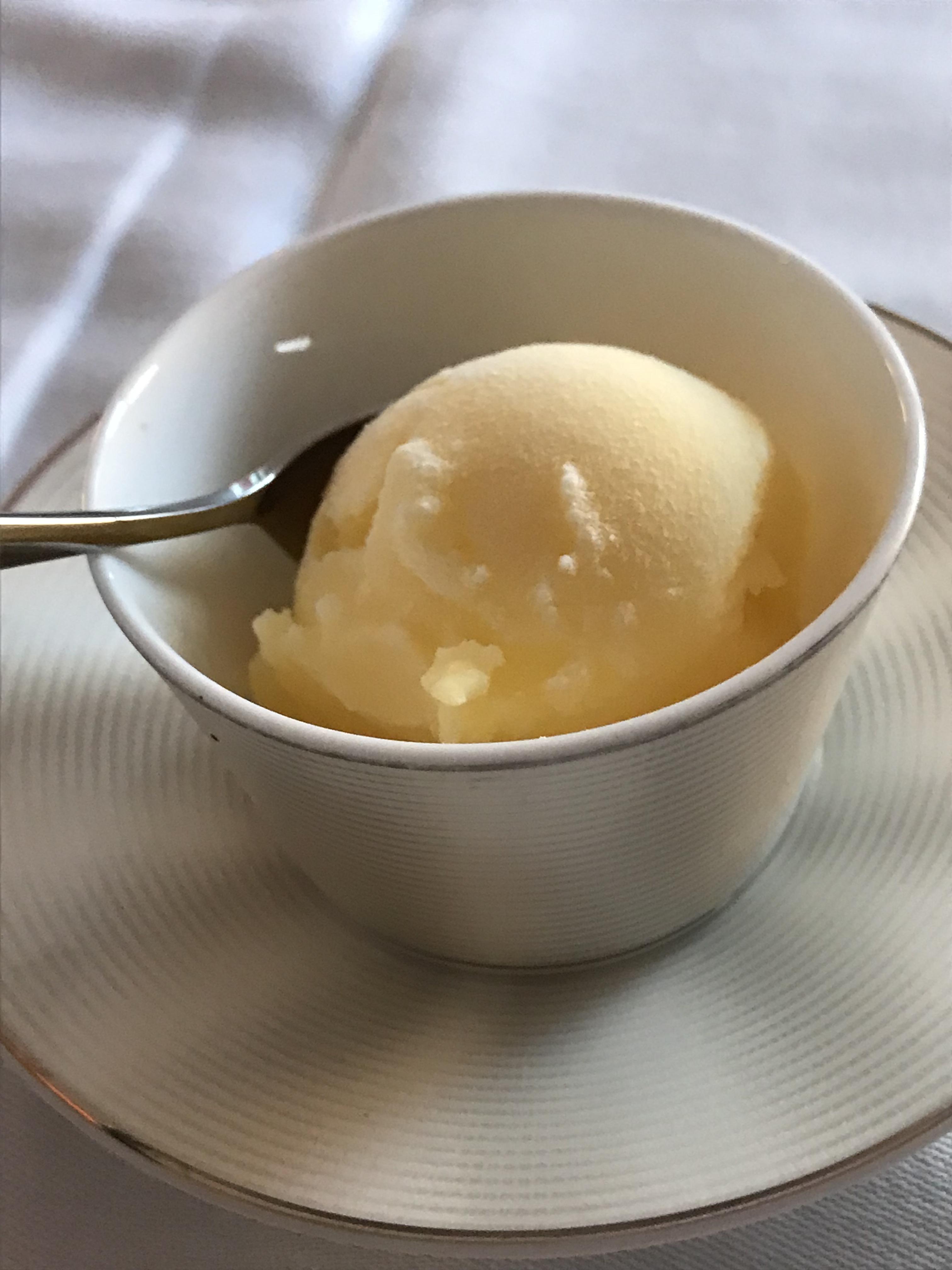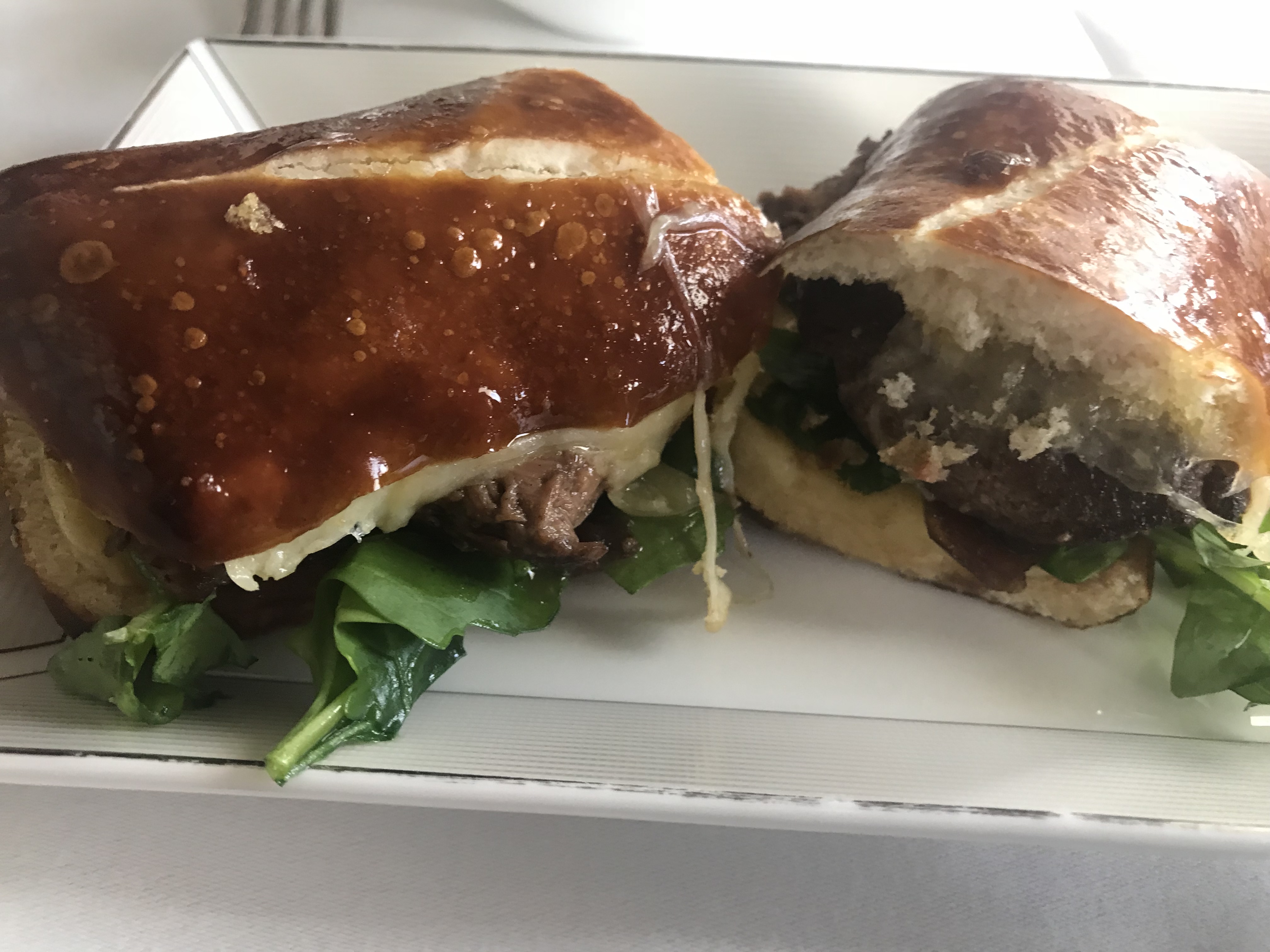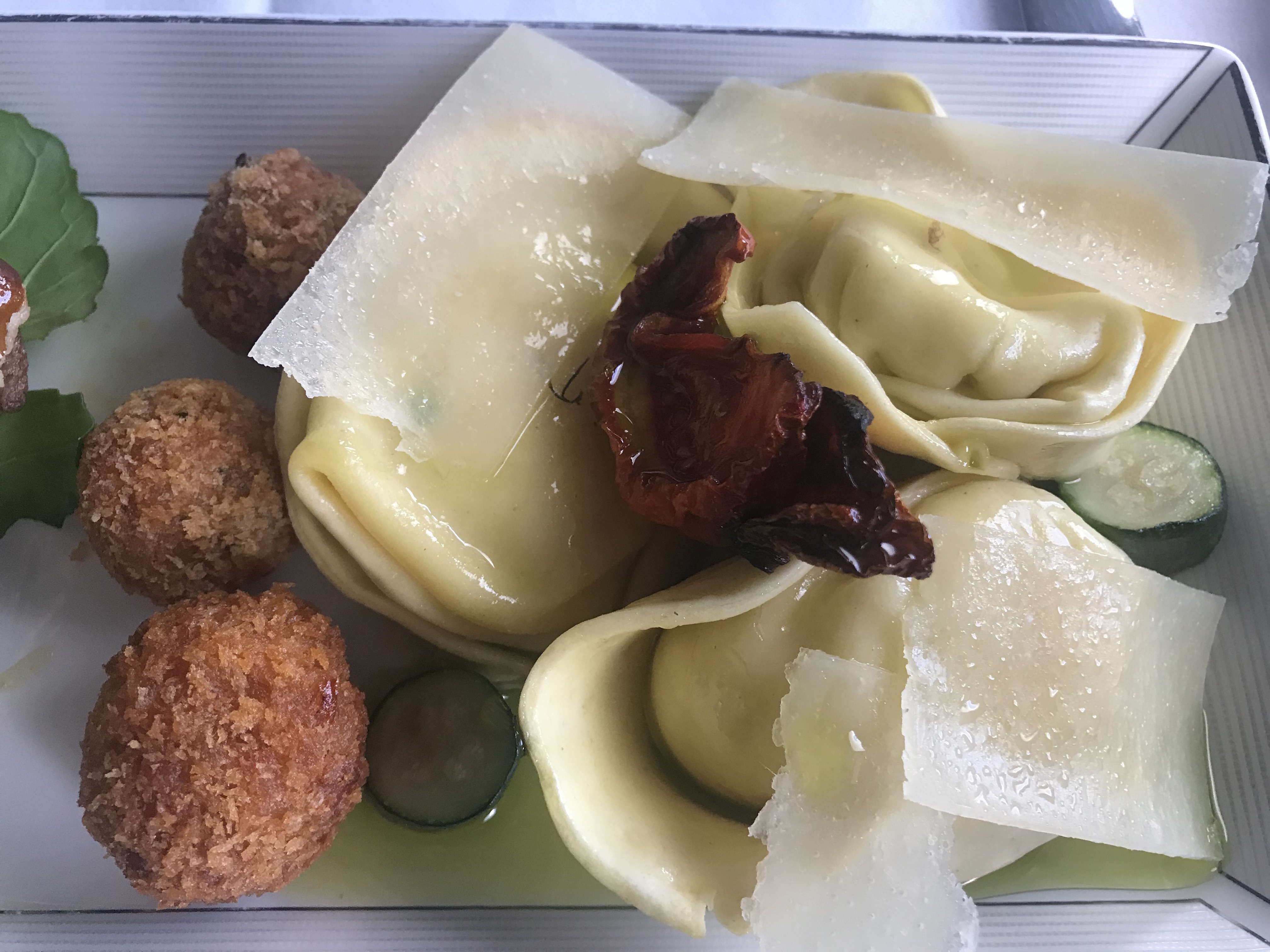 So I don't want you to think we went hungry or anything…. we certainly did not! But there were a few things we didn't get to try – or one of us did but the other didn't.
All in all, we enjoyed the food. I didn't really get too much into the alcohol on this flight, so while I know some people *really* enjoy that aspect of First Class flying, I can't speak much to it. I did have some nice white wine and plenty of iced coffee.
Etihad A380 – The First and Business Class onboard lounge
The Etihad A380 has a lounge that sits in between First and Business Class. While there wouldn't be much reason for someone in a First Class Apartment to visit the lounge on their own, they might if they had a friend in Business Class. As well, someone in Business may want to relax in the lounge a bit just for a change of scenery or to hang out with friends.
The lounge isn't as big as you might think. Seating 6 people in a circle, there is also a full liquor area (which you may need some help from a flight attendant with if the bottles aren't open) and snacks which will either be out for the taking or you can request.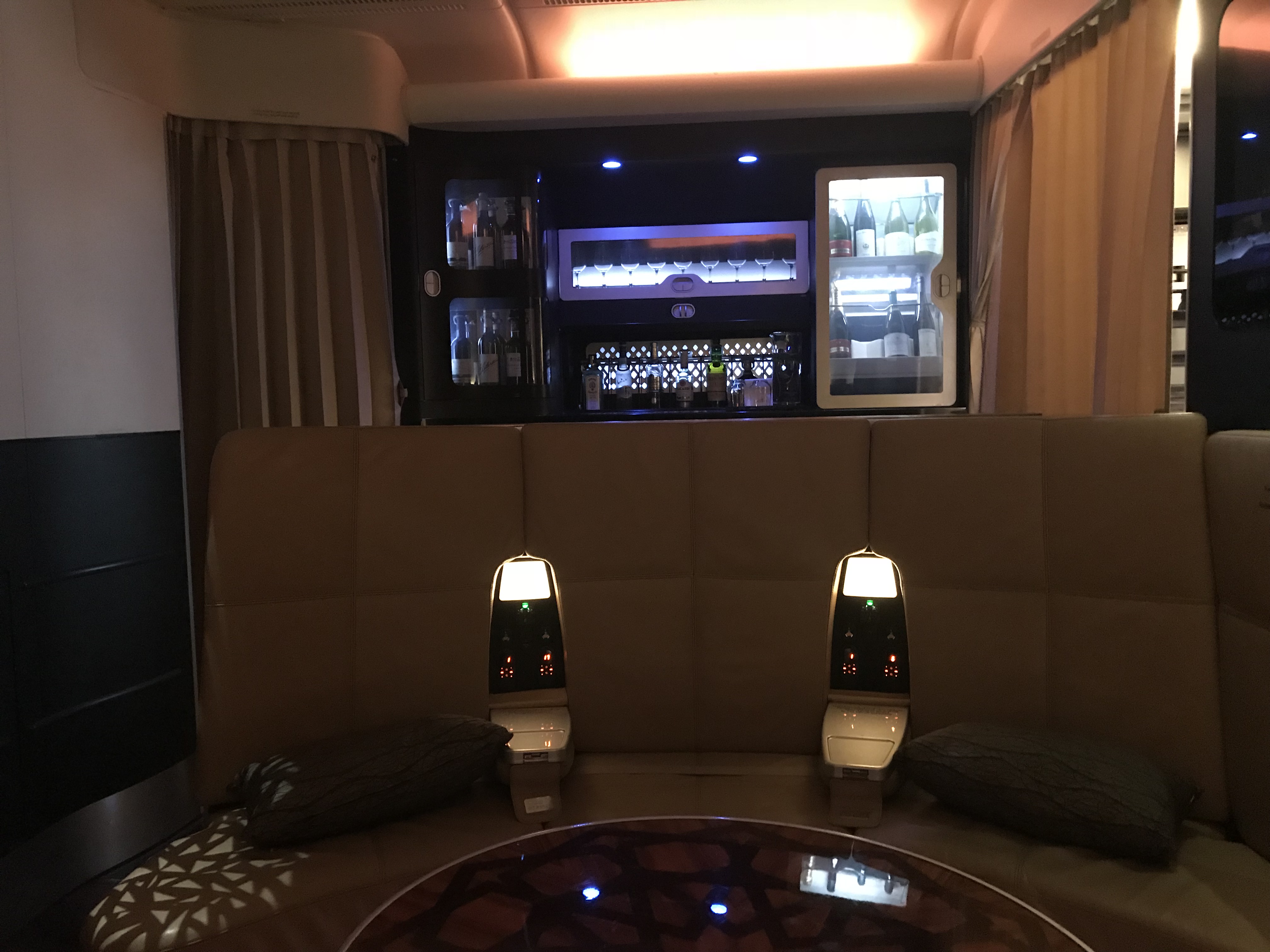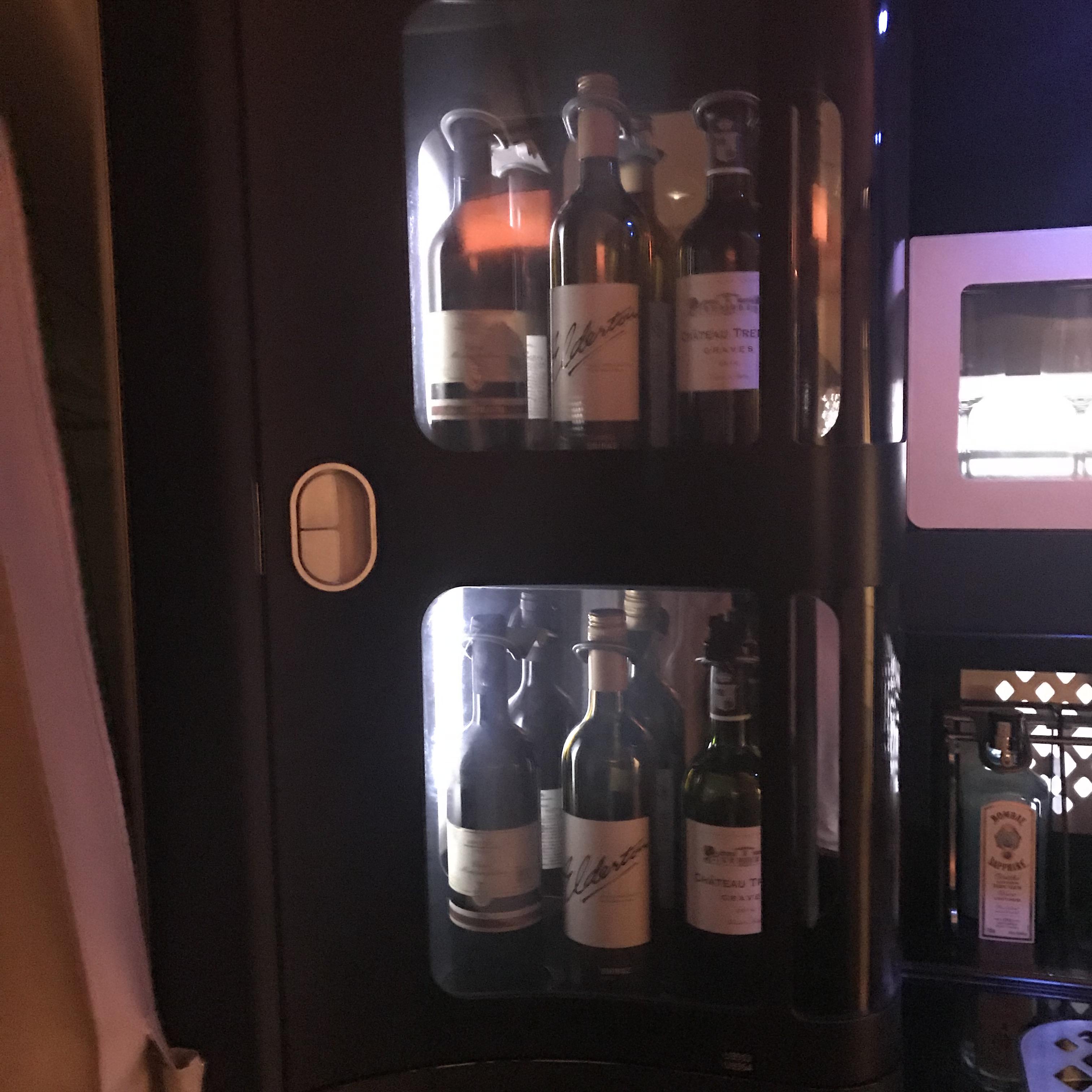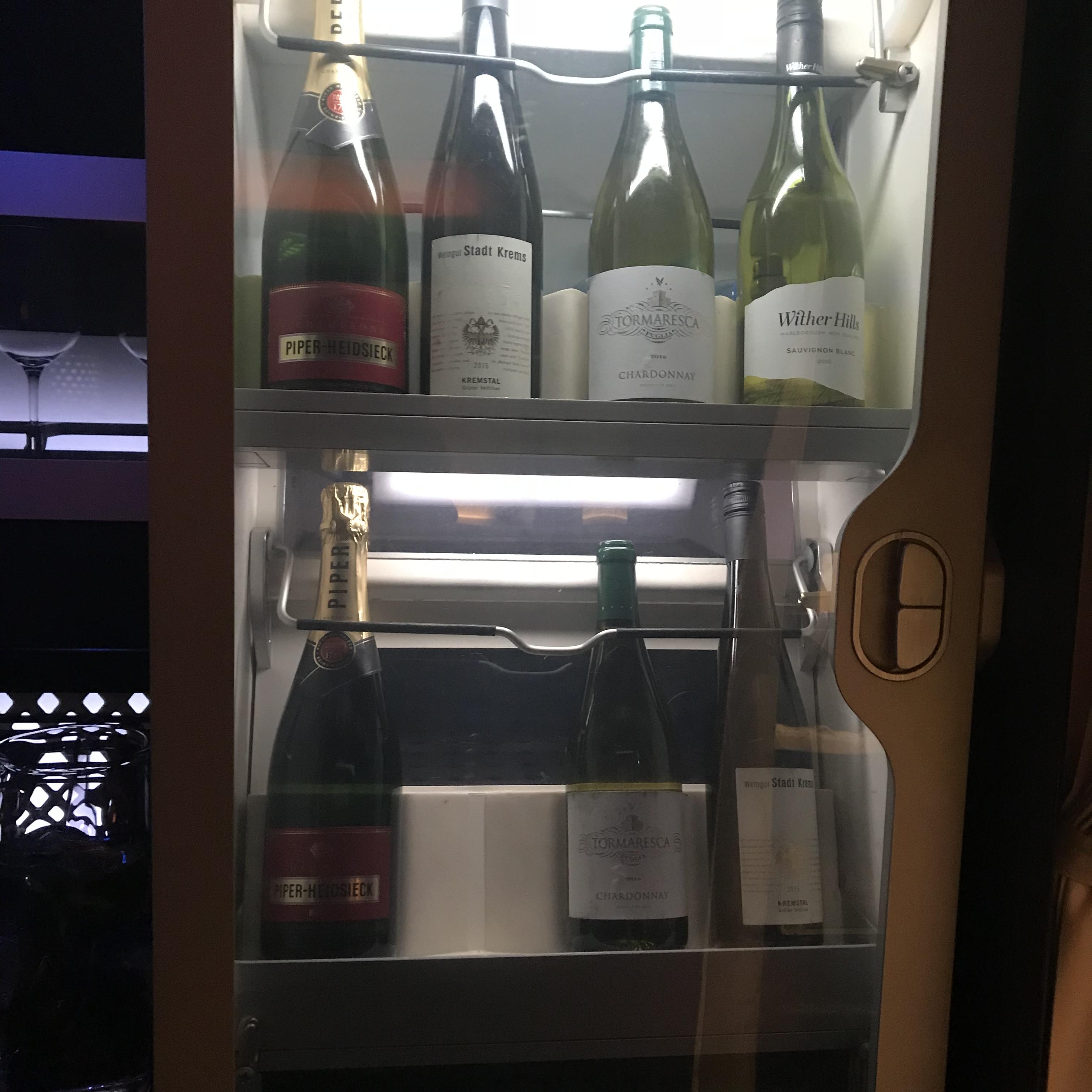 Check out this video I made of the lounge…
Etihad A380 First Class Apartments – The Onboard SHOWER
This gets tons of press. The only commercial "Shower in the Sky" products exist on the Etihad Apartments and on the Emirates A380 in First Class.  And while it's certainly a bit of a luxury gimmick, I have to say that when I took my shower about 9 hours into the flight and after a somewhat sweaty sleep, I *really* appreciated it!
Here's a video of me in the shower… just kidding!! It's tight quarters in there but you can get the idea. The shower will turn off after exactly 5 minutes and the circular indicator will tick down as your 5 minutes go by so it won't be a surprise.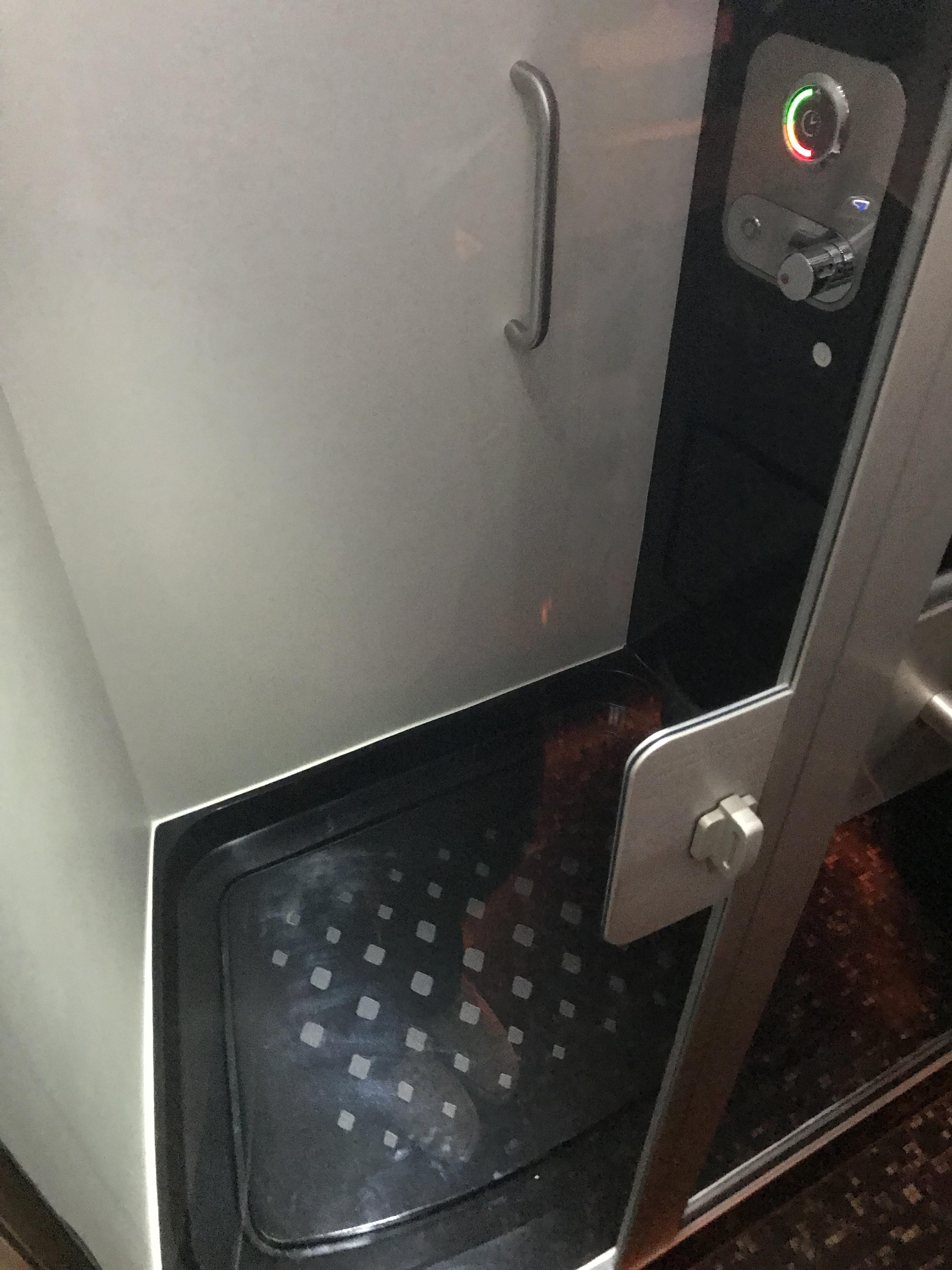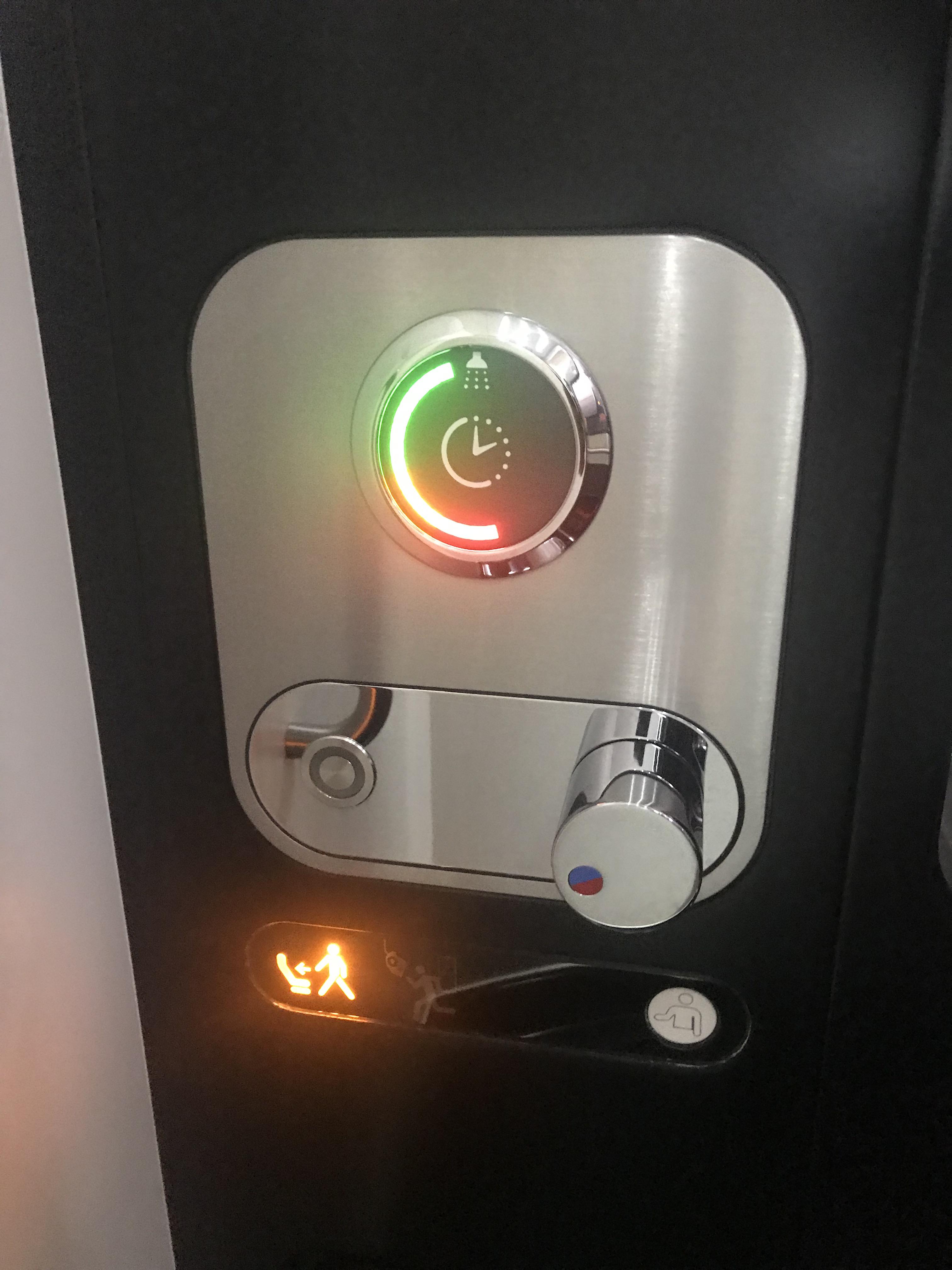 Etihad A380 First Class Apartments - The Service
Onboard the aircraft, and I'm talking for two straight days and about 21.5 hours onboard with this crew, they were always wonderful. All seemed genuinely concerned that we had a fantastic flight and were always so apologetic as they ran out of menu item after menu item. It was a slightly different vibe from First Class on an Asian carrier in that they were a bit more wanting to ensure you had all of your privacy first and foremost. Not a bad thing, though I enjoy contrasting the First Class experiences with airlines from different world regions. Each part of the world treats luxury travel a bit differently.
Are the Etihad A380 First Class Apartments "Worth It"??
So was this flight worth all the miles? Absolutely!! There are only so many truly amazing luxury flights to have. On my list now are the brand new Singapore Suites and the brand new Emirates First products, but other than that, this has to be the next best way to fly in the whole world.
As I constantly preach, you've got to Earn and Burn with your miles and points. You can get more, I promise. 
Actually spending your miles is how you have experiences you'll remember for a lifetime. 
---
Does this make you want to try Etihad's First Class Apartment?
Let me know here, on Twitter, or in the private MilesTalk Facebook group.
You can find credit cards that best match your spending habits and bonus categories at Your Best Credit Cards. 
New to all of this? My "introduction to miles and points" book, MilesTalk: Live Your Wildest Travel Dreams Using Miles and Points is available on Amazon and at major booksellers.