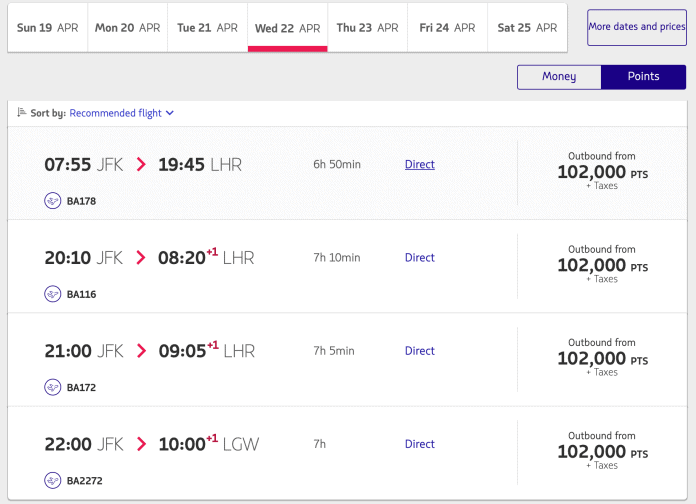 For many years, British Airways hasn't exactly had a reputation for stellar international business class.
In fact, they earned a reputation where their First Class was considered an OK Business Class and Business Class itself was to be largely avoided.
British Airways' New Business Class Club Suites
They are trying to turn that around now, and are installing these fancy new Club Suites with sliding doors and the works on several routes. (Read more about the Club Suites.) From the US, as of today, there's a once daily flight each way New York to London and back.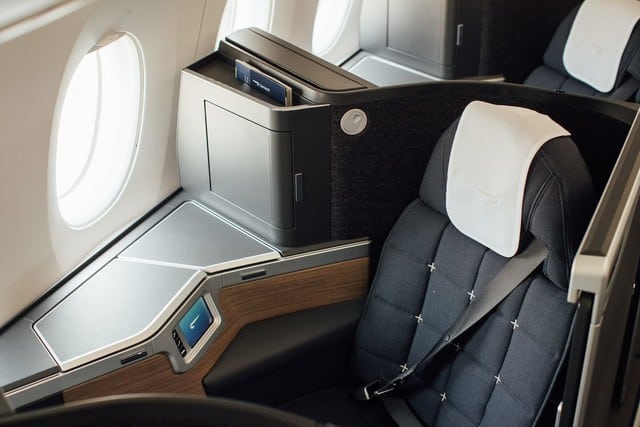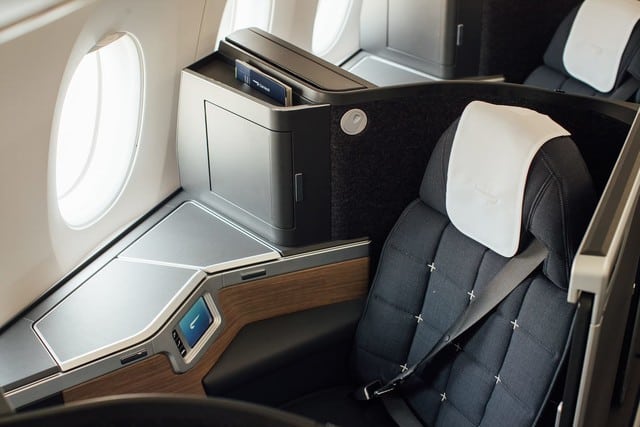 For those of us in the points hobby, actually paying for a cash ticket to ride one of these is pretty much out of the question. We'd happily spend miles or points, but as anyone in this hobby for even a little while will tell you, BA's obnoxious "surcharges" (which used to be called fuel surcharges until fuel dropped so much they had to rename them to surcharges) mean that you have to avoid BA when searching for awards across the pond.
A common question is "I'm using AA miles to go to London but why are the fees so high?!" The response will always be to search only for AA flights and avoid any operated by BA.
That's sound advice – unless you specifically want to try the Club Suite!
So I thought I'd see if there was any good way to cut down those fuel surcharges. To start, I'll mention that there are many ways to get the surcharges down if you are willing to start or end your journey somewhere other than the UK – only connecting in London. That will remove the UK airport's APD portion of the fees. You can even book using Qantas miles with your first leg in economy connecting to the BA flight in Business to accomplish similar.
But let's assume you want to fly into London and that's it.
I was able to shave 42% off the surcharges and almost thought I'd found a way to avoid them altogether, but alas…
Here are the most common ways you might book a British Airways Business Class Suite from the US.
Most expensive: BA Avios
Not a huge surprise – BA's own Avios currency are best used for short flights – not longer ones.
here's how it prices:
One way to London:
50,000 Avios + $ 629 (off peak) or
60,000 Avios + $ 629 (standard)
Round Trip:
100,000-120,000 Avios + $ 1,542
(Keep in mind that the surcharges are always higher from London than to London, thus the higher round tip price)
Credit Card Transfer Partners: American Express, Chase Ultimate Rewards, Marriott Bonvoy
Credit Cards that Earn Avios: British Airways Visa Signature Card
About the same: American Airlines AAdvantage
Cost: 57,500 American Airlines AAdvantage miles each way
Taxes and surcharges: $629 outbound / $1,551 RT
($600 each way is BA-imposed fees)
Total Round Trip:
115,000 AAdvantage miles + $1,551
Credit Card Transfer Partners: Marriott Bonvoy
Credit Cards that Earn AAdvantage Miles: Citi / Barclays
A Drop Less: Iberia Avios
You can save $19 booking that outbound one-way on Iberia (and you can just as easily transfer them from your BA Avios or your credit card partner).
Cost: 50,000 – 60,000 Avios (off-peak / standard) and $610 in fees outbound / $1514 return.
Unlike booking almost all partner awards via Iberia, where they are non-refundable for any reason, BA awards are for a 25 Euro fee. You'd have to deal with Iberia, though…
Total Round Trip:
100,000-120,000 Avios + $ 1,514
Credit Card Transfer Partners: American Express, Chase Ultimate Rewards, Marriott Bonvoy
Credit Cards that Earn Avios: British Airways Visa Signature Card
Much Cheaper! Cathay Pacific AsiaMiles
Cost: 61,000 one way or 122,000 round trip. (The site actually initially states "from 90,000 round trip" but I could not price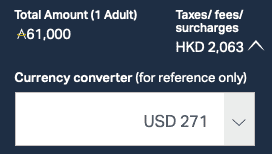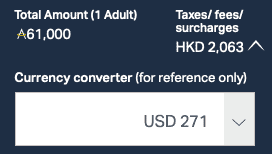 that). These consistently priced online at 61,000 one way or 122,000 RT.
Taxes and fees: $263 outbound to London one-way/ $846 RT
For the slightest difference in miles, you'll save $366 from the US to London one-way or $705 return
According to the MilesTalk Which points transfer where? page, I can transfer Amex, Citi, and Capital One miles to Cathay Pacific Asia miles, with average transfer times of around 1-2 days. While you can't hold the space, due to the surcharges, BA availability isn't nearly as fickle as other awards generally are.
Total Round Trip:
122,000 Cathay Pacific AsiaMiles + $846
Credit Card Transfer Partners: Citi, Chase Ultimate Rewards, Capital One, Marriott Bonvoy
Credit Cards that Earn AsiaMiles: Cathay Pacific Visa Signature® card
So what is the "or more"???  LATAM
I wanted to write about LATAM Pass, the new USA version of the LATAM program formerly known as Multiplus.
My understanding is that LATAM doesn't pass on fuel surcharges. I wanted to confirm this and figure out how this might sit as an option to fly BA in Business Class with just tax and no surcharges. The chart on the LATAM Multipass site claims this award should be 90,000 points each way. If you create an account, you can actually login and search flights – will which correctly show available flights.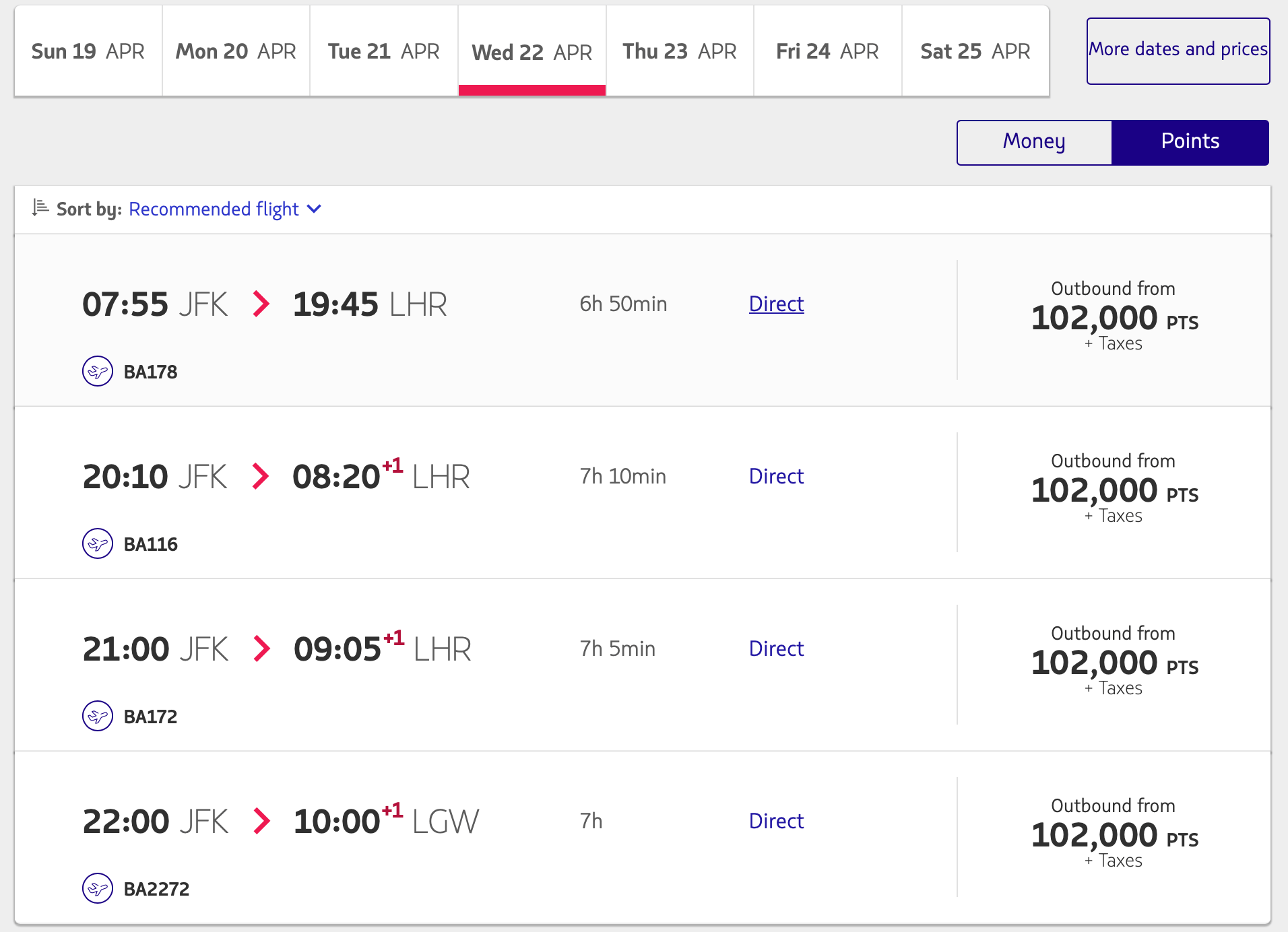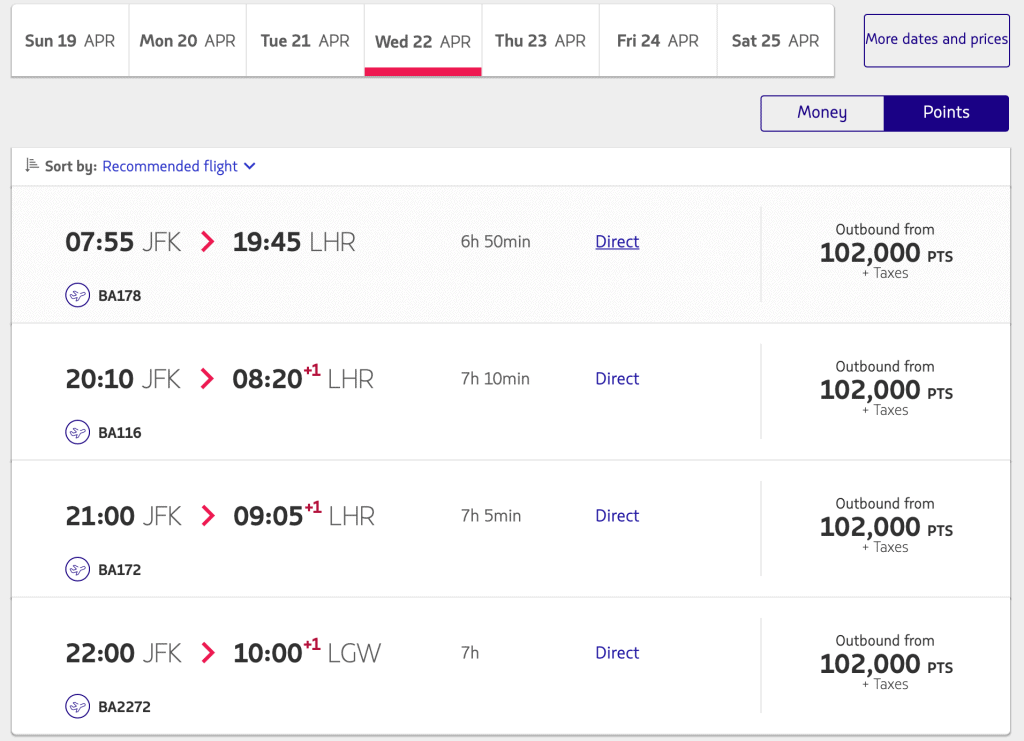 So you can see it is 102,000 points each way (and a round trip is required). You can only transfer points in from Marriott Bonvoy meaning an insane amount of Bonvoy points would be required. But I was thinking that if it was surcharge free, it could appeal to a handful of people who are points-rich.
But what are the taxes and fees? 
I have no idea. And not for lack of effort. I embarked on this mission on Sunday. The website will not price the award with taxes and fees without 204,000 points in the account. I tried calling LATAM Pass. After one hour with a very helpful agent, he apologized and let me know his system would not give him a quotation. He suggested I try reaching out to LATAM Pass on Facebook or Twitter. I did both. Two days later I got replies.
Their Facebook Messenger is nothing more than a bot. After 5 days now, the only response I got from them was an automated message to call them. Twitter tried their best, even calling me to try to help.
And after one hour with that agent, you guessed it, they couldn't price the award.
He advised that I call a Multiplus number that is no longer in service which advised me to call the first number I'd called on Sunday. I tried there again, asking for a supervisor. The agent insisted on trying to help me himself and, after one hour more, you guessed it, he couldn't price the award. He had me setup a redemption password, which it turns out you need, but then that didn't help anyway.
So he said he would open a ticket with all the details of what I was trying to do. I was hopeful.
And then last night, I got a response to my ticket:
We would like you to inform you that in order to help you making a reservation with points you need to have first the Contact Center Password.
Keep in mind that you can generate your Phone Password in our website. Please contact us as soon as you have the password, so that we can continue with the process.
I wrote back that I had a contact center passcode and that the agent I'd spoken to still couldn't help with that.
She wrote back:
Dear Customer;
In order to process your request, kindly call our Contact Center, at your earliest convenience.
I give up. Bottom line, it's POSSIBLE that you can book a BA award on LATAM with no surcharges, but a) you'd be paying an insane amount of points – almost double any other method, and b) you'd have to have patience like a saint to deal with this company.
So, there you have it. Cathay Pacific is the winner here for a one way or round trip from New York to London.
If you are flying from the US and really just want to experience that new Club Suite, it's very possible to do so for just 61,000 Cathay Pacific AsiaMiles and $263 in taxes and fees.
Note that you could also use other Oneworld carriers, like Qantas, but I don't know of any with a lower fuel surcharge. If you do, please let me know!!
Questions?
Ask me here, on Twitter, or in the private MilesTalk Facebook group.
You can find credit cards that best match your spending habits and bonus categories at Your Best Credit Cards. 
New to all of this? My "introduction to miles and points" book, MilesTalk: Live Your Wildest Travel Dreams Using Miles and Points is available on Amazon and at major booksellers.