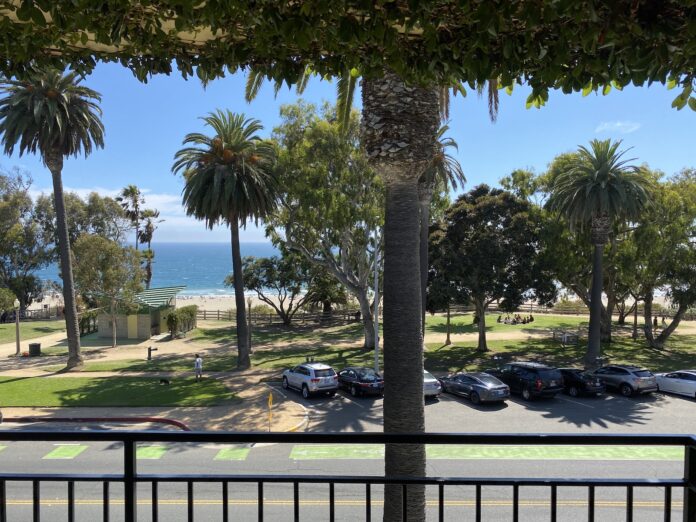 Welcome back to my series of "Lightning Reviews" – where I let you know what you need to know about a flight or hotel experience without getting so deep in the weeds that you fall asleep!
Right now, I'm at the LXR branded Oceana Hotel in Santa Monica, California, relaxing by the pool and waiting for breakfast to arrive. The hotel came under the LXR fold back in January, opening it up to Hilton Honors redemptions.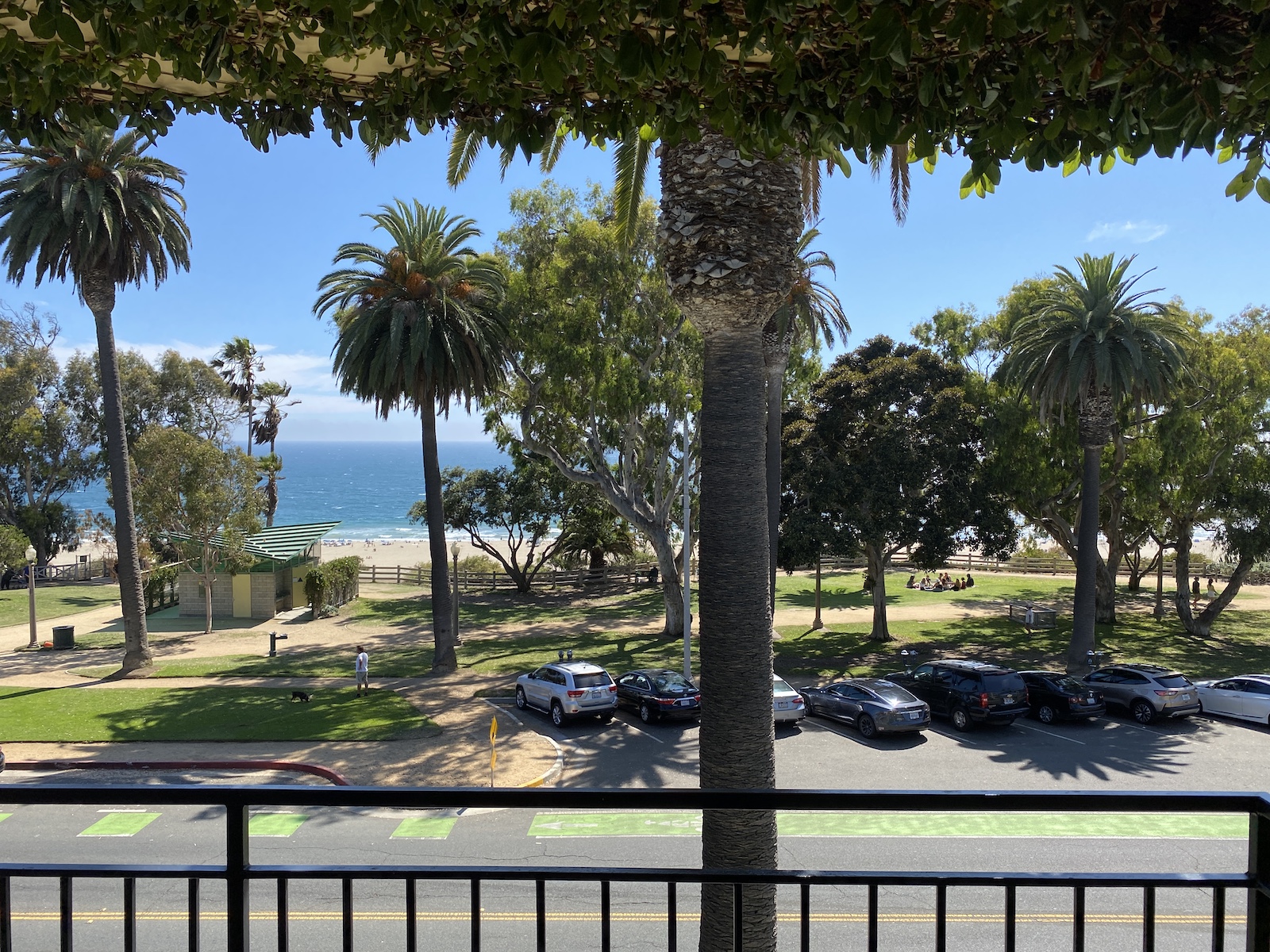 How To Book
The hotel costs 95,000 points on award redemptions. An average standard room sells for about $750 a night and up, plus tax and a $45 resort fee. Since you don't pay tax or resort fees on an award with Hilton, you are getting close to 1 cent per point in value – about double the "average" value of a Hilton point.
You can also use Free Night Award nights from a Hilton credit card like the Hilton Aspire which comes with one annually.
I used 3 Free Night Awards + 95,000 points for this 4 night stay.
Location
The Oceana is located on Ocean Ave between Idaho and Montana. You should know that this is away from the downtown Santa Monica "hustle and bustle" of the Promenade – about 3/4 of a mile away. So it's about a 15 minute walk. It's also about a 10-15 minute walk up to the shops on Montana Ave.
For us, this is perfect. It's a respite – exactly what we wanted out of this stay. But if you want to be "in the action" then you might reconsider.
Parking is valet only and over $55 a day. If you are an intrepid street parker like me, it's really not hard to find street parking as long as you mind the signs (much of the area requires a resident parking permit – but not all) and meters. I found a spot all 4 nights pretty easily. I appreciated that when I explained to the valet that I knew the area and would street park, he made sure I knew the best streets to check. I love it when a valet at an expensive hotel can appreciate that someone might do this and is friendly about it (as opposed to some experiences when they scoff and try make you feel foolish to not valet).
And I'll also note that all of the valets and bellmen (I think the same people perform both tasks) were all amazing and super friendly.
Vibe
The vibe and the crowd are upscale and discerning. The hotel is just 70 rooms and is a luxury boutique property.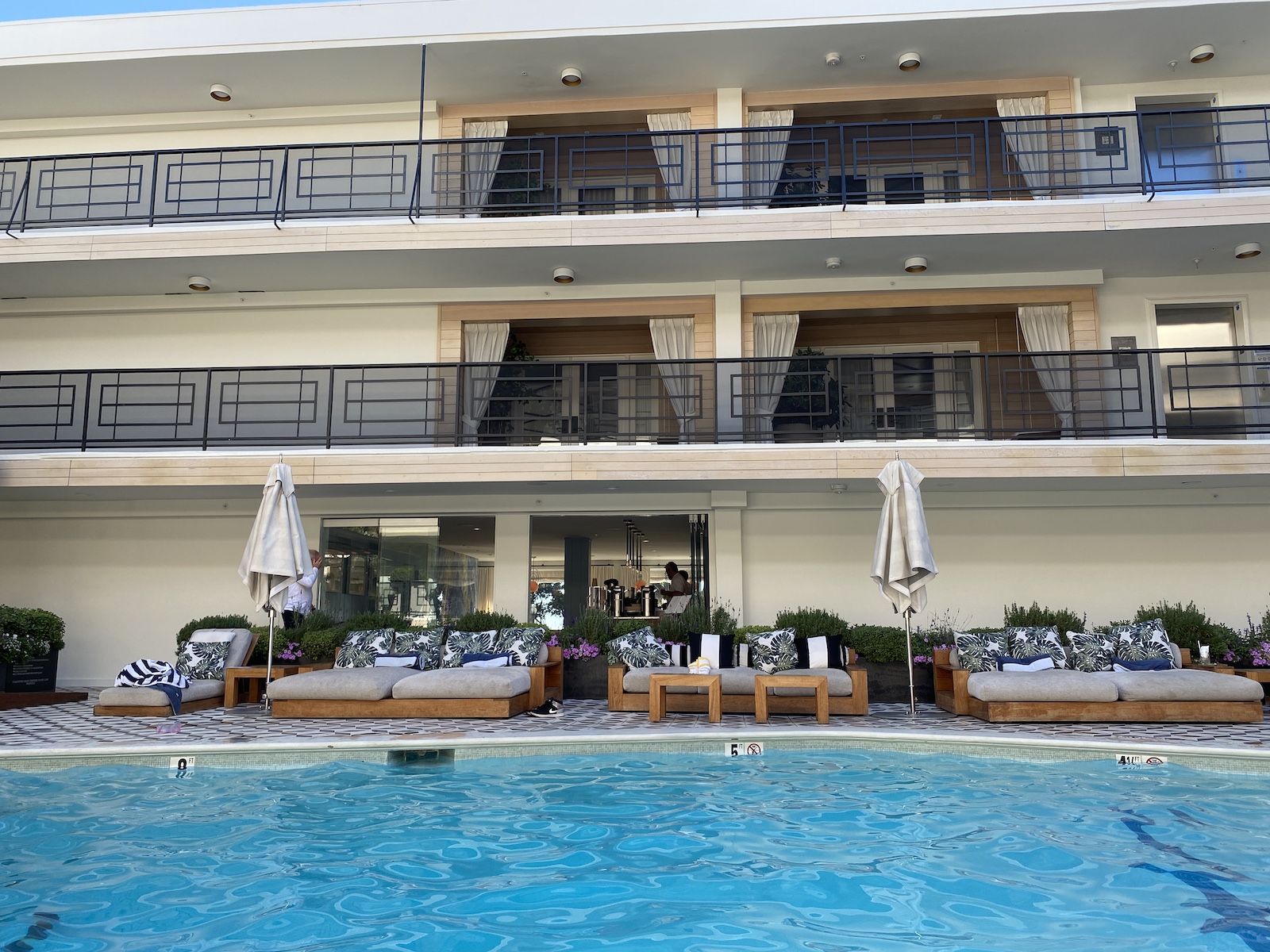 Service
In a word, amazing. Remember my disappointment at the Waldorf Astoria in Maui where staff couldn't care less? If you flipped that upside down you'd have the staff at the Oceana.
Everything is a "yes" (within reason!). Everyone on staff genuinely seems to want you to have a great stay, works hard to get you that, and doesn't hesitate to fix something if it goes wrong. Need a bottle of water for the room or for the road? No problem! Just need some advice on the area? No problem! If they need to get it, it is at your room in no time.
The General Manager of this hotel has worked in the luxury hotel market for quite some time and he knows what it takes to please the type of guest that chooses the Oceana.
He also knew it was our anniversary celebration and left a (nice!) bottle of champagne for us when we arrived. That kind of thoughtfulness and attention to detail is what makes a luxury boutique hotel experience and brings repeat guests.
The Room
Again, we got lucky well beyond a Diamond upgrade. Knowing some backstory on our COVID wedding, indefinitely postponed honeymoon (the Waldorf Astoria Maldives trip that we cancelled twice), and 1 year anniversary celebration, the GM worked some magic and upgraded us to this stunning top floor ocean view suite. There are only two like this in the hotel and the cash rate would have been over $1,200 a night. The room was marvelous and a view of the beach from a hotel room in Santa Monica is indeed rare due to the bluffs and low rise buildings.
Look at these pictures… it felt like a small apartment on the beach! We absolutely loved it.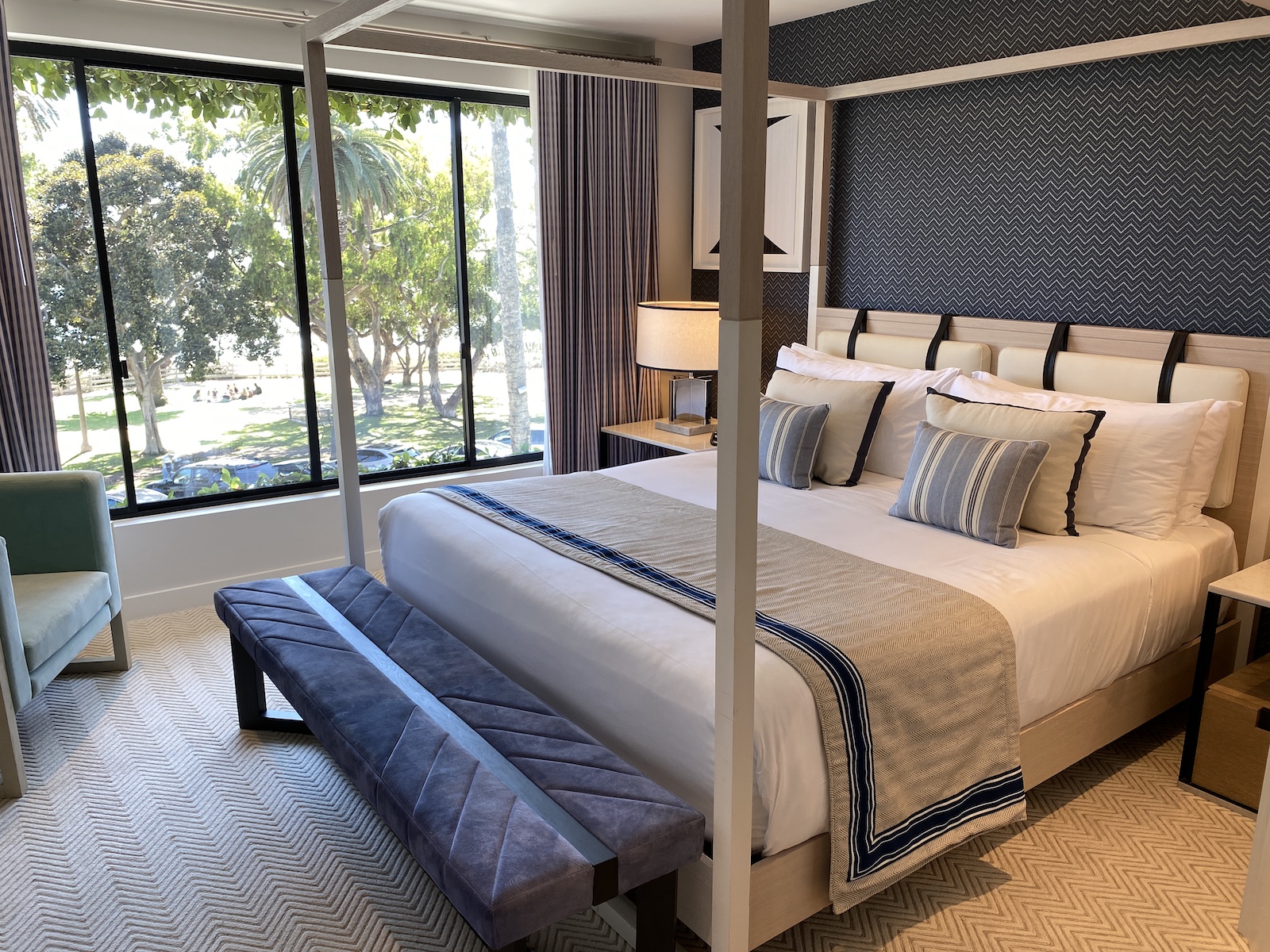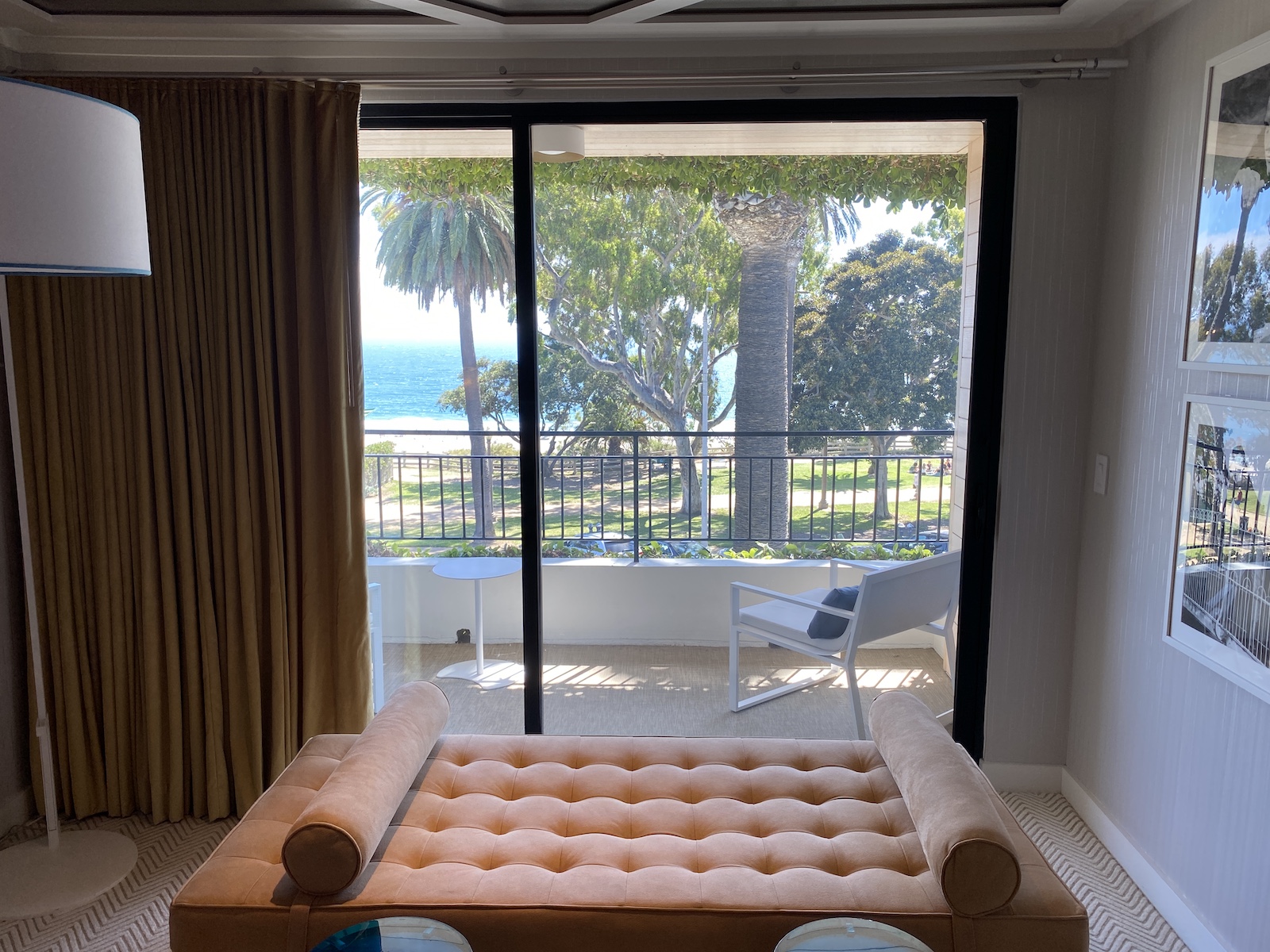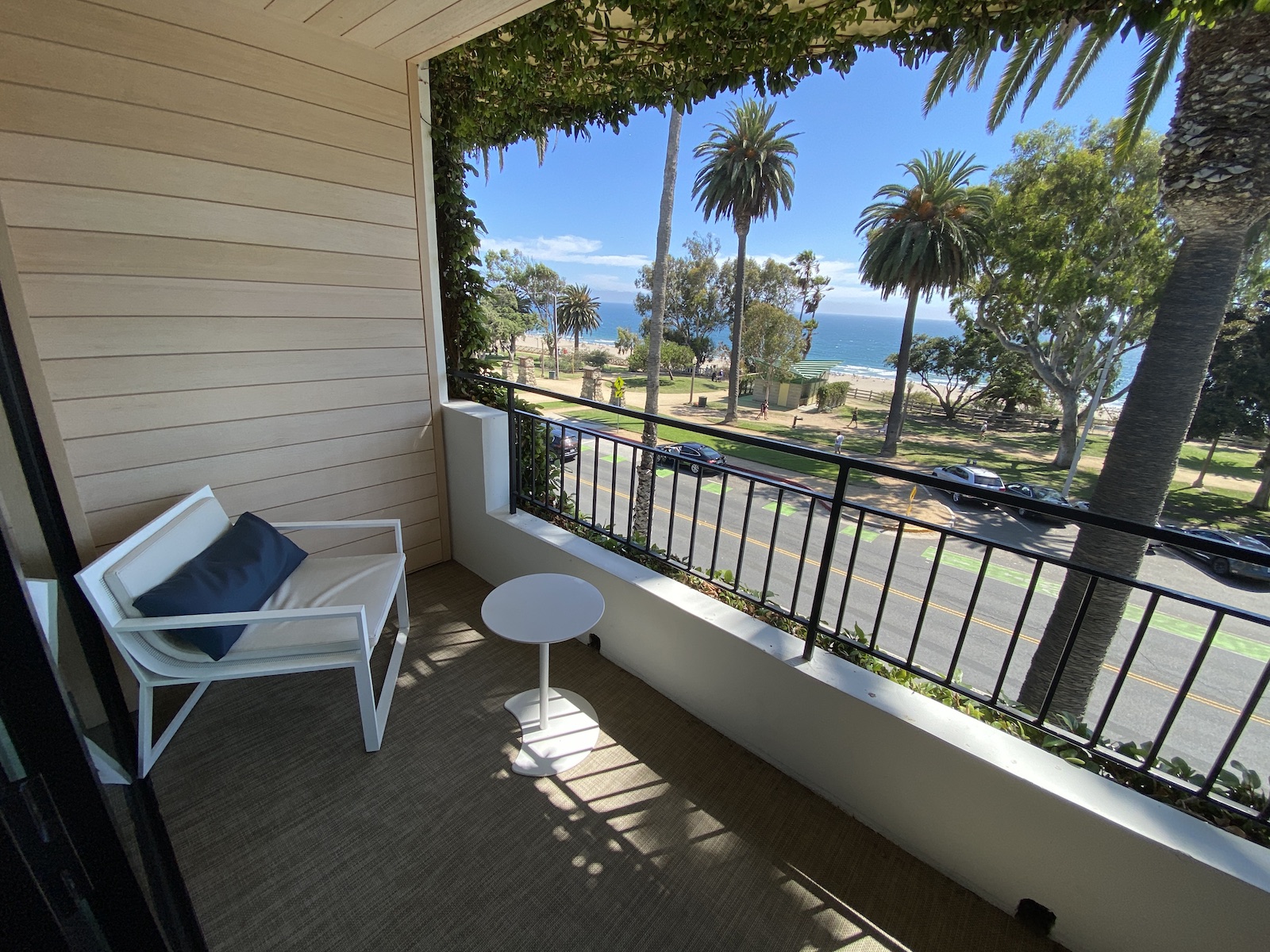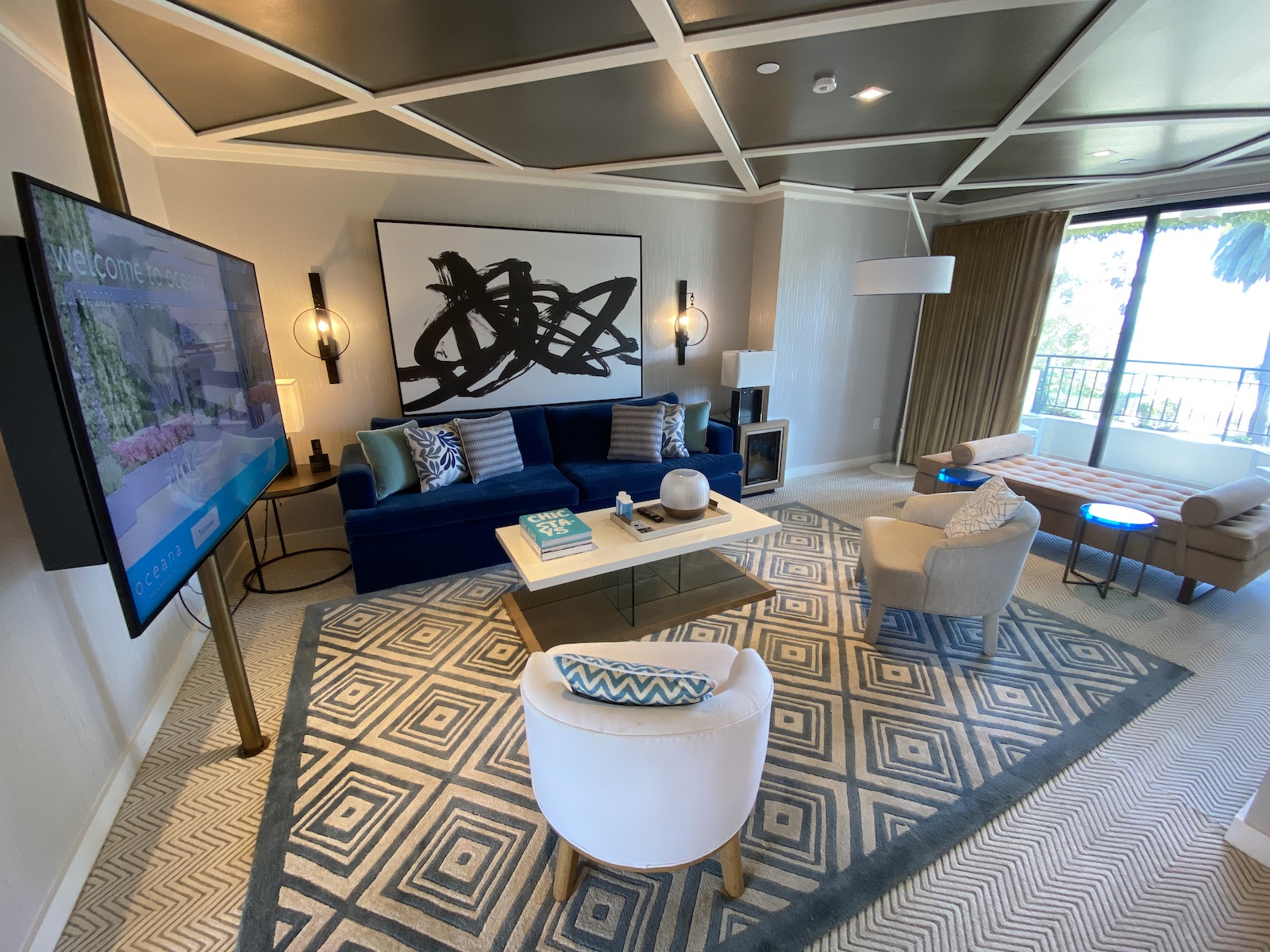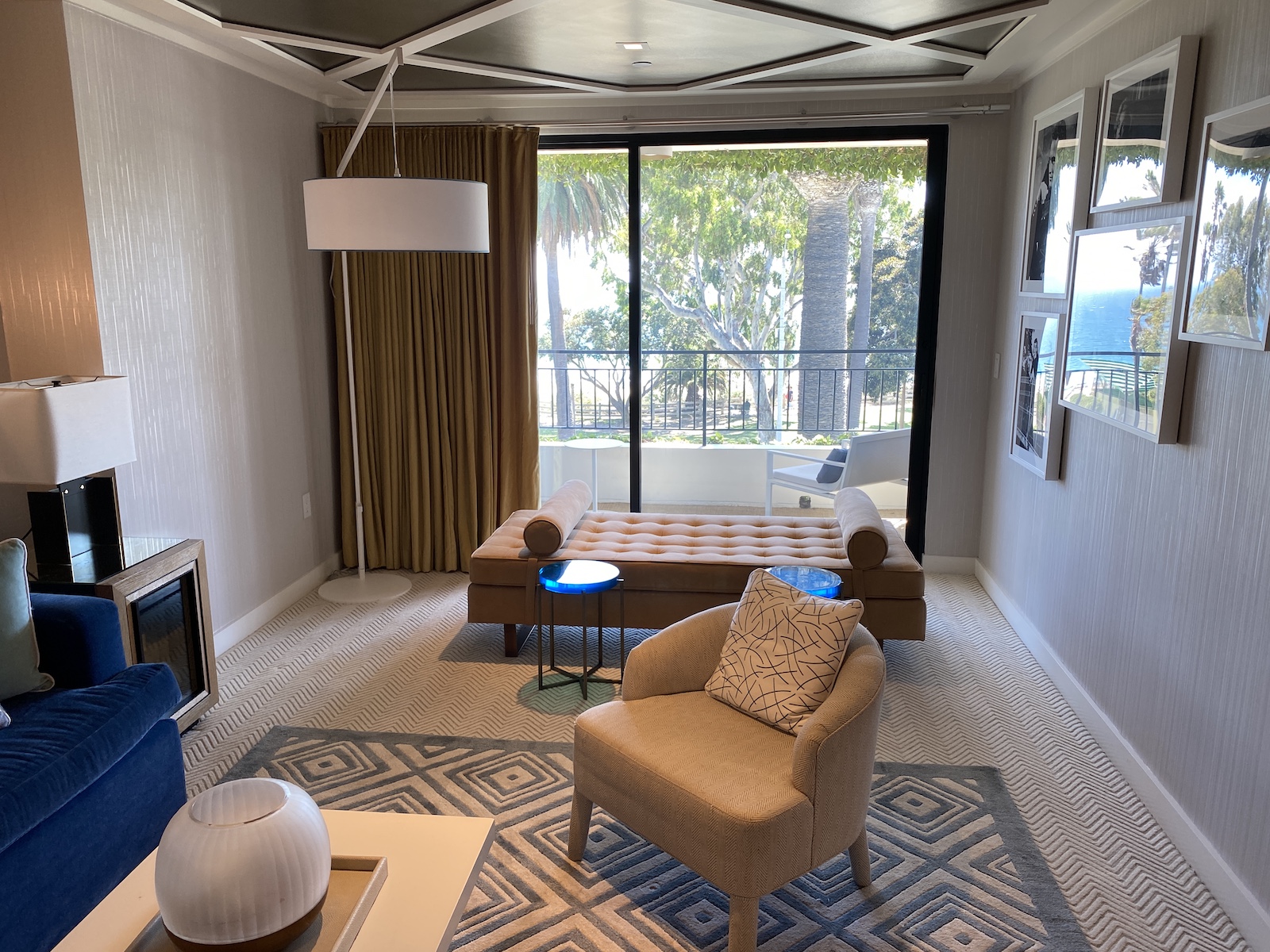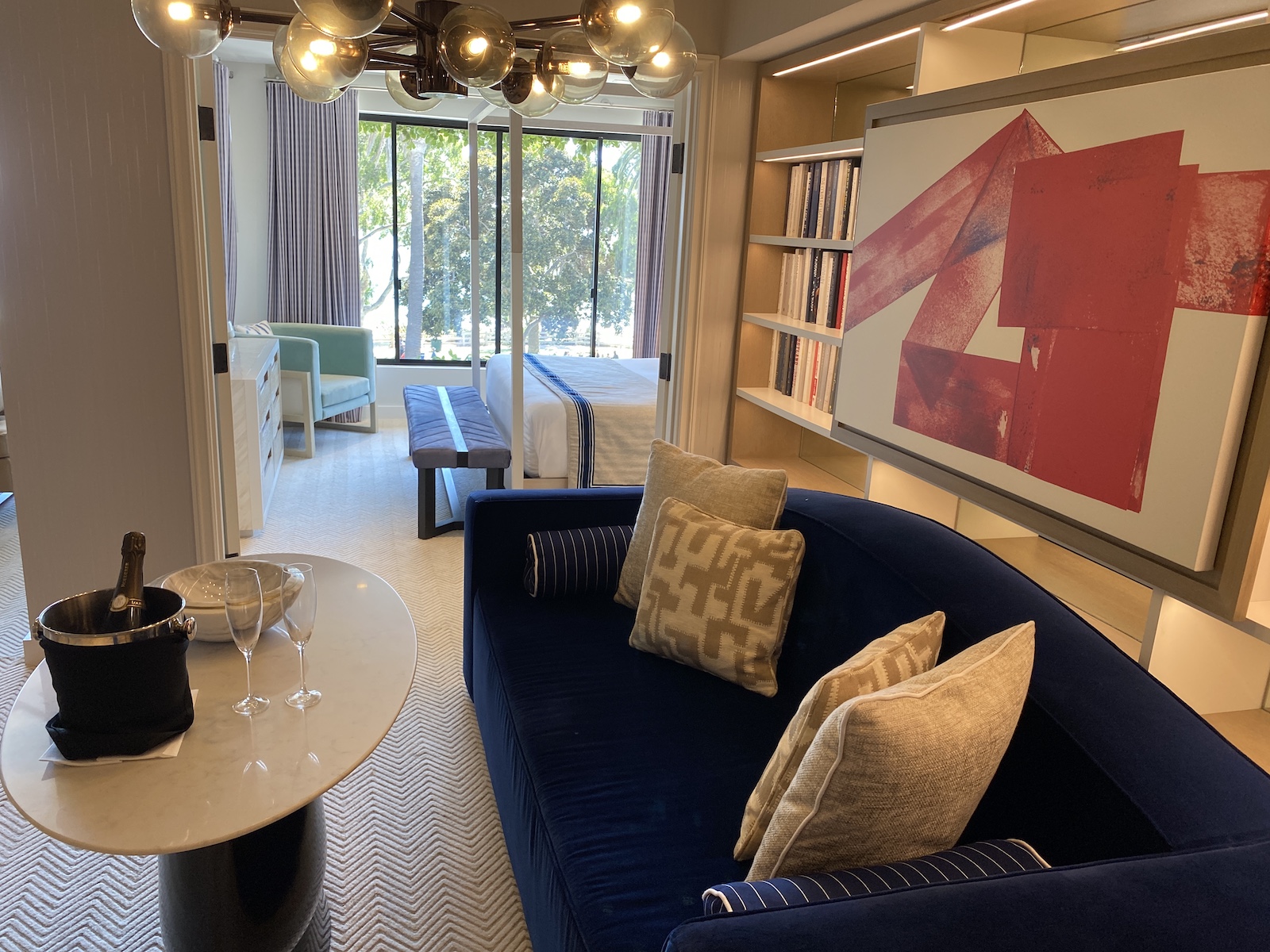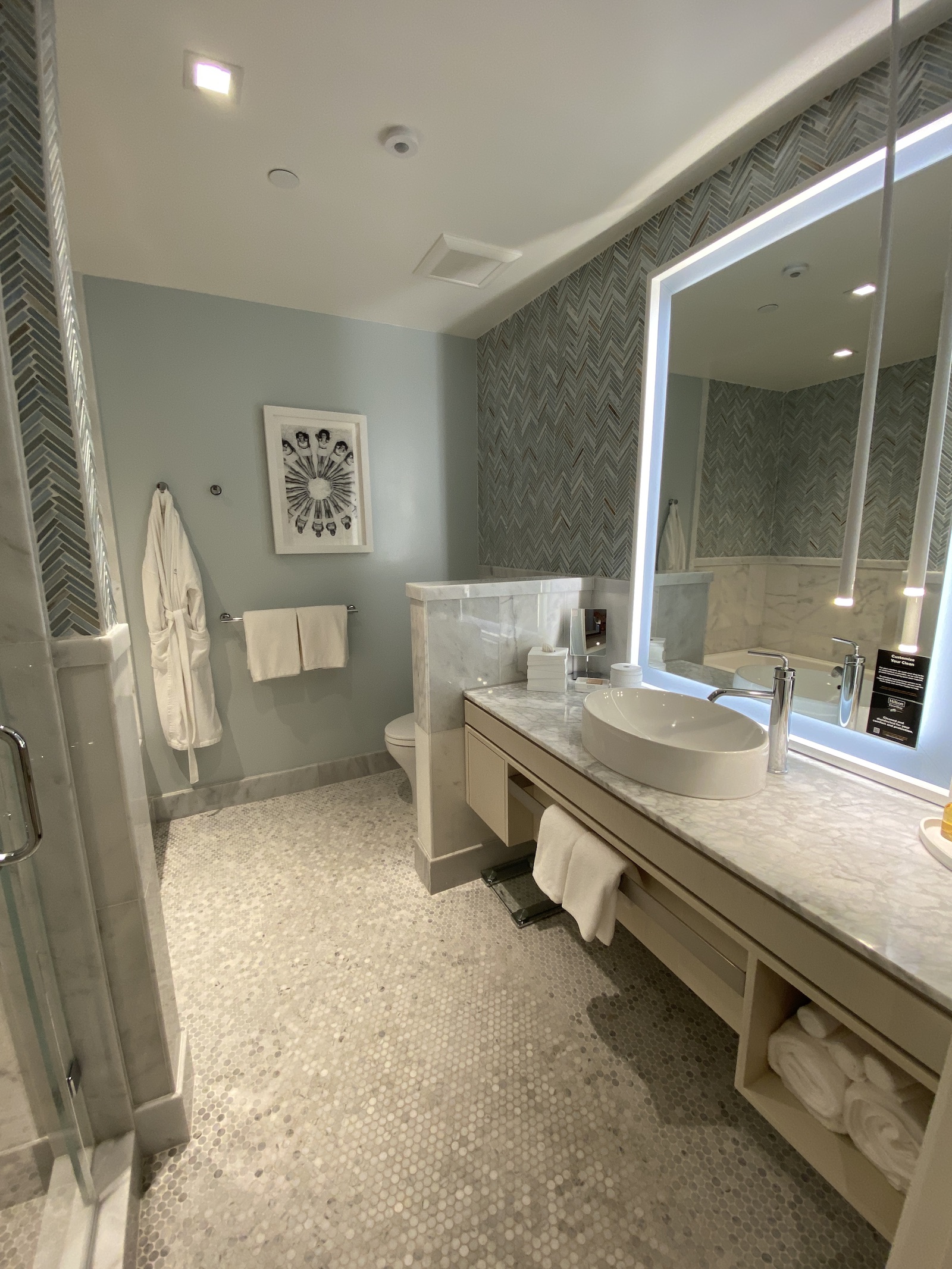 And I want to call attention to their, well, attention to detail. Lots of outlets and USB chargers by the bed on each side. Lighting controls. A GIANT television. Beautifully furnished as well.
The Pool
Heated to a balmy 82 degrees with perfectly padded loungers (and plenty of them – we always got a bed). Poolside food and beverage service as well as huge, soft towels. Really relaxing.
The Food
This was the only spot that wasn't at 100%. I know they have had to do a lot of re-hiring post-COVID and I think this will sort itself out, but the kitchen had a few missteps. Still, I highly recommend the sliders and the chicken sandwich as well as the breakfast burrito.
I loved that they had complimentary coffee out all day next to the pool. You could also request a Nespresso machine for the room if desired.
The Hilton Honors Diamond Credit (Also available to Gold Members)
In 2021, Hilton is giving fixed credits per day for Gold and Diamond members (amount determined by brand rather than "breakfast."
We were given $50 a day (2 x $25) to use at any time of the day. We had dinner one day and lunch three days, with the credit covering the lion's share. In this case I have to say I liked the credit way more than a normal included breakfast!
One thing that is a bit confusing is that when the credit isn't specifically for breakfast, which days do you use it? The day you check in but not the day you check out? They clarified we could choose to start the day we checked in or the following day and we'd receive the credit each of those 4 consecutive days. They were also great about proactively removing the $50 per night before checkout.
A Suite Walkthrough
Want a bit more? I'll take you on a 90 second tour of the suite we had.
Bottom Line
We loved this hotel. The service was top notch, the location in a tranquil part of Santa Monica was relaxing, the property was beautiful and well appointed, and the pool was heated, not crowded, and comfortable. Everything about this hotel is 5 Star and we'd not hesitate to return.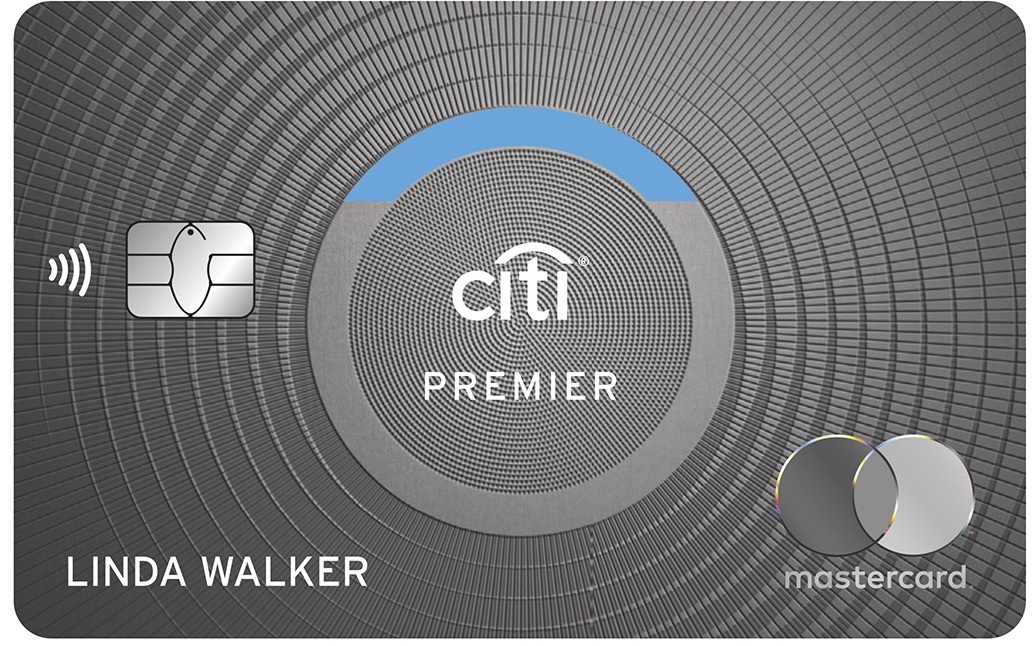 Get 60,000 Citi ThankYou points when you spend $4,000 in 3 months.
Using Turkish as a transfer partner, this could be worth 2 round trip domestic flights in Business Class or just 30,000 points shy of a roundtrip flight to Europe in Business Class!
Get This Offer
Questions?
Let me know below in the comments, on Twitter, or in the private MilesTalk Facebook group.
And if this post helped you, please consider sharing it!
You can find credit cards that best match your spending habits and bonus categories at Your Best Credit Cards. 
New to all of this? My "introduction to miles and points" book, MilesTalk: Live Your Wildest Travel Dreams Using Miles and Points is available on Amazon and at major booksellers.