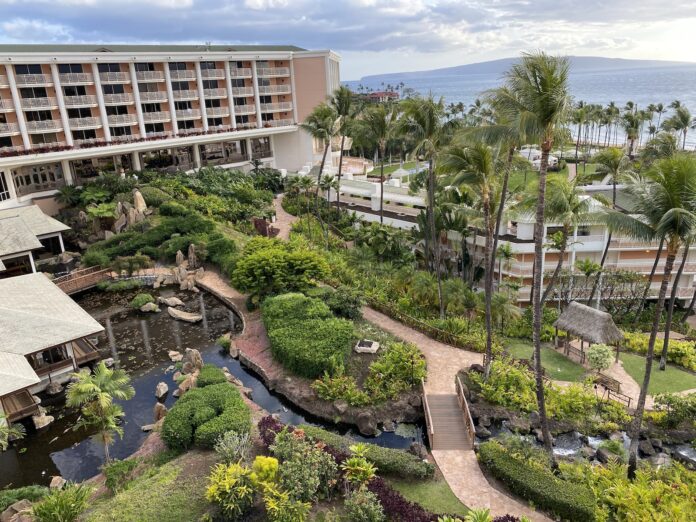 Welcome to another of my hotel "Lightning Reviews." With a goal of staying under 1,000 words, these reviews are designed to give you all of my thoughts on a hotel or resort following a stay, but without getting super deep in the weeds. Some reviews will still get "full reviews" but most will now be Lightning Reviews™.
Lightning Review: Waldorf Astoria Grand Wailea, Maui, Hawaii
I'll say it right up front. We were super disappointed in this stay. I was beyond ecstatic when I originally booked this reservation, which if you are purely looking at "cents per point" or value for Hilton Free Night Certificates, this hotel certainly looks good.
With a cash rate of about $800 per night, plus tax and a $45 resort fee, you'd be looking at about $5,000 for the 5 nights we stayed in mid-April. We used 380,000 Hilton Honors points instead, for a redemption value of 1.31 cents per point. Given the baseline value of Hilton points is just 0.5 cents per point, this felt like a great use of points.
However, just because it's "free with points" doesn't mean you don't still have expectations inline with both the brand ("Waldorf Astoria = High End Luxury") and the cash price.
I'd asked around before booking as well. The Marriott-brand Wailea Beach Resort is directly next door, the Andaz Maui is just north of that (although the Andaz Maui seems to require 9 night stays to use points unless you use a workaround). There's also a Hyatt Regency in the Lahaina area (I never saw that part of the Island, though I understand it's also nice) and there's a Ritz Carlton, however the area that is in has more rain and cold weather than the other areas, so I'd probably skip that if you want the Hawaii weather you are dreaming about, though I understand it to be a nice property.
Anyway, by a large margin, people said the Grand Wailea was where to stay if the points bookings were available – since they rarely are. So we did. I obviously had my head on straight that there could be service misses due to COVID but I was unprepared for what we actually encountered.
And I can't imagine I would ever go back…
Sure, the place was absolutely overrun with families (we were honeymooning) but that wasn't the issue at all. Here are the reasons I would never want to return to the Grand Wailea.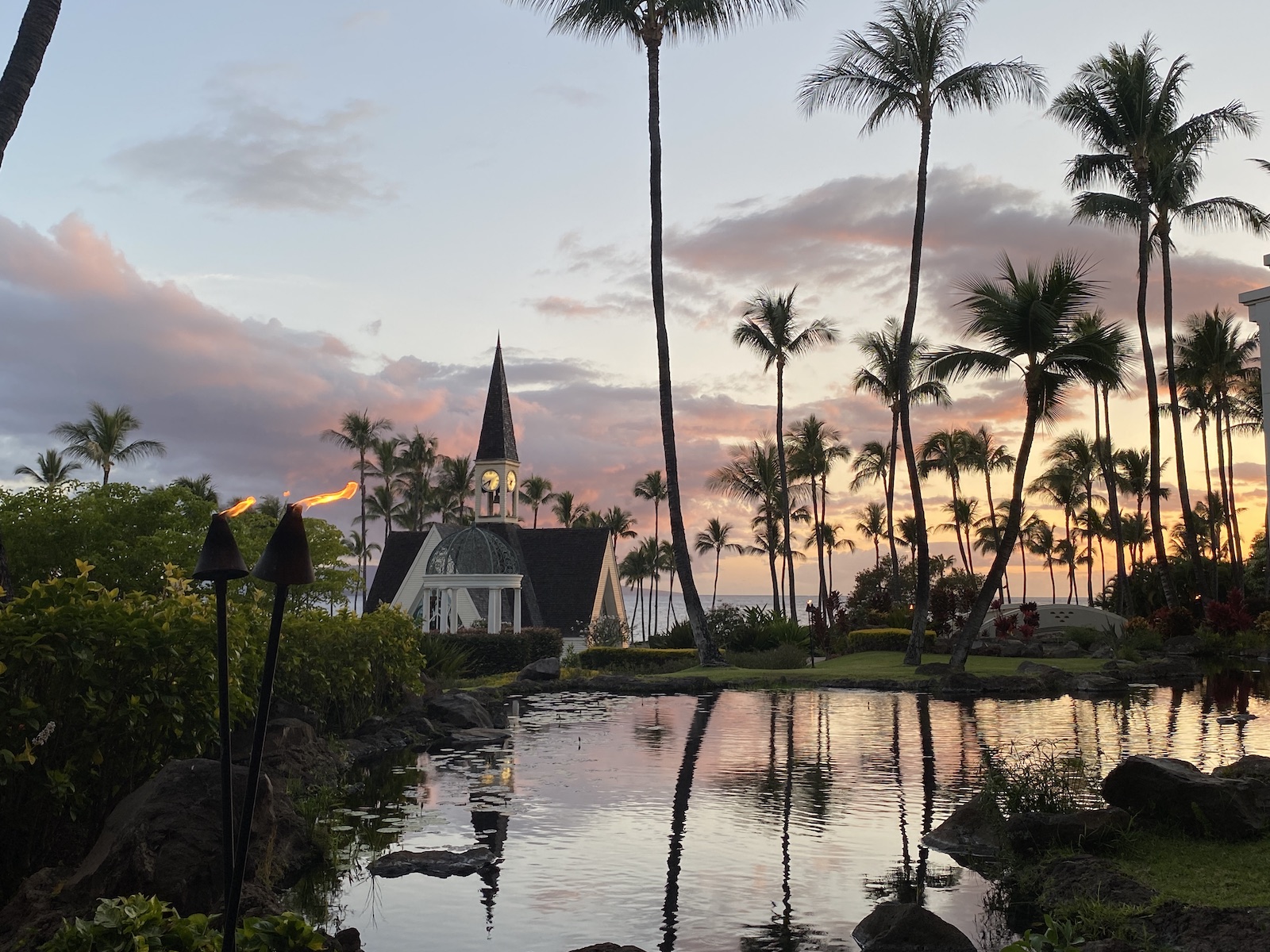 Our Issues with the Grand Wailea
It's just not relaxing! If you stop and close your eyes and I tell you to picture a Waldorf Astoria resort in Maui, you are almost certainly picturing at least *some* tranquility. Right? Well, that isn't on offer here. The place was just a manic mess from start to finish, with long waits for just about everything, zero upscale on-property food, and apathetic staff.
6am roll call for pool chairs: Before we arrived, we were told that there is a system for reserving beach chairs the day before at 4pm sharp. OK, we figured that sounds annoying but at least you do it wherever you are and then you're all set. Well, that feature magically vanished a few days before we checked in (which was at the tail end of Spring Break, mind you). Asked why, they let me know that the system kept getting overloaded. So, easier than paying to have it fixed/upgraded, they just ended it and instituted the good old "wait on line" system. If you wanted a prime pool spot, 6am was the time to get in line for the 7am desk opening. Who doesn't want to wake up around 5am on vacation at a Waldorf Astoria to queue up for beach chairs, am i right?

Grand Wailea Adults Only Pool

All decent dining outlets were "Closed due to COVID":  Despite being PACKED, just about every dining outlet was "closed due to COVID." The Grand Dining Room, which has plenty of outdoor and almost-outdoor seating was closed due to COVID. The Volcano Bar, which is entirely outside by the pools, was closed due to COVID. Their well regarded restaurant Humuhumunukunukuapua'a (which also has plenty of space for outdoor dining) was closed due to COVID. The pool's Grotto Bar was very understandably closed (really due to COVID).The only dining outlets open were the very low-end coffee shop (Cafe Kula) and a mediocre informal spot called Bistro Molokini. There was also a taco truck on the lawn near the beach.The frustration, to be explicit, was that there was no decent restaurant on-property. Not one. Think about that.At the Waldorf Freaking Astoria, the only way to have a good meal was to…. walk to the Four Seasons just south of the Waldorf or to the Marriott Wailea Beach Resort just north of it. And we did. We had a divine meal at the Four Seasons at DUO Steak and Seafood and we had an equally fantastic meal at Roy Yamaguchi's Humble Market Kitchin at the Marriott.Due to COVID….
Diamond Benefits: While the hotel was nice enough to upgrade us to an ocean view room (and that was definitely appreciated!!) the other Diamond benefit is breakfast.The Hilton Gold/Diamond breakfast benefit was good in either open food outlet, the coffee shop or the bistro. If you chose the coffee shop, you could wait up to an hour to receive your order (I'm not joking), although the $20 credit was not enough to cover both a food item and coffee/beverage. If you chose Bistro Molokini, there was no breakfast entree at a price point that the credit could cover it. I'm not sure how this worked pre-COVID….At a Hampton Inn, this would be just fine. At the Waldorf Astoria, you kind of think they won't be so cheap as so give you a credit amount that can't possibly cover breakfast.We tried both over multiple days. Our first day was when we waited 1 hour for our order at the "grab and go" style Cafe Kula. The best part, though, was when they got both my order and my wife's order wrong after all that time. I had ordered a breakfast sandwich on a croissant. They gave it to me on an everything bagel. Not the end of the world but not what I ordered. When I inquired as to why, the line cook shrugged that he told the cashier. I asked the cashier who told me "Oh yeah, they ran out just before you ordered." To say that neither one cared – at all – is an understatement. This is the kind of service you expect at a mid-tier resort mill like a giant Hilton Grand Vacations resort – not at a Waldorf Astoria!!And as I write this I'm comparing this Diamond breakfast with the excellent treatment we received on our next stop (the Grand Hyatt Kauai, where Globalist breakfast was whatever we wanted, made to order, in a picture perfect setting with smiling servers that remembered us from day to day), reinforcing that it doesn't have to be like this.

Again, I know I sound like I have unreasonable expectations, but I don't. I have expectations aligned with a combination of brand and room rate. A top tier brand at a nearly $1,000 a night price point comes with certain expectations. Incredibly long waits at breakfast for the wrong order and nobody that cares is not it.

Limited Pool Umbrellas: Something that really struck us as "Is this really a Hilton rather than a Waldorf Astoria?" was the fact that there weren't enough umbrellas for all of the pool loungers. Maybe 65% of chairs had umbrellas. Now, I love the sun but laying out in super strong sun with no umbrella all day is a recipe for disaster. I don't claim to know the costs of beach umbrellas, but when you charge $800-$1,000 a night, you should be able to provide umbrellas for everyone. They had lots of empty cabanas for rent, though.

Some people relaxed here because they couldn't get a beach or pool chair.

Water: Rather than restock your water daily with plastic bottles, they are Green and provide a refillable bottle. We loved the bottle and the concept – with one hitch. The only refill station was in the lobby which was super inconvenient relative to the rooms. Not only that, we went by one time and the water was empty. The desk agents were right there watching and very reluctantly went to fill it up. Again, this goes to the thoughtfulness of a supposedly luxury resort. The water should a) be in multiple places around the hotel, b) constantly refilled, and c) if one has run dry, the staff should not make the guests feel like a bother.

Grand Wailea Water Bottle
Chase Sapphire Preferred® Card Earn 60,000 bonus Ultimate Rewards points (worth up to $750 or more!) when you spend $4,000 in 3 months. How to apply for this offer.
What We Liked About the Grand Wailea
Look, it wasn't all bad.
The resort itself is beautiful, even if it's not as tranquil as its neighbors. The beach was great and the beach attendants worked very hard to keep up with the demand for beach chairs.
The aquatic landscape was nice as well, with many, many pools (including one adults-only pool that tended to have more availability than the family pools). The waterslides would be very fun for kids and, heck, was fun for us too! Many brought inner tubes for the lazy river, although the "lazy river" didn't look so amazing.
The balcony we had was well equipped with reclining chairs to sit and enjoy sunset or do a little work. (As an aside, we were upgraded into a Deluxe room but I could not tell the difference from the pictures of the non-Deluxe rooms.)
Here are some obligatory pictures of the room, a Deluxe Oceanview Room.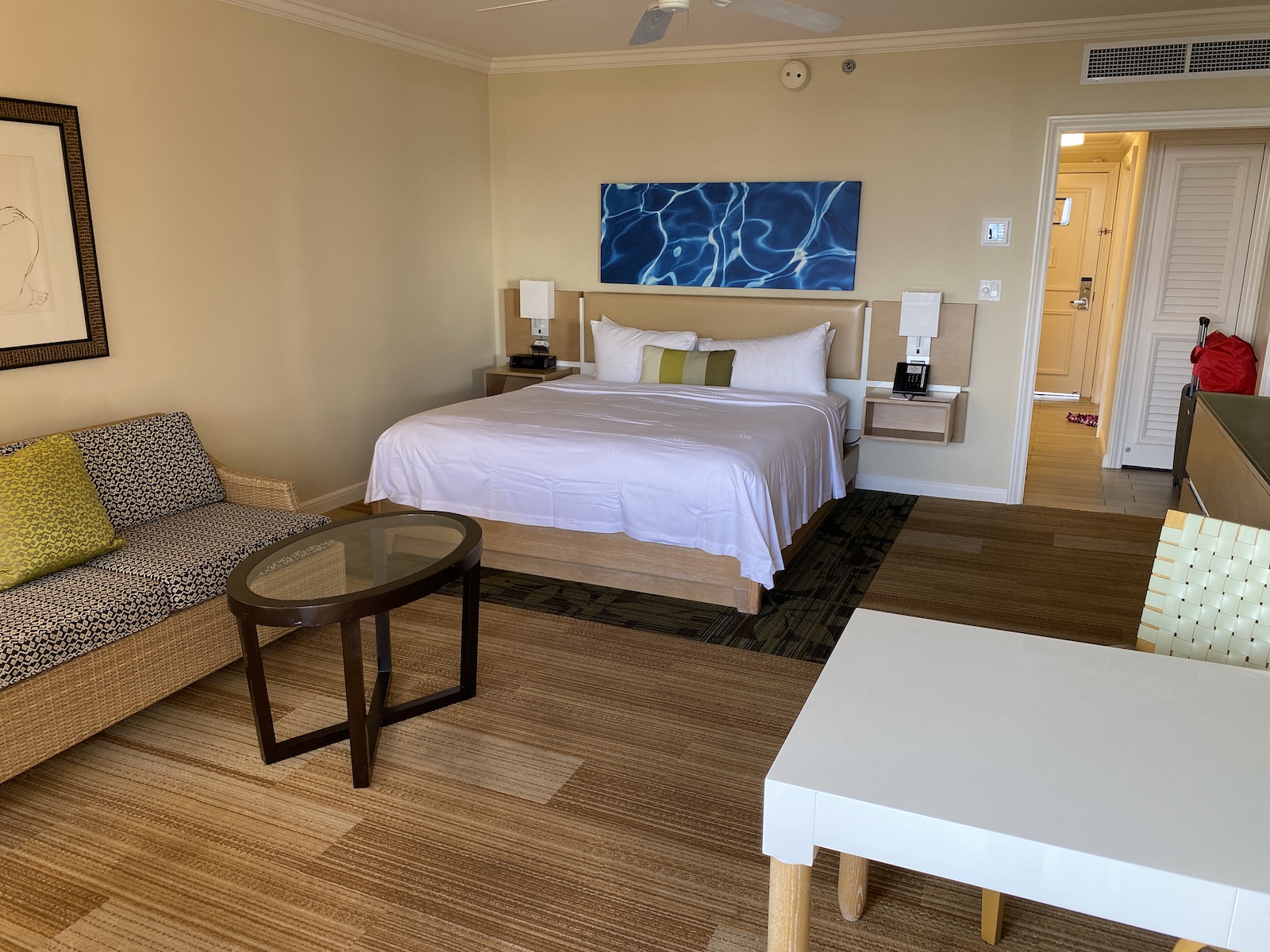 The "Lucky Duck" upgrade here would be to the Napua Tower, but that is specifically excluded as a Diamond Upgrade in the Terms and Conditions. The Napua Tower includes a large private club for eating and drinking.
And it was Maui! The location in Wailea was solid, with great weather and a location not too far from main attractions (it was 30 mins to the starting point of the Road to Hana in Paia and maybe 45 mins to the start of the ascent up to Haleakalā.
Maui Travel Tips
I originally wrote about 1,000 words on some Maui travel tips, but I moved that over into this post: Maui Travel Tips
Thoughts on the Waldorf Astoria Grand Wailea?
Let me know below in the comments, on Twitter, or in the private MilesTalk Facebook group. And don't forget to follow me on Instagram for all sorts of tips on miles, points, credit cards, and travel.
If this post helped you, please consider sharing it!
You can find credit cards that best match your spending habits and bonus categories at Your Best Credit Cards. 
New to all of this? My "introduction to miles and points" book, MilesTalk: Live Your Wildest Travel Dreams Using Miles and Points is available on Amazon and at major booksellers.