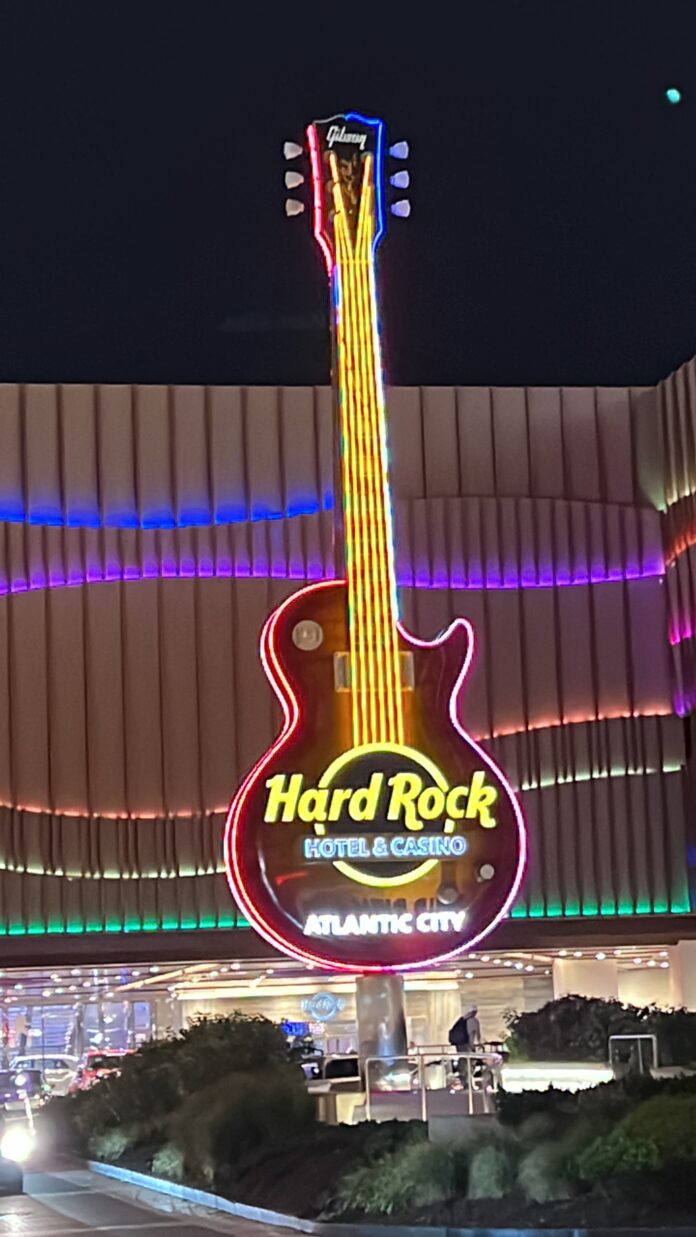 I went down to Atlantic City this past weekend to a) check what's changed since last year and, b) get a buddy on the Status Match Merry Go Round himself.
I'm happy to say that there are few changes, but let's run through how each stop went. (I also did a 60 second IG reel about it 😉
View this post on Instagram
Step 1: Caesars
I made sure my friend had applied for and received the Wyndham Business Earner credit card and matched that successfully to Caesars Diamond online before we left. That Wyndham –> Caesars match can take a while.
We went to Harrah's and he grabbed his Diamond card. We'd be back to Harrah's later for dinner, since each of us had $100 in free eats due to the Celebration Dinner that comes with earned status (and matched with Wyndham Diamond via the Business Earner credit card is, at least for now, considered "earned").
In Atlantic City, here's where you can dine gratis: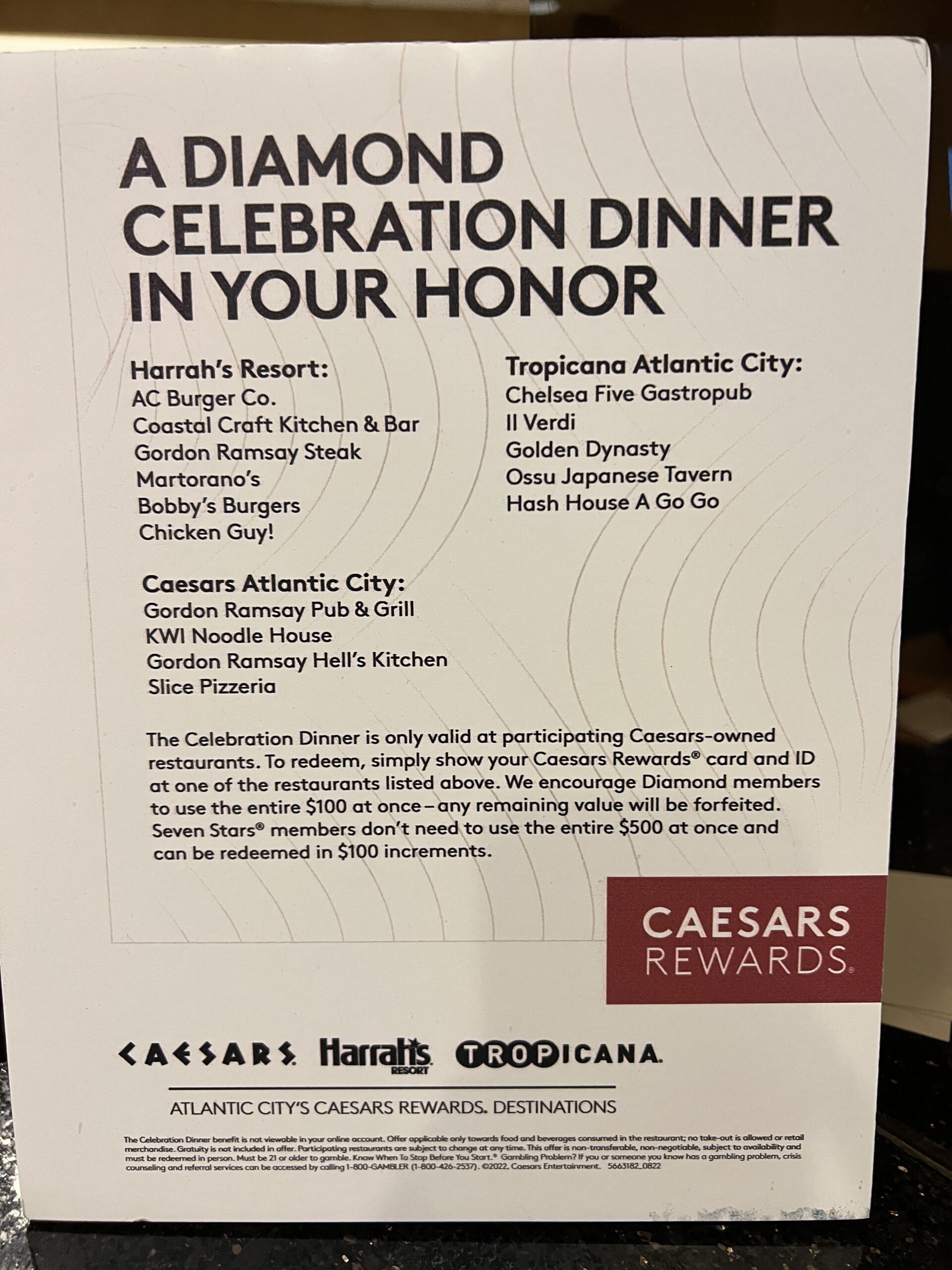 No to skip ahead too far, but we had an awesome comp meal at Gordon Ramsey Steak, curtesy of Caesars Diamond status and the $200 in free eats we had to spend between us.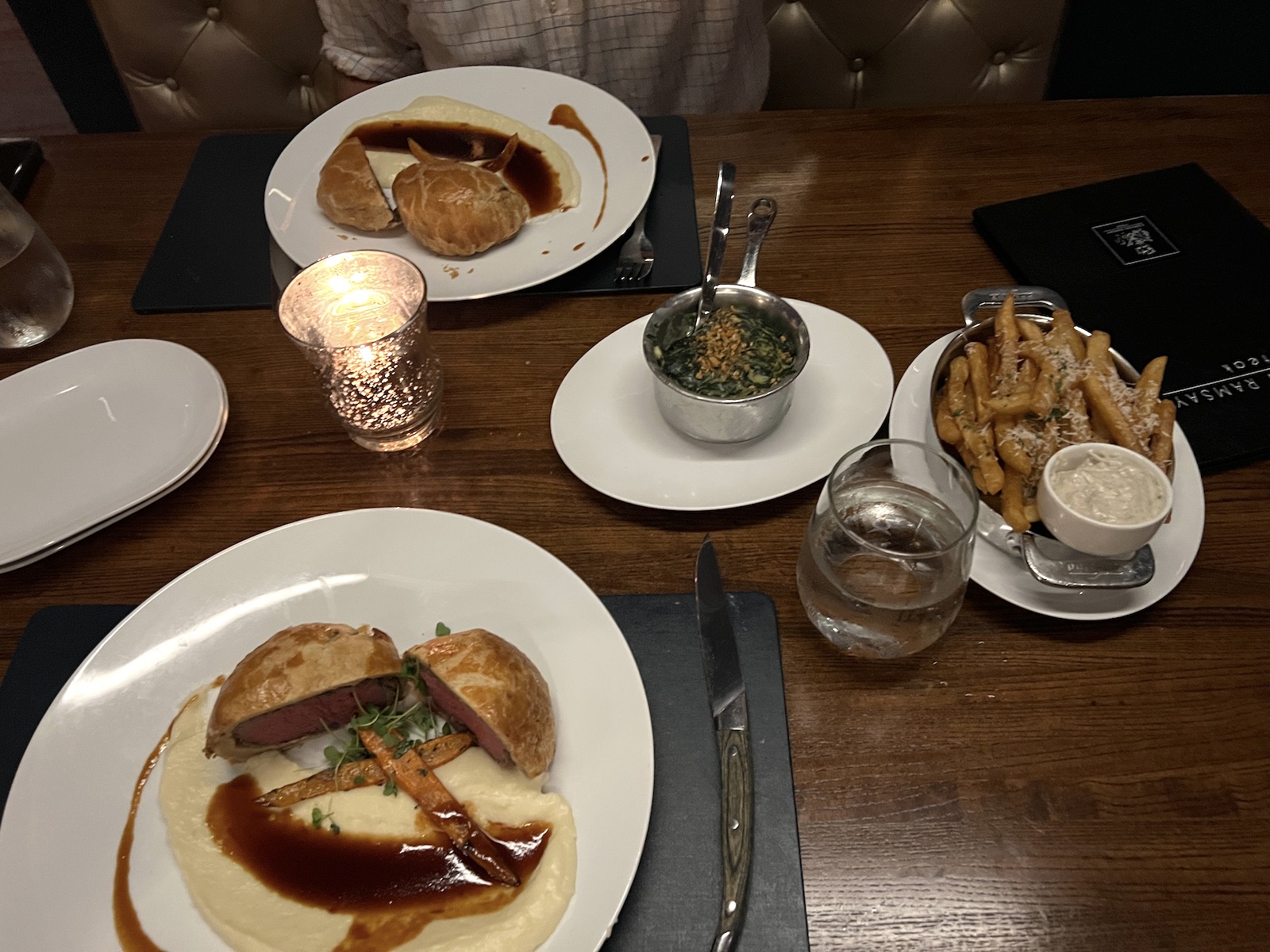 With your Diamond card in hand, you won't have to pay for parking as you leave.
Step 2: MGM Rewards
Off to Borgata!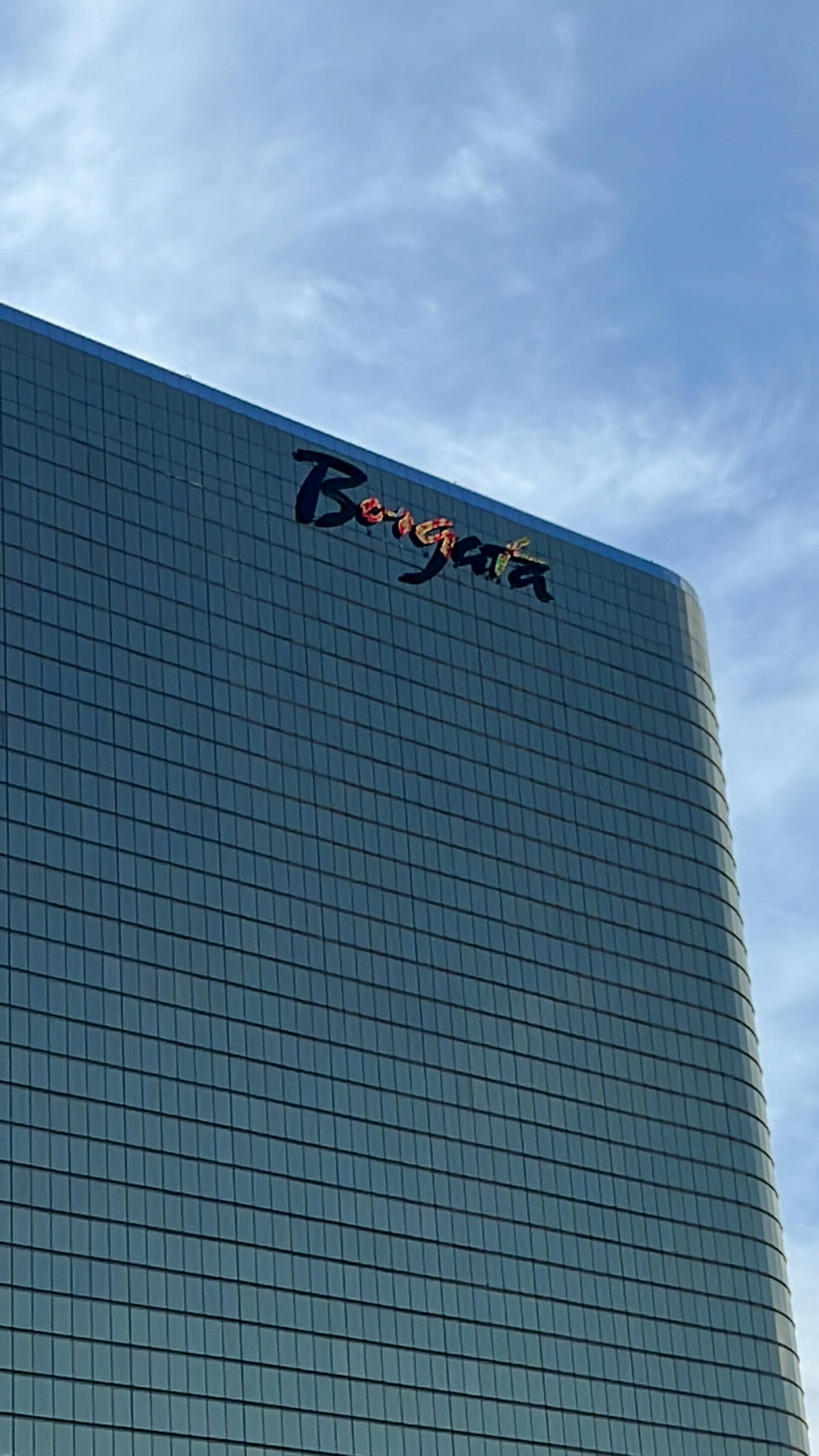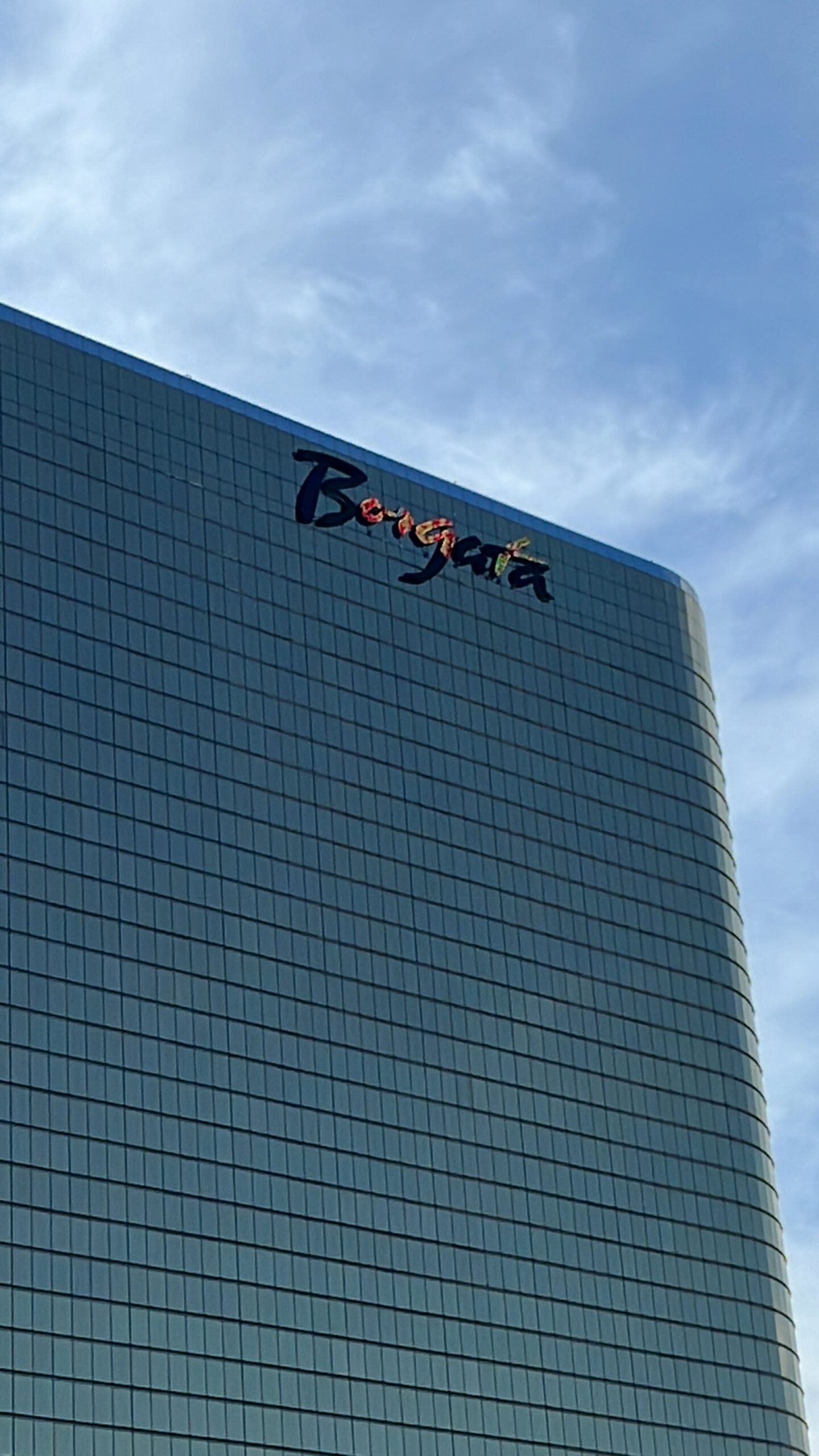 The match went as smooth as could be! It only took a few minutes at the MGM Rewards desk. I was disappointed to learn, though, that they no longer offer brand new / first time Gold members a free night and bonus slot dollars. Seems that went away sometime during COVID.
So all you'll walk away with is the Gold card, but that does get you some nice perks at Borgata like free self or valet parking, a vastly quicker check-in / check-out line (can save an hour at busy times), and access to the amazing Amphora Lounge (good food, unlimited drinks) though you'll need $12.50 in comps on your card to enter, so you'll need to play a bit first.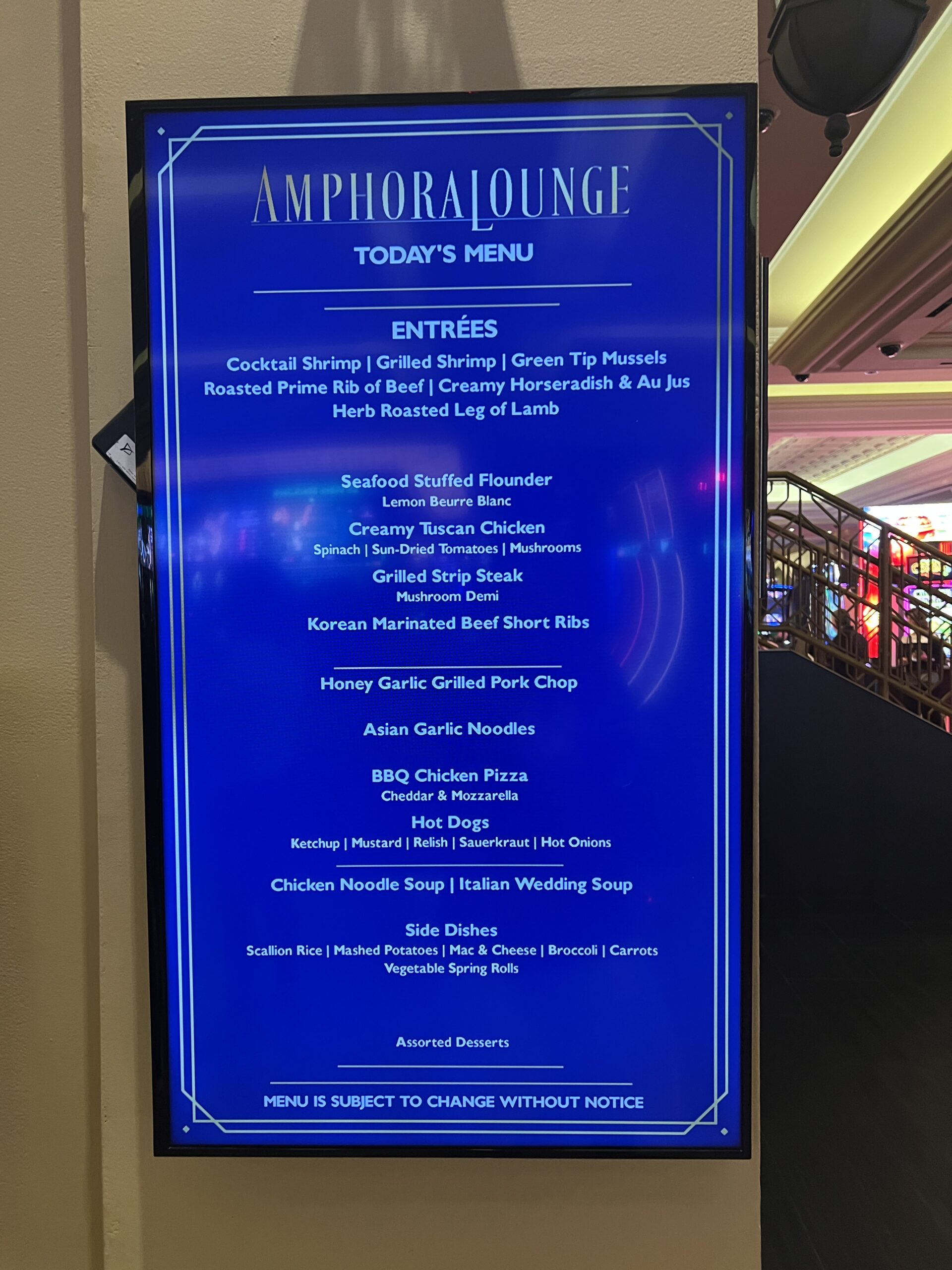 I let my buddy know he can match that online to Hyatt Explorist, as outlined in the MilesTalk Status Match Merry Go Round master post.
Step 3: Hard Rock
You can park at either Hard Rock or Ocean as they are a 5-7 minute walk from each other on the Boardwalk. If you want to maximize your frugality, park at Ocean, walk to Hard Rock, go back to Ocean to match there and then you'll have free parking. The rub at Hard Rock is that they will charge you on entry – up to $20 on weekends. (Or you can attempt what I did which was to fist bump the security guard and double park at the curb while we matched. I take no responsibility if you try and get ticketed or towed, but that's the New Yorker in me 😉 ).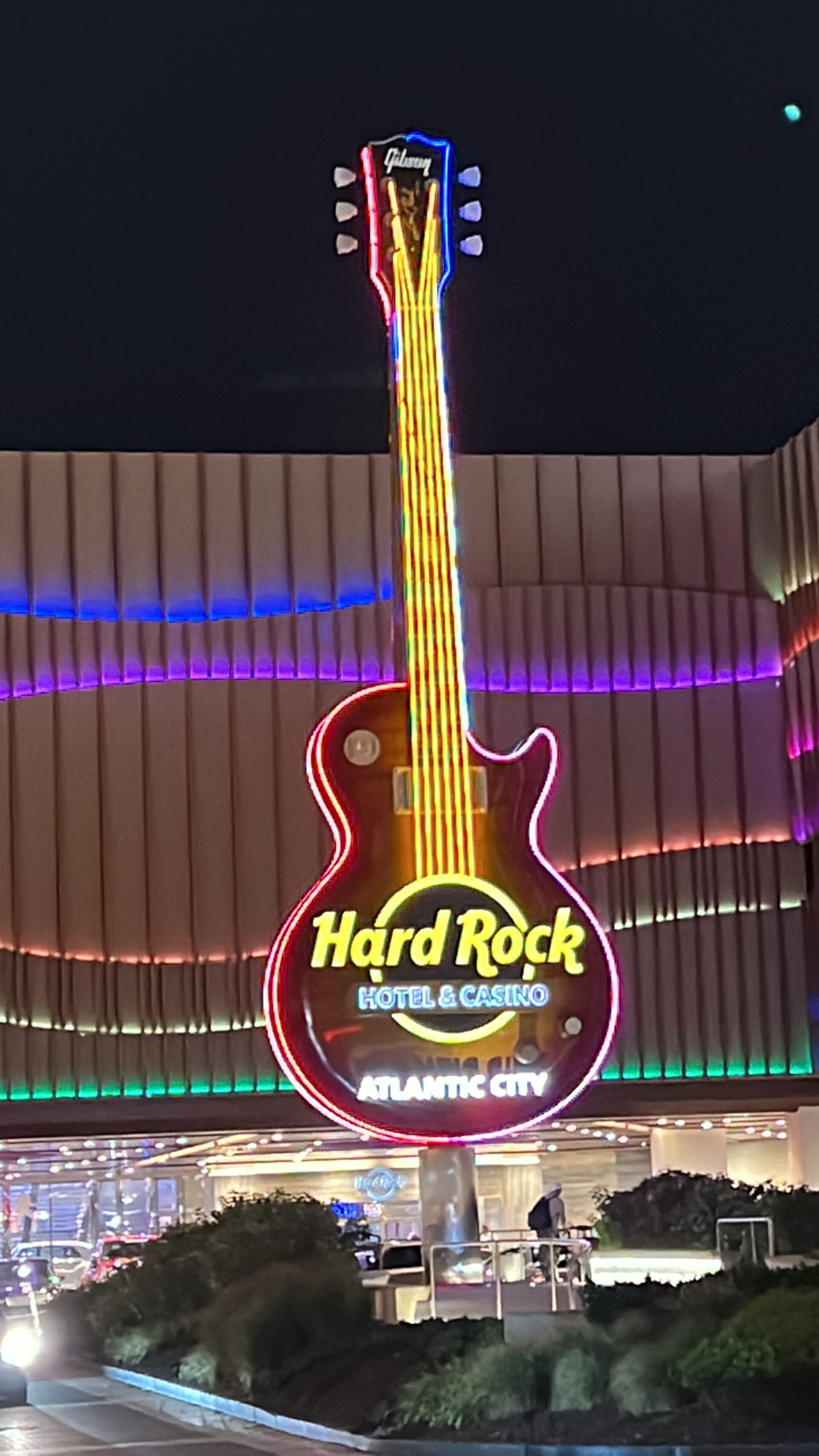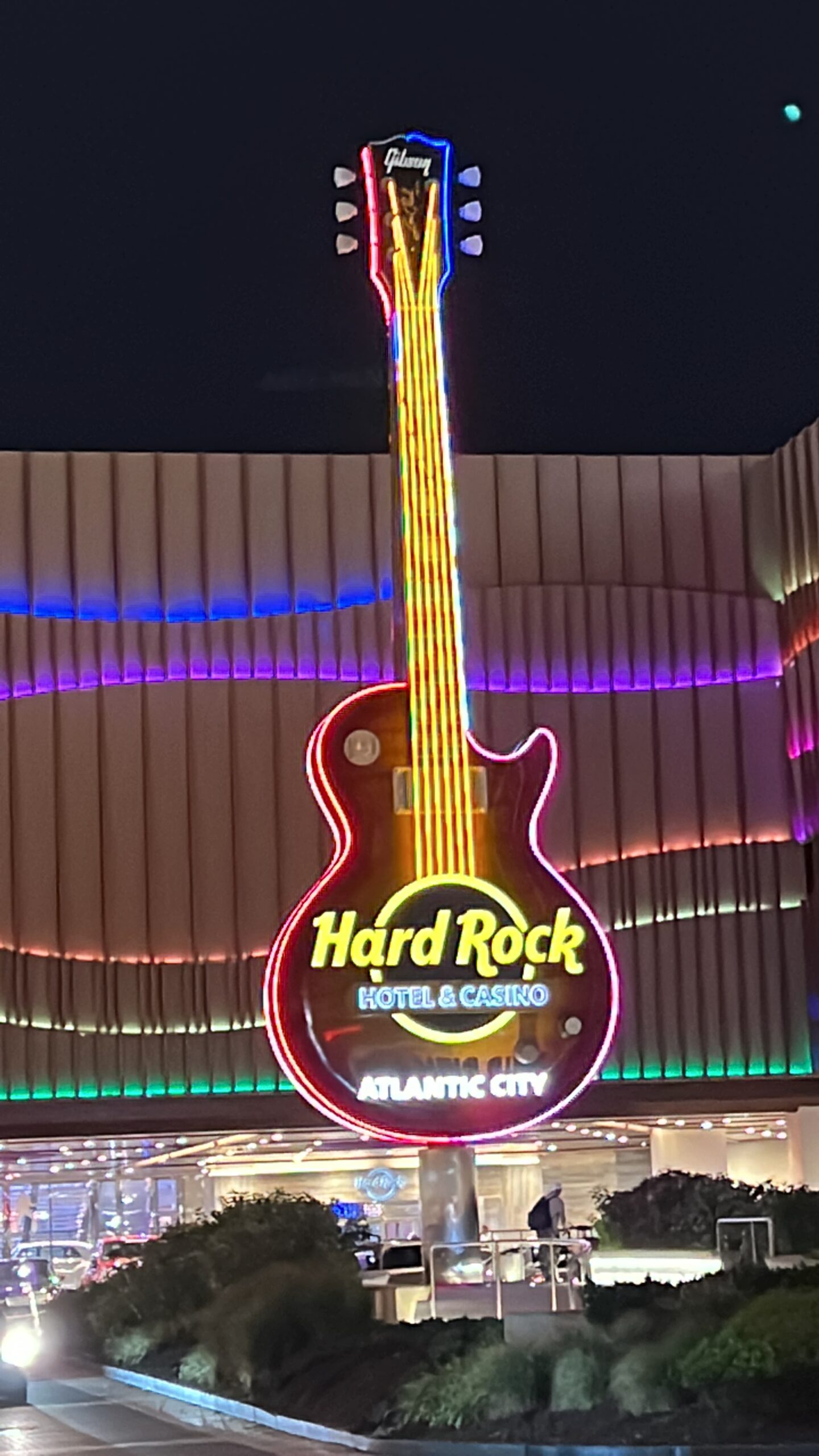 We walked up to the Wildcard Rewards desk and he presented his MGM Gold card and asked to match. I was expecting him to get a free two night stay, but since he'd already had a base level Hard Rock card, he was ineligible. If you've never been before, you'll get the nights and slot dollars. I also re-matched my MGM Gold back to Rock Royalty so that I could re-match over at Ocean – testing if I could manage to pull this off two years in a row.
Plus, I wanted the free car wash that you get monthly with Rock Royalty status 🙂
(The car wash will appear in your promo account the next day. Swipe any kiosk to print. The Rocktane car wash closes at 6pm daily.)
Step 4: Ocean
We drove over to Ocean, parked, and high tailed it over to the rewards desk since we were starving and we had that reservation at Gordon Ramsey Steak back at Harrahs.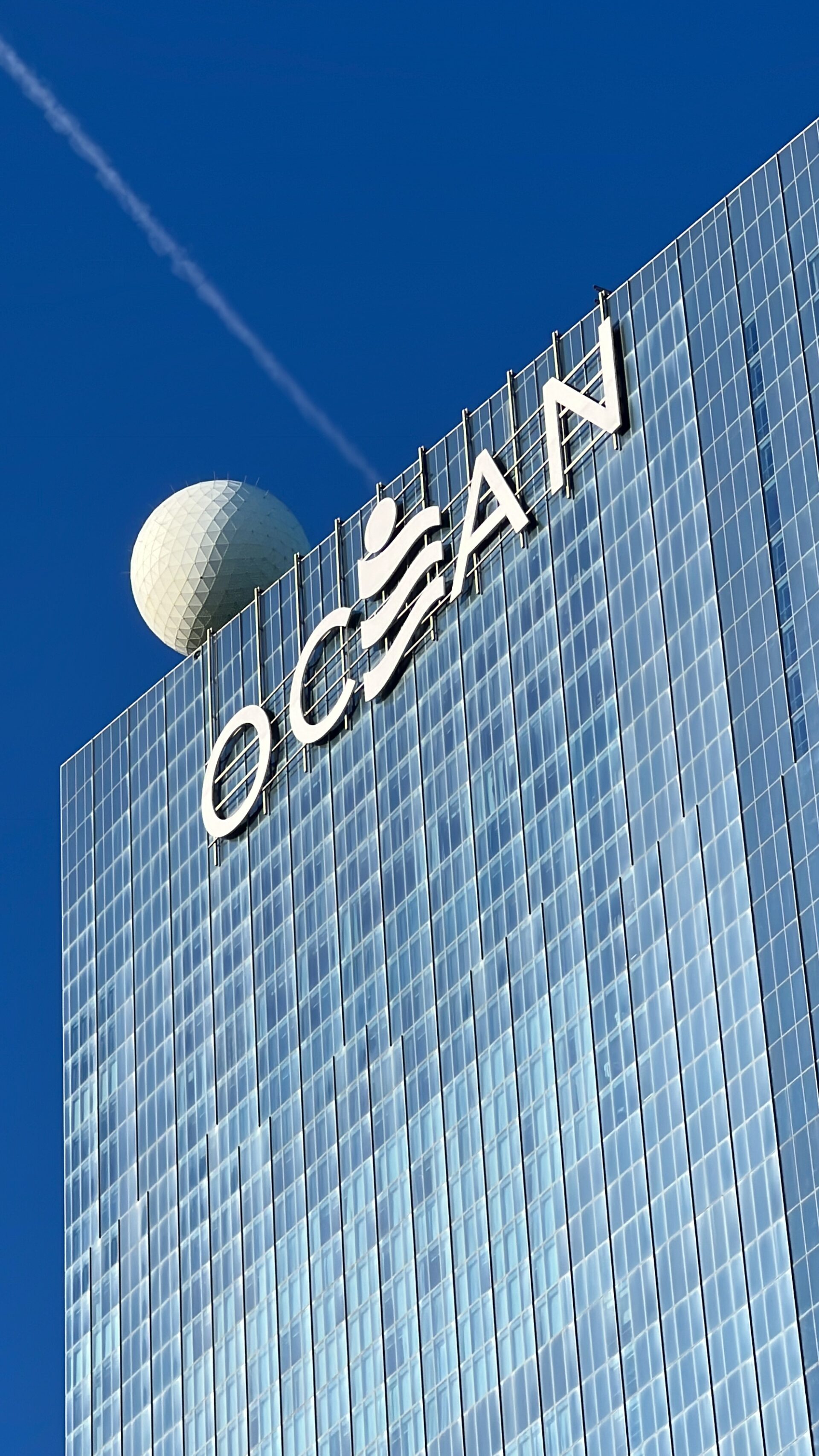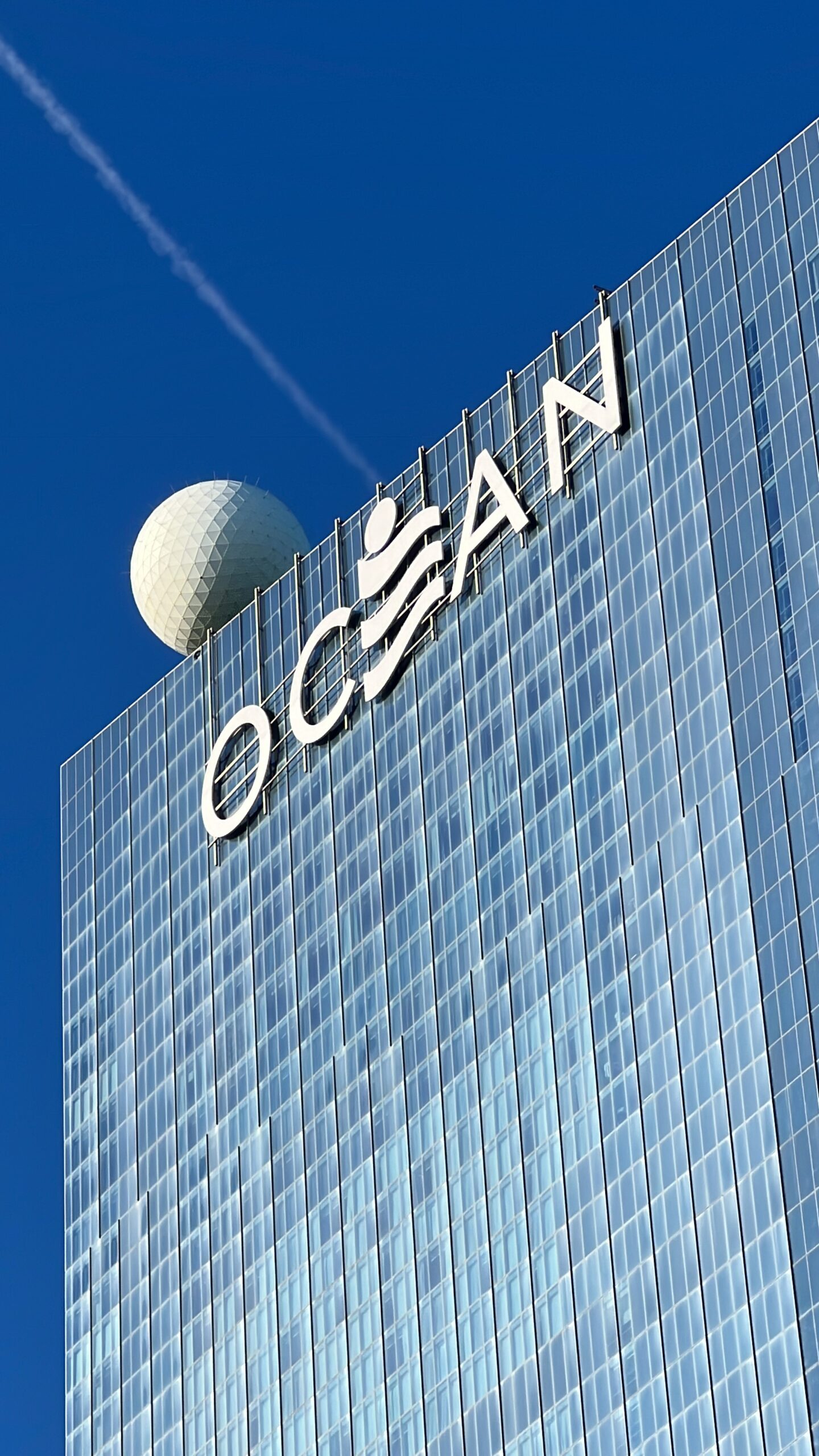 First, Josh matched. Smooth sailing.
Then I stepped up and indeed, since I had not set foot in the casino for over 365 days, I was "inactive" and re-matched to Prime.
The program is identical to last year, offering two free hotel nights (Saturdays excluded and no, you cannot book for that night), a voucher for the lounge (valid for 72 hours), a preferred self parking pass for my car (those spaces are on the 7th Floor near the elevators) and confirmation that after the 15th of next month, we would be eligible to book the Wynn nights and MSC Cruise. Remember that the Ocean tier status year lasts until June 30th, yet the Wynn nights and MSC cruise are once per calendar year. If you go early enough in the year (but more than 365 days since you last inserted a card anywhere at Ocean), you'll be able to use them both in 2022 and 2023 (before June).
MISSON ACCOMPLISHED.
Back to stay at Borgata for the night where MGM Gold status got me this nice view (They DO upgrade Golds to suites when available, generally mid week or off season.)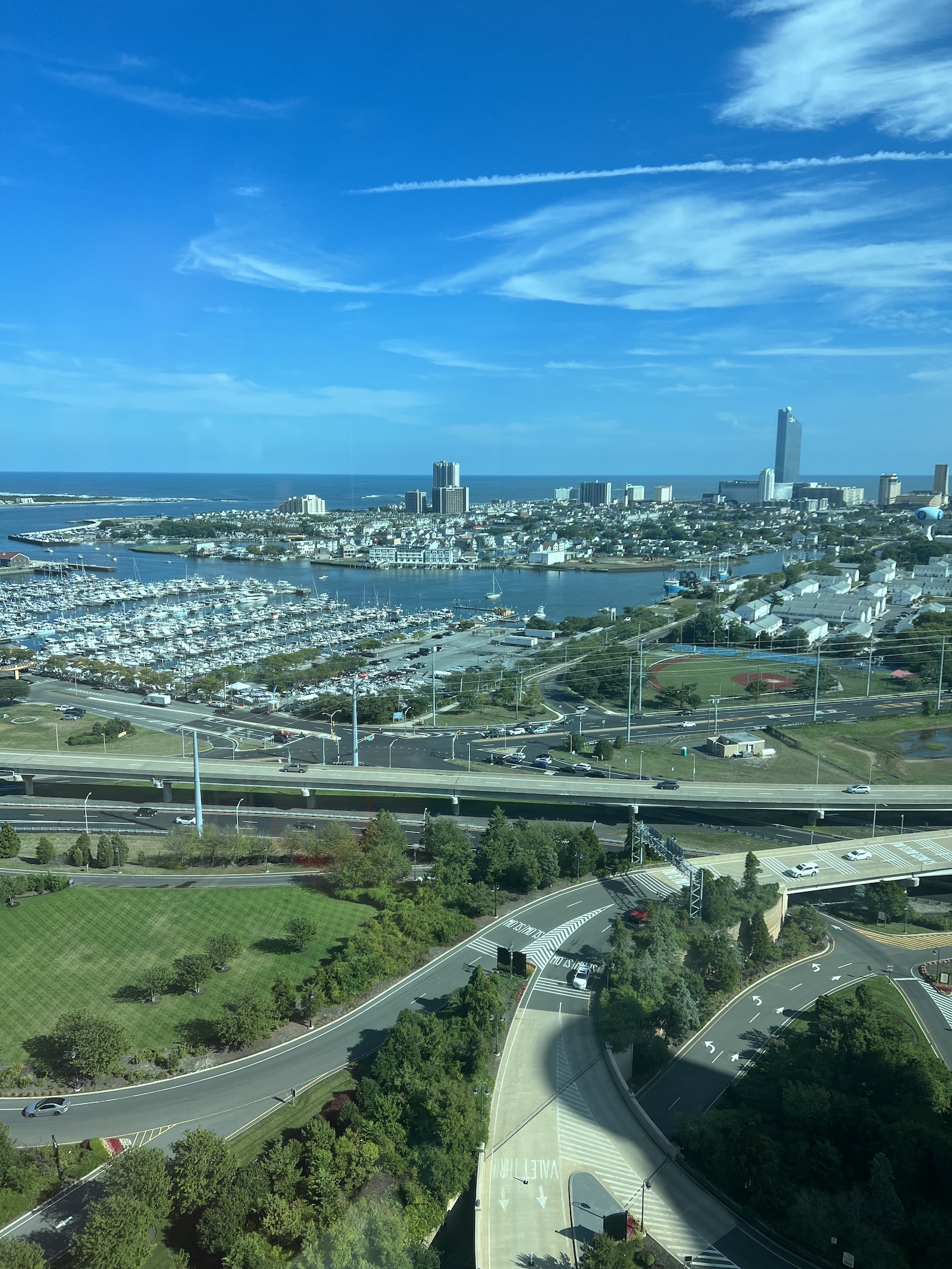 I also got a 3pm checkout (They normally offer Golds 1 pm).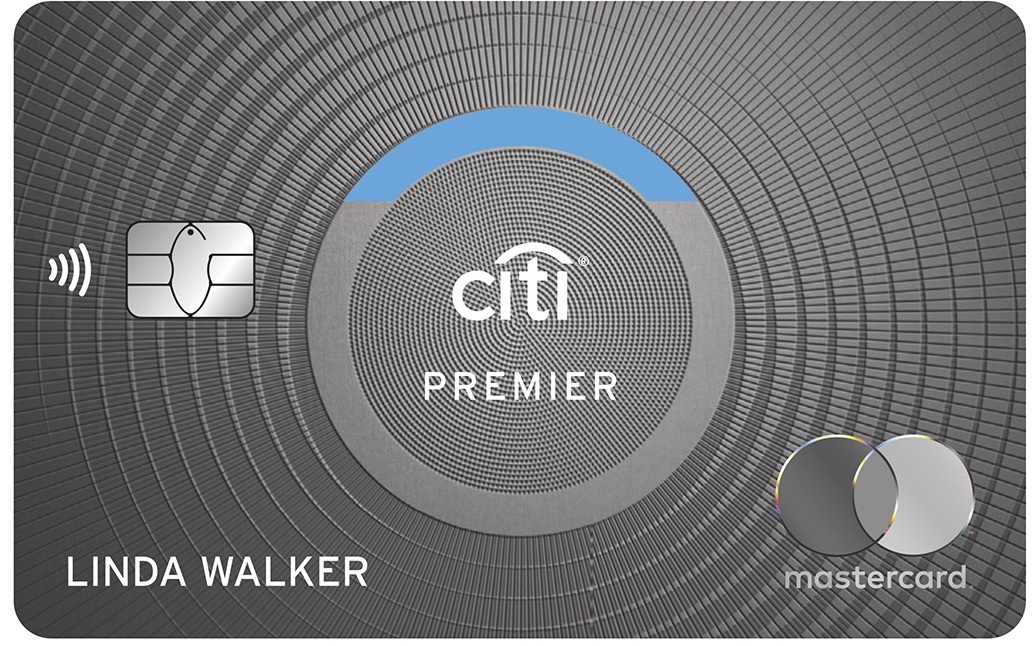 Get 60,000 Citi ThankYou points when you spend $4,000 in 3 months.
Using Turkish as a transfer partner, this could be worth 2 round trip domestic flights in Business Class or just 30,000 points shy of a roundtrip flight to Europe in Business Class!
Get This Offer
Questions?
Let me know below in the comments, on Twitter, or in the private MilesTalk Facebook group. And don't forget to follow me on Instagram for all sorts of tips on miles, points, credit cards, and travel.
If this post helped you, please consider sharing it!
You can find credit cards that best match your spending habits and bonus categories at Your Best Credit Cards. 
New to all of this? My "introduction to miles and points" book, MilesTalk: Live Your Wildest Travel Dreams Using Miles and Points is available on Amazon and at major booksellers.