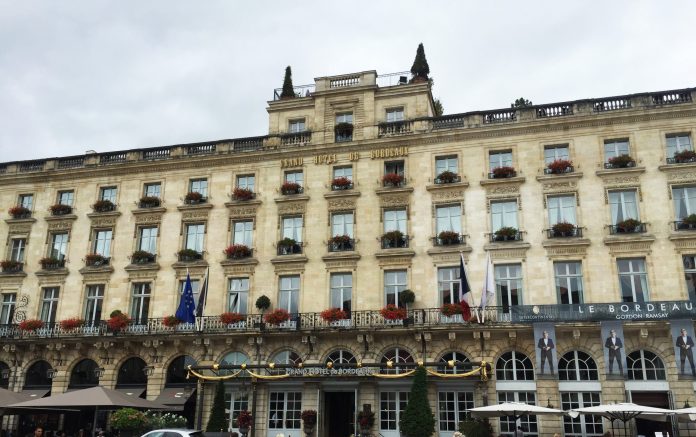 Late last week, you may have read a whole bunch of commotion around the IHG Rewards program being "devalued" by as much as 30% on some awards.
I took a measured approach, hoping that this was a system bug and soon all the blogs would just say "oops, system bug – all is well!" To be clear, I didn't *expect* that outcome, but I was hopeful.
I said as much on Twitter:
I do plan to decrease the MilesTalk and YBCC valuation of IHG Rewards points from 0.5 cents to 0.4 cents…

Just waiting to see if these devaluations stand before going ahead with it. Hopefully they will reconsider their SkyMiles aspirations…

— Dave Grossman ✈️ MilesTalk / YourBestCreditCards (@MilesTalk) April 3, 2021
Background on the IHG Rewards Loyalty Scheme and Loyalty Programs in General
IHG Rewards overall is a very interesting program. Interesting in a bad way…
The best loyalty programs make you feel important while interacting with their brand and gives you ways to enjoy your earned points as well. For example, they treat a business traveler well and then that traveler earns points to use later with the family – cementing that loyalty. What consumers can forget is that the main point of the program for the business is to incentivize more business – not *really* to reward you for past business. But in many ways, it all ties together.
Some programs only get it half right. Delta, for example, provides industry leading consistent service onboard and Medallion elite members get treated very well in terms of their benefits. However, the SkyMiles program (the "miles" part) is the joke of the industry, with no award charts, stealth devaluations, and essentially no trust between SkyMiles members and Delta because the goalposts for high end awards (Business Class international flights) keep moving. You can't "save up" for something you don't know the cost of.
Air Canada's Aeroplan, by contrast gets the loyalty part right all around, with nice perks for elites but also a robust and newly improved Aeroplan for redeeming award miles aspirationally. And they've confirmed they are keeping award charts. Good, because that builds member trust!
For as long as I've been a member of IHG Rewards, it's been my least favorite program. I don't even have an IHG Rewards Premier credit card (although there is some value in it) because of my general program apathy. There are no "real" elite benefits, even for a top tier Spire elite. There is no guaranteed free breakfast, no lounge access, no guaranteed late checkout (10am check-in is at least a decent perk), and no suite upgrades. Promotions have long lagged those of Hilton, Marriott, and Hyatt by quite a bit. Customer service with IHG Rewards is an awful, off shore experience. And, even back when there was an award chart for using points, rooms would generally be unavailable using points when rates were higher. They say "no blackout dates" but that is meaningless since a hotel need not actually have any rooms available for awards on any given day.
For a long time, IHG Rewards points have managed to hold a roughly 0.5 cent per point value. A 70,000 point room would be around $350. Although, again, if that night was $1,000, it would have a high chance of being unavailable. But 1 cent per point redemptions remained (and remain) possible if you get lucky.
Revenue Based IHG Redemptions
Two years ago, IHG started experimenting with sliding scale points redemptions tied to the cost of the room. I wrote then that the writing could be on the wall for this program.
Now, it seems they have made this widespread practice.
Let's browse the cash to points prices for later this week in Manhattan.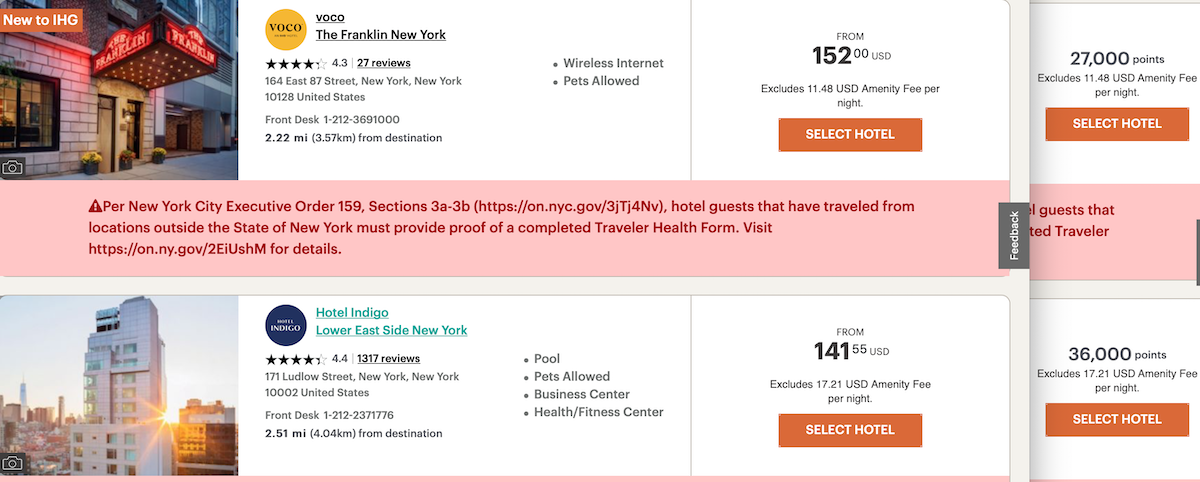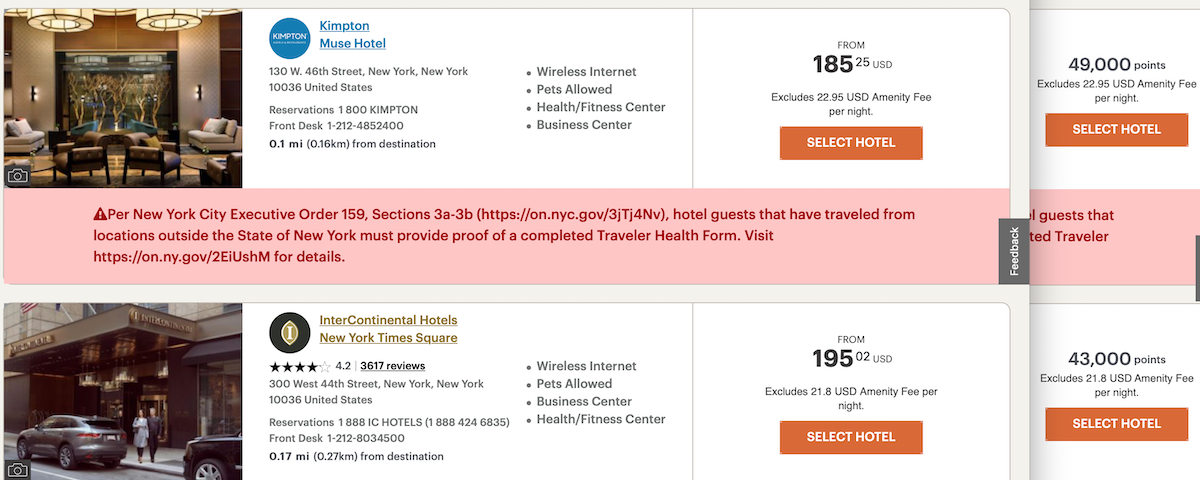 Out of these examples, every single one of them offers less than the 0.5 cents per point we have been valuing IHG points at – except for the Franklin / Voco which is just over 0.5cpp.
The Kimpton Muse, for example is just 0.38 cents per point in value. The Holiday Inn Time Square yields 0.44 cents per point. The Hotel Indigo? 0.39 cents.
If you were to look at the high end, like the Hamptons in July where Hyatt has the only other points option in the Hamptons, you can actually get 0.55 cents per point at the White Fences in, but that's hardly outsized and 140,000 points a night is way higher than you ever would have seen in the past. 70,000 used to be the highest award!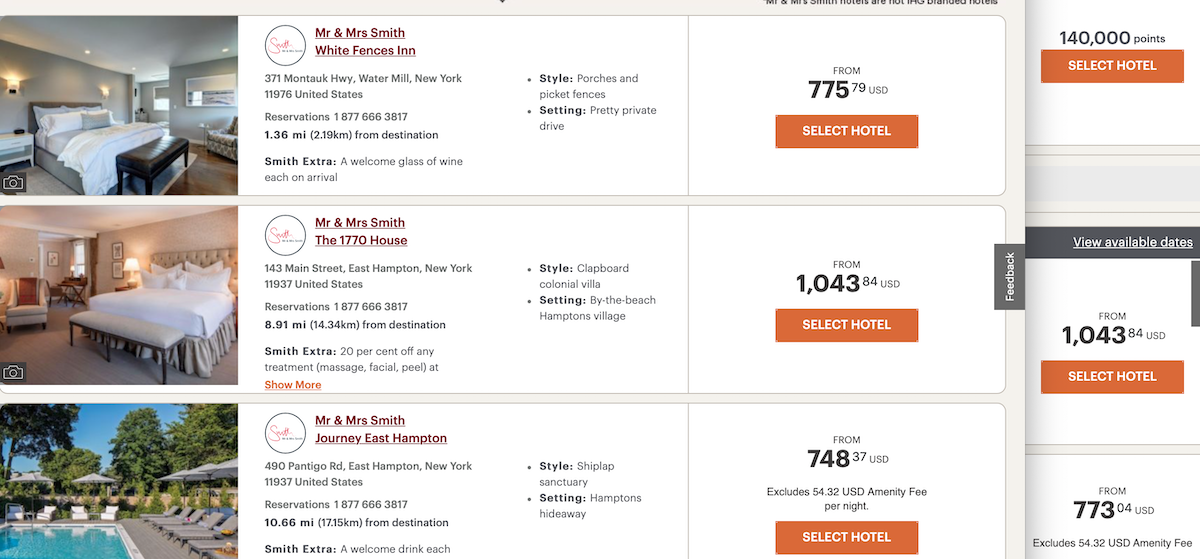 And then, the other two Mr and Mrs Smith hotel options (the only upscale Hamptons options IHG has) wont even allow points bookings those nights. So we are seeing redemptions from around .38 cpp to a bit over 0.5 cpp. Hardly exciting and really hardly worth accumulating points for – especially as they can and almost certainly will devalue points even more over time.
Now remember, early on in this post I said I was hoping it was an error. However, IHG has confirmed to multiple outlets that this is not an error and that they are now fully dynamic. So, the points values must be adjusted accordingly.
How MilesTalk "Values" Points
When I tell you on the MilesTalk points value page "What is a mile or point worth?" or on the Your Best Credit Cards Point and Mile Valuations page what I think a point or mile is worth, it's a factor of many things, including how easy or hard it is to accumulate points, if there are ways to transfer to other valuable programs, and some other factors – but the main deciding factor is what kind of value can you expect to get for your points without too much effort.
That value represents a clear line where I would advise to pay cash or use points. So with IHG historically having a MilesTalk value of 0.5 cents, it meant that if you were only getting 0.4 cents each, you'd save the points and use cash.
With this devaluation, it's clear that most people won't do much better than 0.4 cents without spending a lot of time searching for value. And the fact that IHG limits award room availability (just try and find space any day of the year at the Thalasso in Bora Bora!) makes it even worse. You don't even have flexibility to get your mediocre redemption value! Sure, if you have the IHG Rewards Club Premier credit card, you can get some great value out of the 4th night free benefit that deducts the full price of the 4th night even if it's more expensive. And you could argue that makes the points as much as 1/4 more valuable – but I won't make that argument because you shouldn't need the co-brand card to get decent value out of your points.
Therefore, on both MilesTalk and Your Best Credit Cards, the value of an IHG Rewards Club point is now set at 0.4 cents a piece.
While some blogs are loathe to reduce point values and make credit card offers look more attractive, I feel that it's important to have a level playing field. I'm not going to make you feel something is worth more than it is to make a sale… It's also yet more reason to stick to flexible bank points versus putting spend on a co-branded hotel card.
Chase Sapphire Preferred® Card Earn 60,000 bonus Ultimate Rewards points (worth up to $750 or more!) when you spend $4,000 in 3 months. How to apply for this offer.
Lastly, it's a great reminder to never buy points speculatively as you never know what they will be worth tomorrow.
Thoughts?
Let me know below in the comments, on Twitter, or in the private MilesTalk Facebook group. And don't forget to follow me on Instagram for all sorts of tips on miles, points, credit cards, and travel.
If this post helped you, please consider sharing it!
You can find credit cards that best match your spending habits and bonus categories at Your Best Credit Cards. 
New to all of this? My "introduction to miles and points" book, MilesTalk: Live Your Wildest Travel Dreams Using Miles and Points is available on Amazon and at major booksellers.