Decoding AA's Dynamic Pricing: What Will a Mile Be Worth?
April 19, 2019
*
by Dave Grossman
*
1 Comment
Did you miss a deal? Never again! Apply to join the members-only MilesTalk Facebook group
.
Advertiser Disclosure: MilesTalk has partnered with CardRatings for our coverage of credit card products. MilesTalk and CardRatings may receive a commission from card issuers and MilesTalk may also receive compensation for content. This site does not include all financial companies or all available financial offers. The editorial content on this page is not provided by any of the companies mentioned, and have not been reviewed, approved or otherwise endorsed by any of these entities. Opinions expressed here are the author's alone.
American Airlines is Testing Dynamic Pricing
We already knew that in the wake of Delta shifting to dynamic award pricing (1.5 years ago) and United announcing dynamic award pricing just a couple of weeks ago, that American was going to follow.
Yesterday, Gary Leff posted about his finding that AA's so called websaver award fares were pricing dynamically. It's clearly a test of larger scale dynamic pricing. It only shows in the "old" award booking tool. The "new" award booking tool at AA (which is horrible and designed to obscure all semblance of what level award fare you are booking) is still only showing fixed award pricing.
Quick Sidebar: I'm appalled that all the US airlines are following each other towards less consumer transparency. It removes "goals" and rewarding travel that you share socially. It's short sighted and will cost them later….
I expect that the new award tool will eventually change to show the websaver fares as well, which may just wind up replacing all of the other buckets on AA operated flights.  If you aren't aware, certain routes and the mobile app will sometimes price awards using a sort of overlay screen that is all white and displays the fares only for coach and business (or first) and not necessarily in an order that displays the best award rates when the best rates are on a partner. Other routes on desktop still use the old (better) tool.
What Value Will You Get on Dynamically Priced American Airlines Awards?
I was curious to see what value you'll get for an AA mile with dynamic award pricing. You'd really need to be getting more than 2 cents a mile for an airline branded credit card to ever make sense for daily spend, but that will never happen.
I think a best case scenario would be in the 1.4 – 1.5 cent range, but I doubt that as well. Delta gives around 1.3 cents a mile on average but seems intent on working that down to around 1.1 cents, based on the value they are giving to miles on things like Delta mileage upgrades.
I decided to run some searches and compare those dynamically priced awards to cash prices to see if there's a pattern.
Let's look at May 15th.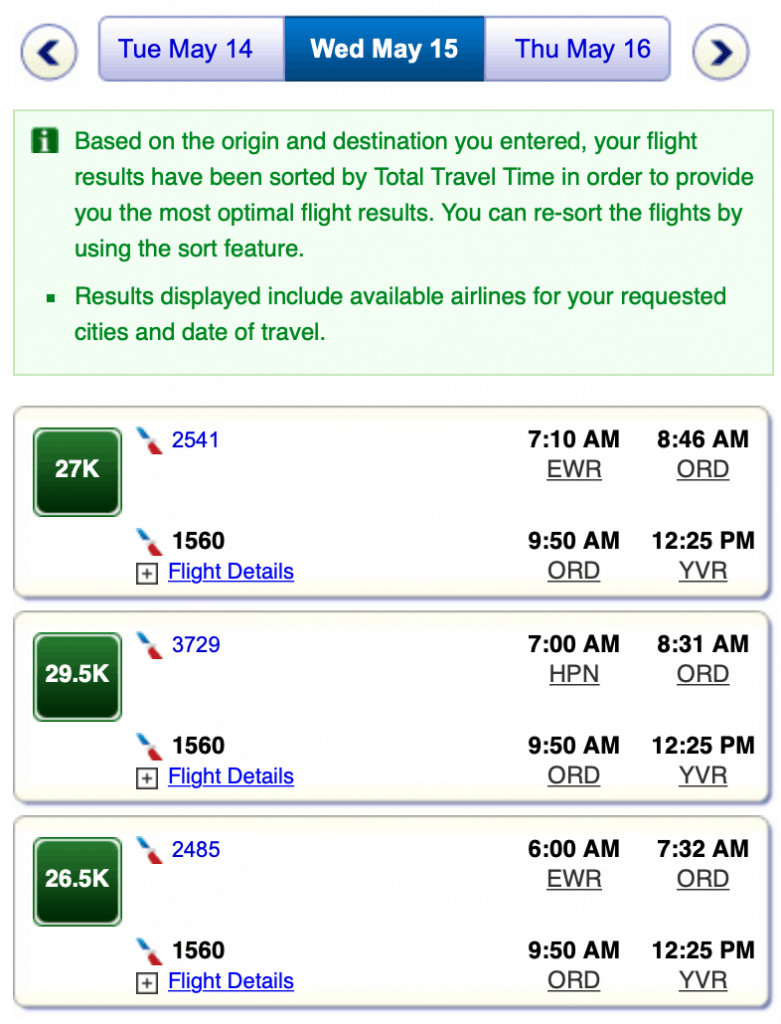 The above flights both equate to just about a 1.4 cent per mile yield.
(Note that I couldn't get the flight originating HPN to price at all in cash so I couldn't compare it.)
1.4 cents isn't awful, so I was hoping to search other days and see a similar pattern.
Let's look at May 17th.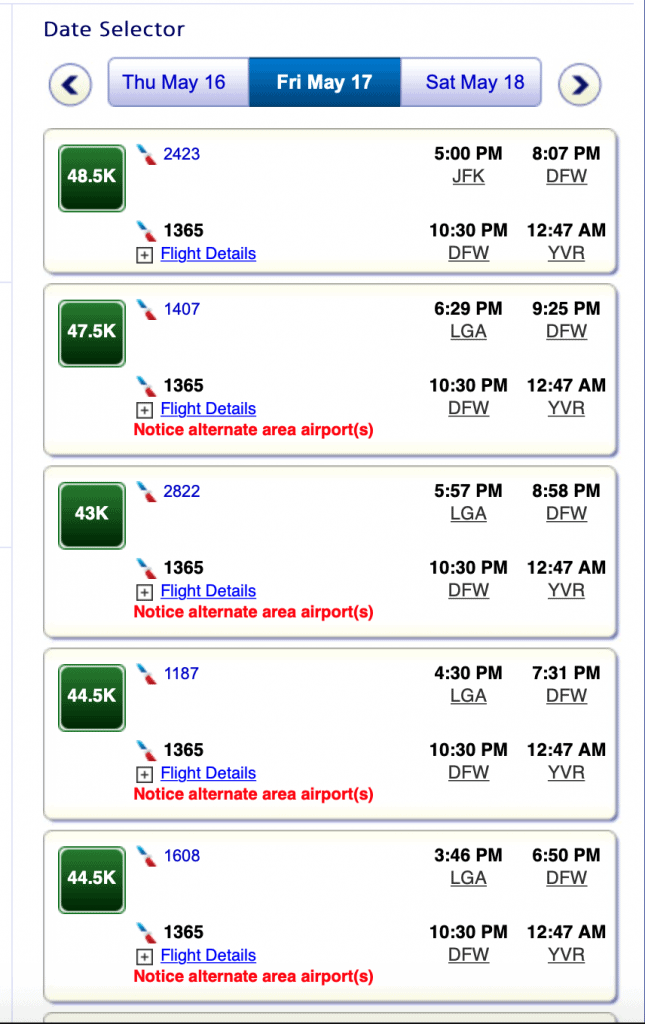 This 5pm flight is 48,500 miles, but the cash price is $406. This is just 0.83 cents per mile. 

This 5:57pm flight is $344 or 43,000 miles. That's a flat 0.8 cents each.
Let's try one more.

This time it's $406 cash or 44,500 miles 0.91 cents per mile.
Inconclusive so far
Disappointingly, these two different days on the exact same route provided value for miles at wildly different rates.
Let's try a different route.
Here's Orlando to Pittsburgh in May:
Let's take May 15th again and then the 18th (since there's no Websaver on the 17th).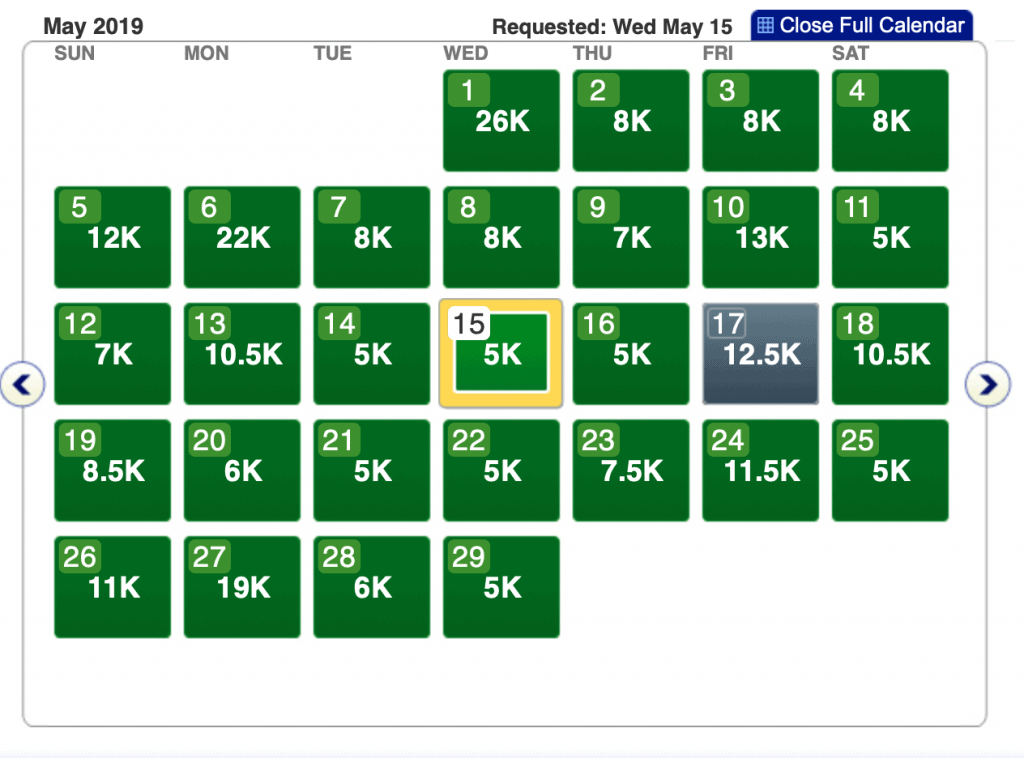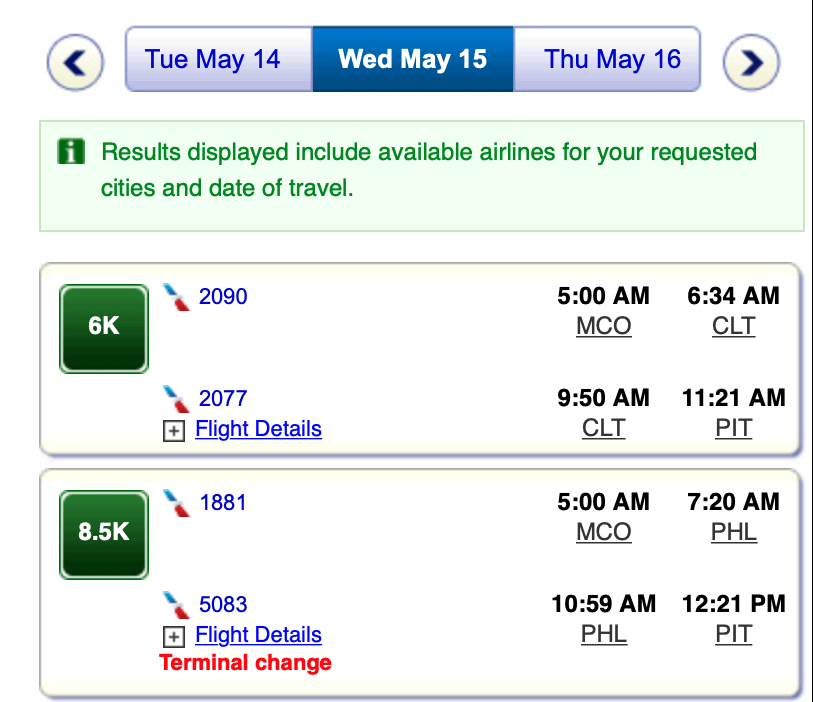 Again, no luck trying to make sense of it. The first flight above is $128 (these awards still, for now, book into main cabin). The second is essentially the same price. But the award costs are 6,000 miles, yielding a very nice 2.1 cents a mile, and 8,500 miles, yielding a lower 1.5 miles cents a mile.
I told you I'd try the 18th as well.  So here goes.
I picked the first fare of the day.

That first fare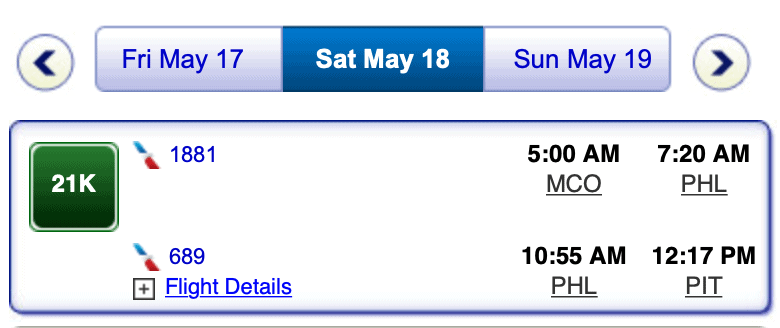 This one is $209 or 21,000 miles. A nearly exact 1 cent per mile.
Conclusion
I was clearly hoping to crack the code on this for you. I didn't.
We found redemption yields in this (limited) analysis of 0.8 to 2.1 cents per mile. That's a wide range. Of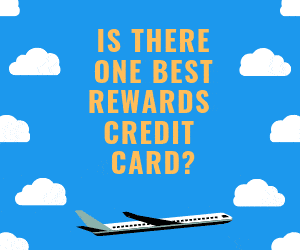 course, this represents AA's first dynamically priced awards and isn't being publicly touted as such, so they may still have a lot of fine tuning to go.
My best guess is that there is a combination of factors that they are using for this pricing that goes beyond the revenue fare. They may be attempting to push you onto certain undersold flights or connections by discounting one in miles vs the other.
If so, that would be a *very small* silver lining as it could mean there is still a way to use flexibility to get a better return on your miles.
All of that said, the best redemptions on all domestic airlines remain on partners. As long as we can do that on a fixed award chart (published or not) we will be able to find value. But since that ability could disappear one day, it remains prudent to earn and burn and have all the fantastic experiences you can while you can…
What are you thinking?  Let me know here, on Twitter, or in the private MilesTalk Facebook group.
New to all of this? The "introduction to miles and points" book, MilesTalk: Live Your Wildest Travel Dreams Using Miles and Points is available now.