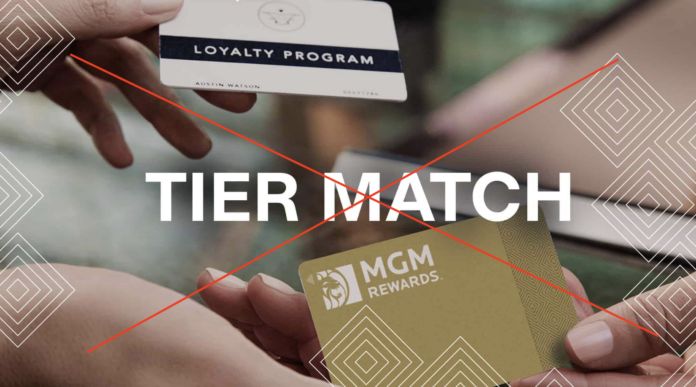 Updated Feb 1 with one possible route remaining – see end.
Caesars <–> MGM
Remember when we were all happy that MGM extended their nationwide match through June 30th? And thrilled that the Hyatt / MGM breakup turned out to just be a rumor?
Well, apparently the people at MGM have their sh*t together, because as far as one Status Match Merry Go Round™ sequence goes, MGM just shut it down. They shut it down so hard you can hear the metal clink.
Nationwide matches were previously a good thing. Matches used to only be done at two MGM properties – Borgata in Atlantic City and MGM Springfield in Massachusetts. During COVID they opened up the matches nationwide, and Caesars Diamond was an easy match to Gold.
In fact, as long as the Merry Go Round has existed, Caesars Diamond matched to MGM Gold.
No more.
It's possible the nationwide matches brought far too much attention on this.
As caught by MilesTalk group member Nathan M, MGM has finally updated that MGM Tier Match page to show it really expires June 30th, 2023…. but they also changed what casino tiers match to what.
In Las Vegas and Atlantic City, Caesars now only matches to MGM Pearl (a mostly useless tier, although at least you still get free self parking?). No more resort fee waiver or upgrades. And no MGM Gold to match elsewhere.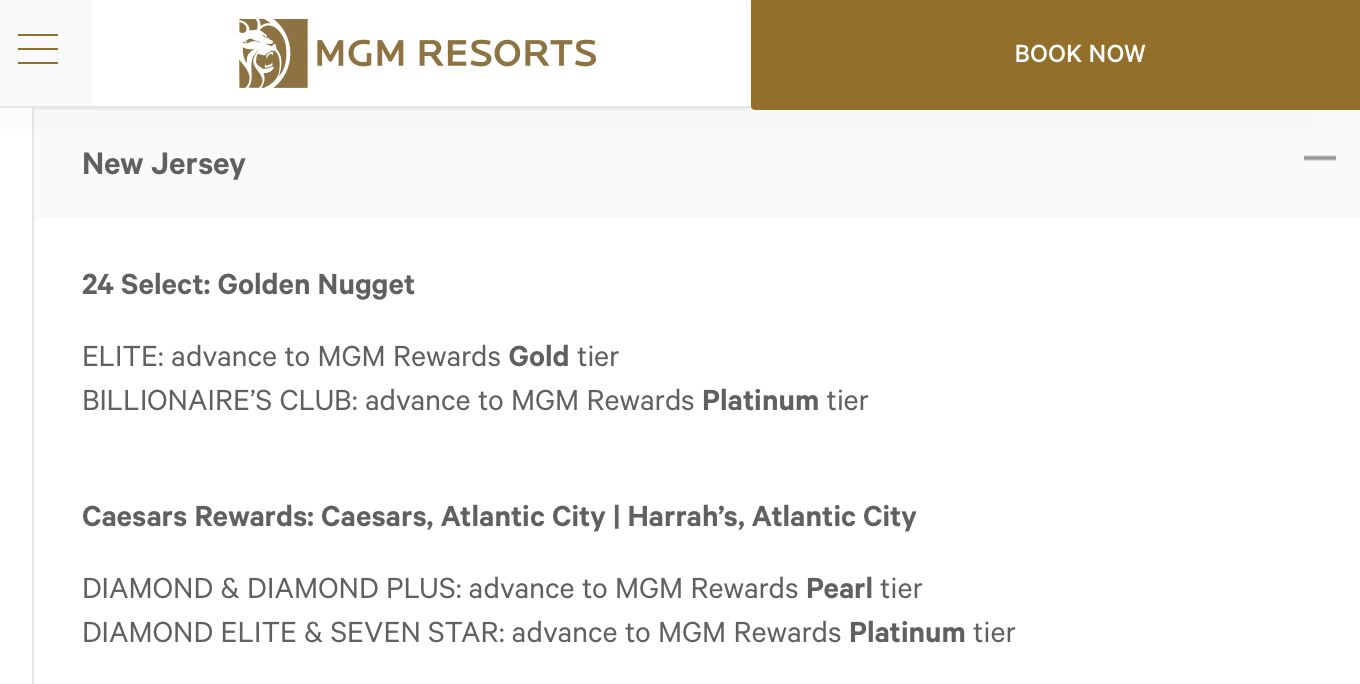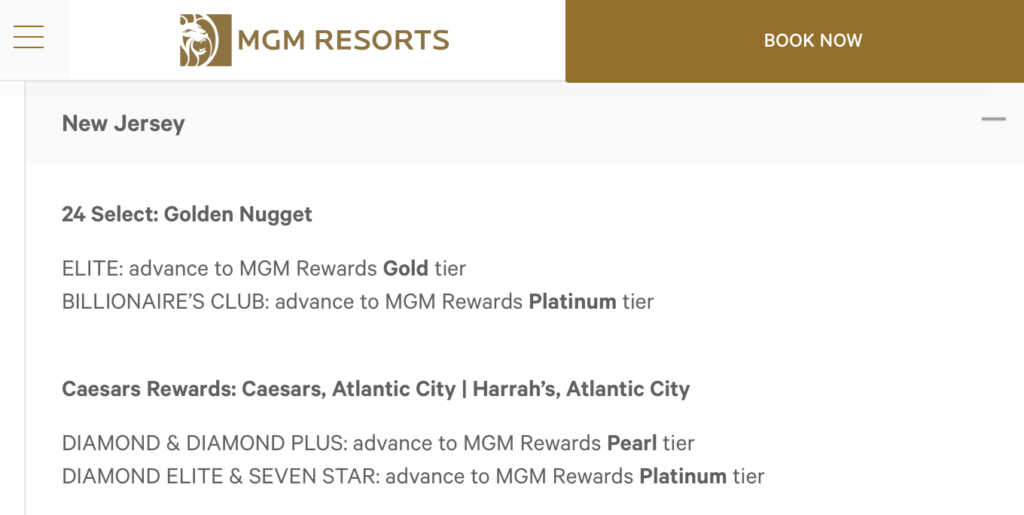 And whomever led this great takedown at MGM left few stones unturned. Even in Pennsylvania, Caesars Diamond will only get you MGM Pearl.
(Note: Before this nationwide match existed, MGM Springfield and Borgata has their own matches which included Caesars Diamond to MGM Gold. Will they come back once the nationwide promo ends? I have no idea – but maybe.)
Hard Rock Rock Royalty in Atlantic City is also only good for MGM Pearl now.
Very odd? There is no match at all from Hard Rock Las Vegas (i.e. ICON) to MGM at all. And Florida, where the other Hard Rock's live, is not on the page at all either. They may be letting that Wild Card –> Unity changeover to all play out first.
Some small solace? If you already matched to Hard Rock Rock Royalty and matched that to Ocean Prime in Atlantic City, you can match from Ocean Prime to MGM Gold at Borgata. In that case, it would seem you've been bought one more year. Your Ocean Prime doesn't expire until June 30th, 2023, so you can still match that back to MGM Gold at Borgata before that expires if you lose your tier.
New Match Expires July 2023
Per MGM (bolding mine):
Present your eligible card at any MGM Rewards Desk between February 1, 2023 and July 31, 2023, and enjoy elevated Tier Match Status and benefits through July 31, 2023. (If you received a Tier Match prior to February 1, 2023, you will need to visit the MGM Rewards desk to rematch your Tier Status.)
To extend your Tier Match Status through January 31, 2025, earn 20,000 Tier Credits (for Pearl), 75,000 Tier Credits (for Gold) or 200,000 Tier Credits (for Platinum) between January 1, 2023 and June 30, 2023.
This is a bit weird. If you match June 29th, you get one day of status? This is something I don't think MGM thought through very well.
Hyatt <–> MGM
For now, Hyatt Explorist and Globalist still match to MGM Gold. Nothing has changed on the Hyatt page to that effect (yet?). Organically earned Explorist is 30 nights, so it's fair enough that it should still match to MGM Gold – in my opinion anyway.
In theory, if you wake up on Weds and have been downgraded to MGM Pearl or base tier, you should be able to match back from Hyatt Explorist or Globalist immediately. I say *should* since this JUST HAPPENED and nothing is certain.
But for sure, pay attention to your MGM account on Weds Feb 1 (which is either a few hours after you read this or it's already Feb 1). If it's not Gold, rematch from your Hyatt. If you have been following the complete Status Match Merry Go Round™ sequences, this month is the overlap month. Normally there is no rush to re-match the first second you get, but I surely would now if you can (things may change between me hitting publish on this and waking up).
And then come July, if you were MGM Gold and matched to Hyatt Explorist, will you be able to match back July 1st to MGM Gold? Or will that have changed? Again, it all remains to be seen.
Developing Story
I know I tend to ramble (generally!) but this article is even more of a ramble as my tired mind (an 11 month old does not make you very productive at 10:45pm!). I'm going to run through more scenarios in my head tomorrow and update the full Merry Go Round post in a day or two when I see how this new month plays out. Then I'll recap the remaining methods to match as much as we can. From what I can tell, MGM will roll over starting at 12am PST.
If the Hyatt / MGM partnership stays in tact, then we are all good – but I suspect change will be afoot there soon. A change like this doesn't get made in isolation. I don't think the partnership is going away, but whether or not the match and rematch will stick around remains to be seen. If not, you'd need 30 Hyatt nights to keep things going. At least with a Hyatt credit card (5 elite nights annually plus 2 nights per $5k in spend), that's not a Herculean task. But we'll see what happens soon enough and you can count on me for the updates.
One Possible Route
As reader Mark F. notes, there is still a very long and roundabout way to do this in Atlantic City (for now).
Wyndham Business Earner Card >> Caesars Diamond >> Hard Rock Rock Royalty >> Ocean Prime >> MGM Gold (in person, lasts til July 31, 2023) >> Hyatt Explorist (online)
You do need to do this all in person except the end…
Thoughts?
Let me know below in the comments, on Twitter, or in the private MilesTalk Facebook group. And don't forget to follow me on Instagram for all sorts of tips on miles, points, credit cards, and travel.
If this post helped you, please consider sharing it!
You can find credit cards that best match your spending habits and bonus categories at Your Best Credit Cards. 
New to all of this? My "introduction to miles and points" book, MilesTalk: Live Your Wildest Travel Dreams Using Miles and Points is available on Amazon and at major booksellers.