Citi Thank You continues to add non-US airlines as partners. While many wish that Citi would add more US based programs (you notably cannot transfer Thank You points to any of the Big Three US carriers including Citi partner American Airlines), they continue to add international partners that are in the same alliances as the US carriers one might miss being able to transfer to which all have different parters and award charts that give you a ton of flexibility.


Avianca is part of the Star Alliance (like United) and opens the door to all of the various Star Alliance awards (like Lufthansa First Class and Thai First Class). Singapore is an alliance partner as well, but since you can't redeem LifeMiles for Singapore First, I'd recommend just transferring to Singapore Airlines directly since they are also a transfer partner) Compared to United or Air Canada redemptions, a key to LifeMiles is that they don't pass on any carrier's fuel surcharges.  US to Europe in Business is 63,000 LifeMiles while First Class is 87,000 (one way). Transfers from Thank You are at a 1:1 ratio.
Compared to United, a one way from Frankfurt to NYC tomorrow on Lufthansa in Business Class would be 63,000 LifeMiles and $140 in fees, while United would charge 70,000 miles and $196 (unless you have status, in which case that drops to $121 because you wouldn't be charged that close-in fee to book within 21 days of departure).
That's not so major, but what about a First Class flight on Lufthansa? I had to dig a bit to find an available flight (they are released to partners only within 14 days of departure).
Here's LifeMiles: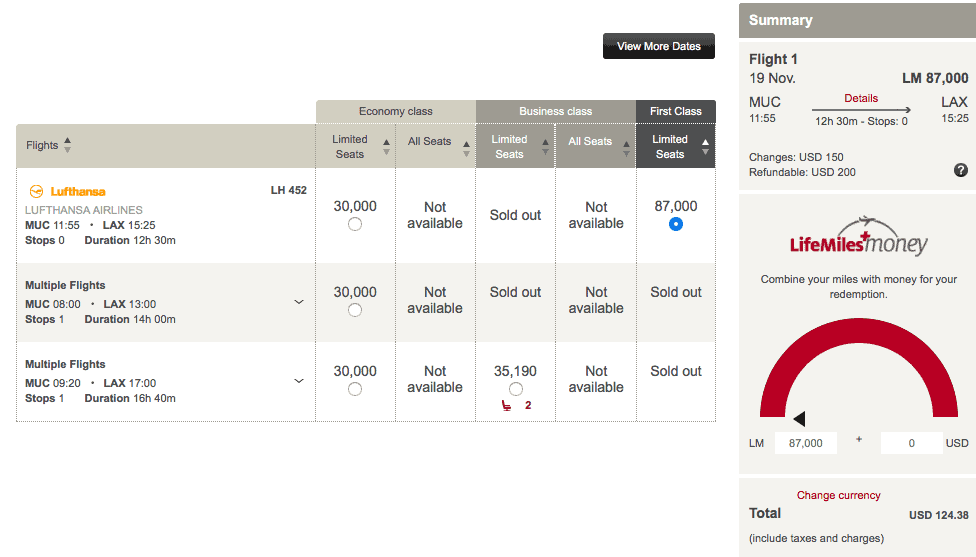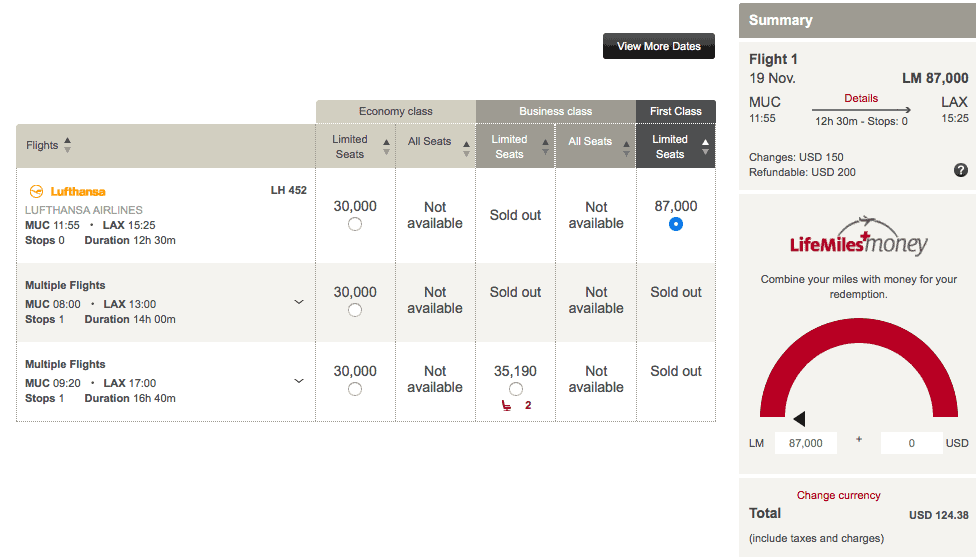 And here is United: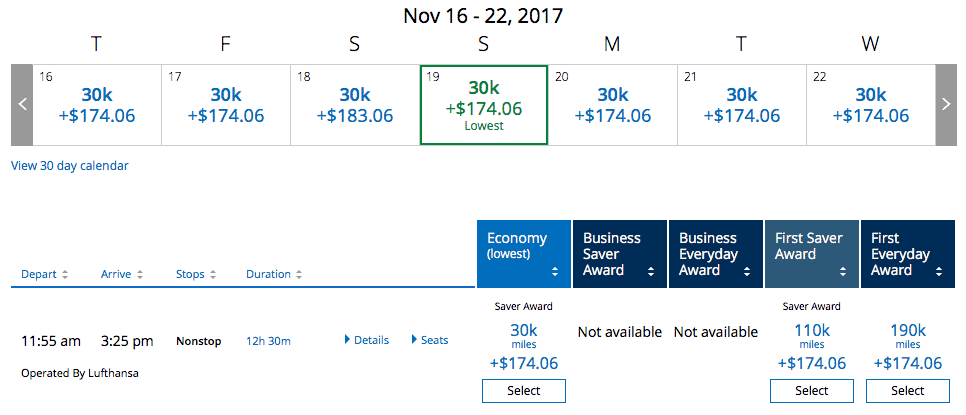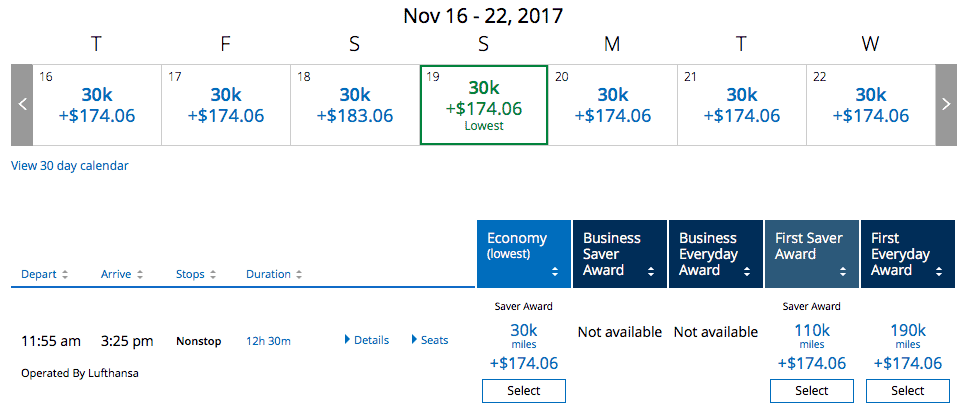 LifeMiles will save you (assuming no United status) $50, but the real savings is the miles as you will spend 23,000 less miles booking via Avianca LifeMiles compared to United miles.   It's simple Frequent Flyer Miles Arbitrage: the same flight booked by a different partner can cost a significantly different amount of miles.
Note: This same award is even less with Singapore Airlines KrisFlyer miles – just 80,000 miles – but you'll pay about $300 in fees/surcharges with Singapore as they pass along the Lufthansa award surcharges.  Really, either works here… but an advantage to Avianca is booking online whereas you have to call Singapore to book partners.
Another feature of LifeMiles is that when you have miles in your account, you can buy miles on the fly as part of the award purchase. In the above scenario it would let me book for as little as 35,000 LifeMiles if I pay $962 to buy the rest. while that is close to 2 cents a mile, I'm also booking a 12 hour first class Lufthansa flight for under $1,000. That's insane.
Another feature of LifeMiles is short-haul awards for 7,500 miles. This would apply to a route like NYC-Chicago, but you will need United Saver ability to use that feature.
One major flaw in the Citi ThankYou program is transfer times. While Chase and Amex transfer instantly to most partners most of the time, Citi transfers can take days to weeks – meaning the award you want may well be unavailable by then. So you may need to speculatively transfer to a partner in advance of needing the award so you are ready.
I've just initiated a transfer to Avianca. I'll update this post when I confirm how long it took to appear in my LifeMiles account.
UPDATE Nov 17th: It took 5 days from the time I initiated my transfer from Citi to LifeMiles for the points to appear in my account. I initiated the transfer on a Sunday. On Tuesday I got an email from Citi that they were transferring the points. And on Friday I got an email from LifeMiles that the points had been added.  Note that we still need more data points to really know how long to expect this to take in most cases. It's possible that Citi only initiates on Tuesdays, for example, and that if you started the transfer on a Weds, it would delay the total transfer time by 8 more days. Someone else reported an instant transfer on one attempt and a "not yet posted" on a second one.
UPDATE sometime in 2018: Transfers from Citi are now instant.
Hat Tip to islandguy84 on Flyertalk for noticing the new partner.
Any opinion on this?  Let me know here, on Twitter, or in the private MilesTalk Facebook group.
---