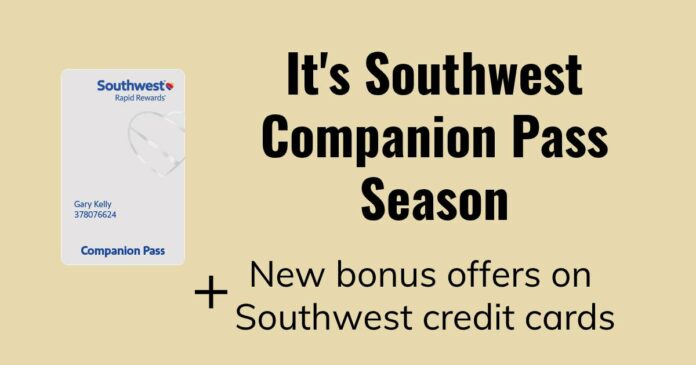 The generous 75,000 point bonus offers on the  Southwest Rapid Rewards® Plus Credit Card, the Southwest Rapid Rewards® Premier Credit Card, and the Southwest Rapid Rewards® Priority Credit Card has ended. As of Dec 6th, the offer on all three are offering 50,000 points with $1,000 in spend within 3 months. 
As of today, all three cards have a bonus offer to earn 75,000 Rapid Rewards points after spending $3,000 in your first 3 months.
We last saw a similar offer back in June 2022, though that offer required $5,000 in spend.
Once minimum spend is met, you'll have at least 78,000 Rapid Rewards points (you'll earn 3,000 points from the $3,000 in spend) towards a Companion Pass, which requires earning 125,000 in a calendar year (as long as you have a Southwest Credit card which gives you 10,000 points towards the actual 135,000 point threshold)  to receive the Companion Pass (which lets you bring a companion for free on all flights all year, only paying taxes and fees for the companion) for the rest of this year and all of next year.
I have a complete guide to how to obtain the Southwest Companion Pass for Two Years that goes into more detail on how that works. Basically, you can either earn 47,000 more points organically (flying, Rapid Rewards Shopping, Rapid Rewards Dining etc) or you can pick up one of the Southwest Business Credit Cards where the bonus offer would put you well over the 125,000 points required when combined with one of these personal card offers and the 10,000 bonus points for having a Southwest credit card.
If you let this offer get by you and want the two years of Companion Pass, be prepared to have to either get both business cards or earn a bunch of extra points. I wouldn't be surprised to see this bonus head right back to 40,000 points where it was just before this offer.
This is the best that Companion Pass Season gets.
And remember, you can get Southwest credit cards even if you are over 5/24!
You can learn more about each card and how to apply for the 75,000 50,000 point offers at these links:
Questions?