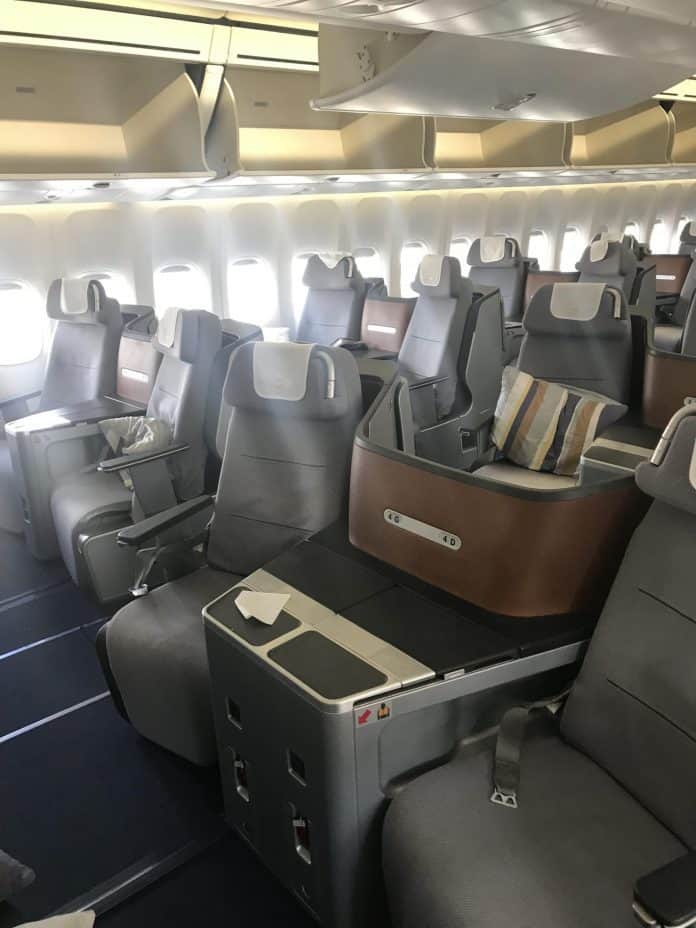 There are certain bucket list flights on any travel hacker's checklist. Things like Etihad's First Class Apartment, for the closing suite doors and onboard shower. Some bucket list items are tougher than others. One item on the list, that is pretty accessible if you can book within 14 days of travel, is Lufthansa's First Class.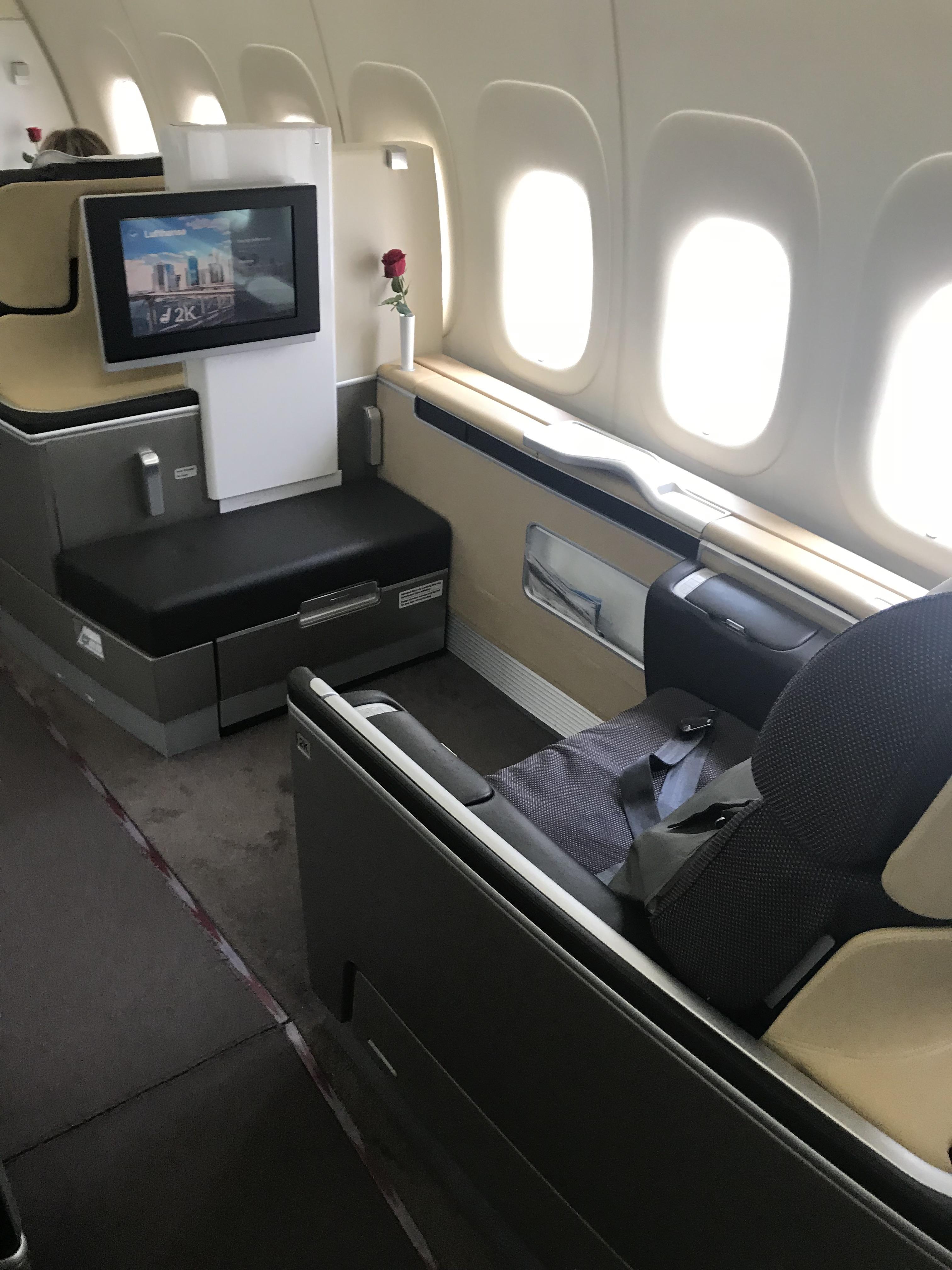 It comes with check-in at a separate private terminal only for passengers traveling in three-cabin First Class and a ride directly to your plane in a luxury car, such as a Porsche.
To go one step back, I'm on a quest to try as many of the remaining true First Class cabins around the world. By "true" First Class, I mean a plane with both First and Business Class cabins – where First generally has 12 or less seats, an extremely large personal space, and very personalized attention. It generally also comes with amazing food.
These products have been waning in recent years, as new planes are often coming without a First Class cabin, favoring a Premium Economy offering and then Business Class as the highest class of service. They can also be very difficult to book with miles, since these are the most expensive seats on a plane with few available per flight.
Before today, my list of flown international First Class rides looked like this:
Cathay Pacific First
Air France First
American Airlines First
United Airlines First
With the list of F products on my "want to fly" list getting smaller:
Lufthansa First
ANA First
SWISS First
Thai First
New (2018) Emirates First
New (2018) Singapore First Suites
Asiana First
Korean Air First
I'd also be happy to fly others, like Garuda Indonesia First, but the 8 above (now 7 after flying Lufthansa) comprise my hit list. I don't generally fly just to try a cabin product (as I know some bloggers do). I pick a destination I want to see and then I figure out which products I'd like to try can best get me there. Way more often, there's a business class product far more direct/accessible so most trips don't knock one off the list. For example, I flew Austrian Airlines outbound on this trip in Business Class because they don't have First and I wanted to stop in Vienna for a day on the way to Berlin.
Back to Lufthansa First Class. This product is generally only available to Lufthansa Miles & More members more than 14 days in advance. Lufthansa is only an SPG transfer partner (which I wouldn't use for this because I value them too highly) and has high fuel surcharges for their own program.
A few of the best ways to book Lufthansa First Class from the US to/from Frankfurt or Munich are:
Aeroplan (Amex transfer partner): 70,000 miles + taxes and fees of around $375 traveling westbound (Germany to the US) or about $575 flying east to Germany)
Asiana (SPG transfer partner): 50,000 Asiana miles + about $500-$600 in taxes and fees
United (Ultimate Rewards transfer partner): 110,000 miles plus low faxes/fees of around $150 or less.
Avianca (Citi ThankYou transfer partner): 87,000 miles + around $140 in tax and fees
Singapore Airlines (transfer partner of all): 

95,000 Miles

+ about $350 in tax and fees (cannot add on connections because the won't price a mix of First and Business/Economy)
There's no right or wrong program to choose. Avianca is certainly the best blend on paper, but their call center can be a nightmare if you need to change/cancel ($150 to change, $200 to cancel), they often won't have the same availability as other Star Alliance sites have (and they can't find it by phone either). United doesn't pass on fuel surcharges but has the highest mileage cost.  Aeroplan is a good value in miles but charges higher fees than United or Avianca. Asiana is a clear winner except that only SPG transfers there.
The factors that may make one better or worse for you include what points you have to transfer, ability to change flights later, and how much you care about the fuel surcharges. I chose Aeroplan because I had a healthy amount of Amex Membership Rewards points, the tax is reasonable compared to Asiana/Lufthansa, and 40,000 miles less than United (for $200 more in fees). Avianca wouldn't show the flights or I'd have chosen that, but knowing I could easily change the flight via Aeroplan for $100 CDN (about $75) was also a factor as I may have needed to change the date.
The Experience: The First Class Terminal (Rating 9.5/10)
It starts at Frankfurt Airport. In my case, I was connecting from Berlin, so rather than have a taxi drop me off at the First Class Terminal, I landed in Terminal 1 and followed signs for baggage claim. When I got to baggage claim, I walked outside and turned left on the sidewalk. When you see a large bank of taxis, you know you are heading the right way. Just past that bank of taxis, you'll see the First Class Terminal on your left.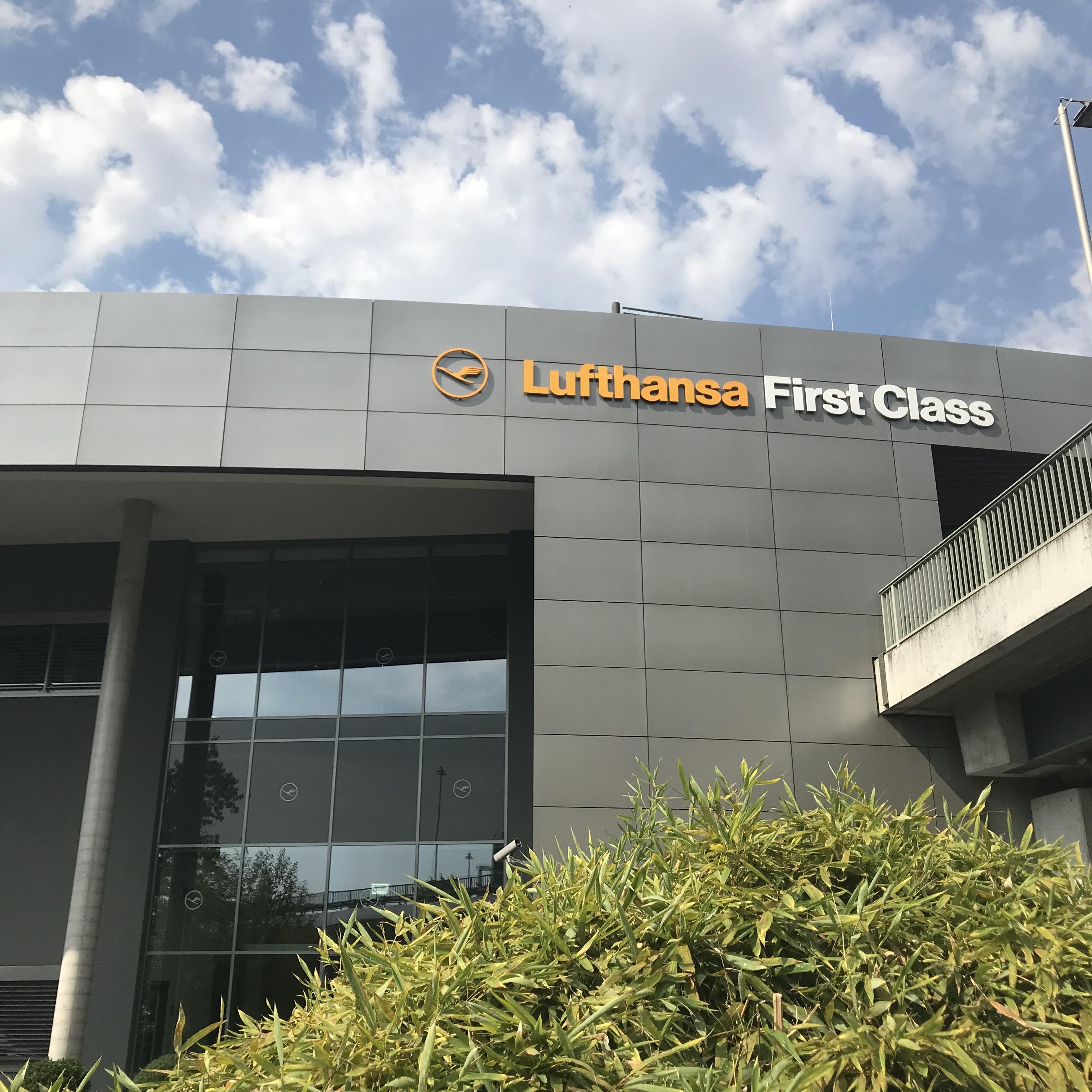 Once you exit the elevator into the terminal, you'll be greeted by one of the personal attendants. They will be your point of contact for your stay, assisting you with anything you may need during your stay. They'll take your passport (which will be returned to you at boarding time just before grabbing your car to the plane) and check your ticket before waiting while you go through "standard" security. I put standard in quotes because it's just like regular airport security, except you'll likely be the only one there.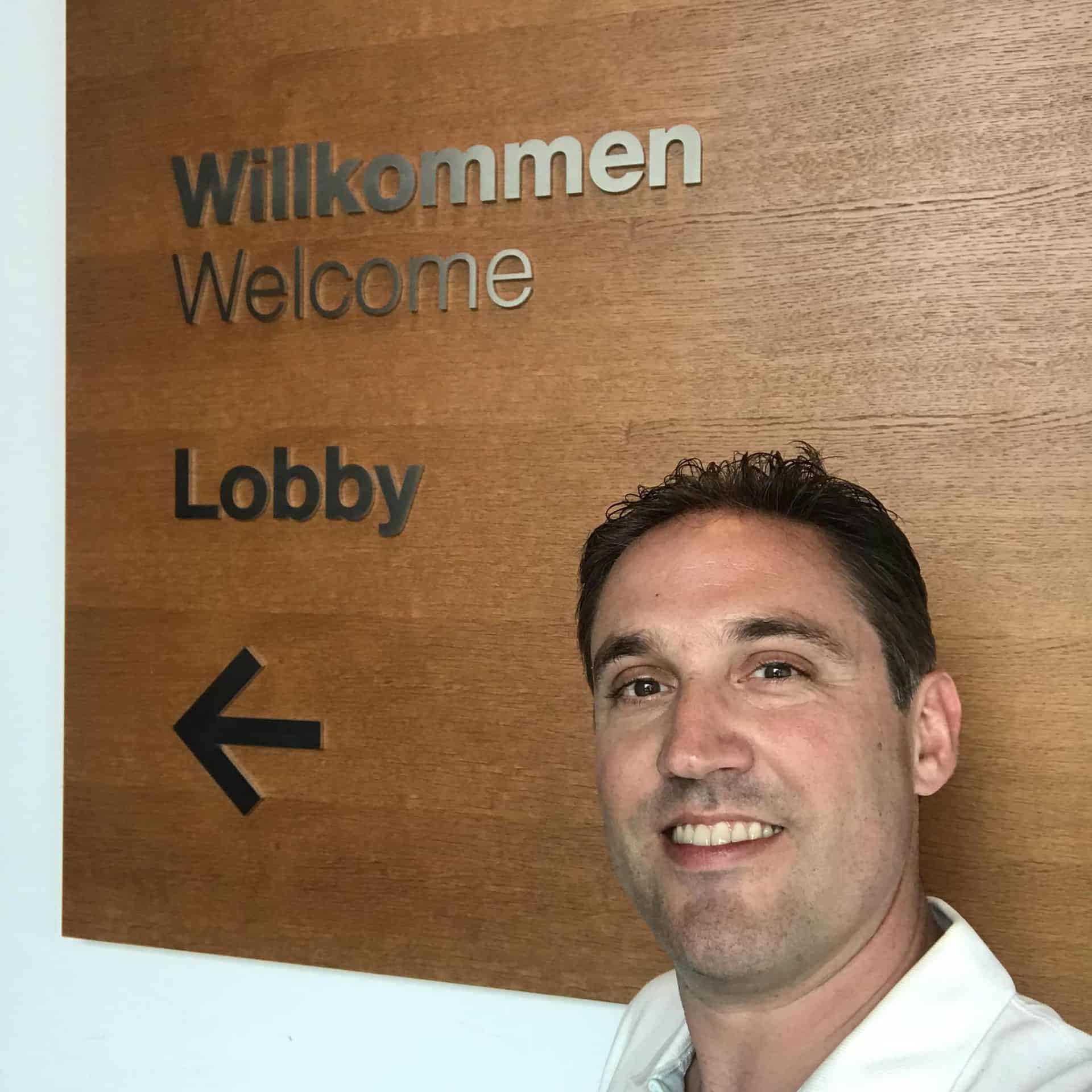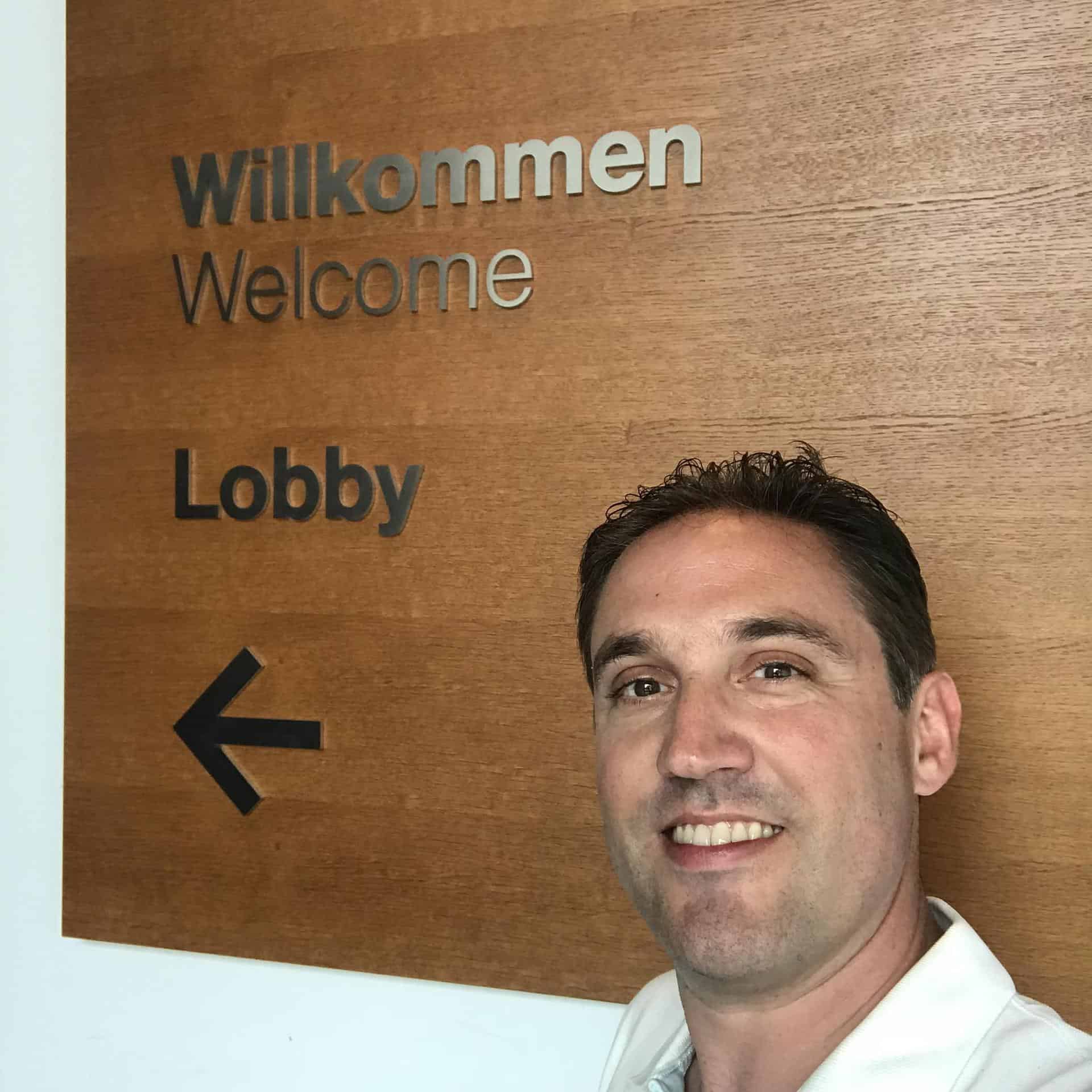 Once inside, you have some choices of how to spend your time. You can park yourself in a comfy chair, take a nap in one of two relaxation rooms, take a shower, or even take a bath (they'll give you a rubber ducky to enhance the experience) if the bath is available.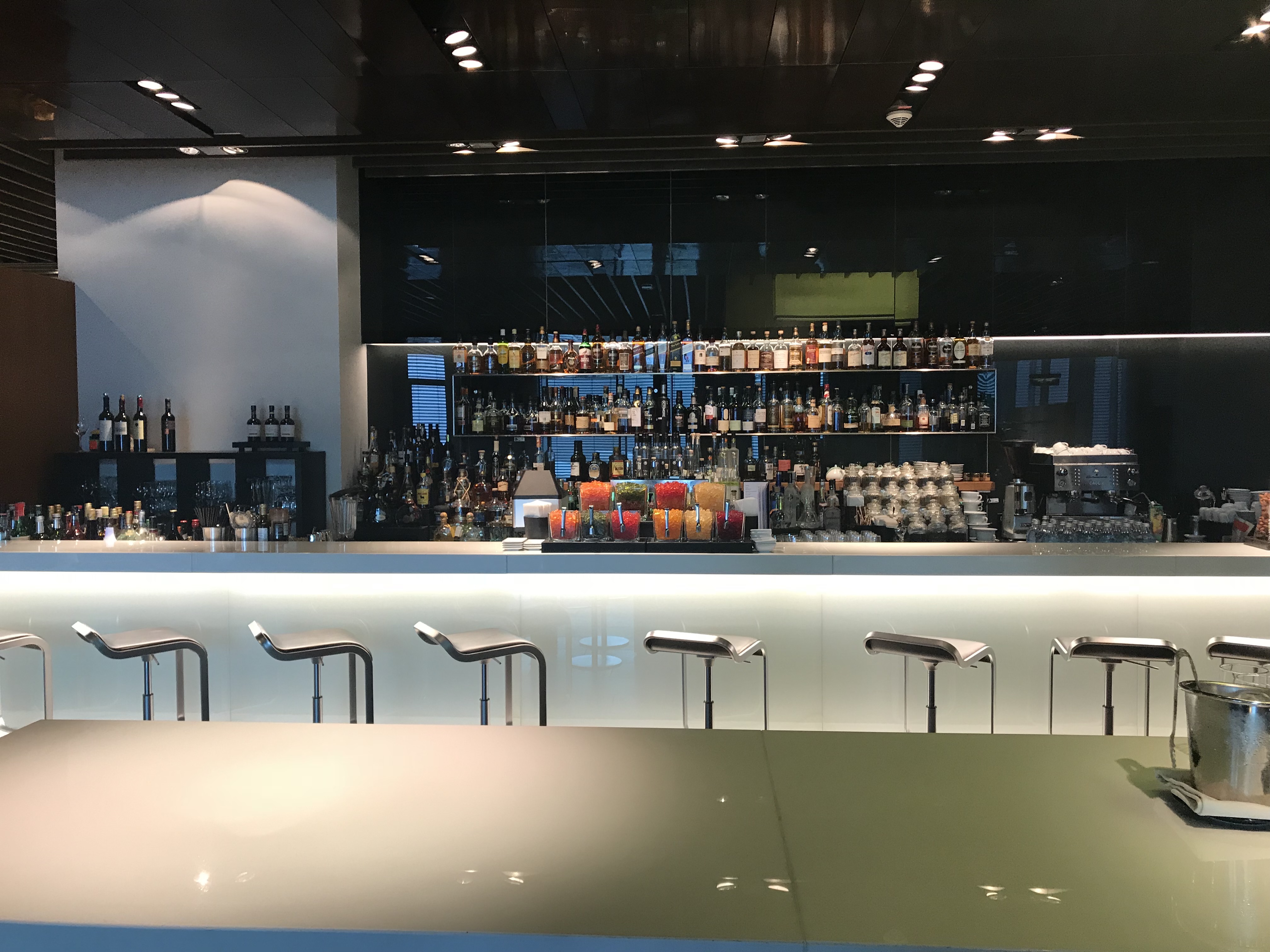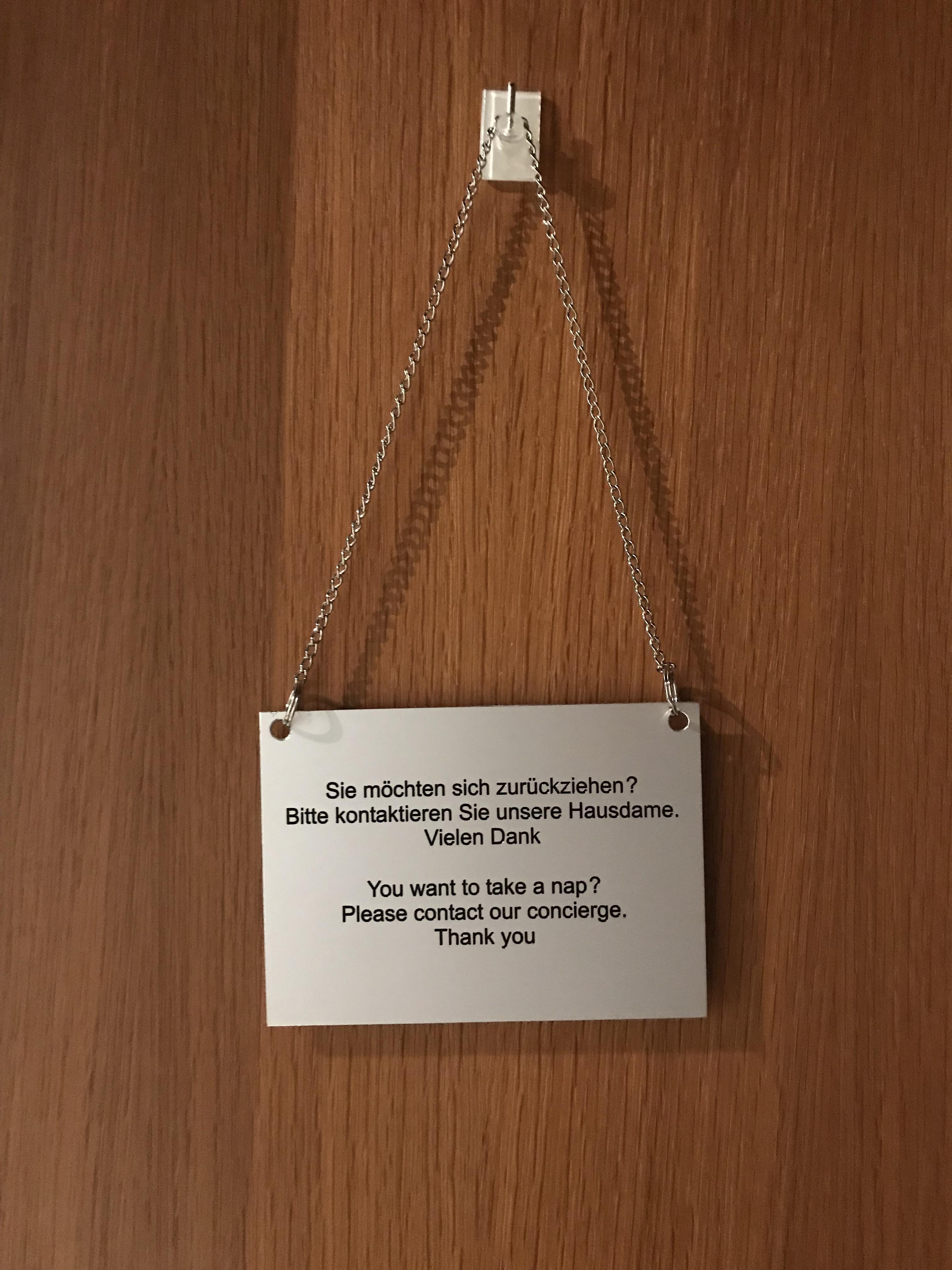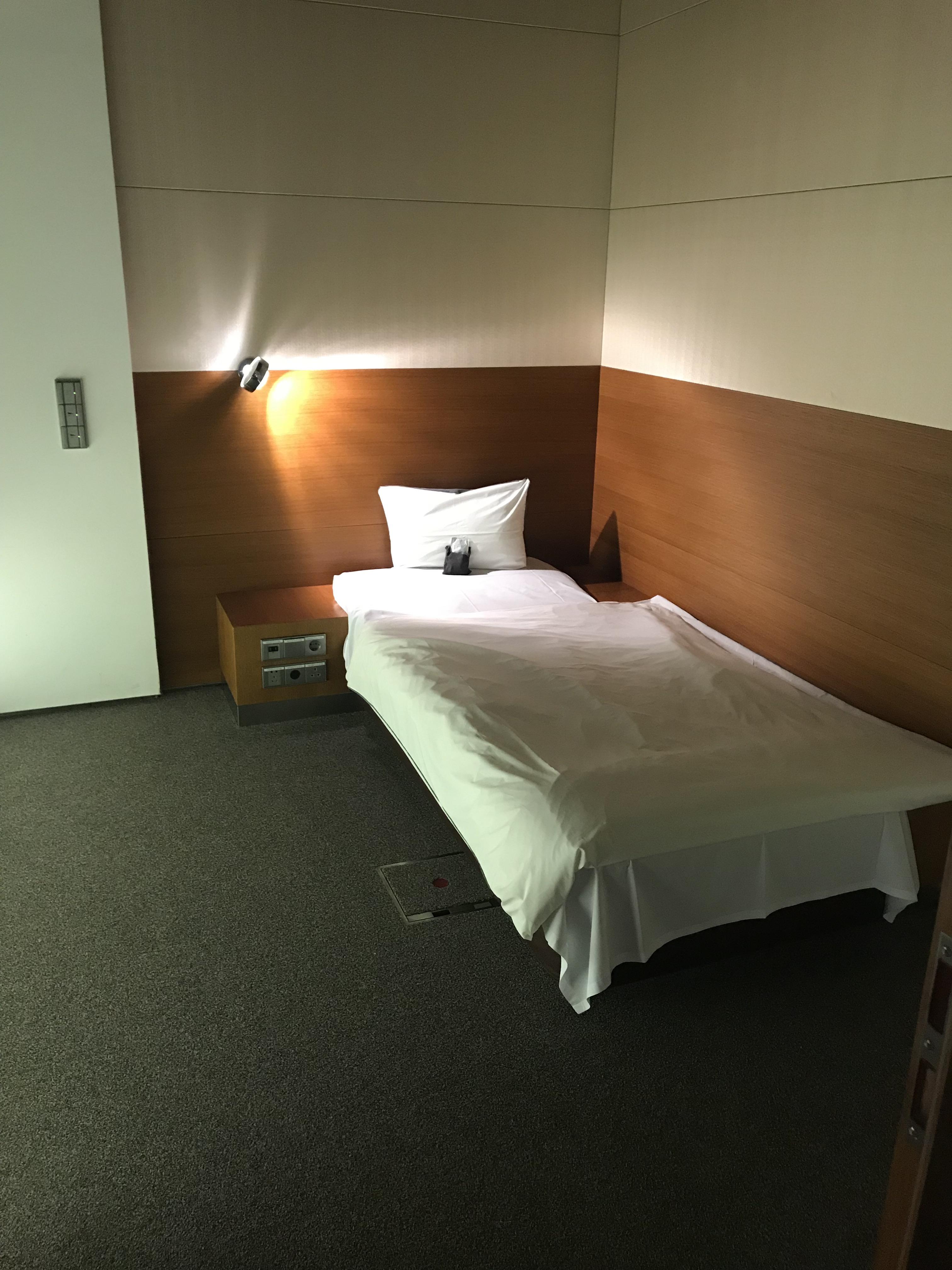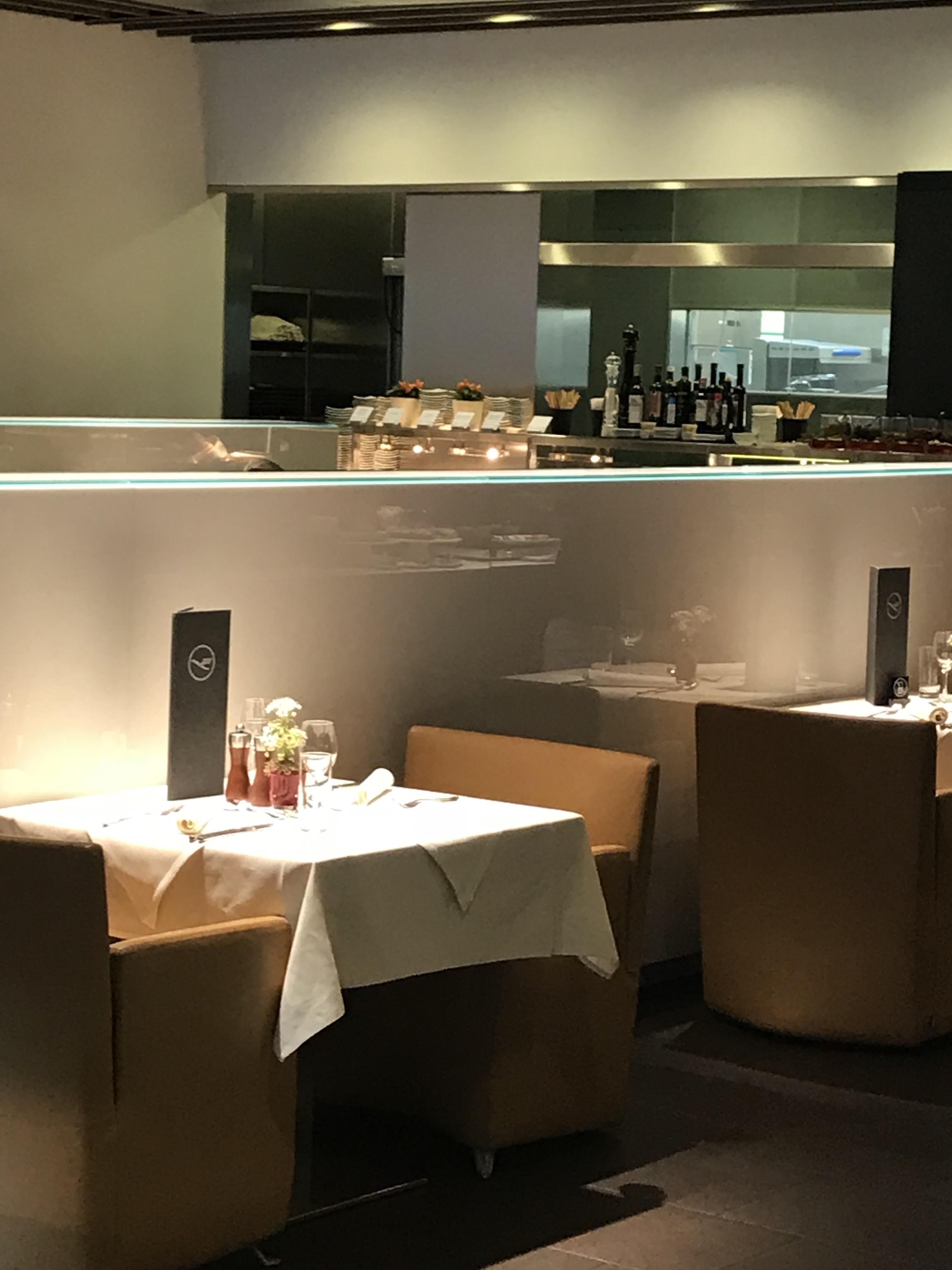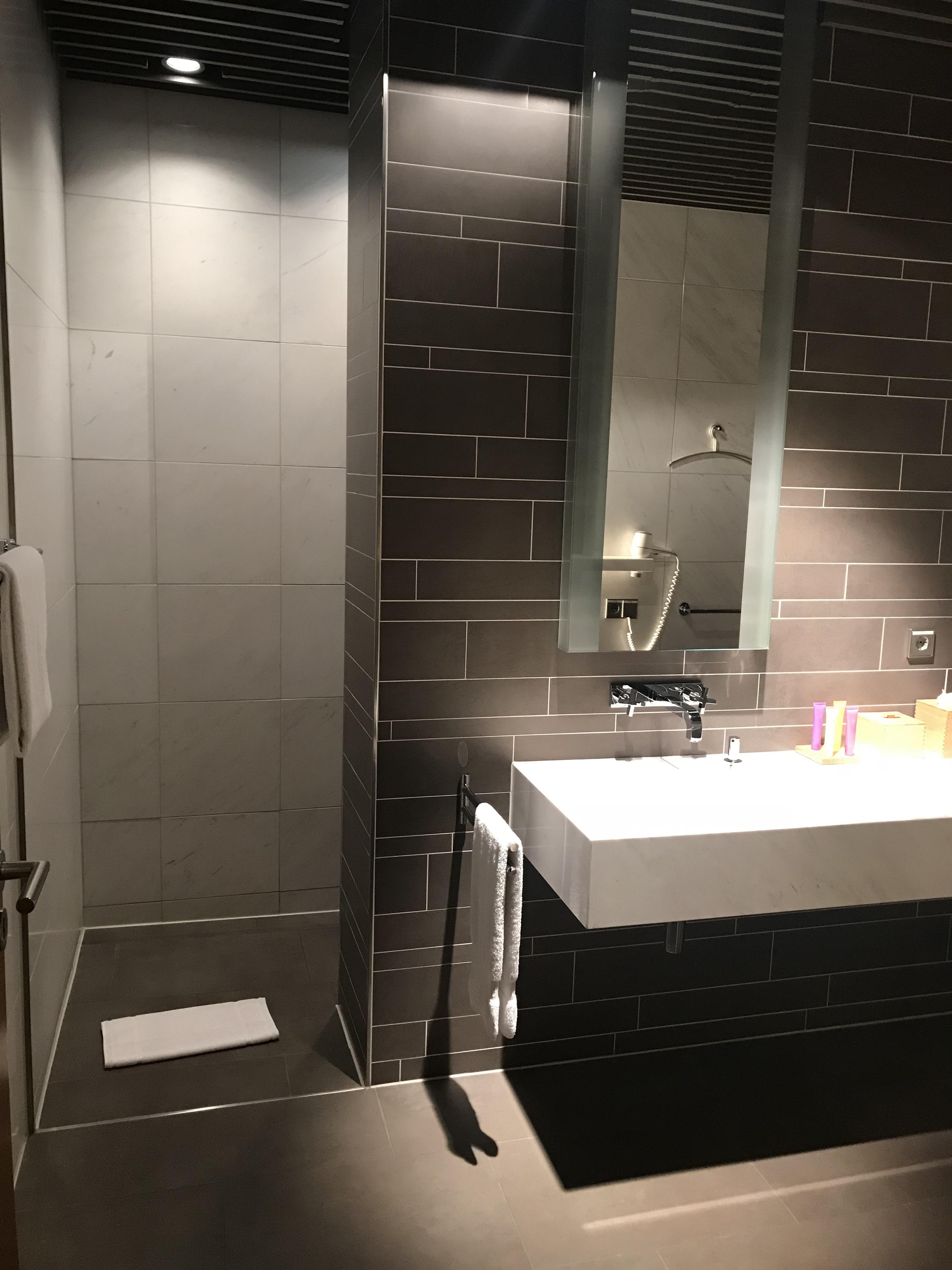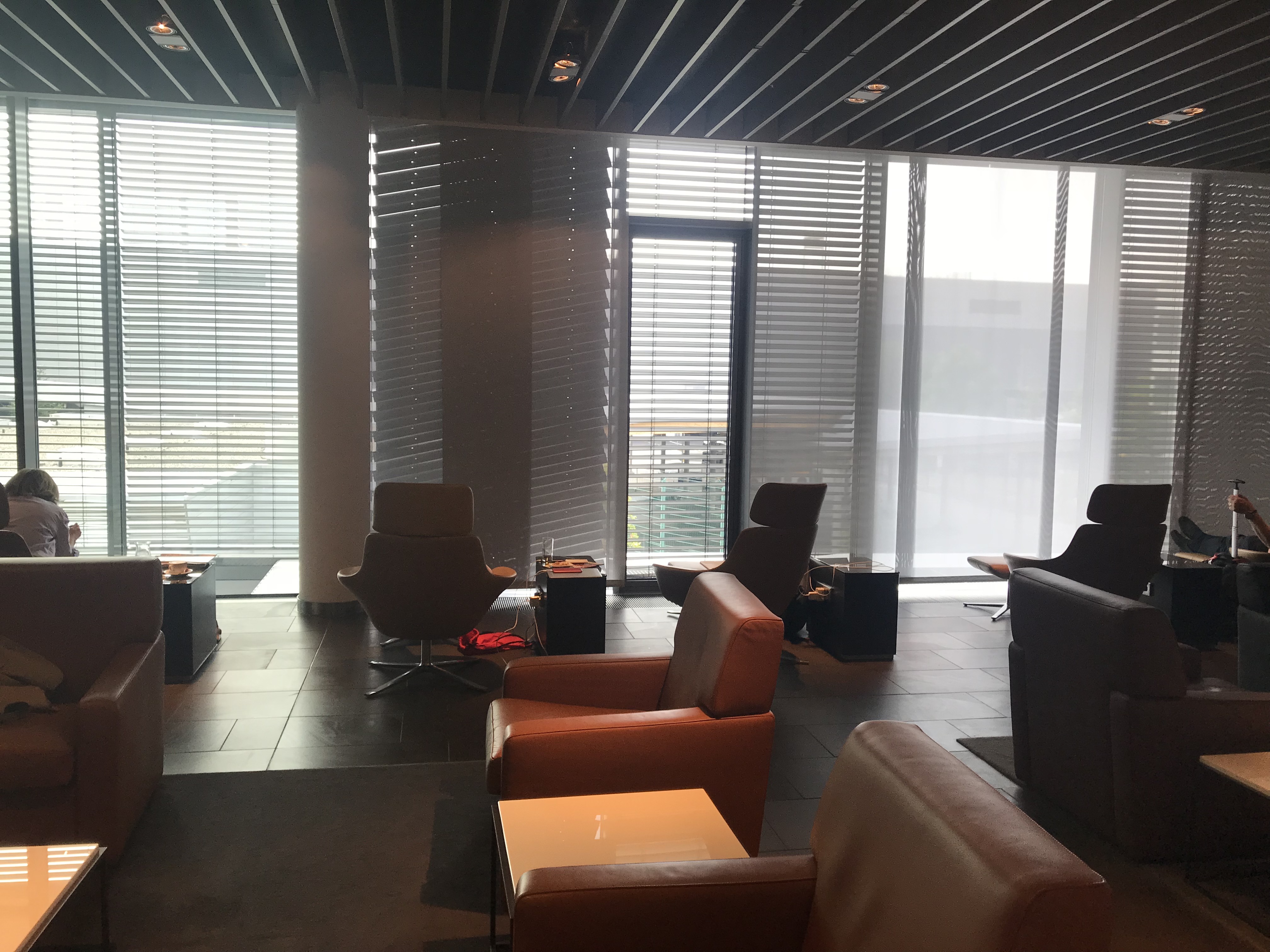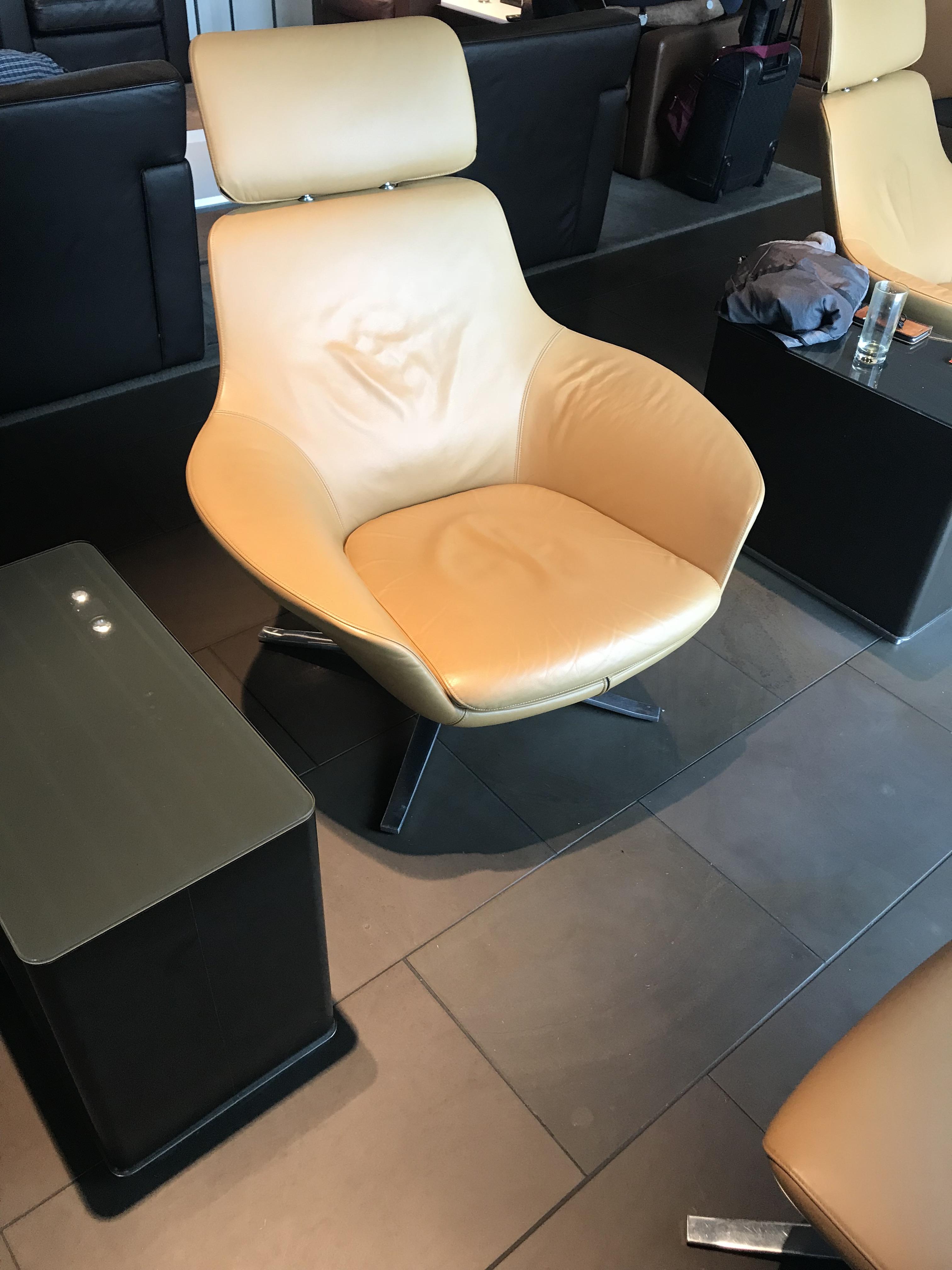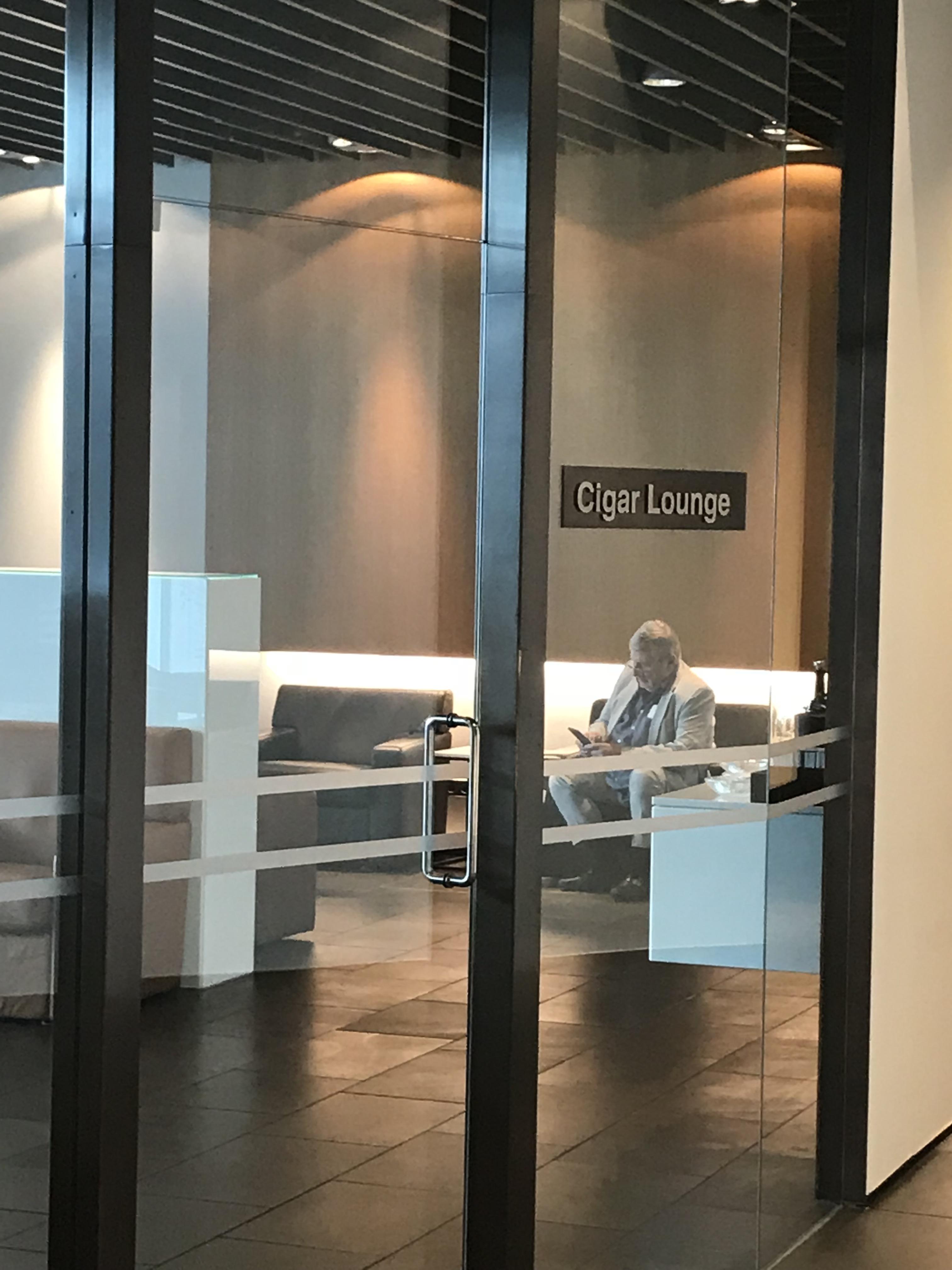 If you are hungry (or even if you are not!) have a seat at the restaurant-like tables and either serve yourself from the buffet or order off the menu. My personal favorite was the Iberico ham. This is the most expensive pork you can buy in Spain, and here it's sliced and ready for the taking. Take all you want…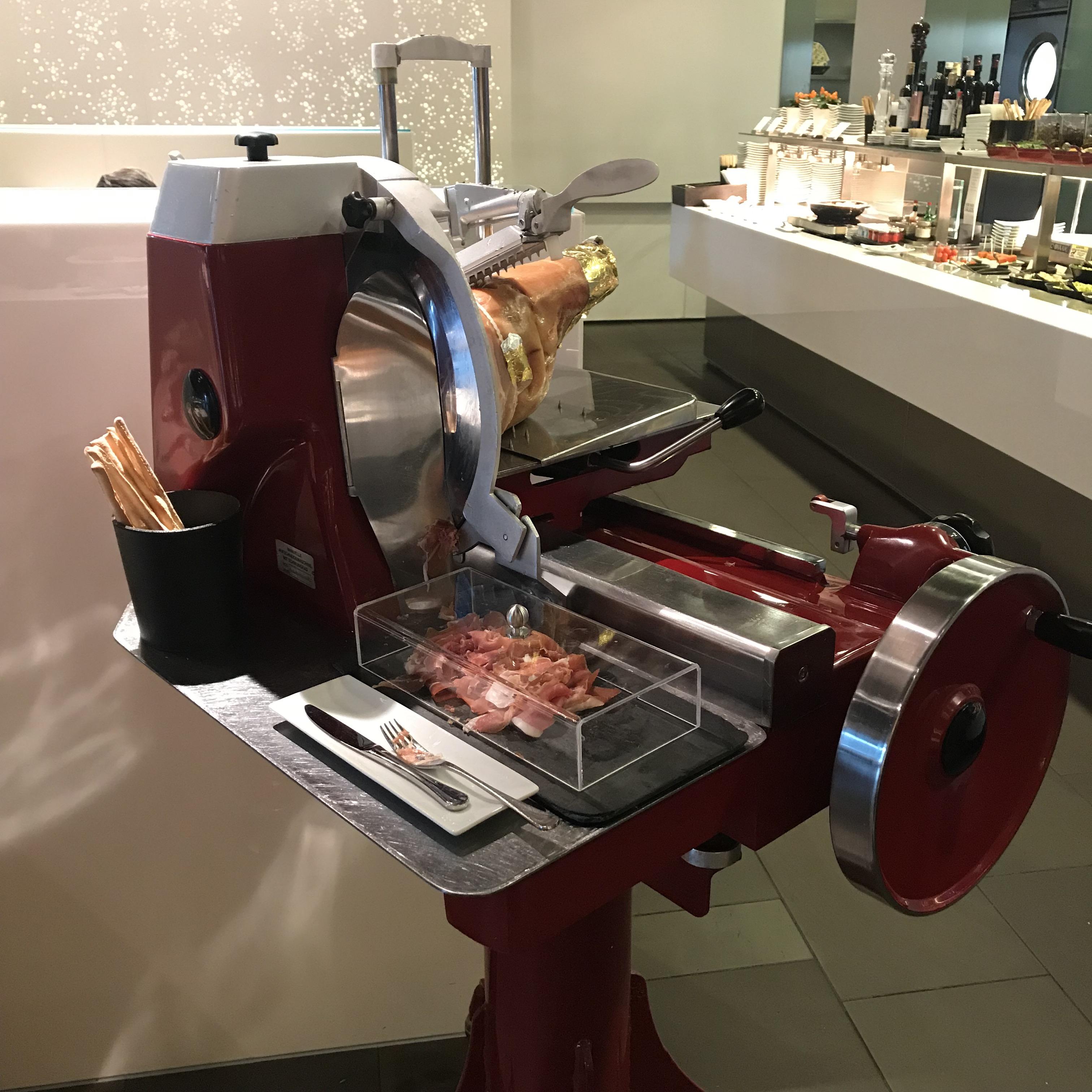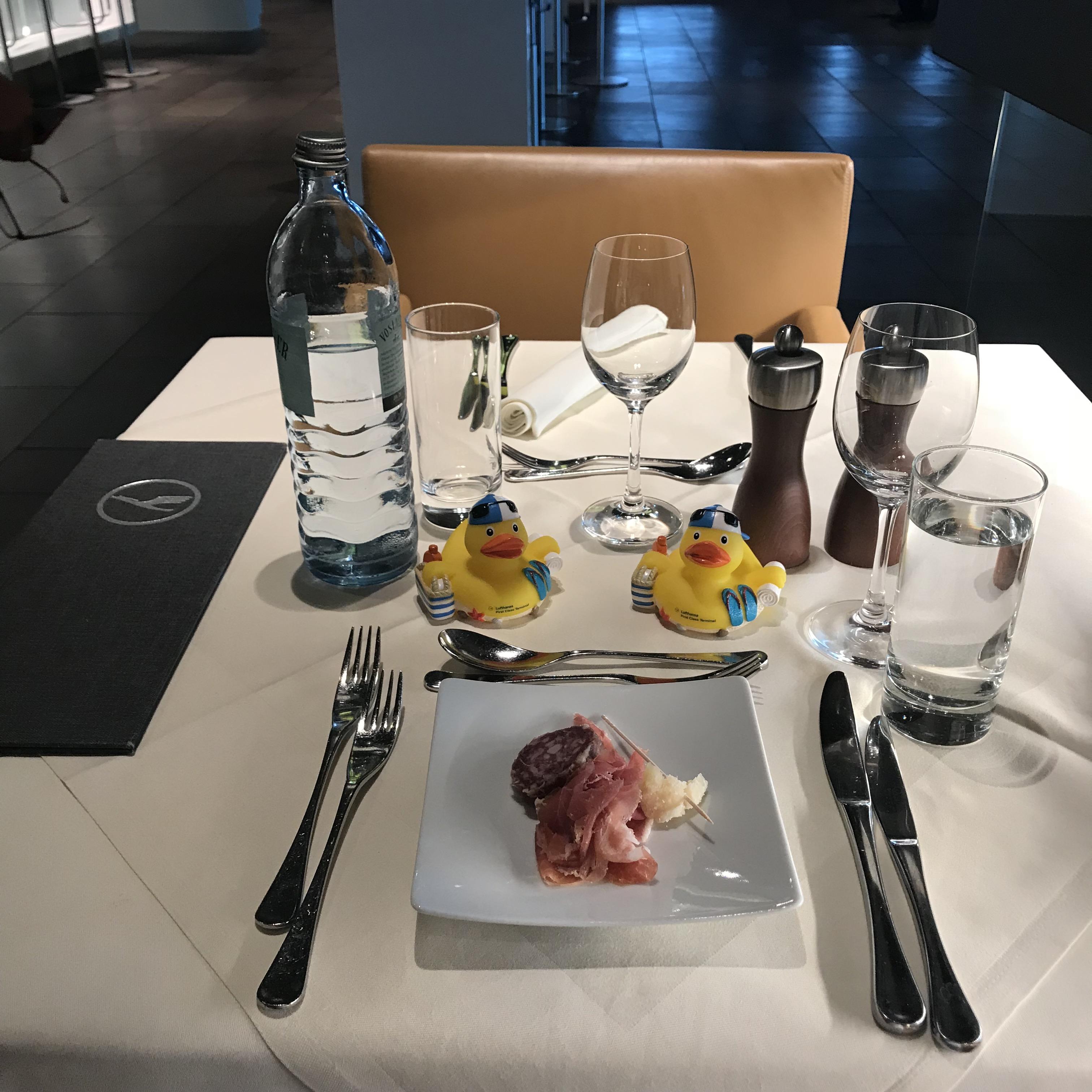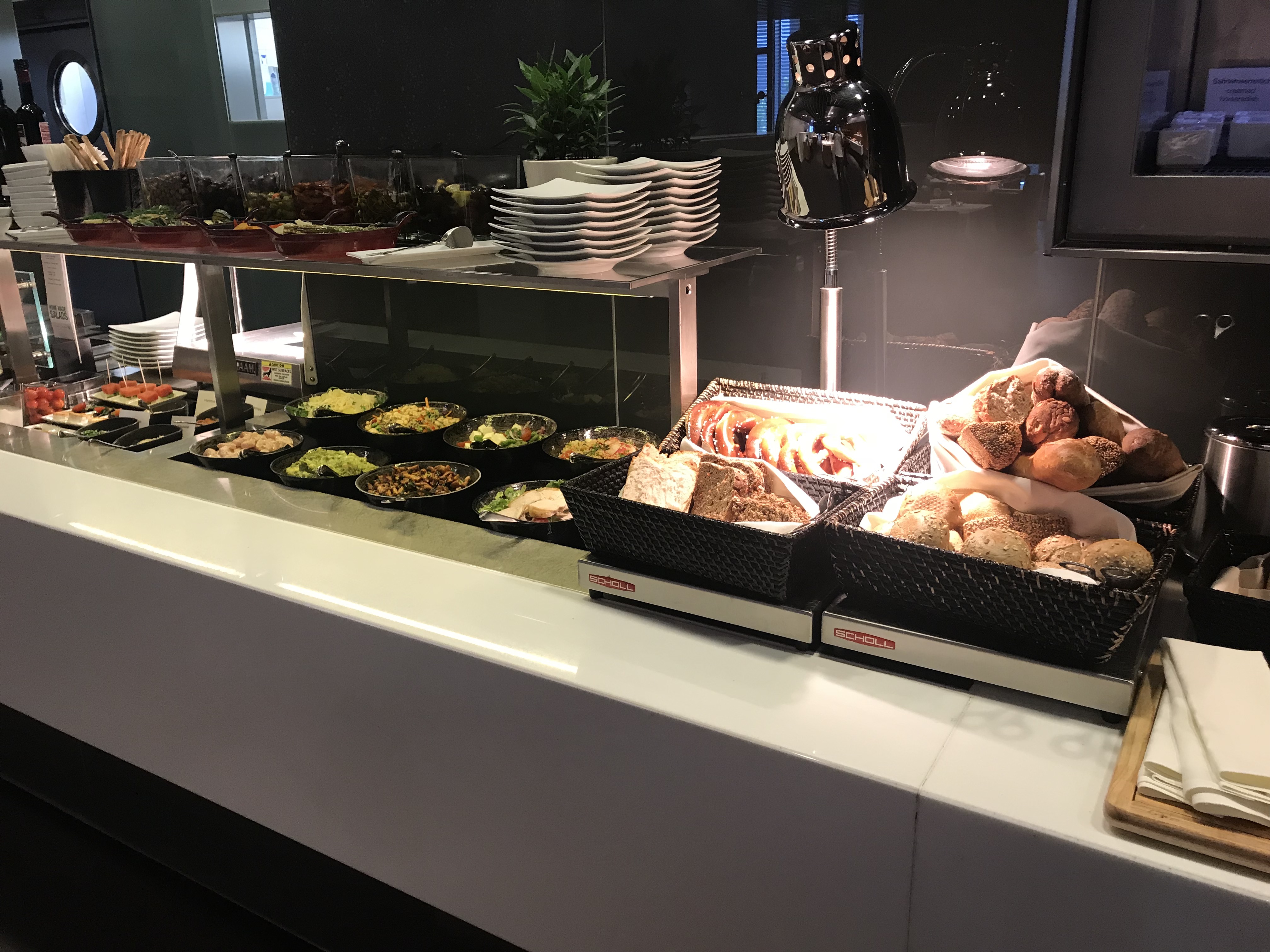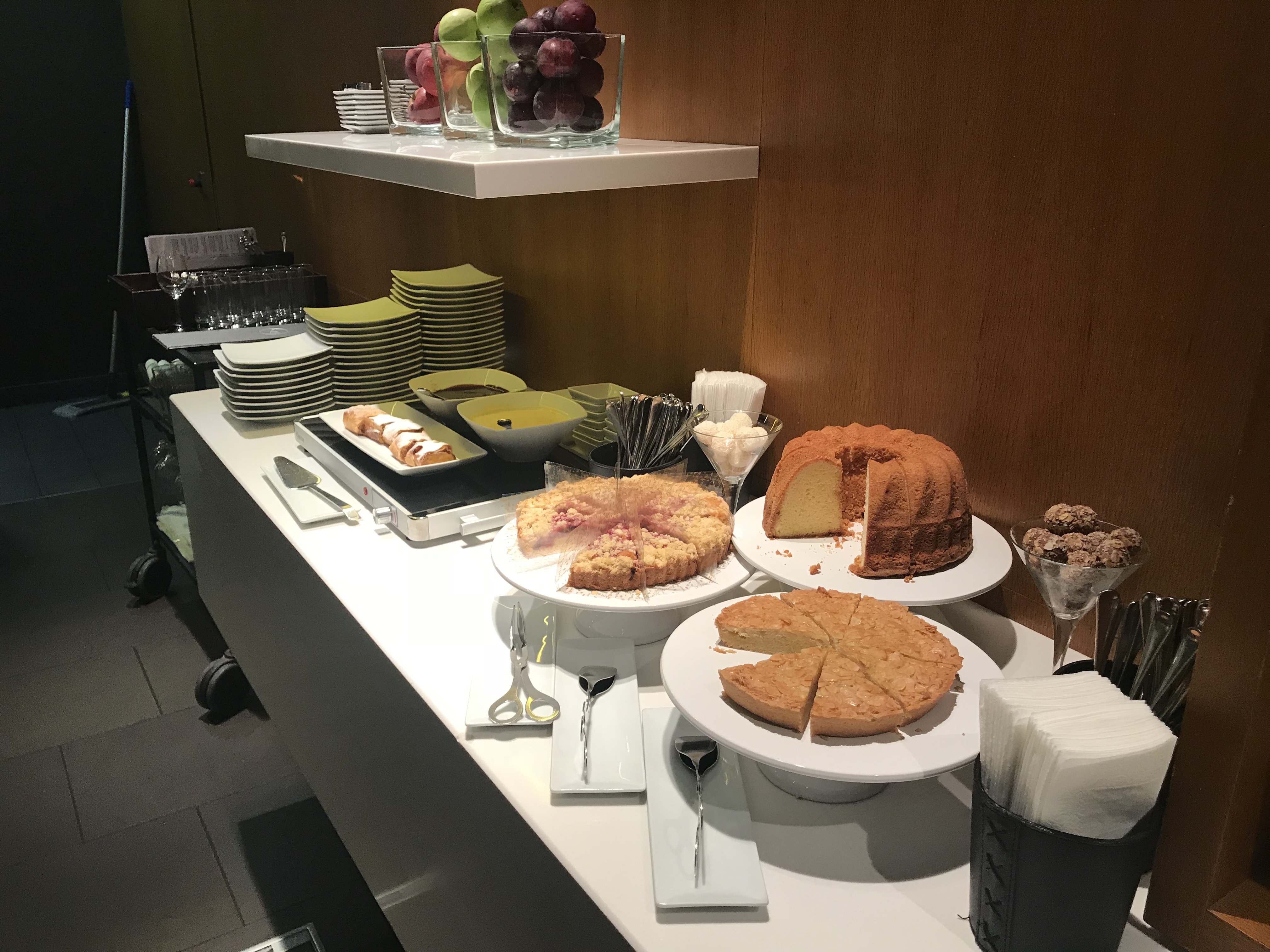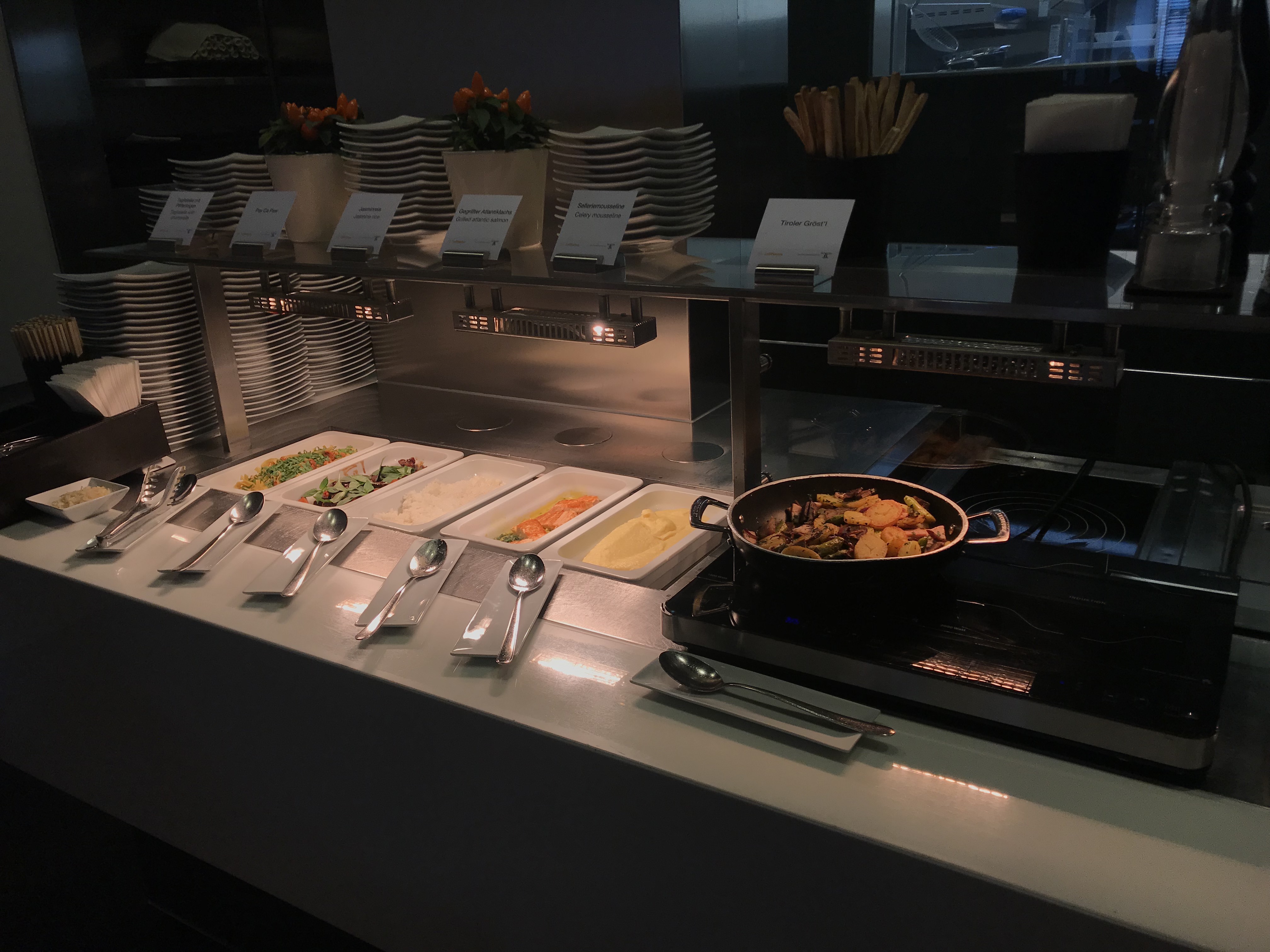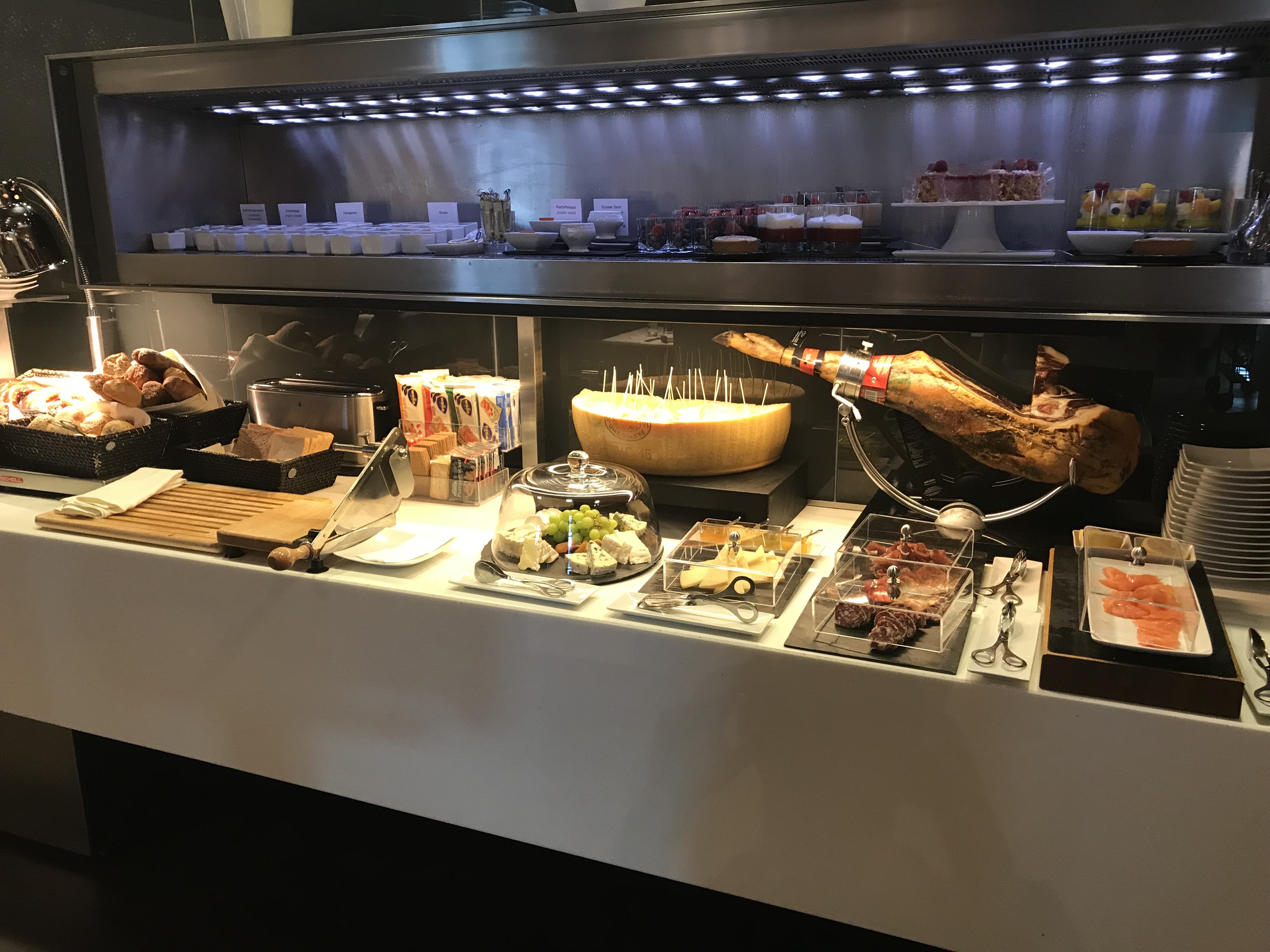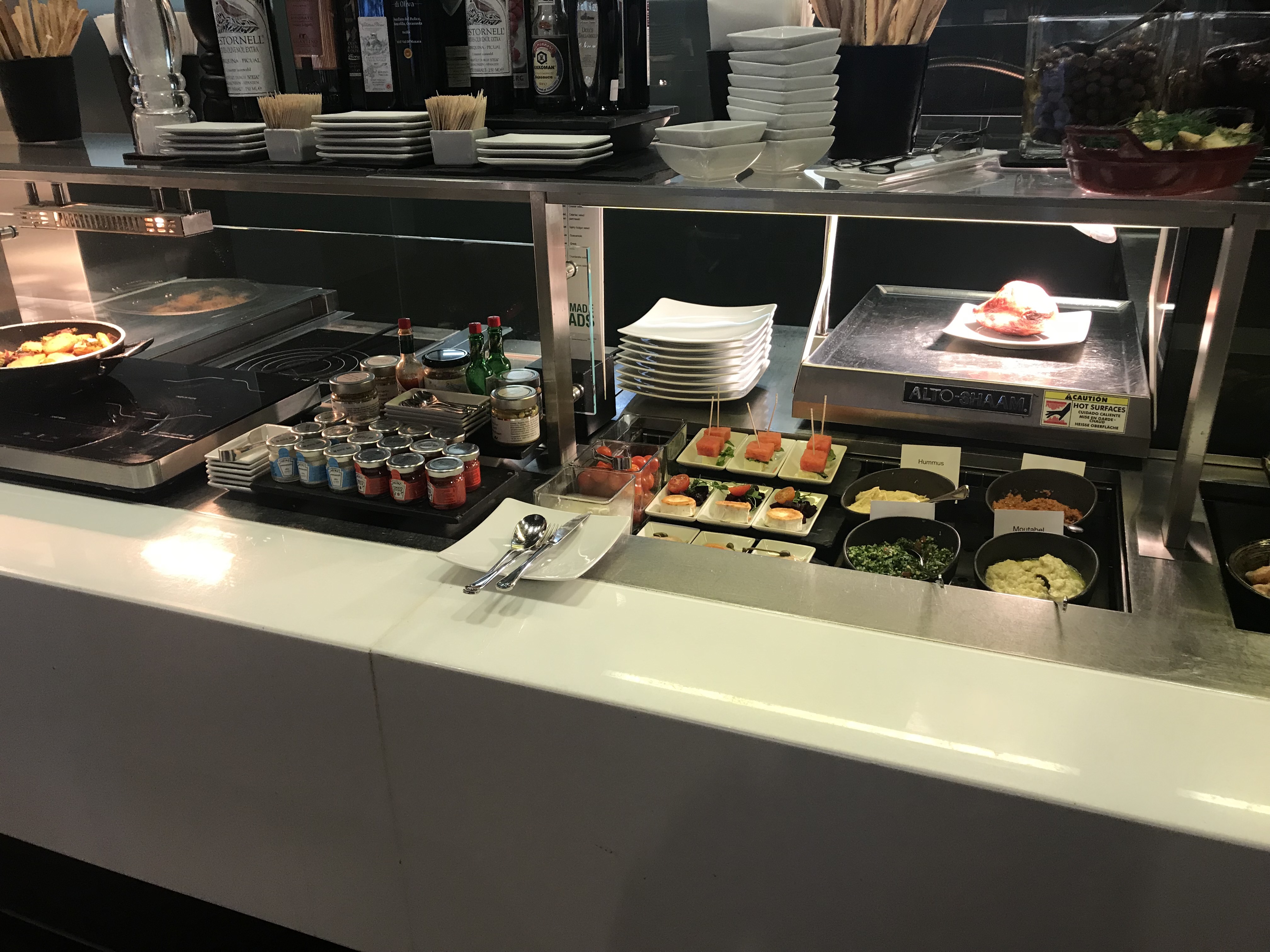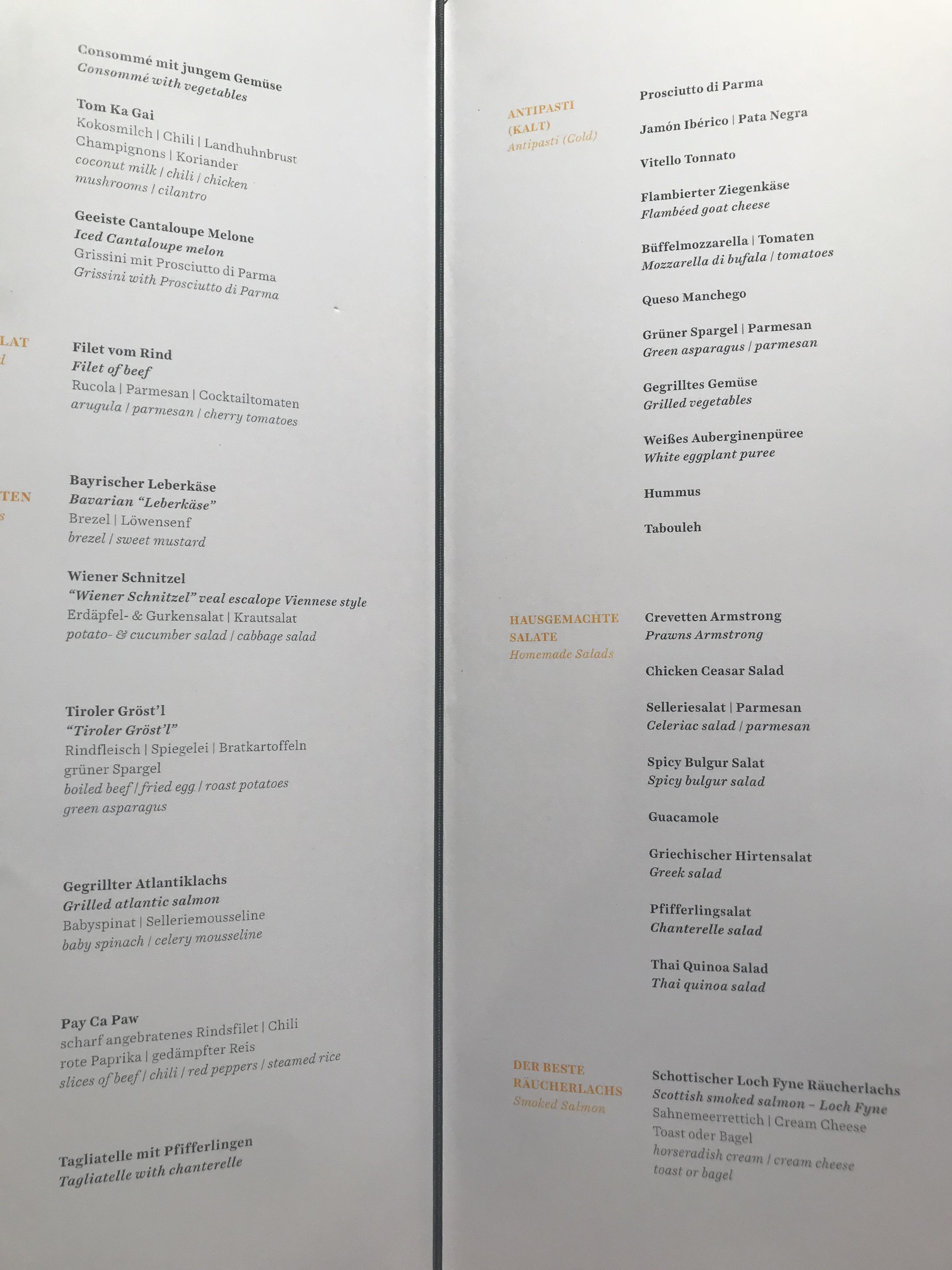 A server will be happy to take any food or drink orders. That drink could even be a glass of $200 / bottle Johnny Walker Blue Label. Or some fancy wine or champagne. They do not skimp here.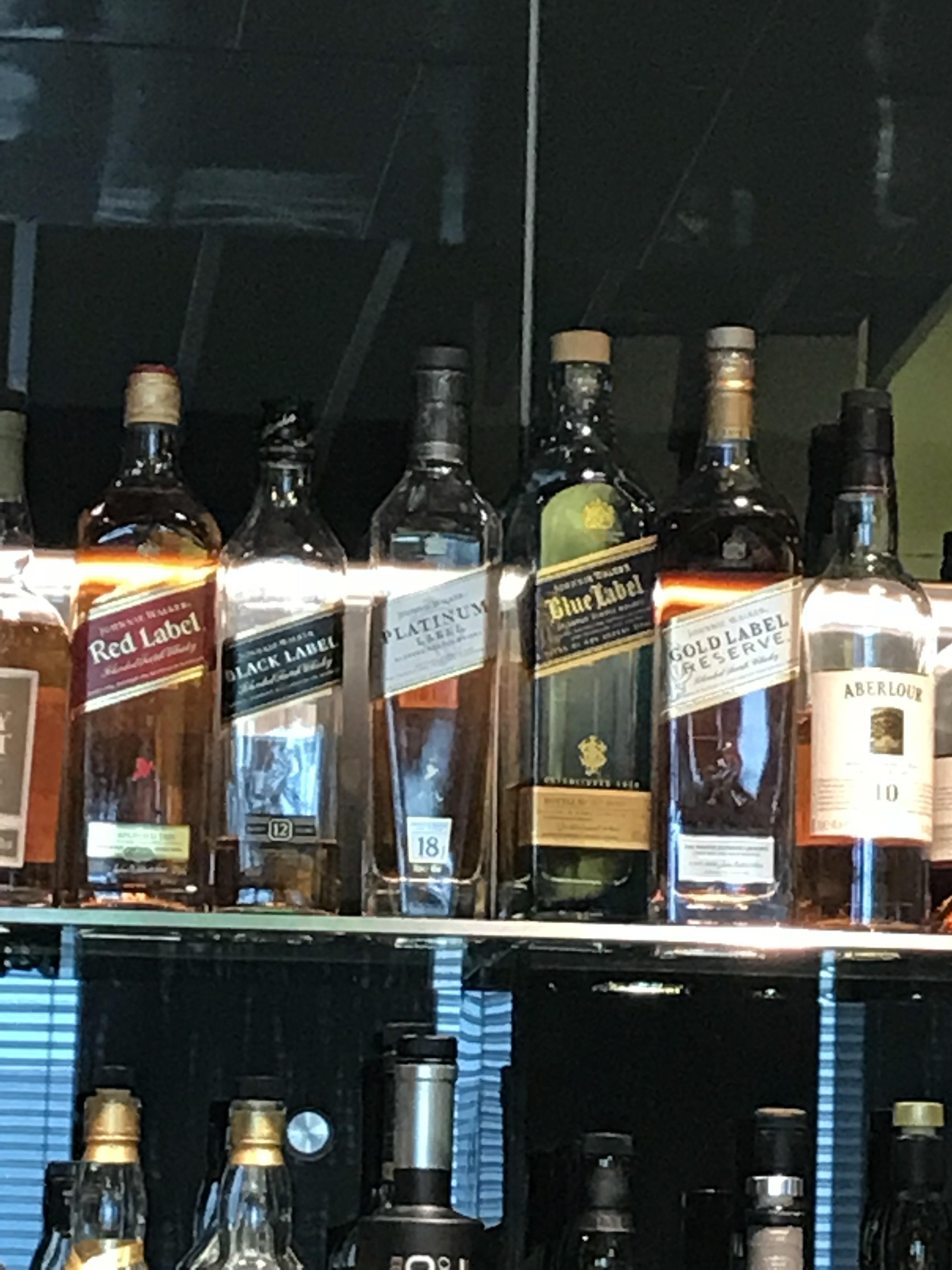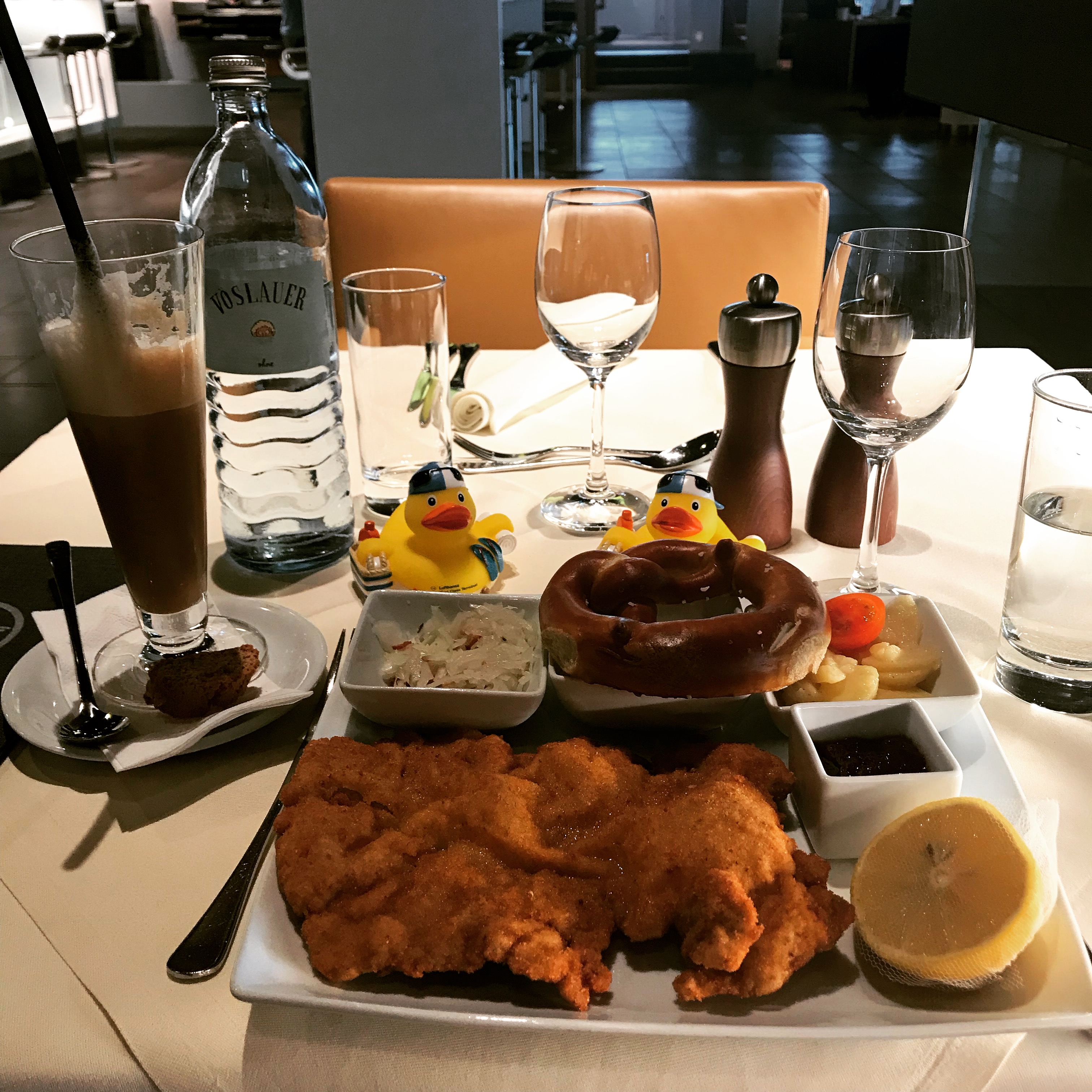 Once your flight is ready, you'll be driven to the plane in a luxury vehicle. Which one exactly depends a lot on how many people are being driven to flights at the time. You may get your own Porsche or you could be placed in a 5 person Mercedes van. You can have your personal concierge make a request for you but in the end the airport coordinator can only do their best.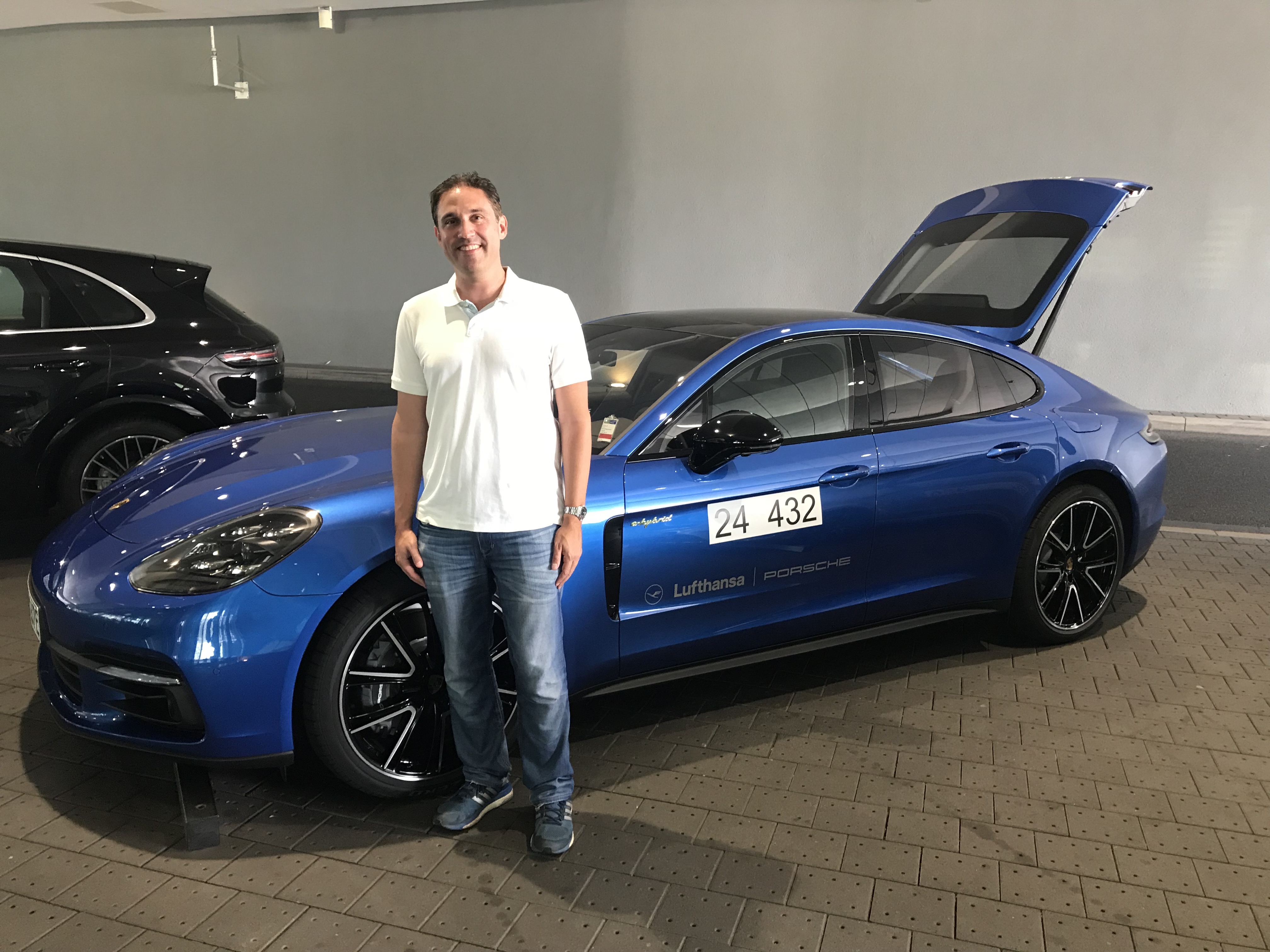 All of this is pretty much the ultimate in luxury for a commercial flight.
At boarding time, your concierge will come and find you, wherever you are in the lounge, and bring you downstairs to collect your passport, have your final boarding card check, and get your ride to the plane. You'll be dropped off right at the gate where you are escorted up an elevator and you'll see the "masses" in line to board. Security will just walk you right through where you will then enter the plane through the forward door, used only for First Class. No waiting!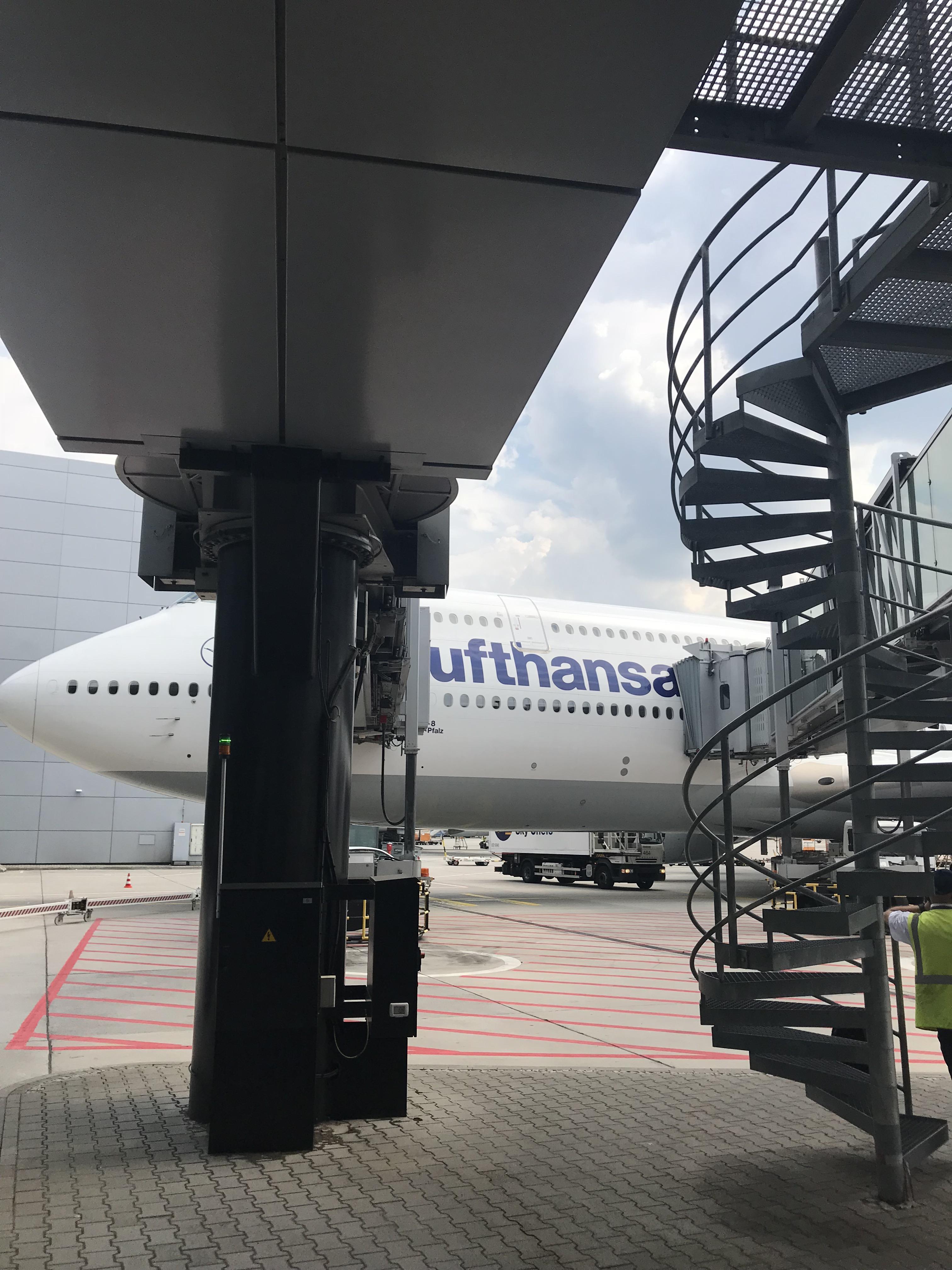 On to the flight!
Upon boarding I was greeted by both the flight attendant that would primarily look out for me on the flight as well as the lead purser for the flight. The flight attendant did not mind that I was taking so many pictures at all and offered to take some for me as well. You never know how crew may react to the pictures, believe it or not!
The seats on the 747-800 are arranged with 3 rows. The first two have single seats at the windows. Row 1 is close enough that it would work fine for a couple, though you aren't directly next to each other. Row 2 is the most private (I had 2K, on the right) and row 3 has a window, then two middles together, and a window seat for a total of 4 seats.  A couple would probably choose the two middle seats in row 3 if wanting to be right next to each other, else row 1 would be the next best. Note that row 3 does have some slight noise from the galley behind.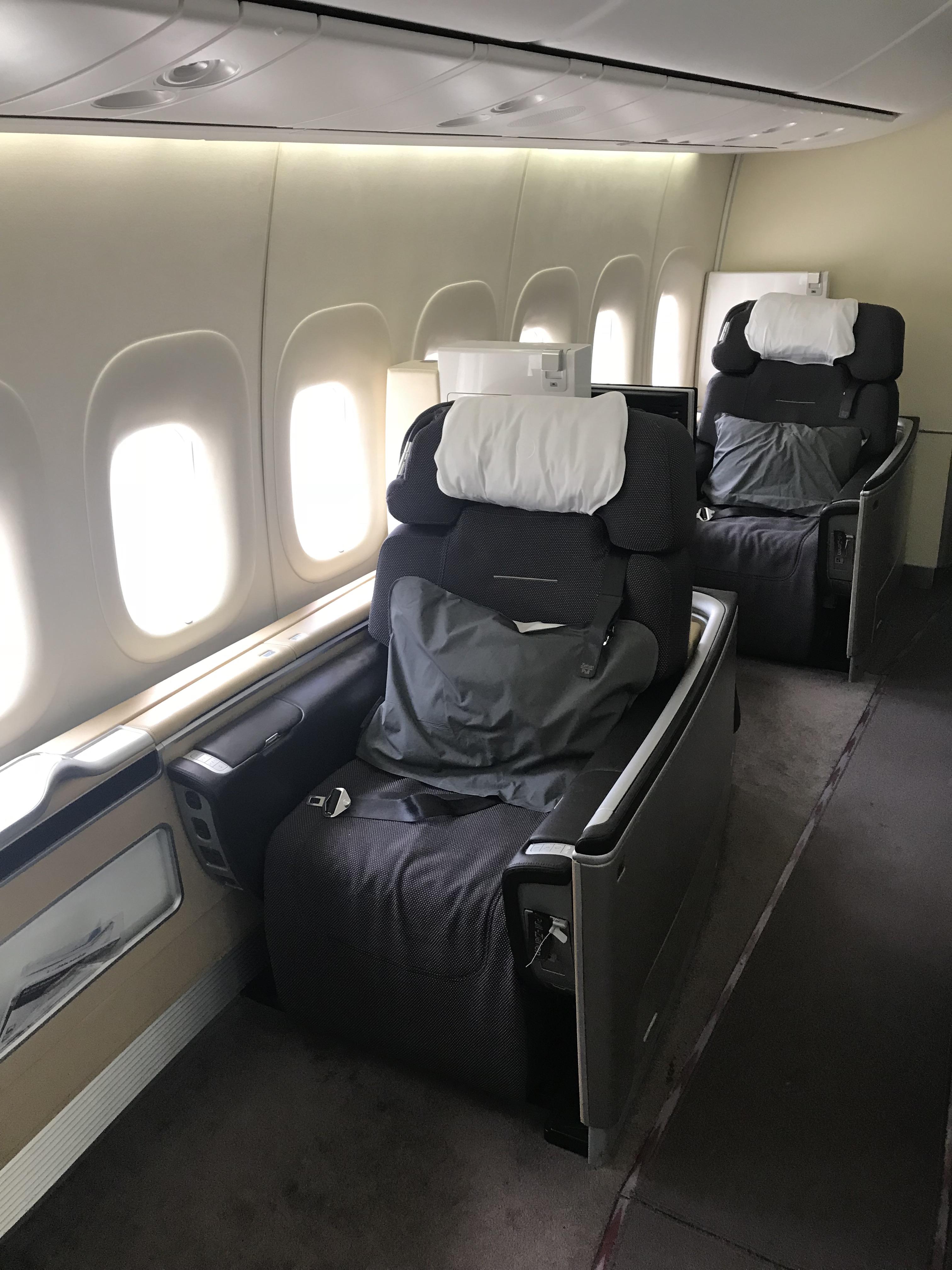 The seats are very roomy and comfortable, though note that you won't have a closing door like on the Singapore Airlines A380 First Class Suites or the Etihad First Class Apartments, so you don't have that kind of privacy. There is a small wall that can be electronically raised for some privacy, however.
You'll be presented with this amenity kit: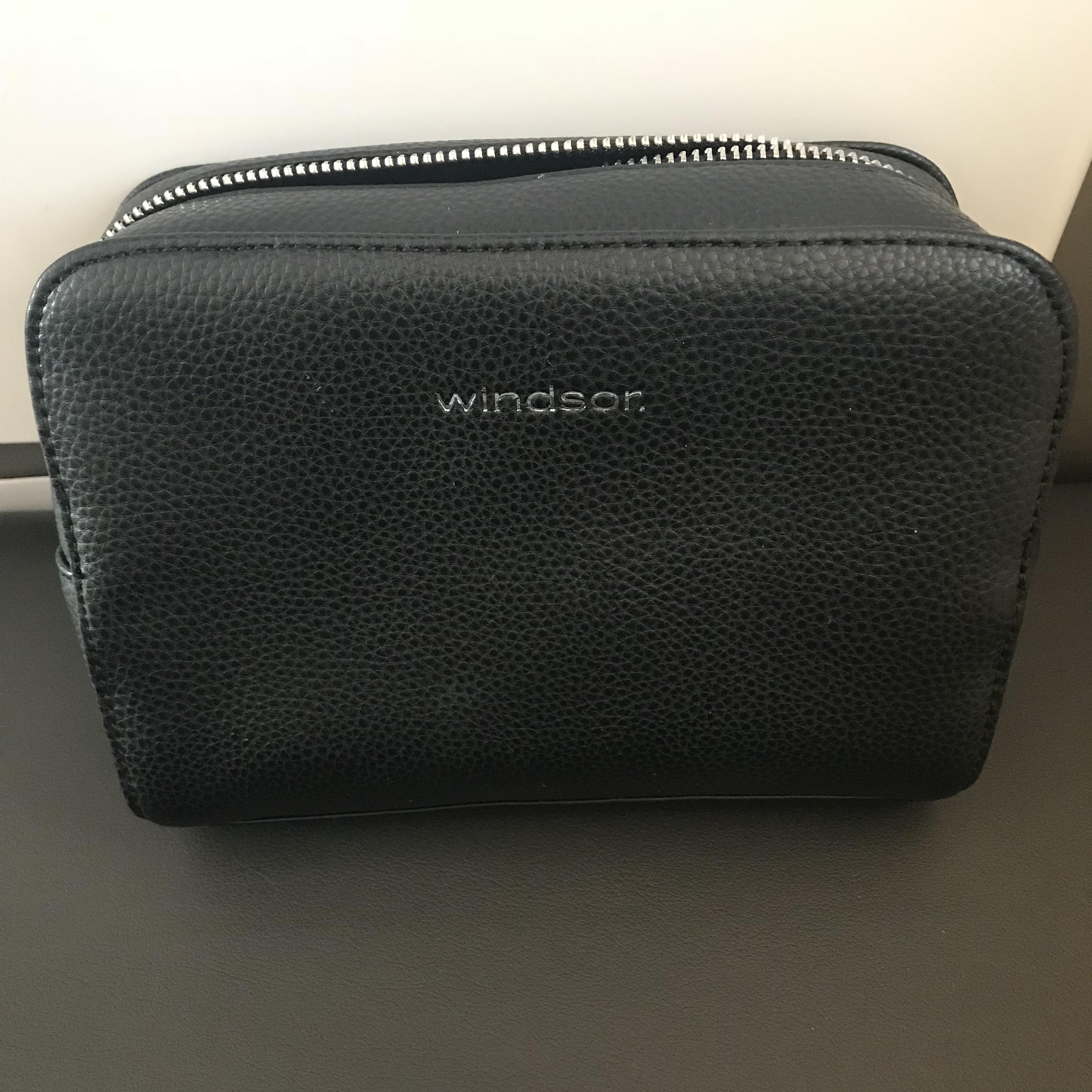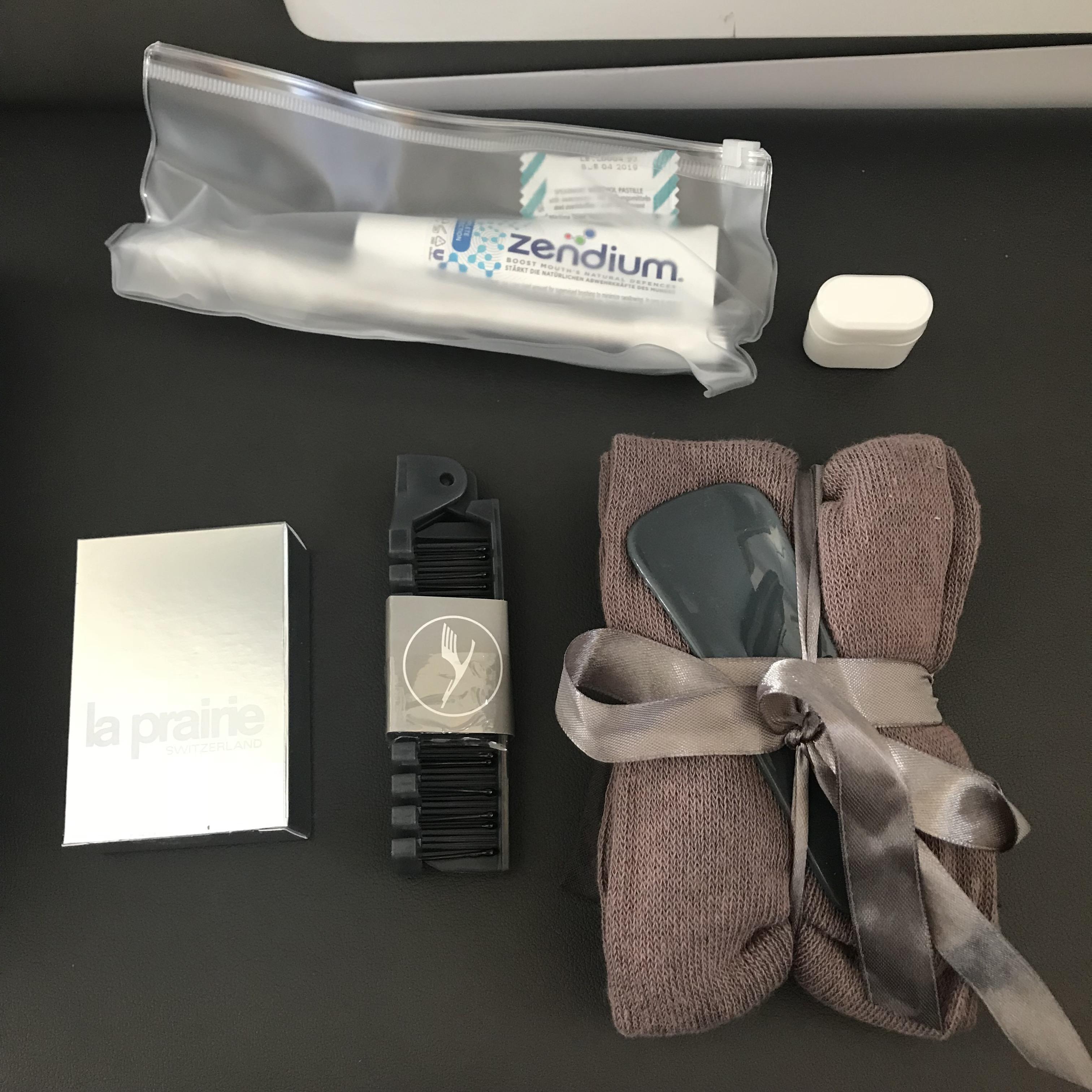 You'll also be offered pajamas. I love collecting First Class pajamas 🙂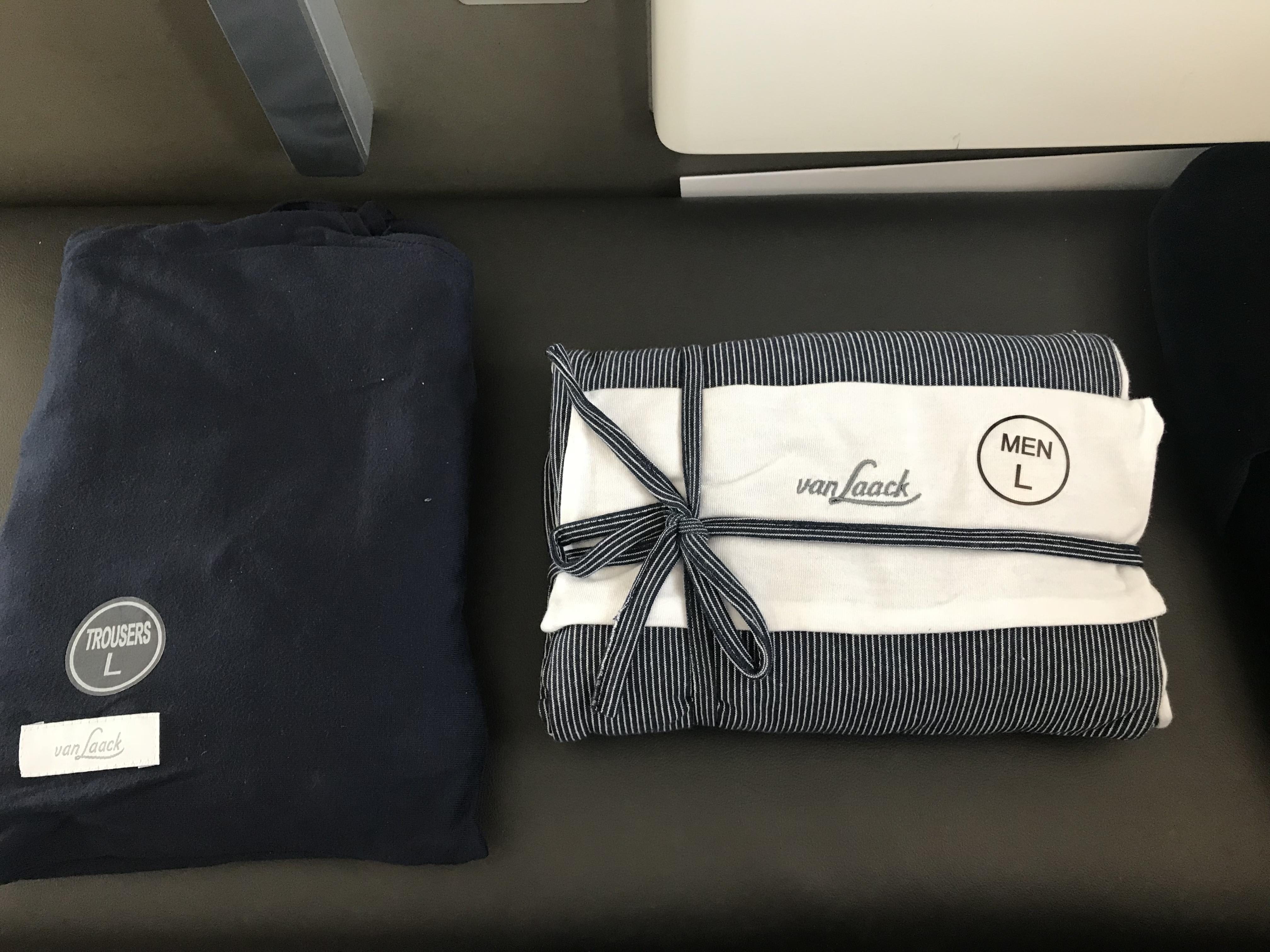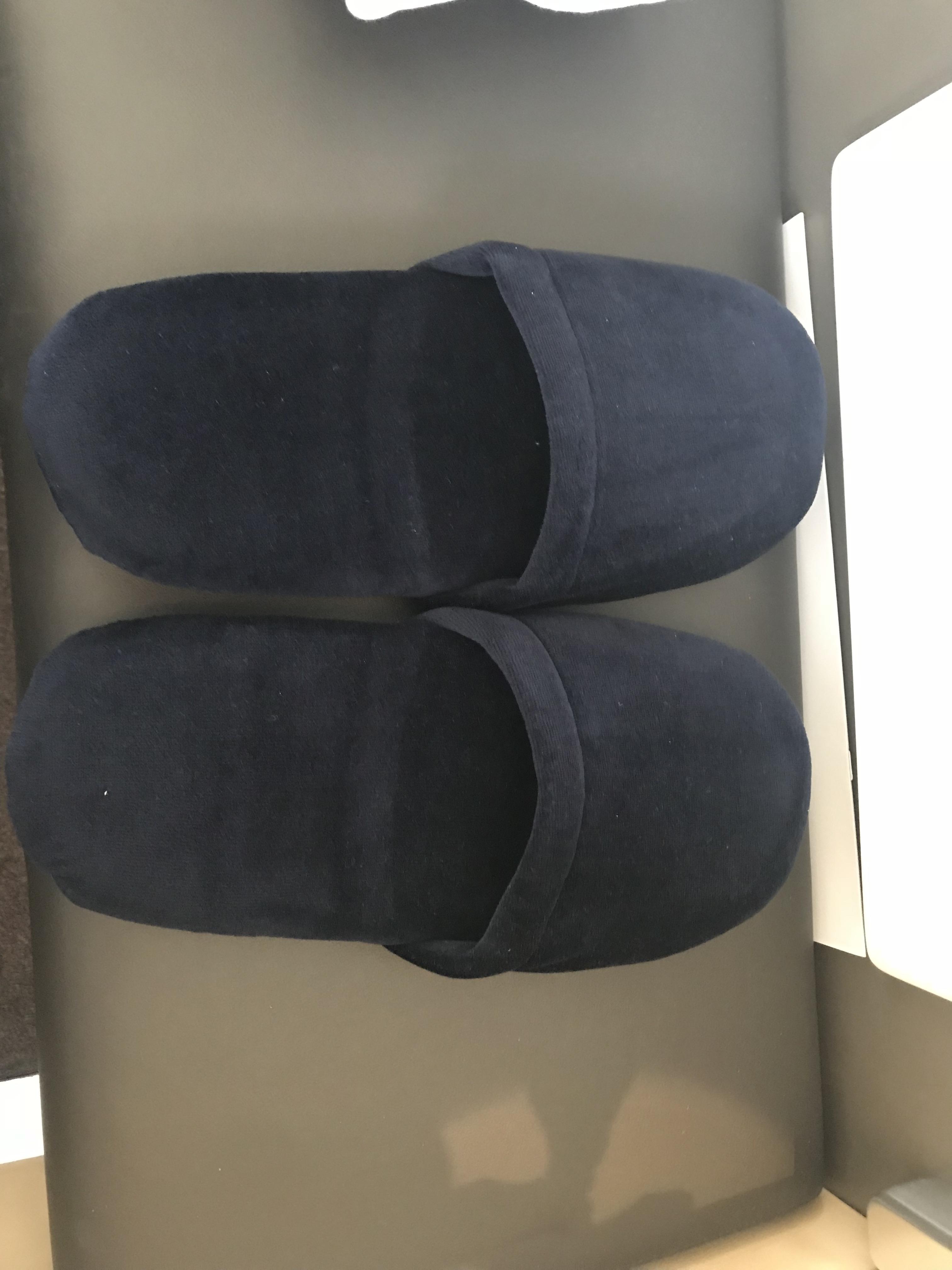 And then, of course, your inflight menu and meal: (7/10) 
Once you are in the air, meal service will commence with the appetizer cart. You can choose what you'd like from it and feel free to ask for seconds if everyone's had a turn.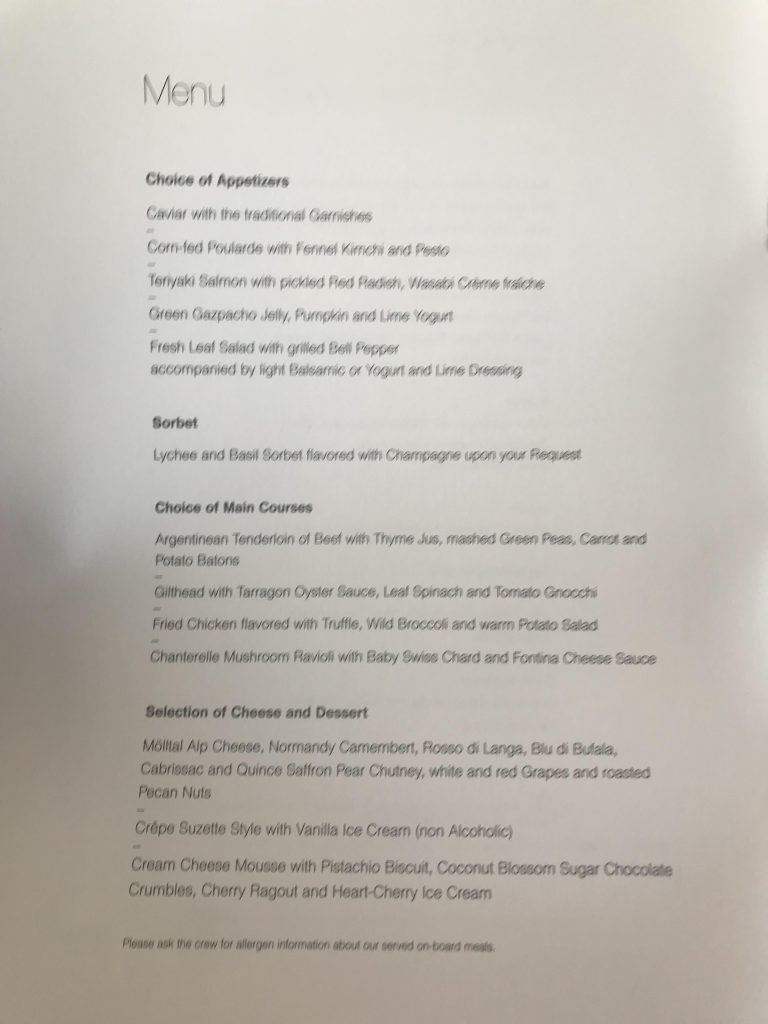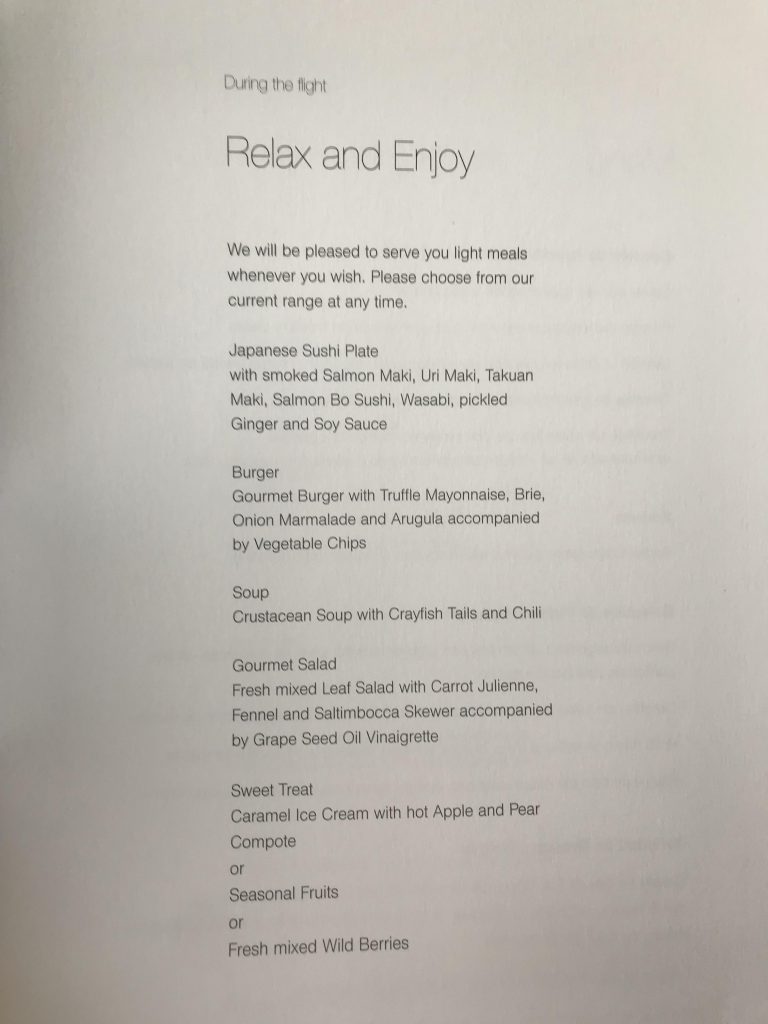 They even have caviar (if you are fancier than I am).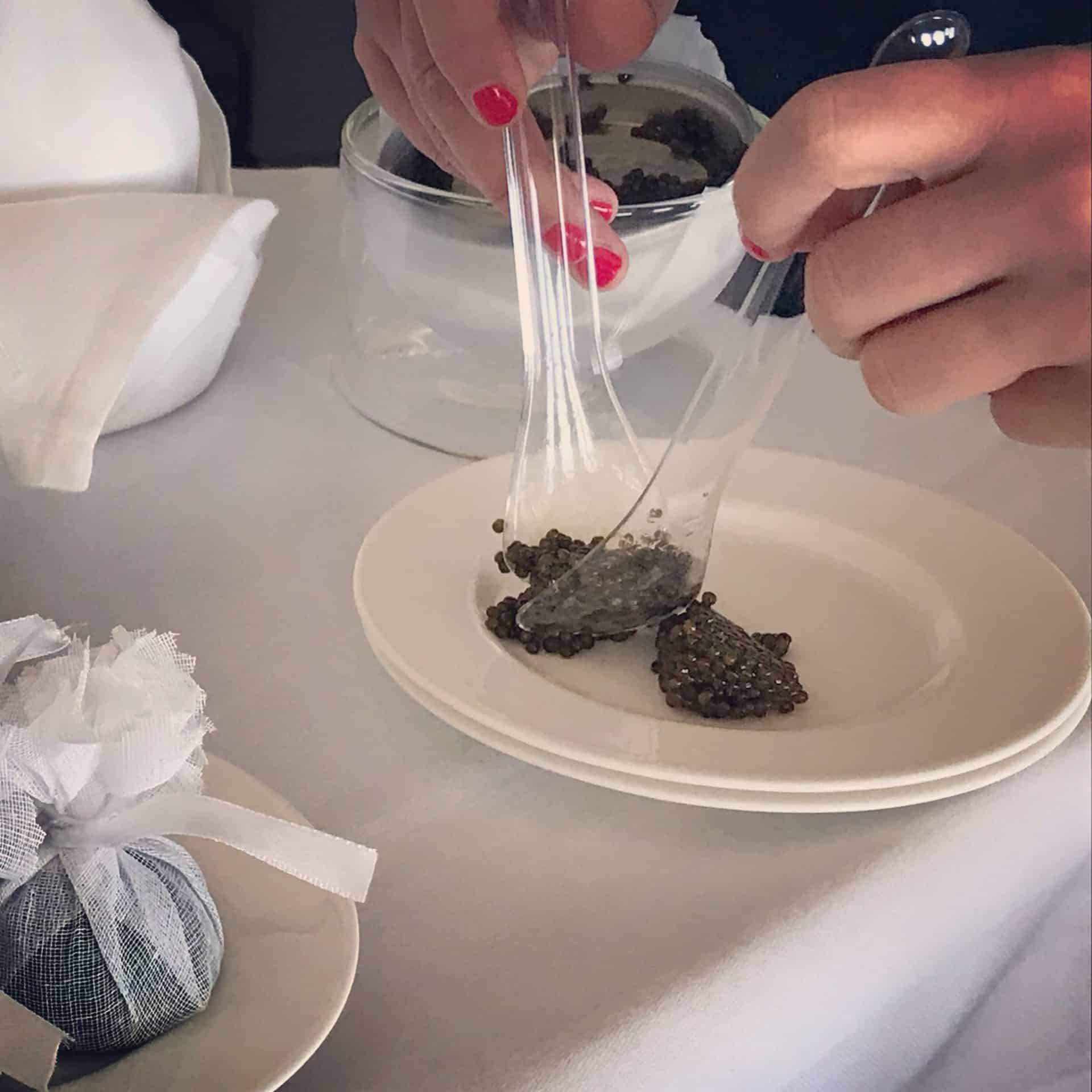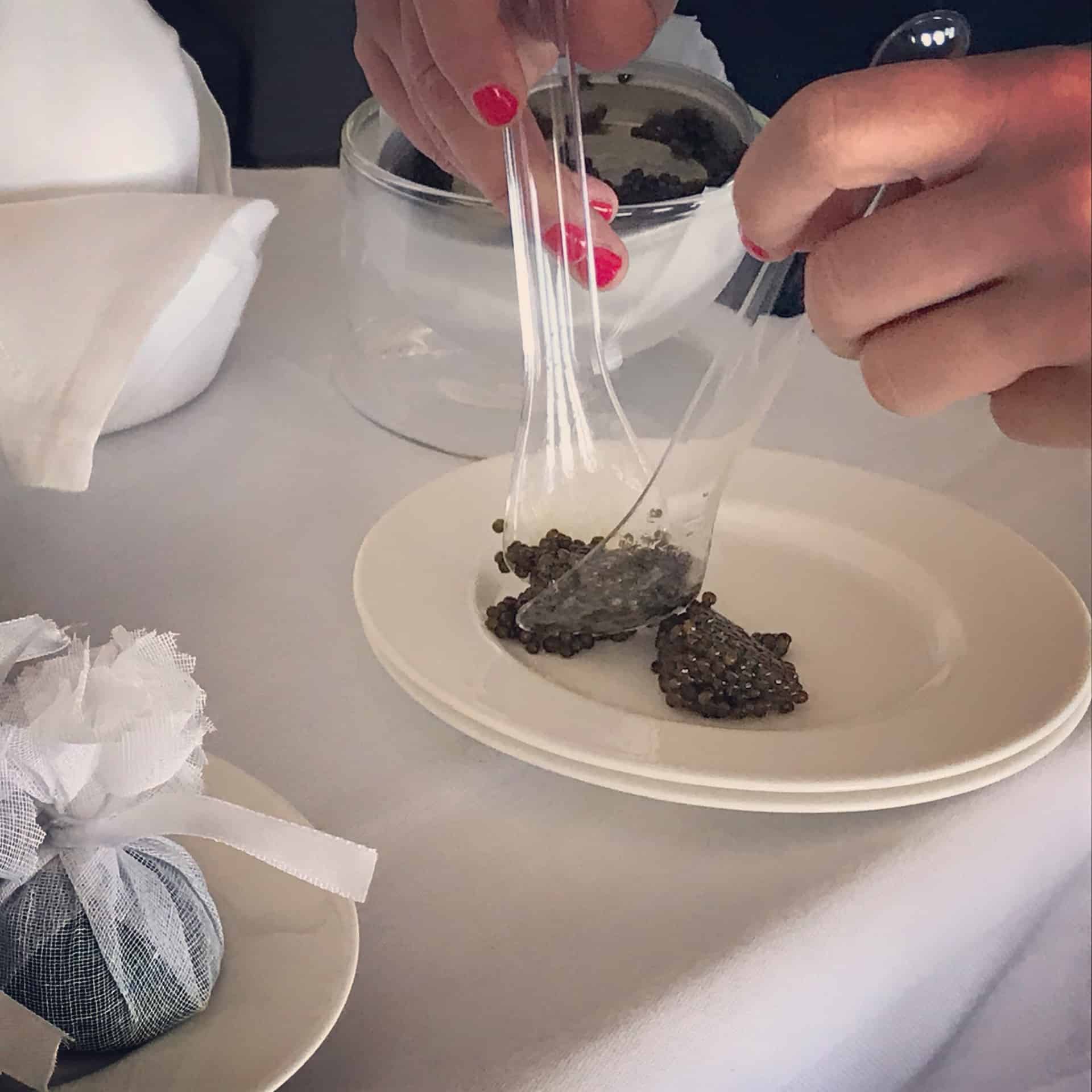 While I wasn't enamored myself with the apps, I was stuck between the fried chicken and the steak entrees. Their solution? Have both!  So I did and I ate what I could.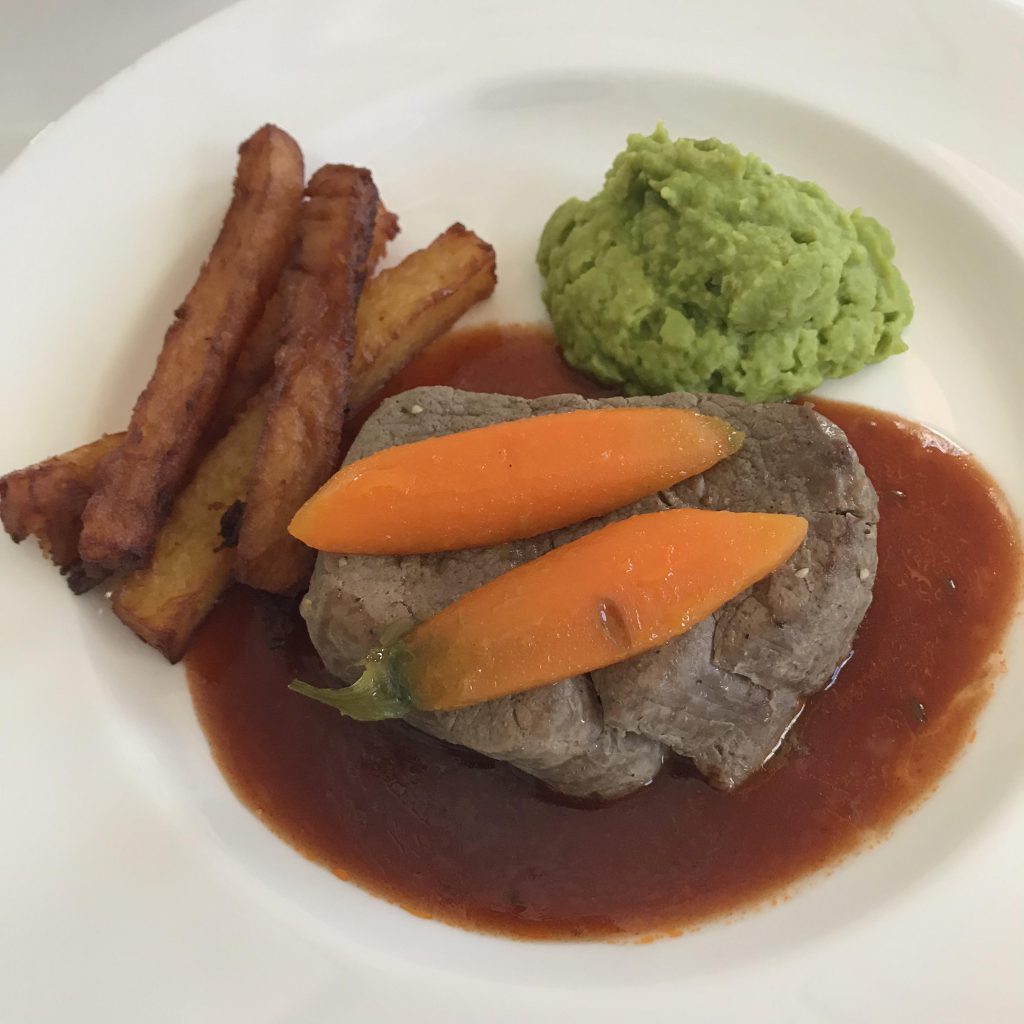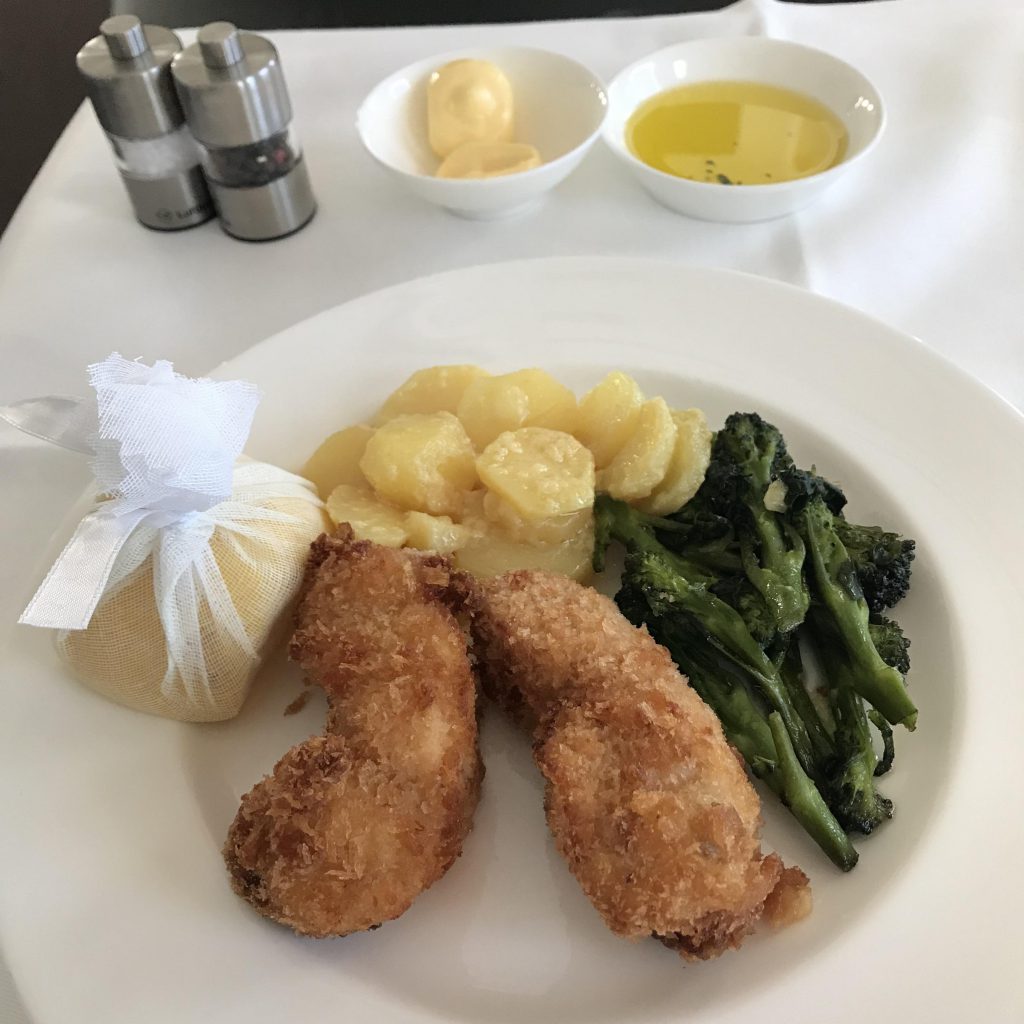 In fairness, the food was good, but not great. The chicken, as fried chicken, really needed a crispy outside and  a juicy inside, but it lacked both. And the steak was also "good for a plane" but not nearly as good as the Wagyu I was served onboard Japan Airlines' First Class. The star food item, for me, came later in the flight in the form of a delicious truffle burger with vegetable chips.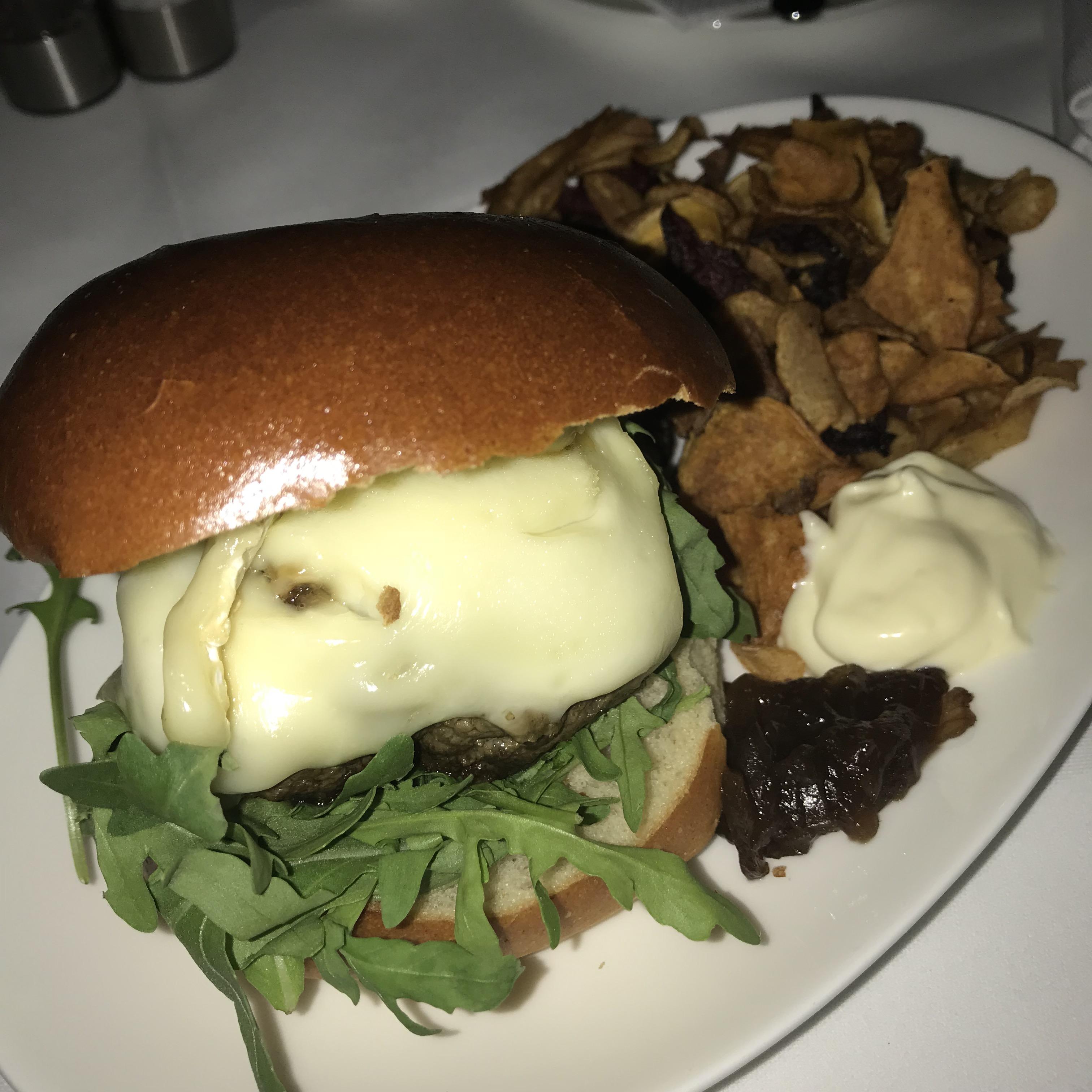 As in the lounge, the alcohol flows free. Have some fine champagne, or wine, or spirits as you like.
The In-Flight Entertainment (8/10)
There was a decent selection of movies and TV on the very large personal screen, controlled by a remote control on the right side of your seat. While it seemed there was a large selection, there wasn't much I wanted to actually watch. I also found the system cumbersome to scroll through, as it moved slowly through the long lists. Bose headsets were provided.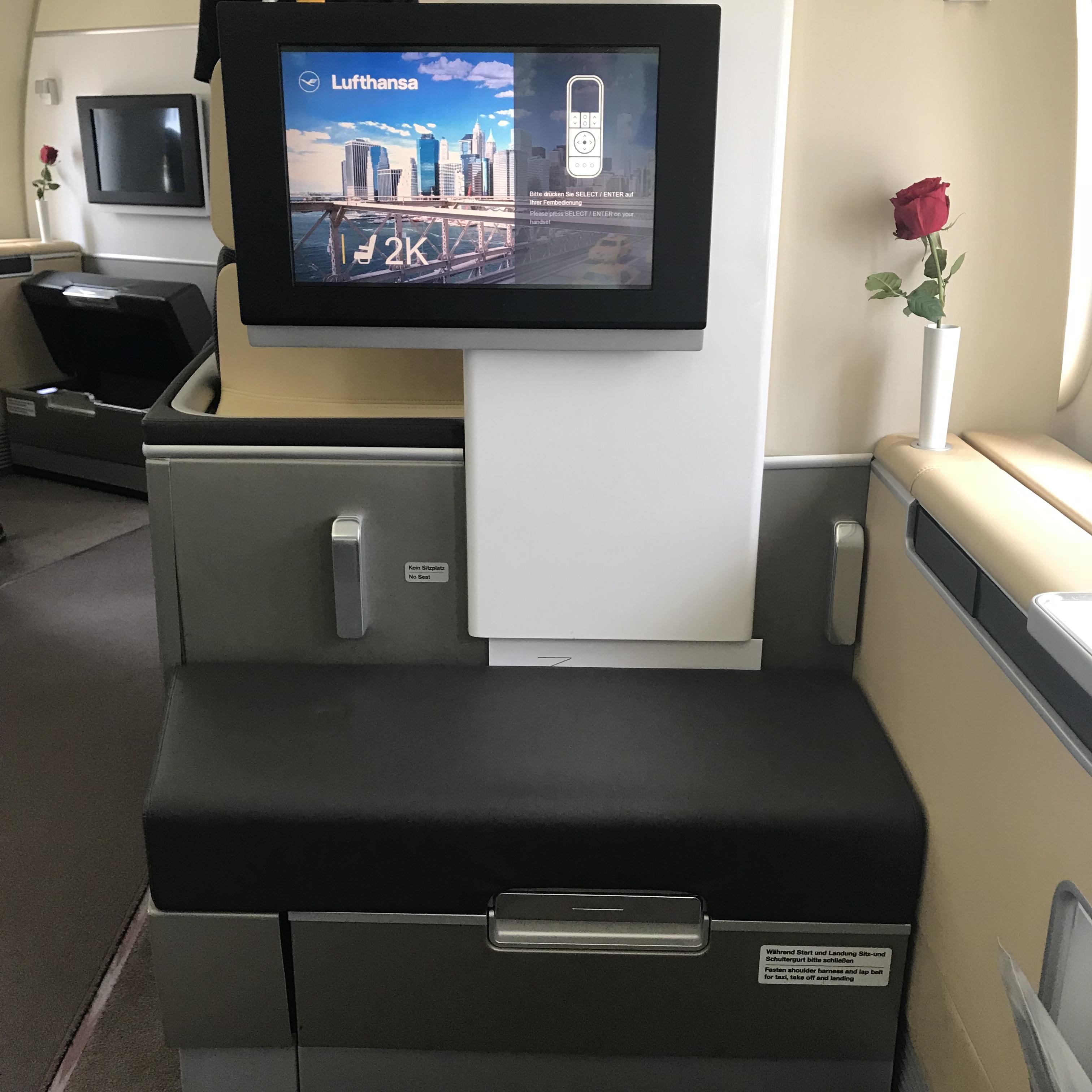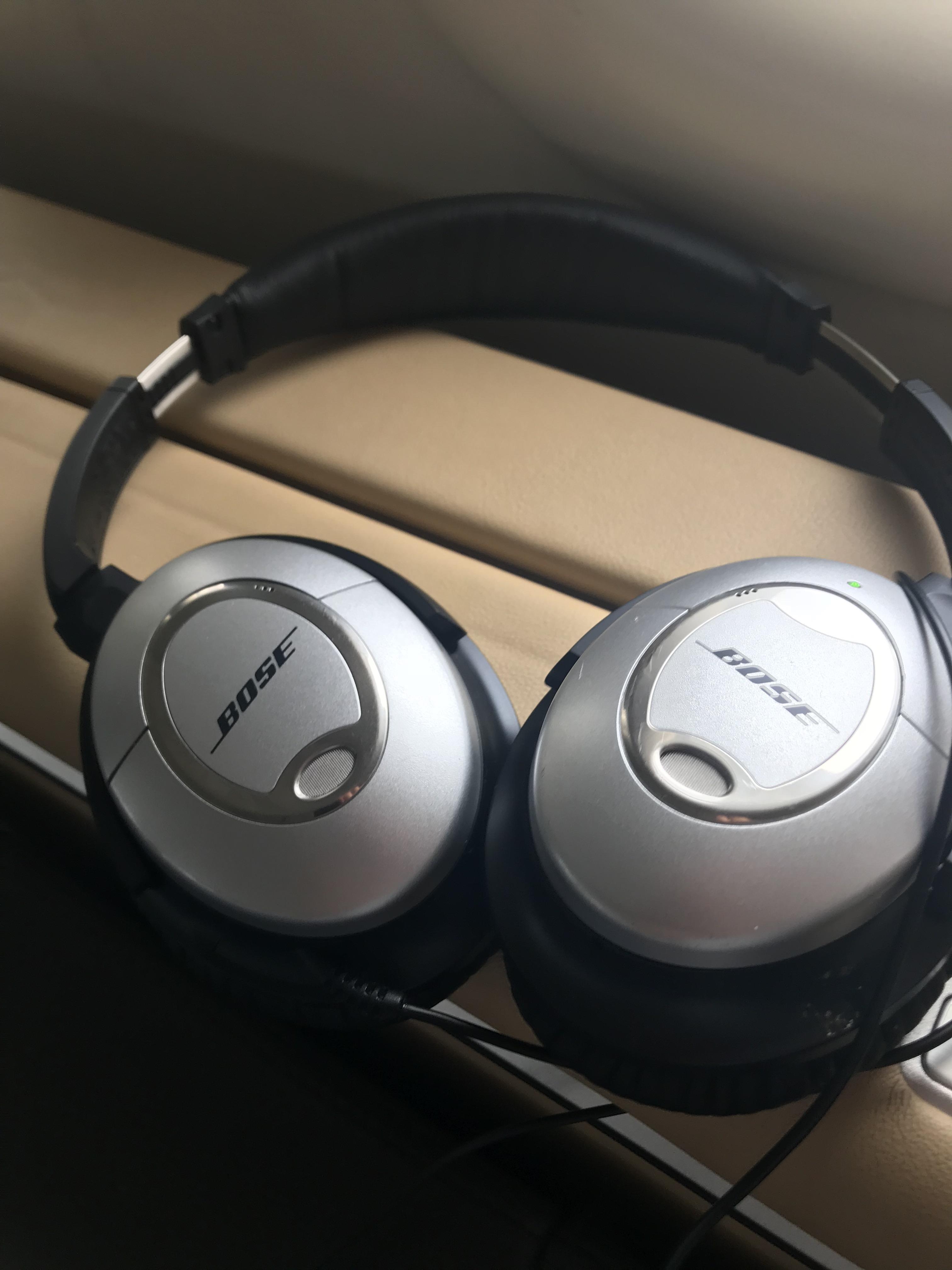 Sleeping – a.k.a. "How was the bed?" (7.5/10) 
The Lufthansa First seats lie fully flat and the flight staff will "make your bed" with a cushion and blanket. The seat behind me was vacant, so, as has become my custom in First, I asked for that seat to be made into a bed instead of mine so I would have the freedom to sleep or work depending on whether or not my body really would want to stay asleep on a day flight. She happily obliged, though she noted it would be a bit noisier in that row with the galley so close.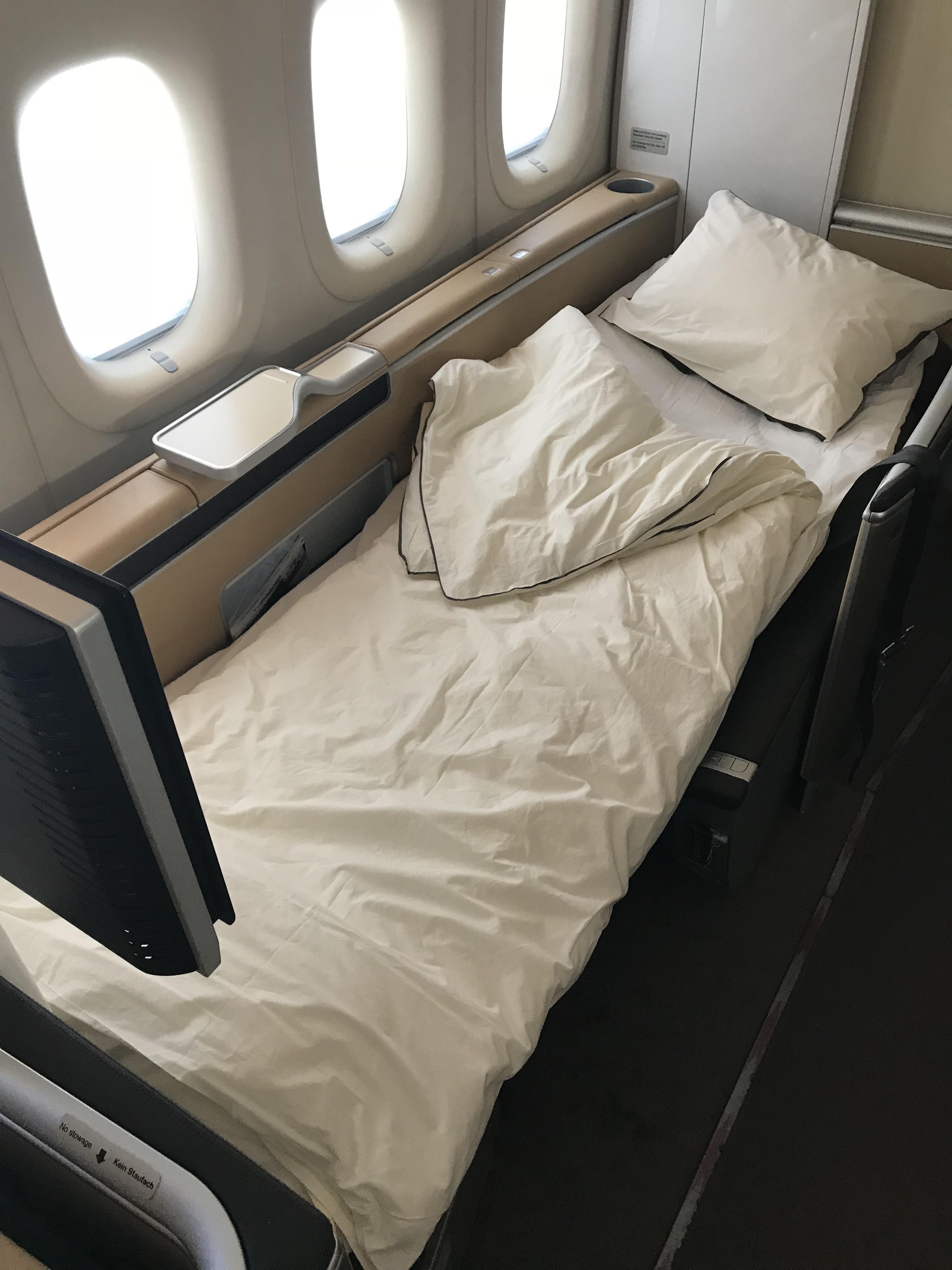 The bed was comfortable and I napped well for about an hour. Had it been an overnight flight, I certainly would have slept very well. It was more comfortable than many lie-flat seats I've slept in, though certainly not as comfortable bedding as Qantas First, JAL First, or the Etihad Apartment.
The Service (10/10) 
Service was absolutely impeccable on my flight. Everyone was super friendly, no request was ever a hassle, and I felt perfectly attended to. This was my favorite part of the flight.
Overall (Lounge: 9.5/10, Flight: 7.75/10)
The lounge was, to me, more special than the flight. I felt like pure royalty, the food and drink selection was immense and tasty, every need was attended to, and it was absolute personalized service in a way that made the whole experience feel like it has when I've flown Private. If I were to nitpick, it would be nice to have some sort of spa/massage option like some other First Class lounges around the world do (BA Galleries, JAL, Etihad, etc).
The flight itself was great, but not, you know, life changing. While I wouldn't hesitate to fly it again, it lacked the over the top-ness of an Etihad or Emirates, the supreme comfort of the Qantas First bed, or the crazy delicious and unlimited food of JAL First. The best part to me was the impeccable service, an area which I could find no fault in. The food, though, had neither the variety nor preparation of many other First experiences and, for many, that is a big part of flying 3-cabin First Class. The seats also lacked the kind of privacy found with, for example, Singapore or Etihad. So for those reasons, I didn't feel I could rationally get to an 8 or above for the in-flight experience.
Despite that, this flight remains one I would absolutely encourage anyone to take (using miles, of course!) though perhaps more for the First Class Terminal experience than the flight itself.
Have you experienced Lufthansa's First Class Terminal? Let me know here, on Twitter, or in the private MilesTalk Facebook group.
New to all of this? My new "introduction to miles and points" book, MilesTalk: Live Your Wildest Travel Dreams Using Miles and Points is available now.