Review: Norwegian Epic Cruise – Solo Cabins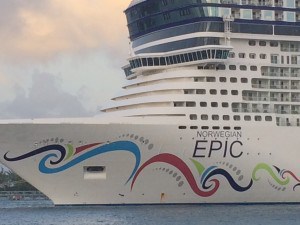 Did you miss a deal? Never again! Apply to join the members-only MilesTalk Facebook group
.
Find your personalized best credit card at YourBestCreditCards.com, powered by MilesTalk. We analyze your spending and calculate exactly how much you'd earn in rewards on over 70 credit cards.
Advertiser Disclosure: MilesTalk has partnered with CardRatings for our coverage of credit card products. MilesTalk and CardRatings may receive a commission from card issuers. This site does not include all financial companies or all available financial offers. The editorial content on this page is not provided by any of the companies mentioned, and have not been reviewed, approved or otherwise endorsed by any of these entities. Opinions expressed here are the author's alone.
Review of the Norwegian Epic
 Studio Cabins – 7 day Eastern Caribbean (St Maarten / St Thomas, Nassau / Bahamas)
I've never reviewed a cruise before. But that's because I'd never actually been on one until last week. While millions of people enjoy cruising every year, I'd always intently planned my vacations to countries far and wide with the goal of immersing myself in the local culture – something you can't quite do with most cruise itineraries.
But this December, I found myself needing a last minute trip for the holidays and I couldn't quite get anything exotic lined up. So I remembered being introduced to the Norwegian Epic a few years ago at the New York Times Travel Show. The Epic was brand new then and the big selling point was the 128 cabins earmarked for "solo travelers" connected to a studio-cabin-only "Studio Lounge" communal hang out spot. This was revolutionary (and still is) because on almost all other ships (the only other ship with the solo cabins currently is the Norwegian Breakaway, though the upcoming Getaway will have them as well) a solo traveler has two obstacles to overcome:
1) Financial: The cruise industry standard prices rooms on a per person basis assuming double occupancy, unlike hotels that are per room regardless of having one or two people. So when you need a cabin all to yourself, you pay nearly double as a "single supplement." Not too fair and not too friendly on the wallet. On the Epic, the solo Studios, as they are called, are sized and priced for one person. On my cruise I paid a very reasonable $849 + taxes/fees. The prices go considerably lower outside of my travel period which was over Christmas.
2) Ease of meeting other solo travelers. Sure, I'm outgoing and I meet others pretty easily. But there's a huge difference between conversation over a blackjack table or with the nice couple next to you at dinner and having a hundred other potential friends / activity partners in the same private area. The area is called the Studio Lounge and only travelers booked in the Studio cabins have access. Every night, including that crucial first night, the majority of the group would meet in the lounge to talk about dinner plans and the next day's activities.
So this isn't your typical cruise review. And I have no basis of comparison even if I wanted to. Yes, I'll share my thoughts on the ship and itinerary, but this review is geared towards the solo traveler considering a cruise. I saw plenty of people mention the Epic before sailing, but never saw any in-depth review of the solo experience.
Day One: 5pm in the Studio Lounge was the designated meeting time. I'd been alone all of an hour and this was when I'd meet my cruise buddies for the week. I'd wind up having most dinners and port excursions with my core group of Guy, Vincent, and Sunny. Andre came along on most dinners and some excursions, as did Mark and some other rotating players. And then we had many dinners with others in the group … Lou, Sofia, Morgan's mom Annie. And a couple dozen more.
Dining: With my Studio friends I had the opportunity to try many of the standard and specialty restaurants. The Epic's free dining options are a bit limited. Taste and the Manhattan Room (which felt very similar to me menu-wise) and the buffet plus O' Shehan's Irish Pub. Everything else is an upcharge. We tried the French restaurant (which was beautiful but with "ok" food), the Brazilian "Churrascurria" Steakhouse "Moderno" which was delicious and totally worth $20, and the Teppanyaki restaurant which was both a really fun show and delicious food and worth the $25. I admit it was disappointing that all the specialty restaurants had an upcharge but I assume that is a standard on cruises…. The buffet was enormous and food quality overall seemed very high. Overall, I give food on the ship an A-.
The Pool Deck: This was not very impressive and probably my biggest complaint of the experience. The majority of the pool deck was taken up by the waterslides and there was no actual large pool anywhere. Just little tiny pools. And then there were never enough chairs. You could roam the entire deck (which is massive) and never find a chair without a blue towel hogging it. While NCL asks people not to hog the chairs, people do anyway. And in what would become just one of many very confusing policies we'd see during the week from NCL, you can't bring your towel into the buffet area on the same deck – thereby forcing you to leave the towel on a lounge chair while you eat!
The adults have only a miniscule space as a kid free pool zone at the back of the boat in H20. Two hot tubs that were always overflowing and a tiny "plunge pool" as well as, you guessed it, a lack of lounge chairs. So I got my week in the sun, but I had to fight for that sun. Pool Deck grade: C-
The Spa: I was aching when I got on the Epic. Literally – muscles needing some TLC. The spa had a great special on multiple treatments so I went all out and booked three massages for the week. They were all great including a Bamboo Thai massage that really helped my muscles out. On the last day I met the spa manager "Shea" who was kind enough to give me a tour of the spa itself which is separate and not included with any treatments. It runs $45 for a day pass with a treatment or $45 on a port day (or $199 for the week). I can't say I'd be the type to buy a week long pass but if you like spas, I'm going to tell you it's worth a visit. It's absolutely massive, has multiple hot tubs, jet areas, a "water bed" of sorts where you lie on rollers as the waves splash over you, two saunas overlooking the water, an aroma steam room, heated loungers, and an outdoor (balcony) desk with lounge chairs. And while I was initially annoyed that the treatment didn't include access, I could see why – it was pretty empty! With all the treatments they do it would be a zoo in there otherwise – and therefore not so serene. The Norwegian Epic doesn't do much to publicize the spa so consider this my promotion of it…. Grade: A- (it *is* expensive!)
Ports: This ship stopped at St Martin for a day, St Thomas for a half day, and Nassau, Bahamas for a half day. St Martin was the most fun by far as Sunny, Guy, Vincent and I rented a car for the day. We started off at Maho Bay where we watched the planes take off and land mere feet above us. When a 737 took off I was nearly destroyed by the ensuring hot sandstorm. I recommend the experience highly – but DO NOT stand right in the way of a departing 737 or, I shudder to think, a 747. I don't know how the government of St Maarten allows this to go on as it's so unsafe but people watch the takeoffs and landings (and if you check YouTube, get hurt often!) but they do so check it out – with caution! We then went up to Orient Beach and had a great time at Waikiki Beach – the hot spot of the area. St Thomas is known for its snorkeling and Megan's Bay beach. I also had a fantastic meal in town at Glady's (great island food, but beware they also serve on island time – slowly! And Nassau is going to be a beach or visit to Atlantis for most people. Maybe you'll end as we did at Senor Frogs…. Which is to say drunk!
To me, you can't see anything meaningful on a port day. You're rushed and the town is catering to 10 or 20 thousand cruisers as best they can. If there's someplace you REALLY want to experience, don't plan for it on a cruise. That said, a "taste' may give you ideas on a future vacation.
Nightlife: This will always be hit or miss but Spice H20 on the roof was a happening early evening spot on a few of the nights – like for Norwegian's famous "White Hot Night" party. And after about 11:30 most people migrated over to the Bliss nightclub. And for a late night bite, O'Shehan's was the place to be until 4am for good (and included) food.
Service: Overall it was great when everything went right. Most staff didn't seem very well empowered to help out when things go less than right though. Fellow cruisers told me that they felt the same and had better service on other cruise lines. The staff on the Epic was almost always friendly, though, and definitely wanted to please you if they could.
Overall, would I have enjoyed the cruise without the Studio cabin setup? Sure! It was warm, sunny, and fun regardless. But it also could have been very lonely. To me, the Studio cabins on the NCL Epic were and still are the selling point and if I ever cruise again by myself, I'd absolutely choose a ship with the same or a similar setup. I'm told these almost always sell out before other cabin groups, so I'm not sure why more ships don't have them.
Day Seven: Sunny, Guy, Vincent and I share a cab to the airport in Miami. We'll keep in touch – and we've already talked about a trip to Cancun together next Christmas week. Sounds good!