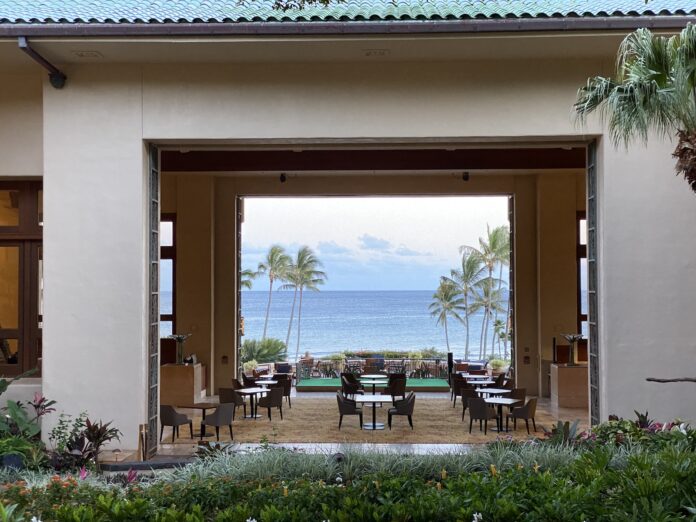 After over a year under lock-down and a very stressful few months personally, all my wife and I wanted on our long delayed and re-planned mini-honeymoon (because we are still planning the Maldives and Sri Lanka for the "real" one!) was some much needed R&R.
As you no doubt know by now, we started our trip in Maui where we were very disappointed with our hotel choice (see my review of the Waldorf Astoria Grand Wailea in Maui), so when we arrived at the Grand Hyatt in Kaua'i it was a breath of fresh air.
Here's my review of the Grand Hyatt Kaua'i:
Arrival at the Grand Hyatt Kaua'i Resort
The first thing you see upon walking into the resort is a view of the ocean looking through the portico which frames the lobby's outdoor garden. It was serene – and things only got better from there. Our experience start to finish at the Grand Hyatt was top notch luxury with attention paid to every detail.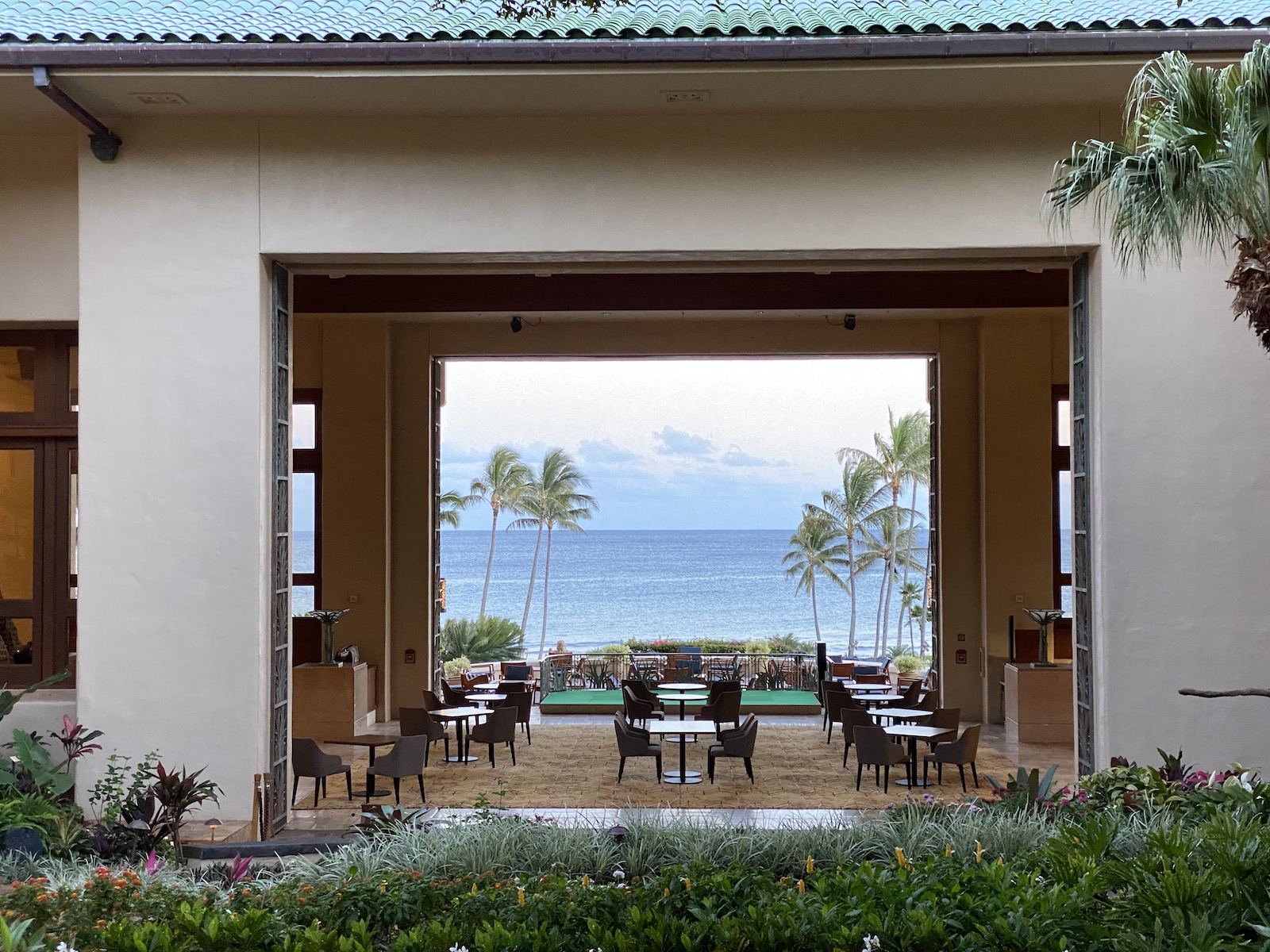 Starting at check-in, the staff at the Grand Hyatt Kaua'i were attentive and went out of their way to make our stay special. Given my Globalist status, that I made our reservation via Fine Hotels and Resorts (FHR), a perk of the American Express Platinum which included a 3rd night free and $100 in resort credit, and that it was our honeymoon, the manager kindly made the exception of upgrading us to an Ocean View Suite.
Not only is the view from the lobby incredible, especially with the way they "frame" the scenery, but they have house birds as well!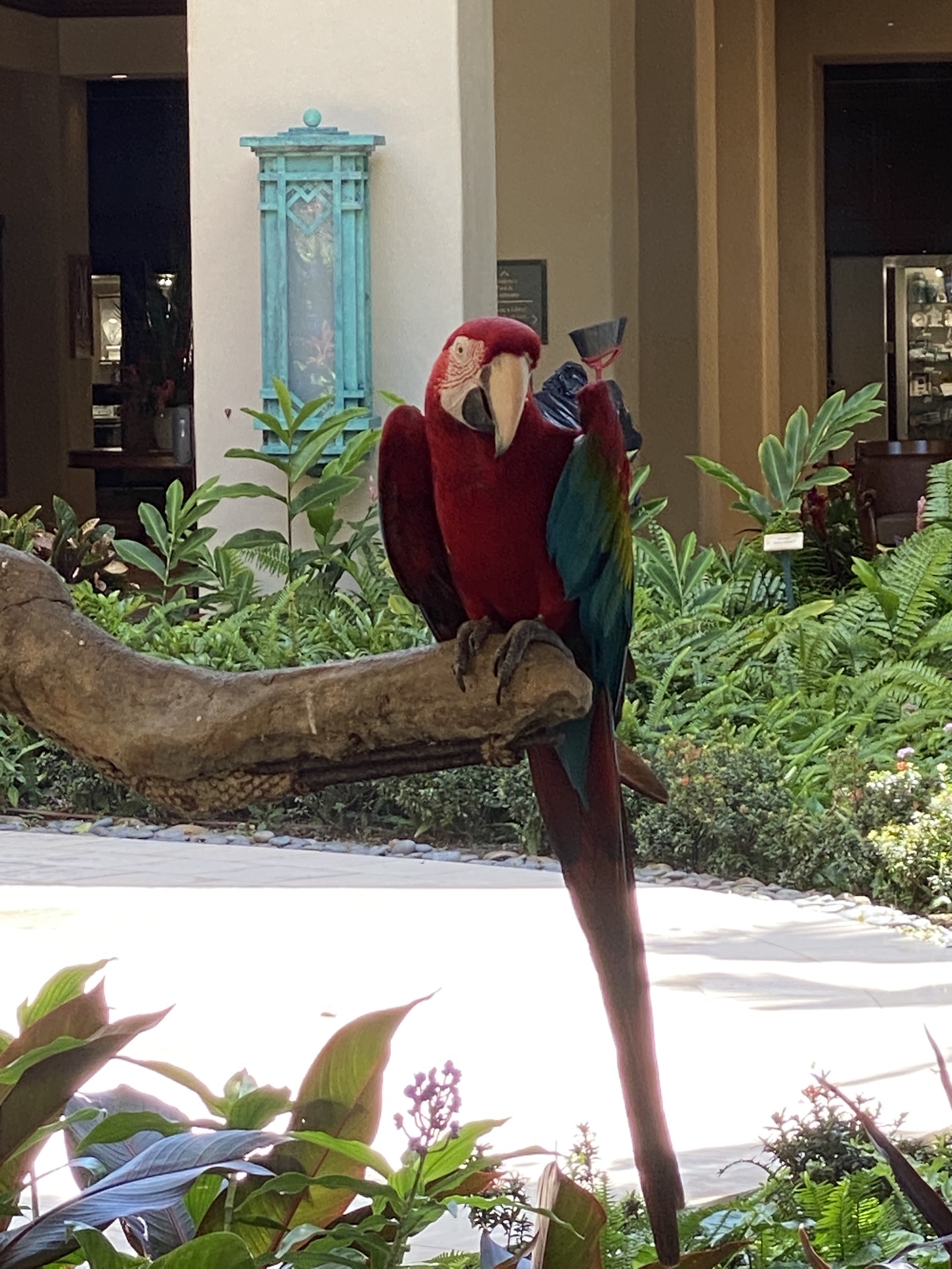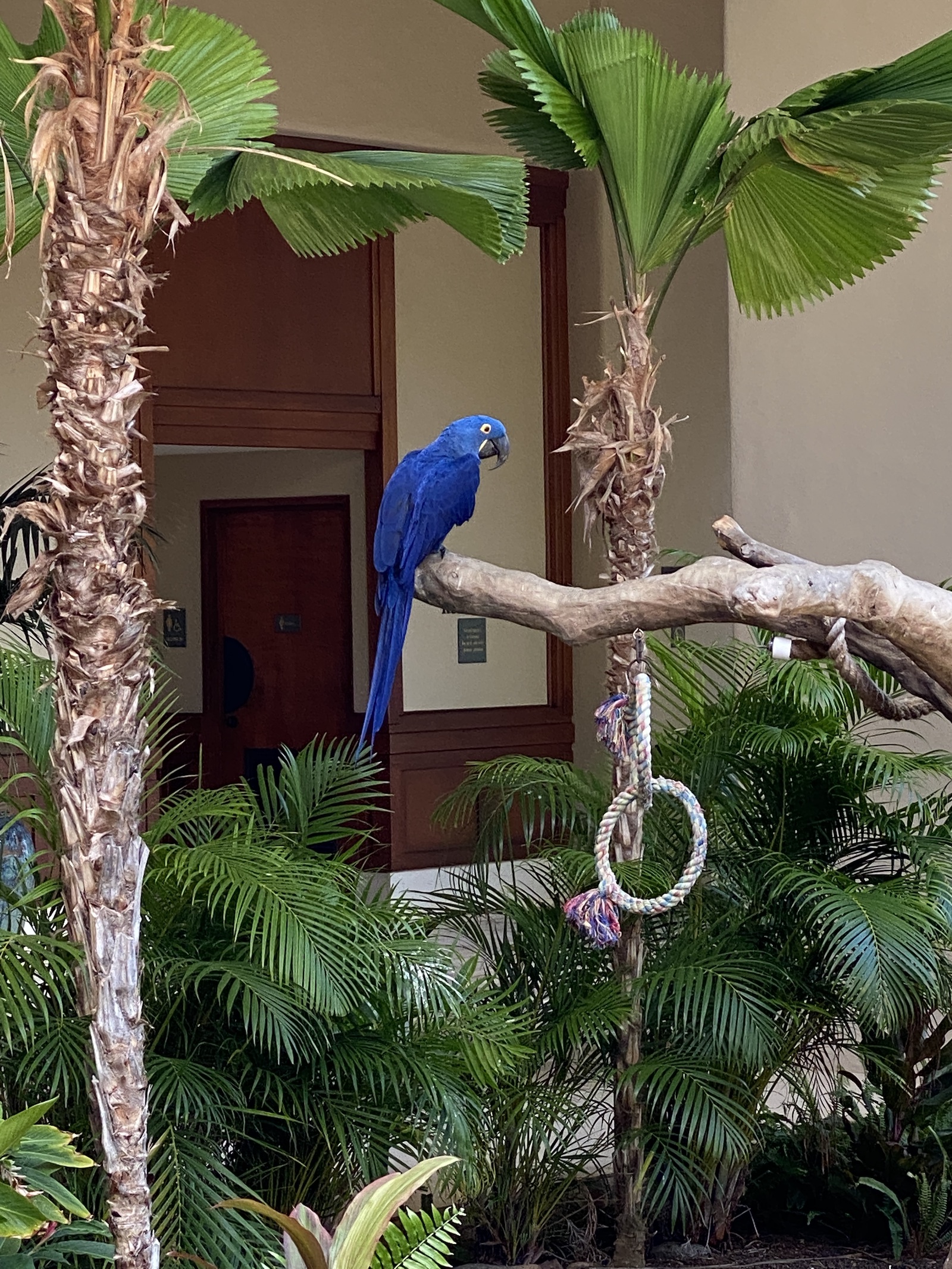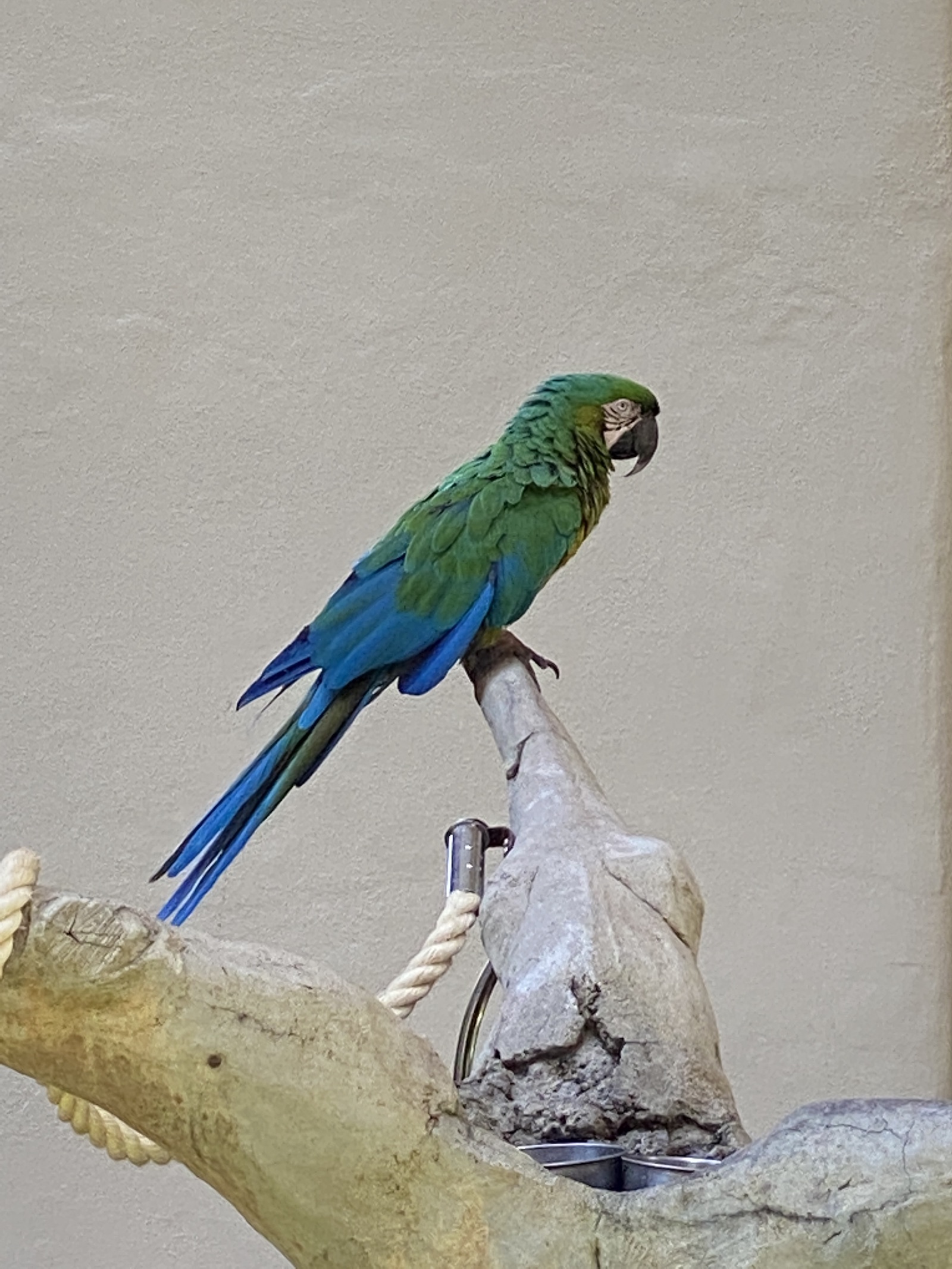 (Note: This suite is not in the Globalist upgrade pool as it's a premium suite. The upgrade to this level room was pure kindness.)
I should note as well that we stayed 5 nights. The first 3 via Amex FHR and the last two using 20,000 World of Hyatt points per night.
There is a $40 / night + tax resort fee, but happily that includes and is not in addition to a parking fee. Of course, as a newly minted Hyatt Globalist, we did not have to pay that fee!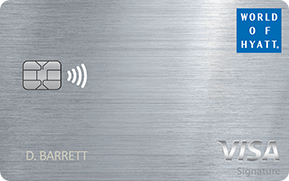 Get Hyatt Bonus Points: Earn 30,000 Bonus Points after spending $3,000 on purchases within the first 3 months from account opening, plus an additional 2 Bonus Points total per $1 spent in you first 6 months on purchases that would normally earn 1 Bonus Point, on up to $15,000 spent. | How to apply for this offer.
Our Oceanview Suite
It was a beautiful and comfortable room with a private balcony overlooking the property and beach. A bellman took us to our room and stopped to get us ice along the way so that we'd have everything we need once we were settled in the room. It is a really big property and a bit of a trek to get to the room!
The living area features a comfy L-shaped sofa and dining room table and the kitchen has a mini-fridge and microwave.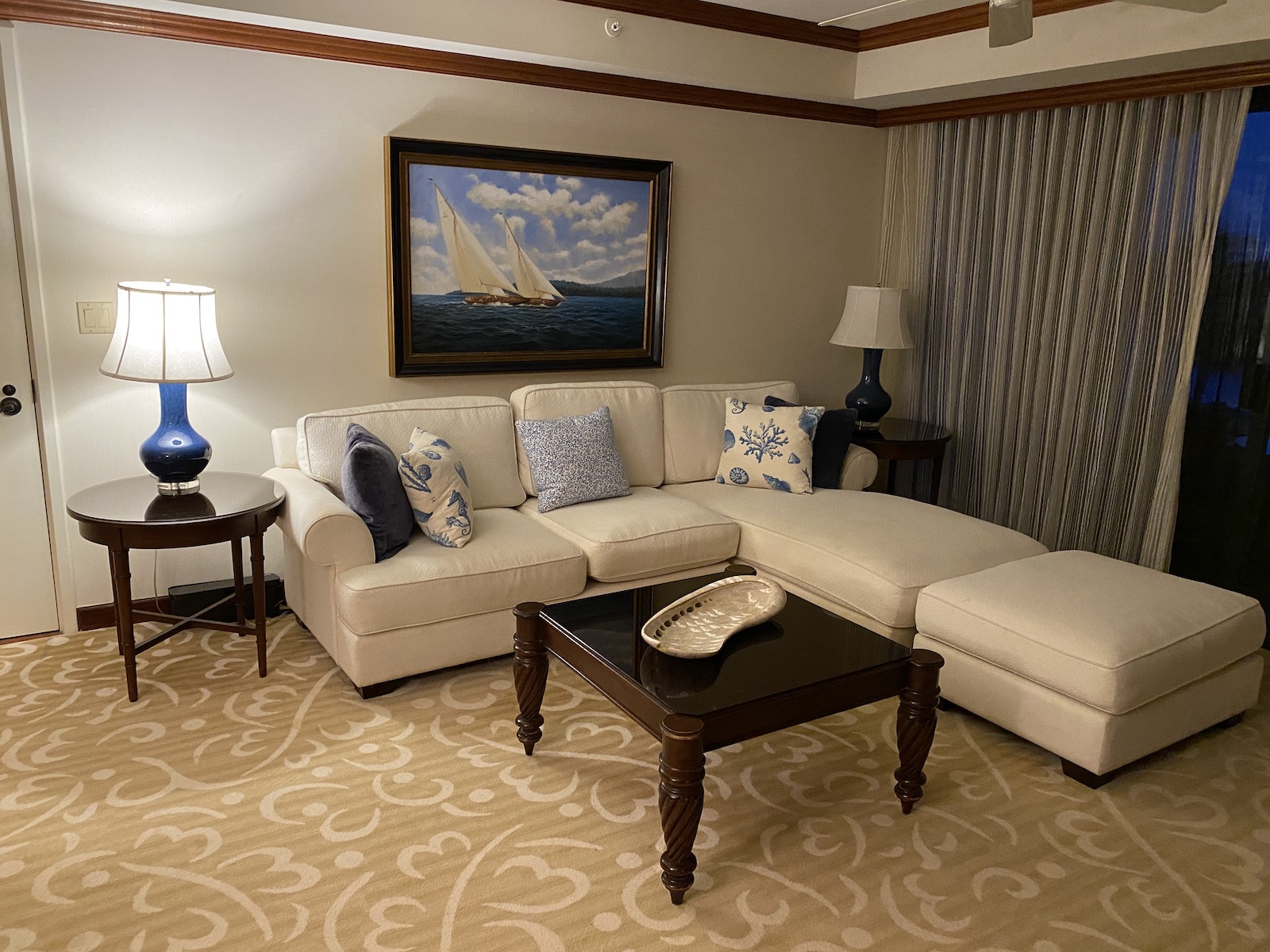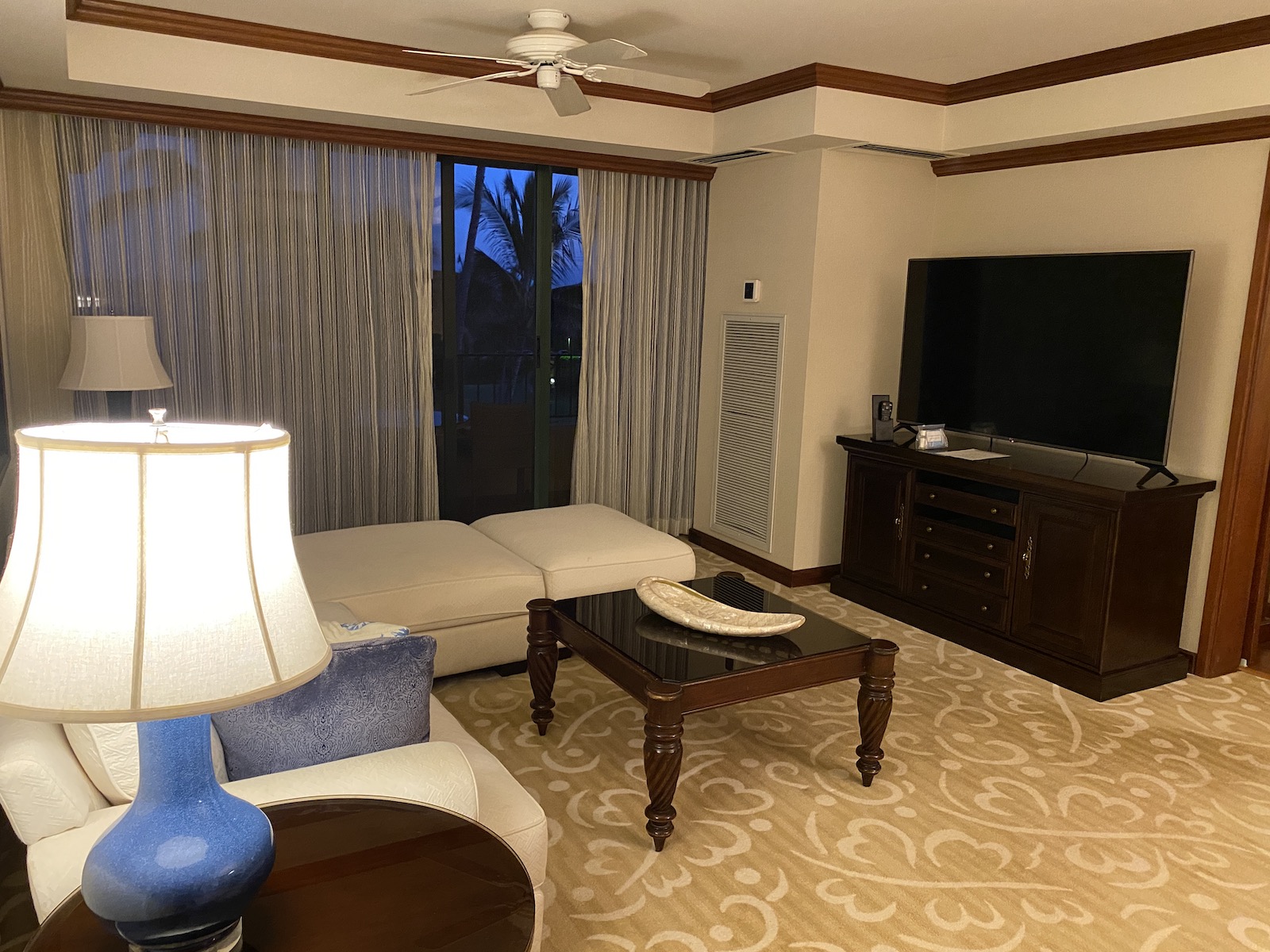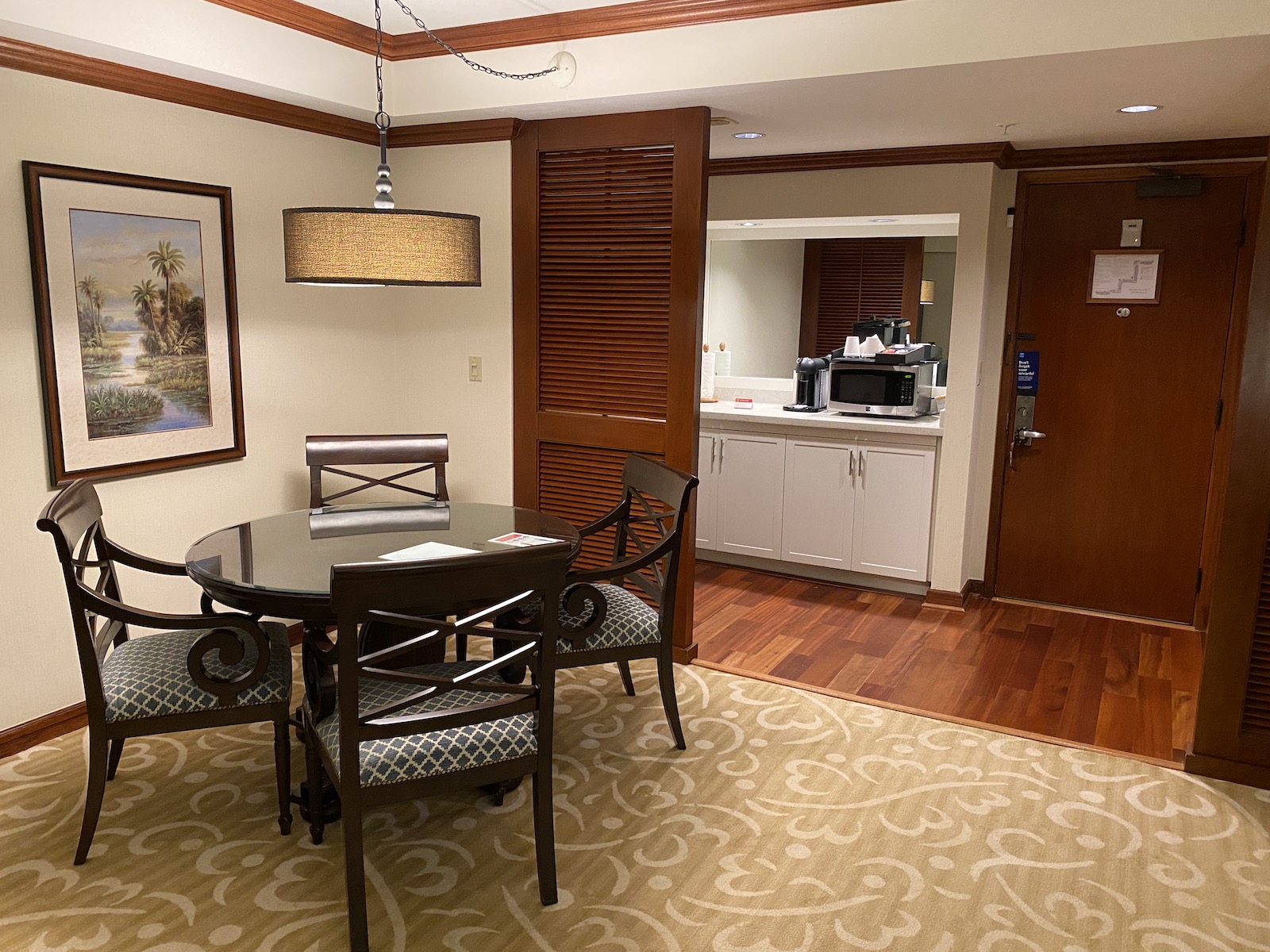 The bedroom had a comfortable king bed and the bathroom featured both a shower with amazing water pressure and a soaking tub.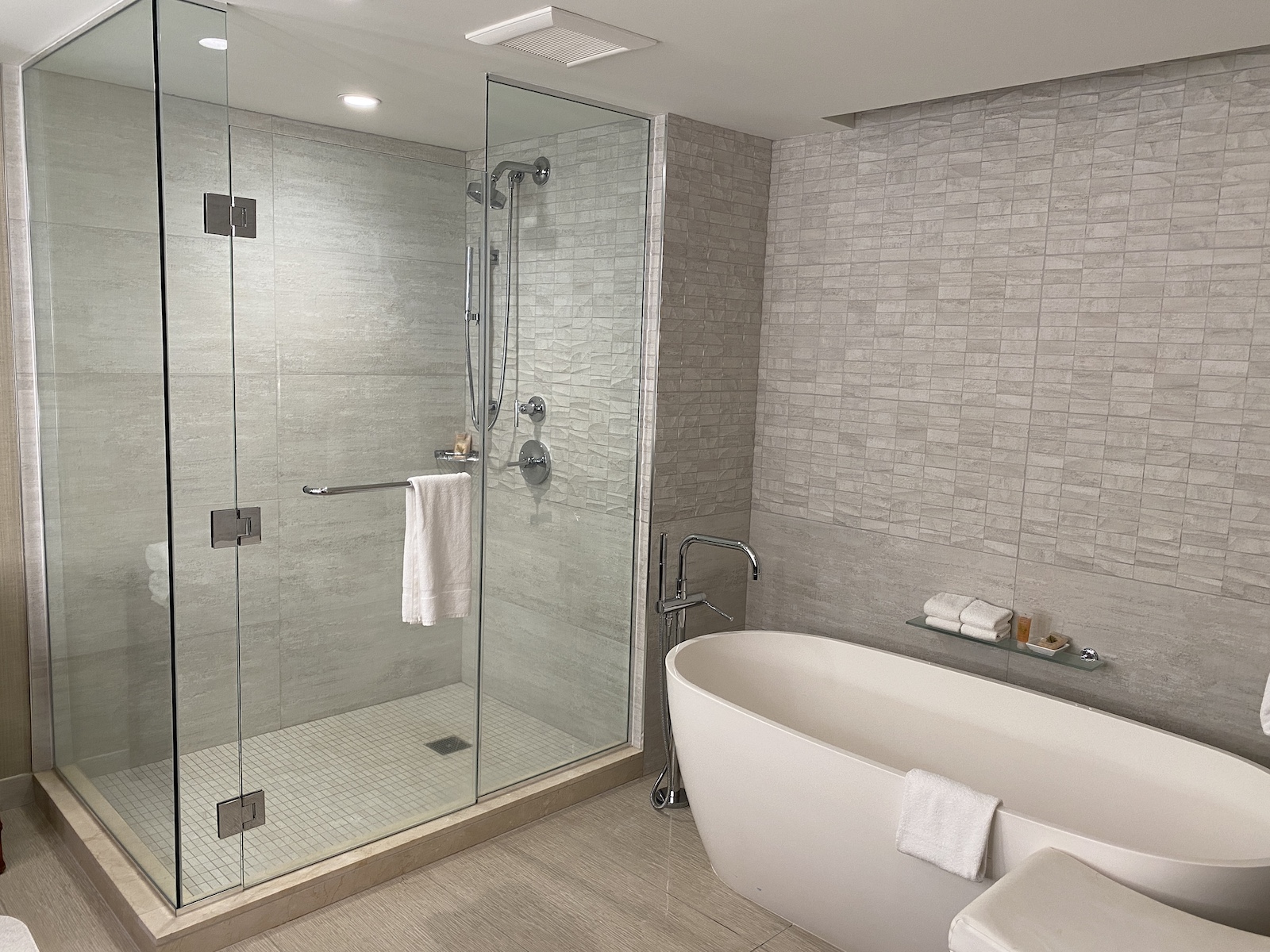 As an example of the amazing 5-star service we'd receive throughout the trip, I noticed that there was a charging station (to charge multiple devices) on one side of the bed and not the other. I called down and asked if they had another one, which they did and promptly delivered with a smile.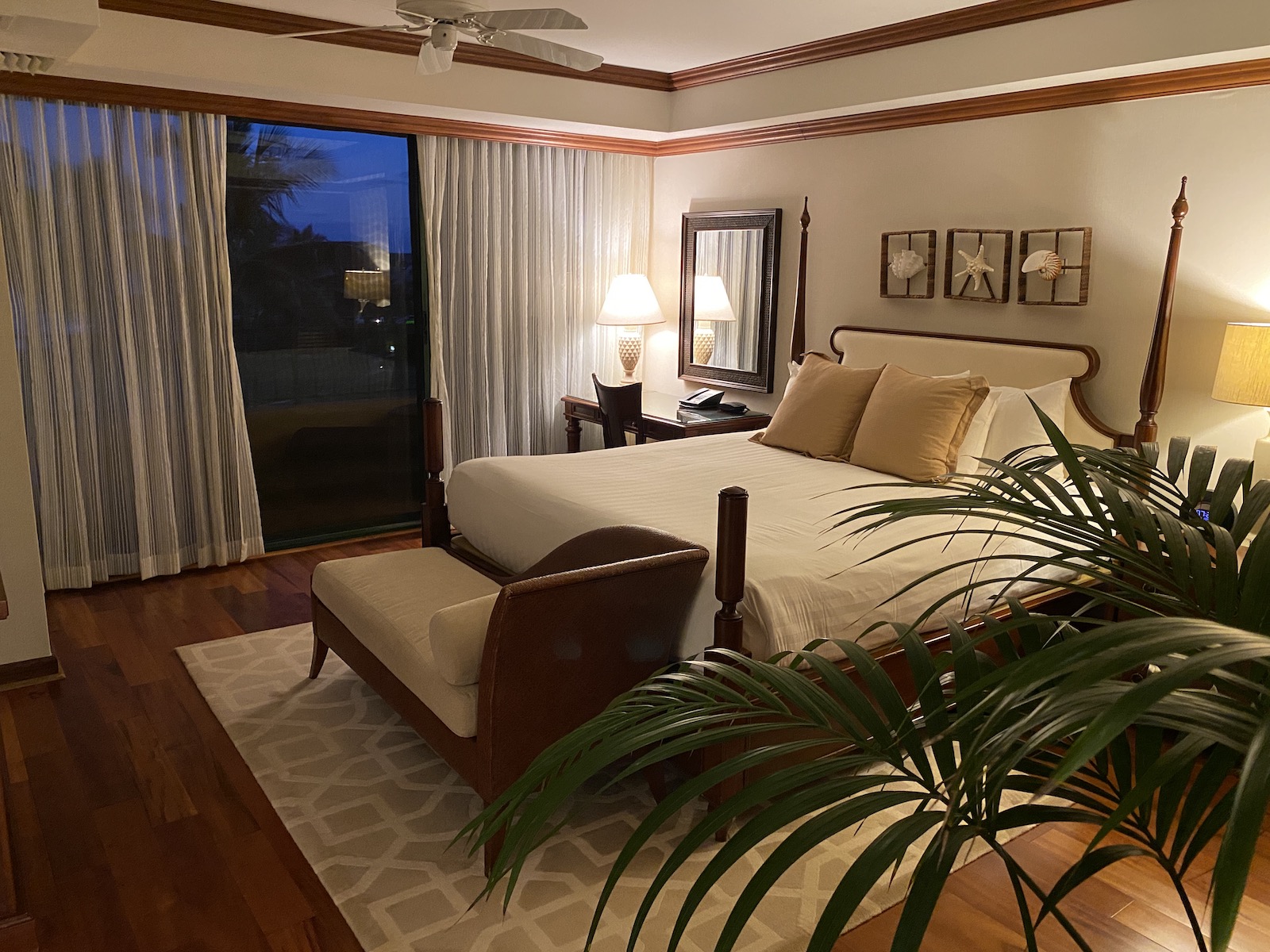 As you can see, we also had a wide balcony with chairs and a lounger (super minor quibble: why not two loungers?) which was great for relaxing or getting a little work done.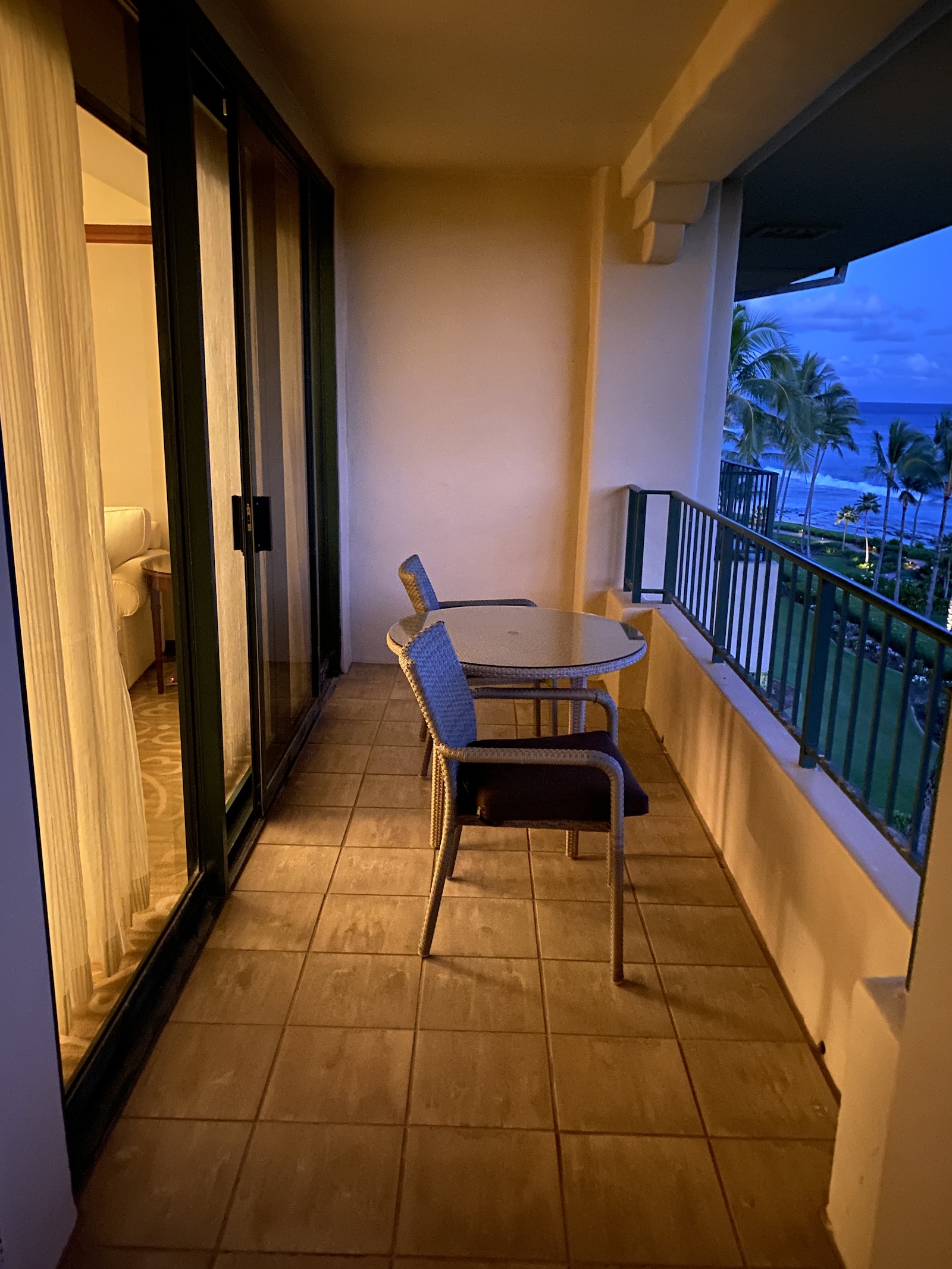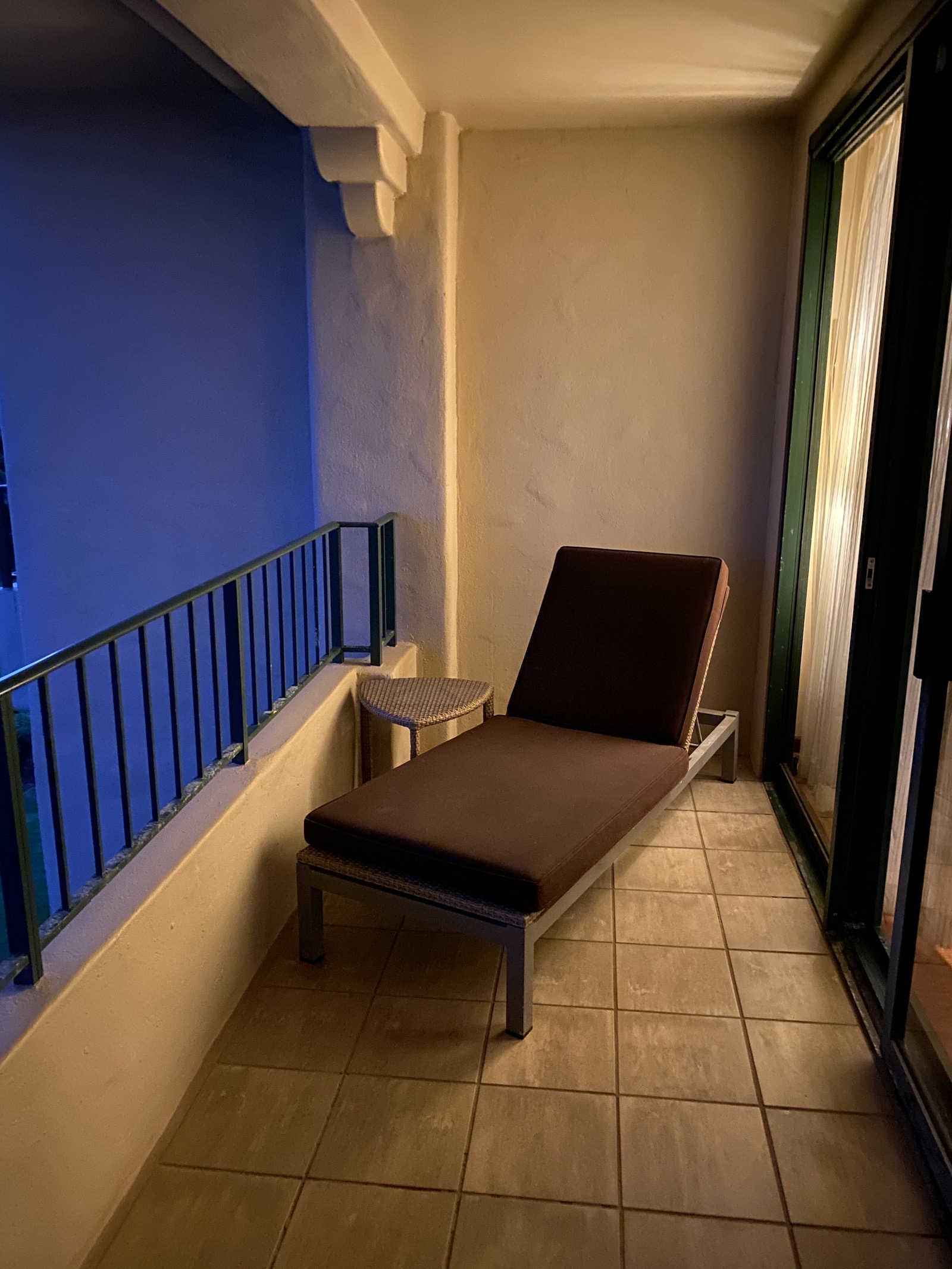 The hotel provides plastic Grand Hyatt water bottles that you can refill at water stations throughout the property during your stay and then take home as a souvenir at the end of your trip.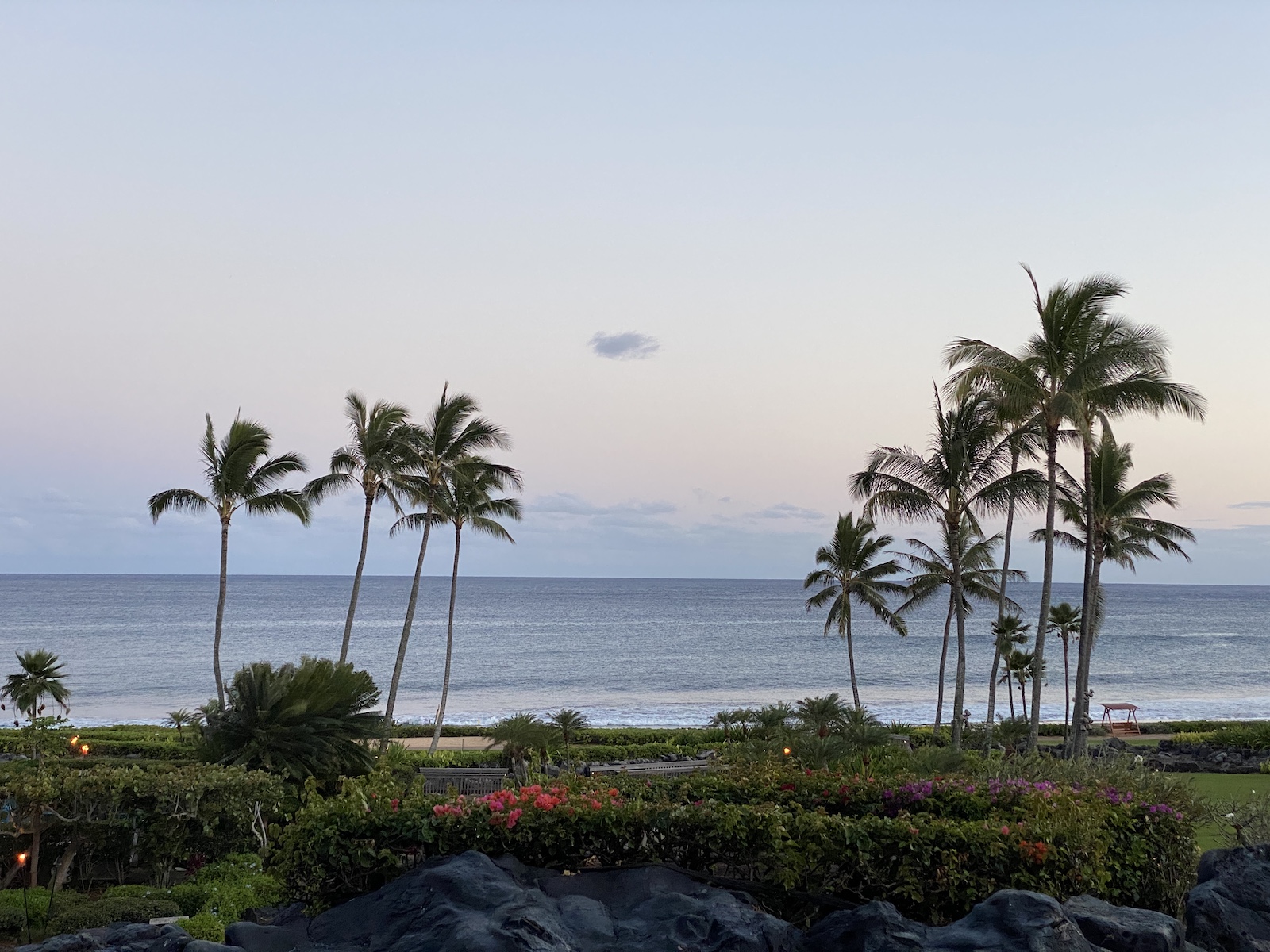 On-Property Dining and Globalist Breakfast
Our first night we ate at the beautiful Tidepools restaurant which is nestled in the garden behind the hotel overlooking a pond with Koi fish.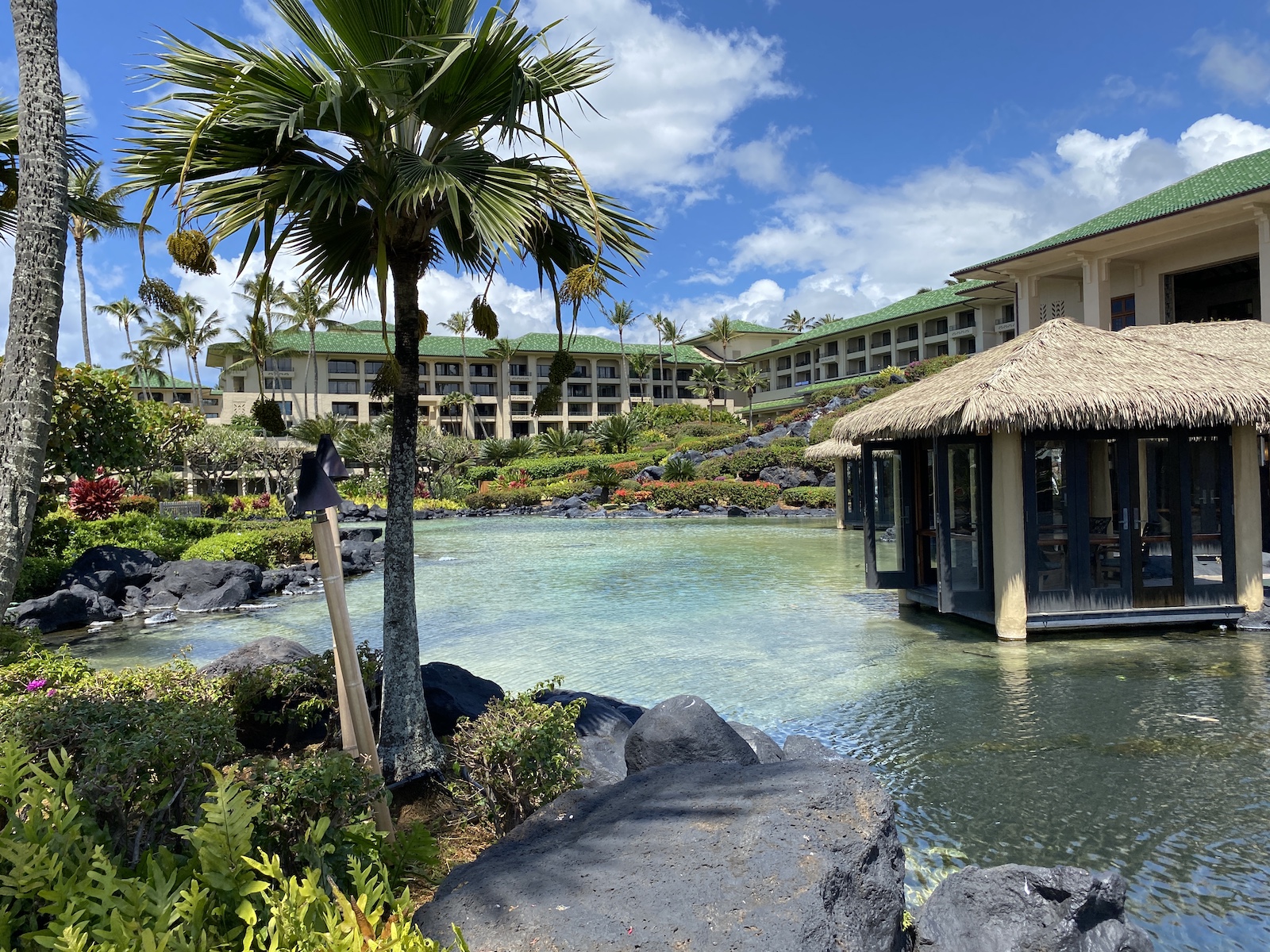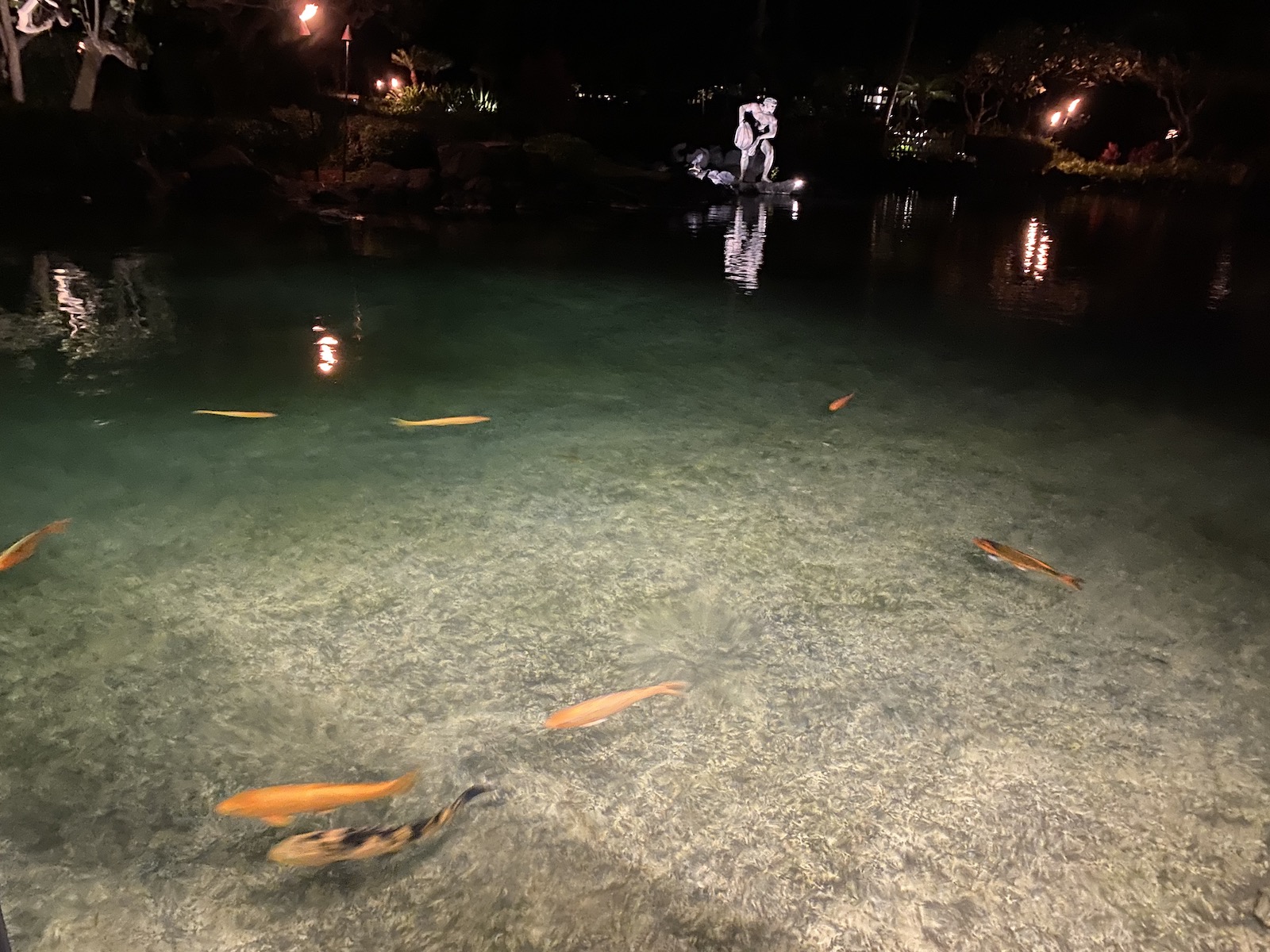 The menu is limited, but the ambiance is well worth it and once again the staff was very nice, with the waiter giving us some good tips about local breweries.
The next morning we went down to Ilima Terrace for breakfast. Normally, breakfast for Globalists would be in the lounge, but the lounge remains closed due to COVID concerns.
So they said that we would, instead, be offered breakfast at Ilima Terrace and were very pleasantly surprised! Globalists are allowed to have the breakfast buffet or one item off the menu complimentary, but we had a wonderful waitress who kindly let us have the buffet and order whatever we wanted from the menu. She even remembered our coffee order every day when we sat down. Needless to say we asked to sit in her section every day!
While you won't see it on the menu or the buffet, definitely ask for some hash browns which were delicious. I also sampled a Loco Moco and pancakes with chocolate chips and Macadamia Nuts. And that last dish is just sunny-side up eggs with hash browns and Portuguese sausage.
Do not sleep on that Portuguese sausage… great stuff!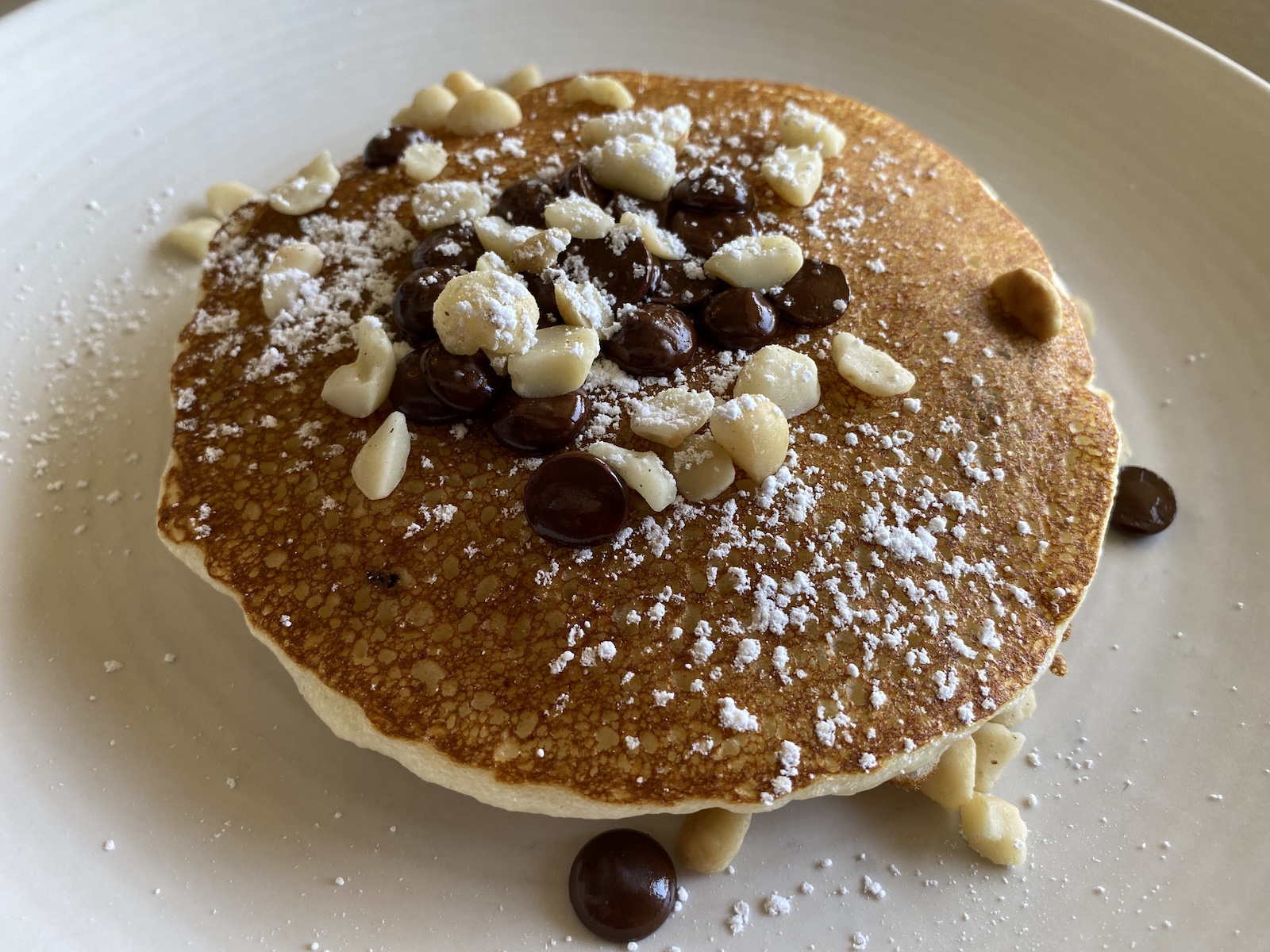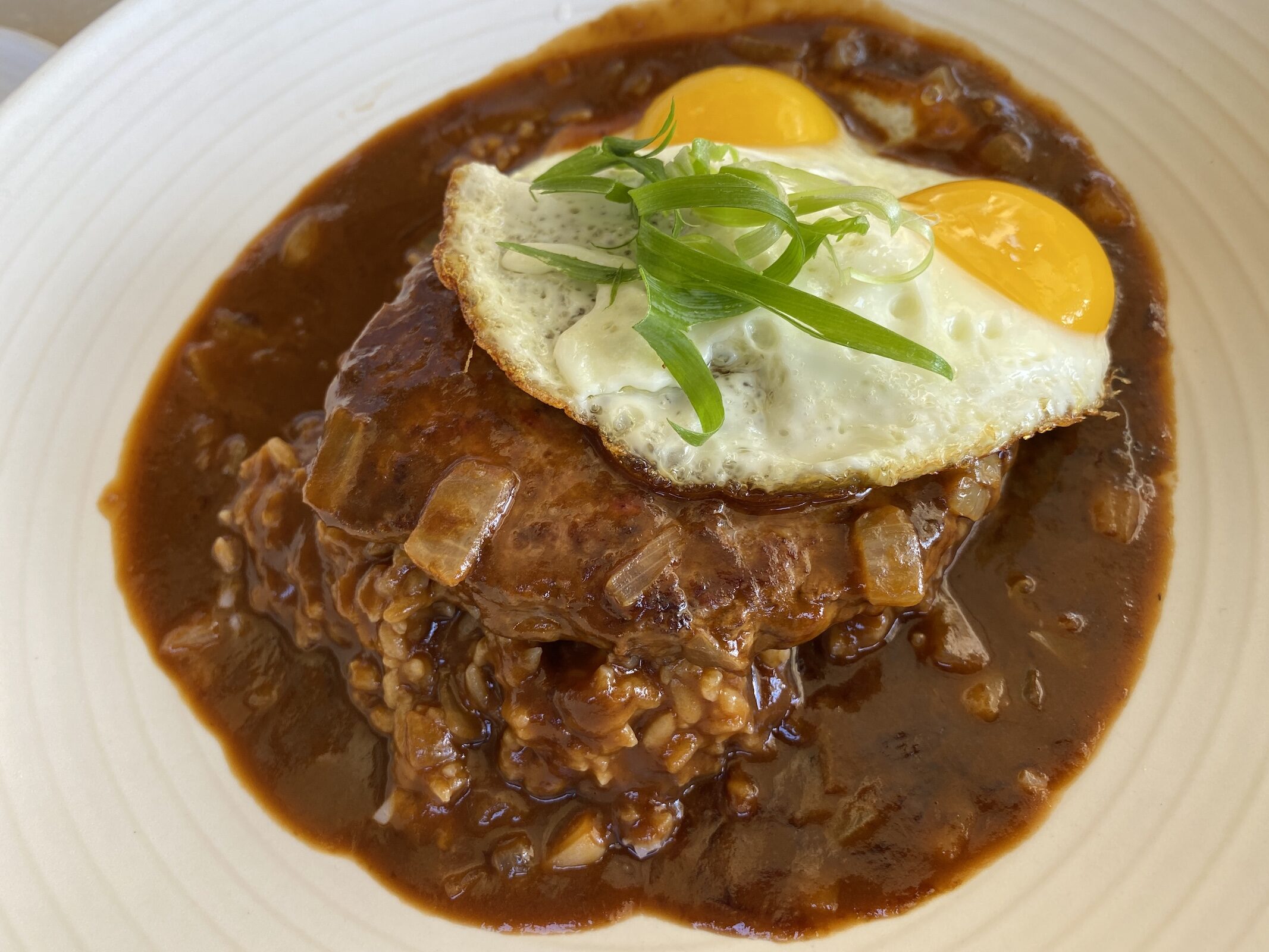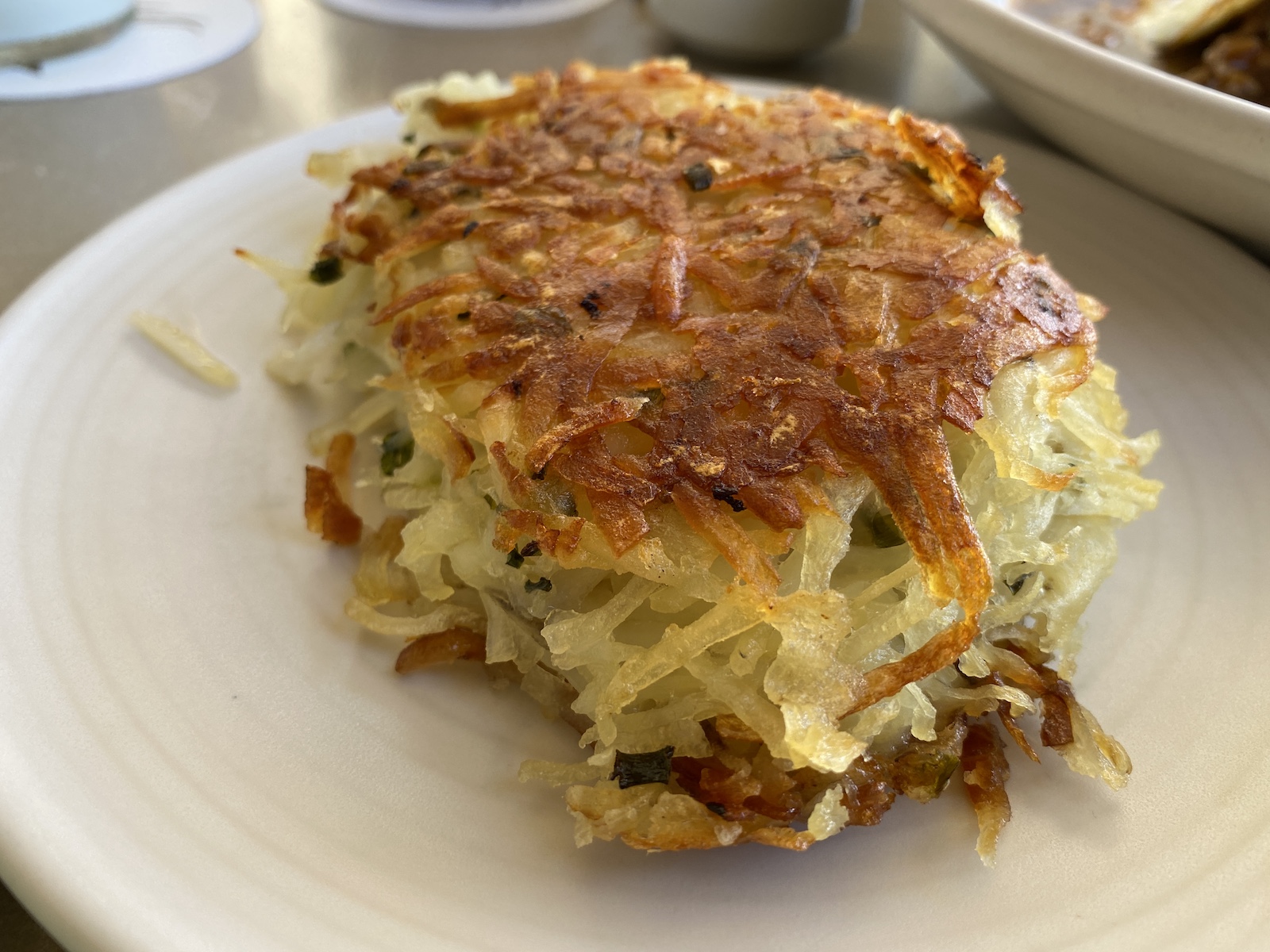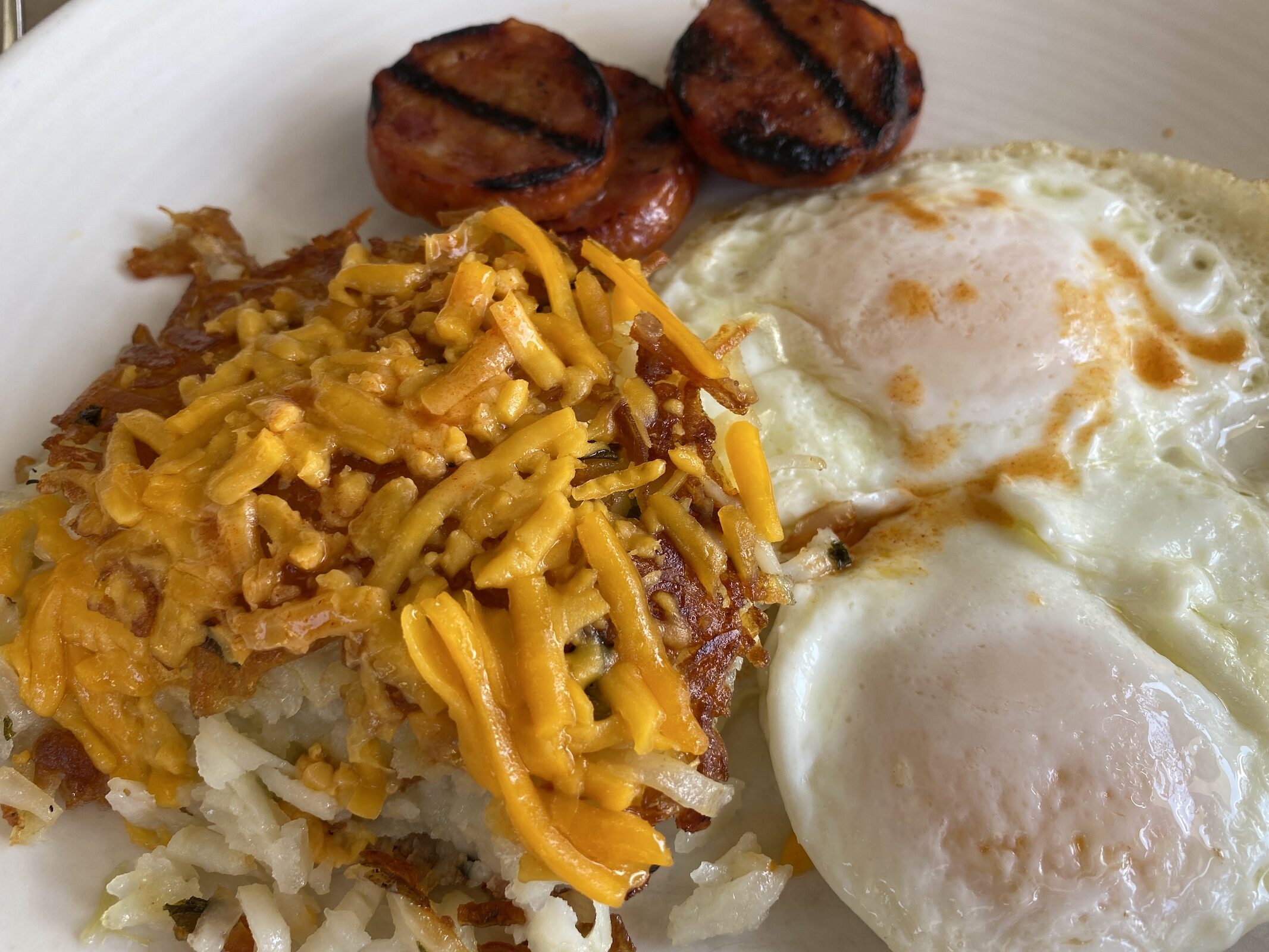 Our waitress also quickly remembered how I liked my coffee (iced with almond milk) and that I liked a to-go cup at the end. By just the second day, this was all on auto-pilot with her. I can't tell you how nice that feels when on vacation somewhere luxurious. You can truly relax when you don't even have to stop to think and it's taken care of.
And check out the view at breakfast!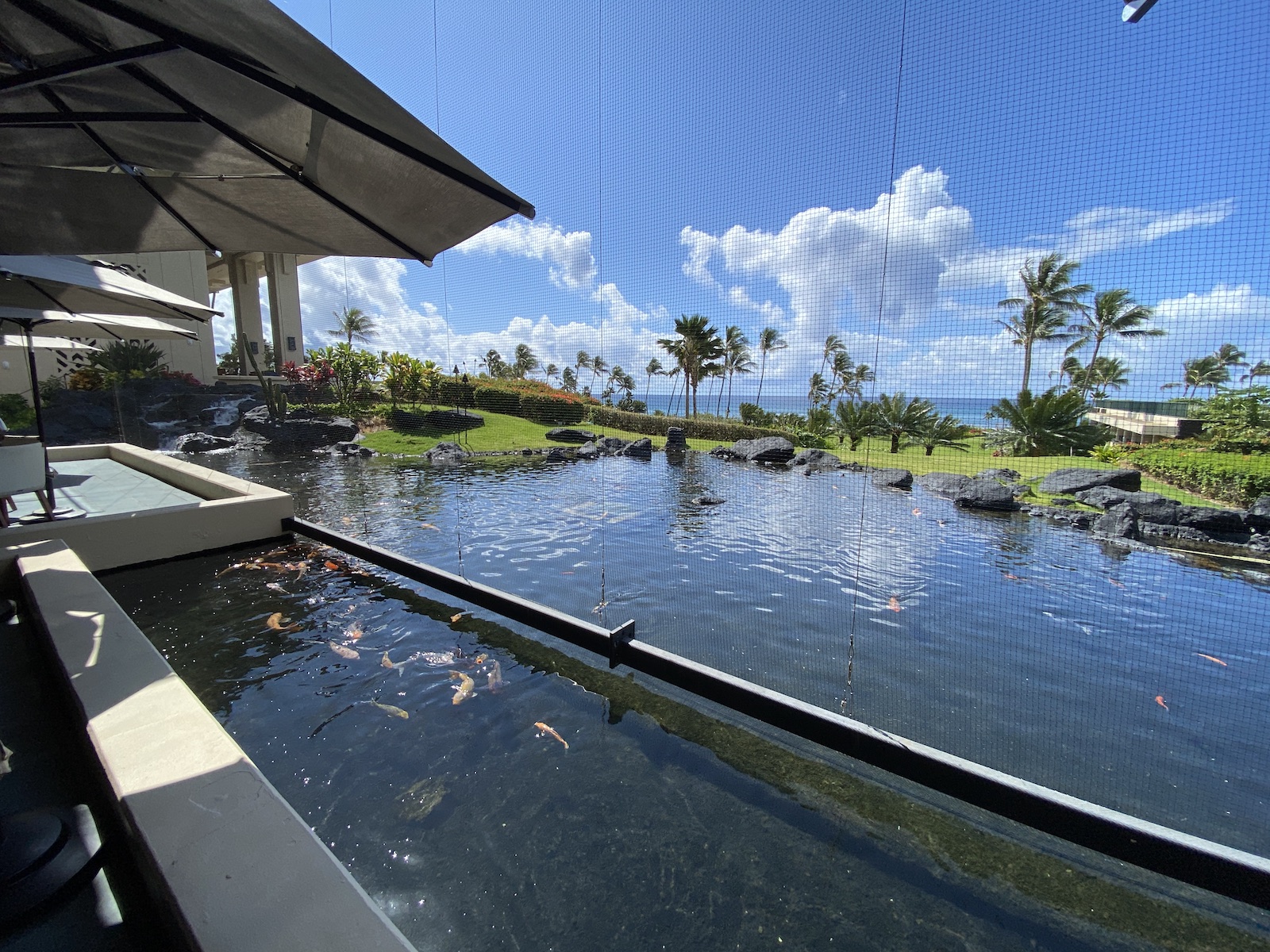 Pools and Beach
The beach at the hotel is called Shipwreck Beach and, as the name suggests, you do not want to go swimming in the ocean (although you are allowed to) or you might risk being tossed back onto the rocky shore like this rowboat… There are no lifeguards.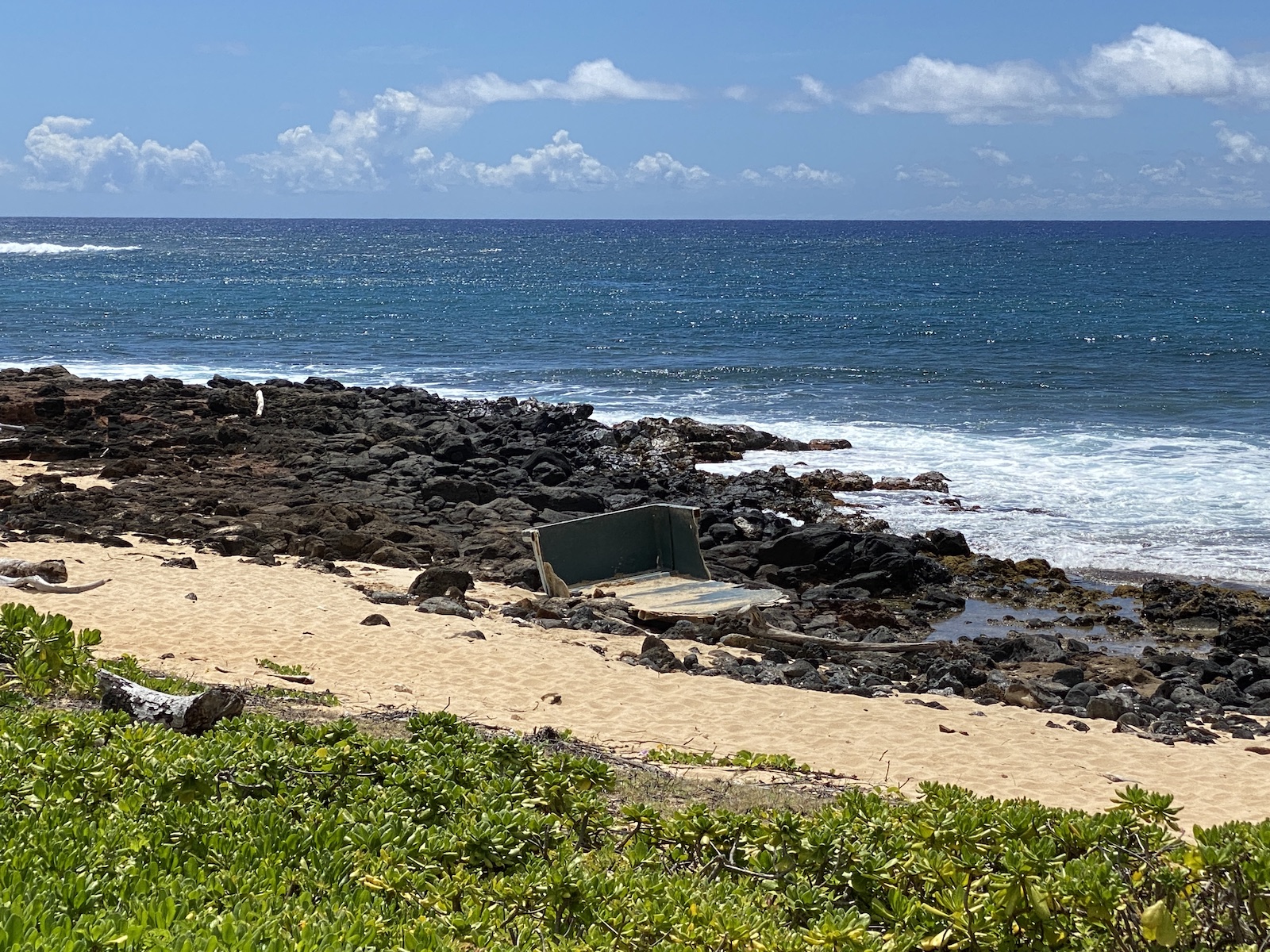 At first my wife was a bit disappointed as her favorite vacation activity is beach time and going swimming in the ocean. However, the hotel pools well made up for the lack of perfect beach access.
There are several pools to choose from, but perhaps the nicest feature is the man-made saltwater "beach" pool that resembles a beach and overlooks the ocean. With tiki hut umbrellas and lounge chairs on the fake sand, you can sit at this "saltwater lagoon" while looking at and listening to the ocean and hardly miss being at the actual beach.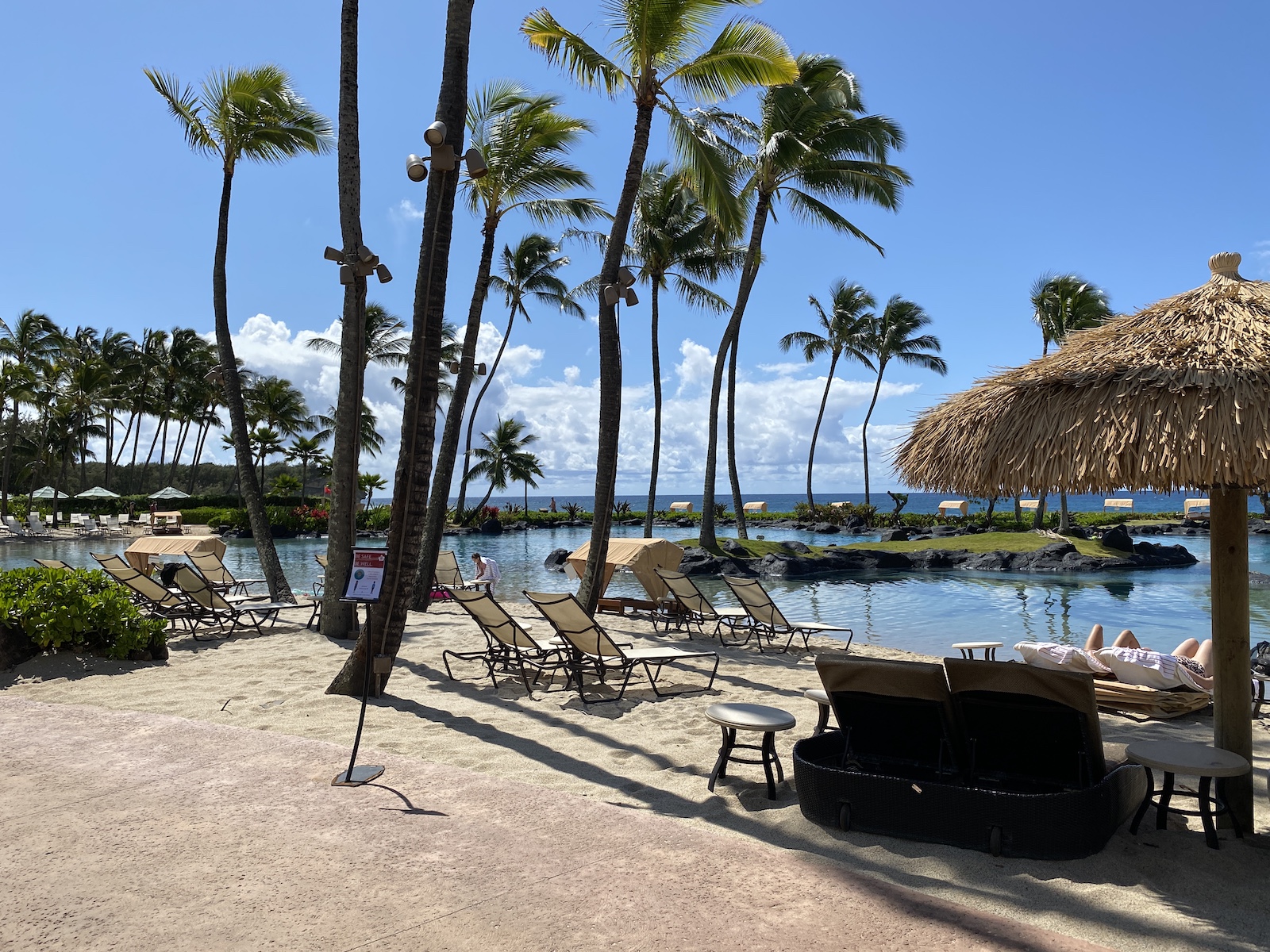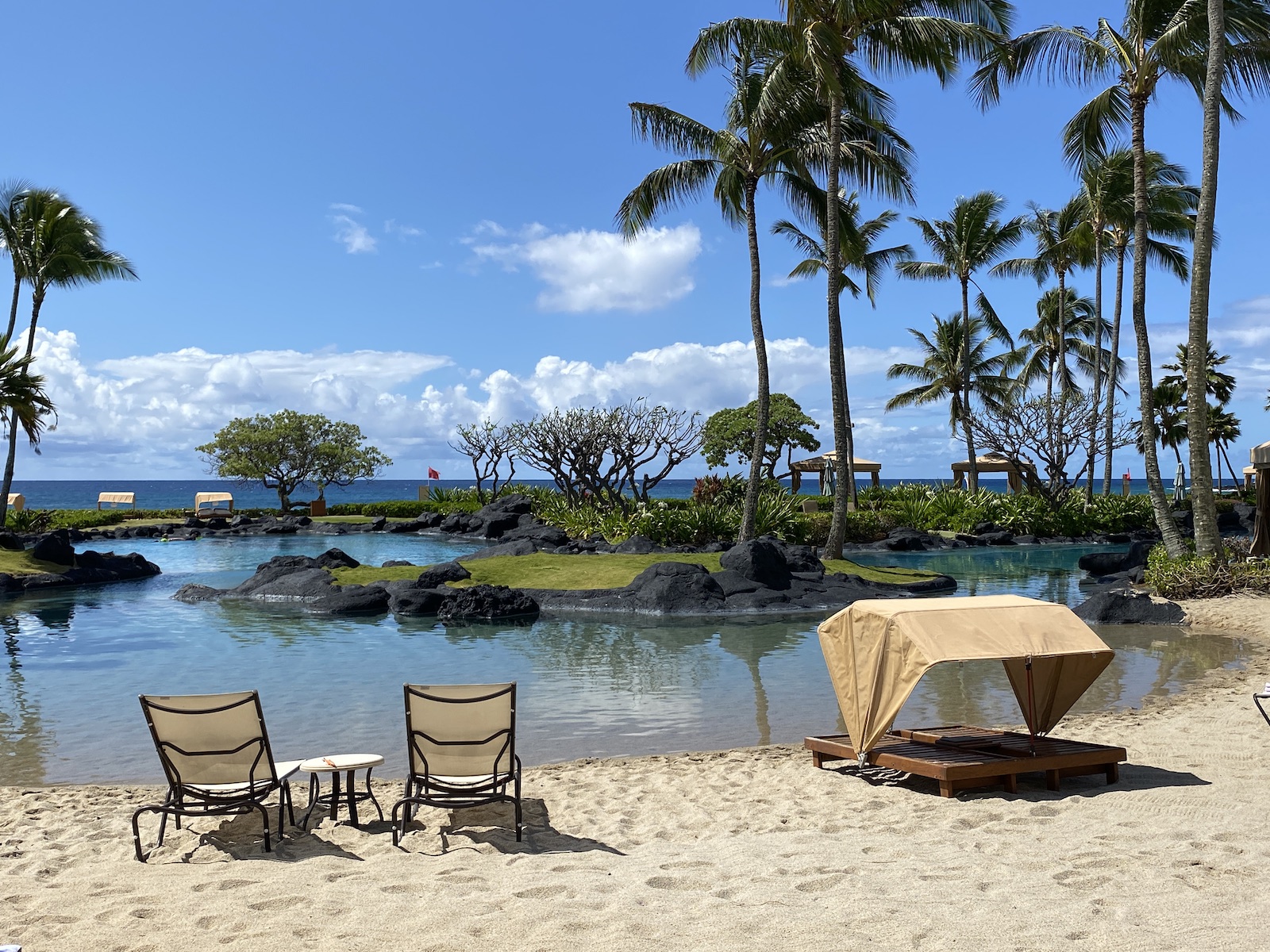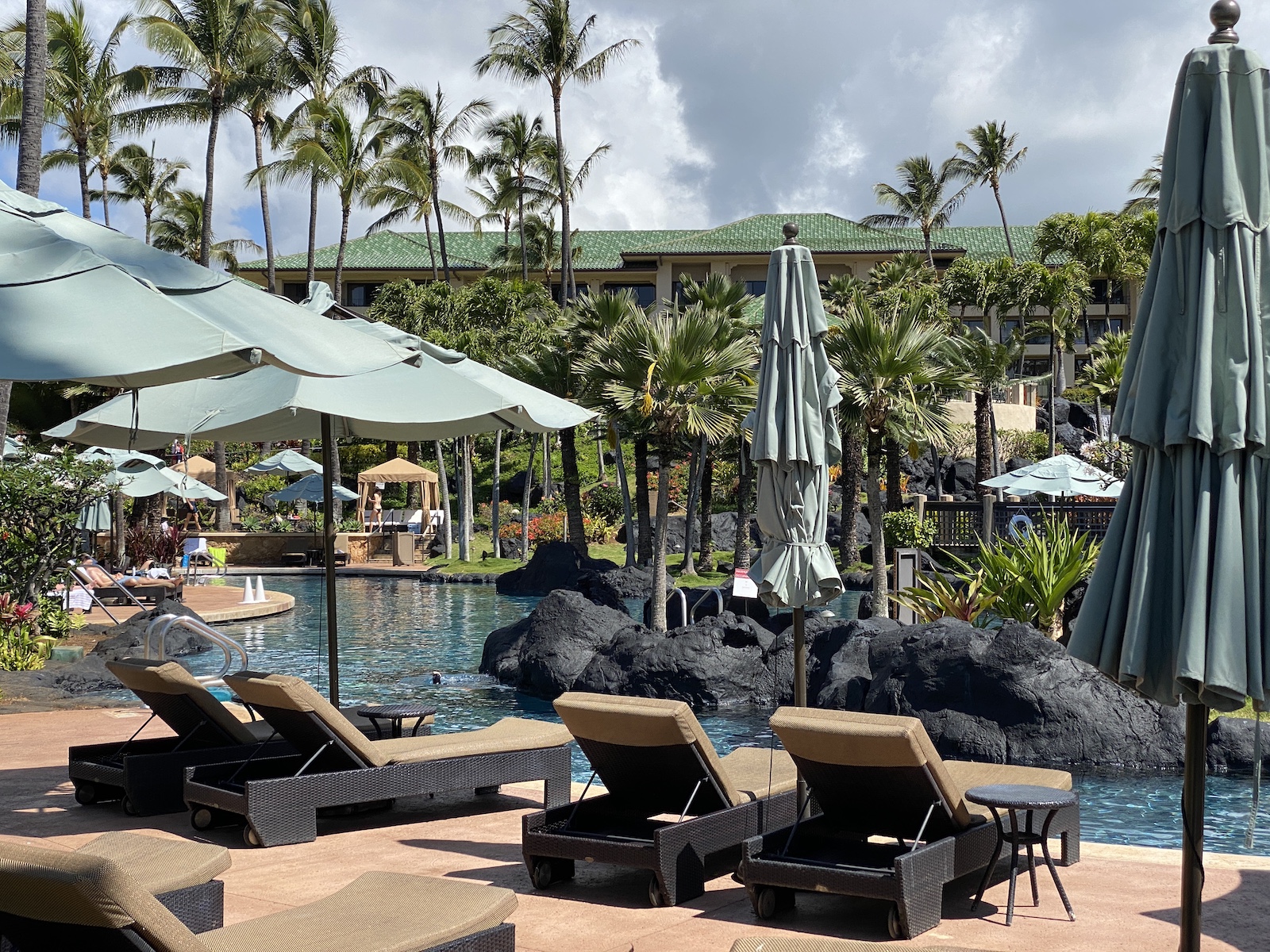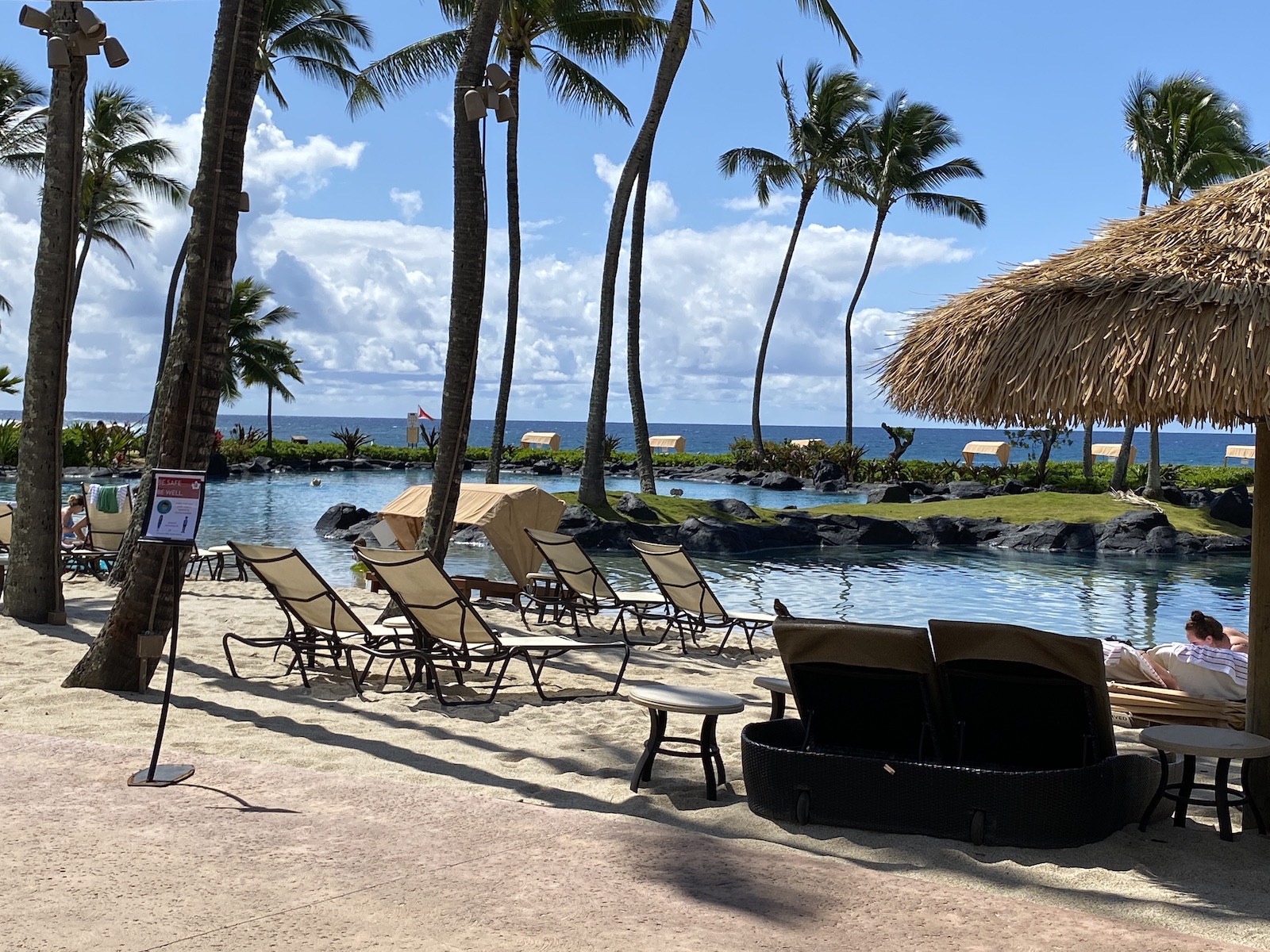 Better yet, right behind you is the other set of expansive pools, including a fun waterslide which can be enjoyed by both children and the young at heart adults!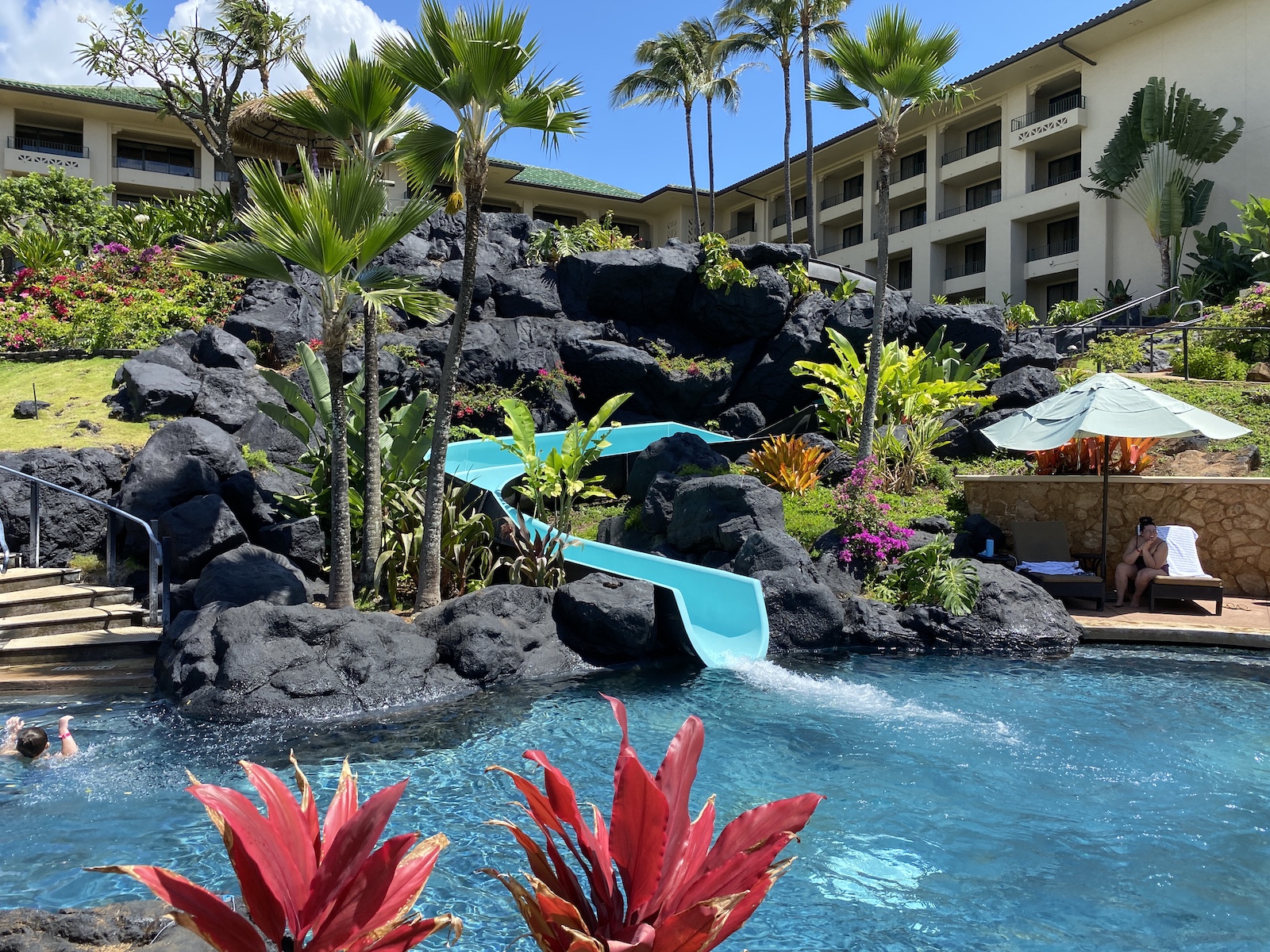 If you start at the 'adult pool', you can work your way down the lazy river, pass by waterfalls along the way (where you can even duck behind the falls!), until you reach the outpost to the water slide, which will drop you into another pool where you can swim up to a hot tub. If you want, you can buy inner tubes or rafts at the towel shack, and they were reasonably priced at $11 and $17 respectively. There were also two large jacuzzis, one up near the adult pool and one that was an island inside the family pool – meaning that you access it via the main pool itself. It's like the pool streams through the landscape!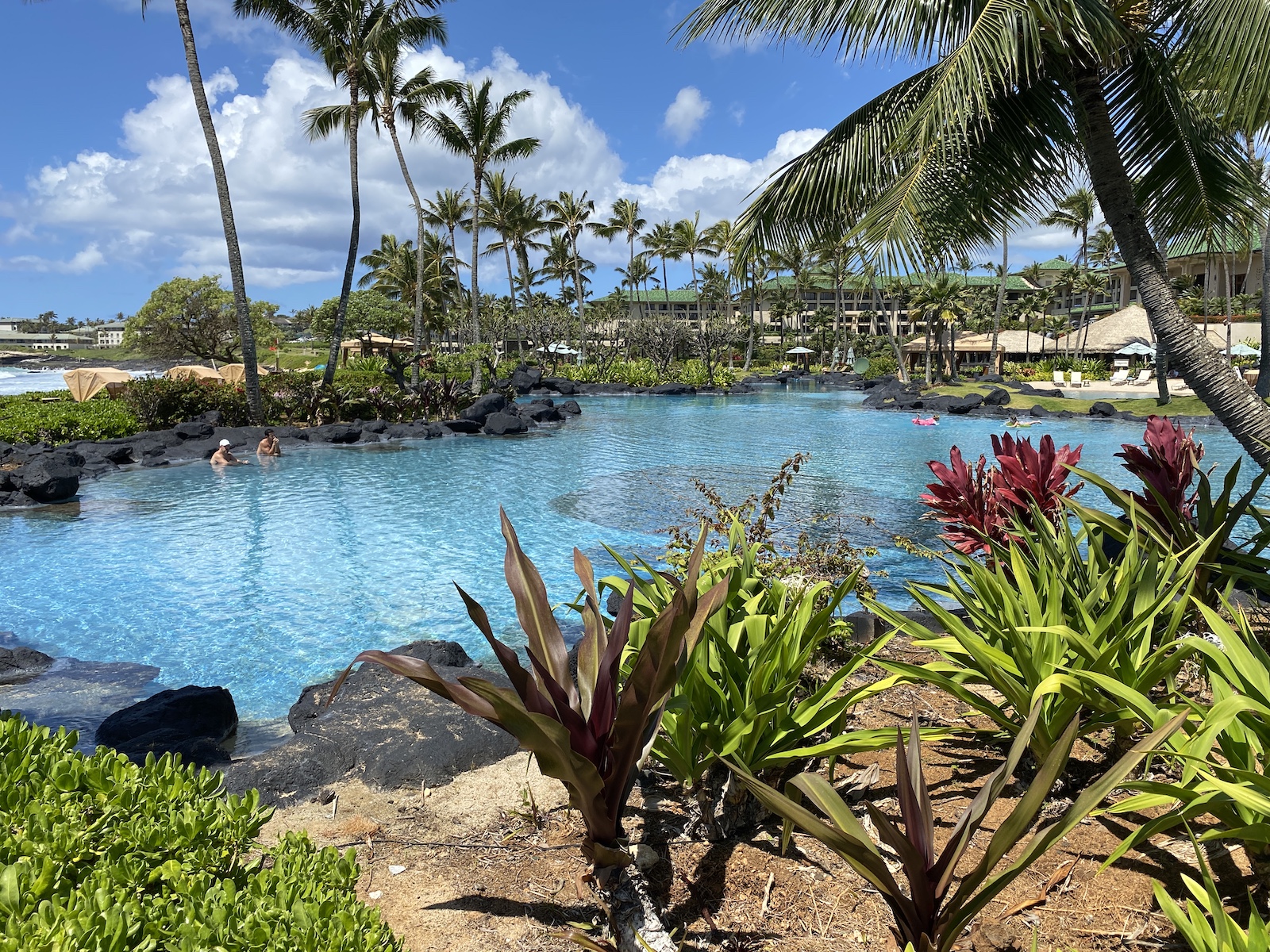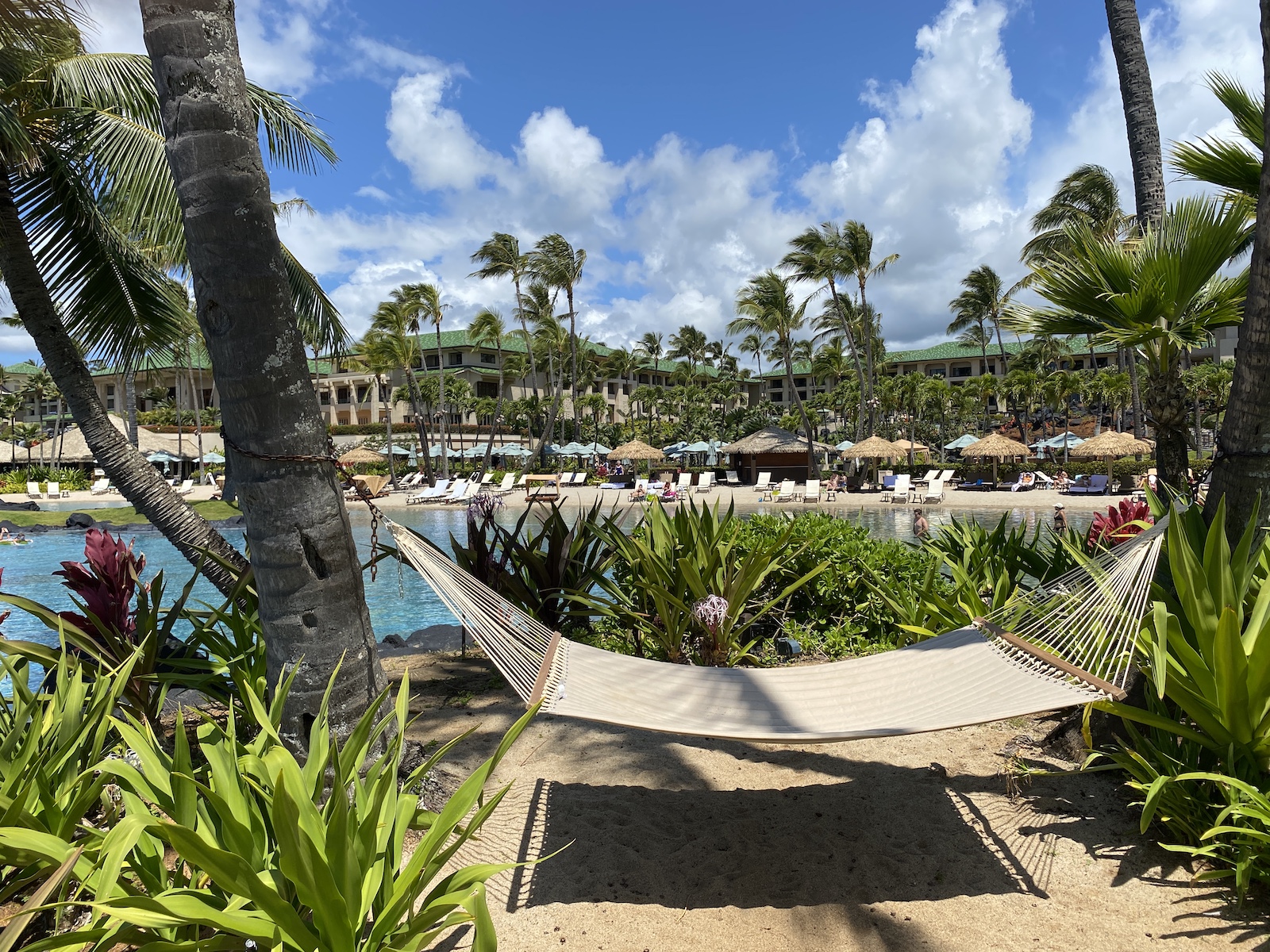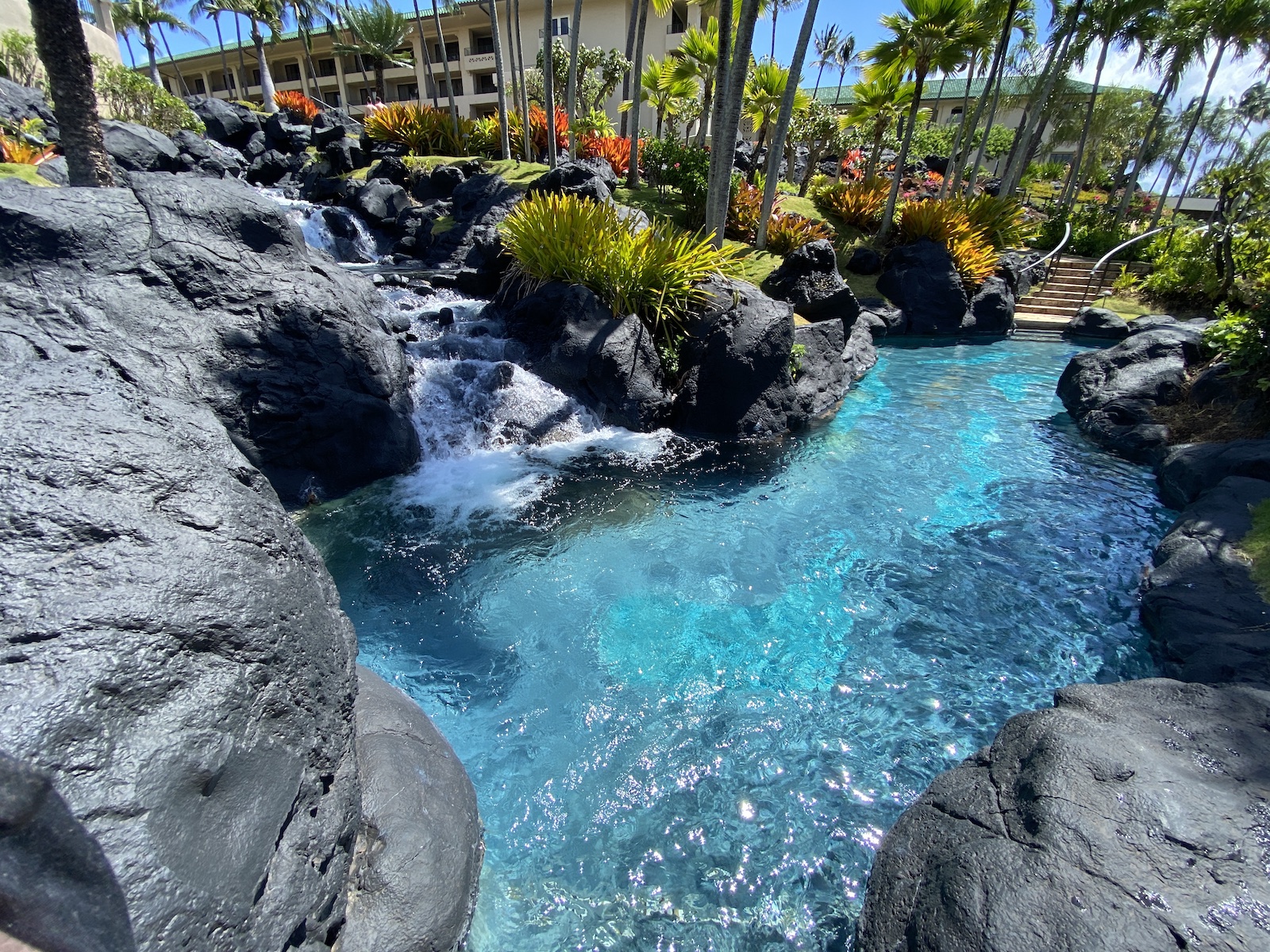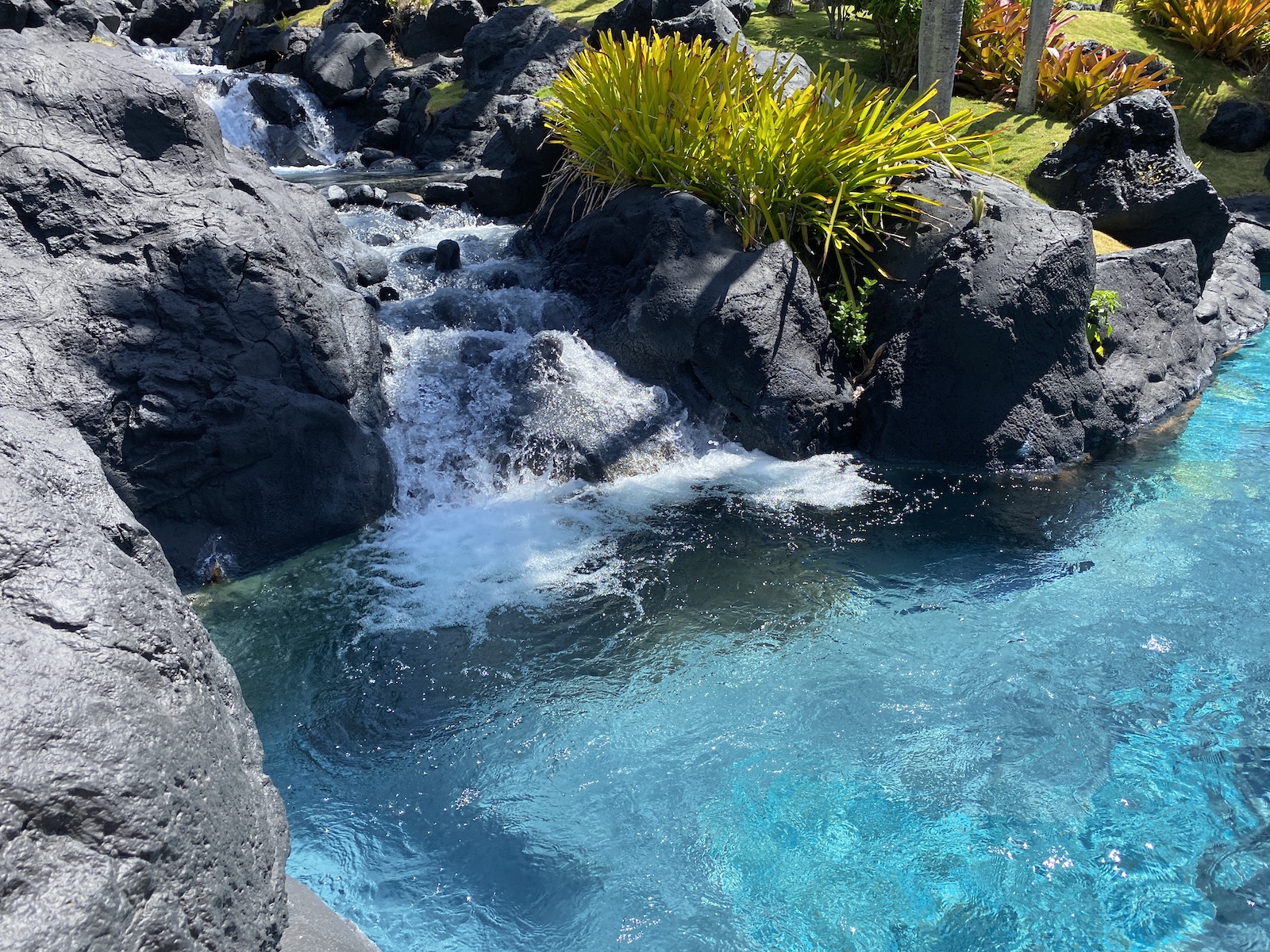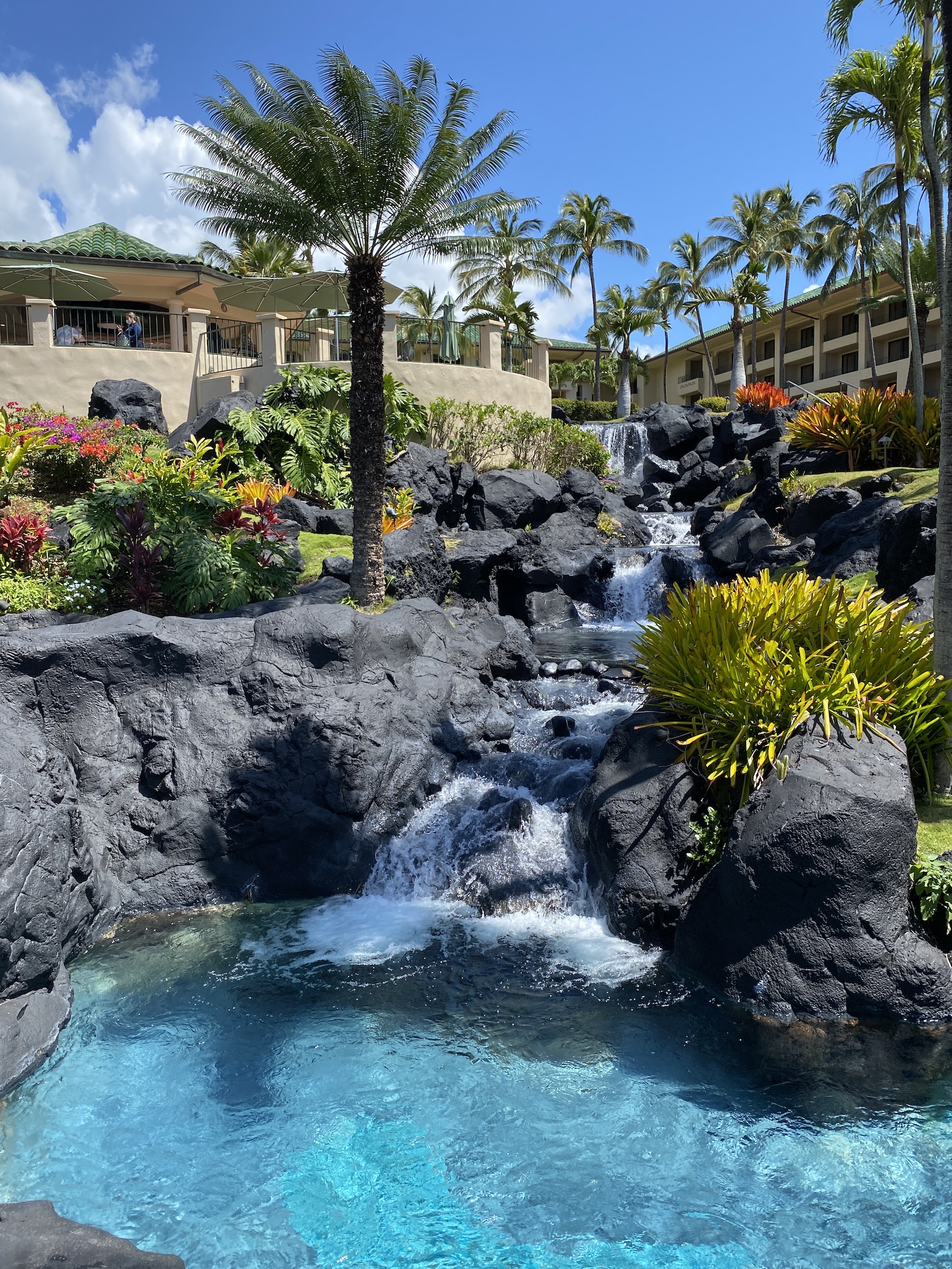 It is a great set up and, while it is family friendly and we saw quite a few children, adults don't feel overwhelmed or overcrowded by the kids. There is a to-go restaurant named Hale Nalu by the pool (menu), or you can also order food and drinks from the poolside servers.
At lunch, you should know that another Globalist perk is 20% off all lunch orders (sadly this does not apply to alcohol for those who want to enjoy a cocktail or two)! You'll need to remind the server before getting the check.
I also want to once again call out the "can do" attitude at this hotel. My wife liked being under the "tiki huts" by the man-made beach pool.
One day, she was able to score the last open tiki hut, but it had a set of flimsy beach loungers as opposed to the plush ones in the other tiki huts. She asked someone that worked there if they might have any spare cushions and, within minutes, we had comfy lounger cushions. I mean, it sounds crazy to be so impressed by something so small, but it really is the little things to make your stay that much easier and more enjoyable that is what I think a huge part of a true 5-Star hotel or resort is. It was the same attitude of "anything we can possibly do for you" that made us love the W Maldives so much.
The Anara Spa
We also made sure to book massages at their Anara Spa, an oasis behind the hotel which includes an outdoor lap pool and two hot tubs. We both had amazing massages. Mine was in an outdoor hut and my wife's was in a treatment room with an open terrace door. This made us feel a little more comfortable with COVID, and masks were required throughout the massage. They even provided a honeymoon discount, unasked!
Around Kauai and Local Food
I won't do a separate post for Kauai tips, as we really made a conscious choice to relax for 80% of the Kauai portion of our trip.
We did manage to tear ourselves away from the hotel for a day of exploring to the nearby towns (Koloa and Poipu) and Waimea Canyon which is a main attraction of Kauai, but for the most part (except for a few dinners out) we made the most of the beautiful hotel and grounds and enjoyed the opportunity to relax and be pampered!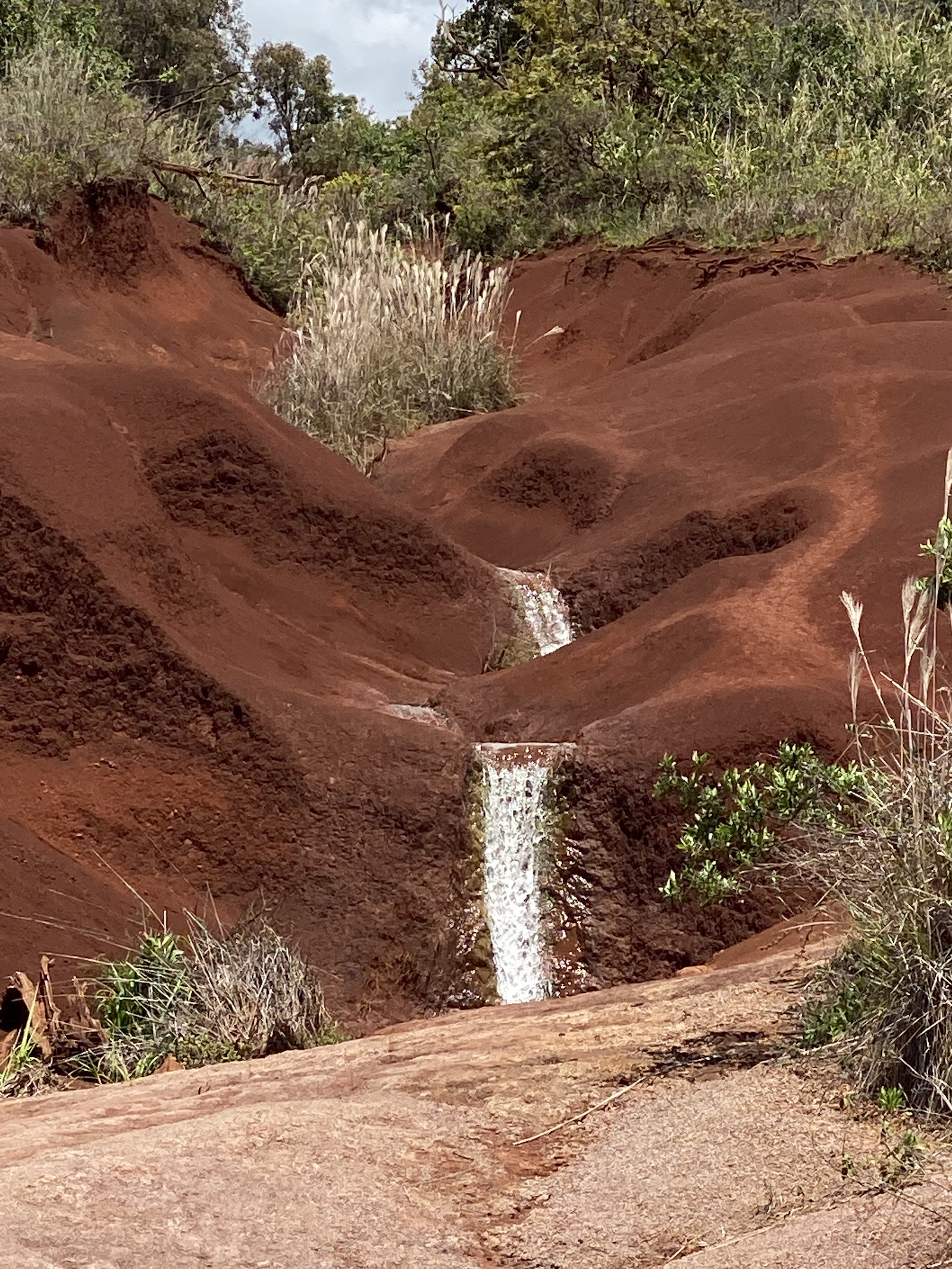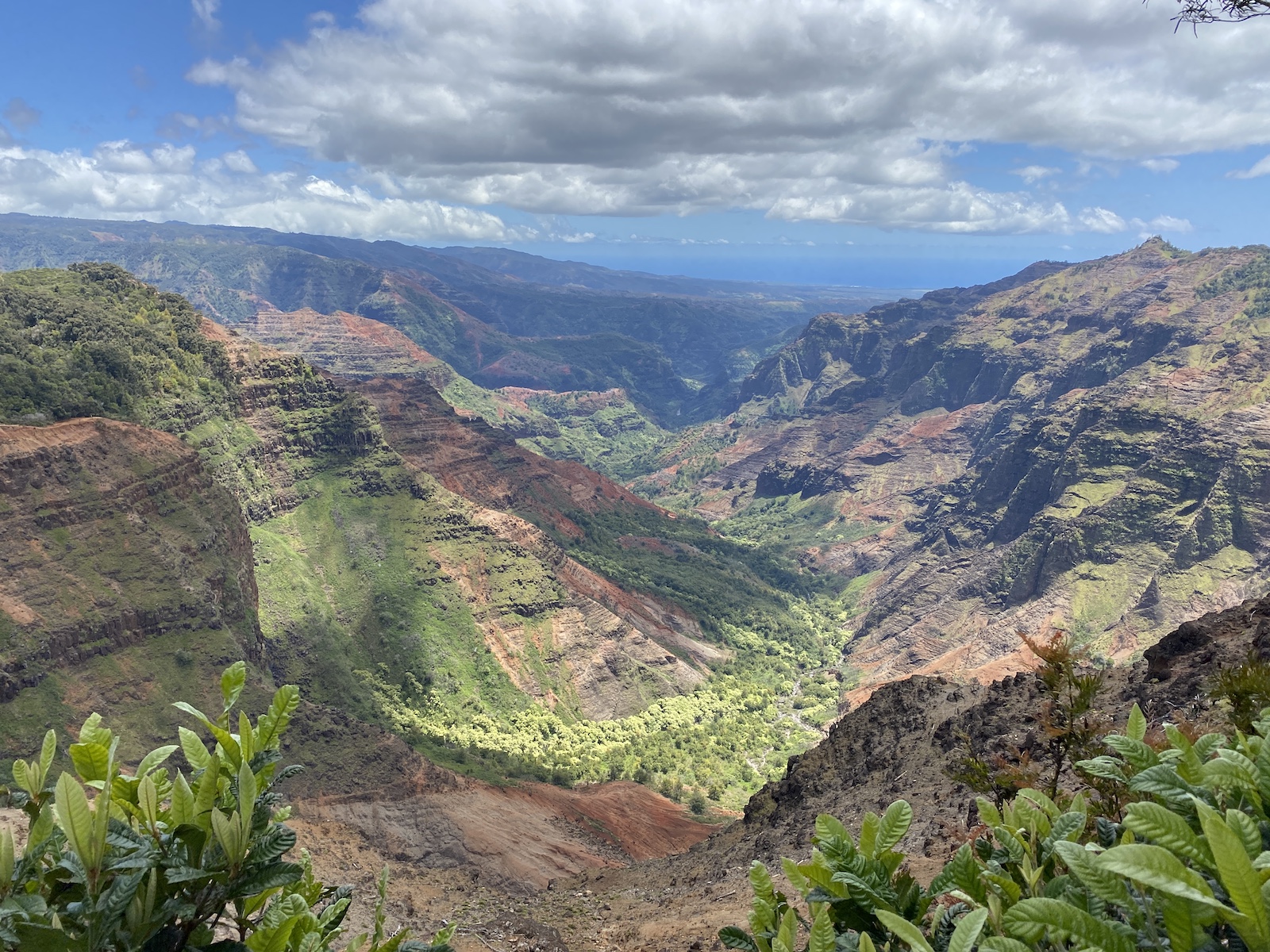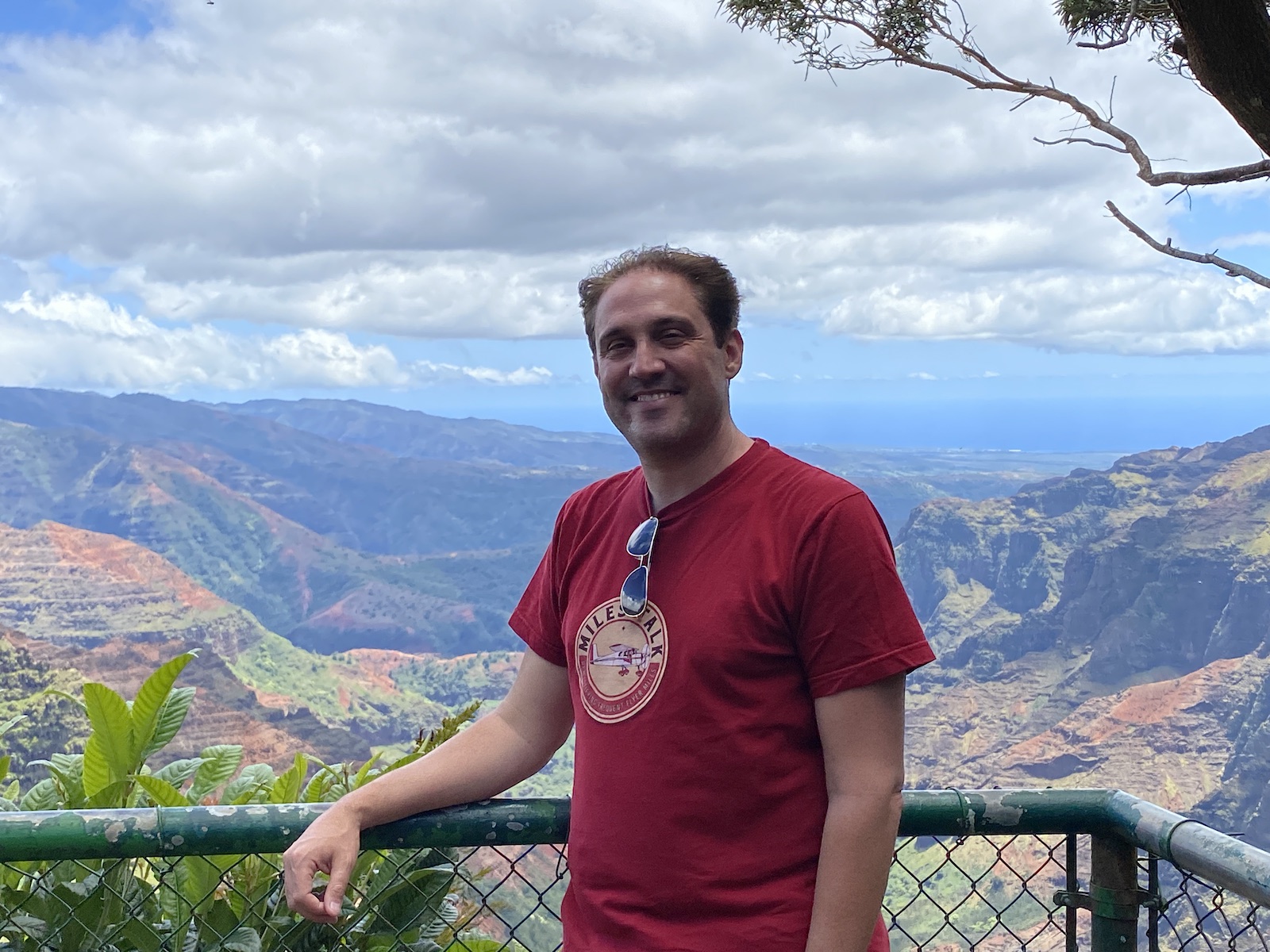 For some reason, tourists in Kaua'i love to rent Jeeps. Yes, one of these was ours 😉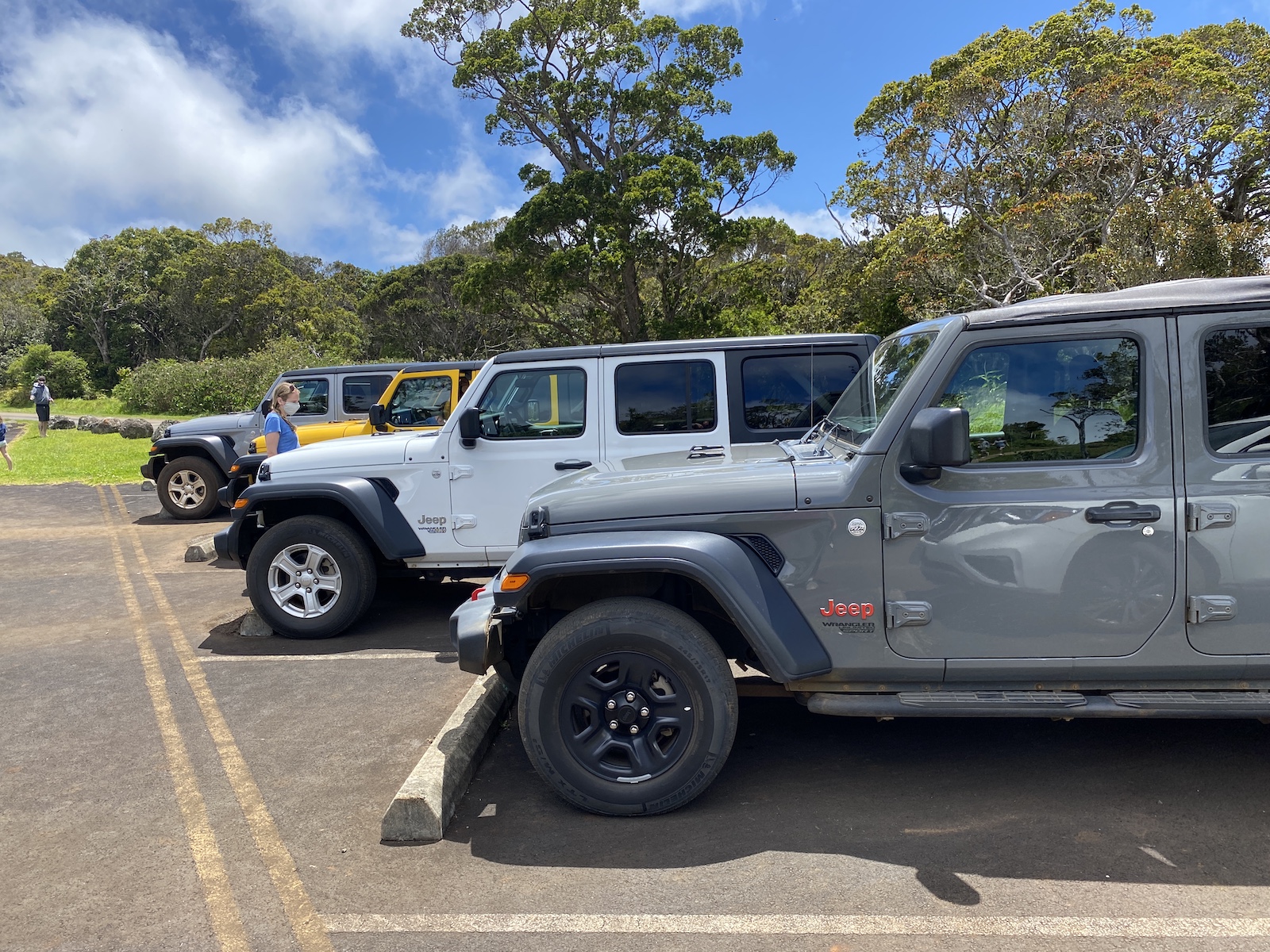 Can you believe these views at Waimea Canyon??!!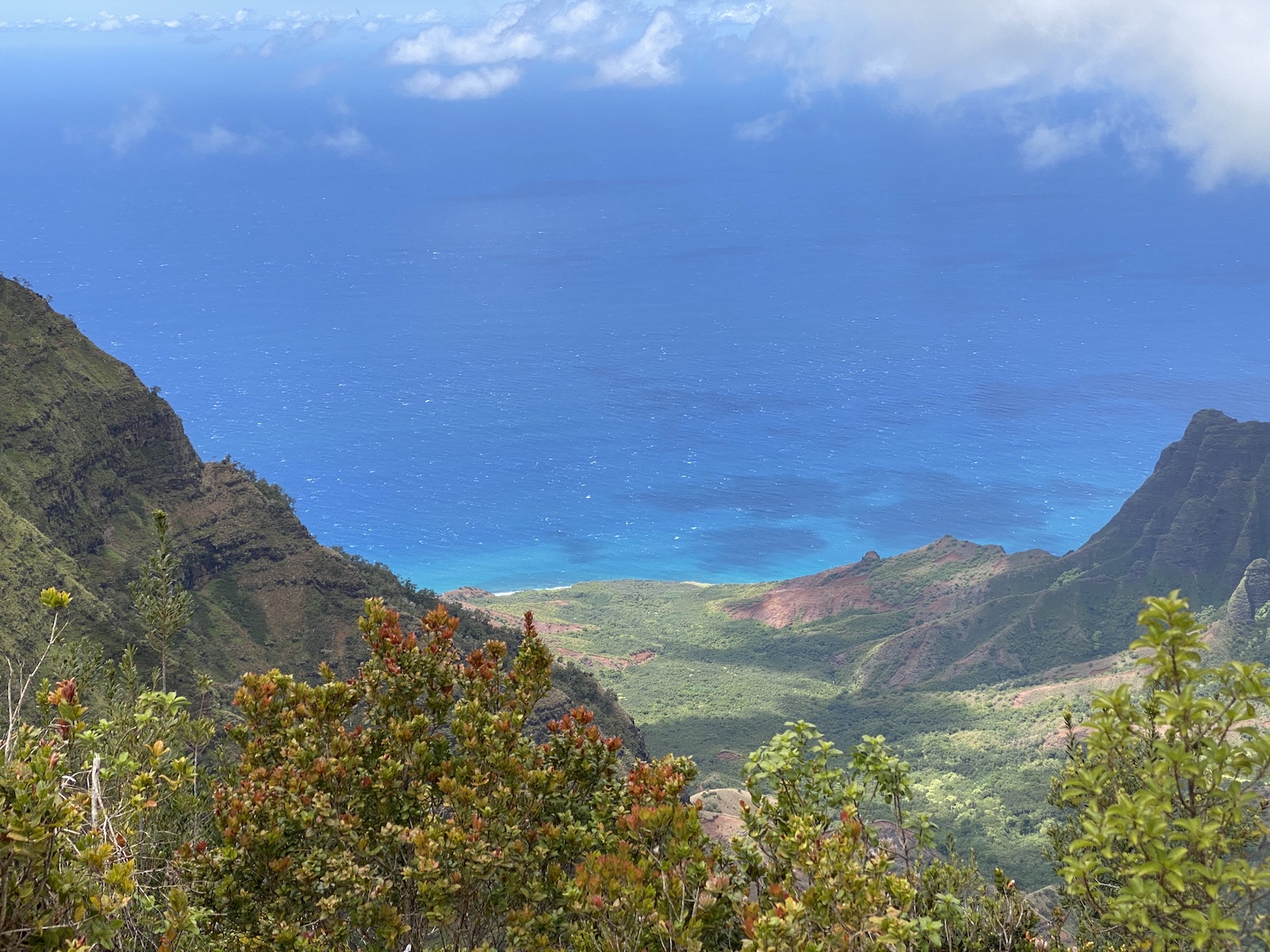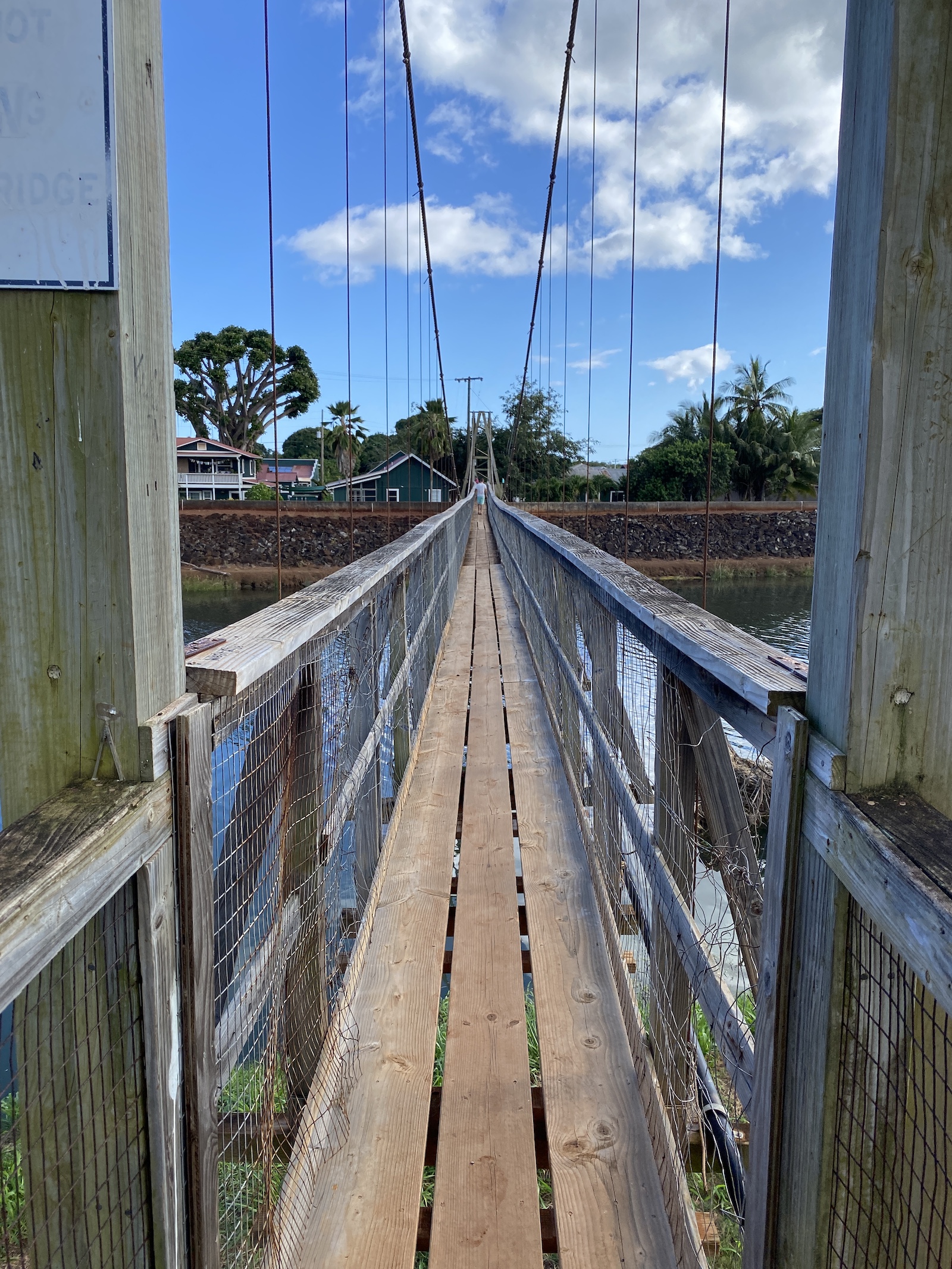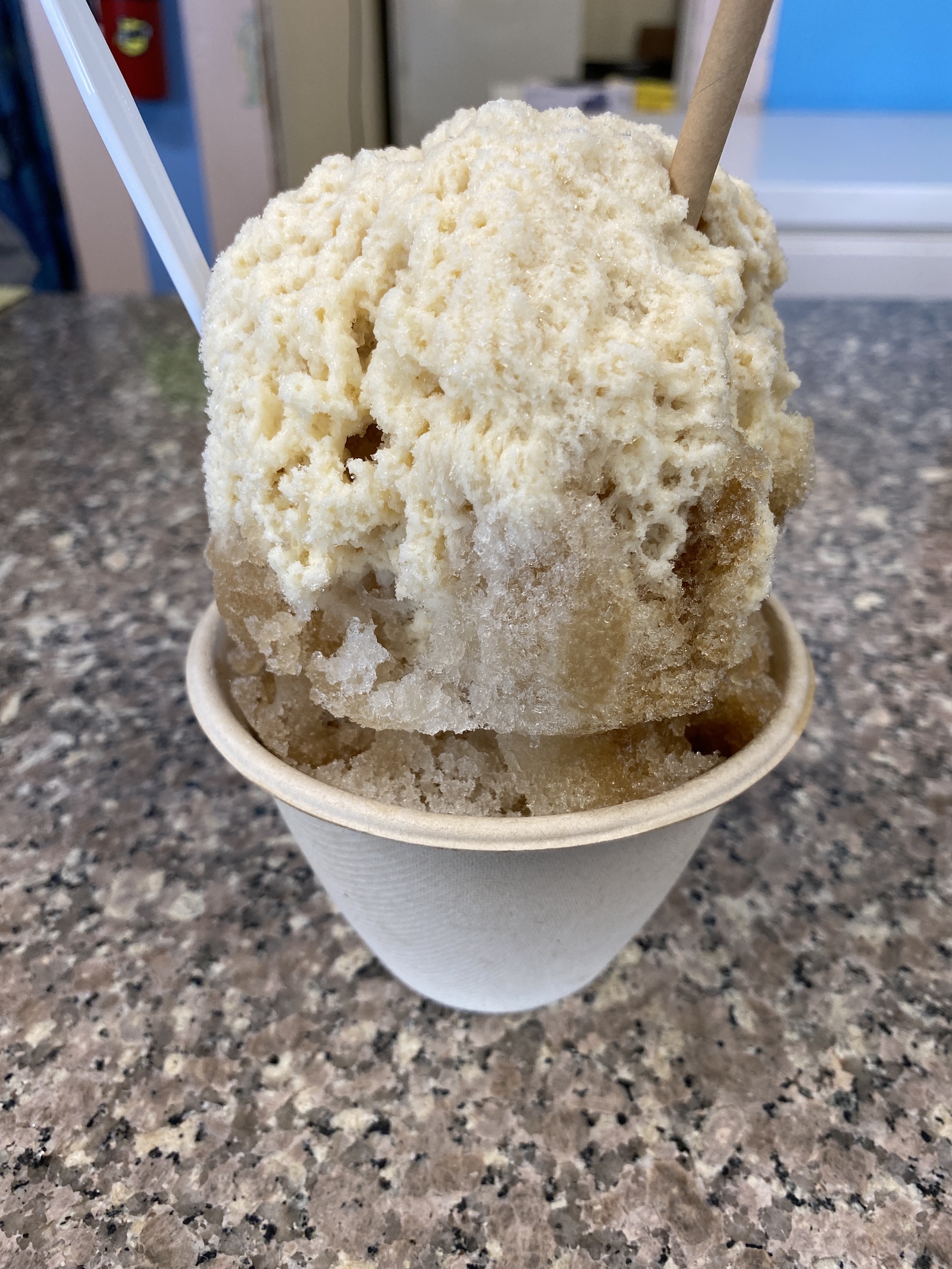 If you like junk food, you have to get to Poipu Beach (just a few miles down the road from the Grand Hyatt. The Puka Dog (which moved to the beach inside Brennecke's) is famous for good reason. You pick what sauces get injected into the bun that is only open on the one side…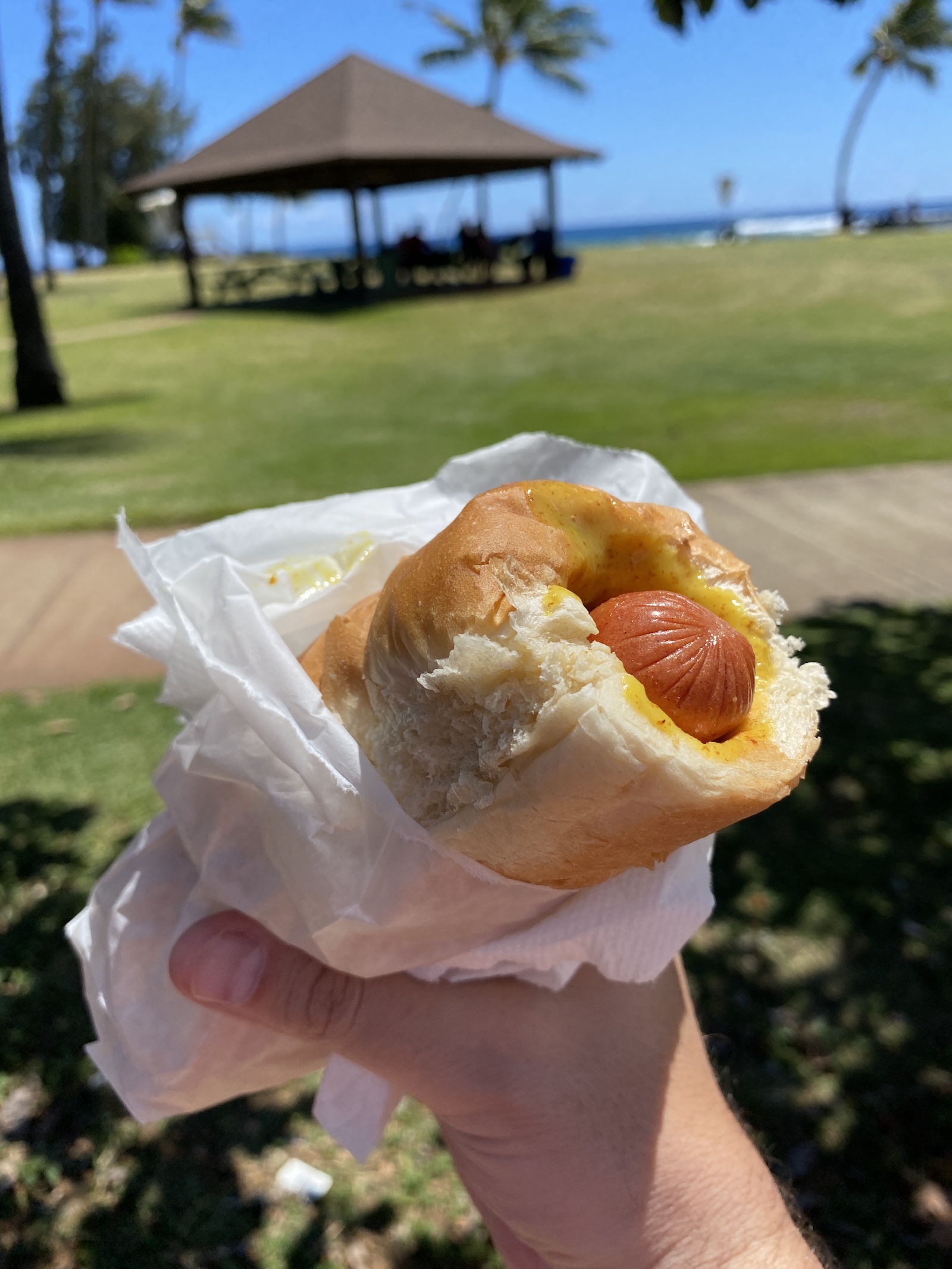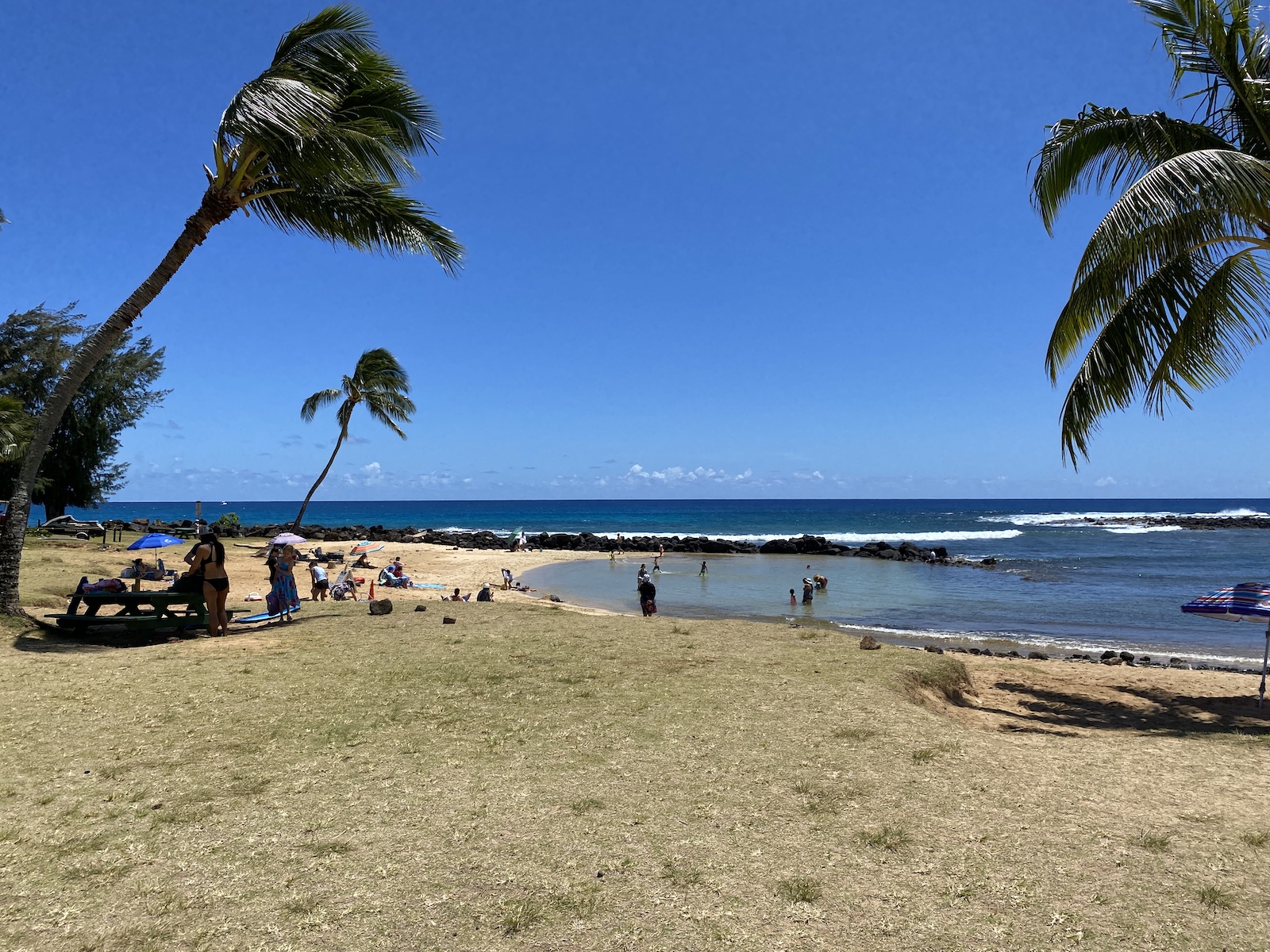 We also had lovely dinners at the Beach House (you need to go for sunset) and the Eating House 1849 (a Roy Yamaguchi spot) in Koloa.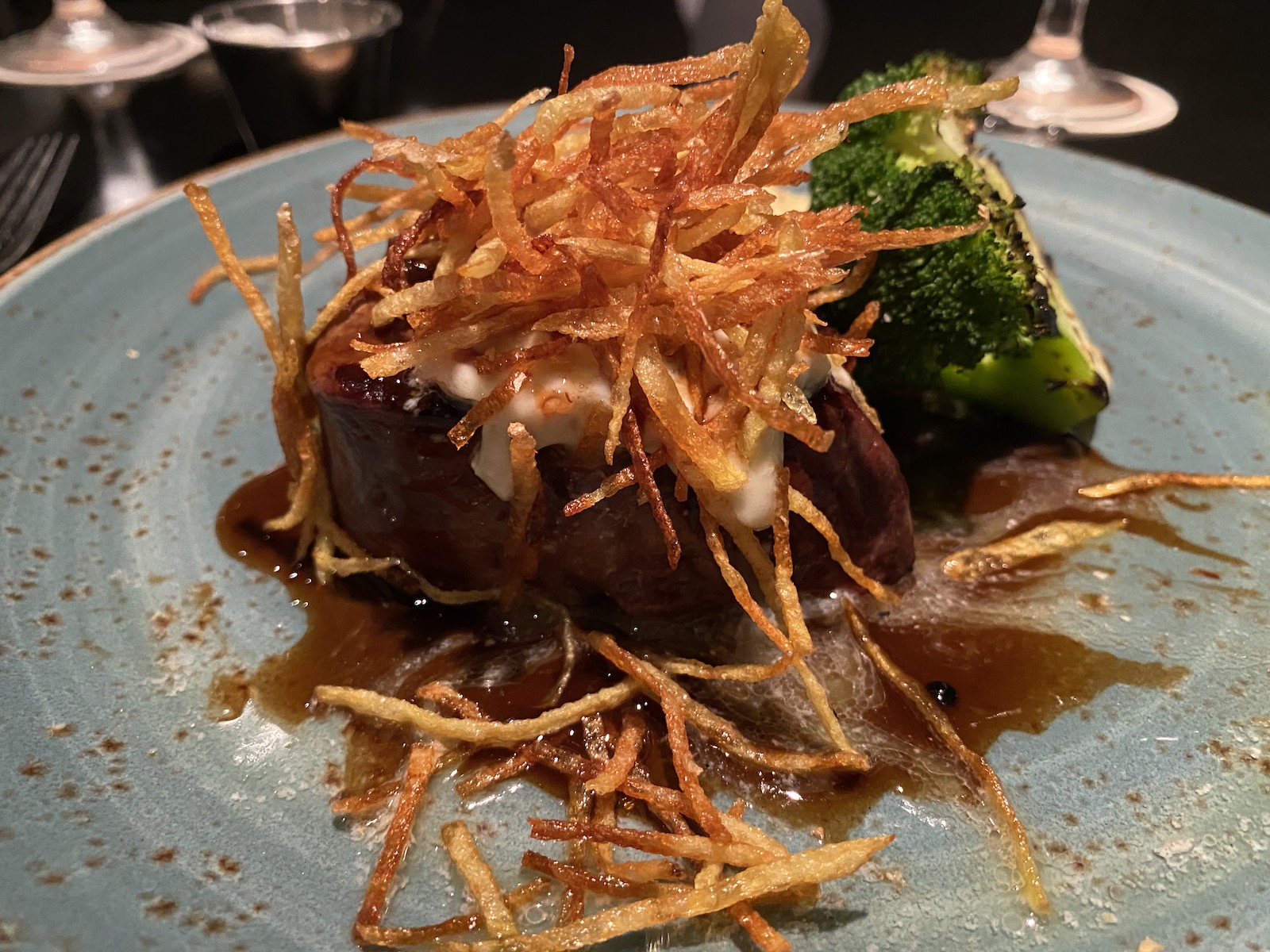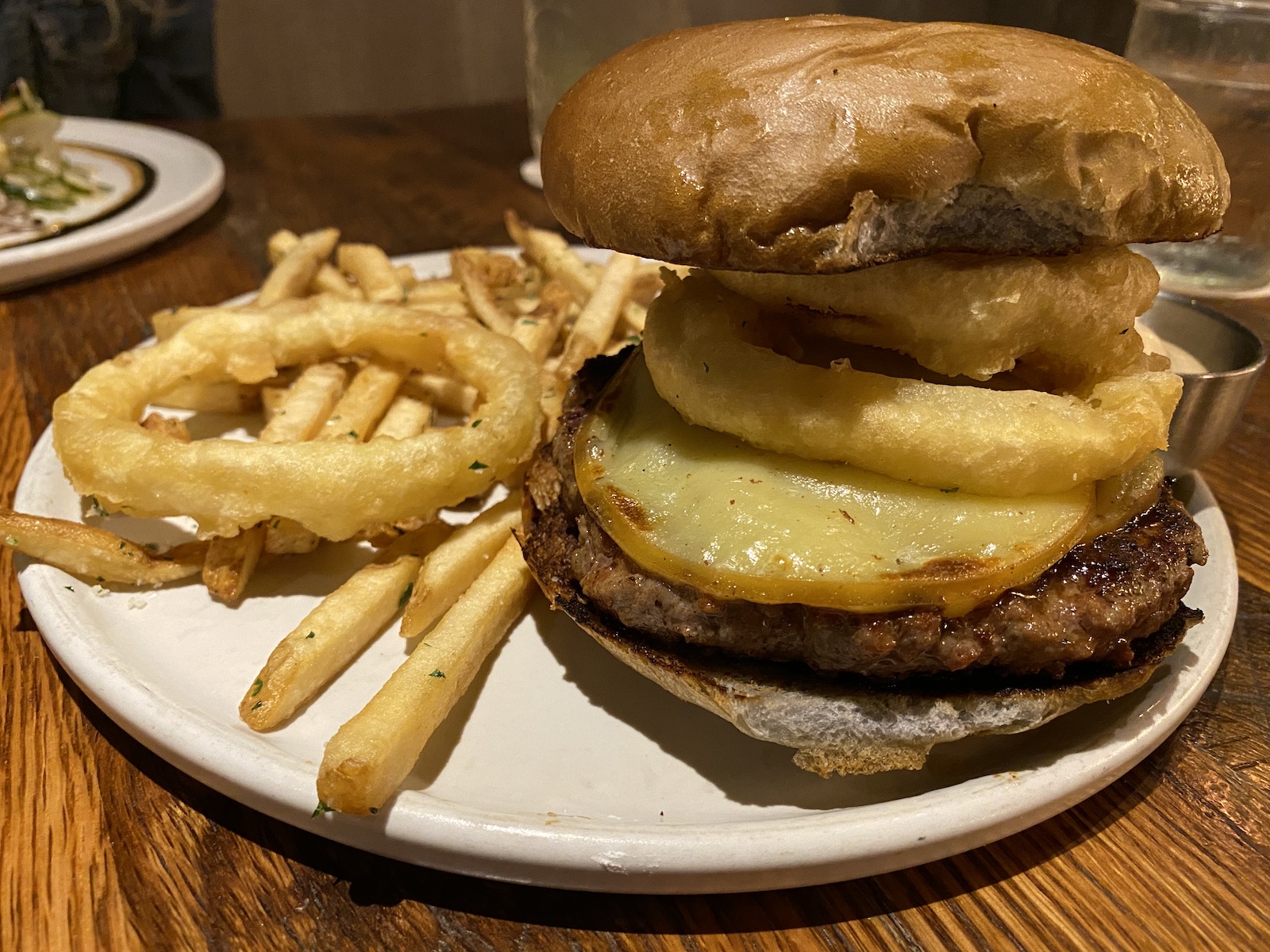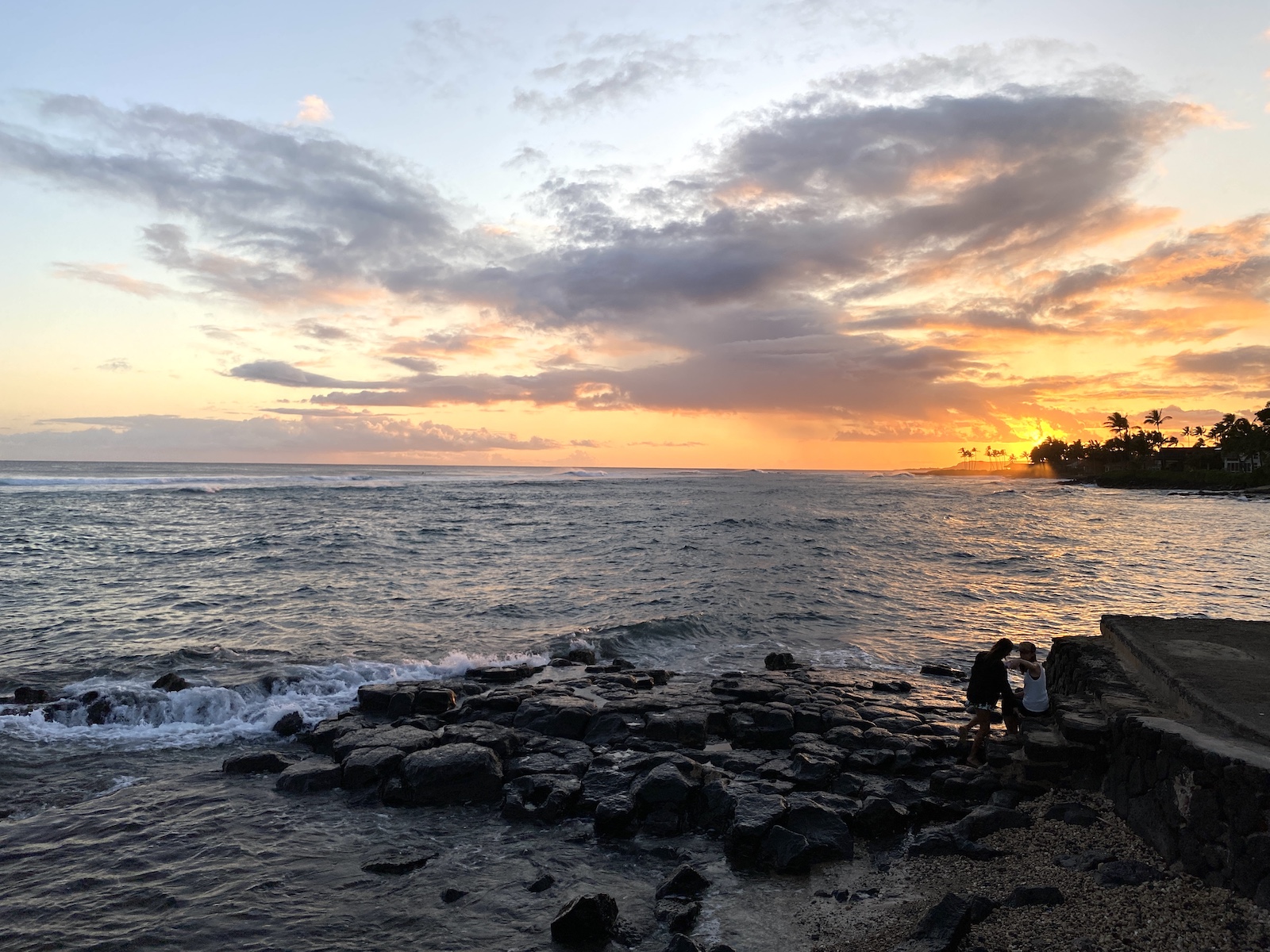 I would also recommend ice cream (and/or pour-over coffee!) at Lappert's in Koloa. We also had this in Maui and it's just spectacular.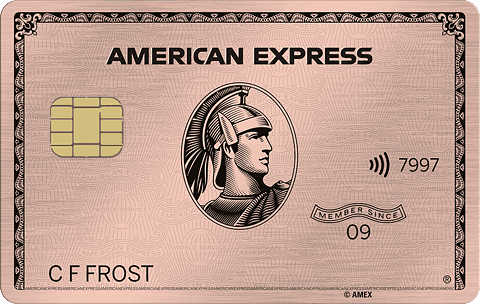 Get 60,000 Bonus Membership Rewards points after spending $4,000 on purchases within the first 6 months on an American Express® Gold Card or Rose Gold Card. Earn 4X points on dining and U.S. supermarkets (up to $25,000 annually, then 1X) plus get $10 monthly dining statement credits and $10 in monthly Uber Cash. Terms apply. | How to apply for this offer. | Read our Review of the American Express Rose Gold Card
The Service
I've made no secret within this review about the wonderful staff, but let me take a moment to devote some gushing praise in a dedicated section.
The service at the Grand Hyatt Kauai is wonderful. I don't recall a single time that we asked for something and felt like we were bothering them with the request. The staff all had a dedication to customer service that you expect in a true 5 Star property.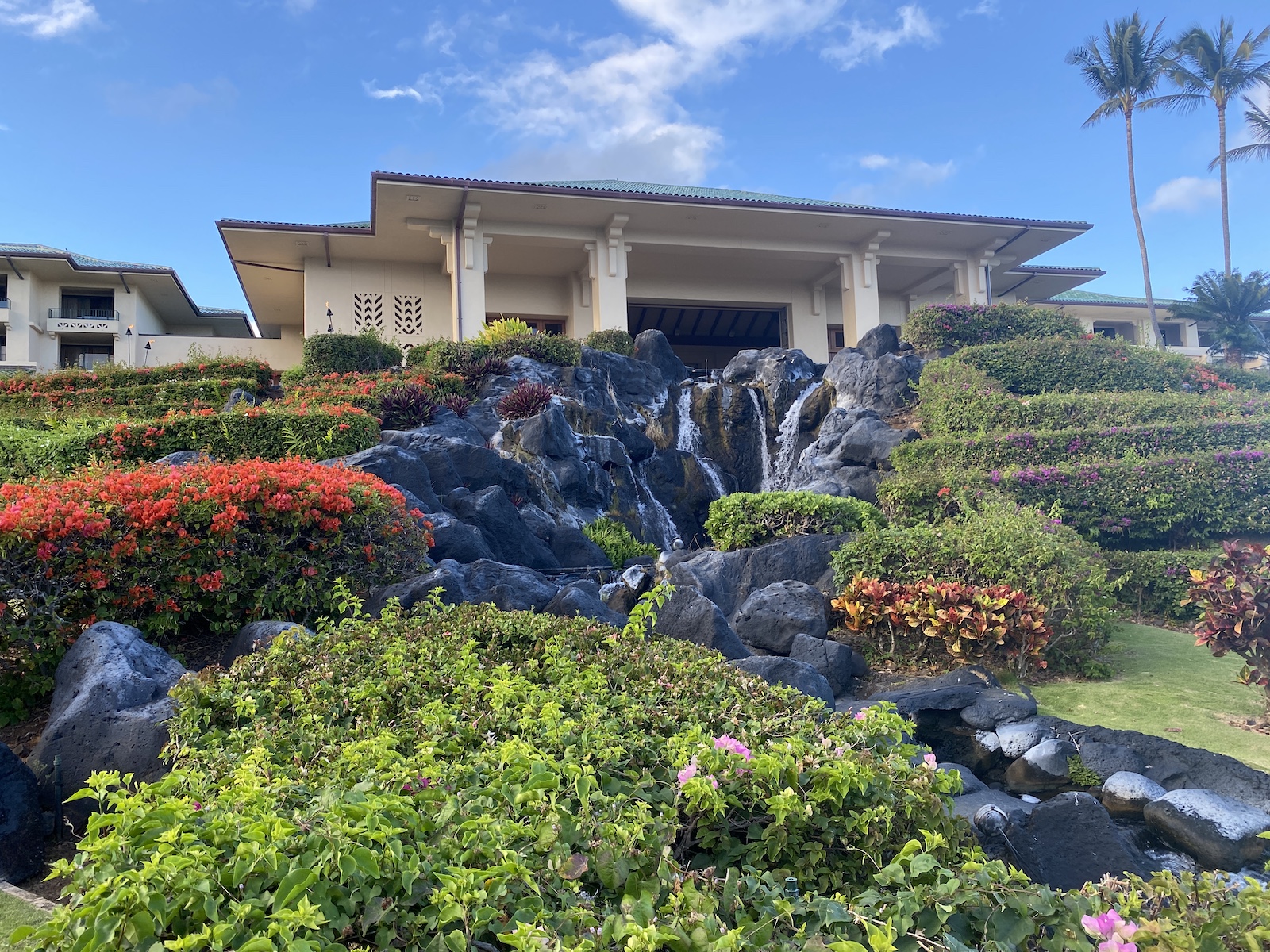 Overall Review
The Grand Hyatt Kaua'i earns a full 5 stars (out of 5) in my book. From the beautiful grounds, to the thoughtful touches throughout and true 5 star service, I couldn't give it anything less.
Rating: ⭐⭐⭐⭐⭐
(With thanks to my lovely wife, Nicole, for contributing to this article!)
Thoughts?
Let me know below in the comments, on Twitter, or in the private MilesTalk Facebook group. And don't forget to follow me on Instagram for all sorts of tips on miles, points, credit cards, and travel.
If this post helped you, please consider sharing it!
You can find credit cards that best match your spending habits and bonus categories at Your Best Credit Cards. 
New to all of this? My "introduction to miles and points" book, MilesTalk: Live Your Wildest Travel Dreams Using Miles and Points is available on Amazon and at major booksellers.