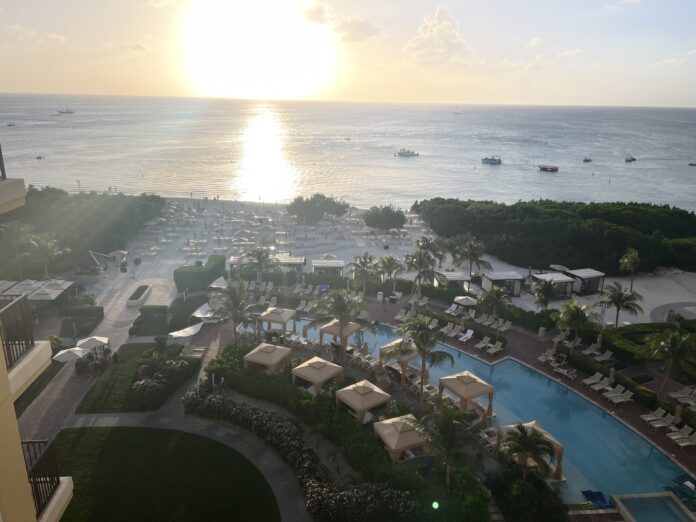 I promise to keep this under 1,000 words… in the spirit of my "Lightning Reviews" that are intended to give you all you need to know if you might want to stay at a particular property without going overboard. This is the Ritz Carlton Aruba.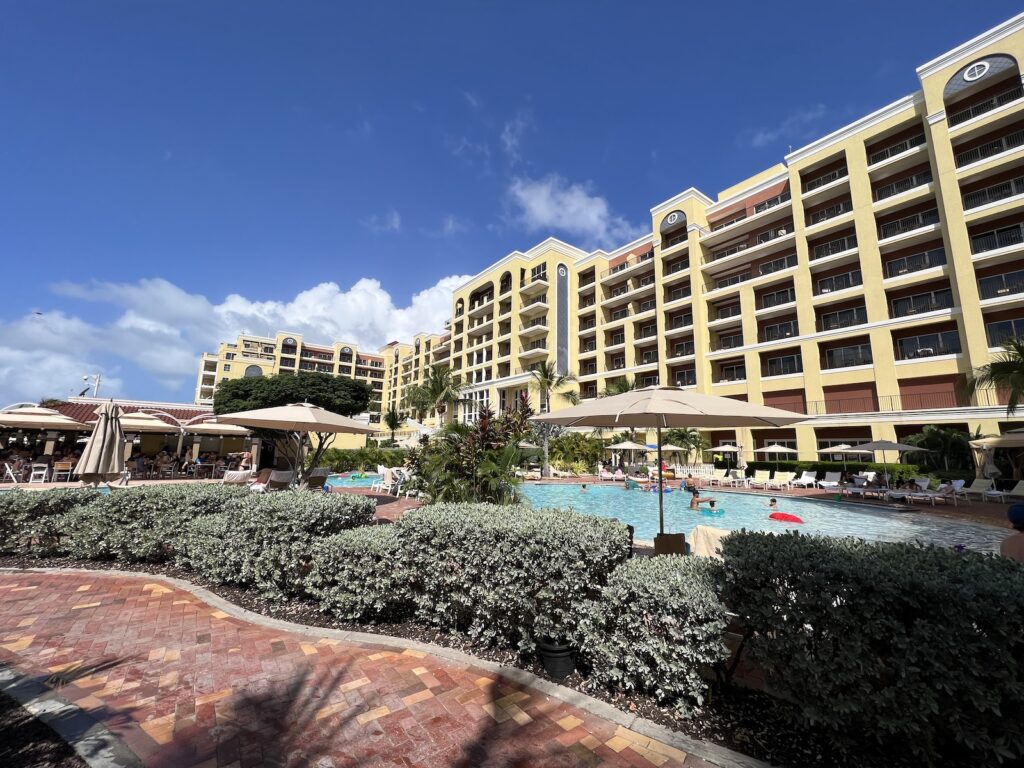 Booking
It's always a challenge to make a booking over the Christmas – New Years week. The prices are always ridiculous compared to most other weeks, as you would expect, but sometimes when you book far enough in advance, you can make it happen.
About 6 months ago, I was able to score 5 nights for 400,000 points total plus $130 a night  as an upgrade fee to an oceanfront room at the Ritz Carlton Aruba. I didn't actually want to reserve an upgraded room type, but it was the only room available and I knew it was that or nothing. True enough, I never saw availability the rest of the year (I kept checking for a room without an upgrade fee but it was just sold out for points).
The cash price was about $1,900 a night after all taxes and fees, so an average of 80,000 Bonvoy points a night (remember, with Bonvoy when you book 4 award nights in a row, the 5th is free) + $130. The property does have a resort fee, but as a bit of luck for us points people, the fee is as a percent of room rate (15%), which in our case was only $19.50 a night and if we had no upgrade fee would have been $0.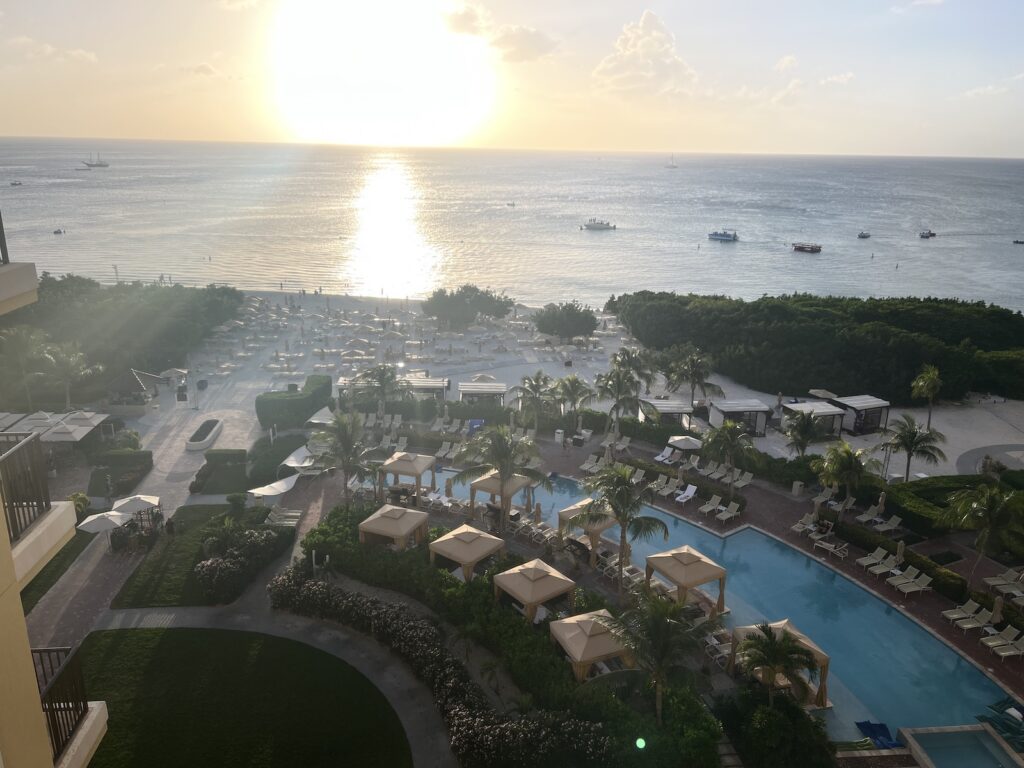 Checking In
I started a dialogue with the hotel over chat while on the plane en route to the resort. As a Titanium, I'm entitled to a base suite (if available!) as an upgrade. Keep in mind that Ritz Carlton has a few quirks: Only Titaniums and up (not Platinums) are entitled to an available suite and no elites get complimentary breakfast nor club access (we were quoted $350 a day each for Club Access).
Now, I didn't *expect* an upgrade being the hotel was sold out, but as we were traveling with our 10 month old, extra space sure would be nice!
The agent on chat gave me a choice of keeping the oceanfront room we already paid the upgrade fee for (probably what they tend to upgrade into) or a two room junior suite without a view. Even though we didn't realize that "no view" meant literally a view of trucks going back and forth to the beach, it was the right call for sure. With a kid, room is much more important then view, especially when the goal is to be out of the room!
Check in itself was quick and uneventful as we'd already secured the upgrade.
The Room
Check it out for yourself! The junior suite had just one bathroom, but the bedroom did have a fully closing door, allowing us to put the baby to bed in his crib in one room and still be able to move around in the other.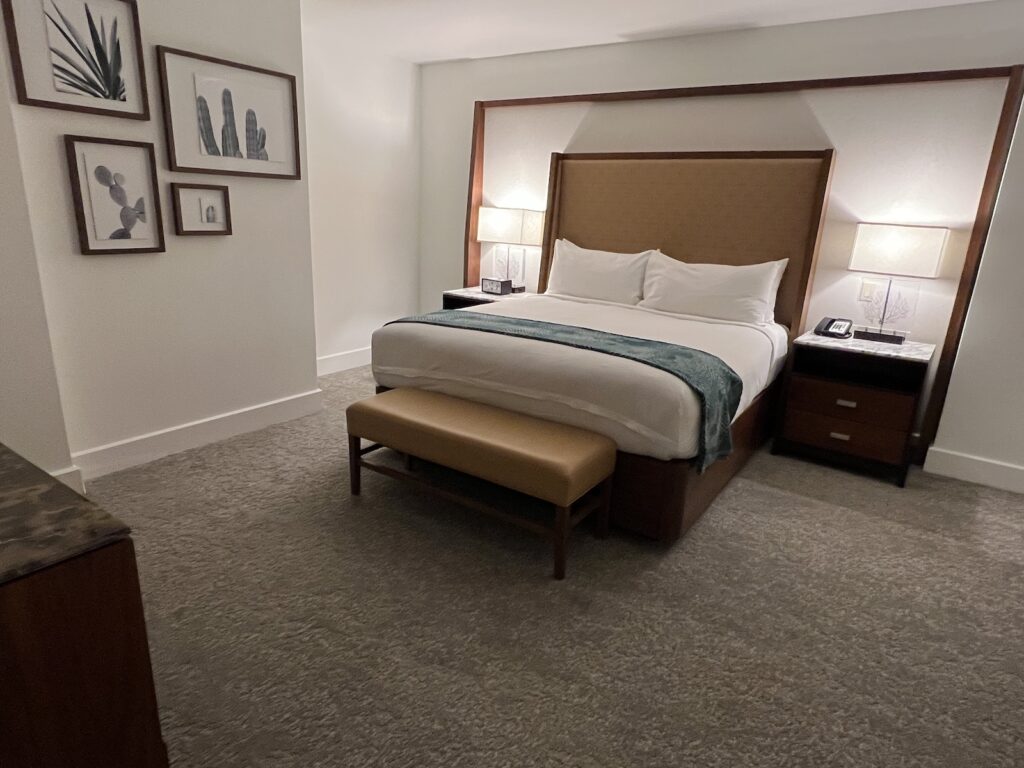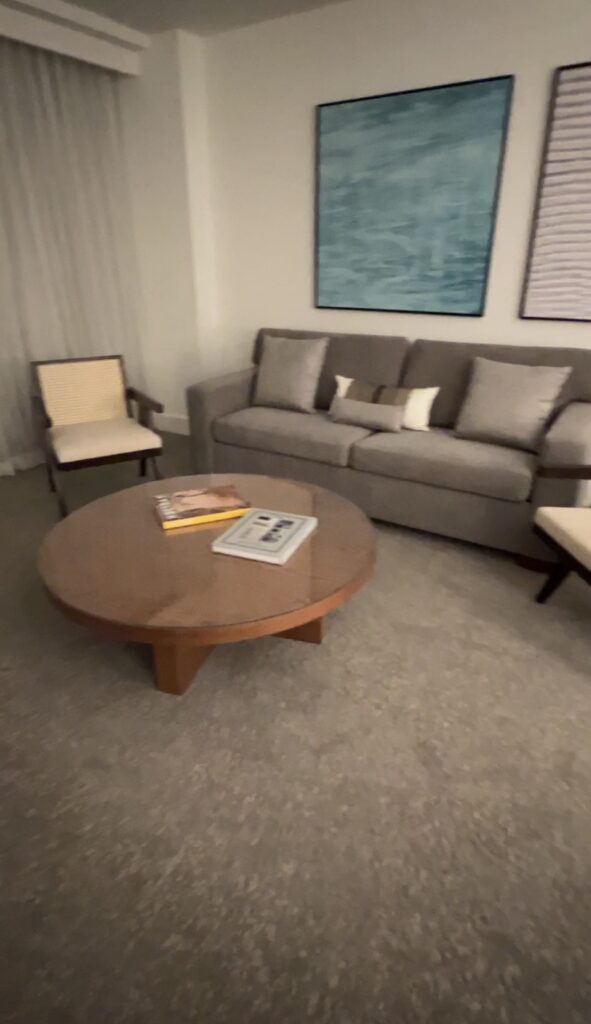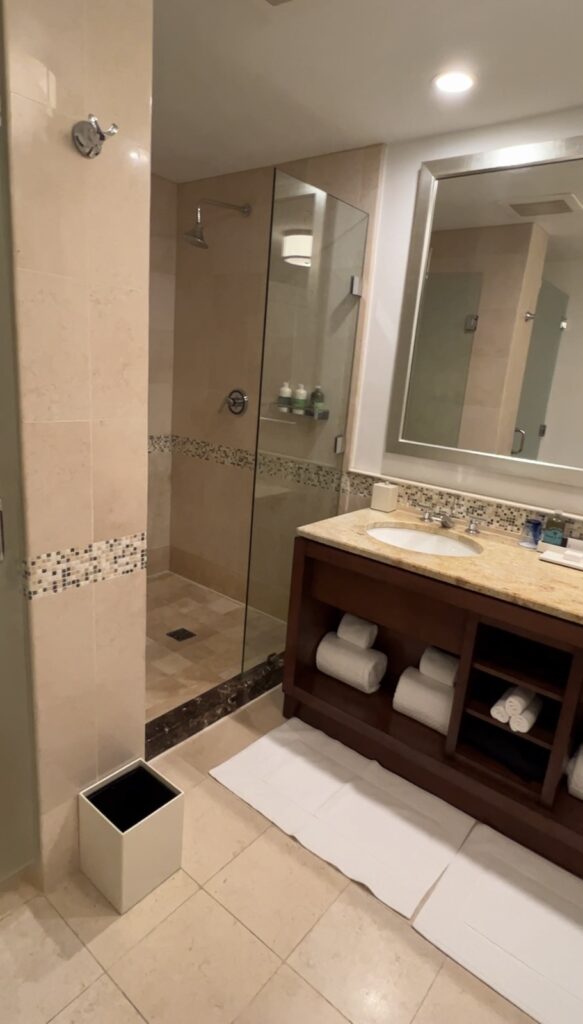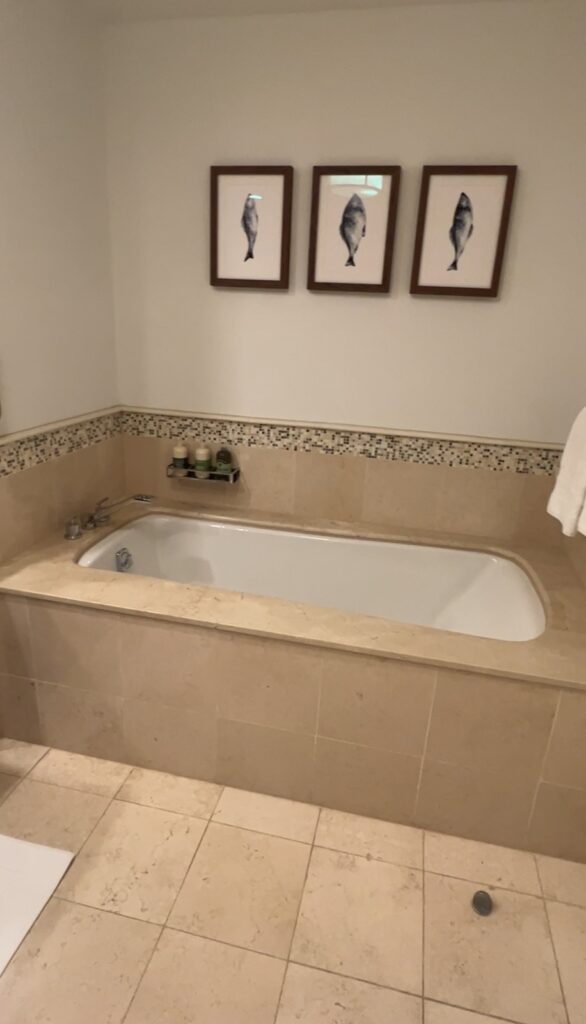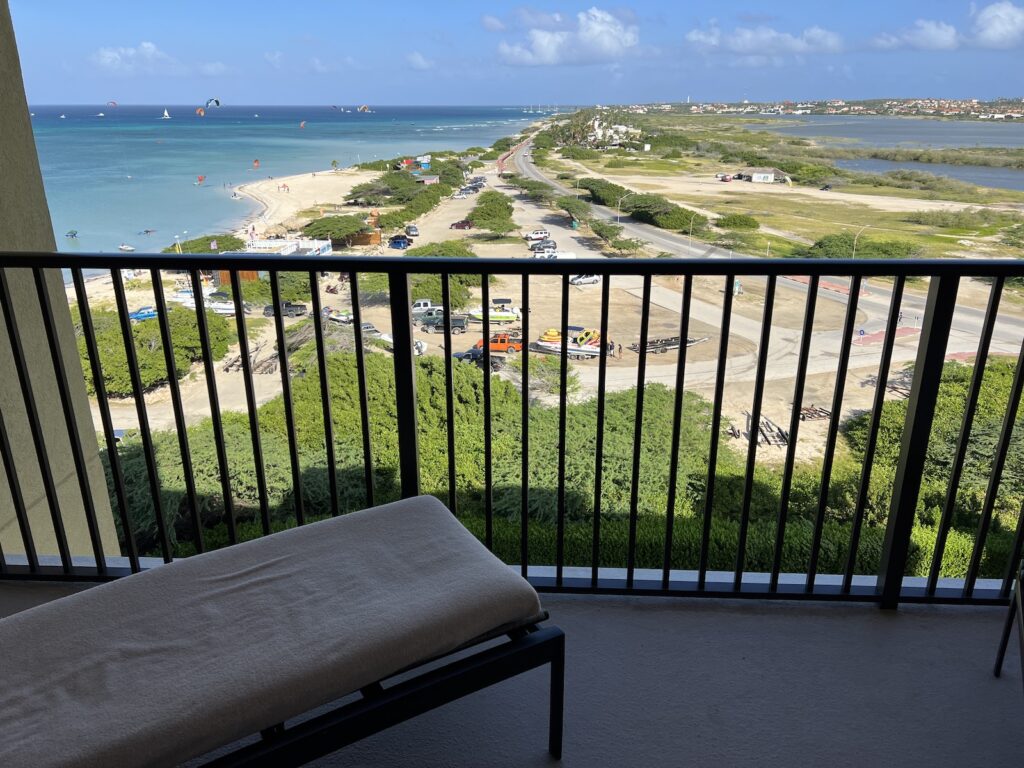 Of course we brought a monitor for the crib and also a SlumberPod.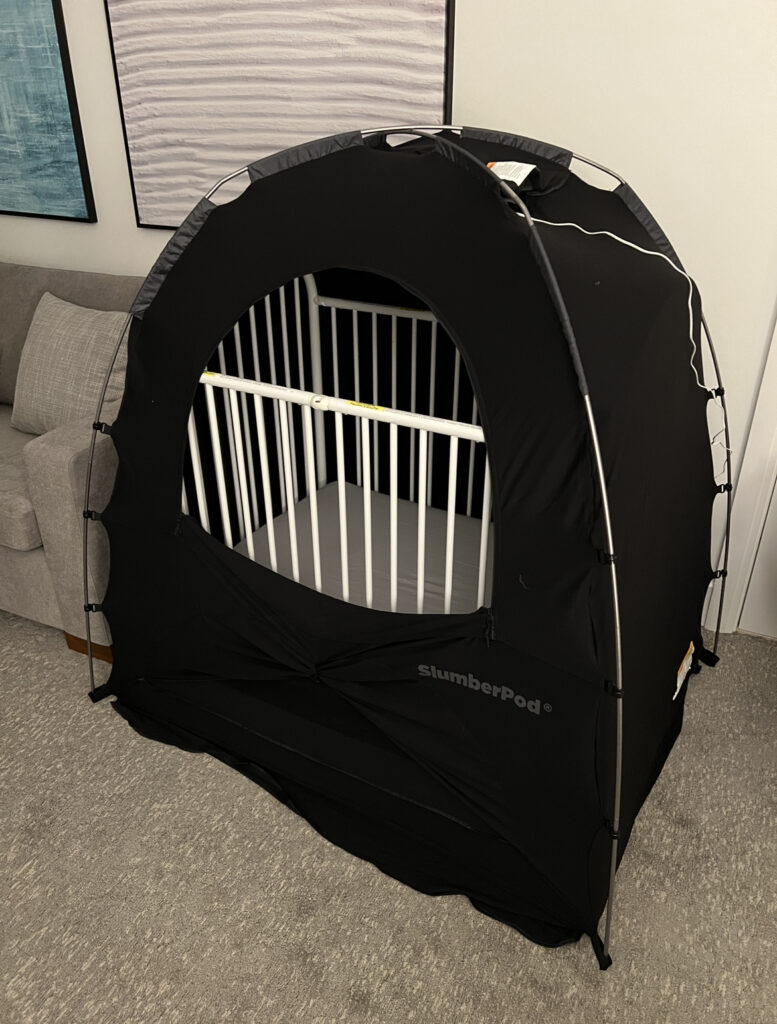 I loved that the balcony had both a table and chairs for dining (we did have room service there our first night) and two chaise loungers. Despite the lousy view, I loved lying in the one facing the ocean and just keeping my eyes left where the ocean was 😉
Kid Friendly
If you are going kid-free, you won't at all feel overwhelmed by kids. It's not the sh*t show the Waldorf Astoria in Maui was. But if you do have a little one, they make you feel very welcome and do all they can to assist. Aside from the Kids Club (for ages much older than our son at 4-12), they have mini-loungers for kids, both singles for the beach and doubles with a cover by the pool. They are over the top cute.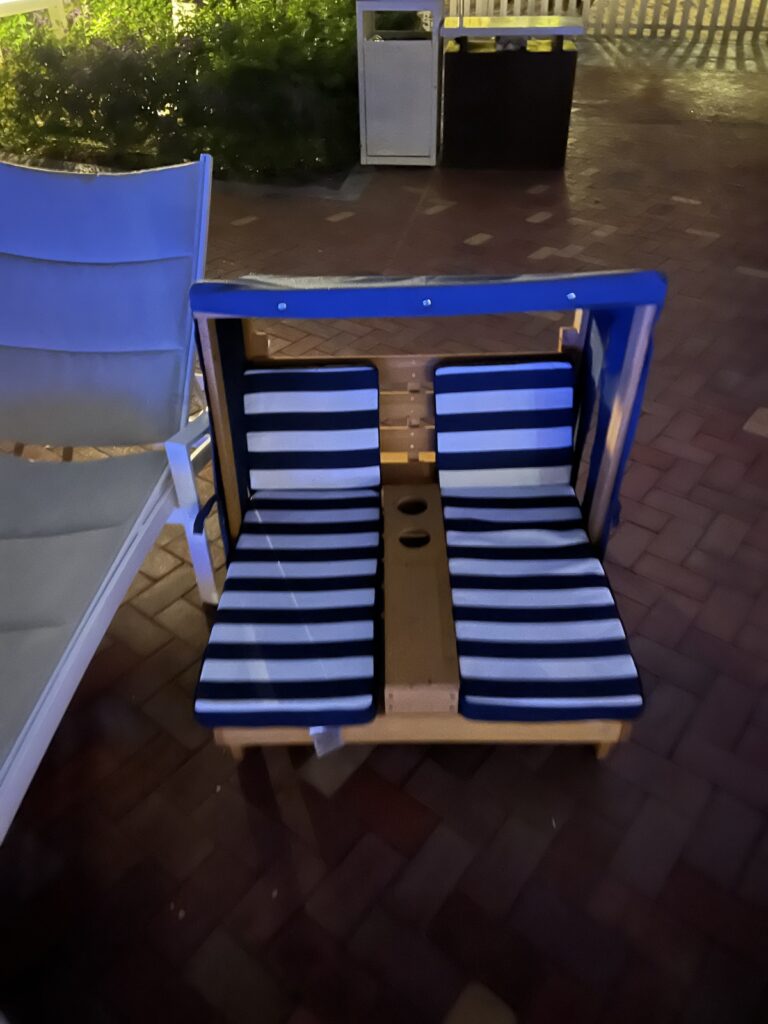 One note: If you do have a baby that needs a crib, they will provide one if you pre-request one, but you have to bring your own fitted crib sheets. Somewhat astonishingly, the sheets they provide for the cribs are not fitted – which is a major SIDS risk.
Pools and Beach
Despite the beach being public, they have tons of beach chairs and provide beach service, even shooing away outsiders by checking rooms numbers/names. (the beach is public but the chairs are not). The water isn't quite the bathtub temperature water I expected, but it was certainly warm enough!
They have two pools, one for adults and one for kids. Off to the side of the kids pool is a jacuzzi. There is also food and drink service by the pools.
I would have loved if they had any sort of special elements like a swim up bar or a waterfall, but it was beautiful nonetheless.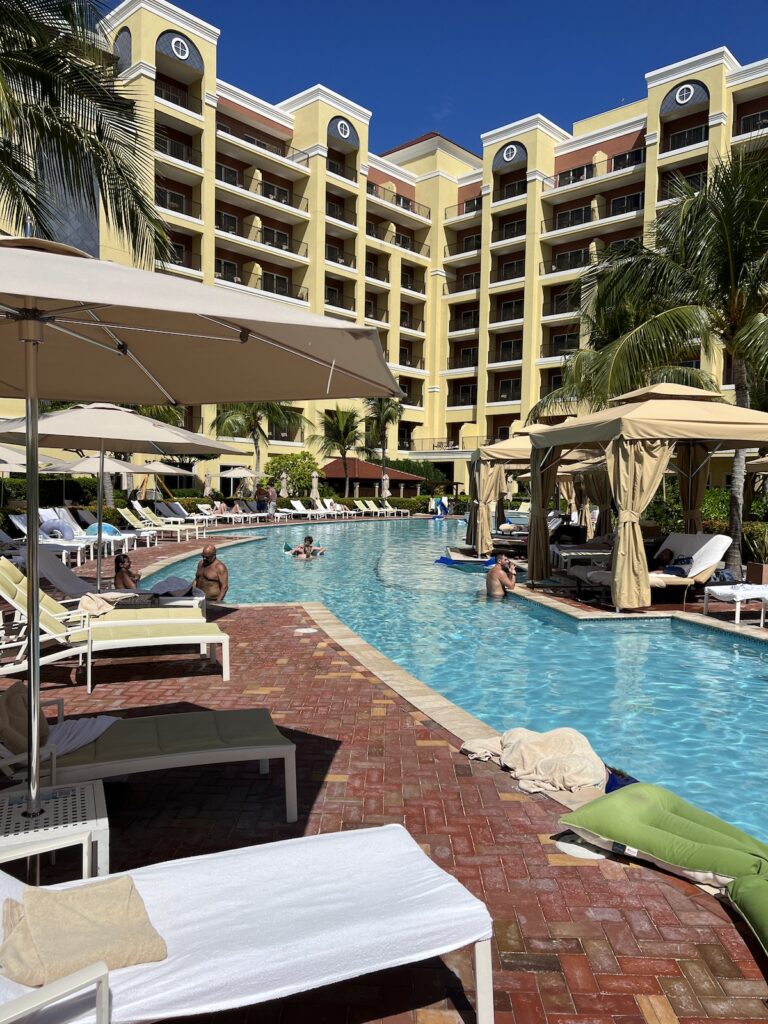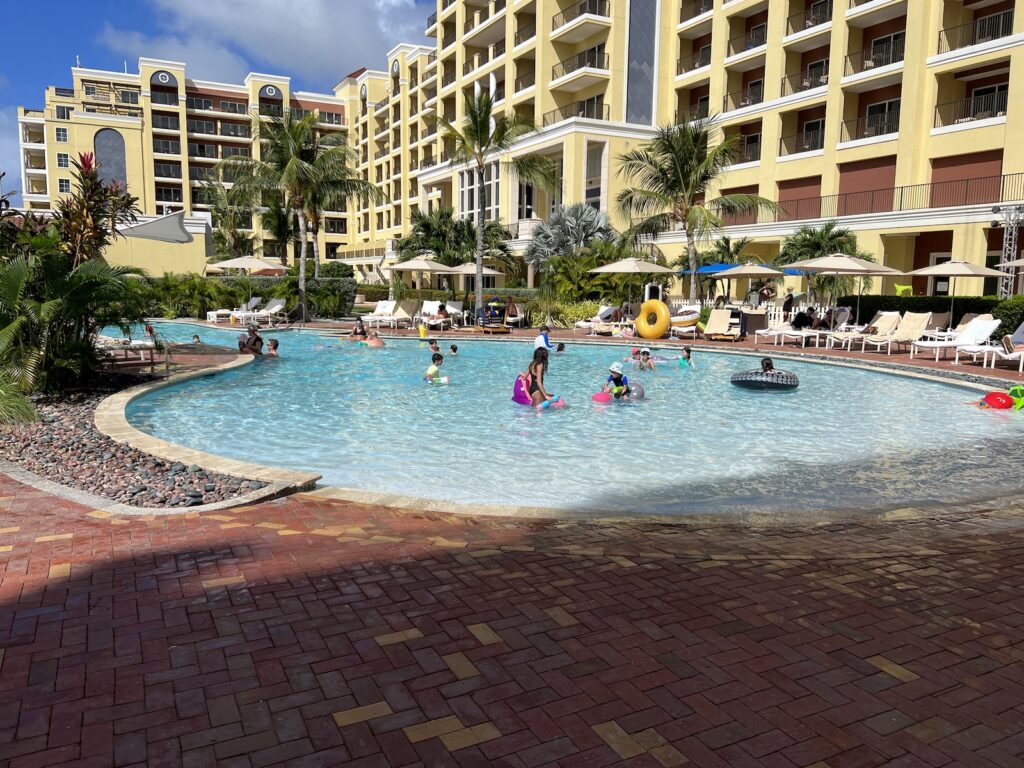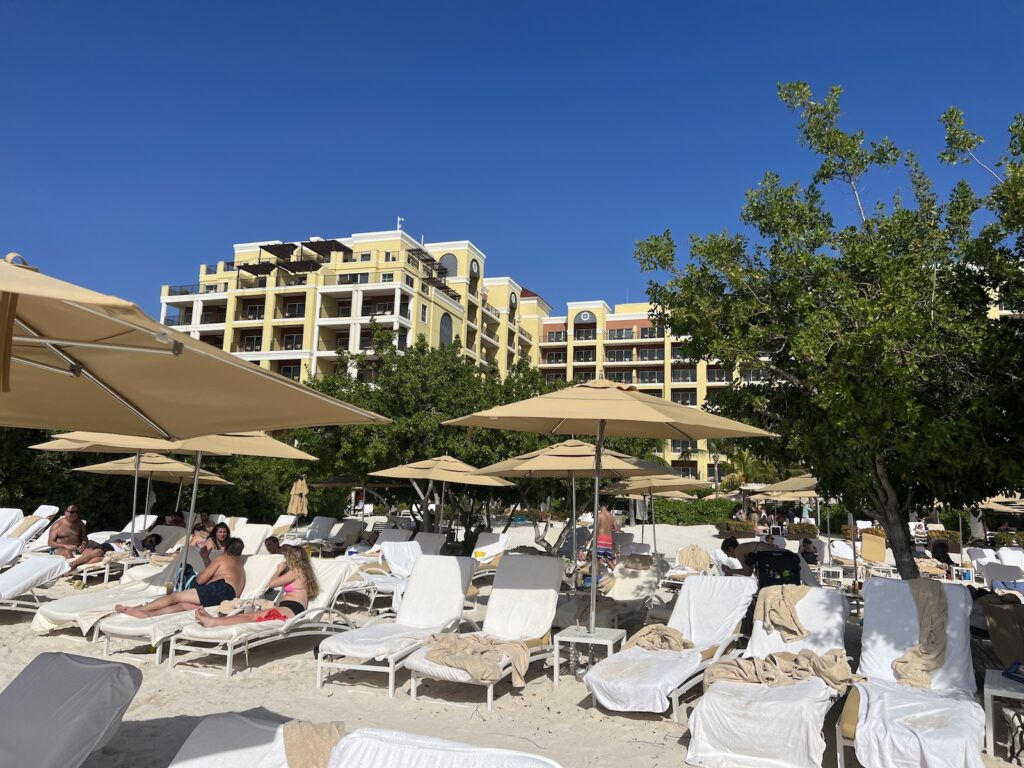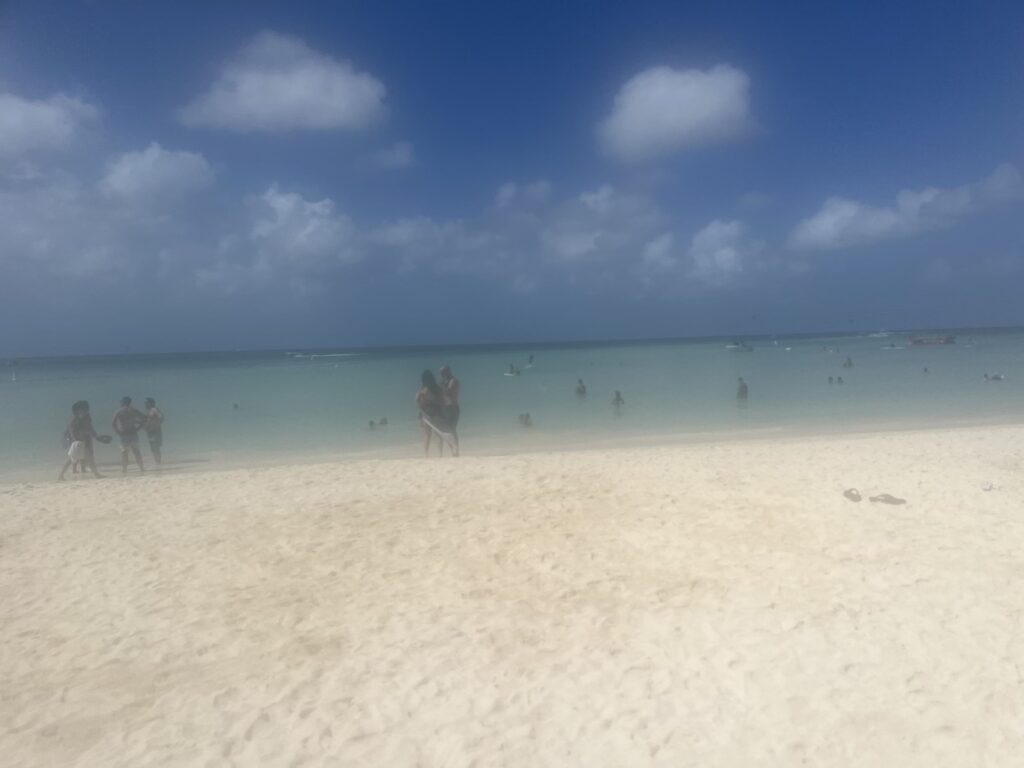 You do need to get down there relatively early for good seats, so be aware of that, though if you don't mind a "bad" spot, as late as 10am should be fine. Everyone gets chairs before they have breakfast.
They also had a really nice reception just for Bonvoy elite members one night. I think it's just once a week. Open bar and snacks. Quite nice.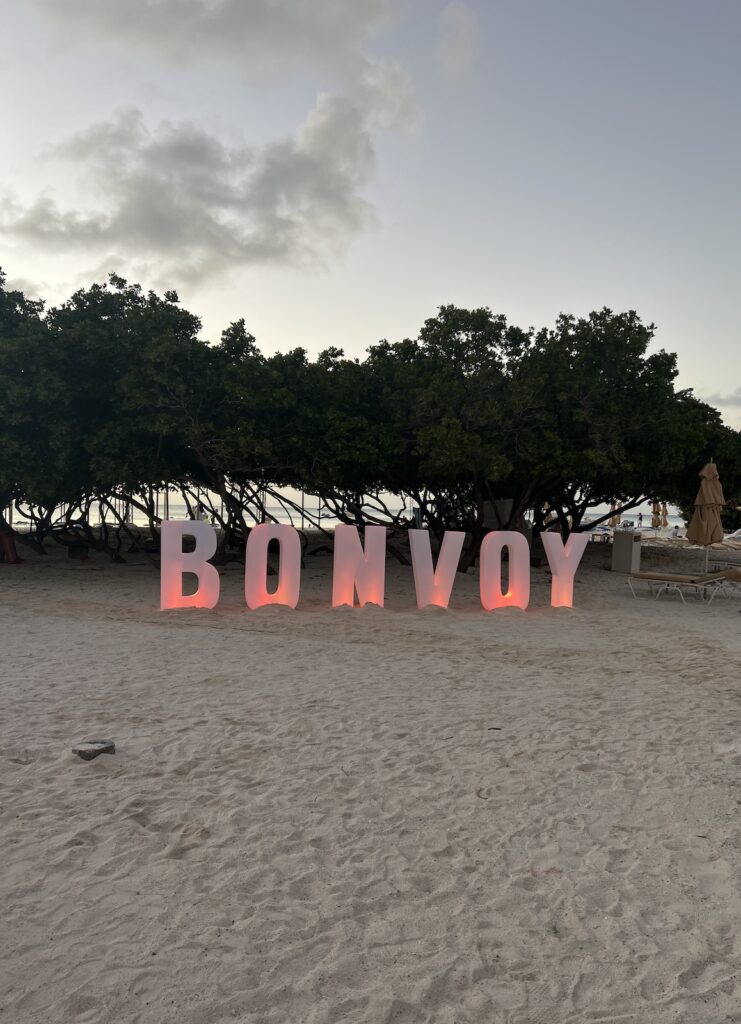 Breakfast
Keeping in mind that it's not included for elites, we had the buffet breakfast twice anyway. The first morning, it was great to be able to get snacks like yogurts for our baby and just hit the ground running. We also wanted to see how it was! Well, it was super mediocre. The egg station was solid for omelettes and any egg type you wanted, and they also kept pumping out fresh waffles. Everything was pretty "usual" including the a la carte menu. I really like to see local flair at International resorts but this felt like a typical Marriott buffet rather than a Ritz Carlton buffet, except for the $37pp price.
The other option for breakfast was the coffee shop, Ritual Coffee Culture, which was fine. They had breakfast sandwiches and coffee, etc, as you'd expect. Not bad, not memorable, but definitely cheaper than the buffet! They apparently have cold brew but each of the three days I tried to get it, they were sold out for the day already. They may not have accounted for the holiday week!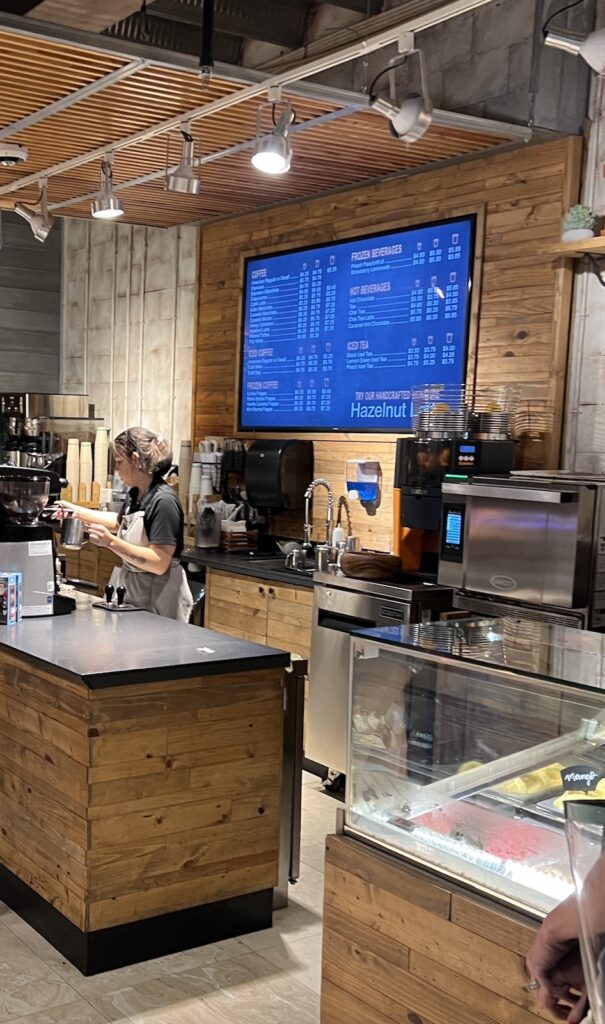 Note that you also have the option of walking next door to the Marriott Stellaris (5 minute walk) to grab Starbucks if you'd like.
Restaurants
The Ritz Carlton Aruba is not all-inclusive, not that I think you thought it was.
If you want to semi-pretend you are in New York, you've come to the right place. They have BLT Steak and an Italian spot called Casa Nonna – New York, NY on the high end. BLT Steak was truly excellent and I even splurged on some Wagyu. Casa Nonna was just OK, which may explain why this New York restaurant has no locations in New York City. I assume they once did though I never came across it in my 22 years living there.
Breakfast is in Solanio and there is a sushi restaurant off the lobby called Divi which had very nice food. They don't take reservations but it's not hard to get a table and you can also order "to go" if you want to bring it to the pool or beach. Otherwise beach and pool service is off the Madero Pool & Beach Grill.
Service
I was super pleased that the service was truly Ritz Carlton standards. For instance, at check in my wife asked about some bottles of water (she drinks a ton of water plus we make the baby's formula from powder mixed with water) and they had the bellmen bringing our bags up also bring us THREE cases of water. Now, that is luxury service…
On top of the free cold or room temperature water you can always collect from the front desk (or ask to be brought up), there are water stations everywhere by the pool and beach, so you can refill your bottle super easily.
When you are the pool or beach, service is always "at your service" meaning that you never have to hunt long for your server nor do they overwhelm you when checking in.
Casino
You know I like casinos and I especially liked this one. It's small, but not too small. It has brand new / modern slots, a nice variety of table games (for a small casino), friendly dealers and, most important to me, reasonable table minimums. I logged 10 hours over 5 days on Ultimate Hold 'Em because the minimum was $10 (which is still a $40 average bet per hand). Had the game been $25, I'd have never even sat down.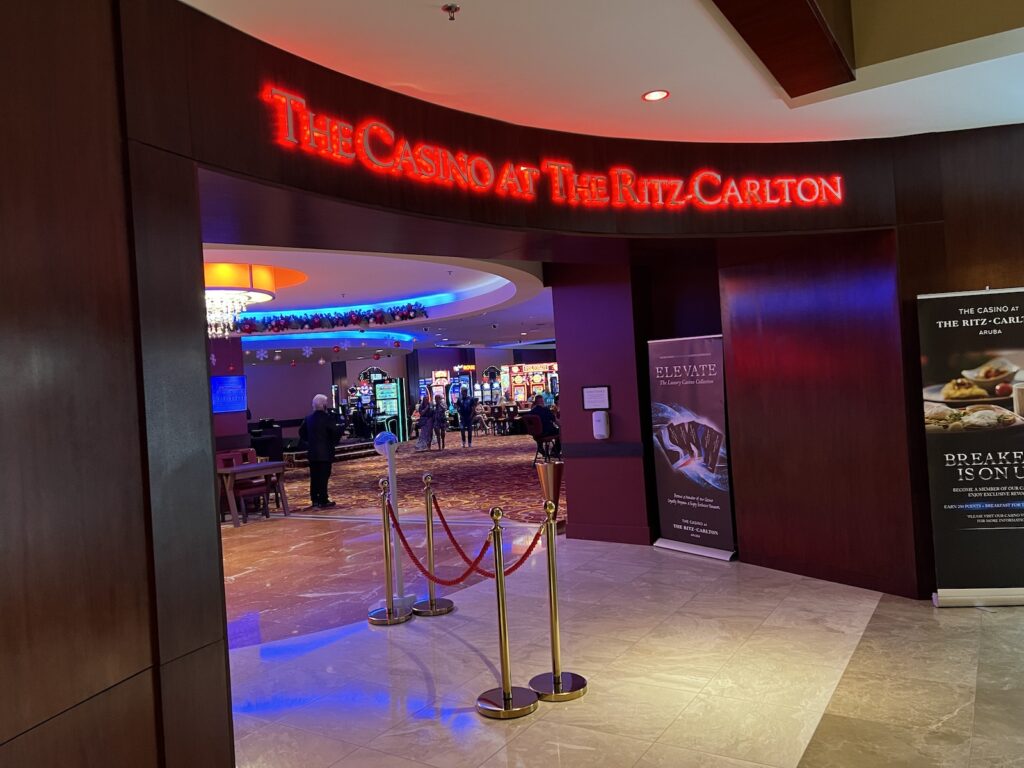 They also had a few nice promotions for first timers. You get a free slot play match based on your tier. Platinums get $30 after they do $30 of coin-in; Titaniums get $40; Ambassadors get $50.
Also, if you earn 250 points over your entire stay, you get a free breakfast for two, up to $86. Even with two buffets, that leaves a nice balance for tip which the casino will also pay.
And then, you are earning comp dollars so be sure to see them before you check out. I had a nice amount comped off my final on-property F&B.
Lastly, they just launched a tier program that I absolutely love, where real gambling gets you amazing perks, right up to a 5 night stay at the Ritz Carlton Aruba. Wouldn't it be great if there was a Tier Match program? Well stay tuned…. I'm working on it 😉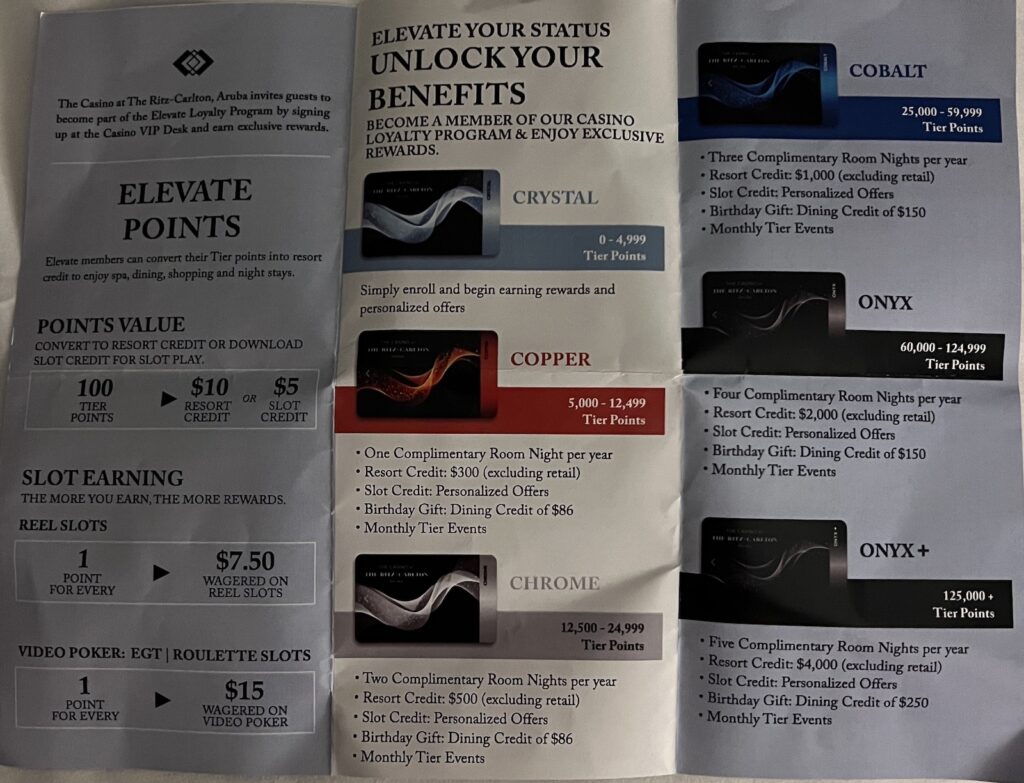 I have to say, I absolutely love beach vacations with nice casinos. I love to gamble. My wife does not. In this scenario, the whole family is together all day and evening. My wife heads to bed early as she prefers to do, and I head downstairs for a few hours. Perfect.
Taxi From the Airport
FYI, you really don't need to advance book a fancy car like the Ritz offers via a partner ($130 one way IIRC) when the taxi's are just $31-$40 (variance for extra bags and time of day/year). You can get taxi SUVs as well (same price) if you have a lot of luggage and a baby, for example.
We did the same on the way back. Note that there is no Uber or other ride-share on the island of Aruba.
Bottom Line
Aside from the stress of getting there (you may have read my Twitter thread where Delta cancelled our flight hours before takeoff due to crew issues and didn't bother to tell us nor could they rebook us), we had an amazing and relaxing time. The staff was amazing, the vibe was decidedly upscale, the beach and pools were great, Aruba has great weather year round, and we were able to use 400,000 Bonvoy points for a stay worth close to $10,000 (due to peak holiday season) – or close to 2.5cpp if you are into that sort of thing.
Would we go back? At a reasonable rate, with points, or perhaps on a casino rate/comp, absolutely. I had hoped to extend the trip to compare it with the Hyatt, but alas I could not find any availability at the Hyatt to make that happen.
Lastly, about that 1,000 words or less. I failed. But I kept it under 1,800 words 😉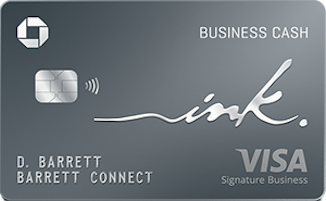 Thoughts?
Let me know below in the comments, on Twitter, or in the private MilesTalk Facebook group.
And if this post helped you, please consider sharing it!
You can find credit cards that best match your spending habits and bonus categories at Your Best Credit Cards. 
New to all of this? My "introduction to miles and points" book, MilesTalk: Live Your Wildest Travel Dreams Using Miles and Points is available on Amazon and at major booksellers.