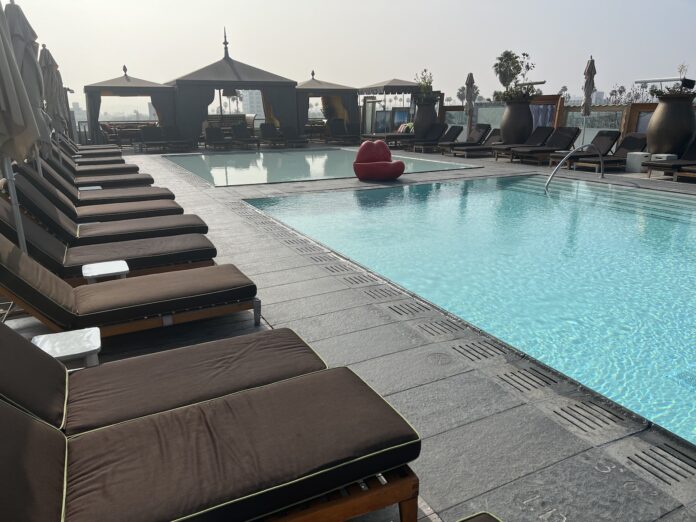 Just before COVID, I did a run of West LA Marriott Bonvoy properties to see which offered the best Titanium treatment.
On that trip, I visited:
This time, I went just a bit east of the 405 (the freeway that unofficially divides the more relaxed West Los Angeles from LA proper) to check out the SLS Beverly Hills, a Luxury Collection property.
This was one of my last Citi Prestige 4th night free bookings made via the live concierge (no more Citi Prestige 4th night free changes are allowed, so these are almost completely done now) and therefore still entitled me to all on-property status benefits.
This will be one of my "Lightning Reviews" – what I think you need to know and no more (and no less!).
Pre-Arrival
I had a very specific upgrade hope for this trip and that was one of their 2nd floor rooms with a patio.
I chatted with the hotel the day prior and explained my hopes. I actually still had a reservation booked for the same days at the W in Westwood and was hoping a nice SLS upgrade would make my decision.
After a few back and forths, they graciously allotted me the terrace (patio) room based on my Titanium status. Score!
Arrival
I arrived without a car as I'd be picking one up the second day of my stay. As an aside, the price for a 4 day rental at Hertz was $550. The cost to rent near the SLS was $180. So I Ubered from LAX the first night and picked up a car the next day.
When we pulled up they quickly extracted my bags from the car and pointed me in the right direction. Check-in was very smooth and it was explained that breakfast for Titaniums would be a $35 pp credit in the restaurant.
The Terrace Room
Loved this room! Check out the private patio. Hard to beat! (Well, unless it was a terrace suite ;-)).
Room was well appointed and happily the mini bar fridge didn't have sensors, so I could store a few drinks there without worry.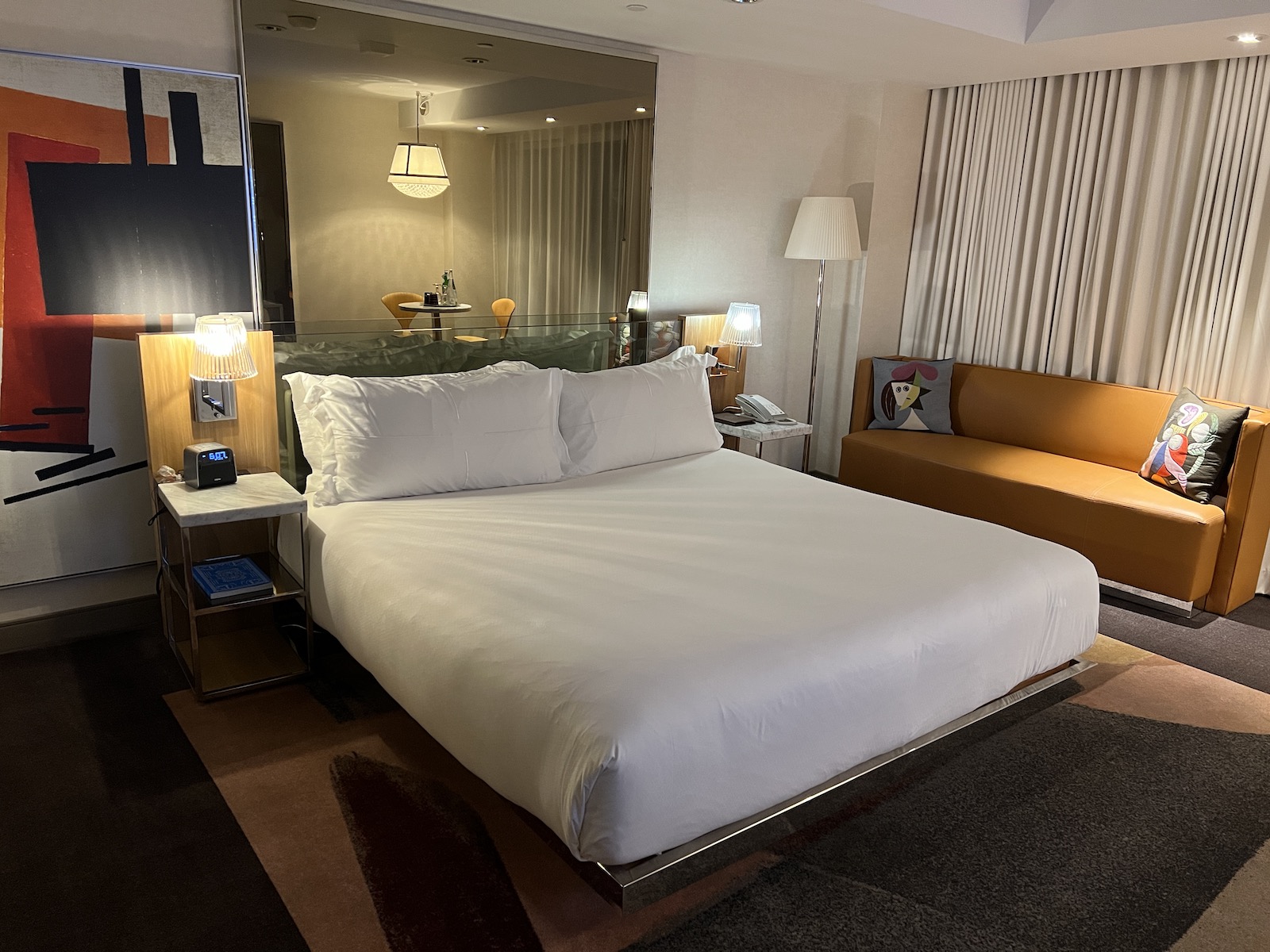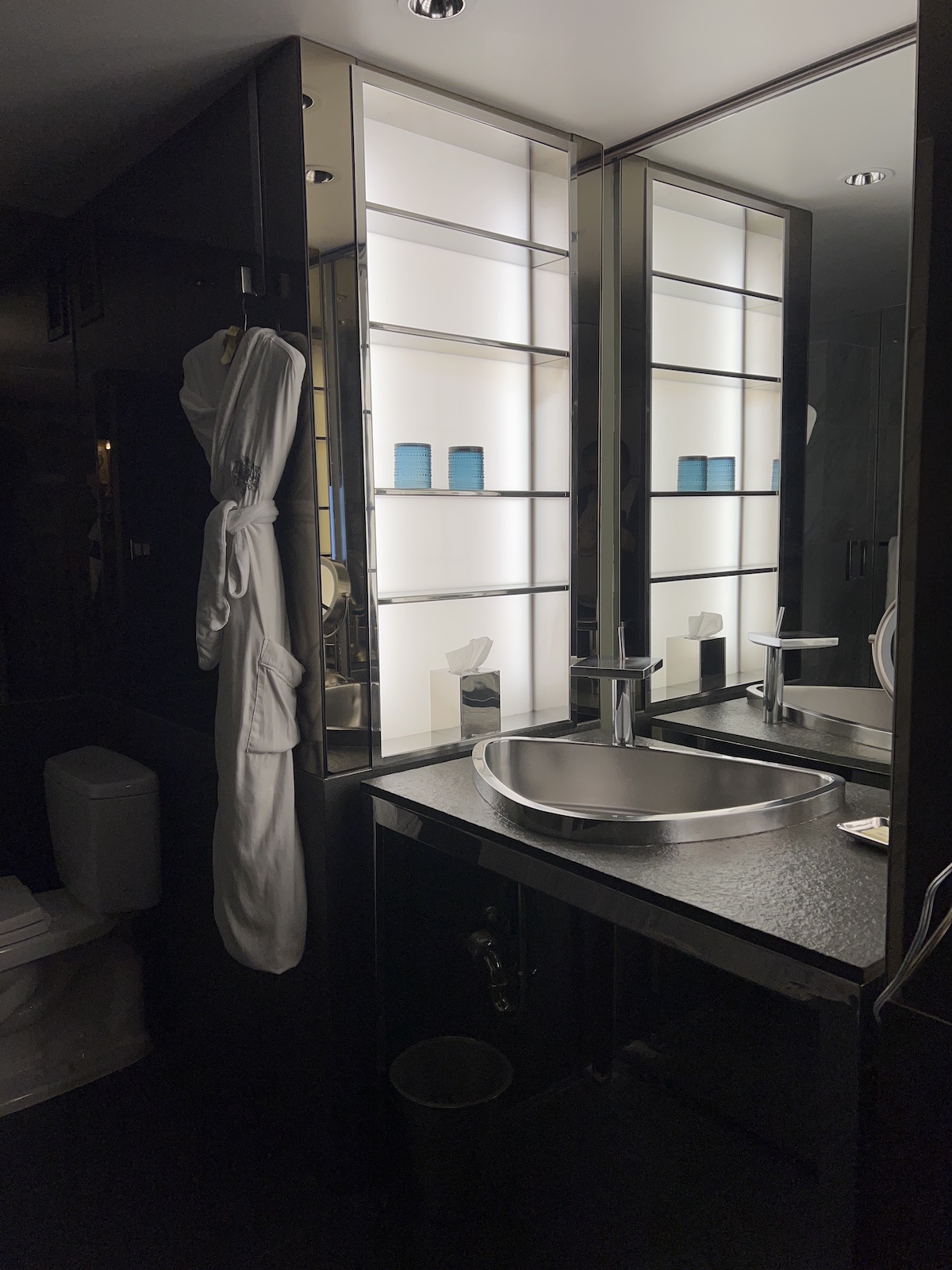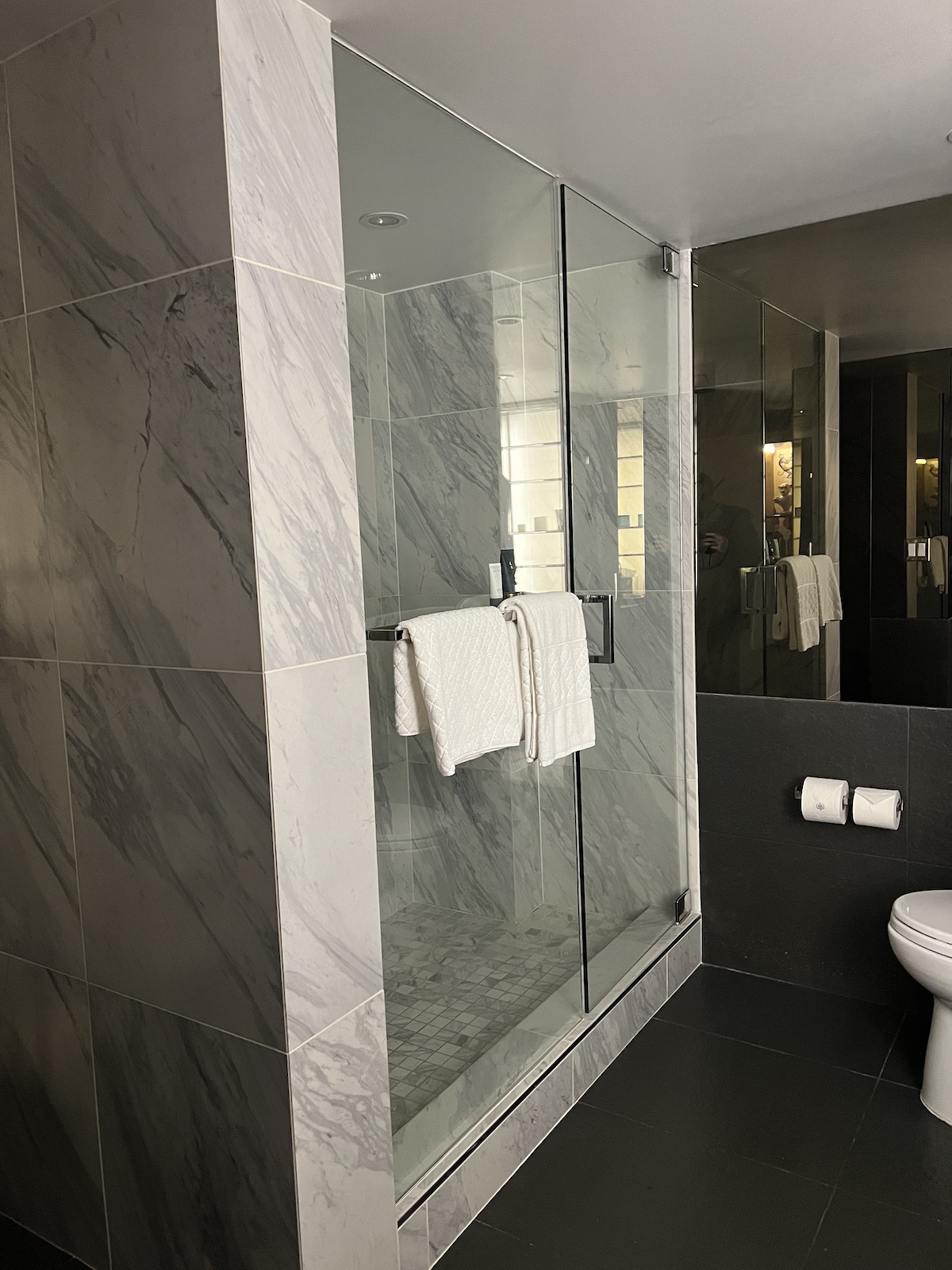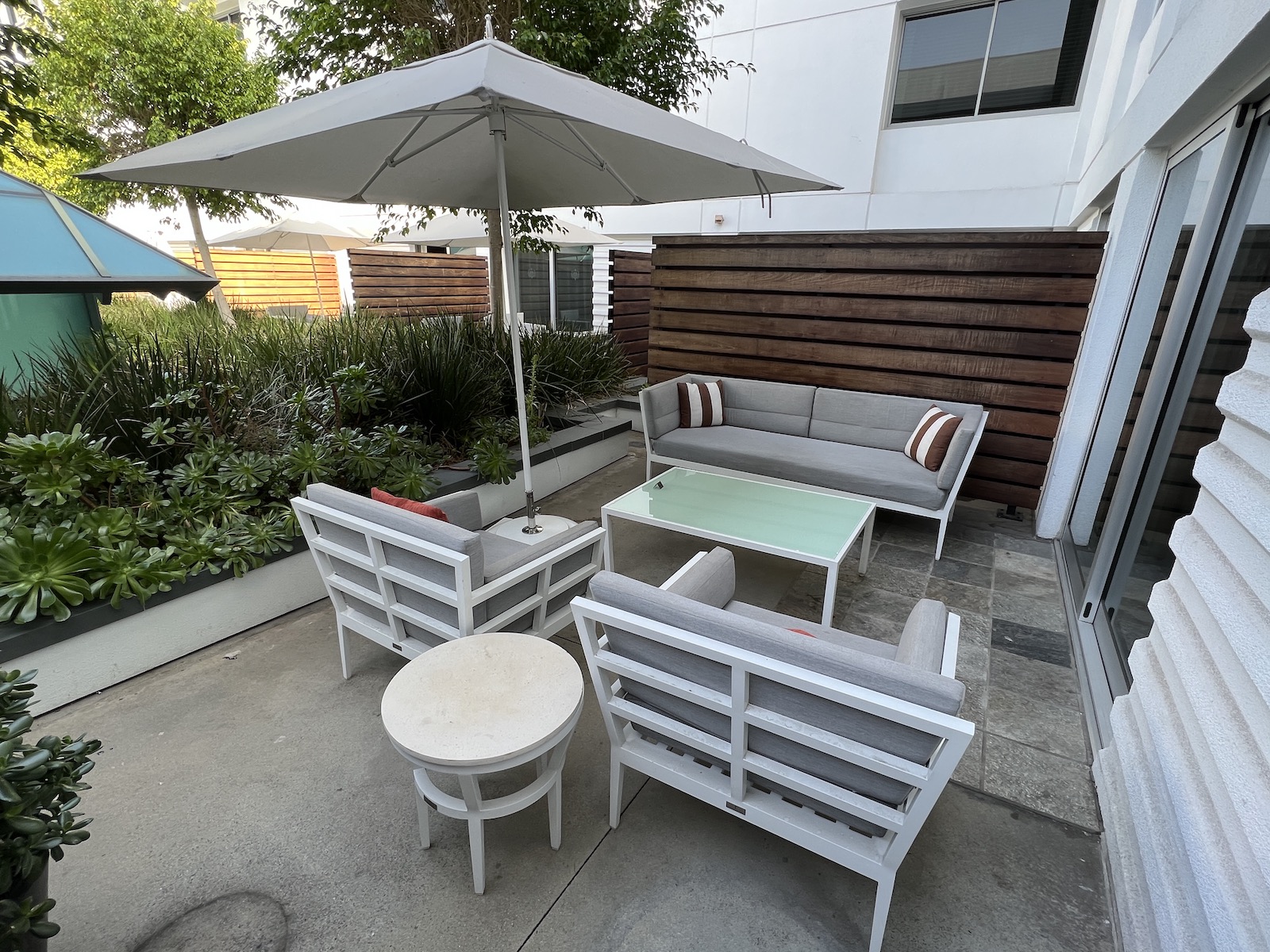 The shower was great – although a bit odd in that there was no way to reach the faucet and not get slammed by the water before you could feel the temperature. Not a big deal for me but could be for someone with difficulty moving about.
Housekeeping was some of the best I've had, COVID or not. Daily housekeeping was standard and the housekeeper had wonderful attention to detail.
Two free small bottles of water were provided complimentary daily.
Breakfast
I'm labeling this Breakfast and not Dining as the flagship restaurant here (Bazaar by José Andrés) has permanently closed. You can dine poolside as well but it's not "special."
Breakfast was a huge letdown. The menu is beyond unimaginative (see the menu below) and although the food was actually very well prepared, I only ate it one of four days. Another day I walked over to Eggslut in the Beverly Center (a MUST if you've never had it) and the other two days I kind of almost had breakfast but couldn't psych myself to sit there for 30-45 minutes for it.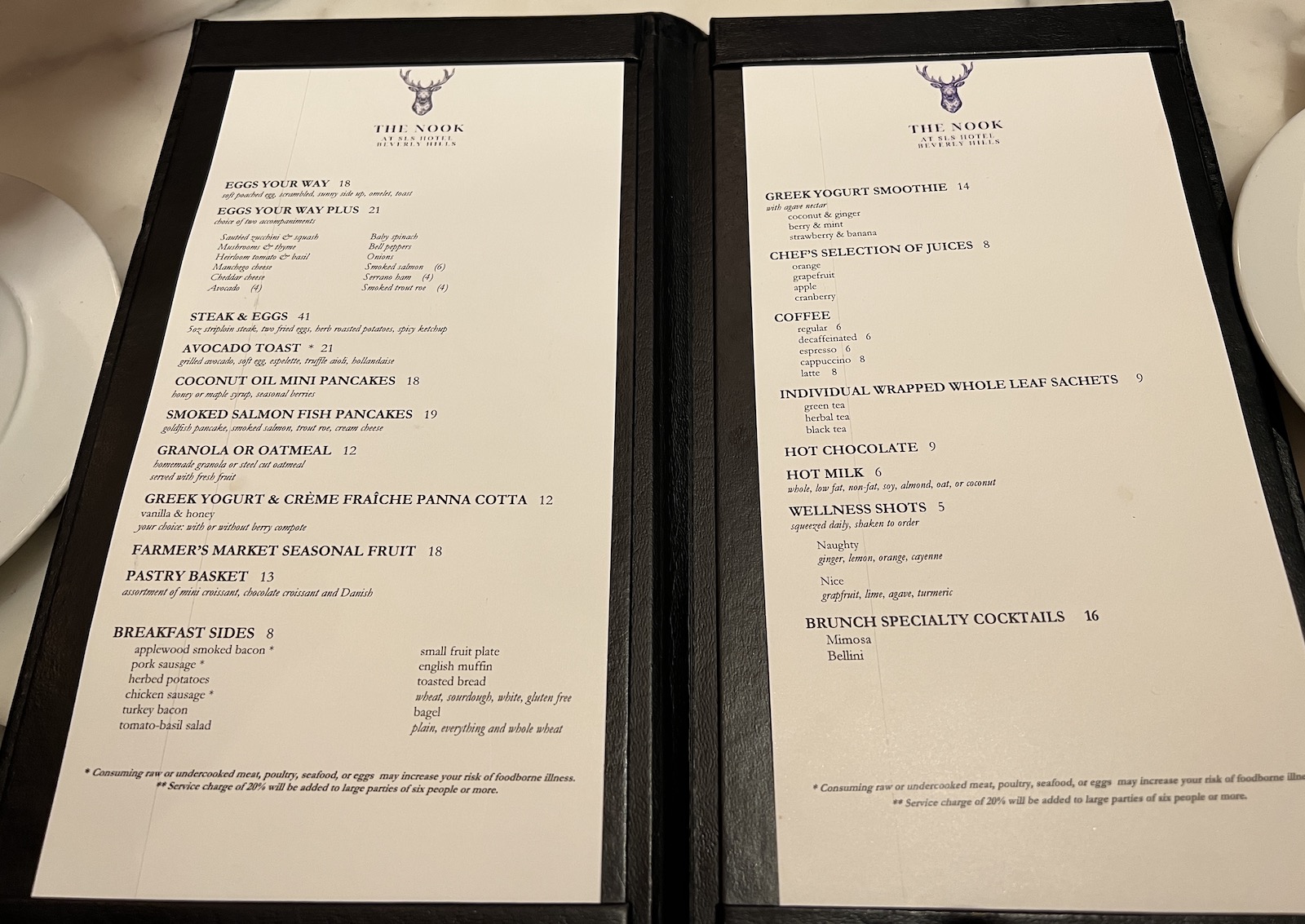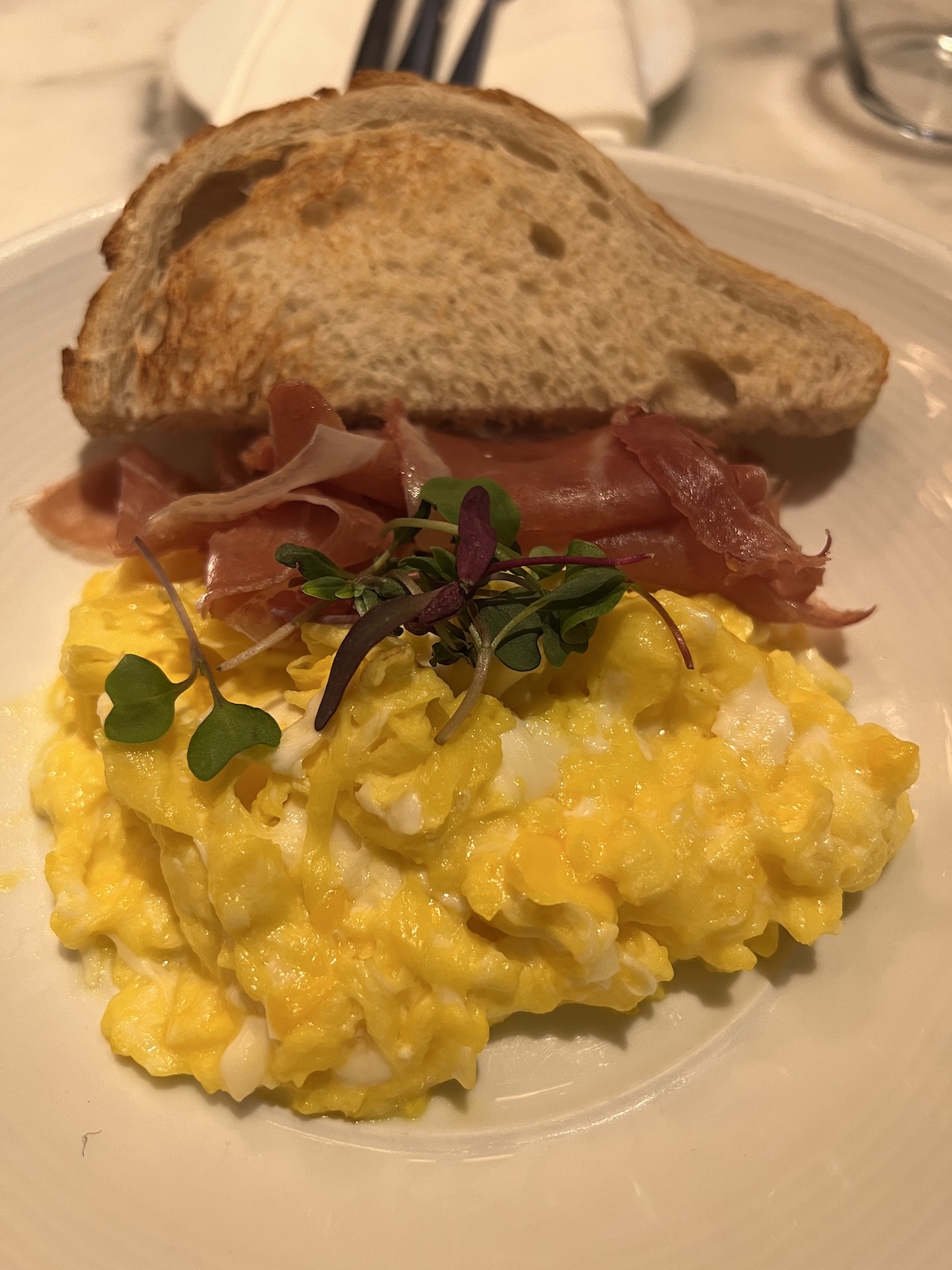 That said, you get $35 credit for one person or $70 for two which did cover things. This includes tax and the auto-gratuity (I think that was 18%), so you have to dial it back accordingly if you don't want to go over. I'm not entirely opposed to exceeding a credit – but not for a boring breakfast. I was just told that if I went over I'd be charged, but didn't know all the percentages to add so it was a guessing game. At the end of the meal I was told I'd won and the credit covered it all. I didn't have to sign anything. (I do prefer when you simply aren't charged vs. a room charge to be deducted later.)
The other days, I just got some coffee to go.
Parking
Boy oh boy, this is how they get you!!
$60 + tax (15% or so) for a cool $69 per night to park a car. And I bet 99% of people pay it, because the hotel is not in an area with much street parking. Plus, you do need a car here.
However, if you know me at all you know how much I hate paying more to park than I paid to rent the car! So, I did some walking around and asked some local workers and did discover two places around back from the hotel to park.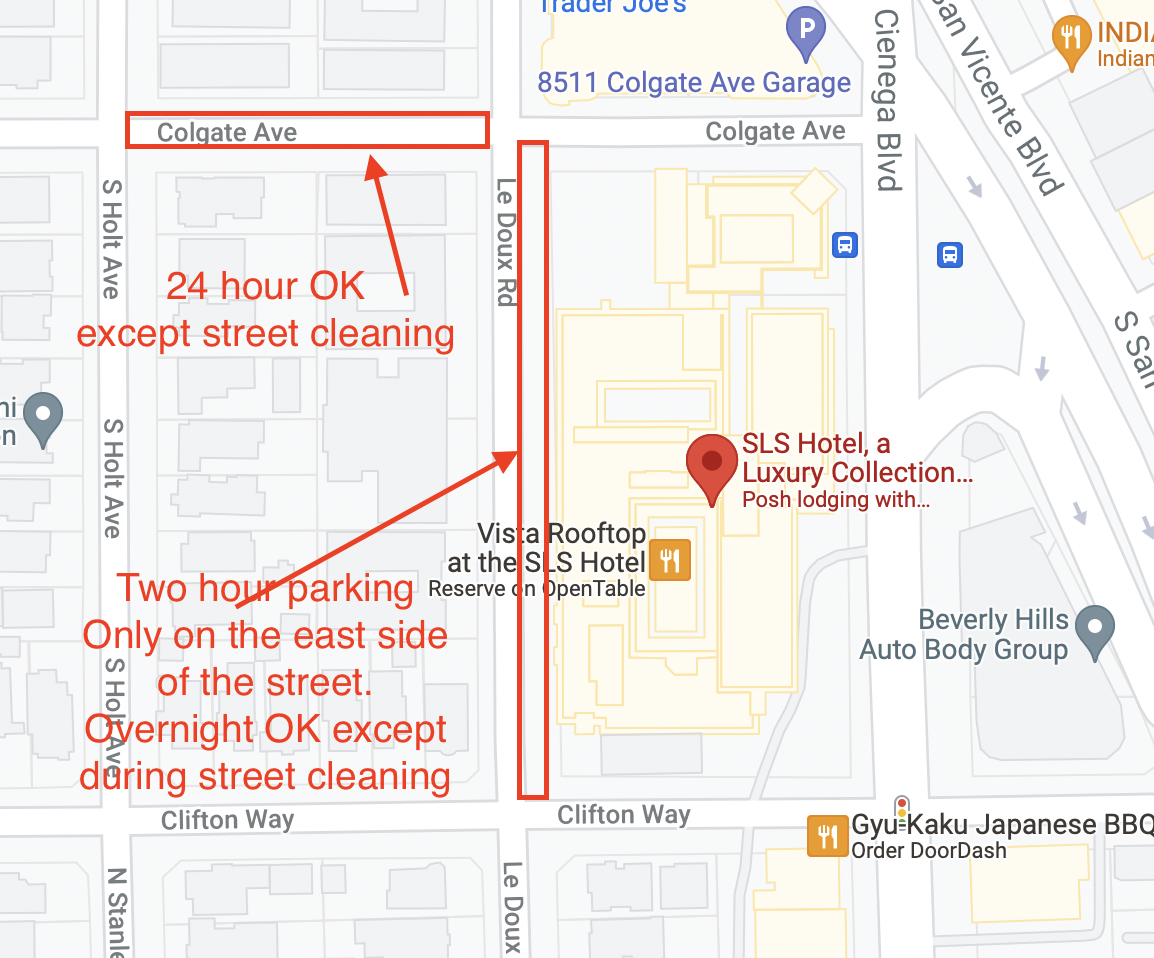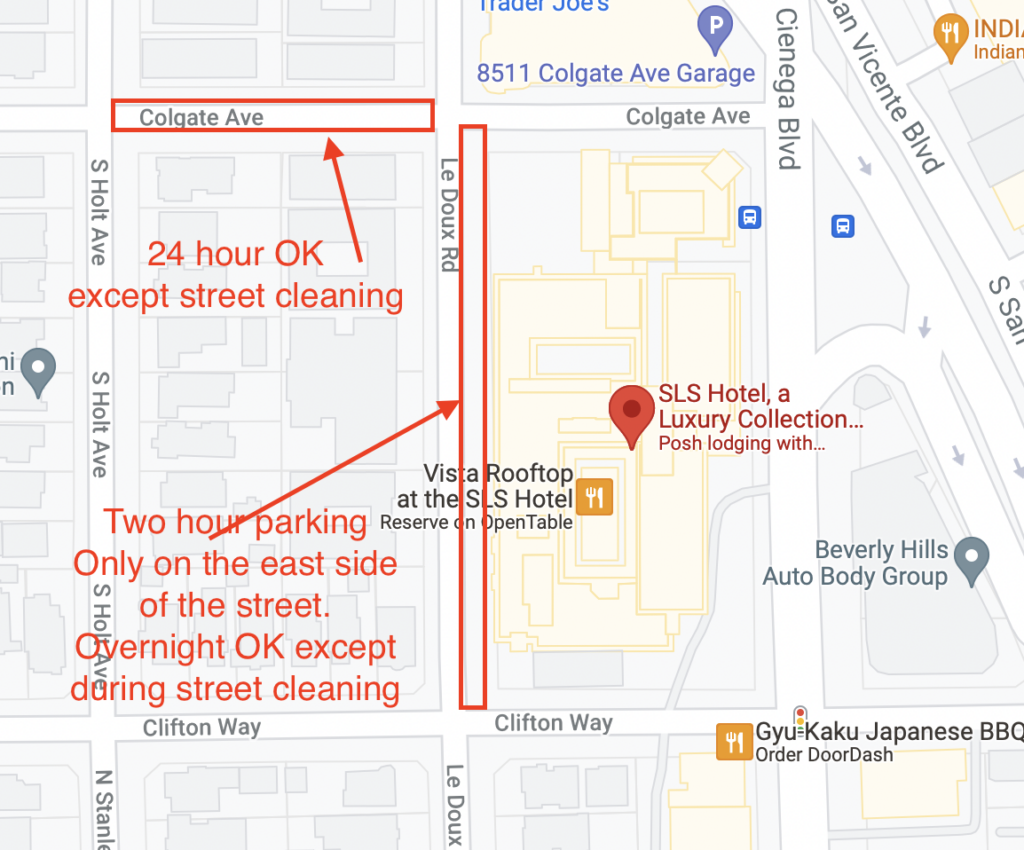 See my map. Ask if unsure. And if you aren't super brave about this, just valet 😉 Keep in mind I have spent many months in LA and know my way around, so you may not feel comfortable doing this. I am simply offering my findings if you are like me! Don't deviate from my two locations shown unless you are super comfortable. There is no overnight parking in Beverly Hills which starts literally halfway down Le Doux. And west on Colgate becomes a residential permit zone on the next block.
There is also a garage at Trader Joes for $22, but it closes at night and I couldn't get a clear answer on if it was OK to park overnight or if there was a towing risk. If you know, drop it in the comments!
Location
This hotel is in an area that is at the intersection of Beverly Hills (a city), West Hollywood (another city) and neighborhoods that are part of LA County.
If your trip purpose is the beach, this is not the place for you as it will be 30 minutes or more to get there.
If you want to party in WeHo, hit the shops of Beverly Hills, or walk along West 3rd St, this is a great location. Like everything in LA, location is hugely important because the traffic means that going far away is a big ordeal and time commitment.
Courtesy Shuttle
If you need to get around the local area, they do have a courtesy shuttle that will take you within 3 miles. If it happens to be available, it's easy enough to request and throw the driver $5 or so as a thank you.
However, at times the wait for the shuttle can be quite long (there is only one driver) and if that is the case it may make sense to just use Lyft or Uber.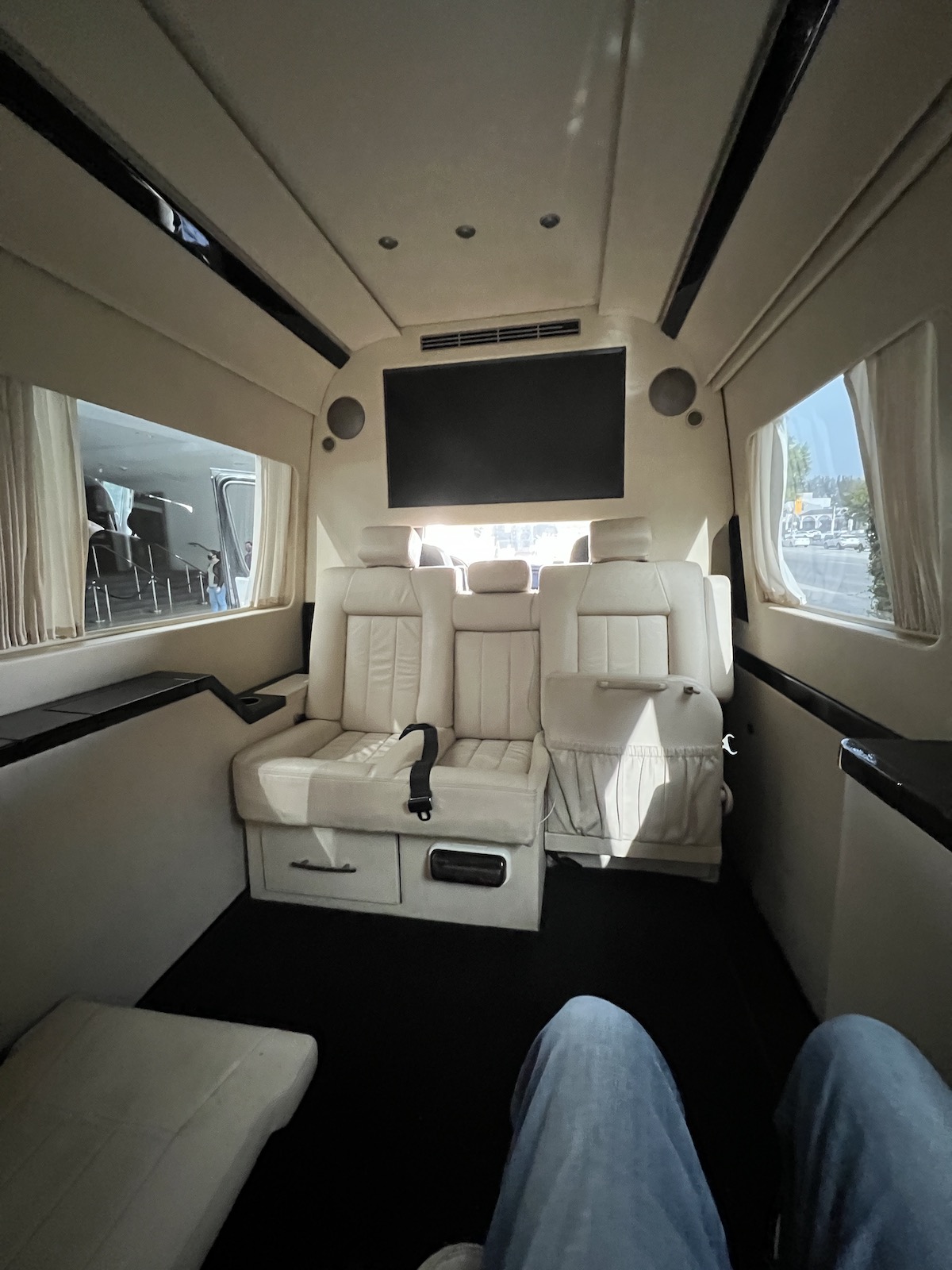 It also kind of looks like a party van 😉
Pool
Beautiful deck. Lunch and early dinner service. One pool was heated but not super warm and the other was an ice cube. It was in the low 60s my whole trip and I just got some pool time in one day during peak sun, but it would be nice if they made that pool a bit warmer when it's cold out – especially since they don't have a hot tub.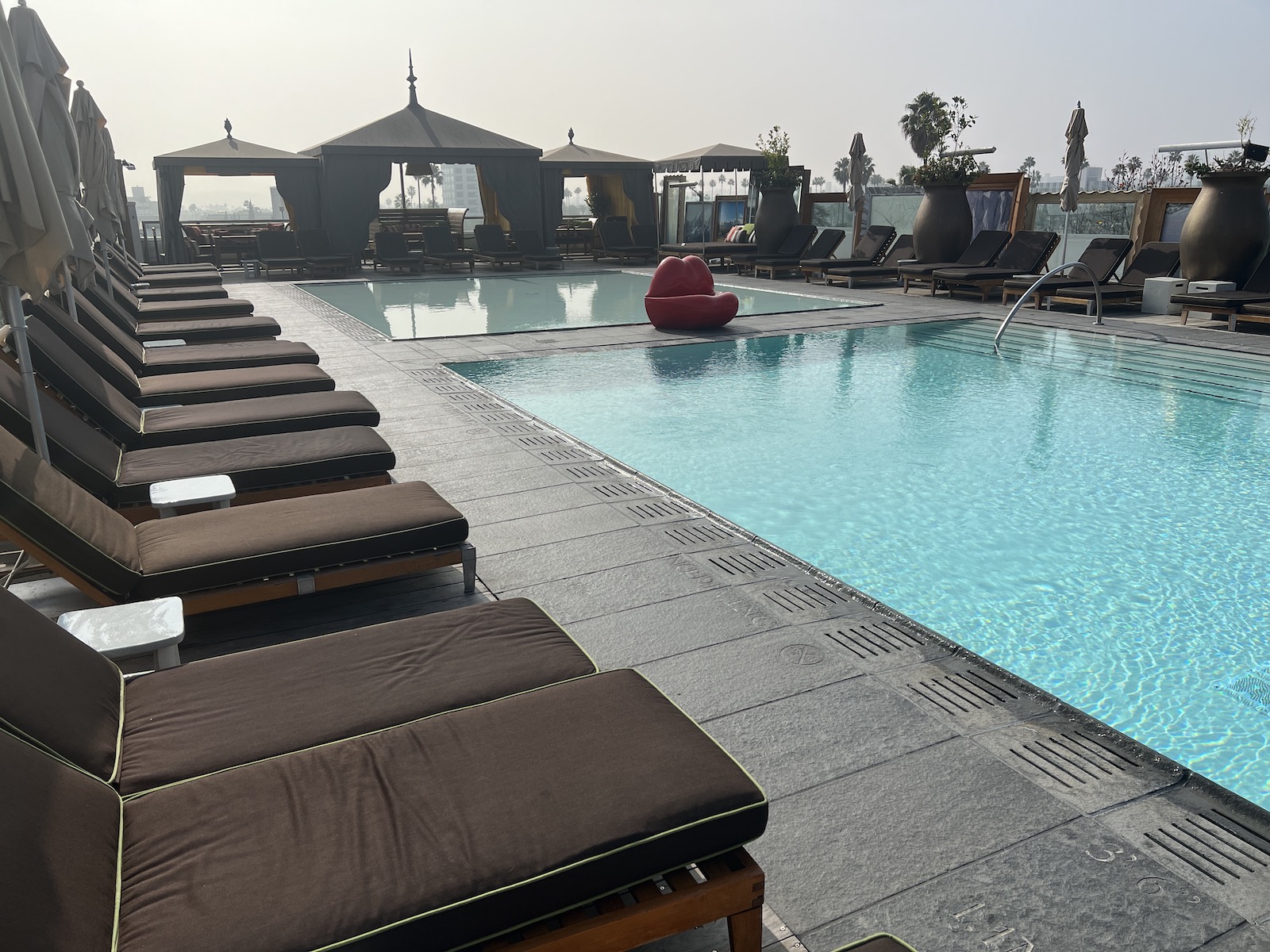 Bottom Line
I'm glad I tried it. For me, I really do prefer to be on the West Side, closer to the beach. But if you prefer this area, the SLS would be a great choice. It's probably a decent Bonvoy redemption as well – at least until the great Bonvoy devaluation hits in 2023.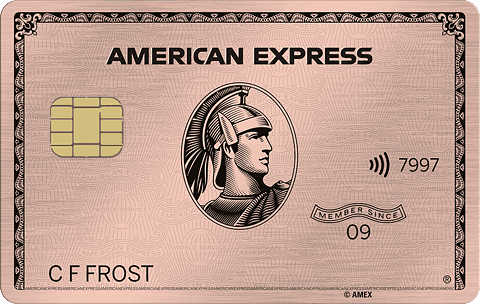 Get 60,000 Bonus Membership Rewards points
after spending $4,000 on purchases within the first 6 months on an American Express® Gold Card or Rose Gold Card. Earn 4X points on dining and U.S. supermarkets (up to $25,000 annually, then 1X) plus get $10 monthly dining statement credits and $10 in monthly Uber Cash. Terms apply.
Get This Offer
Questions?
Let me know below in the comments, on Twitter, or in the private MilesTalk Facebook group. And don't forget to follow me on Instagram for all sorts of tips on miles, points, credit cards, and travel.
If this post helped you, please consider sharing it!
You can find credit cards that best match your spending habits and bonus categories at Your Best Credit Cards. 
New to all of this? My "introduction to miles and points" book, MilesTalk: Live Your Wildest Travel Dreams Using Miles and Points is available on Amazon and at major booksellers.