There are few things I enjoy more than when readers or group members share how they followed by Status Match Merry Go Round tips and flash a bunch of mid to top tier status cards and list out all the benefits they've enjoyed. That's why last week I published a summary of my tips dating back to last July in one article called: "The Status Match Merry Go Round Explained (Using Both Hotel and Casino Status Match Opportunities Year After Year)."
A focus of the Merry Go Round is Atlantic City. Largely because the Borgata, part of MGM / MLife, is a primary way to take your Wyndham / Caesars status and turn that into Mlife Gold and then Hyatt Explorist.
I was in Atlantic City this past weekend so I checked in on a few things to see what's changed since last year and also see if I could glean any new info.
Re-Matching at Ocean Casino Resort Atlantic City
When I started this last July, (Archived: 5 Status Matches and 5 Free Hotel Nights in 1 Day: Atlantic City – Hard Rock and Ocean AC Resort), the Caesars / Total Rewards Diamond matched up to top tier Ocean Black and came with slot dollars and 2 free hotel nights.
No longer. Now your Caesar's Diamond gets you Ocean Platinum and without any comp perks. No free nights and no slot dollars.
I gambled a fair bit last year, so when I didn't re-qualify for Black, they soft landed me to Platinum. But what if I hadn't? Walking a friend into the Player's Card area to see about his matches, I asked if I would have been able to match back to Platinum if I hadn't received a soft landing. (Remember, Borgata matches you back year after year as long as you maintain Caesar's Diamond). The answer was a decisive no. No re-matches.
Perhaps this will change next year, but, for now, enjoy what you have while it lasts.
Re-Matching at Hard Rock Hotel and Casino Atlantic City
What about at Hard Rock? I had Rock Royalty status (top tier) last year from the same technique. I'd dropped to, well, nothing. Could I get my status back?
I walked over with my Caesar's Diamond and my Mlife Gold card and waited on the *gasp* regular line to ask.
The gentleman was very friendly and was happy to re-match me to Hard Rock's Rock Royalty status.  No free nights or slot dollars on a re-match, but any line skips apply, as does the $10pp in comp dollars access to the Player's Lounge and, wait for it, one free car wash a month at Rocktane. The car wash is in the form of a printed certificate form the kiosk which should appear the day after your re-match.  Nice wash, too!
Success!
Side Match: Golden Nugget Atlantic City
I'd gotten a tip from the MilesTalk Facebook group that the Golden Nugget matches. I had never been before and had no idea what to expect, but I'll tell you: It's not much to look at.
Still, in the name of MilesTalk, I forged ahead and quickly found the sign detailing the match.
As you can see, anyone riding the Status Match Merry Go Round gets matched to the highest tier with Golden Nugget.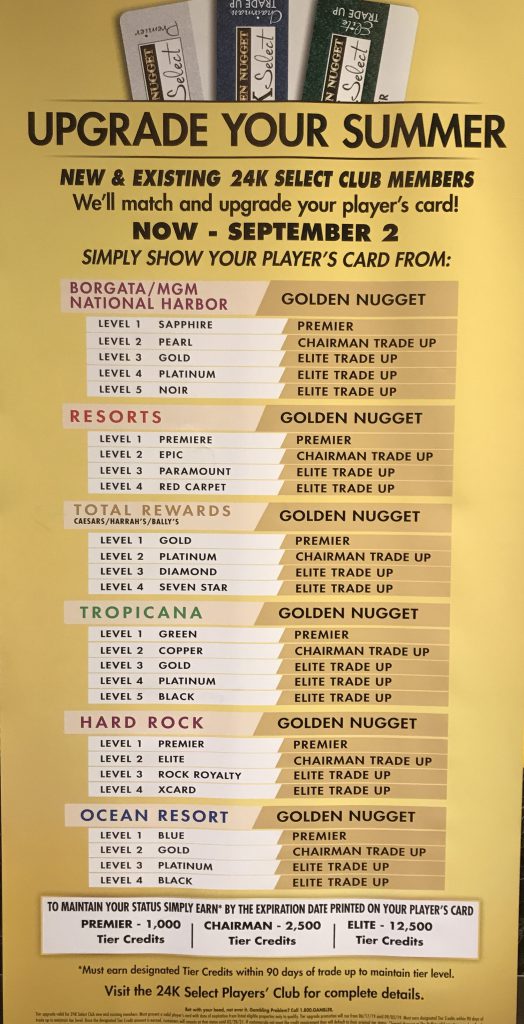 Except, not really. Your "Elite Trade Up" card which clearly shows you were matched and didn't earn the status, doesn't quite make you feel very VIP.
Arguably the best perk of any top tier casino status is the Player's Lounge, where you can recharge with some complimentary drinks and some food. It's my favorite part of Ocean, for what it's worth. And the Amphora Lounge inside the Borgata is reputed to be the nicest in town ($12.500 pp comp dollars with MLife Gold).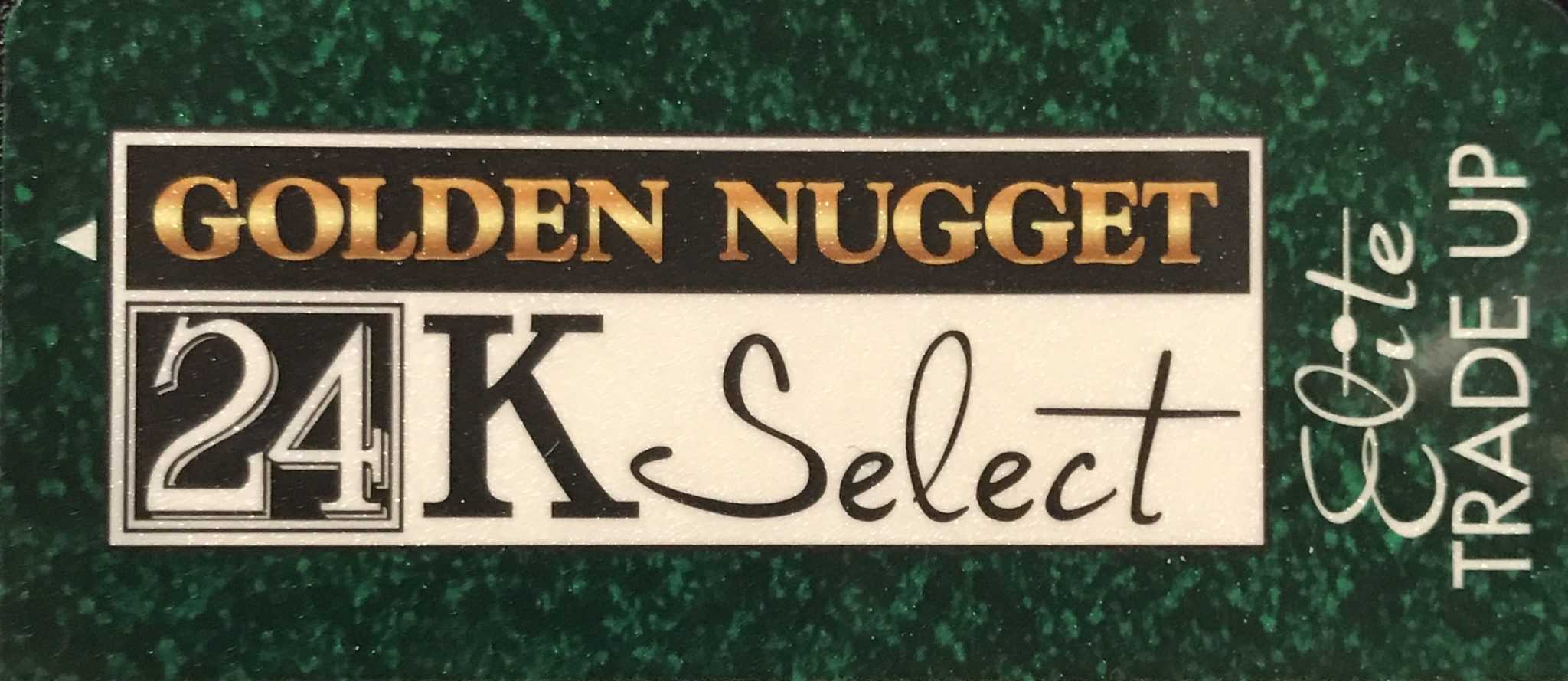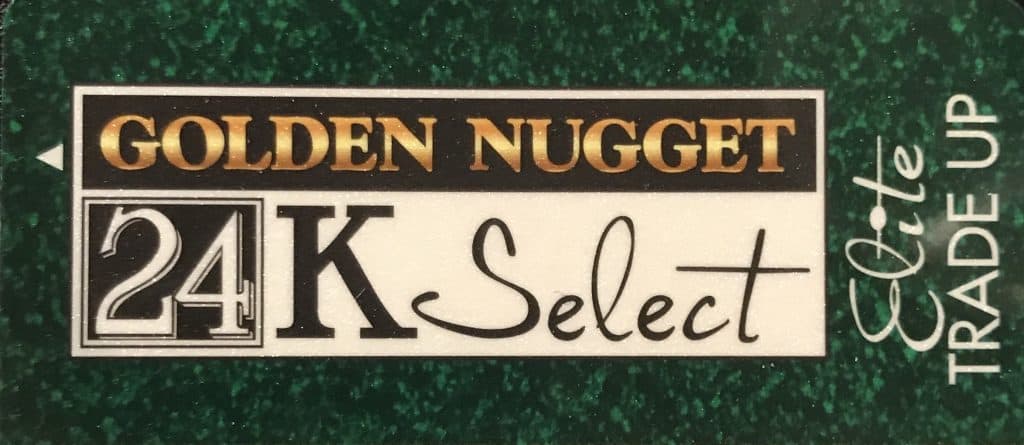 But I'll never know how Golden Nugget's is, because, as the rude woman matching me explained, I absolutely do not get access to that unless I earned the full 12,500 tier credits to qualify on my own.
The status, which expires in just 90 days, includes almost nothing. You get free self parking (which EVERYONE gets, card or not) but absolutely NOT valet. That's once you earn the 12,500 credits as well.
Really, the only benefits seem to be a 20% spa and retail discount and the ability to hit the (I'm guessing not very good) buffet for $10 in comp dollars per person.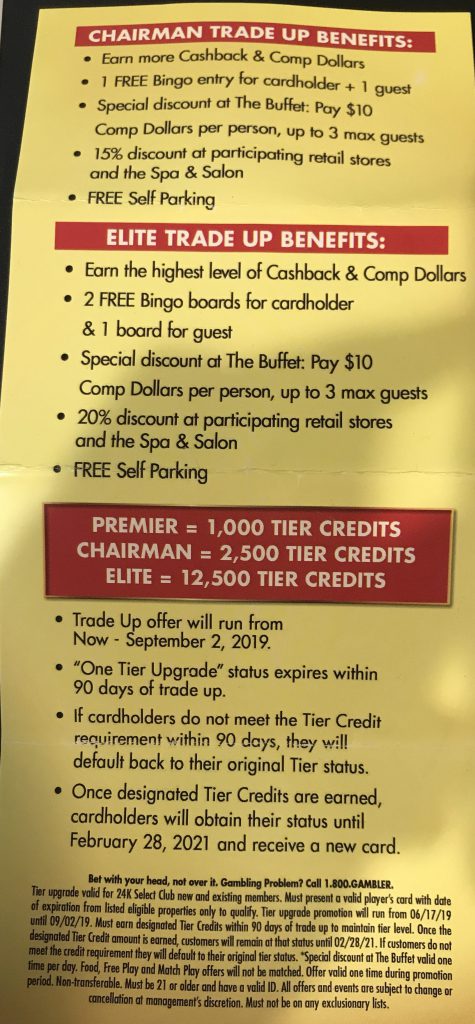 Honestly, if the person matching me had been even remotely friendly, I may have felt at least *some* degree of excitement for the match, but everything I asked about ("Do I get XYZ?") was met with a very firm "NO YOU DO NOT!"
At least I played one slot and won $40 on the way out, so, success!
No, I don't think I'd every step foot in there again.
But if you are already a Golden Nugget visitor, go and claim that match!
Success! (I guess)
Bonus Round: Amex Offers and the Borgata
I had an Amex offer on my card for $60 back when spending $300 at an MGM property. Borgata is such a property so I figured I'd see if I could buy a $300 gift card (which at Borgata can be converted to Slot Dollars for play, up to $500 a a day), get $60 back, and hit the slots with a 20% cushion.


I consulted with TravelZork who advised I'd need to buy it at the front desk for it to ring as a room charge.
I got to the Borgata and walked over to the check-in desk. First, I need to point out that this was a Sunday and the "regular" line to check in was at least 200 people deep. But when you have an MLife Gold card, you use a separate line. One that, in this case, had one person on line. I forgot a picture of that line, but we later used my MLife Gold card to skip the buffet line. Here's a picture. Our line had 4 guests in front of us.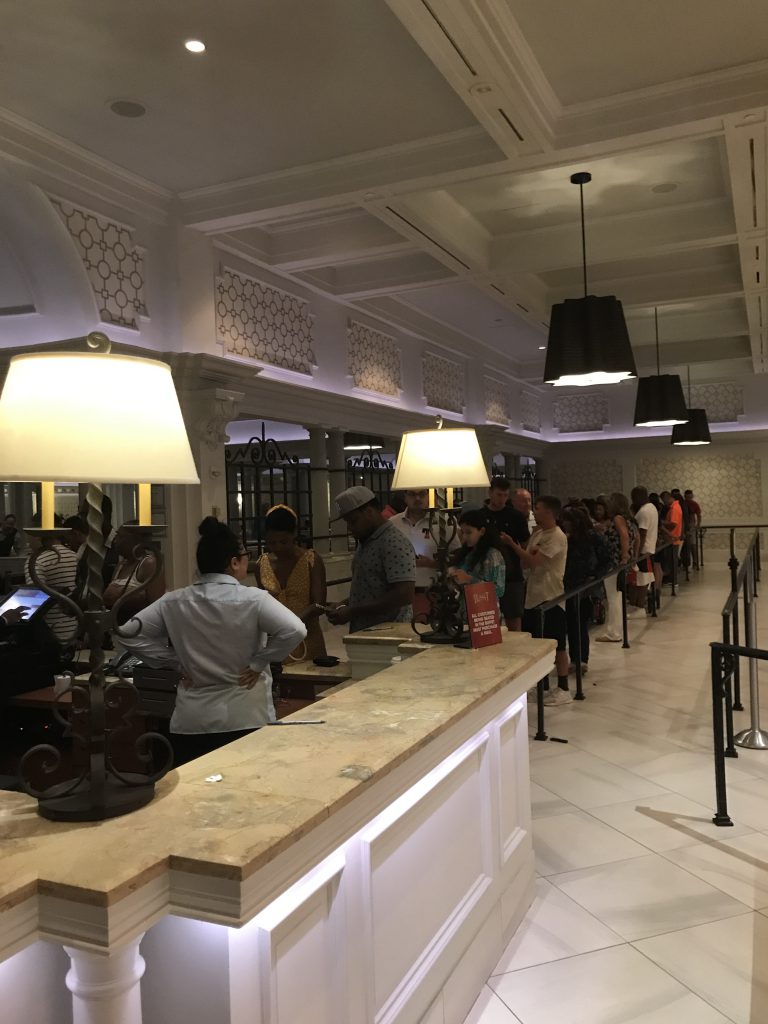 The agent very quickly told me that they do not process gift cards and to head over to the concierge. I has a bad feeling about that but went over to the concierge. She told me that she was, in fact, the one handling it and did it quickly and efficiently. I asked if it was the same system as the front desk and she said yes.
It wasn't.
As you can see, the charge posted as "Borgata Buffet" and clearly says Gift Card. No Amex Offer credit will be forthcoming and, no, I won't call Amex as I clearly did not meet the offer terms. Lesson learned for the good of all you fine people here.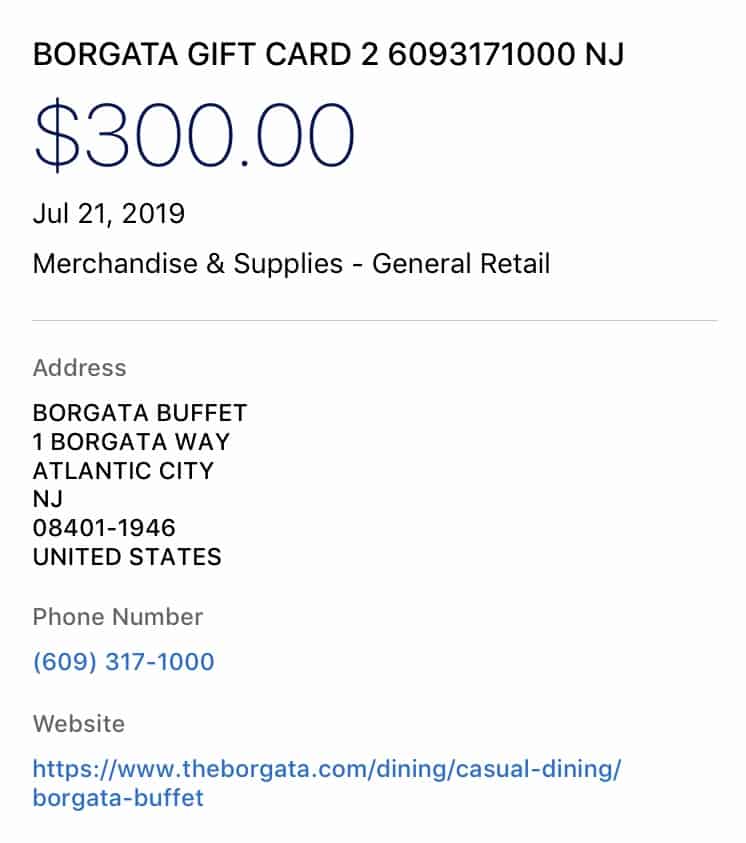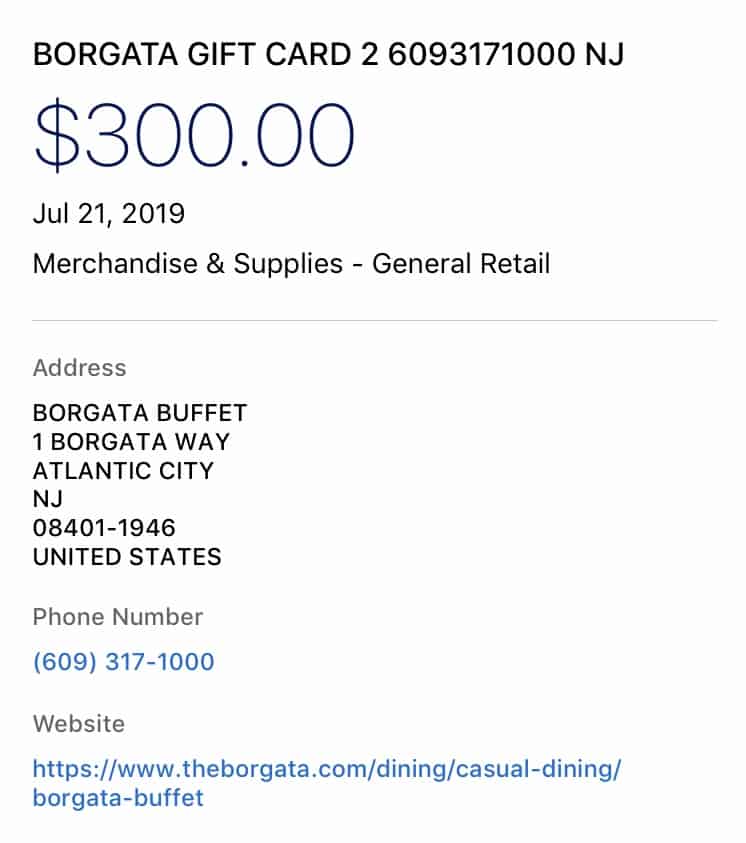 According to TravelZork, the way to do this is to go when the concierge is closed. I don't know what the hours are for the concierge desk, but that advice seems sound.
For this round, major fail.
Did this help you? Any feedback on these?
Let me know here, on Twitter, or in the private MilesTalk Facebook group.
You can find credit cards that best match your spending habits and bonus categories at Your Best Credit Cards. 
New to all of this? My "introduction to miles and points" book, MilesTalk: Live Your Wildest Travel Dreams Using Miles and Points is available on Amazon and at major booksellers.