Updated Feb 5th, 2023 to indicate that starting April 22, 2023 the 3X rotating categories mentioned below will be replaced with 3x on eligible travel, office supply store purchases and professional services, year round. HT: DoC
CitiBusiness ThankYou Card
It's a bizarre thing.


Citi offers a small business credit card called the CitiBusiness ThankYou Card.
But they don't even list it on their Small Business card page.
If you Google perfectly, you may find the card here. But even then, they won't show you the current bonus offer and you can't apply online. You'll have to walk int a Citi branch and apply with a business banker. Not only that, the webpage doesn't give you any details on the card! More Googling and you can find the card benefits page here. Mind you, even that page is missing a lot of detail.
Why does Citi have a card that is so hard to apply for?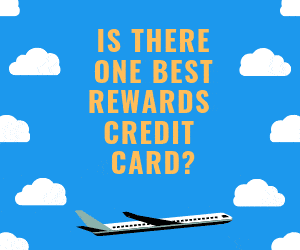 I have absolutely no idea. You'd *think* they would either want people to actually get it and have an online application – or pull the card entirely.
Yet for years now this card has sat in exactly the same place, with a signup bonus that varies every few months – and you can only even find out what that offer is by asking someone in a Citi branch to check for you in their system.
The bonus offer sits between 20,000 and 40,000 ThankYou points for spending $3,000 in 3 months. Today, it's at 30,000. When I checked in March it was 20,000. Is a 40,000 point offer coming up? I have no idea.


Still, this is actually a gem of a card and I don't know why I haven't even pulled the trigger myself yet – although I fully plan to ASAP.
Beyond the bonus (which you are only able to get if you haven't opened or closed this same card in the past 24 months and also don't currently have the card, it's got some nice features.
Most importantly, there's no annual fee.
Then, while it earns 1 ThankYou point per dollar on regular spend, it has rotating 3x categories (until April 22, 2023) that do not have a limit on earn. They are predictable and the same each year within the same three month period.
Each quarter the following categories earn 3X ThankYou points:
January – March
Office Supply Stores
Professional Advertising Services
On certain other Professional Services for your business, such as stand-alone tax preparation, accounting, bookkeeping and legal services
April – June
Computer equipment, camera and photographic supply, electronic repair
Software Merchants
Telecommunications merchants
July – September
October – December
Restaurants, including cafes, bars, lounges and fast food restaurants
On select Entertainment, including sports promoters, public golf courses, theatrical promoters and movie theaters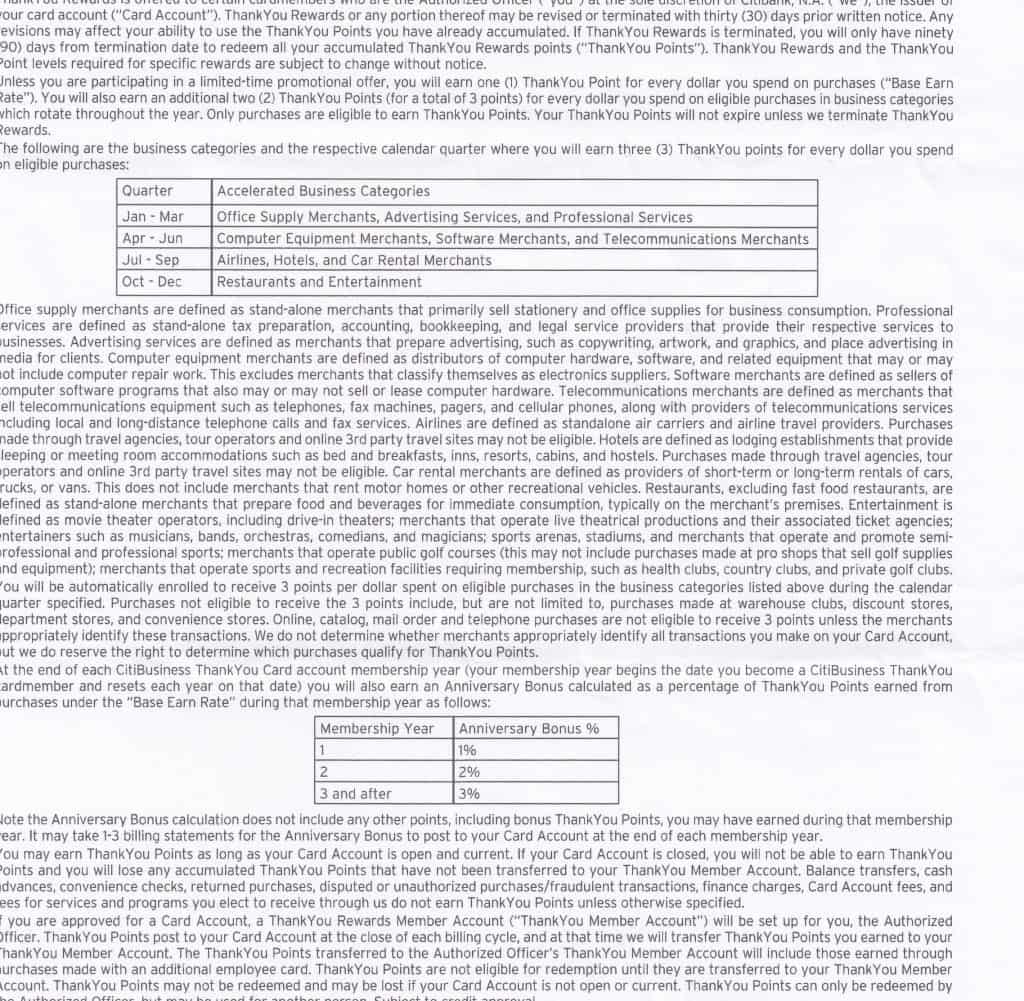 CitiBusiness ThankYou Card Anniversary Bonus
You also get a small (very small) annual bonus starting with 1% your first year, 2% your second year of and then 3% thereafter. Meaning after your first full year, if you earned 100,000 ThankYou points, you would earn a bonus of 1,000 at your cardmember anniversary.
Timing Your Application
Since you can only get this card at most every 3 years (since you can't get the bonus if you have the card or have opened or closed it in the last 24 months and since we know one should always keep a card open at least a year, you'll want to max your bonus. Since it varies from 20,000 – 40,000 ThankYou Points, I certainly wouldn't take 20,000. 30,000 might be acceptable if you know you'll put the bonus categories to good use in Q2. Else you can always wait for the 40,000 to return. I haven't decided if I will apply for the 30,000 or wait for the 40,000 yet myself.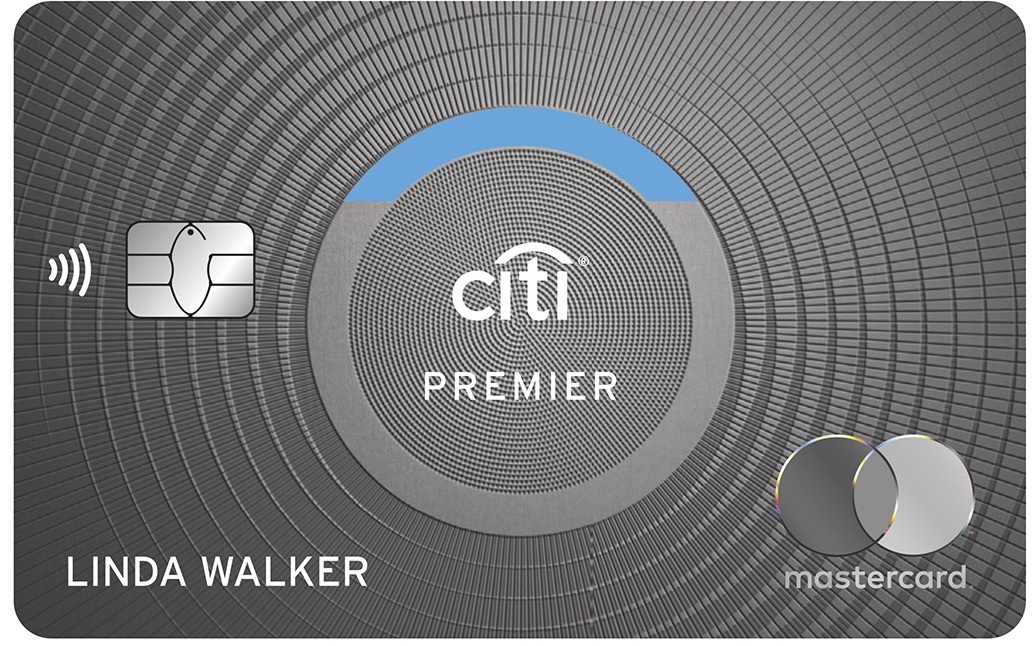 Get 60,000 Citi ThankYou points when you spend $4,000 in 3 months.
Using Turkish as a transfer partner, this could be worth 2 round trip domestic flights in Business Class or just 30,000 points shy of a roundtrip flight to Europe in Business Class!
Get This Offer
FAQ
I'm going to pull three questions out of the comments below and answer here as well as they were good questions:
Q: Can you get this card if you have another CitiBusiness card like the CitiBusiness AAdvantage card?
A: Yes, as long as it has been more than 90 days since you were approved for that card.
Q: Can you get this card if you have gotten a bonus on a ThankYou Premier/Prestige in the last 24 months?
A: Yes, no impact. This is a separate category of card.
Q: Can you combine these with a Premier/Prestige to transfer points to airlines?
A: Yes.
Questions?
Let me know below in the comments, on Twitter, or in the private MilesTalk Facebook group.
And if this post helped you, please consider sharing it!
You can find credit cards that best match your spending habits and bonus categories at Your Best Credit Cards. 
New to all of this? My "introduction to miles and points" book, MilesTalk: Live Your Wildest Travel Dreams Using Miles and Points is available on Amazon and at major booksellers.