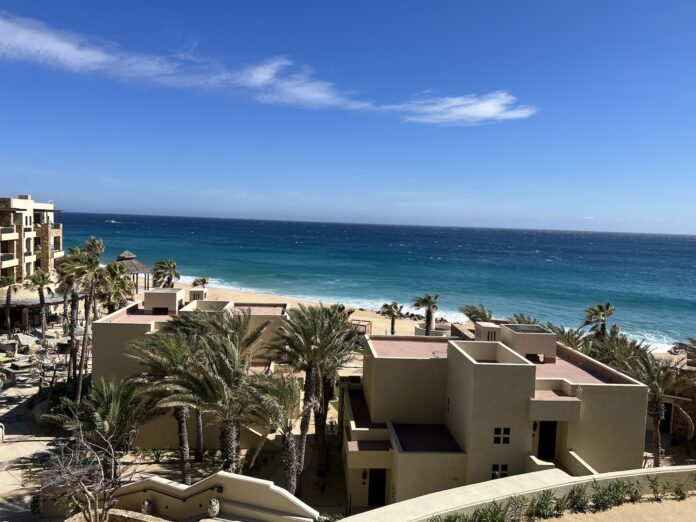 The Waldorf Astoria Pedregal Los Cabos was so impressive, it tied the W Maldives for my favorite resort stay ever.
When I review a luxury stay, it basically comes down to four things for me: accommodations, staff, food, and the grounds.
The Waldorf Astoria Pedregal Los Cabos hits all those notes. And the best thing is that you can enjoy this amazing property for free if you know how…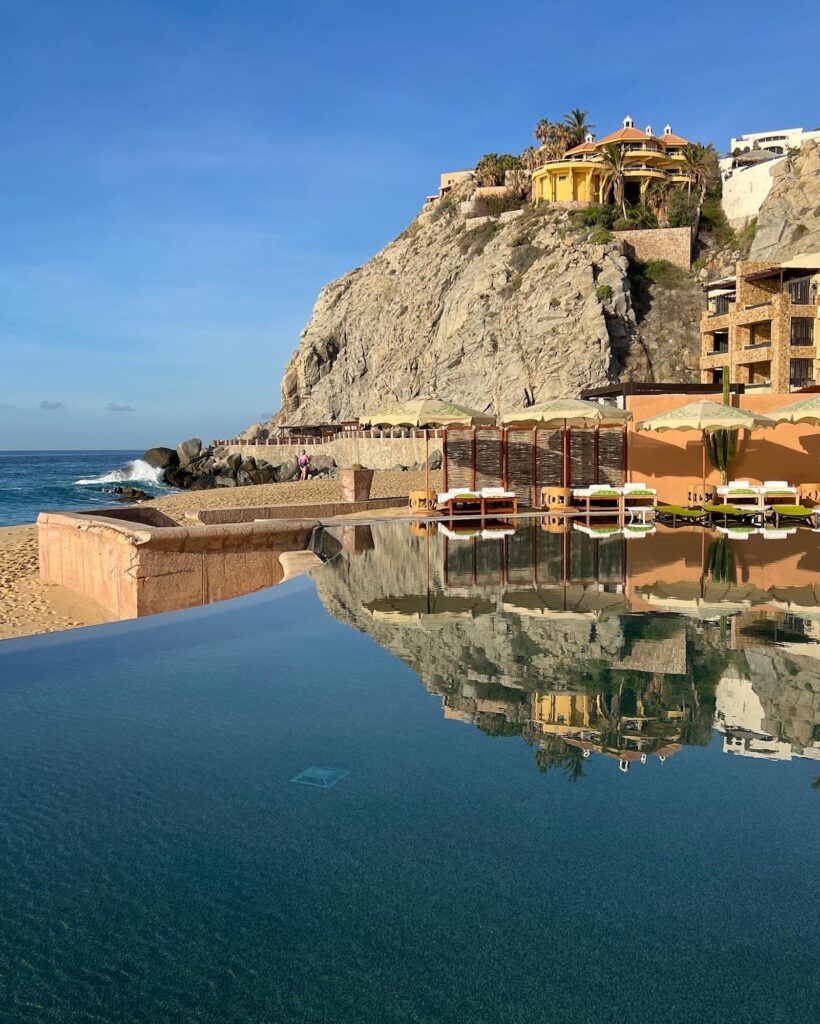 How I Booked It
A five night stay at this property in the base room would cost you around $9,000. You could also use 480,000 Hilton Honors points for a 5 night stay, as long as you can find availability for the standard room type for 5 straight days (which is tougher than it sounds at this very in-demand property).
In our case, we used 5 Free Night Certificates that you can earn with the Hilton Aspire credit card (one annually), the Hilton Surpass (one each calendar year after spending $15,000), and the Hilton Business card (one each calendar year after spending $15,000).
Between my wife and I, we had 5 available certificates which I thought would be a perfect length trip, especially since this one would be our first trip without our 8 month old and wanted the right balance of being able to relax and recharge, but not be away for TOO long.
Booking was not super easy. You cannot book these certificates online and availability can be spotty. Sometimes they open up a lot of standard rooms all at once, sometimes only in drips and drabs. I was trying to book a Saturday to Thursday stay. I was able to get Sunday to Thursday without too much effort. I had to stalk the Saturday night for a month, though, and was prepared to stay elsewhere one night if needed. I used a site called Max My Point to alert me of availability. I had one very frustrating experience where I got an alert at 4am, tried to call to book, found the Diamond line closed until 7am, called back right at 7am and the availability was gone. The Diamond desk called the Waldorf to explain and ask them to open a room. They refused. The very next day they released another standard room, which I was able to promptly book.
Luckily, as difficult as the hotel was about that, it all worked out and did not at all turn out to be reflective of how the staff treated us.
Via our two Hilton Aspire cards, we also each had $250 in resort credit (you get $250 in credit at participating resorts per cardmember year). On top of that we each had Amex Offers for $100 off $500 at Waldorf Astoria. In total we spent just over $1,500 on property and got $700 rebated for a total of just over $800 in real expenses over the 5 days.
In case you want a 60 second tour, here's a reel I made about the stay.
View this post on Instagram
Arrival in Los Cabos and the Waldorf Astoria Pedregal
We had pre-booked a ride, but not via the Waldorf as the cost was higher. In hindsight, it wasn't THAT much higher. Being that we both haven't been to Mexico very much, we were not prepared for the exit from customs to the car being a giant timeshare ring. Apparently this is just one of those things you are supposed to know.
We were stopped and asked which tour company we booked the car with, then whisked to a counter who said he was with that company. He said our driver was 10-15 minutes away and started talking about local attractions we should see. Long story short, it turned into a timeshare sales conversation in which we wasted, in total, a half hour. By the time we realized he wasn't affiliated with the tour company, we high tailed it outside where our poor driver had been waiting for almost an hour. So, don't fall for that!
When we arrived to the hotel, and after riding through the famous tunnel that goes through a mountain literally just for the Waldorf Astoria, we were very warmly greeted by the same concierge that we had been communicating with and offered welcome drinks. She gave us a brief tour of the main area and then brought us to reception where our room was ready.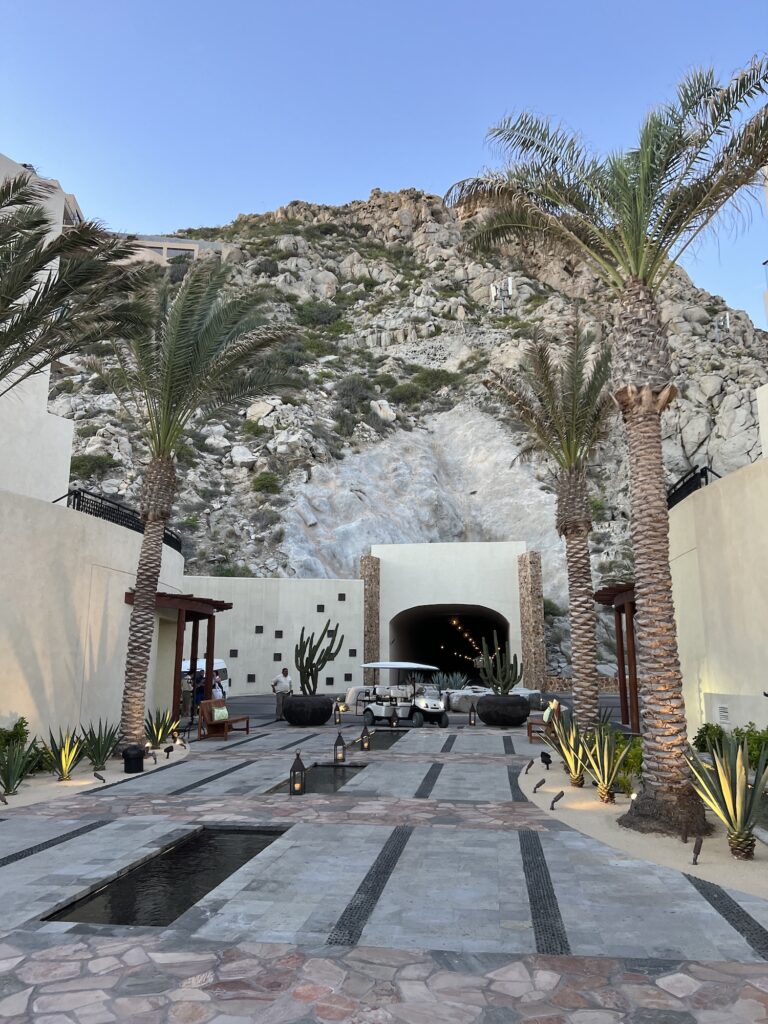 The hotel was sold out and so they were not able to accommodate a Diamond upgrade and we were placed in a Pacific View room (which was still great!) in a casita with just a few rooms in it.
I pushed a bit for an upgrade at some point in the stay and they were able to block us into an oceanfront room the next day for the rest of the stay. I think it's important to note for your expectations that there is really not that much difference, despite the additional $350 a night in cash for that room. You can see both views below. Every room has a plunge pool. In fact, I'd say that the most important thing to ask about is location. The main building behind reception is super central. But some rooms are quite far away!
Here's the view from the Pacific View room: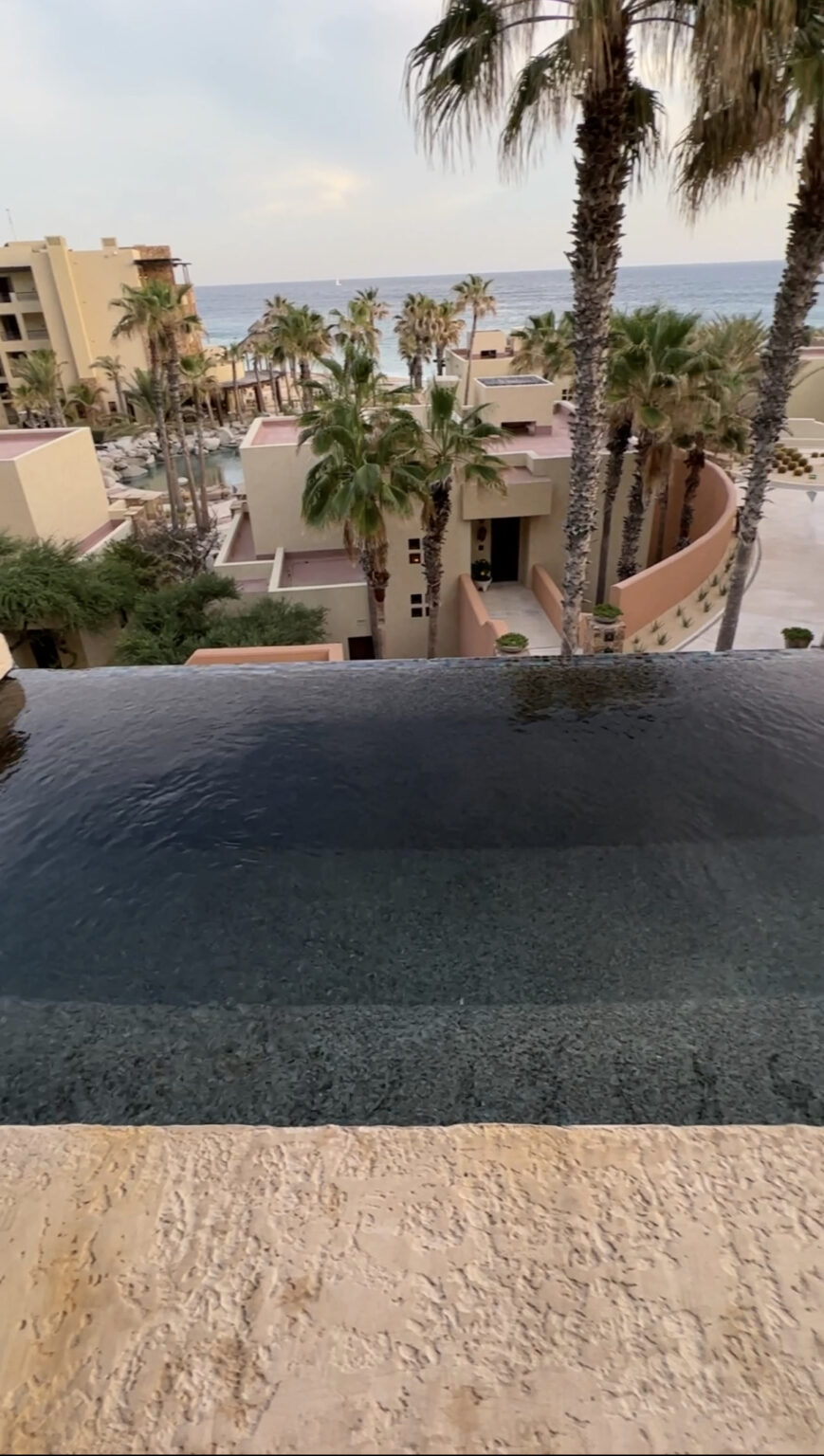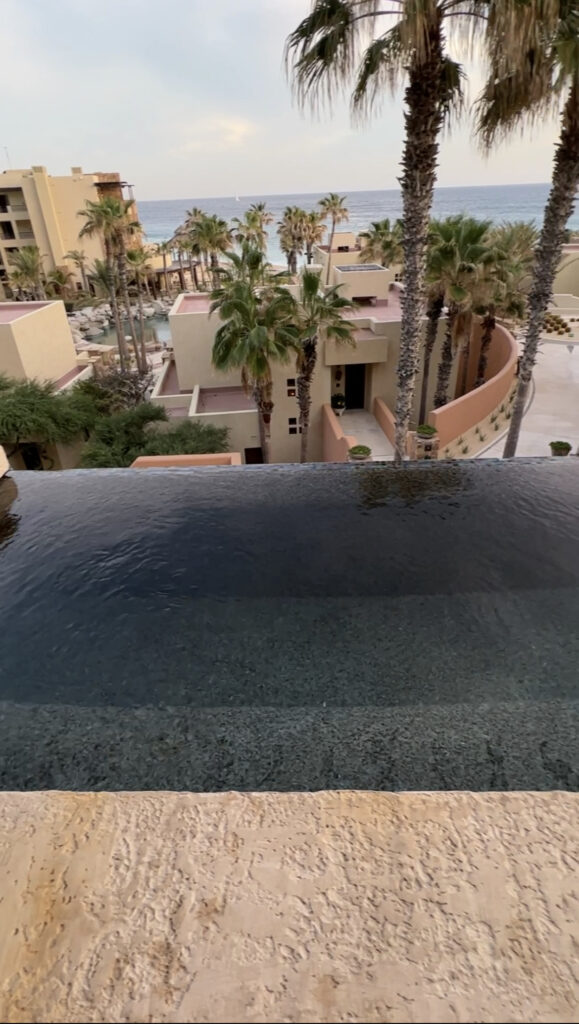 And here's the view from our Oceanfront room: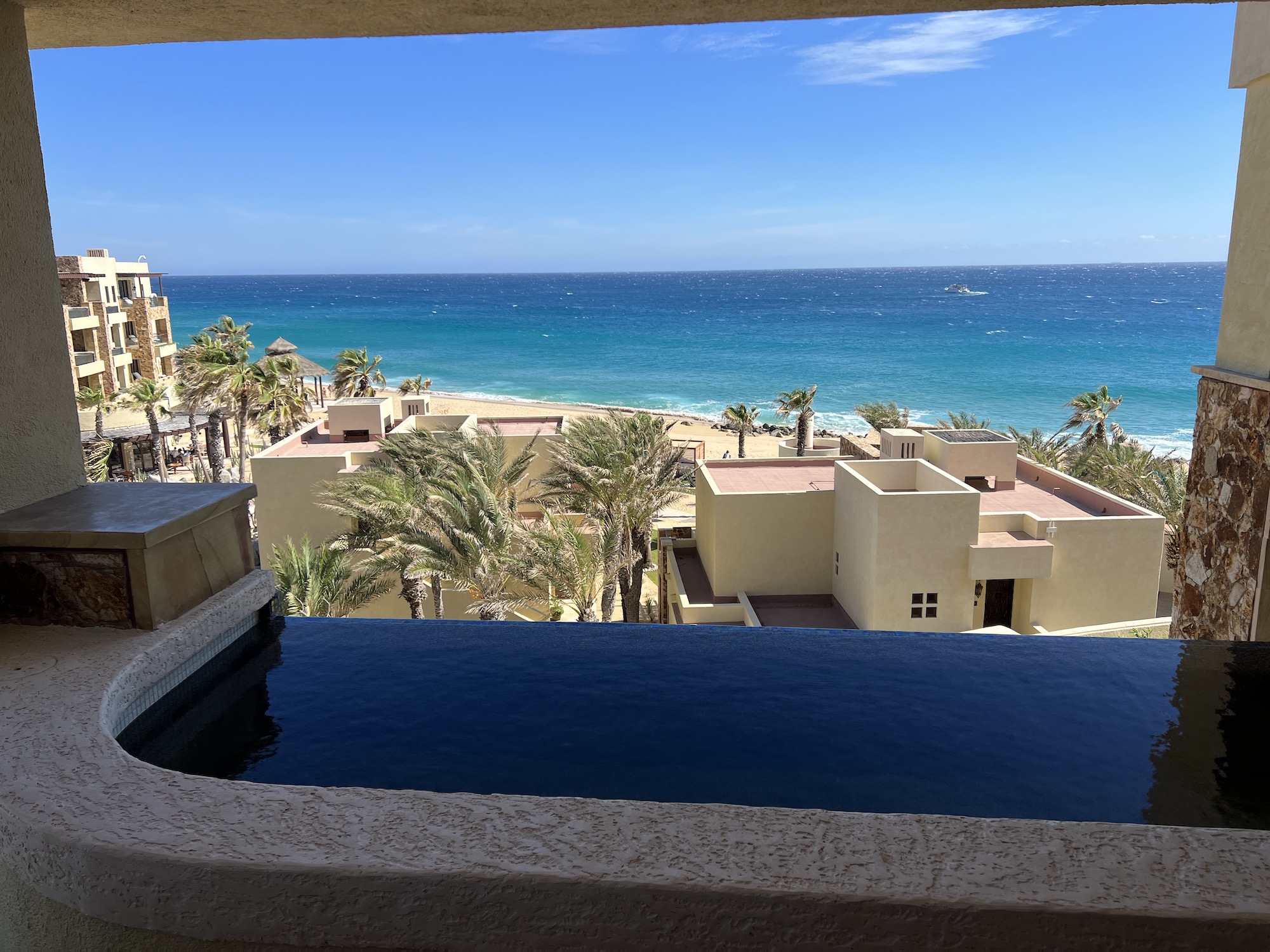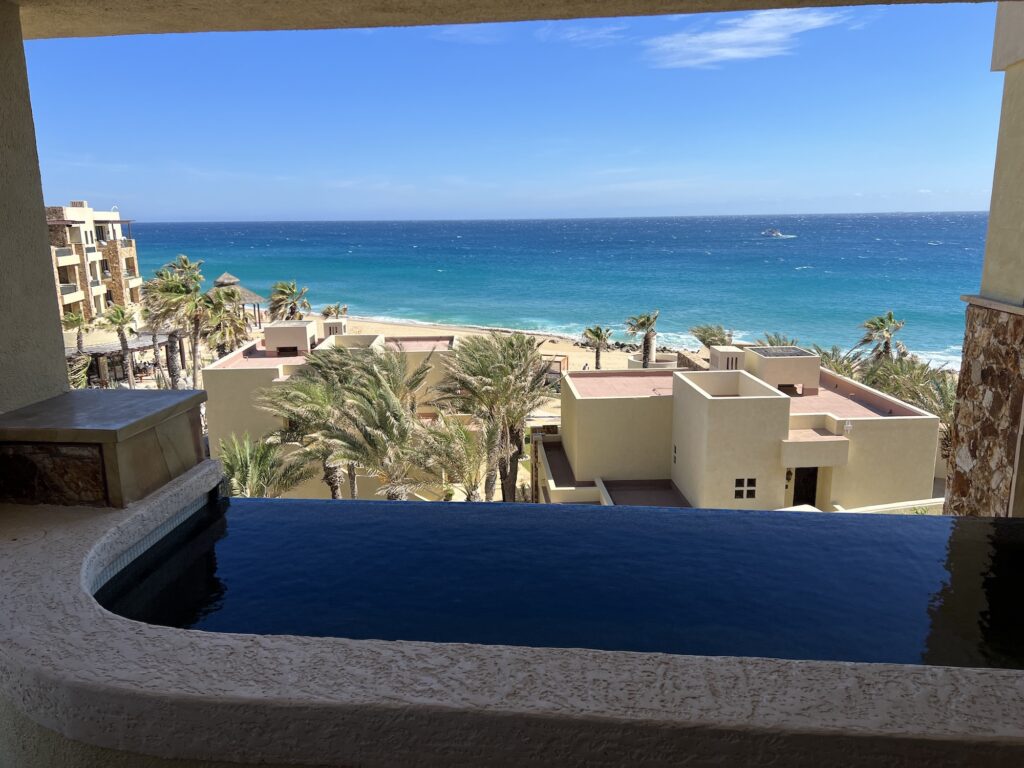 Definitely a better view, but the view from the Pacific View room was hardly a brick wall 😉
The Room
The Pacific View room in the casita had a slightly different layout than the Oceanfront room which was in the main building. Asking some people who've visited before me, the Oceanfront layout is the more common one for this room type, with the round shower in the back left of the bathroom as opposed to off in it's own separated area in the Pacific View room. Certainly didn't matter either way.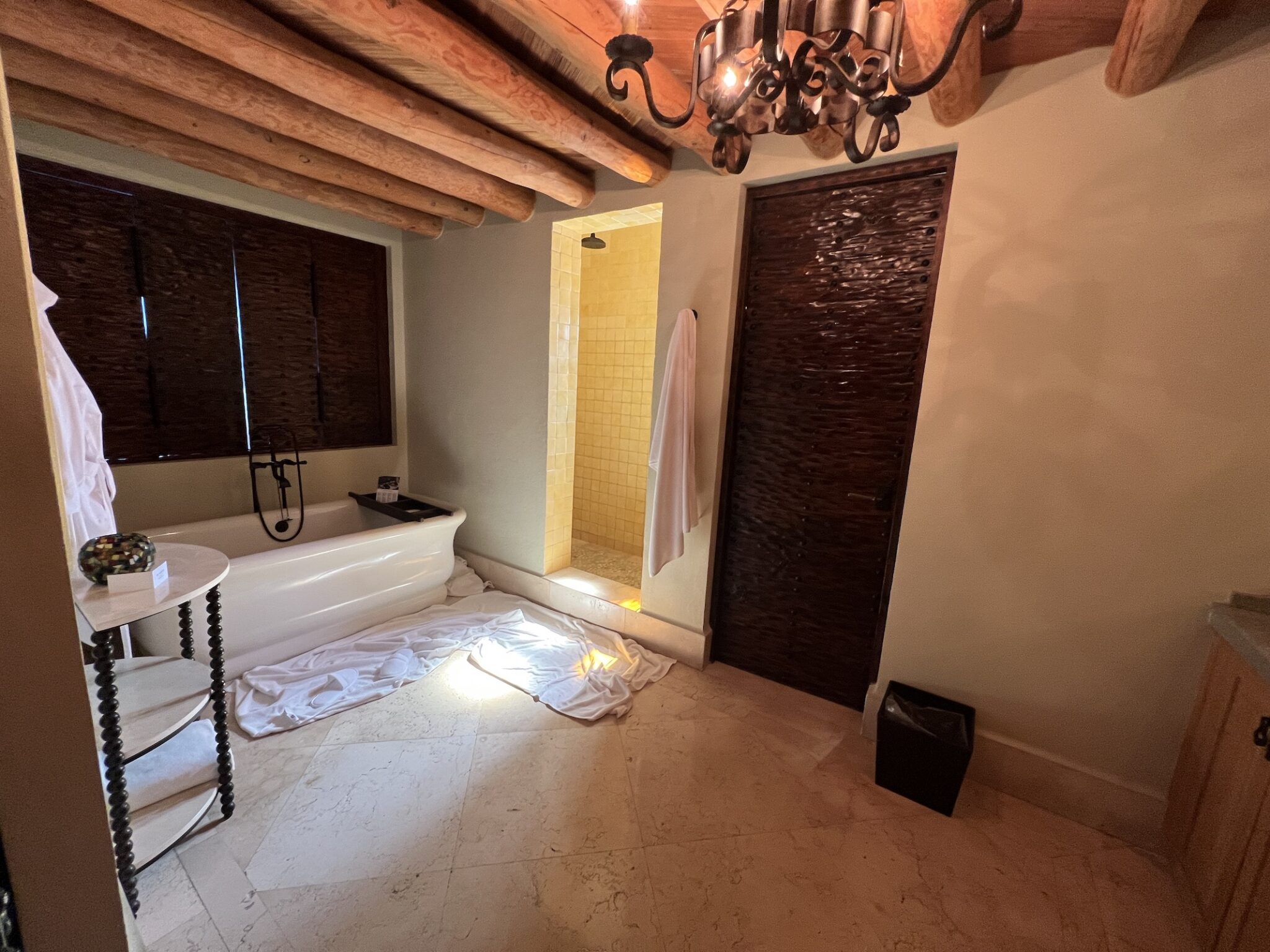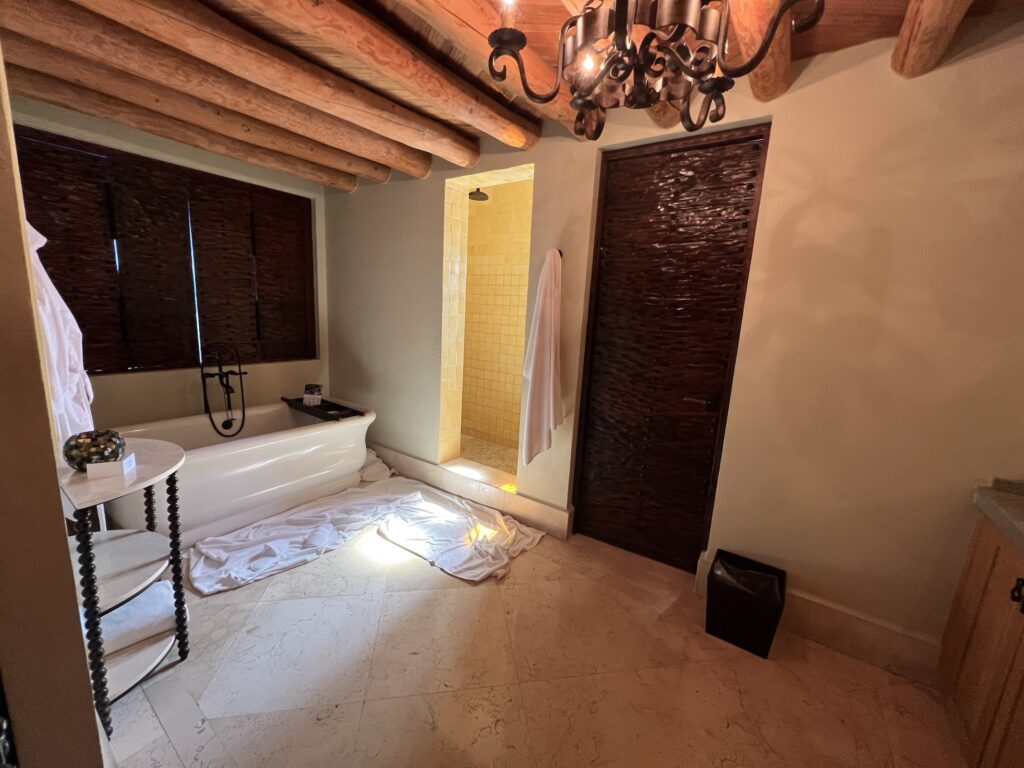 Entering the room, you'll find your "tequila amenity" which is a bottle of Clase Azul tequila. This is not a cheap bottle! Despite it being a mini-bottle, based on market prices for Clase Azul, it's worth around $40. You are also allowed to keep the tequila bottle which is pretty fancy. The rest of the drinking set is for the room only, although you can buy it if you choose.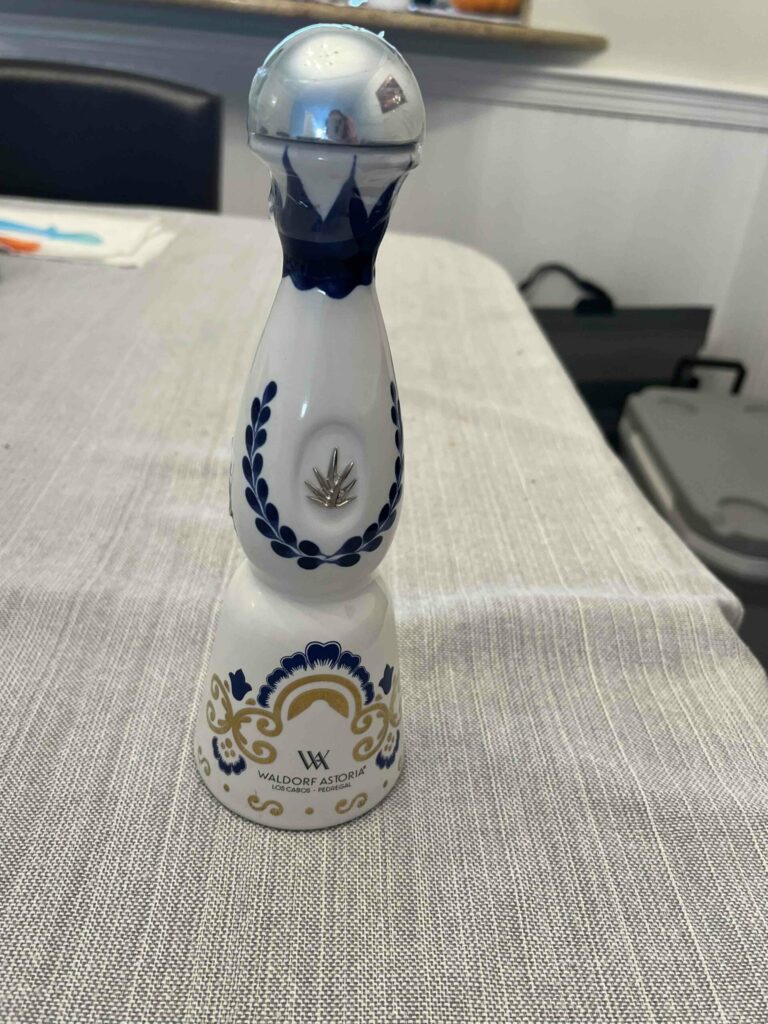 The absolute best part of the room, in my opinion, is the plunge pool on the terrace. Every single room in the hotel has one. I love this because if there were, for example, 10 rooms without plunge pools, then you could be sure that would be the Standard Award and you'd be hoping for an upgrade every time. But since every single room has one, there literally is not a bad room in the hotel. There are rooms more conveniently located and rooms with better views – but absolutely no bad rooms. An upgrade will definitely not make or break your experience.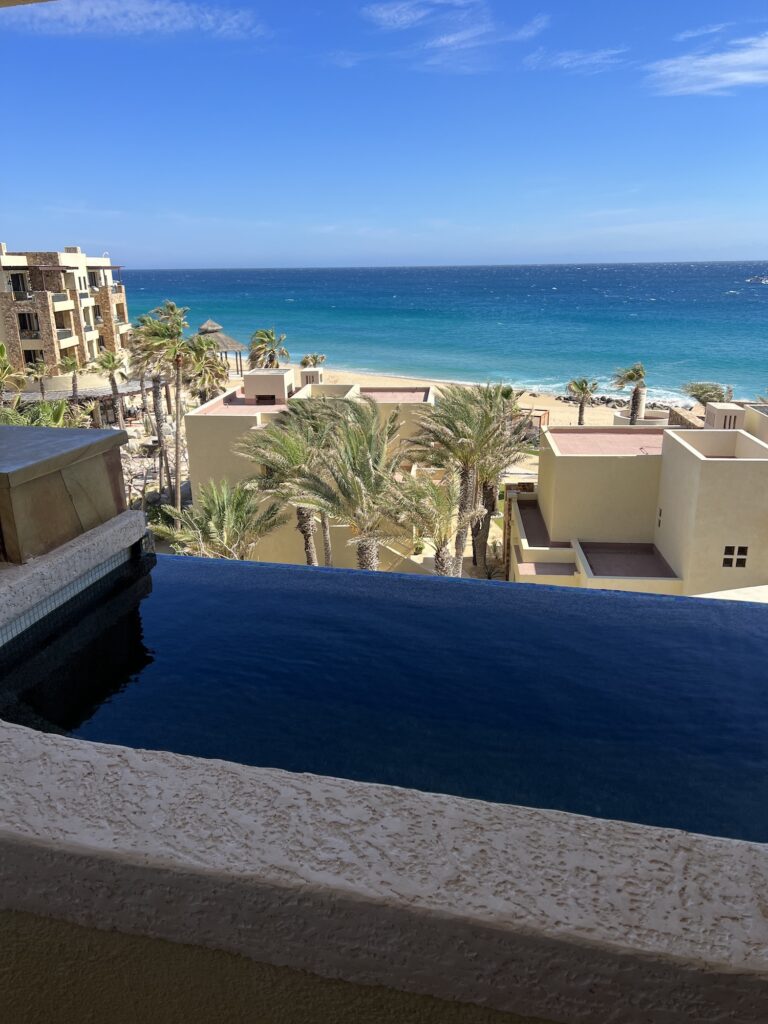 I absolutely loved getting up at sunrise and taking a dip in the plunge pool before breakfast. I will add that some rooms get more sun on their plunge pools, so those will naturally be a bit warmer. I did notice our casita got a bit more sun than our oceanfront room and was a notch warmer as a result. But the oceanfront room was perfectly fine temperature-wise.
The entire room was beautifully appointed and there were outlets on each side of the bed (a luxury hotel than hasn't upgraded for today's electronic world is always a pet peeve of mine).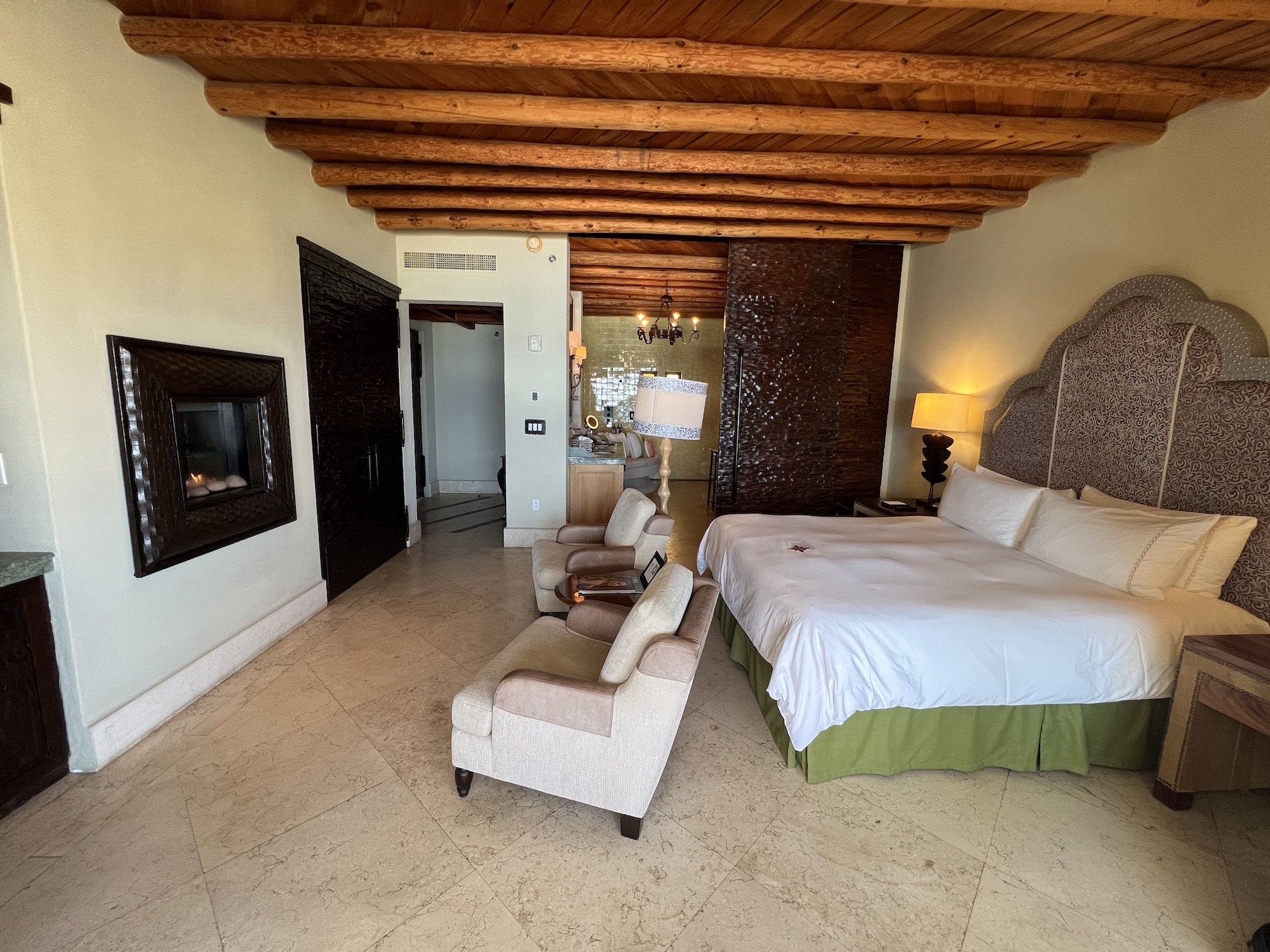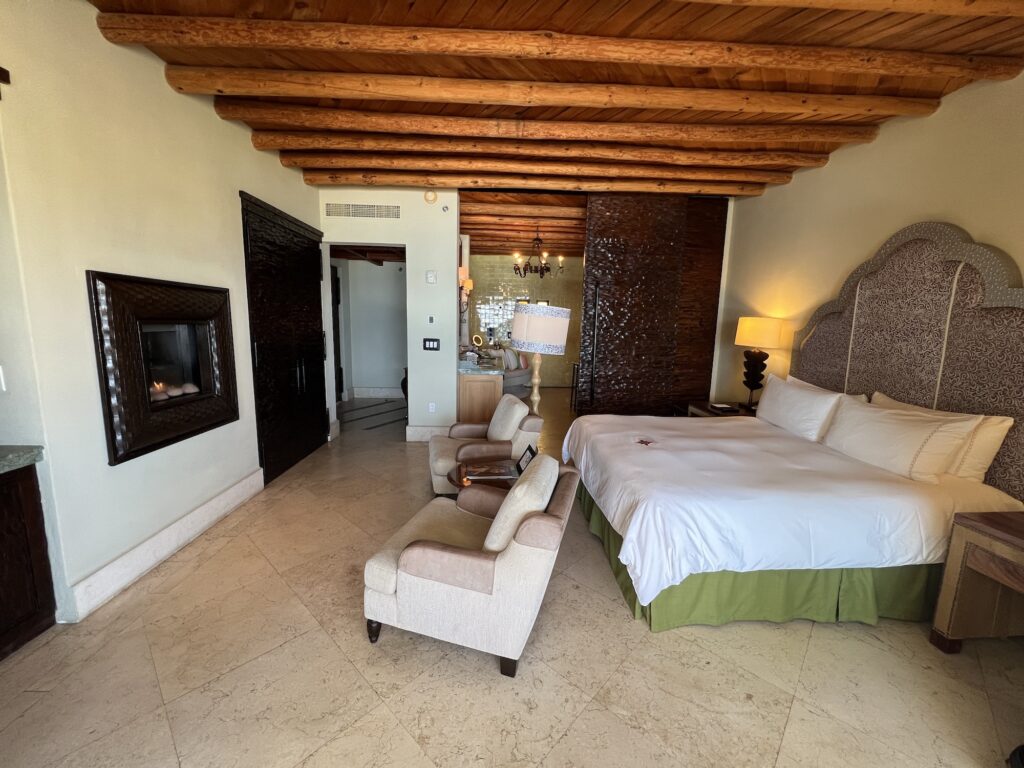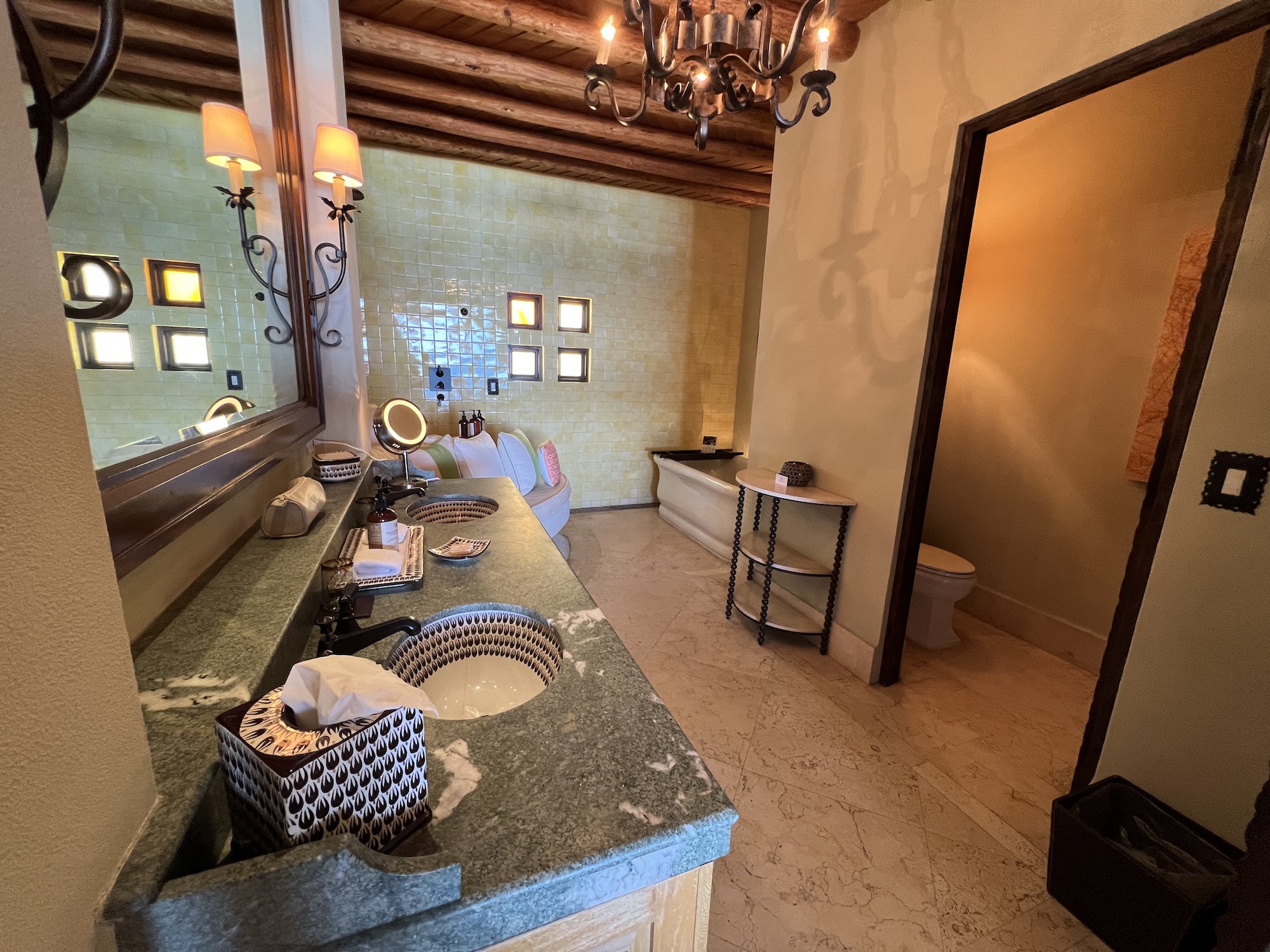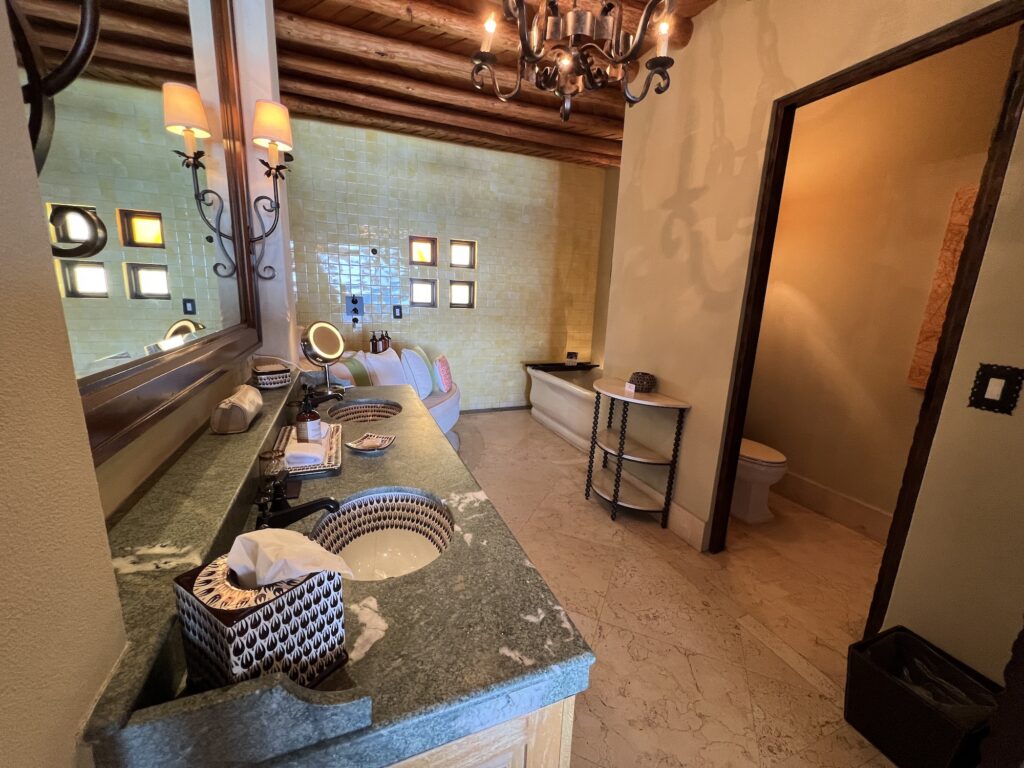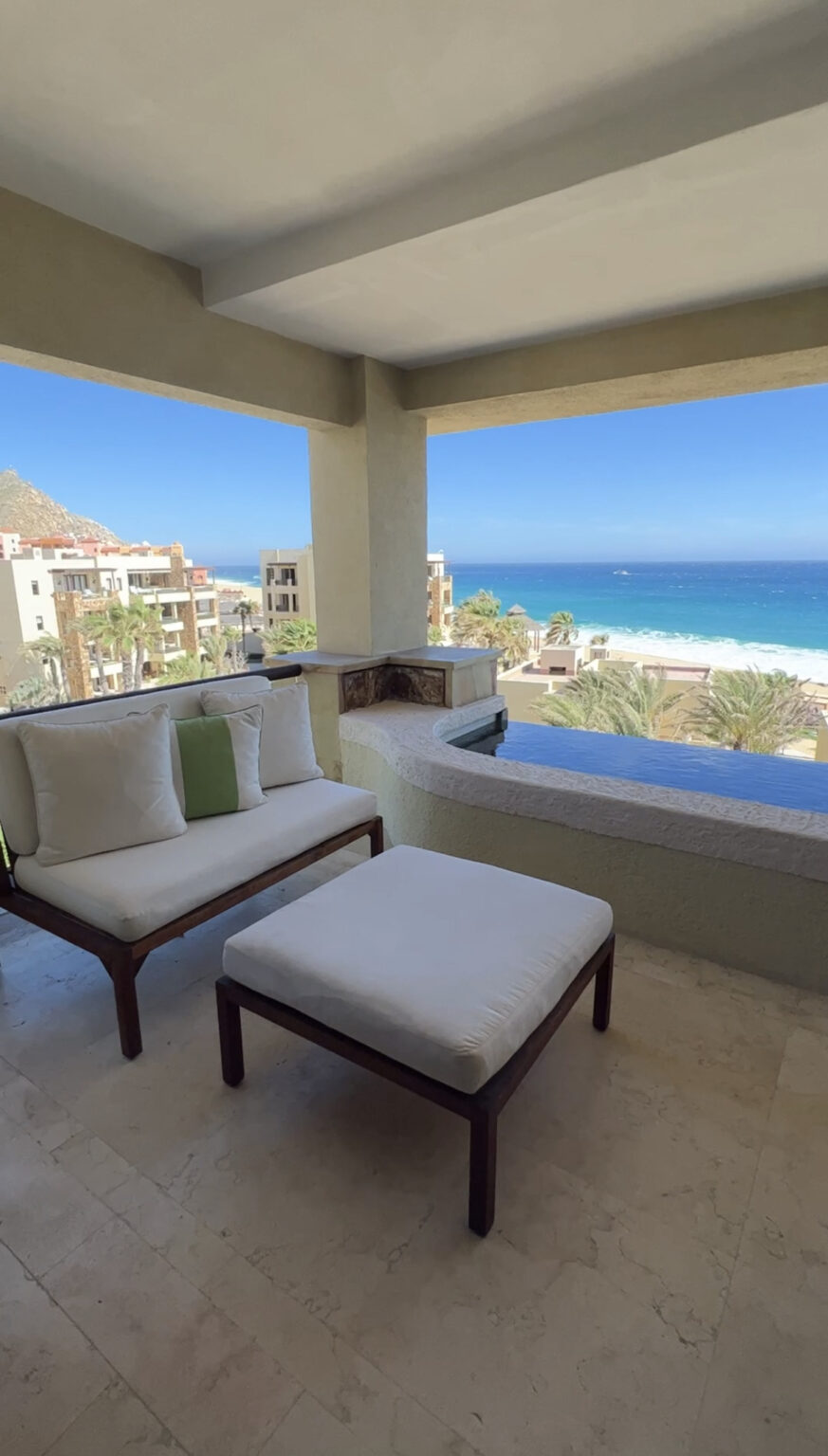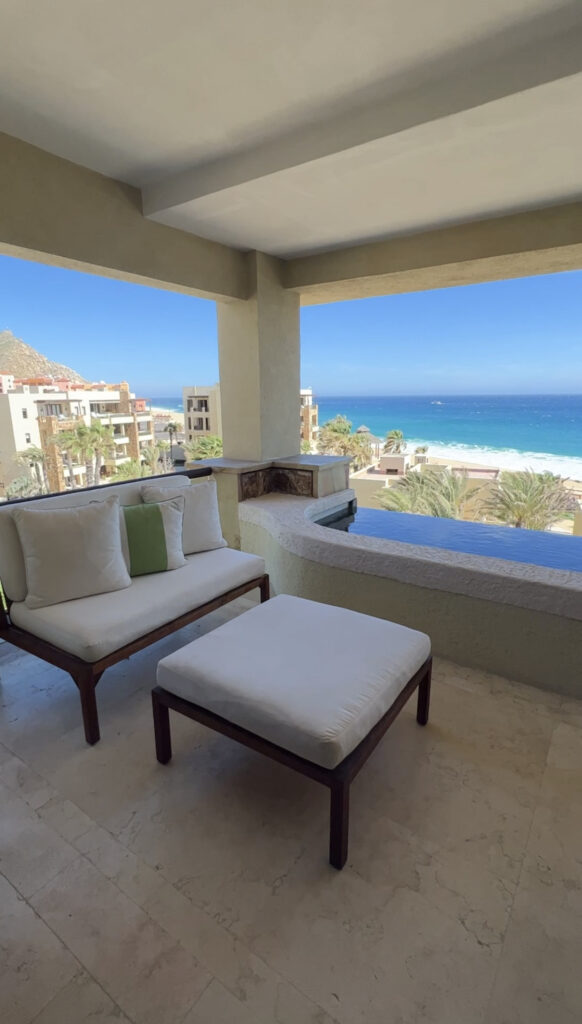 Each evening between 4 and 6pm they would come by with complimentary chips and guac (and pico de gallo) as well as a bucket of two Coronitas.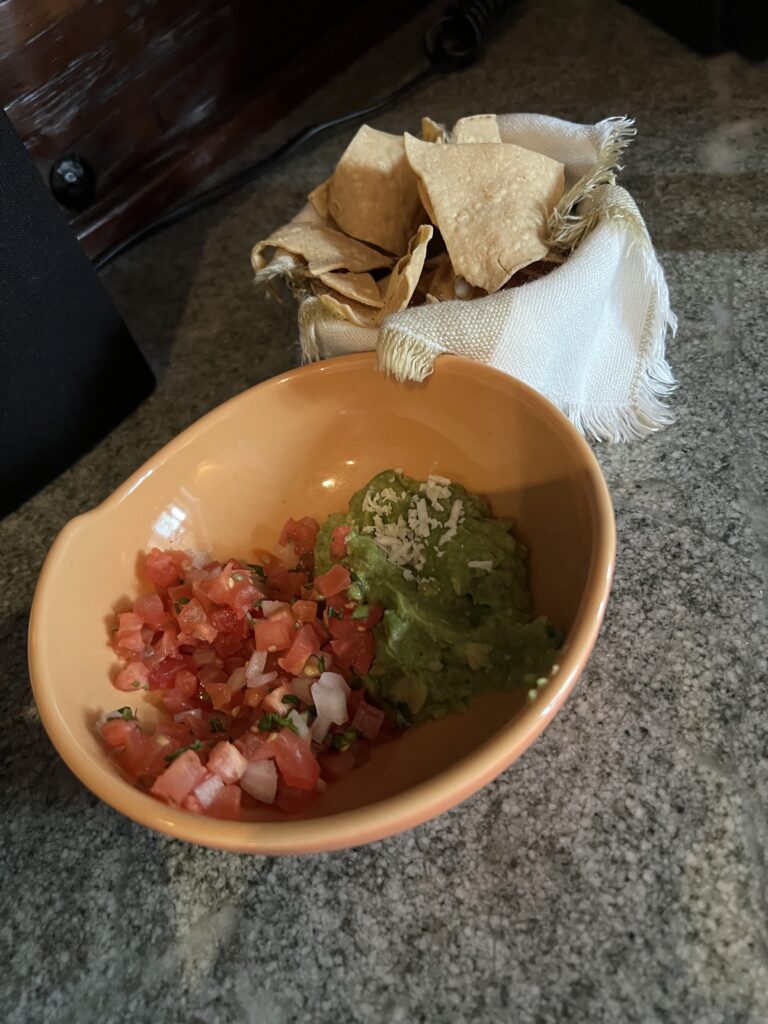 It was always nice to have that little snack near the end of the day. If you weren't in the room, they would leave it for you unless you had a Do Not Disturb sign on. They were also good about coming for housekeeping around the time we pre-specified at check-in.
There were also unlimited bottles of water available to be brought to your room (or any time around the property) and ice was available on demand as well – all no charge. Complimentary soft drinks were also in the room's mini fridge.
The Resort
There are two main pool areas, each with its own casual dining restaurant. One pool was the family pool (this is also where the lone jacuzzi is) and had the Beach Club. We preferred to be on the adult side (since this was a kid-free escape) which had a swim up pool bar specializing in sushi and ceviche, called Crudo, and was right in front of what became my favorite dining spot – Don Manuel's.
There are definitely a hand full of "prime lounge chairs" in terms of unobstructed views, but we never had a hard time getting a lounge chair. Both pools are infinity style such that you feel like you are at the edge of the ocean while relaxing in the pool. And it's important to know that you won't be able to go in the ocean or even use a resort lounger on the beach – because there aren't any.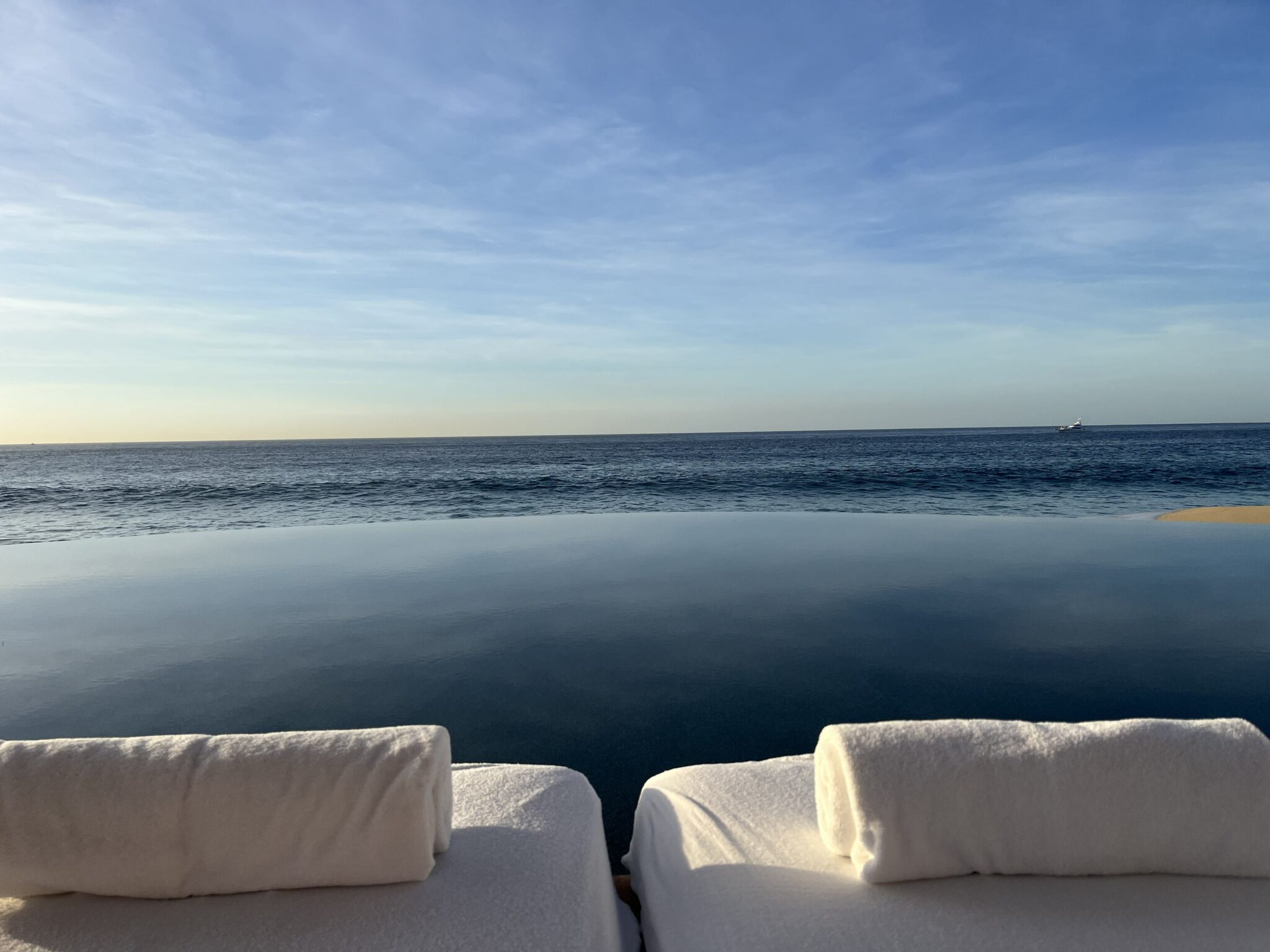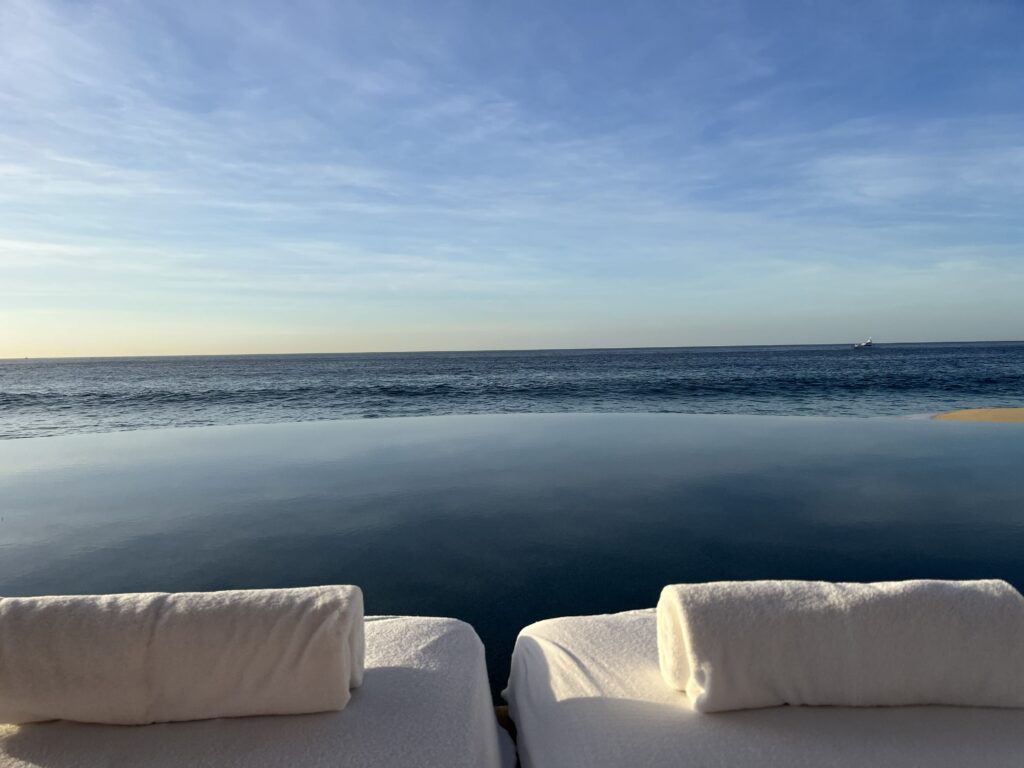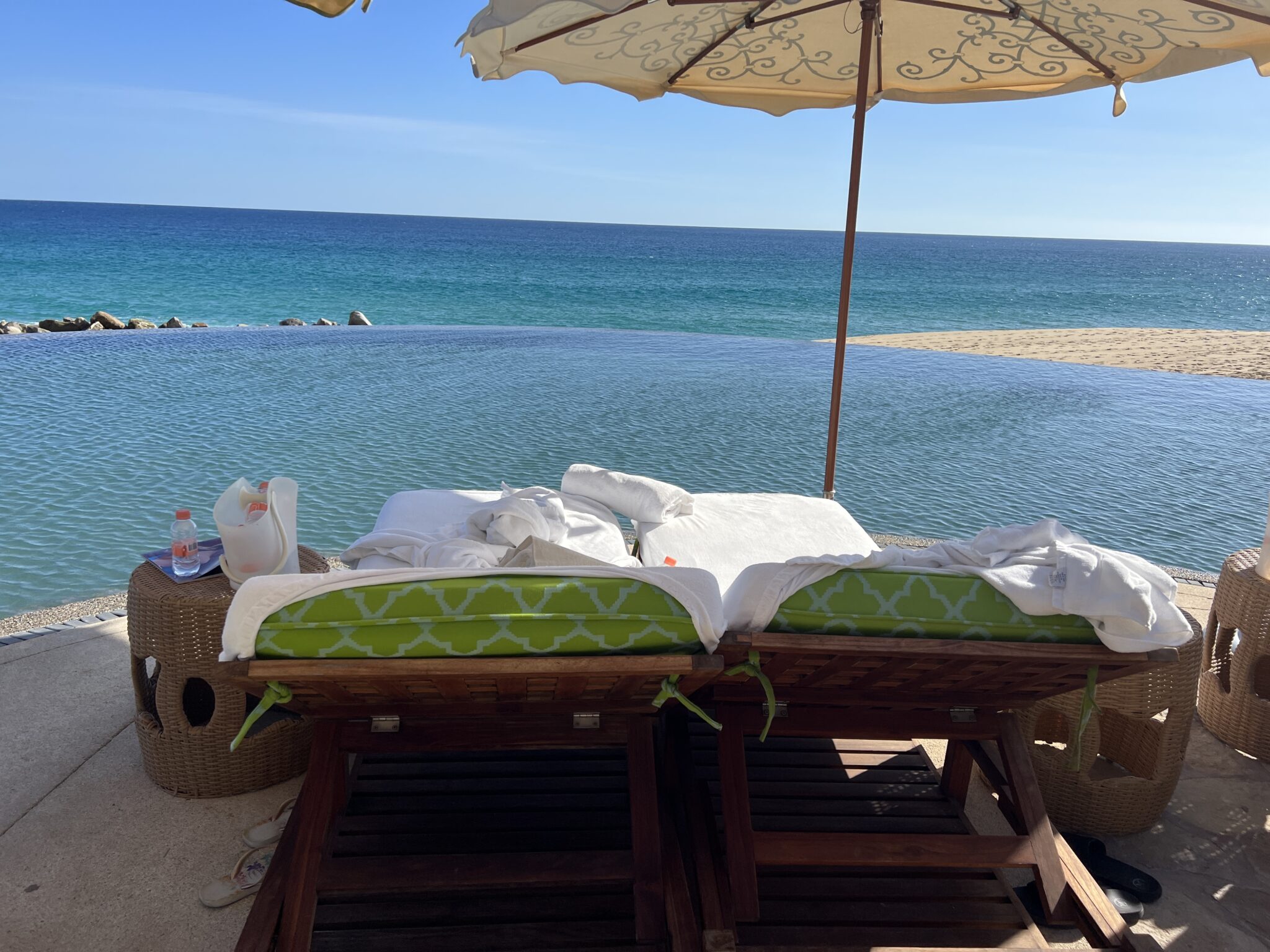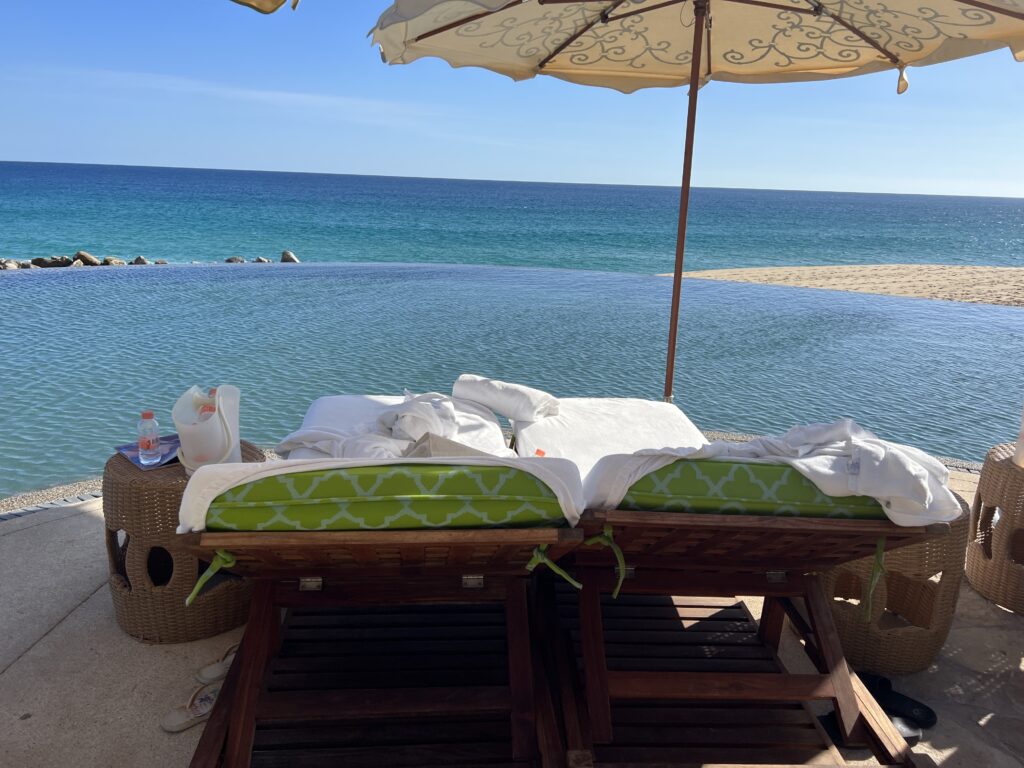 This is because the ocean here is simply too rough and dangerous for swimming. There are only 3 resorts in all of Cabo that have swimmable beaches. If you really need to go swim in the ocean, the concierge will let you know where you can go in town. It's not far.
Servers are always available to bring you drinks or food and if you sit down somewhere, even in the jacuzzi, they will be by very quickly to bring you towels and cold water and see if you need anything. Mind you, none of this is done for tips and none are expected except when ordering, in which case there is an auto-gratuity added to the bill.
If you wanted to go into town, an Uber would only cost a few dollars, or they can take you through the tunnel in a golf cart if you want to walk (the marina is just a few minutes away). That said, there was no reason to go into town unless you needed supplies.
As someone that loves "local food" I was determined to leave the resort at least once for local food. I heard a consensus of Taco Guss for great pastor.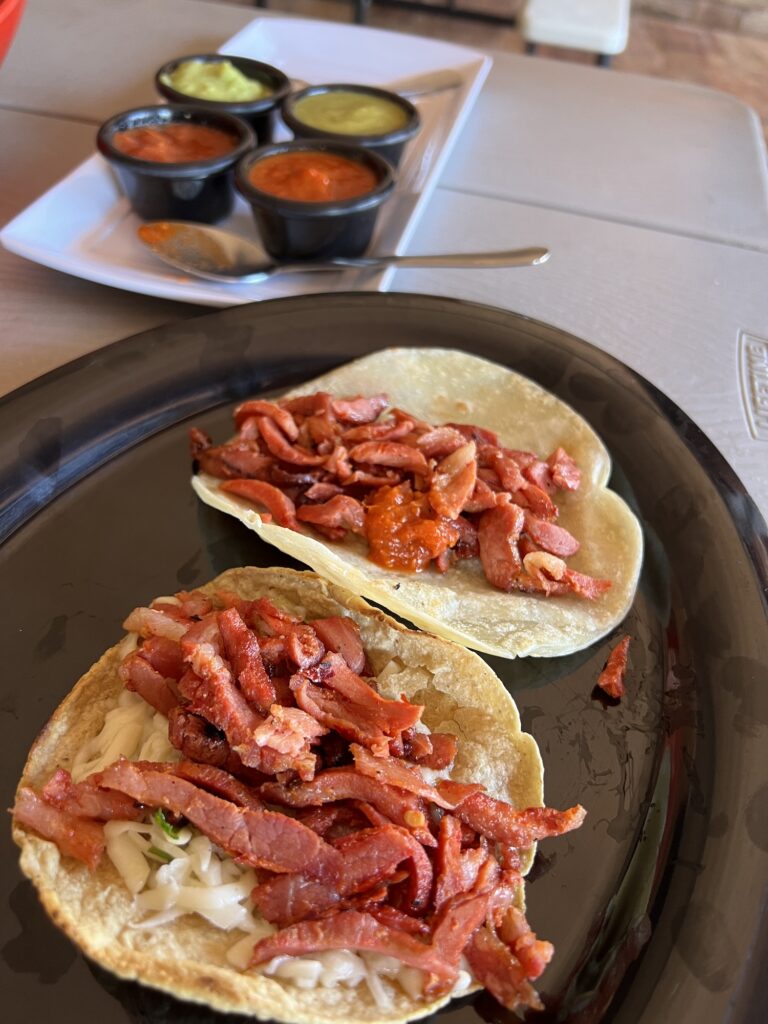 When I finished that meal, I could not wait to get back to Don Manuel's for truly amazing pastor meat. I may or may not have had a second meal to wash down Taco Guss. But let's talk food….
Waldorf Astoria Pedregal Restaurants
I'm not generally so into hotel food. Like I said, I enjoy the local flavor – usually.
But the food here is really just top-notch.
Let's start with the rather famous El Farallon. This restaurant is on the side of a cliff and is the high end offering with incredibly fresh fish in what thay call an "ocean-to-table" menu. It's a fixed price menu that changes daily, although you'll have a few selections each day. They are also more than willing to find something to substitute for you if you can't / won't eat one of the courses. Though pricey for Mexico, even with drinks we didn't top $200 for the meal.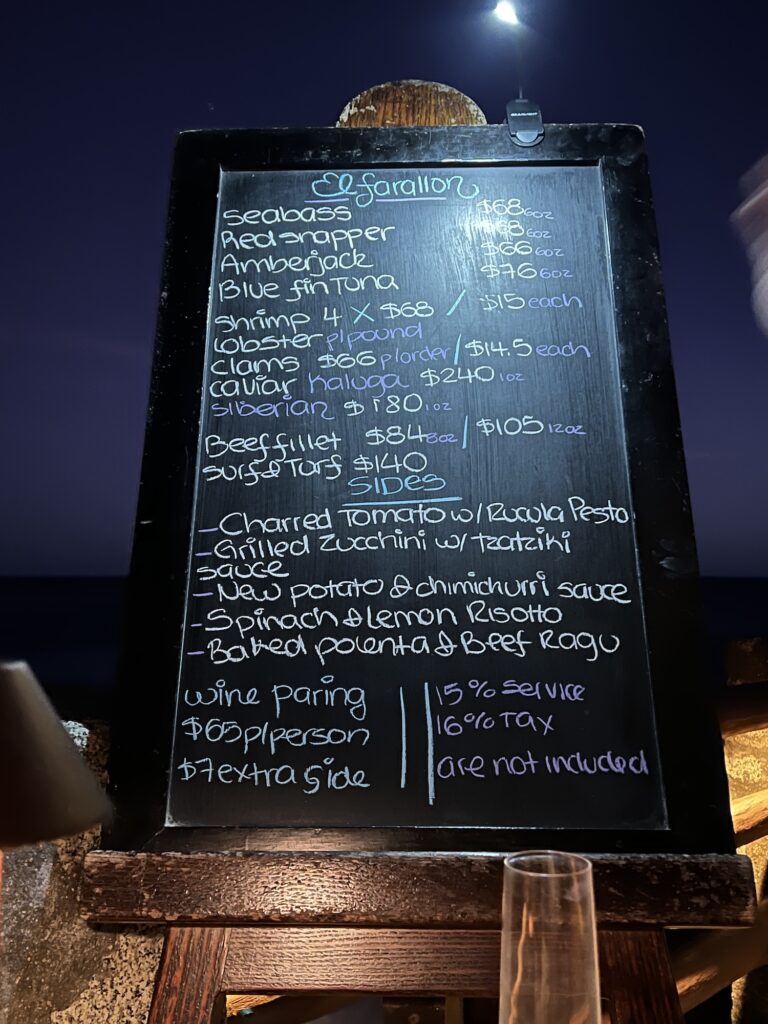 The view is unparalleled and you definitely want a meal here for a special occasion (or even if you don't have a special occasion!).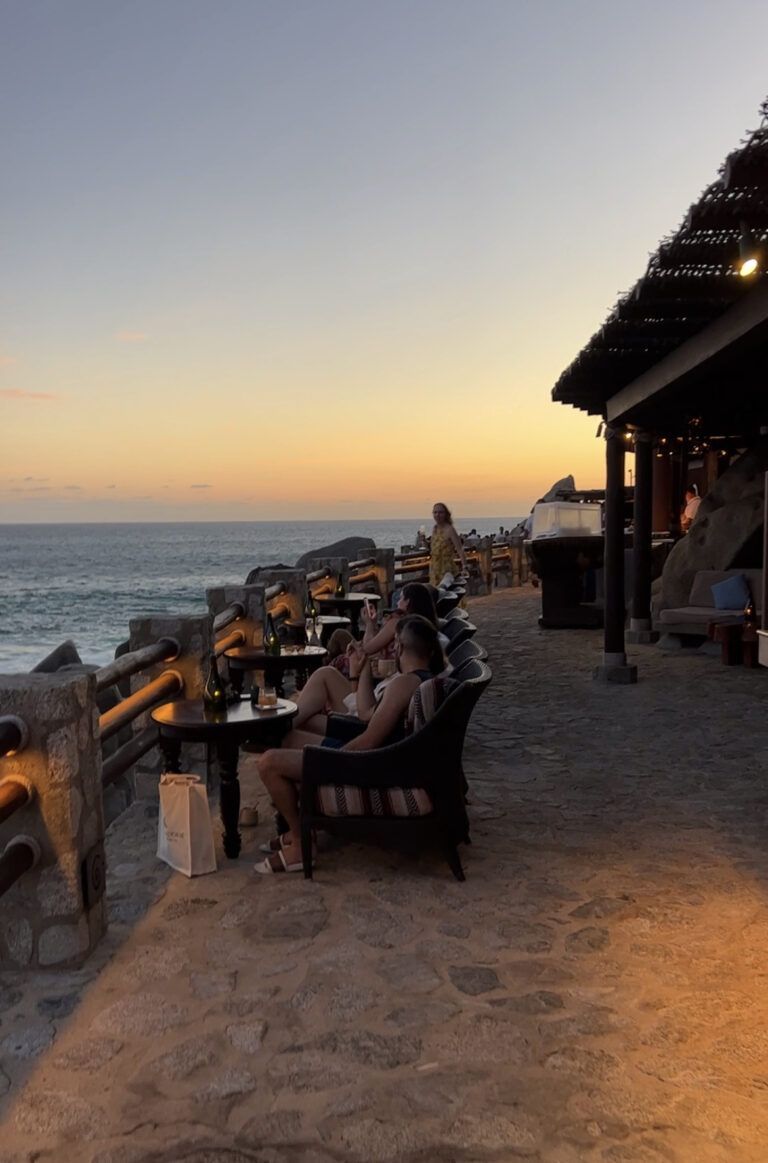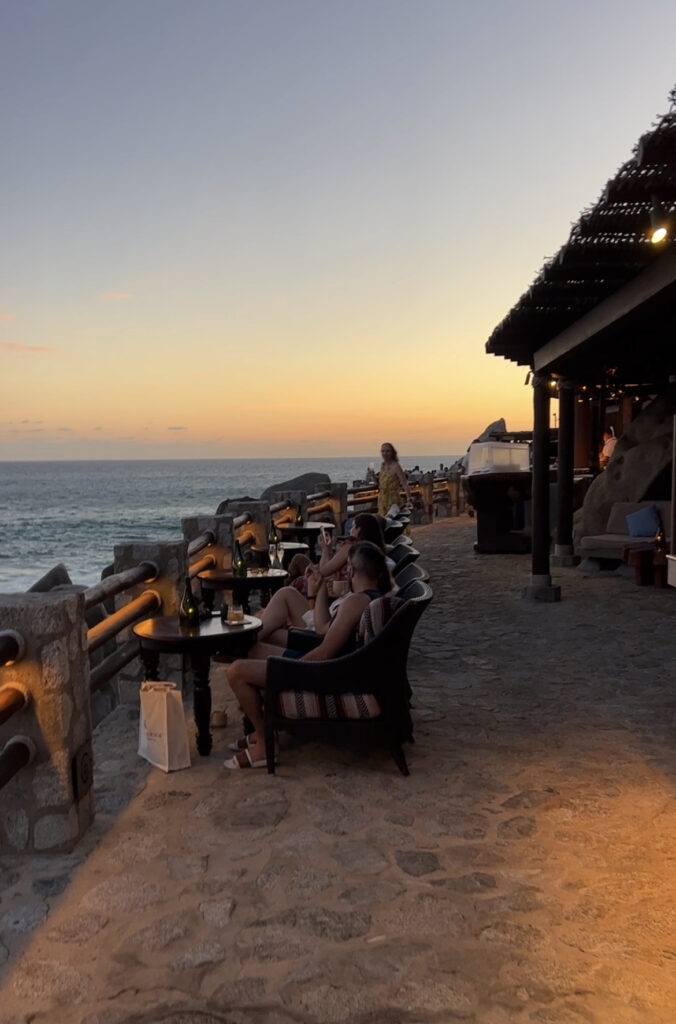 The above shot is of the area where you wait while they get your table ready…
Next, we have to discuss Don Manuel's. Because this is where breakfast is served, I immediately expected it to be an average spot. But it's not. It's amazing.
Still, let's start with breakfast. The continental breakfast sells for $34 + tax/tip but if you are Hilton Gold or Diamond (and you really have no excuse not to be via the Hilton Surpass or Hilton Aspire credit cards or even via an Amex Platinum card), then the continental breakfast is free.
But for just $10pp more, you can upgrade from a handful of pastries to the full buffet.
Do this. Do not even think about it. If you wake up full one day in the middle of your trip, maybe you can consider it, but the difference is night and day and the buffet is incredible.
I'll let some of the pictures do the talking here, but I'll note that all of the hot options changed daily. For instance, there was always a fresh made quesadilla (different filling each day) and likewise for the tamales. The rest of the dishes rotated and then there was still all of the pastries and whatnot.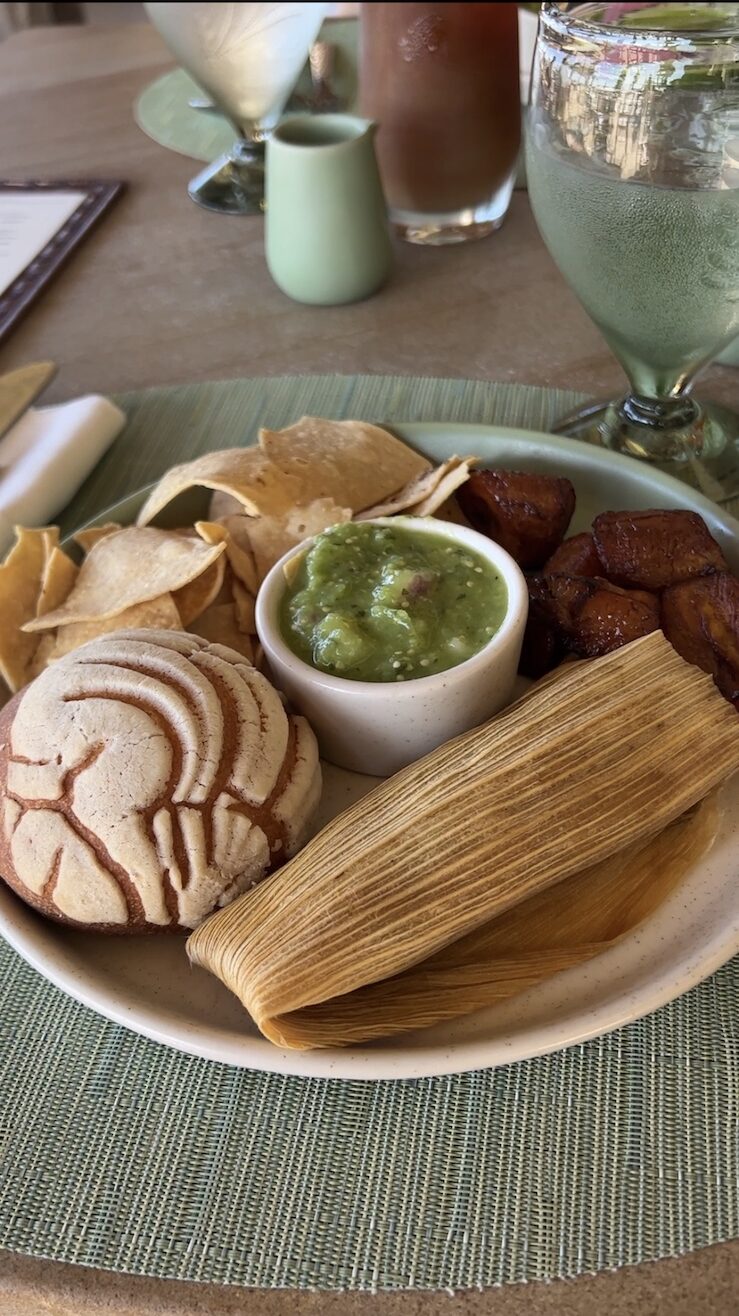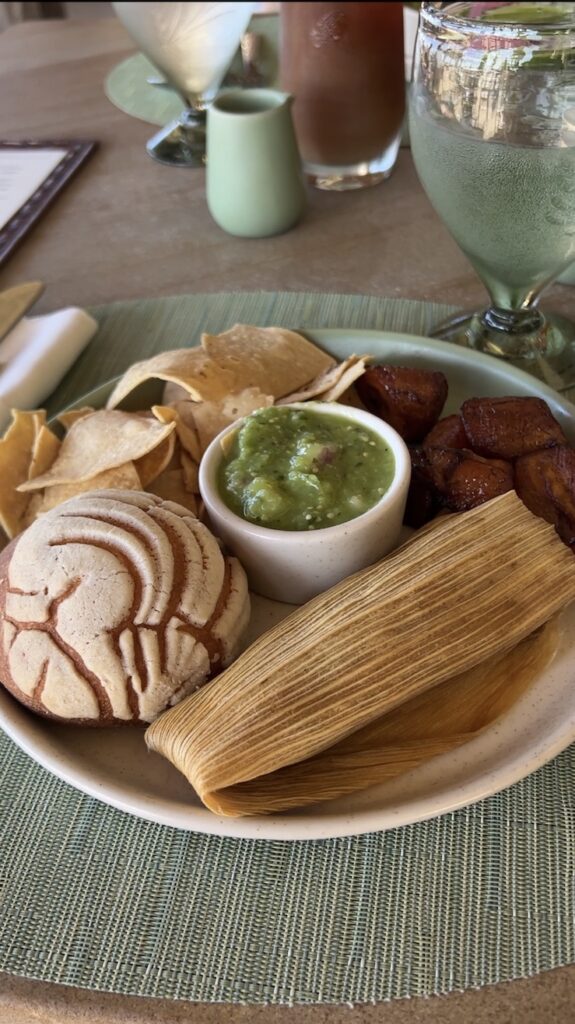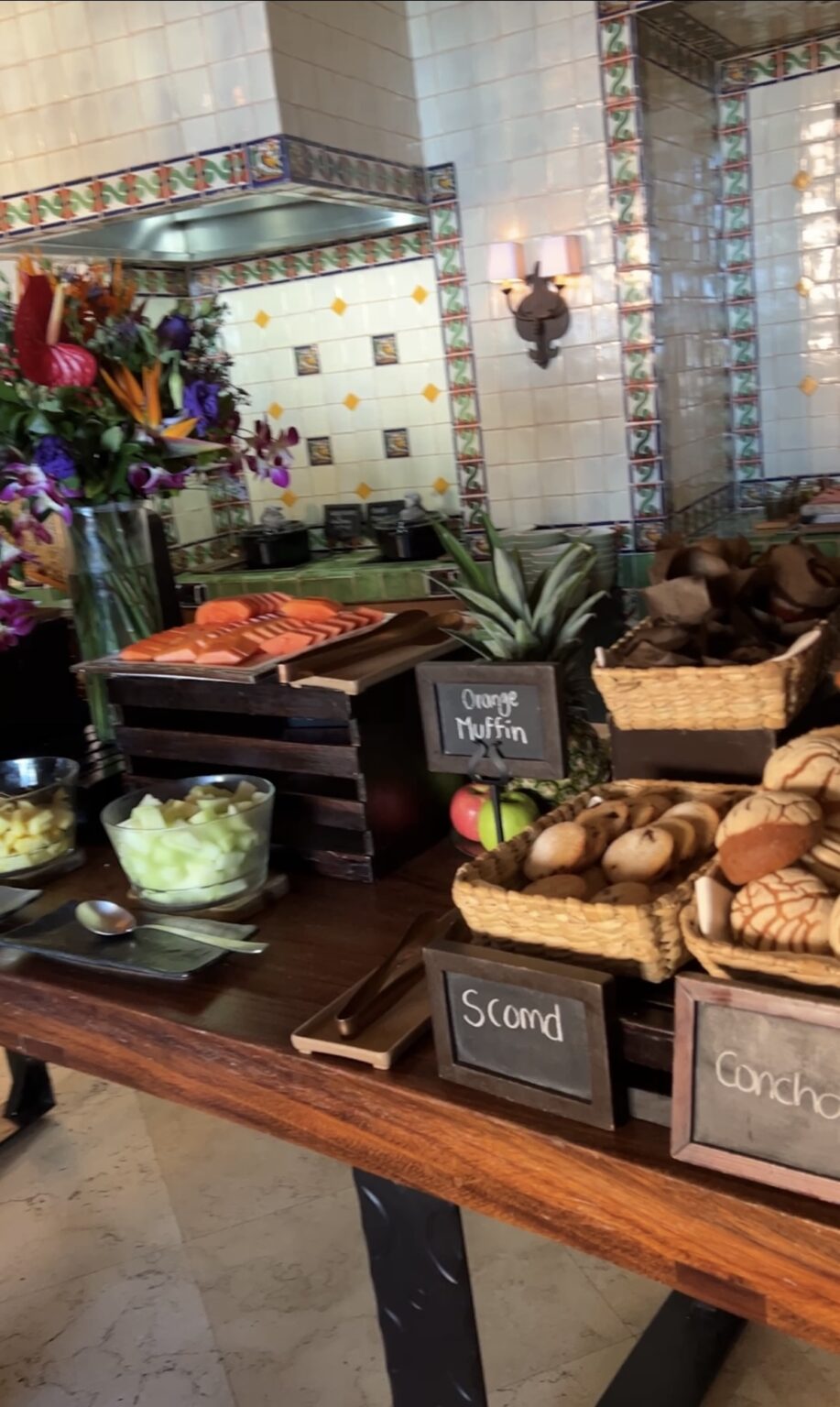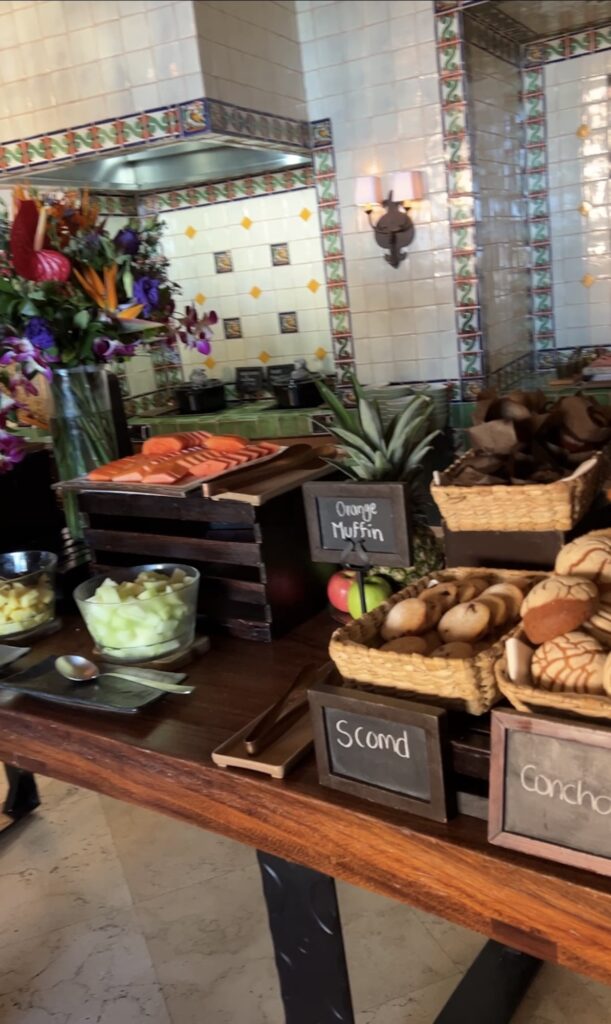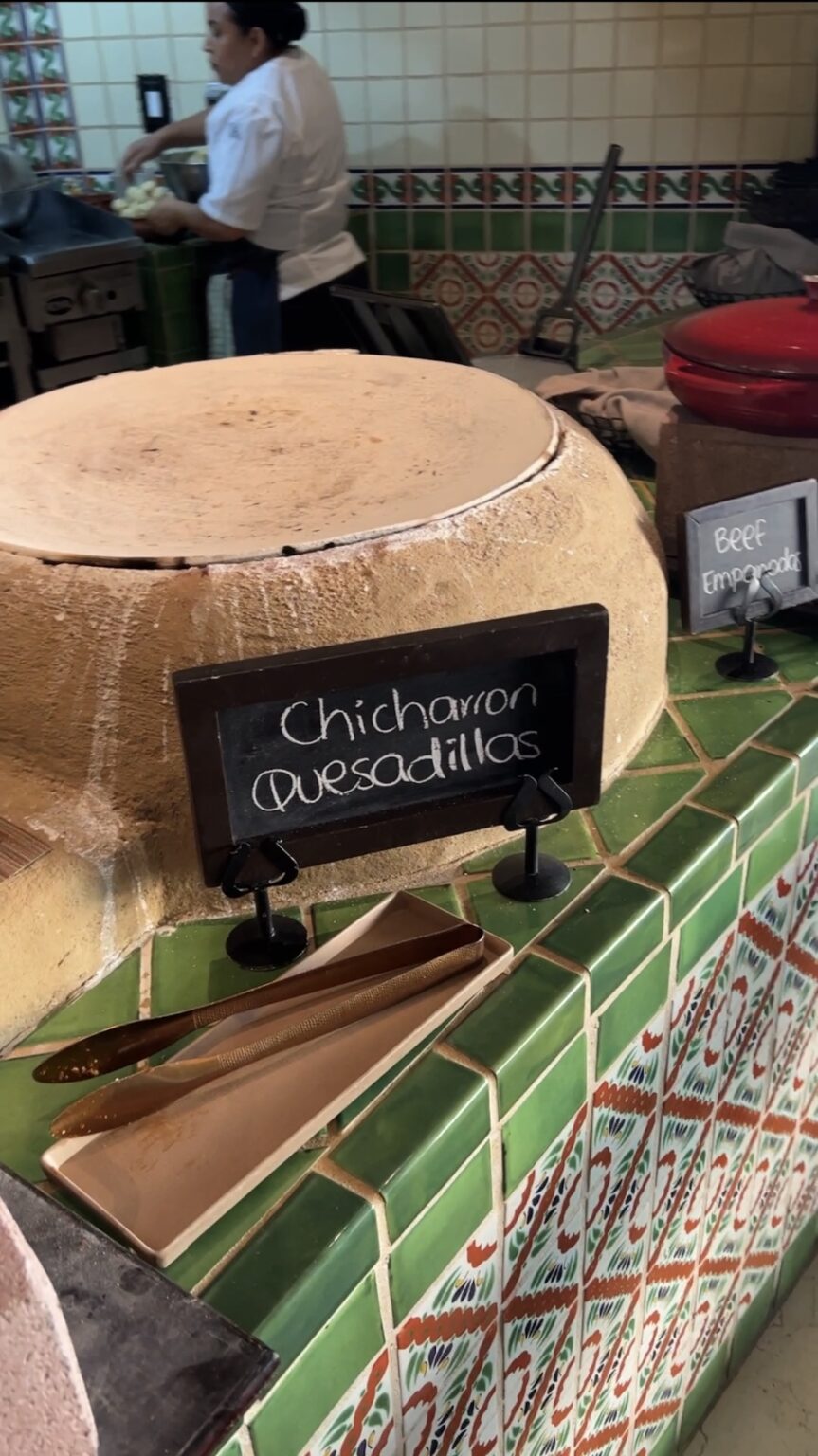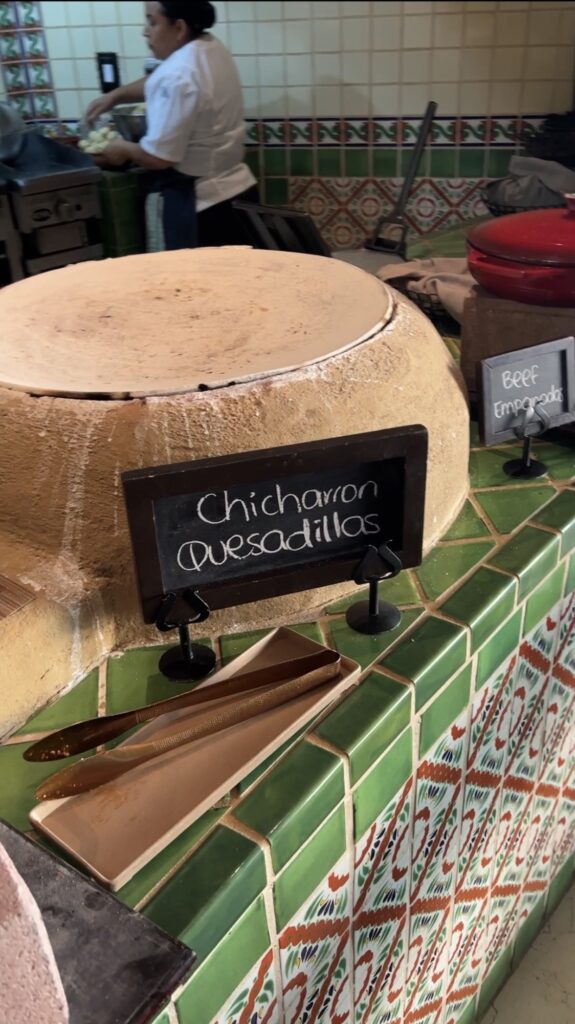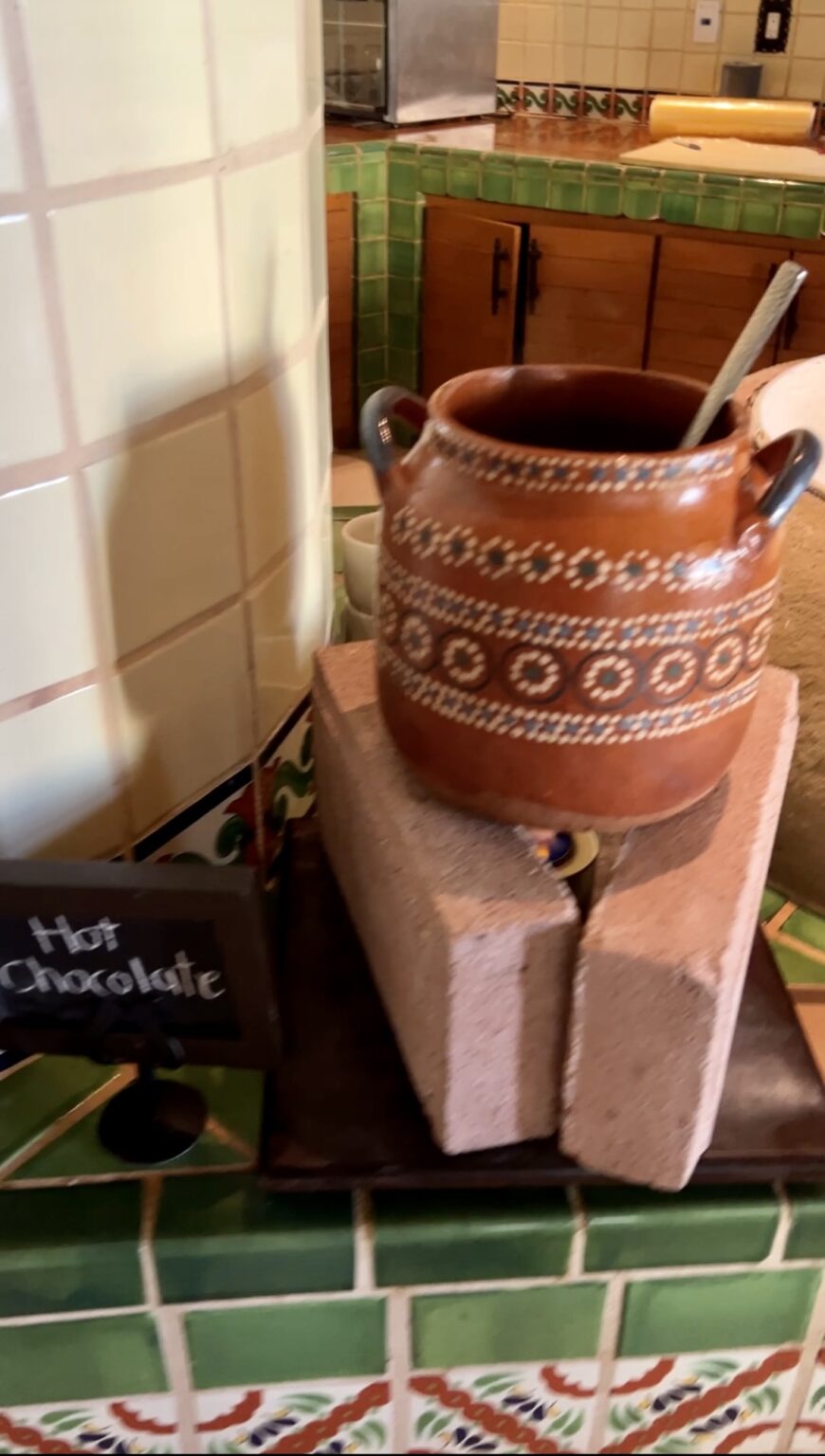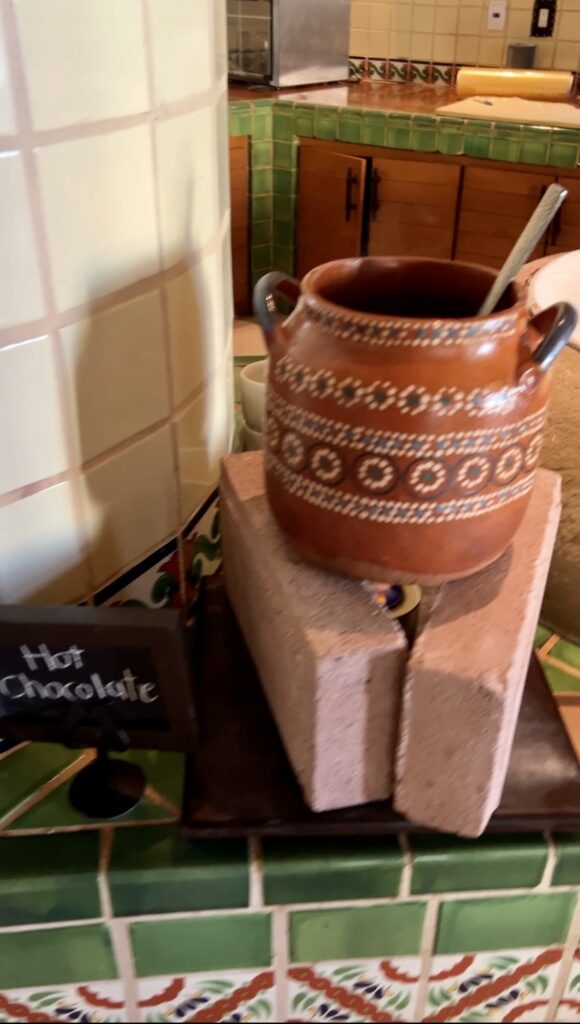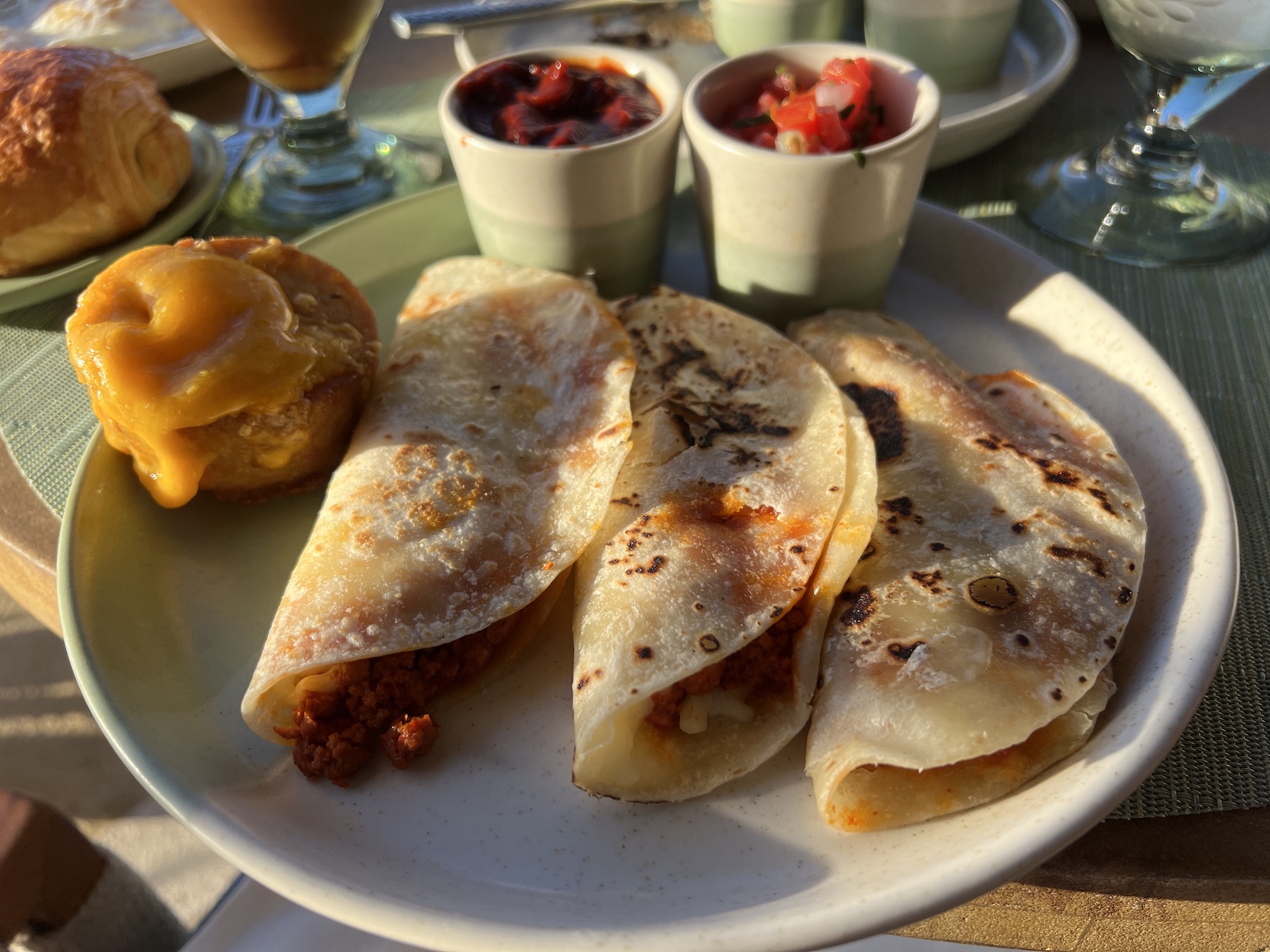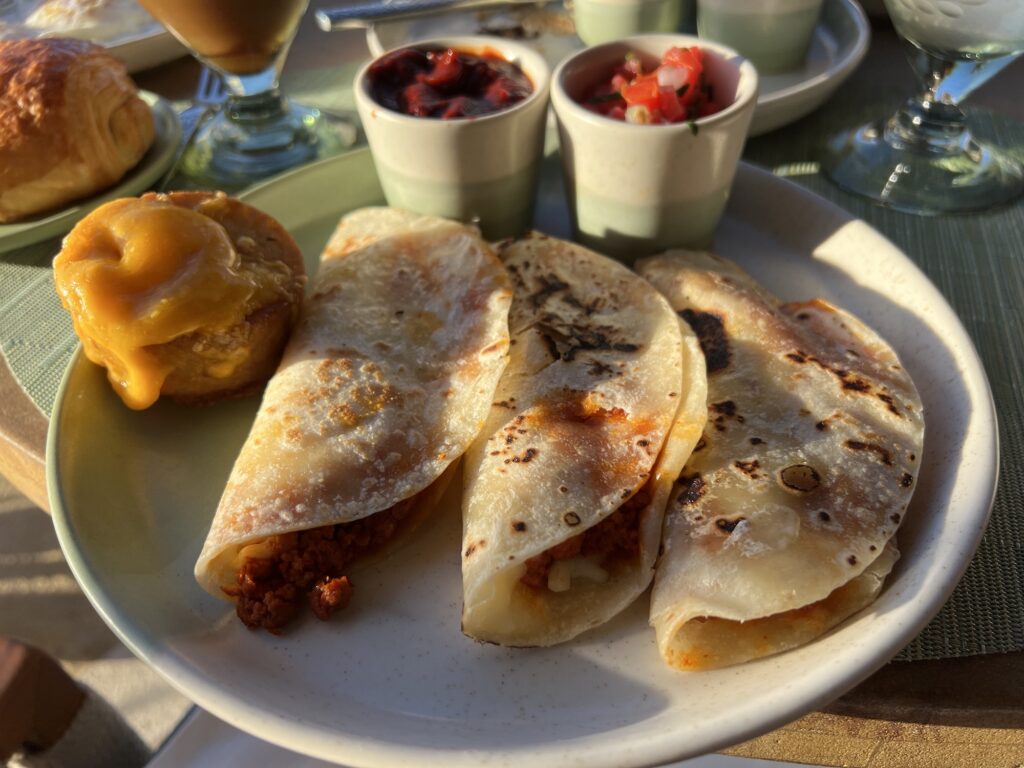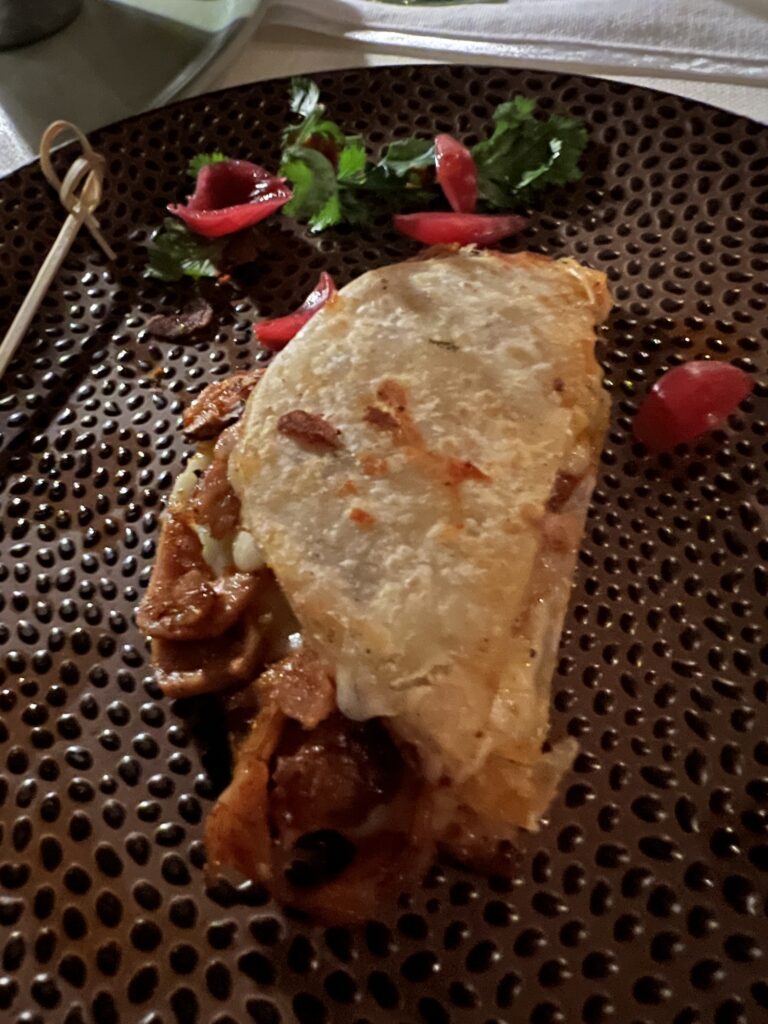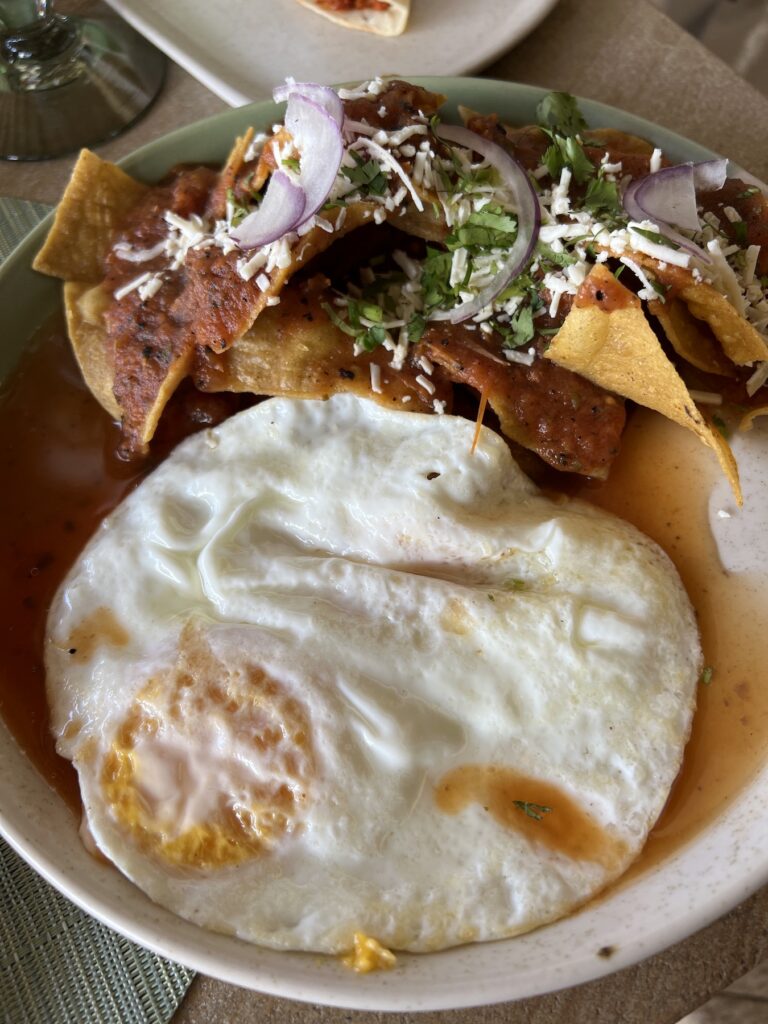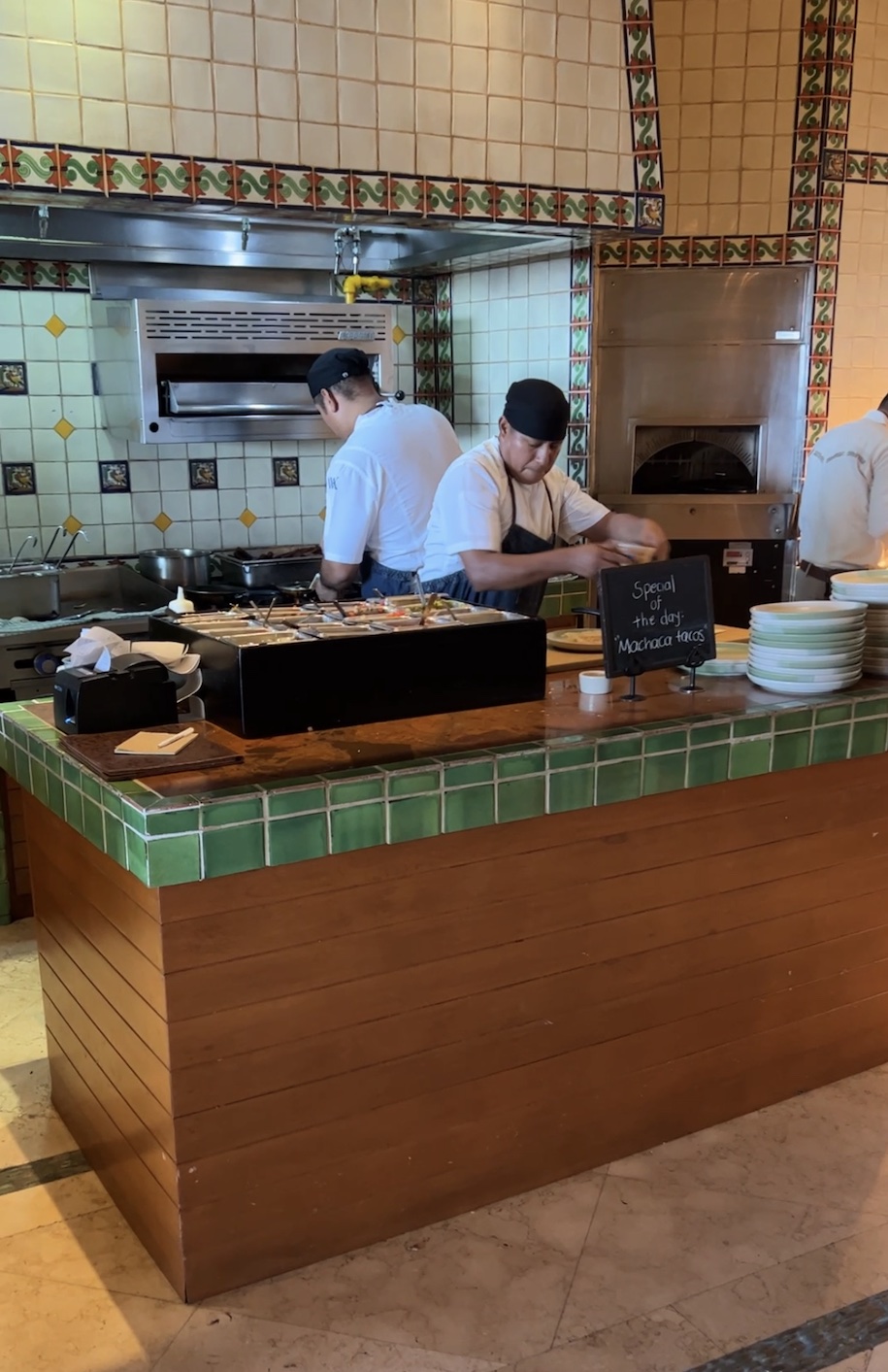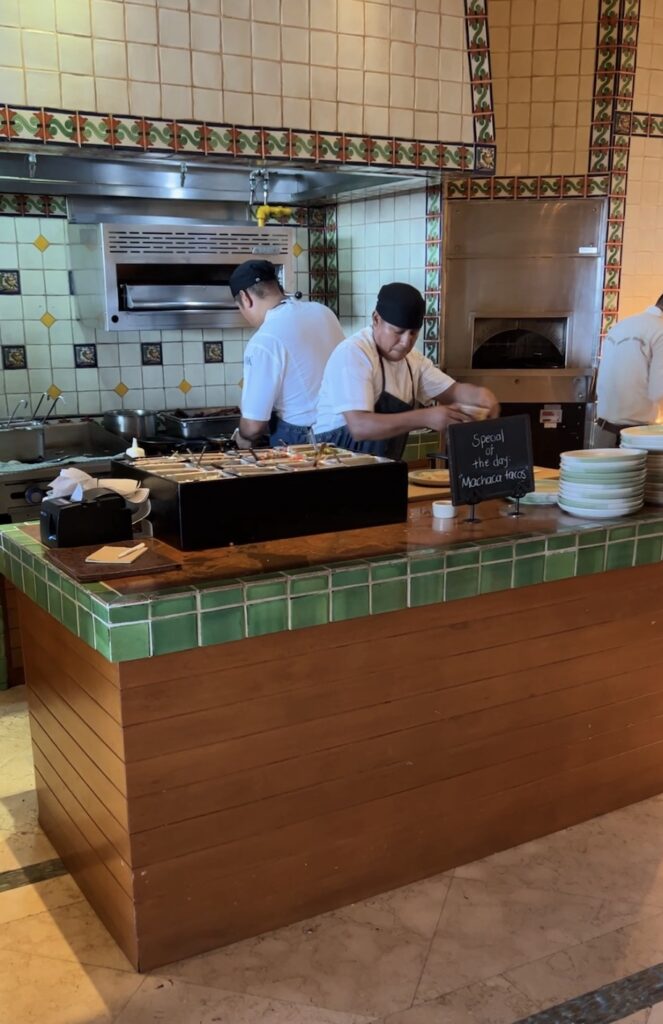 But the best part was the made-to-order station. It may appear to be an omelette station – but it's soooo much more. You can order breakfast tacos, burritos, quesadillas, chilaquiles, and the special of the day. They'll happily give you chips as well, and you can grab all the green, red, orange, and black salsas. Call me crazy (fair) but the black salsa which is the spiciest was by far my favorite. I ate it at breakfast, I ate it at lunch, and when possible, I ate it at dinner as well. And I'm still standing 😉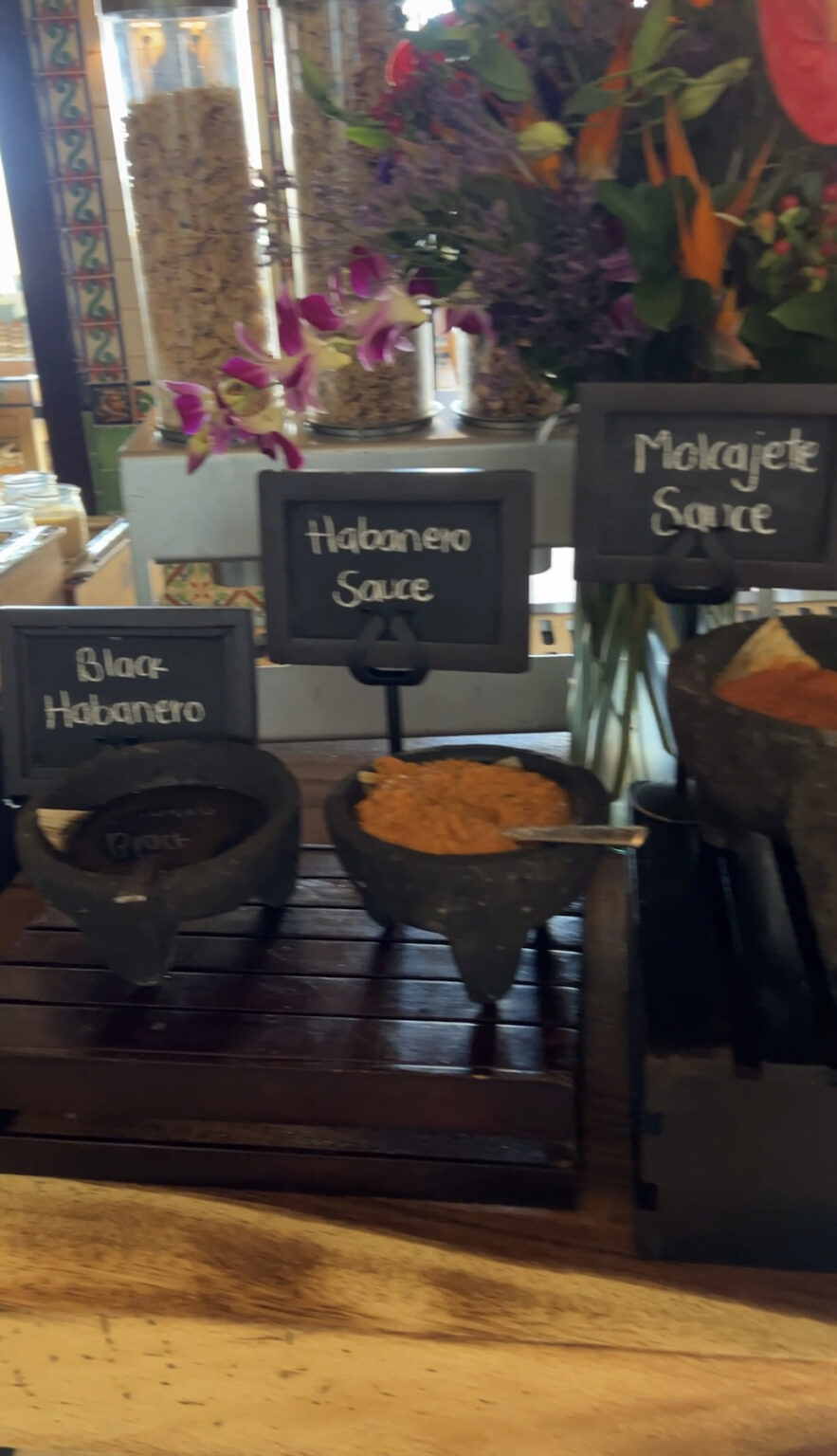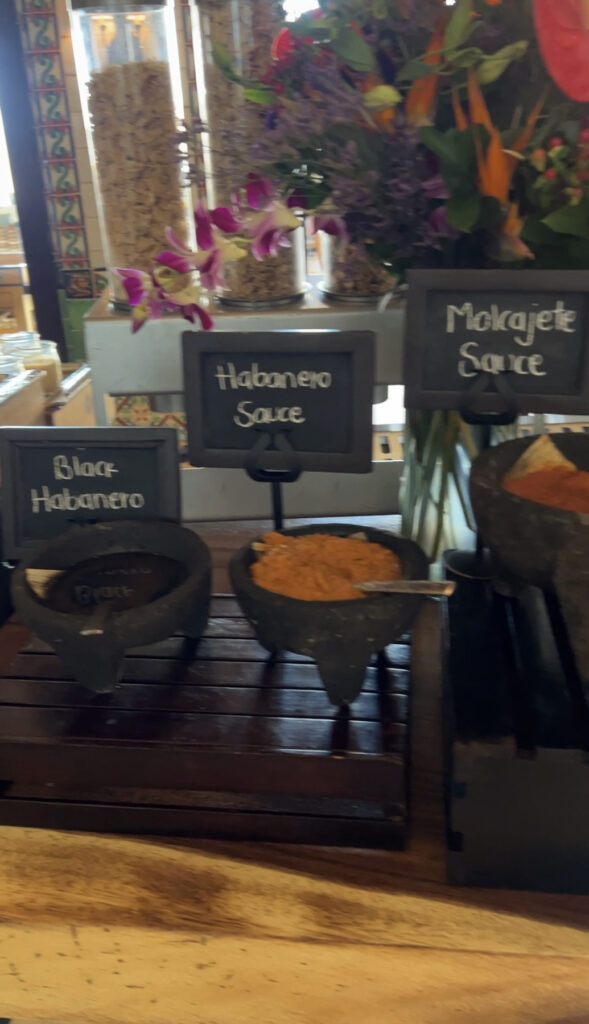 One thing to bear in mind as you have breakfast is that there are some things that are additional charge. And sometimes they will charge you for those and sometimes they won't, but they tended to be good about warning you if something was outside of the inclusions. For instance, an espresso beverage is not included, but coffee is. Cold brew is not included, but iced coffee is. Ask if you care and aren't sure. A couple of times I had to be clear that by iced coffee I meant the simple included one and then it was never an issue.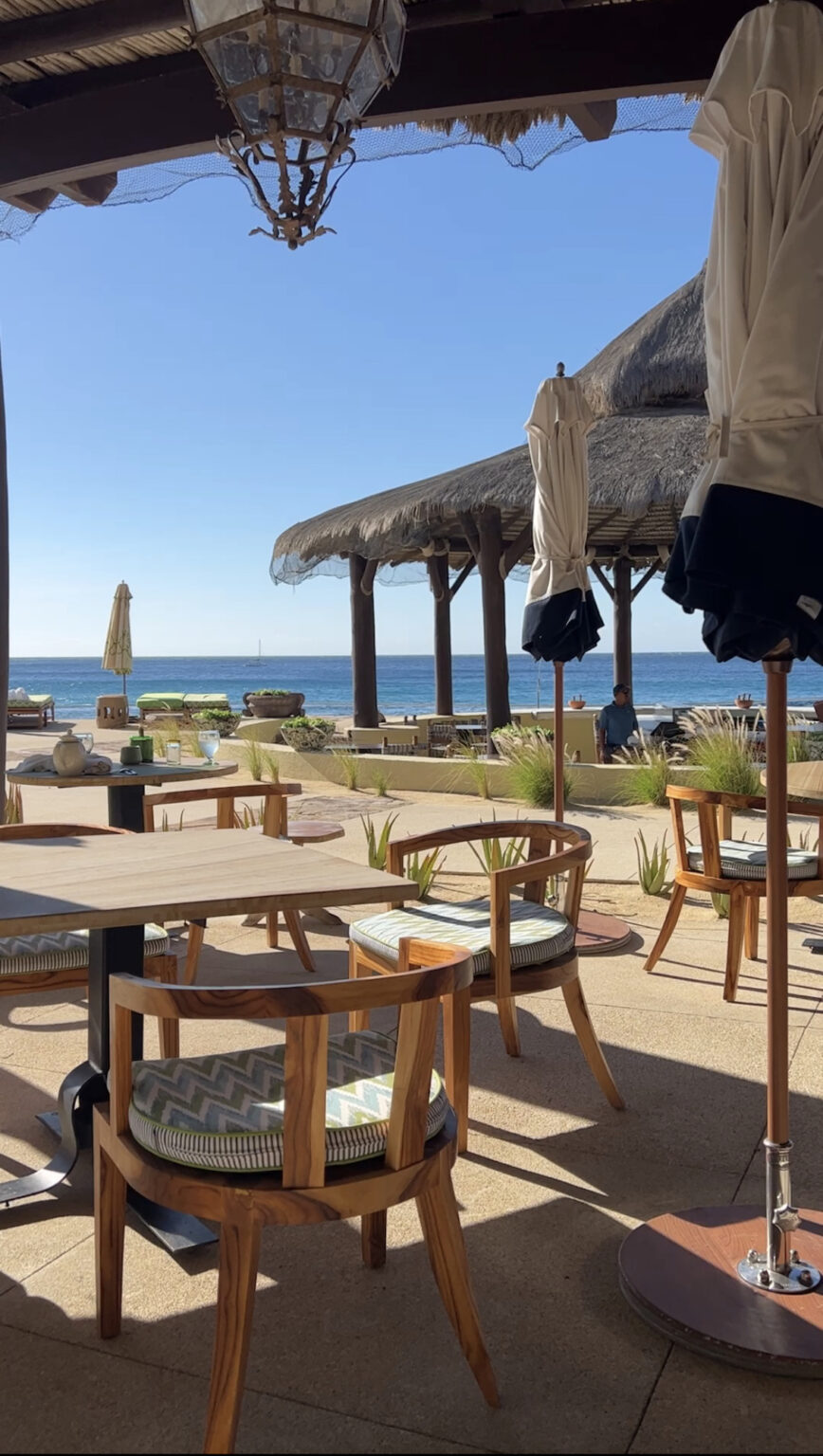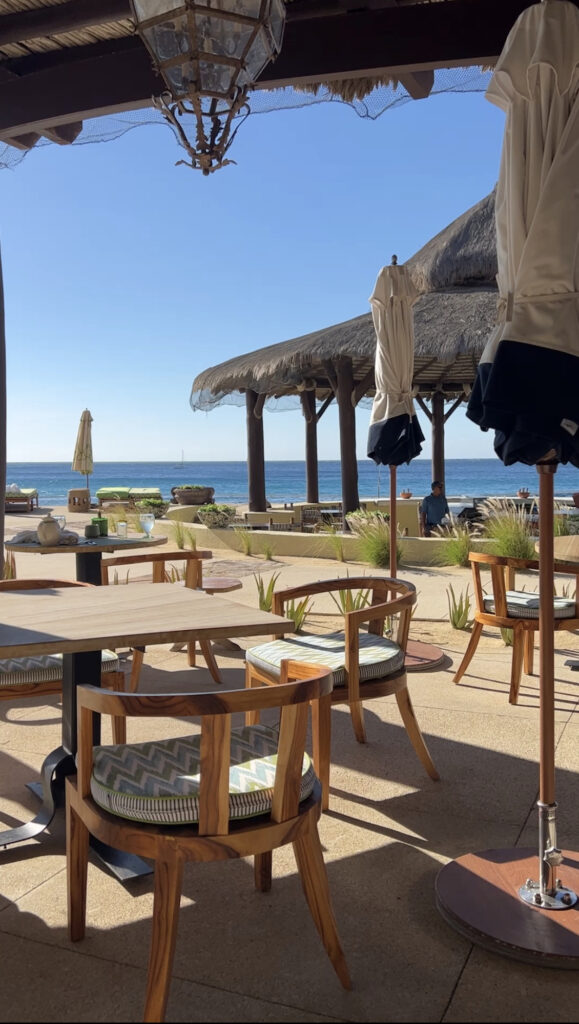 Don Manuel's is also a great spot for lunch and for dinner. Everything we had was great and their pastor was some of the best I've ever had. I asked the waiter on the last night (as that was the day I'd gone to Taco Guss) and he explained that all of the chefs there come from different parts of Mexico. Should you do the 11 course taco tasting at Travesia, you'll find that everything tastes so authentic because the regional recipes are all by chefs local to where that type of taco or meat preparation is the specialty. I did not expect that. And the waiter was kind enough to let me know they had a few selections left from the 11 course menu and let me order a la carte just to sample something off the menu.
I didn't try anything at Crudo but my wife enjoyed the sushi there.
Lastly, there is a tequilla tasting bar called the Agave Study and a coffee shop called Neutral Coffee Lab.
I'm a coffee addict, but I only tried the Coffee Lab the first day, where a blended mocha was about $18 all in. On subsequent days, I had an iced coffee at breakfast and asked for a second one to go and was good for the day.
We also tried some expensive (and worth it) tequila one night at the Agave Study where we were able to sit and enjoy the wonderful sunset views. I tried a local agave based alcohol called Bacanora and dang that was some strong stuff!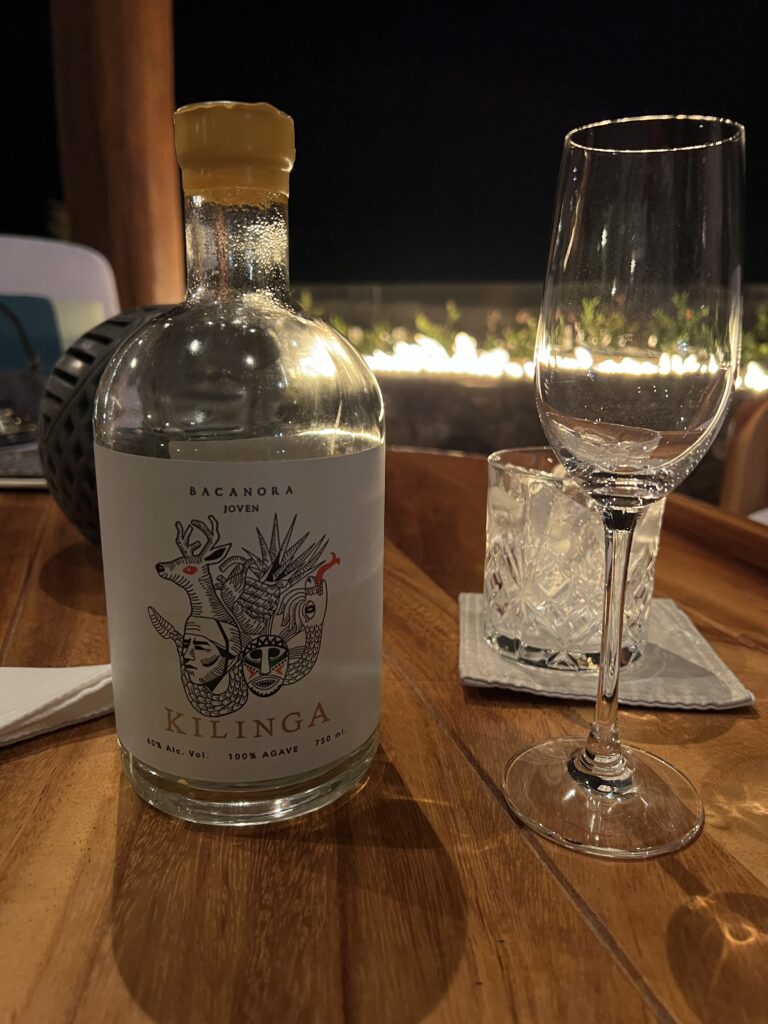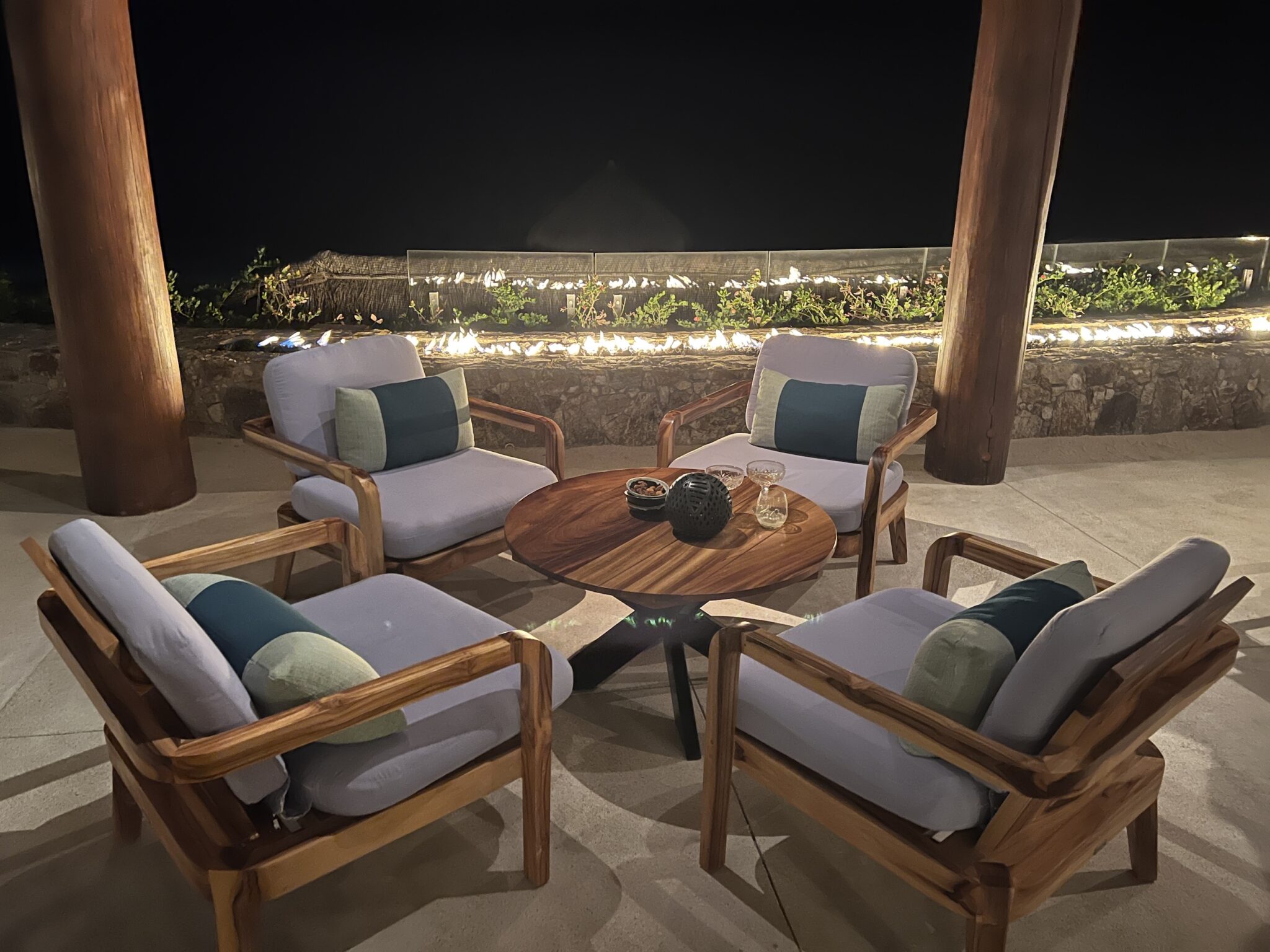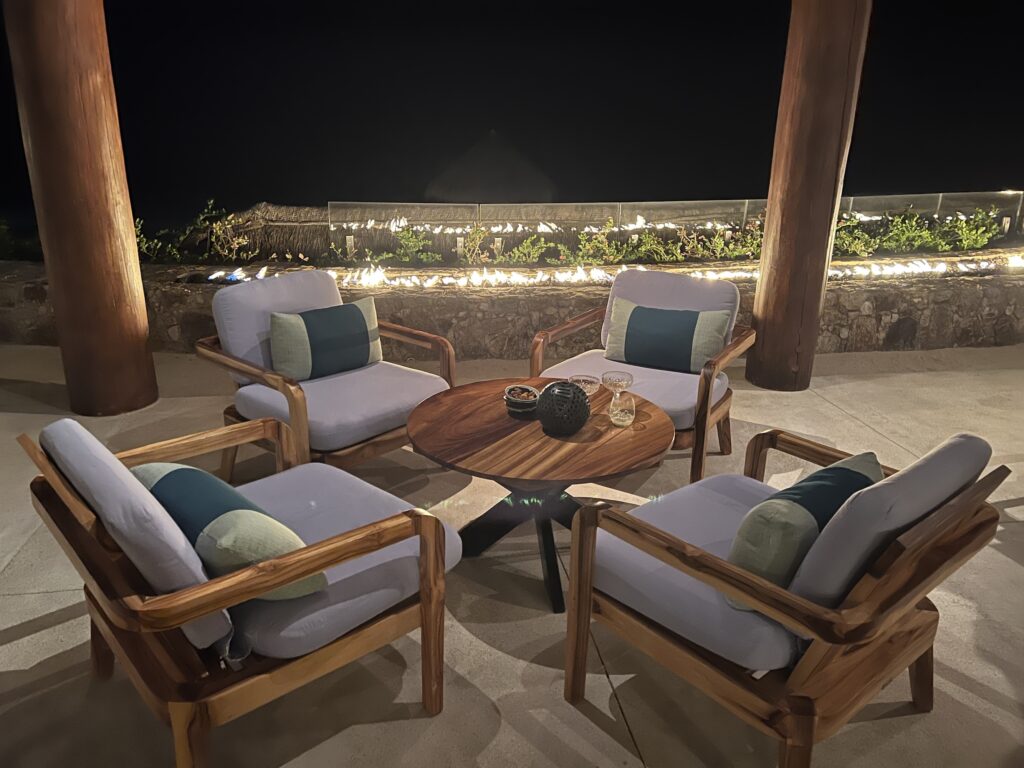 The Spa at Pedregal
If you're splurging, or if you just need a good use for those $250 Hilton Aspire resort credits, you won't go wrong with the spa. It's certainly on the expensive side at over $300 per person all in for a 50 minute massage, but you also have use of the facilities the rest of the day which includes an indoor jacuzzi, sauna, steam room, and ice room as well as a spa guest-only pool and lounge area. And we both found the treatments to be top notch. In a normal situation, I doubt we'd have splashed out on this, but with the two $250 Aspire credits and the two $100 off $500 credits, it worked out to be a nice splurge.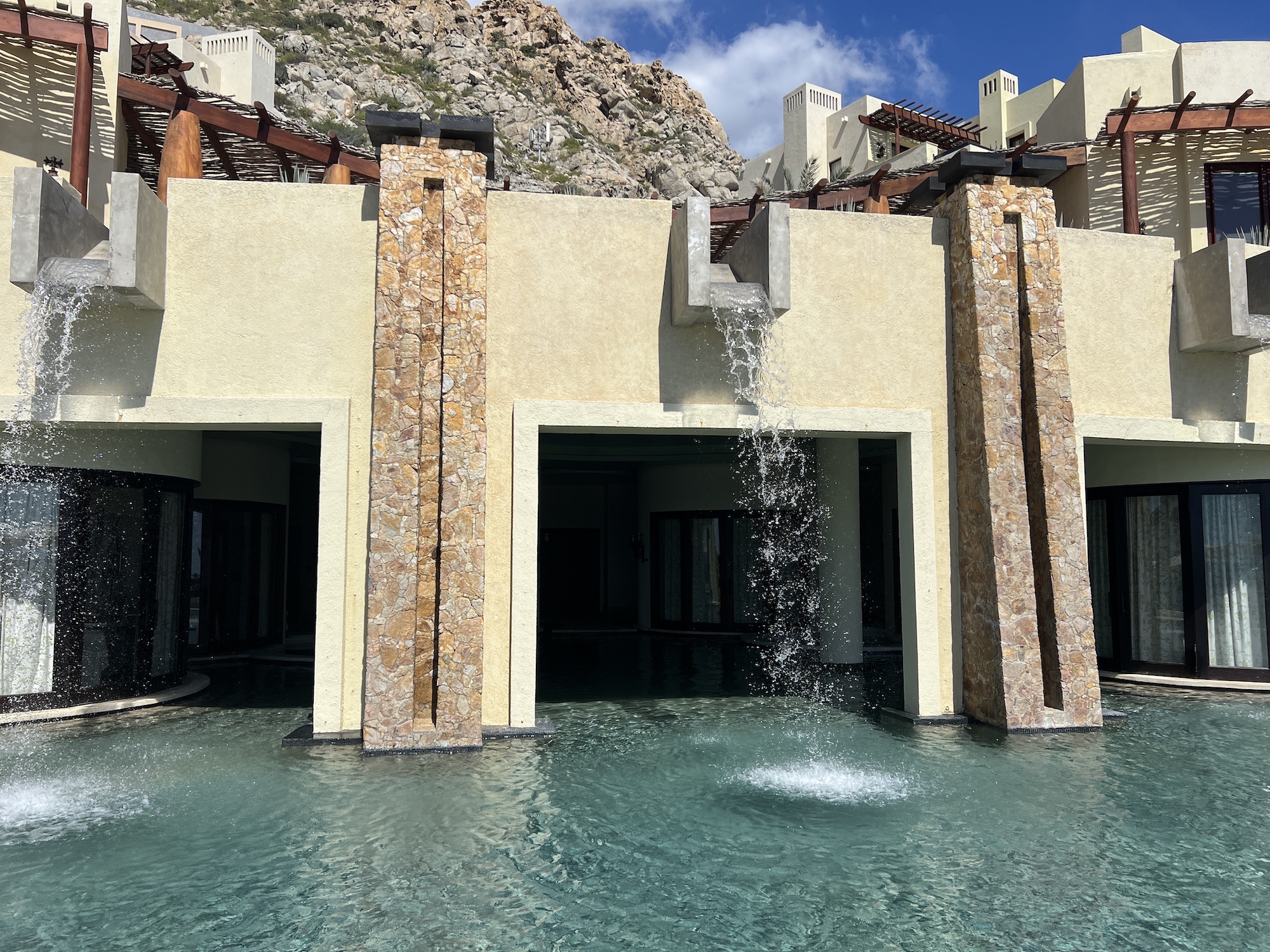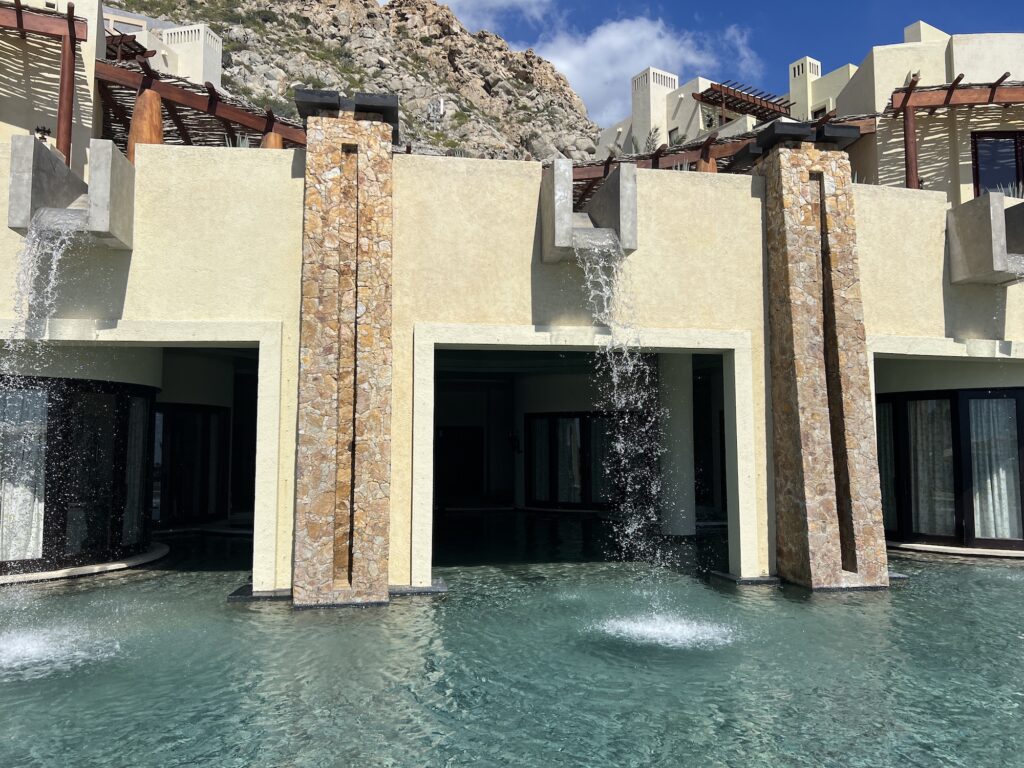 Service
One thing you will always note at this resort is how the staff says "It is my pleasure" when you thank them for anything they've assisted you with. You definitely get the feeling they are treated well and proud to work at the Pedregal – and they treat guests accordingly. Keep in mind, the Waldorf Astoria Pedregal is one of the most exclusive resorts in Cabo, with prices to match, but that doesn't always make for amazing service (you may recall my disdain for the Waldorf Astoria in Maui).
The service was so astoundingly good that I wouldn't be exaggerating to say that we felt like royalty for the trip. The service was so good that one time at breakfast there was one person who was just the slightest bit grumpy and I'm sure we wouldn't have even noticed it if not for the rest of the staff being 10/10 all the time.
For me, service is one of the most important parts of a luxury hotel stay. Sure, the grounds and rooms and food are all equally important, but when the staff doesn't seem to care (which happens often even at $1,000+ / night hotels), that instantly ruins a stay for me.
Final Thoughts
The Waldorf Astoria Pedregal is a spectacular resort. Since it joined Hilton Honors a couple of years ago, it instantly became one of the "fan favorites" for using Free Night Awards from the Hilton Aspire credit card (one annually), the Hilton Surpass (one each calendar year after spending $15,000), and the Hilton Business card (one each calendar year after spending $15,000).
It took me a while to be able to line up availability at a time that worked, but I sure am glad I finally did. As hard as it can be to find a Standard room award to use a certificate for, stalking that calendar will really pay off once you're booked.
Despite it being a pretty good distance from NYC, I have no doubt we'll be back. And we'll probably bring our son next time as well. I have no doubt they would treat him like royalty as well.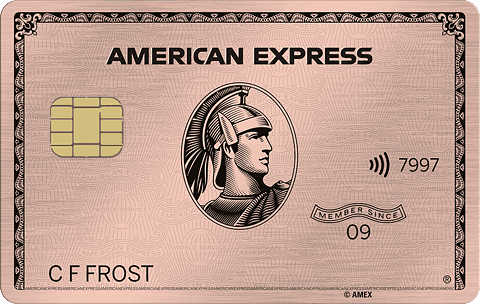 Get 60,000 Bonus Membership Rewards points
after spending $4,000 on purchases within the first 6 months on an American Express® Gold Card or Rose Gold Card. Earn 4X points on dining and U.S. supermarkets (up to $25,000 annually, then 1X) plus get $10 monthly dining statement credits and $10 in monthly Uber Cash. Terms apply.
Get This Offer
Thoughts?
Let me know below in the comments, on Twitter, or in the private MilesTalk Facebook group. And don't forget to follow me on Instagram for all sorts of tips on miles, points, credit cards, and travel.
If this post helped you, please consider sharing it!
You can find credit cards that best match your spending habits and bonus categories at Your Best Credit Cards. 
New to all of this? My "introduction to miles and points" book, MilesTalk: Live Your Wildest Travel Dreams Using Miles and Points is available on Amazon and at major booksellers.