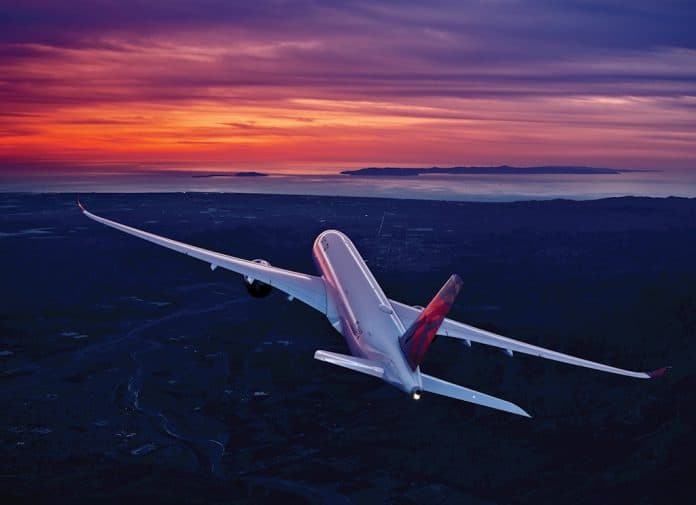 Back in October, Thrifty Traveler discovered that Delta crushed award pricing on several partners to more align with their own insane award prices. Kyle noticed that they'd doubled, or tripled or more the award prices for travel on Virgin, Air France, KLM, and Korean Air.
Well, for those of you that have long referred to Delta's SkyMiles as "SkyPesos" – get ready for this…
Delta Raises Award Prices on Aeromexico from 2x – 4.5x
For the longest time, you could fly on Aeromexico from the US to Mexico using Delta miles for 17,000 miles in coach or 35,000 miles in Business. I've long thought that the JFK-MEX route on their new Dreamliner with flat bed business class was one of the very best remaining uses of SkyMiles, easily besting 2 cents a mile. I'd wanted to fly the route for years and finally booked it about two months ago, ironically for travel this coming week.
As recently as last week, I checked the JFK-MEX-JFK route (and LAX-MEX) and it hadn't changed.
Today, I looked into a possible change in my flight plans, only to discover that Delta has absolutely CLOBBERED Aeromexico award pricing.
What was consistently 17k and 35k has now been devalued into close-in pricing and insanity-level pricing.
Close-in, expect to pay 75,000 SkyPesos SkyMiles in Economy! This is nearly 4.5X its previous price.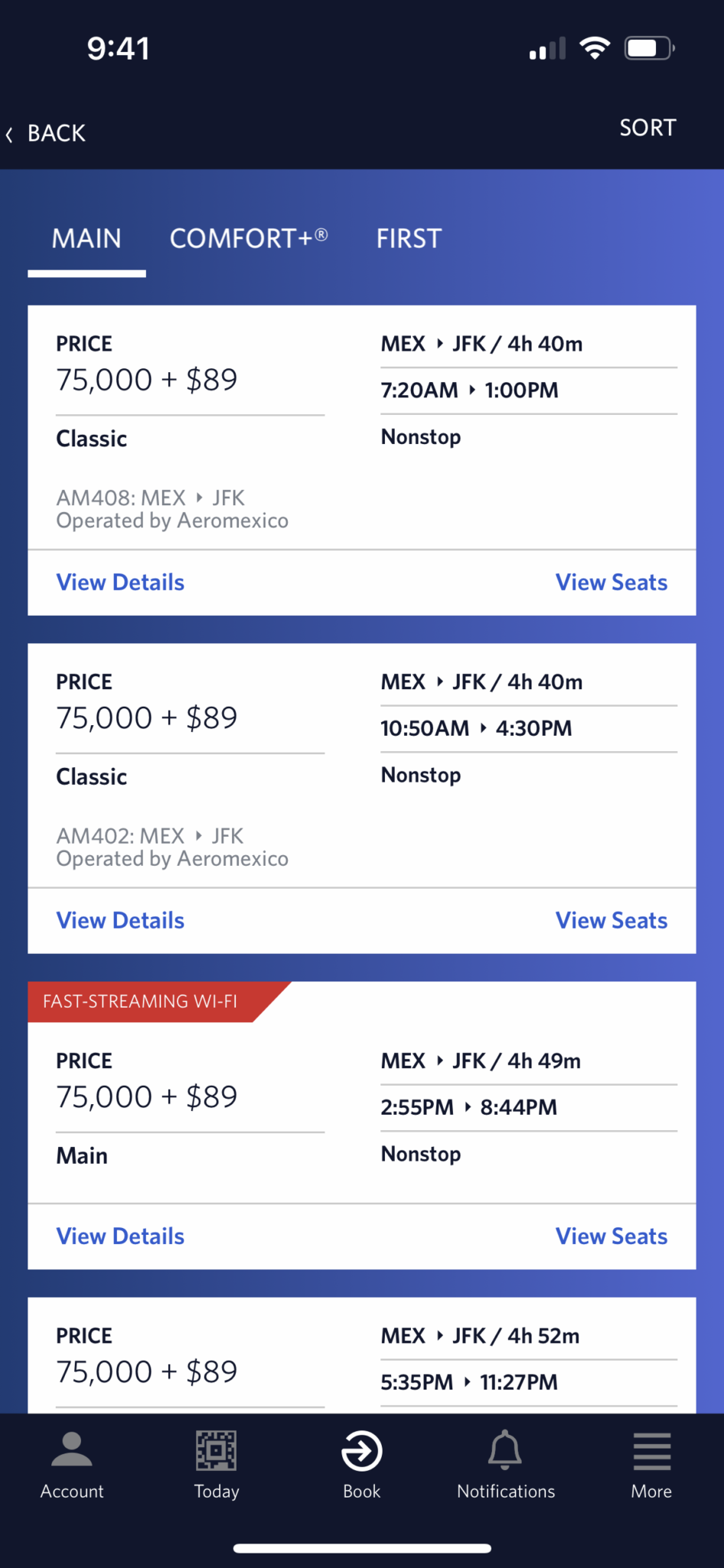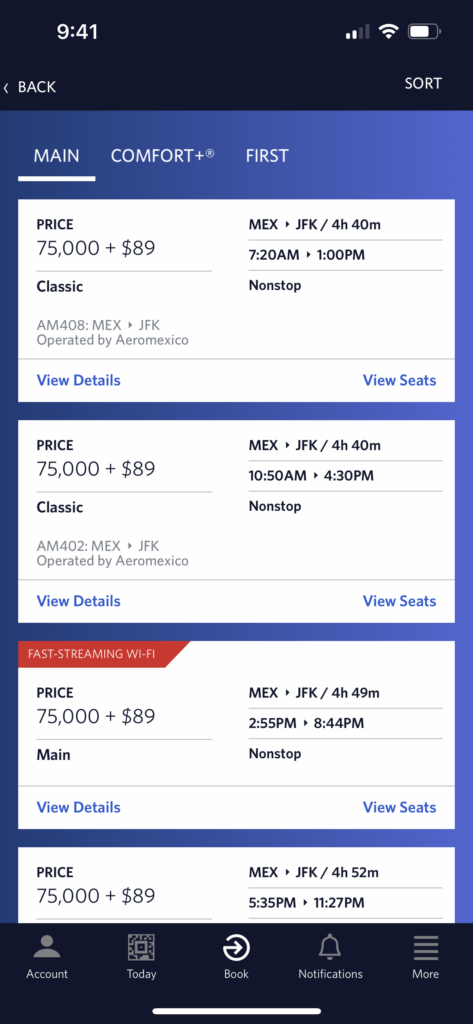 Want that formerly 35,000 mile First award close-in? You'll pay 3.5x what you would have paid a few weeks ago.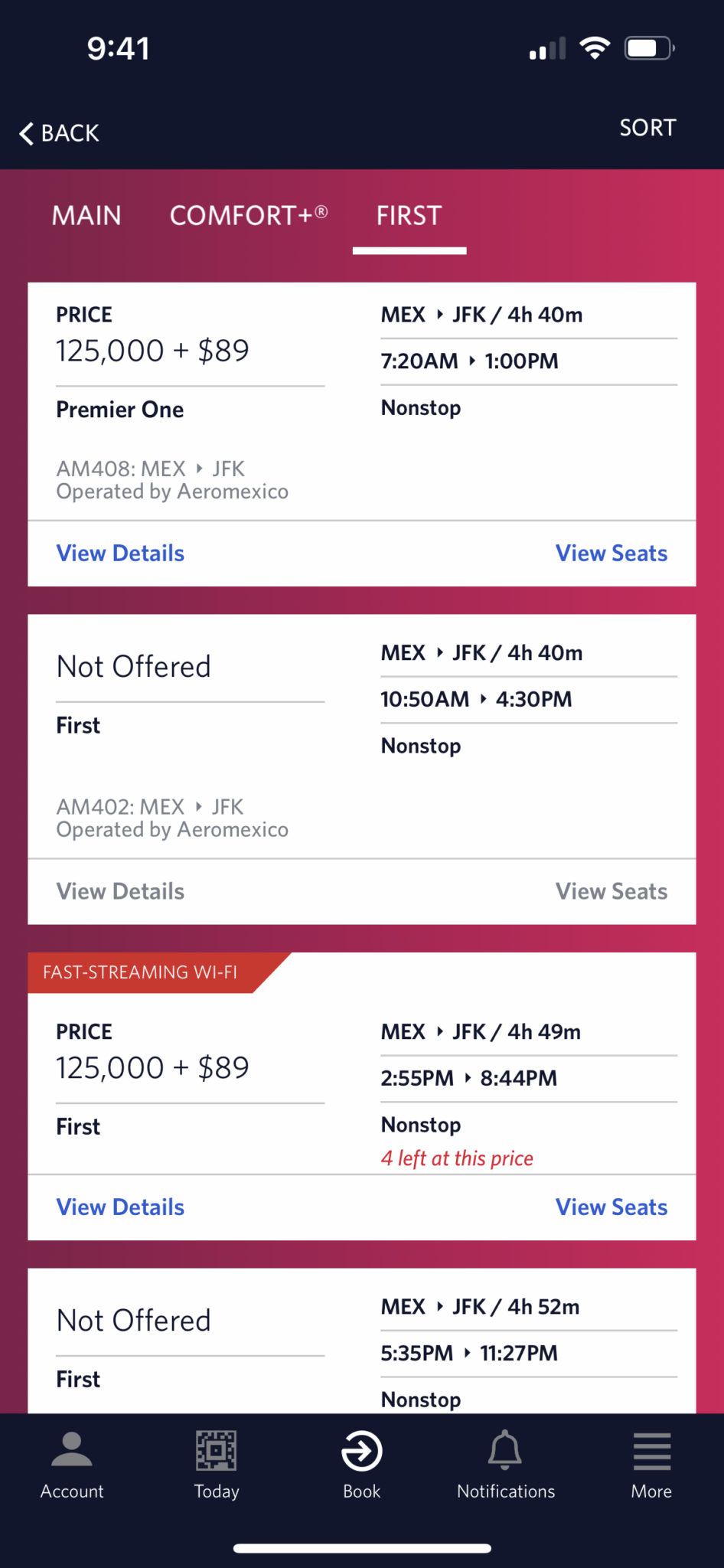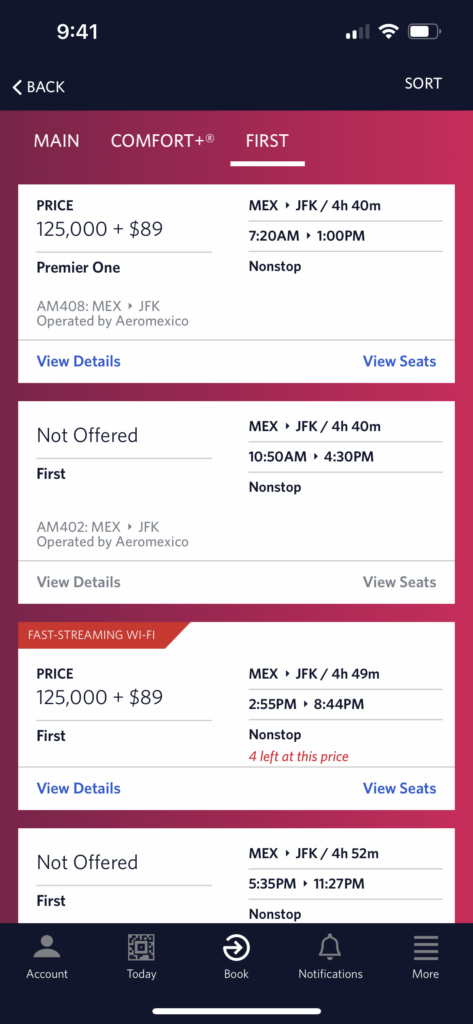 Booking further out is better, but not by much. You'll pay 39,000 miles in Economy, a bit over double the old price.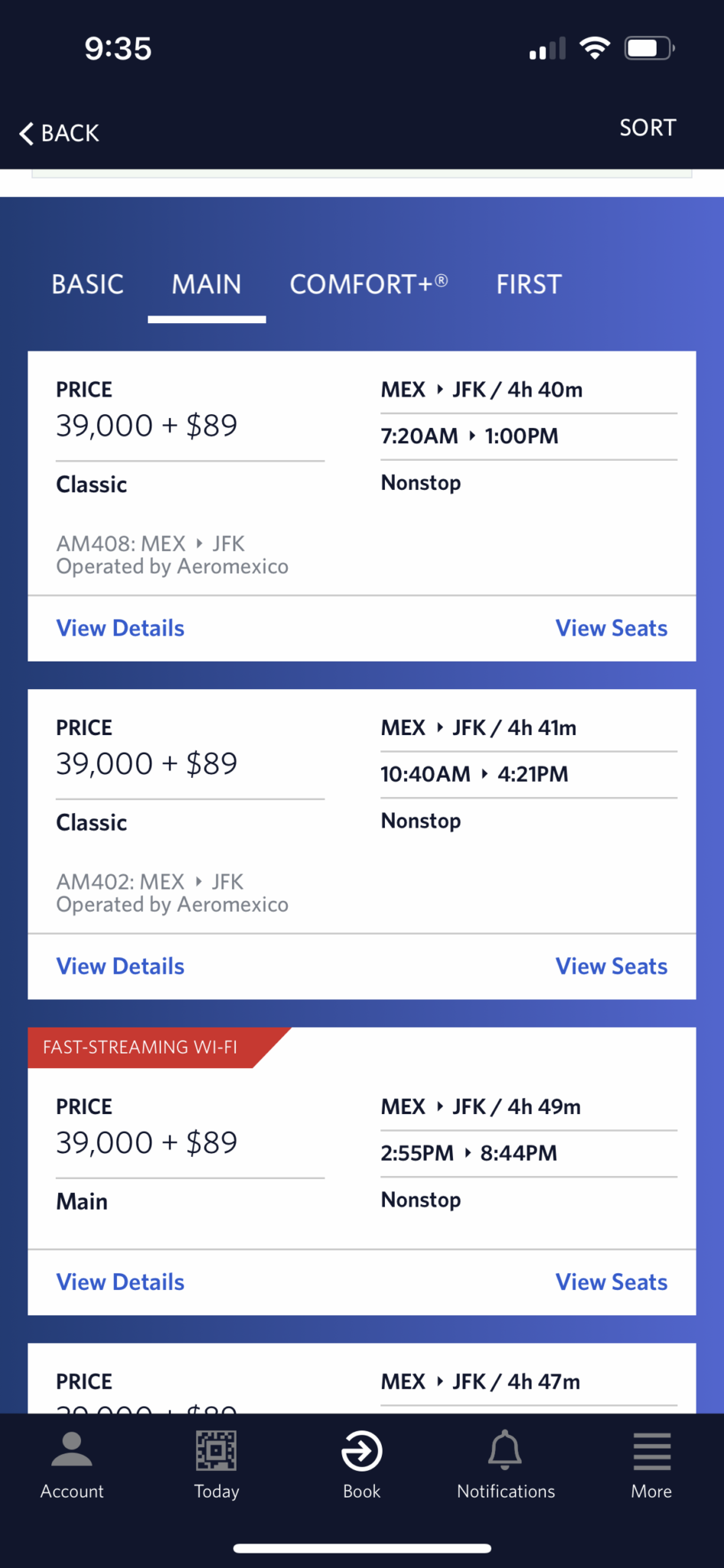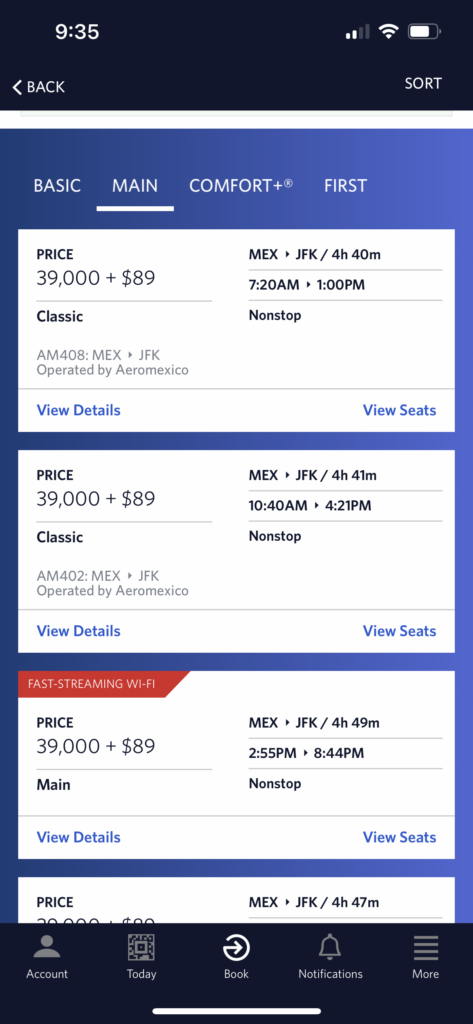 And you'll pay 80,000 miles for a ride in First (Dreamliner or standard recliner First are the same) on Aeromexico metal (hey, beats 125k on Delta metal, right?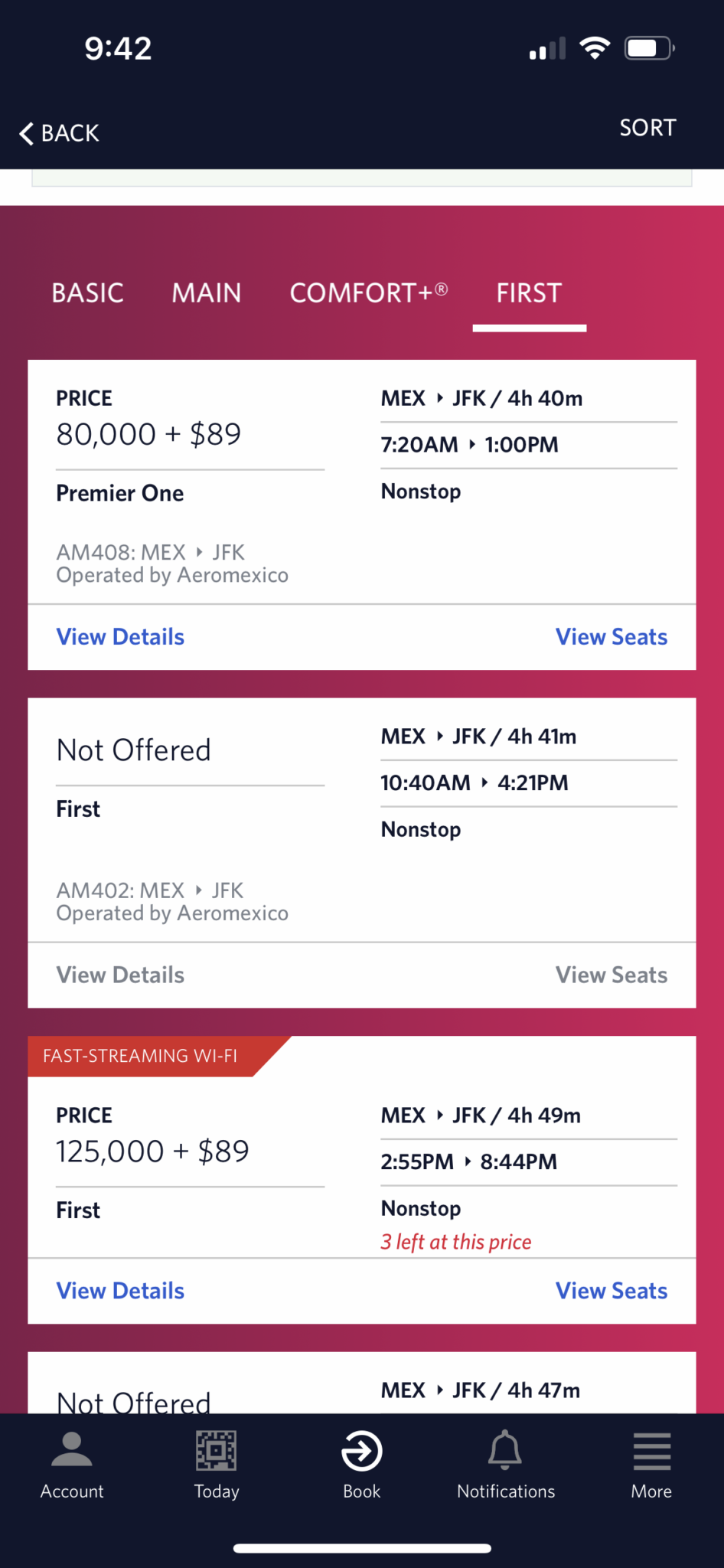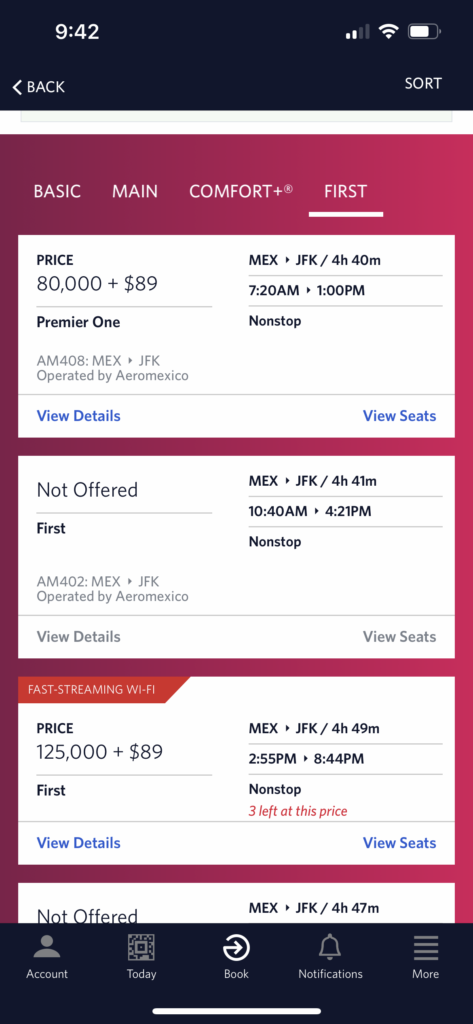 Well, another one bites the dust. When Delta says people don't fly Delta because of SkyMiles, they are absolutely right. It's becoming SO hard to find value in SkyMiles aside from Flash Sales, that I'm becoming happy to just spend them like cash and never, ever try to acquire them. What I do acquire is out of flying them or putting enough on my co-brand Reserve card to get the MQD waiver and MQM bump. And I do enjoy flying Delta over the others and love their Medallion program. But that's it. There is just zero reason to collect a mile that has so little value.
How You Can Still Book Aeromexico USA-Mexico for Cheap
Luckily, I have two ways for you to still get a great deal on Aeromexico flights to/from the US – including that 787 Dreamliner. The only problem is you lose the change/cancel flexibility that SkyMiles offers – the one saving grace of the program.
Use Air France Flying Blue to Book Aeromexico
At 34,000 miles in Business and 17,000 miles in Economy, this is basically old Delta pricing. If you have transferable bank points, rather than a horde of SkyMiles, this will be almost the same. However, you'll pay 50 Euro to change or cancel, vs. $0 with Delta.
Don't mind the taxes – it's $86 on Delta from Mexico to the US so this is only about $20 more. Flying from the US to Mexico they are $6.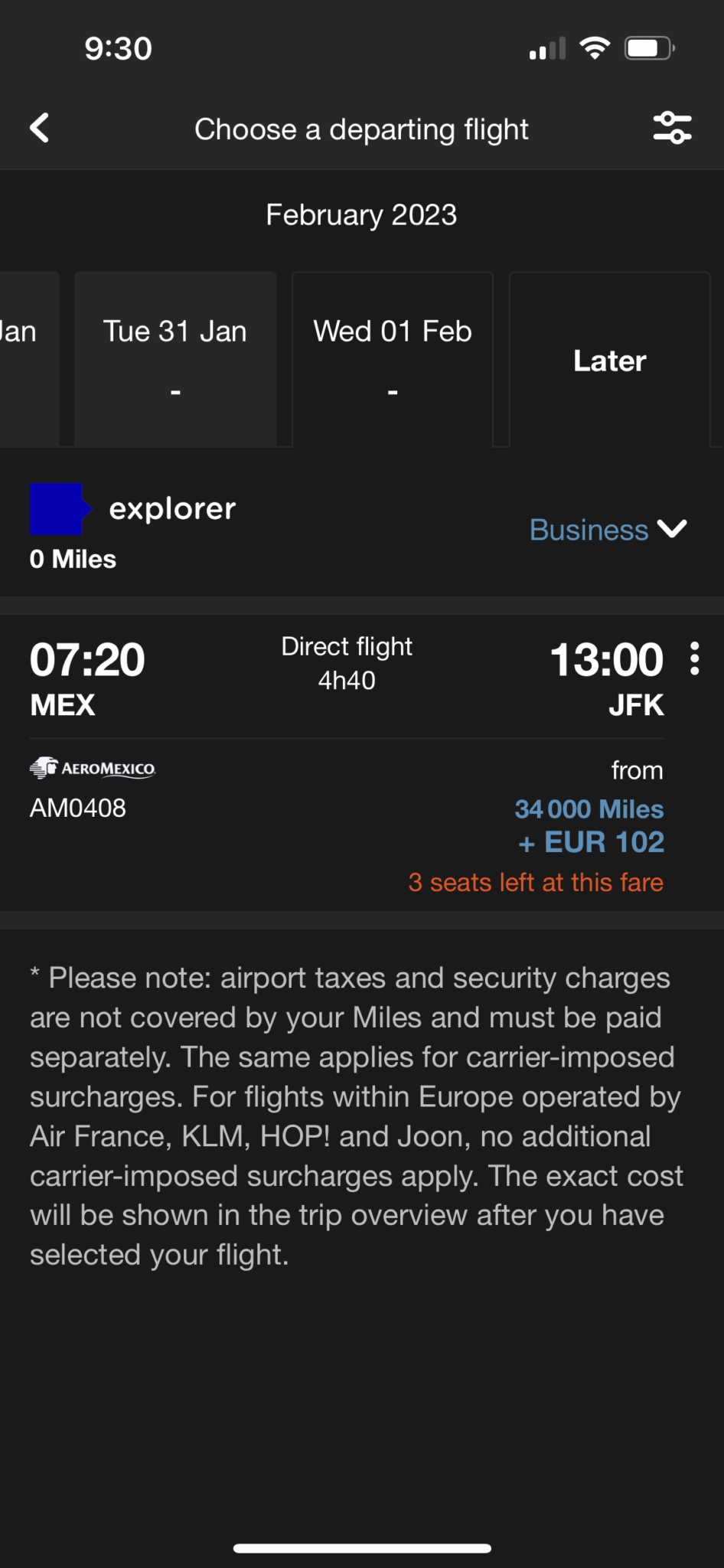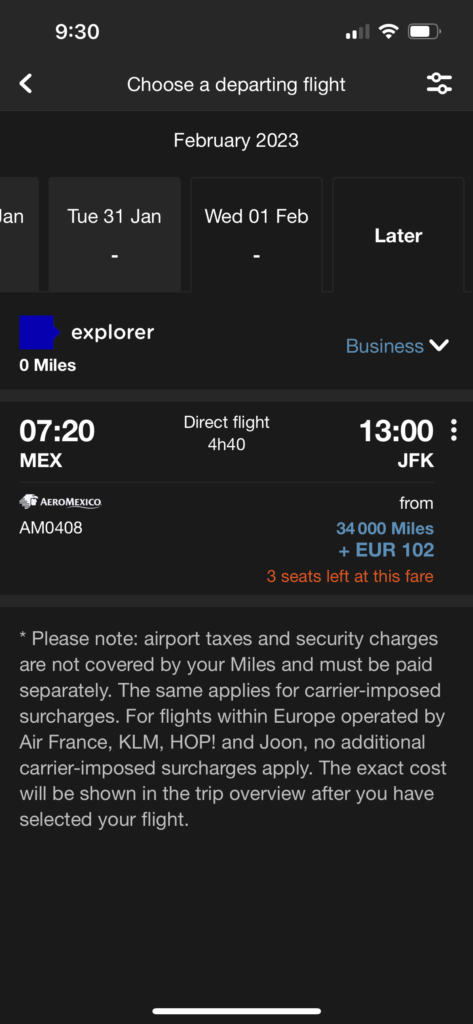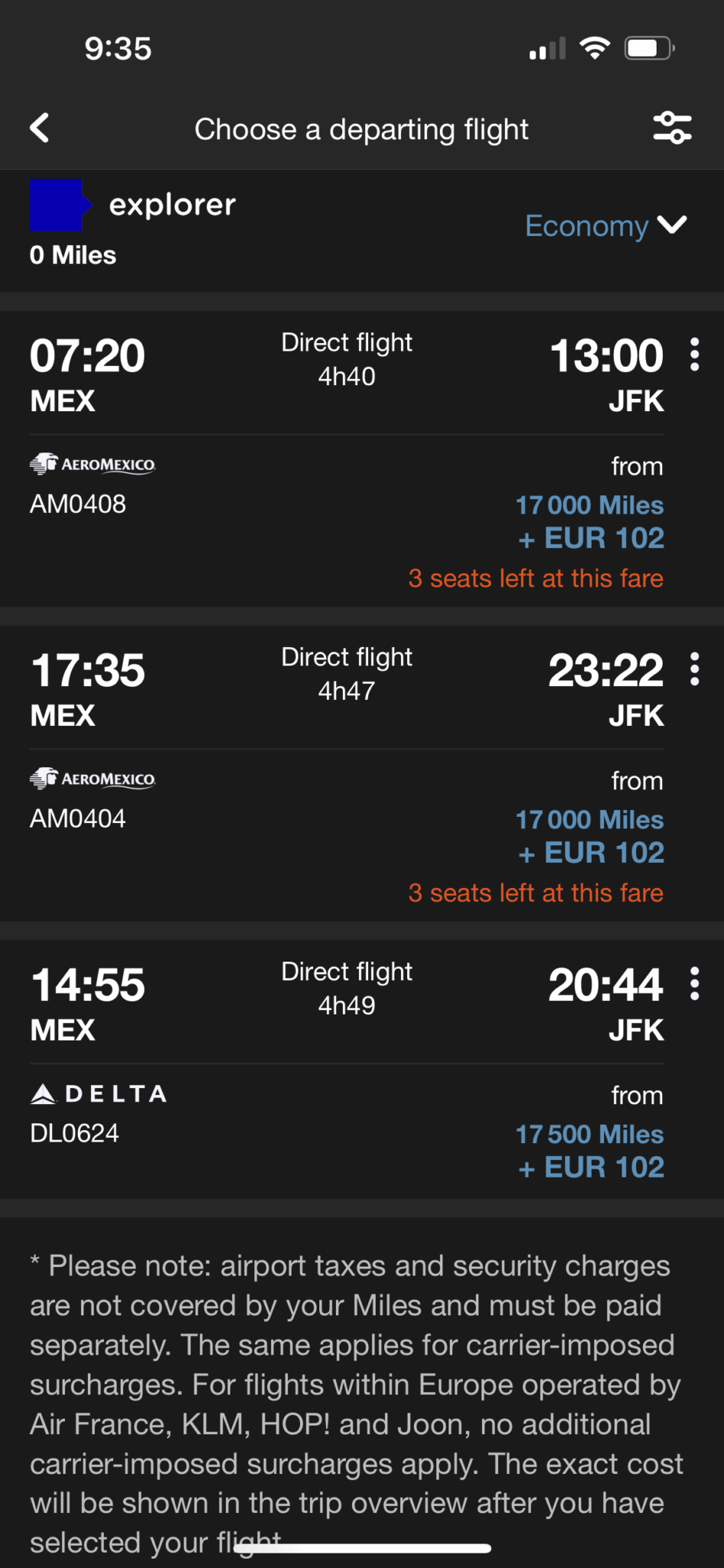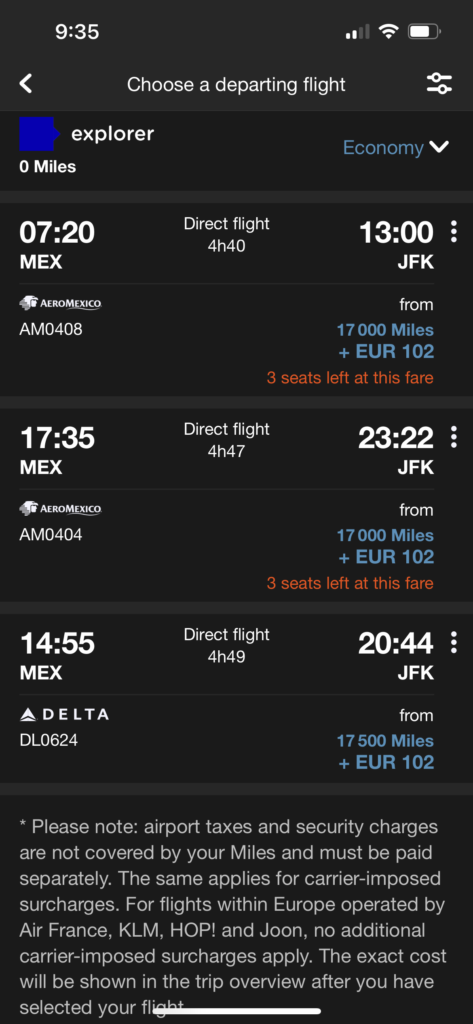 If you didn't catch that last flight above – this is also a hack to fly Delta metal from Mexico to the US and vice versa for less than Delta charges itself as they want 39,000 SkyMiles for the same flight.
Use Avianca Lifemiles to Book AeroMexico
Look, I hate LifeMiles. It's got some great pricing and no fuel surcharges, but it has tremendously painful negatives. Sometimes I feel like I'm the only blogger that tries so hard to make sure you know what you are getting into booking with Avianca LifeMiles. Cancellations will run you $150 to change and $200 to cancel, but really, good luck getting them on the phone to make a change. If you speak fluent Spanish you have a slightly better chance.
Still, if you are booking close-in and are fairly confident you won't have to make a change and it's close enough to the date of travel that the airline making a large schedule change is unlikely (you never know, though!), then you can use your Avianca LifeMiles.
You'll pay 16,000 LifeMiles in Economy and 42,500 in Business.
Really, especially given the pain of LifeMiles in general, it's clear you should use Air France Flying Blue over this. But if you have orphaned LifeMiles to use up, it's worth knowing about – especially since Avianca is a Star Alliance carrier that just happens to have a partnership with SkyTeam carrier Aeromexico.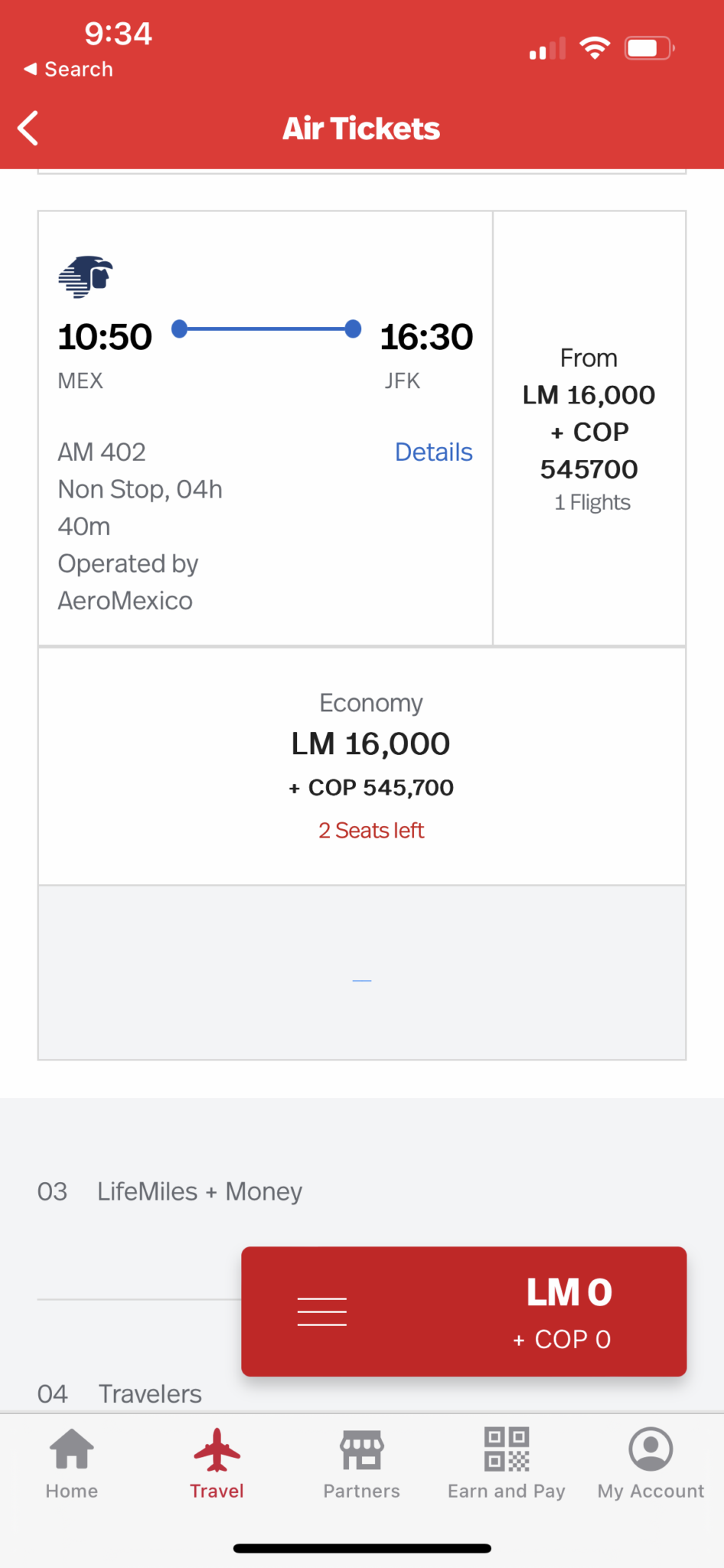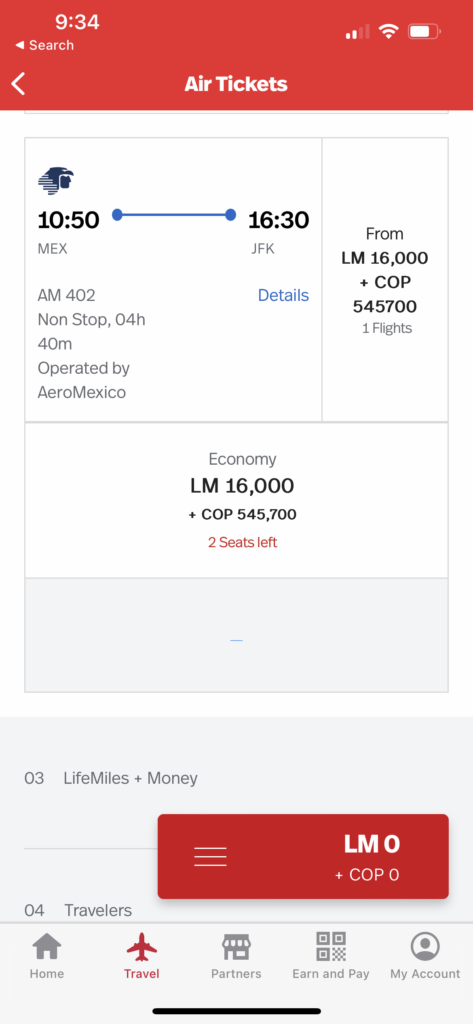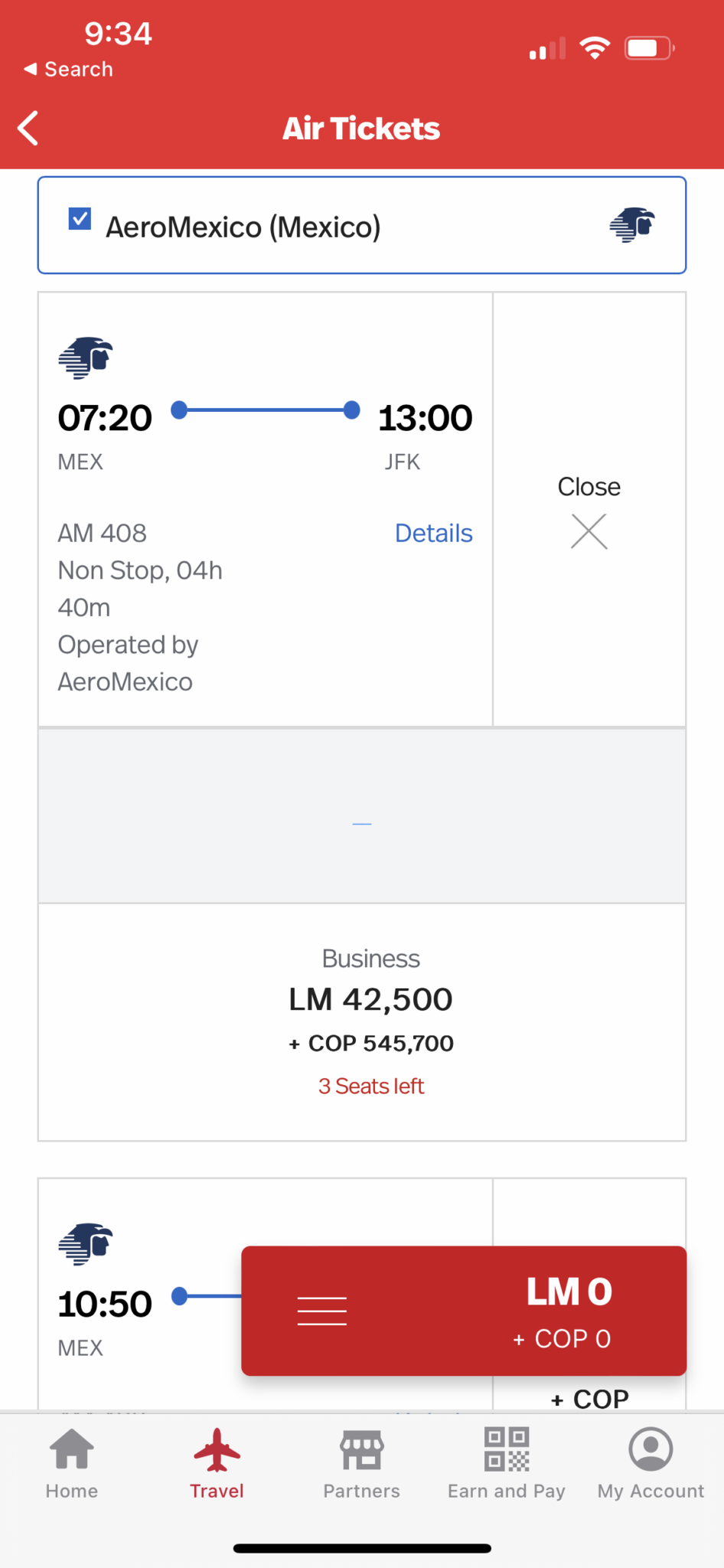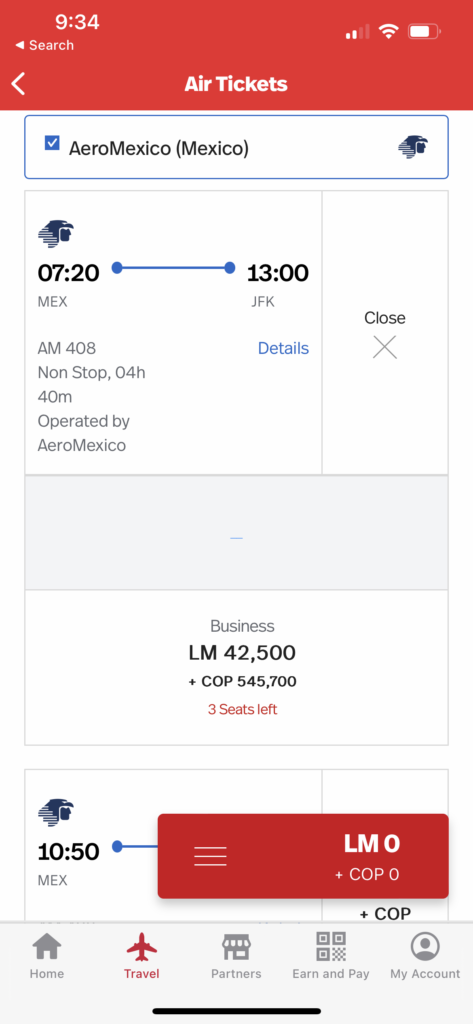 (That's about $100 in tax – it's in Colombian Pesos)
Bottom Line
Delta has no bottom for the value of SkyMiles. Actually, that's not true. It's generally sinking to a bottom of anywhere from half a cent to about 1.3 cents. Where premium cabin redemptions used to be the #1 way to get great value for miles, they've flipped that around and made it nearly impossible to do so with SkyMiles. (Technically, you can get 1.5 cents per mile at a Delta SkyClub when buying a glass or bottle of champagne! Shout out to MilesTalk Facebook group Moderator Tim for reminding me of that)
They don't want you to have those amazing experiences you'd never buy with cash and tell all your friends about Delta. Instead they want you to complain about how worthless SkyPesos are – possibly at the same time you rave about their Medallion program and service, I admit.
Are there any partners left that still have great redemption rates? WestJet, maybe? Vietnam Airlines?
Please… let me know.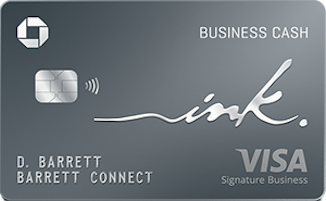 Thoughts?
Let me know below in the comments, on Twitter, or in the private MilesTalk Facebook group. And don't forget to follow me on Instagram for all sorts of tips on miles, points, credit cards, and travel.
If this post helped you, please consider sharing it!
You can find credit cards that best match your spending habits and bonus categories at Your Best Credit Cards. 
New to all of this? My "introduction to miles and points" book, MilesTalk: Live Your Wildest Travel Dreams Using Miles and Points is available on Amazon and at major booksellers.