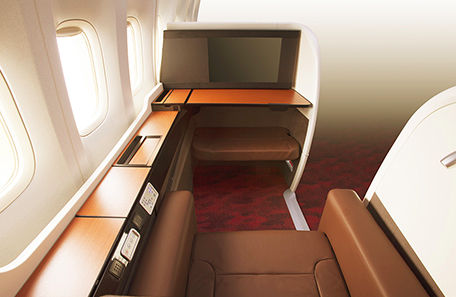 JAL First Class Review
If you read my post "How I booked a $29,000 flight for $46," I was referring to this JAL First Class experience, JFK-NRT and return.
If you're fairly new to the miles and points game, you've no doubt heard of some of the aspiration flight experiences such as Etihad's "Apartment" and Singapore Airlines' "First Suites" – but what you may not be aware of is the overall decline of First Class flights for long haul flights. Delta, for example, has no First Class internationally – only the Delta One Business Class product. KLM also has no First Class cabins. Overall, many airlines are ordering new planes with Economy, Premium Economy, and Business Class – forgoing First Class. For example, the Singapore A350 order skips First Class. Many new Cathay Pacific flights have no First Class. And even on JAL, the First Class I'm going to review here, First Class is only on about half the flights flying from the US to Japan. New York to Tokyo is operated twice per day, but only one of those (JAL 5/6) has a 1st Class cabin – operated on a Boeing 777-300ER. By contrast, their newer 787 planes do not have First Class, only a less luxurious Business Cladd.
I paid 80,000 miles each way and $46 total for this flight using my American Airlines miles. I've only been to Asia once before, on Cathay Pacific First Class, and was hoping this would live up. Historically, JAL has a reputation as somewhat of a 2nd tier carrier luxury-wise, but I'm pleased to report this experience was First Class in every way.
Probably the only "meh" part of the experience is on the ground at JFK, where JAL uses the Air France lounge. There is a "special" area upstairs for First Class passengers, but at the hours of JAL flights, there is nothing special about upstairs beyond a few less people. Air France does a pretty terrible job with their JFK lounge – with food unlabeled and often picked clean and apathetic staff. So unless you really love lounges, you don't need to arrive extra early for it.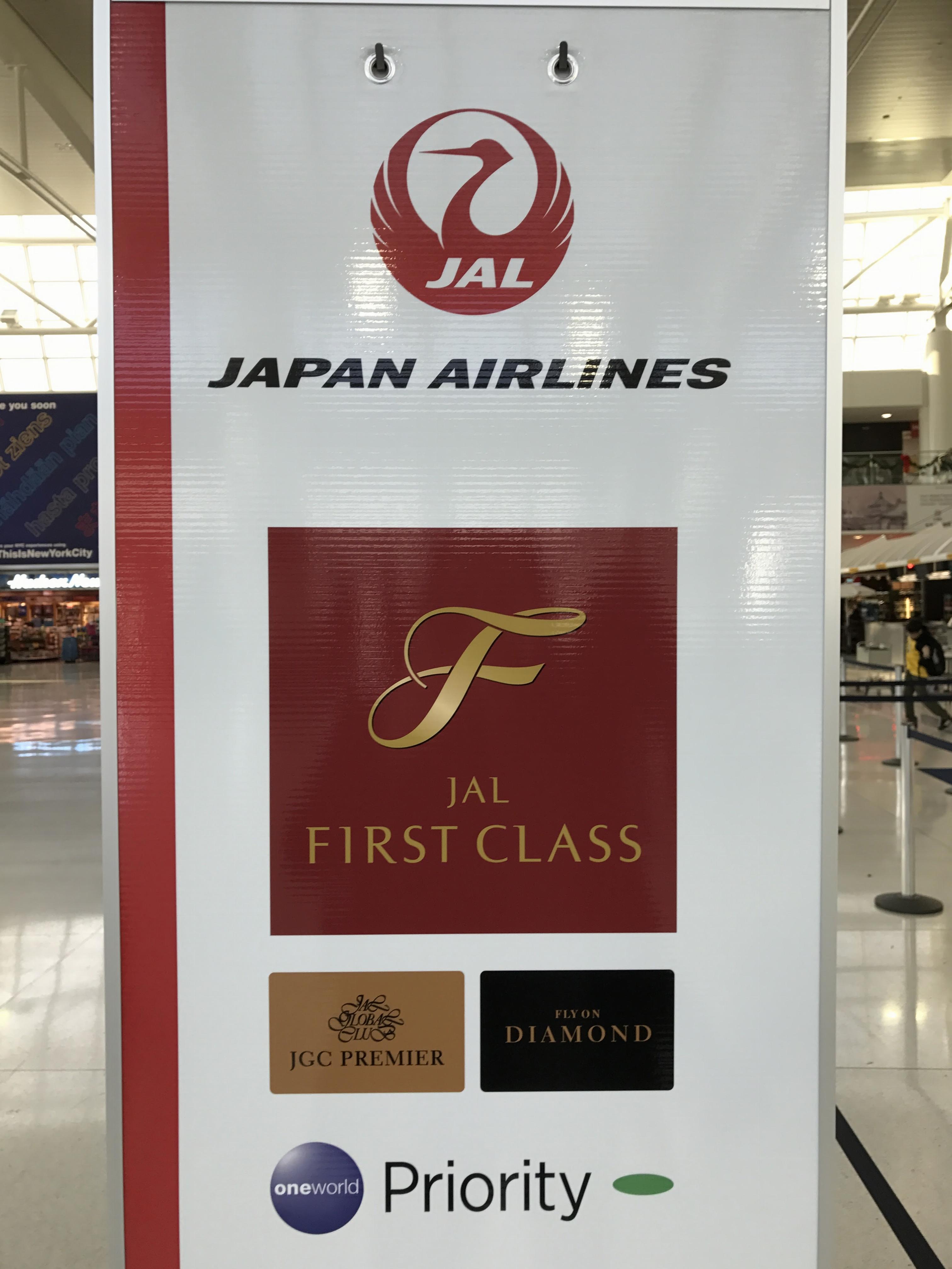 Boarding was a breeze with a dedicated First Class line (there are only 8 First Class seats) and once onboard I was escorted left to seat 2K on the right side of the plane.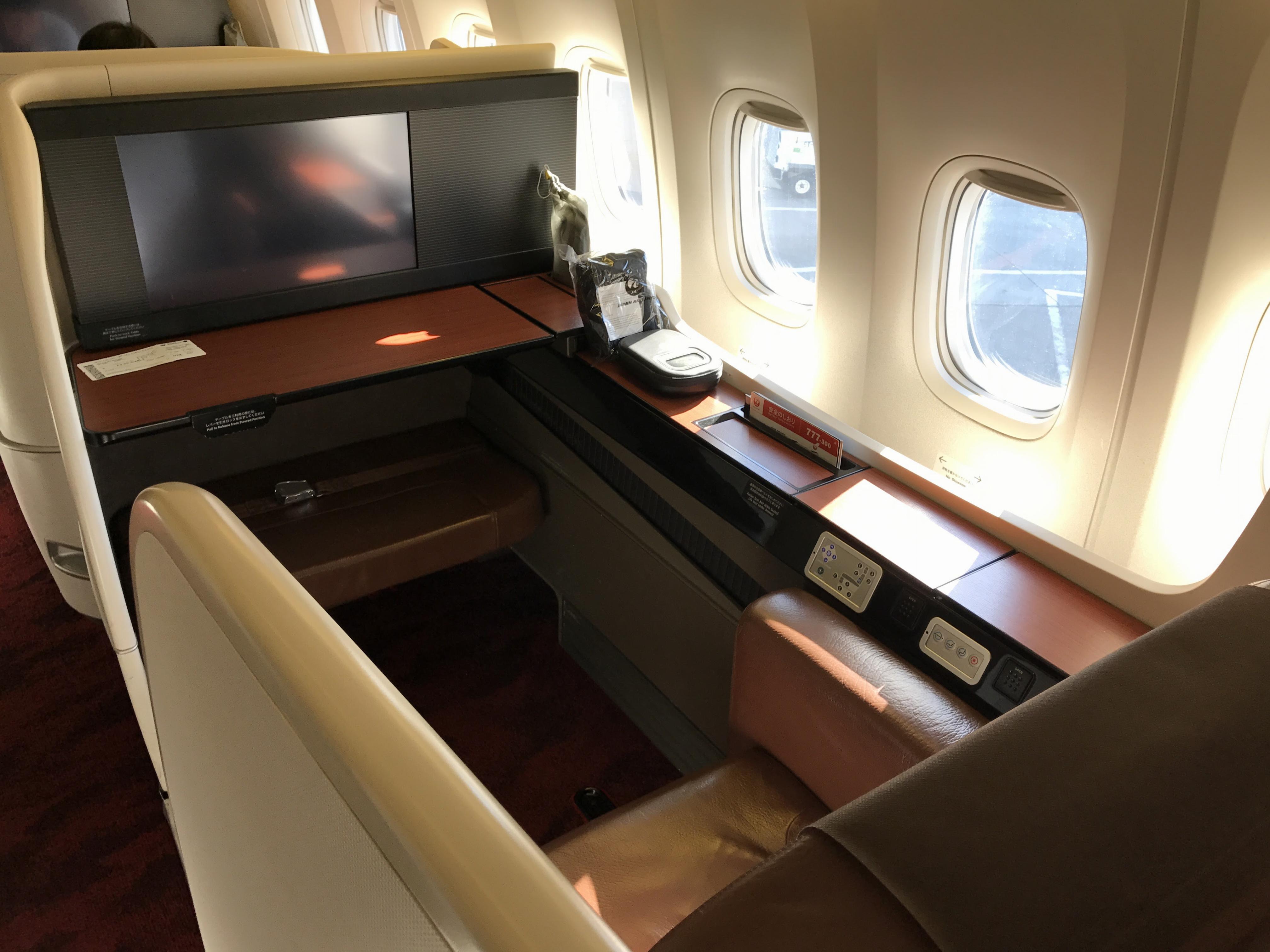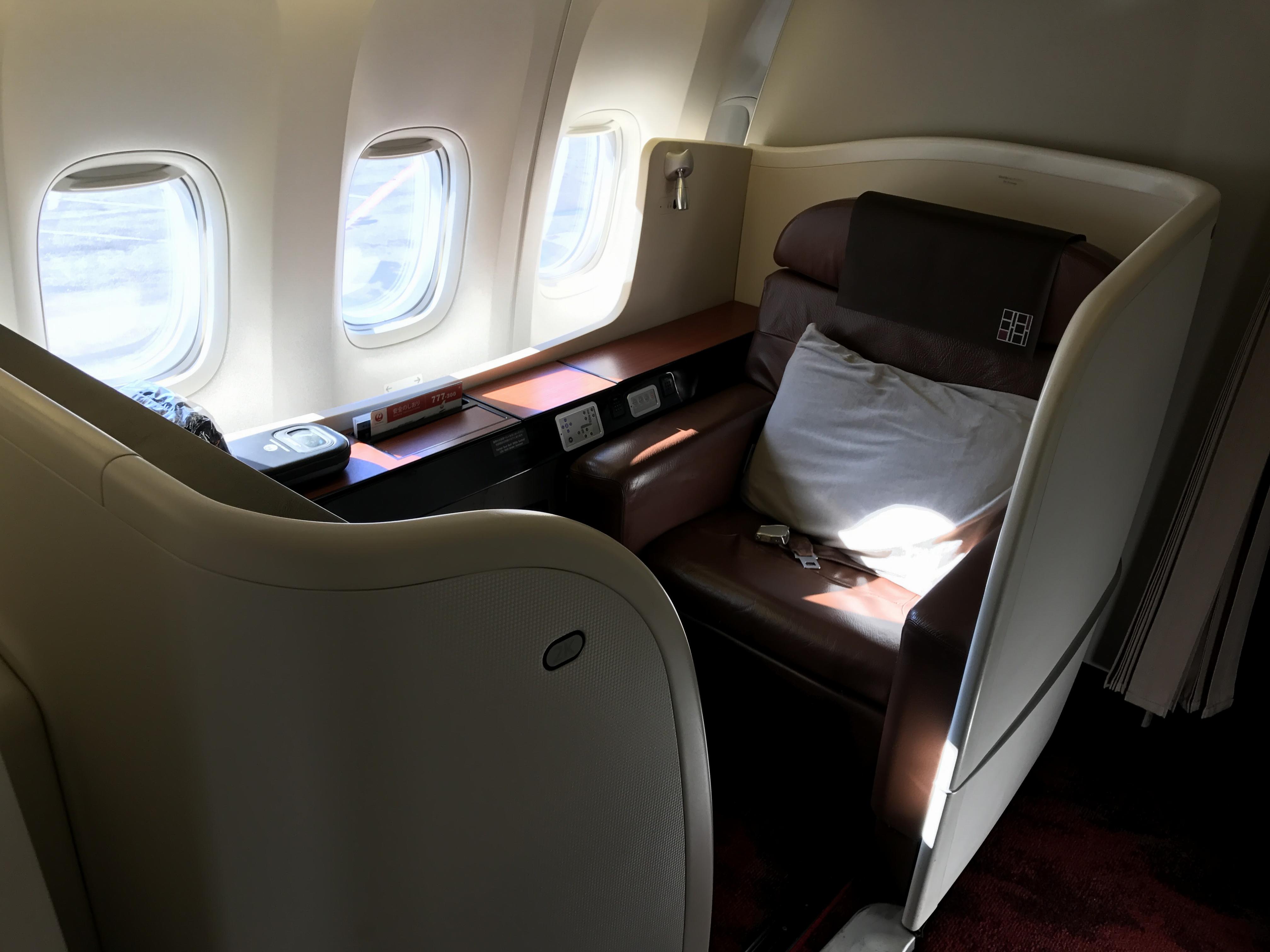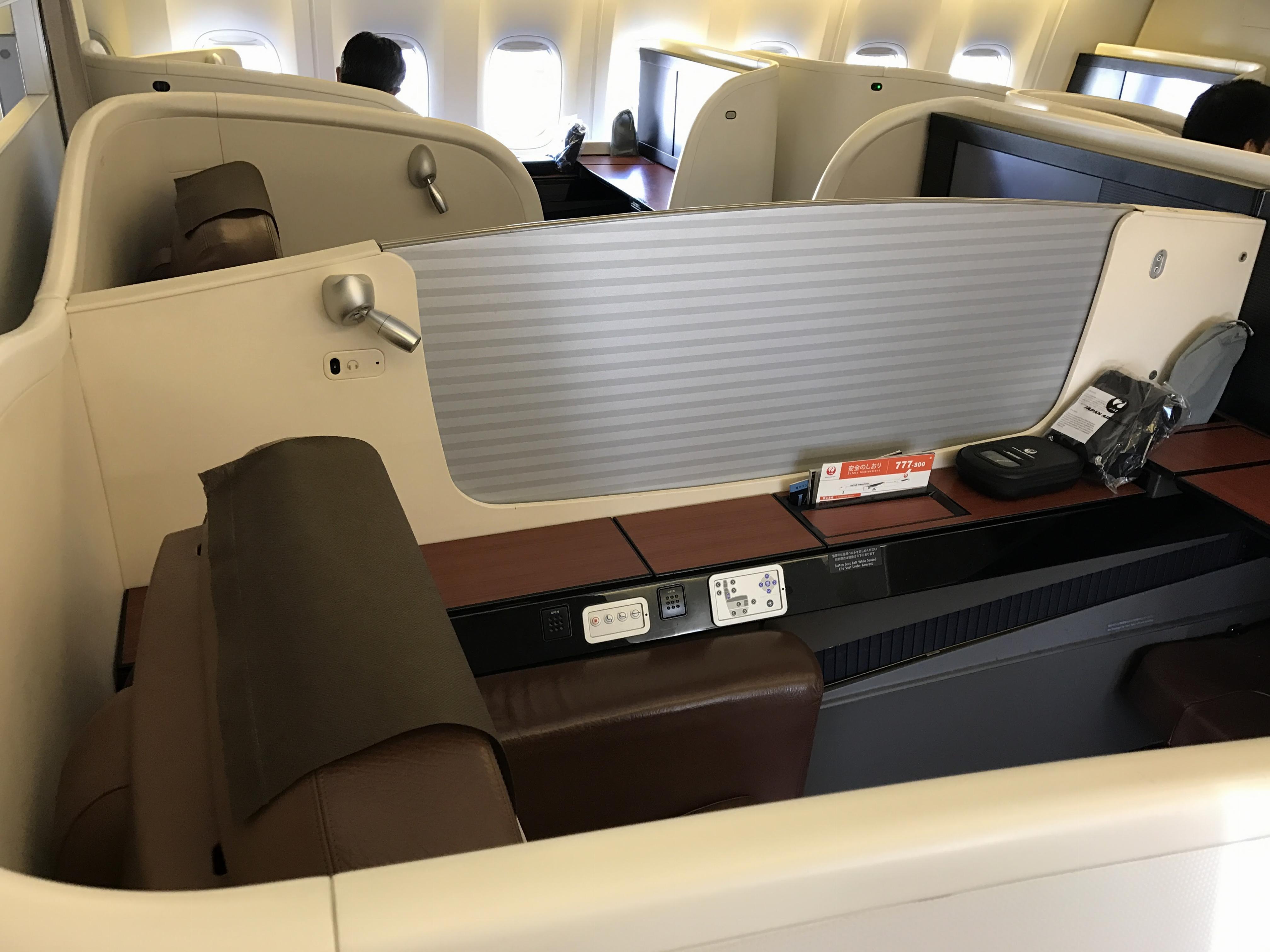 After a few obligatory photos, I settled in to my suite and was offered some pre-departure champagne.
The suite itself is somewhat self-explanatory from the pictures. It's a very large (immovable) screen and a compartment on the right has a power port and USB charger. Frustratingly my iPhone charger wouldn't quite stay in the port so I used USB charging instead which is fine, but slower. Of note, however, is that it is a bit awkward to have the power all the way in front by the screen as a standard iPhone cable won't quite make it to you. A plug in the back of the seat area – like most other seats – would improve things. Bose headsets are provided.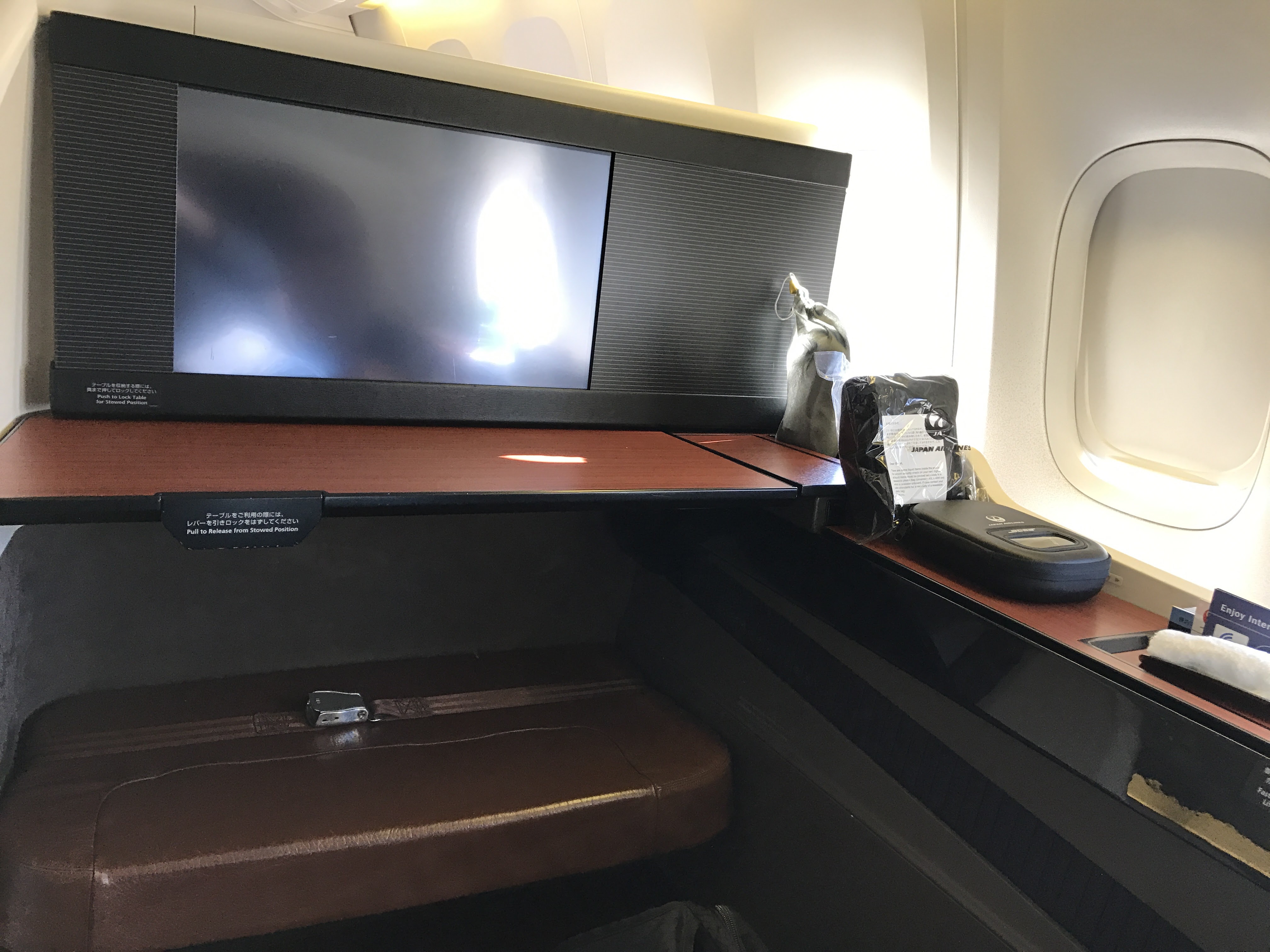 The seat is very comfortable adjusting easily any way you'd like it and it includes an adjustable lumbar/massager kind of thing I couldn't 100% figure out.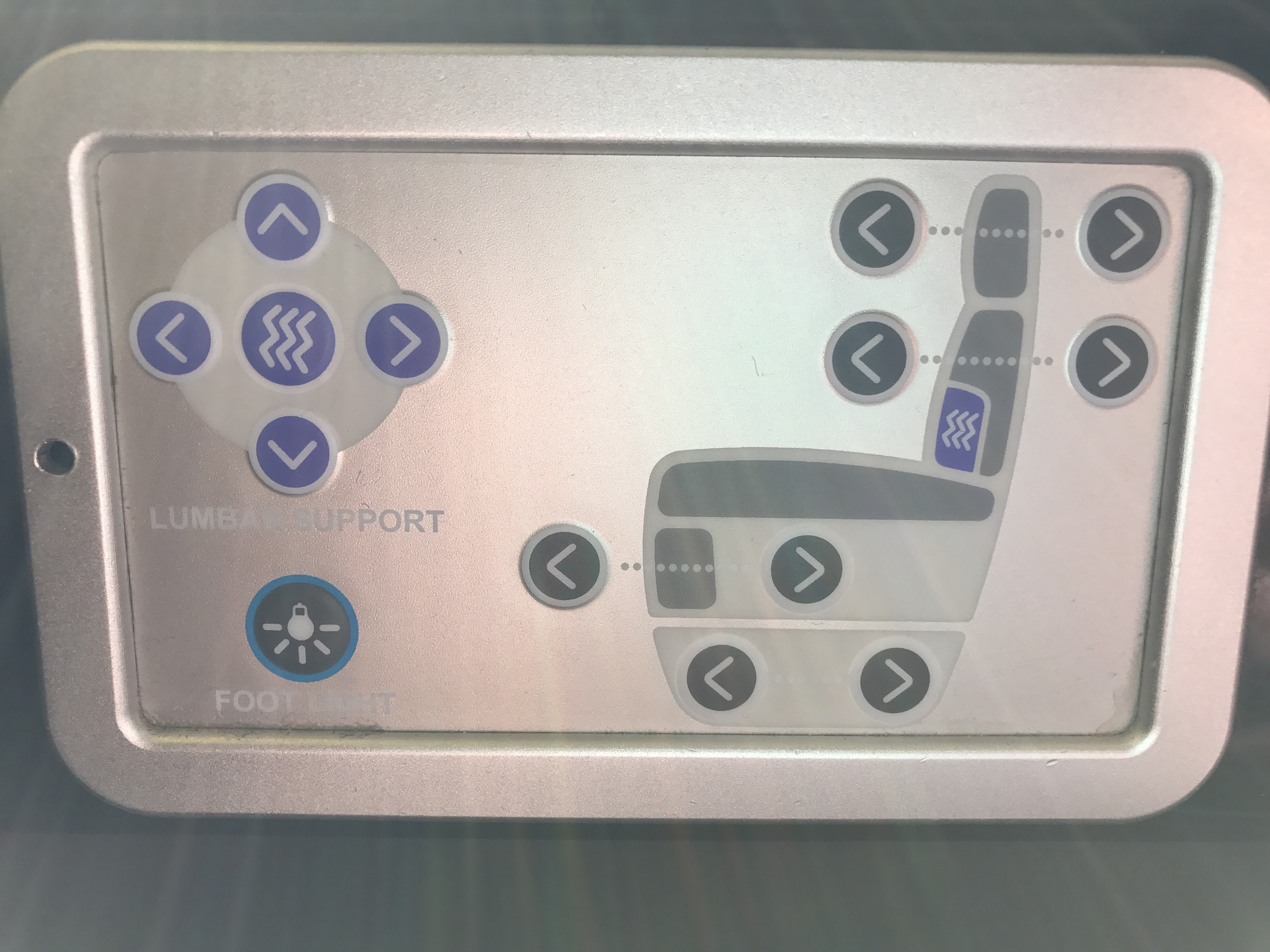 Directly on your right is a compartment with your TV controller. Very easy to use, though there's a limited selection of English movies. Not terrible but you may run out of titles you are interested in so it will be best to bring your own entertainment as well.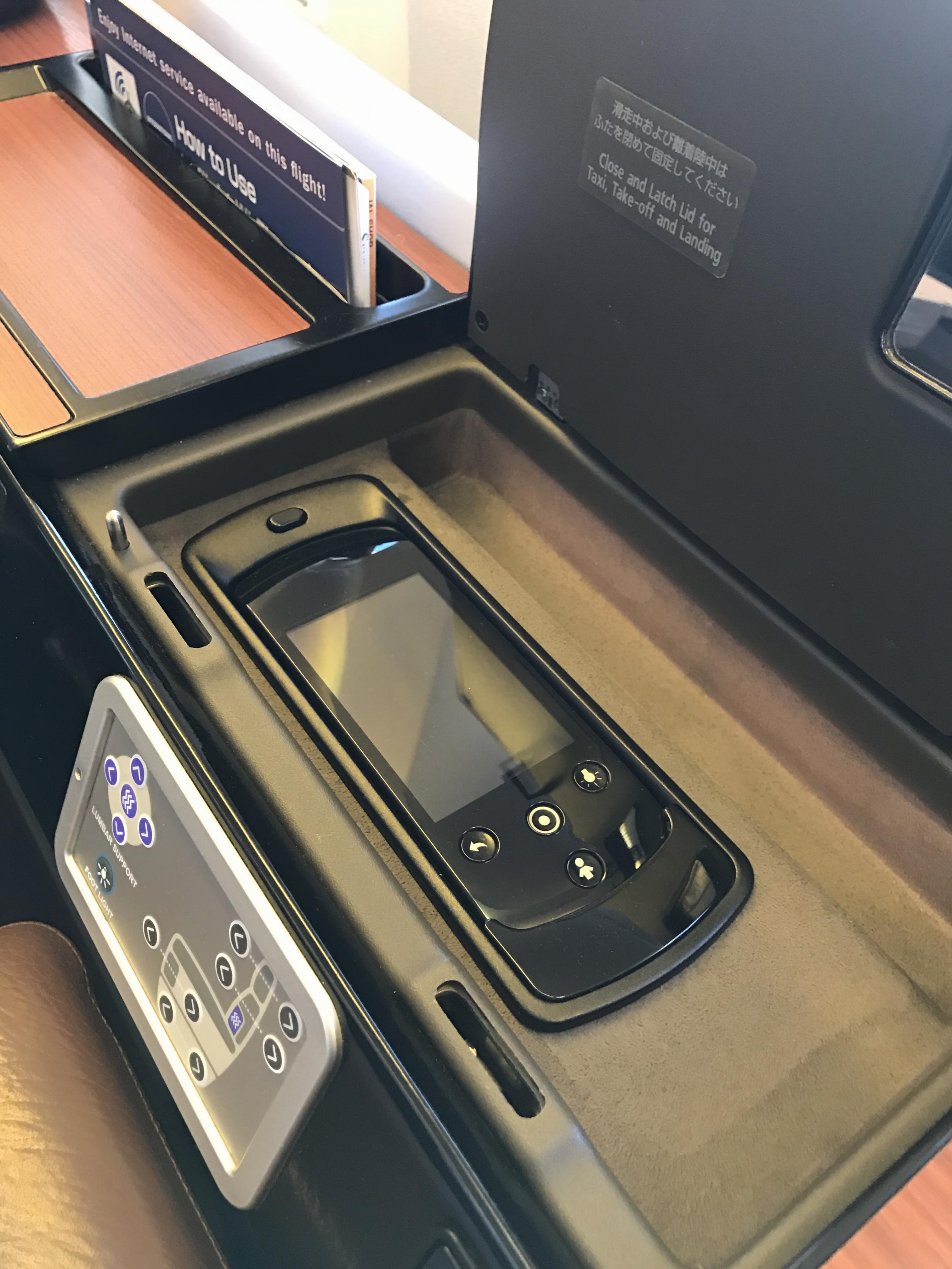 Your flight attendant will offer you a pajama-esque outfit to change into if you'd like to sleep and you can change in the larger bathroom. Quite comfortable. Slippers are also provided.
The amenity kit is by Loewe and includes a comb, dental kit, an eau de toilette (Agua De Loewe), tissues, a refreshing towel, a moisture mask, ear plugs, and eyeshades.
I was also given a special "Shiseido Men" Skincare kit with a cleansing foam, hydrating lotion, and total revitalizer. Full disclaimer: I have no idea what just about any of this is – but it looks nice!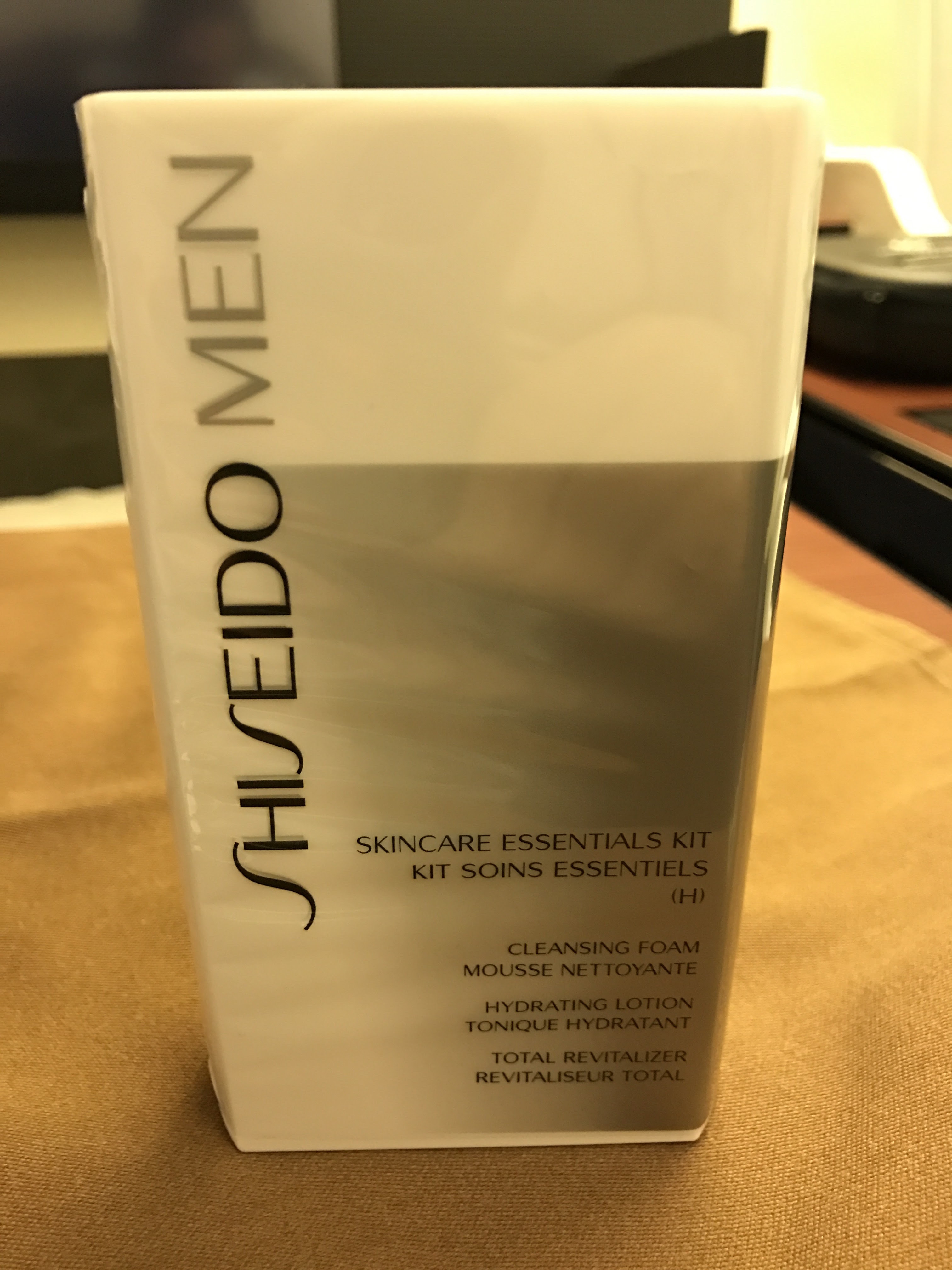 The drink menu is then distributed and you will see a quite intense selection of very high quality champagnes and wines as well as sake and tea.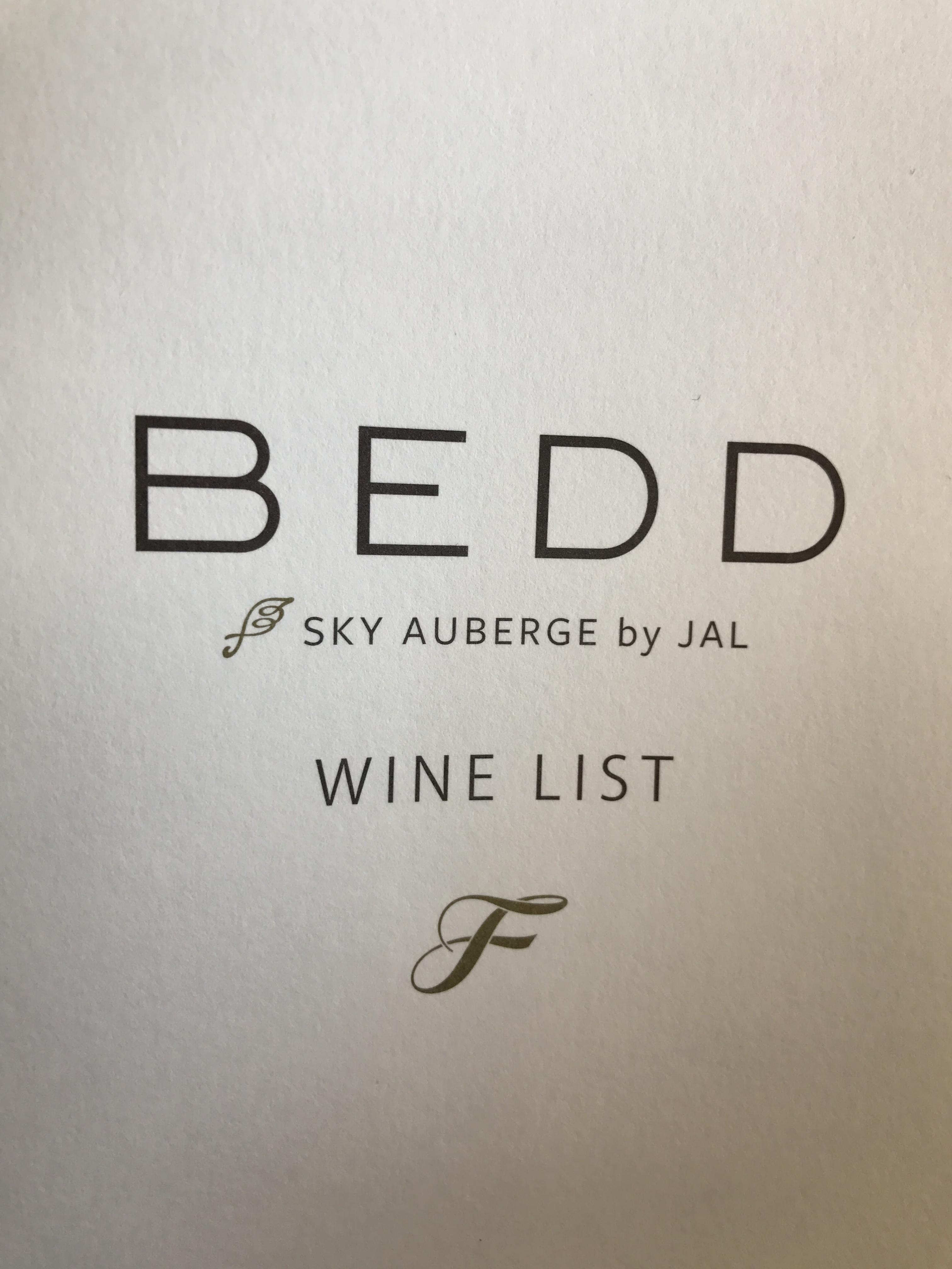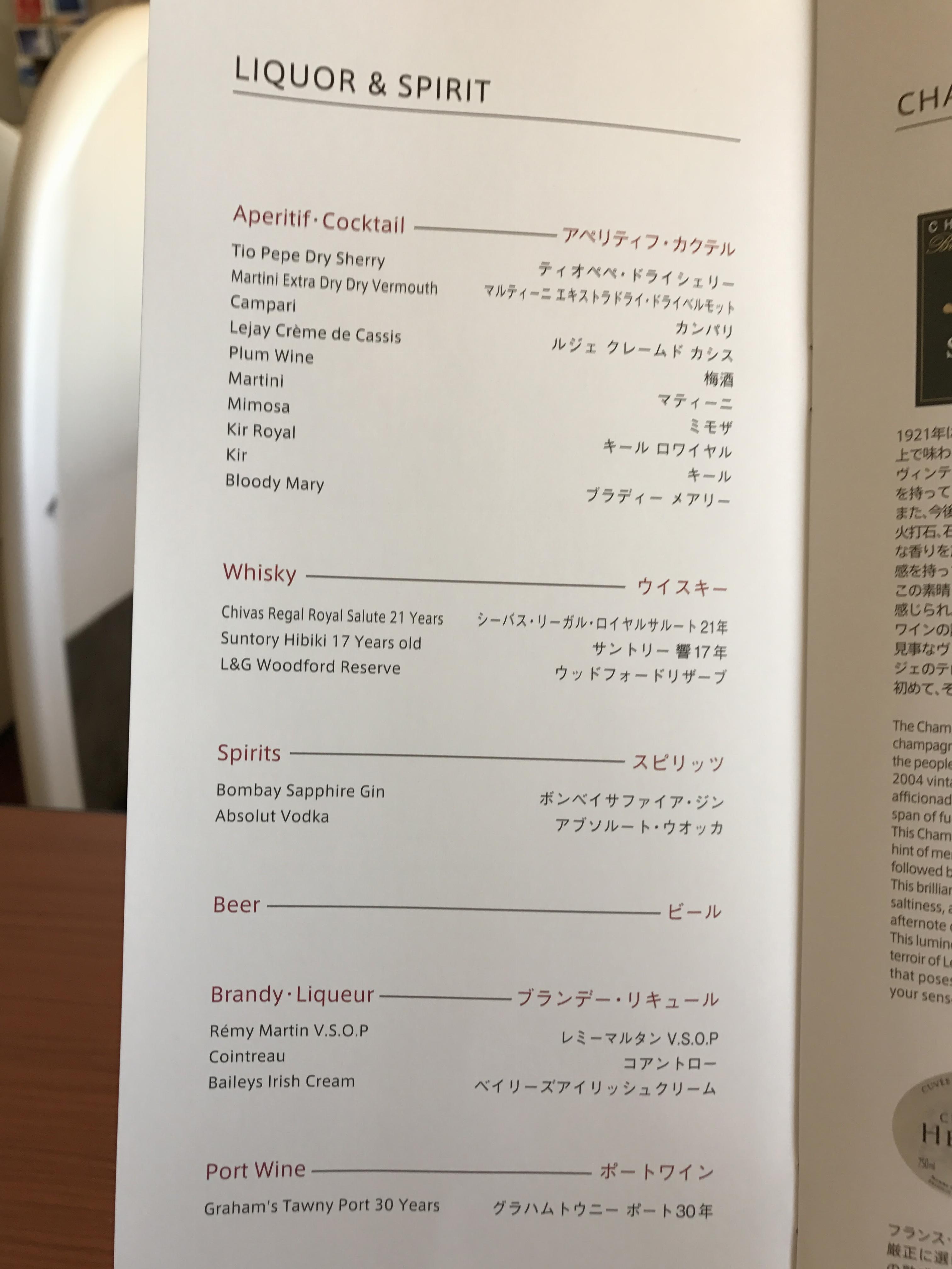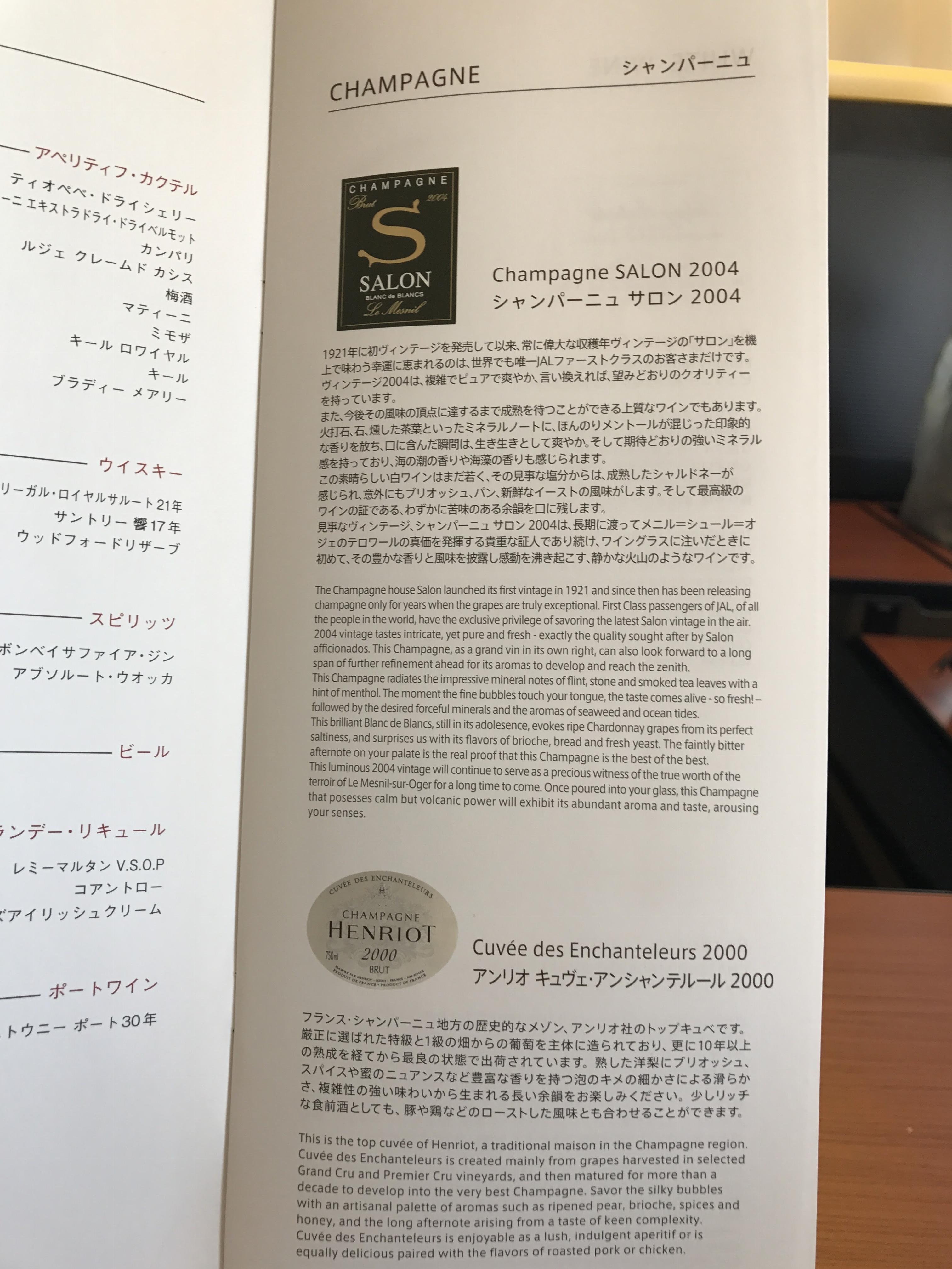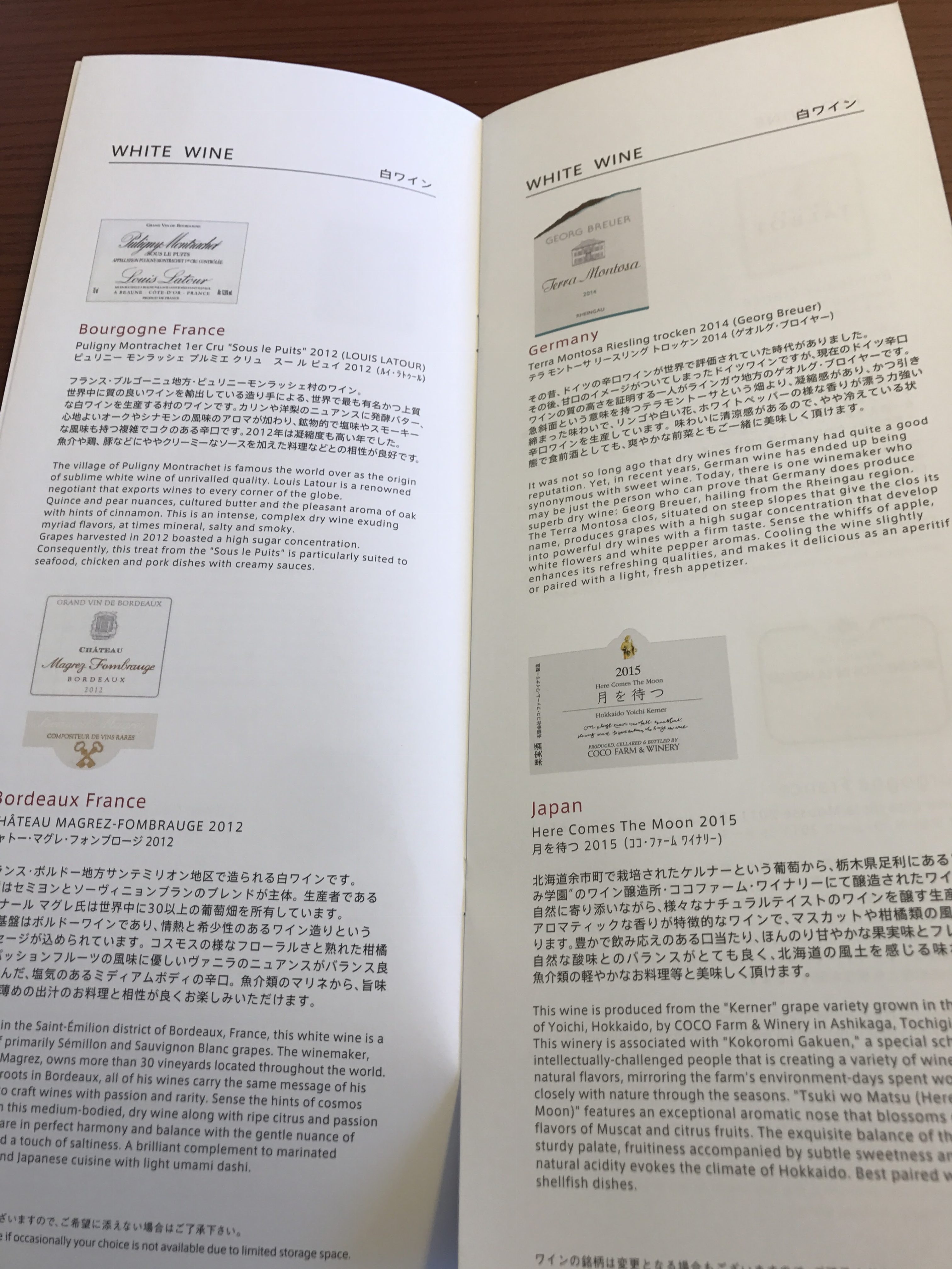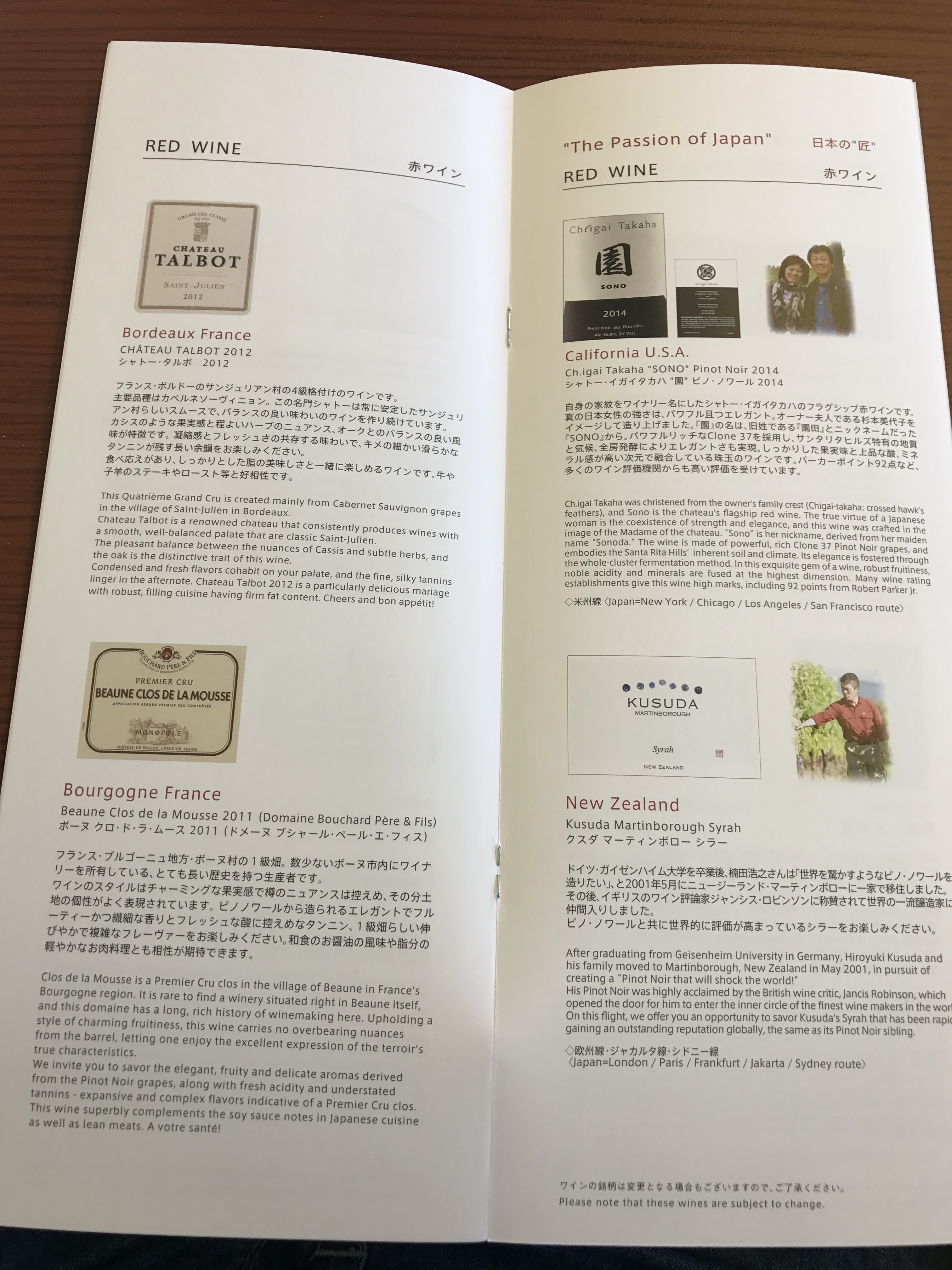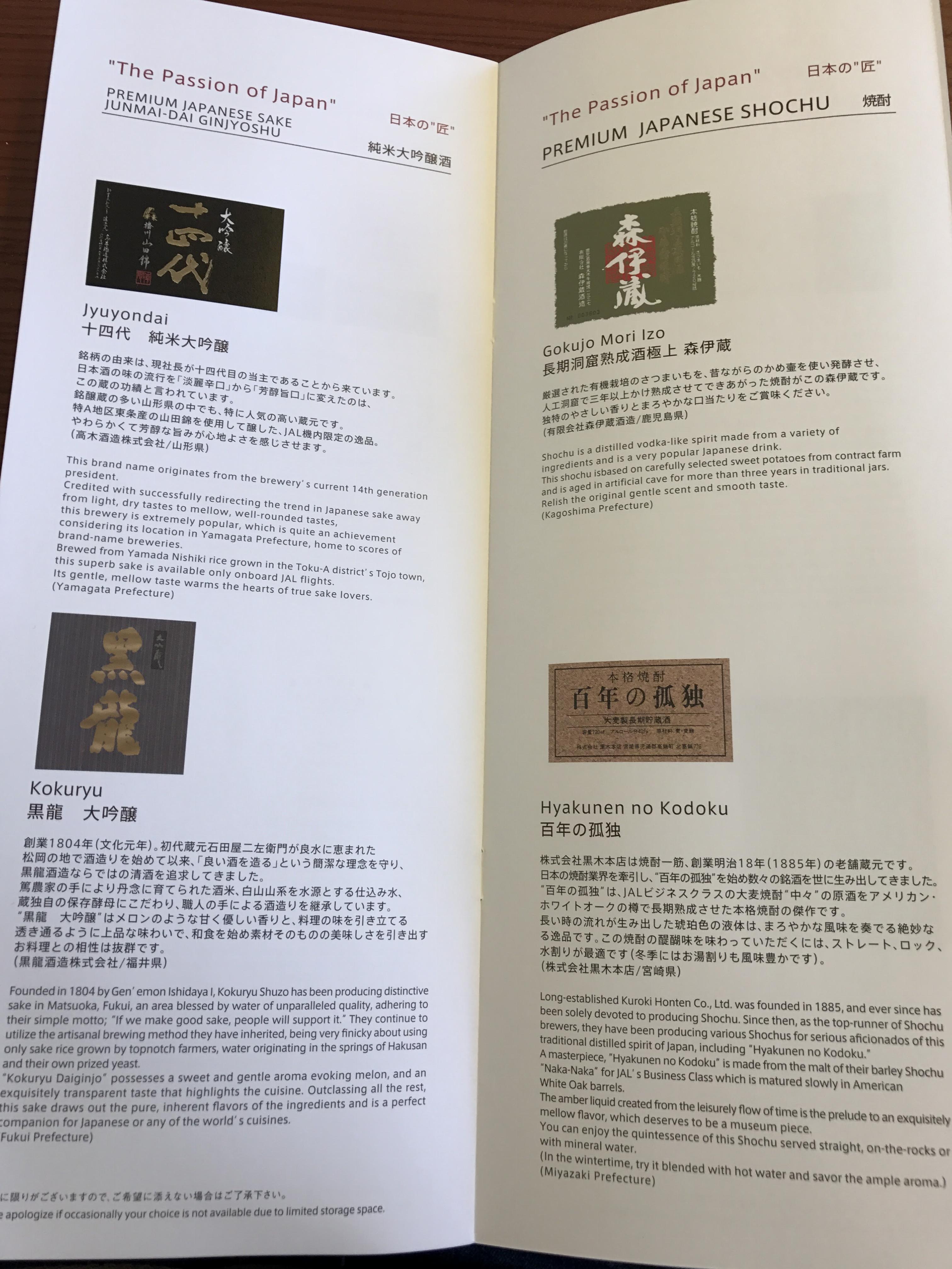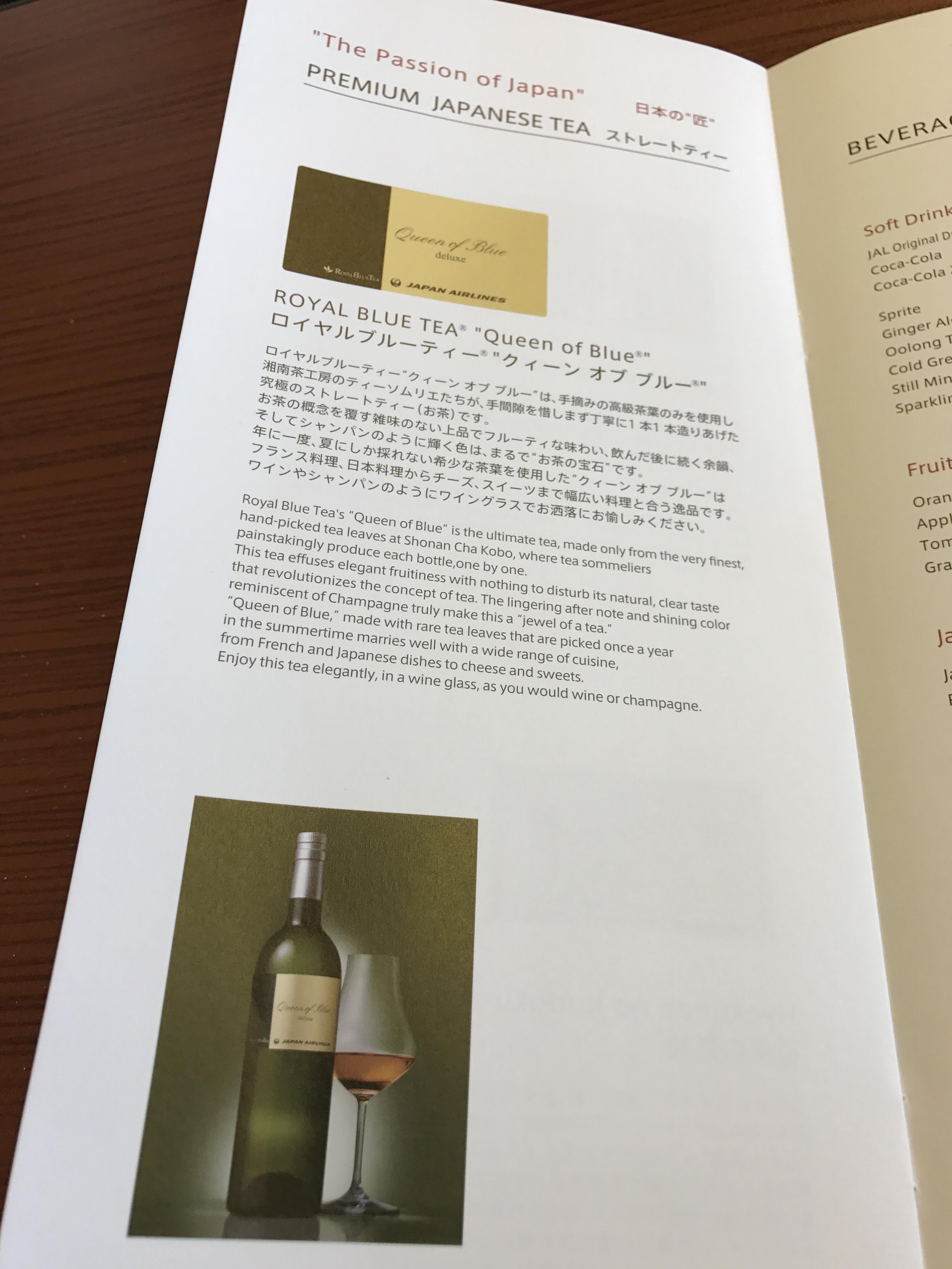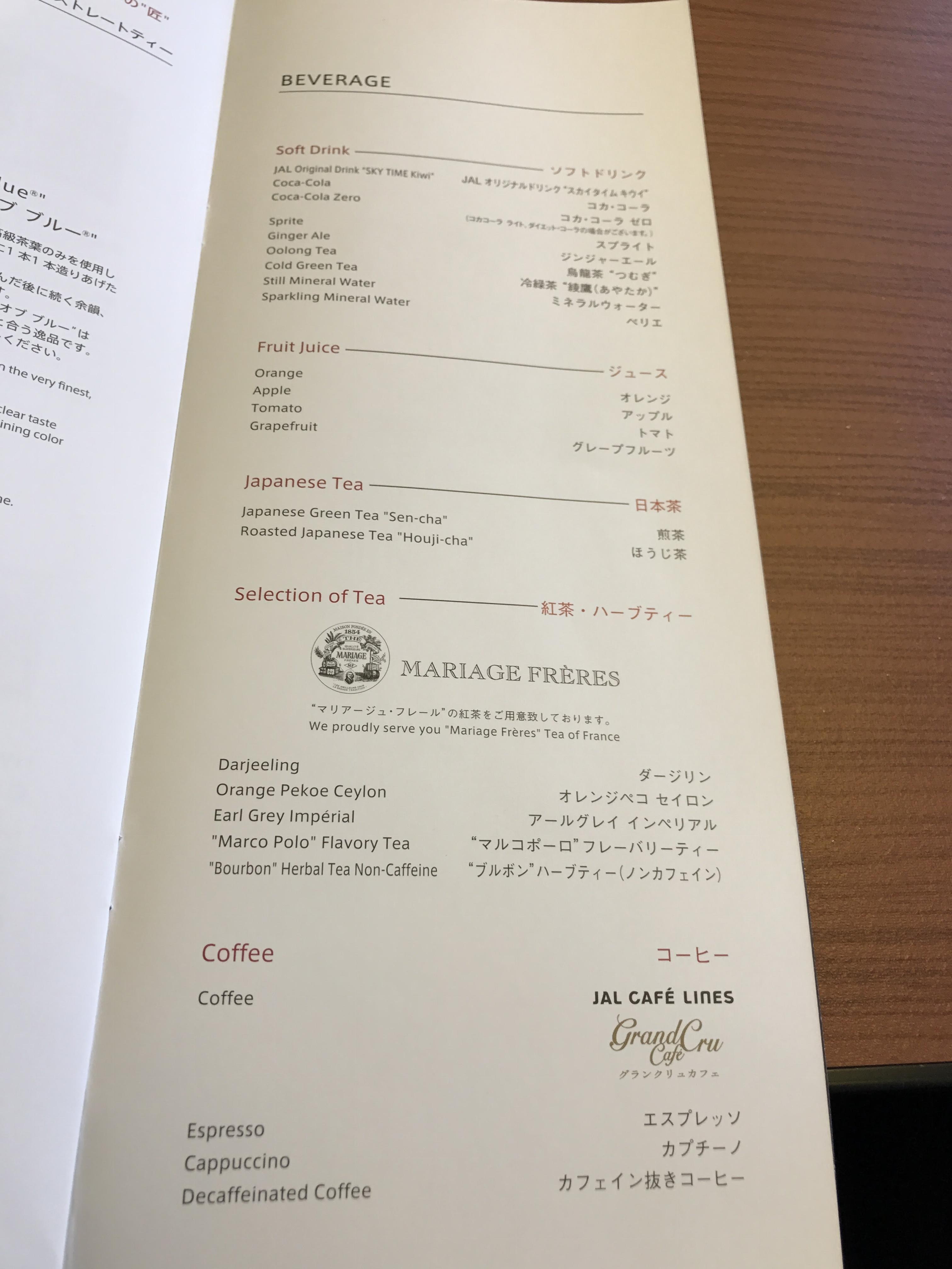 Trying to stay healthy for the trip, I decided to try the Royal Blue Tea ("Queen of Blue") which is a tea bottled like wine and sold for around $100 a bottle. It turned out to be a truly delicious tea and I think I drank a whole bottle over the course of the flight.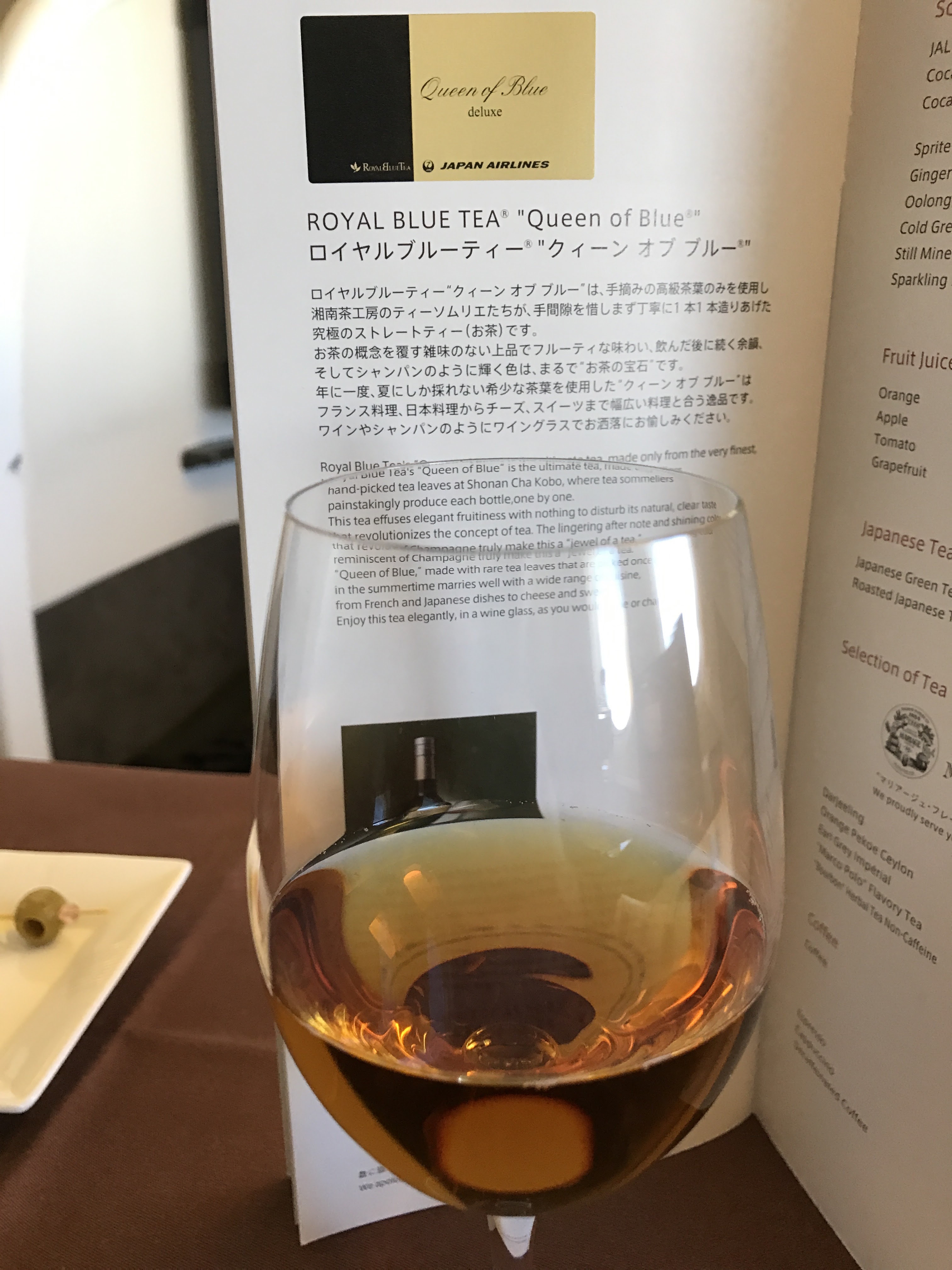 They then passed out the main menus and offered a snack basket in the interim.
Both of my selections – assorted rice crackers and fermented soybeans – were delicious.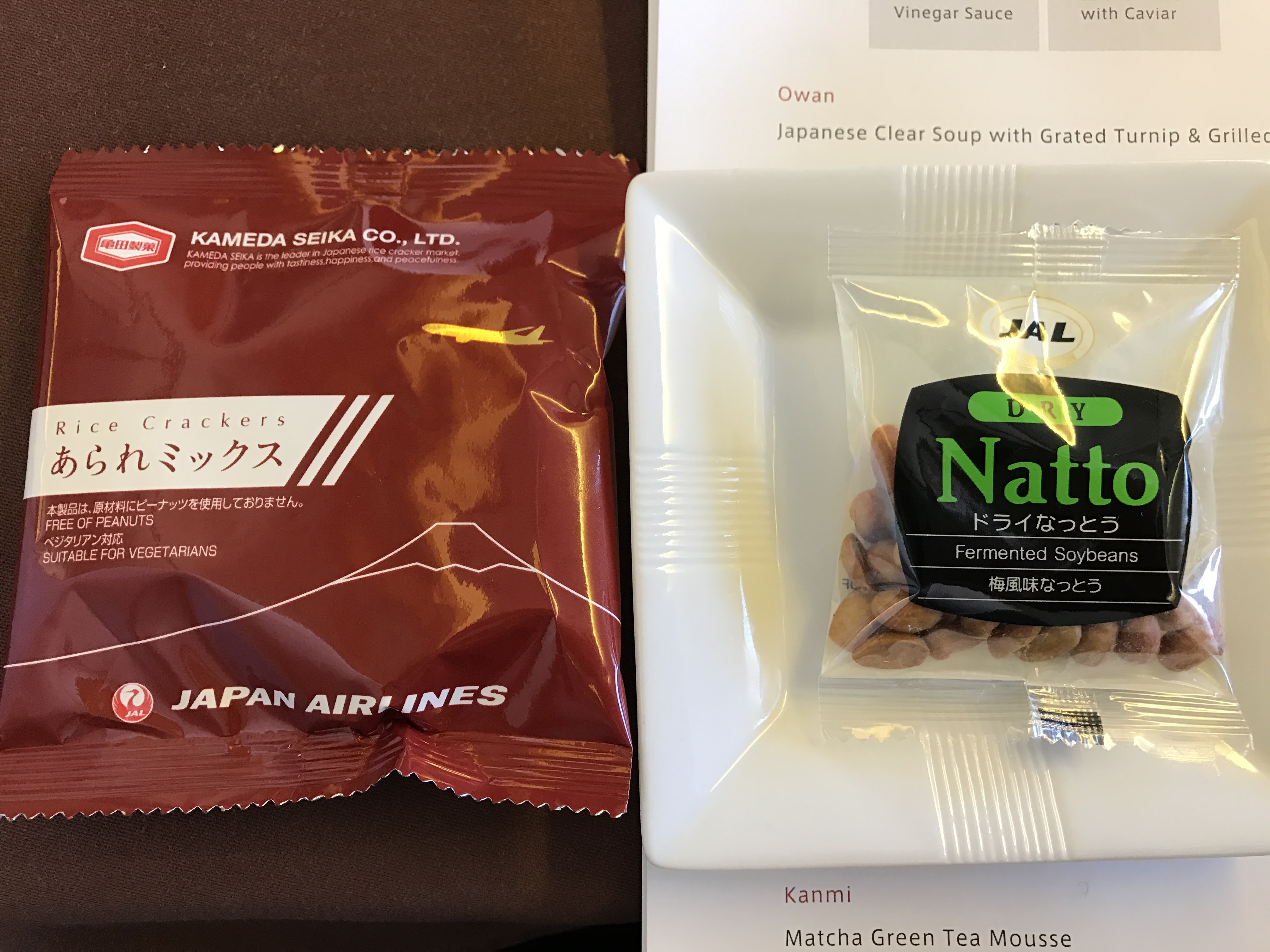 Before they even served the appetizers, they brought out an amuse bouche with prosciutto, a chicken skewer, and salmon.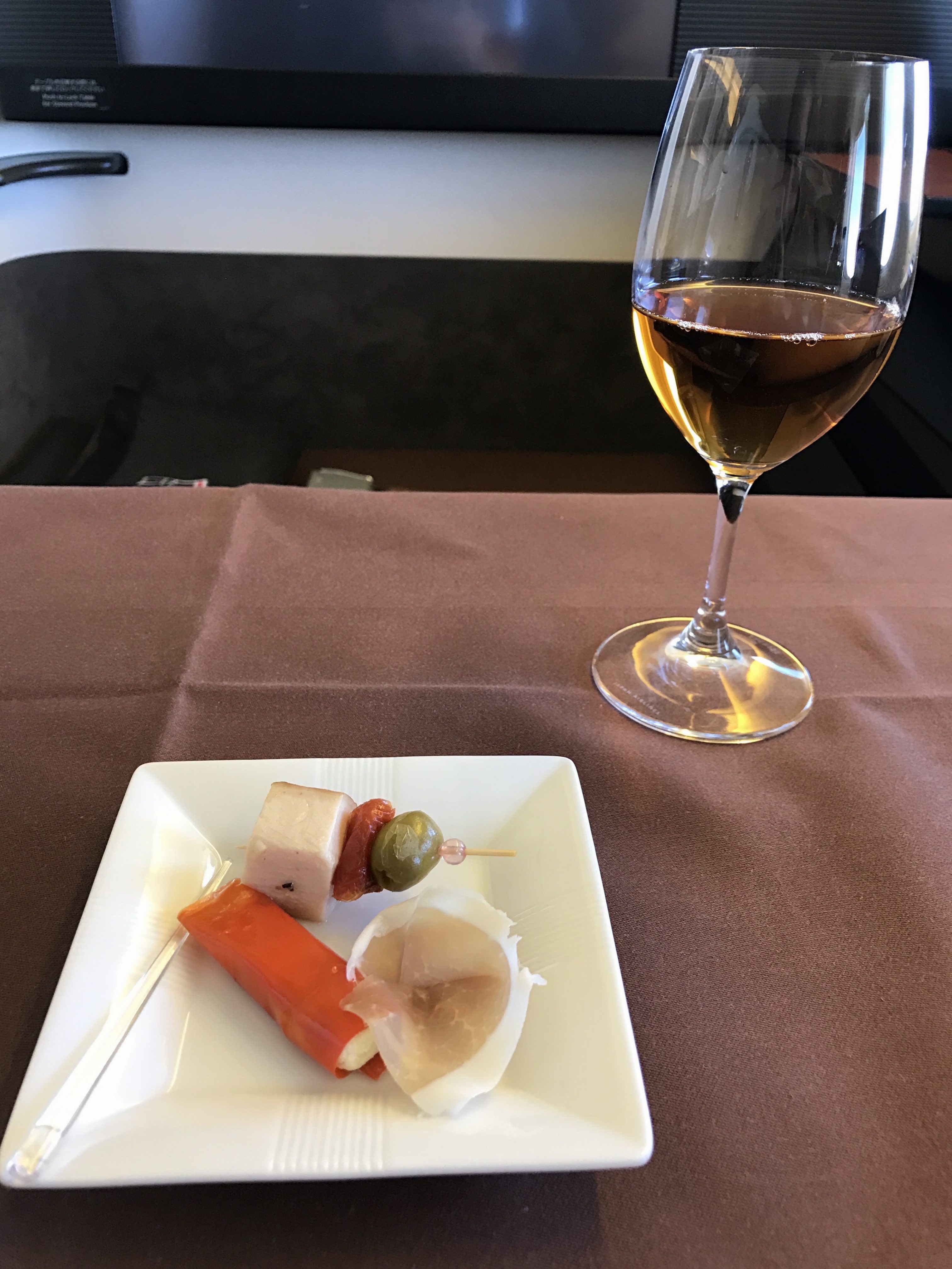 For your appetizer and main course, you are asked to select from a Japanese or Western menu. Here's the obligatory shot sequence of the menu: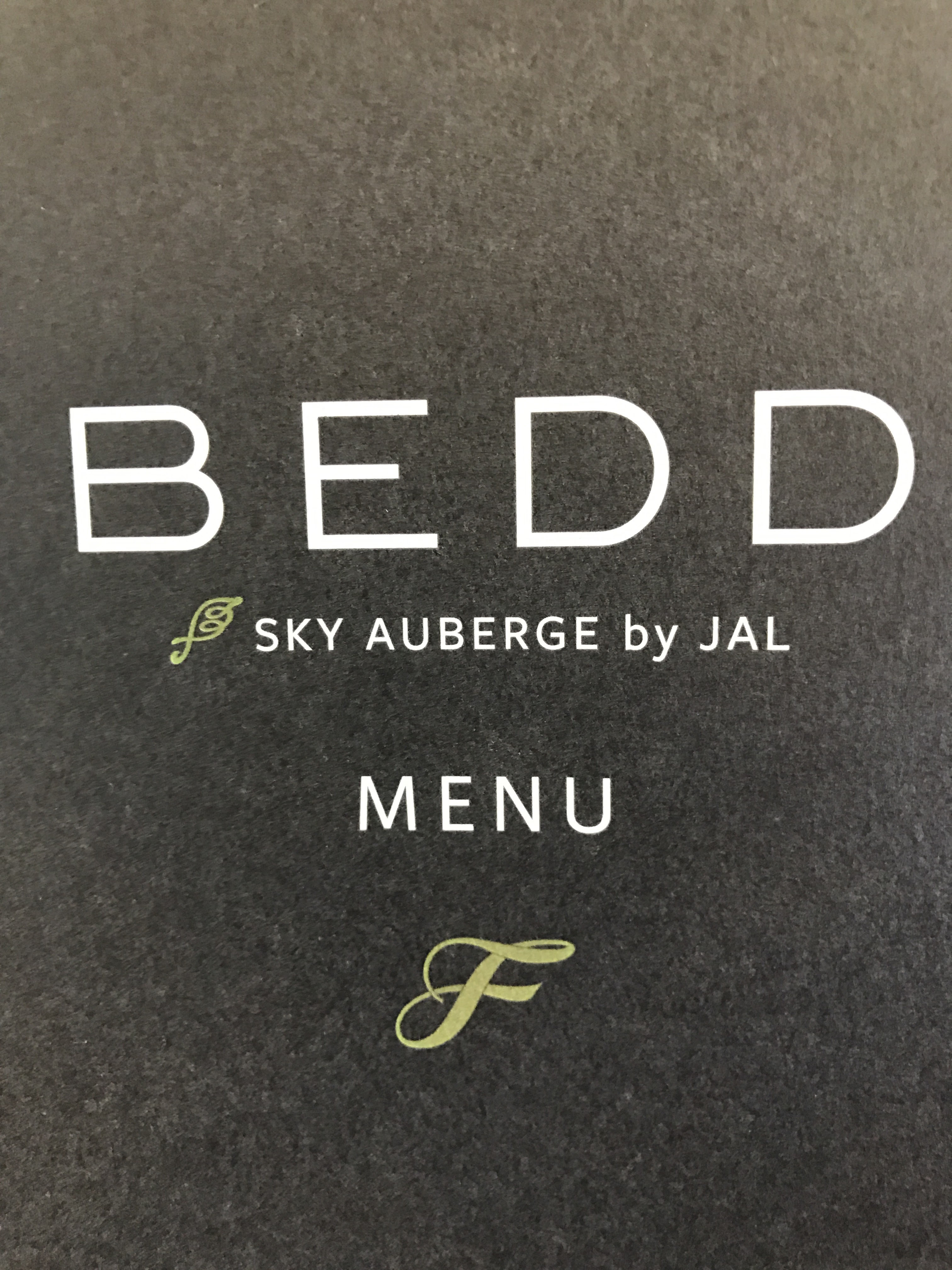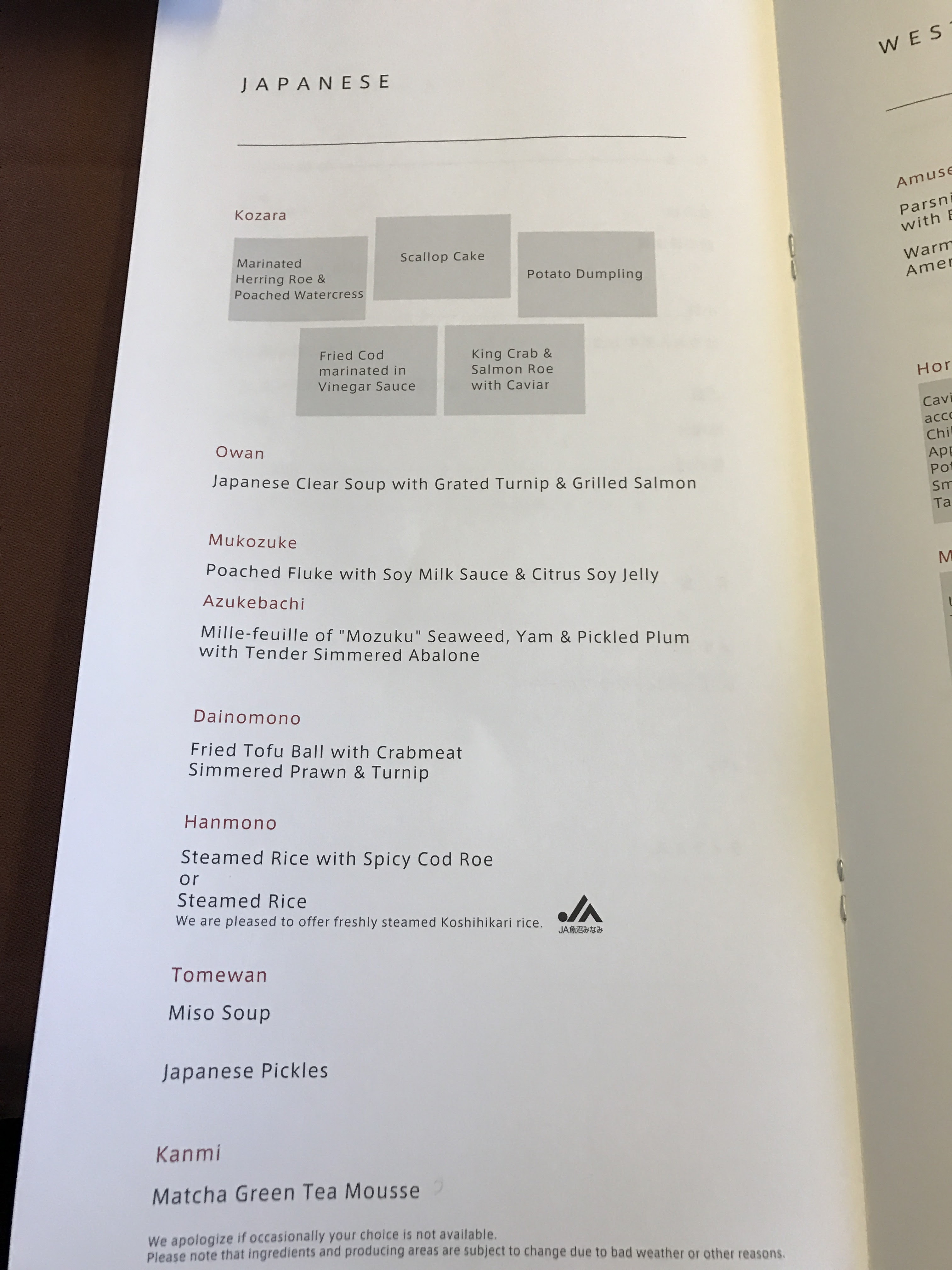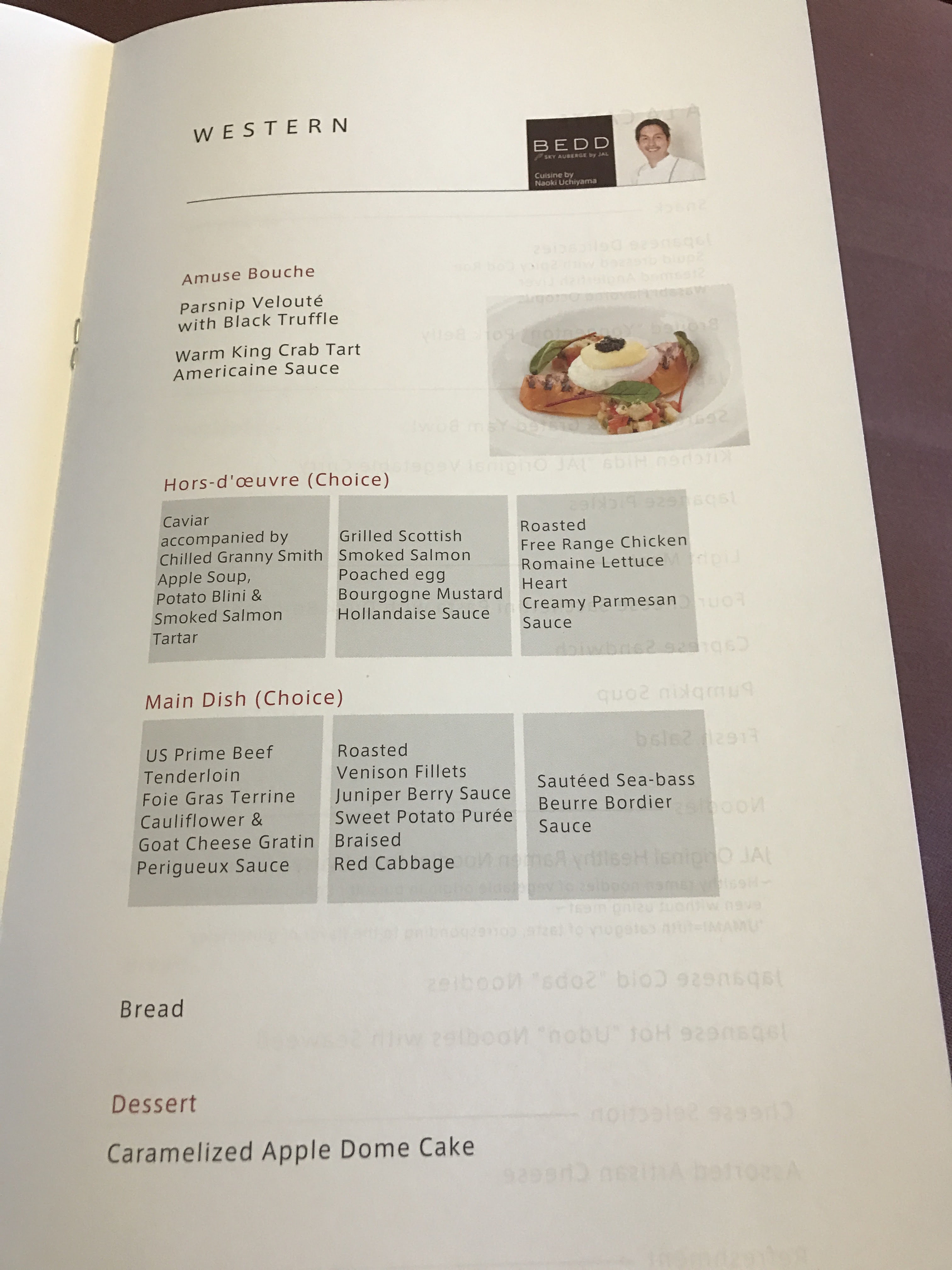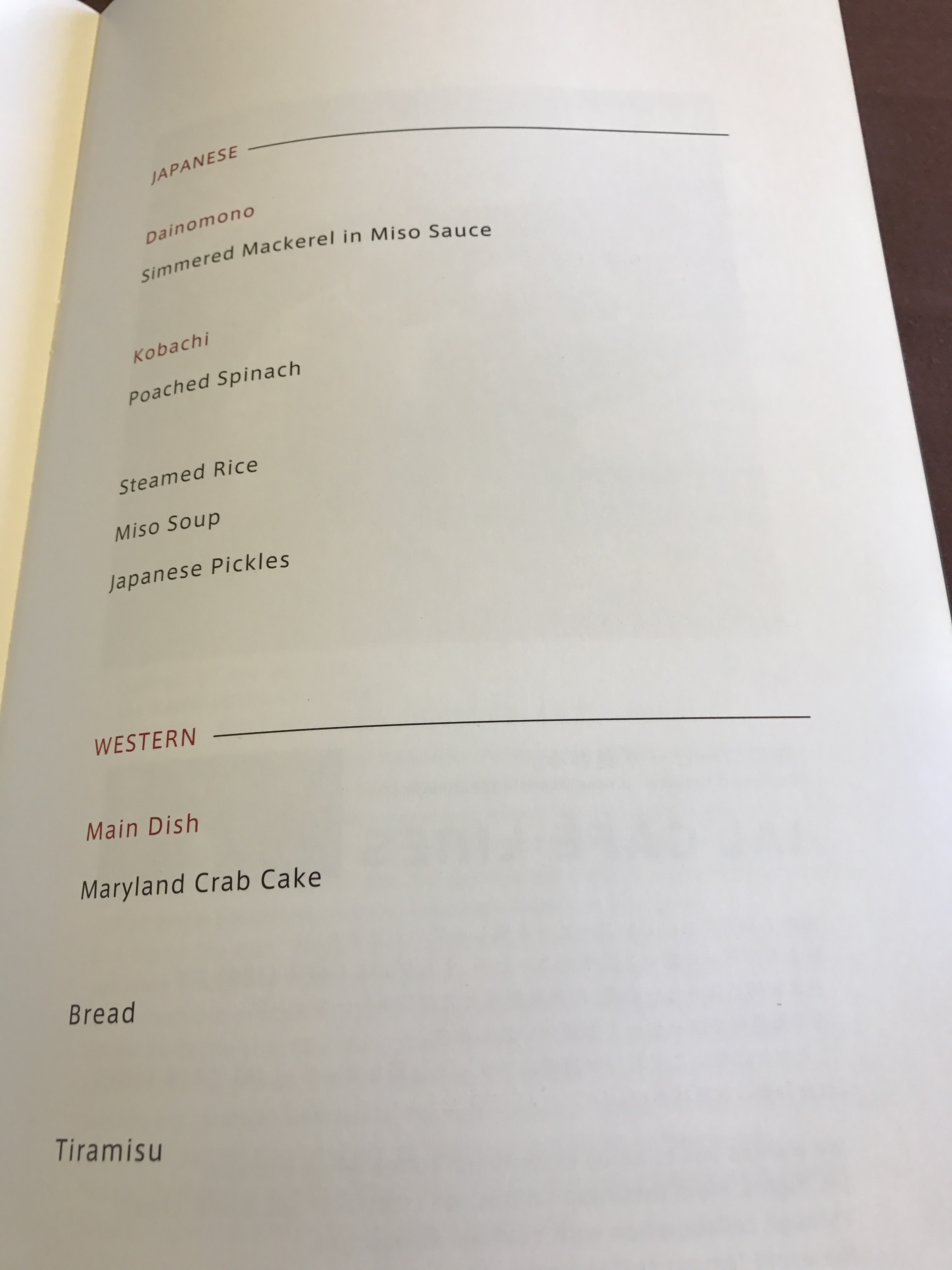 I went for the Western menu and selected the parsnip puree with truffle, the quiche, the chicken appetizer, and the sea bass as a main.
While the parsnip dish wasn't my thing, the chicken was very good and paired with some bacon. I was also brought a selection of breads, including garlic bread, brioche, and standard white rolls. The delicious soft butter, olive oil, and sea salt was a nice touch.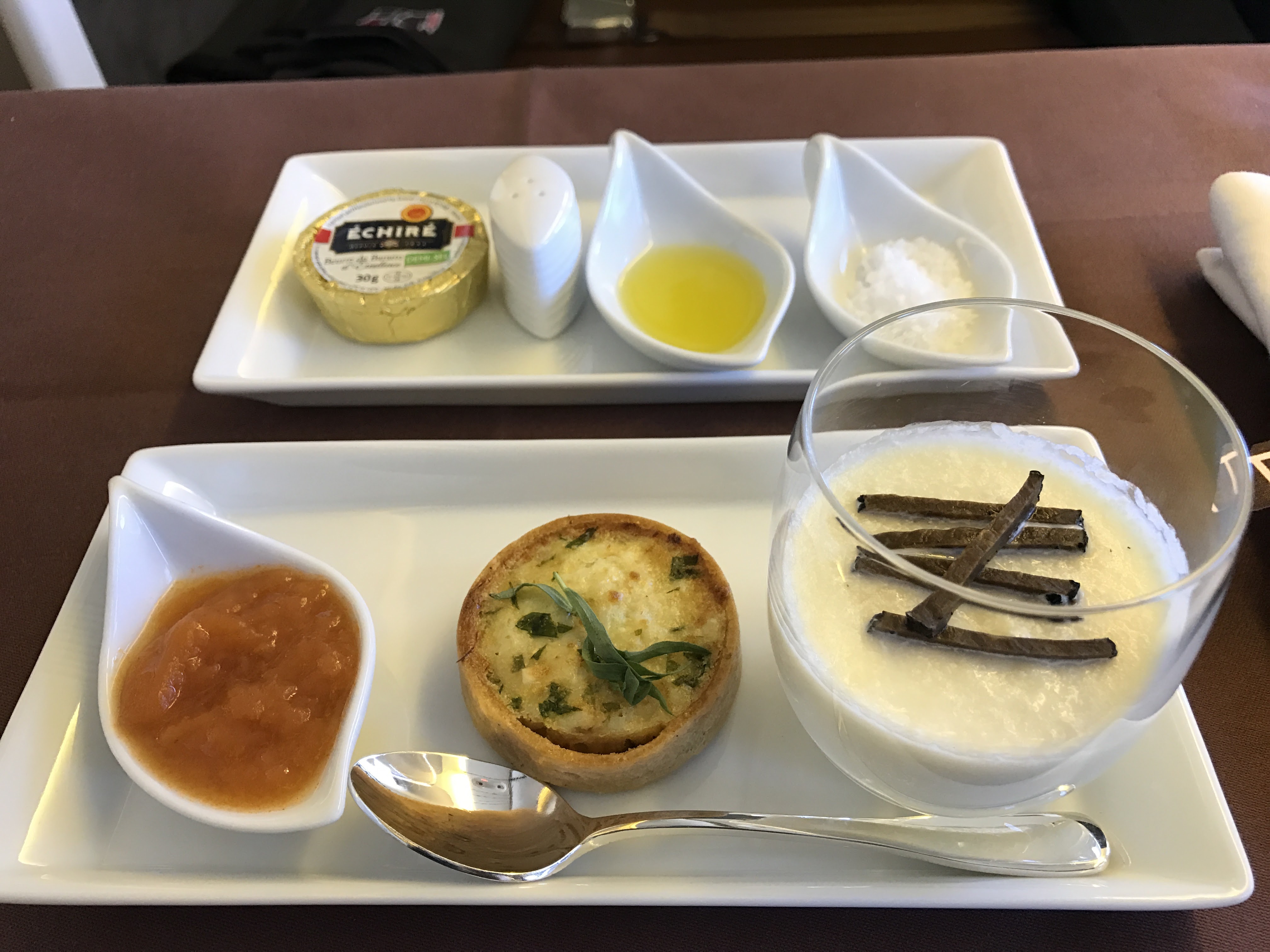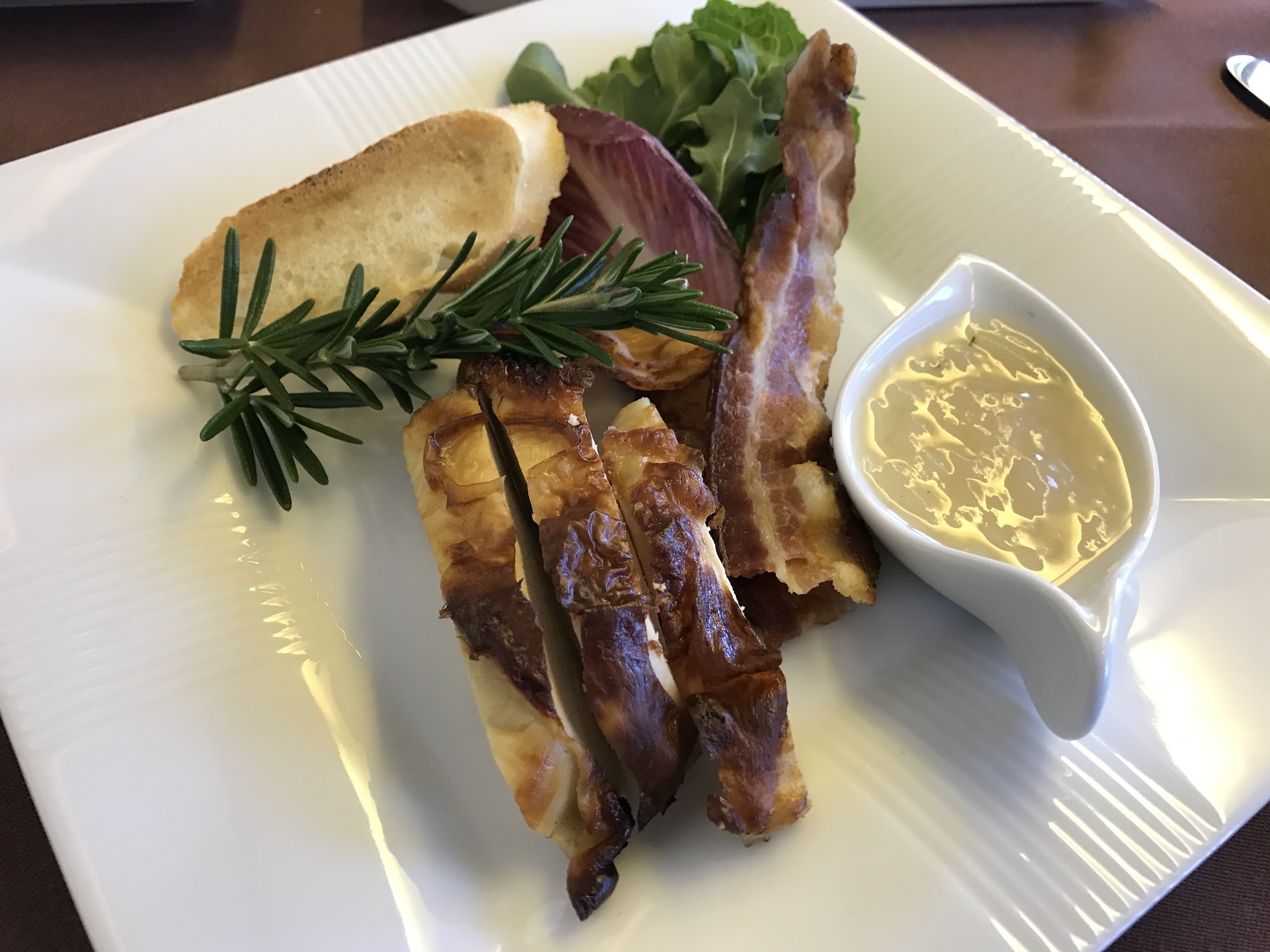 The sea bass was probably the best thing I've ever eaten on a plane. Perfectly cooked and in a decadent sauce.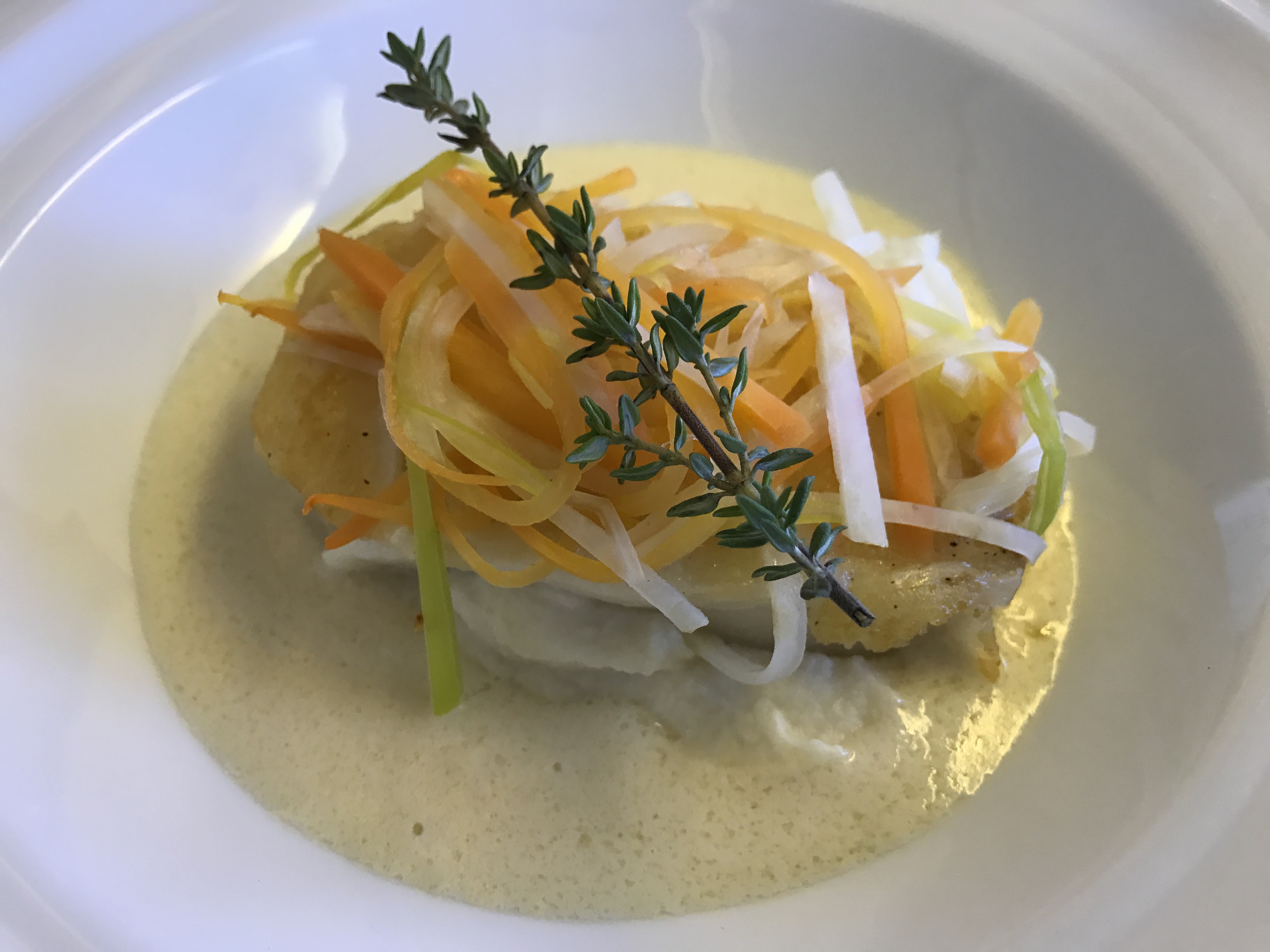 Did I mention the champagne selection? JAL First Class has an arrangement to serve Salon 2004 champagne. This sells for about $500 a bottle at retail. On my flight they had just one bottle for 7 passengers. I had all I wanted but don't expect a bottle to yourself!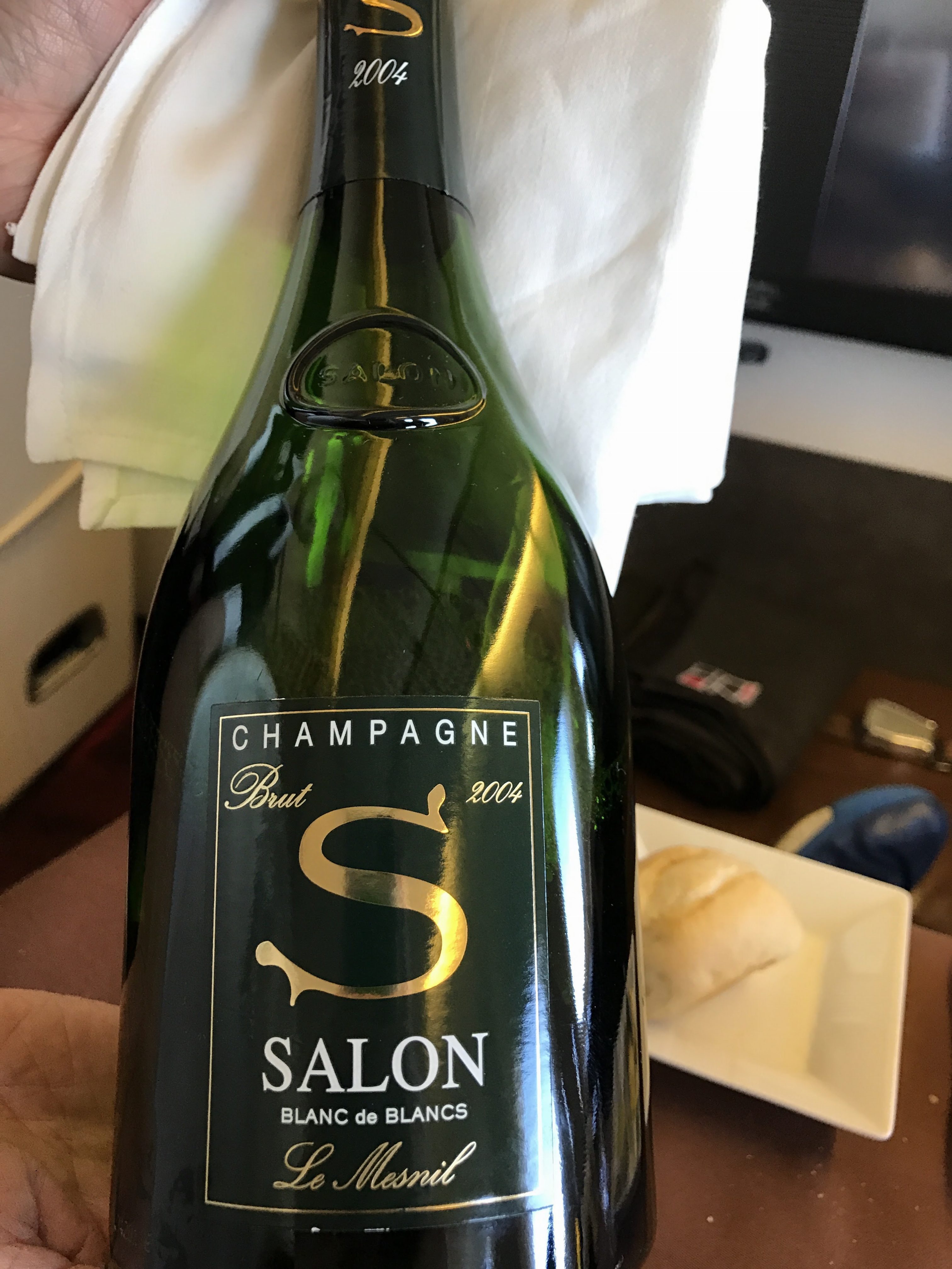 I had to pass on dessert for the time being – as I was stuffed.
But a few hours later I was hungry again! This is where the wonderful a la carte menu comes in. You can order anything off it at any time. Over the course of the 14 hour flight I ate 4 times. The initial multi-course meal, and then later a bowl of their natural (all vegetarian) ramen to which I added pork belly and a side of spinach, then a beef curry rice, and finally a cheese stuffed pasta with a duck ragu.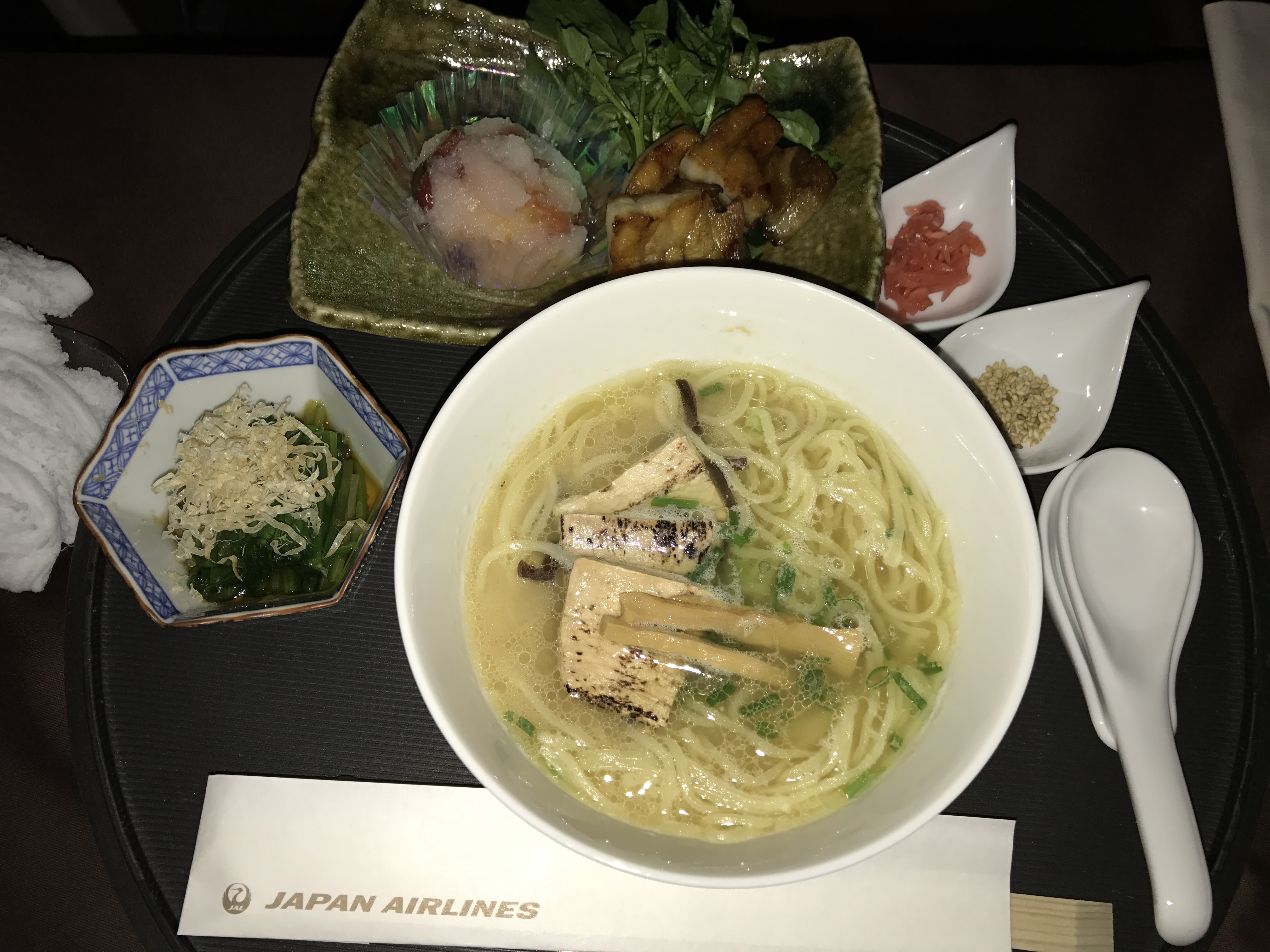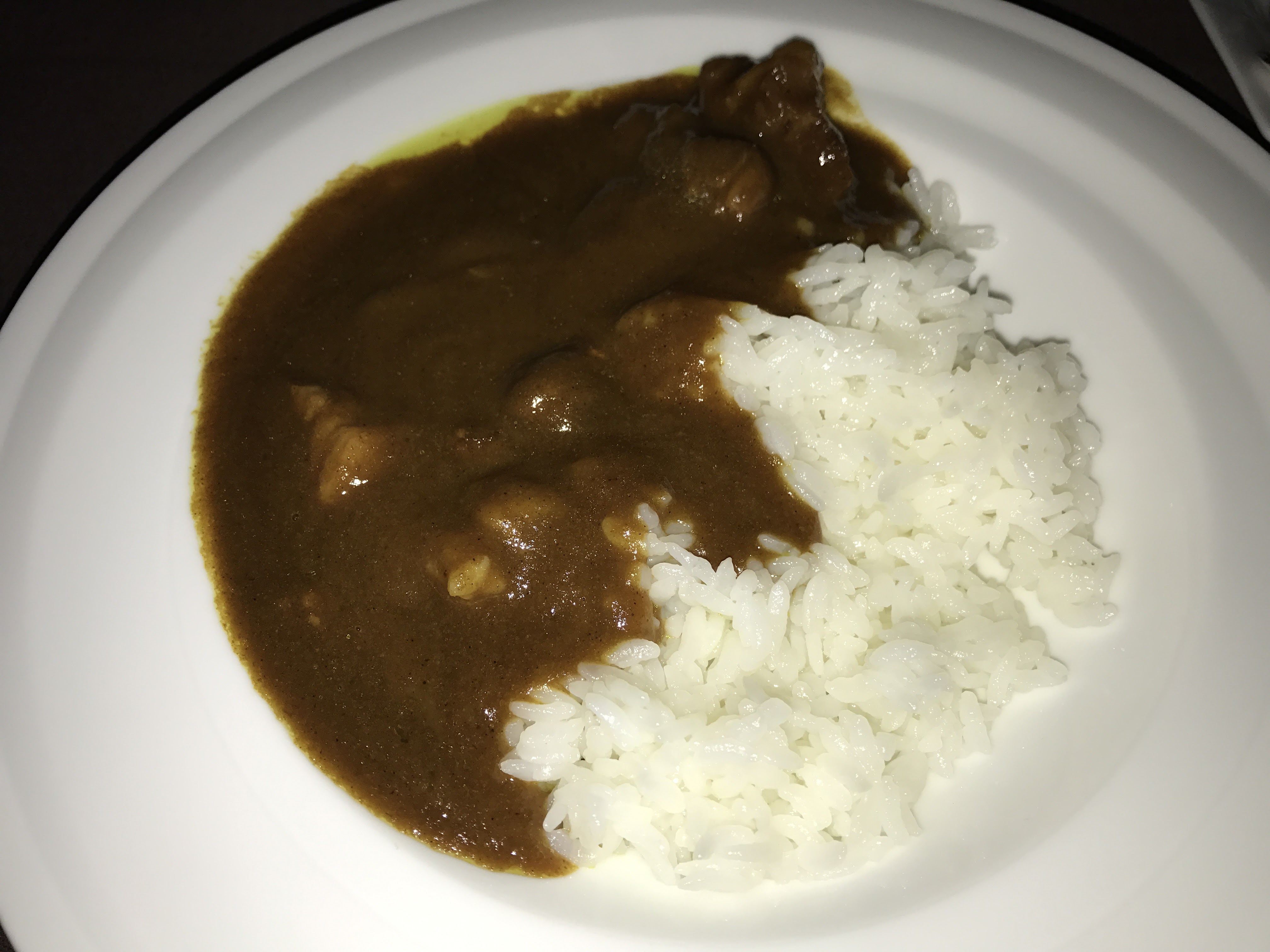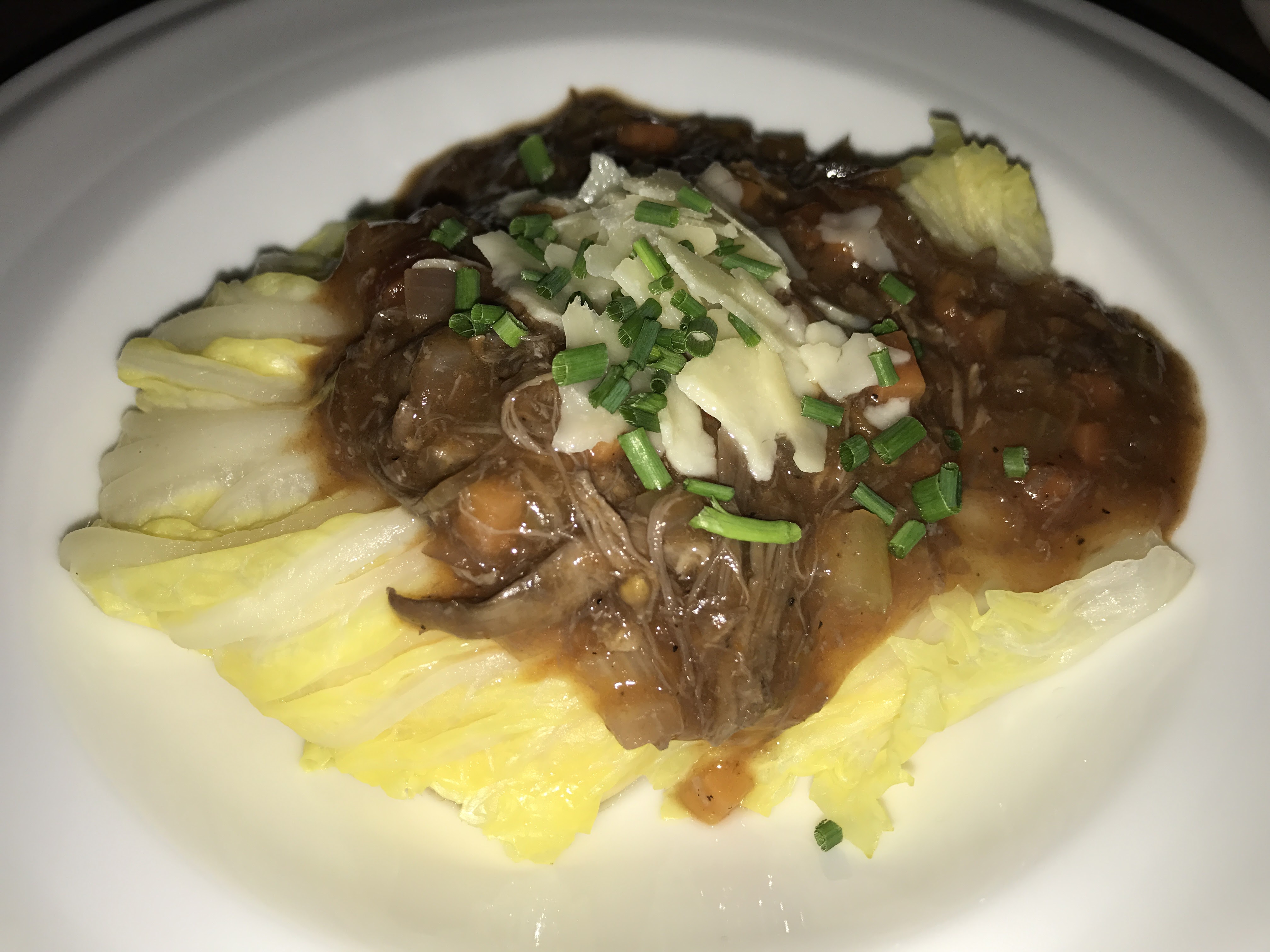 After all that I did have some dessert – tiramisu and fresh pressed coffee.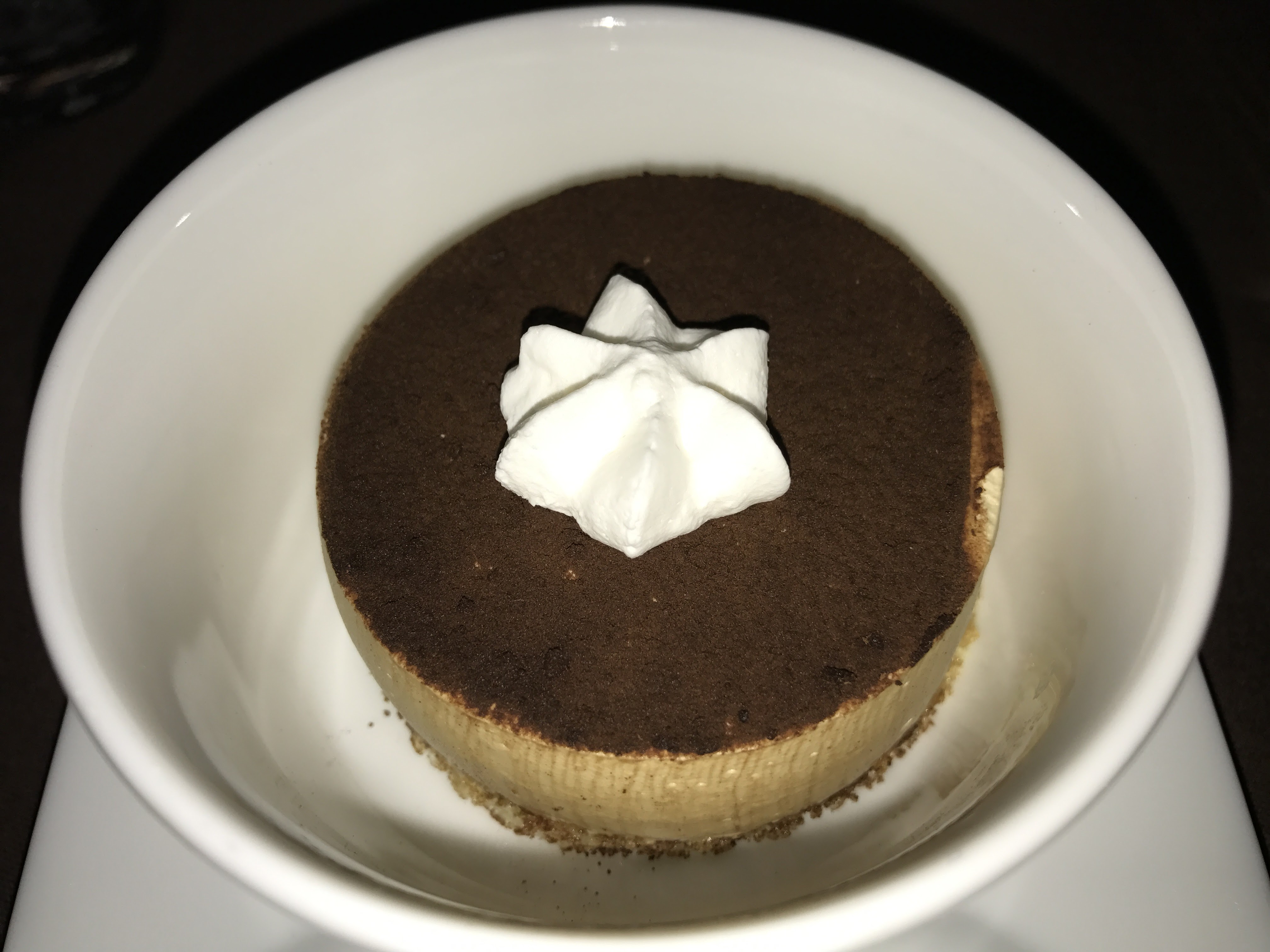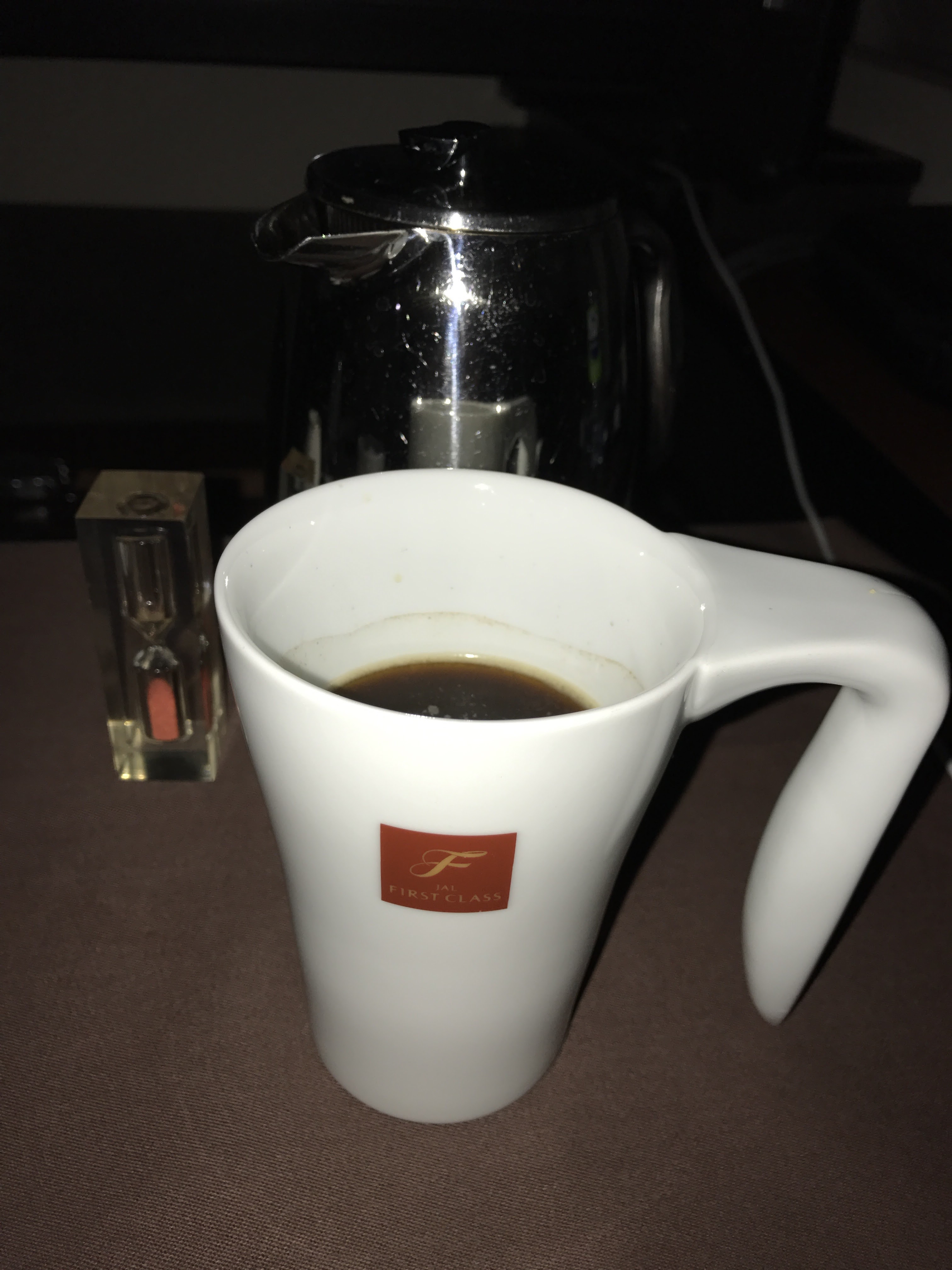 The hardest part of a daytime flight to Asia is that you need some sleep to make it to evening local time – but you aren't tired. Of course the JAL First seats turn into a full lie flat bed, which helps quite a bit. They will offer you a choice of a soft or firm mattress pad. I went for the soft – though it wasn't super soft.
I got a bit lucky in that I noticed the seat right next to me was the lone vacant seat. So at turndown time I asked if they wouldn't mind making that seat up as my bed. This way I could go back and forth between my "seat" and my "bed." I don't know that all flight attendants would do that but file it under "it never hurts to ask." So I slept for a bit in 2G and when I couldn't nap anymore came back over to 2K for another bite to eat and some TV.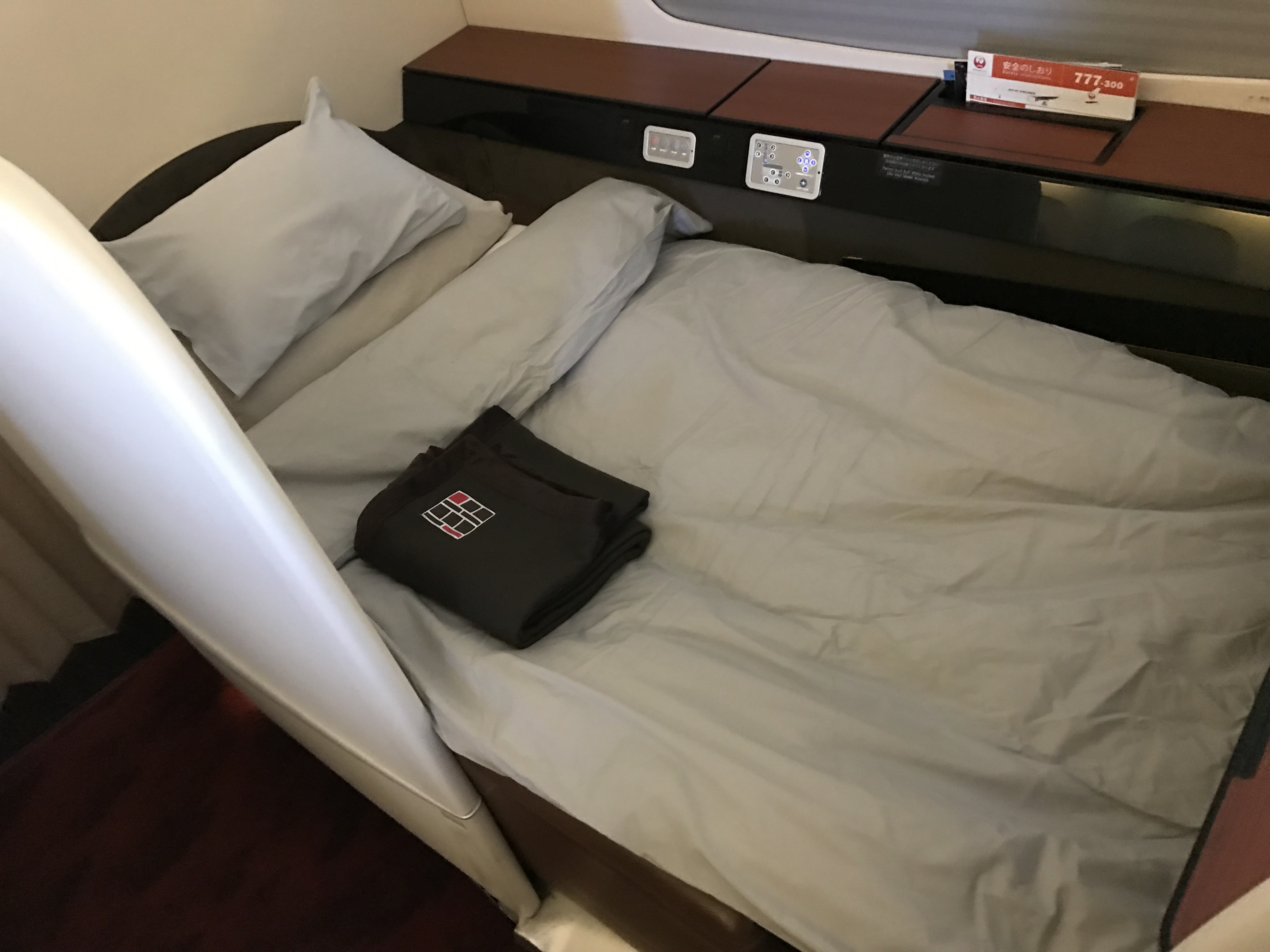 I have to call special attention to the onboard service. Absolutely everyone on board was spectacular and made sure that I had anything I needed at any time. Attentive but not overbearing. Unlike US airlines where the flight attendants (not always, but often) take the approach that they are there for your safety rather than for service, the JAL staff is all service.
On the return I of course had to check out the JAL First Class lounge at Narita.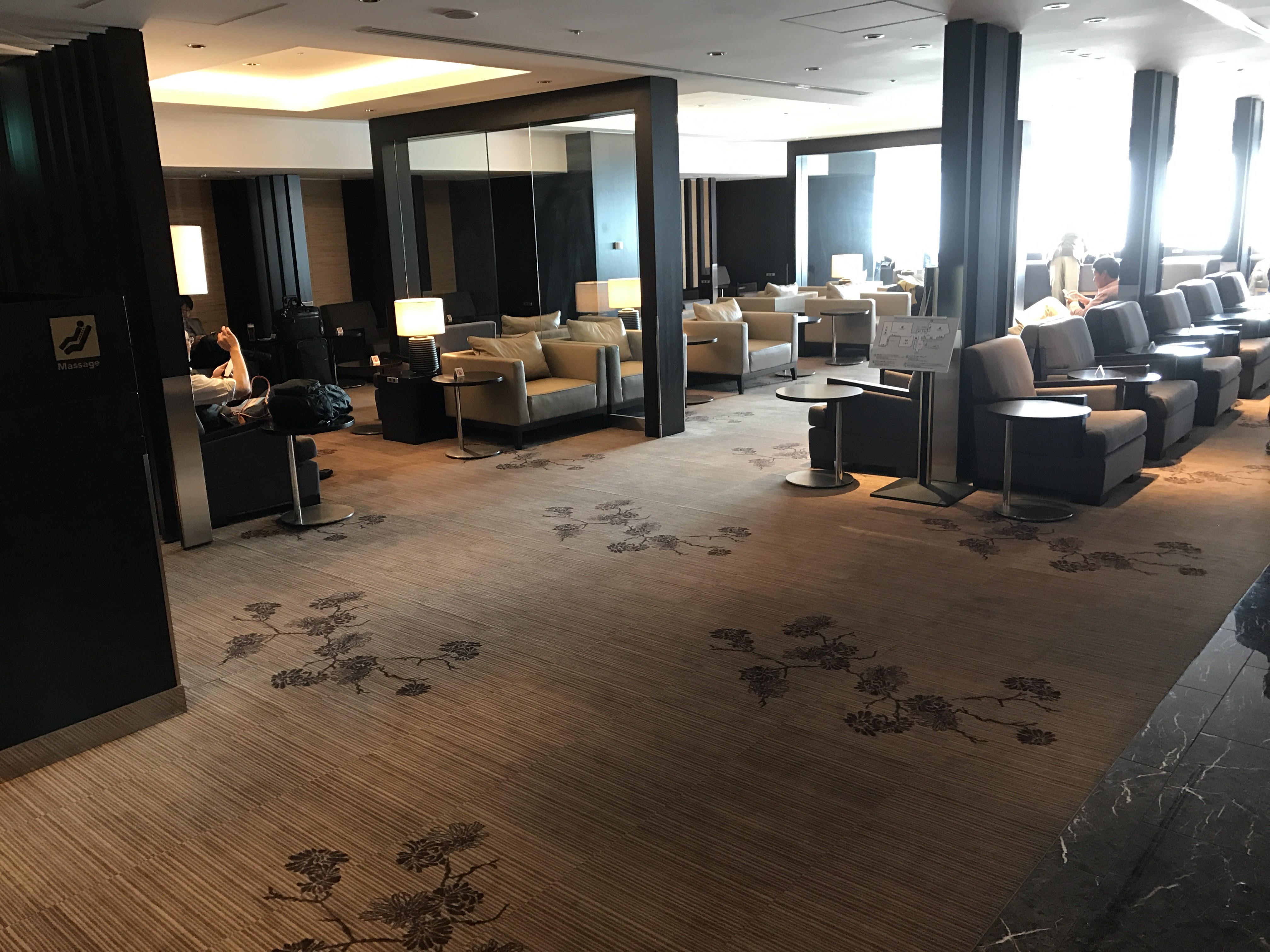 I was excited to get the 10 minute massage I'd heard about online – full table massage, not just a chair! But when I arrived at 9am, I was told there were no appointments until 11 – which was my flight time. The massages are for all passengers (First, Business, and OneWorld Elite) and I was told that people arrive at 7:30 am when the lounge opens just to get an appointment! Happily, I did find an available automatic chair massager in the 4th floor part of the lounge.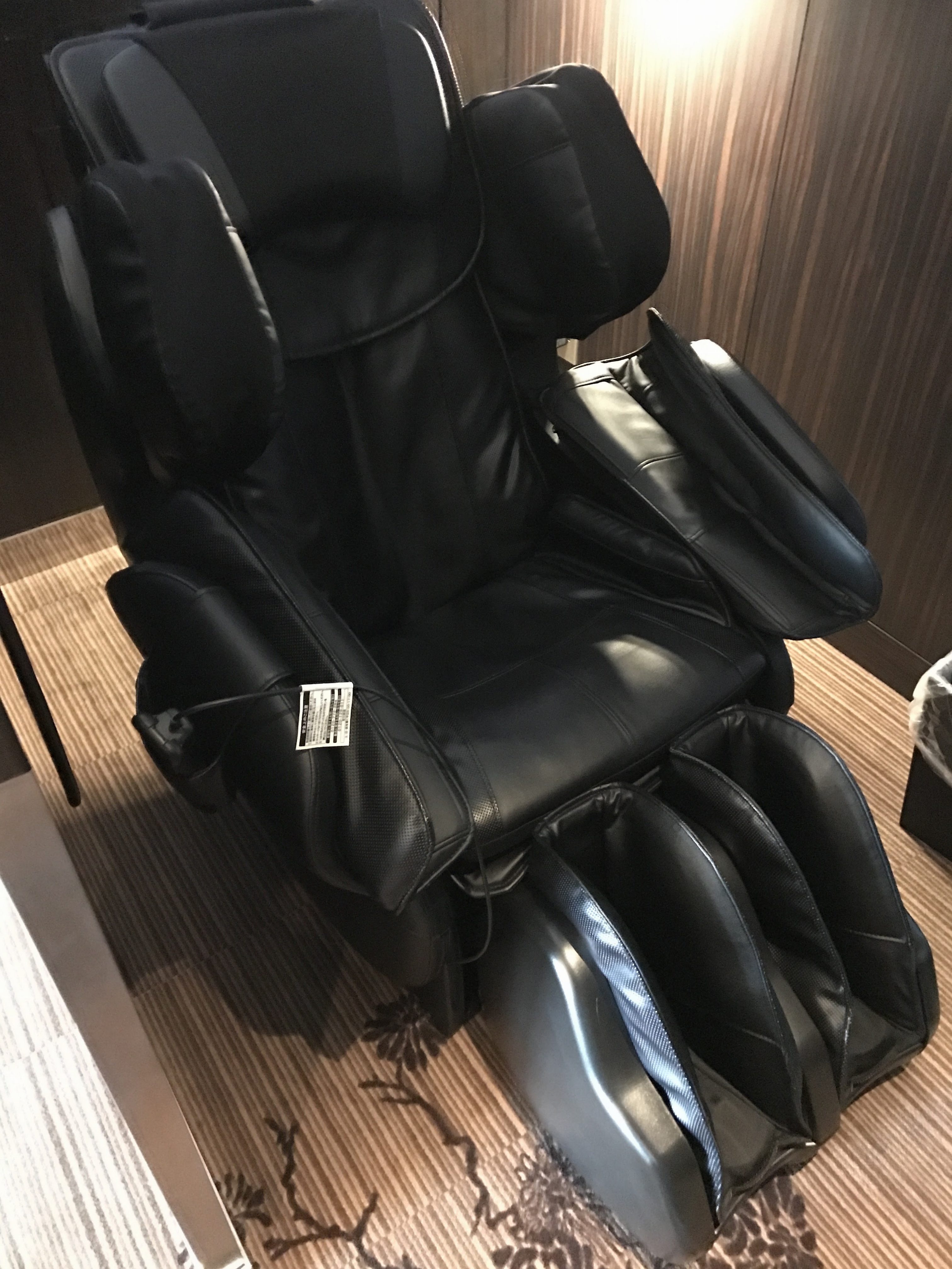 The lounge, overall, is very spacious – with the 4th floor nearly empty compared to the 1st floor. All the food is on 1 and check out this spread – including a full freshly prepared sushi bar.
The return flight was obviously very similar to the outbound in terms of service and the hard product was the same. I did not have a spare seat to use as my bed this time 😉
The food was a bit different, though, and by the way you can always use the JAL website to see the menus for your upcoming or planned flights.
On the return I was most excited about the Wagyu steak on the Western menu.
The Kuroge Wagyu fillet was A4/A5 quality and would have easily topped $100 on a restaurant menu. Sure, I enjoyed my $500 bottle of champagne and my $100 bottles of tea, but somehow a $100+ steak really put me over the top with happiness.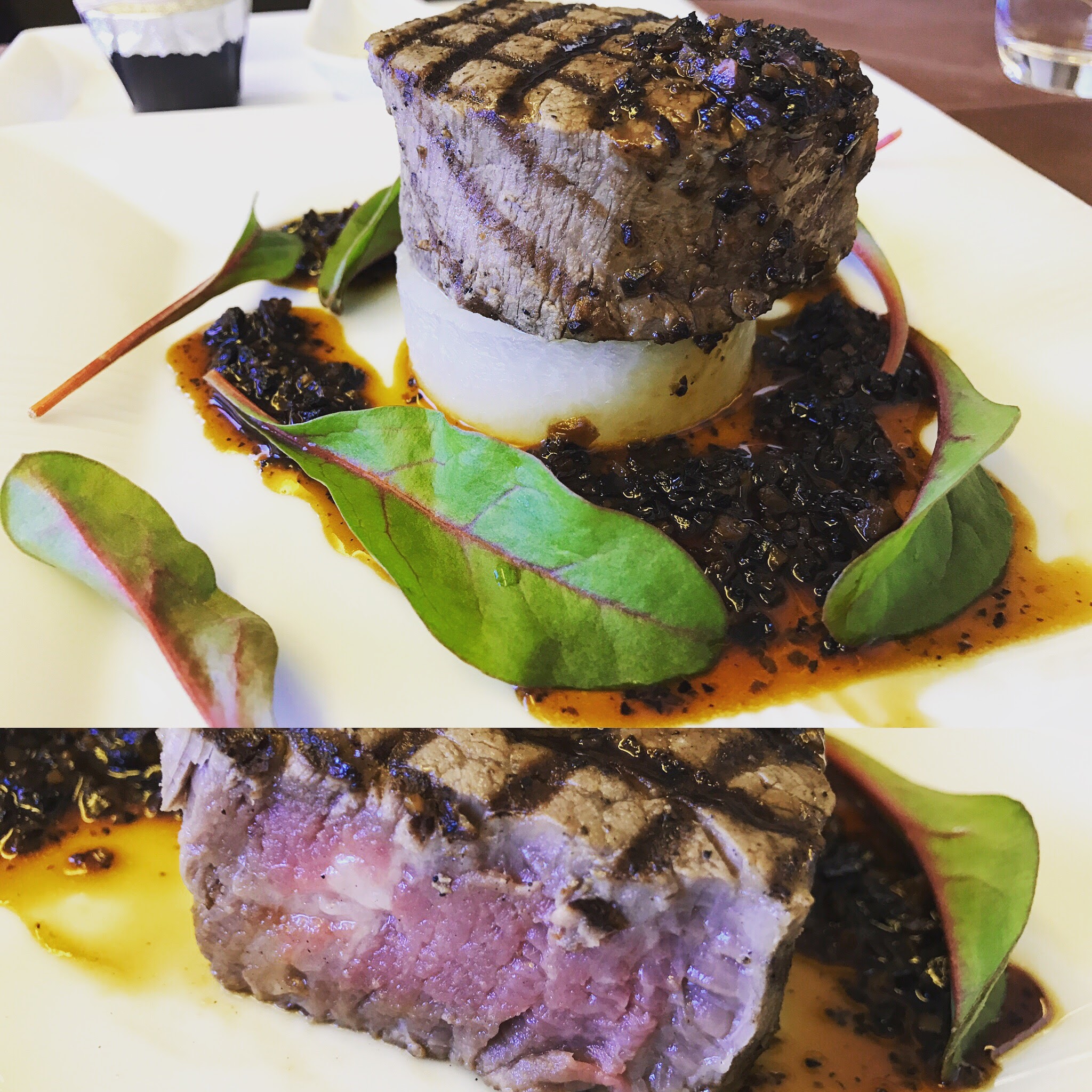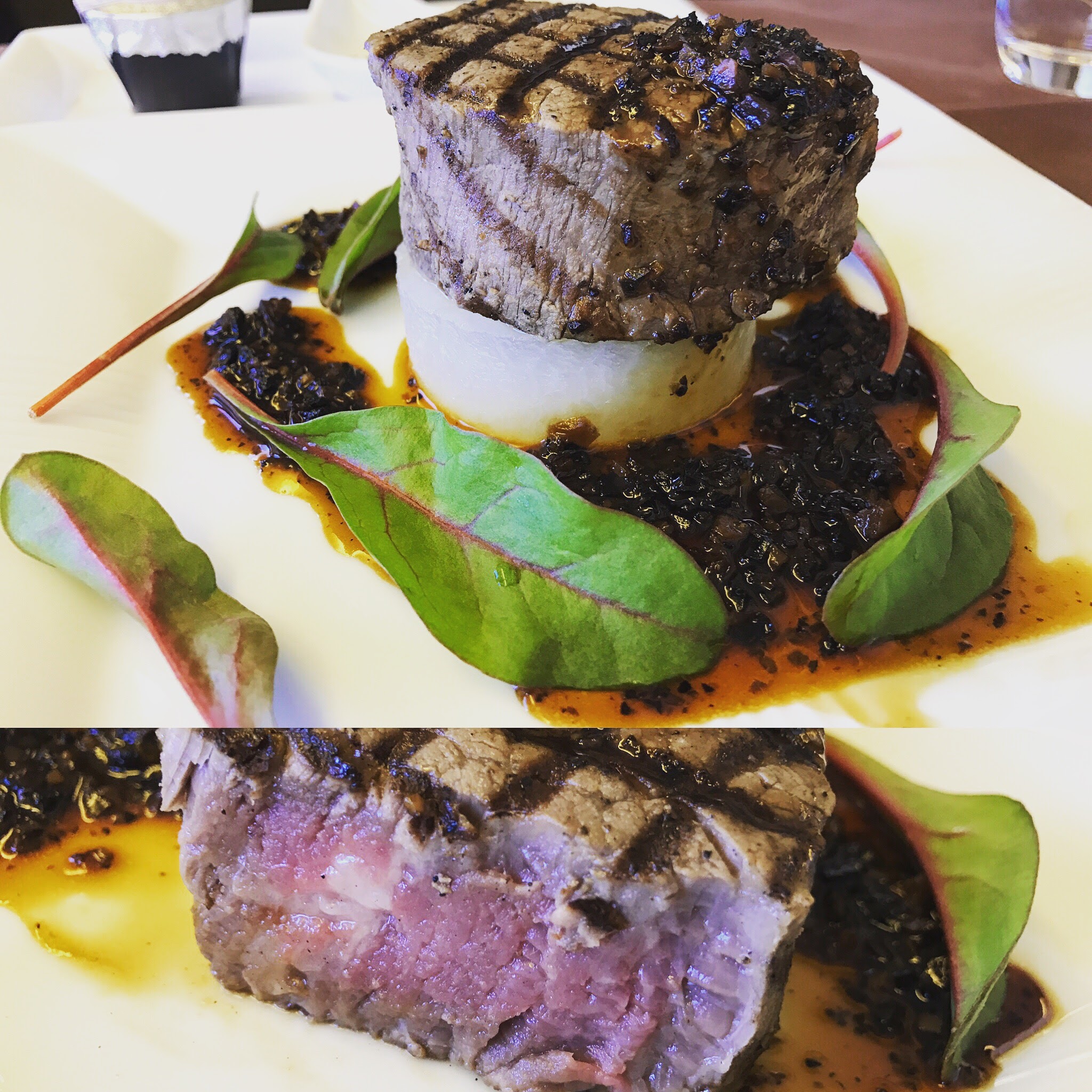 They also had meat skewers one of which was a thin sliced Wagyu and, again, incredible. I had tried Wagyu all over Tokyo and found that unless you know you are getting certified A4/A5, don't bother. Fattier isn't better if the quality level isn't there to match.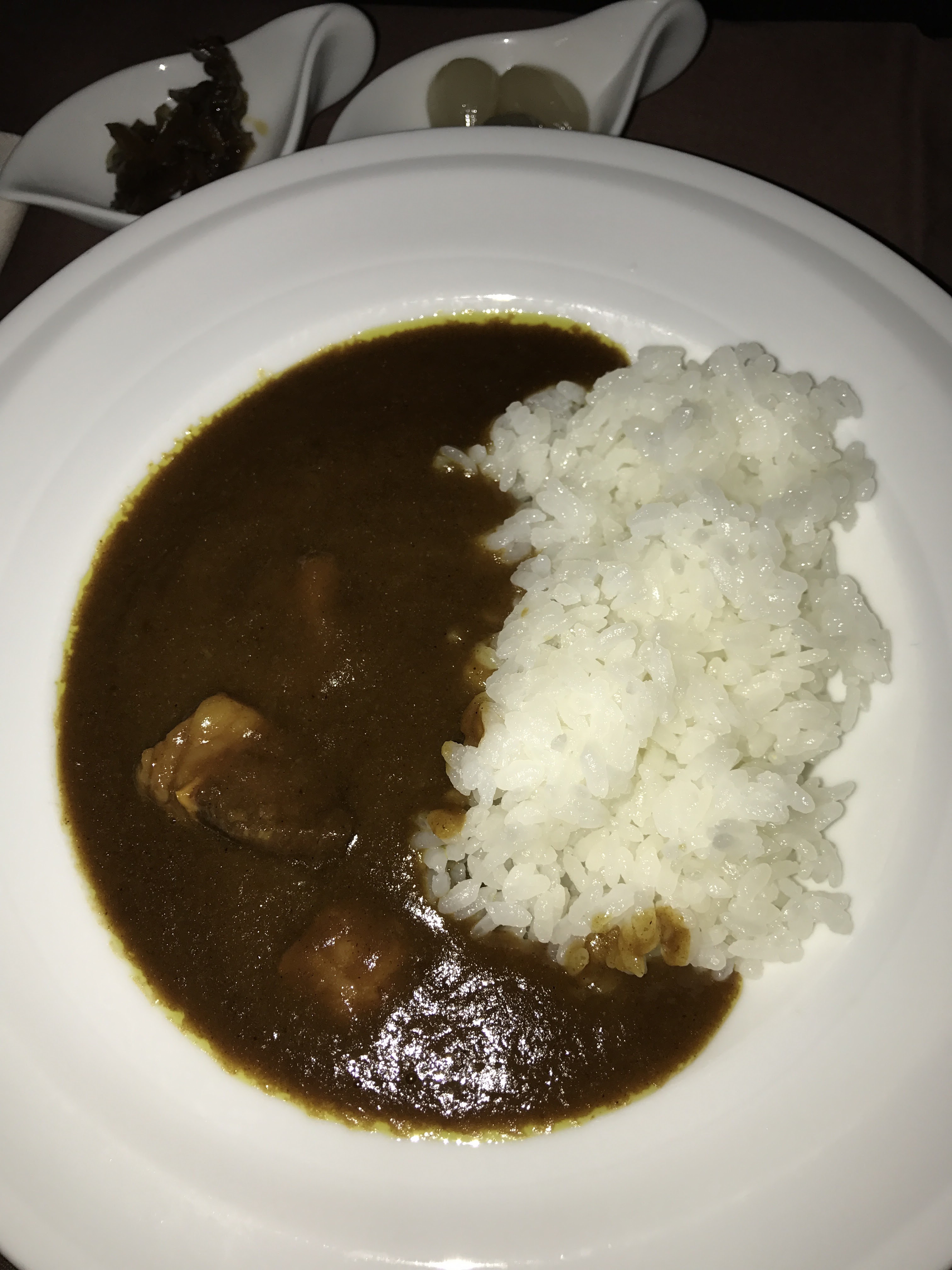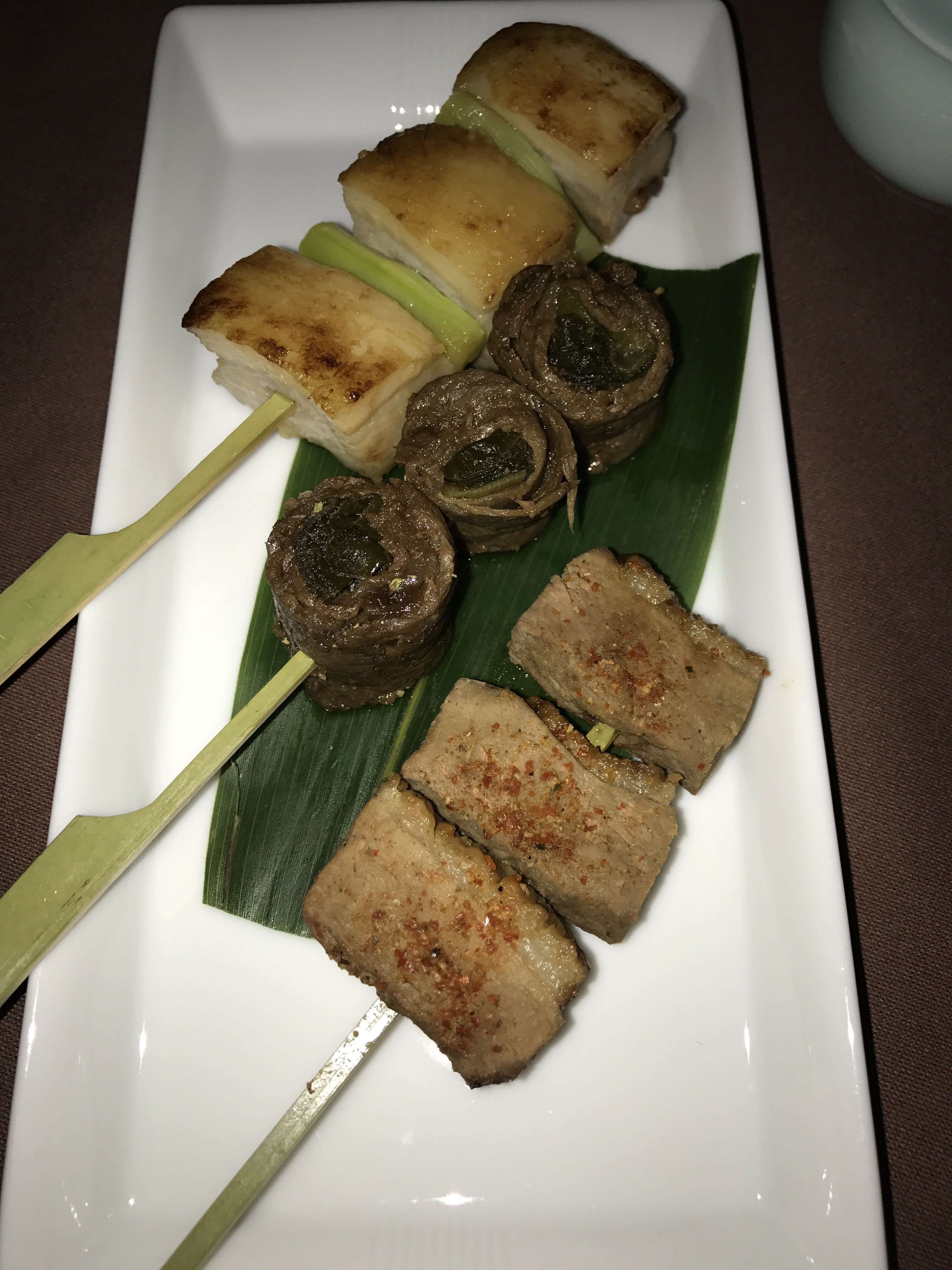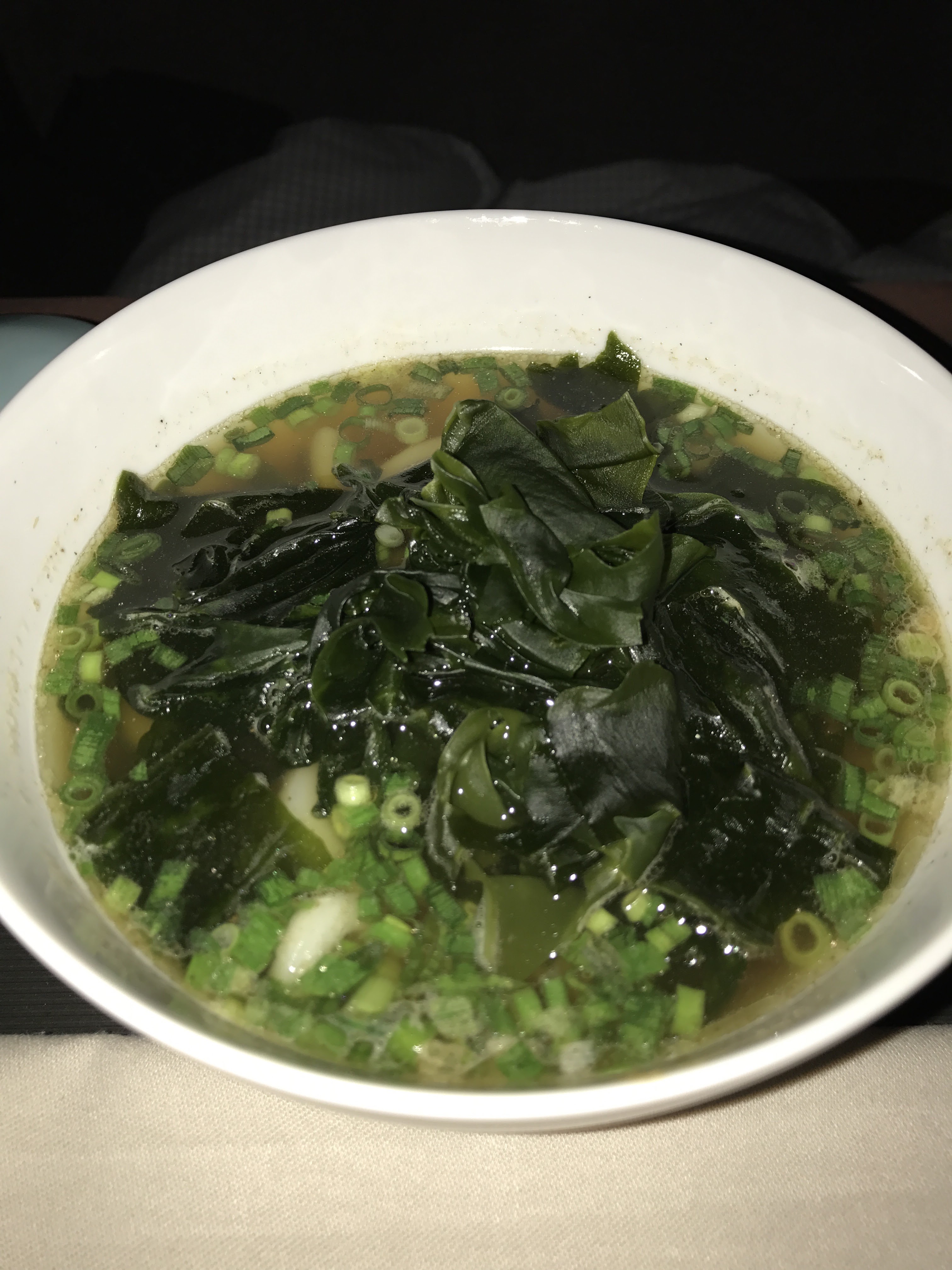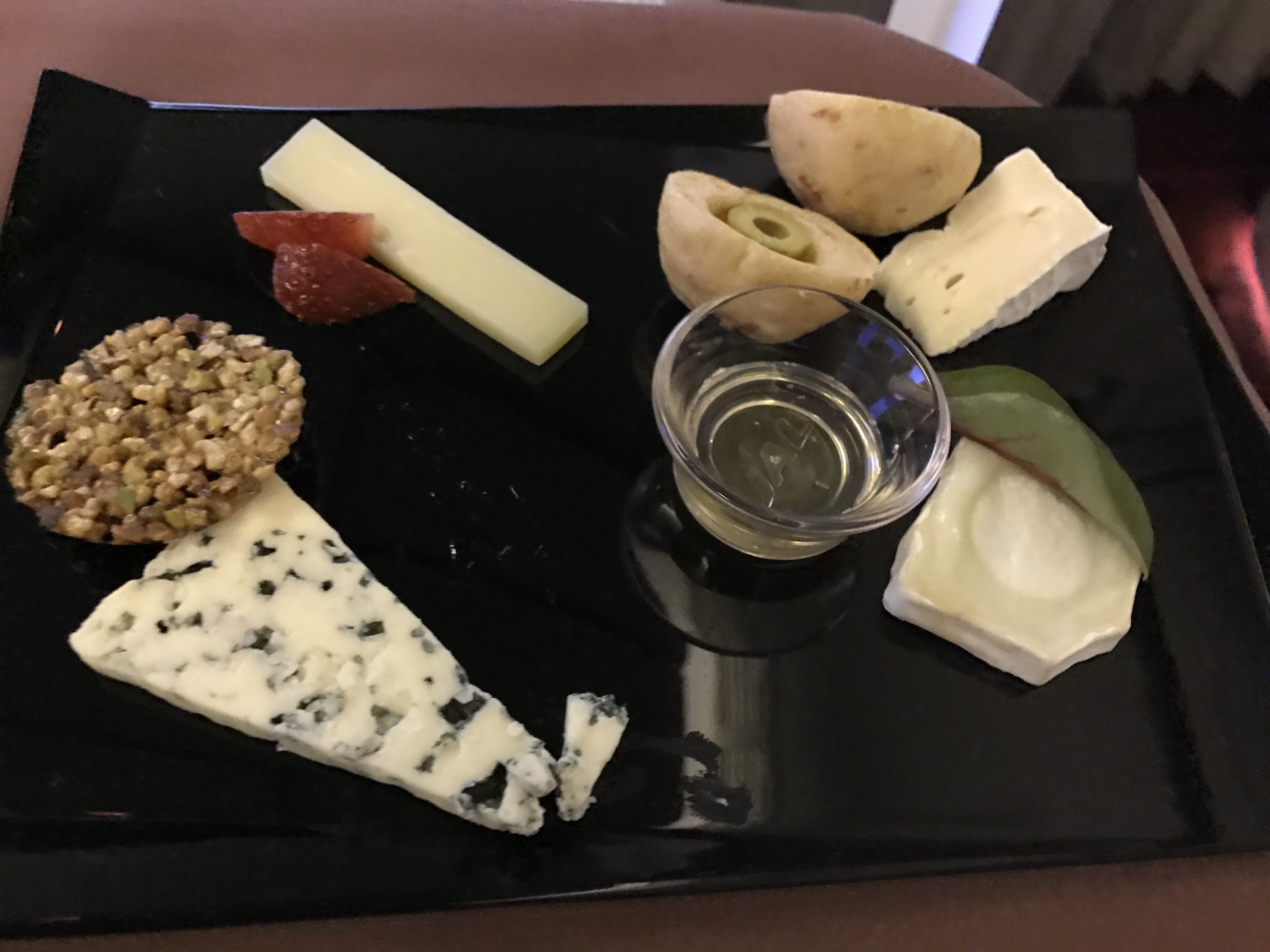 I do wish JAL had overnight flights from the East Coast. The outbound left NYC at noon and arrived around 4pm while the return left NRT at 11am and arrived at 10am. Back in time 😉 But it's impossible to sleep too much on a day time flight. I remember a Cathay flight to HKG a few years ago that was overnight and I just stayed up through a long meal service, then slept 8 hours, and arrived refreshed at approx. 5:30am. It would also be nice if JAL flew NYC to Haneda as NRT may well be the airport furthest from my destination that I've ever flown into with a shuttle in traffic to downtown taking about 3 hours.
But back to the flights….
In summary
JAL provided an absolutely top tier experience on both legs of my trip. The free unlimited Wifi did wonders to pass the time. The seats in first class were spacious and comfortable. Sure, more privacy would have been great at bedtime, but not a huge deal. In flight entertainment wasn't the best in terms of selection but most people bring their own IFE these days anyway. The service was flawless in every regard. The beverages in First, from the Salon 2004 champagne to the Blue Tea were luxurious to a fault. The food courses were 5 star. I was not only full the entire trip, but I was completely satisfied.
How can you travel like this? Well, it's 80,000 American Airlines miles each way and taxes and fees came out to only $46 for the round trip. Read more about how to find availability and book a trip like this here.
---