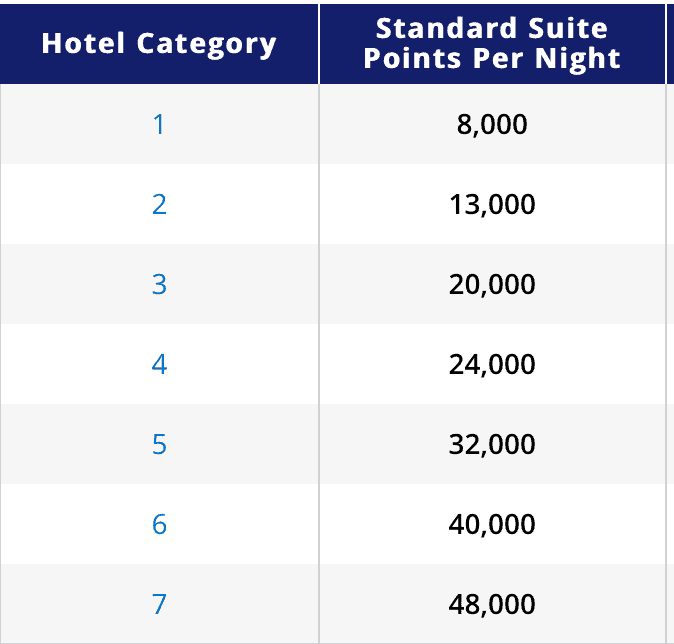 World of Hyatt, Hyatt's frequent guest program, is a "fan favorite" of many in the miles and points space.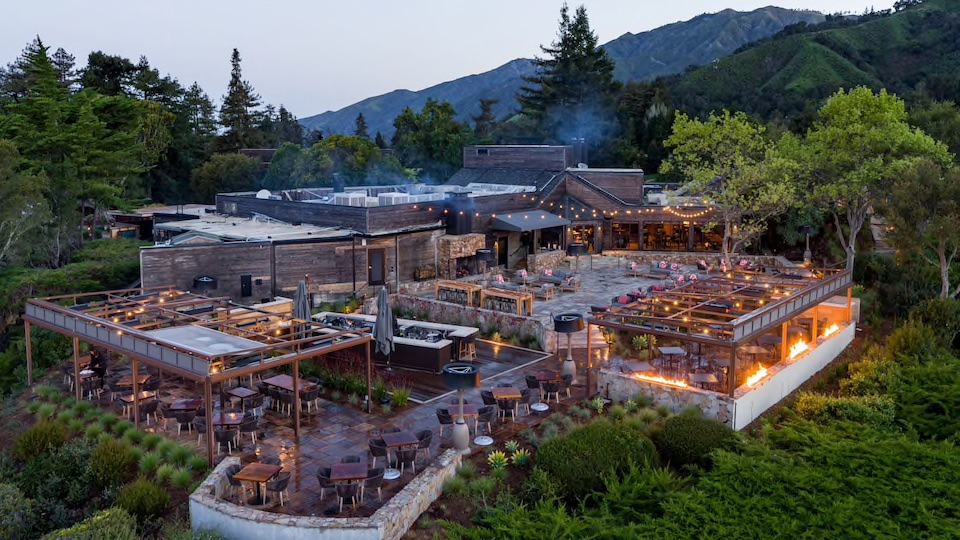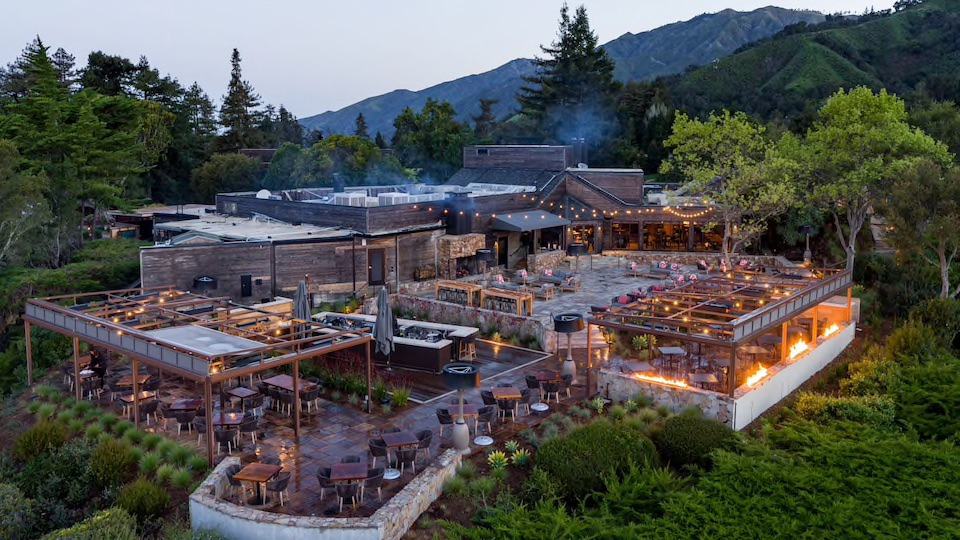 From amazing customer service, both by phone and by Tweet, to top-tier elite Globalist confirmed suite upgrades (4 per year), and no resort fees on award stays (for any level member), Hyatt has a great program.
Hyatt's Suites Have Always Been a Great Deal with Points
One of the greatest features of the now-defunct Starwood Preferred Guest program (since acquired by Marriott) was the ability to book upgraded rooms and suites for additional points – up to double the normal room rate for a full Suite.
Hyatt has had the same feature, and is in fact the only major US hotel loyalty program to do so across the board for fixed rates.
And in late 2018, they even made some improvements.
On paid rates, you can upgrade to a Suite for 6,000 – 9,000 points a night, depending on whether you want a Standard Suite or a Premium Suite. While you may need to "buy up" to a higher rate than the cheapest available, these can be amazing value.
For all points, you have lots of options for Suites.
Hyatt "Standard Suites" and "Premium Suites" Are Often Bookable With Points
The big news today is that all hotels (at least, all that are going to for now) have now rolled out the ability to book Suites online. Until now, you needed to call. This added some effort to check availability, though it probably also left some Suites available that may have otherwise been booked by someone searching online.
Suites can often be a better value than two separate rooms for a family traveling together, and this is a life hack I've given to many vacationers over the years.
The Hyatt award charts are quite generous, with the top Premium Suites, which can sometimes include even a massive Presidential Suite or Villa, costing only only twice the price of a standard room!
Much like how redeeming frequent flyer miles for First and Business Class is where you get the highest CPM (cents per mile in value), Suites are where you'll get the highest CPP (cents per point) for your Hyatt points.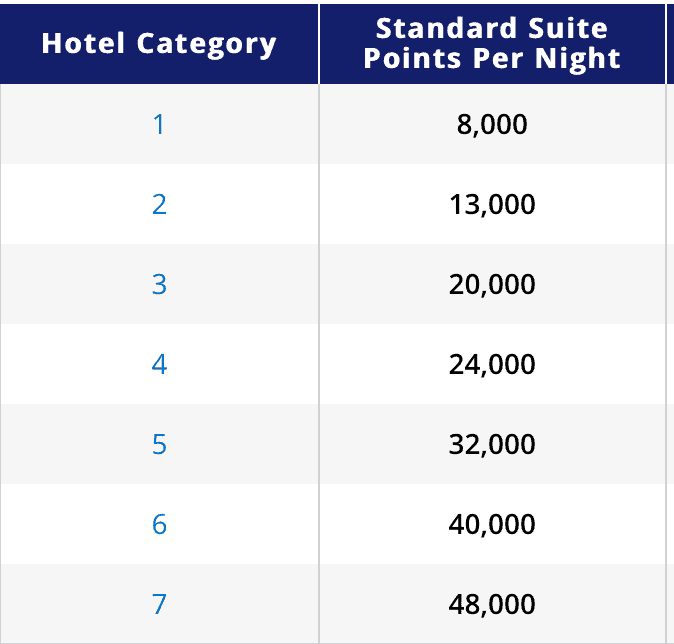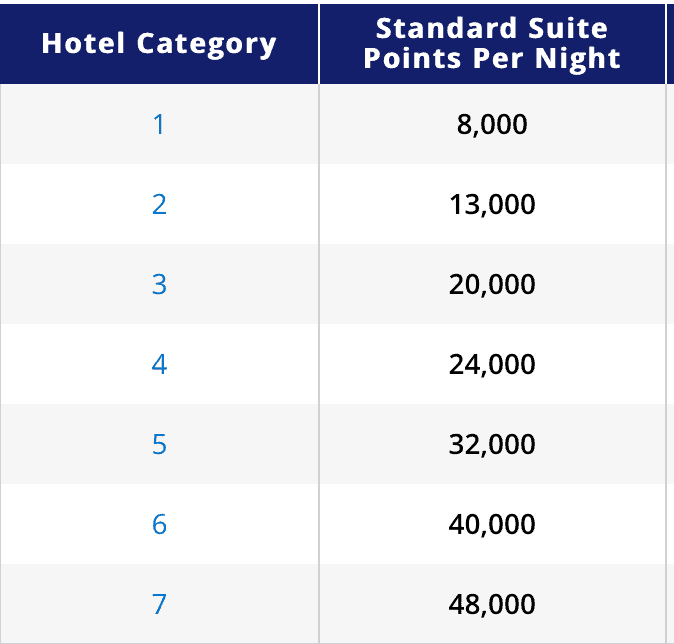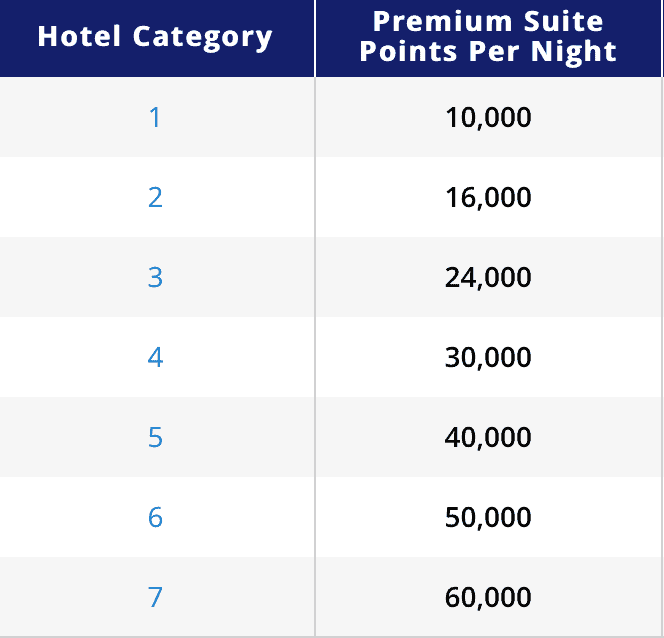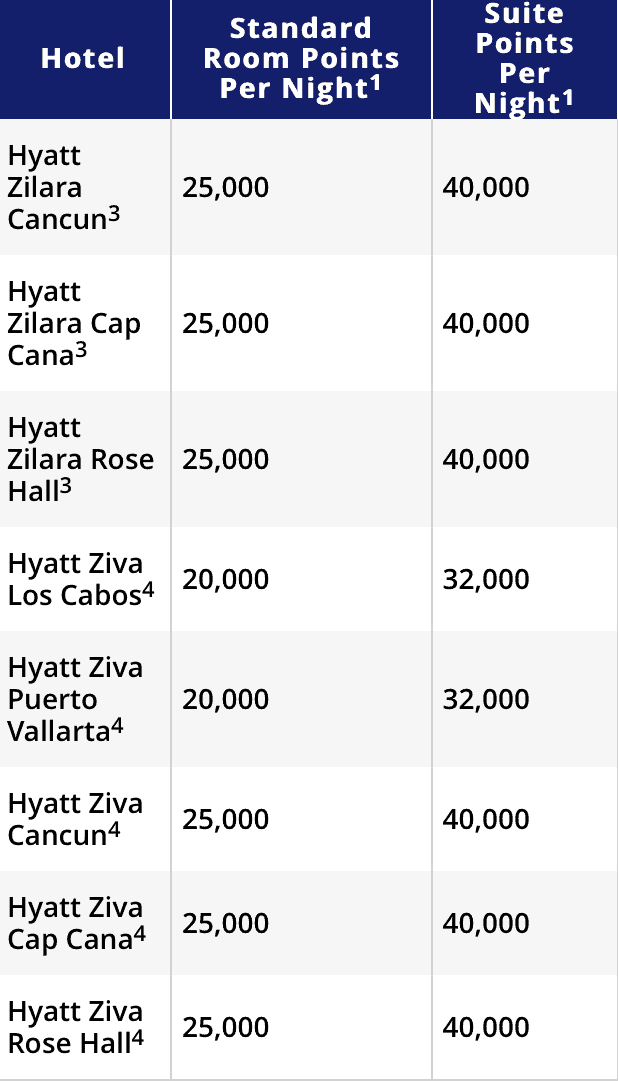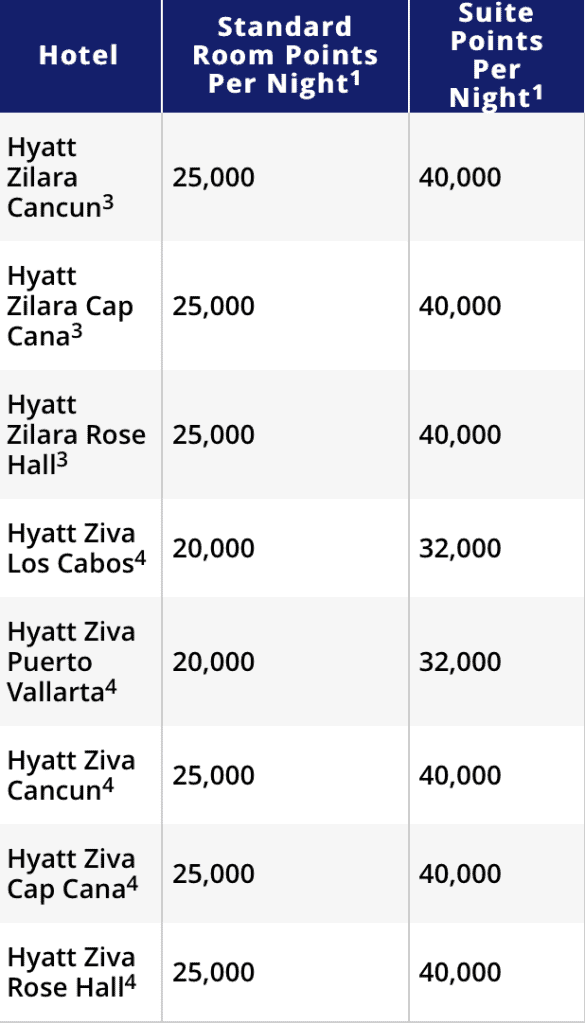 Examples of Amazing Suite Redemptions
I love to look at the Ventana Big Sur, just because it's my most anticipated (theoretically) upcoming Hyatt stay and also what I believe is Hyatt's best points redemption.
It's a category 7 and I have a few nights booked for next year at a steal of 30,000 points per night (vs. a cash rate of $2,000 a night – nearly 7 cents per point!).
But you can also book a suite with points. the Big Sur Suite is a "Standard Suite" and since it's a Category 7 property, it's 48,000 points a night.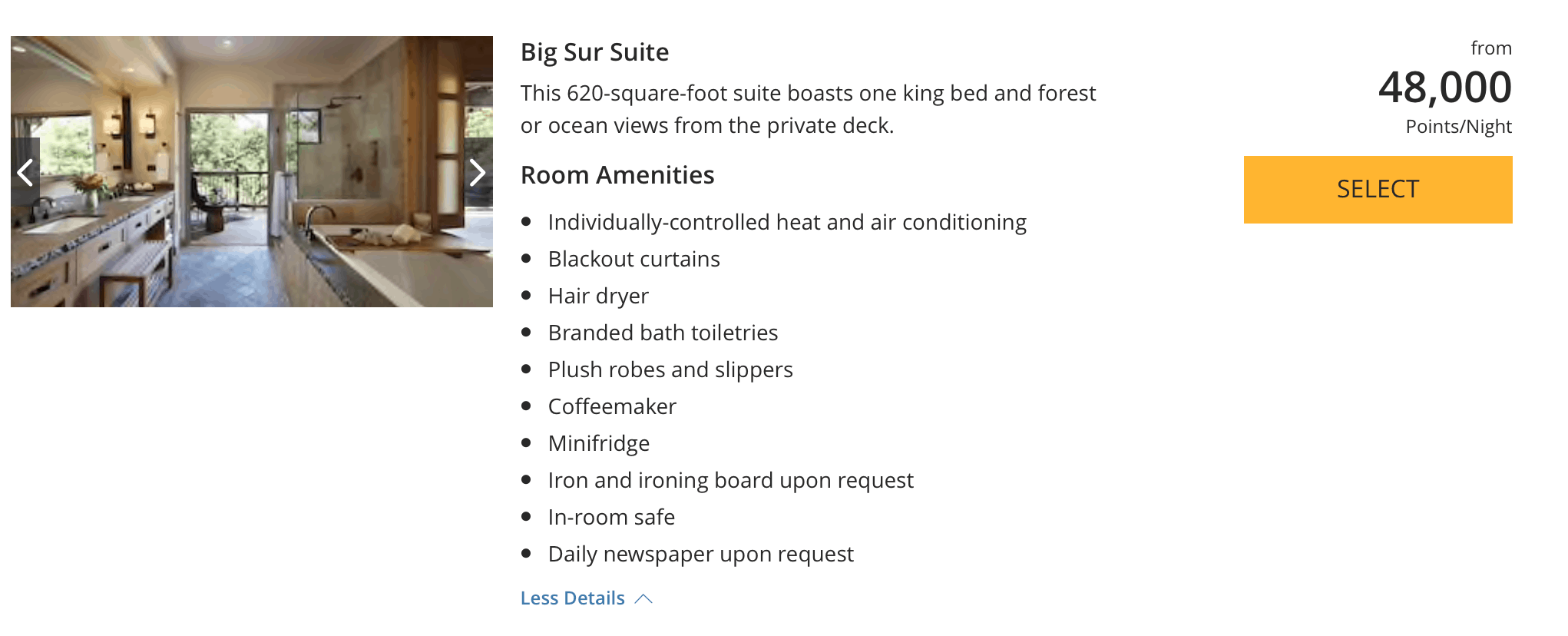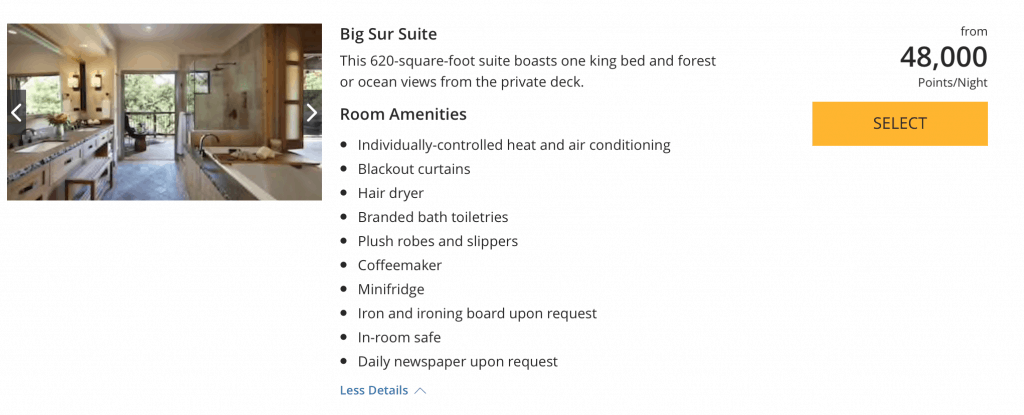 This room would be $2,300 a night plus tax and fees, or about $2,638 for a yield of 5.5 cents a point. Somewhat unusually – given the rates at Ventana Big Sur, the standard room is actually a higher ROI (technically!) but some may prefer the suite redemption.
Big Sur is an exception, though.
Most times, a Premium Suite is going to be many multiples. Here's a few examples for a random 2 night stay next year in March (9th – 11th):


Standard room: $189 + tax or 8,000 points
Greenwich Suite: $339 + tax or 16,000 points
Fairfield Suite: $439 + tax or 13,000 points.
I think they reversed the Suites online, so book quick if you want the Fairfield Suite! Unfortunately, the Presidential Suite isn't available with points.
At the Grand Hyatt Singapore, 40,000 points can get you a duplex suite or a "Grand Corporate Suite." While the Duplex sells for only $566 a night + tax (so, not a great deal with points), the Grand Corporate Suite would be $1,235 + tax a night.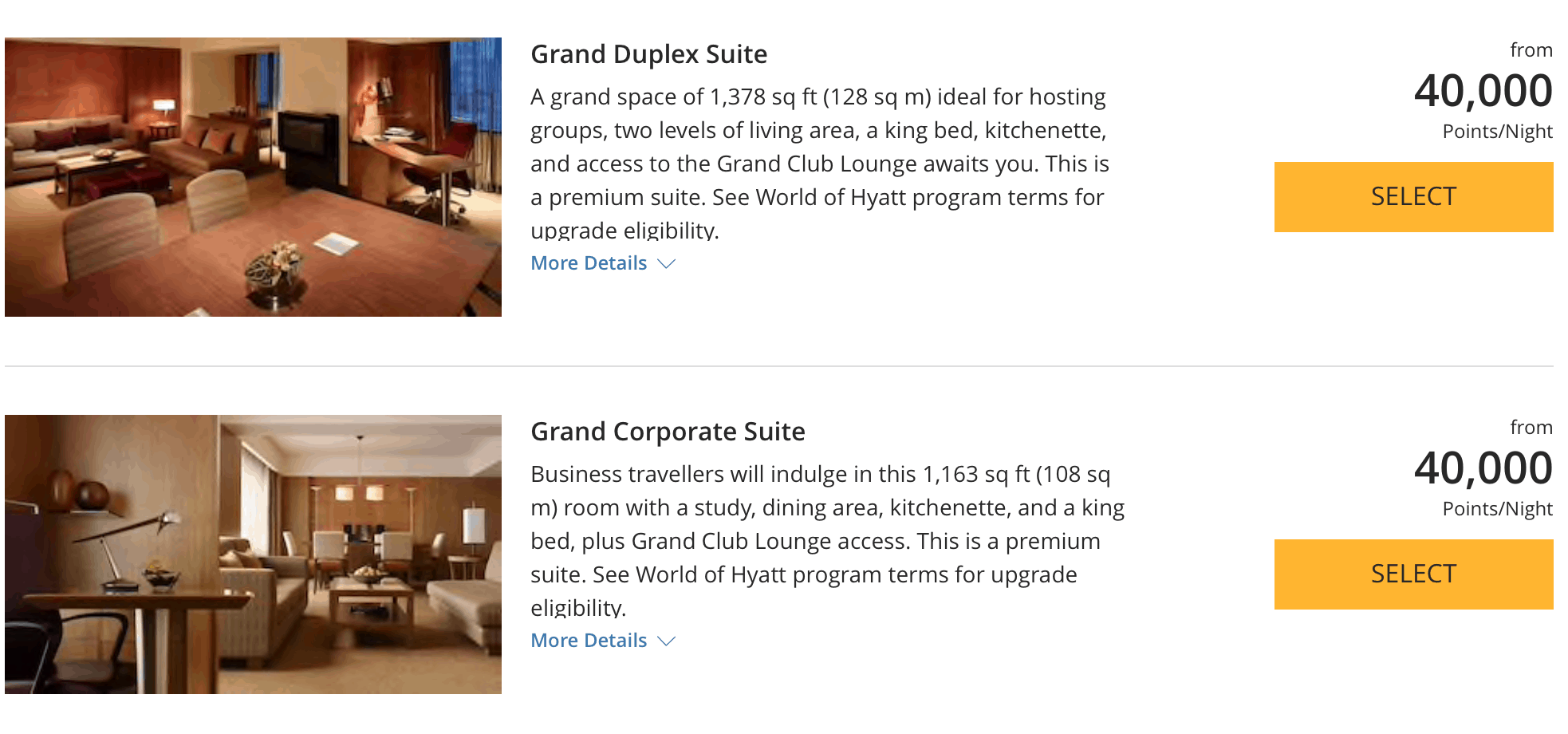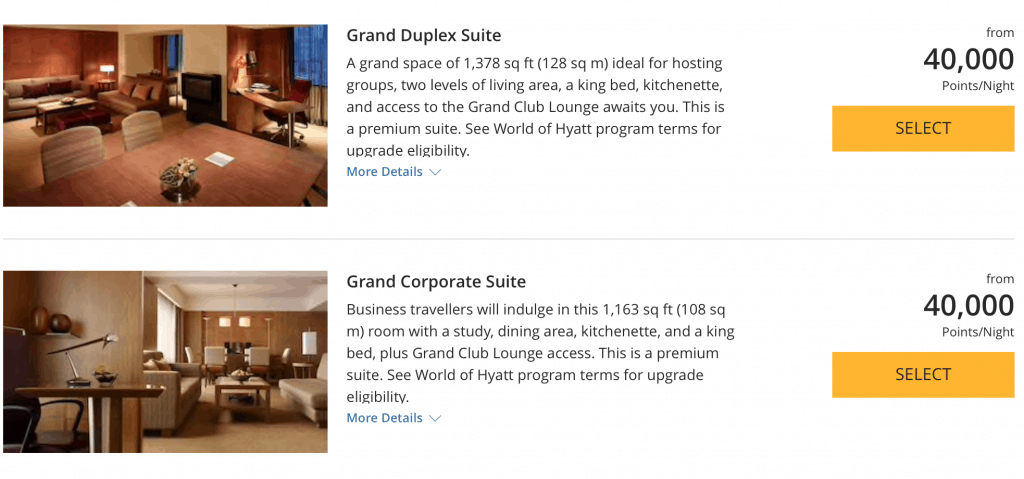 A One Mile at a Time reader found this amazing deal in Mexico for 50,000 points a night.
It looks like they either sold out every date I searched or pulled the rate – but it's still a great example of what you might find!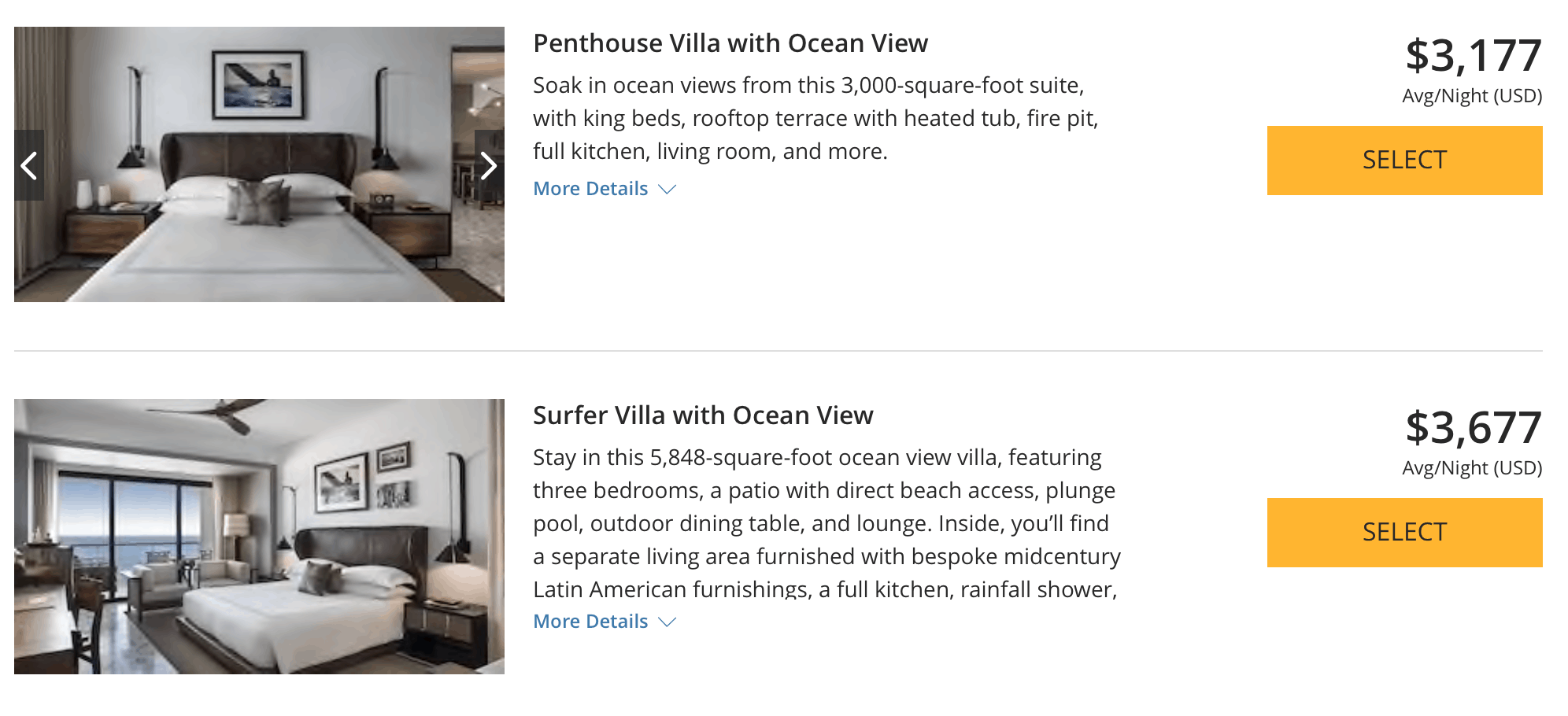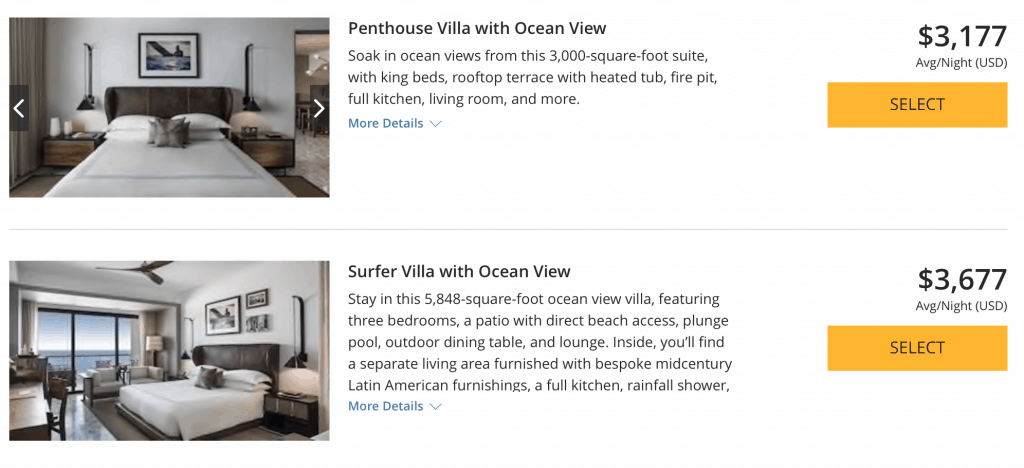 Feel free to try your luck on their booking page.
The Thompson King Suite which is still available for 40,000 points vs $1,227 + tax a night might still work for some… 😉
Southern California your speed? You can drop $882 plus tax (a hair over $1,000 all in) for the VIP Suite – or just 24,000 points per night. A respectable 4 cents per point in value.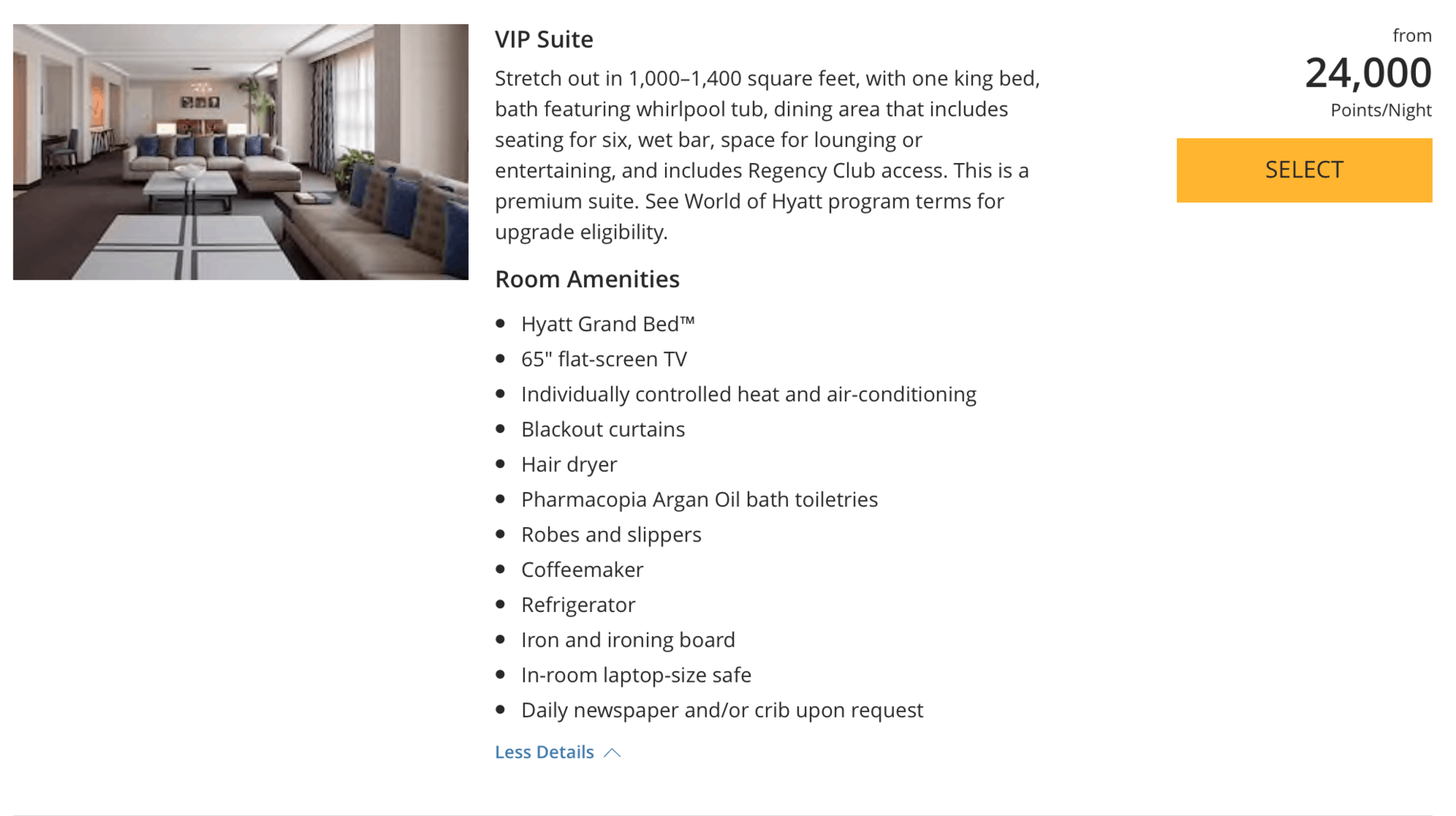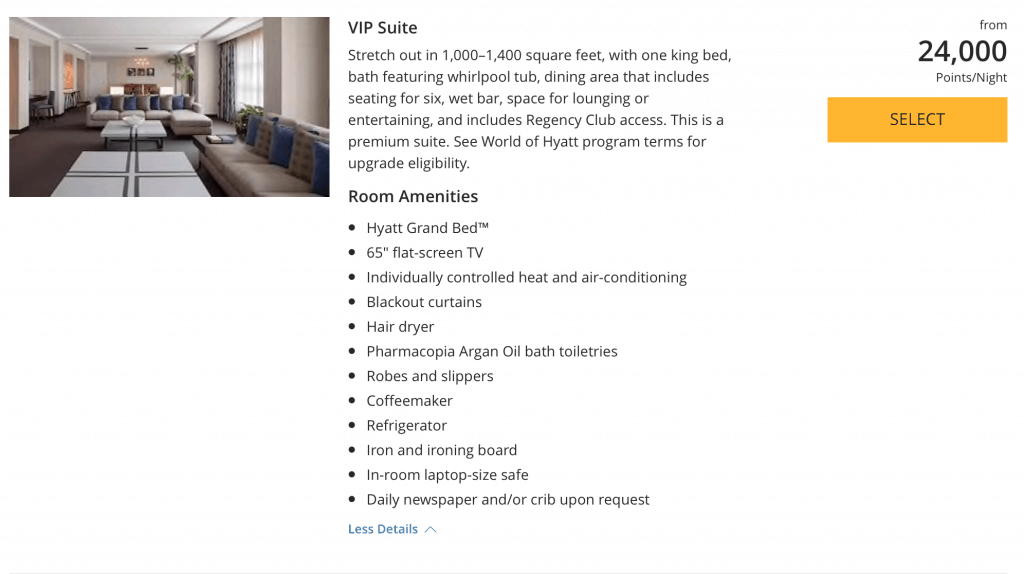 In town to see the pandas? You can book this Grand Executive Suite for $1,009 after tax a night – or just 16,000 points a night. That's 6.3 cents per point!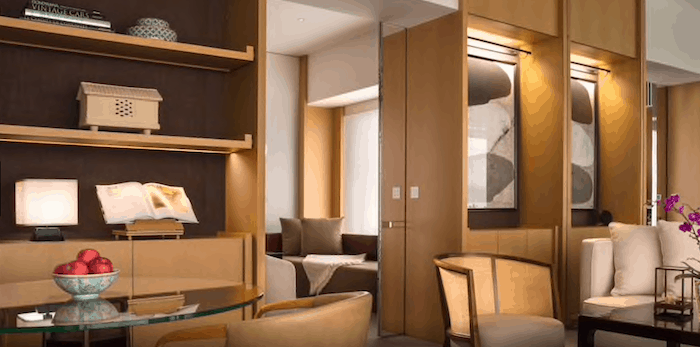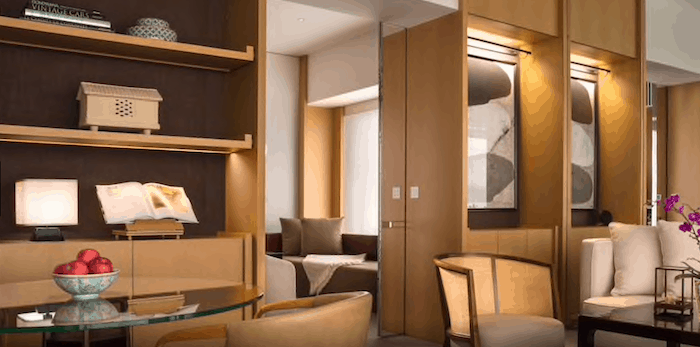 If you are taking the family to Orlando for some theme park fun, it's going to be hard to beat this Presidential Suite. They have a few, so the size can vary, but you'll have at least one bedroom off the main living area. Some are bi-level, but I don't believe you can pre-confirm that when using points.


For some crazy reason, Hyatt.com is showing this Suite as $10,000 a night – which is not only crazy, it can't be true. So, I don't know the cash value but I'm sure it's over $800++ at a minimum and more at peak times.
There are seemingly infinite deals like these around the world…
So have a look around… and let us all know what you find!
Let me know below in the comments, on Twitter, or in the private MilesTalk Facebook group.
You can find credit cards that best match your spending habits and bonus categories at Your Best Credit Cards. 
New to all of this? My "introduction to miles and points" book, MilesTalk: Live Your Wildest Travel Dreams Using Miles and Points is available on Amazon and at major booksellers.