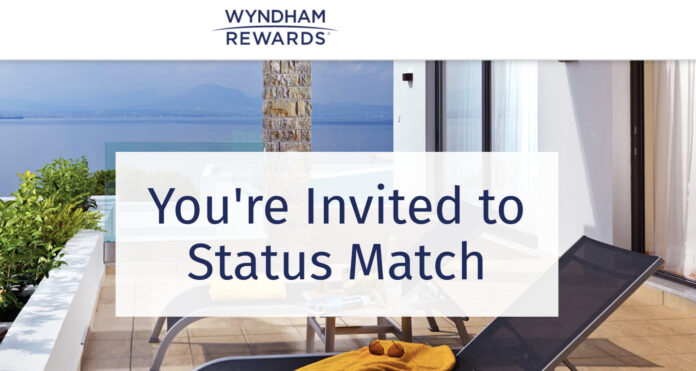 Wyndham Status Matches are Back- Match up to Diamond
I honestly thought this might have never returned post-pandemic but here we are! However…. it's now a Status Challenge.
You'll recall that pre-pandemic this was the primary on-ramp to the Status Match Merry Go Round™.
Head on over to Wyndham's status match page and match most of the easiest statuses to get in the world (like Marriott Bonvoy Gold+ and Hilton Gold). For some reason Hyatt has always been the outlier, requiring Globalist to match to Diamond.
But if you have Hilton Gold via the Hilton Surpass or Hilton Business credit cards (which both have free nights right now as part of their bonus offers) or an IHG Premier or IHG Business Premier card which confers IHG Platinum, you are golden for this match.
Let me just quickly add that this is really only for those that couldn't get approved for the Wyndham Business Earner since that is SO much easier than this.
What Matches to What?
The chart appears to be identical to before:
Hotel Loyalty Program
Hotel Loyalty Program Status
Awarded Wyndham Rewards Member Level (the "Awarded Member Level")
Marriott Bonvoy
Rewards Member
GOLD
Silver Elite
PLATINUM
Gold Elite

Platinum Elite

Titanium Elite

Ambassador Elite

DIAMOND
Hilton Honors
Member
GOLD
Silver
PLATINUM
Gold

Diamond

DIAMOND
Choice Privileges
Member
GOLD
Gold

Platinum

PLATINUM
Diamond
DIAMOND
Best Western Rewards
Blue
GOLD
Gold

Platinum

Diamond

PLATINUM
Diamond Select
DIAMOND
World of Hyatt
Member
GOLD
Discoverist

Explorist

PLATINUM
Globalist
DIAMOND
IHG One Rewards
Club Member
GOLD
Silver Elite

Gold Elite

PLATINUM
Platinum Elite

Diamond Elite

DIAMOND
Radisson Rewards
Club
GOLD
Silver

Gold

PLATINUM
Platinum
DIAMOND
Omni Select Guest
Gold
GOLD
Silver Elite

Gold Elite

PLATINUM
Platinum Elite

Diamond Elite

DIAMOND
How Does It Work as a Status Challenge, Though?
You'll need 10 actual nights to keep the Diamond status past 90 days.
Per Wyndham: "In the event that Member completes the requisite number of Qualifying Night within their ninety (90) day period, his/her/their Awarded Level will remain in effect through December 31 of the calendar year following the calendar year in which such Qualifying Night(s) were completed, unless it is extended or superseded in accordance with the WR Terms."
So if you don't hit those 10 nights in 90 days, you lose the Diamond status.
How to Get the Match?
Per Wyndham: "To request the Awarded Member Level, an eligible Hotel Loyalty Program member (an "Applicant") must: (i) visit https://help.wyndhamrewards.com/s/status-match and either sign into their existing Wyndham Rewards account, or complete and submit the "Join Wyndham Rewards" form to become a Wyndham Rewards Member; and (ii) complete and submit the Status Match Request Form, including proof of their Hotel Loyalty Program status. Upon Wyndham Rewards' verification of an Applicant's Hotel Loyalty Program status information, such Applicant will receive the applicable Awarded Member Level. Member should expect to receive such validation via email between 5-7 days from submission of his/her Status Match Request Form. Such Awarded Member Level will become effective upon such verification."
Note that you must already be a Wyndham member to do this so create an account if you don't have one.
What Counts as a Qualifying Night?
Of course you might wonder if award stays count for Qualifying Nights. The status match page doesn't say – but there is a separate page on Wyndham for this which says:
A "Qualifying Night" is any of the following:
A paid, stayed night during a Qualified Stay at a Participating Property (so long as the Qualified Stay has an average daily rate of at least $25);
A paid, stayed Go Fast award night at any type of participating property;
A stayed Go Free award night at any type of participating property.
So, I think that it SHOULD count, though you might want to verify after initiating the match until it's confirmed with certainty.
I trust you all can come up with 10 super cheap Wyndham family nights worst case.
THE BIG QUESTION
Will Caesars accept a match to Caesars Diamond from a matched tier before the 90 days is up?
Here's my take: They probably will – until they are inundated, at which point they won't. That is my best guess.
That would at least get you Caesars status for the rest of this program year which is through next January.
If you do complete this match with 10 nights, you can definitely match – and not only that you'll have Wyndham Diamond through Dec 2024, so you would definitely also be able to match again in February 2024 and retain Caesars Diamond through January 2025.
Just remember that beyond that, Caesars formally ended the match/re-match, so it's very possible that Jan 2025 would be the end of your gravy train on this – but that's close to two years 🙂
HUGE MEGA Tip of the Hat to MilesTalk Group Member Tim S.
Thoughts?
Let me know below in the comments, on Twitter, or in the private MilesTalk Facebook group. And don't forget to follow me on Instagram for all sorts of tips on miles, points, credit cards, and travel.
If this post helped you, please consider sharing it!
You can find credit cards that best match your spending habits and bonus categories at Your Best Credit Cards. 
New to all of this? My "introduction to miles and points" book, MilesTalk: Live Your Wildest Travel Dreams Using Miles and Points is available on Amazon and at major booksellers.