Basic Economy Fares: I hate them and you should too

Did you miss a deal? Never again! Apply to join the members-only MilesTalk Facebook group
.
Find your personalized best credit card at YourBestCreditCards.com, powered by MilesTalk. We analyze your spending and calculate exactly how much you'd earn in rewards on over 70 credit cards.
Advertiser Disclosure: MilesTalk has partnered with CardRatings for our coverage of credit card products. MilesTalk and CardRatings may receive a commission from card issuers. This site does not include all financial companies or all available financial offers. The editorial content on this page is not provided by any of the companies mentioned, and have not been reviewed, approved or otherwise endorsed by any of these entities. Opinions expressed here are the author's alone.
Well, all three domestic legacy carriers have finally rolled these out in one form or another.
Delta was first and has them in most markets. United and American have followed suit.
What is a Basic Economy fare? In short, it's a ticket that is super inflexible and may not even cover a carryon bag above your seat – for very minimal savings.  It's fair enough to offer, but you have to be careful not to accidentally book one of these – especially when booking through a portal like Citi Thank You or Chase UR. On Thankyou.com, for example, I did get a warning that a Delta fare I was looking at was a Basic fare, however there was no way to choose a standard fare making the only option to call them (a nightmare) or choose a different airline.
Let's take a look at what each of the 3 carriers is offering exactly:
Delta:
Their Basic Economy fare, or E fare, is has been rolling out across the system.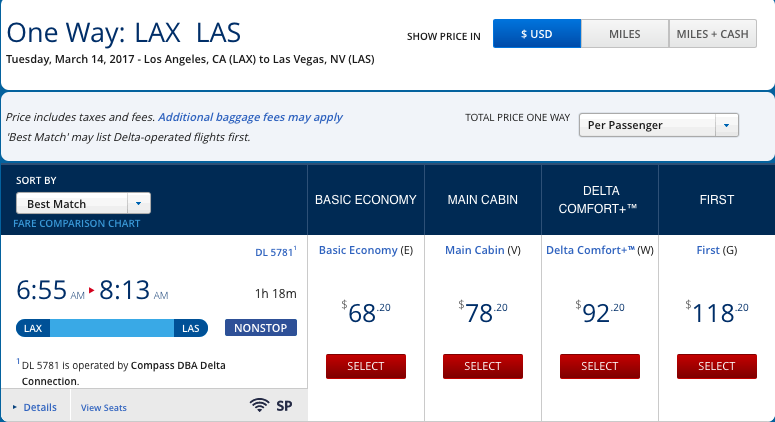 So you save 10 bucks. What does that cost you?
With Basic Economy, you will not receive a seat assignment until after check-in or at the gate. Passengers traveling together, including families, may not be seated together. You will not be eligible for same-day changes or ticket refunds after the Risk Free Cancellation Period. You will board in the last zone and not be eligible for paid or complimentary upgrades or preferred seats, even with Medallion® Status.
So you CAN stow a carry on above you, but that 10 bucks means you can't choose a seat in advance (do you love middles? Because planes have been packed lately) no upgrades, and boarding last means your carryon may not make it anyway.  You do still earn Medallion Qualifying Miles (MQMs), though.
Worth it?  Not to me. Not for 10 dollars.
American Airlines
American is testing it right now. In a few select markets you can now, starting March 1st, buy these fares.

A ticket gets you a seat in Main Cabin, with restrictions:
1 item that fits under the seat in front of you (no access to overhead bins)*

Seats assigned at check-in

Fees to choose a specific seat
Not eligible for upgrades
No flight changes or refunds
Board in last group*
But the aa.com site also states some benefits not lost for Elite members and credit card holders:
AAdvantage® elite status members and eligible Citi® / AAdvantage® or AAdvantage® AviatorTM Mastercard® cardmembers are exempt from certain restrictions.**
You can …
Take 1 item that fits under the seat (no larger than 18 x 14 x 8 in.)
Take 1 item free of charge to store in the overhead bin (no larger than 22 x 14 x 9 in.)
Keep your priority or preferred boarding privileges
Keep your checked bag benefits
I can't find it specifically stated but you appear to still earn your Elite Qualifying Miles as well.
The test routes are:
Orlando (MCO) – Charlotte (CLT)
New Orleans (MSY) – Philadelphia (PHL)
Charlotte (CLT) – Philadelphia (PHL)
Miami (MIA) – Philadelphia (PHL)
Dallas-Fort Worth (DFW) – Philadelphia (PHL)
Dallas-Fort Worth (DFW) – Tampa (TPA)
Baltimore-Washington (BWI) – Dallas-Fort Worth (DFW)
Miami (MIA) – Tampa (TPA)
Fort Lauderdale (FLL) – Philadelphia (PHL)
Miami (MIA) – New Orleans (MSY)
Worth it? Assuming that the $20 savings we see above is the standard going forward and they continue to allow elites their privileges (minus upgrades and changes), I'm going to rate this YMMV (your mileage may vary).   If you know that you always take the flight you book and don't need flexibility to change AND don't mind not being able to choose a seat until check-in, you may like this fare. I personally value getting my aisle seat and my same day travel flexibility too much to choose it, but you may.  What if you don't have any AA status? Well, you aren't entitled to most of what you are losing anyway. You'd be able to choose a seat in the standard economy fare but, let's be honest, you'll probably only see middles available anyway unless you're booking way in advance.
United Airlines:

These are rolling out later in the year and they appear to be the worst of the bunch.
From the United press release, here are their details- I'm bolding what I consider most important to you:
Customers choosing to purchase a Basic Economy fare will be seated in the main United Economy cabin.
Economy seating: Customers with Basic Economy reservations will be seated in the United Economy® cabin, which remains unchanged.
Checked baggage: Checked baggage policies remain the same as our standard United Economy fares, and baggage benefits for MileagePlus Premier members and primary cardmembers of a qualifying MileagePlus credit card still apply.
Inflight options: Onboard food, beverage and entertainment options remain unchanged.
Award miles: MileagePlus program members will still earn award miles.
Basic Economy fares have some important, additional restrictions compared to standard United Economy fares including:
Seat assignments will be automatically assigned prior to boarding. Customers traveling together, including families, will not be able to sit together.
Carry-on bags limited to one personal item, unless the customer is a MileagePlus Premier member, or companion traveling on the same reservation, a primary cardmember of a qualifying MileagePlus credit card, or 

Star Alliance Gold

 member. Full-sized carry-on bags will not be allowed on board but will be allowed to be checked for the regular 

$25

 checked baggage fee in the airport lobby.
No voluntary ticket changes. Refunds are allowed only as stated in the United 24-hour flexible booking policy.
MileagePlus program members will earn award miles; however they will not earn Premier qualifying credit (miles, segments, or dollars), or lifetime miles, and no contribution to the four segment minimum. 
Customers will not be eligible for United Economy Plus or premium cabin upgrades.
Customers will board in the last boarding group (currently Group 5) unless a MileagePlus Premier member, or companion traveling on the same reservation, a primary cardmember of a qualifying MileagePlus credit card, or 

Star Alliance Gold

 member.
Worth it?  If you are reading MilesTalk, the answer is likely no. Not to save $17.  I consider the United flavor the worst of all – because you won't earn any elite qualifying miles no matter what.  You'll need to already have status to be able to stow a full size carry on bag – so you could make the argument that for an elite member the fare could make sense. EXCEPT that how will you re-qualify for next year when the fare doesn't earn Premier Qualifying Miles?
Summary:  I hate these fares. I hate the concept and I hope this experiment fails. It was bad enough when airlines started to "unbundle" their fares – the industry jargon for getting rid of included luggage allowances and meals. But these super restrictive fares don't save all that much and remove a ton of the dignity of flying altogether.  I won't ever choose one and I kind of hope you won't either.
What do you think? Would you buy Basic Economy fares?