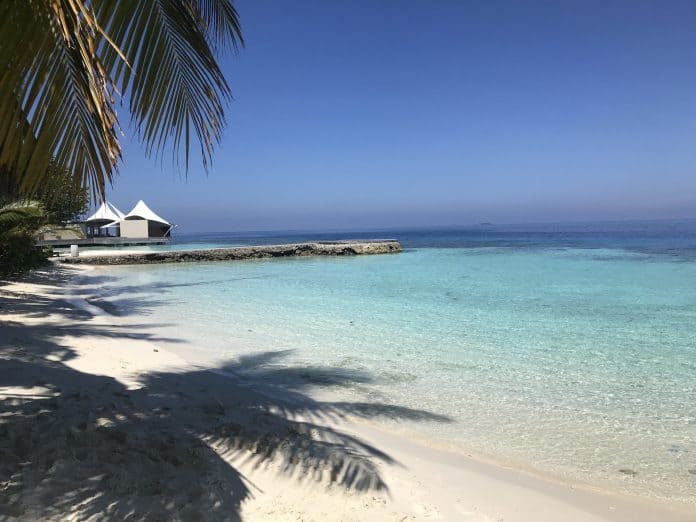 Are the Maldives the Best Redemption in Miles and Points? Or the Worst?
There are two debates I see in "the world of miles and points" more than any other.
Is it better to have more trips in economy or save miles and points for extravagant trips in First and Business Class and….
Is the Maldives the most "overrated" destination that miles and points bloggers love to use to "sell" readers credit cards for an experience that, while it would cost a ton in cash, isn't really "worth it."
Since the answer to #1 is obviously "First and Business Class" ;-), let's talk about the second debate point the Maldives. The Maldives are a huge set of islands in the Arabian Sea of the Indian Ocean, about an hour by plane southwest from Sri Lanka and India. It's beautiful and sunny and the resorts tend to be extremely luxe.
How Do You Get to the Maldives?
The most common award flights from the United States to the Maldives involve a one stop connection using Emirates (via Dubai), Etihad (via Abu Dhabi), or Qatar Airways (via Doha). You may also be able to go the long way, via Asia, with one stop on Cathay Pacific, Singapore Airlines or several other carriers. However, even if you go the "short" way, you are looking at around 18 hours of flight time plus the connection. And then a seaplane or boat to your resort. It's a haul. Side note: the most mileage efficient way to go would have to be the Qatar QSuites since it's just 75k AA miles each way (or you can book with Qmiles or any Oneworld airline). Emirates and Etihad J or F both work with miles as well, of course!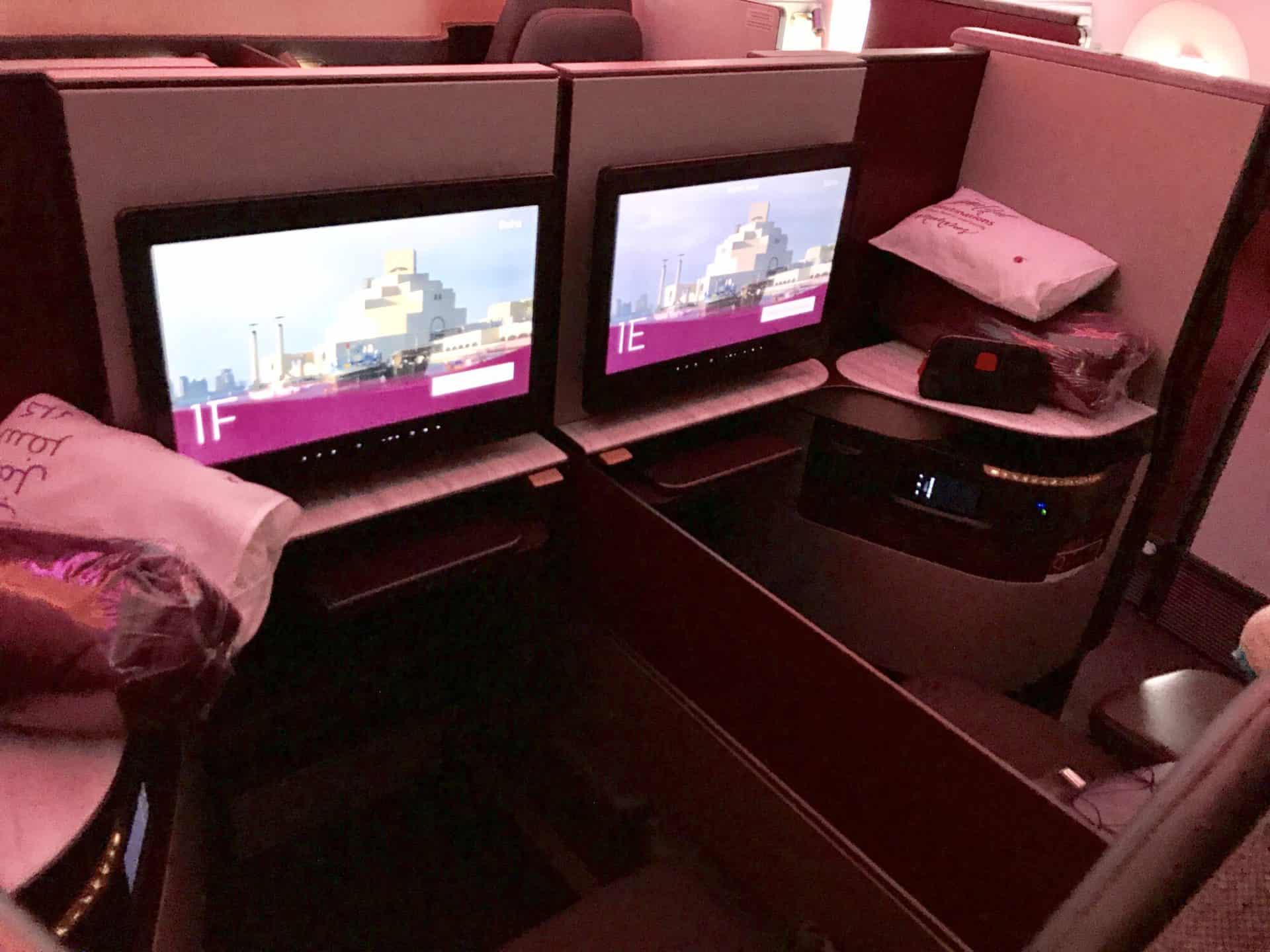 And I also get that for those on the West Coast, something like Tahiti or Fiji may be a better choice due to the flight time difference and, as soon as I can get to either of those spots, I'll update you 😉 But I'll also note that for someone on the East Coast looking to travel to Bora Bora in Business Class, it's VERY difficult to find space all the way there and it's actually much easier to find that space to the Maldives!
Where to Stay on Points in the Maldives?
Some of the most common resorts people stay using points are:
Waldorf Astoria Maldives Ithaafushi (120,000 Hilton points per night /5th night free or a Free Weekend Night Certificate)
Conrad Rangali Island (95,000 Hilton points per night /5th night free or a Free Weekend Night Certificate)
St. Regis Maldives (70,000 – 100,000 Marriott Bonvoy points per night / 5th night free)
W Maldives (70,000 – 100,000 Marriott Bonvoy points per night / 5th night free)
Ritz Carlton Maldives (70,000 – 100,000 Marriott Bonvoy points per night / 5th night free)
Park Hyatt Maldives Hadahaa (30,000 World of Hyatt points per night or a Category 1-7 Reward Certificate from staying 60 nights in a year)
And for all of the above, resisting the temptation to calculate a CPP for each one, you would average around 1-4 cents per point. (Yes, a Hyatt point is worth around 3X a Hilton point, so this is just a generic statement. They are indeed good value on a CPP basis.)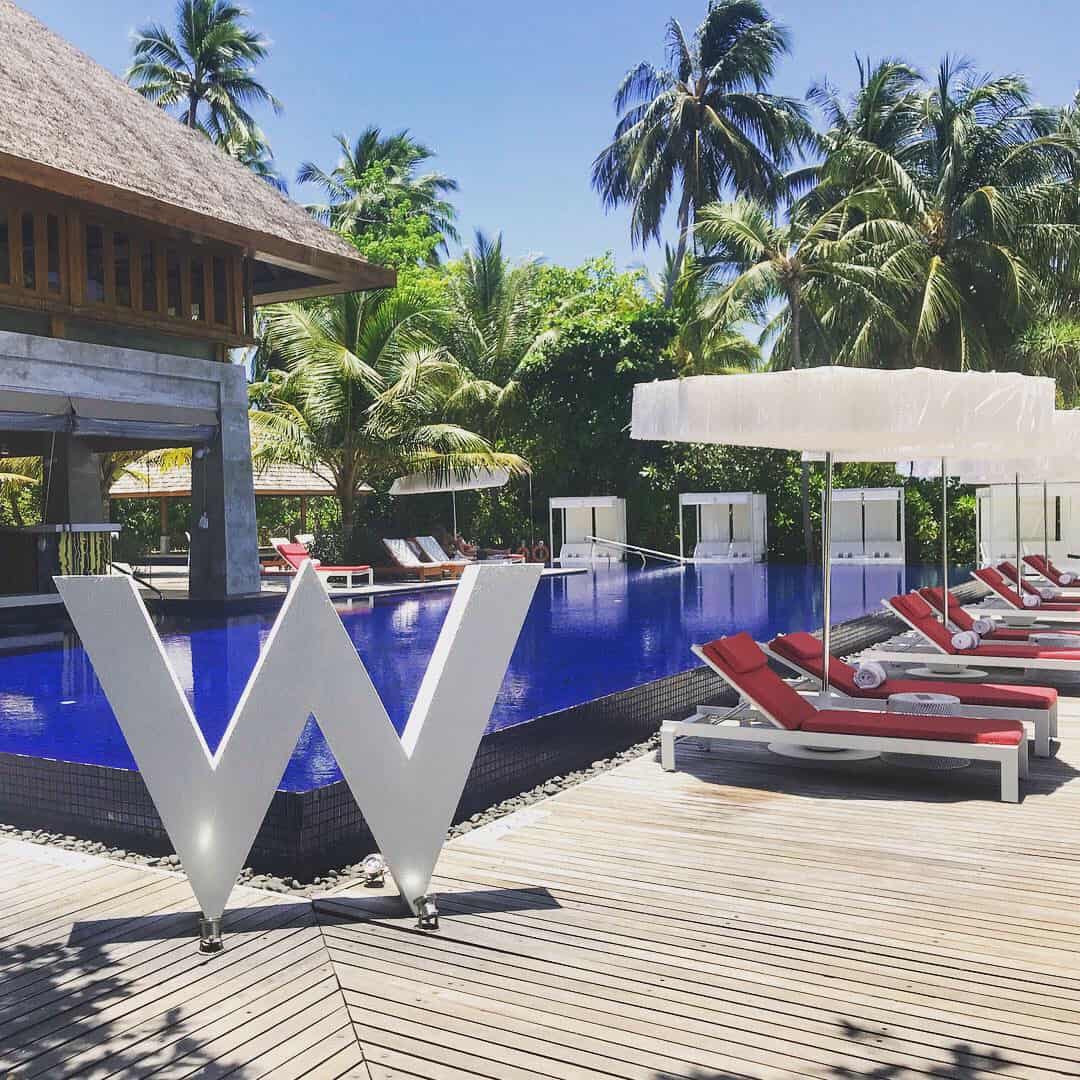 What is Special About the Maldives, Anyway?
The island resorts of the Maldives are known for a few things:
Opulent luxury with amazing service
Private villas, both on the beach and directly over the water. While I prefer a Beach Villa, many first timers to the Maldives prefer the Overwater Villa experience, where you can literally walk out from your porch and into the sea.
Extremely high ancillary costs (assuming you booked the room with points), both for food and drink and for transportation to and from the airport in Male, generally by seaplane and sometimes by boat – but nearly always at a cost of around $400 – $900 round trip per person. Yes, it's a bit crazy!
Warm weather year round (though there are dry and rainy seasons to watch out for).
Amazing scuba and snorkeling (Some resorts have much better reefs than others. Older resorts tend to have better, more developed reefs.)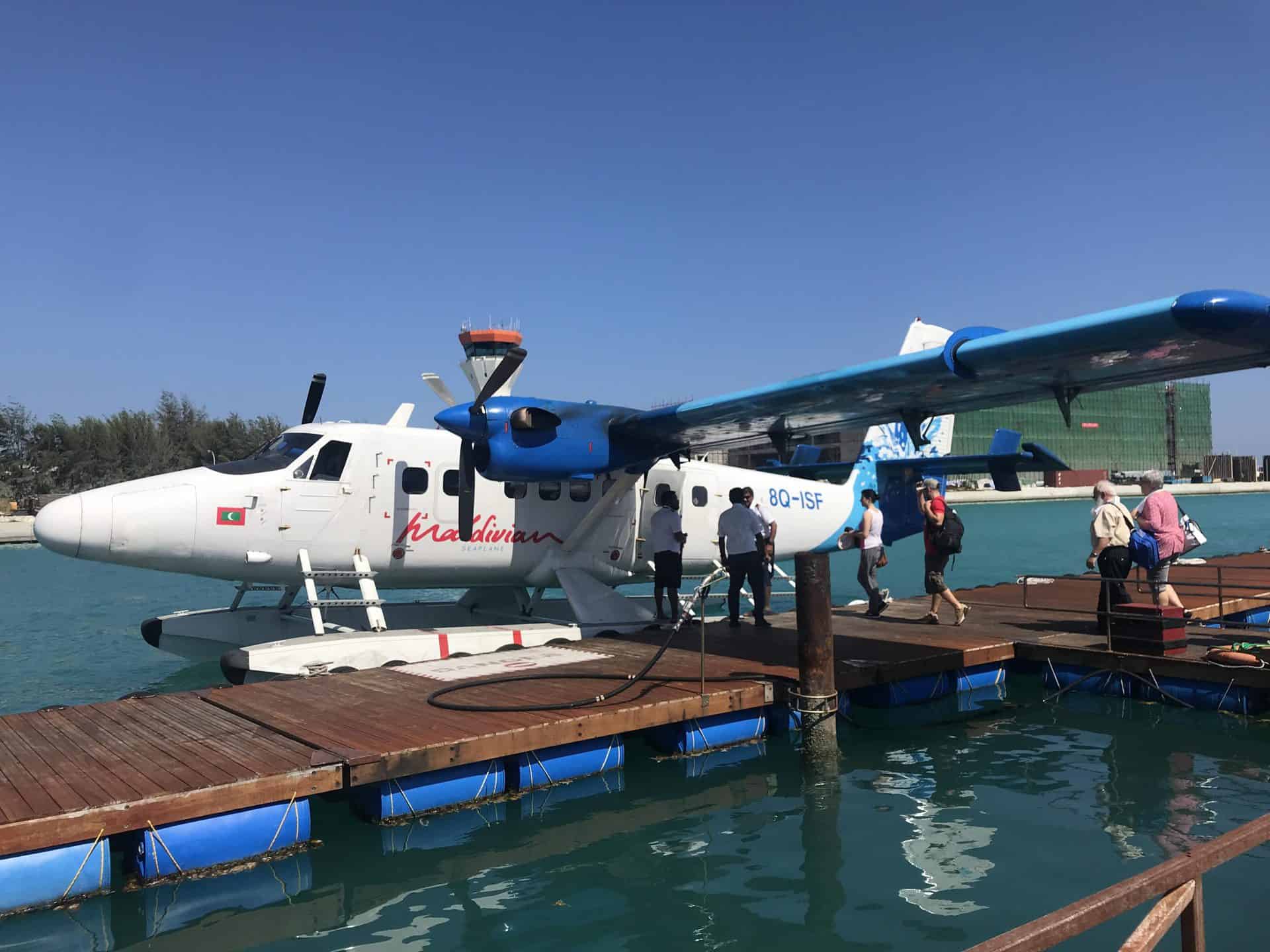 The Two Sides of the Maldives Argument
Pro-Maldives: The Maldives is one of the most expensive destinations in the world. Where hotels that are part of loyalty programs have fixed award charts, the value can be tremendous. For example, a Hilton Honors point has a pretty well accepted value of around 0.5 cents each. But redeem 480,000 for 5 nights at the Waldorf Astoria Maldives where the cash rate would top $12,000 for those 5 nights, and you are getting north of 2 cents per point in "value."
Many miles and points people are fairly obsessed with extracting maximum CPP (cents per point) at all costs. Sometimes to the extreme of staying at a hotel they might enjoy less simply because the cash price was higher and, thus, a better deal with points.
Of course, when someone writes a miles and points blog, it's natural that one would use the redemptions available in the Maldives because they do really provide a crazy amount of value relative to paying cash. And sure, I get that some see this as "salesy" yet at the same time, it is true if the destination and all that makes it expensive matters to you. At the same time, if you would be just as happy somewhere else that is vastly cheaper, then not so much…
But the biggest Pro is how amazing many of us find the destination to be. It's the pinnacle of luxury – at least as far as we can get with points. Sure, if you have the money, you can probably find many even more luxurious resorts. Four Seasons? I'm sure it's amazing. But it's not in my budget…. points are.
Anti-Maldives: To start, even though the value for points is great, you will spend a LOT of points. This may or may not be worthwhile to you.
Many that hate on the Maldives have never actually been. I think that is a shame. It's the opposite of what travel and all of its many experiences are to hate something  – and tell others not to go – just because you don't see the appeal. That's not to say, at all, that you should go if it doesn't appeal to you.
Some common arguments are that it's too expensive, too far, there's "nothing to do except relax and scuba/snorkel," or – my favorite – that you can just go to the Caribbean. Well, sure you COULD go to the Caribbean instead, but I'm not aware of any hotels there for which you can use points for a free overwater villa. Maybe there is one? Let me know… I'd be happy to try it out!  I'm certainly open to Bora Bora or Fiji being a better option for those for which those islands are closer. For me, in NY, they are about equidistant.
"Nothing to do" is sort of exactly the point, though, and if you are like me where you can relax for a bit but also need activity, might I suggest pairing the vacation in the Maldives with a visit to Sri Lanka or India or somewhere in Southwest Asia? When we went, we actually continued on to Singapore, about a 4 hour flight. Of course we all have different lengths of time for which we can do nothing. I have about 5-6 Maldivian nights in me, max. Maybe 7. I've seen people book a whole month.
There are many places in the world that I have no desire to go. I have zero interest in seeing Nigeria. Do many love to visit Nigeria? YES! Would I tell anyone not to go because I don't think it's my cup of tea? NO! Could I wind up visiting Nigeria one day and think I was wrong to have not gone sooner? Sure! Anything is possible and that is kind of the point.
Some also point to the fact that the Maldives is a Muslim country where you are subject to strict Islamic laws, such as alcohol being forbidden and where they are intolerant of things like homosexuality. Now, this is not untrue – and the latter does bother me.
And its absolutely your right to not visit for these reasons. However, we should remember that there are local customs (and much worse!) that we disagree with the world over and, in most cases, that doesn't stop us from traveling. Some people even choose to "visit" North Korea!
Frankly, many foreigners might have a thing or two to say about local customs in the US, like carrying AR-15's to grab a carton of milk at the local Walmart. Would you advise people abroad to never visit the United States? I doubt it.
But more to the point, really, is that the Maldives has a two tier system: One for the local areas and one for resorts. At resorts, they serve alcohol quite freely and without any disdain. People sunbathe in bikinis. Nobody has a problem with same-sex couples. You don't notice anything as it relates to the Islamic laws at resorts. So, again, I 100% understand if that is a reason why someone doesn't want to visit but, at the same time, I don't think it's a primary reason why most would choose not to nor is it a reason to beat someone else into submission on how they should avoid the Maldives resorts.
My Maldives Experience
I went to the Maldives for the first time in 2019 with my (now) wife. I wrote a review of the W Maldives with levels of praise I have never before heaped on a hotel. It was easily one of my favorite high-end vacations ever and, we both loved it so much that when we got engaged, I spent months painstakingly securing a week at the Waldorf Astoria Maldives for April 2020 with a mix of First and Business Class flights including the Etihad 1st Class Apartment (that the Etihad CEO recently indicated may never fly again….).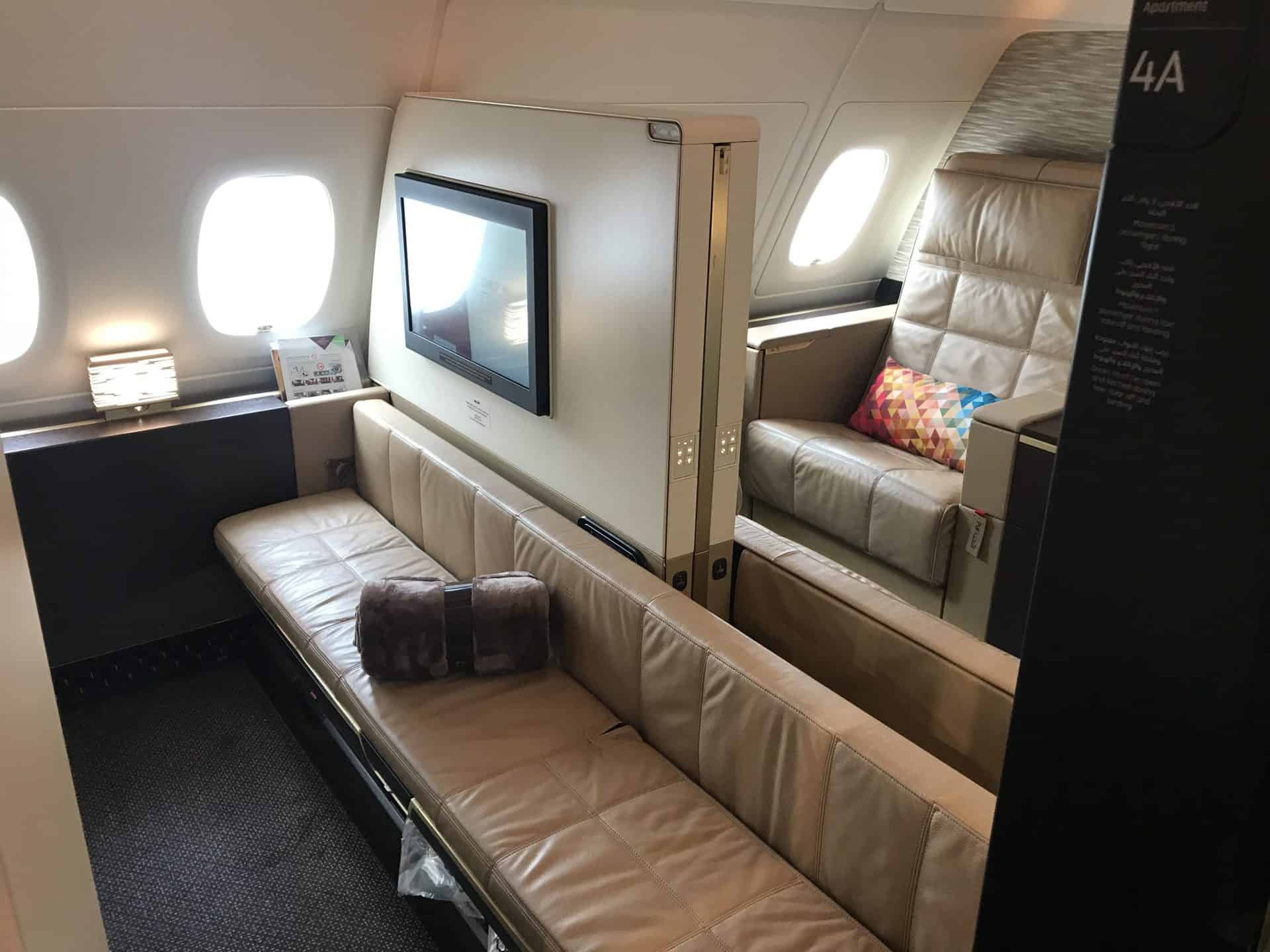 Then, when our wedding and subsequent honeymoon got crushed by COVID-19, I painstakingly moved the whole trip to December – except the 2nd half of our trip was in Sri Lanka, which remains closed to visitors, and we still did not feel it was safe to fly so far and be so remote in case one of us fell ill. So, it was cancelled again. And sadly, now, it has become nearly impossible to find 1 standard award night at the Waldorf Astoria, let alone 5-7. So, I'm not sure that will *ever* happen – although I hope that I'll get lucky and it will.
Otherwise, we may try the St Regis Maldives which has plentiful award availability, or the new Ritz Carlton. I probably lean to the St Regis since the Ritz doesn't include breakfast for elites on awards (as far as I can tell) and that is a hefty daily cost there.
Anyway, here are some pictures from the W Maldives: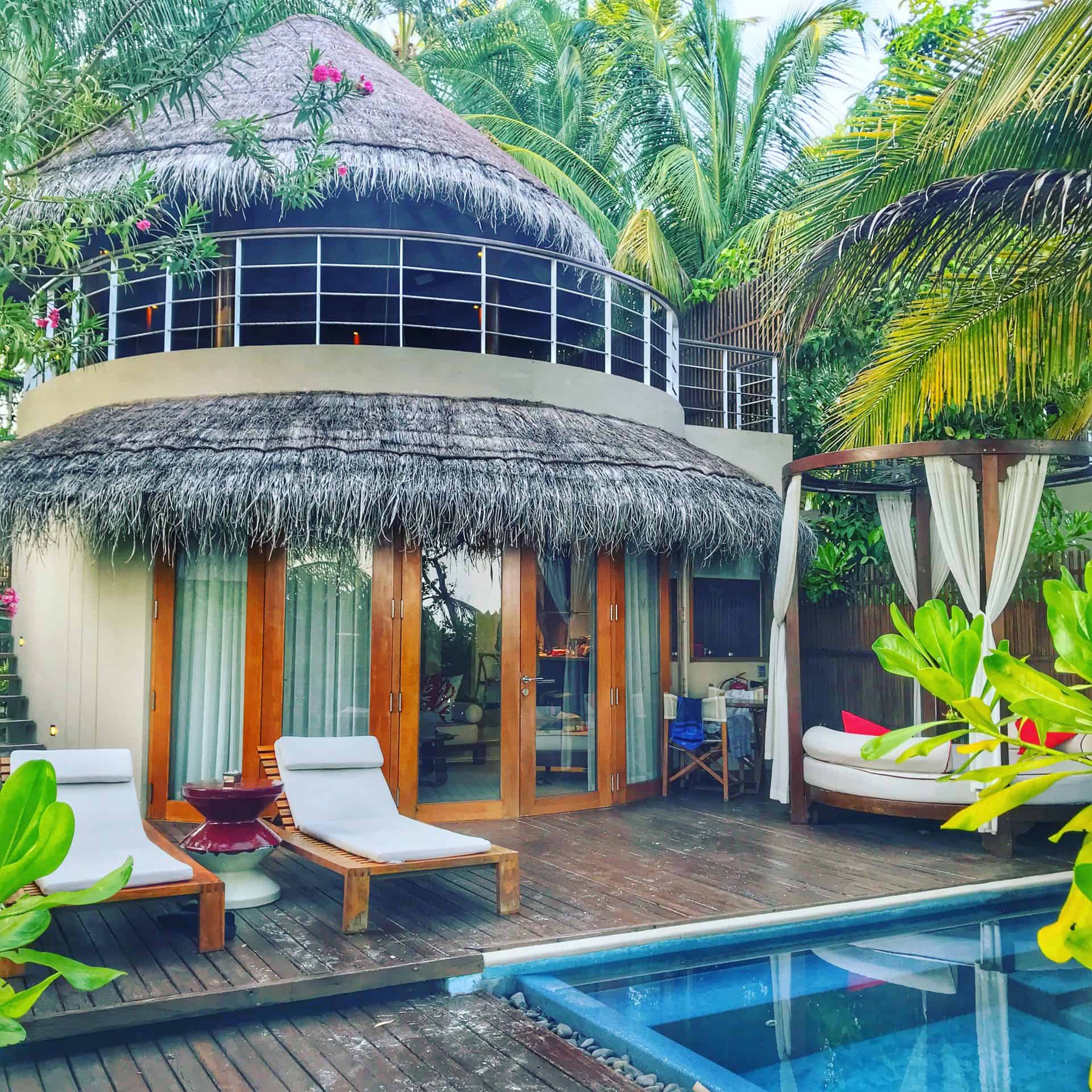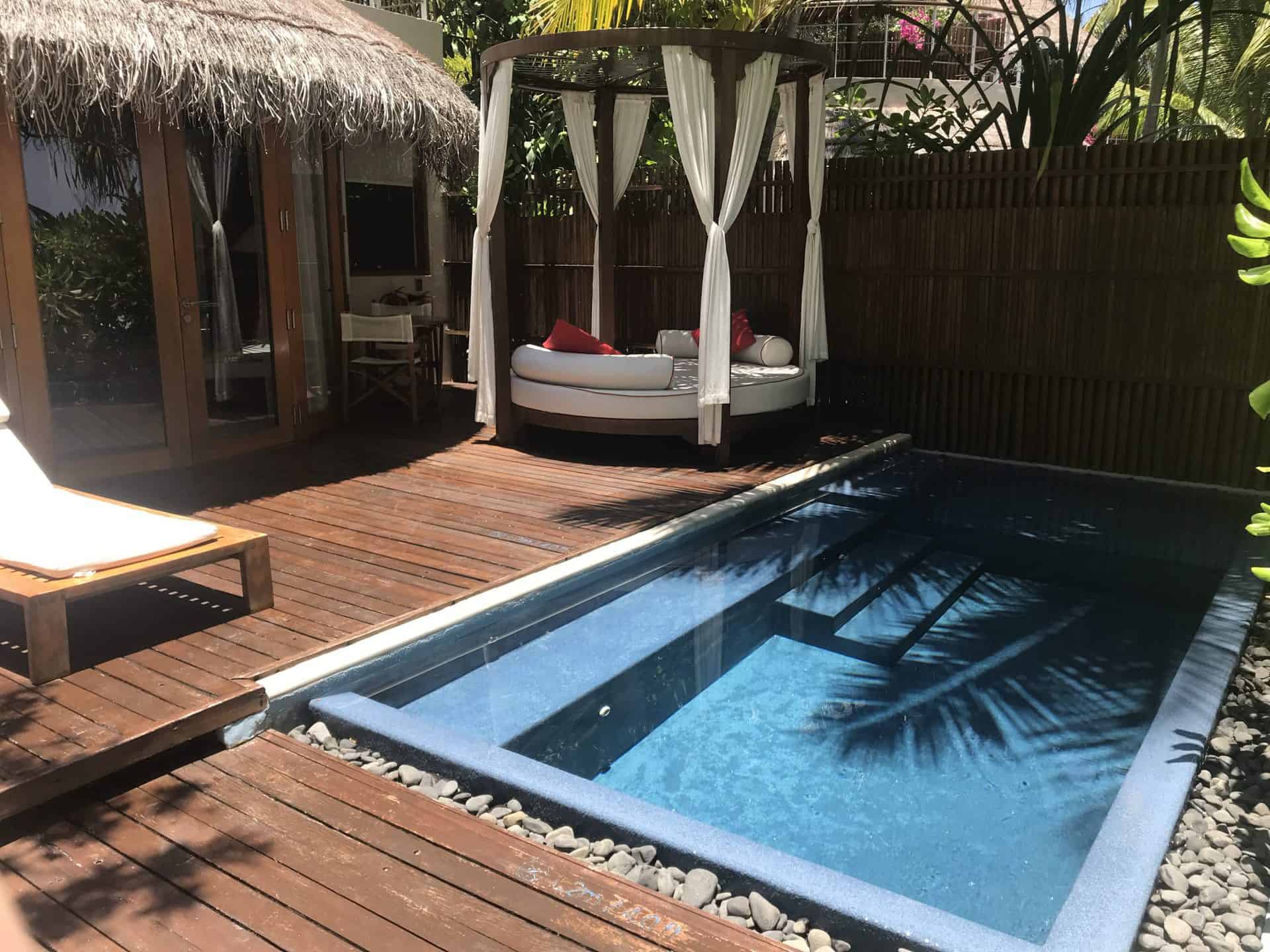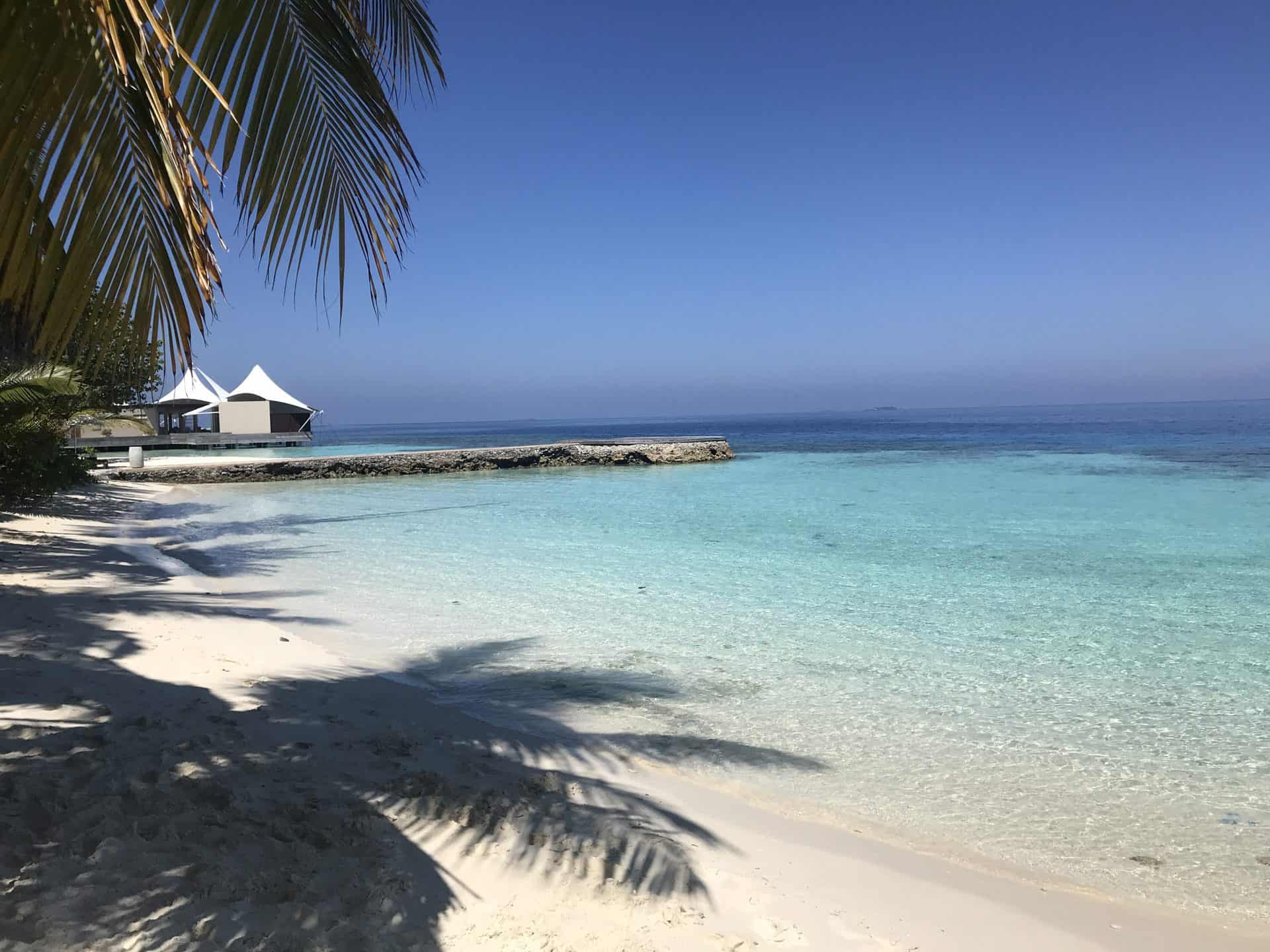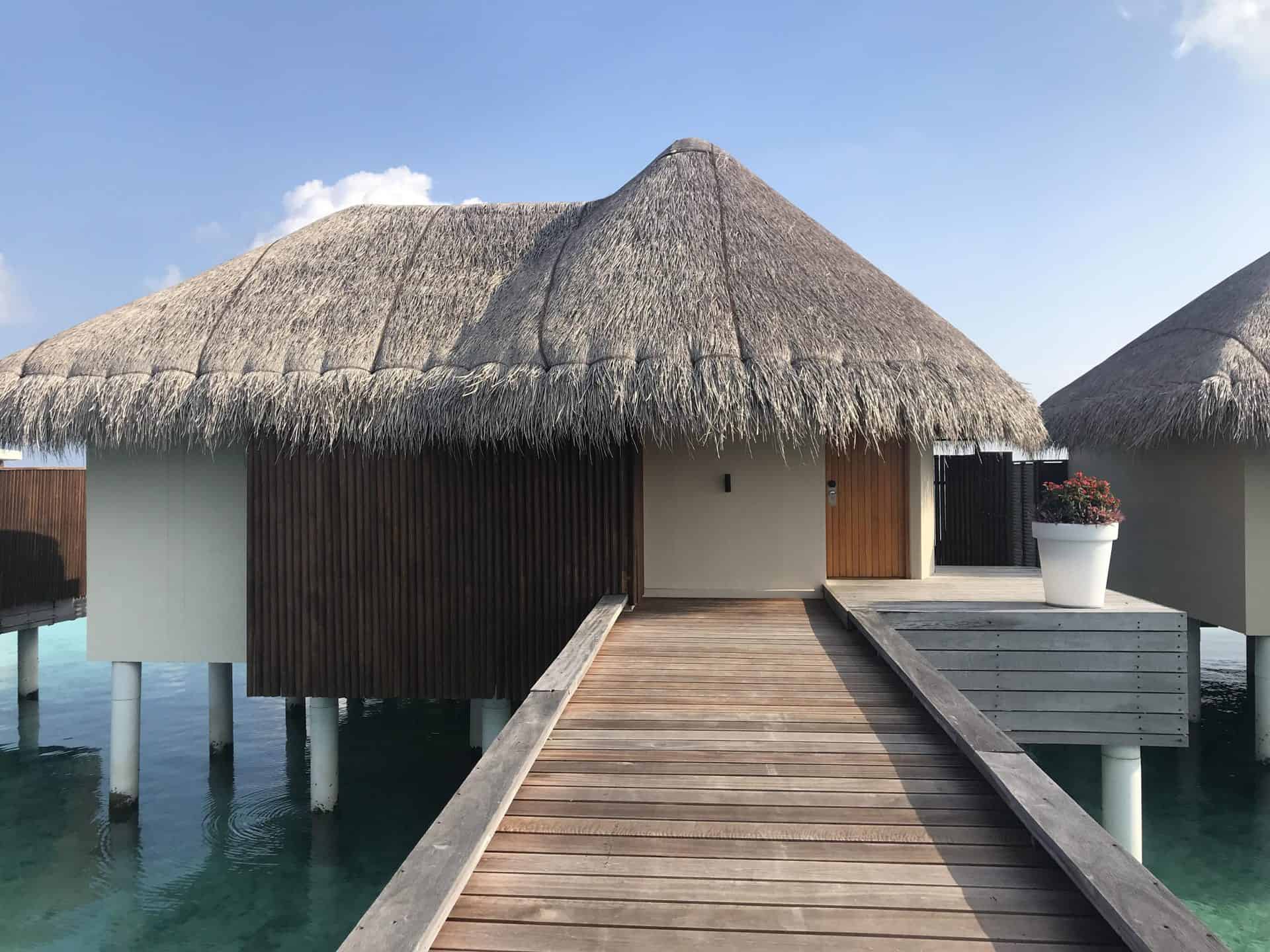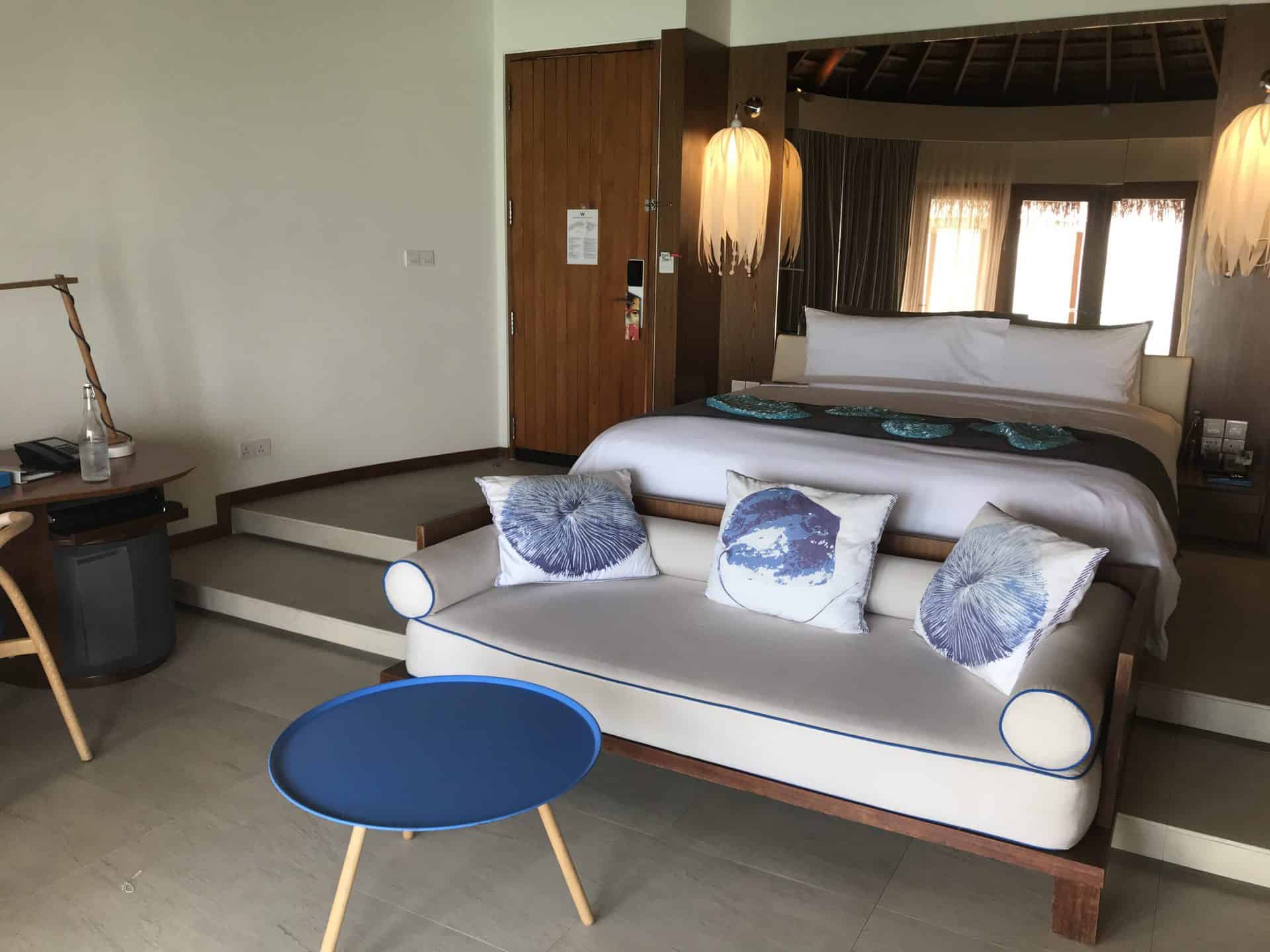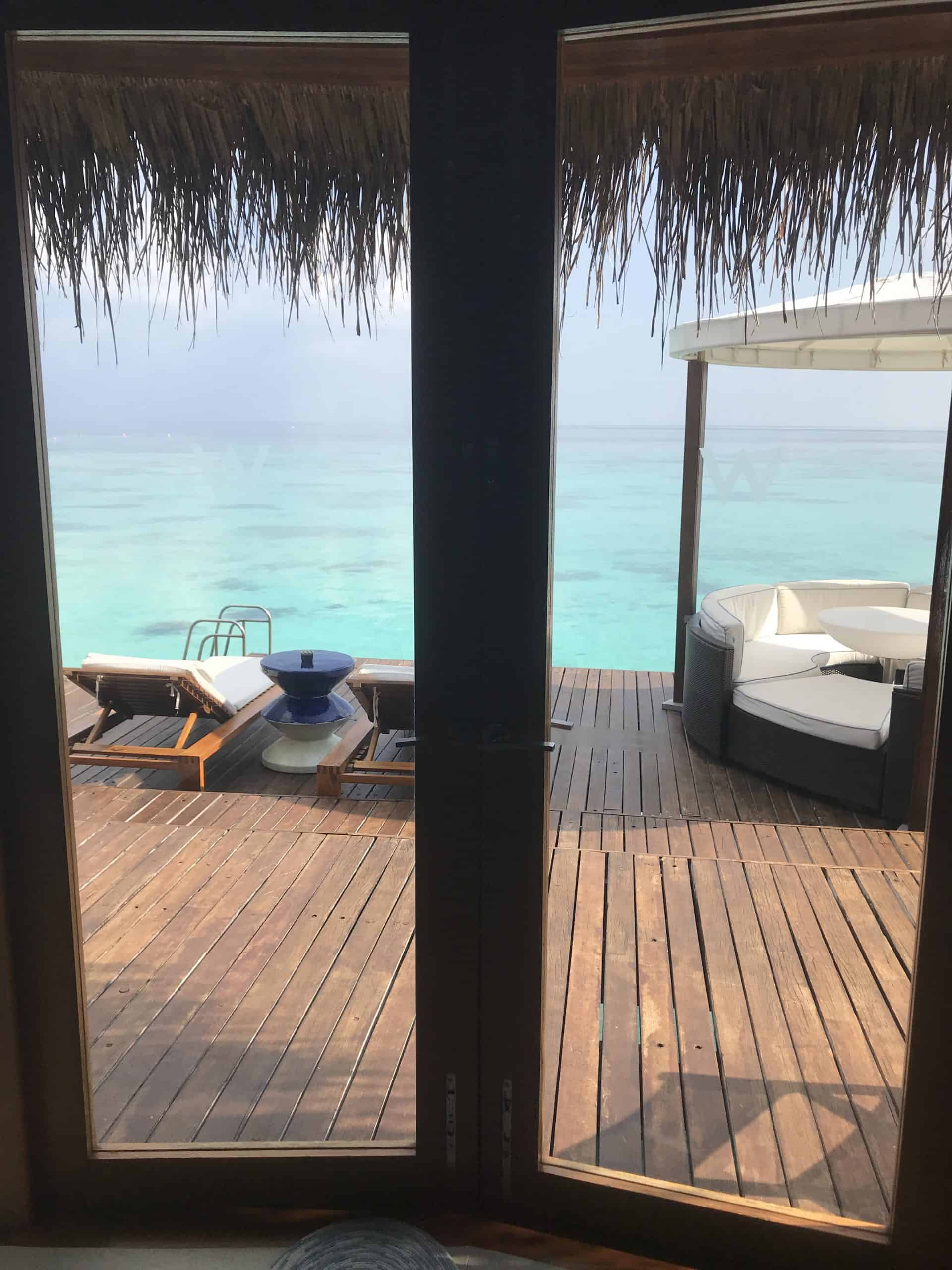 For all of the details of that stay at the W Maldives, again, see my review. I won't go too far into what I wrote there in this post. But again, we loved it.
What Am I Trying to Say?
I am trying to say that the Maldives may be your dream trip. Or, it may be a complete and total waste of both your points and the cash component that you will pay for the seaplane/boat transfer to your resort and all of your food, drinks, and activities.
I would "bottom line" it this way: If you are truly frugal to the point that you won't enjoy paying a few thousand dollars in cash to have a trip worth $20k ++, then you should skip the Maldives. Really. But if you get a thrill out of covering most of the total cost with points and look at it as a way to have an experience you would never pay for which, by the way, is my own entire reason for loving miles and points, then I highly recommend you try it out for a special occasion.  Either way, make your own decisions… you don't have to go because bloggers talk it up and you don't have to skip it because some people hate those bloggers 😉
Thoughts?
Let me know below in the comments, on Twitter, or in the private MilesTalk Facebook group.
And if this post helped you, please consider sharing it!
You can find credit cards that best match your spending habits and bonus categories at Your Best Credit Cards. 
New to all of this? My "introduction to miles and points" book, MilesTalk: Live Your Wildest Travel Dreams Using Miles and Points is available on Amazon and at major booksellers.