Review: British Airways (BA) First Class London to Austin (787-9)
Did you miss a deal? Never again! Apply to join the members-only MilesTalk Facebook group
.
Advertiser Disclosure: MilesTalk has partnered with CardRatings for our coverage of credit card products. MilesTalk and CardRatings may receive a commission from card issuers and MilesTalk may also receive compensation for content. This site does not include all financial companies or all available financial offers. The editorial content on this page is not provided by any of the companies mentioned, and have not been reviewed, approved or otherwise endorsed by any of these entities. Opinions expressed here are the author's alone.
(with additional light reviews of the Sofitel Heathrow T5 in London and the Kimpton Van Zandt Hotel in Austin)
This is a guest post by British travel enthusiast Benjamin Black
This holiday season I travelled to Austin on the non-stop BA flight from London Heathrow. I love this flight as it is the only international one that arrives in the middle of the afternoon. It also runs on the new 787, with a unique 8-seat First Class cabin. The return trip cost me 175k Avios points plus 600 GBP in taxes and fees. These fees are a hugely annoying feature of the BA system, but considering the full price of the ticket can get up to 10k GBP, it's still a very good and affordable deal.
I started my journey at Manchester's Terminal 3 for a connecting flight to London. The airport is a complete mess, and is at the start of a major redevelopment programme, but with fast-track check-in and security, I was in the lounge within about 10 minutes. The T3 lounge is a real asset, with views overlooking the runway and the main airport concourse. There is a great selection of self-serve booze (including Grey Goose) and more than enough seating, with champagne available on request. The food selection is more snacks than anything substantial, with sandwiches, cheese and crackers, cookies, fruit and crisps being the main lunchtime offering, but it is enough for a light lunch. Claire, the lounge manager, is extremely friendly, and will always do what she can to look after anyone who has special dietary needs. Mince pies were also on offer, given the time of year.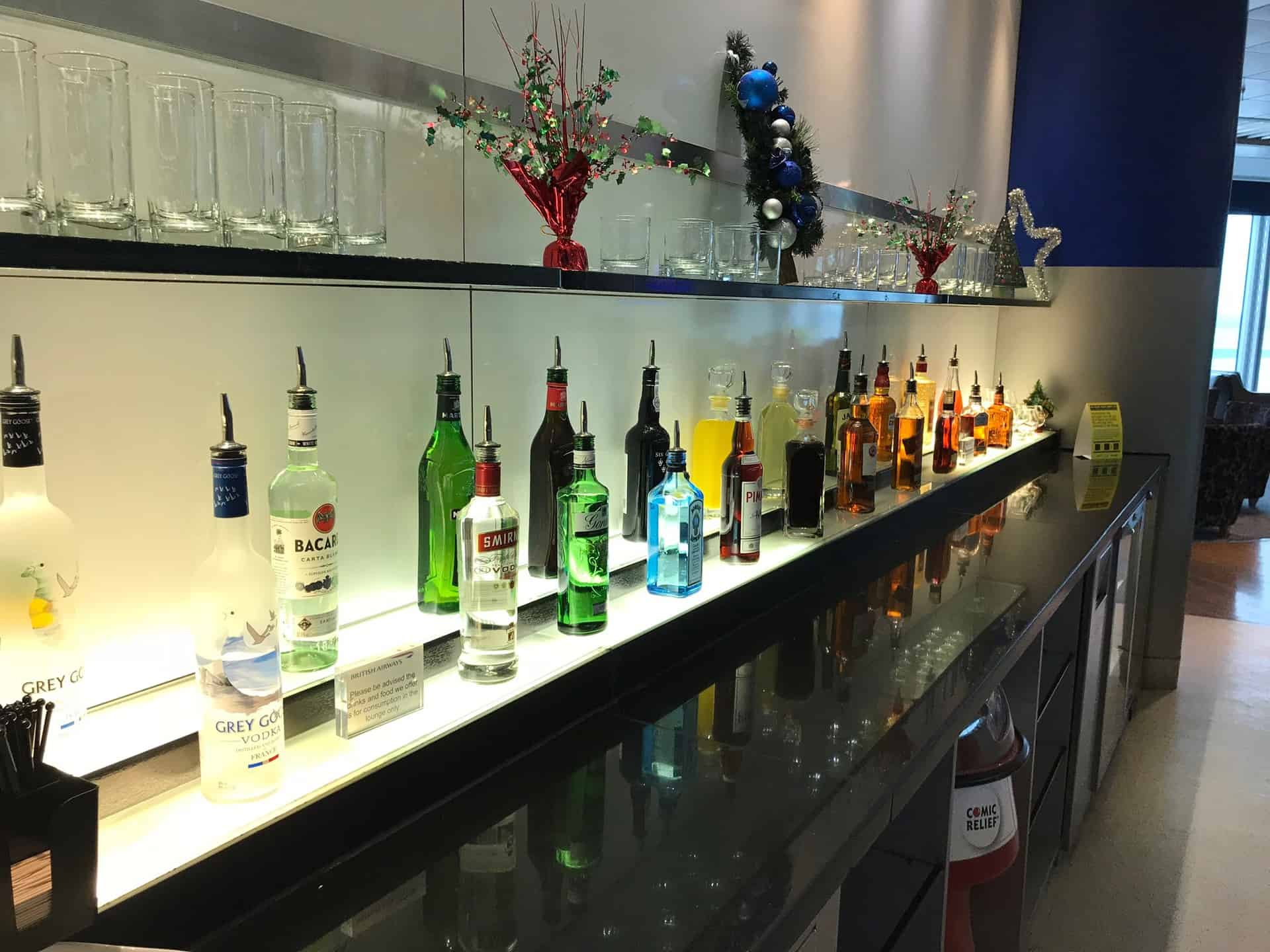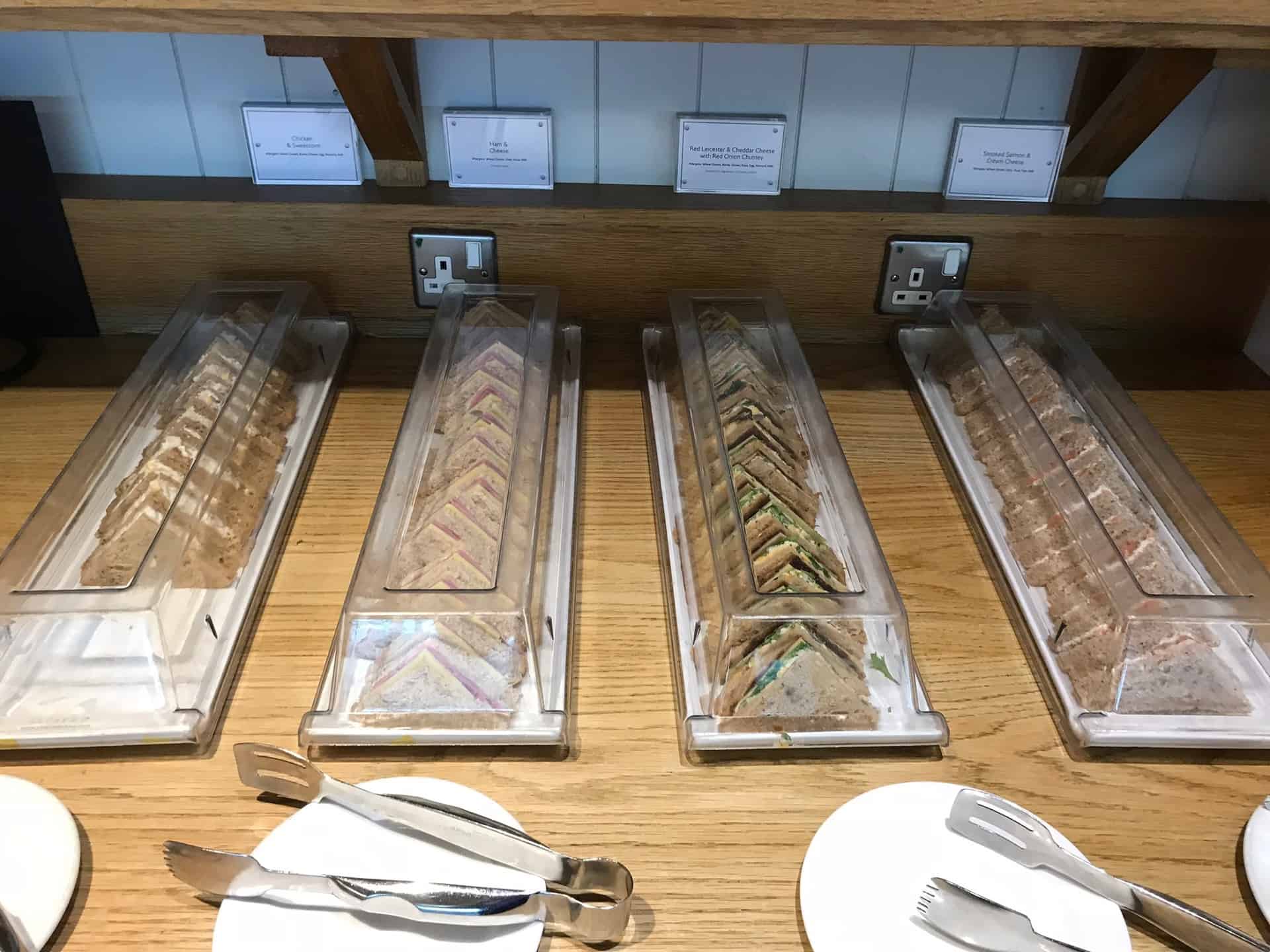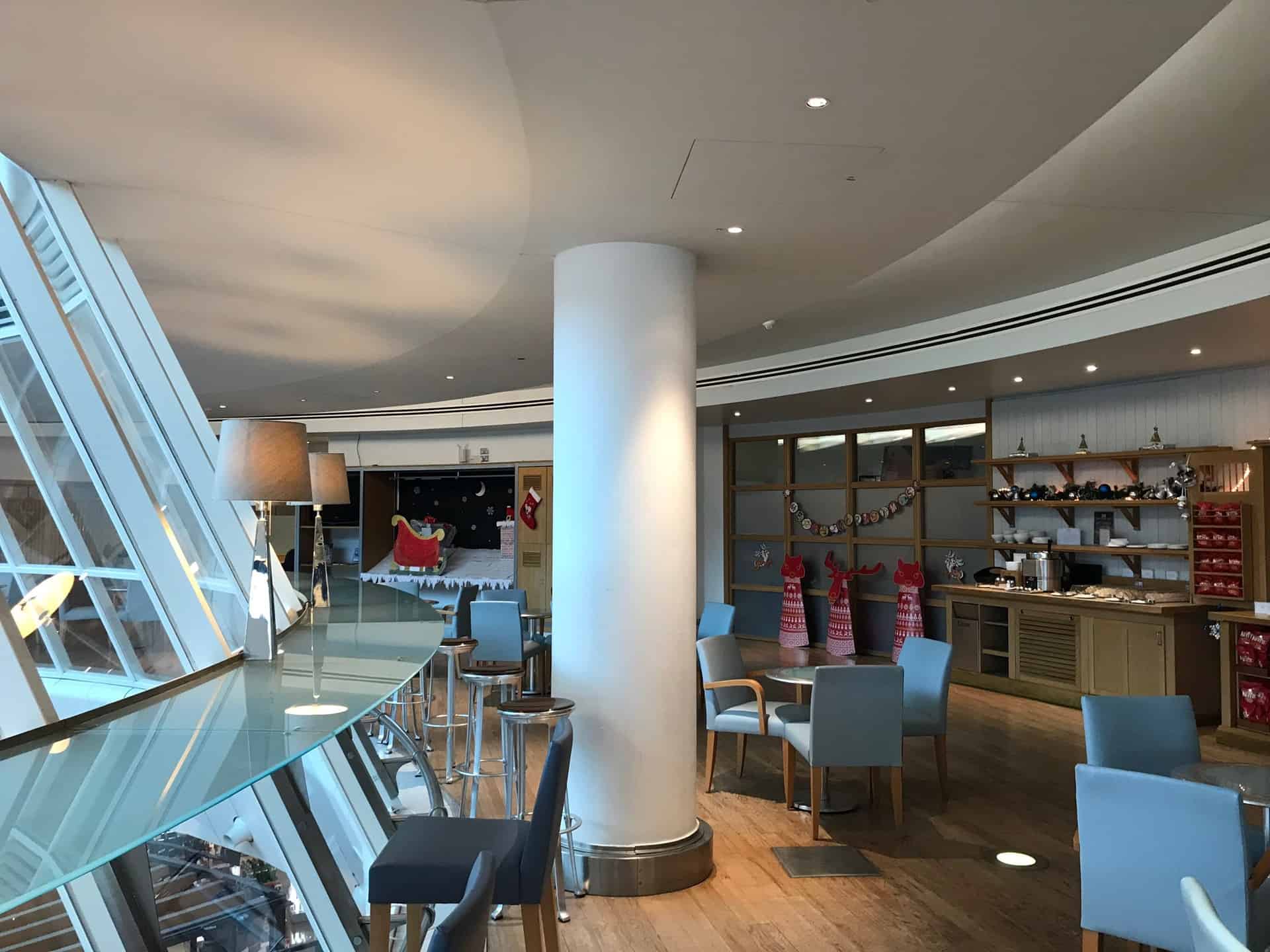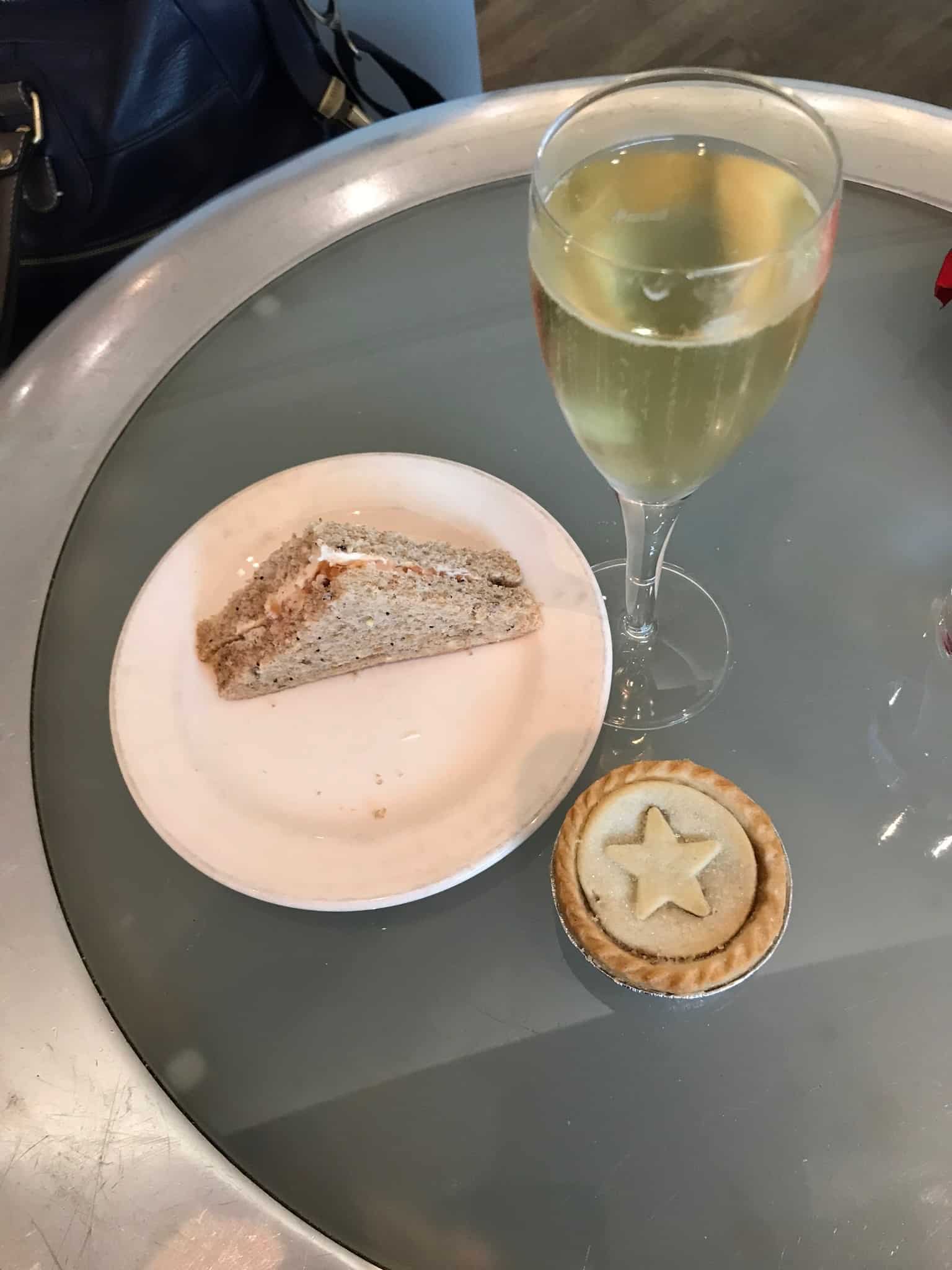 I then boarded my flight to London Heathrow. I was seated in the front 'Club Europe' rows, which like most European short-haul business class, consists of a normal economy row with the middle seat blocked off. BA does this by putting in a side table. Club Europe passengers also get complimentary drinks and a light meal on this 35 minute flight. I'd ordered a vegetarian dairy meal and received a pretty decent caprese salad with a tasty slice of cake. The champagne was an individual bottle of Castelnau, which isn't the best but is more than drinkable.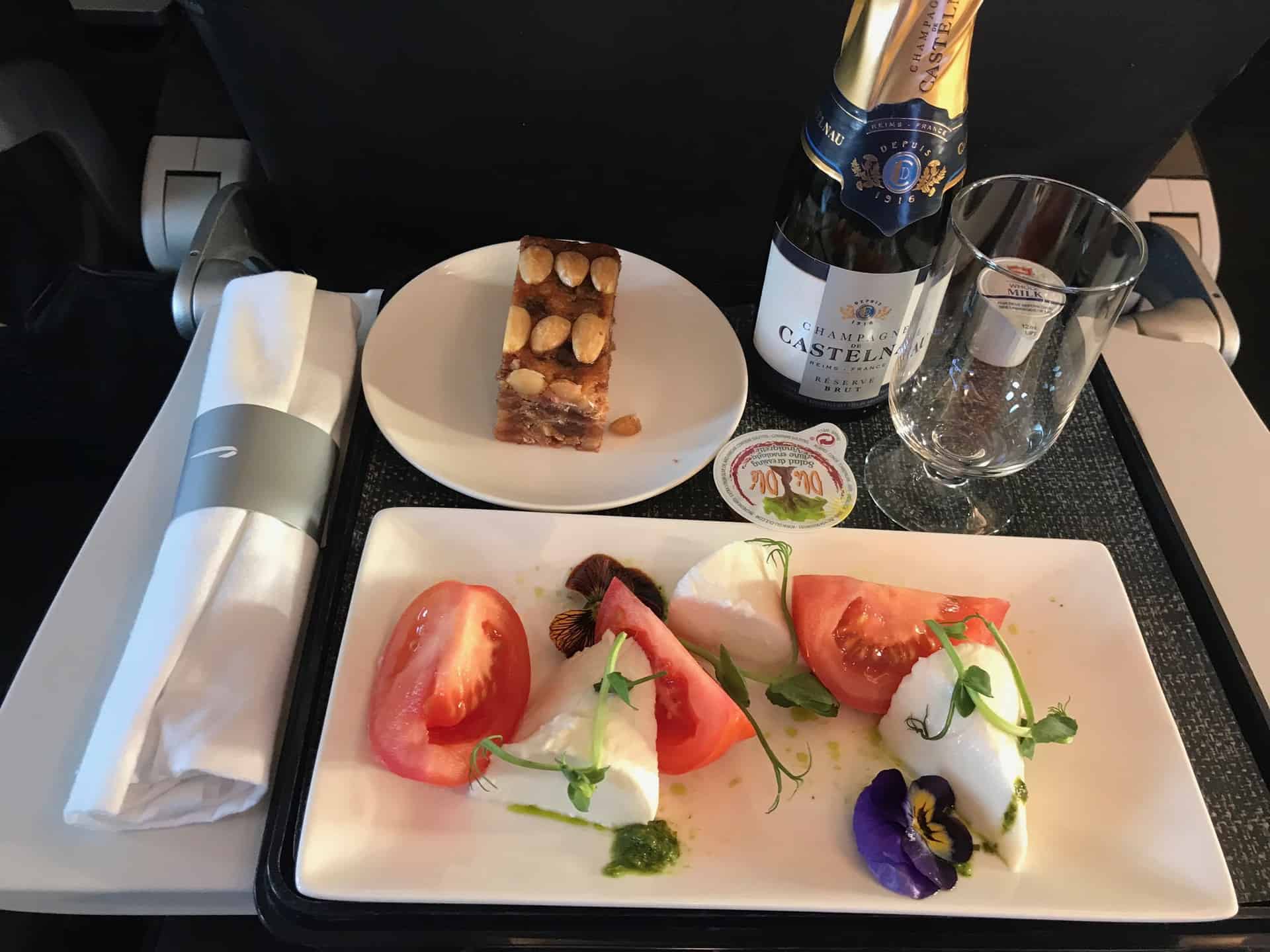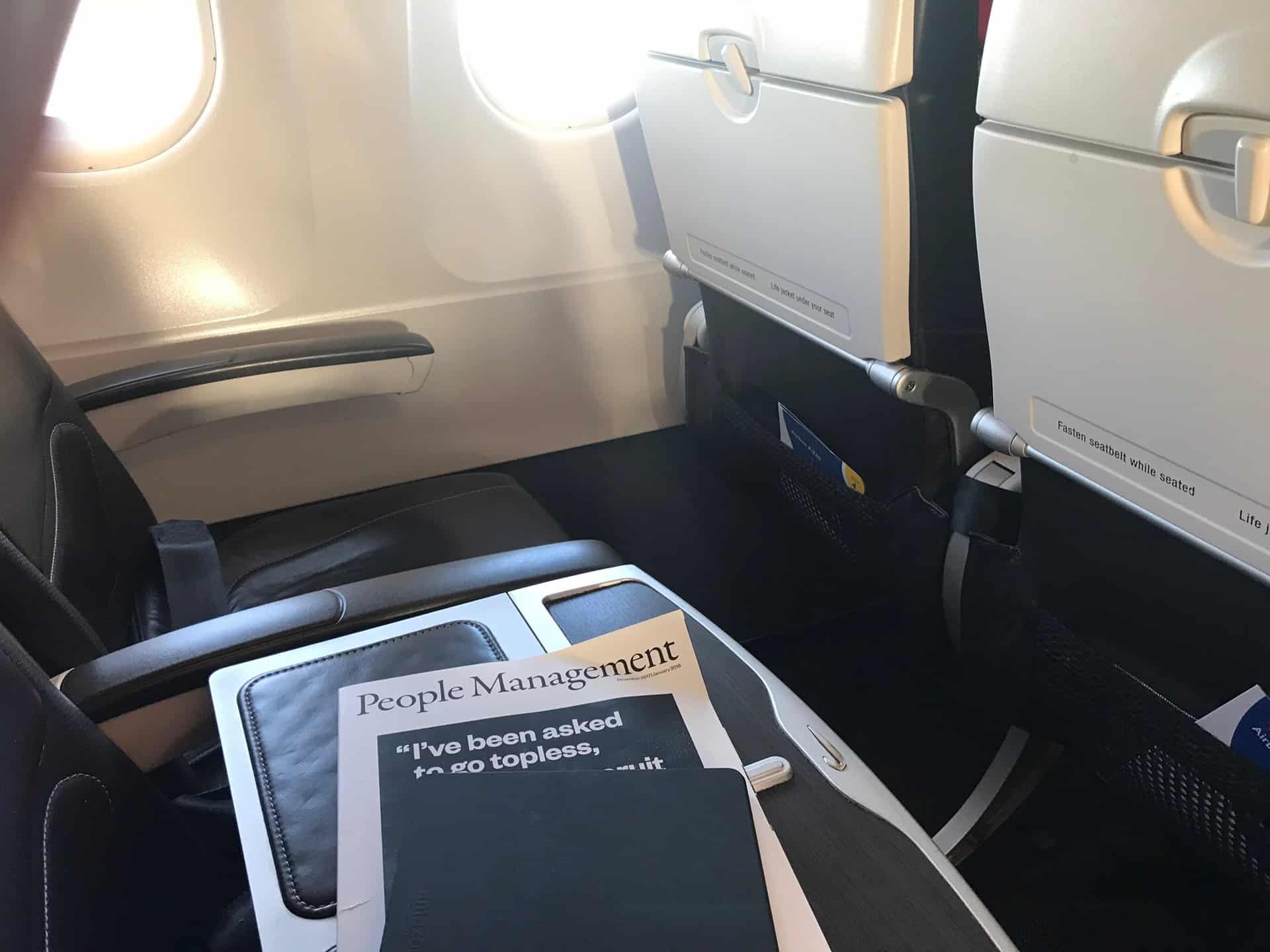 We landed in London on time and I made my way to the Sofitel at T5, as I was staying overnight and flying to the USA the next morning. I paid for the Sofitel rather than using points, getting a great pre-pay deal of just 100 GBP per night, which is an excellent price. It is a very high standard airport hotel, with massive, quiet and comfortable rooms, which are spotlessly clean and stocked with great amenities, including complimentary bottled water. That evening I took the Heathrow Express to London to meet friends for dinner. The HEX is very expensive at almost 30GBP for a return ticket into London. However, takes just over 20 minutes from T5, and is very convenient. You can get tickets for as low as £7.50 one way if you book in advance.
The next morning I made my way back to the terminal and to the First Class check-in area. My luggage had been checked through from Manchester, but the First-Class area also includes access to the new British Airways First Class Wing, a dedicated security channel for First passengers and BA Gold card holders, which takes you straight into the Galleries First Lounge. It was incredibly quiet at security and took no time at all to get through. Business class passengers have fast-track lanes at standard security, but this takes it to another level.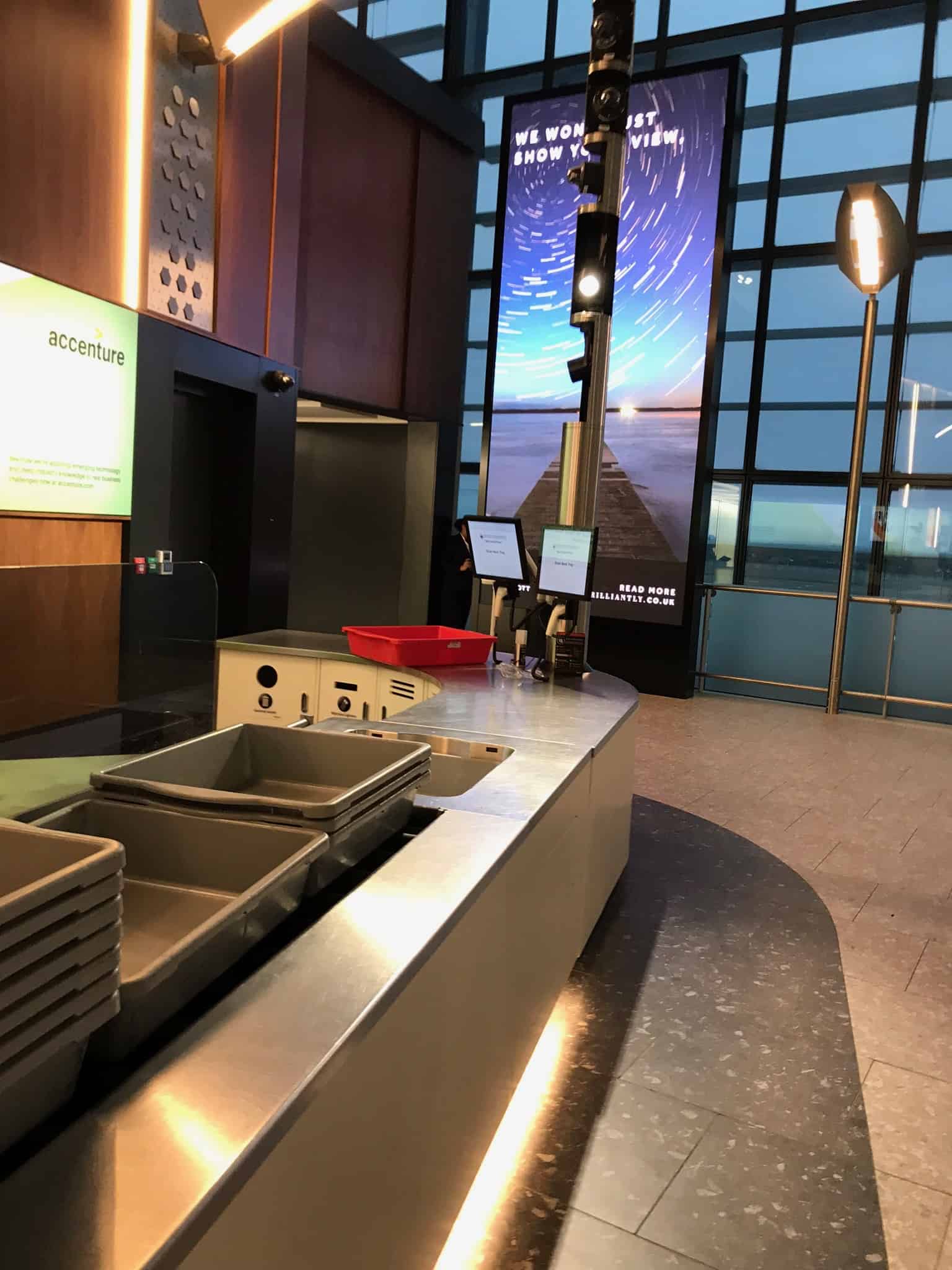 The Galleries First lounge is not really for First Class passengers, although they have access. It is aimed at BA Gold card holders (or OneWorld Emerald members), whilst Galleries Club is designed for Business Class and Silver Card holders (or OneWorld Sapphire members).  This meant that once in the lounge I found my way to the exit and the main lounge concourse, where I crossed into the Concorde Room.
The Concorde Room is only available to First Class passengers and BA's most frequent travellers or VIPs. All food is served rather than buffet style and there is a full service bar where they mix a pretty good cocktail. I had breakfast, juice and coffee, then moved on to champagne (Laurent Perrier), brandy and finally an espresso martini, which put me in a great mood for the long flight ahead! I also enjoyed a complimentary 15 minute spa treatment at the Elemis Spa, which is located in the main lounges lobby. First passengers can pre-book treatments, whilst long-haul Business Class passengers can take walk-up appointments or book a timeslot on the day, meaning that space is very limited. The treatments are good (upper body massages, shaves, and facials) but beware of the massage chair they sit you in – also known as the torture chair! Allegedly some people like it, but the strength of the massage has left me in agony on previous occasions so I make them keep it switched off! Showers are also available, shared between the lounges, although the Concorde Room has its own toilets.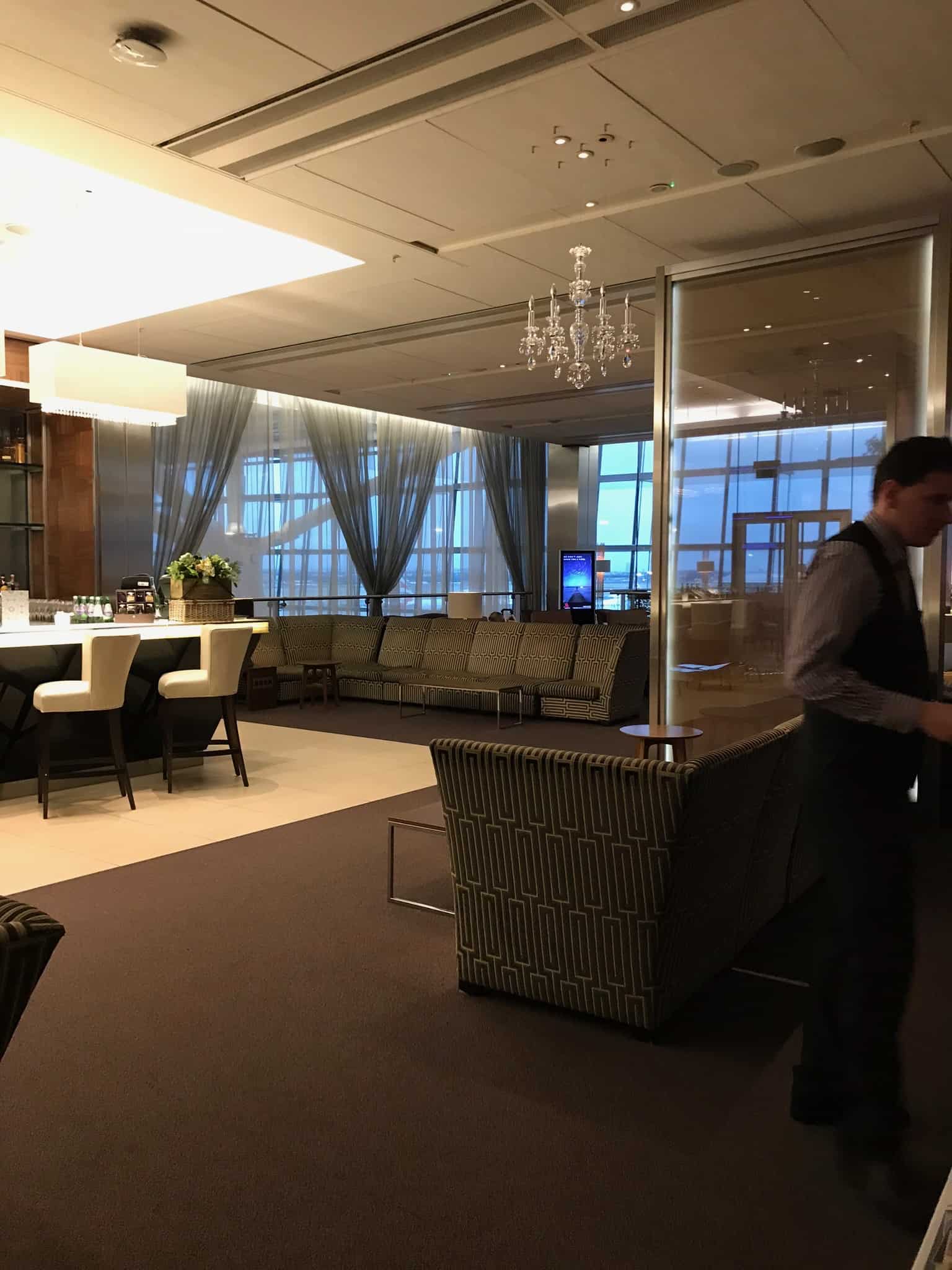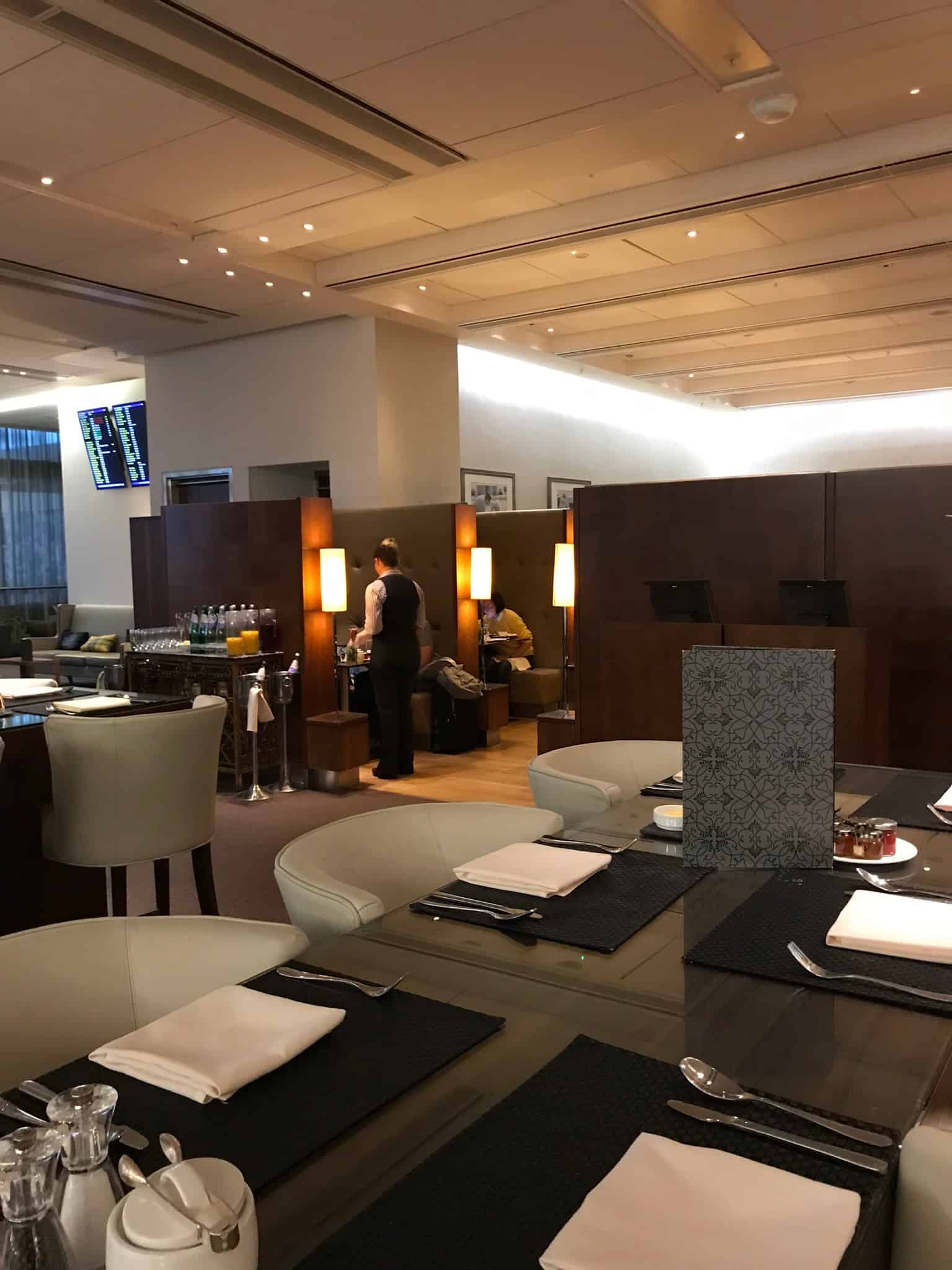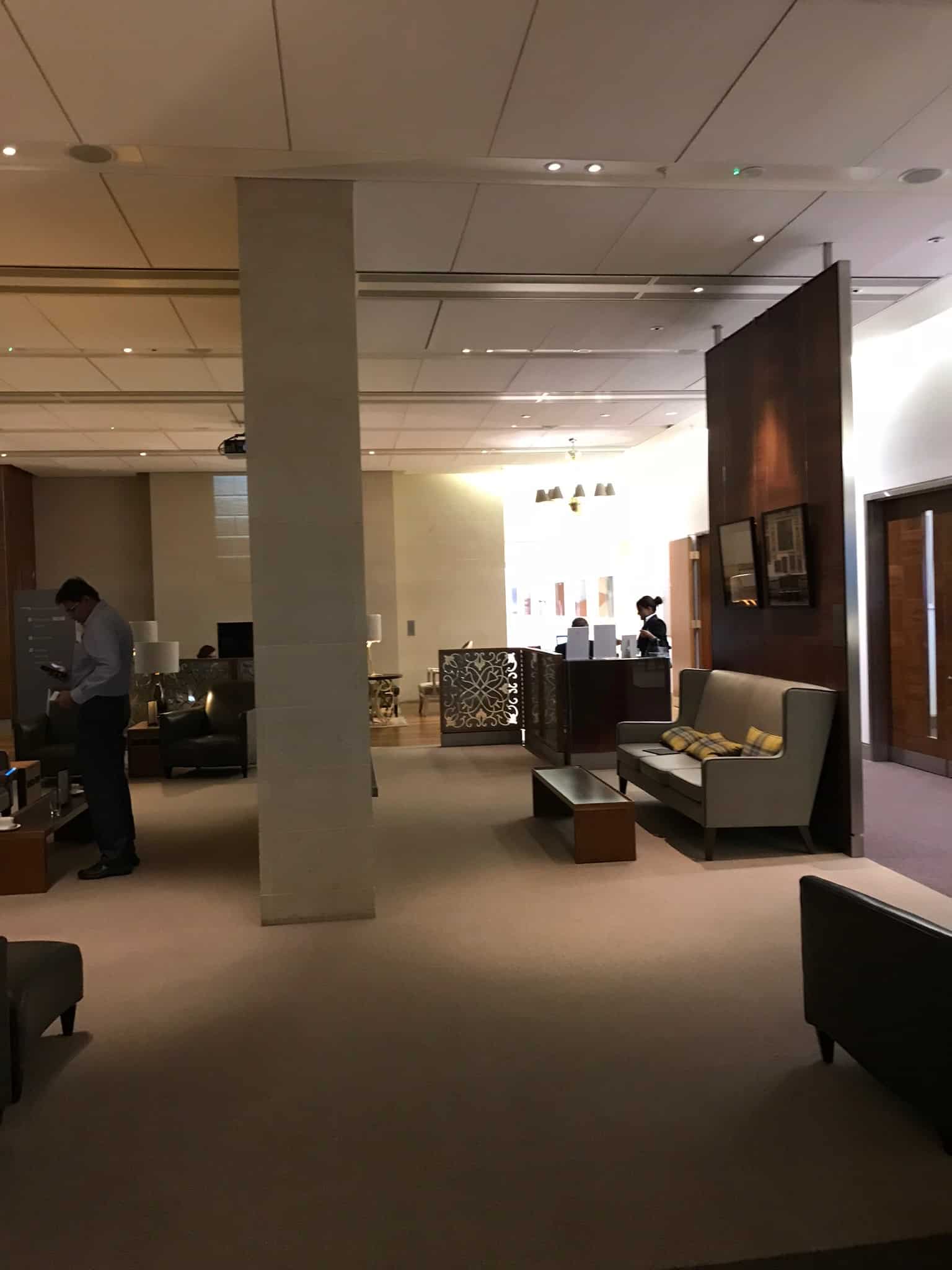 On my return journey I also used the Concorde Room, but having just had an overnight transatlantic flight, I wanted to sleep, I pre-booked one of the three private cabanas (at no extra cost) which offer a private room with TV, daybed and private bathroom, where you can sleep and where they will bring you anything from the menu.
Unfortunately, the lounges at Terminal 5 are where BA really lets passengers down. Whilst, in my view, the food and drink offering is excellent, the general state of the place is not great. I don't know if this is down to BA or Heathrow, but the whole place is built incredibly cheaply. They've replaced some of the furniture recently, but there needs to be a full-scale refurbishment. The plumbing makes legendary sounds, unlike anything you'll hear anywhere else. The showers and toilets are not in a great state, with cheap lino floors that have seen better days. Compared to the bathrooms in the premium lounges on airlines such as Lufthansa, they really are shoddy, and unless you get a private Cabana, there isn't a dedicated quiet area to lie back and sleep, something that's even available in the KLM lounges (where their idea of lunch is a canned soup).  Even in my cabana, I could hear a baby bawling next door and the sliding door between the main room and the bathroom wouldn't close. I was also amazed that all I was given was a cheap blanket, rather than the full bedding which was given out on the plane. This seemed a little unhygienic, given that the day bed was not made of an easily cleanable material and I put in a complaint to BA about it. In short when it comes to the ground product, food and beverage gets a 5*, staff get 4* (they can be mixed but on this occasion I got great service from everyone) and the hard product, with the exception of the private security channel, gets 2*.
As a First Class passenger at many European airports, you get someone to escort you from the lounge to the plane. At Heathrow however, unless you are very delayed or a super BA VIP, you need to make your own way to the plane which, when flying long haul from T5, involves going down 3 floors to the transit train, and packing yourself onboard to go to the remote gates. It's not a big deal, but it's a definite break in the First Class experience.
I arrived at the gate on time and we boarded a few minutes late. Once on board, I explored the new 787-9 First Cabin. There are only 8 seats instead of the usual 14, but they are all equipped with a huge amount of storage, including a personal wardrobe and in a new development for BA, a handheld touchscreen remote control for the entertainment system. Throughout the plane, the windows have a special tinting feature activated by a button, rather than window blinds. The seats are all in a semi-private pod and of course recline to a fully flat bed. One massive improvement on the 787 is that the console which stores the tray table doesn't impact on the width of the seat, meaning that it's possible to really stretch out and enjoy the space. The TV is also in a fixed position, meaning that it doesn't have to be latched for take off and landing, so can be watched from gate to gate if desired. Unfortunately, my remote control was a bit temperamental and would only let me choose Bollywood movies, which meant I had to use the touch screen when selecting what to watch. The cabin crew offered to swap my seat with the captain's wife who had managed to get a First seat on staff standby, but I was already settled in, so wasn't too bothered, although it was a nice gesture  – and having the pilot's family on board meant I felt particularly safe!
I was given a pair of noise cancelling headphones (just passive, not electronic), a pair of BA First pyjamas, slippers and a First Class amenity kit (containing various creams, eye mask, sleeper socks, toothbrush etc) which comes in a beautiful pouch designed by Liberty of London, the kind of department store that requires a credit reference before allowing you through the door. I was also offered champagne.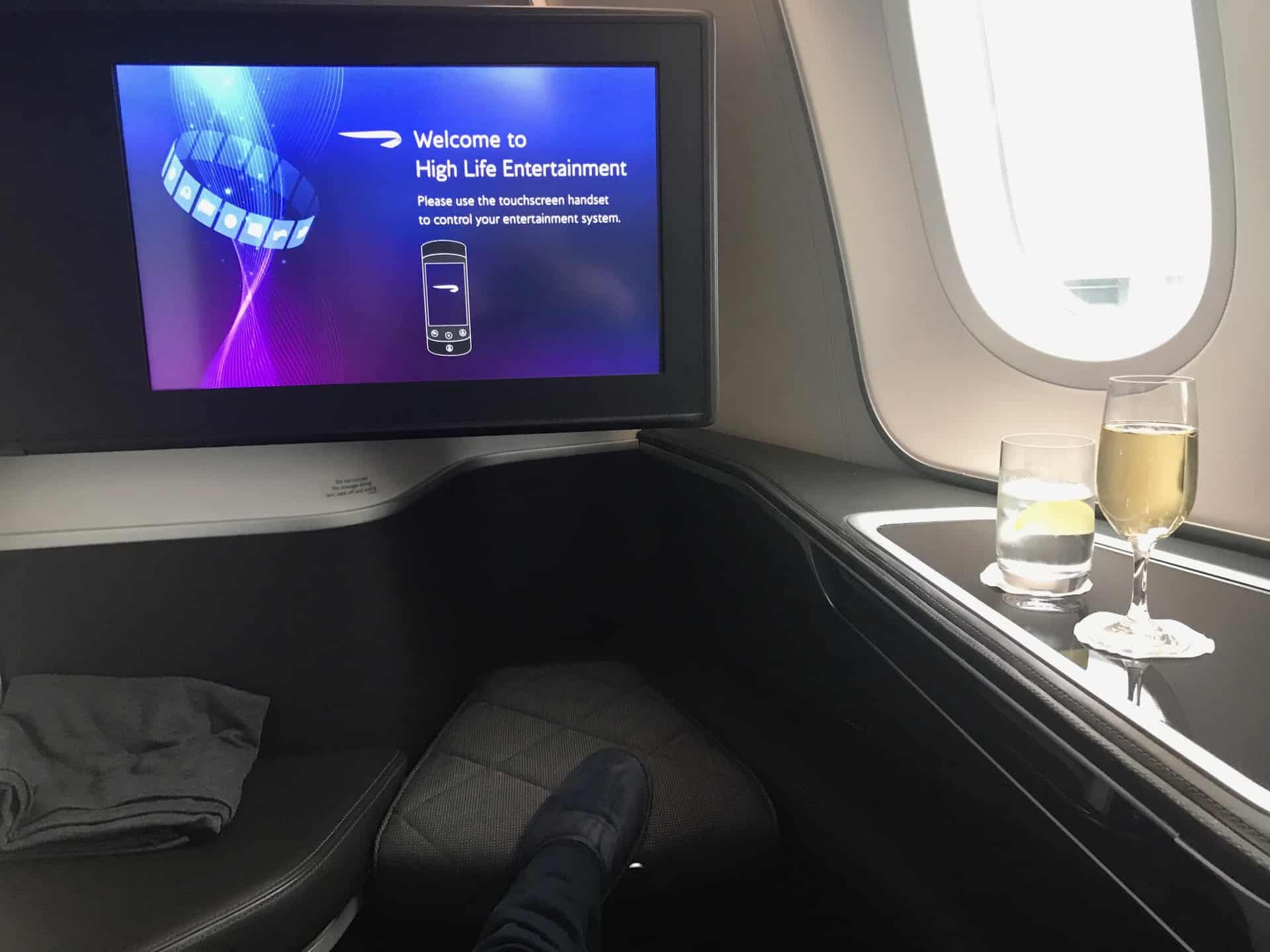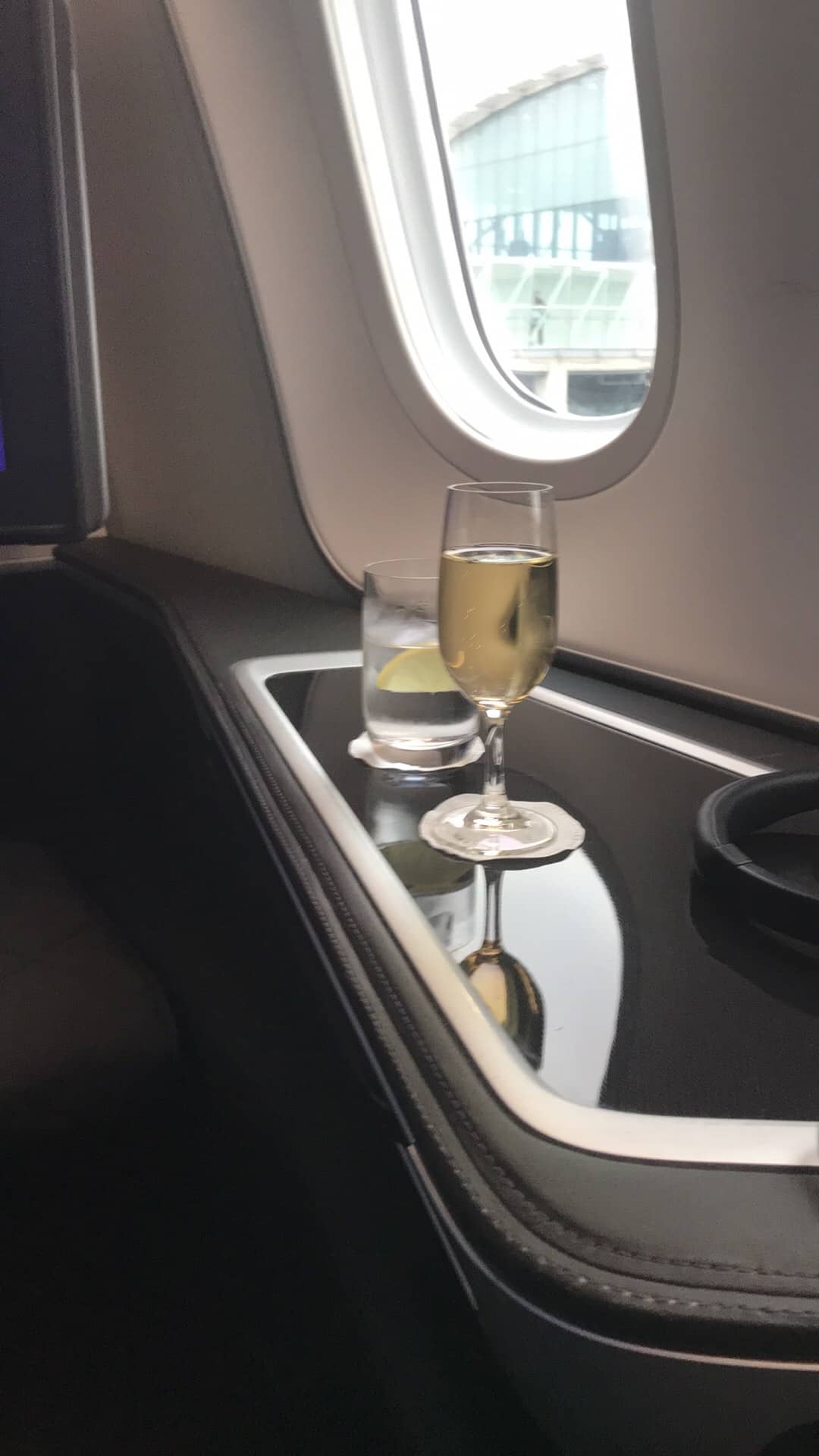 Unfortunately we were then delayed an hour due to a technical problem and thought we may have to deplane, but fortunately the issue was fixed and we were soon on our way, with most of the time being made up. During the delay the crew did not hesitate to ply the 8 of us in First with ever more champagne, which coupled with the lounge drinks I'd had a bit earlier, meant that I was in an astonishingly good mood!
Menus were distributed on the ground, to give us time to decide what we wanted before take off. The service was lunch, followed by afternoon tea before landing.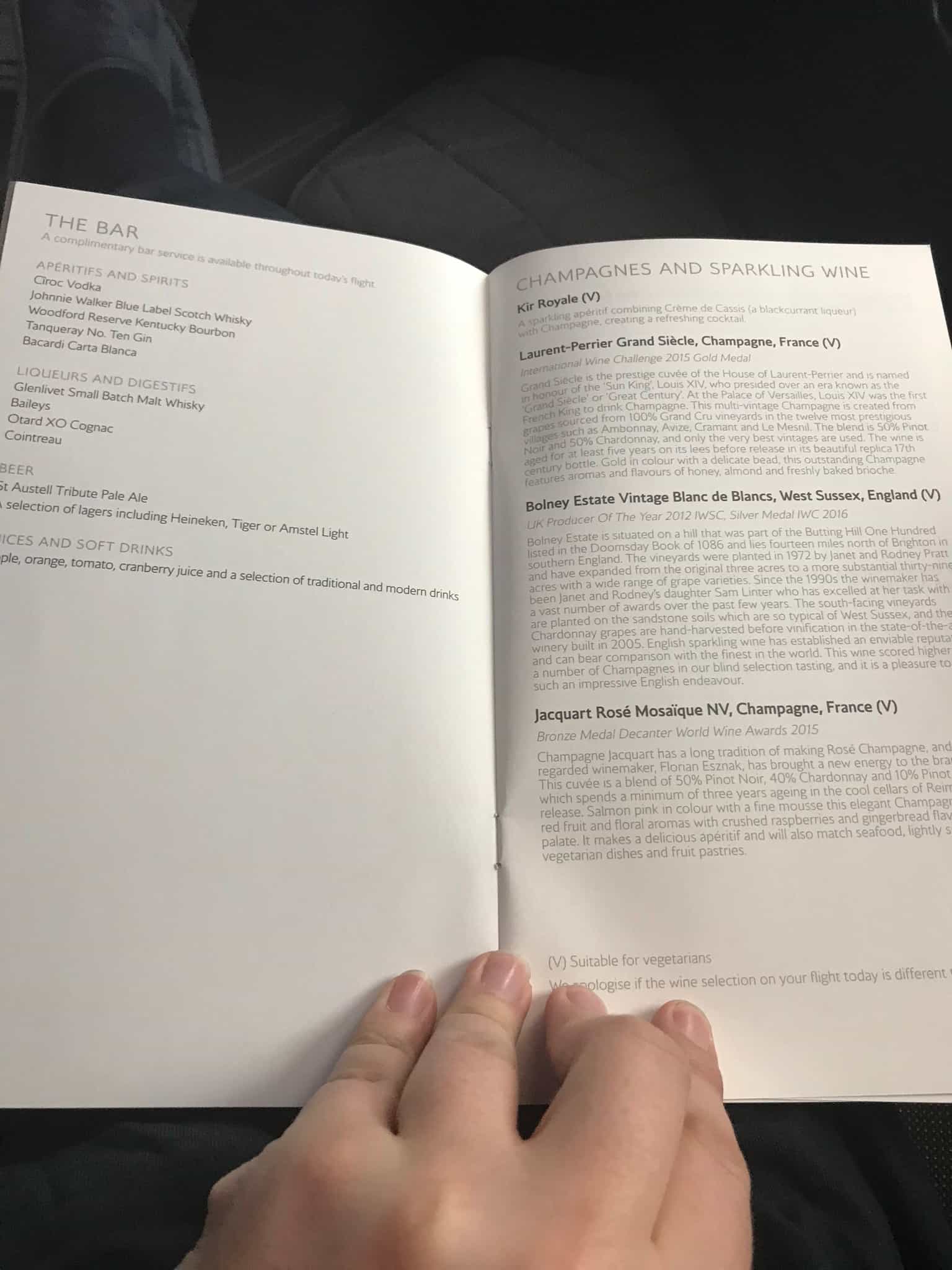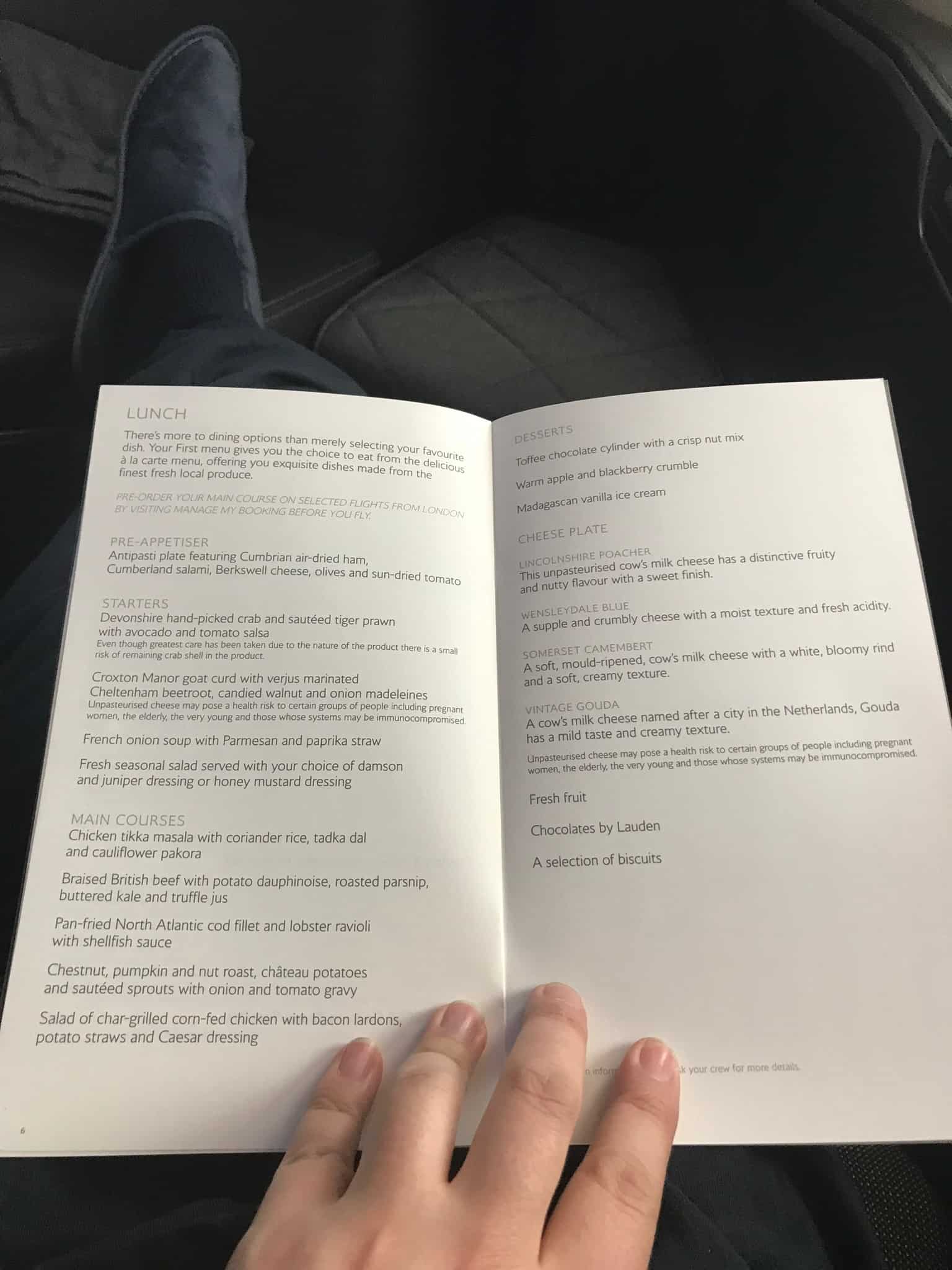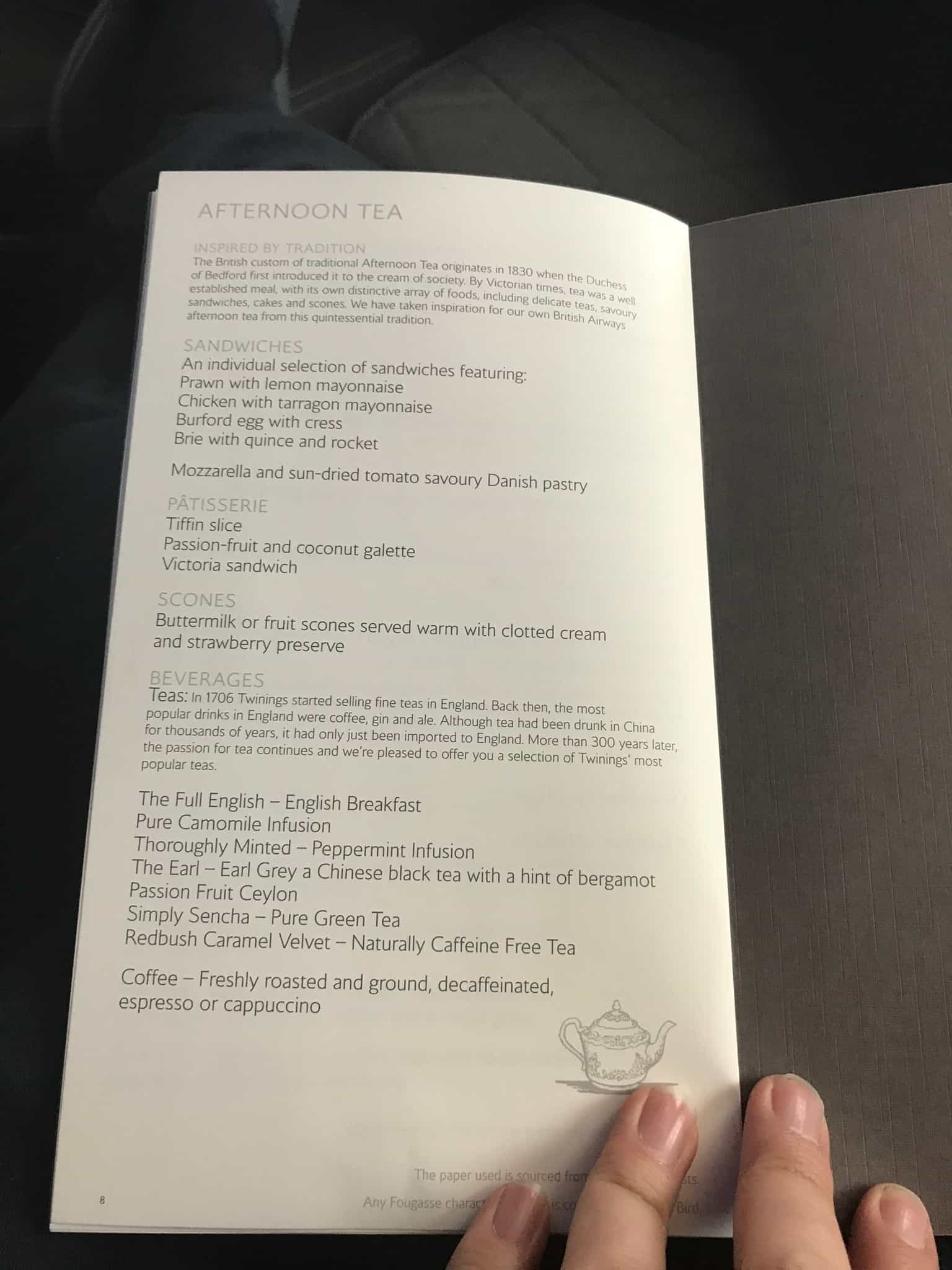 Not everything I ate is pictured, but as someone who doesn't eat meat or shellfish, they really looked after me, even though I had not requested a special meal. In First, all the food comes packaged separately, meaning that they can easily remove parts of it, or not include sauces.
To start I had the antipasti without the meat and then the goat curd which was absolutely stunning.
I then had the salad and the cod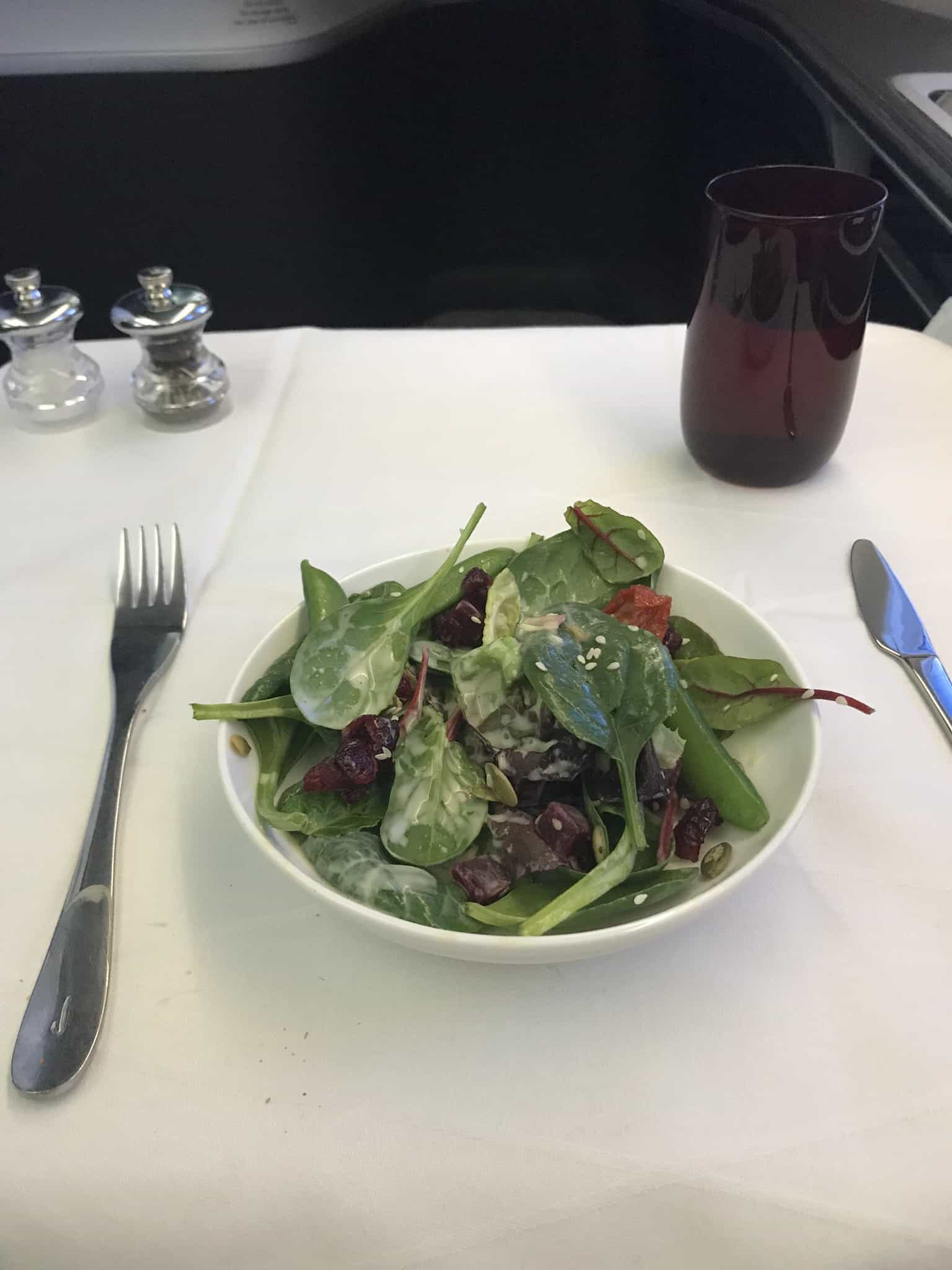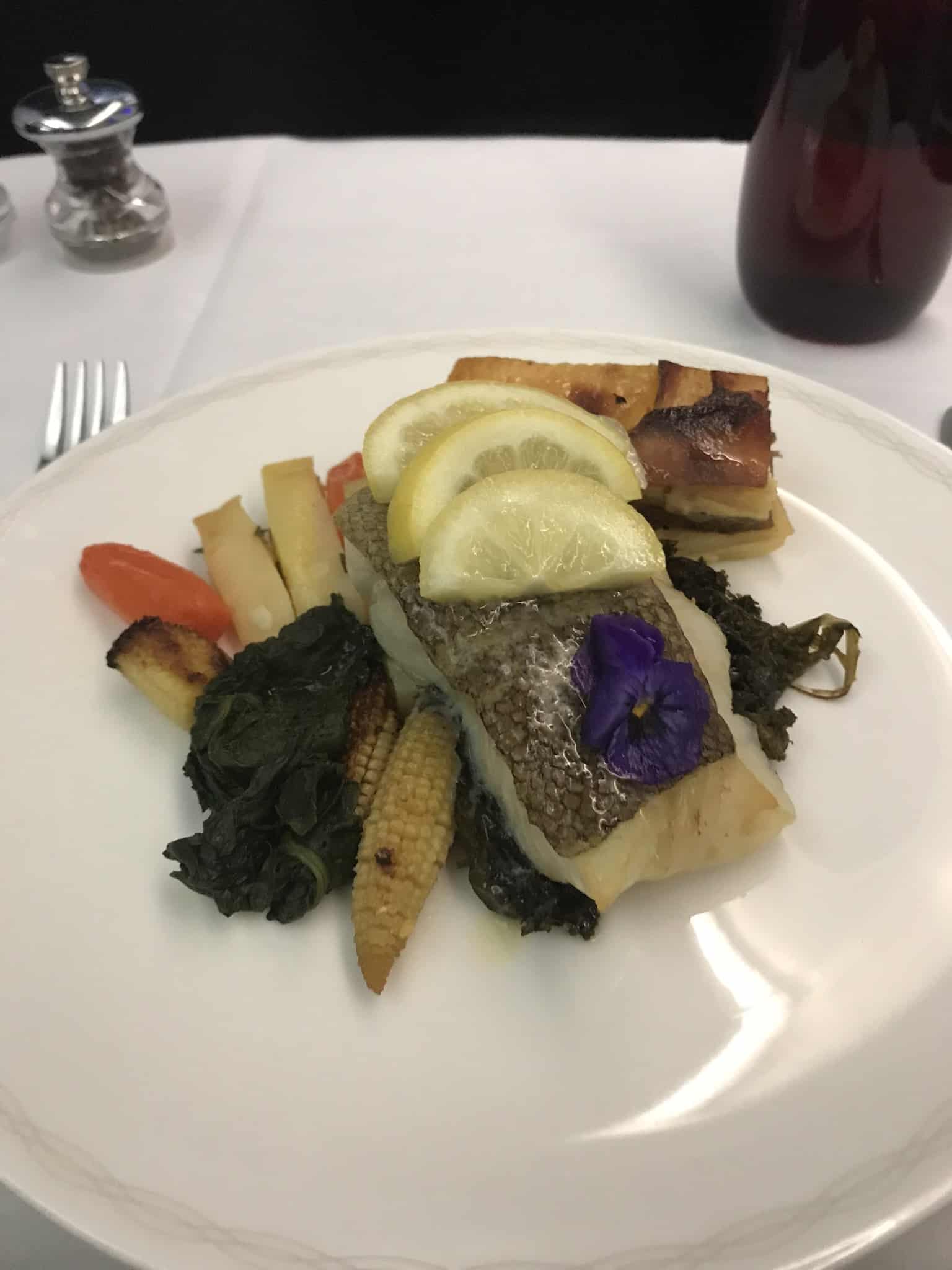 which they were able to do for me with some lemon butter rather than the lobster dressing. For dessert I had the chocolate cylinder and some fresh fruit,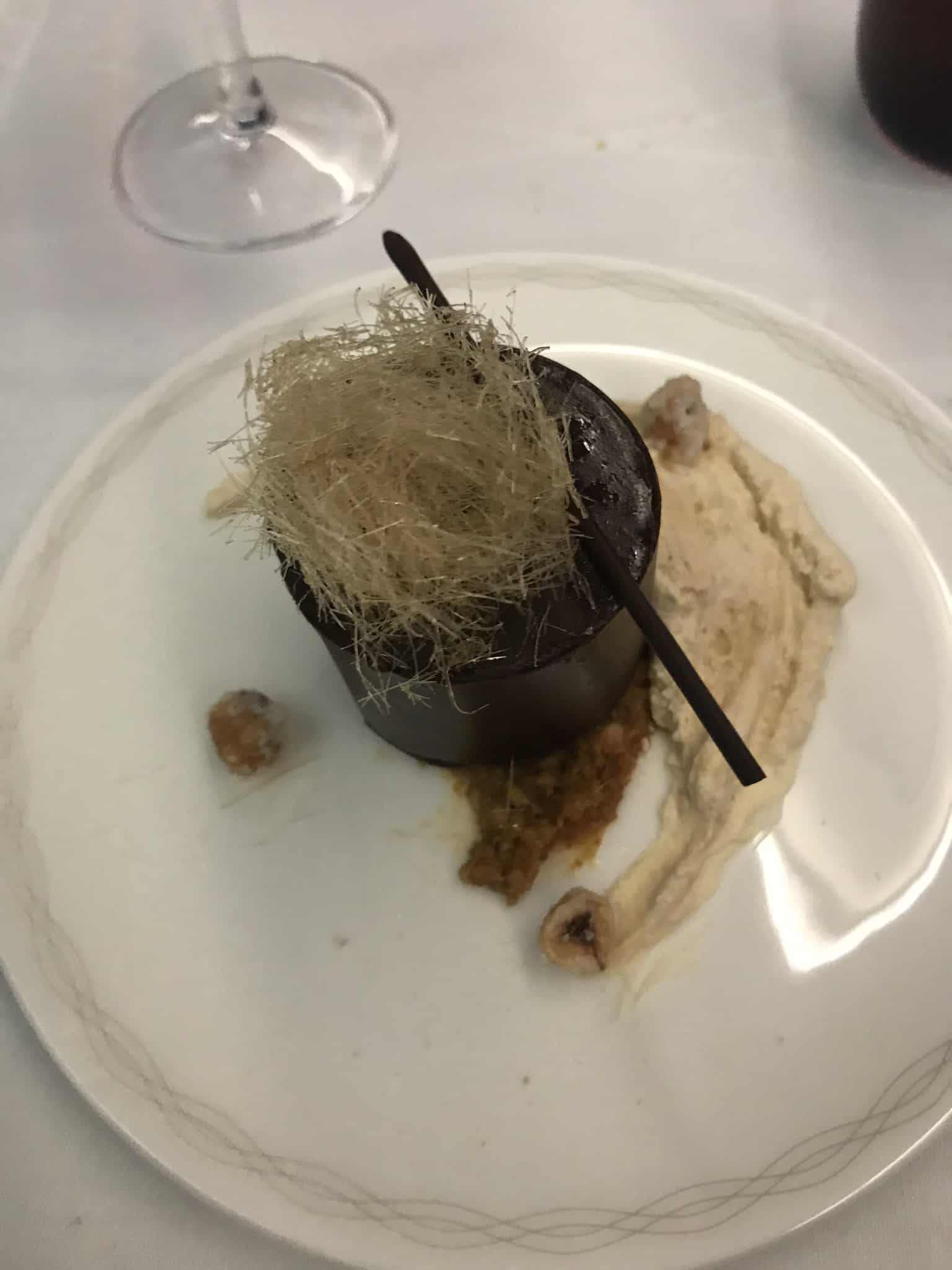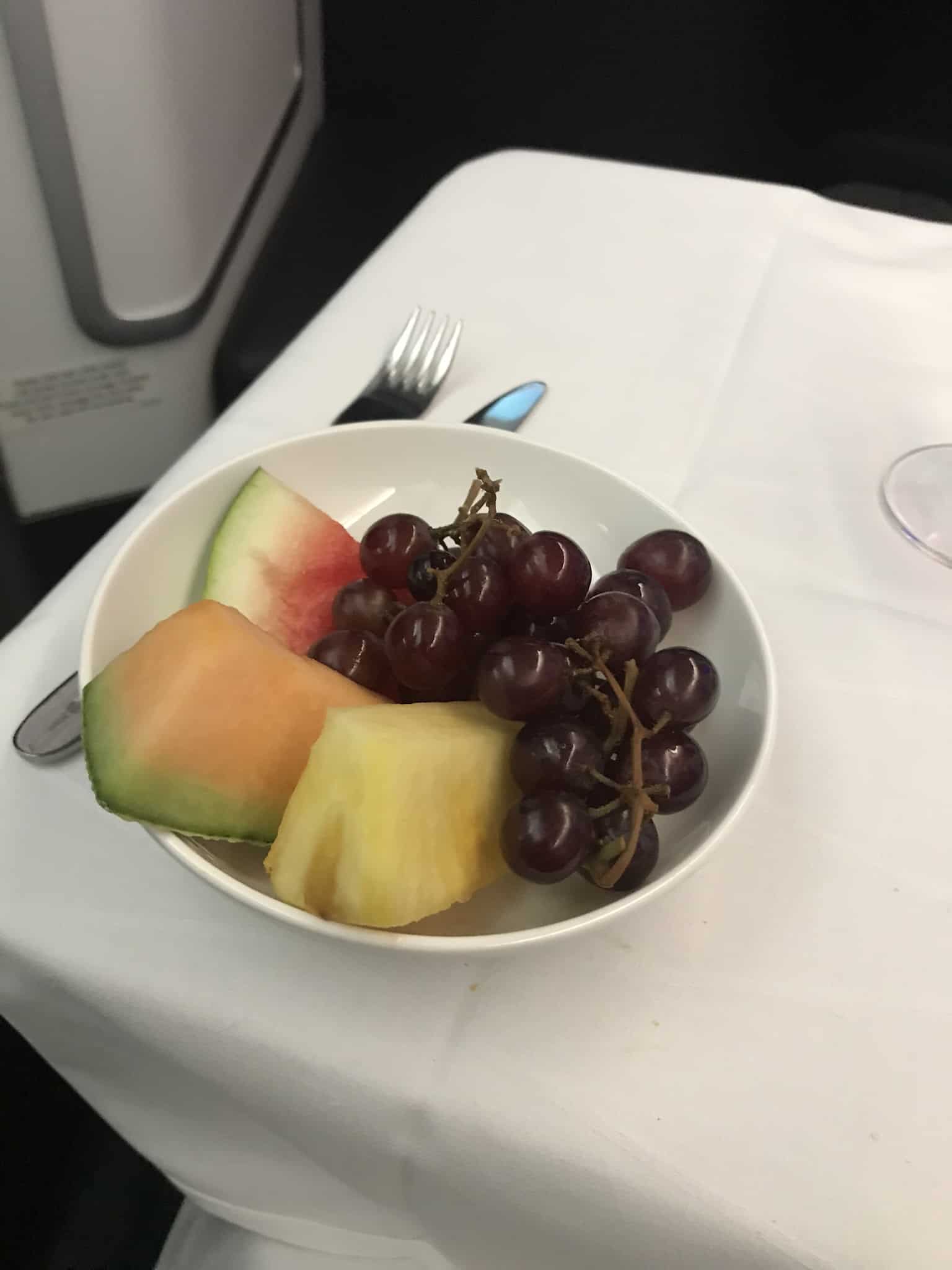 followed by a peppermint tea.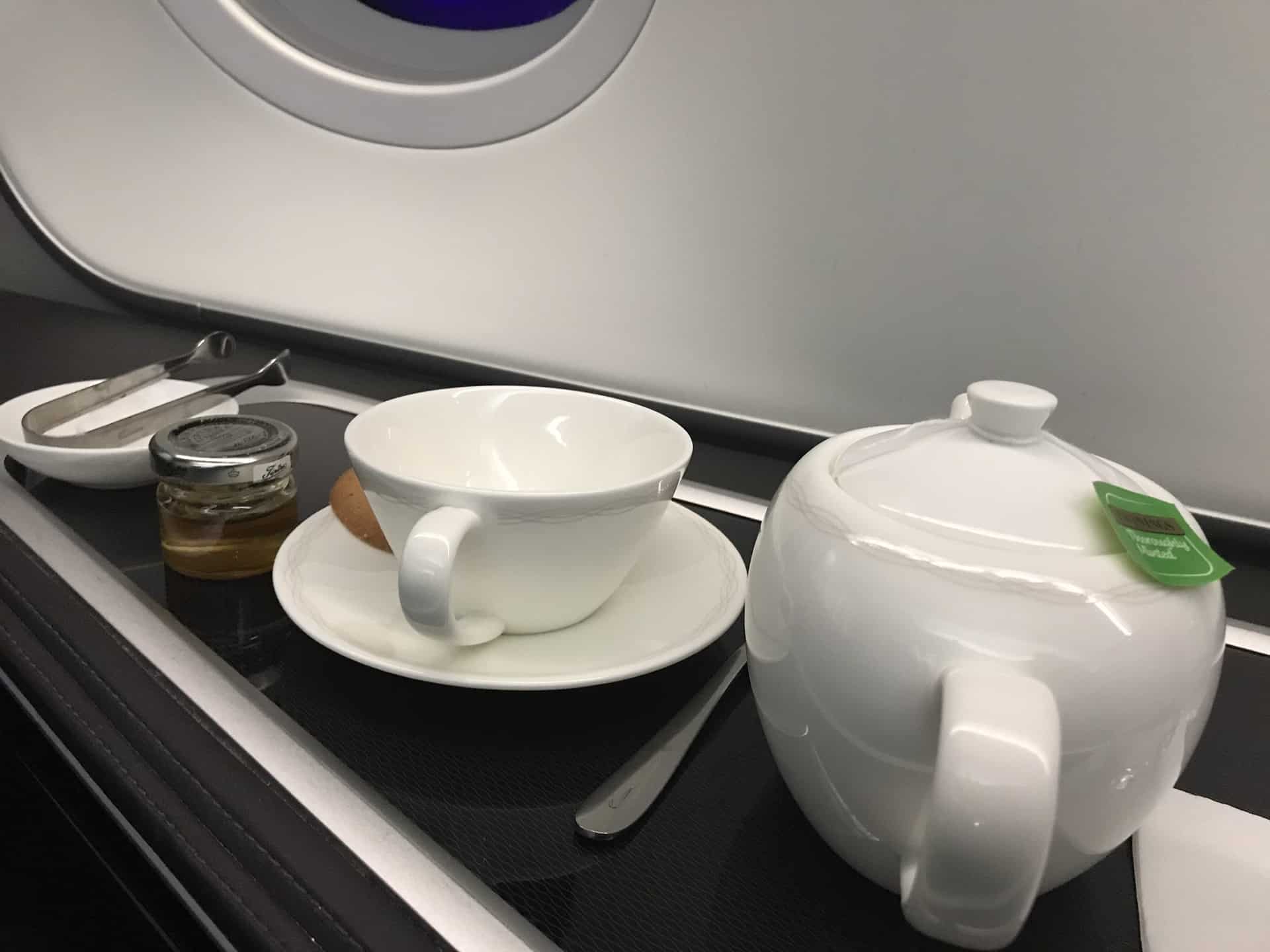 They also distribute a box of Lauden chocolates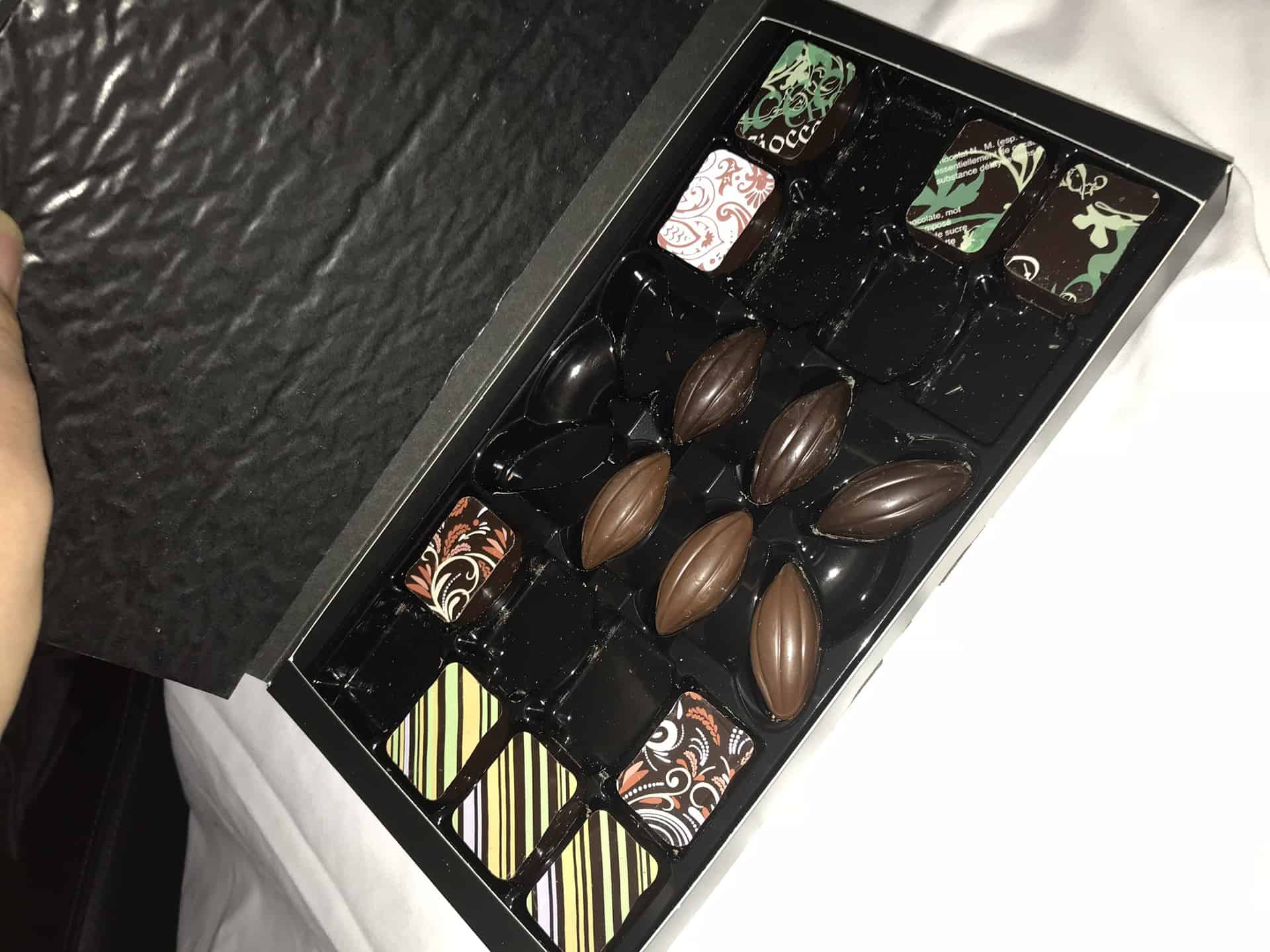 which is shared by the cabin. For some reason I had the most enormous appetite so tried once of each chocolate – all of which were amazing, particularly the passionfruit one.  Everything was accompanied by champagne or wine and they even made me an orange martini with Cointreau and Ciroc vodka a bit later on.
I then watched some movies and had a bit of a break from all the food and drink, so they made up my bed with a duvet pad, a thick mattress and a full size pillow. It was extremely comfortable and I fell asleep for an hour or so, waking up in time for afternoon tea, which began with a fresh nespresso. Most of the sandwiches were stuff I couldn't eat, so they brought me the vegetarian ones along with the lunch appetiser from the Business cabin, which was a delicious smoked salmon salad. I then had a hot savoury cheese and tomato pastry and two warm sweet scones with jam and cream – BA's signature English afternoon tea dish. To finish, there was dessert wine and a trio of three tiny but absolutely beautiful cakes. By that point I was a bit full and decided I wouldn't have the cheese plate, which I'd refused after dinner but thought I'd manage later in the flight!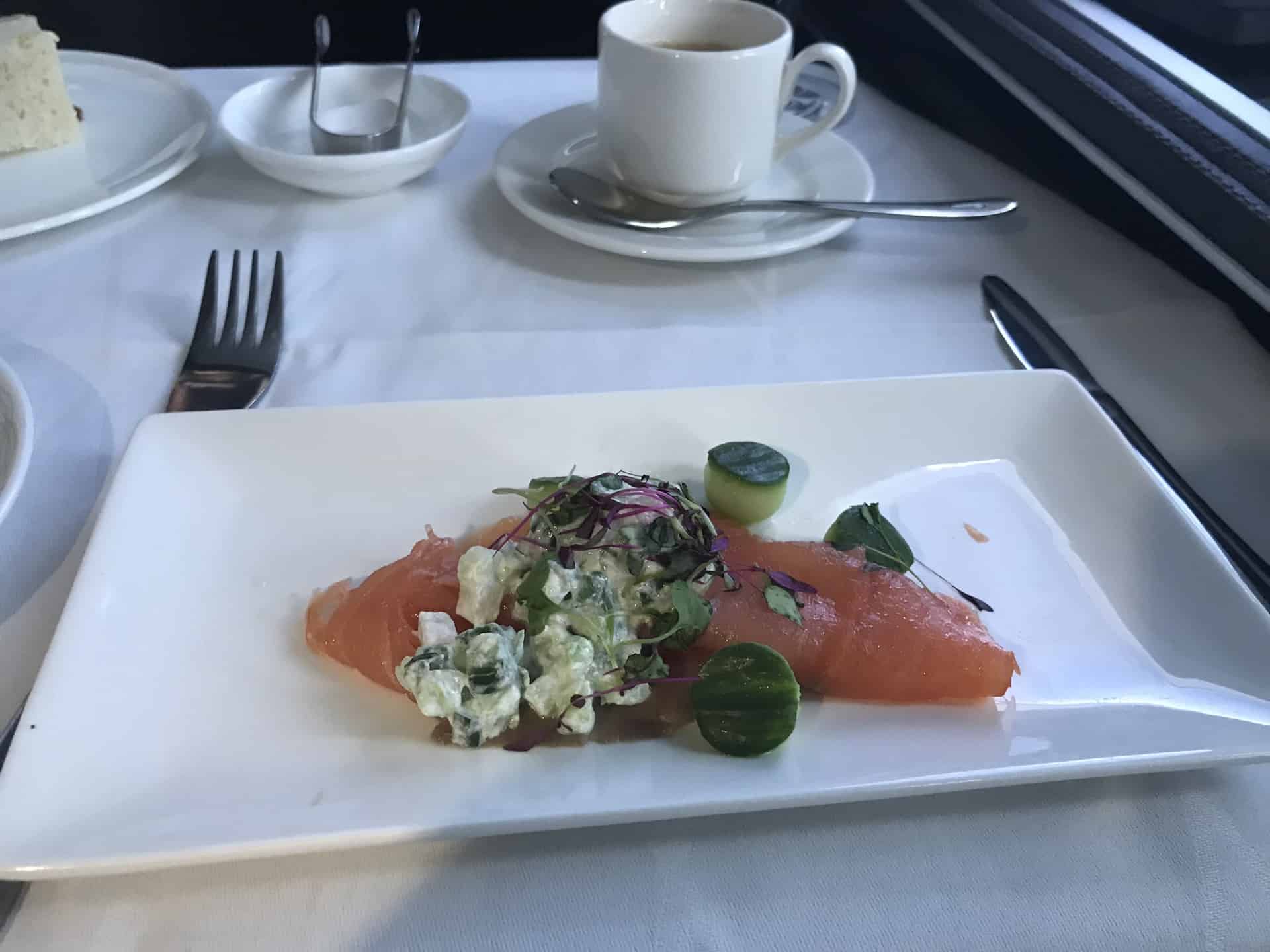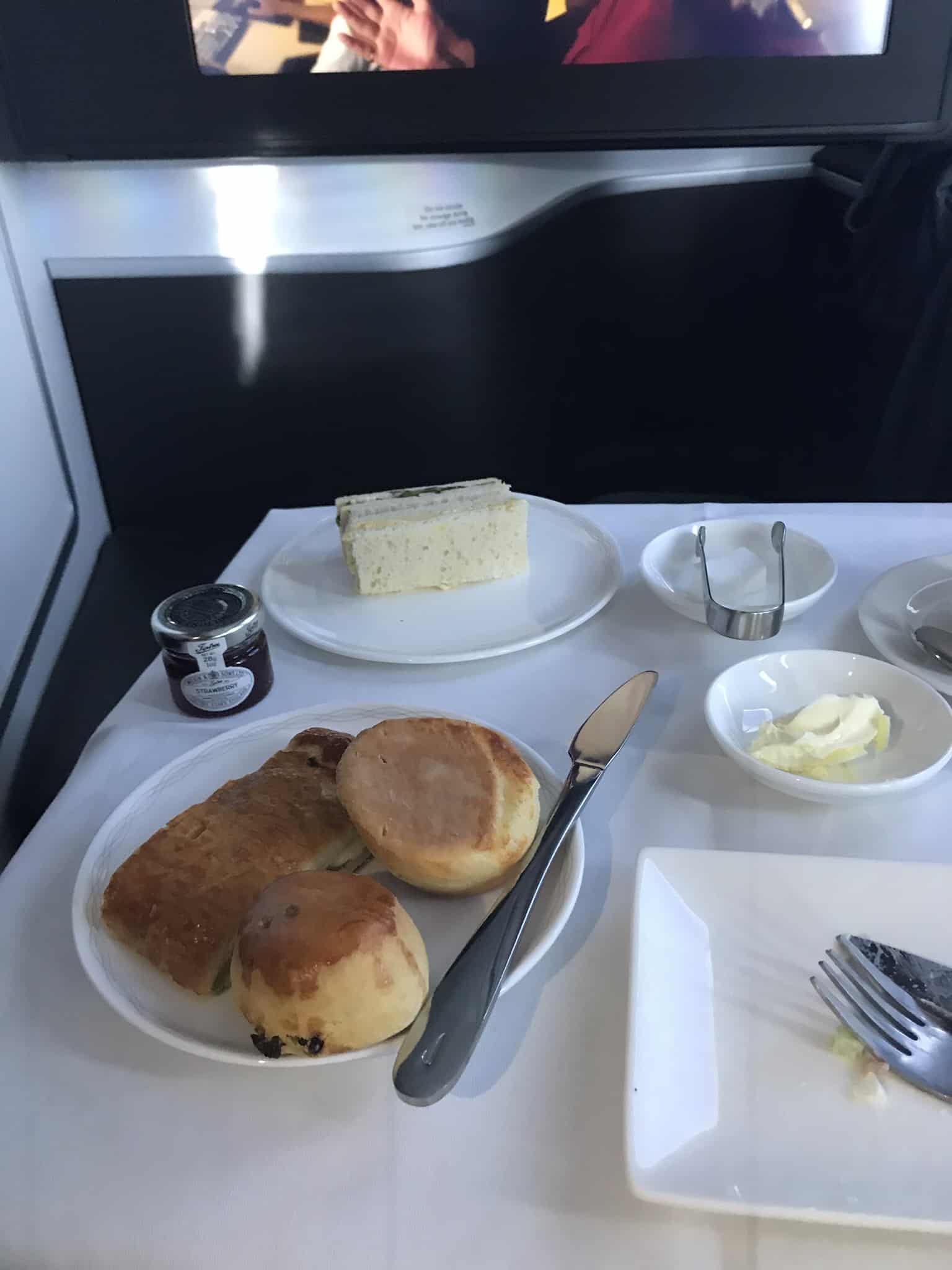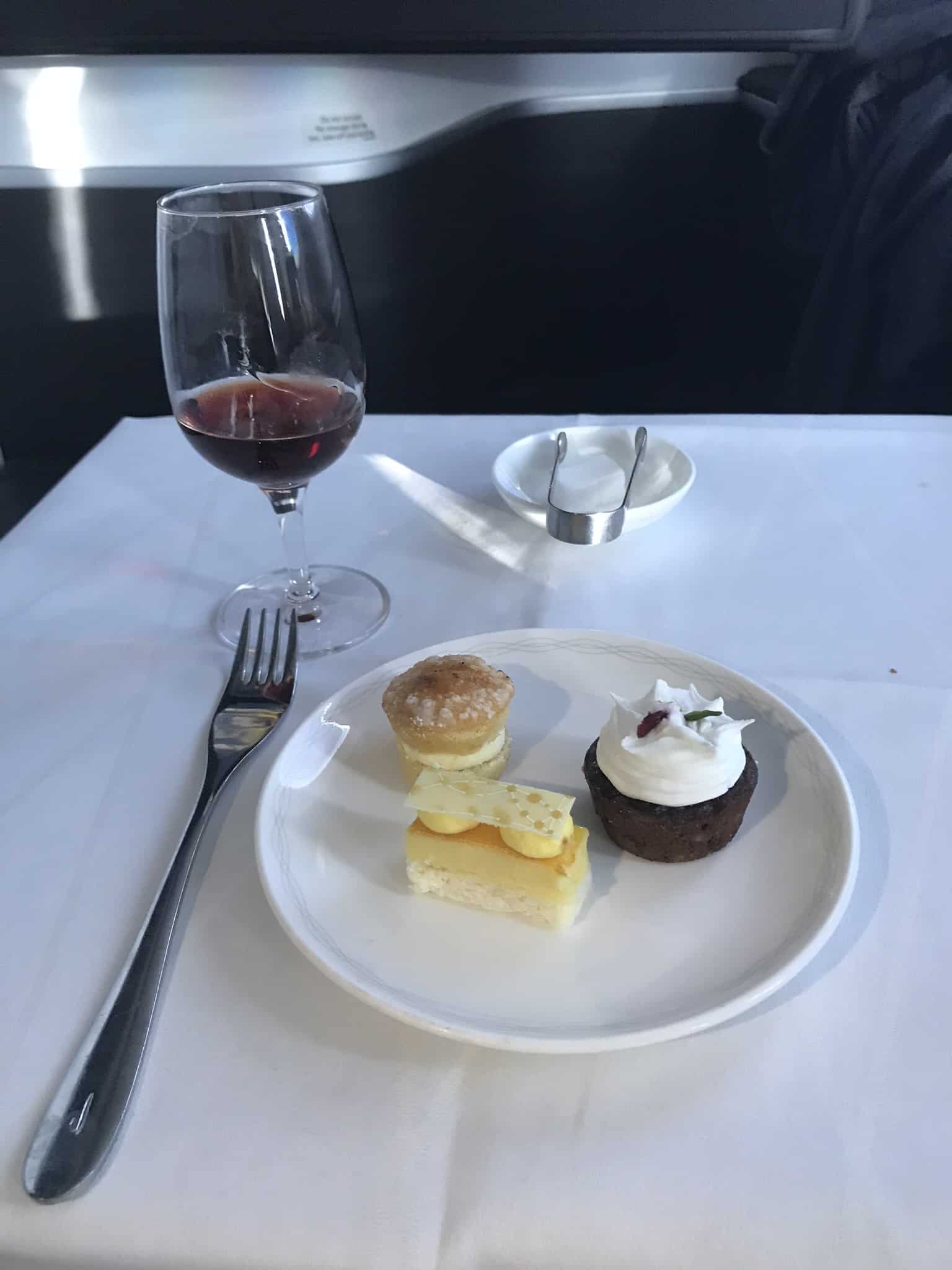 The plates were cleared away and we landed in Austin shortly afterwards. As a First passenger, I was one of the first off the plane and first to get luggage, meaning that it took around 20 minutes from plane to cab, a record compared to most US ports of entry.
I took a cab to the Kimpton Van Zandt hotel, which is my favourite hotel in Austin. It is now part of IHG and available on points although I paid for it. I got an upgrade from a basic room to a spa room which was absolutely enormous and extremely comfortable, with great views of Lady Bird Lake. As a Kimpton rewards member, I got free high-speed internet and a $10 bar credit, which was much appreciated. It's a fun hotel with a great bar and restaurant (Geraldine's) where they have live music. It's also right near the Rainey Street bar district, although at weekends I'd advise asking for a room on the opposite side of the hotel. Staff are wonderful and despite the hotel being 'cool', it's all very down to earth and friendly, particularly the free wine and social hour at 5 every day!