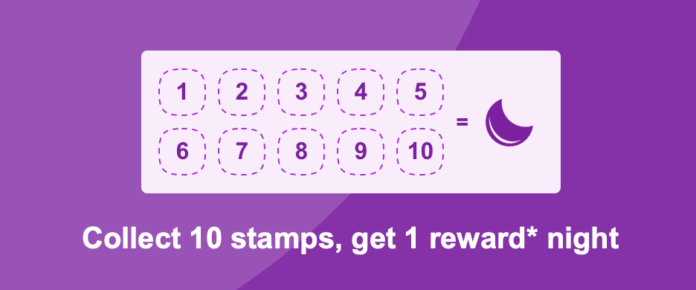 Believe it or not, Hotels.com has its own credit card, issued by Wells Fargo.  This is the first, and so far the only, co-branded credit card Wells Fargo offers.  It is called the Hotels.com Rewards Visa Card.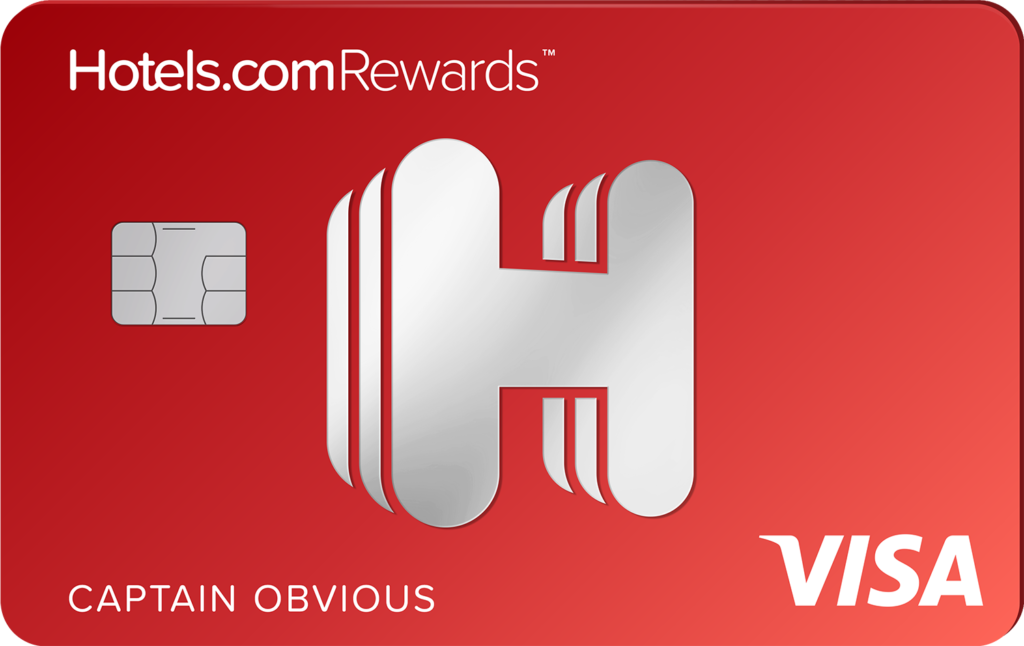 This credit card is very definitely uniquely Hotels.com in every way.
The Hotels.com Loyalty Program

If you're not familiar with Hotels.com and their rewards program, let me first explain the basic concept.  You can book rooms at various hotels just like any online travel agency (I'm sure the name of the site was a total giveaway on that one) and, when you do, you get rewards in the form of "stamps" credited to your account.
Each night you spend in any hotel room grants you 1 stamp.  This is true whether you spend the nights consecutively or not.  So, ten one-night stays grant you 10 stamps, but one ten-night stay also grants you 10 stamps.  Simple so far, right?
Except then they add the twist.  Each stamp is assigned a "value" for the amount you paid for the night.  If you paid $110, then your stamp gets a value of $110; but if you paid $700, then your stamp gets a value of $700.  Still not too conceptually difficult, but we're getting there.
Now, here's where you get an actual reward: after every ten nights, you get one reward night, free, at any hotel room.  The value of your free night is determined by the average value of the stamps you combined to get your reward night.  Essentially, Hotels.com adds up the total of all ten nights and then divides by 10 to get the value of your free reward night. You can have any one night at any hotel (no blackouts or freezes) for equal to or less than the value of your free night.  So, if all 10 stamps are the same amount (or very close), then you'll get a free night that's about the same. But if you have wildly different night values rolled together, then you'll get something, well, in-between.
Basically, when you book your free reward night, it is truly free if it is exactly equal to or less than your free night value.  Of course, if it is less than the free night value, then you forfeit the difference.  So, in other words, if you have a free night for $800 and you want to book a room for $120, why, sure, you could get that free, but you forfeit a lot of free night value ($680 worth, to be precise).  You'd be better off paying for your $120 room (and getting a stamp) and saving your reward night for a more expensive room.
Meanwhile, if you want to book a room that's more expensive than your free night value, you can do that, but you will pay the difference in price.  (Yes, even if that difference is just one cent.)  So, if you have (and use) a free night valued at $165 and you book a room at $170, you will pay $5 for the night.  Likewise, if you instead book a room at $365, you will pay $200 for the night.
Hotels.com Elite Program
Hotels.com does have a tiered elite system, though its reach is minimal.  Each stamp you earn is also worth one status night (regardless of the dollar value of the stamp).  When you achieve status, you can get perks at VIP hotels, which include upgrades, free breakfasts, early check-in, late check-out, free wifi, spa vouchers, and so forth.
These benefits mimic the benefits many chain hotels offer their elites.  However, these things are only offered at properties listed as VIP properties (which is, of course, only a small subset of all the possible properties you could book through Hotels.com).  And while they are quite good at enumerating exactly which benefits you will and will not get at any given property, the benefits are not consistent from place to place.
Hotels.com – What You Need to Know
There are a couple of things to keep in mind when booking rooms through Hotels.com:
If you book a chain hotel, you will NOT get the chain's points or receive on-property elite benefits.  You also will not earn a status night with the hotel chain.  You will instead earn a Hotels.com stamp. Therefore, your best use of Hotels.com (or any other third-party hotel booking engine of your choice, for that matter) is for non-chain hotels, and possibly for chain hotels that you do not anticipate staying with again before your points expire.
Unlike with all chain hotel points, your Hotels.com stamps do not cover taxes.  You will pay the taxes for your free hotel room with cash, even if you have enough value on the stamp to cover those taxes.
You do not earn a stamp when you use a reward night – even if you wound up paying cash to cover the difference between the price of your reward night and the value of the stamp.
When booking reward nights, you should only book them using the app. You can research on the website, but book using the app. If you do not use the app, you pay a $5 booking fee. There is no booking fee if you use the app. (There is also no booking fee if you have the credit card, but now we're getting ahead of the narrative.)
Stamps and reward nights do expire if you do not have activity in your account for a year.  The only activities that count are earning stamps and spending reward nights.
Stamps are deemed invalid if you do not actually check-in in person.  They will be removed from your account, and therefore not count toward keeping your other stamps and rewards alive.
Package bookings (airfare and hotel) do not earn stamps, either.
Hotels.com Loyalty Program – In Summary
So, to summarize, Hotels.com has a rather unique loyalty program.  Some people love it and some people hate it.
It does work out to roughly a 10% rebate potential on your paid stays, though it rarely works out to that much in practice.  This is because you lose value if you stay free in a room that is cheaper than the reward value (because you forfeit the difference between your potential reward and your actual reward), and you also lose value if you pay extra for a more expensive room (because you get no Hotels.com rewards credit for that spend).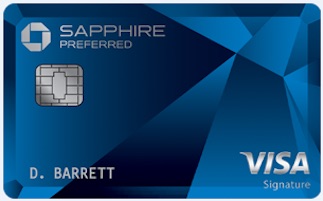 Chase Sapphire Preferred Best Ever Offer! Earn 100,000 bonus Ultimate Rewards points (worth up to $1,250 or more!) when you spend $4,000 in 3 months. How to apply for this offer.
Hotels.com Coupons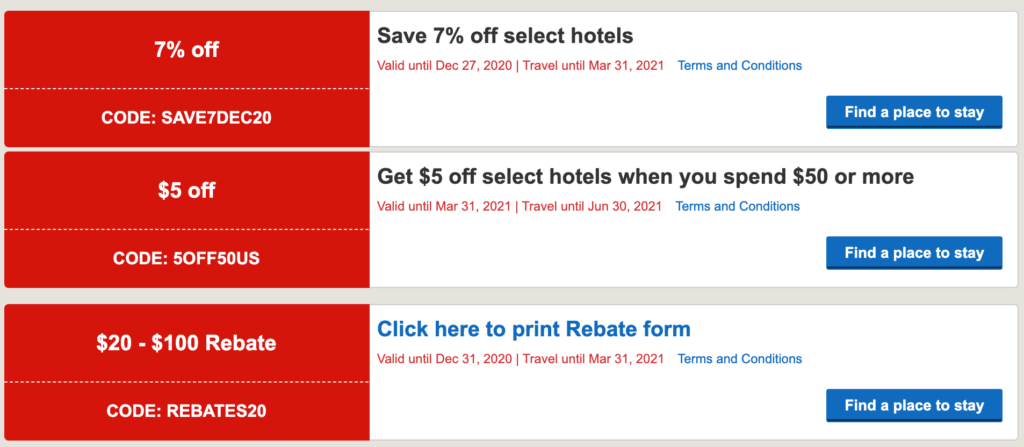 If you book at hotels.com, you will naturally look for a hotels.com coupon. Happily, hotels.com lists these right on their site and you probably never have to accept less than 7% off – but with one huge caveat.  You can't collect or redeem Hotels.com Rewards nights when you use hotels.com coupons.
The Hotels.com Credit Card

Needless to say, a credit card for such a unique system must also have a unique earning structure.
After all, since Hotels.com does not use points, the credit card cannot earn points.
The basic earning structure for the Hotels.com Rewards Visa Card is quite simple, and quite Hotels.com: you earn 1 stamp for every $500 in spend.
Yes, that's it.
There are no credit card bonus categories – not even for Hotels.com itself.  All spend is equal. There are no foreign transaction fees.
For every $500 you spend, you earn a stamp. 10 stamps has a free night maximum value of $110.  If you only earn stamps through credit card spend (and not through paying for stays), then you will earn a free hotel night up to $110 in value for every $5,000 you spend.  That represents a potential value of 2.2% return on your card spend.  Simple and straightforward.
Of course, there is a (small) welcome bonus (described below). You also get 12 months of Silver elite status added to your Hotels.com account just for getting the card.  If you already have Silver status, they will extend it by 12 additional months.
Additionally, this credit card has no annual fee and does not charge foreign transaction fees.  There are very few no-fee credit cards that offer no foreign transaction fees, so that is something worth paying attention to.
So, then, the ultimate question is: is this credit card any good?
The first part of that answer depends on whether you like Hotels.com, or at least you don't hate it enough to use it for free-ish nights now and then.
If you do happen to like Hotels.com, then this credit card does have some (slight) potential.
Obviously, this credit card is strictly for non-bonused spend. You will want your valuable bonused spend to go on cards that give you bonus points for it.  You certainly should not use this card to purchase Hotels.com hotels, even if that seems counter-intuitive since the card "belongs" to Hotels.com.  But like any travel site, there are travel cards that bonus Hotels.com at 3x; you should use those.
For non-bonused spend, though, you'll get a return potentially as high as 2.2% for your spend, which is better than most cash back credit cards will do. So, yeah, it's not bad from an absolute value perspective. But then again, is it really worth earning at 2.2% for points locked to Hotels.com when you could get a Citi Double Cash and earn just slightly less at 2% but have that in cold, hard cash with the possibility of converting to Citi ThankYou points? Aside from the Double Cash carrying a foreign transaction fee, it still seems the better deal despite earning 0.2% less.
Also, as I mentioned earlier, this card removes the punitive penalty of the $5 booking fee that you would incur if you booked your Reward nights using the website instead of the app.  By holding this credit card, you can book your Reward nights however you like.
In theory, that's all this credit card does. But is there more?
Hidden Gems in the Hotels.com Credit Card
When you read the terms, it implies that there are three hidden gems to uncover here.
First, the terms of Hotels.com specifically state that you must either earn stamps or use Reward nights within 12 months, or your stamps and Rewards expire.  They imply pretty heavily that this means that the only way to not lose your Rewards is to stay in hotels, either paid or free.  But by the letter of the wording, you only have to earn stamps.  If you hold this card, you can earn stamps through spend.  So, in theory, using this card should keep your stamps and your Reward nights from expiring until you are good and ready to use them.  I cannot promise this is true without testing this theory, but all indications point to it working.
Second, the route to Hotels.com status is through earning stamps.  Although the card grants you a one-time bonus of 12 months of Silver status for getting the card, they do not say anything about offering any way to keep the status with the card.  However, when you spend on the card, you earn stamps with the card.  These stamps are not excluded anywhere in the fine print.  Since earning stamps earns you status, that means that you should be able to spend your way up to whatever status you like.  You could earn your way to top-tier Gold status without ever staying in a single Hotels.com hotel room.  Again, I cannot promise that this is true without testing this theory, but all indications point to it working.
Third, this no-annual fee credit card actually offers a cell phone protection benefit:
Pay your monthly cell phone bill with your card and get up to $600 protection against damage or theft (subject to a $25 deductible).
So, a valid strategy for using this card involves putting unbonused spend on this card to earn stamps, and, as a result of earning those stamps, earn Reward nights and status.  If you spend $15,000 on the card, you earn 3 Reward nights (guaranteed) and Gold status (almost certainly).
Is it worth doing?  Well, really, that depends a lot on how much you like Hotels.com.  You can find plenty of chain hotel cards that offer a better deal, if you like that hotel chain.  But Hotels.com does give you the freedom to ignore the chain and go for the hotel that you want.  And it does beat out a 2% cash back credit card in value, even if just barely.
So, in summary, the answer is maybe.
Hotels.com Credit Card Signup Bonus
If you choose to apply, you can take advantage of the Limited Time Offer is which you'll get 2 reward nights worth $250 total (max $125 per night)*, when you spend $1,000 on purchases in the first 3 months. (*Excludes taxes and fees. If a night costs less than $125, you won't get the difference.)
Learn how to apply for the Hotels.com Rewards Visa Card.
Thoughts?
Let me know below in the comments, on Twitter, or in the private MilesTalk Facebook group.
And if this post helped you, please consider sharing it!
You can find credit cards that best match your spending habits and bonus categories at Your Best Credit Cards. 
New to all of this? My "introduction to miles and points" book, MilesTalk: Live Your Wildest Travel Dreams Using Miles and Points is available on Amazon and at major booksellers.