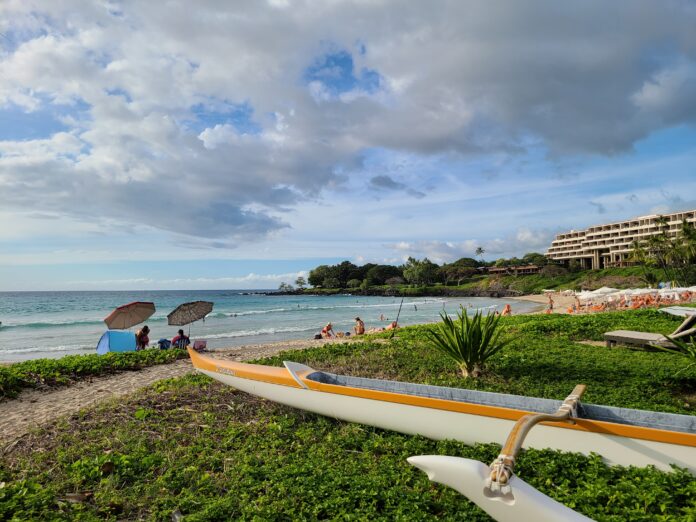 (Post by Sarah Johnson; MilesTalk Facebook Group Moderator)
Given the changing landscape of COVID-19 spread, testing, vaccination, and travel restrictions, it's hard to know what to expect if you do decide to go anywhere. My mom and I recently visited Hawaii, where there are very strong COVID-19 precautions in place. There is a 10-day quarantine, but a pre-travel testing option exists for most of the islands. I'm sharing my experience, part trip recap, and part explanation of how I went about navigating the testing option for a fun, distanced, vacation on the Big Island in this new reality we're all adapting to.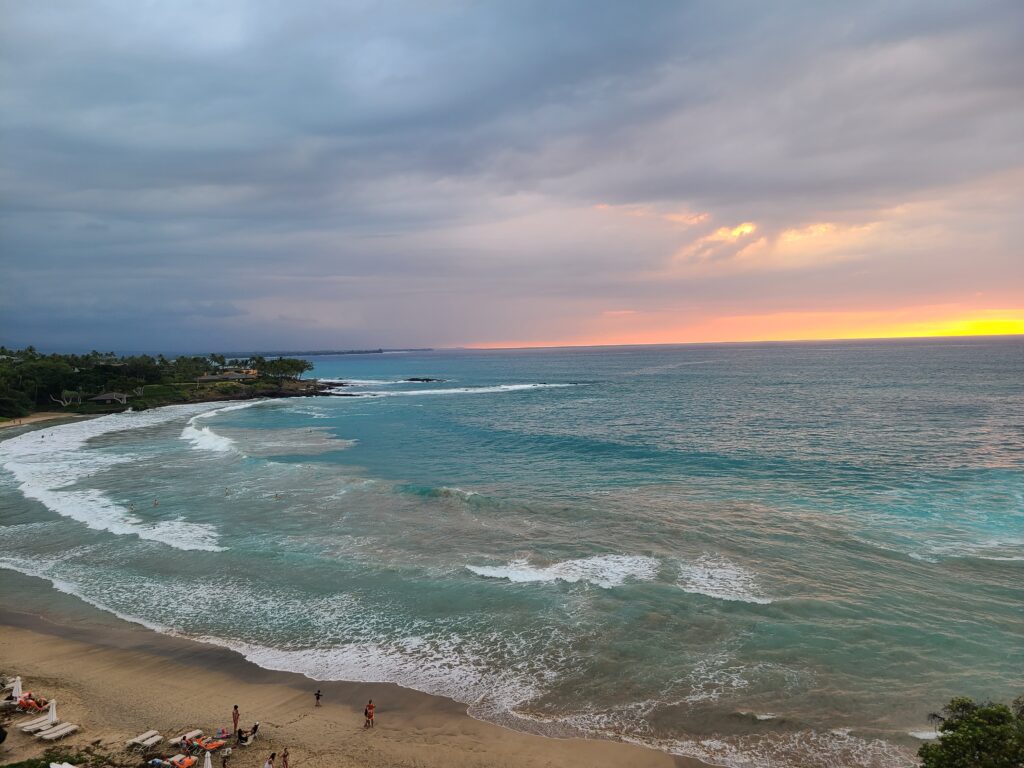 COVID-19 Considerations
After I booked my flight and hotel and a few weeks before the trip, I created a Safe Travels profile with the state by registering and adding my trip details (flight numbers, hotel location, and dates) to the profile. If your final destination is a different island, you would likely need to add a second trip to your profile. I decided to keep it simple and booked nonstop flights to just one location.
Hawaii requires the COVID test be taken within 72 hours of the leg of your flight leaving the mainland, and I needed the results in hand with enough lead time to ensure they could be uploaded to my Safe Travels profile before arriving at the airport. Antigen and antibody tests do not count, and Hawaii's trusted testing partners are the only acceptable test providers. Comparing all the options that are in the SF Bay Area and their turnaround times, I went with CityHealth Urgent Care at OAK airport which was great, $20, and got the results a full day earlier than the estimate). 
Once I had my results, I uploaded the PDF to my Safe Travels profile, which processed it and added a green check mark to my app for accepted negative results. The day before the flight, I filled out the health screening part of the profile (it stays locked until the day before). It populated a QR code, which I needed to be able to pull up within the Safe Travels site when I 1) checked my bag with Alaska so I could get my pre-clear wristband and skip a more extended airport arrival screening process at KOA, 2) picked up my rental car, and 3) checked into the two hotels I stayed at. 
Once I landed, they took our temperatures, I had to fill out a form detailing my lodging, and I was given a rapid test at the airport. After that, I was free to go! It sounds like a lot, but the hardest part was really just figuring out which test provider would work for my timing. 
Total Trip Costs
2 people: flights, 7 days of lodging & car rental, parking, COVID-19 testing
Marriott Bonvoy: 180,000 points & 2 certificates (from the Bonvoy Boundless & Bonvoy Brilliant
National Car Rental: 1 free day
Cash: $1,200 plus roughly $1k in combined food, gas, tips, & shopping, minus $120 in Amex offers (we each had an Amex offer for $50 off $200, so we split the room charges, and I used the $20 monthly dining credit on my Hilton Aspire towards one of our meals).
The approximate retail cost of everything would have been around $7,000 – 10,000 (depending on whether you count the room type we booked or the one we were upgraded to). This also does not include the $546 of value the hotels placed on their elite breakfasts.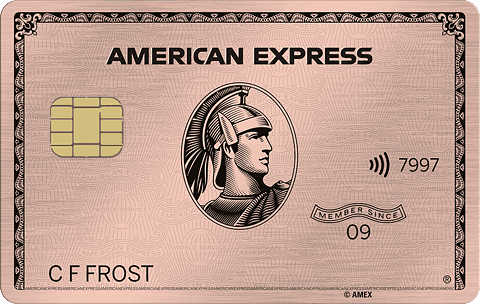 Get 60,000 Bonus Membership Rewards points after spending $4,000 on purchases within the first 6 months on an American Express® Gold Card or Rose Gold Card. Earn 4X points on dining and U.S. supermarkets (up to $25,000 annually, then 1X) plus get $10 monthly dining statement credits and $10 in monthly Uber Cash. Terms apply. | How to apply for this offer. | Read our Review of the American Express Rose Gold Card
Hawaii Travel Logistics
Booking Flights
Generally, my pandemic travel philosophy has been to book flexible domestic trips and assess the situation closer to the cancelation window. As it was becoming clear that my Puerto Rico Christmas trip wasn't going to work out, Southwest had a Hawaii sale. While I wasn't sure I wanted to fly 5+ hours with just snacking peanuts, no guaranteed seat, no internationally relevant mileage credit, and also the COVID-19 situation was looking quite glum, the beauty of Southwest award tickets is that they are simple to change when the price drops, and canceled tickets are fully refundable, even down to the full reimbursement of taxes. So, I booked it for 21,528 Southwest points per person and decided to think on it.
Days later, Alaska (my primary airline) nearly matched Southwest's pricing, AND the Alaska credit card was offering double miles on Alaska purchases, so I figured I'd use an expiring Companion Fare and if I later canceled, I would have more Alaska wallet funds and 6x points. Long story short, there were several pricing changes before February and I rebooked the Southwest tickets at about 11,000 each…but then Alaska sent their elite members a 30% off coupon (the Alaska companion fare means one fully paid ticket and about $125 for the second person) and I got our tickets for $202 each. 
Technically the Southwest flights were cheaper, and also out of a closer airport. However, the times and routing for Alaska were much better. I try to only use low cost carriers for short flights, and though Southwest has 2 free checked bags, as an Alaska MVP I get those on Alaska. I had also flown Southwest recently and emerged less than confident in their management of pandemic travel and unenthusiastic about repeating the experience. Also, the trip yielded 7158 valuable Alaska miles and the same amount of elite qualifying miles due to their current fast track promo – more than a third of what's needed for MVP status. Alaska is joining oneworld this year, so this just made more sense given the pandemic will still curtail my Alaska travel this year.
Airport Parking
I booked a "park and go" rate at a Hilton Doubletree near the airport for the night before the flight for about $150. While I really can't fully recommend the hotel (it was very, very very dated and the pandemic derailed renovation plans) I did get up to 8 days of semi-secured parking and a hotel night for the price of airport parking, it did have fantastic dinner, plus my Diamond member breakfast benefit – which I have from holding the Hilton Aspire card – was $42 from the grab & go, so I will probably use it again in the future. I am normally all about public transit and/or Lyft but with the COVID-19 outbreak, it is worth it to me to pay for airport parking. In normal times and traveling solo I would take Amtrak from Oakland to Santa Clara for 800 Amtrak points and catch the free bus to SJC.
Lodging Choices
In December, Marriott quietly put a lot of its hotels on off-peak pricing. The category 7 Mauna Kea Beach Hotel showed up for 200,000 points for 5 nights (5th night free), which is atypical. This off-peak pricing meant I could use my 50,000-point free night award that comes with my Bonvoy Brilliant card, so I booked 6 nights for 200,000 + the certificate. At the same time, the category 6 Waikoloa Marriott Beach Resort (which had been off-peak at 40,000) was put on a PointSavers rate of 35,000. This meant that I could use a 35,000-point certificate for a category 6 hotel (for those unfamiliar with Marriott this is kind of a unicorn). THEN, a few weeks later Marriott discounted award stays by 10%, so I re-booked the Mauna Kea for 180,000. During that time, I re-qualified for 50 nights Platinum with Marriott, so I chose 5 suite night awards – added to the 4 that were extended due to the pandemic, I had the 6 SNAs necessary to request an upgrade for Mauna Kea – this got us from a garden/golf view king room to a double bed oceanfront, confirmed 5 days out.
Big Island Transportation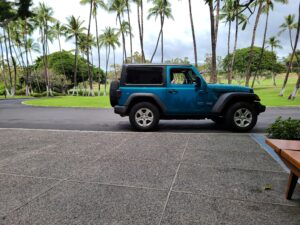 For the rental car I went with National Car Rental, operated by Alamo at KOA airport – I have Executive Elite status through an earlier incarnation of this promo and extended due to the pandemic (it will probably be back next year). Executive Elite means that for every 5 rentals, I get a free day, my pickups are very expedited, and at many airports, I get my pick of cars and/or an upgrade. In this case, pretty much all rental car pricing at KOA was terrible, so the best I could find was a confirmed Jeep for $413 after my free day was applied. Another path to National status is by matching from a hotel, airline, or car rental program.
Hotels
Waikoloa Beach 

Marriott Resort and Spa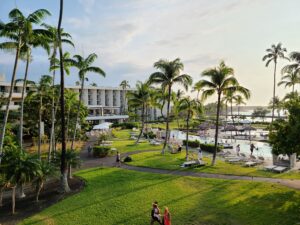 Waikoloa Marriott is a huge resort property with a large, open-air lobby and a great pool. The resort fee is $34 after tax, though it includes a lot of perks and activities. I'm not a fan of resort fees, but this was one of the few I've seen that offers real value. Since we only stayed one night, I didn't get to fully explore the property, but we could have easily stayed there during the trip and had a wonderful, relaxing stay.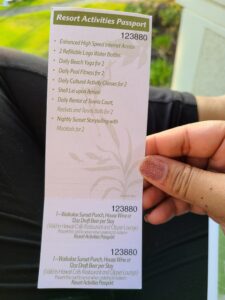 Mauna Kea Beach Hotel Mini-Review
The standout features of our room at the Mauna Kea were the ginormous lanai (balcony) and the absurdly deep bathtub (Seriously, all it needed was some jets). The hotel does indoor/outdoor super well – there's even an outdoor gym on the promenade level that overlooks the ocean. Everywhere felt airy and open, and masks were standard. The beach was really unique and I can see why it's a favorite for a lot of people. The shallows extend super far from shore, so there's a ton of space for everyone to enjoy the beach. The beach chairs are first come first serve so if you get there after noon, you probably will not get one. The entire property is organized to take advantage of its location, so pretty much anywhere you go will have views of the water.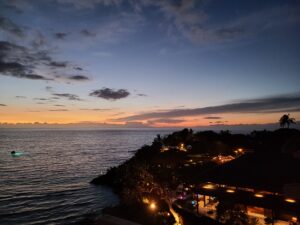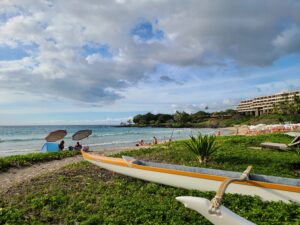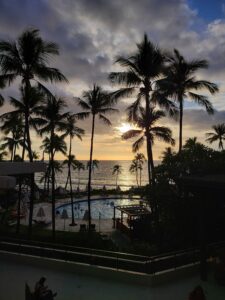 Activities on the Big Island
Akaka Falls State Park – I highly recommend venturing out to see this waterfall.It's located about an hour and 20 minutes from the Mauna Kea. Entry is $5 and on the honor system (paid via parking meter, so codes as parking).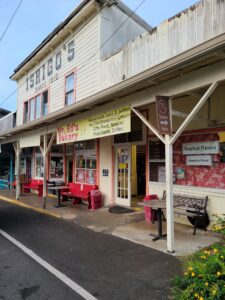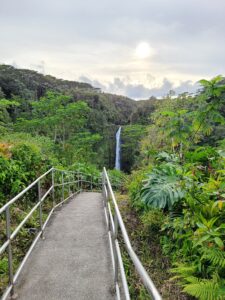 There's a circular path to see it, round trip was about a half mile of pretty easy walking with some stairs.  We stopped in Honomu, the town outside the park, for baked goods and local jams at Mr. Ed's Bakery, an unassuming shop in a historic building packed with yummy creations.
Ka Lae (South Point) – the southernmost point of the US has a pretty nice panoramic view of the ocean. It's also next to a Native Hawaiian burial ground that you are not supposed to walk on (stay to the clear pathways) but the sign telling people this wasn't very prominent, unfortunately. This was perhaps a little over 2 hours from our hotel and a few minutes away from the green sand beach trailhead. Punalu'u Bake Shop is nearby in Naalehu and is a great stop for bakery items, gifts, and a bathroom break.

Papakōlea Beach (Green Sand Beach) – due to the volcanic minerals on Big Island, there's a beach with green sand (one of 4 in the world!). It's a 6-mile round trip walk from the trailhead and it is illegal to drive there, though a lot of people ignored this and I saw plenty of trucks and jeeps. We walked about halfway until we found a smaller beach with the green sand and then turned around since we were losing light.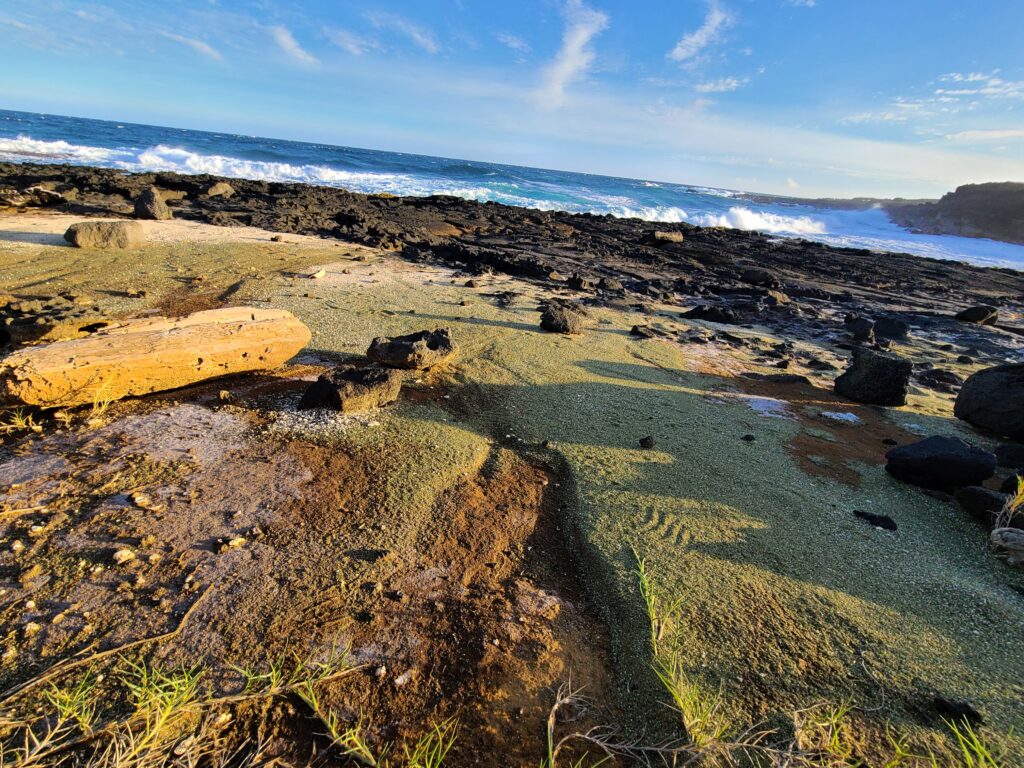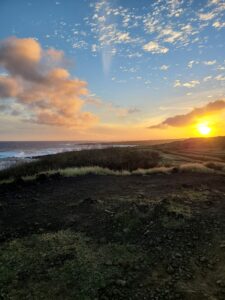 Restaurants
Most restaurants had QR codes on the tables to bring up the menu on your personal phone to reduce points of contact. On one hand it was nice to be more green and for sanitization purposes, but on the other hand that meant sitting at the table and immediately staring at my phone, which is not how I prefer to begin meals. There were a lot of restaurants with outdoor dining to choose from, they all took distancing pretty seriously, and takeout was also an option.
Hawaii Calls Restaurant – this was the hotel restaurant at the Waikoloa Marriott and it was quite good. It's an indoor/outdoor space with plenty of fresh air, and the tables were clearly set up for distancing.
Manta – the complimentary elite breakfast was served here so we ate here daily. Currently the buffet is closed due to the pandemic, so elites are given the Chef's Table breakfast, which is effectively anything on the menu. The food was great while service was a bit inconsistent (not bad, but if you are very particular about speed and accuracy then this…and possibly Hawaii… is not the place for you). 
Copper Bar – the main restaurant at Mauna Kea besides Manta, we ate here several times and the food was consistently great – except for the octopus appetizer, which was pretty darned awful. They have entertainment in the evenings and the space is mostly outdoors. 
Moa Kitchen – this is indoors, and though they are distancing tables, I did takeout. Portions were generous – we got ramen and a few sushi rolls and it all tasted delicious.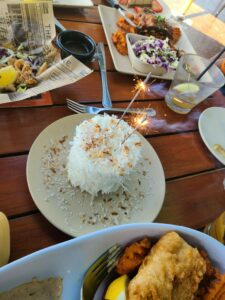 Lava Lava Beach Club – this is a really popular place, and I highly recommend a reservation. When I was there, wait times were estimated at 30-45 minutes. As far as I could see all dining was outdoors, though I felt the tables could have been spaced a bit further apart. The fried calamari appetizer is one of the best I've had. I ordered the fish & chips for a main dish, and they also provided the most delicious haupia cake to celebrate my birthday!
Seafood Bar & Grill – I did takeout and based on what I saw of the restaurant setup, I don't think I would recommend dining in during the pandemic. But the food was great – lots of fried deliciousness – and appeared to be a local favorite.
Conclusion
Despite my initial apprehension, the more I learned about the vigorous COVID-19 precautions employed by the state of Hawaii in response to the pandemic, the more confident I became that risk mitigation was their top priority. I am thankful to Hawaii for their thoughtful, multilayered approach that gave me the chance at such a fantastic vacation.
Thoughts?
Let me know below in the comments, on Twitter, or in the private MilesTalk Facebook group.
And if this post helped you, please consider sharing it!
You can find credit cards that best match your spending habits and bonus categories at Your Best Credit Cards. 
New to all of this? My "introduction to miles and points" book, MilesTalk: Live Your Wildest Travel Dreams Using Miles and Points is available on Amazon and at major booksellers.