12 Credit Card Bonuses You Don't Know About
Did you miss a deal? Never again! Apply to join the members-only MilesTalk Facebook group
.
Advertiser Disclosure: MilesTalk has partnered with CardRatings for our coverage of credit card products. MilesTalk and CardRatings may receive a commission from card issuers. This site does not include all financial companies or all available financial offers. The editorial content on this page is not provided by any of the companies mentioned, and have not been reviewed, approved or otherwise endorsed by any of these entities. Opinions expressed here are the author's alone.
OK, maybe you know about one or two of these. But I'm quite sure you didn't know about all 12. (And when I first posted this, it was 10. But now it's 12.) 
For those of you that are over Chase 5/24 (or even LOL/24), already have your Amex once-in-a-lifetime bonuses for all the cards you want, and perhaps have even run into the Citi 1/24 rule for any cards you want, it's inevitable you want to hunt for more.
The reason you don't know about the cards below?
Two main reasons. 1) Some of these are international and are not useful to most Americans. At least not those without advanced degrees in Frequent Flyer Miles. They serve niche purposes. 2) Most of these are not in affiliate programs. While it always stings to know that your favorite bloggers have bills to pay, we all do. Inevitably cards that are commissionable get a bit more airtime.  #truth
But really, the biggest reason is that these are all, with the exception of the Barclay American Airlines Aviator card, very niche products. And it doesn't make a ton of sense for blogs to spend too much time covering cards that only a very small segment of their readers care about.
But, you may care. So, I'm dedicating a post to 10 cards that don't get much airtime, but you may want to know about. I'm not going to list card benefits for each one. If you care enough, you can click through to get that. I'll just focus on the loyalty program, the bonus, and who may want them.
1. Bank of America Asiana card:
30,000-mile bonus

Asiana is a cult favorite Asian carrier frequent flyer program and, aside from crediting Star Alliance miles to Asiana, Marriott point transfers are the only way in. It's famous for a 50,000-mile redemption for Lufthansa First Class between the US and Europe.
2. American Airlines Barclays American Airlines Aviator card
60,000-mile bonus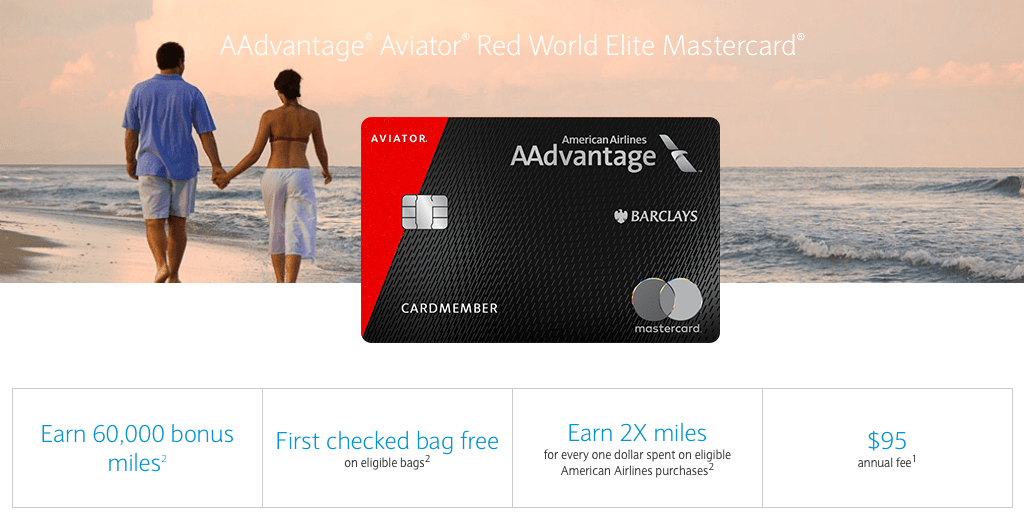 Pay the annual fee. Buy a cup of coffee. Get the bonus. Stacks super well with the Citi AAdvantage cards you can get.
3. American Airlines Barclays Business Aviator card:
60,000-mile bonus offer
As above, but the Business version of the Aviator card.  Current bonus is 60,000 miles for one purchase and the annual fee payment. You can, of course, get both cards for a big redemption. The Business version is unlikely to report to your personal credit file.
4. Korean Air SkyPass Credit card
30,000 bonus miles + $50 discount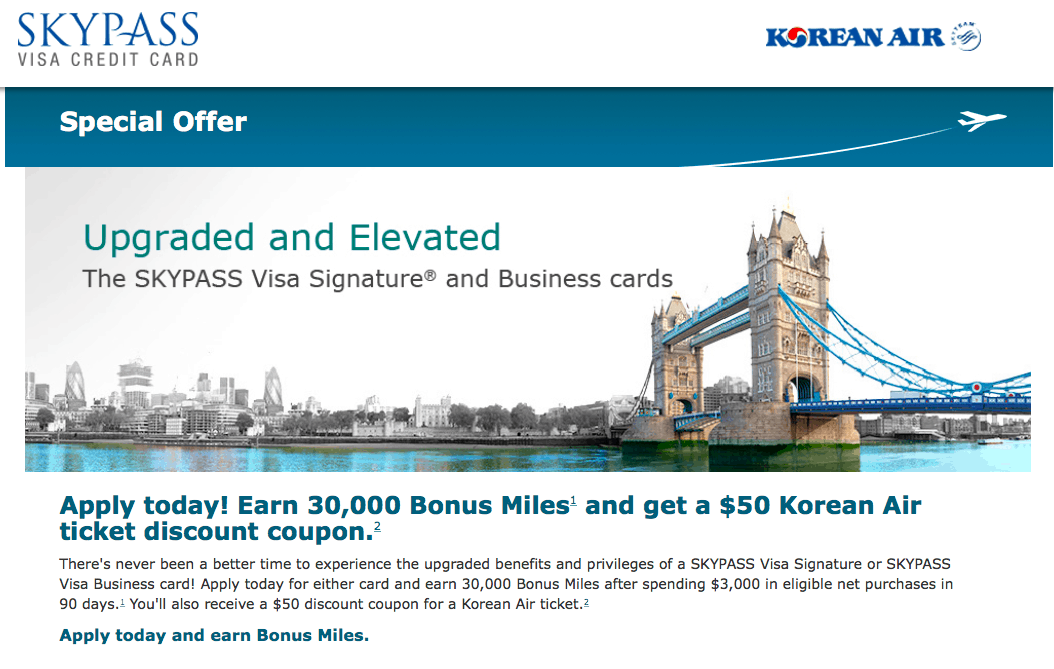 Missing the ability to transfer from Chase Ultimate Rewards? Did you use to take advantage of the ability to book cheap awards to Hawaii using KE miles? Here's an easy 30,000 of them.
64,000 point bonus offer

If you stay at Choice Hotels, 64,000 bonus points + Gold status isn't too shabby.  These points can come in pretty handy when all the luxury chains in a city are ridiculous amounts of points. Thanks to Danny Deal Guru for this find.
6. Hawaiian Airlines Barclaycard
50,000 miles for one purchase + annual fee. Includes a 50% off companion discount.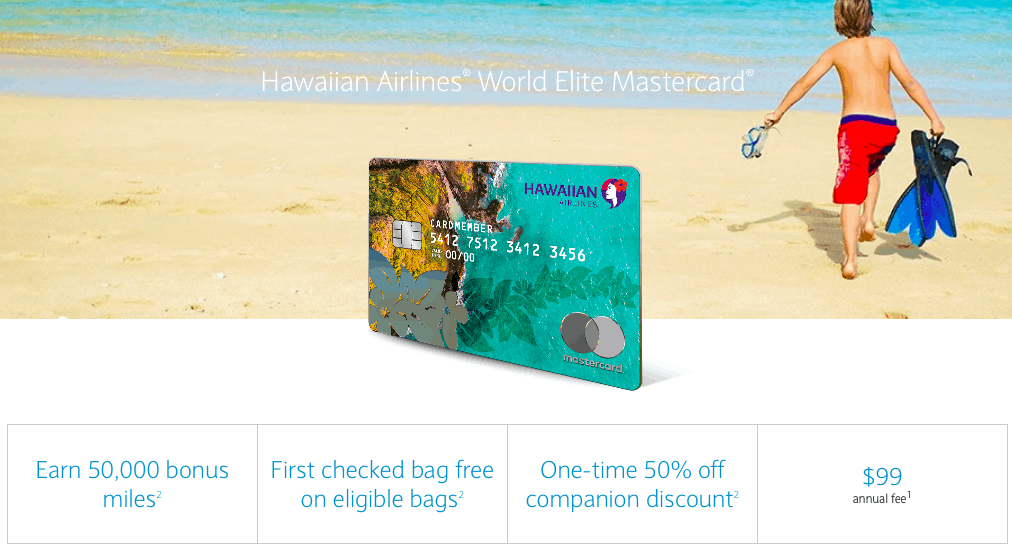 Hawaiian miles are useful in a few ways, but the *most* useful in my opinion is for non-stop flights from the US mainland to Hawaii. While you can use AA miles to book Hawaiian outside of the US, you can't for these flights, such as the 11 hour NYC to Hawaii nonstop. And I think you might prefer that up front in the comfy seats. Note, though, that saver availability for those Business class seats, even using Hawaiian miles, has gotten VERY difficult.
7. Hawaiian Airlines Business Barclaycard
As above, but the business version. You can, of course, get both. The Business version is unlikely to report to your personal credit file.
8. Avianca LifeMiles Credit Card
40,ooo bonus miles / $149 annual fee payable for the bonus
60,000 bonus miles if you add promo code LM17WB when you sign up (H/T MilesTalk Group member Faraz)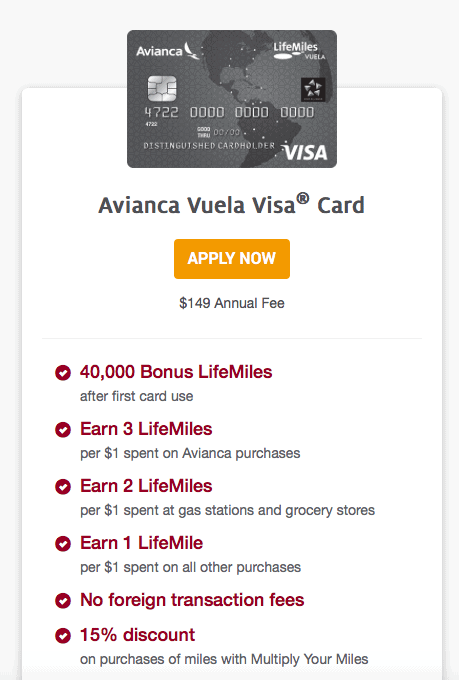 It's not a great deal at 40k, especially when you can buy LifeMiles for around a penny somewhat often. But it's an option at 60k with the code.  I like
LifeMiles for Star Alliance redemptions
– specifically on airlines that charge fuel surcharges as LifeMiles won't pass those along. Also good for last-minute domestic United flights. Not good if you'll need to change/cancel your flight.
30,000 bonus miles

I don't know. I hear there are people that fly Spirit. That's all I've got.
50,000 bonus miles
This really should have been #1 or #2 on the list. But I'm at #10 now and it was MilesTalk group member Pavel that just reminded me, so here it is.

Miles and More often has great promo discounts on mileage awards. They also hold availability for their own members and are only a transfer partner of Marriott, so these are some solid miles to accrue this way.
40,000 miles

Not as great since the devaluation this year, but still useful miles for CX operated flights or some Oneworld routings. You can also transfer to Cathay Pacific from Citi Thank You making this card useful to top up.
12) Alaska Air possible 40,000-mile signup bonus
This is a bit of an anomaly for this post as it's hardly an obscure card. But there's a targeted 40k offer for those on the West Coast. Head to the
alaskair.com
 homepage if you are on the West Coast to look for it. It appears to be based on your IP address. (If you aren't, there are ways to have the Alaska Air website "think" you are *hint hint*).
---